Skydiving Health Restrictions – What Are The Requirements?
Lots of people, of all ages, come to us for the full story on skydiving health requirements and restrictions. After all: This "skydiving" thing is a high-intensity undertaking, and the medical restrictions around skydiving must reflect that. If you manage a medical condition but your bucket list contains skydiving, you need to know what questions to ask – and of whom – in order to really know if it's a good idea to make that jump.
We first want to applaud you for your foresight. We only have one body to carry our soul around this big, beautiful world, after all, and we're charged with taking good care of it. If you're skydiving with high blood pressure, skydiving with a disability, skydiving with diabetes, or skydiving with any other health consideration, you want to be sure that the risks aren't too considerable. You're already walking a steeper path than most.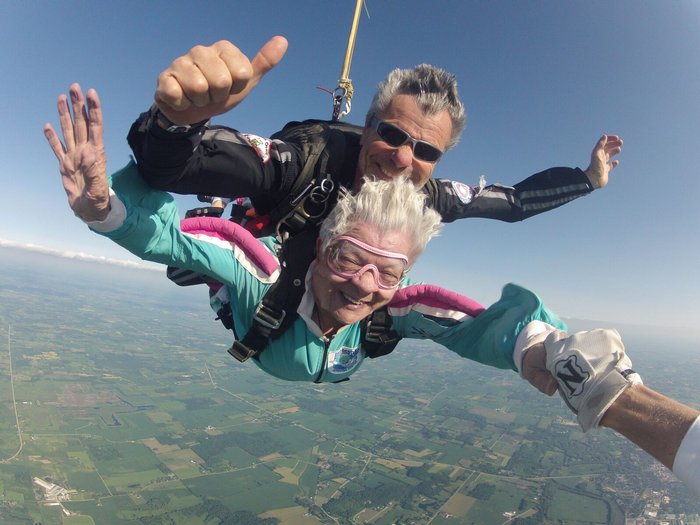 Not all older clients have skydiving health restrictions – Anna May is 83 and jumps with us every year!
To Skydive Or Not To Skydive? Making Your Health Decision
Let's take one example from the group: Lots of people skydive with high blood pressure. Should they? If we're being honest, each call has to be made on a case-by-case basis, with the input of a healthcare provider who knows you and who understands the true risks and requirements of skydiving. In our decades of experience, we've found that, if someone has high blood pressure but it's well-managed , they shouldn't automatically be excluded. It's just never as black-and-white as that. In fact, medical conditions that prevent you from skydiving are pretty uncommon. Multiple amputees skydive . We even know of blind sport skydivers . The same holds true for a paraplegic ( Jarrett Martin , for example.)
At the Right Dropzone, The Sky is Surprisingly Accessible
'Wait wait, you're sputtering, right? I had no idea that paraplegics can skydive!'
Indeed, dear reader. A big part of facilitating skydiving for the mobility-impaired leans on the skill and experience of the tandem instructors. Lots of dropzones are unable to take on the risk of jumping with disabled tandem students because they aren't comfortable experimenting with new methods – especially from planes on the cozier side of the size range. At the Wisconsin Skydiving Center, however, our long experience in supporting new skydivers of different health and abilities allows us to extend the miracle of human flight to almost all people, assessing each individual based on their unique level of mobility and how they fit into the tandem skydiving harness.
Except for our strictly enforced weight limit, Wisconsin Skydiving Center doesn't preclude anybody from jumping right out of the gate. With that said, each individual jumper with health restrictions would need to be assessed on a case-by-case basis, dependent upon things like the exact nature of the medical issue, flexibility and strength. Our Chief Instructor, Bo Babovic, personally handles all tandems that require additional attention in regards to mobility. If you have mobility issues, don't be a stranger. Come on down to the DZ in advance, spend a weekend barbecuing, sky-watching, and sunning with us to see what's possible.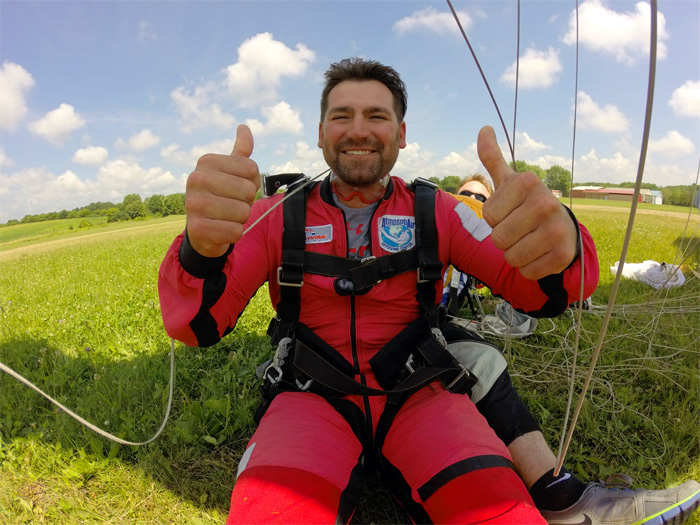 You too can make a successful skydive!
What Are The Skydiving Health Requirements?
It's Case-By-Case
Combing the internet for information on skydiving health requirements is a circular endeavor indeed. At some point, if you really want to skydive (and you do!), you're going to need to have a conversation with your doctor. You're also going to need to have a conversation with a reputable, professional dropzone with the experience and know-how to advise you – in your unique situation – thoughtfully.
It should go without saying that our advice here is not the advice of a medical professional. We have, however, seen a lot in our time and travels, and we're an excellent first port of call for information about skydiving health requirements and restrictions.
In conclusion: if you've got a special case you'd like to discuss, get in touch with us. A member of the team will be more than happy to help.
When you're thinking about skydiving and health (including mental and psychological health), the key point to remember is this: Skydiving is a sport. It can be an intense one! The rule of thumb is to address the usual suspects (high blood pressure, glasses, age, weight, diabetes, bad back/neck/knee/ankle/spleen, etc.) in the athletic context. The upshot is simple: Skydiving might not be as impossible as you'd think. And it's definitely worth it.
Can You Skydive With A Pacemaker Defibrillator?
While most people with pacemakers can safely skydive, those with pacemakers that also include a defibrillator may be at a higher risk for complications. This is because the high altitudes and sudden changes in pressure can cause the defibrillator to malfunction. If you have a pacemaker defibrillator and are considering skydiving, it is important to speak with your doctor first to ensure that it is safe for you to do so.
Most serious health concerns, such as heart problems and severe back problems, prevent tandem skydivers from doing so. If you have fainted before, have had a heart murmur, or have had a back operation, you may want to consult a doctor. You may not be able to do sky diving as you are led to believe. Don't eat too much or too little at once. It must be able to perform at a depth of at least 130 feet (40 meters). Adefibrillation provides life-saving shocks, but if you have atrial fibrillation, your shocks may go off in the wrong place. Skydiving is a sport that is all about flying. It's not always easy to deal with.
Can Heart Patients Go Skydiving?
Credit: www.bartscharity.org.uk
It is not a good idea to be concerned about having a heart attack while skydiving, just as it is not a good idea to be concerned about being physically active. A weakened heart or a history of heart problems may prevent you from parachuting, but it is possible that you are not safe.
Skydivers are completely safe to fly if their hearts are in good health. If you have heart conditions such as a heart murmur or diabetes, you may want to think about taking a sky dive. If you have a heart condition, you may still be able to take a skydive, but you should consult with your doctor first. If you have a history of heart attacks, you will most likely not be able to jump from a skydiving school or location. You must fill out a form stating that you do not have any previous heart conditions before you can take a course like AFF. Furthermore, you must have a doctor's health certificate to prove that you are in good health. The extreme nature of skydiving makes it difficult to take a deep breath. While indoor skydiving may be more secure, you will experience a higher heart rate if you do so indoors. Skydivers' companies are not required by law to pay compensation if someone dies during a dive due to a heart attack or stroke.
Anyone who has a heart condition is more likely to suffer a heart attack. According to the American Heart Association, skydiving falls into the category of Class III, which has a moderate risk of heart problems. A person who has cardiovascular disease is more likely to develop a heart attack if their heart rate and blood oxygen levels suddenly change. When you skydive, your heart rate and oxygen levels rapidly increase. It is not recommended that you jump if you have any prior heart conditions. The risk of fractures in the spine is also a factor in sky diving. It is a good idea to consult with your doctor before embarking on a skydiving adventure. As part of their risk assessment, they will provide you with a more detailed risk assessment and recommend the safest way for you to participate.
Don't Let Your Medical Concerns Keep You From Skydiving
It is not for everyone, but skydiving is a thrilling experience. It is not recommended to skydive if you have a medical condition.
Can You Skydive While On Blood Thinners?
Credit: edwinsiebel.nl
It is critical to note that diving while taking blood thinners increases the risk of bleeding.
Can You Skydive With Arrhythmia?
Credit: skydivechicago.com
A combination of low oxygen levels, pressure fluctuations, and anxiety-related spikes of adrenaline can be disastrous. It is the same for people who have congenital heart disease or arrhythmia. It is possible that sky diving is not the best option for you.
The Positive Effects Of An Increased Heart Rate
Although the heart rate increase is temporary, it will return to normal as time passes. It is not always a bad thing to have a high heart rate, in addition to increasing heart rate. The benefits of this exercise include increased muscle strength and cardiovascular endurance.
Steps to Travelling with a Pacemaker or Defibrillator (ICD)
Travelling with a Pacemaker or Implantable Cardioverter Defibrillator (ICD) can be an overwhelming experience. especially the first time. However, being prepared and taking the right steps will not only make your trip more enjoyable. It will put you and everyone else concerned at ease.
You can never be too careful in those moments when every second counts. When accessing your records or contacting relevant people is vital.
A replica of my Pacemaker & ICD while hiking and walking
My story flying with a pacemaker and ICD
5 weeks after my first pacemaker and defibrillator (ICD) insertion, I flew to Australia. So I was able to recover and spend time with my family. Apart from having a new foreign object inside my body, I also had a clot near my heart.
I had had a cardiac arrest while out exercising and was rushed to ICU. They had discovered I have a heart condition called 'Cardiac Sarcoidosis'. Then told I needed urgent surgery to have a Pacemaker and defibrillator. All of a sudden, everything seemed very complicated to me when it came to travelling again. Which was a little ironic because I am a travel blogger and write about travel for a living.
I just didn't know where to start looking for the right answers. Like, can a person with a pacemaker go through airport security or how soon can l fly after pacemaker insertion.
Steps to flying with a pacemaker and defibrillator (ICD)
Knowing things like who to contact in an emergency, having the correct papers, knowing your limits. As well as carrying the correct equipment will become a part of your everyday travelling agenda.
Here are some of the steps, I took before travelling with my pacemaker and defibrillator (ICD). I hope that they help you and are useful for your travels.
Table of Contents
1. How soon can I fly after having my pacemaker or Defibrillator ICD inserted?
They say it is best to wait an appropriate time before you start travelling or flying after implantation of your Pacemaker or Defibrillator (ICD). However, they usually say between 6 months to 1 year but it really depends on the individual and their case.
Best to consult with your doctor and have clearance before booking any type of travel or flights.
As stated earlier, I flew 5 weeks after my first pacemaker and Defibrillator (ICD) implant. I had healed quickly and my body was accepting the implant well. This made a huge difference in my case when travelling. One of the terms, before I flew to Taiwan for a month working, was to have a check-up with a local hospital. Which was an interesting experience.
Skiing with a Pacemaker or an ICD
Is it possible to go skiing with a Pacemaker or an ICD (Implantable Cardioverter Defibrillator)? Well, my answer is yes in my circumstance. [. ]
1.1 Questions to ask your doctor before flying with your Pacemaker or Defibrillator
Verify with your doctor that the underlying heart condition does not pose a risk for flying.
Check if there is any equipment you need to take on the Plane, like the magnet to stop the ICD.
Ask about your ID Card which you may need to show at the airport.
See if you need to wear Compression stockings used after surgery to prevent blood clots
Ask your doctor if your pacemaker contains any metal. Some versions do not contain metal, and they will not cause any trouble.
Ask the doctor if there are any activities that you should avoid on your trip.
2. Pacemaker or Defibrillator (ICD) identification card
Make sure you have your Pacemaker or Defibrillator (ICD) identification card with you before you travel. If you don't know where it is or don't have one, ask your pacemaker clinic for a copy. As my understanding is there should be one in your file.
2.1 What is a Pacemaker or Defibrillator (ICD) identification card?
A Pacemaker or Defibrillator (ICD) identification card is an ID card that states all relevant information regarding your insertion. It lists information from the type of leads you have, the date of implantation, hospital where it was implanted to the doctor who operated.
It should even have some of your personal details like your DOB and contact number for your hospital. The ID card can also be known as the Medical Device ID Card, depending on the country you are from.
Your ID card will let the relevant people know that you have a Pacemaker or Defibrillator (ICD) implate. It will let security officials know at the airports, as well as help others know your situation in an emergency.
My Medical Device ID Card Pacemaker ICD Cards and Pacemaker Magnet
3. Obtain a Medical Alert Necklace or Wrist band while travelling
In an emergency, the simple addition of a Medical Alert necklace or bracelet can save your life. Especially if you have an ICD and an external defibrillator can not be used on you. Medical Alert ID bands give medical professionals crucial knowledge of your Pacemaker or Defibrillator (ICD) insertion. As well as what the problem may be and how to treat you.
Medical Alert Necklace or Wrist band is not a compulsory item but are definitely a great addition. Most feature the international medical symbol caduceus, the image of a staff with two snakes. As well open or turn to reveal securely concealed medical identification.
Here is the medical alert ID wrist band that I have been wearing for a few years now. It states my Cardiac Sarcoidosis condition, Pacemaker and ICD on the front. Then on the back, I have my husband's international number to contact in an emergency.
You can check out the range of Medical Alert ID bracelets here , that vary in styles and sizes. You choose the one you want, size and what you want engraved onto it.
3.1 Top tip
Let people know about your Medical Alert Necklace or Wrist bandand what to point out in an emergency.

4. Travel Insurance for your Pacemaker or Defibrillator (ICD)
Obtaining travel insurance for your pacemaker or defibrillator (ICD) is definitely a great idea. Especially if you are travelling to a foreign country that you have not been to before. It will not only give you peace of mind but also the people who you are travelling with too.
Currently, l obtain travel insurance for my pacemaker and ICD as and when I need it. Each trip for me is a case by case situation like hiking in Austria to skiing in France . I have found that insurance seems to be more expensive if you have had an operation within 12 months. I have had 4 operations within the last two years but again this is my situation and circumstance. Everyone is different.
4.1 If you already have travel Insurance
When you have your pacemaker /ICD implanted you will need to inform your insurer of your change of circumstances. As far as I am aware if you don't notify them of this change you are not legally covered. At the same time check to see if travel insurance covers travelling with a pacemaker or ICD.
My policy was not vailed anymore, after my pacemaker and ICD implant. The insurer cancelled the existing policy and paid out the duration, which was fine.
4.2 If you do not have already have travel insurance
Are you unsure where to look for insurance companies specialising in travelling with a pacemaker and ICD? Firstly, check with your pacemaker clinic, the heart foundation website, or the brochures given to you by your doctor. This may take a bit of research to find the right travel insurance company, so don't worry.
Secondly, ask your previous insurer or try a search engine company for results. I use a free search engine called AllClear Travel Compare and add in my medical information. Then it shows me my options for different insurers, a quote, and what it covers.
4.3 Tips for pacemaker or defibrillator (ICD) insurance coverage
Ask if the country you want to travel is covered under your travel insurance.
Print a copy of your Travel Insurance and keep it on yourself.
5. How to book a flight with a pacemaker or defibrillator (ICD)
Since writing this original post, I have taken multi flights around the world before covid. Registering when you fly is just an option and at your own discretion.
For me, if I am taking a long haul flight on my own like when I flew to Japan or Taiwan . Then I let the flight attendants know my condition when I get on the plane. Short distance flights, like when I went to Austria and Italy , I have let my travelling companion know.
This is a good idea also when you are travelling a long distance by train or boat, as well.
5.1 Register as a disabled person when you fly (Optional)
Registering as a disabled person when booking your flight is an option, not something you have to do. Though it is a good idea because you are informing and making the airline company aware of your situation. If something happens mid-air, It will assist the airline on what the problem may be and how to treat you.
I didn't register before I flew to Australia because I needed to email the airline in advance. As I needed to have clearance to carry all my medication for my condition. So they were already aware that I had a pacemaker and a defibrillator (ICD) inserted.
5.2 If you don't register as a disabled person when you fly
If you decide not to register as a disabled person or there is no option on the booking site. Then you can let the airline know when checking in your bags. Or when you are getting onto the plane.
5.3 Tip
You can always email the airline with your details before you fly or speak to them
6. What to do at the Airport with your Pacemaker or Defibrillator (ICD)
Going to the airport and checking in becomes a whole new experience when you have a pacemaker/defibrillator (ICD). One thing, I have learnt is that it doesn't have to be harder than you make it. I have gotten used to people looking at me and wondering why I am getting different treatment.
Even though different countries use different methods at security airport. One thing is the same and that is letting security know that you have a pacemaker/defibrillator (ICD). Before you even go through the airport security scanners. You can set off the alarms or the scanner can interfere with your device.
6.1 Checking onto your flight with your Pacemaker or Defibrillator (ICD)
When you are checking onto your flight make the staff aware of your pacemaker or a defibrillator (ICD). This is so they can make a note of your details. Though this is not a compulsory step it makes the airline aware of your situation in case of an emergency.
6.2 Let the airport security know you have a pacemaker or defibrillator (ICD)
When going through airport security, let the staff know you have a pacemaker or defibrillator (ICD). You will be required to show proof but that will depend on the airport security you are going through. Then you will either go through a different area or skip the scanner.
Sometimes, security will also either do a hand down search or check over you with a hand-held metal detector. Don't worry though as they will guide you through the process.
I find the easiest and most efficient way to go through airport security is having your Pacemaker/Defibrillator ID card. Then when you tell the security, you show them straightaway. This saves a lot of hassles and questions, as Pacemakers and Defibrillators ID's should be uniform.
6 Helpful Tips for Hiking with a Heart Condition or Pacemaker
Hiking or walking is great for the body and soul, especially if you have a heart condition or pacemaker. It does not matter [. ]
6.3 Can you go through scanners with a pacemaker or defibrillator (ICD)
There are reasons behind not going through a security scanner at the airport with your pacemaker or defibrillator. It can interfere with the scanner's electric waves. You can set the security alarms off (rare but can happen). It is important to follow the protocol according to unseen disabilities.
Most scanners are safe that I am aware of but don't take my word for it. Do your own more research or ask questions if you are concerned or not sure. Always best to be safe and do the right thing.
⇒ As stated earlier this is my own personal research and what I learnt travelling with my pacemaker and defibrillator (ICD). Please consult your medical advisor before you go do winter sports or have a medical question.
7. Top Tips for travelling with Pacemaker and Defibrillator (ICD)
If you are wanting to drive while away travelling, check with your doctor if it is possible. It's recommended you wait for at least a month.
Let your doctor know in advance if you already had travel plans booked before your surgery. As you may have to cancel your trip.
Obtain a list of places that your pacemaker can be repaired while you are travelling. The maker of your device should have information on their website of addresses of local hospitals. Or doctors' offices that can help you repair the pacemaker if needed.
Thank you for reading this article 'Travelling with a Pacemaker or Defibrillator (ICD)'. I hope it helped answer any questions you may have about travelling with your implate.
Do you have a Pacemaker or Defibrillator (ICD) and travel? Is there something that I should add to the above list? Please feel free to share your experience in the comments below. Or let me know what I can add to the list to help others with pacemaker or ICD.
Pin it for later.
⇒ Looking for inspiration on what you can do with your pacemaker and defibrillator. Please feel free to head over to my healthy heart page
Disclaimer: All views are based on my own experience and research with my own Pacemaker and Defibrillator (ICD) while travelling.
"This post contains affiliate links, which means that at no additional cost to you if you click on one of the product links, we may earn a commission." For further details, you can view our Privacy Policy, Terms & Conditions or contact me directly.
Source https://wisconsinskydivingcenter.com/blog/skydiving-health-restrictions/
Source https://www.crck.org/can-you-skydive-with-a-pacemaker-defibrillator/
Source https://www.melbtravel.com/travelling-with-a-pacemaker-or-defibrillator-icd/