'Gold Rush: Parker's Trail' Heading To New Zealand: All The Details
Gold Rush: Parker's Trail is finally back. This time, Parker Schnabel and his crew are headed to New Zealand.
We have all the details of this upcoming Discovery series. Are you ready?
Parker Schnabel is Back With Gold Rush: Parker's Trail
Ready for some serious gold mining? No one does it better than Parker Schnabel, and he is back with the latest season of Gold Rush: Parker's Trail.
According to The Futon Critic, this time he is headed to New Zealand, where some of the best gold miners in the world are.
Parker is interested in taking his gold mining skills "to the next level." He wants to find a state-of-the-art wash plant in New Zealand. That is to be able to mine on his Fairbanks, Alaska property.
In New Zealand, they are used to mining in the clay-rich ground. Therefore, they have the engineering and technology that he needs to make that happen.
But that is not all he is doing. He is going all Indiana Jones and mining in shark-infested waters in the Kokatahi River. He is also going to scale the Franz Josef Glacier.
Who knows what other risks he will take to gold mine? You will have to watch to find out.
When Does Gold Rush Parker's Trail Season 5 New Zealand Premiere?
Gold Rush Parker's Trail Season 5 Premieres On Friday, June 17, at 8 p.m., Eastern, on Discovery. The series also streams on Discovery+.
Tyler Maloney Is Back With Parker
There are some familiar faces back in this season of Gold Rush Parker's Trail. Tyler Mahoney is also back! On Instagram she let fans know she was back.
Posting from Pauanui Beach, New Zealand, she told fans a bit of what she went through.
The cat is officially out of the bag. I took this photo after spending 10 weeks travelling around mine sites in New Zealand for @goldrushtv Parker's Trail, it felt nice to be clean after months working in the mud check out my story for the trailer and lots more content to come. SO excited for this series
Gold Rush Parker's Trail Missed One Year
Due to the worldwide coronavirus pandemic, Parker Schnabel was unable to film a season of Gold Rush Parker's Trail in 2021.
In Season 1, he and his team went to the Klondike Trail. Next, in Season 2, Parker went to Guyana, South America. In Season 3, the team journeyed to Papua New Guinea, following his grandfather's trail. In the last season, he mined in Australia. There, Discovery fans first met the remarkable gold miner, Tyler Mahoney.
Like Parker, Tyler comes from a multi-generational gold mining family.
Gold Rush: Parker's Trail Fans, are you geared up for New Zealand?
Georgia Makitalo has been a freelance writer for 14 years. She enjoys writing about Hallmark, Lifetime, GAC, UPtv, and anything Austen. In her free time she enjoys traveling, hiking and researching Pre-Raphaelite art.
What Not to Do If You Want to Get Your Friends into Scuba Diving
Because scuba diving is a buddy system sport, it is natural to dream of sharing our passion with our dearest friends. However, we can sometimes forget how we felt before our Open Water Diver certification and all the things we learn dive after dive. So, when trying to get your friends into scuba diving, there are a couple of things to keep in mind.
This summer, a friend of mine came to spend a week of holiday in the south of France with me. I offered her the opportunity to try scuba diving in my favourite spot there, Porquerolles Island. At first, I was surprised she immediately said yes. However, the day before her Discover Scuba Diving session, she started to express concerns about the experience. I prepared a refreshing ice tea, sat down with her and we went through all the things that could cause her stress. That discussion inspired this article.
So, what shouldn't we do?
Tell your friend scuba diving is easy
While I agree, in the end, recreational diving is not rocket science, at the very beginning, learning the basics can be overwhelming. Try to remember how you felt at your Open Water training. Most of us didn't master skills like hovering or mask removal the very first time we tried. We may see it as easy now because we've had the opportunity to practice these skills many times.
What to do instead?
Tell them the point of the DSD is not to learn everything; the instructor will handle almost everything for them. The experience is about relaxing and discovering the sensation of breathing underwater. Then, if they enjoyed their first dive, they could sign up to the Open Water Diver course. There is no need to over-stress them with detailed knowledge of how a BCD works or how to do a mask removal properly. Reduce the mental charge by keeping things simple. And remember, their PADI dive professional is trained in teaching these skills.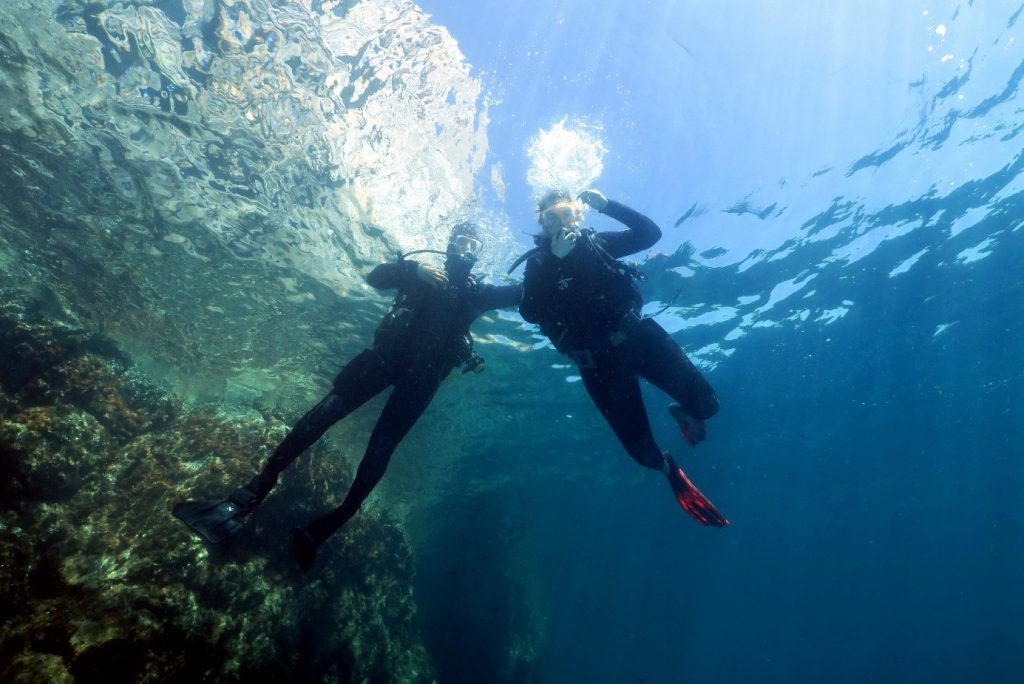 Deny their fears
When I'm meeting non-divers for the first time, and they learn my life revolves around scuba diving, they often directly share with me their fear of trying. The top two reasons I usually hear are:
The fear of going at depths where they can't stand anymore. In other words, it's the fear of drowning
The fear of the fish, which I understand is about being touched by something they can't see. In other words, the fear of the unknown.
Addressing these fears without empathy won't lead you anywhere, and worse, can create a block for your friend. We are all afraid of something.
What to do instead?
If your friend is not a confident swimmer, it might be a good idea to work on this together before pushing too hard to try scuba diving. If marine life is a concern, why not go through some of your best underwater pictures to show them the beauty of the underwater world? Tell them once underwater, through the mask, they will see everything.
Offer to go with them underwater. I had the opportunity to do it twice for friends of mine, so far no instructor has refused to join (Editor's note: allowing another diver to observe a DSD is at the instructors discretion, as they are responsible for all divers). I always respect a minimal distance to let the instructor do their job. My friends were happy I was there, quick eye contact can mean the world to someone a bit stressed by this new experience.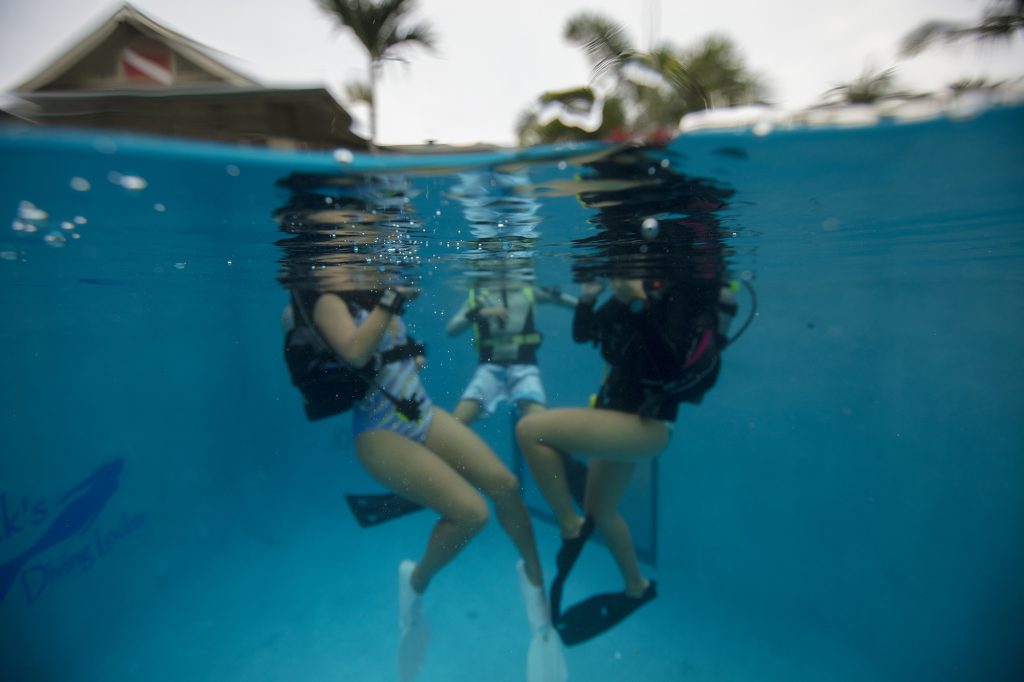 Tell them they must have done something wrong
Sometimes people tried diving once, and it didn't go well. There can be thousands of reasons for it but telling them they must have missed something isn't going to help. One concern most aspiring divers have is the pain they feel in their ears, maybe it's something they've felt when they tried to swim underwater at the beach or in their local swimming pool. Because equalising becomes almost second nature to divers, it's easy to forget that this is not a skill we possess by instinct. If people felt pain at any point it's important to be listening about what happened.
What to do instead?
I usually start by saying that ear equalisation is the one skill they will practice as a priority with their instructor. It is key to making the experience enjoyable. I usually follow by explaining that the capacity to equalise our ears depends on people, and there is a range of techniques to achieve the same result that will work better for certain persons.
"It's so peaceful down there."
These were the first words my friend told me with sparks in her eyes as we had just surfaced. I couldn't be happier to finally share with her the whole reason why I spend as much time as I can underwater.
Florine is a PADI Divemaster and a Dive Travel blogger at World Adventure Divers. She dives in tropical to extreme cold waters, selecting her destinations when both adventure diving and cultural discoveries are part of the journey, and showing you how to do it without breaking the bank.
10 Tips to Get Your Mates into Scuba Diving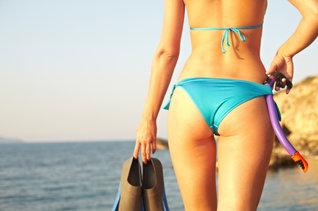 rsz diverchik
Get you mates into scuba diving
As scuba divers, we all know how cool scuba diving is. There are loads of reasons why this is the case, yet when I try and convince a friend or family member to join me in my hobby-obsession I fail horribly.
As a result i have compiled the definitive top 10 things to say to people to get them to go scuba diving. I strongly advise you print this out, laminate it and carry it at all times. It can then simply be handed over to prospective divers mid conversation to save the ensuing boredom of you having to repeat your case.
1. When scuba diving you get to see stuff underwater
I appreciate this sounds obvious, yet it seems every time I tell people I scuba dive they ask me, "Why would you want to do that?"It seems fundamental that you get to see stuff, but non scuba divers seem unable to grasp the concept and often see us as thrill seekers, adrenaline junkies and that scuba is an extreme sport.
So be sure and big up how cool it is to see underwater life in their environment, just swimming alongside them. Ever been on a safari? – well, imagine that but not having to stay inside the vehicle.
Loads of people enjoy museums so what about scuba diving on a wreck then? That is where thousands of artefacts come from, and as a scuba diver you get to see them undisturbed they way they fell maybe 100's of years ago. Just you, the soothing sound of your breathing and your imagination. It's a powerful combination.
2. Health & fitness
I appreciate that the regular diver can be of a fuller disposition, but ultimately scuba does no harm to your fitness level. Lugging around lead weights and twinsets will certainly improve your muscles I can tell you that.
Early in my diving I also became aware of the condition, "scuba fit." My instructor was a practitioner of the fuller shape, yet once this man was in the water he was a machine. If you dive regularly your leg muscles will respond accordingly and cardio will follow.
3. Be social, be happy a Happy Scuba Diver!
Scuba is a social hobby as much as a sport. There are loads of dive clubs in every area, even if then sea is miles away. It's a perfect excuse once a week, once a month or whatever to get out of the house, go diving and meet new people. Divers are a friendly bunch as there aren't that many of us; I've always find other divers chatty and friendly.
You don't even have to be in a club, I'm not, but there are always plenty of semi naked divers around the shorelines happy to have a chat about the huge shark you didn't see on your dive.
Don't forget, after every dive you must have a dive debrief….. in the pub.
4. You get to buy lots of cool scuba stuff
I have noticed that those attracted to diving tend to have a fondness for gadgets and stuff. If you have a friend or family member that has the best iPhone, TV, netbooks etc then simply show them a catalogue of tech diving equipment and leave them to it. They will be in doubles by the end of the week, I guarantee it.
5. Scuba diving reduces stress
We live in a time where words like depression, anxiety, suicide and Prozac are all too common. It is a sad state of affairs but don't worry because scuba is the cure. Perhaps that's a slight exaggeration, but it does have merit. Personally I find diving very relaxing. It provides a soothing atmosphere, closeness to nature and an absence of the everyday nonsense that causes stress. I'm not sure you can get a prescription for it, but it's always worth a try.
"Yes doctor – I need prescribed a week on a live aboard in Egypt. Thank you."
6. Chicks Dig Scuba Divers
I suggest this only be used to get men into diving.
Being a diver isn't your average hobby, so when you explain to a hot chick in the local pub that you take your life in your hands and explore new depths of the ocean, you should be impressed by the response. They will be in awe of your fearless attitude to life and need for new challenges.
The reality of course is that you dove the local quarry to 15m like you do every Saturday morning, and then went to the pub for a pie. You could say diving grants a poetic license.
7. Scuba Dive Holidays
When wife-buddy and I first became qualified divers, Kerri explained that, "not all our holidays are going to be diving holidays you know?" Since qualifying all our holidays have been diving holidays. Diving makes you look at things in a different light, and will lead to you to visit places or countries you previously would never have considered.
It's a disgrace that I had never explored the beautiful west coast of my homeland until I started diving. I bet there are some fantastic scenic dive sites not far from everyone's home.
Escape the concrete jungle
8. Learn A New Skill
Scuba diving is a continual learning process. You must learn to dive in the first place in order to get certified, but after the curve continues. I found I thoroughly enjoyed learning a new skill set and have undertaken more training since my basic qualification.
I hated school because I was forced to learn, now, as it is on my own terms, I have found it very rewarding and I'm actually quite good at it, … well, … apart from decompression calculations, but that's why we have computers right?
9. Save The World
We all have a friend who doesn't eat meat, I even know some who won't eat anything from anything that was once alive, or something like that. These environmentally engaged folks are an easy target to get into diving. There are numerous ways to benefit the environment when scuba diving. You can check the local aquatic life over a period of time if you dive the same site regularly.
There are many online projects that would be grateful of such data and know what species of life may be under threat for one reason or another. PADI offers a Project Aware speciality along with many other similar agencies.
Scuba diving is about environmental awareness. Cleaning up a beach Lough, river, or lake is a much easier task if you are a diver. Kerri and I have done our bit collecting tins, bags, plastic, old fishing line, hooks and even beer bottles from our frequented dive sites. It's disgusting what gets thrown into our seas and it feels good to help even just a little in cleaning it up.
10. Drown A Friend (almost)
If you need to resort to something more extreme to manufacture a new dive buddy then this is a tried and tested method. Basically grab a friend unawares and hold their head in a bucket of water. At the point of drowning pull them out, pop a regulator in their mouth and hold them under again.
That regulator will now become their favourite thing ever. Leave them a few minutes then release and explain just how useful being able to breathe underwater really is. They will now have a new love of scuba regulators and become an avid diver immediately.
Would you like to get your mates in the water too? Feel free to contact us. We have multiple partners that offer dive packages and scuba lessons.
Enjoyed this Guest blogpost about 10 tips to get your mates into scuba diving ? Sign up for our free newsletter! and get our scuba blogs delivered in your inbox each month.
Feel free to check out our Scuba Dive partners on the map below for packages, training or guided trips: [rushkult_map]
This article is published by The Scuba Page, the online magazine for Scuba Dive lovers around the world. The Scuba Page is part of RUSHKULT : the online booking platform for adventure sports. Visit the RUSHKULT platform to book your next Scuba Dive training, guided trip and accommodation.
Source https://tvshowsace.com/2022/05/29/gold-rush-parkers-trail-new-zealand/
Source https://blog.padi.com/what-not-to-do-if-you-want-to-get-your-friends-into-scuba-diving/
Source https://rushkult.com/eng/scubamagazine/10-tips-to-get-your-mates-in-the-water/