Understanding Diving Organizations & Diving Certifications | Full Guide
When trying to understand the complex world of scuba diving organizations and their certifications levels, it can become confusing.
In this article, I will lay out clearly for you all the details in a fully comprehensive guide so you can:
Get familiar with the different diving organizations out there
Understand better your diving certification and what it means in terms of skills
Have a good understanding of the certification equivalencies between organizations
The different Diving Organizations and their history
CMAS: One name to unite them all
While there are dozens of diving organizations worldwide, most of them are under the umbrella of CMAS the (Confederation Mondiale des Activité Subaquatique), this includes most of the national federations of each country like France (FFESSM), Italy (FIAS) or the Underwater Society of America in the US.
The institution was formally created in 1959 by a gathering of national federations including the ones stated above and a few others, who elected the famous french diving pioneer and explorer Jacque-Yves Cousteau as their 1st president.
With more over 130 affiliated organizations in 94 countries across five continents and over 3 million active members, CMAS remains the main regulator for most underwater activities.
PADI: The biggest player in the game
The Professional Association of Diving Instructor (PADI) was founded in 1966 by John Cronin and Ralph Erickson.
Their idea was to breakdown the traditional training programs offered by NAUI in smaller levels and modules to allow recreational scuba divers to learn gradually and attract more people to the world of scuba diving.
This new philosophy of learning was a real disruption to the way scuba diving was taught.
A true pedagogical war machine, PADI standardized all its courses with learning material translated in basically all languages and leaves very little space for improvisation from instructors. This ensures the uniformity of PADI diver's skills around the world and allows the company to scale and maintain its reputation more easily.
Their method became a worldwide success with PADI now being by far the most represented organization globally with over 27 million certifications issued since its creation and 6 600 dive centres scattered across the globe.
SSI: Never mind being second. we are different!
In 1970, Robert Clarke created The Scuba School International as an alternative to NAUI and PADI.
Since then, they have created an impressive network across the globe with more than 2 800 authorised diver centres in 110 countries and 35 offices worldwide. They offer an extensive list of diving certifications matching the international standards set by ISO and the WRSTC.
Their teaching philosophy relies on what they call "Comfort Through Repetition", which is a method focusing on repeating skills over and over until they become automatical. In addition to this practical aspect, SSI developed an extended learning environment composed of digital resources and applications allowing you to practice and learn with great flexibility.
They differentiate themselves from PADI by allowing greater flexibility to their instructor, who can adapt the courses' content to the situation more freely. However, they only allow their instructor to work in SSI affiliated dive centres which can be a bit of a struggle if you decide to make scuba diving your career down the line.
NAUI: The US scuba diving pioneers
The National Association of Underwater Instructors traces its history back to 1955 when Bev Morgan, Al Tilman & Conrad Limbaugh created the first Underwater Instructor Certification Course which laid the foundation to the first diving training agency led by civilians.
In 1960 the same group of people joined by a few other early pioneers of Scuba Diving introduced the National Association of Underwater Instructor to diving passionate with the first NAUI stamped instructor course in Houston with 72 candidates.
Since its creation, NAUI became a leading institution recognised worldwide for their teaching standards, which inspired many organizations including PADI whose founding member was a NAUI instructor.
One of their main characteristics is their focus on teaching rescue skills early on. With for example exercises on how to save an unconscious diver. They also require students to learn how to skin dive.
This added focus on rescue and safety made it the go-to choice for the US military which uses their training programs.
While NAUI has a far fewer dive centres affiliated across the world than the previous ones in our list, the quality training standards they offer make it easy to be recognised worldwide for both recreational and professional diving.
SDI: Learn diving from the tech diving specialist
Scuba Diving International is the sister organization of TDI (Technical Diving International) and was created in 1998 to expand TDI's activities from the purely Tech Diving world.
Coming from a background of pure tech and "serious" diving, SDI brings to the table a solid badass reputation. Their teaching methods are focused on training their students in using the latest tools & technology available. For instance, they require the use of dive computers even at the very first entry-level course while many other organisations will only require a basic understanding of it and leave the dive leader in charge of monitoring the parameter of the dive.
They are also famous for being the first to offer a specific course to learn how to dive alone (Solo Diver), breaking the first rule every recreational diver ever heard. This, of course, is reserved for experienced divers with more than a hundred logged dives.
Combined with TDI for the tech diving courses and ERDI for commercial diving, the group became in a relatively short period a reference and leader in the competitive world of scuba diving organisations, with 26 offices globally and a network of dive centers in more than 100 countries.
BSAC: Diving the British way since 1953
The British Sub Aqua Club was founded in 1953 but launched its first instructor training course in 1960 around the same time as NAUI and CMAS. Since then it became a reference worldwide for its standard of training built to fit the infamous British weather and more demanding diving conditions. It is the official national governing body for the practice of scuba diving in the UK and is even presided over by the Prince Willam himself.
From the entry-level, divers are taught a much more comprehensive training against cold temperature and low visibility, learning how to deal with the risks cold and challenging conditions can have before, during and after the dive.
Like CMAS and NAUI, BSAC is a non-profit organization which promotes an associative and non-commercial conception of scuba diving. This mindset attracts many UK based divers who prefer this club lifestyle and community mindset to the more customers/company relationships found at PADI or SSI.
For-Profit vs Non-Profit – A Different philosophy
When looking at the different diving organizations and their course catalogue, something jumps straight to mind.
Some like PADI or SSI offer a long list of speciality courses which, in some cases, are mandatory to pass on to the next level, while CMAS for example or NAUI offer a smaller number of courses.
Of course, both NAUI & SSI teach its divers about altitude diving's specificities or how to master your buoyancy.
But then why did SSI decide to create separate courses to teach you these skills while NAUI simply includes it in your Advanced Open Water course?
A different diving philosophy & teaching methods
The first reasons bring us back to the philosophy introduced by PADI in the late '60s.
Scuba Diving was then taught as a complex discipline involving a lot of theoretical knowledge, a deep understanding of physiology and the mechanics of both the human body and newly invented gear.
Diving was not easy to get into, definitely not enough to master during your yearly vacation week with the kids.
I remember my father explaining how many pools dives he did back in the days and how much theory he knew before even setting foot on a diving boat. And boom! First dive at 30m on a wreck in the open sea.
And that's where PADI innovated. By decomposing the learning process into smaller modules and restricting recreational diving practice to a no-decompression depth and time, they were able to open scuba diving to the larger audience.
Suddenly, you were able to enjoy the splendour of the underwater world safely, with a few days of practice and basic knowledge of the theory. This new conception of diving, coupled with the explosion of tourism and long haul flights, allowed for the industry's rapid growth.
More courses = More money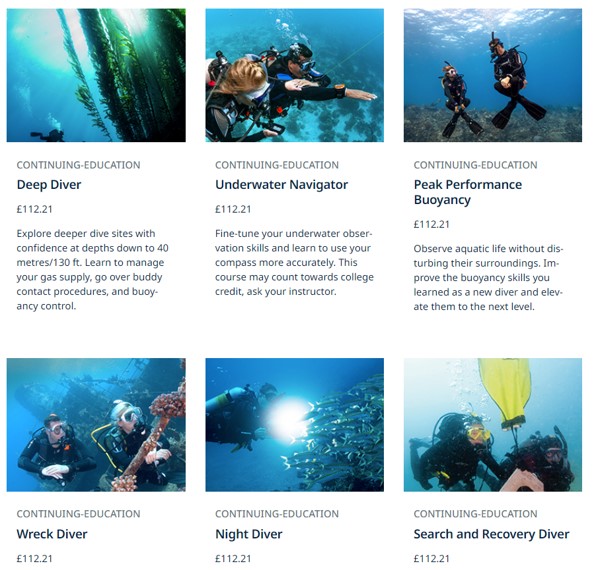 The second reason is, of course, profitability. Being a for-profit organization matches particularly well with the subdivisions of the learning material.
It makes perfect business sense to provide easy & safe access to scuba diving to everyone and add revenue by gradually increasing your members' skills.
It also allows for shorter, more customised training fitting every goal and ambitions of each diver. Do you live in a region with amazing wrecks at around 30-40m deep? Are you only diving with your instructor friends? Let's give you a wreck and deep dive course and let's keep the other things for later.
While this is a great way to learn pedagogically, it can make the non-profit organizations (who still promote a more "universal knowledge" type of teaching) raise their eyebrows.
And it tends to become a nightmare when establishing a unified scale to evaluate skill levels and create equivalencies between organizations.
Diving Certification Levels – What types of skills?
To make sense of all the diving certifications out there and try to establish a reference system for equivalency we can refer to the standardisation bodies like the International Organization for Standardisation, (ISO), who developed three qualification levels.
These norms have been established by teams of international experts and are now used as a reference by all major organizations.
Their conclusion was that scuba diving levels and competencies could be divided into three main skill sets.
The first is being able to dive safely while being entirely supervised and in a no decompression environment.
The second is to dive without supervision in a no decompression environment with divers of your level or higher.
And the third is being able to lead & guide safely divers with less experience in a wide range of conditions.
What is the best scuba diving organization?
Wondering what is the best diving organization? Would you like to do a diving course, but do not know which training federation to choose? PADI, SSI, CMAS… There are too many of them and how are you supposed to know which diving organization is the best? Today I will explain you everything step by step, so that by the end of this text you already know which diving organization to choose.
Before we go into a description of each diving federation, it's time to discuss where the idea of certifying divers came from and whether you can dive without a license. Because, you may not need any dive agency to start your underwater adventure….
Table of Contents
What can you find in this post?
This text will be your complete guide to the most important diving organizations in the world and their training offerings. The purpose of this text is to help you decide which diving organization is best for you and which diving course you should choose for the beginning.
As a dive instructor with many years of experience, I know this world from behind the scenes and can tell you some secrets beyond the marketing tricks of each organization. Shall we?
Where did the need for diving organizations come from?
The origins of standards for diver training should be sought in the 60s of the twentieth century. Then the French explorer and diver Jacques Cousteau saw the need to standardize diving methods in the emerging recreational diving. He was one of the persons thanks to whom the first diving organization CMAS (Confédération Mondiale des Activités Subaquatiques) was established.
The organization began researching scuba diving and began creating its own world-first scuba training standards. More than a dozen countries joined the organization, so the same standards began to apply almost everywhere in the world.
Where do you think the need to standardize dive equipment and training came from? From accidents that happened in the early years of recreational diving development. Everyone was doing what they wanted and how they wanted. Everyone was using equipment made by their own hands in their garage and going underwater with no idea of physics, decompression or time limits. In such a situation it would lead to a serious disaster.
Today you can't imagine that after reading this text you will go to your garage and with the help of a hammer and saw create your first diving equipment, right? RIGHT…? But it used to be that way. The creation of diving organizations was simply necessary.
Can I dive without a scuba license?
It's interesting that the question about diving without a license is still so popular. To be clear – of course you can dive without a license and without prior training. It is not illegal to do so. Just like it's not illegal to jump off a roof or stab yourself in the foot. Your life and your decisions. If you plan on winning the Darwin Award, then diving without training is a great option…
Diving organizations – business organizations
Now let's get down to specifics. The dive organizations that are on the market today were created for one purpose. Well, let's say two purposes. The first, of course, is to provide ready-made training standards for instructors and attract as many divers as possible to themselves. The second goal, perhaps even more important, is to make money.
Yes! None of the diving organizations are charitable and do it for the good of humanity. It is a business in a very competitive industry. A business that needs to make a profit. But that's good for you, because where there is more competition, better quality of service must follow.
Scuba diving organizations – market leaders
As I mentioned earlier, the goal of any diving organization is to make money. The more the organization earns, the more they can spend on marketing, educational materials, but also on having a larger presence around the world. I have been a dive instructor and member of PADI for many years and I will be recommending this organization to you. Not because it is an angel among devils, but because it has the best value for money.
PADI (Professional Association of Diving Instructors)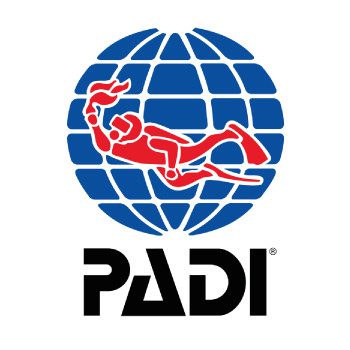 PADI was founded in the United States in 1967 by John Crowin and Ralph Ericson. It is now the largest diving organization in the world, which develops many of its own programs and conducts research. The purpose of founding this diving organization was to promote diving. However, due to the fact that it is a business venture, everything went much smoother and faster than in other organizations.
As a result, PADI developed a modular training system and introduced a uniform standard for all courses. Additionally, based on research, it introduced safe diving standards, including a safe ascent speed. It must be admitted that this organization quickly conquered the diving market and more centers began to join PADI.
As a result, PADI dive centers are present in more than 180 countries around the world. As many as 130 000 instructors and divemasters have professional qualifications issued by PADI, and 70% of all diving certificates in the world are issued by PADI. If you would like to learn more about the training program, please look here: what is the best scuba diving certification?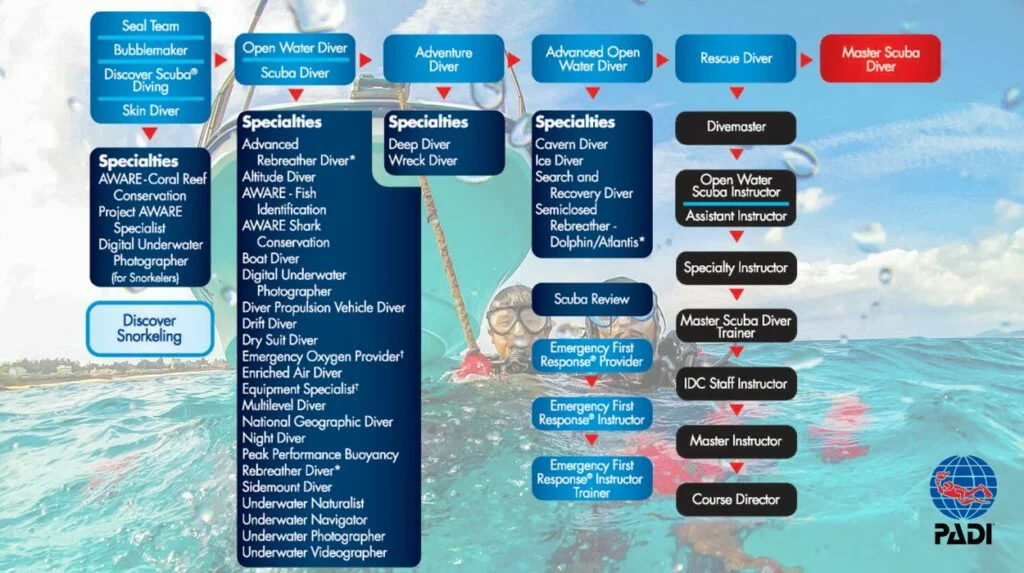 PADI Course Chart
CMAS (Confédération Mondiale des Activités Subaquatiques)
CMAS – World Confederation of Underwater Activities. This organization was founded at a congress in Monaco in 1959 as a non-profit organization. The headquarters of this diving federation is located in Paris, and the first president was the famous Jacques-Yves Cousteau. CMAS was to promote the development of diving and to standardize training standards, but the federations of individual countries were given a lot of freedom in this regard.
Diving licenses of CMAS federation are recognized around the world, so there is no problem with diving with such licenses. As in the case of other diving federations, there is no problem with continuing training in another organization.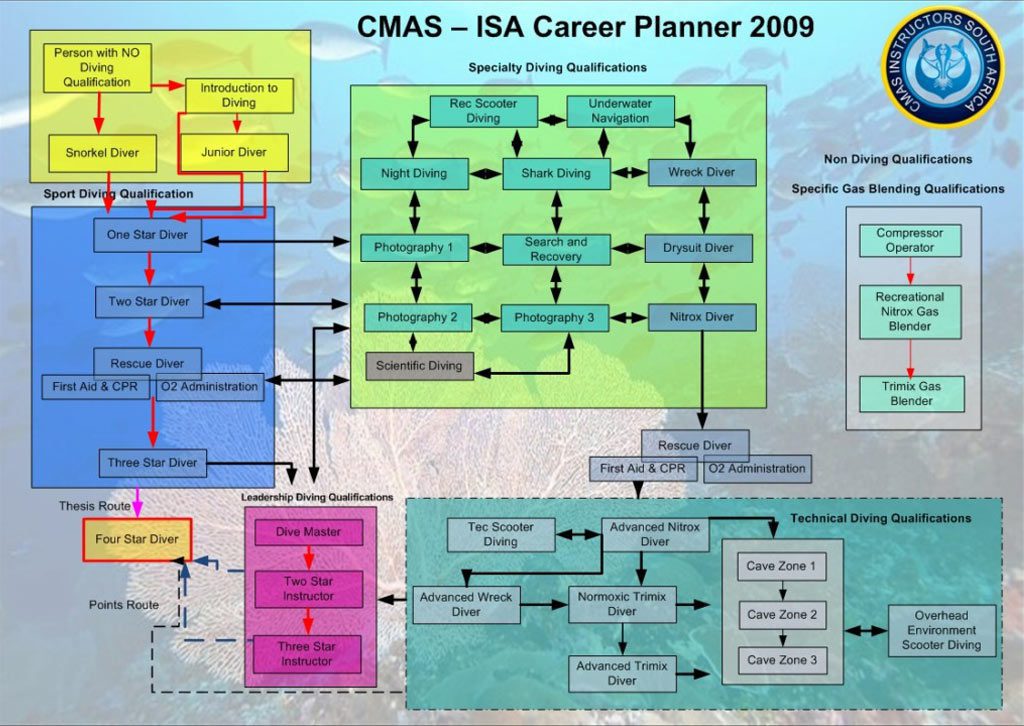 CMAS Course Chart, img. https://www.cmas.co.za/
SSI (Scuba Schools International)
The SSI Diving Federation was founded in the 1970s in the United States to offer its customers a full range of training and equipment sales. In 1999, SSI merged with the National Association of Scuba Diving Schools (NASDS), which had greater recognition. SSI Diving Federation instructors can only train at SSI-authorized dive centers, which affects the availability of training in less developed locations.
The training system is similar to that of other diving organizations, and the training standards are clearly defined and apply worldwide. SSI diving organization is now known around the world, and its certificates are recognized in every diving center. There is also no problem to continue training in another organization.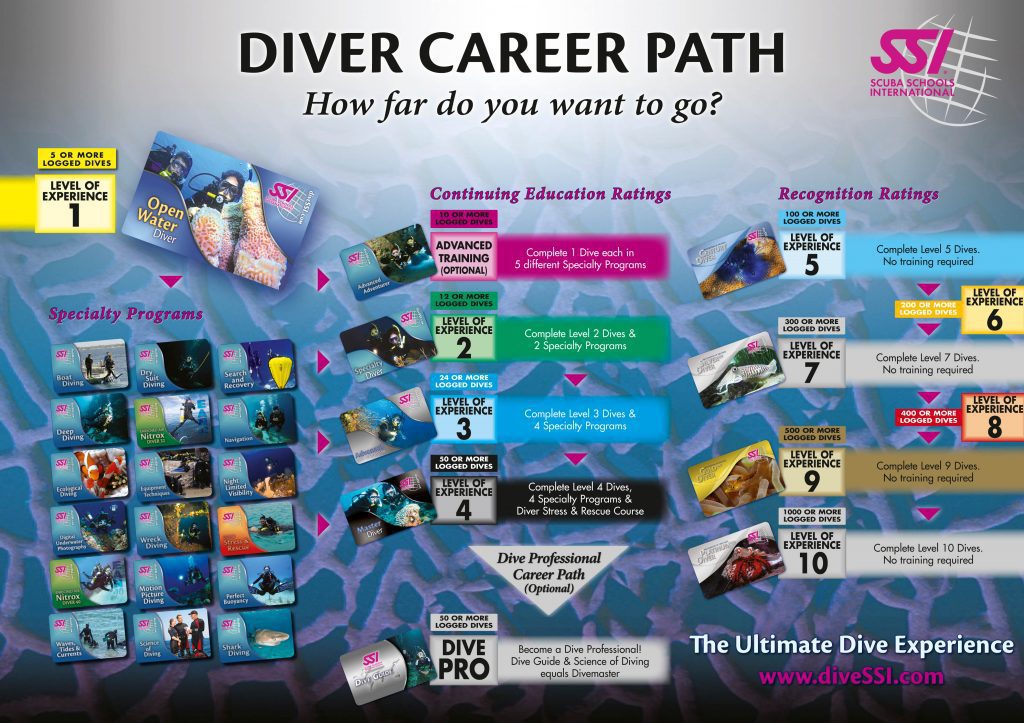 SSI Courses Chart
SDI (Scuba Diving International)
Scuba Diving International is a diver training and certification agency. SDI is a sister organization to TDI Technical Diving International, an organization dedicated to training technical divers.
SDI's training program is similar to all other agencies and again, there is no problem moving from one organization to another.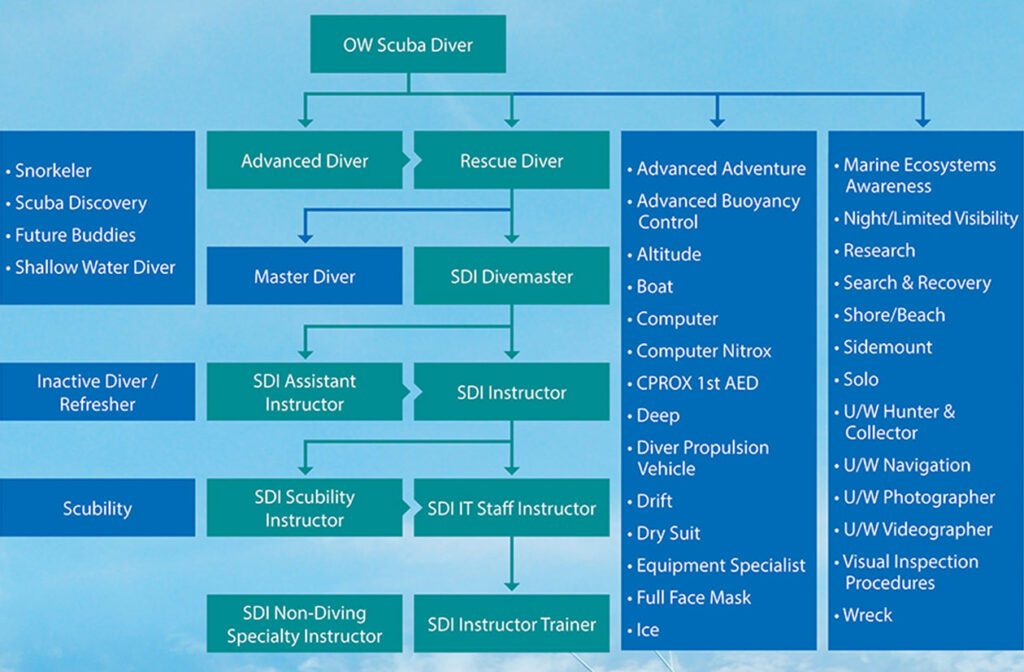 SDI Courses Chart
RAID (The Rebreather Association of International Divers)
RAID is an organization founded in 2007 to train divers using Rebreathers. Since then, the federation has expanded its training to include basic diving courses, as well as freediving and technical diving courses.
NAUI (The National Association of Underwater Instructors)
NAUI diving federation was founded in California in 1961. The main goal of this diving organization was to create a safe training program for divers. At that time there were many accidents, because divers were often not properly trained and used untested equipment.
Over time, the organization began to operate outside the United States, and NAUI evolved into an international organization. It wasn't until 2001 that integrated training programs were completed and standards were introduced that are still in place today. NAUI Federation is recognized around the world, and its licenses are recognized by all dive centers.
IANTD (International Association of Nitrox and Technical Divers)
IANTD was founded in 1991 and was the first diving organization to introduce nitrox, and later trimix, into its training courses. This organization is more focused on technical training and even recreational courses are seen more as an introduction to technical diving.
The training standards are more extensive and may seem more complicated. IANTD has more equipment requirements than other organizations, and the basic training program is more extensive.
Diving organizations for people with disabilities
The best thing about scuba diving is that anyone can try it. It is one of the few sports where any disability does not matter anymore. Therefore, scuba diving is highly recommended for people with disabilities. Of course, depending on the degree and type of disability, different standards have to be prepared and sometimes diving equipment has to be modified.
This is why diving organizations have been created to address the issue of diving for people with disabilities. At Costa Rica Divers we support these projects and want to promote diving as a means of recreation and rehabilitation for people with disabilities.
HSA (Handicapped Scuba Association)
HSA – Disabled Divers Association – is an organization that was founded in the United States in 1981 with the goal of training people with disabilities. It is a non-profit organization that has developed standards for training people with disabilities. These standards are now used all over the world. Diving certificates issued by HSA are recognized in all dive centers.
IAHD (International Association for Handicapped Divers)
IAHD is a non-profit organization based in the Netherlands. This organization is dedicated to promoting, developing and running training programs for people with disabilities. The IAHD diving federation offers courses for people with physical or mental disabilities. The organization also trains instructors to work with people with disabilities. Because IAHD is a non-profit foundation, all board members are volunteers, as are local members around the world.
Are there other organizations that train divers?
The diving federations listed above are currently the largest in the world and every dive center knows them very well. This does not mean, however, that there are no other diving organizations. There are very many of them and listing such as PSAI, GUE or CEDIP certainly will not be a complete list.
As I mentioned earlier, diving is a very big business and everyone wants to take a piece of the pie. Every now and then new organizations are created, which declare themselves the best diving organizations or the most modern. However, as a future diver you need to understand one important thing….
The diving industry's biggest secret (don't tell anyone)
All diving organizations shout in their advertising or communications that they are THE BEST, BIGGEST or UNIQUE. As dive instructors we should repeat that the organization whose logo we have on our chest is the best and only here you should buy more courses. But the truth is different…
You'd better sit down, because this is going to be shocking.
What logo you will have on your ID card is completely irrelevant. What matters is your diving skills and training. Therefore, the most important choice you have to make is your choice of instructor. It is up to him to teach you how to dive properly and safely.
From time to time, I come across a discussion on the Internet where "experts" hotly debate whether this organization is better and that one is worse. Or that they think this one should be condemned. Hey! It's like saying that math sucks because your teacher at school didn't know how to teach it to you.
Stop thinking about the "logo" and start thinking about being a good diver. Look for an instructor with experience who develops their skills in their free time and doesn't treat diving as an 8-to-5 job.
Let's recap. What is the best diving organization?
The best diving organization will be any organization in which the instructor is there by choice, and not by necessity. If you are thinking about taking a scuba diving course, call the school you are considering and talk about the course schedule, instructor experience, or what is included in the price.
I personally get irritated when I see hidden fees. I'm sure you know the trick when you see an ad with an extremely attractive price, but then in small print it says that this price doesn't include anything and there are additional fees. That sucks. Remember, you always get what you pay for.
The question is whether a scuba diving course is a good place to take a shortcut…. But hey! Your life, your wallet and your decisions.
What is the best scuba diving certification? We compare all them here
The short answer is that there is no best diving certification, just the one that best suits your personal needs and preferences.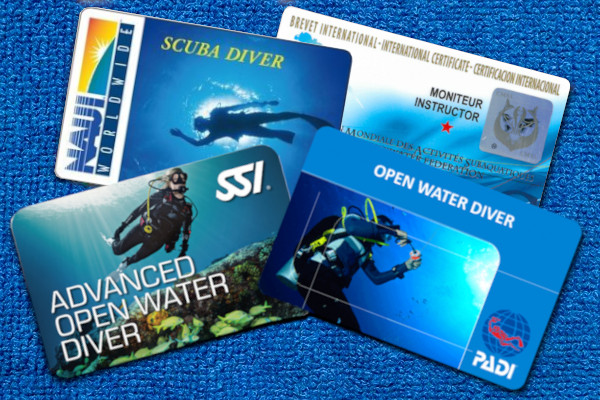 As a PADI diving center, we would like to add that this organization is the one that has certified the most divers worldwide and is active in the largest number of countries.
This is why PADI certifications have reached the highest level of popularity around the world. PADI has trained around 70% of all scuba divers on the planet.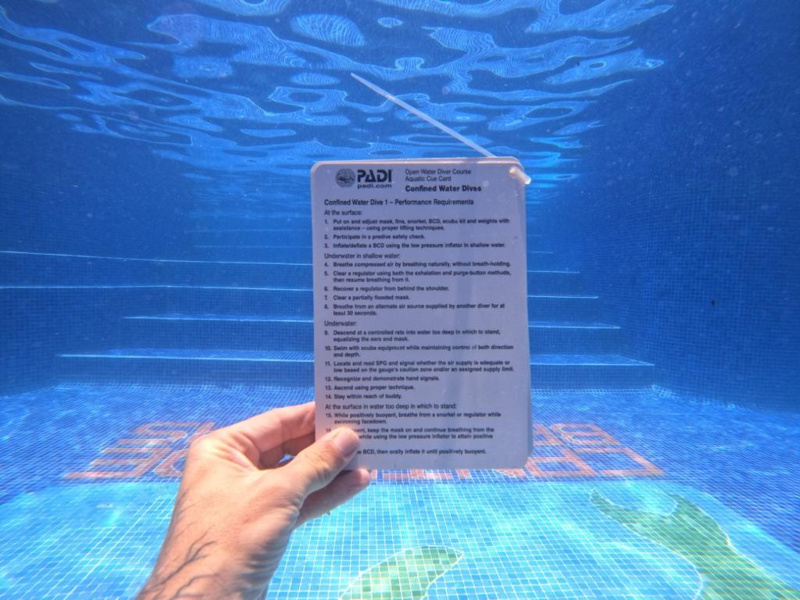 Almost all dive organizations issue worldwide, lifelong certifications and teach much the same knowledge. In this article we will explain some of the differences between the organizations, so that you can make a more informed decision and thus be able to decide which diving certification best suits your needs.
Table of Contents
What you will find in this article?
In this article we will talk about diving certifications, as well as the the different organizations that issue them. We will explain what a diving certification is, how they originated, and what you can do with them.
We will discuss the differences and similarities between the leading organizations.
If you are thinking of becoming a certified diver and you are not sure which organization to choose, you're in the right place! You will undoubtedly find useful information in this article that will help you make the best decision.
What is a diving certification?
A diving certification is a document or file created in the database of an accredited diving organization. In this file the instructors record the evidence of the training received by their students.
To make things easier, after completing the course, the student is given a card similar to a driver's license with which they can easily prove that they have been educated and what their level of knowledge is.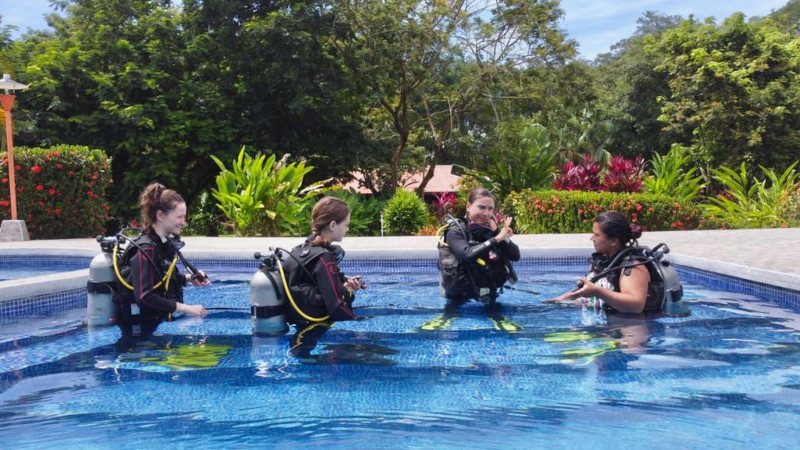 With the advancement of technology, many people do not use the cards but save their certifications digitally. It is also possible for most dive centers to directly consult the database of the certifying organization.
Diving licenses or certifications are similar to driver's licenses in some ways. Obtaining a diving license is very important if you have decided that you want to explore the underwater world.
In the same way a driver's license is necessary to undertake a trip by driving a vehicle.
Later we will compare some of the benefits and differences of obtaining your certification and explore the 5 most recognized diving organizations worldwide.
Importance of diving certifications
The practice of diving is relatively recent since it had its beginnings during the 1940s thanks to the contribution of enthusiasts, explorers and scientists. In the beginning, diving was created for military and scientific purposes.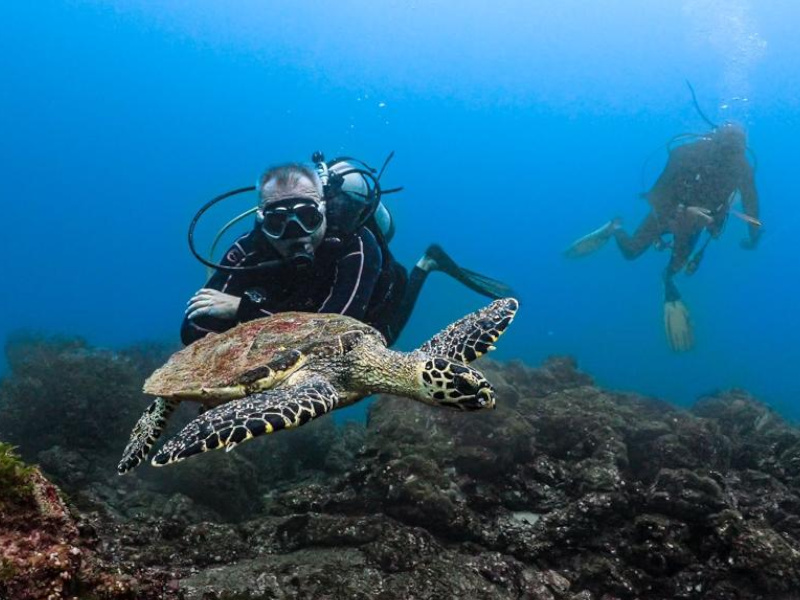 Thanks to the contributions from pioneers like the renowned Jacques Cousteau and Emile Gagnanse, scuba diving became a recreational activity, and for safety reasons had to be regulated.
For this reason recreational diving organizations were created and consequently the certifications.
Every day thousands of people are certified as divers.
Even though diving is a very safe activity, it requires proper training to be able to do it safely. Certifications establish a diver's level of training and allows dive centers and other divers to know in advance the capabilities and limitations of their fellow divers.
Obtaining a license or certification also allows a diver to rent equipment and refill tanks at authorized dive centers.
Can I dive without a dive certification?
Yes and No. As we will explain later, the different diving organizations have created a test level in which a person without certification can participate in dives accompanied by a qualified instructor.
However, scuba diving on your own without a dive certification is dangerous.
What are the main diving organizations and what are the certification levels?
As we mentioned before, diving certifications are issued by diving organizations. There are several dive organizations that have developed educational programs to safely certify students. In this article we will talk about 5 of the most recognized:
Professional Association of Diving Instructors (PADI), the World Confederation of Underwater Activities (CMAS), the International Diving School (SSI). Scuba Diving International(SDI) and the National Association of Diving Instructors (NAUI).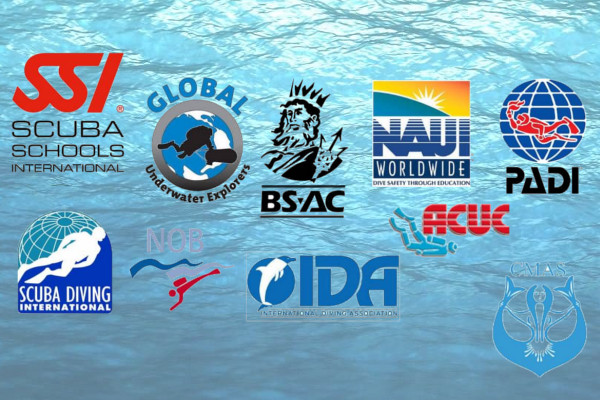 If you want to learn more about diving organizations you can look at our article: Top 7 diving organizations and certification programs in 2022
For a better understanding we have divided the most common diving certifications into five levels: Test level, Basic level, Advanced level, Rescue level and Divemaster level.
Comparative Table of Diving Certifications
Each organization has a structure of courses and certifications to teach diving to those who want to learn. Although there are some differences, most certifications have equivalencies between organizations.
This is positive. Let's say for example that you have obtained an Open Water license with CMAS and later you want to get the Advanced Open Water certification in PADI, you can apply without problem.
Below is a cross table with basic diving certifications. This comparative chart shows the main Diving Organizations and their certification programs.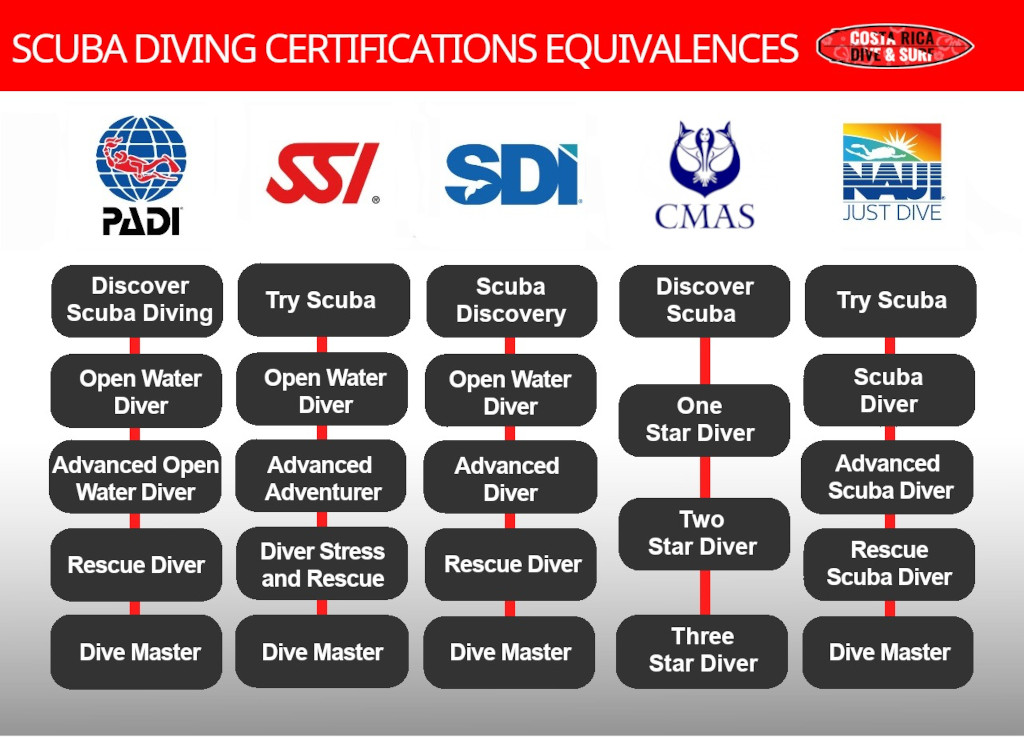 Types of diving certifications
When we talk about diving certifications, we can find four main levels:
Recreational Diving Certifications – for recreational divers
Professional Diving Certifications – for those working in the diving industry.
Technical Diving Certifications – for divers exceeding recreational limits
Commercial Diving Certifications – to perform work underwater, such as repair or welding.
This without considering other certifications such as free-diving, which also has various courses and levels.
In this article we will focus on recreational certifications and the first professional level.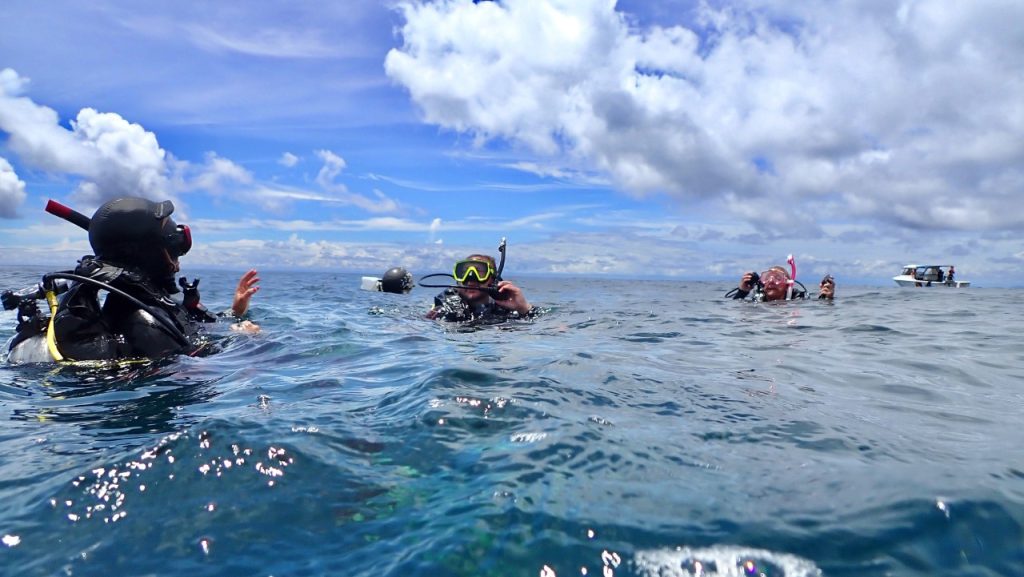 There are several types of diving certifications. Most of the content and activities of each certification have differences.
However, most certifications have a similar structure. All of them require a number of hours of theoretical training, either face-to-face or virtual, and a certain number of supervised activities in the water. That are carried out partly in a swimming pool, where there is a more controlled environment, and partly in the ocean or a lake.
These activities allow an instructor to teach and test the knowledge and skills necessary to dive safely.
Recreational Diving Certifications – For Recreational Divers
Test Level – Recreational Diving Certifications
Most organizations have a trial level. These courses in fact do not issue a certification but rather an introduction to diving that allows the student to experience breathing underwater without having to invest a lot of time or money.
In this way, a space is created so that the person can decide if they want to take the next step or if diving is not what they expected.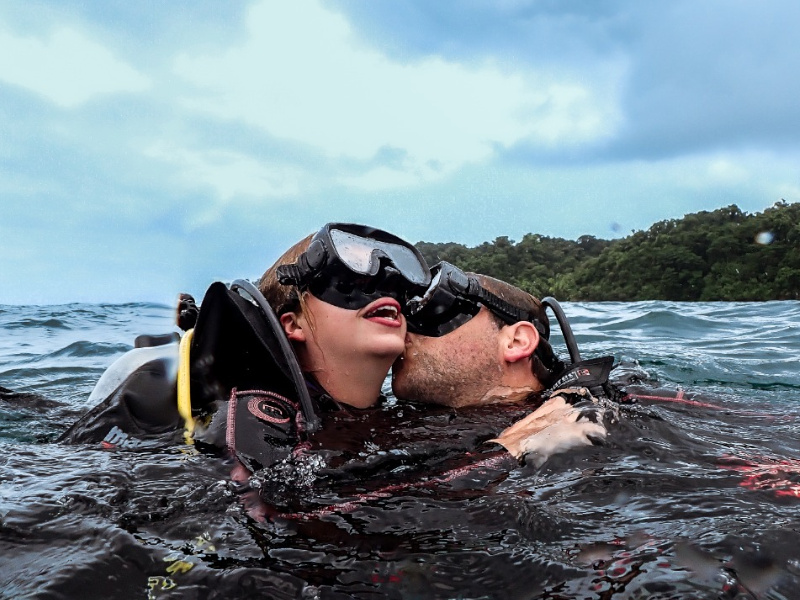 Logically, the vast majority of people after completing this experience are willing to continue the process towards certification.
This option is also ideal for those people who during their vacations do not have enough time to take a complete course and want experience scuba diving for few hours under the supervision of a certified instructor.
Normally, the student must take a brief theoretical course, followed by approximately 3 hours of training in a pool. That allows them to scuba dive in shallow waters accompanied by a qualified instructor immediately.
It is important to note that as they are not certification courses, the student does not obtain a license and in most cases must repeat the theoretical and pool part every time they want to dive.
You will also not be able to dive on your own or rent diving equipment.
Test Level Certifications Comparison and Requirements
PADI Test Level
With PADI, the name of this experience is Discover Scuba Diving.
It requires a minimum age of 10 years and participants can go up to 12 meters deep in the company of their instructor.
SSI Test Level
SSI offers the Try Scuba program which requires a minimum age of 8 years and allows reaching a maximum depth of 5 meters.
SDI Test Level
SDI has a program called Scuba Discovery which requires a minimum age of 10 years.
This course is a little more demanding since it covers topics such as equipment assembly and the use of a dive computer, which is not common at this level.
CMAS Test Level
CMAS has created the Discover Scuba program for which it has set a minimum age of 8 years and recommends doing two open water dives instead of one.
NAUI Test Level
NAUI has divided the content of this course into two parts: the Try Scuba, which includes only the pool part and for which the minimum age is 8 years, and the Passport Scuba, which includes the open water part and requires a minimum age of 10 years.
Unlike other organizations, NAUI recognizes this course for a period of 12 months and allows the student to continue doing dives under the direct supervision of a certified instructor without having to repeat the theoretical part.
First Level – Recreational Diving Certifications
This level is very important as it is the gateway to the world of recreational diving.
After completing this training, the student will be able to plan dives and conduct them safely on their own. This level will lay the foundations for training as a diver and will open up a range of possibilities for the future.
The student can happily remain at this level for the rest of his life, or he can continue his training in different directions: As an advanced, rescue, technical, scientific or even commercial diver.
Something that all divers share is the basic and essential knowledge obtained during this training. This is where the diver learns the fundamentals of physics and physiology that will accompany you throughout your journey. Assemble and disassemble the equipment, safety procedures before, during and after each dive. In short, the knowledge that will allow you to perform as a diver.
Certifications at this level are usually lifelong and will also allow the diver to rent equipment from most dive centers around the world.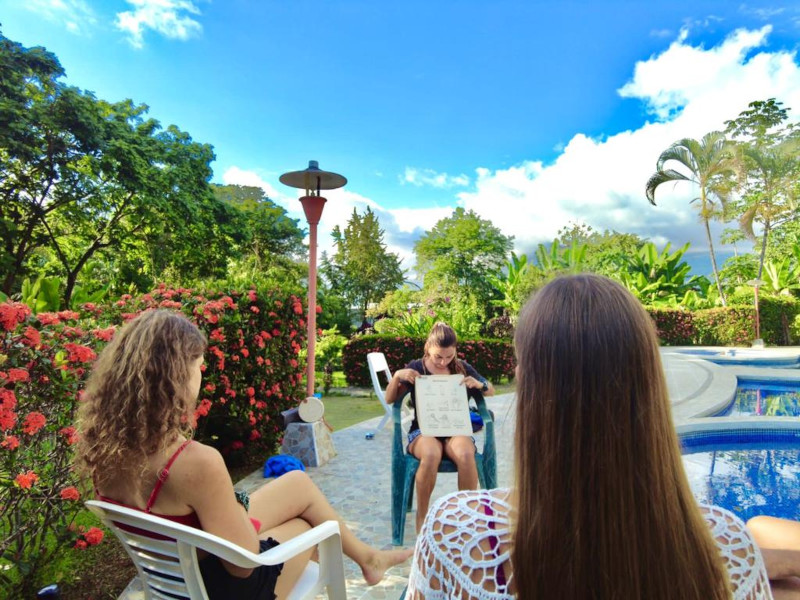 First Level Certifications Comparison and Requirements
PADI First Level
The PADI organization has designed the Open Water Diver course in which a theoretical section is carried out. This portion of the course is available online.
In addition, five pool sessions and four open water dives are required.
The minimum age is 10 years. Although at that age the degree obtained is "Junior" Open Water Diver and when they reach 14 years of age the status of the license automatically changes to PADI Open Water Diver.
The maximum depth to which the diver can go when obtaining this certification is 18 meters. The duration of this course is 4 to 6 days.
SSI First Level
SSI offers the Open Water Diver course in which the minimum age is also 10 years old, 6 theoretical sessions, 6 pool sessions and 4 open water dives are carried out. The organization suggests a time investment of 36 hours.
SDI First Level
SDI has created the Open Water Scuba Diver which is very similar to the PADI courses. With a minimum age of 15 years you can reach a maximum depth of 18 meters.
Also, SDI has a Junion Open Water Scuba Course with the requirement of 10 – 14 years old with parental consent.
CMAS First Level
CMAS offers the One Star Diver certification with which you can reach a maximum depth of 20 meters and in some countries up to 25 meters.
The organization requires at least 5 open water dives to complete the course. This course includes some rescue and CPR skills that are not needed in other organizations at this level.
NAUI First Level
NAUI with its Scuba Diver course requires a theoretical part, a pool part and at least 5 open water sessions.
Advanced Level – Recreational Diving Certifications
This is the second of the certified diving levels.
This level is very important since it allows Open Water divers to expand their knowledge on specific topics of great importance, allowing them to enjoy other areas of diving that were previously unattainable.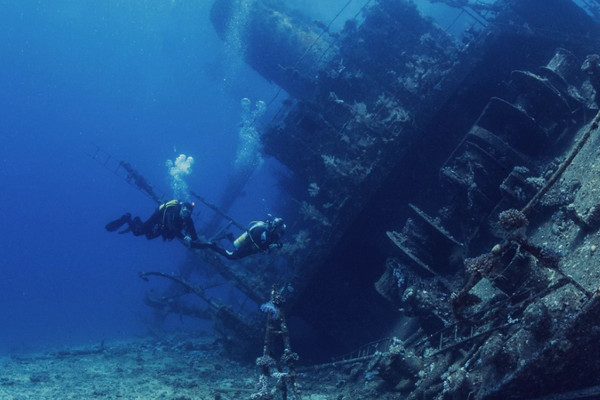 Even though some of the topics to be studied are mandatory due to their importance, others can be chosen by the students depending on their tastes and their geographical location.
This gives each person the opportunity to develop a little more on the topics of interest to them.
One of the most important achievements when obtaining this certification is the ability to dive deeper than 18 meters and up to 30 meters deep.
Specialty dives Comparison and Requirements
PADI Advanced Level
For this level of certification, PADI has created adventure dives, also known as specialty dives. These are dives preceded by a small theoretical portion in which the aim is to obtain knowledge and develop a specific skill. The most common PADI adventure dives are:
Deep Diver (Deep Diving),
Peak Performance Buoyancy (Maximum Buoyancy Performance)
Search and Recovery
Digital Underwater Photography
Dive Against Debris (Ecological Diving)
Fish Identification
Night Dive (night dive)
Search and Recovery
Underwater Naturalist
Underwater Navigation
Wreck Diver
To become certified as a PADI Advanced Open Water Diver the student must complete 5 of these dives. Two are mandatory and three are optional.
Two are mandatory and three are optional. The required dives are Underwater Navigation and Deep Diver while the other three dives can be chosen from the list. It is possible to do these dives independently.
Another option is to obtain a specialty by completing the same adventure dive several times.
The number of dives required varies depending on the specialty that you want to obtain, but they are usually between three and five.
SSI Advanced Level
SSI has created the Advanced Adventurer program. To achieve this certification, the student must complete 5 different programs called Adventurer Programs or Specialty Programs, which are listed below:
Boat Diving
Deep Diving
Dry Suit Diving -Enriched Air Nitrox (EAN)
Navigation
Night & LimitedVisibility
Perfect Buoyancy -Photo & Video -Scooter/DPV Diving
Search & Recovery
Waves, Tides & Currents
Wreck Diving
SDI Advanced Level
SDI has called their course Advanced Adventure Diver and it also requires you to take five specialty dives. Some of them are:
Advanced Buoyancy Control
Altitude Diver
Boat Diver
Computer Nitrox Diver
Drift Diver
Marine Ecosystem Awareness
CMAS Advanced Level
In the case of CMAS there are no specialty dives since their rating is based on stars and skills are developed in a different way. During the CMAS two Star course the student develops comparable skills and knowledge which allow him, for example, to reach a depth of up to 30 meters.
NAUI Advanced Level
NAUI, for its part, requires 6 dives to achieve the Advanced SCUBA DIVER certification. Three of these dives are required: navigation, low visibility and deep diving. The remaining three can be chosen from the following list:
Search and recovery
Boat diving
Light salvage
Hunting and collecting
Exploration and underwater mapping
Wreck diving (non-penetration)
Observation and data collecting
Diving in surf or currents
Altitude diving
Salt Water diving (in areas where most diving is in fresh water)
Fresh water diving (in areas where most diving is in salt water) -Shore diving
Diving for photos and videos
Using dive computers
Rescue Level – Recreational Diving Certifications
Despite being one of the most demanding levels, it is one of the most exciting. At this level the diver stops thinking about himself and begins to pay attention to the safety of others.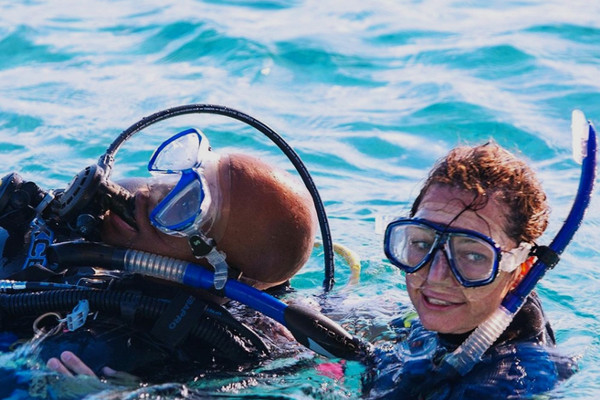 One of the objectives of this level of certification is to teach divers to act in risk or emergency situations and to rescue divers in trouble. At this level, it is also taught how to apply emergency oxygen in the different situations that warrant it. This always within the legal limits of each country.
Rescue Level Certifications Comparison and Requirements
PADI Rescue Level
PADI offers the Rescue Diver course. One of the requirements to participate in this course is to have training in Primary and Secondary Care (CPR and First Aid) in the last 24 months.
This is a course also offered by PADI although under a different brand name known as Emergency First Response.
To obtain this certification, two pool sessions and 4 open water dives are required.
SSI Rescue Level
The SSI organization teaches the Stress and Rescue course for which the minimum age is 12 years.
It requires at least six theory sessions, three pool sessions and three open water sessions.
This course is estimated to last 15 hours. The theory for this course is also available online.
SDI Rescue Level
SDI has developed the Rescue Diver course which has as a particular requirement to have at least 40 dives and a minimum age of 15 years.
CMAS Rescue Level
CMAS incorporates the knowledge gained within this level into its star system so there is no one specific course that can be equated.
NAUI Rescue Level
NAUI has created the Scuba Rescue Diver course. For this course it is essential to have previous training in CPR.
Something that is interesting is that you can take this course as an Open Water Diver, so the advanced level is not a requirement.
Professional Diving Certifications – for those working in the diving industry.
Divemaster Level
This is the first level in professional diving, which implies that you will be able to develop your leadership and take charge of different activities.
On the other hand, working in the diving industry will allow you to recover some or all of the money you have invested in your education and even turn it into your main income.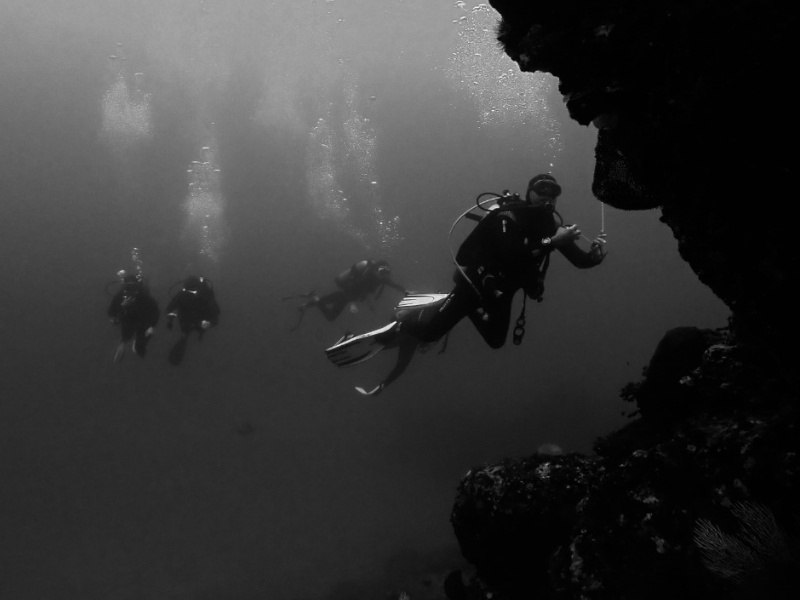 Few things are as satisfying as getting paid to do something you truly love while helping others fulfill their dreams.
The knowledge obtained during this course is one of the most advanced in the world of recreational diving.
Some of the most interesting topics learned during this level are the physiology involved in diving, physics, taking care of equipment from a more technical perspective, and caring for and guiding other divers.
Due to the responsibility of being in charge of these activities, the minimum age in most organizations for this level is 18 years.
Divemaster level diving certifications comparison and Requirements
PADI Divemaster Level
PADI offers the DIVEMASTER course for which it is required to have at least 40 dives at the beginning of the course and 60 at the end.
It is also necessary to be a rescue diver and have a CPR certification issued no more than two years ago.
SSI Divemaster Level
SSI is Divemaster certified. It also requires a minimum of 40 dives although some professional training centers require 50.
SSI offers the option of obtaining a certification known as a Dive guide which is a step before the Divemaster but at the same time counts as part of your curriculum.
To obtain the Dive Guide it is only necessary to have the Stress and Rescue certification, complete five academic sessions, four confined water sessions and five open water sessions.
SDI Divemaster Level
SDI teaches the Divemaster course. This course is very similar to the one created by PADI and requires that you be a rescue diver and have completed 40 dives.
CMAS Divemaster Level
In the CMAS organization, in order to be able to guide, the Three Star Diver certification is necessary with which you can also dive up to 40 meters deep.
With this certification you can guide other divers.Of those mentioned in this article, this is the only organization that allows minors to become guides when they are only 16 years old.
Yes, with the consent of your parent or guardian. Requires a minimum of 15 dives after having obtained the CMAS Two Star certification of which at least 10 must be done at depths greater than 30 meters.
NAUI Divemaster Level
NAUI offers the Divemaster certification which requires, among other things, having completed 50 dives.
Their requirements are very similar to those described by PADI and SSI and SDI.
Conclusion
In summary, with the exception of CMAS, the similarities between the diving organizations that we have talked about and their certifications are many.
Their differences in terms of requirements are few. So it is up to the student to decide which organization they want to choose since they all have with the same validity.
It's important to note that not all organizations are available in all areas. Our advice is that when choosing who will give you your diving education, look for a professional training center where the facilities, boats and equipment are in optimal conditions. That is always a good sign.
Look for a professional who makes you feel comfortable and who you feel you can trust not only because of their appearance but also because of their background and experience.
And if you are passing through the South Pacific area of Costa Rica it will be our pleasure to certify you as a PADI diver at all levels in our Costa Rica Dive and Surf training facility.
If you have any questions or comments, do not hesitate to contact us and we will reply to you shortly.
Source https://diversociety.com/diving-organizations-and-diving-certifications/
Source https://costaricadivers.com/diving/best-diving-organization-differences-between-diving-federations/
Source https://www.costaricadiveandsurf.com/what-is-the-best-scuba-diving-certification/