10 Best Dive Sites in Caribbean Islands in 2022
The Caribbean, a place where you can fulfill your island fantasies with a coconut rum in hand, kick back on postcard-perfect beaches, and indulge in some truly world-class scuba diving.
The region is one of the planet's true gems and home to diving so good you'll book your next trip the moment you get back home. But with more than 7,000 islands, 13 sovereign island nations, and 12 overseas territories, you're spoiled for choice when it comes to picking your Caribbean diving destination.
To help you choose between great and greatest, here's our round-up of the best Caribbean islands for scuba diving.
By: Summer Worsley
We gave our Dive Team one job:
Find the best and most popular Dive Sites in Caribbean Islands
Here you go, now you should be all set for your next dive trip to Caribbean Islands.
Disclosure: We are reader supported, and earn affiliate commissions If you find a good deal on DIVEIN, you click to the retailer, and you buy the product, we get a commission of the sale. That's is how we pay ourselves. It does not make the product pricier for you. when you buy through us.
Top 10 Caribbean Islands for Scuba Diving
St. Croix, US Virgin Islands
The largest of the US Virgin Islands, little St. Croix is only 22 by 7 miles. The island has a history of trade and industry and, at one point, St. Croix was the wealthiest island in the Caribbean, a result of its slavery-fuelled "plantation economy." This practice ended on the island only after the 1848 slave rebellion prompted the Governor-General to pass laws abolishing slavery.
Nowadays, St. Croix is a key tourism hotspot and became part of the US Virgin Islands after the government purchased the island from Denmark in 1916. NBA player, Tim Duncan was born in St. Croix and Alexander Hamilton grew up here.
Why we love scuba diving here?
One of the best things about diving in St. Croix is how much diversity the waters contain. More than 500 marine species including fishes, turtles, seahorses, octopuses, rays, sharks, eels and more live in St. Croix's reefs. Visibility ranges between 18-30 meters (60-100ft) and the water temperature averages a balmy at 26°C/80°F.
Diving hotspots include the Butler Bay wrecks, Salt River Canyon, Frederiksted Pier, and Cane Bay — the latter two are commonly listed among the world's best dive sites. St. Croix fulfills the needs of all divers and is the perfect place for beginners, seasoned divers, nature spotters, and underwater photographers alike.
Bonaire, Caribbean Netherlands
Bonaire was part of the Netherlands Antilles until 2010 when the country dissolved and is now a special municipality of the Kingdom of the Netherlands. Regardless of its political status, Bonaire is a favorite among land-loving tourists and divers alike.
With near-perfect weather, because the island's location prevents hurricanes from hitting, Bonaire is ideal to visit year-round. The national airport is dubbed Flamingo Airport after the 10,000-strong population of the birds who call Bonaire home. Approximately 20 percent of Bonaire's land and 100 percent of its waters are designated national parks and are therefore protected. The municipality is considered a rare natural gem.
Why we love diving here?
The fact that Bonaire's government officially printed license plates that read "Diver's Paradise" should tell everything all you need to know. The smooth weather and protected waters mean that its diving spots are pure and often seem untouched by human intervention.
There are more than 400 species of fish alone, the majority of which are colorful and a feast for photographers. A 2018 poll listed Bonaire as the best dive spot for beginners, conservation, freediving, macro diving, shore diving, and snorkeling. Top dives include the famous 1000 Steps, the Hilmer Hooker wreck, and Bari Reef.
Read more about diving in Bonaire.
Little Cayman, Cayman Islands
Little Cayman was first discovered by Christopher Columbus in 1503. Back then, it was known as Las Tortugas due to the dense population of turtles. This tiny little island is only 10 miles long and 1 mile wide with a population of less than 200, most of whom are expats.
The island's official language is English. Little Cayman has one ATM, one grocery store, and a weekly barge that delivers essentials to islanders and tourists.As the island is surrounded by the Cayman Trench, the water in between the islands is deep and unpredictable, there is no ferry service between islands. The only way between island is to fly on Cayman Airways Express.
Why we love diving here?
Regardless of the island's size, diving sites around Little Cayman is noted for what its waters have to offer. Diving is almost synonymous with this island and sub-aqua activities are the main attraction.
Famous dive sites include the Bloody Bay Wall and Jackson's Reef. Little Cayman's waters are thick with marine life including a variety of fish, crabs, lobsters, moray eels, sharks, and turtles. It's an excellent island for beginner divers, with top-rated visibility between November and April. Jackson's Bight, a favorite spot, is revered for its exploration opportunities with chutes and tunnels for divers to peek into and suss out.
Saba, Caribbean Netherlands
As with Bonaire, Saba is one of the islands from the former Netherlands Antilles but is now a special municipality of the Netherlands.
It's believed that Christopher Columbus first sighted Saba in 1493 but chose not to land on the island for fear of its rocky outcrops. Saba is actually a potentially active volcano and was once considered the highest point in the Netherlands. Both Dutch and English are official languages, though the latter is more dominant. The land area spans 13 square kilometers and just over 2000 inhabitants live here permanently.
Why we love diving here?
Saba is a volcanic island, so its land-side views and landscapes differ from other Caribbean dive spots. All of the reefs are protected and the island is known as the Unspoiled Queen.
The island's rocky terrain makes it an interesting and occasionally challenging dive destination, something seasoned divers will welcome. But beginners are catered for too; the sites are diverse and there are a few easy spots to explore. The island's weather is temperate and varies depending on the season. Popular sites include the horseshoe-shaped Seamount, Third Encounter, the Man O' War Shoals and the Customs House Reef.
Roatan, Honduras
Roatan is the biggest of Honduras' Bay Islands and also the most built-up. One of the best tourist attractions, West Bay Beach, won the popular vote for "best beach in Central America" in 2017 and 2018.
Roatan has a swashbuckling past and in the 17th century was home to more 5000 pirates, including famous names like Blackbeard and Henry Morgan. Today the indigenous people of Roatan, the Garifuna, are listed on UNESCO's World Intangible Heritage of Humanity. Roatan is also known for its low cost of living, yet good quality of life, as well as easy accessibility throughout the island. You can find more than 400 registered taxis within the island's 83 square kilometers!
Why we love diving here?
First and foremost, Roatan's waters contain the second largest coral reef in the world — the Mesoamerican Reef (also known as the Great Mayan Reef). Spanning 700 miles, divers undoubtedly have a lot of areas to explore, discover and even learn to dive. Roatan suits divers of all experience levels and because there are so many spots to choose from, you get a lot of say in how deep or difficult you'd like your dives to be.
It's a favorite for macro diving and conservation initiatives. Seahorses are a highlight while the El Aguila wreck is a must-see.
Cozumel, Mexico
Cozumel is the largest island in the Caribbean at 478 square km and one of the most popular cruise destinations in the world. The island's name is translated from the original Mayan Ah Cuzamil Peten, meaning "the island of swallows." Speaking of the Mayans, they were the first people to settle in Cozumel. In fact, the largest Mayan ruin — San Gervasio — can be found in the center of the island.
If you're not too busy diving, try to time your visit to coincide the Holy Cross Festival, a celebration that marks Casimiro Cardenas' arrival on the island after fleeing a brutal attack in his hometown Saba.
Why we love diving here?
Stunning beaches aside, Cozumel is a favorite because it's an all-year dive spot with a reputation for easy drift dives. It also features a diverse and colorful population of marine life, including turtles, rays, sponges and sharks.
Cozumel is one of the most popular and frequently visited diving destinations in the world, which can be enticing for inexperienced divers worried about submerging themselves in isolated waters. The sea at the southern end of the island is protected and it's a stellar spot for photographers. Top dive sites include Columbia Deep, Barracuda Reef, and the C-53 wreck.
Andros, Bahamas
Andros Island is the largest in the Bahamas, but also the most secluded. Though it's home to some 8000 inhabitants, a large portion of the island remains unexplored and untouched by humans. It's a fascinating landscape, featuring the world's largest collection of blue holes.
Bonefishing is popular here as the island's landscape is perfect for it. Another attraction is the mysterious Lusca — a mythical 75-foot half octopus-half shark said to live in the many blue holes scattered across the island. There's also an urban legend that Captain Morgan buried his famed treasure northwest of Andros.
Why we love diving here?
The waters of Andros are dramatically diverse in their form and appeal. For one, there's the Andros Barrier Reef, the third-largest of its kind. Andros boasts approximately 164 variations of fish and coral. You'll be able to dive with sharks, octopuses, turtles and large populations of schooling reef fishes, among others.
If you're lucky, you may even see or dive with a few dolphins. There are also three wrecks for observation and exploration: the wreck of the Potomac, the Marian, and the LCM Barge. The blue holes offer a significantly different diving experience for those unaccustomed to them. Some of the blue holes are found inland — sure to be an unforgettable diving experience.
Read more about Diving in Bahamas
Dominica
This island is known for its beautiful terrain and is one of the mountainous locales in the Caribbean with dense rainforests and rugged landscapes. Not to mention the hot springs and spas — a result of Dominica's volcanic activity.
In 1978, Dominica gained independence from Great Britain and is now part of the Commonwealth. Because of British colonization, English is the official language spoken. Even if you have never traveled to Dominica before, there's a chance you're familiar with some vistas because the majority of Pirates of the Caribean: Dead Man's Chest was filmed on the island.
Why we love diving here?
Dominica has many, many dive spots and it's unlikely that any of them will bore you. There's something for everyone. The most popular spot is the Champagne Reef — the perfect spot for both scuba divers and snorkelers. It gets its name from the streams of bubbles caused by volcanic emissions underwater.
L-abymes is revered as a beginner's diving spot while the Toucari caves are worth exploring if you're adventurous and experienced. Dominica is also known for its whales, giant barrel sponges, and gorgonians.
St. Vincent, St. Vincent and the Grenadines
St. Vincent is the largest island in St. Vincent and the Grenadines and is considered the country's mainland. It's a volcanic island with its highest peak, La Soufrière, last erupting in 1979.
St. Vincent has a history of war and bloodshed, as it was a key battleground between the native populace, the French, and the British in the 18th century. Now the nation is an independent commonwealth country with approximately 130,000 residents. Almost all of St. Vincent's beaches feature black sand. Like Dominica, this island was the location for Pirates of the Caribean: The Curse of the Black Pearl.
Why we love diving here?
St. Vincent could be among the best macro diving spots in the world. It gained the nickname "muck diving heaven" thanks to the lava that has blended with the water and the proliferation of tiny critters hiding in the nutrient-rich sands. Visibility sits at a welcoming 30m/100ft, and there are sites for all skill levels around the island where it's possible to see an array of fish, turtles, seahorses, eels, crabs and even sharks.
New Guinea Reef and Anchor Reef are famous for their black coral, and The Wall is another impressive site based on the sheer size of it. Bat Cave is a dive for the experienced and adventurous. It's worth noting that St. Vincent has many dive shops for you to indulge in.
Grand Turk, Turks and Caicos
Last, but certainly not least, is the sorely underrated and overlooked island of Grand Turk. First established by Bermudian salt collectors in 1681, it became the capital of Turks and Caicos almost a century later in 1766. A landmark is the 60-foot Grand Turk Lighthouse which was built in the UK and shipped to Grand Turk in pieces. History boffins have much to enjoy here
Because of the island's diverse culture, its main currency is the US dollar. A fun fact is that nudity is banned in Grand Turk; the opposite of the law throughout the rest of the Caribbean.
Why we love diving here?
Diving is one of the main attractions in the Turks and Caicos as a whole thanks to the country's abundance of walls, reefs, and shipwrecks. Grand Turk is sunny all year round and hosts high turtle populations. You might also spot sharks, rays, and dolphins. The Columbus National Marine Park is an eternal favorite and a great place to start your Grand Turk diving adventure.
Another prime scuba destination just south of the Turks and Caicos Islands is the Dominican Republic.
Check out Amphitheatre, The Aquarium, Library Reef, and Tunnels, all popular dive sites for good reason.
No matter where your Caribbean diving adventure takes you, you're sure to come across some stunning underwater vistas, rare creature encounters, and plenty of white sand beaches and bays to keep you happy.
These ten islands are our favorites for scuba diving in the Caribbean, what are yours? We'd love to hear from you so drop us a comment below!
The Best Diving in the Caribbean – 12 Islands to Explore
Picture white sandy beaches stretching as far as the eye can see, crystalline turquoise waters, and a wealth of exciting ocean creatures waiting to meet you. Sounds like something you'd enjoy? Then the Caribbean islands are calling your name.
If you're looking for the top scuba diving destinations in the Caribbean, you're in the right place. With so many countries and islands to choose from it can be overwhelming trying to pick just one. We're narrowing it down to scuba diving around Caribbean islands.
Whether your ideal dive holiday includes sharks galore or off-the-beaten-track Caribbean authenticity, one of these 12 islands will definitely catch your eye!
1. Roatán
For those who like a hassle-free approach to dive travel, Roatán offers some of the best Caribbean dive resorts. Roatán, alongside similarly popular Utila, is part of the Bay Islands off the coast of Honduras.
Like a number of the other islands on this list, Roatán is located on the Mesoamerican Barrier Reef System. It's the second largest barrier reef in the world, with an abundance of incredible marine life to discover. The island offers a vast array of corals sprawled across shallow reefs and deep walls. Critter hunters will love searching for seahorses amongst other macro creatures.
It's not just macro in Roatán… | Image by Sebastian Pena Lambarri via Unsplash
Fans of big underwater life won't be disappointed, though. Whale sharks are known to visit the island between February-April and August-October. Wreck lovers must not miss the El Aguila.
If liveaboard travel is more your style, the Roatán Aggressor allows you to explore the best of both Roatán and Utila. This includes offshore sites Coco's Sea Mount and Cayos Cochinos. These are considered some of the best sites in the area but aren't usually covered by land-based operators.
2. Cozumel
Cozumel is an island located to the east of Playa del Carmen on the coast of Mexico. It offers dive sites for all experience levels, with crystal visibility down to the depths of stunning walls.
Countless reef fish inhabit colourful coral gardens, with spotted eagle rays, turtles and nurse sharks commonly sighted. There's even the possibility of seeing bull sharks between November and March.
Colourful sponges encrust the underwater surfaces around Cozumel | Image by Tam Warner Minton via Unsplash
Cozumel is well known for drift dives. It's worthwhile brushing up on your drift diving knowledge if you're a beginner to diving in currents. Newer divers could benefit from taking an Advanced Open Water Course or a speciality course to build confidence in their skills.
3. Bonaire
Bonaire is often hailed as the shore diving capital of the world, and it's the perfect Caribbean island if you're looking to curate a DIY diving holiday. Part of the ABC islands of the Dutch Caribbean (Aruba, Bonaire, Curaçao), Bonaire is located 50 miles north of Venezuela.
Rent a truck, head to one of the many drive-through tank collections offered by dive operators, and seek out the 80+ yellow stones which mark the island's official dive sites. Top sites include Alice in Wonderland, Salt Pier, and the Hilma Hooker.
One of the many reef residents to be found around Bonaire | Image by Vlad Tchompalov via Unsplash
The Hilma Hooker is Bonaire's only wreck dive, and although it's possible to dive from shore, it's often tagged on to boat dive trips to neighbouring island Klein Bonaire. Our full guide to diving in Bonaire tells you everything you need to know, including where to stay, what to pack, tips for diving independently, and how much it will cost.
4. St Croix
St Croix is the largest of the US Virgin Islands and is quieter than many other Caribbean destinations. With more than 50 dive sites to choose from you'll be spoilt for choice. Situated close to an incredible drop off, St Croix is perhaps best known for some of its plummeting wall dives.
Diving a bait ball in St Croix | Image by Vlad Tchompalov via Unsplash
Frederiksted Pier is another standout dive – divers of all levels will be enthralled by the macro life on the coral encrusted columns. For an extra level of excitement, why not try it as a night dive?
When you've seen all you can see under the pier, head to Butler Bay to experience wreck diving in St Croix. There are ships at multiple depths for different experience levels, the deepest of which is the Rosaomaira (also known as the Rosa Maria) laying at 35m/117ft.
5. Bahamas
If you're looking for sharks in the Caribbean, there's one group of islands that should be top of your list. The Bahamas offer unbelievable visibility, stunning stretches of white sandy beaches, and if that's not enough, an enormous variety of shark experiences.
Some of the varied shark species you can encounter in the Bahamas
Depending on the season, you could easily hop from island to island and encounter a different shark species in each new location. Grand Bahama is home to Tiger Beach, which offers up – you guessed it – tiger sharks. You'll also meet lemon sharks and the occasional great hammerhead.
For more guaranteed sightings of great hammerhead sharks, head to Bimini. If Caribbean reef sharks in huge numbers are more your thing, take a trip to Nassau.
6. St Vincent
Image by Ernie A. Stephens via Unsplash
Located in the south of the Caribbean, St Vincent (along with the smaller islands of the Grenadines) is well known for macro diving. It's often referred to as "muck diving", although the Caribbean twist of incredible visibility makes it a little different from muck dives elsewhere in the world.
You can expect to find longlure frogfish and longsnout seahorses on these Caribbean muck dives, whilst other sites may still offer larger visitors such as Caribbean reef sharks, eagle rays, or even manta rays if you're lucky.
7. Tobago
Trinidad and Tobago both have a lot to offer underwater, although Tobago perhaps has the edge on its larger sister island as the visibility can be much better. Tobago also boasts over 50 dive sites to enjoy.
Most of eastern Tobago is a UNESCO "Man and the Biosphere" designated area including the Main Ridge Forest Reserve, the oldest protected forest reserve in the western hemisphere. With this in mind, it's an ideal destination for the eco-minded divers amongst us.
Some sites in Tobago even offer the chance of seeing Manta Rays | Image by Ishan @seefromthesky via Unsplash
Gliding over the unspoilt reefs, you can expect to encounter plenty of schooling fish, lobsters, moray eels, and sea horses. Fans of larger underwater residents should be on the lookout for tarpons, barracuda, rays, nurse sharks, and turtles.
Underwater must-sees include the giant brain coral at the site Kelleston Drain (close to Speyside), and the Maverick Wreck. Since being sunk for divers in 1997 the wreck has become a thriving artificial reef. There's even the chance to see manta rays in Tobago – sites around Speyside offer the best chance of these sightings.
8. Cayman Islands
If you're looking for tech diving in the Caribbean, the Cayman Islands are where you need to be. Grand Cayman, Little Cayman and Cayman Brac offer incredible topography in the form of deep drop offs and seemingly never-ending walls. Cayman Brac in particular is known for its walls, and is quieter and less touristy than the other two islands.
It's not all deep dives with multiple cylinders, though. One of Grand Cayman's standout sites bottoms out at only 6m/17ft. Stingray City is perfect for underwater photographers and those looking to get up close and personal with the wildlife.
Another not-to-be-missed site is the USS Kittiwake which was sunk for divers in 2011. Sitting at around 18m/60ft, this enormous wreck is crawling with life and is at the perfect depth for Open Water Divers.
9. Grenada
Peaceful beaches are perfect for surface intervals in Grenada | Image by Hugh Whyte via Unsplash
Grenada and smaller neighbouring island Carriacou are quiet, volcanic islands in the south of the Caribbean with lots to see underwater. Carriacou is especially quiet and relatively untouched by mainstream tourism.
Grenada is often referred to as the wreck diving capital of the Caribbean, with 12 wrecks spread around the south west corner of the island. The Molinere Underwater Sculpture Park curated by artist Jason deCaires Taylor has also become a popular underwater attraction.
10. Turks & Caicos
The Caicos islands and the smaller Turks islands sit to the south east of the Bahamas. Expect incredible visibility, epic walls encrusted with sponges and corals, and a healthy population of Caribbean reef fish.
Whilst you're examining the walls for macro critters, don't forget to glance out to the blue. Open ocean species often cruise on by, including sharks and barracuda.
If you're looking for a particularly special experience, travel between January and April and add a trip to nearby Silver Bank for the opportunity to snorkel* with humpback whales.
*(Diving with whales is prohibited in many locations).
11. Dominica
Dominica (not to be confused with the Dominican Republic, also in the Caribbean) is another quieter Caribbean island, perfect for those who love a more culturally authentic travel experience. The north is particularly untouched by commercial tourism, and has some incredible diving which shouldn't be missed.
The Soufriere-Scott's Head Marine Reserve in the south west of the island has the largest concentration of dive sites, with enticing volcanic pinnacles and sweeping swim throughs. Amongst the exciting topography, expect to see jewel toned reef fish and turtles cruising by.
GTS founder Sarah had an incredible time diving in Dominica
With a resident population of around a dozen sperm whales, Dominica is one of the best places in the world to see these gentle giants. However, like the aforementioned humpbacks they are protected, so can only be seen from boat tours.
12. Saba
For some of the best scuba diving Caribbean islands have to offer, holiday in St Maarten and tag on a trip to Saba. Saba lies to the south west of St Maarten, and is the smallest island in the Dutch Caribbean.
This volcanic island offers more than 30 dive sites to explore, with an assortment of drop offs, seamounts and pinnacles. Some of the offshore sites may be better suited to experienced divers due to strong currents.
Saba can be a sharky paradise, with common sightings of Caribbean reef, black tip and nurse sharks. If you're lucky, you may even have a rare encounter with a bull shark, hammerhead, or tiger shark.
If you're staying on St Maarten, you can even dive Saba as a day trip. Either take an early morning ferry, or a low-altitude flight which takes approximately 15 minutes. Although flying after diving is not usually recommended, countless divers taking this low altitude flight suggest that this particular flight after diving is safe. However, you should always dive conservatively and take the flight at your own risk.
St Maarten and Saba can also be explored by liveaboard.
Other Caribbean Countries
The diversity of countries around the Caribbean Sea is enormous, and it would be impossible to cover every single destination and island in one guide. Other larger Caribbean countries to explore underwater include Cuba, Puerto Rico, Dominican Republic, Belize, and the Caribbean coast of Costa Rica.
Have you dived around any of these Caribbean islands? Which is your favourite, and which are you making note of for your future travels? Share your adventures with our Girls that Scuba Facebook community!
10 Best Places for SCUBA Diving in The Caribbean
Prepare for your next Caribbean vacation by learning about the best places and islands to go scuba diving in the Caribbean that offer the most tantalizing underwater views and diving experiences.
While the beaches and restaurants are enough to draw tourists to the Caribbean, you may want to take your sightseeing to the next level by diving in the Caribbean. The breathtaking underwater views of tropical fish and coral reefs will make your Caribbean vacation an unforgettable experience.
When you go scuba diving in the Caribbean, you will have the opportunity to see the remains of shipwrecks, the colorful coral reefs, varieties of exotic marine life, and the underwater landscape. The warm, clear waters of the Caribbean make it the perfect place for scuba diving. While you can enter the deepest waters by dive boats and boards, novice divers have the option of diving right from the shoreline.
Even if you have never gone scuba diving before, you can still have an amazing experience by keeping it simple with drift dives that provide equally spectacular views. Scuba diving is an activity that you won't want to miss out on your next Caribbean vacation. Here are some of the best places for diving in the Caribbean: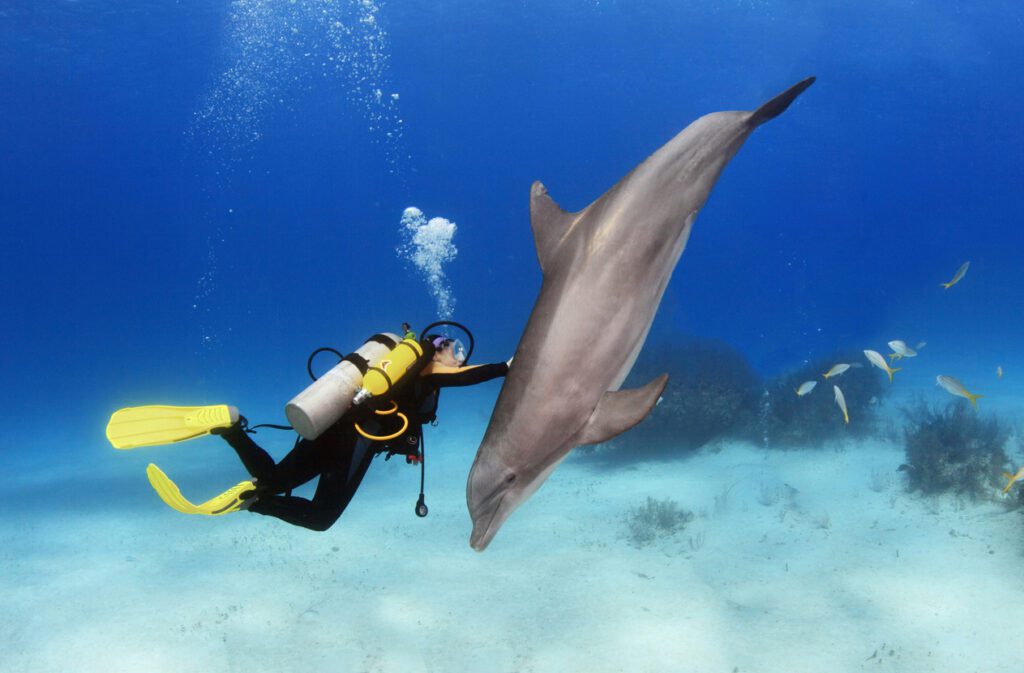 Dominica
If you really want to connect with a variety of marine life, including sea turtles and whales, you should check out the scuba diving on Dominica Island, which is otherwise known as Nature Island. You can enjoy the unique jacuzzi-like experience of diving in warm bubbling waters courtesy of the geothermal vents caused by underwater volcanic activity. When you dive or snorkel in Dominica, you will get to observe and experience vast marine life, including seahorses and urchins.
Belize
This Central American country offers an amazing scuba diving experience due to the deep waters of the iconic Blue Hole which is one of the deepest holes in the Caribbean that drops down 400 feet into the darkest depts of the Caribbean.
While the Blue Hole is a diving location that's best suited for more experienced divers, the views include unique marine life that you won't find on any other dive. If you aren't thrilled with the idea of plunging that deeply into pitch black water, the Half Moon Caye Wall is another awesome place for diving in Belize that provides views of eels and brightly colored coral reefs.
Grand Cayman
Grand Cayman is the most popular destination for diving in the Caribbean out of all three of the Cayman Islands. If you are brave enough to dive deeply, the North Wall is a diving locale that's loved by many, going as deep as six thousand feet and offers views of rarely seen marine life, such as the spotted eagle ray.
Once again, divers who aren't keen on deep dives have the option of shore diving on Grand Cayman which offers spectacular views of coral reefs. If you are fascinated by history, then you may want to check out the notorious Kittiwake shipwreck that can be found fifty-five feet beneath the surface of the Grand Cayman waters. Another famous feature of the Grand Cayman diving experience is Stingray City where you can swim alongside thousands of tropical stingrays.
Bahamas
Of course, the Bahamas has made the list with its seven-hundred islands that offer several of the best places for diving in the Caribbean. If you are interested in underwater shipwreck tours, then New Province Island is the perfect place for you to dive as there have been numerous shipwrecks that occurred in the waters over the span of three centuries.
The Shark Wall is another great place to dive in the Bahamas that offers divers the opportunity to be amazed at the sight of some of the most beautiful coral in the Caribbean. Alternatively, you can swim through the vast barrier reefs of Andros, which includes the famous Tongue of the Ocean.
Grenada
If you have become enchanted by the historical sight of shipwrecks and are fascinated by underwater landscapes, then Grenada is the ideal place for you to dive in the Caribbean. The view is the underwater equivalent of touring the Grand Canyon with its plateaus and drop offs that make it amongst the best locales for underwater exploration.
Shipwreck fanatics can investigate the wreckage of the Blanca C cruise ship, while marine life loving divers can swim through the waters of Isle De Ron to enjoy the sight of tropical fish and breathtakingly beautiful reefs and caverns.
St. Vincent and the Grenadines
If you love exploring underwater landscapes and unique coral reefs, then you will thoroughly enjoy diving in St. Vincent and the Grenadines. In addition to traditionally colored corals, you can have the experience of taking in the sight of black coral reefs, and some of the most remarkable underwater cliffs and drop offs at Anchor Reef.
The Japanese Garden offers the most relaxing diving experience of the Caribbean that offers breathtaking views of sea fronds and corals as you swim along a naturally winding white sand path and take in the sight of tropical fish.
Bonaire
Although Bonaire is the smallest of its sister islands, the volcanic roots of this island resulted in the most pristine reefs that you will ever find in the Caribbean. If you are looking for a simplistic, yet beautiful and eco-friendly diving experience, you may want to try scuba diving in Bonaire.
When diving at Bonaire's Front Porch you can swim alongside jawfish and eels as you follow the fifteen-foot reef and explore a historical sunken tugboat. While Bonaire may not seem to offer much when it comes to diving, most of its coral reefs have been virtually untouched by man making it one of the most natural diving experiences.
Turks and Caicos
If you are enchanted by the sight of coral reefs, then Turks and Caicos is the ideal place for you to scuba dive in the Caribbean as it boasts the largest coral reef system that includes expansive views of pristine reefs, tropical fish, shipwrecks, and even glimpses of whales during certain seasons at the Princess Alexandra National Park. The perimeter of this vast reef system spans sixty-five by two hundred miles making Turks and Caicos a scuba diving locale that you can continue to explore year after year.
The Virgin Islands
The Virgin Islands is another great place for diving in the Caribbean, especially if you appreciate the historic value of investigating and exploring notorious shipwrecks. The 1867 wreckage of the HMS Rhone is amongst the most popular diving destinations in the Caribbean, making it a wreck that you will definitely want to add to your sightseeing list.
Alternatively, you may want to check out the tiny island cluster, known as the Dogs, that offers views of a unique underwater landscape that includes reefs and caverns. However, the HMS Rhone is the attraction that draws the most scuba divers to the Virgin Islands.
Puerto Rico
A United States territory, Puerto Rico consists of a large island surrounded by tinier islands that are set aside a continental shelf. In addition to gorgeous coral reefs, the underwater caves make Puerto Rico the perfect place for diving and exploration in The Caribbean. If you are brave enough, you can even take the bold chance of swimming with the nurse sharks that lurk in the waters of Cayo Lobito.
But swimming alongside sharks isn't for everyone. If you prefer to play it safe, you can enjoy the sight of the one of most colorful coral reefs in the Caribbean, known as Candyland. This highly recommended scuba diving destinations will leave you speechless once you witness the beautiful array of colored corals and sponges.
Candyland is a must-see attraction to add to your list on your next vacation to Puerto Rico. Although Puerto Rico provides some of the best beaches and most tasteful Latin cuisine, the true gem lies deep beneath the waters.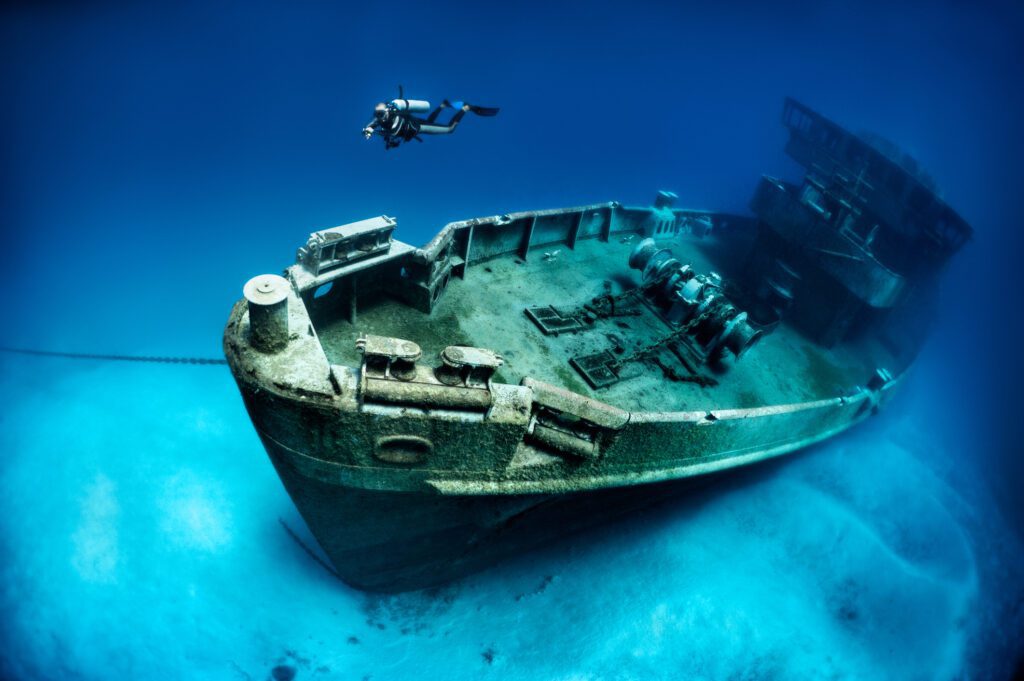 The ex-USS Kittiwake was a Submarine Rescue vessel (ASR-13). She was part of the 6th Submarine squadron (SUBRON 6) homeported at the Destroyer-Submarine piers in Norfolk, VA. The location for sinking the Kittiwake is at the northern end of Seven Mile Beach, on the West or lee side of Grand Cayman.
Final Thoughts
If you thoroughly enjoy scuba diving or are an amateur diver seeking to maximize the experience of your next Caribbean vacation, these locales are hands-down the best places for diving in the Caribbean. Although you can find stellar hospitality, beautiful white sand beaches, luxurious hotel accommodations, and delicious ethnic foods at many destinations throughout the Caribbean, there is only a handful of places that are perfect for scuba diving.
Sure, you can try scuba diving in any body of water throughout the world, and given the tropical location of the Caribbean, you will catch glimpses of coral reefs and tropical marine life at most Caribbean diving spots, but there seems to be a little compromise when it comes to the best places for diving in the Caribbean.
So, when you are packing your bikinis and swimming trunks to head out on your next Caribbean vacation, don't forget to pack your scuba gear or at least inquire about places that rent out scuba gear at your desired destination. While there is much to love about Caribbean vacations, you are missing out on the full experience unless you tour the depths of the Caribbean waters.
Source https://www.divein.com/diving/destination/best-diving-in-caribbean/
Source https://www.girlsthatscuba.com/best-diving-caribbean-islands/
Source https://epiccaribbean.com/best-diving-caribbean/