PADI vs SSI certification for scuba diving: Which one to choose?
Have you been thinking about becoming a certified scuba diver? Like most beginners, you're probably looking for the best place to learn diving under the guidance and attention of a highly trained, experienced professional. To help with your search, Professional Association of Diving Instructors ("PADI") and Scuba Schools International ("SSI") are two of the world's prestigious scuba diving agencies and your best options. Let's compare the PADI vs SSI certification so you can choose the most suitable one for you.
What is PADI?

PADI is a recreational diver training organization founded in 1966 by John Cronin and Ralph Erickson. It is one of the greatest scuba diver training organizations in the world that offers programs and diving courses from entry-level to professional diving courses to start your diving career.
Being PADI certified means the individual has completed a diving which has been teached by a PADI instructor. After completing the scuba diving theory, an exam and practical exercises, they can safely participate in diving activities up to the level of the certification they hold.
What is SSI Certification?‍
SSI is also an organization that teaches the skills involved in scuba diving and supports dive businesses and resorts. One of the pioneers in scuba diving training, Robert Clark, started SSI in the United States in the year 1970. SSI was also the first organization to offer a full teaching curriculum, including the first full-motion video. The SSI organization is comparable with the PADI organization.
"I want to do my PADI Open Water"
Have you heard the phrase "I want to do my PADI Open Water"? Most new divers say this because "Open Water" is the introductory course of PADI certification and so the phrase became synonymous to "I want to learn diving".
However, keep in mind that although PADI is an organization that teaches, among other things, scuba diving and it's not the only one that does so. As mentioned, SSI is another well-known school around the world where you can learn diving. You can also choose the local organizations in your country, like the NOB in the Netherlands or the British Sub-Aqua Club (BSAC) in the United Kingdom.
Where to get your diving license?
Apart from getting your diving licence locally (in your hometown or somewhere nearby), there are a few places in the world which should definitely be considered!
Scuba diving courses on a diving liveaboard
One of the best options is to get your diving license combined with exploring the best diving destinations. With a liveaboard, you can explore the best dive sites by boat which are not in reach of the day diving liveaboards. This means that the conditions of reefs and marine life are generally much better compared with the shore dive sites. Nothing better than combining learning scuba diving together with enjoying some of the best dive sites!
Below, we have listed a few liveaboard options which may be combined with a Open Water scuba diving course (or another course if available):
Australia | Cairns | Great Barrier Reef: The Ocean Quest
Egypt | Red Sea: The Red Sea Aggressor II
Bahamas | Nassau: Bahamas Aggressor
To combine a liveaboard trip with a scuba diving course, a minimum of 3-4 days onboard is recommend as the Open Water course takes around 3 – 3.5 days to complete. It should also be noted that with a multi-day liveaboard, you will stay onboard (also during the nights). In addition, we recommend to mention during the booking process that it is desired to complete a (Open Water) scuba diving course during the trip.
Scuba diving courses on from shore
Another option is to complete your (Open Water) diving course from shore. One of the cheapest options available is to get your diving licence in Koh Tao, Thailand. Prices for a Open Water courses varies between USDS 200 – USD 300. Sometimes, free accommodation during the course is included.
The Red Sea, Egypt is also great to get your diving license. With plenty of diving centers available in the big cities such as Hurghada and Sharm-El-Sheikh, the price for a scuba diving course is also reasonable. In addition, the Red Sea is known for its colorful marine life and good diving conditions which will make your scuba diving course and wonderful experience.
Differences between the PADI and SSI diving courses
PADI and SSI are both regulated and checked by the World Recreational Scuba Training Council ("WRSTC"). The courses for PADI and SSI are more or less similar. The biggest difference is the teaching methodology. In PADI, you need to complete a set order to meet their standards and pass the course while SSI allows slightly more flexibility for students to grow in confidence by completing other skills first.
Both agencies offer e-learning options as well as a printed manual. PADI requires that you purchase the materials while with SSI, you can choose to either borrow or buy your manual. The PADI e-learning course will cost you money whereas SSI offers the e-leaning course for free via the SSI app.
If you get PADI certified, your PADI diving instructor will process the results in the PADI system. After a while (in general this should take a month), you will receive your PADI certification by post to your home address. In the meantime, the PADI diving instructor/diving center will provide you with an temporary card. If you get certified by SSI, you will receive immediately your diving certificate in the SSI app.
Content of the course: The SSI course is more flexible and can be aligned with the students' learning curve;
Costs: The costs for the SSI Padi Open Water course is, in general, lower compared with the PADI Open Water course;
Certification card: The digital card of SSI is immediately available for free and a physical card will be send to your home address. PADI sends you a physical certificate to your home address and in the meantime, a temporary card will be provided. The PADI eCard is also available via the PADI app, but that is only available for an additional fee.
eLearning: The SSI eLearning is available for free via the app while the PADI eLearning course is only available for a fee (as this is part of the course).
Equivalents of the PADI and SSI diving courses
Sometimes, we want to have more information of the equivalent course of the other diving organization. However, we often spend too much time in finding the equivalent course. If you are looking for the equivalent PADI or SSI course, be careful as some of the courses have similar names but they are not comparable. For example, the PADI Advanced Open Water course is not same course as SSI Advanced Open Water course).
Below, we have summarized the equivalents of the main PADI – and SSI courses.
PADI Open Water – SSI Open Water
PADI Advanced Open Water – SSI Advanced Adventurer
PADI Rescue Diver – SSI Diver Stress & Rescue
PADI Divemaster – SSI
PADI Open Water Scuba Instructor (IDC) – SSI Open Water Instructor
Note that there are differences between the PADI and SSI instructor courses. A PADI OWSI can, for example, teach up to the level of the Divemaster course. Within SSI, there are multiple instructor levels such as Divemaster Instructor and Assistant Instructor Trainer.
GO PRO – Difference between PADI and SSI professionals
Practicing scuba diving enables you to share your love of the aquatic world with others. If you have plans of becoming a diving professional, the first step is your divemaster training.
Instructors for PADI can work independently which means that, If you have completed the instructor development course (IDC), you can teach anywhere. For SSI instructors, you have to be affiliated with an SSI center or dive shop to teach. This means that you cannot provide any SSI diving courses without being affiliated to a SSI diving center.
Another difference is that a crossover from a PADI instructor to a SSI instructor is quite easy. By following the SSI Instructor crossover course, you will be a SSI instructor in a few days. A crossover from PADI to SSI is more complex. As an SSI instructor, you must join the Instructor Development Course (IDC) and pass the PADI Instructor Exam (IE).
If you are thinking about starting your career in the diving industry and you are still at the beginning, we recommend to do your research about being a PADI instructor or SSI Instructor.
The PADI eLearning and SSI eLearning
Both certifications are accepted all over the world, and both have online eLearning programs and extensive training pathways. PADI has an eLearning program that allows you to begin your dive education at your convenience, using your desktop, laptop, or mobile device, and finishing your water training with a PADI Professional.
Over the past few years, SSI has moved up its game about online certification and study. They have an app where students can log their dives, have course materials assigned by an instructor, and display the courses and qualifications. If you are sign-up with an SSI diving center, you can use certain online information for free.
Recommendations in choosing PADI vs SSI
To summarize: Both PADI and SSI offer world-class diving training around the world. They both maintain high standards of practice across the globe. SSI is generally cheaper, so if you are looking for a lower price, you can do your SSI Open Water. If you are backpacking/travelling without too much stuff, then we also recommend to use SSI. With SSI, you can borrow the study materials instead of buying them so you don't have to take the books with you. In addition, you will receive the online certificate in the SSI app so you don't need to travel back home to get your diving license.
The most important part is your personal preference. Your experiences with the diving professionals, diving center and the location of diving are by far more important than the differences between PADI and SSI as described above. For new divers, the diving instructor is the one who will give you an wonderful diving experience (or the worst) so choosing the right diving center and/or diving professional is the most important one.
We don't have a big preference for one of these diving organizations. They have both high standards and they aim to train their diving professionals in the best way. But if you are really asking for our opinion, we have a preference for PADI but that is just because instructors are operating independently and PADI is worldwide accepted. They are charging a higher fee for courses such as the PADI Open Water course, but remember: you only have to get your diving certificate once.
Looking for a BCD?
A Buoyancy Control Device ("BCD") is one of the essential items for your diving equipment. A BCD will provide you with buoyancy by releasing or adding air.
When looking for a new BCD, you should definitely consider the following items:
Size: Most often, BCDs can be bought in different sizes;
Price: Sometimes there are huge price differences between brands/BCDS. However, some BCDs provide you with add-ons which you will probably not use;
Location and type of air infiltration: Depending on your preferences, the air infiltration can be located at your chest or hip;
Brand: Various scuba diving brands offers BCDs, each with their own pros and cons. Well-known brands are Mares, ScubaPro, Cressi, Aqualung and Tusa.
Weight integration: Different types of weight integration are available.
Number of clips/rings: Useful when you would like to attach accessories to your BCD such as a camera or lamp.
Search
Scuba Diver
The PADI Scuba Diver course is a subset of the PADI Open Water Diver course. If you're short on time but really want to become a diver, the PADI Scuba Diver rating might be right for you ̶ particularly if you expect to go scuba diving primarily with a dive guide. This course is an intermediate step for earning an Open Water Diver certification, if that's your ultimate goal.
PADI Scuba Divers are qualified to:
Dive under the direct supervision of a PADI Professional to a maximum depth of 12 metres/40 feet.
Obtain air fills, rent or purchase scuba equipment and participate in dive activities as long as properly supervised.
Continue dive training by completing the PADI Open Water Diver certification and taking certain specialty diver courses.
To enroll in a PADI Scuba Diver course (or Junior Scuba Diver course), you must be 10 years old or older. You need adequate swimming skills and need to be in good physical health. No prior experience with scuba diving is required, but you can try it first through the Discover Scuba ® Diving program.
Academic
The PADI Scuba Diver course consists of three main phases:
Knowledge Development (eLearning, independent study or in a classroom) to understand basic principles of scuba diving – just the first three of five sections of the Open Water Diver course.
Confined Water Dives to learn basic scuba skills – just the first three of five dives of the Open Water Diver course
Open Water Dives to use your skills and explore – just two of four dives of the Open Water Diver course.
Available Languages
For information on other available languages please contact your PADI Dive Center.
Equipment
You learn to use basic scuba gear, including a mask, snorkel, fins, regulator, buoyancy control device and a tank. The equipment you wear varies, depending upon whether you're diving in tropical, temperate or cold water. Your PADI Instructor will explain the equipment you need and may suggest additional educational materials, such as the required logbook.
PADI Diver Certification Levels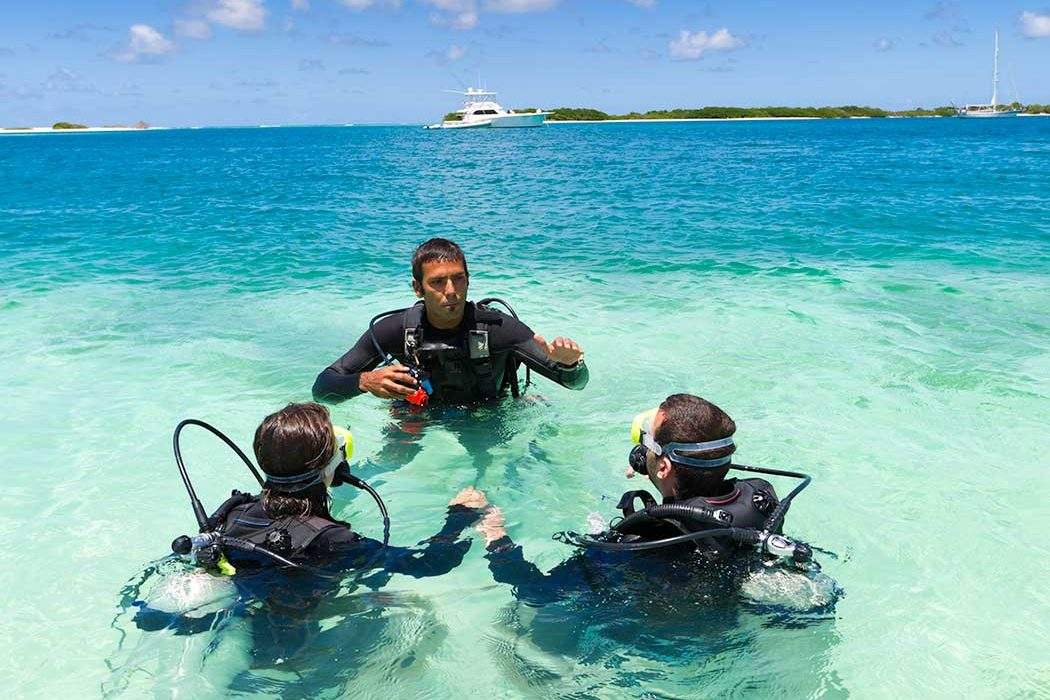 Learning how to scuba dive is exciting and quite often, life changing. Many people try it while on vacation and quickly find themselves obsessed. Diving allows close-up encounters with majestic and hypnotic sea life and transports you to another world altogether. There's only one thing standing in the way though, getting certified. It's actually quite easy to get certified and you only need very basic certifications to get started.
There are several types of PADI scuba diving certifications. The more advanced your education is the most skilled and technical of a diver you become. The most common certifications are open water and advanced open water. After the advanced level, there is a rescue diver and divemaster.
PADI certifications are recognized worldwide so you will never have any problems verifying your certifications. All gear that is needed can be rented and is usually included in the price of the course. Every diver is logged into an online system so dive shops can verify your credentials even if you do not have your dive card. Also, they offer many subcategories of diver training including cavern, altitude, ice, and drift diving.
Cost and Length of Time
The length of time it takes to complete a diver course depends on where you are learning and which course you are taking. Many courses can be taken partially online and completed at the learner's pace. If you choose to take the entire course in person it usually takes 4-7 days. The only exception is scuba certification which is a speed course that takes about 2 days. Expect to pay between $300-$600 for an open water certification. While this is a lot of money, these courses should be seen as investments. You are investing in new experiences, knowledge, and a possible long-term career. All the gear needed for diving is commonly rented so the only investment is the initial certification course.
Scuba Certification and Junior Certification
At least 10 years old
Are in good health
The most basic level fo scuba diving is a scuba certificate. This is mainly for people who want to learn the basics of scuba and are okay with being accompanied by a certified instructor on every dive. It's also for kids 10 years of age or older who are still too young for an open water certification. You cannot dive alone with this certification. Think of it as a speed course that will teach you just the bare minimum to get you in the water. Since this course is shorter, expect it to take about 2 days. You will not be able to dive deeper than 40ft (12m) and like mentioned, you will need to be accompanied with a diver master every single time you dive. It's a great option for anyone short on time or who are curious but don't want to fully commit just yet.
Open Water
At least 12 years old
Basic swim skills
Are in good health
An open water certification is the beginner-most level. You will learn all the basics including safety information, how to use the equipment, and complete three successful dives. The course is broken down into three sections. The first is knowledge. You will learn a lot of information and be given practical information. The next section is an enclosed dive. Here you will put your newly learned knowledge into action. You will experience your first dive which is almost always done in a swimming pool. This is so you can experience the sensation of breathing underwater and learn techniques to calm any fears or anxiety you may have. Note that having some fears around diving is completely normal and every single person has it whether they admit to it or not. The final section is to take everything you have learned from the previous two sections and put it into action in open water. The location will either be the ocean or lake depending on where you are getting certified. Once you finish the course you are officially ready to dive. However, you are restricted to a maximum depth of 60ft.
Advanced Open Water
At least 12 years old
Open water certified
Are in good health
The next level is advanced open water. During this course, you are required to go through 5 different adventure dives. You can choose the ones that interest you the most but navigation and deep dive are 2 of the required 5. During these dives, you will be with an instructor as well as anyone else taking the course. You will learn more advanced skills and how to adapt to deeper dives. It is also common for instructors to teach students more buoyancy techniques. Once certified you will be able to participate in deep water diving up to 130 feet.
Rescue Diver
At least 12 years old
Are in good health
Complete the underwater navigation dive
CPR and first aid training (can be completed at the time of certification)
The next level of certification is a rescue diver. It's said to be the most challenging diver course but also the one that people find the most rewarding. You will learn very important and practical skills to manage and react to any problems that could occur during a dive. You will learn to identify warning signs, how to deescalate the situation, and how to respond during an emergency. It's a fantastic course that is highly recommended for any interested in making diving a regular hobby. Knowing how to respond during an emergency situation is a highly valuable and notable skill. It will also give you more confidence while diving and make you a better dive buddy.
Diver Master
At least 18 years old
Are in good health
Rescue Diver certified
CPR and first aid training within the last 2 years
A medical statement signed by a physician within the last 12 months
40 logged dives (always log every dive in your logbook)
If you are in love with diving and want to make a career out of it then getting certified as a divemaster is the direction to go. This is when you will fine-tune your buoyancy and rescue skills. You will also learn how to map out a dive, give a dive briefing, and organize a search and recovery project. You will also learn how to lead a group of divers and recognize signs of stress. After completing this course you will be ready to lead a group of divers with ease and confidence. Being a divemaster really does have endless possibilities. You can travel the world and work in remote locations until you are ready to move onto the next beautiful destination. You might even open a dive shop of your own.
Source https://www.scubadivingmaps.com/blogs/differences-padi-vs-ssi
Source https://www.padi.com/courses/scuba-diver
Source https://scubasplash.com/padi-diver-certification-levels/