PADI Replacement Card for Diver Certification
Your PADI diving certification card is proof that you have successfully completed a PADI Training Course. Whether you want to Replace Your PADI Diver Certification Card or update your card, purchase a limited edition or Project AWARE card, or you're inquiring about your card that has yet to arrive – this is the place to be for a PADI replacement card. So how to replace your PADI card, If you have your card, then you're ready to go scuba diving. Check out the complete list of PADI Courses. You can even start scuba diving today or refresh your dive knowledge online with PADI eLearning.
So what do you do when you suddenly realise your PADI card is lost as you are about to go on vacation, or worse yet, when you arrive at your destination. Do not despair, it can be replaced, and in most cases, quite quickly if you are prepared for this situation and know what to do.
Q: How do I replace My PADI Certification Card
Your Dive Cards were lost or stolen?
You've changed your name (include a copy of legal documentation of name change)?
You are upgrading from any PADI Junior Diver certification?
You would like to replace your existing card with a Project AWARE Edition Certification Card?
Your PADI Diver certification was lost?
Your PADI Diver certification was damaged?
Do you want to replace your lost certification card , update your photo and/or your contact information?
Want to upgrade to a limited edition certification card?
Waiting for your certification card to arrive?
A: Contact your local PADI Dive Shop or Resort directly or you could replace your lost card online A replacement card may be necessary under the following circumstances: Replace Your Dive Certification Card
Your Padi certification card is your passport to fun and adventure. It is your ticket to the underwater world. It allows you to fill tanks, buy or rent equipment and book dive charters. Stores, resorts and operators accept it as verification that you have been trained, passed the tests and requirements, and you are qualified in the techniques of scuba diving.
Most agencies require basically the same information to replace your card, but there are a few differences in procedures. You should become familiar with these and maintain the necessary information in your logbook.
It is also comforting to know that if you lose your card while on vacation, most agencies will verify your certification by phone or fax to the resort or operator. But you will still need to replace your card as soon as you return home. Our dive centre can check the Padi Database for your certification.
If you do a lot of diving and/or travelling, it may be in your best interest to have an extra C-Card in advance for just such emergencies. This could help you avoid the anxiety, lost dive days and additional costs for replacing a card quickly. But if you must replace it "on the fly", have this information available.
Replace Your Card
If you're like most divers, you never miss an opportunity to go scuba diving. That's why many divers keep a spare certification card in case they misplace their original. You may want to replace your card if:
Your PADI Diver certification was lost.
Your PADI Diver certification was damaged.
You changed your name. (You'll need a copy of legal documentation of name change.)
You are upgrading from any PADI Junior Diver certification. to view latest Project AWARE c-card options.
You want to collect fun limited edition certification cards!
Use the form below and send it to us by regular mail or email. Delivery time is usually about 3-4 weeks.
Never received your card?
Have you never received your certification card? Use the form below "Never received card". Attach copies of the documentation you have (copies of log book-pages, diploma, temporary card etc) and send the form to us. Delivery time is usually 6-8 weeks but can be longer.
Please mail this form along with your photo and the processing fee to the following address:
PADI EUROPE, MIDDLE EAST AND AFRICA UK Office Pavilion 1, The Pavilions Bridgwater Road Bristol BS13 8AE United Kingdom Tel: +44 (0) 117 300 7234 Fax: +44 (0) 117 971 0400 Email: customerservices.emea@padi.com sales.emea@padi.com marketing.emea@padi.com Swiss Office (Padi EMEA) Oberwilerstrasse 3 CH-8442 Hettlingen Switzerland Tel: +41 (0) 52 304 1414 Fax: +41 (0) 52 304 1499 Email: customerservices.emea@padi.com sales.emea@padi.com marketing.emea@padi.com OFFICE HOURS 9:00 AM – 5:00 PM, Monday – Thursday 9:00 AM – 4:00 PM, Friday Warehouse and Distribution Department Location (Different from main office) Unit 8 & 9, Liberty Industrial Park, South Liberty Lane Bristol BS3 2SU United Kingdom BRASILIAN DISTRIBUTION OFFICE Av Washington Luiz 5654 – Aeroporto São Paulo – S.P. – CEP: 04626-001, Brasil Phone: 55.11.5034.9966 Fax: 55.11.5034.9962 Email: brasild@padi.com RUSSIAN DISTRIBUTION CENTRE Kosmonavta Volkova Street, 10, office 202 Moscow, Russia Ph/Fax: +7 (499) 150-34-65, 159-10-82 E-mail: padi@divelife.ru OFFICE HOURS: 9:30 AM – 18:00 PM Monday-Friday Prices published May 2011 – Processing Fee: Adult Replacement Cards £24.60 GB pound inclusive of VAT Junior Replacement/Junior Upgrade Cards £24.60 GB pound inclusive of VAT.
How to Order a New PADI Certification Card
You just know you had your PADI card somewhere in your wallet or gear bag, but somehow it's disappeared! The good news is that you can easily order new recycled plastic cards or eCards on PADI.com. Plus, the 2022 limited edition replacement PADI certification cards are here, and they're absolutely stunning.
Why Do You Need a Replacement for Your PADI Card?
You may be wondering, why would you need to order a new PADI dive certification card? Here are a few reasons:
You've changed your name
You've lost your original certification card
As a back-up for your PADI eCard
To support PADI AWARE
You're an adult using your Junior Open Water Diver card*
You love collecting PADI C-cards!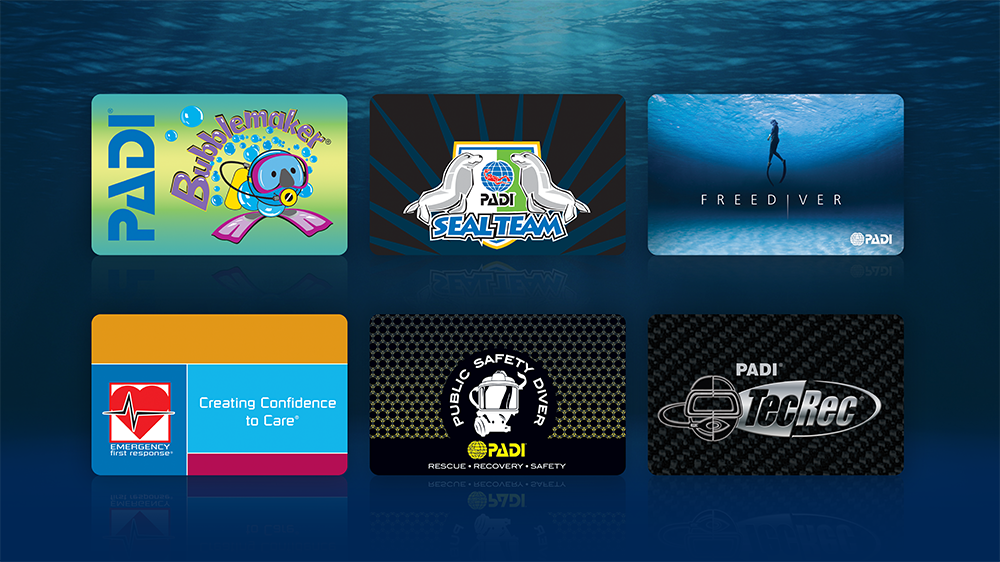 Physical Replacement Cards vs. eCards
Your certification card is your passport to explore the world below the surface, and proof you've successfully completed PADI training. Carrying your PADI certification card with you helps you to verify your diver training level with dive centers around the world. But which PADI card is best for you – a physical card made from recycled plastic or an eCard?
Physical cards are essential in remote areas without internet access, plus they're waterproof (unlike many mobile devices).
With a PADI eCard, whenever you have your smartphone, you'll have proof of your PADI certification. Use the PADI App to access it instantly after purchase.
Can't decide? Why not buy both? You can enjoy the benefits of both options and discounted pricing when you purchase a replacement card bundle.
How to Order a New PADI Card
Ordering a PADI card (both physical cards and eCards) is easy; you don't even need your diver number. Just use your name and date of birth to locate your student record online.
Ready to order your replacement card? Head here and follow the instructions for ordering both physical cards and eCards.
You can also order through your local PADI Dive Center or Resort.
*To replace a Jr. Open Water Diver card, choose the Jr. Open Water certification from your list of certifications. The system will automatically convert your new card to regular (no Jr.) Open Water Diver.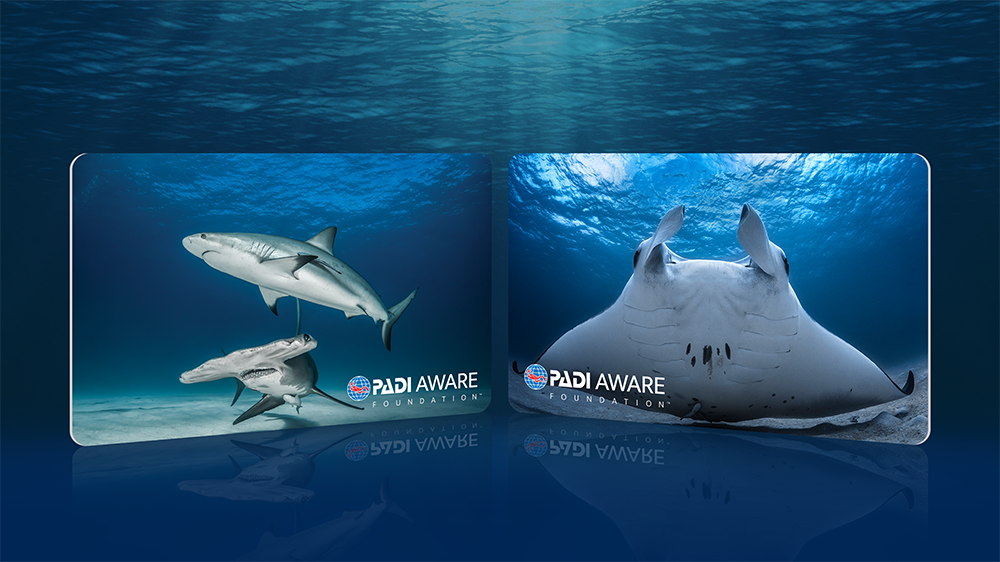 PADI AWARE Replacement Cards
Each year, the PADI AWARE Foundation releases a limited edition card. Every purchase includes a tax-deductible $10 US donation that funds ocean conservation and marine animal protection. Donations support the Conservation Blueprint – a vision to achieve balance between humanity and ocean. An additional donation for greater environmental impact can be made at checkout.
PADI Limited Edition Designs by Mike Coots
PADI's limited edition replacement cards feature incredible images from award-winning photographer, activist and PADI AmbassaDiver Mike Coots. Mike uses his talent as a photograher to share visuals of the beauty and brains of sharks that Hollywood won't show and to shift the narrative.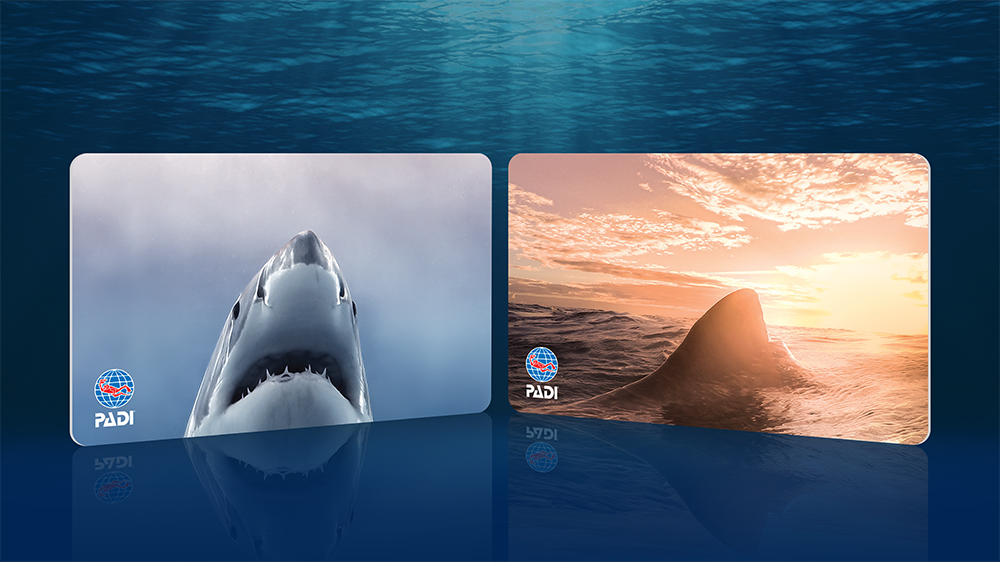 Great White
Mike's Story Behind the Shot: "This was on my first dive with great whites, off of Guadalupe Island. I was mesmerized by the hypnotic swim patters the sharks were doing that I missed so many amazing moments. And it was my first time with something so big underwater so I think I was just getting used to that as well. I did manage to get a couple gems, and stoked on the mood and composition of this. We also had great late afternoon light as well, which was a bonus."
Lemon Shark
Location: Bahamas
Mike's Story Behind the Shot: "This was at dusk in the Bahamas. I would say my ultimate shark photograph situation is dosal fins at sunset. There is something so primitive and dramatic about it. I could shoot just this every day for the rest of my life and be one happy shooter. its a bit tough logistically because on day trips, most boat dives want to be back at port and high and dry by the time sunset comes around. I think its def worth staying on the water to watch. Pure magic."
For every Mike Coots replacement card sold, we'll donate $10 US to Sustainable Coastlines Hawai'i, a nonprofit known for large-scale beach cleanup festivals and community education. Their tireless work to eradicate plastic pollution supports healthy oceans for sharks and other marine life.
Get to Know The Photographer
As an avid surfer from Hawaii, Mike Coots lost his leg in a shark attack as a teen. Since then, he has worked to protect the species that nearly took his life. Between lobbying lawmakers on shark protection legislation to sharing compelling imagery on social media with hopes of shifting the stigma of sharks, you can find him diving or riding the waves on his custom surfing prosthetic leg.
Want to learn more about Mike Coots? Check out our exclusive interview and our new PADI Gear collaboration here.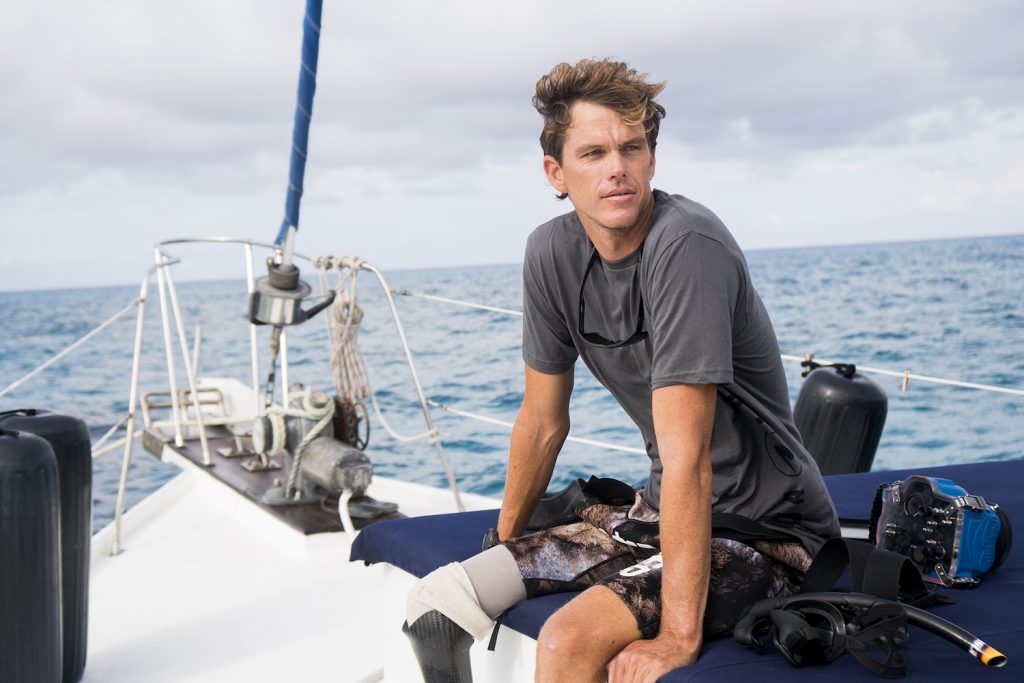 Mike Coots in the Bahamas
"Our ocean's health is at a critical junction, and as a lover of the sea you have a voice to ensure its abundance. No one has your talents or experiences but YOU. Find what that talent is, use that, and not run but sprint with it and future generations of ocean lovers will thank you. And so will the tiniest plankton to the largest whale, as their very existence will depend on you and your unique contribution."

Mike Coots
If you're inspired and ready to show off a new certification card on your next dive, order yours today.
replacing a lost YMCA cert card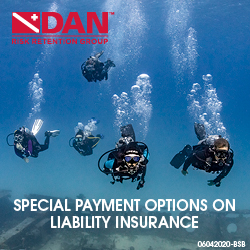 Welcome to ScubaBoard, the world's largest scuba diving community. Registration is not required to read the forums, but we encourage you to join. Joining has its benefits and enables you to participate in the discussions.
Benefits of registering include
Ability to post and comment on topics and discussions.
A Free photo gallery to share your dive photos with the world.
You can make this box go away
Joining is quick and easy. Log in or Register now!
paulkenyon
Hello,
I was certified by YMCA in 1975. The card seems lost so I'd like a replacement. But YMCA tells me they stopped keeping records before 1984. It's possible this is not correct but it's the only response I've gotten from YMCA.
Any suggestions. besides retaking the basic?
I need that card to get into the Peace Corps MIG program here in the Dominican Republic where I am serving as a volunteer. I'd retake the basic and certainly need a check dive. and will be doing my advanced. except that PC doesn't give us much time for MIG work and the basic will take 4 to 5 valuable days out of my leave and R & R as well as cost me over US $ 200 which, as anyone on PC pay will tell you, is one heck of a lot of money. So. I want my card replaced. Perhaps I am just stuck, but perhaps someone in this network knows, for example, that YMCA really does have records somewhere, had the sense to realize that folks my age are still active and that the course we took had and still should have value. I know Don Scalli (Nahant, Mass) worked hard to teach us well.
Thanks,
Paul
SandyRobinson
Contributor
Is your instructor from 1975 available to help? Or do you have a log showing your dives with your Y instructor as a buddy? Maybe you could show that to who is doing your AOW and work something out.
The Y program was bought/turned into SEI. There is a guy on this board, Jim Lapenta, who helped revamp the courses. You may want to pm him and see what options are available. If your Y course in '75 was anything like mine in '80, you learned a lot
Source https://www.proscubadiver.net/padi-courses-cyprus/replace-your-dive-certification-card/#:~:text=A:%20Contact%20your%20local%20PADI%20Dive%20Shop%20or,It%20is%20your%20ticket%20to%20the%20underwater%20world.
Source https://blog.padi.com/how-to-get-a-padi-card-replaced/
Source https://scubaboard.com/community/threads/replacing-a-lost-ymca-cert-card.396644/