How To Get Scuba Certified – Step By Step Guide [2022]
Scuba diving is an exciting and rewarding pastime, and your first step toward a lifetime of amazing dive memories is getting scuba certified .
Many people are keen to get started on their scuba journey but there's a lot of information out there, and understandably, they just aren't sure where to begin!
There are no doubt many questions already running through your mind, plus plenty of things you will need to know, but may not have considered.
This guide will cover everything you need to do in order to achieve your scuba certification, and become a recreational scuba diver, such as
Where and How you will learn to scuba dive
How much it will cost
How long it may take you to get certified
What Does Scuba Stand For
First things first, you probably want to know what "scuba" actually means! Well, Scuba is an acronym which stands for Self Contained Underwater Breathing Apparatus.
This is in reference to that big ol' tank of air strapped to your back – allowing you to breath underwater.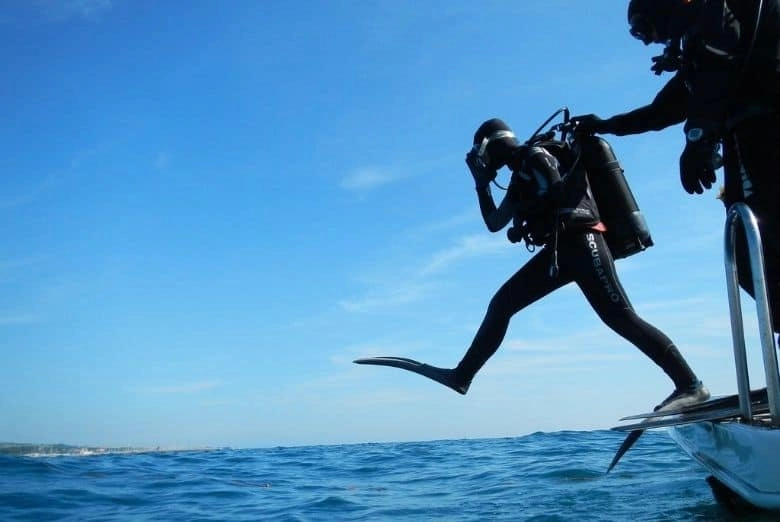 Physical Requirements For Scuba Diving
So what are the physical requirements for someone wanting to begin scuba diving? Do you have to be a good swimmer to scuba dive?
As you've probably already guessed, yes. In the interest of safety you do need to be able to swim in order to be able to scuba dive. But that isn't to say you need to be Michael Phelps in order to pass your scuba certification!
In order to pass your PADI open water diver certification for example, you will need to demonstrate that you can swim 200 metres without stopping (you can use any stroke), and you will also need to be able to tread water or float for 10 minutes.
As part of your enrollment you will also be required to fill out a medical statement, in which you must disclose any pre-existing health conditions.
If you do happen to answer 'yes' to any of the medical conditions listed, this doesn't necessarily mean you are automatically excluded from scuba diving, but you would need to consult a physician prior to scuba diving.
There are some health conditions that may either permanently or temporarily disqualify you from being able to scuba dive though..
A medical history which includes stroke, brain aneurysm or spontaneous lung collapse would be examples of medical conditions which are likely to permanently disqualify you from diving.
Examples of medical conditions which may only temporarily disqualify you from being able to scuba dive would be epilepsy, or pregnancy.
How Long Does It Take To Learn To Scuba Dive
How long it takes to get certified really depends on you. Courses are flexible and can be completed at your own pace and to fit your schedule.
You can spread your learning over many weeks (or longer), or, you could do it in as quickly as about three to four days.
Once you've got your scuba certification, you needn't worry about your 'c-card', as it is known, ever expiring – Once you're scuba certified then you are certified for life.
Of course it's always good practice to brush up on your skills and keep your knowledge up to date though, especially if you happen to take any long extended breaks between dives.
Learning To Scuba Dive
Beginners wanting to get their scuba certification will start with an open water diver course.
The course can be completed in as quick as three or four days, but it's also very flexible to fit your schedule and you can take the course at your own pace.
The course is performance based so your progression on the course will depend on how knowledgeable, comfortable and how well you demonstrate that you understand it.
You may find the below video helpful. It specifically relates to getting certified with PADI, but the open water diver course across the four main Scuba Agencies is basically the same (discussed in more detailed below)
Open Water Diver Certification
Having your Open Water Diver certification means that you are now a certified recreational diver, who is able to dive without supervision to a depth of 18 metres/60 feet.
Open water diver courses typically consist of the below modules, and your certification (or C-card), being issued upon successful completion.
Step 1 – Knowledge Development
This part of the course can be done online in the comfort of your own home, or in a classroom setting.
The knowledge part of the course will teach you the basic principles of scuba diving.
In this part of the course you'll learn:
Things you need to consider when planning a dive trip
How to choose the right scuba gear that best fits your needs
Underwater signals and basic scuba procedures
You'll also get to watch video which demonstrates the signals, skills and procedures that you'll go into further depth with when you do your confined water dives
Step 2 – Confined Water Dives
Once you've completed the knowledge portion of the course, you'll then be able to move onto doing some confined water dives.
Usually done in a swimming pool, or a body of water with calm pool-like conditions. Your confined water dive is where you'll learn and practice basic scuba skills.
Here you'll learn things such as setting up and putting on your scuba gear, how to clear water from your mask, buoyancy control, how to enter and exit the water correctly and basic navigation skills and safety procedures.
Once you're comfortable with these skills and can demonstrate these abilities to your instructor, you're now ready to go onto your open water dives.
Step 3 – Open Water Dives
With both the knowledge and confined water dives complete, you're now ready to take what you've learned so far and demonstrate those skills in open water.
And so the next part of the process is moving from confined water diving to open water diving.
Four open water dives in total are normally what is required in order for you to complete your scuba certification.
You can complete these dives close to home, or, you can be referred to a different dive centre location and complete them elsewhere. This means you could complete this part of the certification on vacation if you so wish!
How Old Do You Have To Be To Scuba Dive
A Junior Open Water Diver Certification can be undertaken for those between 10 and 14 years of age, and comes with restrictions.
PADI Junior Open Water Divers for example
Aged between 10-11 may only dive as deep as 40 feet/12 metres, and only with a PADI instructor or certified parent/guardian.
Divers between 12-14 years of age may dive as deep as 60 feet/18 meters as long as a certified parent/guardian is also present.
After the age of 15 the PADI Junior Open Water Dive Certifications depth and buddy restrictions will default to those of the adult open water diver, and you can apply for your new Open Water Diver card.
Children as young as 8 can begin their scuba journey by undertaking scuba activities and learning basic scuba skills in a pool or confined water space with a certified instructor, at shallow depths.
How Deep Can You Scuba Dive
The recommended maximum depth for how deep you should scuba dive depends on your certification level, (and your age if you are under 15).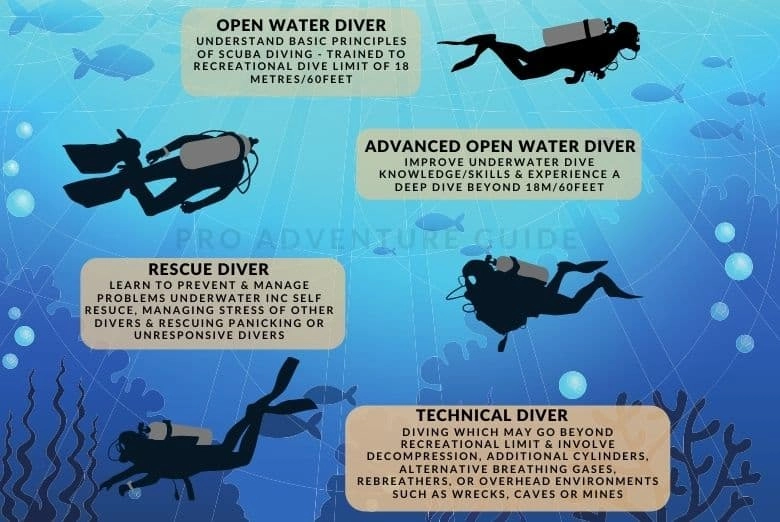 Junior Open Water Divers
10-11 years – 40 feet/12 metres & must be accompanied by an instructor or certified parent/guardian
12-14 years – 60 feet/18 metres & must be accompanied by a certified parent/guardian
Recreational Divers/Open Water Divers
60 feet/18 metres
Advanced Open Water Divers
100 feet/30 metres
Deep Divers
130 feet/40 metres
Technical Divers
130 feet/40 metres +
How Much Do Scuba Lessons Cost
Scuba diving lessons are not as expensive as you might think.
We've found that scuba certification will cost you roughly somewhere between $300 – $600, but it can be heavily dependent on where you intend on doing your training.
For example training in the US or UK is typically more than in other parts of the world like Bali or Indonesia, as the cost of simply running a business in these locations is just typically more expensive.
Most dive centres will provide you with all of the gear that you need to learn to scuba dive within your course with no additional fees or hidden charges, but some training centres may ask that you provide your own mask, snorkel and fins, or they may charge you for their rental.
It's therefore important that you check with your course provider:
If scuba gear rental is included in the course price
What is included in the course, and are there any additional fees you need to know about
Once you do become certified you may want to then begin purchasing some of your own dive gear.
At a minimum it would be best to at least have your own scuba mask so that you always have something you're comfortable with and that you know fits you perfectly.
There's certainly no rush to go and invest in tons of scuba gear once you have passed though. A lot of divers simply purchase various pieces over time which they prefer not to rent – such as a mask, fins, and perhaps a dive computer.
Considering what you will gain from completing your basic open water training certification, and that this will last you a lifetime, the cost of scuba certification is actually very good value!
Where Can I Learn To Scuba Dive
The answer to this question is that it is really up to you! Here are some examples on how/where you could complete your scuba certification
Locally
If you have a dive centre that's local to you, you could complete your entire scuba course locally.
This is a popular option for those who may wish to take the course with friends or a family member, or those who wish to learn in a more familiar environment, and perhaps at a slower pace.
It also means that your vacation time won't be taken up by scuba lessons, and you can get right to the good part – going on dive trips!
Choosing to undertake your scuba certification locally could mean that it may take several weeks to complete however, as dive schools tend to typically hold their classes weekly.
So if you're really in a rush to get certified before an upcoming trip, this might not be your best option. It would be best to check beforehand with your local dive school on how quickly their course may be completed.
Local/Vacation
You can if you wish, begin the course locally and then finish it on vacation.
Either by completing the knowledge part of the course locally, and the confined and open water dives whilst on vacation. Or, by completing the knowledge and confined water dives locally, and finishing the course by taking your open water dives at your destination.
By taking the knowledge part of the course at home you'll save yourself from having to sit in a classroom whilst on vacation (I mean, who wants to sit in a classroom when on vacation!?)
But also taking your knowledge part of the course locally, and at your own pace, is also a good idea if you feel like you need more time to absorb the information fully.
You may also seek a referral to do your open water dives in a warmer climate if it's currently winter where you are located.
Vacation
Finally you could complete the entire scuba certification whilst on your vacation.
This option has the benefit of being able to complete the confined and open water dives in warm tropical waters – an option that for many is much more appealing than your local swimming pool!
It would also be a popular option for those who do not have a dive centre located near to them at home.
Certification will typically be done in around 4 days, which may suit those with hectic schedules who simply don't have the time to complete any of the studies/dives whilst not on vacation.
Of course the obvious drawback to undertaking your entire scuba certification whilst on vacation, is that you will be spending a good chunk of your vacation time in the classroom, and for some, the pressure of having to undertake (and pass), all of the modules within a time limit may be too much.
It's up to you to therefore weigh out the pros and cons of each and decide which option best suits your needs – Personally I think learning to dive locally at your own pace, or completing the knowledge and confined dives locally with a referral to do the open water dives on vacation are the options that would suit most new divers.
Do You Need No Be Certified To Scuba Dive
A common misconception is that you have to be certified in order to go scuba diving, but this is actually not the case.
You can scuba dive without a scuba certification, and it is not illegal for you to go scuba diving without certification.
There are tour operators who will offer you the chance to go scuba diving without any certification – You will usually go through similar steps to the open water diver course.
Your day will consist of undertaking some theory, followed by a pool dive, before being led to a dive site where you can scuba dive at shallow depth under the close supervision of the instructor.
These types of 'discover scuba diving' courses are unable to grant you any kind of certification at the end of them, so if you fancy going on another one of these dive tours, you would need to complete the entire course again.
An instructor-led dive following the appropriate training is the only time you may go diving without certification. You will be under constant supervision, and only be allowed to dive to shallow depths.
It will not be possible for you to go on dive excursions or have your scuba tank filled without certification, as for insurance and liability purposes, dive operators are required to only rent equipment to certified divers.
An introductory diving course may help you decide whether scuba diving is for you or not if you are not sure.
If you go on one of these courses and decide that scuba diving is for you, or you are already certain in wanting to take up scuba diving, then you should of course look into getting properly certified.
Having your scuba certification is the best and safest option as it will teach you the appropriate safety protocols, what to do in an emergency and how to properly use your scuba equipment
Learn to Scuba Dive: What You Need to Know
We gave our Gear Lovers one job:
Find the best and most popular products and review them.
Our review team always considers durability, price, quality, and value in their reviews.
Disclosure: We are reader supported, and earn affiliate commissions If you find a good deal on DIVEIN, you click to the retailer, and you buy the product, we get a commission of the sale. That's is how we pay ourselves. It does not make the product pricier for you. when you buy through us.
This article will outline how to get a recreational scuba diving certification. It will outline everything a beginner diver needs to consider before signing up for a scuba class, either at home or while on vacation.
It's easy to get certified. Read on and you'll find out what you can expect from scuba diving lessons.
You'll learn how certification will allow you to confidently dive in the open water and travel to beautiful dive spots around the world.
Diving with a buddy, surrounded by brilliant marine life is the basic promise of what awaits you when you get certified
Look out for links about equipment, the marine environment, health considerations and practical suggestions to safely guide you into the majesty of the underwater world.
This is an introduction for people who have only dreamed about scuba diving. Perhaps you've heard that it's an activity that promotes well-being and respect for the planet and its creatures. You're not wrong.
"People protect what they love."

– Jacques Cousteau
What is scuba diving?
Scuba diving provides something for everyone. It's a hobby, a sport, a form of tourism, a spiritual activity, and a lifestyle.
The SCUBA acronym stands for Self-Contained Underwater Breathing Apparatus. In simple terms, scuba diving means strapping a tank of air on your back so you can breathe underwater.
It is the key to adventure around beautiful coral reefs, swimming among fish for periods generally up to an hour.
Part of a scuba diver's gear includes an inflatable vest, called a buoyancy control device (BCD). This kit allows you to float on the surface and better regulate your depth when swimming underwater.
Because of the BCD, you don't have to necessarily be an expert swimmer to go scuba diving.
Do I need to get certified?
Taking scuba diving lessons makes good sense. Done right, scuba diving is not dangerous. But there are some risks when training and guidelines are not followed.
So get certified. It's not legally required, but it is factually the wisest bit of knowledge you can get for yourself. It's to your own benefit, for the well-being of the ocean, and others in the open water.
PADI, SSI, SDI, and NAUI are some of the major certifying bodies for scuba divers. When you take a scuba diving certification course, it's their curriculum one learns, taught by professionals at dive shops and resorts. They share a similar standard of quality and practice.
Taking scuba diving lessons will empower you to safely explore the ocean and all its creatures under the water. In other words, by getting scuba certified you will maximize your experience by minimizing dangers.
Can I dive without getting certified?
Yes, but just on a trial basis under supervision. There are non-certification programs offered by resorts and dive operators for those uncertain how they might react with a mask underwater.
Some students are afraid they'll be overwhelmed by nervousness or start to panic.
Taking one of the "discover scuba diving" options offered at dive centers gives you the chance to see if being underwater freaks you out before committing to a full open water course.
A discovery dive doesn't count toward your open water certification but it'll definitely make your first open water dives easier and more enjoyable.
During confined dives there's no need to panic. It's strange taking the first breaths through a regulator, but trained professionals make you feel safe.
Professionals in a swimming pool or in shallow coves will assist you in a pool with scuba equipment. You get a small taste of the demands of a scuba dive without committing to a plunge into the open water.
If you're nervous or anxious about starting scuba diving certification, this is the best way to find out if it isn't something for you. Some people find pool-side try-dives in less than 6 feet of water exciting enough without needing to try anything deeper.
Learn How to Dive: Open Water Certification
Before getting into the open water, it's necessary to feel comfortable in aquatic conditions. The goal is to understand the basic conditions for ensuring a safe and enjoyable experience as a guest in an alien ecosystem.
Open water refers to underwater diving in an unconfined water environment. That includes the ocean, lakes or flooded quarry pits.
Before starting the course, you need to fill out a medical form that declares you fit for fight, assuming you are. Doing some training in the period before a trip is not a bad idea. If you have some type of medical condition, you will need your doctor to sign off on it.
The PADI open water certification is the most common course, but it's not the only game in town. There are quality schools under the SSI, SDI, NAUI, CMAS, and BSAC umbrella issuing the C-card to newly-trained scuba divers the world over.
All certifications will teach you essentially the same skill-set you need to become a scuba diver.
"Going down." Students in an open water course practice their communication, showing their instructor their intent to descend while completing confined dives.
What do Scuba Diving Lessons teach?
Scuba diving certification is painless and fun. How long does it take? Only 3-4 days. E-learning courses allow you to jump-start your theory lessons and study at your convenience.
PADI also has a fast track course where you can get you your C-card in just 3 days. It's quite intensive though, and will not leave much time for anything else during those 3 days.
Course material is often digital. The theory portion of a certification course is comparable to getting a driver's license. Just with friendlier people.
Scuba diving lessons consist of 3 modules, which can be taken together in succession or split up. Certification is dependent on completing all three in order:
Theory: either through e-learning resources or in a classroom,
Confined water dives: in a pool or in pool-like conditions with scuba gear, and
Open water dives: this includes 4 dives the student can try only after successful completion of the previous 2 sections.
Among other things, the open water course will teach you how to:
Plan a dive, calculating for depth and time,
Control your buoyancy above and below the surface,
Easily clear a fogged mask underwater, , that you will learn to use underwater,
Use and understand scuba equipment and make sure your buddy's gear is good to go, and
Understand weather phenomena so you can take appropriate actions to avoid danger
Open water courses will also teach you about how the body reacts underwater and how to avoid decompression sickness (DCS). How to recognize warning signs before they develop into hazards is important.
Kids and scuba diving
Most people wonder whether kids can go scuba diving. The answer is, absolutely–most of the time. You can take your whole family scuba diving, but you've got to be realistic about these things. Wishful thinking is not a highly-prized commodity in the dive industry.
Scuba diving can be problematic for kids that don't listen. Don't let optimism compromise anyone's safety.
Children from 10 years-old can get a junior scuba diving certification. They need to be able to understand course materials and the rules they describe.
A junior open water diver (aka a 12 year-old) is guided by the sure hand of an instructor during her first dive in the ocean at about 10 feet.
PADI's Bubblemakers program offers children as young as 8 years-old a chance to take their first scuba breathes in a controlled space. Instructors will keep a keen eye on them in a swimming pool or enclosed, shallow cove. Parents are welcome to join in at the same time, ticking that box on the list for sharing immortal moments together as a family.
The Bubblemakers course is the precursor to the Junior Open Water Diver awarded to kids between 10 and 15. Both SSI, SDI and NAUI also have a junior certificate that the cardholder can trade-in after they turn 16.
A junior scuba certification card allows the holder to dive to 40 feet as long as they are accompanied by a certified parent/guardian or a PADI professional (Divemaster/Instructor).
What does a scuba certification cost?
Pricing varies depending on the location. A complete open water course in the US or Europe will cost on average between $450 and $550. You can learn the same PADI or SSI course in Thailand, Honduras or Bali for around $300.
An American shop may offer a theory and pool portion package for $200. They sell separately the certification dives starting from around $250.
PADI and SDI's e-learning course on its own sells online for $129. It increases in price depending on the region or country. It includes knowledge development training and access to other course resources.
The PADI Open Water Diver e-Learning resource, though is only available for a year.
An SSI open water certification, on the other hand, is cheaper because you don't have to buy the course material. And access to their digital resources won't expire like the PADI elearning material.
A scuba tank doesn't weigh so much in the water! A student gets a helping hand from his instructor during Module 2 of the open water scuba course in confined water.
Comparing PADI, NAUI, AND SSI.
PADI, SSI, NAUI, and SDI are the four most common diving bodies found world-wide. There is an on-going discussion amongst scuba divers about which agency is better.
Some might complain that PADI is all about sucking as much cash out of its students as it can. Others will label NAUI or SDI divers snobs.
All four provide lessons in both the recreational category of scuba diving as well as more technical courses. A specialty course like wreck-diving or night-diving is offered by all these companies.
Each certifying agency has its own different profile. They all follow the same general safety framework established by the World Recreational Scuba Diving Council (WRSDC) or the International Organization for Standardization (ISO).
A graduate carrying a dive certification from any one of these can dive anywhere in the world. Also with dive shops working under a competing certification umbrella.
Sea turtles swim great distances. Meeting one is humbling and inspires both awe and respect for the aquatic environment.
The Professional Association of Diving Instructors (PADI) was formed in 1966 by two NAUI divers looking to expand recreational diving. PADI is by far the largest certifying body and is found all over the world.
It's not uncommon for the biggest player in the game to also be the target of criticism both from outside and from within. PADI has mass-produced the Open Water Diver, leading all competitors in the market. Naturally, it has an interest in maintaining its advantage. So, while it may be slow to change it can ill-afford to cut corners on safety.
Scuba Schools International (SSI) offers internationally-recognized certifications since 1970. SSI teachers train students with essentially the same skills as the other agencies.
They also operate all over the world. It's been said in the scuba grapevine that an SSI instructor has more flexibility to tweak course conditions to match students.
SSI offers more niche courses, teaching divers about specific elements of the aquatic ecology, like corals, sharks, and fish identification.
The National Association of Underwater Instructors (NAUI) is the oldest recreational scuba diving organization in the U.S. (est. 1959). The entry-level NAUI course called Scuba Diver differs from other schools in that a skin dive is part of the training and basic diver rescue is introduced.
It is the second biggest agency by the number of certifications and NAUI affiliates can found everywhere.
NAUI also teaches specialty courses. Beyond the night dive course, underwater archaeology is one of the more niche specialties NAUI provides.
SCUBA Diving International (SDI) is the recreational wing of Technical Divers International (TDI) established in 1999. They too teach an Open Water certification provided by instructors all over the world with the ethos of training recreational divers through the lens of technical diving.
Compared to PADI, SDI has apparently less paperwork full of disclaimers and waivers. Otherwise, the same skill-set is provided and the course structure is modular with e-learning material as well.
During a deep dive an instructor ensures students are fully cognizant at depths up to 100 feet (30 meters). Notice there are two sets of buddies diving together plus their instructor.
Diving is a business and the recreational diving industry is competitive. The success of the scuba diving paradigm, as far as making money by graduating paying students, is predicated on safety and the absence of mishap.
In doubt about which scuba school to enroll in? Start by finding a dive center or resort near you or near your destination somewhere in the world.
Always use your instincts and best judgment. Talk to your prospective instructor. If you don't trust the scuba diving shop, just find another one! Read some online reviews.
Scuba diving lessons should be fun and almost always are.
Your entry-level license is a lifetime certificate. It's great to have in case you at some point in the future suddenly find yourself in a setting with great diving, great weather and deserving of joy.
People establish bonds that go beyond the open water scuba diving certification course. When learning to dive, one gets a taste for the elation and shared wonder of the ocean.
What can you do with your scuba certification?
Now that you're a certified diver, you know the rules to safely maximize the joy of diving. You can travel to amazing destinations and swim with whale sharks around lush coral reefs where the adventure never gets old.
Upon completion of certification, divers receive a C-card needed to rent equipment, buy air and descend to depth generally not more than 18 meters.
No matter which company issues one, your scuba certification never expires.
It's possible to dive, at the absolute max, up to four times a day if the dives aren't too deep. But most divers are satisfied with two, usually back-to-back, and separated by at least an hour to give your body time to decompress and release residual nitrogen.
Sometimes ships are sunk on purpose to create reefs, much to the benefit of marine life and the amazement of scuba guests.
You're ready to explore some of the best things scuba diving can offer including wreck diving, a liveaboard adventure (a floating dive hotel), cave diving and the extreme beauty of the undersea world surrounded by aquatic life as you've never experienced.
If you're not inspired by the magic and majesty of coral reefs teeming with life and colors, I dare you to check out the Worlds 10 top best dive spots and begin to plan your next holiday.
Most divers will tell you charming stories of their certification course, describing in glowing detail the collection of people they connected with. Diving during the day and regaling each other with tales of aquatic adventure in the evening is true bliss.
And for the lucky souls endowed with more time on their hands after certification, some end up getting "stranded" for extended periods, diving and finding serenity away from the inconveniently complicated world.
A father and son buddy-team begin to remove their kit following a dive. Dive boats are specialized for ease of use so getting in and out is never a challenge.
The cost of recreational diving
If you're wondering how much each recreational dive costs for a certified diver, you've read enough to know that it depends entirely on the region. It also depends whether you're diving with a buddy from shore or through a shop.
It's obviously cheaper to fill a tank and find a dive site accessible from the shore than to book a tour with a dive operator on their boat for the day.
Filling a tank of air will run anywhere from $5-$10 in the States and Europe leaving you on your own for the dive.
But diving with others, your new-found tribe, is part of the attraction for some. The ease and accessibility of a package also has its appeal.
Two tanks of air, equipment, and passage on a shop's boat may run anywhere between $25 at the absolute cheapest to $100. Some trips will run up to more, but that's often if there's a long distance by boat or car to the dive spot.
You'll almost always find "scuba lessons near me" and you can always find dive operators close to good diving locations where lessons can be found.
A diver makes a giant-stride entry from a rocky coast. Some prime dive spots can be accessed without a boat and shore diving can make diving cheaper.
What scuba diving equipment do I need?
Word to the wise: wait at least until you've tried an open water dive or two before investing in equipment.
You'll have a better feel for what you need and what you like. All dive shops provide gear for rental when you take your scuba diving lessons, giving you the insight you can use later.
However, many people can't help themselves, tempted by the allure of gadgets and gear. When you get your scuba license, you'll start to think a lot about the wonderful world of scuba gear & dive equipment.
Scuba tanks strapped into BCDs with regulators attached, ready for divers to go out. Two weight belts lay beside the tanks.
You'll want A well-fitting scuba mask and fins are great because you can also use them as snorkeling gear.
Underwater photography can create pictures to salivate over when not diving, but you should, again, wait a bit before buying a camera. Instagram isn't going anywhere. Just enjoy being a scuba diver for a spell or two first.
Dive computers and dive watches have become so central to planning and logging our dives. Some first-timers invest in these gadgets early on in their scuba career.
The great part about having your own computer is the accuracy of your dive it captures. Most dive computers measure dives conservatively. They will warn you if you approach a depth or length of time that might be dangerous, giving you peace of mind.
Still, planning a dive using the analog techniques from open water training should not be given up.
Otherwise, here's a quick summary of the gear you'll strap on when scuba diving. We've added some reviews of some solid kit on the market.
Basic scuba gear consists of:
Remember to rinse off the salt from your gear with fresh water after diving in the ocean. Maintenance of your gear is important if you want it to last and continue to work as expected. You'll want to get your reg serviced every few years too. Do this at most dive shops.
Again, if you have NO previous experience diving it's probably wise to wait to buy your scuba gear until after you've gone through at least some of your open water course.
Practical Concerns
Read our 11 tips to safer diving, but here are some quick tidbits of advice. When planning a scuba dive, no matter where it is, remember you SHOULDN'T FLY within 18 hours after your last dive. So plan accordingly.
Likewise, if you have any ear problems (ie.: infections) related to a cold, you might find equalizing on the way down uncomfortable. Talk to your instructor.
Checking to see if travel insurance covers any cancelations due to illness or injuries due to scuba diving makes sense. And scuba diving insurance doesn't cost particularly much. We've curated some advice about getting insurance for scuba diving for you to read.
Going Scuba Diving? Here's What You Need to Know to Get Certified.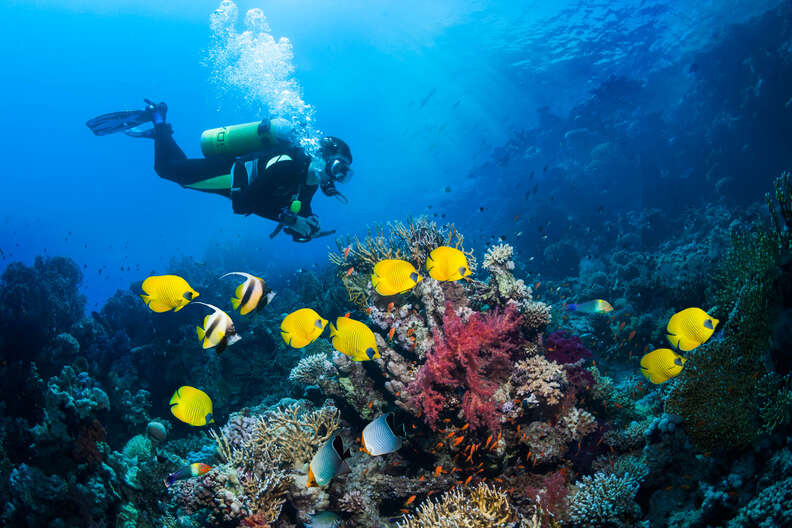 So you want to learn to scuba dive. Congratulations! This is an excellent decision — not as good as going to therapy, but at least on par with getting a dog. Diving is pure magic, a word I almost never use because it causes that cringey face you're doing right now, but anyone who's ever found themselves suspended, weightless, in the middle of a gazillion fish, will get it.
To get properly certified you'll want to go through PADI, which stands for the Professional Association of Diving Instructors, but nobody calls it that and I actually had to look it up. In most places you can get scuba certified as young as 10. To get started, you don't need to be anywhere near the ocean, or near any body of water in particular — all you need is a free weekend and a few hundred bucks. Here's what you need to know.
Do I need to get certified?
It's not illegal to dive without a certification. It's a lot less safe, though, and according to probably every certified diver I've met, a lot less fun. Certification — like a diploma — represents an education you've achieved; it's not just a title on a piece of paper.
"Everybody has to ask themselves how much their life is worth," says renowned underwater photojournalist Brian Skerry, who's been a contributing photographer for National Geographic for the past two decades. "Whenever you engage in a potentially dangerous activity, you're betting your life that it's gonna work out OK. If you jump out of an airplane without the proper training you're literally betting your life that it's gonna work out OK. It's the same with diving."
But is it still OK to dive without getting fully certified… sometimes?
"If you go to some shallow coral reef, with 20 or 30 feet of water where it's warm and tropical, it's easy to just take a resort course in the pool where they just tell you not to hold your breath," Skerry says. "And 99 times out of 100 — much more than that probably — you're going to be fine. But something could go wrong; you could get claustrophobic, a barracuda could swim by and you panic and spit out your regulator. At the end of the day, those resort courses probably work fine, but if you're going to dive on any sort of regular basis, you should definitely get certified."
How much does it cost to get scuba certified?
First, you'll take an online course that will cost somewhere around $185. The second part, where you'll go diving in a pool, will be another $200 or so. The cost of the third and final open water course varies more, since it depends on your proximity to the nearest ocean. You might be going to a beach five minutes from your house, or booking a week-long trip. Remember, as travel-related activities go, scuba diving is expensive, because you're usually incurring incidentals like gear rental and a guide and, y'know, a boat.
How physically hard is scuba diving?
You need to be able to swim several hundred yards continuously, and you need to be able to tread water for at least 10 minutes. That's the bulk of it — the tanks are heavy when full and can be kind of a bitch to stand up in, but there'll be someone to help hoist you up if you need it.
What gear do I buy and what gear do I rent?
If you're bothering to get certified I assume it's because you intend to dive more than once, so believe me, it's worth buying your own properly fitting mask and snorkel. Fins are good too, but that's pretty much it. Vests and tanks you'll always rent on-site, and it's overkill to buy your own wetsuit since you'll need different ones for different locations (bc water temperature). Don't spring for those mask defogging drops, either — spit works fine.
Anything else I should have?
A buddy! You'll learn this during the online course, but diving is built around the buddy system. You'll never dive alone — you want someone to know where you are and that you're OK at all times, and to share their oxygen reserves in an emergency. You can get paired up with the instructor or another single from your certification group if necessary, but it's much more fun to do all this with a friend.
OK, talk me through this — where do I start?
The first thing to do is look up your nearest PADI dive shop, which you can search for here. Click your chosen location's "Sign up for eLearning" option and enroll in the online course. This is essentially the book-learning phase of the process (though you'll watch a lot of videos), where you'll get familiar with safety protocols, terminology, and generally what to expect. You can complete it from home at whatever pace you like. It's more or less like a high school textbook where you have a light review and quiz after each chapter, and at the end there'll be a written exam. Don't stress about that; remember, 10-year-olds pass it all the time.
Once you've passed the exam, you're ready for Phase 2: confined water diving, which just means diving in a pool. The instructors at your dive shop of choice will familiarize you with the gear and help you start practicing all the stuff you just learned about online. Do not freak on Day 1 if breathing through the regulator feels weird and like you're not getting enough air. It will, but by Day 2 you will have gotten used to it. And just as importantly, don't be embarrassed by how ridiculous you will look while you learn how to control your buoyancy, and find yourself helplessly zooming up to the surface feet-first, like in that elementary school experiment (the purpose of which was never fully clear) where you put raisins in 7-Up and watch them bob up and down.
Those first two phases can be done in a weekend, and once you've completed them you're technically certified to dive… but in a pool only. And nobody wants to be restricted to that. To truly complete the course, you need to do some open water diving. This final phase will typically take another two days, with a morning dive and an afternoon dive on each day. You can start it as soon as you complete your pool lessons, or choose a later date to fit your schedule.
OK, I'm open-water certified. Now what?
You can keep logging hours and work your way up the ranks in terms of certification level. After Open Water Diver you'll hit Advanced Open Water Diver — at which point you're pretty much qualified to do what you like — and eventually you'll reach Divemaster. There are also a bunch of specialty qualifications you can pursue, when and wherever you like. There are certifications for wreck diving, cave diving, ice diving, and so on. I got my Rescue Diver certification at a quarry in Virginia, and Navigator certified at my Colorado hometown's entirely unremarkable local reservoir (which was ideal because it's so polluted you're forced to rely on your compass due to not being able to see your hand in front of your face).
It has come to my attention that we need to save the oceans. How do I help?
"The majority of the 7 billion people on this planet are not divers, will never go into the ocean, and if you're even a casual tourist diver you're seeing things most people never will," Skerry told me. "If you're a diver — at any level — then you're really an ambassador for the ocean. What people can do on a big scale is to elect politicians who understand that protecting the environment is in our own best interests. And when you go on vacation and take a dive I do think it's important to ask questions of your dive operator, the charter, the people on the boat — ask what they do in terms of protecting the reef, protecting their own backyard, and not adding more plastic to the choked up oceans. If they don't get those questions, they think tourists just want an adrenaline hit and don't really care about the environment.
The government will listen to dive operators as an industry, because it brings in revenue, and ultimately it's commerce that drives progressive initiatives. Even if you're on your one vacation a year, ask those questions and beat the drum a little louder."
Last thing. Sharks?
"Contrary to popular belief, most divers will never see a shark," Skerry says. "You think the minute you go in the ocean you're gonna be attacked by a shark, but they're shy. They stay away from people."
Sign up here for our daily Thrillist email and subscribe here for our YouTube channel to get your fix of the best in food/drink/fun.
Kastalia Medrano is Thrillist's Travel Writer. You can send her travel tips at kmedrano@thrillist.com, and Venmo tips at @kastaliamedrano.
Source https://proadventureguide.com/scuba-certification/
Source https://www.divein.com/diving/scuba-certification/
Source https://www.thrillist.com/travel/nation/how-to-get-scuba-diving-certification