How Much Does Scuba Diving Cost?
Scuba diving is a wonderful sport, even a lifestyle to many divers. It helps with our physical and mental fitness, and allows us to explore a seldom seen world.
Many potential divers never experience this undersea world because they do not understand the cost involve.
How much does it cost to scuba dive?
The cost to learn to scuba dive will be between $350 and $700. You may pay as little as $10 to do a shore dive, and between $50 and $150 for a two tank boat dive. Rent your gear for between $20 to $40 a day, until you are sure you want to buy your own.
These amounts may be staggering to many. The numbers themselves, however, do not tell the entire story.
When you look into the cost in more detail, you may start to understand the value you may achieve in becoming a certified scuba diver and diving frequently.
What Is The Cost To Learn How To Scuba Dive?
Scuba diving, skydiving and flying have a common trait. They are all safe activities because there are training requirements to minimize the risk.
To be very frank, trying to scuba dive without being trained will likely lead to a serious injury even death.
Proper training changes that to a point where scuba diving is safer than horseback riding or even golf.
There is an international standard, ISO 24801, that outlines the standards of training for scuba diving.
Diver Level 1, Supervised Diver, allows you to dive with a dive professional. Some organizations refer to this as Scuba Diver.
Diver Level 2, Autonomous Diver, allows you to dive with a dive buddy that is not a dive professional. This level is commonly called an Open Water Diver.
The Scuba Diver training is the first half of the Open Water Diver training. Most divers skip the scuba diver training and start with the Open Water Diver.
The Open Water Diver training program consist of three segments.
The academic can be in a classroom setting, however, it is now more common for it to be a online learning experience.
A confined water segment is two sessions in a pool or other calm water where you will learn some basic skills. There are four open water sessions where you will refine the basic skills and experience diving.
The cost of taking an Open Water Diver course varies greatly with location and the size of the class.
The documentation fees, that are included, will be the same everywhere. The rental equipment that you will use will not vary much, and is included.
The cost of the time of your instructor is the biggest variable.
Places that are more expensive to live or visit will likely have higher prices.
The price range to learn to dive in the United States will range from about $400 to $700.
Taking a dive course in a popular Caribbean location such as Cancun, Cozumel or the Grand Cayman, will be slightly less in the range for $350 to $600 USD. In Europe look for a range of around 500 € to 750 €.
While learning to dive in Iceland generally includes a dry suit certification and will run from 95.000 Icelandic Króna to 13.000 Icelandic Króna roughly $750 to $1,000.
If you are looking for an exotic and inexpensive destination, then Southeast Asia is your destination.
Thailand, Philippines and Malaysia have many destinations where you can learn to dive from about $300 to $450.
If you want to learn how to scuba dive and add some bragging rights, a number of dive centers in Australia offer Open Water Diver courses where your open water dives are done on a liveaboard diving the Great Barrier Reef.
These courses average 950 AUD. That is about 675 USD.
If you feel uncomfortable making such a large financial commitment on something new, consider doing a discover or try diving class.
These half day classes will allow you to experience diving without the full cost of training. In many cases, the cost can be applied to the tuition of a certification class.
How Much Does It Cost For Each Dive.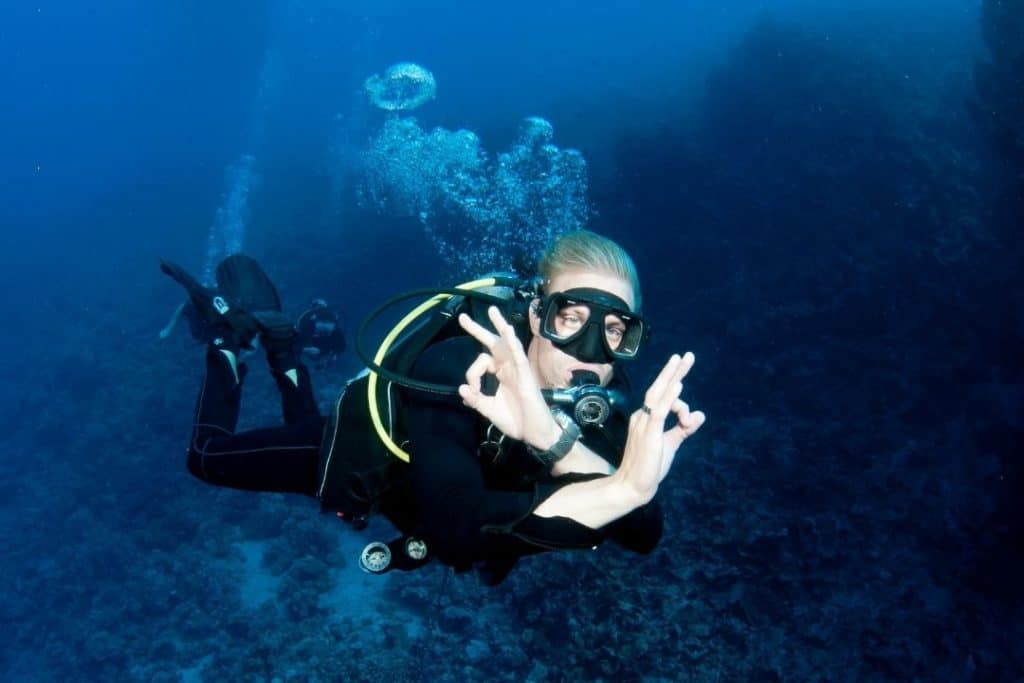 The cost for each dive will vary greatly depending on a number of factors. These factors include location, if equipment rental is needed, if a dive guide is needed, whether it is a boat dive or shore dive and any conservation fees.
We will discuss buying your own gear or renting it later, for now lets start with some basics.
A basic 2 tank dive can cost anywhere from $10 to over $150. That broad range does not really tell us anything.
If you and your dive buddy have your own equipment and are doing a shore dive, the only cost will be getting to the dive site, any park or entrance fees and your air.
Few divers own their own scuba tanks, opting for renting filled tanks instead.
The price difference is at the most just a few dollars. A air fill will cost in the range of $5 to maybe $25, with Nitrox being an additional amount.
My local dive center offers fills at $15 and a filled tank rental at $20.
Bonaire is considered the shore diving capital of the world. Many of the dive centers there have a drive up service, where you can get a filled rental at $10. Some the centers even have unlimited offers as low as $30 a day.
The 2 tank dive is the most common boat diving offer you will find and a better deal then a single tank dive.
In most cases these include the dive tanks and weights. You will find dive boats that offer charter service that do not provide the tanks.
In Key Largo Florida you will find the average price for a 2 tank boat dive with air and a dive guide to be around $70.
You will find similar prices in the Caribbean side of Mexico. In Hawaii, you may find the prices about double, with an average cost being around $145.
Dive prices in the UK hover around £70, about 90 USD, for a 2 tank boat dive.
Much of the diving in the UK is done with dive clubs, which offer lower prices to their members.
Diving in Costa Brava or Mallorca Spain is a little cheaper where will see a price around €75 about 85 USD for a 2 tank boat dive.
South East Asia's prices are lower for the boat dives. While prices vary by locations, it is not uncommon to find the average price for a 2 tank boat dive to be around 50 USD.
Equipment Cost
Scuba diving requires some specialized equipment, some of which can be very expensive. Divers often ponder whether they should rent gear or buy it.
There are many factors involved with the decision to purchase your own gear. Divers who are active diving locally will likely benefit having their own gear. While those that travel to go diving or do not dive as often may be better off renting their gear.
To give an idea of cost, a day's rental of scuba gear with range from $20 to $40.
The cost of getting your own gear will be at least 500 USD and can be much more depending on the gear you buy.
Unlike other cost, equipment cost do not vary much between destinations.
Yes, Scuba Diving Can Be Expensive
At first glance, the cost can seem high.
There are a few things to consider. The training cost are a one time expense unless you want to explore additional skills.
Unlike a driver's license, it does not expire. Compared to Golf, Scuba diving is not that expensive. Take a look at green fees and club rentals.
Horseback riding is very popular. You can easily spend more on an hour trail ride on horseback than a 2 tank dive.
Scuba diving also enhances your life. You learn more about the world and maybe even yourself. Those types of experiences are priceless.
How Much Does It Cost to Go Scuba Diving?
Scuba diving has become so popular these days as an interesting and exciting sport, making more and more people interested in the activity.
These newbies may have numerous questions in mind about this adventurous sport, and "how much does it cost to go scuba diving?" is one of the top concerns.
This question often does not have an exact answer. Rather, it depends. You may have to pay for a diving course or at least a coaching to learn the necessary skill when getting started. You also need to spend on equipment, gear, and more.
So, How much does it cost to go scuba diving? What do you have to pay for? Which factors may affect these costs? Here is a price range with a detailed explanation for your reference. Let's get started now!
Table of Contents
How Much Does a Scuba Diving Course Cost?
Obviously, scuba diving is an exciting but challenging sport. If you go diving without necessary skills and adequate understanding, you may risk your life. Therefore, the first thing to do is take a course and learn how to dive properly.
Currently, the demand for participating in training courses is increasing. Thus, tons of diving training courses are widely available.
Most beginner training programs go through three stages:
Learn diving theory
Practice skills in shallow water
Open water diving
For theory, you can choose to study online or offline. Most centers are providing e-learning courses at a lower price than offline classes. You'll normally pay around $70 to $190 for online class materials.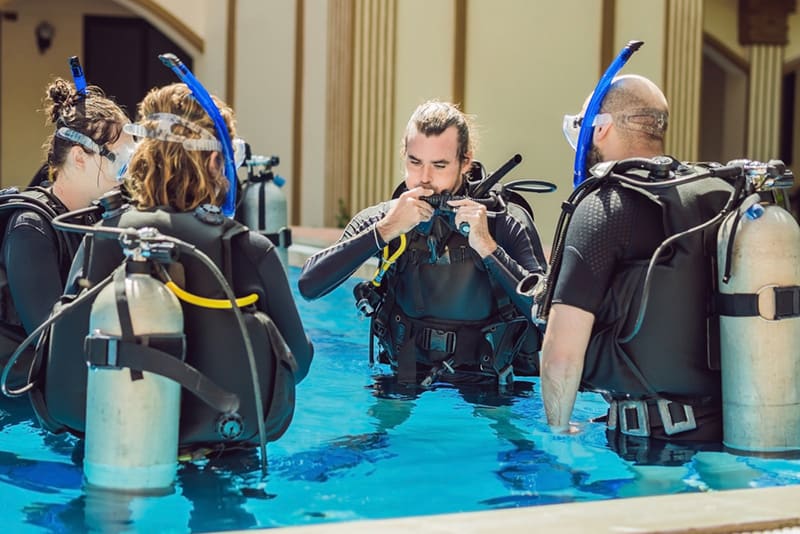 Together with the theoretical class, you also have to pay for practicing. Therefore, when adding the payment for shallow water and open water diving, the cost is estimated from $250 to $350.
To become a professional or qualified diver, you may need a diving certificate. You often need to pay additionally for the certificate, which will cost differently depending on the center and region.
For example, it will cost you $325 or $345 for 4 certified dives in Grand Cayman. If you're in Cozumel, you'll pay between $297 and $325. Going to Roatan, Honduras, will cost you about $220 – $280 to get the certificate.
Thus, to get 4 certified swims will cost you about $220 – $345. This price may change seasonally and annually, depending on many factors like the center you take tests in, your chosen area and some other elements.
So, to complete a course and get a certificate, you will have to pay between $450 – $650.
You can also save money by practicing at a local or family pool. However, as no instructor will assist and give you feedback, the risk of inaccuracies or accidents probably increases.
This can be life-threatening if you dive into the real sea. So, you're better off making a well-deserved investment once.
You can learn more about the difference between some diving courses here: NAUI vs. PADI or SSI vs. PADI.
How Much Does Diving Equipment Cost?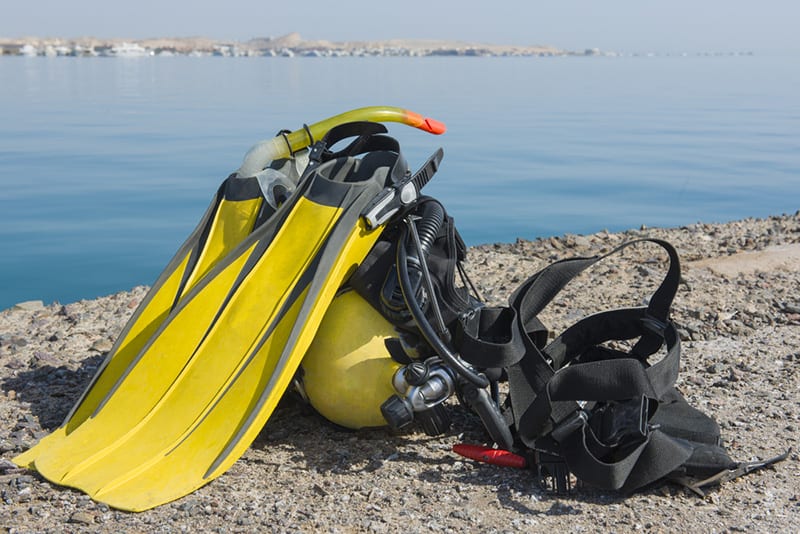 In addition to learning, diving equipment is also an indispensable factor you need to prepare well before entering the water. Some of the most essential items may include dive watches, dive computers, scuba BCD, scuba regulator, mask, scuba fins, etc.
Among them, the scuba mask and fins are the things you have to invest in first as they're not too expensive. Specifically, the mask will cost $20 – 200, while the fins range from $20 – $25.
Therefor, you will spend $40 – $225 for the above 2 items, depending on the quality, brand, professionalism and other factors. Of course, very cheap items are not recommended, instead, you'd better consider the higher-quality and usable equipment. You can check out my review on some good full-face masks here.
The next important device that you must have is the scuba BCD. Normally, divers spend between $130 – $1300 on this item. If you don't aim at becoming a professional diver, a good-quality BCD of around $500 could be a smart option.
Want to get a good BCD for your next scuba diving trip? Check out my article on some of the best travel BCDs here.
In addition, a dive computer is an indispensable safety device that is well worth the investment. You can buy a high-quality computer for $2000 or a mid-range one for $150-$500. Learn more about How to use a dive computer here.
Such diving equipment may seem expensive, but you must be aware that your life in the water depends significantly on those items. So, don't prioritize price over quality.
If you have a limited budget, find a way to buy them as a set to get a better price. If possible, you can also try to hunt for discount codes from e-commerce stores for reasonable prices.
In case you have more budget to spend, you can invest in high-end items with excellent quality. You may also consider buying supportive devices or accessories like a GoPro for a better experience.
However, there is no need to worry too much about the cost even if you don't have any money for equipment since there are also many places to rent these items now. A new dive computer can be several thousand dollars, but the rental price is only around ten dollars.
This is quite a small amount, and you will have the opportunity to experience high-quality equipment. Also, you can take the chance to get used to the equipment and try different types. In that way, you'll know which items best suit you.
With masks and fins, you'd better buy yourself a set because the apparel directly touches your skin or covers your body.
Additional Costs to Go Scuba Diving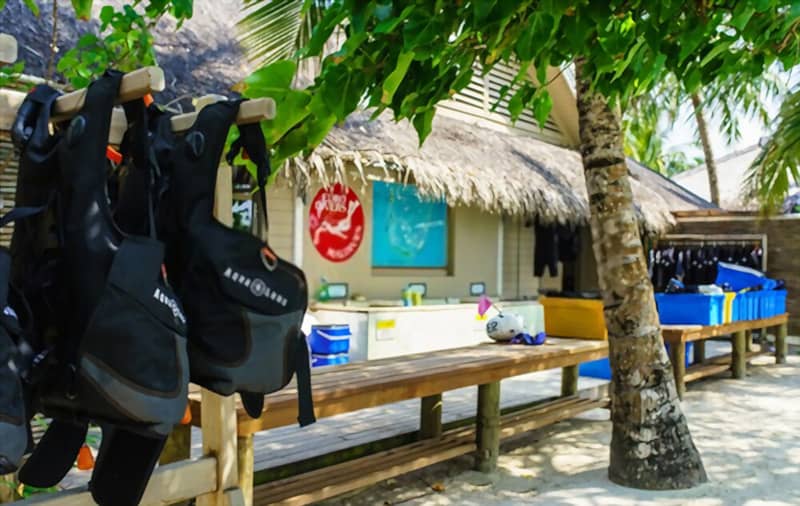 Besides the above costs, your scuba diving trip will cost a little more if you use a boat, stay at a hotel and use high-class services.
Many group divers often hire boats to go diving. Therefore, you will have to pay an extra fee to rent a boat. The price per rental will depend on many factors, but normally the price range is as below:
Sailboats: $10,000 – $200,000 for size 80 – 150ft.
Catamaran: $10,000 – $100,000 for size 50 – 80ft
Motor yachts: $20,000 – $500,000 for 80 – 150ft.
The above price also varies depending on factors like the quality or luxury of the boat. Plus, in the peak diving season, the rental price can be many times higher.
Besides, the cost for accommodations is also considerable. It's hard to estimate exactly the amount you need to spend on accommodation because it depends on the quality and location of the hotel you choose.
The time and length of your stay may also affect the price of the room. Typically, a normal and average place will cost about $99 – $125.
Meanwhile, finer hotels will cost you $325 – $475. This is the rental price for 1 week, and of course, not the price of luxurious places.
FAQs
To give you more insights into the cost of scuba diving, I've gathered and answered some common questions that beginners often ask.
Is Scuba Diving an Expensive Hobby?
Scuba diving is indeed an expensive hobby. As mentioned above, you have to spend around $450 – $650 to get a certification to dive around the world. After that, you need to pay $200 – $2000 on scuba diving equipment. Besides, each dive will cost you about $50 – $70.
Thus, the total cost of a perfect scuba diving trip is $700 – $2720, which is a lot of money for a sport. Overall, though, you'll find it worth the money.
In addition, certification and diving equipment cost only one time. The next time you only spend about $50 – $70. So, if you look at the long-term direction, diving is completely suitable for everyone.
Do I Need to Buy My Own Diving Equipment?
Diving aids are essential, but you don't necessarily have to own them. Advice for beginners is that you just need a mask, air hose, fins, and a wetsuit. These need to fit your body and, when diving in tight positions like a liveaboard, they are very convenient.
For more expensive and advanced machines, you can rent them easily when you go diving. However, if you are a professional diver and make a living by this profession, there is no reason not to prepare these items.
How Much Does It Cost to Get Scuba Certified in Florida?
In Florida, they offer a full range of diving equipment for you to rent from $5 to $50, depending on the item. You can choose to rent each item or the whole set.
Their one-time scuba diving price in Florida will be distributed as follows:
Bubble Watcher Adult: $60
Bubble Watcher children under 12 years old: $55
2 tank diving trip: $80
Night diving trip by tank: $65
Tank tech dive trip: $85
3 tank diving trip: $120
How Much Is Scuba Diving in California?
It will cost you $100 – $150 per person on a 1-tank dive and $200 – $250 for a 2-tank dive in California.
How Much Is Scuba Diving in Miami?
Prices in Miami are quite similar to those in Florida. So you can check the prices in Florida before you want to go on diving trips here.
Conclusion
How much does it cost to go scuba diving? A rather large amount of money, but it has long-term benefits. So, instead of confusing yourself with tons of questions, start learning and preparing today!
If you find my content below useful, please share it with your diving friends. Also, don't forget to encourage me by supporting the related articles!
Why Do Scuba Divers Dive Backwards?
How Deep Can You Scuba Dive?
Do You Need to Know How to Swim to Scuba Dive?
About Scott Maldonado
Hi, I am Scott Maldonado, the founder of diveaeris.com. You are welcome to this website. Diving is so much fun, and I've got a flair for it. With many diving sessions under my belt, I have transformed from just an experienced diver to a professional instructor.
I will love to contribute to your development as a diver. Therefore, I will be engaging my years of experience by discussing anything related to diving on this website.
Read more about me.
Diving Portofino : scuba diving & dolce farniente in Italy
The way things perfectly happen sometimes has surprised me more than once. This time, I got a combo of two interesting coincidences. My last scuba diving trip before moving from France to Scotland was in Italy, to dive the underwater archaeological park of Baia near Naples. My first trip after moving back from Scotland to France is again to dive another underwater landmark of Italy: Portofino Marine Protected Area (MPA). Portofino is famous for its underwater Christ statue, which is the original model of the one I saw while diving John Pennekamp Park in Key Largo, Florida only 6 months before!
I had many reasons to be excited about this long weekend in Italy that would include 2 days of diving, mouth-watering cuisine and new breath-taking landscape to explore from Portofino to Cinque Terre. Beyond a 3 day program packed with all my favourite things to do, I think what took me back to Italy for the 5 th time is intangible. Being French, taking my time and enjoying life is something I am quite good at, but I think Italians take this to the next level. "Dolce Farniente" sums this up perfectly. I had a busy program and yet, everything felt relaxed thanks to this lovely Italian trait.
Portofino: A voluntary marine protected area since 1999
The Portofino MPA was created in 1999 and includes the shores of the villages of Camogli, Portofino and Santa Margherita Ligure. For more than 15 years, the area has been a successful example of how you can protect the marine ecosystem, lead scientific research and boost economic development at the same time.
The reserve has been divided into zones A, B and C. The map above explains what you can do and what you cannot do in each zone. Zone A is entirely dedicated to scientific research. For example, the University of Genoa is studying the growth of Mediterranean red coral. Scuba divers can go to zone B and C with an approved scuba diving centre. Zone B is the most attractive for divers as fishing is heavily restricted there.
The result? Valentina Cappanera of Portofino MPA says they noticed "a continuous increase in the population of marine life, especially not moving fish, such as brown groupers."
"Cristo degli Abissi": the world-famous Christ of the Abyss
It should be the most famous underwater statue in the world. The Christ of the Abyss is a monument erected in 1954 by Duilio Marcante in memory of this friend Dario Gonzatti. Dario Gonzatti was the first Italian diver using scuba gear, and he, unfortunately, died during a dive in 1947 in San Fruttuoso Bay. This is where the 2,50m and 260kg bronze statue can be found at a depth of 17m. The statue represents Jesus Christ opening his arms upwards in the sign of invocation. It is now a monument dedicated to those lost at sea. Every year, on the last Saturday of July, a ceremony commemorates those who dedicated their lives to the sea.
San Fruttuoso Bay is a sheltered creek. The site of the Cristo degli Abissi is very easy to dive as it is not too deep and it is protected from the currents. For this reason, many snorkelers and free divers visit the site.
The statue is also famous thanks to its most popular copy in Key Largo, Florida where I had the chance to dive 6 months before. Since then, I discovered there are other copies of the statue like in Grenada, an island in the Carribean, or the Italian village of Chiesa di Valmalenco.
Diving in Portofino Marine Park
The most exciting dive sites of Portofino are Gonzatti Pinnacle (Gonzatti Sseco), the lighthouse (il Faro) and the Colombara. After immersing yourself at the buoy, you follow the chain downwards to your maximum depth. Remember "Plan the dive and dive the plan," depth here can quickly go beyond 40m, so check your dive computer and make sure to stay within your training's maximum depth.
At the beginning of the season, spring and the first half the summer, water might be at a pleasant temperature at the surface, in my case 23°C in early July, nevertheless, at 15/18m deep there was a clearly visible thermocline. The temperature below was between 16 and 17°C! While I was preparing my gear before leaving home, I hesitated a while between my 5mm wetsuit and my 7mm dry suit. I decided to take my dry suit but without any undergarment, I would dive only with a swimsuit, a t-shirt and socks below. I can tell you that was a perfect choice, even instructors on the boat were wearing dry suits, so I did not feel stupid at all with my dry suit on! If you are not a dry suit diver, I strongly recommend a 7mm wetsuit with hood and gloves for the beginning of the season. If you do not like cold water, you need to know water is at its warmest in September/October, when it has warmed up all summer! At that time, 5mm wetsuit should be ok.
At about 25m deep, look for the friendly but shy brown groupers and explore cavern with a torch-light. They are covered in Mediterranean red coral and yellow encrusting anemones. Many steep walls are also vertical forests of red gorgonians. They look blue but get closer with your torch-light to see their original bright red colour. Cavern and cracks are the ideal places to look for nudibranchs. This where I found most of my sea slugs friends: Doris and Flabellinas.
Visibility was reduced during the deepest part of the dive to about 15m (still excellent compared to Scotland!). Above the thermocline, in shallower water, the visibility was incredible with about 30m. Dive time was on average 50 minutes including 20/25 minutes below 20m, so I was happy to ascend in the shallower and warmer water, especially to watch the incredible fish action. There I could understand the benefits of the marine protected area. I have never seen such big schools of barracudas, two banded breams (sar) and cow breams (salema) in the Mediterranean Sea. There were swirling all around us is crystal clear water allowing me to shoot incredible videos. Portofino made it to my list of the best diving in Europe.
Source https://divingcorner.com/scuba-diving-cost/
Source https://www.diveaeris.com/how-much-does-it-cost-to-go-scuba-diving/
Source https://worldadventuredivers.com/diving-portofino-italy/