How Much Does Scuba Diving Cost?
Scuba diving is a wonderful sport, even a lifestyle to many divers. It helps with our physical and mental fitness, and allows us to explore a seldom seen world.
Many potential divers never experience this undersea world because they do not understand the cost involve.
How much does it cost to scuba dive?
The cost to learn to scuba dive will be between $350 and $700. You may pay as little as $10 to do a shore dive, and between $50 and $150 for a two tank boat dive. Rent your gear for between $20 to $40 a day, until you are sure you want to buy your own.
These amounts may be staggering to many. The numbers themselves, however, do not tell the entire story.
When you look into the cost in more detail, you may start to understand the value you may achieve in becoming a certified scuba diver and diving frequently.
What Is The Cost To Learn How To Scuba Dive?
Scuba diving, skydiving and flying have a common trait. They are all safe activities because there are training requirements to minimize the risk.
To be very frank, trying to scuba dive without being trained will likely lead to a serious injury even death.
Proper training changes that to a point where scuba diving is safer than horseback riding or even golf.
There is an international standard, ISO 24801, that outlines the standards of training for scuba diving.
Diver Level 1, Supervised Diver, allows you to dive with a dive professional. Some organizations refer to this as Scuba Diver.
Diver Level 2, Autonomous Diver, allows you to dive with a dive buddy that is not a dive professional. This level is commonly called an Open Water Diver.
The Scuba Diver training is the first half of the Open Water Diver training. Most divers skip the scuba diver training and start with the Open Water Diver.
The Open Water Diver training program consist of three segments.
The academic can be in a classroom setting, however, it is now more common for it to be a online learning experience.
A confined water segment is two sessions in a pool or other calm water where you will learn some basic skills. There are four open water sessions where you will refine the basic skills and experience diving.
The cost of taking an Open Water Diver course varies greatly with location and the size of the class.
The documentation fees, that are included, will be the same everywhere. The rental equipment that you will use will not vary much, and is included.
The cost of the time of your instructor is the biggest variable.
Places that are more expensive to live or visit will likely have higher prices.
The price range to learn to dive in the United States will range from about $400 to $700.
Taking a dive course in a popular Caribbean location such as Cancun, Cozumel or the Grand Cayman, will be slightly less in the range for $350 to $600 USD. In Europe look for a range of around 500 € to 750 €.
While learning to dive in Iceland generally includes a dry suit certification and will run from 95.000 Icelandic Króna to 13.000 Icelandic Króna roughly $750 to $1,000.
If you are looking for an exotic and inexpensive destination, then Southeast Asia is your destination.
Thailand, Philippines and Malaysia have many destinations where you can learn to dive from about $300 to $450.
If you want to learn how to scuba dive and add some bragging rights, a number of dive centers in Australia offer Open Water Diver courses where your open water dives are done on a liveaboard diving the Great Barrier Reef.
These courses average 950 AUD. That is about 675 USD.
If you feel uncomfortable making such a large financial commitment on something new, consider doing a discover or try diving class.
These half day classes will allow you to experience diving without the full cost of training. In many cases, the cost can be applied to the tuition of a certification class.
How Much Does It Cost For Each Dive.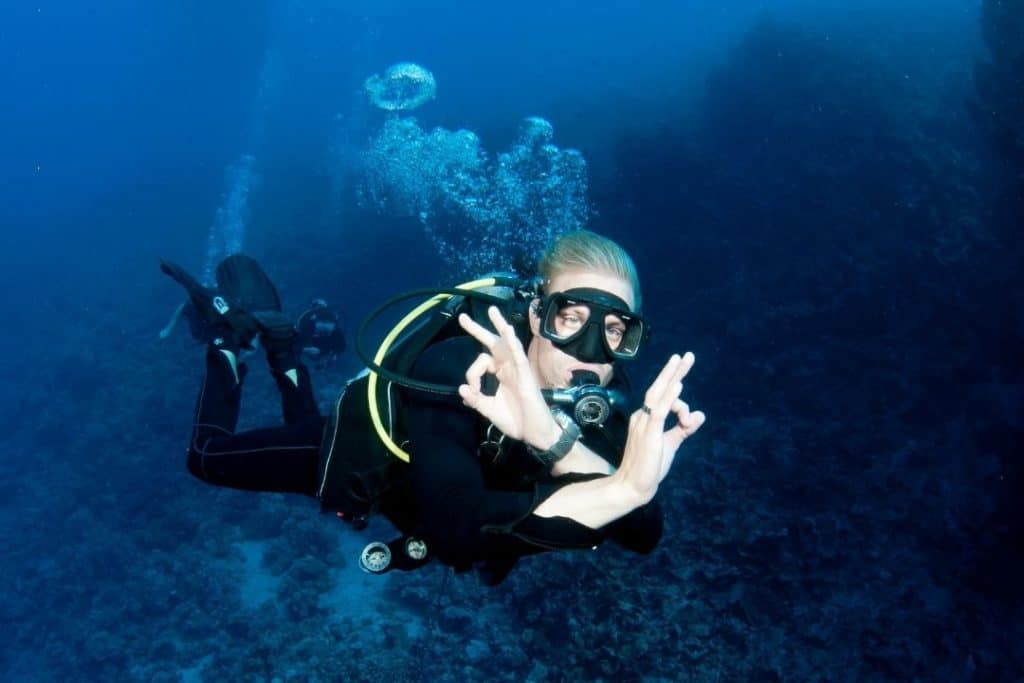 The cost for each dive will vary greatly depending on a number of factors. These factors include location, if equipment rental is needed, if a dive guide is needed, whether it is a boat dive or shore dive and any conservation fees.
We will discuss buying your own gear or renting it later, for now lets start with some basics.
A basic 2 tank dive can cost anywhere from $10 to over $150. That broad range does not really tell us anything.
If you and your dive buddy have your own equipment and are doing a shore dive, the only cost will be getting to the dive site, any park or entrance fees and your air.
Few divers own their own scuba tanks, opting for renting filled tanks instead.
The price difference is at the most just a few dollars. A air fill will cost in the range of $5 to maybe $25, with Nitrox being an additional amount.
My local dive center offers fills at $15 and a filled tank rental at $20.
Bonaire is considered the shore diving capital of the world. Many of the dive centers there have a drive up service, where you can get a filled rental at $10. Some the centers even have unlimited offers as low as $30 a day.
The 2 tank dive is the most common boat diving offer you will find and a better deal then a single tank dive.
In most cases these include the dive tanks and weights. You will find dive boats that offer charter service that do not provide the tanks.
In Key Largo Florida you will find the average price for a 2 tank boat dive with air and a dive guide to be around $70.
You will find similar prices in the Caribbean side of Mexico. In Hawaii, you may find the prices about double, with an average cost being around $145.
Dive prices in the UK hover around £70, about 90 USD, for a 2 tank boat dive.
Much of the diving in the UK is done with dive clubs, which offer lower prices to their members.
Diving in Costa Brava or Mallorca Spain is a little cheaper where will see a price around €75 about 85 USD for a 2 tank boat dive.
South East Asia's prices are lower for the boat dives. While prices vary by locations, it is not uncommon to find the average price for a 2 tank boat dive to be around 50 USD.
Equipment Cost
Scuba diving requires some specialized equipment, some of which can be very expensive. Divers often ponder whether they should rent gear or buy it.
There are many factors involved with the decision to purchase your own gear. Divers who are active diving locally will likely benefit having their own gear. While those that travel to go diving or do not dive as often may be better off renting their gear.
To give an idea of cost, a day's rental of scuba gear with range from $20 to $40.
The cost of getting your own gear will be at least 500 USD and can be much more depending on the gear you buy.
Unlike other cost, equipment cost do not vary much between destinations.
Yes, Scuba Diving Can Be Expensive
At first glance, the cost can seem high.
There are a few things to consider. The training cost are a one time expense unless you want to explore additional skills.
Unlike a driver's license, it does not expire. Compared to Golf, Scuba diving is not that expensive. Take a look at green fees and club rentals.
Horseback riding is very popular. You can easily spend more on an hour trail ride on horseback than a 2 tank dive.
Scuba diving also enhances your life. You learn more about the world and maybe even yourself. Those types of experiences are priceless.
How Much Does It Cost To Get Scuba Diving Lessons And Certification?
The cost of scuba diving lessons and certification can vary depending on a number of factors. Generally, the cost of scuba diving lessons will be determined by the length of the course, the location of the course, and the instructor's fees. The cost of scuba diving certification will be determined by the issuing organization, and will generally be based on the length and difficulty of the certification process.
How much does it cost to become a scuba diver (course, equipment, and everything else)? The most expensive to the least expensive are all found in the same area. It is critical to consider the facility's quality, safety, equipment, and professionalism, as well as the attitude and professionalism of the diving center's staff, before making a decision. The Open Water course at Koh Tao is one of the most cost-effective in the world. If you're looking for a premier scuba diving instructor in Western Australia, their course costs USD320 (around $430 AUS). Because of its fringing reef, located just off the coast, Bonaire offers a diverse range of dive sites, calm waters, and excellent visibility for experienced divers. The United Kingdom has some stunning dive sites available for Open Water scuba diving, starting at £375 ($510) for the beginner course. Do you want to save up enough for scuba diving? In hundreds of dive centers around the world, the GTS discount card can be used to receive 10% off diving.
How Much Does It Cost To Be Trained In Scuba Diving?
The cost of scuba diving training can vary depending on a number of factors, such as the location of the training, the type of certification you're interested in, and the length of the course. Generally speaking, however, you can expect to pay anywhere from $200 to $1,000 for scuba diving training.
Many adventure sports, such as skiing and horseback riding, are more expensive than scuba diving. In-person and online instruction, as well as training and certification, are required for certification. A full set of scuba gear can cost anywhere from $1,000 to $5,000. A single dive with a guide costs between $70 and $200 for inexperienced divers. A year's worth of open water diving certification can take anywhere from a few days to a few weeks. In person scuba diving lessons can range from introductory dives to a full open water course. Basic scuba diving equipment will set you back about $300.
A full set of dive equipment, including your own dive computer and regulator, should cost between $1,000 and $5,000. Online instruction cannot be substituted for face-to-face training, pool sessions, or open water diving with a divemaster. There are reputable dive centers that regularly inspect and service their rental equipment, but it is always a good idea to take the equipment out for a thorough inspection. If you wear your own gear while scuba diving, you will be able to become more confident and safe. Several reputable dive centers provide low-cost scuba lessons, gear rentals, and open-water certification courses.
If you enjoy diving and want to explore some of the world's most beautiful waters, you might want to consider chartering a scuba dive. There are varying prices for scuba dive charter services depending on the type of vessel you select and the number of people on board; for example, a three-tank boat charter costs between $169 and $124 per person, while a two-tank boat charter costs between $124 and $89.
How Long Does It Take To Become A Certified Scuba Diver?
Credit: www.scubadivingearth.com
The Open Water qualification is typically completed in three to four days. In this course, we will study theoretical concepts, dive in pools or pool-like environments, and scuba dive in open water.
Exotic scuba diving destinations all over the world are well worth exploring. You must be licensed or certified in scuba diving, as well as in water breathing, to participate in this activity. How do I get certified as a scuba diver? The length of time can range from three to four days. PADI Keppel dive guides are available for hire. Keppel Island provided excellent training because we spent most of our time in the shallows around Great Keppel Island. Our instructor was by our side throughout the process, and we were pleased with how each skill was mastered.
How long does it take to get scuba certification? The confined water portion would take two days to complete. As a PADI student, you will have the freedom to adjust your course schedule as you go. During your vacation, you can study the theory at home and then complete the course at work. A liveaboard operator is an excellent choice for learning how to live on the water. If you want to dive with friends in Cairns, Queensland, you can't go wrong with ProDive. With 9 dives, you will be able to get a better feel for the water and see a plethora of marine life. In addition to Flynn, Thetford, Milln, and Pellowe Reefs, ProDive provides dive sites on 19 different reefs. It can be similar to diving in an aquarium, with low visibility and little current.
How do I get ready to dive? It is critical to have a certification in order to dive, whether you are a beginner or an experienced diver. The PADI Open Water Diver Certification Course is the best way to learn everything about scuba diving. Anyone with no experience diving should take this course for three days. You will be able to do whatever you want with your exploration of the ocean and its creatures after completing this course. The PADI Open Water Diver Certification will keep you on the water for life. If you haven't scuba dived for an extended period of time, it's a good idea to take the PADI ReActivate course to refresh your scuba skills.
Is Getting Scuba Certified Worth It?
Credit: azulunlimited.com
There is no easy answer when it comes to whether or not getting scuba certified is worth it. For some people, the pros far outweigh the cons and they would never dream of diving without being certified. For others, the thought of taking a scuba diving course and passing a test is enough to keep them from even considering diving as an option. Ultimately, the decision of whether or not to get scuba certified is a personal one that each individual must make for themselves.
There are numerous reasons why you should take the scuba certification test. You can avoid gear rental barriers, ensure you have a safe dive every time, and have a great experience every time. The reasons for the cheese are varied, some are important, and others are legal. Examine the list to see if you can get more than one reason to sign up. It is critical to take certification classes before learning to scuba dive. In the buddy system, multiple divers can communicate with one another constantly. One of the most important aspects of certification is understanding how to communicate underwater without using language.
Furthermore, it is critical to be aware of the warning signs that your diving buddy may need to be rescued. It is not as expensive as you may believe to obtain a scuba certification. If you want to get certified at a local school, you will most likely have to pay between $400 and $500. It is also a good idea to keep your scuba diving equipment in good condition in order to save money in the long run. Divers can explore new locations all over the world in addition to scuba diving. Aside from that, there are numerous vacation packages available all over the world. With everything included, package prices can range from $750 to $3500 per person.
Divers can gain a deeper understanding of the world by diving into new environments and interacting with animals. If you have a scuba certification, you can join any dive club on the coast. Caves and coral reefs are excellent places to visit and have yielded new discoveries along the way. Divers can meet new people and network in the water as well. A scuba diving vacation allows you to leave the house, avoid your phone, and get away from technology without having to worry about your smart phone or your device. Because you are underwater, there is very little technology available to you. Divers say diving is a way for them to let go of their grind and the grind of daily life.
There are so many advantages to scuba certification, but the most important is to gain experience. A rare opportunity to travel to an uncharted world with a species you have never seen before is what explorers have had to offer. One of the highlights of the adventure is meeting new people.
After you've completed the PADI Open Water Diver course and received a copy of your PADI Dive Planner, it's time to get started on your practice. In order to keep up with your scuba skills, you should be able to do at least two dives per week. If you only dive once or twice a month, you will notice improvements and progress.
It is critical to remember that diving should be enjoyed. Your journey is more important than the destination, and diving more places will help you appreciate the underwater world more.
Is It Worth Getting Scuba Diving Certified?
Is scuba diving worth it?
Anyone can learn how to scuba dive and have a fantastic time doing so. Diving without certification is dangerous because of the possibility of falling. If you want to be a scuba diver for life, your PADI Open Water Diver certification is a good investment. In addition, purchasing your own scuba gear is often preferable to renting it.
How Much Does A Full Scuba Kit Cost?
Credit: scubadivinglovers.com
A complete set of gear will cost between $1000 and $5000. The majority of scuba gear lines are similar to their most basic functions; you can find anything from inexpensive gear to more expensive gear. The type of scuba diving you will be doing will be determined by the equipment you require.
A full set of scuba gear costs between $1000 and $5000. The main components are a buoyancy compensator device (BCD), a regulator, octopus, a depth/air pressure gauge, fins, snorkel masks, and a mask. Some are more comfortable than others, and some are designed specifically to help you travel or get around more quickly in the water. Regulators for scuba diving will cost between $200 and more than $2000. The majority of setup costs will range between $500 and $700 for the first and second stages. Costs of masks, fins, snorkels can vary depending on the style and brand chosen. Masks are typically less than $100 in most cases.
Scuba goggles, in addition to goggles, will be available in a wide range of colors. Lenses are available in a variety of prices ranging from $50 to $300. The Fins help you move through the water more efficiently, so a good fit is critical. Wearing a rash guard will protect you from marine life stings, abrasions, and, in some cases, from the sun's rays. The dry suit will cost between $1,000 and $3,000. You should plan ahead of time on the cost of a dive computer, depending on the features you require and want. Unless you are doing deep diving, an air/depth gauge is usually sufficient.
The majority of air-integrated dive computers cost between $500 and $150. How much do scuba diving gear costs? A price range for a set of scuba gear is given below.
It is critical to remember a few things about scuba gear. First and foremost, the cost of the gear will vary, but a full set of equipment will cost between $1000 and $5000. A second recommendation is to refill your scuba tanks at a dive shop to save money. It's also a good idea to have your tanks pressure tested. If your scuba gear is working properly, it will not malfunction in an emergency. Finally, keep in mind that cylinder testing can be costly, so keep an eye on the cost.
The Cost Of Scuba Diving: Is It Worth It?
When shopping for scuba gear, keep in mind that it is possible to pay a lot of money for a complete set, but renting equipment can be much cheaper. A single-tank scuba dive typically costs between $40 and $150, while a set of scuba diving gear costs between $700 and $2000. Certification can also be quite expensive, but diving trips will typically cost much more. When you combine a liveaboard trip with a scuba diving excursion, you can expect to pay up to $10,000.
How Much Is Scuba Diving Lessons
The cost of scuba diving lessons can vary depending on the location, instructor, and length of the course. Generally, a beginner scuba diving course will cost between $200 and $400.
In general, the Open Water course consists of three components: academics, confined water training (pool dives), and open water training. Students complete their classroom educations at home using eLearning, eliminating the need to visit a school. Diver confined water training is where a new diver learns all of the skills necessary to be a competent and comfortable scuba diver. A certification as a scuba diver ranges in price from $350 to $450, depending on location and training. Personal equipment costs between $200 and $300 on average for divers. Having high-quality equipment doesn't have to be prohibitively expensive. Purchasing your own equipment, even if it's only a few dollars at a time, can help you save money for the long run.
Some dive centers use training to market their businesses as loss leaders in order to entice people to do business with them. All course fees do not include the use of training equipment, course materials, air fills, pool rentals, or certification fees. A high-level certification from a scuba instructor is around $700.
Scuba Diving: An Expensive But Worthwhile Skill
The average cost of a scuba diving course ranges from $250 to $300, with many students spending more than that. The course can take anywhere from six weeks to six months to complete with the necessary number of dives. When you learn to dive, you develop a skill that can be carried around the world with you and taken on incredible adventures.
How Much Do Scuba Diving Lessons And Certification Cost Near New York, Ny
The average cost of scuba diving lessons and certification near New York, NY is around $350. This price includes the cost of the lessons, as well as the cost of the certification exam.
Many different scuba diving training institutions exist, but PADI, NAUI, SDI, and SSI are the most popular. To become a certified scuba diver, you must first pass a certification exam administered by each agency. More extensive training will result in a higher cost. The National Association of Underwater Instructors is the national association of underwater instructors. The National Association of Uniform Instructors (NAUI) was founded in 1959 and is the world's oldest certifying body. SDI – Scuba Divers International is a division of Technical Diving International that offers recreational diving. SDI has grown to become the world's second largest manufacturer of military equipment, trailing only NAUI, with over 2200 authorized dealers worldwide.
Open Water Diver courses typically take three to four weeks to complete. Students will learn dive theory through the course materials, which include books and videos. When diving safely, it is critical to disclose any preexisting medical conditions with a medical professional. A confined water training course involves scuba diving and breathing underwater in a pool for the first time. Discover Scuba, in addition to being a PADI certification, is a step above Open Water. A scuba diving certification in Europe and the United States costs about $500, while a certification in Asia costs $350. If you want to become a professional scuba diver, you'll need some basic tips.
To become a scuba instructor, a three-month program costs between $400 and $600. Some parts of Asia will pay as little as $30, while others will pay as much as $150 in Hawaii or the Caribbean. Once you have received your Open Water Diver Certification, you will have many opportunities to explore the incredible world beneath the waves. A mask and a wetsuit are two items of safety equipment that new divers should have. If you prefer more equipment, you can rent it at the dive center before purchasing it.
The Cost Of Getting Certified As A Dive
It is not only a great way to learn to scuba dive, but it is also a great way to increase your safety. Depending on where you are, you can expect to pay between $400 and $600 to do so. Because it is only the beginning, it is critical to note that additional training will be required to be able to improve your skills and dive deeper. It can take anywhere from six weeks to six months to complete.
How Much Do Scuba Diving Lessons And Certification Cost Near New Jersey
The average cost of scuba diving lessons and certification near New Jersey is about $200. This includes the cost of the class, the certification exam, and the use of equipment.
You will learn how to scuba dive if you enroll in our Open Water Diver course. Following the completion of the PADI Open Water Card program, you will be given access to the PADI Open Water Pool. Academics are combined with pool sessions that are completed during a single weekend in part 1. You will be doing real water dives in Part 2 as part of the Open Water training program. You will have four days to complete your certification, during which time you will participate in four dives. Dutch Springs, a diving facility in Bethlehem, Pennsylvania (about an hour and a half drive from here), is where the majority of this training takes place. It is one hour away from here. Dutch Springs has been sold; we do not know when it will reopen.
How much does scuba diving cost?
Learning to scuba dive doesn't have to break the bank. Find out what it will cost you to get scuba certified, purchase your own scuba gear, and more.
If you're interested in learning to scuba dive, one of the biggest concerns you may have is how much it's going to cost you.
When planning your budget, you'll need to account for training and certification, renting or purchasing scuba diving equipment, travel to and from dive sites, and accommodation at your destination.
If you want to get scuba certified, you should expect to spend between $200 and $700, not including scuba diving equipment purchases and travel to and from your destination. If you decide to purchase a full set of scuba gear, it will cost you an additional $1,000 to $5,000 on top of certification and travel costs.
While this may seem like a large amount of money, the cost of learning to scuba dive is comparable to that of many other adventure sports, such as rock climbing and surfing, and is generally cheaper than activities like skiing and horseback riding (1).

Dive training and certification
Obtaining your open water scuba diver certification and getting training from an expert are essential costs of learning to scuba dive.
These expenses include digital training materials, online and in-person instruction, guided pool dives, guided open water dives, and certification fees paid to organizations like the National Association of Underwater Instructors (NAUI), Professional Association of Diving Instructors (PADI), Scuba Schools International (SSI), and Scuba Diving International (SDI).
The cost of learning to scuba dive varies substantially from one location to the next. You can find quality open water diver courses for around $200 to $300 in places like Egypt, Honduras, and Thailand. On the higher end of the pricing spectrum, getting certified in many parts of the United States, the United Kingdom, Maldives, and the Bahamas will cost you upwards of $600.
Make sure to read the course description carefully. By knowing exactly what's included, you can avoid any unpleasant surprises from hidden costs.
How much are scuba diving lessons?
The cost of scuba diving lessons depends on whether the courses take place online or in-person and what level of instruction you're seeking.
For beginners, it costs around $70 to $200 to do a single introductory dive with a guide and between $200 and $600 or more to do an open water diving course with a scuba instructor. Online courses are available to begin your scuba diving certification journey at your own pace and range from $0 to $200.
Advanced open water diver certifications tend to be priced similarly to beginner courses. However, divers can only enroll in advanced courses after completing a regular PADI open water diver course or equivalent, which increases the total cost.
Below, we'll discuss the cost of in-person scuba lessons and online, or eLearning, in more detail, as well as what you can expect from these different types of scuba instruction.
In-person lessons
In-person scuba diving lessons range from an introductory dive trip to a complete open water diver course. Introductory dives are cheaper and start around $70, while open water diver courses usually cost between $200 to $600+ depending on the location and what the course includes.

Open water diver certification
Getting your open water certification can take anywhere from a few days to an entire year, depending on your training schedule. The process typically consists of three main parts:
Knowledge development and classroom sessions to learn the fundamental principles and concepts needed for safety.
Confined water dives with a scuba instructor to learn basic skills in a safe environment.
Open water dives with an instructor to test your scuba skills.
Once you've successfully completed the course, you'll get your certification card and will be able to go scuba diving without an instructor, rent gear at hotels, resorts, and dive shops, and plan your future diving trips.
Introductory scuba lessons
If you're interested in scuba diving but aren't sure you're ready to commit to a full course, try an introductory dive in your area or while you're on vacation. Whether you're headed to the Caribbean, the Mediterranean, or the South Pacific, coastal resorts worldwide have plenty of introductory dive trips to choose from.
These small-group trips range from around $70 to $200. Typically, the cost includes:
Instruction with a dive guide or divemaster
Equipment
Short, shallow dive (usually 30 minutes or less)
Some companies offer discounts for groups of two or more people. If you're traveling as a couple or in a small group, you're likely to find cheaper rates.
Keep in mind that while introductory lessons are a great way to see whether scuba diving is truly a hobby you want to take up, going on a trial dive will not provide you with any kind of scuba certification.
eLearning
Some scuba diving courses use an education style known as blended learning, which research suggests can improve students' experiences (2). This type of education combines independent, online learning with in-person instruction to provide students with additional flexibility.
For example, PADI offers a beginner open water diver course online for around $200. After completing the online education portion, the student must undergo in-person training with an accredited dive center.
Additionally, SSI provides free digital course materials to those interested in participating in one of their diver programs, followed by in-person knowledge development and in-water training with an instructor.
Online materials should be considered a supplement to rather than a replacement for in-person lessons. While eLearning is an excellent place to start, no amount of online instruction can replace in-person education, pool sessions, and open water dives with a divemaster.
Resources for finding a dive center
If you're ready to start scuba diving lessons or begin your certification process, your next step is to choose a dive center where you'll complete your training. You can use the following locator tools to find a reputable dive center in an area of your choosing:
Scuba Gear
Scuba diving equipment is another substantial cost of learning to dive.
At a minimum, you can expect to spend about $300 purchasing basic scuba diving gear. For a full set of dive equipment, including your own dive computer, buoyancy compensator device (BCD), and regulator, costs typically range from $1,000 to $5,000.
Rather than buying all of the equipment at once, many people slowly add to their personal dive gear over time as their budget permits. To start, you'll want your own dive mask, snorkel, and scuba fins. If you're planning to dive in cooler waters, you may also want to invest in your own wetsuit, ranging in price from $50 to $500 depending on the style and quality.
To learn more about the equipment required for scuba diving, check out our article here.
You can rent the rest of the required scuba equipment for your lessons if you're not ready to purchase your own. Many introductory dives and open water training courses include equipment rental in the total cost.
If you want to rent scuba equipment after obtaining your certification, it will cost between $20 and $100 per diver per day, depending on the location and how much gear you need. Many rental shops offer discounted rates for multi-day or week-long trips.
Reputable dive centers regularly inspect and service their rental gear, but you should still always check the equipment thoroughly to ensure there aren't any issues. If something seems off, speak up and ask the dive shop or center for a new piece of gear.
While renting is an excellent option for new and infrequent scuba divers, continuing to rent your gear will drive up costs in the long-run if you plan on diving often. Purchasing scuba diving equipment has the additional benefit of providing a consistent fit and quality. As a result, using your own gear can improve your safety and confidence while diving since you will be familiar with your equipment.
Travel
You'll need to factor travel costs into your budget if you want to learn to scuba dive somewhere other than your local area. These expenses could include airfare, car rental, other transportation, accommodation, and dive boat charter fees.
If you're seeking to reduce the total cost of learning to scuba dive, it may be best to find a certification course at a local dive center rather than at a resort or holiday destination.
Alternatively, you could find an open water course that includes free accommodation or try to weave in some diving lessons on a trip you already have planned. With scuba courses and lessons available around the world, you might be able to incorporate diving training into your existing vacation.
Take a look at the resources above from PADI, NAUI, SSI, and SDI to find a reputable dive center near you or at your preferred destination.
Conclusion
Becoming a certified diver opens up a lifetime of opportunities to explore the wonders of the underwater world. While the total cost may seem expensive at first, certified divers around the world generally agree that it's well worth the money.
By choosing an affordable destination or diver course and renting some of the more expensive scuba gear at first, you can learn to scuba dive for just a few hundred dollars.
Keep in mind that your life is in the hands of the instructor. While there are many reputable dive centers with competitive rates for scuba lessons, gear rental, and open water diver certifications, quality should always take precedence over price.
Source https://divingcorner.com/scuba-diving-cost/
Source https://www.desertdivers.com/how-much-does-it-cost-to-get-scuba-diving-lessons-and-certification/#:~:text=The%20cost%20of%20scuba%20diving%20training%20can%20vary,from%20$200%20to%20
,000%20for%20scuba%20diving%20training.
Source https://outsiderview.com/scuba-diving/how-much-does-scuba-diving-cost/