How to edit GoPro videos in VSDC Free Video Editor
So, you have an awesome piece of footage you've shot with your GoPro and you need to make few adjustments before showing it to the world? You're on the right page, because we'll show you how to edit GoPro videos using a free software named VSDC. In the tutorial below, we'll go over rotating, splitting, speed effects (slow motion, playing the video backwards), and adding music.
We'll be working in VSDC free video editing software for Windows. VSDC is completely free, and it has actually been recommended by the GoPro team after their own video editor, Studio stopped being supported.
What's great about VSDC, when you compare it to other video editors, it opens and processes GoPro files very well (full 120fps support, 4K resolution, and HEVC/H.265 codec support, if we must be more specific). In other words, you won't have to convert your files before editing them, and you'll be able to keep the high quality at the export.
How to open and rotate a GoPro video?
Once you've launched the program, start a new project and import your footage to the timeline. Use the round green "Add object" button, choose "Video" and select the file from your PC.
The first task many action camera owners have when they start editing GoPro videos is the rotation. Well, because sometimes you simply can't keep that perfect angle when you're shooting.
You can rotate footage at 90 degrees clockwise and counterclockwise in a single click using the quick menu at the top (see the illustration above). However, if you need to rotate the video at a custom angle, you can do that too:
Go to the Video effects tab located in the top menu.
From the drop-down menu choose "Transform" – "Rotate".
In the popup window, there will be "Whole parent duration" already selected. Just click OK.
A new tab will appear on the timeline with the "Rotate" effect placed on it.
Click on it with the right mouse button and select Properties.
In the Properties window, scroll down to "Rotate angles" and set the parameters according to your needs. See the illustration below.
How to edit GoPro videos: cropping and splitting your footage
Cutting, cropping, and splitting tools are all located in the quick access menu named "Tools" at the top of the program interface, and you'll easily get a hang of them.
First, if you need to crop the borders of your video, just click the corresponding icon – a new window will pop up where you'll be able to manually choose what's left in the scene. Cropping is a great way to get rid of the excessive space around the object and narrow the focus for the viewers.
Simply place the cursor to the point where one episode is supposed to end, and another one should begin.
Click the "Split into parts" icon as illustrated below.
See how your video is instantly divided into 2 parts placed consequently on the timeline tracks.
Repeat to break the video into even more fragments if needed.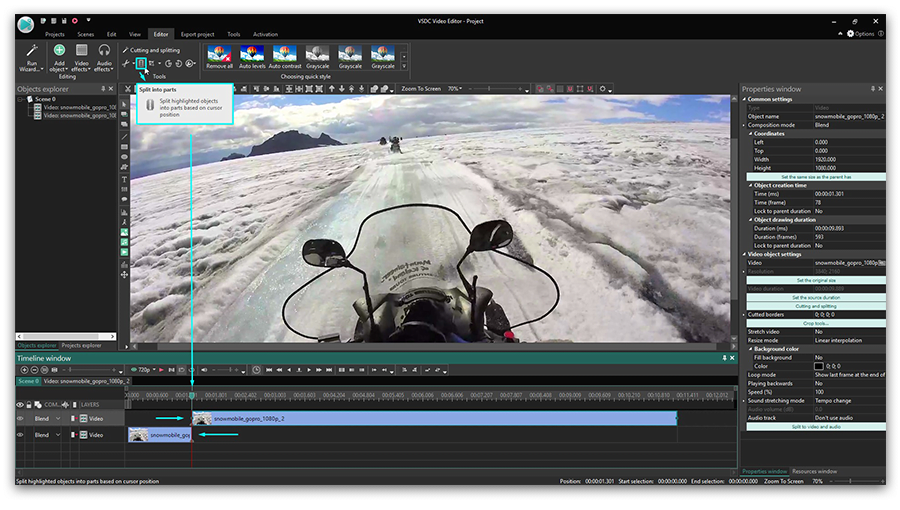 How to edit GoPro videos: applying slow-motion effect and playing videos backward
We've finally got to the most popular part. Applying a "slo-mo" effect to GoPro videos is a must if you want to savor some of the best moments and make the video look more spectacular. Here is how to do it:
Split the video into fragments using the instruction above and choose the one you want to slow down.
Go to the Properties window located on the right side and scroll down to the "Speed %" section.
Manually adjust the speed you want the video to be played at.
If you choose 50%, it will be twice as slow as the original. If you choose 25%, it will be 4 times slower than the original video. We always recommend testing this parameter and previewing the result as you go. Because depending on the action and the desired result, the sweet spot may be found somewhere between 32% and 47%.

You know what else will produce a great impression on the viewers? If you choose some breathtaking moments of the video and play them backward. Notice, that's a parameter right above the "Speed %" field. Just select a video fragment and switch No to Yes in front of the "Play backward" option.
How to edit GoPro videos: adding music
Ready to spice up your clip with the right atmospheric music? Let's do this!
First, if you want to remove the original audio track of the video, go to the Properties window and choose the "Don't use audio" option from the "Audio track" drop-down menu. Your footage will now be muted.

Then click the round green "Add object" button and choose "Audio". Select the file that you think suits the mood of your footage. You'll be able to split and adjust it too if needed.
When you're done with editing your GoPro video, go to the Export project tab and choose the export profile depending on your goals. For instance, if you're planning to upload your clip to YouTube, Facebook, or Instagram – there are special pre-configured profiles for that. When you choose one of them, your video is exported according to these social media platforms requirements. If you, however, want to save the video on your PC in the maximum quality, you can go with the AVI format and the H.265 codec (click the "Edit profile" button to choose the codec and other custom parameters).
Now that you know how to edit GoPro videos on a basic level, we recommend the following tutorials to help you make even more attention-grabbing clips:
You can get more information about the program on Free Video Editor' description page.
Editing Tips for Underwater Videographers Using GoPro
You've captured all of your epic dive trip footage using your GoPro. There are hours and hours of wide-angle, macro and topside footage all sitting on your hard drive. Now what? How do you make all of your hard work shine? The last thing you want to do is show unedited clips from your camera. Instead, make a finished product that you can be proud of and looks stunning! Here are some editing tips that will help you make a video your family and friends will love.
Choosing an Editing Program
Making a decision about which video editor to use can be difficult. For most people, it comes down to price and how serious you are about being a videographer.
GoPro Studio is free and made specifically for GoPro footage
The brand new GoPro Desktop App helps you organize your content
GoPro App & GoPro Studio
GoPro has just released the GoPro App for Desktop, which helps you offload your GoPro content into an organized viewer. Then, once you've made your selections, you can edit and export using GoPro Studio (included in the app download).
Pros of GoPro Studio
Free and made specifically for GoPro
Works on Mac and PC computers
Features an auto import feature from your memory card directly to the GoPro Desktop App
The basic viewer allows you to visually see all of your GoPro clips. It's not quite a full-fledged library, but great for beginning video editors
Pre-built drag-and-drop templates allow you to easily get a project completed
Cons of GoPro Studio
All footage must be converted to Cineform before you can edit it (see below)
Limited editor with a single video timeline
No Photoshop support for titles
The Cineform codec is a very high-quality professional codec. When the footage is recorded on your camera, it is in a compressed MP4 file. Before GoPro Studio can edit the footage, it must convert the video to the Cineform codec. The downside of this is that you now have two files on your hard drive. Let's say if you shot a one-minute clip of 1080p footage with your GoPro; you will have the first MP4 file that is ~500MB in size, and the second file in the Cineform codec will be almost 2GB in size!
Apple Final Cut Pro X is a full-featured video editing software
Adobe Premiere Pro, also a full-featured video editing software, has a color correction user interface similar to Adobe Lightroom
Apple Final Cut Pro X & Adobe Premiere Pro CC (Creative Cloud)
If you think you're ready to have more control over your footage, apply more accurate color adjustments, and have a more professional software to work with, Apple's Final Cut Pro X or Adobe Premiere Pro might be a better choice for you. Both of these applications also allow you to directly import and edit footage without transcoding—which we like because it's faster. But the downside to this workflow is that older (slower) computers may have a difficult time playing back video previews in real time.
Pros of Premiere Pro
Amazing Lumetri Color Tools that look and work like Adobe Lightroom, which many of us underwater photographers are very comfortable with. The color tools alone are probably the best thing about Premiere Pro and make it a worthwhile choice for video editing
More traditional NLE (nonlinear editor/editing)
Mercury Playback Engine allows you to play back 4K GoPro video files in real time within Premiere Pro without transcoding
Pros of Final Cut Pro X
Although not free, it's a one time purchase of $299.99
Optional transcoding
Full-featured, professional editing environment
If you're new to NLE (nonlinear editor/editing), you may prefer the dynamic editing experience of the magnetic timeline
Cons of Premiere Pro
Price isn't a one-time expense; however, this can be a benefit depending on how you look at it. It's only available through Creative Cloud and the cheapest option is the "Single App License" of $19.99 per month
Although it's affordable, it does add up and gets close to the price of Final Cut Pro in just over the first year
Cons of Final Cut Pro
Mac only
Color tools are limited for underwater use: no white balance color picker, no color temperature sliders, just their Color Board. It's very powerful, but takes getting used to, and we find it hard work
Learning curve can be steep for some people, as some of the tools you might be looking for are hidden by default
Tell a Story
If possible, plan out your story before you go on your trip—even if it's just "I want to show the beauty of the underwater world set to music." Think about the types of shots you want, and plan for how you can get the shots to tell your story. If you have a focused story, like "I want to tell a story about the wrecks of Hawaii," then more planning will be involved. Get as granular as possible in the types of shots you'd like to capture and how those shots will portray the story you're trying to tell.
Below is a short video shot in Bonaire. It's a broad story about how beautiful Bonaire is and some of the types of things you'll see while diving. There's also some footage shot with the GoPro while touring around the island.
Add Some Music
Don't forget to add some music. Having a soundtrack can really help enhance your video and provide additional interest. You see a lot of people using music from their favorite artists and bands, but the reality is that without written permission, you legally shouldn't use it. There are many great resources online where you can either download music tracks for free or for nominal licensing fees. Here are some good resources for getting the perfect music track:
allows many tracks to be used in your video project (free) is another good resource (some free, some paid) is designed for commercial use. There are many great sounding tracks available and there are different licensing options/pricing based on planned use
Use the Best of the Best
No one wants to see his/her hard-fought underwater imaging captures on the cutting-room floor. But most people's attention spans are fairly short. You might have a bunch of amazing footage from different angles, and even the same awesome subjects from different days. Do your best to objectively choose which clips are the most engaging and compelling, and cut it down to only the best of the best.
Top: Before color-correction, the water has a cyan hue. Bottom: After color-correction, with less cyan hued water
Basics of Color Correction
In all three video editors that we talked about above, there are color-correction tools. Why do we care about color correction? Well, sometimes you might have shot your video with the wrong filter on, or the GoPro poorly white balanced, or you were very close to your subject and your lights were too warm in the footage. Capturing amazing footage doesn't always happen perfectly on every dive. Being able to make quick color adjustments "in post" can really help put a polish on your final project.
GoPro Studio Color Tools
In GoPro Studio, there's a white balance picker as well as Temperature, Tint, Exposure, Contrast, Saturation and Sharpening controls.
GoPro Studio has basic color-correction editing tools perfect for those getting started, or those who don't wish to spend a lot of time editing video
Apple Final Cut Pro X Color Tools
Final Cut Pro X's Color Board is very powerful, but isn't immediately intuitive for manually correcting white balance. You have one Global ball and a ball for Shadows, Midtones and Highlights, which you can move left or right to pick your color, and then up or down to increase or decrease the amount of that hue. We prefer to have a single adjustment slider for Temperature and Tint.
Color-correction tools in Apple Final Cut Pro X are powerful but don't feel as easy to use for underwater color correction requirements
Adobe Premiere Pro Color Tools
Adobe has outdone themselves with the addition of Lumetri Color. You now have sliders very similar to the develop module in Adobe Lightroom. Additionally, for underwater videographers, we love the Hue Curves.
Underwater videographers who are serious about video editing will gravitate toward Adobe Premiere Pro for its professional and very powerful Lumetri Color Tools
Lumetri Color RGB Curves and Hue Saturation Curve Panel
Keep It Short, Sweet and to the Beat
A director's cut can be cool sometimes, but most people only have an attention span of two or three minutes when watching a video online. Think about your audience and remember to be a good editor! Additionally, when you pick a music track, think about song selection that supports the pace, movement, and energy of the video clips you've selected. Setting each clip to transition to the beat will be more impactful and come across as a much more professional movie.
Share for a Purpose
The sea, once it casts its spell, holds one in its net of wonder forever.
People protect what they love.
— Jacques Cousteau
Once you've fallen in love with the ocean, you'll immediately want to protect it and conserve it for our future generations to experience and enjoy. Sharing your underwater images with family and friends, especially those that are not yet ocean lovers, is the best way to communicate that our oceans and its inhabitants are fragile and need our care. Social media outlets are an effective way of sharing your experiences. Millennials are practically born posting content to their favorite channels. For those of us a bit older and less social media savvy, just pick one or two channels to start posting to. Share your message, and share often!
About the Authors: Joel and Jennifer Penner are avid scuba divers and award-winning underwater image-makers. Their images have been published in many magazines, such as Scuba Diving, Sport Diver, Underwater Journal and Scuba Diver. Joel and Jennifer are frequent presenters at scuba industry trade shows, and they are also staff at the annual Digital Shootout and Monterey Shootout events. When the ocean is not their office, they run a multimedia company called Newmediasoup, specializing in design and development for the Web.
When purchasing underwater photography equipment like the products mentioned in this article, please support DPG by supporting our retail partner—Backscatter.com.
How to Color Correct GoPro Footage in 1 minute (EASY)
Thanks to the wonderful camera performance and a rugged body, the footage shot by GoPro is almost always appealing to the viewer. However, you need to sometimes color correct your GoPro footage if you want truly cinematic and professional-looking shots. In this article, you'll get full information regarding how to easily color correct your GoPro videos in just about a minute!
What is Color Correction?
Color correction is the process of balancing color in your footage. It includes adjustment of exposure, contrast and color levels to produce the most realistic representation of reality or, to make footages coming from different cameras look the same. On most professional editing apps, color correction is a fairly standard and readily accessible feature.
Here's an example of a frame Before and After color correction:
GoPro Protune: Flat vs GoPro Color
Before proceeding further, let's first discuss what GoPro Protune means. Well, Protune is what GoPro calls its settings which control several aspects of its shots, like sharpness of the image, color, ISO etc. Although these settings are often misunderstood or ignored by many new GoPro users, they are extremely important to achieve high quality videos.
In the newer GoPro models, there's a choice between two color modes in the Protune color mode settings: GoPro Color and Flat. You should note that you'll only see these settings if you turn Protune on. The GoPro color mode is the default setting, and you can manually change it to Flat if you wish to color grade or apply custom color LUT filters on your Videos.
Now, the question arises as to what's the difference between the two. Here's the answer. GoPro color mode adds a specific color style directly in-camera. It gives you an image that is visibly more vibrant and with a higher contrast. Flat color mode, on the other hand, gives a raw image without any editing. It results in a relatively faded image with colors looking washed-out.
Here are two examples of similar shots captured by GoPro in Flat and GoPro color mode.
Protune: GoPro Color (Left) VS Flat (Right)
As you can see, the most obvious difference is in the contrast. The images captured with GoPro color mode undoubtedly look much more appealing.
GoPro Color: For quick, vibrant results
GoPro Color mode is ideal for you if you don't wish to devote much time for post processing, but still want visually appealing shots. It gives you really nice end results without the need to do a lot of editing or color grading.
The key difference between GoPro and Flat color modes is in the contrast. The footage with GoPro Color mode is anytime spunkier and more cinematic without editing. This mode ensures dynamic captures with a lively edge!
However, if you select GoPro color then you won't be able to apply custom color presets on your videos, like our GoPro Cinematic LUTs Pack.
Flat Color: For more Freedom
Now that it's clear that GoPro color mode has an edge over Flat, the question arises:
"Why would you opt for the Flat mode when the end result with GoPro color mode clearly looks better?"
The section below has all your answers…
Whether you're shooting still images or videos, Flat color mode lets you capture more detail in your shots, as it is a raw image with full editing potential. The word 'raw' has been used because the camera doesn't apply any color filter on your photo or video in this setting, thus providing you a neutral looking shot. You'll love how (in post-production) all shadows and highlights are fully captured in the resulting shots, thus giving you more freedom to unleash your creativity.
Ultimately, the flat mode is for anybody who wants to color grade or apply any custom color presets.
Can You Color Correct or Apply LUT Presets on GoPro Color footage?
It's definitely better to color correct Raw GoPro footage rather than the footage that's been altered or edited in post production. This is because in the raw footage, the color levels are neutral. However, in many cases you can still do some light color correction on footage shot with "GoPro Color" and get good results.
Same with custom LUT filters… for better results it's advisable to use them on footage shot with "GoPro Flat".
Apps for Color Correction
Basic video color correction can be done with most video editors on mobile and computer. Here are some of the popular apps with this feature:
Adobe Premiere Pro
Final Cut Pro X
Adobe Premiere Rush
Filmora Wondershare
GoPro Studio
iMovie
DaVinci Resolve
How to Color Correct GoPro Videos Using GoPro Studio
Color Correction in GoPro Studio is simple and intuitive. You need to just follow the steps below:
Step 1: Import your footage from your GoPro camera to your computer and create a new project within GoPro Studio.
Step 2: Color Correction – Select the clip you'd like to color correct. On the right hand side of your window the color correction can be done just by hitting on the arrow beside the White Balance button and the Image button. Now you can see the options which needed to be changed in order to correct the colors of the clip. You will be able to view all the options like temperature, exposure, sharpness, contrast, tint and saturation. You can also choose to apply different preset overlays to give the footage your own desired mood and feel.
What are LUT Presets?
LUT stands for Look Up Table. It's used to color grade and transform the images captured by your camera into a desired color value output (as set by the LUT). In simple words, LUTs are the presets that let you easily apply professional color grading yourself. They give your desired look to your video instantly, so you can apply professional level color tones.
At ProjectGO, we have made our own GoPro color grading filters packs, specifically designed for GoPro footage style.
>> Click here to have a look at the GoPro Cinematic LUTs.
There's something for everyone in this wide range (over 100) of color presets to cover most GoPro activities.
Source https://www.videosoftdev.com/how-to-edit-gopro-videos
Source https://www.divephotoguide.com/underwater-photography-techniques/article/editing-tips-for-underwater-videographers-using-gopro/
Source https://projectgo.pro/color-correct-gopro-footage/