Best Scuba Training Agencies in 2022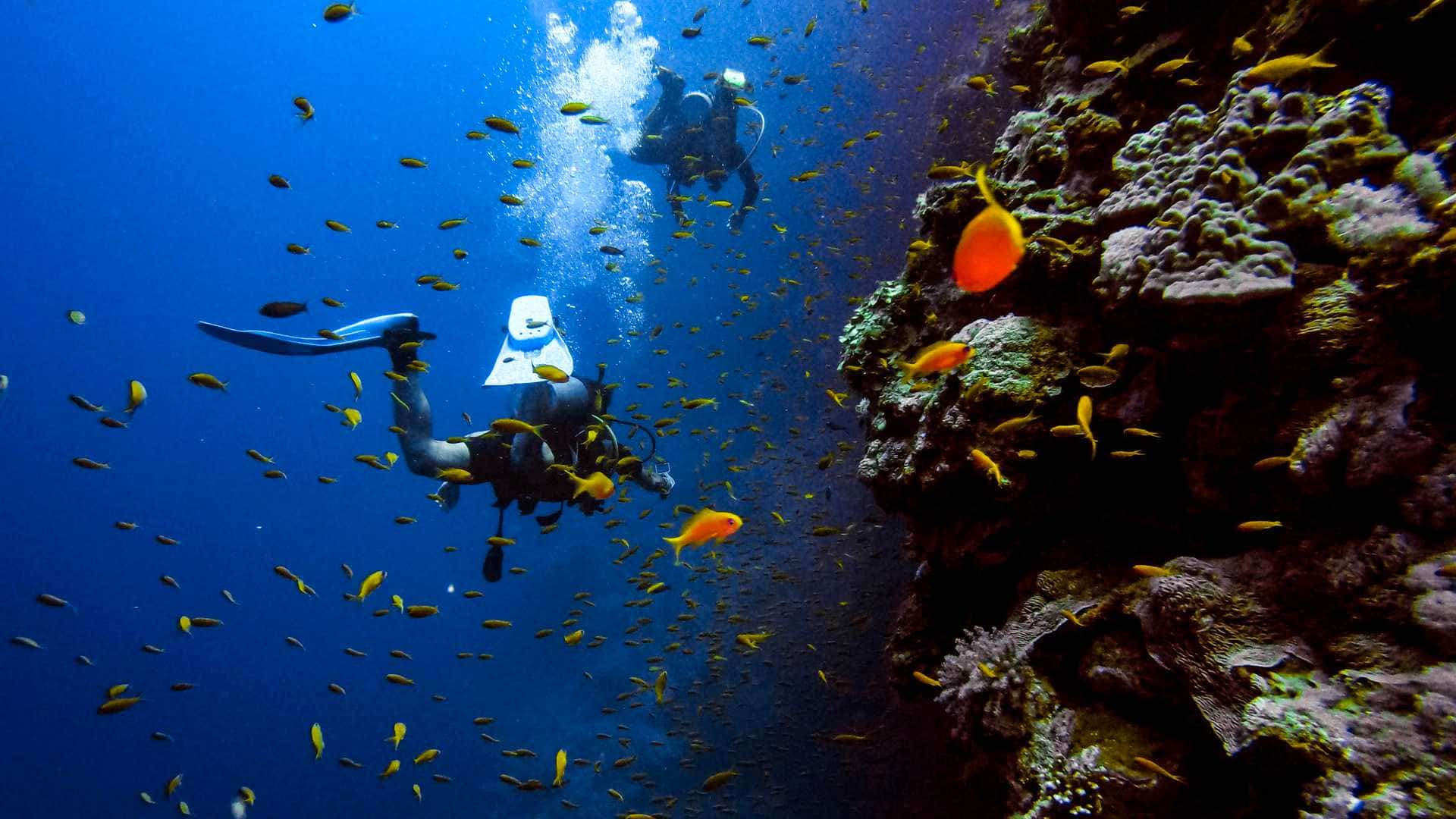 Many new divers are confused by the number of different scuba training agencies, dive schools, and wonder which is the best scuba diving certification to get.
In this article, we will look at the best scuba training programs and discuss differences, similarities, and which one is "best".
You will notice, however, that this question cannot be objectively answered and it is more important to find a good dive instructor, instead.
Best Scuba Training Agencies in 2022
These are the best scuba diving training programs and agencies in 2022:
Let's now look at each of them individually and how their pros and cons.
PADI – Professional Association of Diving Instructors
Most popular
Rating: 4.1 / 5.0
PADI is by far the largest scuba training organization in the world and for many, a "PADI card" has become synonymous with becoming scuba certified.
It is recognized near everywhere and picking it as your training agency is never a bad idea.
They offer a large e-learning platform in all languages and you can begin any course anywhere and complete it at a different PADI dive base. Super convenient!
PADI Diving Courses Pros
Biggest training agency in the world
Recognized everywhere (very few exceptions)
Easy referral program
All languages available
All courses available
Online certification
PADI Diving Courses Cons
Training very standardized
Somewhat outdated training methods
Tech & Cave training has poor reputation
Cross-overs to PADI are a difficult (for no apparent reason)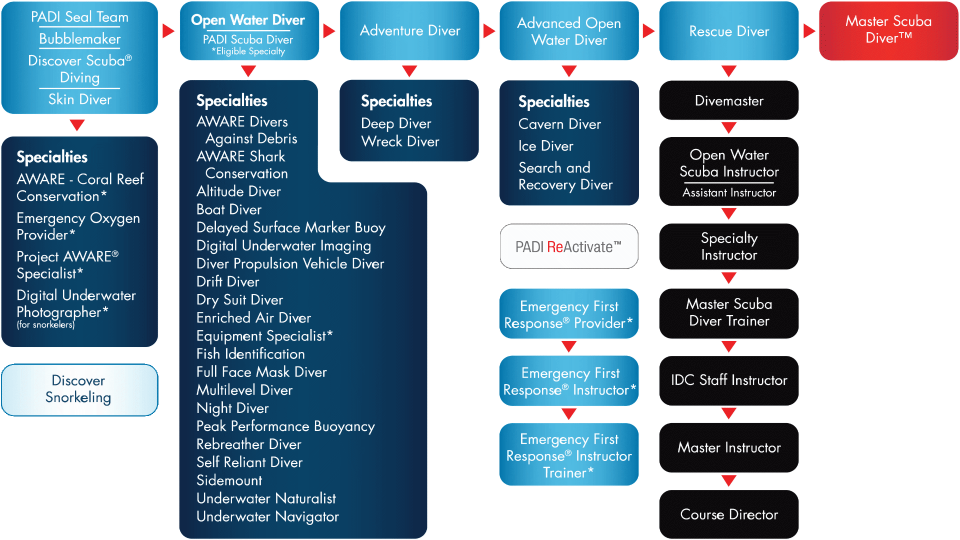 PADI course flowchart.
Specs & Features
CMAS – Confédération Mondiale des Activités Subaquatiques
Most in-depth training
Rating: 4.8 / 5.0
CMAS was founded in 1959 and is one of the oldest and most recognized scuba training agencies in the world.
CMAS courses are widely regarded as some of the most thorough and best dive training available and standards are much higher than at most other organizations.
As many CMAS dive bases are organized in clubs, training tends to last much longer, and CMAS courses are recognized anywhere in the world.
CMAS Diving Courses Pros
One of the oldest training organizations
Super in-depth dive training
Very high standards
Recognized anywhere in the world
Includes freediving training
Fewer courses needed
CMAS Diving Courses Cons
Generally no online training
Few dive bases in the world (mostly European countries & French territories)
Can be tough for less athletic people
"Stars" rule a little different from other popular agencies
Specs & Features
iac – International Aquanautic Club
Fastest Growing
Rating: 4.6 / 5.0
iac (previously Baracuda) is a German scuba training organization that is currently the fastest growing one in Europe and the world
Iac offers anything from recreational to freediving, technical diving, and disabled diving and the course structure is in accordance to the guidelines of the RSTC.
It is also the only scuba training agency on this list that's recognized and part of both the RSTC, as well as the CMAS and iac instructors (like myself) can issue certification cards for both.
iac Diving Courses Pros
Young and modern approach to dive training
Very personal support
Super high standards
Recognized anywhere in the world through RSTC & CMAS
Curriculum very flexible
iac Diving Courses Cons
No digital certifications (yet)
Fewer dive bases than others on this list
No general online course library (yet)
Specs & Features
SSI – Scuba Schools Internation
Great Online Courses
Rating: 4.4 / 5.0
SSI is one of the most popular and recognized organizations in the world and recognized internationally.
SSI has a different concept in contrast to PADI or CMAS, and all diving levels, as well as instructor levels, are based on diving experience rather than courses.
SSI courses are usually longer than other diving courses and I really like the extensive online course library and the SSI app.
SSI Diving Courses Pros
Thorough dive training
Training levels based on experience
Cool online library
Modern training approach
Digital certifications & logbook
SSI Diving Courses Cons
Courses often too long short trips
Dive professionals must be connected to store
Owned by same company as Mares, which can put off some people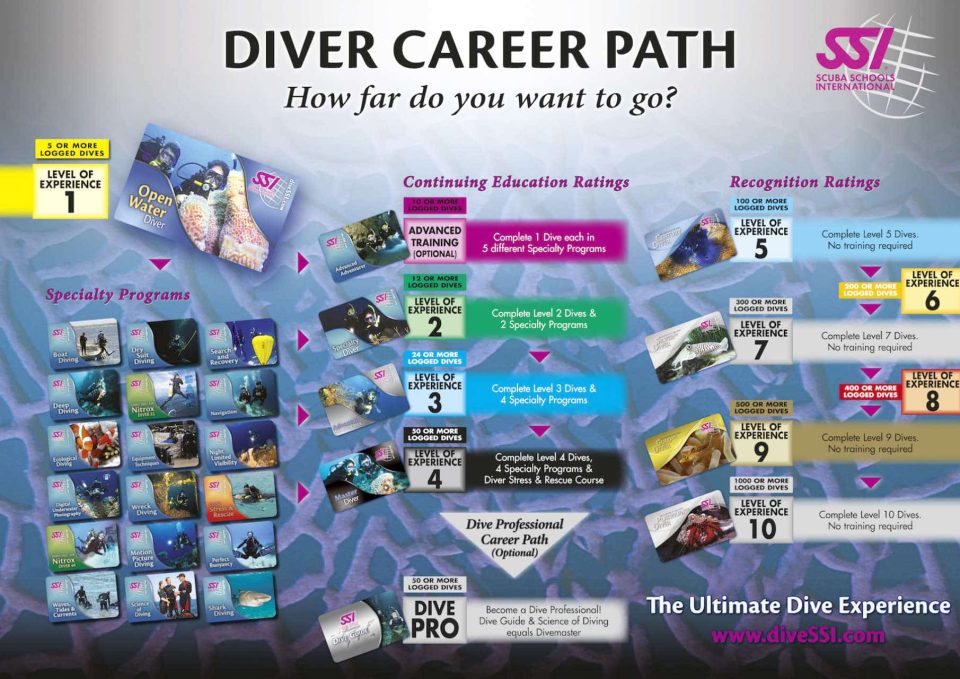 SSI course flowchart.
Specs & Features
GUE – Global Underwater Explorers
Toughest Training
Rating: 4.2 / 5.0
GUE is a technical diving agency that offers both recreational and technical dive training.
It is generally regarded as one of the toughest and most thorough training programs and GUE instructors pride themselves on exceptional skills and teaching approaches.
Their courses are structured differently from others on this list and often require greater commitment in terms of time, money, and equipment.
GUE Diving Courses Pros
Exceptional training quality
The most reputable cave & technical diving agency in the world
Great for those who want to go from recreational to technical dive training
Elite instructors
GUE Diving Courses Cons
Can feel very restrictive
Not as well-known in the recreational diving area
Courses often expensive
Very few dive bases and mostly individual instructors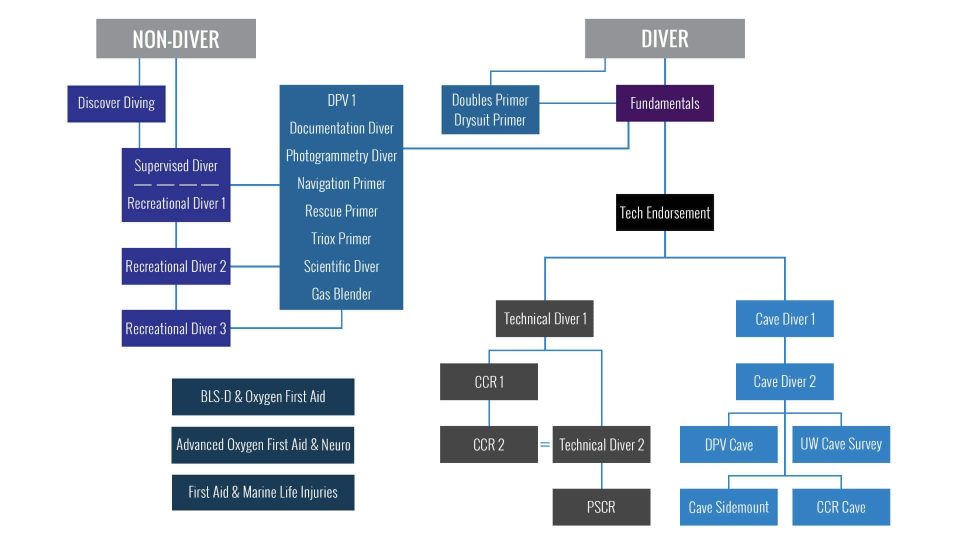 GUE course flowchart.
Specs & Features
BSAC – British Sub-Aqua Club
Oldest Training Agency
Rating: 3.8 / 5.0
BSAC is the oldest recreational dive training agency in the world and even precedes the CMAS by a few years.
It has been steadily declining in members and popularity for the past 20 years, however, most dive clubs in the UK are still part of BSAC.
They were the first recreational diving agency to use Nitrox as part of their core curriculum in all courses and most dive instructors are volunteers
BSAC Diving Courses Pros
Progressive course curriculum
Great for those who want to join a dive club
Oldest training agency
BSAC Diving Courses Cons
Mostly aimed at UK divers
Expelled from CMAS
Not as recognized as more modern agencies
Requires annual membership
Requires club participation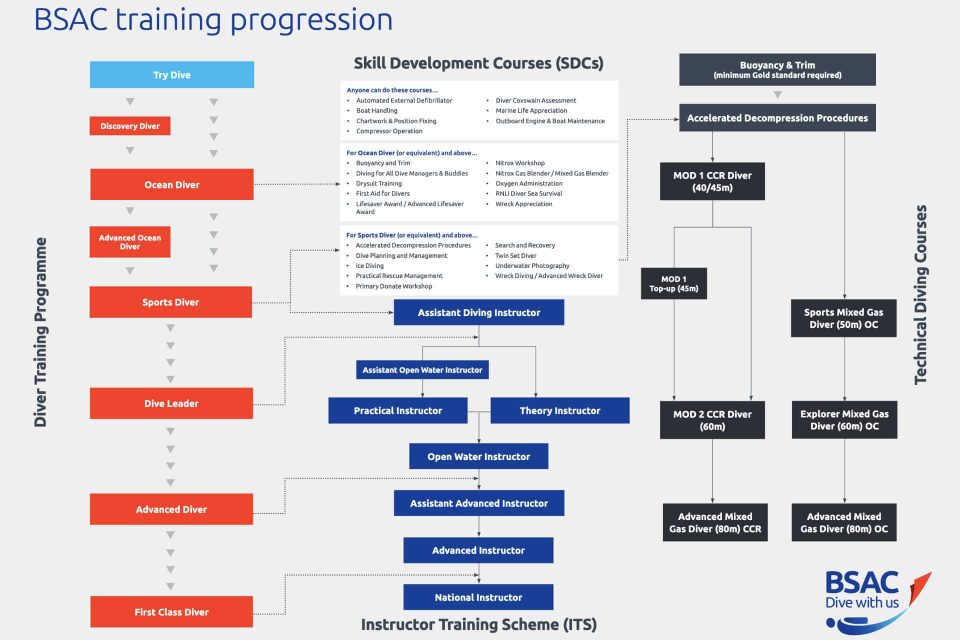 BSAC course flowchart.
Specs & Features
Which Scuba Training Agency is Best?
There is no overall best scuba training agency as they all have strengths and weaknesses. Therefore, choose the one that best fits your goals and approach to scuba diving. If you want to dive a lot while traveling and do courses at different locations, pick a larger agency like PADI or SSI as they have lots of dive bases around the world and are recognized everywhere. If you want the most thorough training or get into tech diving, agencies like CMAS or SDI/TDI are great starting points.
Especially new divers always ask the question "which scuba training agency is best?" or "PADI vs xyz…which is better?". To which my usual answer is always "the training organization doesn't matter as much as the instructor".
The instructor is much more important than the training agency.
There are amazing training programs out there, but if they are taught by a complete idiot, you won't become a great diver.
On the other, there are some programs I don't like at all, but know some of their instructors and can personally vouch for their great training quality.
As such, look for a good instructor or dive school first, and don't worry as much about the agency.
The only time you really want to look closer at the training agency is when you get into technical diving or cave diving.
Here, there are big differences in terms of equivalency and reputation around the world.
Why are there different diving certification programs?
Scuba diving is not regulated by one general entity like pilot licenses, boat permits, or skydiving courses. Therefore, different scuba training agencies evolved which all offered their own training curriculum and courses to teach people scuba diving. Only in recent years through organizations like RSTC and CMAS has scuba training been more centralized and standardized.
There are many hundreds of different scuba training agencies with just as many scuba diving certification programs attached.
Although their training methods differ, they share one common goal: Teach people to scuba dive.
Therefore, the choice of certification program has a much lower effect on your diving career than you would initially think.
How do scuba training agencies differ?
Most scuba training agencies teach scuba diving in a similar way, starting with the theory, before moving on to pool training and finishing the course in open water. However, there are differences in training methodology, number of course dives, and certification steps when taking higher scuba training courses. Bigger agencies also tend to have other features like elearning, digital certification cards, and referral programs.
As you can see from the dive training flowcharts above, the way you progress through the dive training levels differs from agency to agency.
The Open Water Diver, as well as the Advanced Open Water Diver certifications are the most popular dive training certifications in the world. Most agencies offer them or variations thereof.
In the end, the name does not matter, as long as the training conforms to the respective ISO norms (24801-1 & 2) for supervised and autonomous divers. You can read more about them below.
To improve safety and minimum training standards, the RSTC was founded.
WRSTC – World Recreational Scuba Training Council
The World Recreational Scuba Training Council (WRSTC) is an organization of established scuba certification agencies that governs and develops worldwide minimum training standards for recreational dive training. It is made of smaller regional RSTC organizations and aims at improving safety and equivalency for scuba diving training.
We already discussed that the training organization is not near as important as the instructor and that most diving certifications are equivalent around the world.
However, I highly recommend you make sure that the dive school or training agency you're with is part of the respective regional RSTC.
The RSTC is the closest thing we have to a world scuba diving organization and here, representatives of all major scuba diving organizations discuss training standards.
This means if your training organization is part of the RSTC, you can be sure that the diving course is accredited and fulfills the minimum criteria set by all its members.
RSTC members also automatically recognize each others' training certifications as equivalent.
Scuba Certification Levels
Scuba diving certification levels are standardized by ISO (International Organization for Standardization) which ensures that there is equivalency between different scuba organizations and their training programs. ISO sets standards and norms for products and services in all areas and there are 5 ISO norms that apply to recreational diving services and training.
These are the ISO standards that are important for recreational scuba diver training:
Introductory programs to scuba diving – ISO 11121
Diver Level 1 – Supervised Diver – ISO 24801-1
Diver Level 2 – Autonomous Diver – ISO 24801-2
Diver Level 3 – Dive Leader ISO – 24801-3
Enriched air nitrox diver training – ISO 11107
Introductory programs to scuba diving
ISO 11121 specifies the "minimum program content requirements for training organizations for introductory scuba experiences in recreational scuba diving".
These are typically Discover Scuba Diving courses that do not qualify a person to dive on their own and are conducted in confined water environments like swimming pools.
Diver Level 1 – Supervised Diver
ISO 24801 is split into 3 parts and the first one is considered Diver Level 1 or "Supervised Diver".
ISO 24801-1 specifies the competencies required of a scuba diver in order to obtain a scuba diver qualification from a training organization.
In practice, this refers to all basic diving qualifications that allow a diver to join guided dives under professional supervision. Most training agencies call them "Basic Diver", "Scuba Diver", or "Pool Diver".
Unlike Open Water Divers, these divers must be accompanied by a diving professional like a Dive Leader or scuba instructor underwater.
Diver Level 2 – Autonomous Diver
ISO 24801-2 is the second diver level and the one we usually refer to when talking about general recreational scuba diving.
Starting at this level, scuba divers are certified to dive autonomously in buddy teams without professional supervision in open water.
Most scuba training organizations call this initial scuba certification Open Water Diver, however, there are also other equivalent ones like the CMAS* (read "CMAS 1 star").
Diver Level 3 – Dive Leader
The final recreational scuba diver level is specified in ISO 24801-3 and refers to Dive Leaders and equivalent certifications.
These are all divers who may lead supervised divers (see above) on dives and is the highest recreational diver training level before getting into professional ones.
Enriched air nitrox diver training
ISO 11107 deals with recreational enriched air nitrox (EAN) diving and specifies requirements to be fulfilled before divers can use Nitrox gas mixtures underwater.
Are diving courses from different agencies equivalent?
Yes! In general, diving courses from different scuba training agencies are equivalent. This means that an Open Water Diver certification from iac is equal and equivalent to one from PADI, NAUI, SSI, and any other certified and accredited organization. In order to ensure this equivalency is recognized, get your scuba certifications from RSTC member organizations!
Can I switch from one to the other training agency?
Yes! Due to the equivalency of accredited diving courses, it is possible to switch between agencies and do courses wherever you like. You could, for example, do your OWD with PADI, your AOWD with SSI, but then decide to become a Dive Leader with IAC without problems. The same goes for specialty courses. You can also do the same course at two different agencies.
List of Scuba diving certification organizations
This is a list of most recognized scuba diving training organizations:
| Abbreviation | Name | Country | Website |
| --- | --- | --- | --- |
| ACDC | Associazione CMAS Diving Centre Italia | Italy | https://www.cmasdivingcenter.org/ |
| ACUC | American Canadian Underwater Certifications | Canada | https://acuc.es/en/ |
| BSAC | British Sub Aqua Club | UK | www.bsac.com |
| CMAS | Confédération Mondiale des Activités Subaquatiques | Worldwide | www.cmas.org |
| GUE | Global Underwater Explorers | USA | www.gue.com |
| IAC | International Aquanautic Club | Germany | www.diveiac.com |
| IANTD | International Association of Nitrox and Technical Divers | USA | iantd.com |
| IDA | Inernational Diving Association | Germany | www.ida-worldwide.com |
| NAUI | National Association of Underwater Instructors | USA | www.naui.org |
| PADI | Professional Association of Diving Instructors | USA | www.padi.com |
| PDA | Professional Diving Association | Germany | www.pdaww.de/en |
| ProTec | Professional Technical and Recreational Diving | Germany | www.protecdive.com |
| RAID | Rebreather Association of International Divers | Sweden | www.diveraid.com |
| SDI | Scuba Diving International | USA | www.tdisdi.com |
| SSI | Scuba Schools International | USA | www.divessi.com |
| TDI | Technical Diving International | USA | www.tdisdi.com |
| TVSÖ | Tauchsportverband Österreichs | Austria | www.tsvoe.at |
Conclusion
This concludes this comparison of the best scuba training agencies and hopefully answers the question which scuba diving certification is best: None of them are.
It all depends on what kind of diving you want to do and which approach suits your needs the most.
Remember: The dive instructor is much more important than the training agency.
However, it is highly recommended that you pick a training organization that's part of the RSTC and fulfills their minimum training standards.
Join the email list to get regular diving tips, tricks, insights, and news straight to your inbox!
Top 7 scuba diving organizations and certification programs in 2022
There are many diving organizations, each with their own specific and customized certification programs. The top 7 scuba diving organizations are PADI, CMAS, SSI, BSAC, SDI, NAUI, RAID. Discover in this article specific information about each one of them.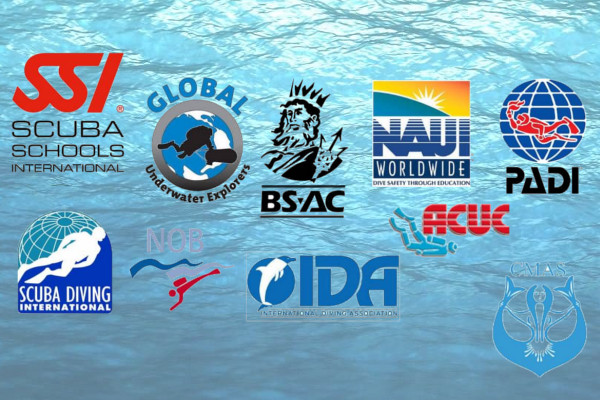 Table of Contents
Scuba diving organizations
There are more than 160 scuba diving organizations, not counting those for technical and specialized diving.
With so many options, how do you choose the most suitable organization for you?
It is difficult to say that one organization is better than another. Some of the organizations are bigger and have more experience. Others are better known or specialized or have different teaching methods.
The first organizations with a diving system, not as we know it today, were developed from the 1950s onwards.
Thanks to the well-known Jacques-Yves Cousteau, who between 1942 and 1943, I developed the first open-circuit autonomous breathing system, with the help of his father-in-law. A military engineer from World War II.
With the invention of modern breathing equipment, scuba diving is within the reach of nearly everyone.
The exploration of the underwater world is no longer related only to military or complex underwater jobs.
In order to systematize diving training methods and procedures, the first diving organizations began to appear.
All these federations belong to the category of non-profit organizations or private enterprises, oriented to the development of diving in the world.
Most dive organizations started in there first steps in the United States, but almost every country in the world has its own type of dive organization.
Some of them are famous all over the world and others are still local groups.
Here we share the 7 than we consider the best ones, based in the aspects mentioned above.
1. PADI (Professional Association of Diving Instructors)
PADI is one of the oldest and most recognized diving organizations.
The fathers of this association are (a former NAUI instructor) and Ralph Erickson in 1966.
The two experts had a very clear vision when they started PADI. The main goal was to make the diving courses much more accessible to everyone and not just to a few group of people.
Cronin and Erickson's proposal succeeded much more than they could have imagined. For this reason PADI is now the largest dive training institution in the world. And they have reported a total of 27 million certifications, valid in any country.
PADI dive centers are in more than 180 countries around the world and it is estimated that 70% of all dive certificates in the world are issued by PADI.
PADI's Teaching method
Among other certification programs, PADI's stands out for combining safety and convenience in learning.
The theoretical class can be carried out in person or online while the practices are carried out in swimming pools and in open water.
PADI's input in the field of security has been invaluable. A large number of the rules for safe diving have been introduced by this organization.
PADI also promotes awareness of marine conservation and diver safety in its classes. Once you have completed the basic course, you can go for other advanced certifications.
PADI Training flowchart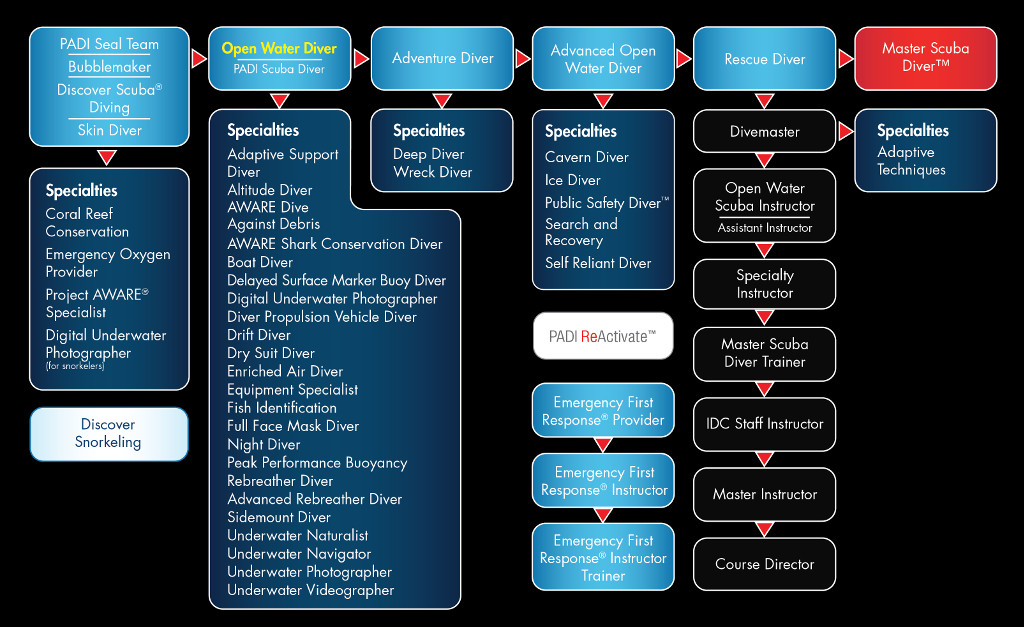 Why choose PADI as your certifying organization?
On its website PADI presents some good reasons why to choose this organization for your training and certification. We share three of them:
Education: PADI's educational system is one of the strongest according to experts considerations.
Performance-based learning: The student progresses at their own pace.
Training materials: PADI has very complete and professionally designed learning materials for the student to learn in the best possible way.
PADI really has a lot to offer. You can learn more about all the benefits of certifying with PADI on their website.
2. CMAS (Confédération Mondiale des Activités Subaquatiques)
CMAS is a non-profit institution. This organization is famous since one of its founders was Jacques-Yves Cousteau. It was founded at the Monaco Congress in 1959.
The original purpose of CMAS was to support the development of diving and to unify educational standards in the different countries where it is present.
During the last decades CMAS has expanded its operations around the globe. Today, CMAS is in charge of regulating diving in more than 130 countries. To do so, it works directly with the national federations of each one, supervising the training they offer.
CMA's Teaching method
CMAS teaching has a fairly traditional style. This is why the training of this organization belongs within the official diving standard.
For this organization the practical part is a high priority in all diving courses.
CMAS certifications are valid worldwide. This means that with your certificate you can dive in any country and continue your training in any other agency.
CMAS Training flowchart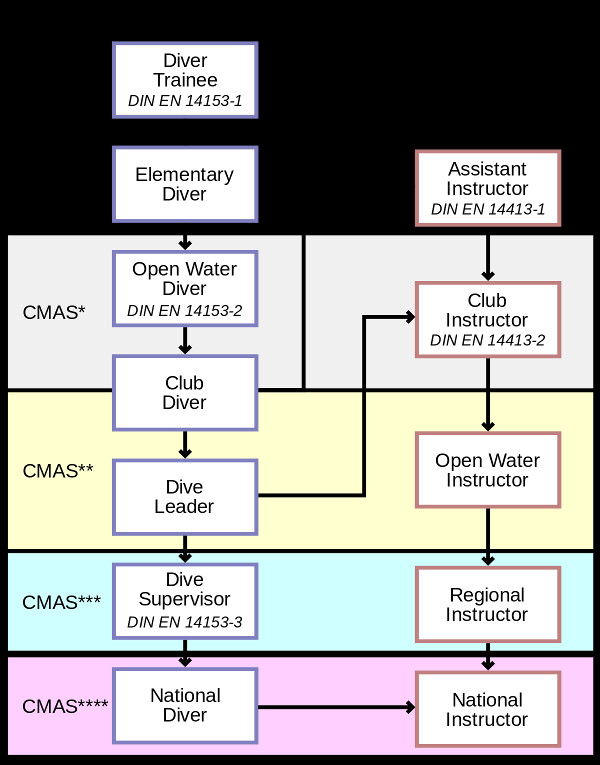 Why choose CMAS?
International recognition: CMAS licenses are all around the world, so no matter where you are, you can use your certification.
Different concept: CMAS is non-profit. This organization is more like a club than a commercial company.
Cheaper: Because the CMAS concept is more club-like, trainings are typically not somenthing to charge for certification but rather for membership.
If you want to know more about this association, you can visit its official CMAS website. In it you will find detailed information about the Federations in each country.
3. SSI (Scuba Schools International)
SSI is one of the oldest agencies, founded in 1970. Its main headquarters are in Colorado, United States, but it is present in more than 110 different countries.
In 1999 SSI merged with NASDS (National Association of Diving Schools). This gave it greater visibility.
Currently SSI is one of the largest organization with more than 2800 dive centers around the world, including the 5 continents.
One of the main features of SSI is the regulation of instructors. Everyone has the possibility of accessing available training materials without having to pay memberships. However, they must teach at one of the agency's centers, as doing so on their own is not an option.
SSI's Teaching Method
SSI certification programs start at the basic level. Later it is possible to advance to others of greater complexity. In any case, the first level training is somenthing to do online, and is absolutely free of charge.
The practical part has to be in person. SSI allocates several sessions in open and confined waters, and assigns you a specialized instructor. He will organize the skills to teach you according to your own performance.
SSI Training Flowchart
Starting with the Course "Scuba Diving Test" SSI offers a great variety of opportunities to train in diving.
The diagram below shows the SSI training outline for recreational diving only.
If you want to enter the professional world with SSI there is a specific diagram for professional diving available on their website.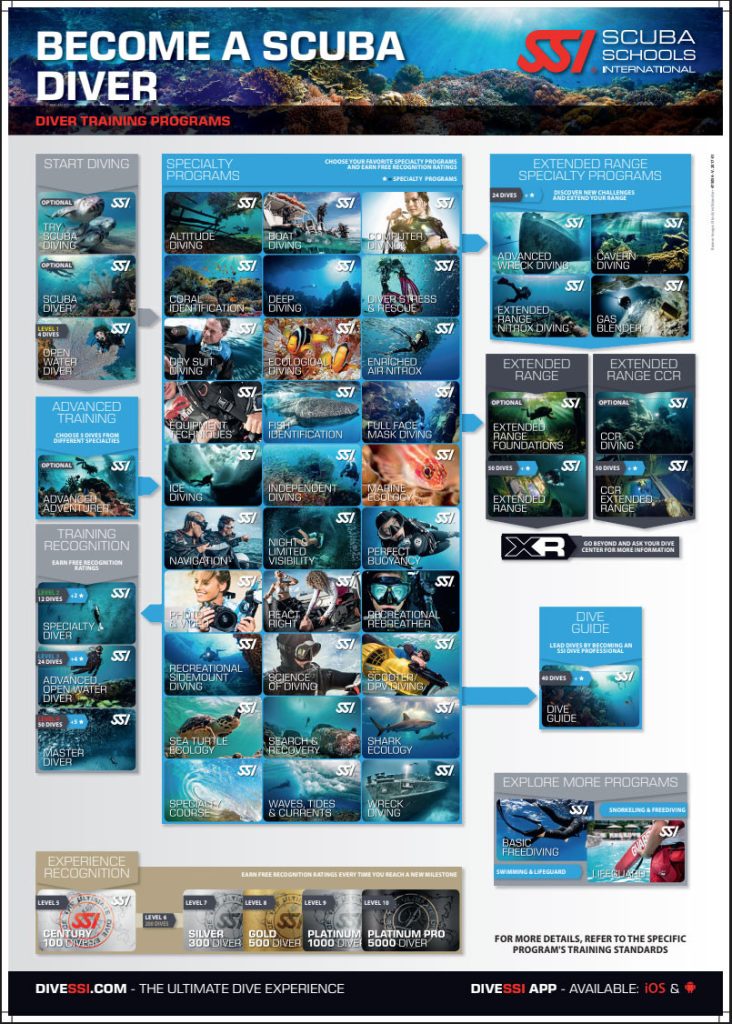 Why to choose SSI?
Flexibility: The courses are organized according to the student's performance.
Price: Basic Theoretical courses are free and available online
Certification recognition: Currently SSI is recognized throughout the world so you can dive without problem with its certifications.
You can find more useful information about this organization in SSI official website.
4. BSAC (Best British Contingent)
The BSAC has been active since 1953. However, it did not start as a training center. It was just a club for recreational diving. It was not until 1960 that it became an institution when it launched its first course to train instructors.
Nowadays, BSAC is the organization that regulates diving within the United Kingdom.
BSAC courses are viewed by many expert divers as an indisputable quality option. This is based on the harsh conditions of the waters where they are taught.
BSAC's Teaching method
BSAC has its certification programs in basic and professional levels. The beginner course mixes several theory classes with a long training in a pool.
Later, when you have passed the pool courses, you will move on to open water training.
You must complete a minimum of four open water dives. After that, you can opt for any of the more technical courses.
Why choose BSAC for your certification?
If you live in the UK: Because BSAC is highly recognized in the United Kingdom, if you live in the area it is a good idea to choose this certification.
Quality: Their trainings are known for their high quality, although the organization is not as internationally known as is the case of PADI.
You can find more information on the official BSAC website.
5. SDI (Scuba Diving International)
This diving organization is one of the newest. It was founded in 1998 and originally emerged as a sister institution of TDI (Technical Diving International), which specialized in technical diving.
The idea behind the creation of SDI was to offer a somewhat less technical alternative. The aim was to provide training in recreational diving, without discarding the professional knowledge of the trainers.
There are SDI training agencies in more than a hundred countries. And their certification programs are available for both adults and children. Many of the experts that teach in SDI also work at TDI, which ensures a wealth of experience.
SDI's Teaching method
SDI's method is based primarily on e-learning and multiple pool sessions. This is complemented with open water dives at the end of the course.
This diving organization has always been innovative. The agency has dive computers for you to learn. This alternative is easier than the typical dive tables.
SDI was the first dive training agency to offer a "Solo Diver" certification, which has cost it some criticism in the world of diving.
Why choose SDI?
Innovation: SDI is usually an agency that incorporate new technologies quickly.
Flexibility: Instructors have the flexibility to rearrange course content according to students.
Technical Background: if your goal is to become a technical diver. The fact that SDI arises from TDI gives the instructors a very valuable technical background, useful in your learning process.
Find more information about SDI certification programs and training in SDI's official website.
6. NAUI (The National Association of Underwater Instructors)
NAUI is an institution with quite a brilliant career and history. It is the oldest of all the ones you will see here. It's founding dates back to 1959, and since then it has set the standard for certification programs.
Unlike other diving organizations, NAUI has not expanded as much. Its main headquarters are still in California, USA, although it has other centers throughout the country. However, it is not as present in the rest of the nations.
NAUI is a non-profit organization. In fact, in the official registry it appears as a non-profit educational association. At the same time, this agency has a very particular philosophy based on quality over quantity.
That is why it prefers to train a few divers, but who know well what they do. The idea of ​​training many people, from their perspective, would reduce the attention that each one requires.
NAUI's Teaching method
The NAUI method is very flexible, since the trainers are able to design the teaching process. For this reason each one will structure it as you learn or assimilate each lesson.
For example, if the instructor considers that you need more open water dives to practice, he can expand them. In other words, there is no obstacle to increasing the standard number of dives required in order to ensure proper student learning.
As soon as you finish the first course, you can go for other certification programs. NAUI has different levels of courses, from the most specialized to the recreational. And you could even become an official NAUI instructor, being able to teach independently.
NAUI Training process diagram
The NAUI training process incorporates the following courses:
Why choose NAUI?
If you live in the US: NAUI is international, but it is especially recognized in the United States. For this reason, If you live in this country it may be a good idea to train with NAUI
Personalized courses: NAUI's focus on quality over quantity makes its courses smaller and more personalized.
NAUI is internationally recognized. You will have no problems diving in other countries with this certification. You can find more details on the official NAUI website.
7. RAID (The Rebreather Association of International Divers)
Last but not least, we have RAID, another young diving organization, officially founded in 2007, in Sweden. Behind its creation, there are several members who were in other agencies. Among them key figures from SSI and PADI.
RAID was born as an agency for everything related to SCUBA diving. However in 2014 its structure was expanded and many courses were added. From that moment on, RAID became an organization with an ecological philosophy.
RAID's Teaching method
RAID's training is completely online, as well as free of charge. This means all courses are held on the digital platform. There you will be able to communicate with your instructor.
Of course, there are more practical hours than theoretical ones. RAID is one of the organizations that requires more water hours in their certification programs. This way they guarantee a more vivid learning experience.
RAID training flowchart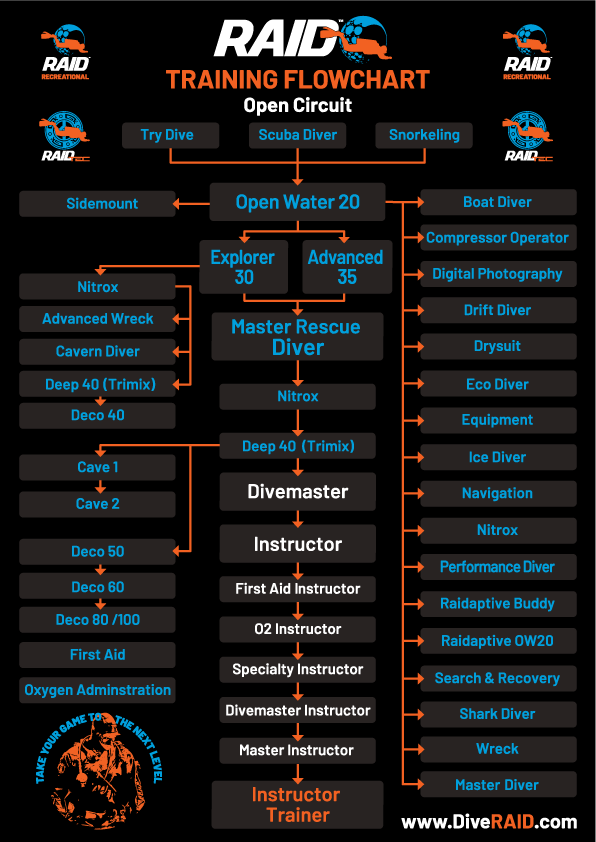 Why to choose RAID as diving organizartion?
E-learning concept: RAID has a very complete online course structure.
Price: Theoretical training is free.
Technical diving International (TDI)
Technical Diving International (TDI) is probably the largest technical diving certification agency in the world.
TDI specializes in more advanced diving techniques and offers a wide variety of courses, including rebreather diving and the use of different breathable gas mixtures, such as Heliox and Trimix.
TDI was founded by Bret Gilliam, David Sipperly, and Mitch Skaggs in 1994, with the goal of providing training for emergency situations and a focus on specialized diving.
The Organization mainly focuses on three training areas:
Open Circuit Courses
In open circuit systems, air and gas mixture are used as the supply, however, air is the main gas supply. The diver breathes through a demand regulator connected to the compressed gas tank.
Re-breather courses
A system made up of a breathing circuit, a mouthpiece, a CO2 absorbent container and a counterlung. Rebreathers allow for higher gas efficiency, optimized decompression characteristics, and quieter operation, but require training to use.
Overhead Environment Courses
Consider diving situations in which there is no open water above the diver and a direct ascent is not possible. This training considers diving in caves and closed spaces.
The organization also offers other courses such as Technical Diving Instructor and Technical Divemaster.
Many diving organizations. How to choose one ?
As you have seen, there are many diving organizations. To choose in which of them you will carry out your training it is important to consider three aspects:
What is your goal: If you only want to dedicate yourself to recreational diving, possibly any of the mentioned organizations will work for you. But if you want to venture into more advanced courses, you must evaluate the training structure. Knowing where you want to go is important.
Where do you want to dive: If your goal is to travel and have different diving experiences in different places, it is very positive that you have valid and internationally recognized certifications. If you are diving on your vacation and the dive guide must search the internet for your certification, it could be that it is not well known.
The community: While this is not synonymous with quality, it is always good to be part of a recognized community. Learning does not only occur in the classroom. It occurs in interaction with other divers who belong to the same organization and who use the same language and standards.
Which organization do we belong to?
Costa Rica Dive and Surf is part of the PADI family. We are a certified dive center through which you can obtain almost all PADI certifications.
We have all the necessary equipment, boats, location devices and a trained staff so that you can enjoy diving with peace of mind.
Scuba diving organizations – Summary
There are hundreds of dive organizations, of varying sizes and experience. Some are newer than others or have different approaches.
While there is no better one, there are some that are globally recognized and have many members and experience.
Choosing a good organization is important. Especially if you plan to travel and dive in other parts of the world.
If you have questions or are interested in obtaining a certification in Costa Rica, we are waiting for you! Send us a message or give us a call! We will be happy to chat with you.
SDI certification: Is Scuba Diving International Worth It?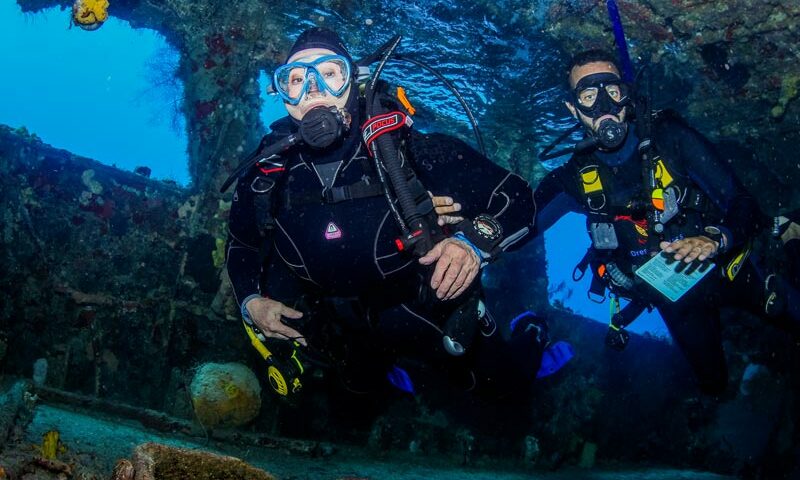 Do you have doubts about learning to dive with an SDI course or with another agency? You are in the right place to solve them.
You have already made up your mind, this year will not pass without you becoming a scuba diver. But… OH, SURPRISE! It turns out that there are a lot of certifying agencies and you don't know which one to choose. PADI is very famous and you will find a lot of information about it on our website. SDI is very good too, but less known.
Keep calm and leave it in the good hands of Dressel Divers. We teach diving courses with some of the main certifying agencies in the world, among them SDI and PADI.
This article explains which aspects differentiate one SDI diving certification from another, its characteristics, how the agency works, what makes Scuba Diving International one of the best scuba diving schools, etc.
Take a look at the content table.
SUMMARY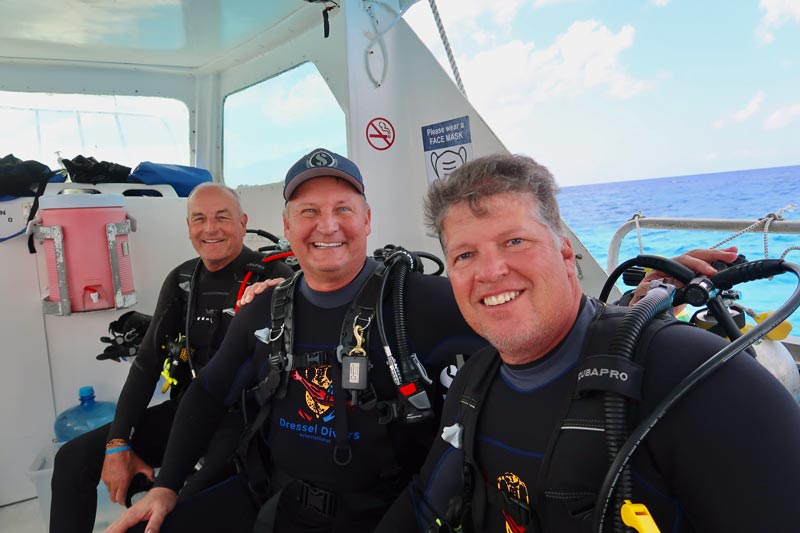 Getting an SDI Certification: How Scuba Diving International Works?
Scuba Diving International (SDI) was established in 1998 as a sister agency of Technical Diving International (TDI). While the SDI certification program focuses on training and instruction for recreational diving, TDI focuses on technical diving.
What sets SDI's certifications apart from other certifying agencies is that:
– As a heritage of TDI and technical diving SDI certifications were created by experienced professional technical divers, following the strict protocols and procedures necessary.
– Scuba Diving International has a sensible approach to business. Personalization and attention, rather than massification and large numbers, are what students look for.
– In the same line its sports training program is developed, through good standards and excellent professionals.
– For Scuba Diving International, the most important thing is the development of the diver's practical skills. For example, buoyancy control is a skill students get from the beginning of the SDI training.
Of course, SDI certifications have a theoretical part that future SDI scuba divers study in simplified materials. Their manuals and the SDI e-learning platform cover the essential academic aspects.
– The student is provided with a modern dive computer from the beginning of the SDI training. It is a "sine qua non" condition for an SDI certification.
SDI's philosophy is focused on the full adoption of new technologies as the best way to meet the needs of today's divers.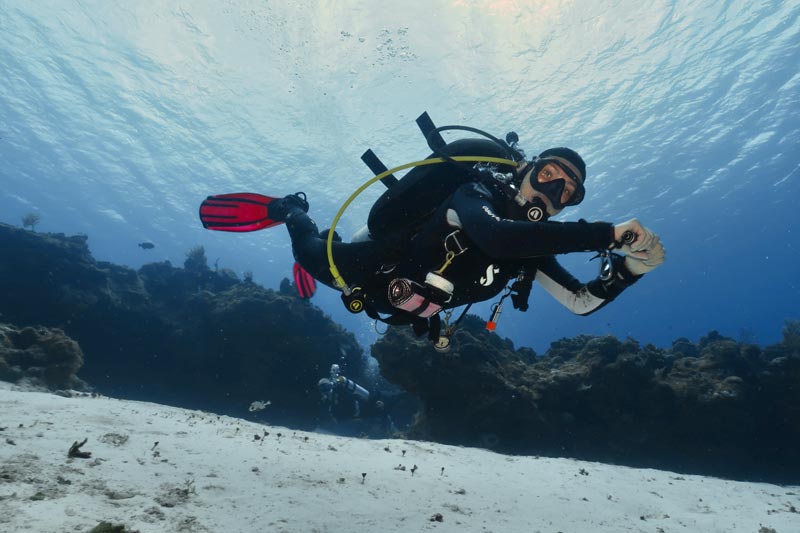 SDI Scuba Certification and Courses
The SDI certification that starts it all is the SDI Open Water Scuba Diver course.
This course gives divers access to 3 more advanced SDI certifications and 28 specialty courses: including SDI Advanced Adventure Diver, Deep diver, Sidemount, etc. Among these specialty SDI certifications, SDI Solo Diver stands out.
This SDI training focuses on prevention, not encouraging divers to dive solo. If a diver suddenly finds himself alone, he must know how to react and be self-sufficient. This way, they will be able to face that critical moment in the safest possible way.
– SDI Advanced Diver
– SDI Rescue Diver
– 28 specialization courses.
From this level onwards, SDI training upgrades to the professional level.
– SDI Assistant Instructor
– SDI Scubility Instructor
– SDI Course Director
– SDI Non-Diving Specialty Instructor
– SDI Instructor Trainer
Divers who wish to learn about technical diving can access TDI courses easily.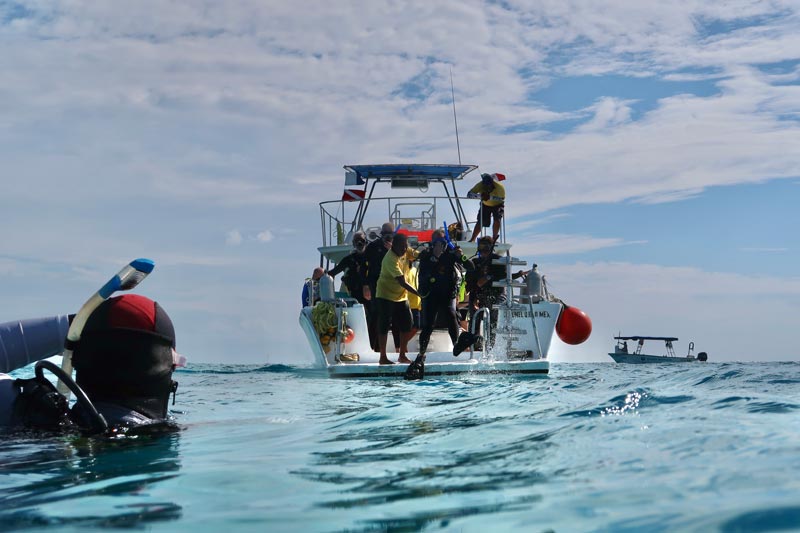 Is SDI Training Worth It?
A noteworthy aspect of the pedagogical methodology of SDI courses is the flexibility of instructors to focus their classes on the specific needs of each student. In other words, the SDI Instructor is free to teach the course content as he considers and spends more time on the more difficult aspects.
It is ideal for students who have trouble with a specific concept or skill.
With other methodologies, you don't move on to a skill until you have mastered the previous one, which can be frustrating for some people who give up on learning to dive. However, with the SDI methodology, the students see how they advance in other skills, and when they return to the one, they find difficult, they face it with much more confidence, more comfortable, and much less stressed.
Another relevant point is that you get the SDI certification card on the spot. Yes, you will have to wait for the physical card to arrive at your home, but in the meantime, you can download the electronic version FREE OF CHARGE to your cell phone and start using it.
SDI Diving Certification Vs PADI
Like all dive certification agencies in the world, as SDI and PADI certification standards are governed by the WRSTC World Recreational Scuba Training Council and, also, by the European Underwater Federation (EUF). So, both PADI and SDI ensure good training in terms of diving learning and safety.
They are, therefore, international certifications that assure the students that whether they obtain (PADI or Scuba Diving International certification) they will be able to scuba dive in any part of the world.
Both academic contents have many similar resources: videos, diagrams, summaries, and e-learning platforms for those who wish to do their theoretical training online, as well as confined water training and open water training.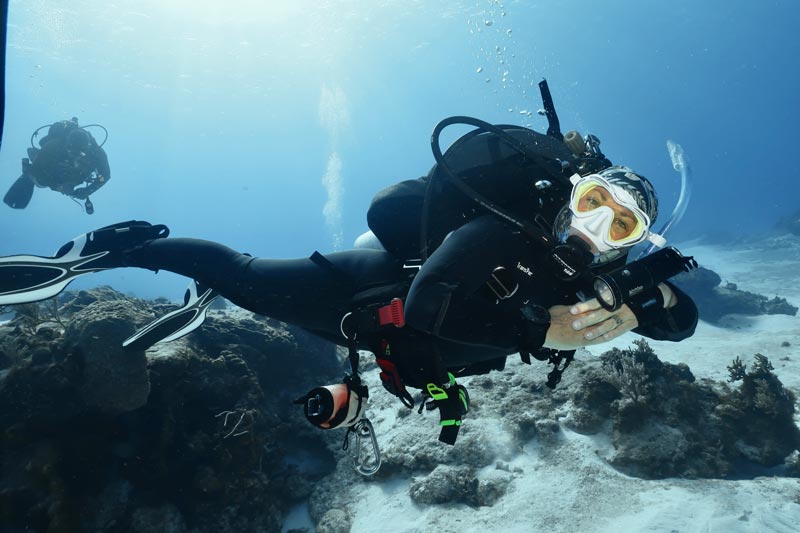 While it is true, there are some little differences.
In SDI training, there is a strong focus on the early development of neutral buoyancy and horizontal trim. The students in all courses use dive computers.
However, PADI focuses on neutral buoyancy training when the diver is more advanced.
PADI follows a fixed teaching scheme, and SDI training is more tailored to the students' needs.
SDI certifications are interchangeable with PADI ones and vice versa. In other words, you can first get an SDI Open Water and then, do your Advanced course with PADI.
Our advice is to choose the certifying agency through the dive center where you will receive your training. The main difference between an SDI certification or obtaining it with any other agency is about:
the person who teaches you, the professionalism of the instructors and Divemasters… It is about people connecting with people, finally;
the facilities;
the diving material and gear.
Regarding prices, if you choose Dressel Divers to get your PADI or SDI certification, the SDI course is 55 USD cheaper. Contact us, and we'll talk.
Source https://www.social-diving.com/best-scuba-training-agencies/
Source https://www.costaricadiveandsurf.com/scuba-diving-organizations-certification-programs/
Source https://www.dresseldivers.com/blog/sdi-certification/#:~:text=The%20main%20difference%20between%20an%20SDI%20certification%20or,the%20facilities;%203%20the%20diving%20material%20and%20gear.