Why Now is the Best Time for Rafting in the Smoky Mountains
After being cooped up inside for a while, we bet you can't wait to get outside and have fun! We know how much you want to spend some time outside with people you care about, which is why now is the perfect time to go rafting in the Smoky Mountains! You finally get a vacation, and you can finally cross white water rafting off your bucket list! Keep reading to find out why now is the best time for rafting in the Smoky Mountains:
Get Outside
Now is the best time to enjoy all those outdoor activities you've been wanting to try. And when you're in the Smoky Mountains, there's no better time to be outside! White water rafting is one of the best things to do outside in the Smoky Mountains. You'll love being in the warm sun, your heart pounding as you race down the river and experience class 3 and 4 rapids on our upper river trip!
Stay Cool
The season for white water rafting in the Smoky Mountains is in full swing, and the temperature gets pretty warm during the day. With the hot weather, everyone is looking for ways to cool off. What better way to stay cool than to go white water rafting? With every bump, water will splash onto you to help keep you cool. There's nothing better than being warmed by the sun and humidity, and then getting that refreshing, cool mountain water all over you as you raft down the Pigeon River!
Everyone Has Fun
You should go white water rafting in the Smokies because everyone will have fun! Small children, families and people who aren't strong swimmers will love going down the river on our lower river trip for a relaxing ride down the river. For people who want to experience all the thrills of rafting, you should go on the upper river trip, where you can experience class 3 and 4 rapids along the way! For an even more thrilling ride, you could go on the extreme upper river trip, which is in a smaller raft so you really feel the rapids. Every trip has a guide to help you navigate the river and have fun!
Stay Safe
We are taking several steps to keep all of our guests safe when they raft with us this rafting season. Between each ride, all common surfaces are sanitized, from the raft to the paddles. By doing this, we are helping everyone stay safe and keep a safe distance from each other!
There's no better time than now to go white water rafting in the Smoky Mountains. It's a great way to stay safe, have fun, and enjoy the great outdoors. Everyone in your group will love having an adventure together. Are you ready to plan your trip? Look through our white water rafting trips and reserve your spot today!
Pigeon River Rafting: Upper Pigeon Gorge
Experience thrilling whitewater rafting with stunning scenery of the Smoky Mountains ideal for families and visitors looking to unplug in the outdoors. This adventure delivers nonstop action in a few short hours making it convenient and unforgettable.
GROUPS WELCOME!
START PLANNING YOUR GROUP ADVENTURE TODAY!
Overview
Rafting the Upper Pigeon River combines thrilling whitewater action with epic mountain scenery for families and visitors looking to unplug in the outdoors. This adventure is a popular and accessible option for guests staying in Pigeon Forge and Gatlinburg, or the national park in Eastern Tennessee.
Highly trained NOC guides will navigate you through a quick five miles of splashing wave trains and bouncy hydraulics make this the most popular and convenient river tour NOC offers. With nearly-continuous Class II-III+ rapids like Lost Guide and Accelerator and views into Great Smoky Mountains National Park, the Upper Pigeon is an experience you'll never forget.
Save 20% with our Half-Day Discount Special, valid when you book select 4pm trips and later.
If you're looking for a more mild trip, try the Lower Pigeon, perfect for ages three and up with milder, bouncy waves, swimming, and picturesque mountain scenery.
Highlights
An exciting half day guided rafting trip for families and those looking for outdoor adventure in the Smokies.
Splash through nearly continuous Class II-IV rapids like Lost Guide and Accelerator with expert guides at the helm.
Easily accessible for those visiting Gatlinburg, Pigeon Forge, or the national park in Eastern Tennessee.
The Pigeon River offers stunning scenery winding through the Great Smoky Mountains National Park.
What to Expect
This fully guided trip is approximately 2.5 hours total, with 1.5 spent on the river. The remainder of your time will be spent in trip preparation and shuttle.
Check-in 30 minutes prior to trip start at NOC's Pigeon River Outpost in Hartford. After a brief orientation and video, you'll get geared up with pfds and paddles and load onto the big blue bus to shuttle to the river put in. Once in the raft, your experienced guide will walk you through the rafting lingo and what to expect. Then it's down the river you go, paddling through bouncy waves, cool mountain water, and fun rapids.
Available Discounts
Rinse & Repeat Discount
Raft more, save more! Book 2 NOC whitewater rafting trips on different rivers and save 10%, book 3 different rivers and save 15%, or book 4 different rivers and save 20% on your entire rafting reservation.
Half-Day Discount Special
Take advantage of exciting whitewater that families will love – all at a discount for booking one of the last trips of the day! Save 20% on weekday trips starting at 4pm and later. Select the Half-Day Discount Special when you book.
Rafting in the Smokies in Hartford, TN
Rafting in the Smokies is a white water rafting and adventure-filled family attraction that has been entertaining families, groups and couples alike since 1978. Their outdoor area includes a variety of fun outdoor activities. Guests can opt for exciting whitewater rafting, canopy ziplining, ropes course and rock climbing, kid friendly float trip, swimming and more.
Good To Know
Take time to enjoy their picnic tables with BBQ grill, swings, bean bag toss game, swimming beach, and nature trail all on their Family Adventure Island accessed by a 150-ft. swinging bridge.
River Outpost located in Hartford (exit 447 off I-40), about a 30-40 minute scenic drive from Gatlinburg.
Changing facilities with hot showers available.
Best to wear shorts and a t-shirt made of quick-dry, synthetic material – you will get wet.
Sneakers, river sandals, or water shoes recommended; No flip-flops, Crocs, or bare feet allowed.
Combos available in season with zip lines, and ropes challenge course.
Description
Need an adventure? Rafting in the Smokies has a white water rafting outdoor adventure for you. Bring your family, friends or both and experience a trip you will never forget. It will be the highlight of your vacation!
UPPER SECTION (Pigeon River)
The Big Pigeon River boasts twelve class III and three class IV thrilling whitewater rapids! Accompanied by one of Rafting in the Smokies professional river guides, you'll be escorted down five miles of lively whitewater, rafting through class III & IV rapids such as "Too Late, Vegamatic, Razor Blade, After Shave, and Lost Guide."
The scenery surrounding the Pigeon River is just as breath-taking as the rapids. Skirted by the Great Smoky Mountain National Park, Cherokee National Forest, Martha Sundquist State Forest and the Appalachian Trail, the Pigeon has carved its rocky riverbed through some of the most dramatic country in East Tennessee.
No Experience Necessary – Minimum age: 8 years old or 70 lbs. – Features 1 ½ hr of spectacular whitewater.
LOWER SECTION (Pigeon River)
Looking for a way to really relax and enjoy natures beauty? Do you have children who weigh less than 70 lbs? If you answered yes to either, then we have just what you need. Check out the Lower Section of the Pigeon River! The Class I and II rapids and one Class III at the end of the trip, make this very casual and laid back section of the Pigeon River perfect for everyone 3 years old and up! Rafting in the Smokies will assist you, your family and friends down approximately six miles of relaxing waves and rippling mountain water. You'll gaze at the beautiful Smoky Mountain surroundings as you casually float this section of the Pigeon River. If someone in your group needs a little more adventure, we can accommodate! Let us help you plan coinciding trips on the Upper and Lower Pigeon. The portion of the group rafting the Lower Pigeon Float Trip can be scheduled to coincide with the other portion of the group's Upper Pigeon Trip.
No Experience Necessary – Minimum age: 3 years old and up -Features 2 hours of introductory whitewater – Length of rafting trip is 6 miles.
We offer a lot more! How about spending time on our Family Adventure Island where you'll zipline on our dual-racing lines and you can challenge yourself to our High Ropes Challenge Course. Test yourself!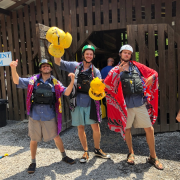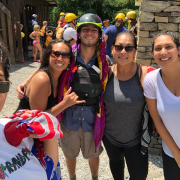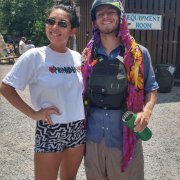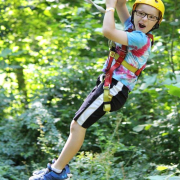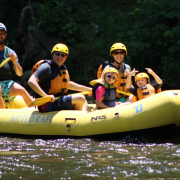 Rafting in the Smokies Reviews
Rafting was on my bucket list. We hadNoah as our guide! He was water savy, knowlegeable and FUN. We had such an amazing time. I will always remember this experience. We laughed hard, we paddled hard and we splashed hard! I would recommend Rafting in the Skokie to EVERYNE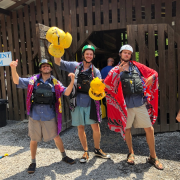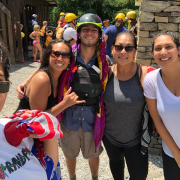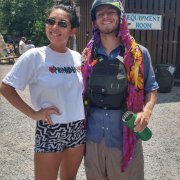 We loved every minute of the trip rafting and the guide we had was wonderful she explained everything and told us about everything going down the river . I would suggest it to anyone and everyone. I plan on doing it again.Price was great !Enjoyed everything
My teenage cousins had the best time ever. Zip-lining and white water rafting was something outside the norm of amusement parks. The staff was awesome and made sure we were safe. Simple love the adventure. We definitely will be back.
amazing experience. My family had a great time. The guides were very knowledgeable and fun. Great family friendly trip and we were very pleased.
I took my family here and we had so much fun. There was so much to do and to choose from. White water rafting was awesome. We can't wait to go back.
We had an awesome experience ziplining and white water rafting! The staff was so kind and fun! My wife and I loved every minute of it! Our kids (6 & 7 years old) loved it just as much! What a great way to experience nature by soaring through the treetops and riding the river in the heart of the smokies! Excellent way to show and teach the kids a deep appreciation for the outdoors in our amazing country! Our guide, Josh, made it a truly AWESOME ADVENTURE for us! Thanks Josh!
Tip: Wear aqua shoes. Bring good floating strapes for your shades. If you get out of the raft to swim, float on your back and look up into the sky-TOTAL RELAXATION!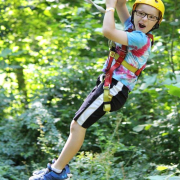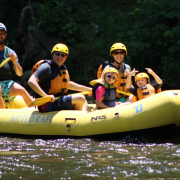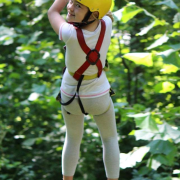 This is the first time we tried rafting. We do have a kid who is 3 years old. The lower river rafting that we did was very nice with our kid. The guide was friendly and knowledgeable.
Rafting in the Smokies is located at 3595 Hartford Rd. • Hartford , TN 37753
| | |
| --- | --- |
| Attractions | Hotels & Lodging |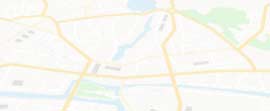 Nearby Things to Do
Nearby Hotels & Lodging
Frequently Asked Questions about Rafting in the Smokies
Is there a guide in every raft?
Yes, there is a guide in every raft.
Do I have to know how to swim?
No, you will be wearing a life jacket and we don't recommend that you swim in whitewater.
How do I get back to my car?
The Upper Pigeon trip: you will drive to our outpost in Hartford and we will shuttle you upstream to the put-in point at the dam where the trip starts and will raft back down to our outpost where your car is and where we have changing facilities, restrooms and showers. The Lower Pigeon trip will start at our outpost and you will be bussed back after your trip.
How far are you from Gatlinburg?
The reservation office is located 1 mile from downtown Gatlinburg on Hwy 321 N (813 E. Parkway). The Pigeon River Outpost is located approximately 30 minutes from our Gatlinburg office off of I-40 exit 447.
Can I go if I am a bit overweight?
There are some very large life jackets available; the chest measurement is up to approximately 56 inches. If you are not sure, we have a jacket in our reservation office in Gatlinburg. You are welcome to come by and try it on. We recommend that you make a reservation and if you do not fit in the life jacket, we will cancel the reservation without any charges. But, it would be best to come by two days prior to your trip.
If I am pregnant can I go?
Sorry, anyone pregnant cannot raft, float or zipline.
Do you have a minimum age for children?
The minimum age/weight for the Upper Pigeon trip is 8 years old or 70 pounds. You have to be at least 3 year old to go on the Lower Pigeon Float trip.
What are the times of your trips?
The water level on the Pigeon River is dependent on a hydroelectric power plant. From Memorial Day to Labor Day we raft Tuesday, Wednesday, Thursday, and Saturday between 11 AM and 5 PM. Earlier in the spring (March-April) and later in the fall (September-October) trip availability is based on rainfall as we raft the natural flow of the river. This means no guaranteed water release from the dam. Natural flow water is great fun for team building, nature sightseeing, and playing on the water. Our guides are well trained for natural flow trips and are great at making your adventure on the Big Pigeon memorable.
Ziplines operate from 9 AM to 8 PM every Tuesday, Wednesday, Thursday, and Saturday from Memorial Day to Labor Day and it is in your best interest to schedule all activities on the same day in order to eliminate unnecessarily travel time. The trip time selected is your rafting trip time. Please call the number on your e-ticket to schedule your zipline time.
What do I wear?
The best thing to wear is shorts and a t-shirt. You must also raft in shoes that will stay on your feet. No flip-flops, loose crocs or bare feet please. If you are rafting during the colder months, wear clothing that will not absorb much water like wool, fleece, polypro, etc. – no jeans, sweats or anything with cotton please. We provide nylon jackets and pants to wear over your clothing at no extra charge and also offer wetsuit rentals.
Can I bring a camera or do you take our picture?
Please do not bring along your camera unless it's waterproof. It will get wet! We do have a professional photographer who will take a photo of your raft trip. You can view and purchase your photos after trip. We usually burn them to a CD and you can print as many as you'd like.
Do I need to bring anything on the trip with me?
No. Our trips range from 1-3 hours so there is no need to bring anything. We recommend that you lock your valuables in your vehicle. We have a safe place for you to store your keys.
What about inclement weather?
We raft rain or shine because you will get wet anyway. If there is lightning in the area our river managers or trip leaders may choose to delay the trip but the trip will not be cancelled.
If I purchase a combo ticket, do I raft and zip on the same day?
Yes, it is best to schedule all the activities on the same day in order to eliminate unnecessary travel time. Usually, we can accommodate your preferred activity schedule. Please note, the time selected in the combos is your Rafting Time. Please call Rafting in the Smokies' number on your e-ticket to schedule zipline times.
Source https://www.smokymountainrafting.com/blog/smoky-mountain-rafting/best-time-rafting-smoky-mountains/
Source https://noc.com/trips/pigeon-river-rafting-upper-pigeon-gorge/
Source https://www.tripster.com/detail/rafting-in-the-smokies-float-trips