Horseshoe Bend
Horseshoe Bend is one of those rare places that is absolutely breathtaking, yet it is accessible to people of all hiking skill levels. A very short hike off a highway takes you to the top of a cliff overlooking Horseshoe Bend and the Colorado River over 1100 feet below.
Horseshoe Bend
Distance – 1.25 miles roundtrip
Approximate hiking time – 30 minutes to an hour
Elevation at Trailhead – 4327 feet
Elevation highpoint on Trail – 4373 feet
Elevation at Overlook – 4214 feet
Difficulty – Easy, however there are steep dropoffs, stay away from cliff edges
Trail – Sand and sandstone.
Amount of water recommended – 1 liter
Bathrooms – None
Season to hike – Year around
Permits – None
Pets: Permitted. Not encouraged. Must be on leash.
How to get there
Horseshoe Bend is just south of Page, Arizona. From the Glen Canyon Dam on US-89 head south for 5.1 miles. You'll pass along the edge of Page, Arizona. At around 5 miles from the Glen Canyon Dam, you'll see a sign for Horseshoe Bend Overlook. Turn right into parking area. If coming from the south, take US-89 north to Page, Arizona and before coming into town you'll see a Horseshoe Bend Overlook sign. Turn left into the parking lot. (See the Google Map for this hike at the end of this post)
Hitting the Trail
Even though we've been here several times, we always have to stop and hike out to the overlook when driving through Page. It's just that majestic. Since it is so readily accessible, please realize that you probably won't have the place to yourself. It's common for tour buses make this a stop along their routes.
Horseshoe Bend is one of those wonders that was carved out over millenia by the waters of the Colorado River as it made its way down through Grand Canyon. It's not too difficult although summers can be very hot as there is no shade with the exception of a small gazebo structure halfway to the overlook. The hike will start from the parking lot and is extremely easy to follow. The first part of the trail up to the gazebo is all uphill, but it is a gentle climb. As you reach the gazebo, you may choose to take a breather, as there are benches under the gazebo, or you can just continue on, as the rest of the hike is downhill to the overlook.
This is the beginning of the trail as seen from the parking area
The gazebo marks the halfway point of the hike
This may be one of the few places where I've seen people hike in flip-flops, cowboy boots, high heels, and even someone in a wheelchair. With that being said, I would still recommend wearing proper footwear and bringing adequate water. We found that a lot of people there assumed that since it was such a short hike that they didn't need to be prepared. The overlook at Horseshoe Bend can be dangerous, as there are no railings on the edge of the cliffs. Exercise extreme caution as it is a drop of over 1000 feet to the Colorado River. I would not recommend getting too close to the edge. You may also be able to see watercraft up and down the river, and some people rafting the river spend the night down at the shores of Horseshoe Bend.
Despite the absence of railings, there has been only one documented fatality at Horseshoe Bend in the last 20 years. Unfortunately that was in July 2010, when a 32 year-old hiker from Greece was standing on a thin sandstone ledge when the rock broke, and he fell to his death This is another good reason to stay away from the edge. You cannot see how thin the ledge you are standing on might be.
Also, while not recommended, if you choose to bring children or pets, be vigilant, as they may not be as aware of themselves nor others, and accidentally bump someone or get spooked. Be mindful of others.
The view that everyone came to see!
The afternoons and evenings are the best times to take pictures of Horseshoe Bend. Since the bend is so wide, you'll want to have a fish-eye lens to fit the entire bend in your photograph, although pretty much any picture taken there will be impressive.
The canyon walls at Horseshoe Bend have an amazing glow at sunset
When you're ready to head back up, just retrace your steps back to the parking area. As always, be considerate to fellow hikers and protect the beauty of Horseshoe Bend by not leaving behind litter or graffiti.
**Also: there are 16 INCREDIBLE things you should see near Horseshoe Bend… and MOST PEOPLE MISS THEM! I tell you where to find them HERE **
CLICK HERE for more Information
Check this out… I put together a complete Horseshoe Bend travel package for you:
(I'm like your own personal "Horseshoe Bend & BEYOND" HIKE-GUIDE-IN-A-BOX!)
Adam's Favorite Hiking Gear:
Have a great time on your trip!
(P.S. We'd love to meet you. Connect with us on our YOUR HIKE GUIDE on Instagram or Facebook.)
For more great hiking trails, click here.
Share this:
Related
About Author
Adam is an experienced hiker and canyoneer, who has visited some of the most breathtaking and remote places in the United States. As an instructor for Desert and Wilderness Survival, and for Leave No Trace camping practices, he shares his passion and respect for the outdoors to all. Adam is currently a Scoutmaster in the Boy Scout of America, and is an Eagle Scout. As the founder of www.yourhikeguide.com, his goal is to educate others on the joys of hiking.
Related Posts
Wahweap Hoodoos
Antelope Canyon
Mesa Arch
17 Comments
Can you do Upper and Lower Antelope AND Horseshoe in one day fro Las Vegas?
Btw, love you blog.
Nancy, if you left Vegas at around 5am or 6am, you could do it. Makes for a LONG day, but totally possible. You'd want to schedule Upper and Lower Antelope back to back, starting at around 10:00am or 11:00am and then you should have time to hit Horseshoe Bend close to sunset.
Hi, I was wondering if a pregnant woman can do this hike? (5 months pregnant)
Also, would a stroller for a toddler be a smooth ride up or is it too sandy/ rocky?
If you have been maintaining some type of consistent easy exercise like walking, you shouldn't have a problem. Be sure not to go mid-day. There is no shade on this trail. As far a stroller is concerned, I would not recommend one. It is very sandy. Have fun on the hike!
Hi Adam,
I am planning a trip soon which includes The Grand Canyon and the National Park Loop. I was curious if your itinerary plans could cover all these parks? We are coming from Illinois and are trying to determine the best routes and where to start once there! I've enjoyed reading your blog and seeing all the amazing photos! Can't wait to hit the trails.
I have sent you an email in response to your comment. If you didn't get it, let me know!
Hi Adam – We are coming to Arizona from Houston next week. We are going to do this hike, but any other local suggestions on things to do.
Look forward to the trip!!
I would recommend Antelope Canyon, but it will be packed like Horseshoe Bend. I also recommend Water Holes Canyon, which is a couple of miles south of Horseshoe Bend. I haven't had a chance to write a post on Water Holes Canyon, but it is amazing. Google search it to find more info. Coal Mine Canyon is also one of my favorites. It's about two hours away from Page, AZ, but totally worth going. Just type in Coal Mine Canyon on my website. Buckskin Gulch is also a great choice, and it's also on my website. Good luck! If you have any other questions, let me know!
Im trying to go to horseshoe bend without
tour guide. Is it possible? LMK.
Yes, Horseshoe Bend is easy to find and easy to get to. Follow the directions on here to get to the trailhead, and you'll be in great shape! Have fun and drink plenty of water during the hike!
Hi Adam
We are driving from Flagstaff to Page and planning to do Antelope Canyon and Horseshoe Bend. Can you advise us about what time is best for each of these attractions? Can we do both Upper and Lower Antelope and Horseshoe bend ? What time should we leave from Flagstaff? We have a 4 year old with us, any suggestions about hiking time and whether to use stroller or no? Thanks in advance
You should be able to do both Horseshoe Bend as well as Upper and Lower Antelope on the same day. Since it is the hottest time of the year, hitting these places in the morning are the best. However, in this case, for the best pictures of each, I'd recommend hitting Upper and Lower Antelope around mid-day to catch the sun's rays filtering through the slot canyon. It makes for great shots. Horseshoe Bend is very photogenic throughout the day, but I have found it best from 11am to 8pm. A stroller can be used on the Horseshoe Bend trail without a whole lot of problems, so that may be the route to go so you don't wind up carrying your 4 year old. Best of luck! You're going to have a great time!
I'm going to Antelope Canyon and Horseshoe Bend in November. Do you know what's a good time to go for both? I was thinking 10:00am at antelope canyon and then maybe 12 at Horseshoe? I'm not sure how the weather is like in November.
Also, will 2 hours at antelope canyon be enough? And how long do you think Horseshoe will take?
Irene and Erika,
You've picked a good time to go to both of those places! Both places will still have hikers/photographers there, but it will be much less that during the Spring and Summer months. The temperatures at the time of year are in the low 50's for the high and the upper 30's for the low. It will be sunny and chilly in the morning, especially in Antelope Canyon, so make sure that you bring layered clothing. Horseshoe Bend can be done in as little as 30 minutes, or as long as an hour. It just depends on your pace and how many photos you take. I would recommend getting there around mid-day as the sun is directly overhead, and removes the shadows in Horseshoe Bend. Sunset is a great time too if you're looking for rich colors.
As far as Antelope Canyon is concerned, the time in the canyon all depends on the package you purchased. Different tour companies charge for different lengths of time.
I find that I prefer hiking in 55-60 degree weather, especially when it is sunny, during the day you should feel comfortable with a light jacket or long sleeve shirt. Have a great trip! Let me know if you have any more questions!
Hi Adam!
I'm looking to go to Horseshoe Bend and Antelope Canyon Nov. 21- 23 2016. How is the weather during that time of the year? We will also be traveling with an infant in a baby carrier (no stroller). Thoughts?
HI Adam,
We are planning a visit to White pocket Vermilion cliff from Kanab/ Page. I am travelling with a 7 and a 5 yr old. Do you recommend it ? We are also doing Zion, Bryce Canyon, Page, Sedona and the Grand Canyon. We are short on time but feel that we will be missing out but the trip seems really long to the Vermilion cliffs. Also do you recommend any tours to do so that are informative but not very commercial.
Thanks ,
Sounds like you have a great trip planned! I have sent you a message to your email that should answer all the questions you have. Thank you for stopping by YourHikeGuide.com!
Whitewater Rafting
Since 1985, Cascade Raft and Kayak has been offering the best in Idaho whitewater rafting trips. As Idaho's favorite outfitter, we bring families and friends together, one splash and laugh at a time! We offer a wide variety of whitewater rafting trips, and you can trust that we will have a trip that will be perfect for you.
Located just 45 minutes from Boise, Idaho, our facility overlooks the Main Payette River. After your raft trip, take a look at your action-packed set of photos, enjoy a snack from our café, and sip a microbrew on tap on our Bistro Deck. At Cascade Raft and Kayak, bring your spirit of adventure; we'll provide the rest.
Whitewater Rafting – Payette River, Idaho
"Rush" Half Day South Fork
Feed your soul with the rush of adventure! From Garden Valley to Banks, this eight-mile section of rollicking class III-IV rapids will launch you into an unforgettable whitewater experience.
"Splash" Half Day Main Payette
A hometown favorite! From Banks to the Cascade Raft River Center, this three-hour getaway has class II and III rapids perfect for everyone—especially families, first-timers, groups, and tours.
Plunge full day canyon
Get ready for the thrill of your life! The steep rapids, near-vertical canyon walls, and clear water make this the crown jewel of Idaho's class IV whitewater runs.
Escape full day rafting
Idaho's scenic gem! Enjoy a full day of class II and III whitewater rapids, spectacular scenery, and abundant wildlife as you follow warm clear water through the tall pines.
Group Adventures
Business meeting, wedding or reunion, family and friends, youth group, or employee party—let us create an event your crew will remember for years to come! Experience the thrill of whitewater and the joy of sharing it with others. Our fun and professional staff combined with the enjoyable outdoor atmosphere will offer your group of any size an unforgettable summer adventure.
What Guests Say
We have been white water rafting on many rivers in many states. This is by far our best experience. We had Erin as our guide and she was knowledgeable AND patient with us. She really knew the river.
"Cascade Raft/kayak company is very well organized and the staff are very kind. They have many different raft options from beginners to experts, piloted by well trained guides. Expect to get wet!"
"I've been on 3 trips this summer with Cascade. All the guides are great- super fun but definitely know their stuff and you feel like you are in good hands. The price is ridiculously reasonable and the South Fork is so much fun."
"Everything was great ! I've done a fair amount of rafting, often with friends in private groups, so was not my first time. We enjoyed all aspects of this trip. Pre trip communication and sign-up was excellent. You can sign your waiver online days before the trip. Shane, our guide was really great–one who instills confidence with clients as a very experienced guide and also very personable."
"We took a group of young women from our church on the Main Payette trip as part of a week long camp, and we are so glad we did! Everyone, from making the reservation to checking in, from the actual trip to the photo guy at the end, was so friendly and helpful! The scenery is beautiful, our guides (Gary, Stephen, and Eric) were so fun and friendly, and made the trip so pleasant and safe. I would love to raft with this company again!"
"The best experience! Far exceeded expectations! First time rafting and the guides were helpful and informative. Not only were they experts in training but had the best lame river jokes. Stayed entertained throughout. The photos and commentary were great too. Will definitely be back!"
"Just returned from our 5th rafting trip with Cascade, great time had by all involved! We had so much fun, we will go once more this summer. Great staff, clean equipment and friendly smiles. What more could you want?"
Horseshoe Bend Rafting Experience
If you are visiting Arizona and have no idea where to go, the city of Page, AZ is a great place to start. It is a small town located in the northern part of Arizona and is close to the beautiful Lake Powell. The famous Lake Powell was named after John Wesley Powell, an American explorer, ethnologist, and geologist.
Lake Powell is one of the city's most popular tourist spots in the Colorado River, where you can enjoy several activities for the whole family. It is a man-made water reservoir that was a product of the flooding of Glen Canyon that was caused by the Glen Canyon Dam. This is also the reason why Glen Canyon National Recreation Area was created.
Rafting trips are the most common activities when you visit this city. Some of the exciting rafting trips to try are Glen Canyons float trips, Colorado River rafting, and the famous Horseshoe Bend rafting trip. Any of these rafting trips will surely give you the best wilderness river adventures you"ll ever experience.
If you are not into rafting trips, you can do other activities like hiking. You even get the chance to see real-life great blue herons and bighorn sheep. A tour guide will assist you on the right way to follow during the hike and will even tell stories about the place like the mining culture, the ancestors' way of life, the history of the great Glen Canyon Damn, and the Petroglyph Beach.
Exploring the Colorado River
This magnificent body of water is 1, 450 mile long and surrounds some parts of the seven states in the U.S. and two other Mexican states. It is famous for its great canyons and magnificent rapids. By exploring the Colorado River alone, you will get to experience several breathtaking canyons like the famous Grand Canyon, Marble Canyon, and Glen Canyon.
Aside from the stunning sights at the Colorado River, your guide will show the amazing and ancient houses of canyon dwellers from thousands of years ago. One day is not enough to explore everything you need to see around the Colorado River, so be sure to take a few more days off from work to maximize your vacation.
Other astonishing places that you can enjoy at Page, AZ are the following:
Horseshoe Bend
Glen Canyon Recreation Area
Petroglyph Beach
Vermillion Cliffs
Activities to Try:
Sightseeing at Glen Canyon Dam
Learning the Glen Canyon Dam history
Glen Canyon Float Trips
Aerial sightseeing
Half-day Horseshoe Bend rafting experience
A cool dip at the Petroglyph Beach
Camping and Hiking
Wilderness river adventure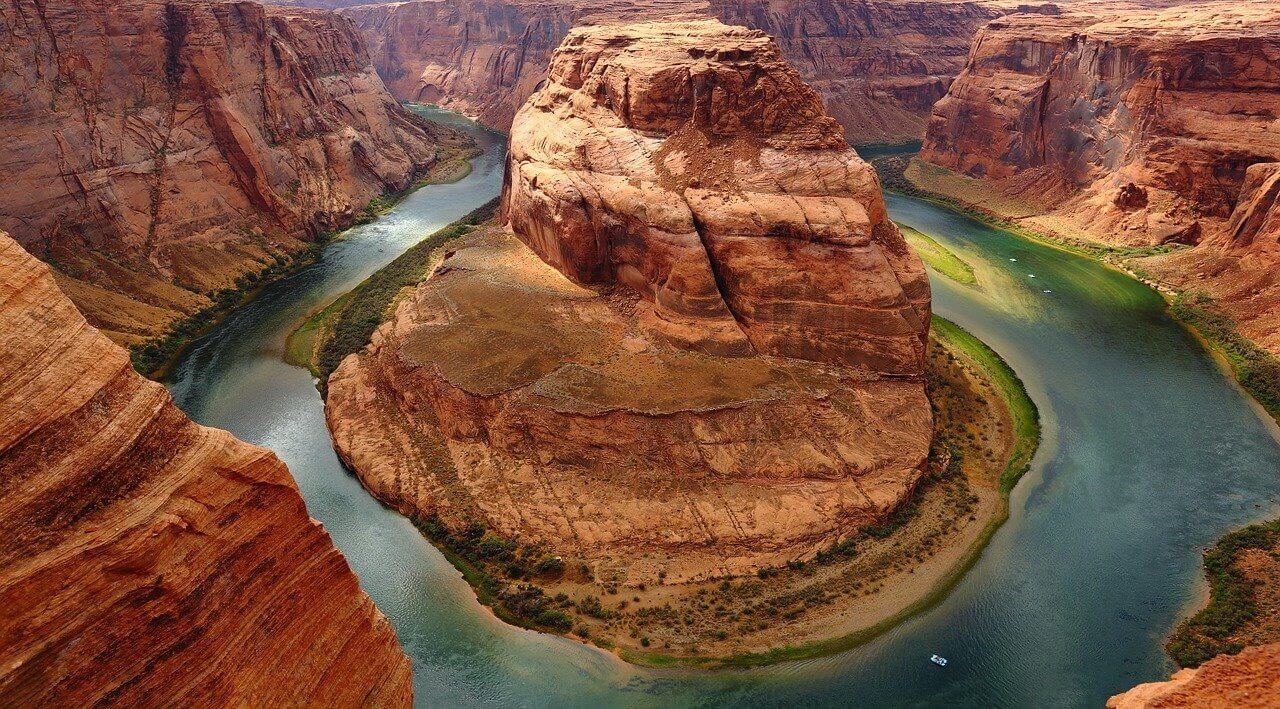 Horseshoe Bend Rafting Trip
Whatever it takes, you need to experience the Horseshoe Bend rafting, whether it is a whole day trip or a half-day rafting trip. Horseshoe Bend is a sight on its own. Its almost perfect circular canyon lets people admire its clear blue-green water.
Horseshoe Bend can be crowded with lots of tourists but if you want to avoid large crowds, you can always avail yourself of their airplane tour. Nothing beats the view of Horseshoe Bend and Lake Powell from the top, however, your trip will not be complete without seeing a complete Horseshoe Bend rafting trip.
Half-day is enough for a Horseshoe Bend rafting experience. There are several resorts and other travel and tour companies that offer tours for your rafting trips. You only need to allot at least half of your day to Horseshoe Bend rafting. So what can you expect when you avail one of these half-day rafting trip?
The usual rafting trip normally starts with a two-mile tunnel drive. Within this tunnel drive, you get to experience dinosaur tracks before boarding your river raft. Your wilderness river adventures start here as you enjoy the sights of Petroglyph Beach and the captivating artifacts.
After your wilderness river adventures from your river craft, you will then transfer to a motor coach ride. By this time, you are already at Lees Ferry going back to Page, AZ. During your motor coach ride, along the way, you will pass by Lees Ferry, sandstone walls, and other historic landmarks and structures.
After your half-day Horseshoe Bend adventure, be sure to maximize your trip while you are still in Page, AZ.
River Raft Safety Tips
If it is your first time trying river rafting, it is best to know the safety guidelines before doing it. Here are some safety tips before you go on your river raft adventure:
Always wear a life jacket even if you know how to swim.
Learn how to hold the paddle the right way.
Always listen and follow your guide.
Be attentive during the safety talk and take note of the commands.
Do not panic.
Learn the different swimming techniques.
Wear proper attire.
Horseshoe Bend Rafting Policy
Before you avail of your wilderness river adventures at Horseshoe Bend, be sure to take note of the policies that come with it. This is to avoid any unnecessary hassles during your raft trip.
Some of the things you need to check out are the payment, cancellations, pricing or rates, minimum passenger, pet policy, trip schedule, and other pertinent information that you need for the trip.
Once you have booked your half-day Horseshoe Bend rafting trip, be sure to be there to avoid paying any cancellation fee, if there's any. The Canyon National Recreation has the right not to fully refund for no-shows and late cancellations.
Under the guidelines of the National Park Service, there may be additional guidelines or policies due to Covid. So best to check first to see if there are any updates or changes that you need to know.
Important Reminders
Call river headquarters first and check their schedule before visiting.
Only backpacks or small bags are allowed during your rafting trips.
Weapons of any kind are strictly prohibited, even cigarette lighters and utility tools.
Do not forget to bring your camera to capture the beauty of the place
Wear proper attire
Bring sunblock and extra set of clothing
Best to bring food, water, and other drinks
Always treat people with respect
Follow health and safety guidelines
Follow the check-in and check-out time, rates, pet policy, and age restrictions
Always check in with your team or companion before and after raft trips
Due to Covid, follow safety protocols and bring your own sanitary kits and mask
Observe proper physical distancing
Final Thoughts
Horseshoe Bend in Page, AZ is truly a place worth visiting. The good thing too is that a half-day rafting trip is enough to experience it. This means you still have a lot of time to explore other interesting sights nearby. You still have ample time to check out the Glen Canyon Dam and try the Glen Canyon float trips.
Traverse Grand Canyon from Lees Ferry through a raft trip. In, addition to this, be sure to also drop by at the Canyon National Recreation Area or river headquarters for updates or other information like rates, check-in times, Grand Canyon, and Glen Canyon tours, accommodations, and other activities you can experience in the Colorado River.
If you are planning to spend a couple of days in the area, book ahead of time to find the best hotel and accommodation during your trip. Just be mindful of the check-in times for a smoother and hassle-free trip.
Now, go and treat yourself and the whole family to a one-of-a-kind wilderness river adventures you will all never forget. All thanks to National Park Service for taking good care of these special places so that people can enjoy and experience the American heritage. Don't forget to bring your cameras so you can capture and treasure your fun memories.
Source https://www.yourhikeguide.com/horseshoe-bend/
Source https://www.cascaderaft.com/
Source https://www.advantagegrandcanyon.com/horseshoe-bend-rafting-experience/