How to Visit Li River: Cruising, Bamboo Rafting and Hiking 2022
The world-renowned Li River flows 83 kilometers from Guilin to Yangshuo, winding its way tranquilly like a green ribbon, with dramatic karst peaks rising majestically on its banks. Every of those peaks even has its name and associated legend, making Li River the "A Hundred Mile of Art Gallery".
So, how to explore such an idyllic paradise? There are 3 best recommended ways – Li River cruise, bamboo rafting and hiking. Taking a 4-hour Li River cruise starting from Guilin to Yangshuo is the most classic and leisure way to seek for all the stunning highlights of Li River. While, the short bamboo rafting experience gets you close to emerald water or you'll melt into nature when hiking freely along the riverside in Xingping to see the beautiful countryside landscape. Do you want a thorough exploration of the Li River or just to visit its essence part? How is your style, leisure or adventurous? Check the top 3 recommended ways to visit Li River with detailed features, routes, tips and maps at below and select your favorite way!
Top 1: Li River Cruise – the Most Ideal Way for Everyone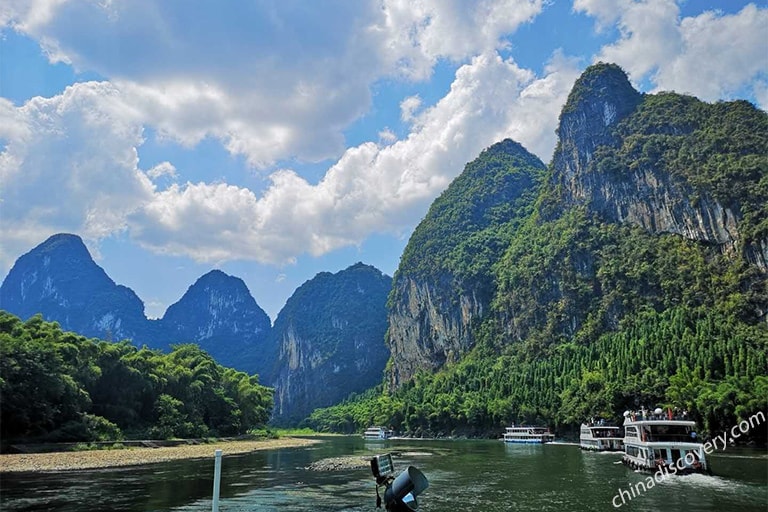 Amazing Li River Cruise
Touring Li River on a cruise is undoubtedly the most ideal and classic way to discover the beauty and wonder of Li River. This 4-hour journey is also the sole purpose of most travelers coming to this area. When cruising down to Yangshuo from Guilin, you will pass through the Karst mountain landscape in total leisure, you can shoot the farmers who are tending their crops against a backdrop of limestone peaks and evergreen fengwei bamboo and you can have the perfect angle to enjoy the real scenery on the back of 20 RMB Note.
Please notice that the Li River cruises only travel from Guilin to Yangshuo, no cruise gets back from Yangshuo to Guilin available now. And there are 2 kinds of cruise boats on service, one is the 3-Star cruise and the other is the 4-star cruise. All the 3-Star and 4-Star cruises sail through almost the same section of Li River (the finest part) with the same beautiful scenery and all have standard facilities and included lunch service.
Top Recommended Guilin Tours with Li River Cruise Experience:
Warm tips:
1: Though the 4-Star cruises are more luxury and offer a much better buffet lunch, you are more suggested to take the 3-Star cruises. All the 3-star Li River cruises are managed by the government, which make them safer and more reliable, while the 4-Star ships are all privately managed. Check more about Li River Cruise Types >>
2. The piers the cruises used are different. Usually, 3-Star cruises depart from Guilin Mopanshan Dock (磨盘山码头) and arrive at Longtoushan Dock (龙头山码头) in Yangshuo. The 4-Star cruises start from Zhujiang Wharf (竹江码头) in Guilin and arrive at Shuidongmen Dock (水东门码头) in Yangshuo (closer to the West Street). However, that may be slightly changed according to practical situation. You can contact us for the real-time and detailed information.
3. Usually, it requires an overnight stay in Guilin if you coming to Yangshuo via Li River cruise, because the cruises depart at 09:30 – 10:00 in the morning and it is really a long distance from Guilin airport or railway stations in Guilin to the departure docks (about 1-2 hours by driving) directly.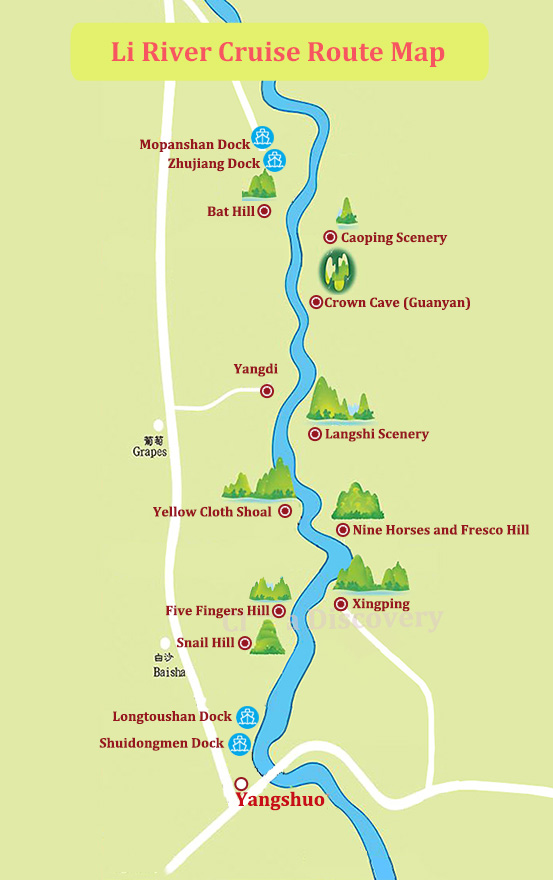 Li River Cruise Route Map
Top 2: Li River Bamboo Raft – Explore the Essence in a Short Time Leisurely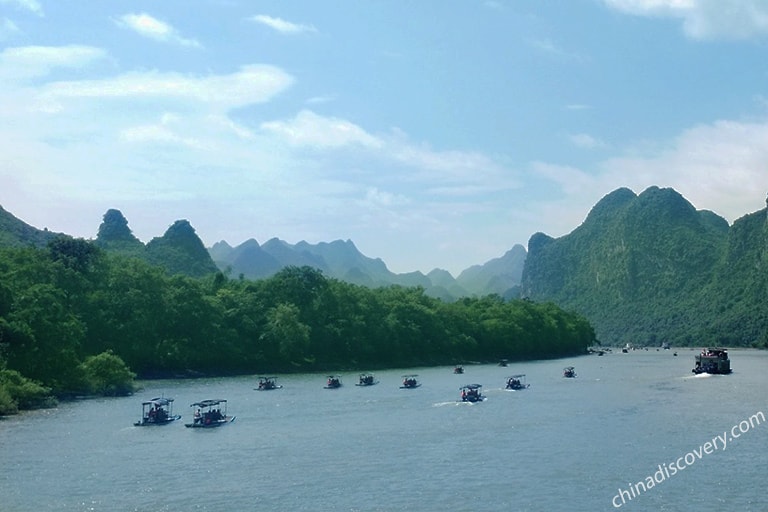 Leisure Li River Bamboo Rafting
Some travelers also hold the view that a tour to Yangshuo would not be complete without a bamboo cruise on the Li River. Li River bamboo rafting allows greater flexibility for those want to experience a different type of cruise on the lower reach of Li River. There are now 2 sailing routes on the Li River for bamboo rafting. One route menders about 5km up from Xingping Ancient Town to the Nine Horses Fresco Hill (round Trip), and the other one menders about 18km up the Li River cruise from Xingping Ancient Town to Yangdi (round trip). Each bamboo raft can hold 4 passengers every time.
/
Route 1#
Xingping – Nine Horses Fresco Hill – Xingping
Route 2#
Xingping – Yangdi – Xingping
Sailing Route
Xingping Town – Yellow Cloth Shoal – Nine Horses Fresco Hill – Backtrack
Xingping Town – Yellow Cloth Shoal – Nine Horses Fresco Hill – Apple Hill – Writing-brush Peak – Child-worship Guanyin – Yangdi Village – Backtrack
Highlights
Nine Horses Fresco Hill, Yellow Cloth Shoal (image on back of 20 RMB Chinese note), Xingping Landscape, etc.
Immortal-turning Millstone, Yangdi Landscape, Writing-brush Peak, Langshi Landscape, Xialong Landscape, Nine Horses Fresco Hill, Yellow Cloth Shoal (image on back of 20 RMB Chinese note), Xingping Landscape, etc.
Duration
50 minutes
2 hours
Docks
Xingping Town Dock
Xingping Town Dock
Time available
/
12:30-16:00
Price
80 RMB/person
170 RMB/person
Notice: 1) During monsoon season (May – June) and some rainy days in other months, bamboo rafts might be suspended due to the bad weather condition. 2) Children less than 1.2 meters and 7 years old and elders more than 70 years old are not allowed to take the Li River bamboo rafts. 3) The boatman cannot speak English, so you'd better have your own guide with you.
Top 3: Li River Hiking – Idyllic Countryside Visit Recommended for Hiking Enthusiasts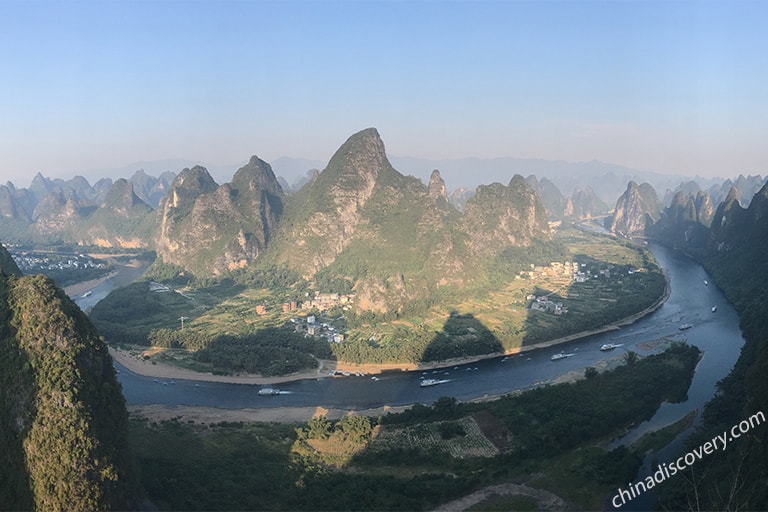 Panorama View of Li River on Xianggong Mountain
Hiking along the riverside is the freest way to visit the stunning Li River, because you can take a walk around at anytime and anywhere as you like. If you walk near the Xingping Ancient Town and get tired in the midway, you can also rent a bamboo raft to float up to the Nice Horses Fresco Hill or Yangdi for more beautiful scenery and charming legends.
However, the in-depth hiking of Li River is highly recommended for the hiking enthusiasts. There are now two wild hiking routes along the Li River, one is from the popular Xianggong Mountain to Xingping Ancient Town, Which takes about 4 hours, and the other is from Quanjiazhou (全家洲) to Xingping Ancient Town, which needs about 8 hours. The old Yangdi to Xingping hiking route is no longer available now because some of the ferry crossings needed when hiking from Yangdi to Xingping have been closed due to a purpose of ecological protection.
Which to Choose? Li River Cruise, Bamboo Raft or Hiking
Usually, for the travelers at your first touch of China or Guilin, you are mostly suggested to take the cruise to explore the splendid Li River. By taking the cruise, you can have the most completely explore of the whole River in the most leisure way. And you can worry free about your luggage because you can take it with you all the way and avoid of getting wet. Taking Li River cruise is also the only choice for the children less than 1.2 meters and 7 years old and elders more than 70 years old, as you cannot take a bamboo raft on the Li River.
For the people who have already experienced the Li River cruise before, you can have a try about the bamboo rafts. You will still have an impressive and pleasing experience about Li River by taking bamboo rafts, because the rafts will also sail through the most popular Nine Horses Fresco Hill, Yellow Cloth Shoal (image on back of 20 RMB Chinese note), Xingping Ancient Town, etc.
Hiking is mostly recommended for the hiking and photography enthusiasts and also the travelers who are curious about the local lifestyle or want a unique view of Li River. When walking around the riverbank, you have more chance to meet with local working fishermen and grazing buffaloes up close. When you climb up the top of some mountains like Xianggong Mountain, you will have a unique panorama view of the bay of Li River flanked by numerous jutting karst peaks.
Li River Cruise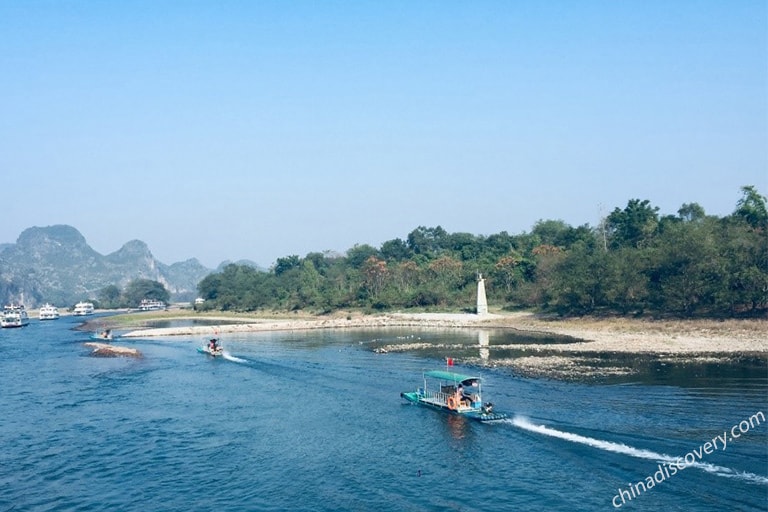 Li River Bamboo Rafting
How to Plan a Li River Tour
A Li River cruise tour is usually the hot choice after the visit of Longsheng Rice Terraces and the Guilin downtown attractions like the Elephant Trunk Hill and Reed Flute Cave. After the exploring of Guilin downtown and Longsheng, travelers will then take the leisurely Li River cruise to Yangshuo County, and spend about 2-3 days in Yangshuo after arriving. For more details, you can check our Most Popular Guilin Tour with Li River Exploring: 5 Days Best Guilin In-depth Vacation as reference.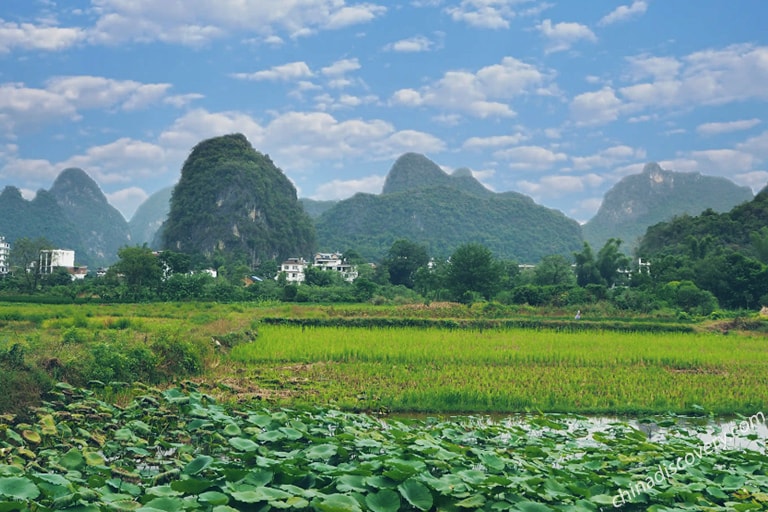 Yangshuo Countryside
Touring Li River with China Discovery
Want to visit Li River and feel annoyed about the complex traffic? Want have a personal Li River tour according to your interests and do not know how to plan it? Don't worry, travel with we China Discovery and our professional travel consultants will solve all your problems and customize memorable journey for you. Then you can focus all your energy on the beautiful scenery and charming legends of Li River. If you are interested, please feel free to contact us for detailed help.
We have helped many global travelers enjoy their memorable trips to Guilin for the past few years. Among them, Vijay's family and friends have traveled China for about 20 times with us and visited Guilin for many times, and also shared us their travel story. Travel with China Discovery to create your wonderful Guilin trip memories!
More Popular Guilin Travel Articles
Extending Readings for Guilin Travel Planning
Recommended Li River Tours
Top 3 Li River tours chosen by most customers to explore Li River in the best way. Check the detailed itinerary, or tailor your own trip now with us.
Guilin / Yangshuo / Longsheng
Guilin / Longsheng / Guilin / Yangshuo
Start planning your tailor-made holiday to China by contacting one of our specialists. Once inquired, you'll get a response within 0.5~23.5 hours.
The BEST Way to Experience Guilin: Li River Bamboo Raft
No visit to Guilin is complete without a boat ride down the Li River, or at least that's what we were told…Nonetheless, we were not about to miss out on the chance to take part in this quintessential Guilin experience.
Getting to Yangdi Pier from Guilin
Unable to pass up the smells of waffles and pancakes being cooked up in the kitchen of our hostel, we caved and indulged in a western breakfast to fuel up for our day of epicness on the river. With full stomachs, we peddled off on our tandem for Yangdi Pier, the start of the most famous Li River scenic float.
Our route followed the main road, which turned out to be rather unfortunate as it was one continuous flat construction zone on either side. Instead of marveling at the beautiful scenery around us, we had a nice view of blue metal walls and dust-filled air. The construction completely detracted from what would have otherwise been spectacular Guilin mountain vistas. Finally, reaching our turn-off onto the road that leads down to the Li River, we were greeted with peace, quiet, and wonderful mountain scenery and terrain, as the road wound it's way down to the river.
If you're not crazy like us and don't want to ride 50 km on a bike which you then carry onto a bamboo raft, you can take a bus! There is a direct bus from Guilin Main Bus Station to Yangdi Pier which takes approximately 1 hour and costs 19 RMB.
Related Posts
Ticket Price
After parking the bike, we then proceeded to wander around like lost puppies trying to figure out how in the world to rent a bamboo raft (signs were sorely lacking, both in Chinese and English). Luckily, the lost puppy dog look really works for us as two women came up to us, and, with their help, we got our raft booked and paid for, a total cost of 300 RMB (150 RMB/person).
UPDATE: while we paid 150 RMB/person heavy government taxes were rolled out in February of 2016 which significantly increased the raft prices. You can now expect to pay anywhere from 200-300 RMB for the trip.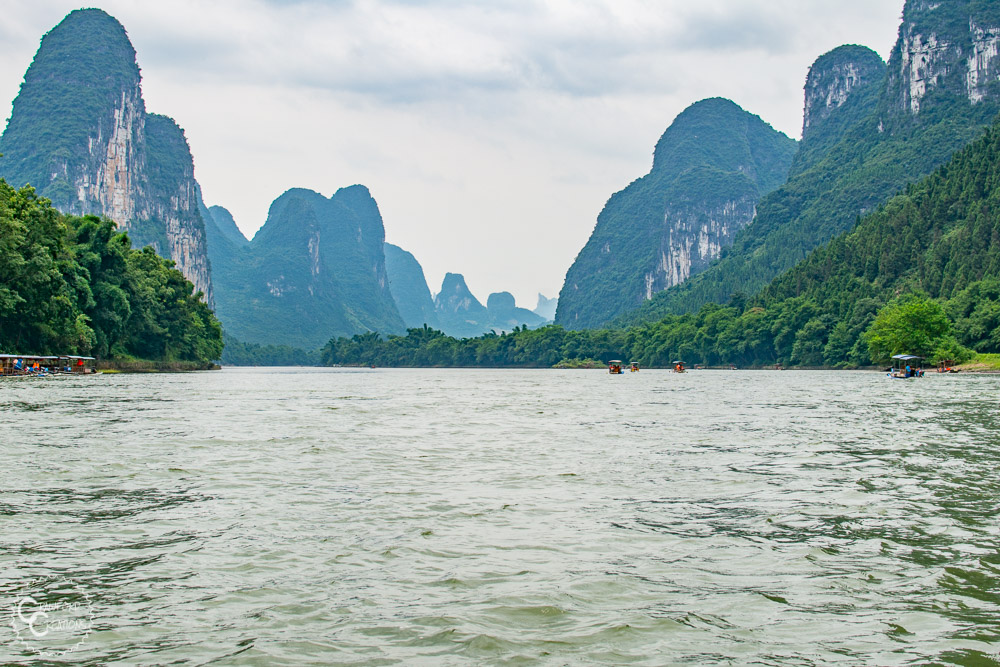 The view from our raft.
Li River Bamboo Raft
The rafts meander about 10km down the Li River from Yangdi Pier to a little town called Xingping, about 30km north of Yangshuo. The rafts depart from 8:30 – 10:30 am and 12:00 noon – 3:30 pm. In between are the times when the big cruise ships come by. We arrived in Yangdi at 11:00 am which left us with about an hour to kill before setting sail down the river…uhh minus an actual sail, but you catch my drift.
Come 12:00 we very skillfully loaded ourselves and our bike, which we had to carry from raft to raft out into the river, onto our designated boat. They basically have a system of organized chaos when it comes to boarding the rafts (an improvement over the typical plain chaos we're accustomed to). Everyone just kind of crowds around the rafts, then at noon they let you board onto the sea of rafts floating in the river and pick whichever one you want, starting at the furthest end and working your way toward the shore. All the rafts seat 4 people, so we ended up sharing ours with another young Chinese couple vacationing in Guilin.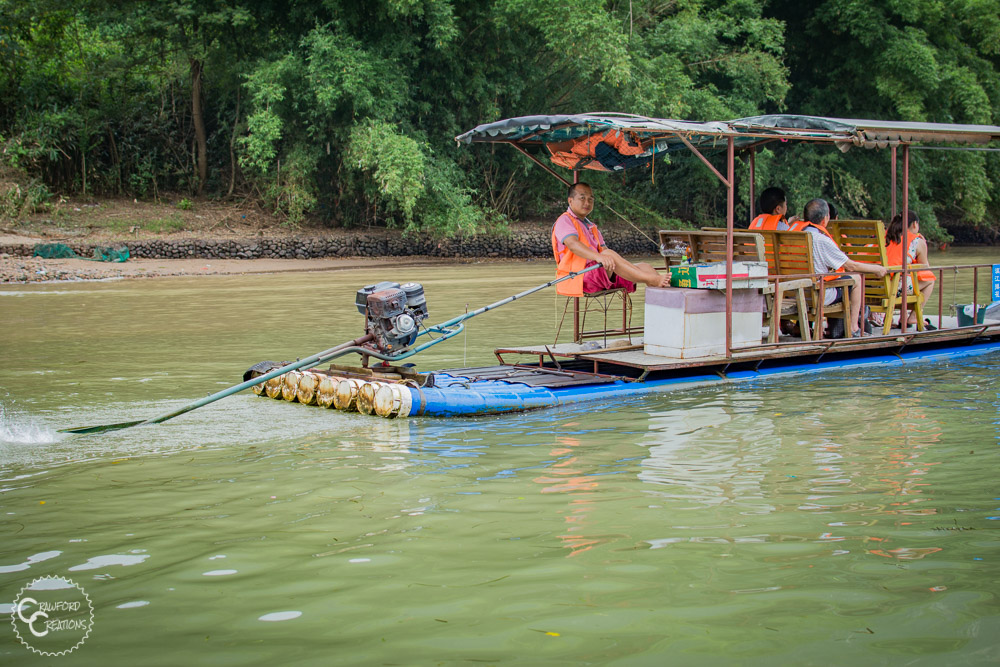 Another raft cruises by us heading down the river.
The rafts, although advertised as (and I'm sure once were) made out of bamboo, are now constructed out of PVC which has been bent up at either end to form bamboo like creases, and equipped with a motor for less laborious and faster travel time. Everyone on board a bamboo raft is required to wear a life jacket, which we thought was a bit unfortunate as they're not the most comfortable things in the world, but you are literally on a raft directly on top of the water so I guess it could theoretically be relatively easy to fall in the water, and if you can't swim (as most of the Chinese can't) then well, this would be a problem.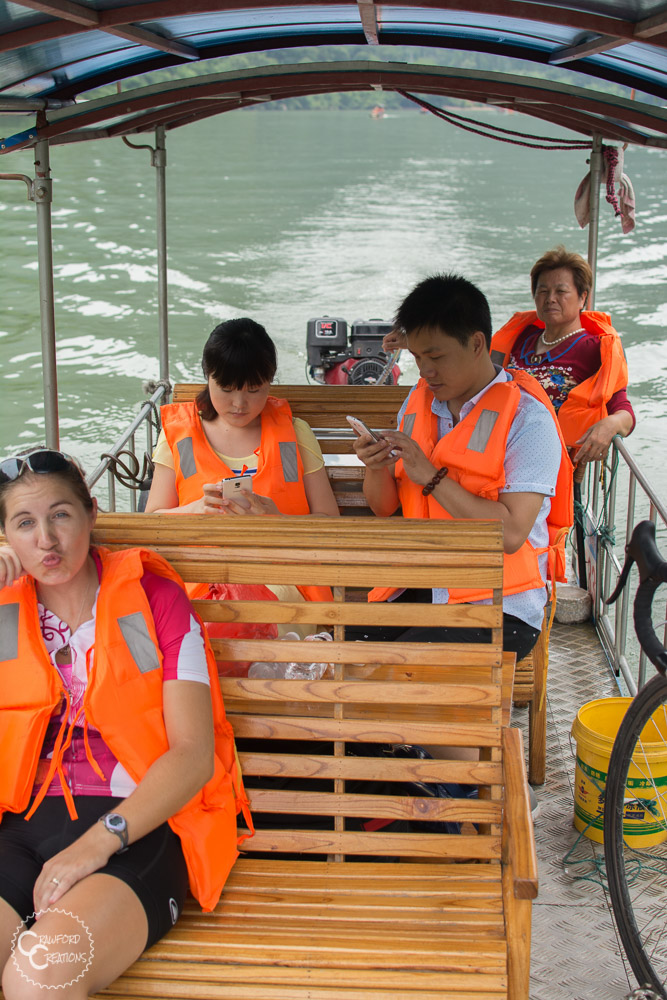 Life jackets on, duck face made, and Chinese glued to their phones. Just a normal afternoon on the river.
Li River Sights
We stopped at a couple places along the riverbank that were particularly famous photographing spots, including the spot where they took the image on the 20 RMB note, and Nine Horses Hill. Legend has it that a herdsman from heaven brought his horses to the Li River. When an artist discovered them he was so awestruck that he wanted to create a painting of the magnificent horses, but in doing so frightened the herd such that they all ran into the mountain and never came out. Far be it from me to question ancient Chinese folklore, but try as I might, I saw absolutely no resemblance of any horses in the cliff. Regardless, we took the obligatory photo anyway.
During our time on the shore attempting to make out the horses on the cliffside, we chatted with the Chinese couple sharing our boat. It turns out they are also living in Zhuhai (where we currently live), and in talking with the woman I found out that while I am in Zhuhai studying Chinese, she is there studying English. Just a reminder that even when you live halfway across the world in a place like China, which is home to hundreds of millions of people, it is still such a small world we live in!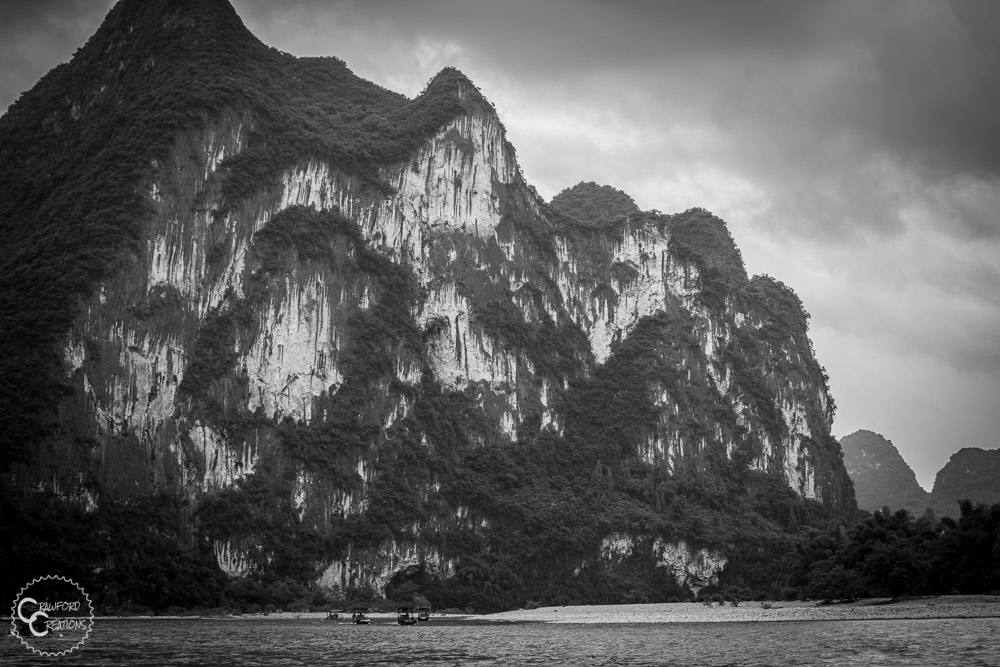 Nine Horses Hill. Can you spot the horses on the cliff?
Overall, our "bamboo" raft ride down the river was gorgeous with stunning mountain cliffs jutting up on either side, surrounding us in a protective basin. It was almost too peaceful on the raft, as after two days in a row of long bike rides, the river threatened to lull me into sleep, counteracted, of course, by lots of harassing from Justin. After approximately 2 hours on the water, we docked, paid the raft "captain" an extra 20 RMB for transporting the tandem, and then rode the bike about a mile down the road to the itty bitty town of Xingping.
From Xingping you can easily take a bus to Yangshuo, a much bigger and more well-known town, but we had heard that Xingping is a super cool little town that is quickly becoming the new spot for tourists who want an off the beaten path adventure, so of course we opted to stay there instead of continuing on, and it turned out to be a great decision!
Li River – Hundred Miles of Art Gallery
Li River is the most beautiful part of Guilin, features in typical karst landform, thousands of limestone mountains stick out of the ground along the river bank. Cruising on Li River is just like being part of a magical world.
Type: Sights & Landmarks, River Cruise Sights & Landmarks, River Cruise
Best Seasons: Spring, Summer and Autumn, especially Apr to Oct
Recommended Visiting Time: 4~5 hours
Open Hours: Apr to Nov: 8:40 – 22:40 /Dec to Mar: 8:40 – 21:40
Address: Maoershan, Xingan County, Guilin, 541000, China
Guilin Tours 2022
Guilin China Tours
Guilin Travel Guide
Guilin Things to Do
Other Guangxi Travel Guide
Other Guangxi Tours
Why Our Guilin Tours
Other Hot City Tours
Popular China Tours
Guilin Li River Overview
Li River, once called Gui River, flowing through Guilin, the third largest city in Guangxi Province, has formed the world-famed Li River Scenic Spot. The 83 km waterway from Guilin city center to Yangshuo County (under Guilin jurisdiction) is the essence of Li River, even the background of the new edition 20 yuan banknote depicts the scene of this part.
Guilin has a typical karst landform. Limestone spreading all over the city has been through weathering and erosion for billions of years and forms the world-renowned Guilin scenery, praised by numerous Chinese poets and artists and can be described as "thousands of pinnacles stand towering around, a river winds its way about the city". The 83 km Li River is also called as a hundred-mile scroll. Along the crystal clear water of Li River are numerous green mountains, cliffs, waterfalls, oases and shoals, just like a classic scene in Chinese landscape painting.
Recommended Hot Tours with Li River:
Best Way to Travel – Li River Cruise
There are two kinds of boats cruising on the Li River: cruise boat and motor-driven raft.
Cruise Boat
If you want to cruise Li River with more comfortable environment and convenient facility, cruise boat is your first choice. The route for cruise boat is the essence of Li River, also called as full-section Li River Cruise. The whole cruise is about 4.5 hours, and all cruise boats provide free lunch, toilets, hot water service and places to store luggage. The cruise will start from Zhujiang Pier or Mopanshan Pier and end at Yangshuo Pier. Zhujiang Pier and Mopanshan Pier are very close; however, they serve with two kinds of cruise boat.
Boarding time: from 8:00 to 11:00
What's the Cruise Boat Like?
Zhujiang Pier serves with the two kinds of luxurious cruise boats. One is luxurious air-conditioned boat, free Chinese lunch, two seat decks and one observation deck. The other one is super-luxurious boat, free Chinese buffet, two seat decks (one of them is dining area) and one observation deck, more luxurious facility than the previous one, and this is the most expensive cruise boat.
Mopanshan Pier serves with normal air-conditioned boat, free economic Chinese meal, one seat deck and one observation deck, and it's the most cost-effective cruise boat.
How to Get to Zhujiang Pier and Mopanshan Pier
For now, there is no direct bus commuting between Guilin city center and the two piers, which are 20 km away from city center. For individual tourists, if you buy the cruise ticket on your own, the only way to get the cruise pier is by taxi, which will cost about ¥100. If you buy the cruise ticket through travel agency or hotel agent, they will charge you ¥35/person as car fees and guide service fees. Under this situation, the tourist bus will pick you up at your hotel.
For our customer, we will arrange a private car with a professional guide to escort you all the way, and you don't need to worry about anything, just enjoy your trip!
Cruise Route/Port Changes When Water Level Declines
When the water level declines in the dry season (January ~ March usually), the cruise route will be changed to offer tourists a better viewing experience. The changed route starts from Yangdi for Hua Mountain (画山) and then back to Yangdi. The boarding pier, also the disembarking pier is Shangzha Pier (上榨码头). The whole cruise takes about 2.5~3 hours. Please note the cruises depart at 10:00 and 10:40.
Guilin – Shangzha Pier: There are daily buses running from Guilin Bus Station to Yangdi Tour Park during 7:30 ~ 14:00 usually. It always takes about 1~1.5 hours. In the park, you can take the electric vehicles to the Shangzha Pier directly. The electric vehicles are free for tourists with cruise tickets.
Yangshuo – Shangzha Pier: There are also available buses traveling between Yangshuo and Yangdi Tourists Park which cost about 1 hour. Then you can easily take an electric vehicle.
Motor-driven Raft
For those who want to have a close contact with Li River and prefer a shorter trip, take a motor-driven raft is a good choice. The route for the motor-driven raft is the most beautiful part of Li River cruise. Start from Yangdi and end at Xingping. Many famous attraction sites are located along this section, like the 20 yuan banknote scene, Nine Horses Fresco Hill, Huangbu Reflection, etc. The whole rafting is about 1~ 2 hours and there is no toilet on the raft, so make sure you answer the call of nature before boarding.
What's the Raft like?
Normally, the motor-driven raft is bound with 8 PVC tubes, on which covered with a layer of aluminum alloy panel to make the raft more steady and flat. The raft is equipped with canopy for sun-shade and rain-protect. Motor on the rear, all rafts are also equipped with life jackets and buoys. Except for the rafts man, the raft is allowed to carry four passengers. As long as no heavily overload, the raft is definitely safe. There are some spaces in the rear of the raft for storing passenger's luggage. However, if you have too much luggage, we suggest you take the cruise boat rather than the raft.
Ticket: $216/person, under four passengers, the raft will charge ¥30 for each vacant seat. After debarking in Xingping, there are free battery car to drive you to Xingping bus station, and you can take bus from there to Yangshuo County.
Boarding Time: 8:00 ~ 18:00
Click to enlarge Li River Tourist Map
Cruise Boat on Li River
Zhujiang Pier
Hua Mountain – Mountain with A Painting of Nine Horses
Motor-driven Raft on Li River
Note:
1. Lunch on the craft will charge you extra fees, and normally, it's not cheap, so it's suggested to take some food with you and have a lunch after you get to Yangshuo County.
2. Some people choose to hike along Li River. For ordinary tourist, we don't suggest you to do that. Hike along Li River is a great way to appreciate the beauty of it, however, it needs some hiking experiences and strong physical strength. Plus, the Guilin Travel Bureau expresses that the hiking route is still in construction, so it demands that tourists should not hike along the river until the construction is finished.
Best Time to Travel Li River
April to October is the most beautiful time of Li River, however, each season has its own charm and unique scenery.
Li River will enter into rainy season in the late spring. During this time, the water level will rise rapidly, and the rapid flow cause water turbidity, which is bad for reflection watching on the water surface. However, the temperature is very cozy at this time. In the rainy day, surrounded by a fine drizzle and mist, everything is just like a classical scene in traditional Chinese painting.
In summer, after the rainy season is over, Li River is very peaceful and clear during this time. White clouds dotted in the azure sky, while green hills reaches to the far along the crystal clear river.
In autumn, the air transparency is very good, thus, the sunrise in this time is extremely beautiful, and the most beautiful rosy dawn of the year will appear at this time.
Photography on Li River
Almost all classic photos of Li River are shooting from Yangdi to Xingping section. No matter you take cruise boat or motor-driven raft, it's better to pay extra attention to this section, you don't want to regret after the journey for missing the chance to shoot great photos.
How to shoot the classic photo with a fisherman poling on the Li River
Most people who love Guilin scenery will also have a crush on the fishing scene: poling on a little bamboo raft, the fisherman light the kerosene lamp with a cormorant standing next to him and are ready to catch the fish. This classic scene is rarely to be seen since people who make a living out of fishing are less and less. Thus, if you want to shoot this classic scene, you need to arrange everything in advance.
Normally, you can shoot this scene at Xingping, where you can hire a fisherman with his raft and cormorant as your model. Best time for shooting is dawn and dusk.
For more photography information about Li River and Guilin, please refer to Guilin Photography Tour for detailed information.
Fisherman on Li River
Worth-visited Towns along Li River
There are two old towns along Li River: Daxu Old Town and Xingping Ancient Town.
Daxu Old Town
Located in the east bank of Li River, north and very close to Mopanshan Pier, Daxu Old Town was established 200 BC. The old street of the town is not wide and paved with over 15,000 blue stones. The houses standing by the street are two-floored Ming and Qing style architecture. Many ancient manual workshops, like bamboo weaving shops, herbal medical clinic and old style barber shops are still operating. The old town is very quiet and stands aloof from worldly success. It's a great place for those who fancy into ancient-style things.
How to get there: take the commuting bus between Guilin Bus Station and Crown Cave to Daxu Old Town. 40 minutes' drive for 15 km, $12/person.
Ticket: free
Daxu Old Town
Xingping Ancient Town
If you take the raft cruise from Yangdi, you will arrive at this little ancient town. Located in the east bank of Li River, Xingping Ancient Town is 25 km from Yangshuo County. The background for 20yuan banknote is also in here. The fishing village of the town was called as President Fishing Village for it's been visited by the past President Clinton in 1998. The town is rather small and old, paved with smooth flagstone, everything here is just simple and unsophisticated. Sparsely populated all year around, the Xingping Ancient Town is very suitable for nostalgic tourists.
How to get there: (1) if you take the motor-driven raft from Yangdi, disembark in Xingping Pier and you will get there. (2) take a regular bus from Yangshuo Bus Station to Xingping, depart every 20 minutes, $6/person and about 40 minutes' drive.
Ticket: free
Xingping Ancient Town
Useful Tips for Traveling Li River
1. Ticket
Each adult tourist can bring one child shorter than 1.2 m for free, and children between 1.2 m ~ 1.5 m can enjoy half-price tickets, while those who are taller than 1.5 m should buy full-price tickets.
2. Notice Should be Paid on Board
To protect the environment, please don't throw any wastes into the river. Smoke is not allowed in the cabin. For safety, do not stride over the handrail to take pictures, and take care of the children brought with.
Top Attractions in Guilin
Extending Readings for Guilin Travel Planning
Recommended Guilin Tours
Top 3 Guilin tours chosen by most customers to explore Guilin in the best way. Check the detailed itinerary, or tailor your own trip now with us.
Guilin / Yangshuo / Longsheng
Guilin / Longsheng / Guilin / Yangshuo
Start planning your tailor-made holiday to China by contacting one of our specialists. Once inquired, you'll get a response within 0.5~23.5 hours.
Source https://www.chinadiscovery.com/guangxi/guilin/best-ways-to-visit-li-river.html
Source http://crawfordcreations.org/li-river-bamboo-raft-guilin/
Source https://www.chinadiscovery.com/guangxi/guilin/li-river.html