River Rafting In Jamaica
All You Need To Know Before Your Trip


Watch! See the real Jamaica in VIDEOS!
Click Here and s ee why over 60,000 fans are raving about my YouTube Channel!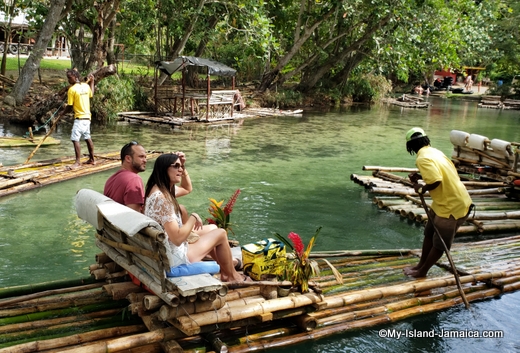 River Rafting In Jamaica (White River, St. Ann)
New! For Authentic Jamaican products, from my very own hands , visit my Etsy store here .
What Is River Rafting in Jamaica?

This is a form of water transportation that is now a recreational activity in Jamaica. It started out as a means to transport goods, specifically bananas from the country areas of Portland to the coast for export. The raft is made by tying long bamboo logs together with metal wires. They are, in most cases, about 4 feet wide and 30 feet long. Now that they are used to transport people instead, an elevated "lounge chair", also made from bamboo, is used to provide more comfortable seating for the passengers.
Which River In Jamaica Is Used For Rafting?

There are many places to raft in Jamaica but the top places are:
Martha Brae
Great River (Lethe)
How Much Does It Cost If I Go River Rafting In Jamaica?

There isn't one set price for going rafting in Jamaica. You have to take a lot of factors into consideration. It can range anywhere from US$40 to well over US$100 dollars but that depends on what services are being provided. Some tour companies, for example, will include the cost of transportation, the cost of the rafting experience and other little amenities such as food or drinks while on the tour. Some excursions are combined and that way you can have a group deal.
Also, as you can imagine, some places are more high end than others so that will factor into the cost as well. It all depends on the type of experience you are looking for.
What Can I Expect When I Go River Rafting In Jamaica?

You can expect a peaceful trip up the river from your raft captain. Most raft captains also double as tour guides and will give a little history of the area, the flora and fauna and the unique features of the particular river as well. Some rafting spots also offer other water-based activities like tubing, swinging and cliff jumping. There is sometimes a beach nearby.
Depending on which river you go to, there could be refreshments being sold along the river on rafts, there are usually other restaurants in the area too.
What Do I Wear To Go River Rafting In Jamaica?

Comfort is very important, a pair of shorts and a shirt or swimwear would be perfect. Try to avoid cotton-based materials as they will take a longer time to dry and you will be stuck in cold wet clothes on the trip. Also, water shoes are great for the trip, sometimes the stones in the river can be a bit sharp making it difficult to enjoy the river.
What Should I Bring On A River Rafting Excursion?

Okay, so here are the essentials you will need on the tour:
Sunscreen
Swimwear
Towel
Water Shoes (no sandals)
An extra suit of clothes
Waterproof Case (For Devices and cash)
Oh, and speaking of cash, you'll need that too. Bringing a credit or debit card might work but only the more popular or "touristy" places will be able to facilitate paying by card.
You can bring a few snacks because the river ride can be anywhere between 45 minutes to 3 hours long. But there are usually snack shacks and food spots nearby to get Jamaican snacks. Because, why not?
Are There Animals or Insects To Look Out For On A River Rafting Excursion?

Jamaica doesn't have many wild animals, especially in our waters. While we do have crocodiles in certain areas, they aren't in the rivers used for recreation. The most dangerous thing you might encounter is mosquitoes so you can bring mosquito repellent if you think you'll need it.
What you will see are many plants, birds and fish.
Is There A Weight Limit To Go River Rafting In Jamaica?

In most cases the limit on the raft is 700lbs. That usually means 2 adults and a small child. The raft captain will ensure the raft has the correct weight before rowing off to ensure the trip on the river is safe.
We want you to be safe and satisfied with your rafting experience so if you have additional questions or you want to share a helpful hint on Jamaican River Rafting, drop a comment below. We'd love to hear from you.
You might like these
Are There Jellyfish In Jamaica? Are They Dangerous?
Are there Jellyfish in Jamaica? And if so, should you be worried if you get stung?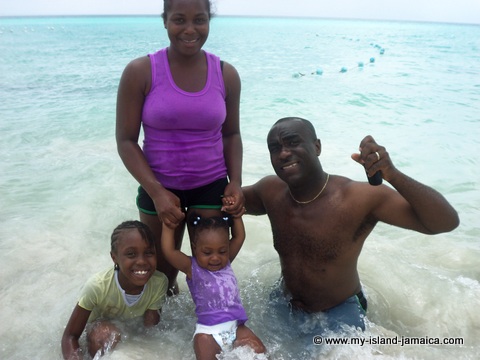 Best Beaches in Jamaica | Which are they?
What are the very best beaches in Jamaica? Alton has some great recommendations
Ocho Rios Bay Beach | A Guide To Your Day At Turtle Beach, Ochi
The vast sand arch of Ocho Rios Bay Beach, also known as "Turtle Beach," is the biggest and most well-known public beach in Ocho Rios.
Sharing IS Caring! Please help me get the message out by sharing this article with your friends on social media (links below). Thnx 😉
If you found this page useful, please consider subscribing to my weekly newsletter , to get even more .
It tells you each week about the new information that I have added, including new developments and great stories from lovers of Jamaica!
References & Sources For River Rafting In Jamaica
Rafting on the Martha Brae – Visit Jamaica, https://www.visitjamaica.com/listing/rafting-on-the-martha-brae/53/
River Rafting on the Rio Grande, https://www.visitjamaica.com/blog/post/river-rafting-on-the-rio-grande/
Jamaica River Rafting – 4 Best Spots In Jamaica, https://www.my-island-jamaica.com/jamaica_river_rafting.html
Bamboo Rafting on the Martha Brae, http://things-to-do-in-jamaica.com/bamboo-rafting-on-the-martha-brae-river-jamaica/
New! Talk To Me
Was the information helpful? Something needs changing? I welcome your feedback here .
#1 FOR OVER 40 YEARS AND STILL GOING STRONG

Looking forward to rafting and tubing? That's not all that we offer! When you book a ticket, we ensure you have an unforgettable experience. Immerse yourself in the exotic waters of the White River and admire the glistening beauty of the rainforest by the able hands of our highly experienced Tour Guides.
Crystal clear rapids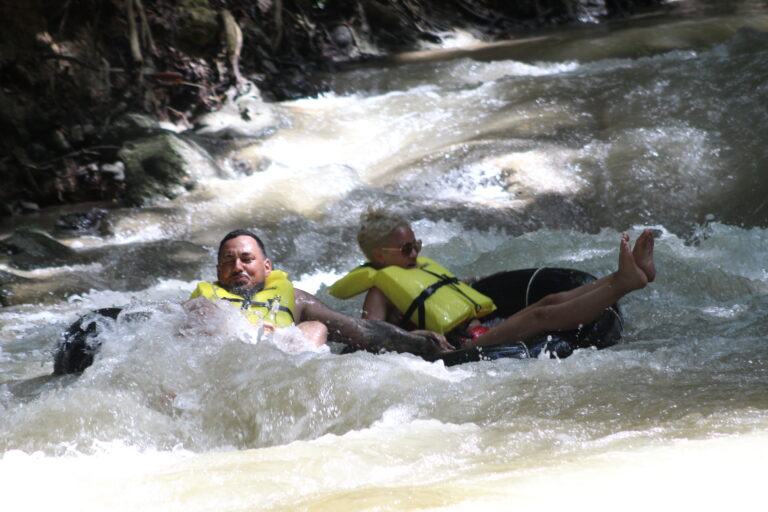 Let the cool cascades of healing rapids lift, caress and leave you feeling refreshed and energized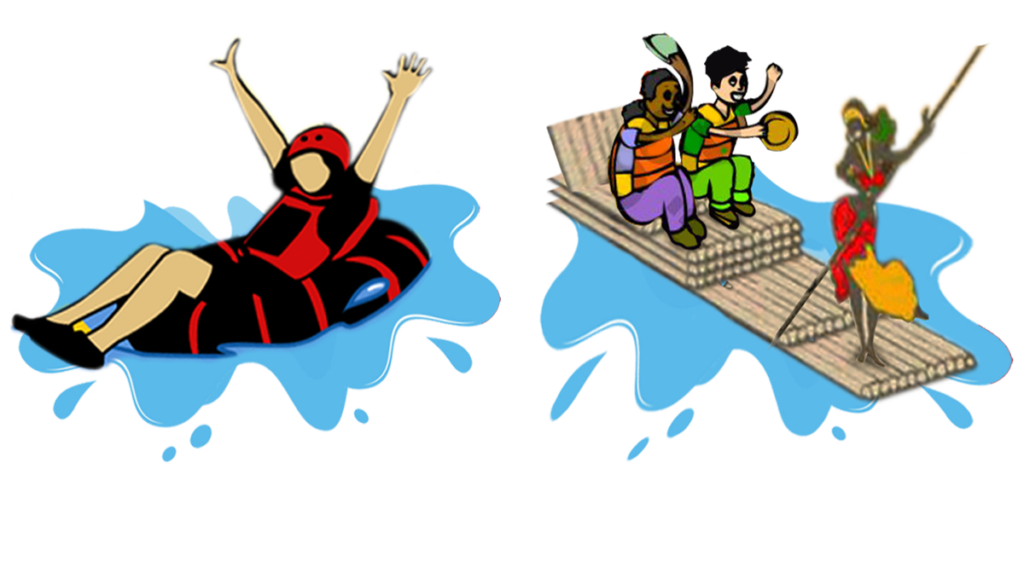 Full of Thrills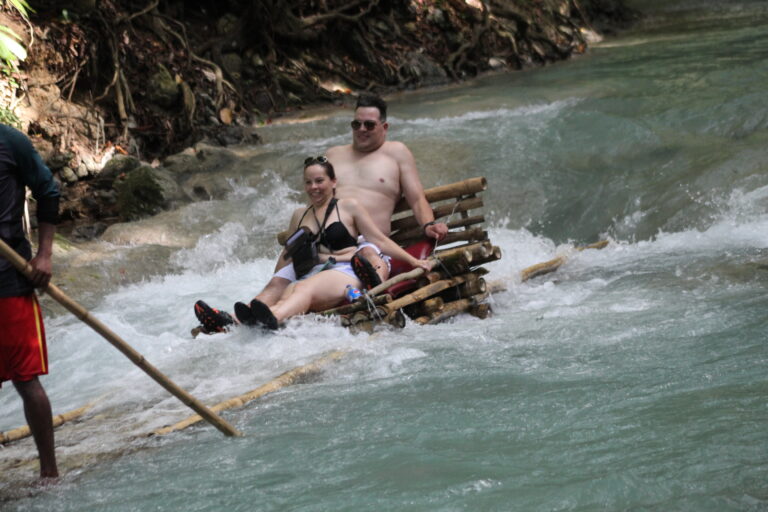 Be amazed by this awesome adventure
Popular Tours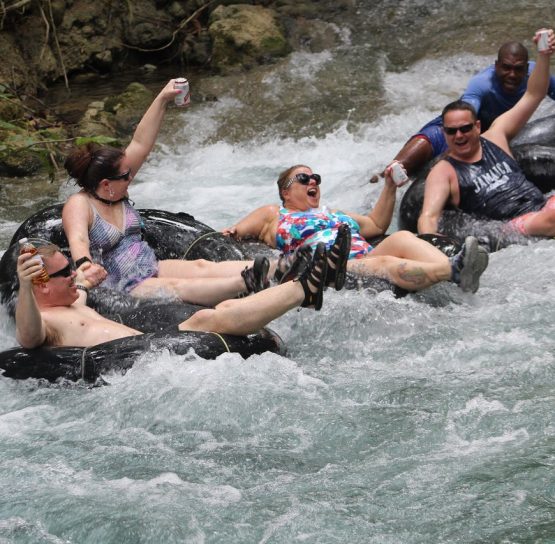 River Tubing
Let the flow of the Rapids take you on an unpredictably awesome adventure! Our tubing packages lets you speed down wild but friendly enough rapids to fill your family's day of adventure with nothing but excitement and adrenaline as you enjoy the surrounding view and keep up trying to catch your breath.
*** Get ready for approximately 1 hour of fun, laughter and excitement***
US $25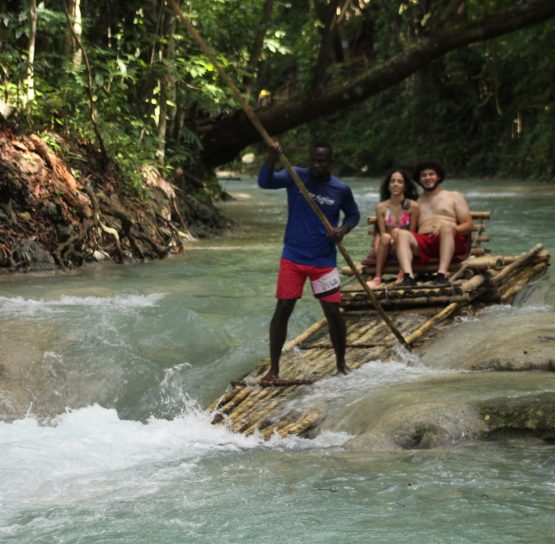 River Rafting
Feel the adrenaline rush through your veins as you watch your guide meander skillfully through various sections and courses of river rapids that are wild but tame enough to carry you safely again to other breath taking sceneries all while you're basking in the wonders of the tour's refreshingly clean tropical breeze, an absolutely special treat to your lungs.
*** You will feel the calypso vibes as you raft down this majestic white River
Martha Brae Rafting in Jamaica – Adventure Guide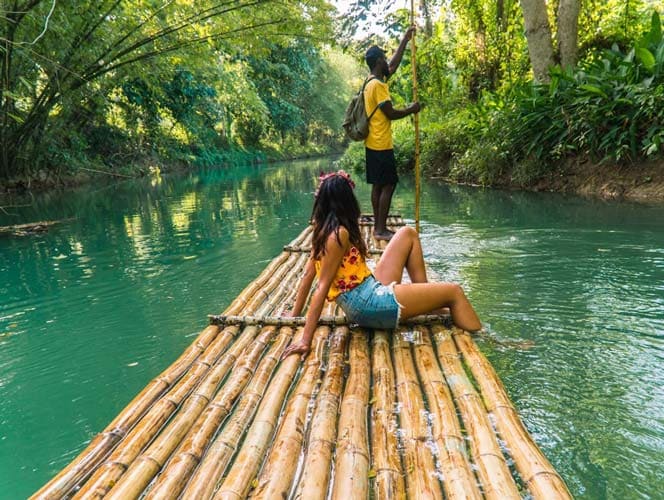 Photo Credit: Shutterstock
Rafting on Martha Brae River is one of Jamaica's top attractions and whether it is your first or your hundredth visit to the island, Martha Brae is an adventure worth experiencing over and over again! Surrounded by magnificent natural beauty, Martha Brae River offers a tranquil experience with slow, relaxing trips cruising down the river on a handmade bamboo raft. This blog will provide you with all the information you could possibly need to know to experience Martha Brae River Rafting. Our adventure guide is bursting with tips and knowledge including what you need to know, what to bring, pricing and so much more!
What is the history of Martha Brae River?
Legend has it that Martha Brae is named after an Arawak witch of the same name. When Spanish settlers arrived in Jamaica, it is said that Martha Brae was forced into telling them where gold was hidden along the river. Once revealing this information, Martha Brae changed the course of the river, killing the settlers and closing the cave where the gold was said to be located.
While this story is simply legend, it provides a more interesting backstory to Martha Brae River than the alternative. Another story is that the name Martha Brae was simply adopted from the Spanish name for the Rio Mateberion River.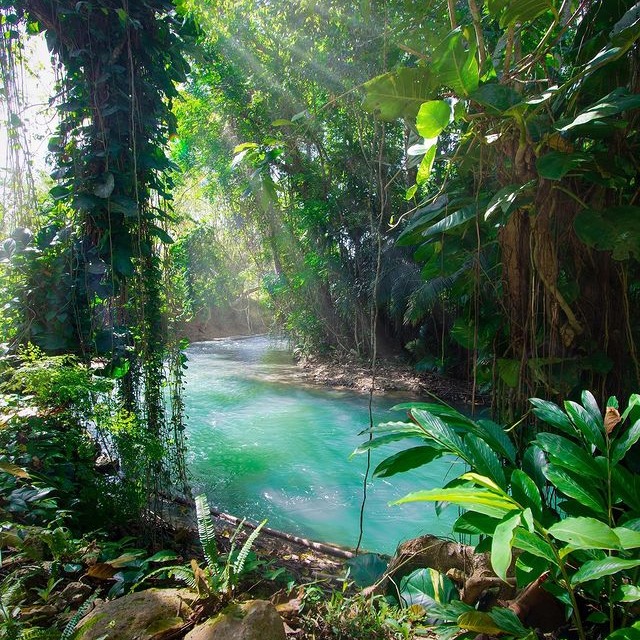 Photo Credit: Linda Cammarata
There is a long timeline in the Martha Brae River history, most notably documented through the plantation era when the river connected Trelawny's sugar plantations to the port of Falmouth. The river was used to take sugar and other crops from the plantations to the boats bound for Europe that docked in the port. These transfers were made using 30-foot long bamboo rafts, the same style rafts that are used today for the Martha Brae River rafting tours.
In recent history, tourism has replaced sugar as the top industry in Jamaica and the river is instead used for providing visitors with rafting tours as well as supplying water to nearby residents and as a fishing spot for locals.
Where is Martha Brae River in Jamaica?
Martha Brae River is located on the north coast of Jamaica in the parish of Trelawny and is approximately six miles south of Falmouth, also located in Trelawny. While the river mainly flows through the rainforest, the 20-mile long stretch of water passes through numerous local towns and villages including the village of Martha Brae, a six-mile-long horseshoe-shaped village to the west of the river named after Martha Brae River.
How far is Martha Brae River from Montego Bay?
Martha Brae River is located approximately 19 miles away from Montego Bay. The journey takes approximately 35-40 minutes dependent on the method of transportation, taking you along the northern coastline and into the Cockpit Country. The city and resorts are well connected with easy access to Martha Brae rafting from Montego Bay.
How far is Martha Brae River from Negril?
The Martha Brae River is located on the north side of the island, and Negril is on the west end with a 45 miles distance between them. However, the road distance is further at 72 miles creating a journey time of 1 hour and 52 minutes to 2 hours to reach Martha Brae River.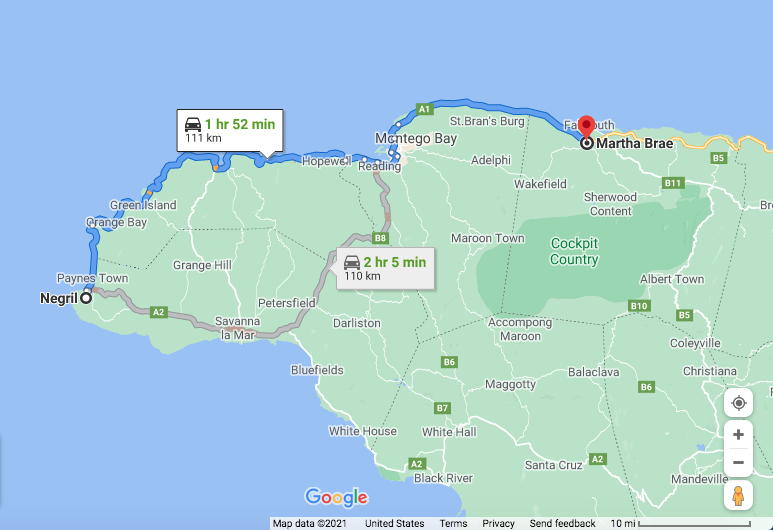 Photo Credit: Google Map
How far is Martha Brae River from Ocho Rios?
Also located on the north coast, Ocho Rios is located roughly 35 miles away from Martha Brae River. The journey time from the port and resort town to Martha Brae River is approximately one hour. Along the way, you will pass through the resort town of Runaway Bay, at that point, it will be just under 40 minutes before you arrive at the Martha Brae River.
How long is Martha Brae River?
Martha Brae River has a length of 20 miles. The river runs from Windsor in Cockpit Country, then the river connects with Roaring River at Unity in south Trelawny. The Martha Brae River rafting tour takes place along a 3-mile stretch of the river, which is a few miles away from where the river meets the sea at its exit point at Rock, a community located just outside of Falmouth.
How deep is Martha Brae River?
The depth of Martha Brae River is dependent on the time of year. For most of the year, the river maintains an average depth of 4-feet. However, during the rainy season, this depth can vary and reach a depth of up to 12-feet. The generally shallow waters mean that Martha Brae River is relatively safe for most of the year and the majority of tour guests do not require life jackets or safety equipment. However, a life vest is available for guest (adults and kids) who prefers to wear one.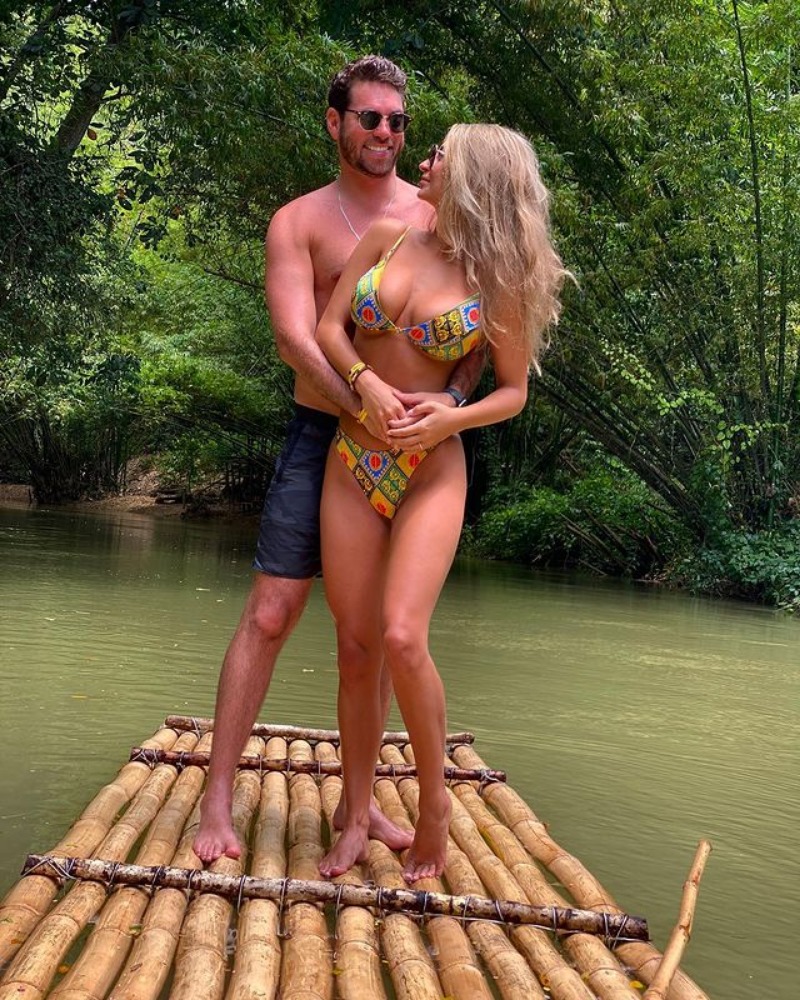 Photo Credit: mrsalexisphillips
What are the weather and conditions like at Martha Brae River?
Due to its location, Martha Brae River experiences tropical weather conditions and temperatures. The island of Jamaica has relatively consistent temperatures all year-round ranging between approximately 80-90°F with January the coldest month and July the hottest. The area has high levels of sunshine, however, the river is often well shaded by the surrounding rainforest and greenery. Jamaica's rainy season falls between May and November with the highest rainfall usually in October. Rainfall is often in short showers followed immediately by sunshine.
Are there crocodiles in the Martha Brae River?
The river does look like it could be full of crocodiles, however, thankfully, Martha Brae River itself is free of snappy creatures as well as alligators and snakes. So there is no need to worry, it is safe for you to dip your feet or take a swim in the river.
What is the Martha Brae rafting tour?
The rafting tour is a 1.5-hour experience inclusive of visiting 'Rafters Village' and a rafting experience on Martha Brae River with a knowledgeable, experienced tour captain.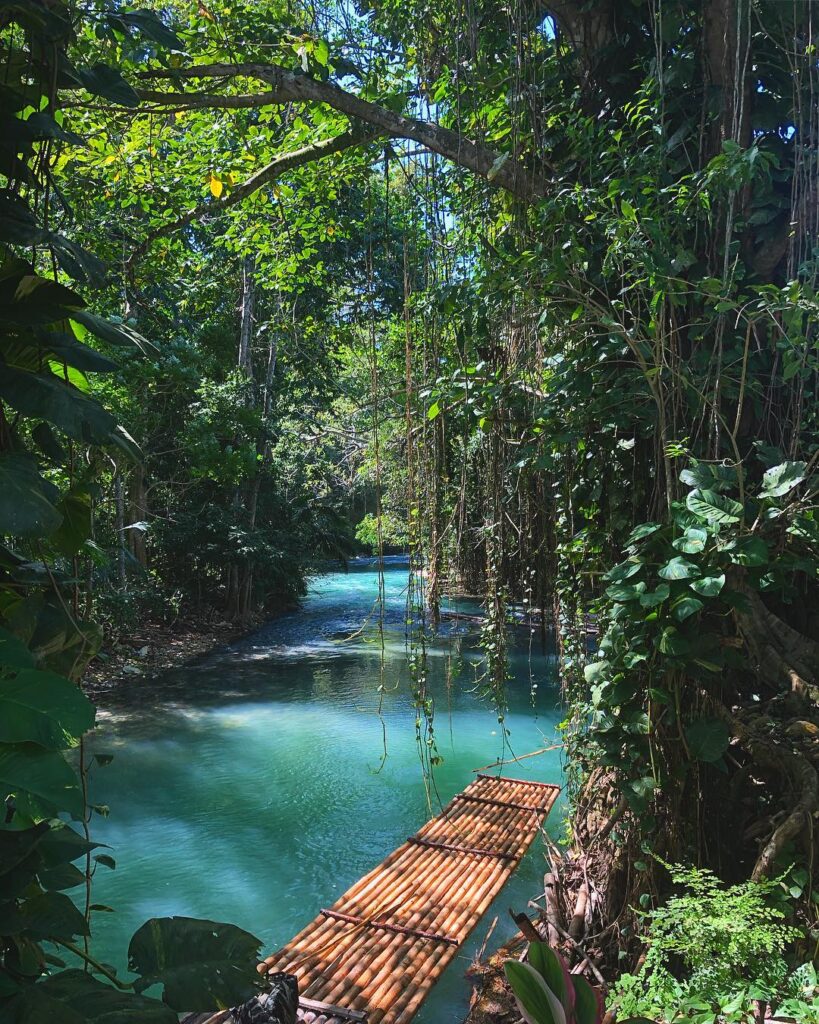 Photo Credit: ckosters_
What can I expect from rafting on the Martha Brae River?
After a pick-up direct from your hotel and your journey to Martha Brae River, you will arrive at 'Rafters Village'. The village is home to souvenir shops, a bar, and a herb garden all situated on the beautifully landscaped grounds.
Next, you begin your journey down a 3-mile stretch of Martha Brae River and enjoy a romantic cruise on a 30-foot bamboo raft. Take in the magnificent scenery of the surrounding rainforest including the lush greenery, local wildlife, and exotic fruits that grow in this part of the country including ackee, the national fruit of Jamaica. See the rocks carved into animals and admire the wonderful flora and fauna of the area. Listen to the calming sounds of flowing waters below you and the tropical birds above on this tranquil sail down the river. Learn about the landscape, local area, and culture from your private tour captain, one of the many licensed and experienced raft captains. They will also tell you about the area's folklore and the legend of Martha Brae plus, many will provide you will a brief chance to have a go at poling the raft yourself.
You will also have the opportunity to cool off with a relaxing swim in the river, take a relaxing stroll through the beautifully manicured grounds of 'Rafters Village' and visit Miss Martha's Herb Garden for an education on the miracles of the medicinal plants at home there.
This experience is a must-do while you are in Jamaica and over the years, Martha Brae River has welcomed famous names such as Queen Elizabeth II, Jason Derulo, Spike Lee, Usain Bolt, and Johnny Cash on river rafting tours and visits to 'Rafters Village'.
Cost for Martha Brae River rafting tour?
As of April 2021, the Martha Brae River rafting price is $77USD. Rafts can accommodate two adults and one child under the age of nine. Keep in mind, this price does not include transportation to and from your resort or your port of call. For a more all-inclusive experience, you will need to book your tour with a reputable tour company.
Please note, the price range will differ depending on the following factors –
Hotel or port pickup location (Ocho Rios, Montego Bay, Falmouth, Negril, etc.)
Type of transportation selected (private transfer or shared coach).
Selecting a shared coach tour simply means you will be traveling on a tour bus with several other travelers also going to the same attraction. The greatest advantage of traveling on a shared tour is the price. The price on a shared tour can be significantly cheaper than booking a private tour. However, unlike a private tour, certain tours are only available on specifics days from your resort.
However, if you select a private tour, this means that you and your group will have a dedicated tour bus and tour guide with you for the duration of the tour. Booking a private tour allows you to select the day you want to do the activity. This is a great option if you would like to design your own tour and make stops along the way at points of interest to and from the attraction. The great news is one or both options are usually available at all resorts, all you need to do is contact your resort front desk or book in advance with a tour company for the best deals.
Super Travel Tip – If you decide to book a private tour without the assistance of a tour company make sure you inquire if the price being quoted includes the entrance fee. Many travelers are under the impression the entrance fee is included in the price quoted by an independent driver, which is usually not the case, which can end up costing you twice as much as booking with an established tour company.
For a better experience, we recommend booking your Martha Brae River rafting experience with Jamaica Super Tours, the price quoted is inclusive of round-trip transportation, entrance fee to the rafting site, and the rafting experience.
What is included in the Martha Brae River rafting tour?
The Martha Brae Rafting tour includes the following:
Entrance fee and taxes to the river rafting site
A complimentary welcome fruit drink on arrival at the visitors center
River rafting cruise on a 30-foot bamboo raft for approximately 1 hour
Personal tour captain
Education on the local area and culture
Swim opportunity
Visit Martha Brae's herb garden
Time to explore the manicured lawns and souvenir shops at 'Rafters Village'
How long is the Martha Brae River rafting tour?
The tour itself including admission to the site and the rafting cruise is approximately 1.5 hours. This does not include hotel pick-ups and the journey time to Martha Brae River. Please consider transfer times as an addition when planning your tour.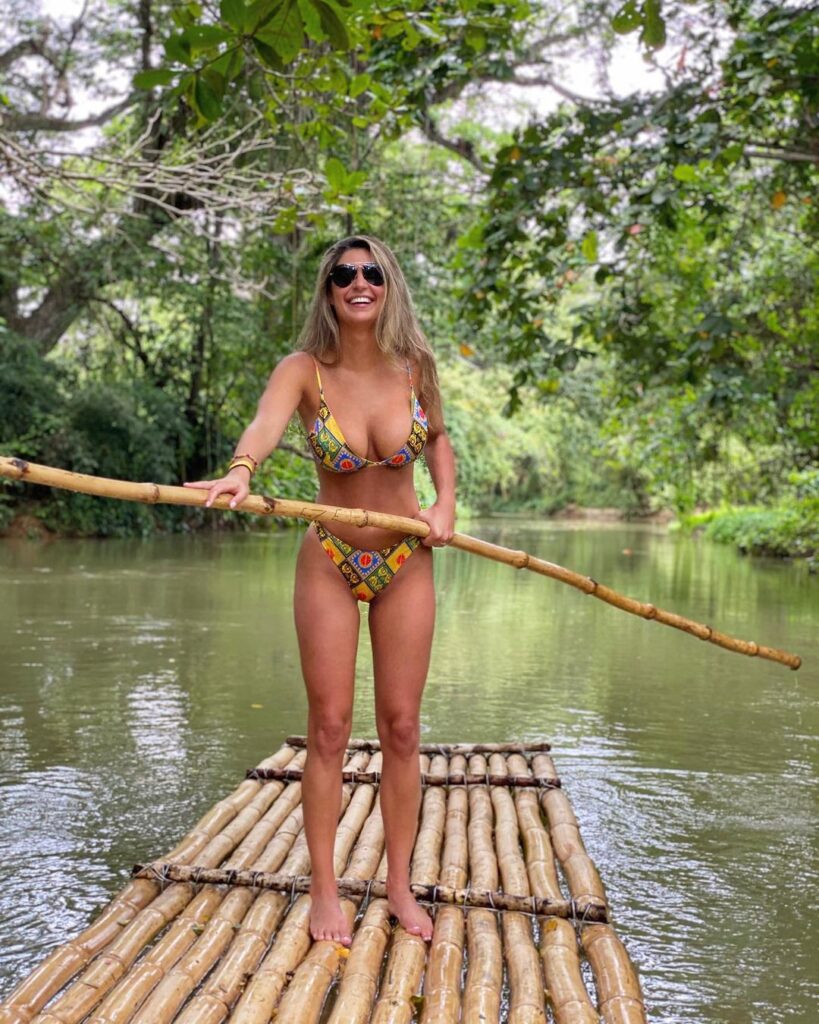 Photo Credit: mrsalexisphillips
When is the Martha Brae River rafting tour available?
The Martha Brae River rafting tour is available daily and some regions may offer more than one tour opportunity per day. Please note that Martha Brae River rafting tours are subject to availability.
What is the timing of the Martha Brae River rafting tour?
Martha Brae River and 'Rafters Village' are open daily from 9 am. The tour time depends on the tour company scheduled pick-up time from your hotel or the port for the Martha Brae River rafting tour.
How do I get to the Martha Brae River rafting tour?
Booking the Martha Brae River rafting tour with Jamaica Super Tours includes return transportation pick-up directly from the hotel. Our transportation will take you directly to Martha Brae River for the tour and also return you to your hotel following the experience.
What should I bring on the Martha Brae River rafting tour?
It is recommended to wear comfortable clothing and shoes for the Martha Brae River rafting tour whilst consideration to bring the following items with you will enhance your experience.
Swimsuit
Camera
Towel
Sunscreen
Insect repellent
Water bottle
Cash/contactless payment
What important information do I need to know for the Martha Brae River rafting tour?
Please consider the following information when booking the Martha Brae River rafting tour.
Tour experiences are subject to weather conditions.
Rafts can accommodate a maximum of two adults and one child under the age of nine
Children must be accompanied by an adult
'Rafters Village' offers souvenir shops and a bar. Cash and contactless payments are accepted
Gratuities are not included in the tour price
Tours are offered in English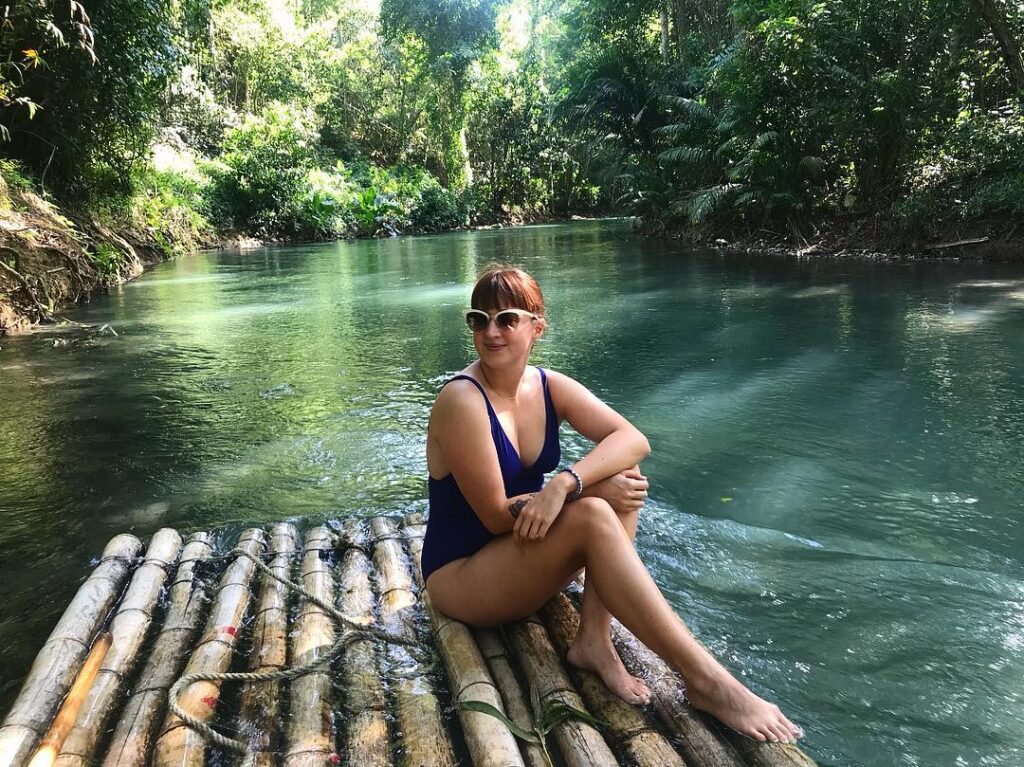 Photo Credit: ckosters_
Are there any restrictions on the Martha Brae River rafting tour?
The tour is not recommended for individuals who have limited mobility, heart or back problems, and other serious medical conditions. The tour does not have wheelchair accessibility. The tour is also not recommended for pregnant travelers and children under the age of three.
How do I book the Martha Brae River rafting tour?
Jamaica Super Tours offers the best bamboo rafting tours in Jamaica. All tours booked with Jamaica Super Tours have the best price guaranteed and no booking fee to save you money on the experience. Your booking is flexible as Jamaica Super Tours offers easy, no-risk cancellation should plan change. Working with Jamaica's top tour operators and attractions, we do all the planning so you can enjoy a worry and hassle-free vacation.
Conclusion
If you're planning a trip to Jamaica, you do not want to miss out on a Martha Brae River adventure! This tour experience is perfect for couples, friends, and family groups looking for an easy laid-back experience to immerse themselves in nature while taking in the incredible sights and sounds of the Jamaican rainforest on a bamboo raft. This is a great experience to enjoy on your vacation. Make sure to bookmark this post so you have all the information, tips, and tricks to make your Jamaican adventure one remember! If you have done the Martha Brae Tour, or if you are interested, let us know in the comments. We want to hear from you!
Source https://www.my-island-jamaica.com/river_rafting_in_jamaica.html
Source https://whiterivercalypsorafting.com/
Source https://jamaicasupertours.com/blog/2021/07/03/martha-brae-rafting-in-jamaica-adventure-guide/