Need A Raft?
Looking to run your own trip? DRA has 12, 13, 14 and 15 foot self-bailing and standard rafts available for rent. We can deliver rafts to Harpham Flats and pick them up at Sandy Beach for $15 per raft or you can pick them up here at our shop in Maupin. Rafts come with all appropriate gear you'll need for an awesome day on the river including PFD, paddles, 80-qt cooler, frame (if desired), straps and a dry bag. All day rental rafts need to pull in to Sandy Beach no later than 5 pm.
| Raft Size | Weekday | Sat/Sun |
| --- | --- | --- |
| 12 ft | $95 | $135 |
| 13 ft | $110 | $150 |
| 14 ft | $120 | $170 |
| 15 ft | $130 | $180 |
| 1-Person Inflatable Kayak | $45 | $55 |
| 2-Person Inflatable Kayak | $60 | $70 |
What size raft do I need for my group?
When set up as paddle rafts, 13 foot rafts fit 3 to 6 people, 14 foot rafts fit 5 to 8 people and 15 foot rafts fit 8 to 10 people. We do not recommend filling your paddle raft with more than 10 people. Rowing frame setups take up more space and work best for 3 to 5 people max. on the raft.
Can I choose between a paddle setup or a rowing setup?
Certainly! Most people want a paddle raft setup for the Maupin day stretch, but some prefer the oars instead. Let our office know which setup you'd like upon making your reservation. There is no cost difference.
Can I take my dog on the raft?
Yes, we do allow dogs on our rafts, though we suggest you know the river well and be experienced in guiding a boat. Ask about our doggy lifejackets available for rent!
How long does it take to raft the Maupin stretch?
The whitewater day stretch in Maupin is 13 miles long. It takes about 2.5 hours if you don't make any stops at all. With our day rentals, you have the raft from 10 am to 5 pm so you're welcome to stretch out your time on the water by making stops for lunch, swimming and hanging out. All rental rafts need to be pulling into Sandy Beach no later than 5 pm.
We can deliver your raft to Harpham Flats for $15!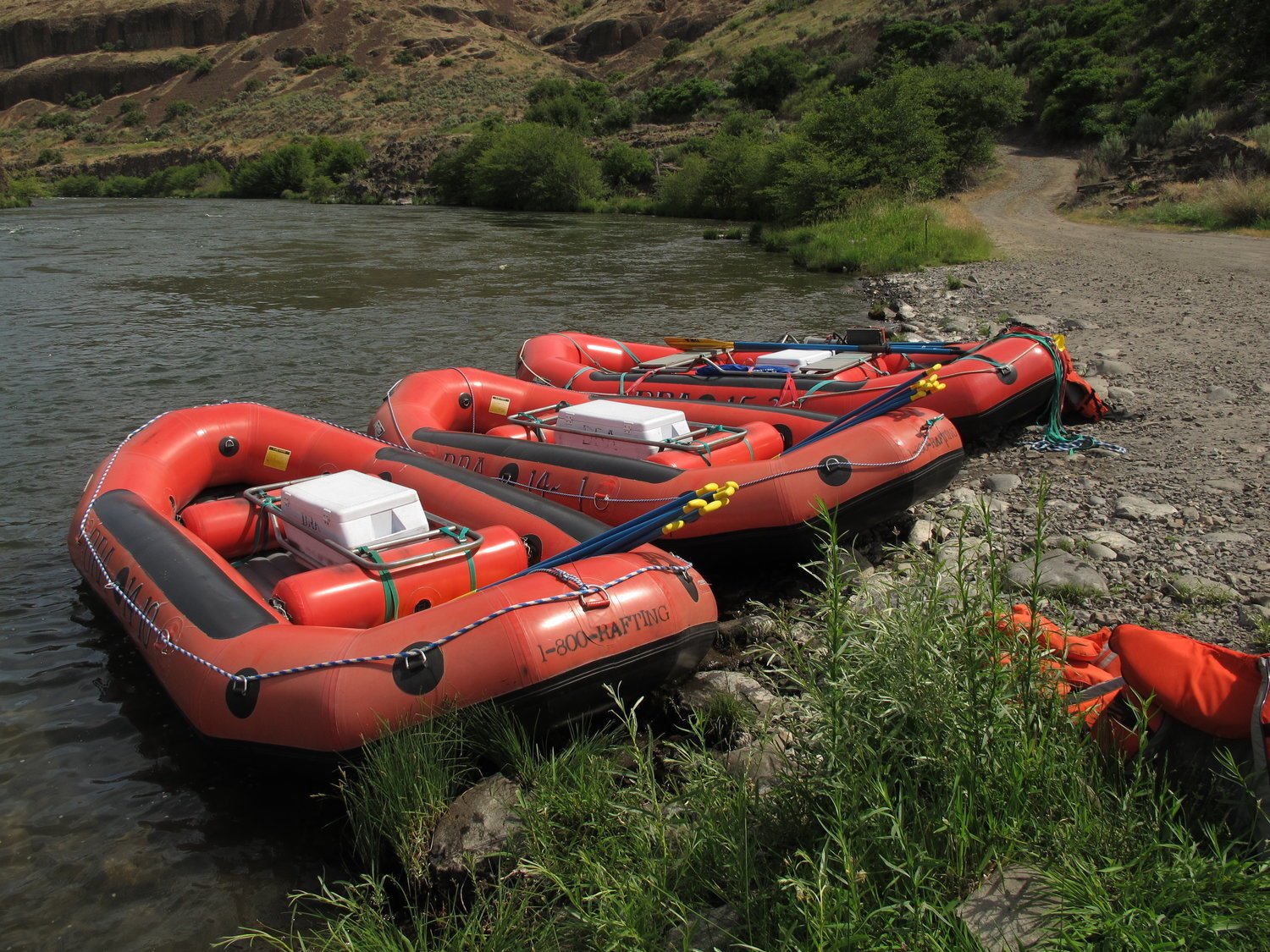 Multi-Day Rentals
We have the gear for your overnight rafting adventure. Our rafts are rubber Achilles rafts with custom steel rowing frames, and quality loose gear (NRS dry bags, straps, Kpump, ammo can, Cataract oars, 94-qt cooler and toilet). We also offer premium rowing packages that include a lightweight aluminum NRS frame, dry box and 105-qt Canyon Coolers for an addition per day charge. Ask about a premium package when booking your reservation. We'll deliver and pickup rafts along 100 miles of the Deschutes River. You're responsible for personal stuff like a sleeping bag, tent and cooking supplies and camp gear. Premium frame packages are only available when renting a 15-ft raft.
There is a one time $95 delivery charge for raft deliveries to Warm Springs, Trout Creek and Buckhollow.
3-day weekend prices are for Thurs-Sat, Fri-Sunday or Saturday-Monday and additional days are $90 a day. Our rental packages are customizable, pleases call our office to inquire – 1-800-RAFTING.
Deschutes River, Oregon
October 28, 1988. From Wikiup Dam to the Bend Urban Growth boundary at the southwest corner of Section 13, T18S, R11E. From Odin Falls to the upper end of Lake Billy Chinook. From the Pelton Reregulating Dam to the confluence with the Columbia River.
Classification/Mileage:
Scenic — 31.0 miles; Recreational — 143.4 miles; Total — 174.4 miles.
RELATED LINKS
Photo Credit: Gary Marsh
Deschutes River
The Deschutes River is located in central Oregon. It provides much of the drainage on the eastern side of the Cascade Range on its way to its confluence with the Columbia River. The Deschutes was an important resource for thousands of years for Native Americans and in the 19th century for pioneers on the Oregon Trail.
The Deschutes features ruggedly beautiful scenery, outstanding whitewater boating and a renowned sport fishery for steelhead, brown trout and native rainbow trout. The upper Deschutes River is highly accessible, offers an exceptional brown trout fishery, and is close to Bend, Oregon, adjacent to the Newberry National Volcanic Monument. The middle Deschutes River has excellent hiking opportunities with spectacular geologic formations and waterfalls. The lower Deschutes River offers the greatest opportunities for whitewater rafting and is one of Oregon's premier steelhead and trout fisheries.
Middle Deschutes Outstandingly Remarkable Values
Botany/Ecology
The middle Deschutes River segments are in an ecological condition unusual for similar areas within the region and contain a significant portion of Estes' wormwood.
Cultural
Cultural resources on the middle Deschutes River include prehistoric and historic sites found along the corridor and traditional uses associated with the area. Evidence that rare and/or special activities took place in the river canyon areas is represented by lithic scatters or flaking stations, shell middens, rock shelters, rock features and rock art. These sites have the potential to contribute to the understanding and interpretation of the prehistory of the Deschutes River and the region and are considered to eligible for inclusion in the National Register of Historic Places.
Fisheries
Surveys have identified fishing as the number one recreation activity in the upper sections. Stories and pictures of huge catches are found in historical records of the early 1900's.
Geologic
Fifty million years of geologic history are dramatically displayed on the canyon walls of the middle Deschutes River and lower Crooked Rivers. Volcanic eruptions which occurred over thousands of years created a large basin dramatized by colorful layers of basalt, ash and sedimentary formations. The most significant contributor to the outstandingly remarkable geologic resource are the unique intra-canyon basalt formations created by recurring volcanic and hydrologic activities.
Hydrology
Water from springs and stability of flows through the steep basalt canyons has created a stream habitat and riparian zone that is extremely stable and diverse, unique in a dry semi-arid climate environment. Features, such as Odin, Big and Steelhead Falls; springs and seeps; white water rapids; water sculpted rock; and the river canyons, are very prominent and represent excellent examples of hydrologic activity within central Oregon.
Recreational
These river corridors offer a diversity of year-round, semi-primitive recreation opportunities, such as fishing, hiking, backpacking, camping, wildlife and nature observation, expert kayaking and rafting, picnicking, swimming, hunting and photography. Interpretive opportunities are exceptional and attract visitors from outside the geographical area.
Scenic
The exceptional scenic quality along the middle Deschutes River is due to the rugged natural character of the canyons, outstanding scenic vistas, limited visual intrusions and scenic diversity resulting from a variety of geologic formations, vegetation communities and dynamic river characteristics. These canyons truly represent the spectacular natural beauty created by various forces of nature.
Wildlife
The river corridor supports critical mule deer winter range habitat and nesting/hunting habitat for bald eagles, golden eagles, ospreys and other raptors. Bald eagles are known to winter along the Deschutes River downriver from Lower Bridge and also within the lower Crooked River segment. Outstanding habitat areas include high vertical cliffs, wide talus slopes, numerous caves, pristine riparian zones, and extensive grass/sage covered slopes and plateaus.
Lower Deschutes Outstandingly Remarkable Values
Botany
The variety of plant communities in the Deschutes River Canyon fall into four broad categories; the high desert uplands host big sagebrush, juniper-big sagebrush and bunchgrass types, and the riparian vegetation along the river is dominated by alders.
Cultural – Pre-History
Humans have occupied the Deschutes Canyon area for at least 10,000 years. One hundred thirty-five prehistoric sites have been recorded in the lower Deschutes River Canyon, and it is believed that many others will yet be found. Most common are habitation sites. One of these, at Macks Canyon Campground, was excavated by University of Oregon archaeologists in the late 1960s and is now listed on the National Register of Historic Places. Sherars Falls, a point of difficult passage for anadromous fishes, is an important traditional fishing station for Native Americans.
Fisheries
The lower Deschutes provides extensive spawning and rearing habitat for both resident fish, such as rainbow trout, and anadromous steelhead and chinook salmon. There is also a regionally unique run of wild sockeye salmon that is sustained by the incidental passage of kokonee smolts through the turbines at the Pelton/Round Butte hydroelectric complex. Runs of anadromous fish sustain an important subsistence fishery for Native Americans.
Geologic
The Deschutes River flows through the Deschutes-Umatilla Plateau, the main part of which slopes northward from 4,000-foot levels in the mountains of Central Oregon to a 400-foot elevation along the Columbia River. The rocks are mostly Columbia River basalt, nearly 2,000 feet thick. The lava flows that make up the plateau occurred over millions of years and formed in distinct layers of various thickness.
Historic
Exploration and fur trapping by Euro-Americans began in the Deschutes Canyon in the early 19th century. Other historic activities that have been documented include use of the Oregon Trail, road and railroad construction and settlement. In the Deschutes Canyon, 38 historic sites have been documented, most of them associated with early railroad construction.
Recreation
The lower Deschutes River is central Oregon's playground, an ideal location for outdoor sports, from whitewater paddling and swimming to hiking and biking. The river provides a stable, high-volume flow, available for recreation all year long, and it has been internationally known for its excellent fishery for many years. One hundred river miles offer segments favored for relaxed, overnight camping and fishing floats, one-day whitewater adventures, and guided or non-guided fishing trips. Notable activities include following the Lower Deschutes River Back Country Byway along the river to campgrounds at Beavertail and Macks Canyon or the accessible fishing ramp at Blue Hole.
Scenic
The lower Deschutes River Canyon contains a diversity of landforms, vegetation and color. The river, having carved a canyon nearly 2,000 feet deep in many locations out of rugged Columbia River basalt flows, provides a dramatic and diverse landscape. The clear water of the river framed by the green riparian vegetative fringe creates a stark contrast to the often barren and broken reddish and brown cliffs and hillsides of the canyon. The river provides a boater with a moving platform for viewing the ever-changing scene. While transportation corridors exist (roads and railroads) and occupational and rural development have occurred in several areas, they are overshadowed by the magnitude and beauty of the river and canyon character.
Wildlife
The Deschutes River Canyon provides habitat for approximately 300 different species of wildlife. Most of these utilize riparian habitats adjacent to the river. This provides outstanding opportunities for viewing many species of wildlife including songbirds, waterfowl, mink, heron, mule deer and many reptiles, amphibians and other small and large mammals. Notable species are the bald eagle, peregrine falcon, osprey, Dalles sideboard snail and shortface lanx.
Deschutes River
Deschutes River – 3 Day Wilderness Rafting & Camping Trip
The Deschutes River
Named during the fur trading era from a French word meaning "River of the Falls," travels 252 miles north from Little Lava Lake in the Cascade Mountains to join the Columbia River. From its origin near Bend, Oregon, the Deschutes River provides a stable, high-volume flow allowing it to be navigated for its entire length throughout the entire year!
The stark contrast of the high, arid country of broken reddish and brown cliffs to the vegetative, fringe green edging the clear flowing water gives the boater a moving platform for viewing this ever-changing wonder of Nature.
Two sections of the Lower Deschutes River are popular for whitewater rafting and kayaking; the upstream section which is known as the Big Eddy lies above the city of Bend between Dillon and Lava Island Falls. The lower section is from the town of Warm Springs to just above the exciting 15 foot drop at Sherars Falls (portage). Together they total roughly 58 miles. On the other side of Sherars Falls lies another 42 miles that river runners will find to be a mellow trip with a few class 3 rapids.
A favorite trip for many is the 3 day wilderness trip on the Deschutes River, where you have a chance to immerse yourself in nature and be pampered by Guides preparing meals, amazing Deschutes River camping and additional information about the area.
Shorter trips options on the fun and splashy Oak Springs section (Warm Springs to Shears Falls) include Boxcar rapid and more class 2 and 3 rapids. These are easy to get to as day trips from Portland and Bend.
Wild and Scenic Deschutes River
Designated as a National Wild & Scenic River in 1988, the river offers opportunities for overnight boating trips, hiking, biking, hunting and fishing. With a drop in elevation from 1,393 feet to 160 feet at its confluence with the Columbia River, the Canyon contains a diversity of landforms, vegetation and color. Carved from rugged volcanic basalt flows, the vertical cliffs, wide talus slopes and numerous caves not only provide dramatic landscape, but afford ideal nesting habitat for bald eagles, peregrine falcons and osprey. Most of the 300 different species of wildlife utilize riparian habitats adjacent to the river which provides outstanding opportunities for rafters to view waterfowl, heron, beaver, river otter and many reptiles. The river corridor supports critical elk and mule deer winter range habitat.
Deschutes River Fishing
Only 2 hours southeast of Portland, Oregon, the lower Deschutes River is central Oregon's playground. World-renowned for its fly fishing, the Deschutes is home to Columbia River redband trout (known locally as "redsides).
With around 300 days of sunshine a year, what better place to be than on cool, sparkling clear water that offers Class II to IV rapids, sandy beaches and a host of visual stimulus.
Source https://www.raftdra.com/raft-rentals
Source http://www.rivers.gov/rivers/deschutes.php
Source https://raftoregon.com/river-rafting/deschutes-river/