How to Pack Your Bags for a Multi-Day River Rafting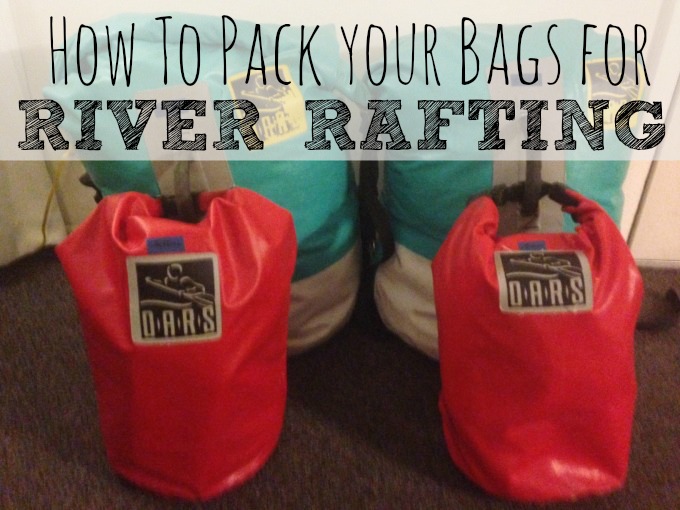 Preparing for a multi-day river rafting trip can be a daunting task, especially when it comes to packing. Rather than offering tips about what to pack (your river guide should provide you with a list specific to your trip), these are tips on how to pack. If you are an experienced traveler, you probably think tips on how to pack are way beneath your level of expertise. Surely, the specifics of shoving a bunch of stuff into a bag are fairly standard whether you are heading on an airplane to Europe or rafting down a river.
There are a few tricks to know to help you pack your river rafting gear efficiently and confidently.
First, let's take a look at the bags:
Your rafting company will provide you with two dry bags, a large one and a small one. The large bag will need to hold all of your personal items, including toiletries, clothing, and shoes. It will also need to contain your sleeping bag, pillow and any other sleep items. So, while the bag seems quite large, it will be more than half filled with your sleeping bag. Everything else will need to fit on top or around and still leave room to fold the bag over to make a tight, waterproof seal. You will also have a smaller waterproof bag that you will keep with you all day. This will hold any personal belongings like cameras, snacks, or anything you want to have in arms reach. This is the only bag that you will have with you all day. Your big dry bag will be strapped down and locked up tight until you reach camp for the night.
Think of it this way: the large bag is your checked luggage and the smaller bag is your carry-on bag.
Tips for Packing Your Large Dry Bag
The tricky part of packing the majority of your items is that they all need to go into one big sack, including your sleeping bag. Much like Murphy's Law of packing, the sleeping bag is the first thing that must go into the bag, but it is one of the first things that needs to come out of the bag. Having all your clothes and camp gear on top of the sleeping bag makes it hard to get to what you need without dumping the entire bag.
We solved this problem by packing our clothes in jumbo sized ziplock bags. This had the added benefit of giving everything an extra layer of waterproof protection, but it also made it so much easier to keep things organized and unpack. As we were setting up camp, we could quickly throw out the ziplock bags and grab our sleeping bags, then tuck the ziplock bags at the end of our tent for easy access to our clothes. This poor-man's packing cube technique is one that we use for packing often just to keep every organized, but has never been more welcome than on this trip. As I watched other guests dive into their dry bags and come out with handfuls of loose shirts and underwear, I was grateful that mine were neatly contained.
Another solution to this packing dilemma would be to pack your clothes in a duffle bag and put that into the dry bag.
Tips for Packing your Small Dry Bag
Packing the smaller bag is easy, as long as you know what you need to have with you during the day. I packed sunscreen, bugspray, and a small bag of basic medicines, as well as a handful of snacks. There was plenty of room in the bag for any extra layers of clothes I might need to peel off or add during the day. The biggest thing I learned about packing my small bag was not about what I needed while I was on the river, but what I needed right after I got off the river. When we arrived at shore, we were, not surprisingly, wet and sometimes quite cold. However, there was plenty of work to be done setting up camp before we could really get into dry clothes. To make it a little more bearable, we made sure to pack a dry fleece and a pair of dry shoes in our small bag, so we could access those immediately.
River Rafting Packing List
Dressing comfortably and fashionably for overnight river trips requires a little advance planning. You will want clothes to wear on the river and in camp.
On the River
2+ Shorts or Swimsuits
2+ Shirts
Lightweight Wool or Polypro Shirt
River Shoes or River Sandals
Hat for Sun Protection
Sunscreen & Lip Balm
Water Bottle
Sunglasses with Strap
River Clothes: For your daytime river outfit, you'll want quick-drying clothes so that you don't feel soggy all day. Wearing shorts with a lightweight long or short-sleeved shirt are great. Long-sleeves help prevent sunburn.
Some folks also like to wear long under bottoms under river shorts or capri-length pants to help keep sun off of their legs. I suggest light weight base layers as they can help keep your warm if it is chilly, but also are great sun protection that isn't too hot.
River Shoes: Anything that will stay strapped to your foot and provide solid support for walking around on rocks will work. Our favorite river shoes are Astral Designs, Chacos, and KEEN Sandals.
Hat: A hat with a brim makes bright, sunny days more enjoyable. A wide brimmed hat with a chin strap is best for riding on the raft, and a baseball cap that fits under a helmet are perfect for paddling an inflatable kayak.
Underwear: For your base layer, men may want to wear swimming trunks. Quick-drying long underwear is great to have if you will be paddling an inflatable kayak. Ladies should wear non-cotton underwear or a swimsuit as a base layer with a sports bra.
Pro tip: Women wearing swimwear as a base layer should choose two-piece styles over one-piece. One piece swimsuits make it difficult to take bathroom breaks during the day and change in and out of.
Camp Clothes
Any clothes that you find comfortable at home are great for camp. Shorts and a T-shirt or a casual skirt or dress for women are great for warm summer evenings.
2 Shirts
2 Pairs of Pants, Shorts, Skirts, or Dresses
Underwear
Warm Jacket
Rain Jacket and Rain Pants
Camp Shoes
2 Pairs of Socks
Headlamp or Flashlight
For cooler nights and mornings you may prefer to wear light-weight pants and a long-sleeved shirt. Long-sleeved camp shirts can also double as a shirt to wear on the river to help keep the sun off of your arms.
Warm Jacket: Even in the summer, evenings and mornings can be chilly. You'll want to have a layer to wear around camp before bed and at breakfast. It often it takes the sun longer to hit some camps due to the large canyon walls. We ask that you bring a light-weight puffy jacket or warm fleece shirt.
Rain Gear: You never know if it's going to rain, so bring a rainshell. This is also a great layer for colder temperatures. People will often wear rain pants to help keep the sun off their legs. Tops of knees are a common place for sunburn on the first day.
Camp Shoes: These could be another pair of sandals, hiking shoes, or sneakers. Anything that is comfortable, gives your feet a break from being in a wet river shoe, and protects your feet from rocks while walking around camp. For cold weather trips, our guide's favorite camp shoe is the Muck Boot.
Hiking Shoes (Optional): Most people end up doing short day hikes in their river shoes. If you have a camp shoe that can double as a hiking shoe, you can save room in your bag.
Pro tip: Make sure to break in your river shoes if you are buying new ones for your trip. Nothing is more annoying than fresh blisters while you're on your vacation.
Socks: I like to throw a few pairs of wool socks in my bag for wearing with sandals if my feet get chilly on the river, or to protect my skin when doing rocky and sandy hikes. I also love having a dry pair of wool or cotton socks to put on when I get to camp. My favorite wool socks are the light-weight ones from KEEN or SmartWool.
Cold Weather Gear (for Spring Trips)
For the majority of summer trips on the Rogue and the Middle Fork of the Salmon the weather is generally quite nice. If you get cold easily or the weather forecast is for cold and/or rain consider bringing some or all of the items below. For any trip in the spring cold weather is likely so please bring the following extra cold-weather gear to wear in camp and on the river.
Cold Weather River Clothing/Gear
Wetsuit and Paddle Jacket
2+ Shirts — Wool or Polypro
Pants — Wool or Polypro
Gloves — Wool or Neoprene
Socks — Wool or Neoprene
Cold Weather Camp Clothing/Gear
Beanie — Wool or Polypro
Gloves — Wool or Polypro
Socks — Wool or Polypro
Long Underwear — Wool or Polypro
Warm Pants
Thick Polypro/Wool or Puffy Jacket
Personal Items
Small Camp Pillow
Toiletries and Medications
Sunscreen & Lip Balm
Insect Repellent
Extras
Fun outfit for "dare-ware*" night
Camera or waterproof case for phone
Pro Tip: *Dare-ware is a dress-up theme night that we often do one evening of the trip. For extra style points, bring your own costume, favorite wig, or vintage clothing!
How to Pack
Pro Tip: Pack your clothes into a soft tote-bag or reusable grocery bag to keep them separate from everything else, making it easy to find things in your big bag.
We will provide you with a large dry bag. This bag is almost the size of a large bag and will need to hold your clothing, personal items, extra shoes, sleeping bag and inflatable sleeping pad. This dry bag seals all of your belongings inside from water and sand and will be strapped into the back of the gear raft each day. All of the tents are stored in separate tent bags.
Since the large dry bags are inaccessible during the day, we will also provide you with a "Day Bag." This can hold things you may need to use during the day: a camera, sunscreen, an extra layer, etc. The day bags will be clipped into whichever raft or inflatable kayak you are in.
You can organize toiletries in ziplock bags. Keeping your clothes separate from your toothpaste and biodegradable soap will not only prevent messes, but it will make it easier to find things in your large bag when you get to camp. A plastic trash bag can be useful in keeping your dirty clothes separate from everything else.
What To Pack On A White Water Rafting Trip
Ready for an adventure of a lifetime? White water rafting is an amazing experience full of moments of excitement and awe in the great outdoors. It's best to come prepared for your trip so you can enjoy yourself no matter what may be in store.
Many outfitters, like Winding Waters River Expeditions, provide premium rafting and camping equipment, including life jackets, dry bags, tents, sleeping pads, and more. However, you are responsible for your own personal items.
What should you pack for a white water rafting trip? That depends on the type of trip, time of year, and length of the trip. However, there are a few essentials for white water rafting you can't do without no matter what kind of trip you take.
We've put together a detailed packing list that you can download here, or continue reading for a great overview of what you need to bring on your river rafting adventure.
Clothing To Pack For A White Water Rafting Trip
One of the first things you'll need to pack is the clothing you will wear on your rafting trip. As a general rule, try to avoid cotton clothing. Cotton tends to get cold when wet — and you'll definitely be getting wet — so avoid cotton in every season.
The clothing you pack will generally depend on the weather, but here are a few clothing-related items you will need to bring no matter what time of year you go rafting:
River Shoes – Wear sturdy sandals with straps that are designed for watersports. Flip flops won't cut it!
Camp "Slippers" – You'll need dry shoes to wear around camp to keep your feet safe and warm. Remember, mornings can be cold even in the summer!
Extra Plastic Bag for Wet Clothes – You can use a trash bag or a large ziplock. Keep your wet clothes separate from your dry clothes so everything doesn't end up soggy.
Set of dry clothes – After a day getting splashed on the river, you're going to want something nice and dry to change into.
For warm and sunny weather, be sure to pack:
Quick-dry shorts or bathing suit
Synthetic shirt (quick-drying, non-cotton material)
Long-sleeved sun shirt
Sun-blocking hat – Bring a brimmed hat to protect your face from the sun
Sunglasses – Don't forget a retainer strap
For cool, cold, or rainy weather, be sure to pack:
Top outer layer, such as a windproof and waterproof jacket
Bottom outer layer, such as windproof and waterproof pants
Sweater, jacket, or sweatshirt (fleece or wool recommended)
Warm hat – tin, snug
Synthetic or wool socks
Synthetic long sleeve shirt(s) and top layers
Synthetic long underwear or leggings
Personal Items To Pack For A White Water Rafting Trip
Water Bottle
Water is your best friend on your river vacation. It's not just carrying you down the river, it's also hydrating your body and keeping you healthy. We recommend Hydro Flask water bottles, which are specially designed to keep your water cold. Whatever water bottle you bring, it's a good idea for it to have a carabiner so you can easily clip it to the raft and other gear for easy access.
Sunblock
Nothing ruins a good outdoor vacation like a sunburn. If there's one personal item you can't do without on a white water rafting trip, it's sunblock. Bring along a container of long-lasting, waterproof, and sweatproof sunblock, along with a sun-blocking hat and chapstick with SPF. We apply early and often on the river!
Snacks
With Winding Waters River Expeditions you will enjoy sustainable, locally grown foods during meal times, but in between you may want to have something to snack on. Only bring snacks that are light to carry and don't require cold or hot storage.
Soap, Lotion, and Toiletries
At the end of the day, you'll probably want to wash off that "river feeling." Bring along some soap (we recommend Dr. Bronner's ) and other basic toiletries to clean up after a long, adventure-filled day. Lotion is also a great idea to bring some moisture back to your sun-soaked skin. Don't forget to throw any medications you need into your toiletry bag too!
Fun Items To Pack For A White Water Rafting Trip
In addition to the essentials like clothing and gear, you may want to pack a few fun items to enjoy during your free time camping along the river.
Here are a few extra items you may want to consider bringing:
Camping hammock
Swimming goggles or snorkel gear
Binoculars
Star gazing guides
Playing cards
Flashlight or headlamp
Just be sure your extra items are small, light, and easy to pack!
The Not-To-Pack List For White Water Rafting Trips
Almost as important as knowing what to bring on a white water rafting trip is knowing what not to bring. Some items and white water rafting just don't mix. The last thing you want is to lose or damage your personal belongings, especially valuable personal belongings. Keep in mind, your stuff (and yourself) will be exposed to the great outdoors, so don't bring anything you don't want to put at risk.
Here are a few items you should definitely leave at home:
Electronics (laptop, iPad, iPod, etc.)
Expensive jewelry
Expensive eyewear
If you do choose to bring electronics like your smartphone or camera, make sure you have a dependable waterproof case to reduce the risk of damage.
Get Packing and Get Going!
More often than not, our white water rafting guests find that they overpack for the trip rather than underpack. As long as you have the essential items appropriate for your trip length and weather conditions, you should be just fine.
Remember, with Winding Waters River Expeditions, you are lead by experienced, full-service guides . They will make sure you are well-equipped and prepared to enjoy a trip of a lifetime. The most important things you can bring are your spirit of adventure and sense of wonder.
If you have any questions about what to bring on your rafting trip, feel free to contact Winding Waters River Expeditions by phone or email and we'll help you with everything you need. You can also grab our detailed packing list here to print out and mark up as you prepare for your trip.
Winding Waters River Expeditions operates under special use permits, granted by the U.S. Bureau of Land Management, the Umatilla National Forest, and Hells Canyon National Rec Area in the Wallowa-Whitman National Forest. Hells Canyon Whitewater and Winding Waters River Expeditions are licensed by the Oregon State Marine Board and the Idaho Outfitters and Guides Licensing Board. Hells Canyon Whitewater and Winding Waters River Expeditions are an equal opportunity recreation service provider and employer.
Source http://box5711.temp.domains/~suitcas4/2014/07/how-to-pack-your-bags-for-river-rafting.html
Source https://www.nwrafting.com/articles/river-rafting-packing-list
Source https://www.windingwatersrafting.com/boathouse/what-to-pack-on-a-white-water-rafting-trip/