How many rafters can fit in a raft – Check them out!
Most everyone that comes up for an American River rafting trip, want to raft together, of course it is way more fun. However, depending on the number of rafters that are in your group, you might be split up into 2 or more rafts. Which in most cases is a lot of fun because the opposing groups can splash one another in the water fighting zones, sorry no big time wrestling in the rafts or taking of prisoners from the other rafts!
They can Fit a lot!
The rafts, at least those on the American river, one hour east of Sacramento, we can can fit rafters in the range between 5-8 plus a guide. He or she, sits in the back of the raft and steers the raft with help from the guests who use paddles to maneuver through the rapids. I have personally seen 9 and 10 guests in rafts before on the river, and actually have taken a group of 9 rafters that just did not want to be in two rafts, even though I tried to tell them it would be way more fun? Anyway, most American river rafting companies, especially on the South Fork of the American, will limit the number of guests to 8 in a raft. We only use our 8 person rafts, nicknamed "Cadillacs", and specially designed by our owner for the raft manufacturer Hyside Inflatables, for families of 8 (or groups of 4 and 4) that want to raft together. The other rafts that our company, and most other rafting companies, use are designed to fit 8 guests and a guide, but we limit those rafts to 7 guests plus a guide, as we think our guests will have a much better and safer time on the river with those smaller sized rafts.
Averages of 6
This is what we tell folks when they make a reservation. If they happen to bring a multiple of 7 on the South Fork, then we will have 7 in a raft. The Middle Fork of the American river is a bit different. It is rated class 3 and 4, where the South Fork is rated class 3 (it still has some great rapids and is not a mellow float, though). Usually when rafters come and tackle a harder river, such as the Middle Fork of the American, the rafts are loaded with 5- 6 guests plus the guide. Trips on the Middle Fork need to take down the lunch and drink supplies in the rafts, due to the nature of the river where there is only one place to launch and one place to take off the river. We also need to take down a portable bathroom set up in the raft that is set up when we stop for lunch. The other reason the rafts don't have as many rafters as the South Fork, is that rafting tighter, class 4 rapids is much safer, and easier for the guide to manage if it does not have a lot of rafters in them. It also gives more room in the raft for the "Get Down" command that we sometimes use on class 4 and higher rivers. Rafting companies in West Virginia, for example, try for an average 8 rafters per raft.
We can accommodate Groups
A fun and exciting time can be had on any river with any number of rafters in the raft, as long as the rafting outfitter does not try to overload the rafts to make more money while sacrificing guest comfort and fun. When organizing a group of family or friends to go rafting, keep in mind the difficulty of the river, when thinking about how many to invite. You can always have more than the rafts hold, however, there will be some of the group that will be split off to another raft to raft with the dreaded "Strangers". A great chance to meet new friends or you never know, maybe even a new wife or husband, we have had that happen also! No matter what size group you have, come on up this year, the rafting is going to be great and the guides are waiting for you with baited breath. Really, Flash?
I hope that this helps, as always if you have questions about this information, or have other questions about river trips, please feel free to E-Mail me, I am always here to help no matter what or where your river adventure is taking you.
Hope to see you on the river this year,
Flash (over 30 years of river rafting experience around the world and back)
Whitewater Raft Materials and Designs
There are variables to consider when purchasing a whitewater raft: design, size, cost, materials, and type of usage. People tend to focus on the size (particularly length). However, raft performance depends heavily on raft materials (scroll to materials) and design. In this post we are going to break down these variables along with what different manufactures offer to help you figure out the right inflatable raft for you. We also have a post on the different types of whitewater crafts.
Variables of Raft Design
Raft Length
People tend to spend the most time considering length which is a good place to start. The length of a raft dictates its width, weight and capacity.
18 foot Gear Raft on Multi-day Trip
18 foot Rafts
The main advantage of 18 foot rafts is their ability to carry tons of gear and their stability in high volume rivers. They also draft less water which helps in broad shallow runs. Disadvantages include being less maneuverable, heavy, take up lots of space in your garage, more expensive, and terrible for paddle boating and R-2ing.
16 foot Rafts
16 footers can still carry a bunch of gear and fit through tight slots better than 18 footers, Still challenging to run as a paddle boat but are great high water oar-paddle combo rafts with up to 6 paddlers. In general they are more useful as a multi-day raft except for those needing to carry (literally) tons of gear and people.
14 foot Paddle Raft (Polyurethane material)
14 Foot Rafts
Fourteen foot rafts are the classic paddle raft for 6 people and a guide. They also can still be run as a gear raft but are easy to overload. These boats are fun to row with just a rowing frame. When run as an oar/paddle they are best with 4 paddlers and do pretty well on high volumne rivers. They can also fun to R-2.
12 Foot Rafts
Twelve foot rafts are best for paddle boats with 4 paddlers, R-2ing or running with a small rowing frame. They can work as a solo gear boat with minimal gear. These also work great as a multi-day R-2 raft with a dry bag in the front and back compartment. Anything smaller than a 12 footer is best for R-2ing or solo rowing.
12 foot R-2 raft (PVC material)
Inflatable Kayaks and Packrafts
Inflatable Kayaks/Packrafts: these craft are outstanding for one person on low volume rivers. If river runners pack light it is possible to to a week plus self-support trip out of them.
Types of Floors
There are two main variables with floors. Choosing between an I-beam and drop stitch floor and whether the floor is glued or laced to the raft. As we will discuss they each have their places.
I-beam
I-beam floors are much more common these days. Most of the companies (NRS, SOTAR, Hyside, Wing, Avon) use I-beam floors. The floor will have creases about ever 6 inches running the length of the floor. I-beam floors track well, meaning they float in the direction they are pointed.
Drop Stitch
Drop stitch floors are flat. Without the creases they don't track as well, get surfed off of wave trains more often and are easier to move laterally. The main advantage of a drop stitch floors like in the Maravia is that it does have a pressure relief valve to leak and get full of sand so there is no need to re-inflate your raft every morning.
The drop stitch floors also are dryer for standing in which is nice for multi-day trips when need to get in and out of the rafts at night.
Water Ballast Floors
Aire rafts have a unique system with an inner bladder on their floors. With the two layers of material there is a space that fills with water. They sell it as water ballast. Some people swear by them.
The rafts are more stable this way but they are also more sluggish particularly with their bigger rafts. When pulling the raft out of the water it is best to wait to let the water drain out so the raft is much lighter to carry.
Laced in I-beam floor
Glued versus Laced in Floors
Laced floors have a piece of webbing that laces the floor into the bottom of the raft. These floors are replaced more easily or can be removed to send back to be fixed. They also drain more quickly than glued in floors. Another advantage for traveling is unlacing the floor makes the outer tube much lighter for carrying on a plane or down a trail into a remote canyon.
The disadvantages are the webbing wears out and can break. Relacing a floor is an annoying time consuming process. Laced floors typically move slower than glued in floors in the river due to the two pieces (some times three) of material on the bottom. The protective floor flap catches on rocks when going over drops and gets ripped off over time.
Glued in floors make the raft lower maintenance and cleaner along the bottom. However, if something goes wrong with the floor the whole raft has to be sent in for repair.
Raft Design
The key components of raft design are rocker, tube diameter, and whether to have diminishing tubes. These three variables in combination with the materials, length, width, and floor type have the largest influence on how the inflatable raft performs.
Tube Diameter
For the moment we are talking about tube diameter along the sides of the raft. Diameter in the bow and stern will be broken down when we discuss diminishing tubes.
A larger tube diameter (22 inches) in general makes a raft more stable and comfortable to sit in. However, as the tubes get larger the raft has to either get wider which can cause performance issues and make it challenging to slip between rocks or the raft looses internal space making it more challenging to fit gear and people in the raft.
Smaller tube diameters have some advantages. It is easier to climb back into the raft from the water. It is also easier to get gear in and out of the boats. Finally rafts with smaller tubes are generally more exciting and splashy.
Diminishing tubes
A diminishing tube is where the tube size gets smaller as it gets to the stern and bow of the raft. Some people like this and feel like it makes the raft knife through waves better. This can be true depending upon the rocker of the raft which we will discuss next.
Rafts with minimal rocker and a 22 inch front tubes get stopped easily and turned sideways in large waves. However, big tubes are much more stable going over big drops, particularly at an angle.
Sotar Raft Designed to Run Drops
Rocker
Rise in the stern and bow of the raft is called the rocker. There are two components to rocker: the amount of lift in the bow and stern as well as at what point the lift starts.
Boats with more rocker tend to pop over the top of waves. Rafts with less rocker stop and surf more when hitting waves. Rocker helps a raft keep its momentum in the desired direction and minimize the likelihood of a raft being turned sideways in waves. More rocker also means less of the raft is in the water making it easier to turn the raft.
On steep rivers the extra rocker can be a disadvantage as rafts gain more speed quickly giving less time to make moves. They also tend to be a little less stable over drops particularly when combined with diminishing tubes.
Boats with less rocker tend to be faster on flat water. Like longer rafts, they draft less water making them better in shallow rivers. They are much easier to get gear in and out of when going over the nose and stern. Some rocker is nice on most whitewater rafts. On high volume rivers I'm a big fan of major rocker on big rafts.
For example on the Futaleufu River we ran 18 foot rafts. Each generation of raft had more rocker than the previous and the newest ones performed by far the best.
Raft Materials
Three main rafting materials are polyvinyl chloride (PVC), polyurethane (also called urethane) and Hypalon. All 3 materials can be used to make are high quality inflatable rafts. The materials start with a fabric base that is covered by a unique synthetic rubber like substance. Sanding the final material will cause the fabric base to start to show.
Polyurethane Material
There is some confusion about polyurethane versus urethane. Sotar and Wing rafts use polyurethane. Polyurethane is made of urethane molecules so when they are called urethane boats it is not incorrect but it isn't really correct either.
Polyurethane rafts tend to be the most rigid of the three materials. This means rafts are less likely to wrap on a rock but more likely to flip. Polyurethane produces the highest performing rafts for this reason. They also slide over rocks well. Due to these traits urethane rafts are ideal for steep rocky rivers.
Due to being stiff, urethane rafts are more difficult to roll. They are also more difficult to field repair but warehouse and factory repairs can be done by heat welding making for extremely strong patches. (Tear Aid is an excellent option for field repairs.)
In general polyurethane is more tear and puncture resistant then other raft materials, allowing for lighter rafts that are stronger. However, polyurethane comes in different deniers (think of thicknesses) and if a raft is made with a thin enough denier, Hypalon and PVC could be stronger.
I've seen problems with pinhole leaks on floors of polyurethane rafts from wear over time most likely from rocks and dirt on bottom of shoes. This isn't such a problem with Hypalon rafts.
Hypalon Raft
Hypalon
Most commercial rafting companies use Hypalon rafts. Hyside and NRS are the best two retailers of Hypalon rafts. The material costs less than polyurethane. Rafts made of the material roll easier and get less holes worn in them while being transported rolled up.
Hypalon material is softer which means the rafts aren't as rigid. They provide a softer ride and are much less likely to flip than urethane rafts but can wrap much worse than urethane boats. They are easier to repair in the field and the material lasts the best over time. There are many 20+ year old Hypalon rafts still in use by commercial outfitters. Urethane and PVC do not last as long.
PVC (polyvinyl chloride)
PVC is less expensive the than other two materials, it doesn't hold up as well and is typically used with cheaper mass produced rafts. The material is known to be brittle in the cold and wear out quickly when exposed to UV light. Talk to raft repair companies and they are not fans of these boats. The big advantage is that they are cheap!
Raft Material Combinations
A couple of companies combine materials. Maravia makes a raft out of PVC and then covers it in Urethane (actual urethane not polyurethane). The urethane is tough and good in UV. It also slides over rocks well. It can be a little tricky to prep a surface to repair. The other major con is these boats are difficult to roll.
AIRE rafts are the reverse with a urethane coated bladder inside a PVC shell. AIRE boats don't have to worry about the UV degradation of the PVC outer shell causing the raft to leak because of the inner bladder.
Final Thoughts
We have discussed the major factors to consider when selecting a raft. However there are other variables to consider. If you live close to a manufacturer it is nice to be able to drive your raft to the shop to have it fixed. At some point most rafts need some work done. Shipping a raft can be a pain and having a local shop that is familiar with your raft leads to more consistent outcomes.
In general, it is best to have the smallest raft that will work for you. Smaller boats work better to carry/pack/store, fit through smaller channels, and are more fun paddle rafts. Most of the time, it is easier to take a smaller raft on a big river than a bigger raft on a small river. Learn about different types of rafts.
You Might Also Like
Recommended Guidebooks and Reading
April 10, 2018
Whitewater PFD (Life Jacket) Flotation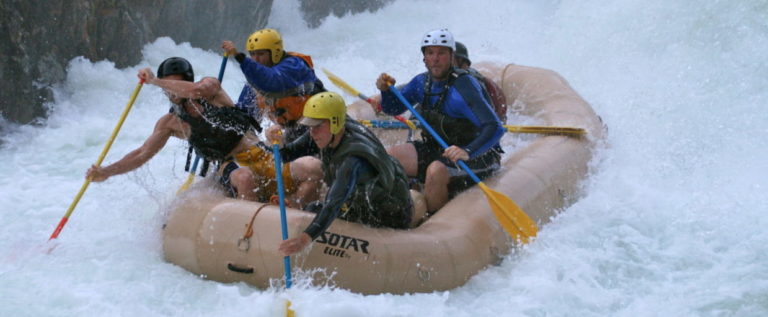 September 21, 2020
Tips for Choosing and Using Dry Bags for River Trips
A dry bag is likely one of the first pieces of river gear you bought—or it's at the top of your list if you're just starting your river gear collection. You need a dry bag to keep your stuff dry. But which bag to buy? How many do you need? What sizes?
These questions are usually answered after you go on a few trips and figure out what works for your situation. To shorten your experimentation cycle (which can get expensive), here's a primer on dry bags, with lots of photos of bags we've collected over time, what we pack in them, and how we pack them. (Some, but not all, of the linked products are affiliate links.)
The good news is that by sticking to a few river equipment manufacturers that have been producing great dry bags for years, your research focus doesn't have to be on quality, but simply on the styles and sizes you need.
Quick links to this guide to dry bags
What are dry bags?
In the context of river running, dry bags—as opposed to dry "sacks" or dry boxes—will (if properly sealed) keep your stuff dry if you flip a boat or the bag falls out of the rigging. Even when submerged or bobbing in the river for the time it takes to right a raft, the contents will likely stay dry. Each dry bag manufacturer uses different fabrics, seam sealing, and closure systems, but they all accomplish the same goal.
Dry sacks, while useful in various situations, aren't made of the same impermeable material and don't have the same type of closure as waterproof dry bags. And dry boxes—while absolutely indispensable to any river trip—are sadly not waterproof if your boat flips.
If you have gear that can't get wet (like an expensive camera), I recommend carrying it in a waterproof case like a Pelican case, which you can put in the dry box or in a properly sealed dry bag. Electronic equipment needs a couple of layers of protection unless you're absolutely certain that the boat won't flip (and that's just asking for it).
For the purposes of this discussion, dry bags are heavy-duty vessels that can be thrown into the bottom of a boat and dragged around on sandy beaches—and still be trusted to keep the contents dry through whitewater, rain, and unexpected water immersions.
Are dry bags waterproof?
Again, the ones we're talking about—which are designed to be submerged and keep contents dry—are waterproof to a certain extent. For sure, they will keep your stuff dry if they bob in the river for several minutes until they're retrieved. It all depends on how well you've sealed the bag and how long the bag is truly submerged. Over time, dry bags can develop pinholes or otherwise degrade, but in our experience, dry bags made by the major river equipment manufacturers last decades.
How do dry bags work?
Classic river dry bags are deceptively simple in concept: They are made of waterproof material, have sealed seams, and have a closure system that is watertight. After years of innovations in dry bags, the basic design hasn't changed much. Most bags that have been going strong for years (like our circa 1987 Bill's Bag, which NRS still offers) have a simple roll-top closure.
So what is this magic watertight closure? For traditional upright dry bags (not duffel bag styles), It's crazy simple: You just roll down the top three times (the magic number) and clip the top. The contents will stay dry even after a swim.
The cardinal rule to achieve these waterproof properties is to never, ever overstuff the bag. If it's so full that you can't roll the top down three turns, you need to take some stuff out. (And just as if you were packing for a trip to Paris, you probably have too much stuff anyway. Take a third of it out.)
Upright or duffel-style dry bag?
Duffel-style dry bags are top-shelf for carrying your personal gear (clothes, etc.). If you have a duffel bag, you won't be compelled to dump your whole bag to get to that special shirt or pair of socks that you're craving for camp. But duffel bags tend to be more expensive because they depend on a special zipper to retain those waterproof qualities.
But with upright dry bags, even if they're relatively small, you'll likely end up dumping out the entire contents at some point to get to what you're after. Duffel bags are much more convenient for your personal gear.
What size dry bag?
The size of dry bag you buy depends on the type of river running you plan to do. If you're a frequent guest on raft trips and are looking for just one bag, go for a mid-size (30-liter in volume) bag that can carry your clothes and other personal gear for a few days. If you're doing day trips on a SUP or IK, you'll want a smaller bag like the Watershed Ocoee (see more notes about that below). If you're just starting to outfit a raft, definitely add a "big bag" to your list.
In the next section, we cover more details about essential dry bag styles and sizes.
Three essential dry bags for river trips
If you're just starting to assemble river trip gear and don't have dry bags yet, I recommend three different types and sizes that will address 80 percent of the situations you encounter. My recommendations assume that you're doing trips that are supported by rafts, even if you're kayaking or paddling a SUP.
Big bag for camping gear
After trying different schemes, we've determined that it's most efficient to put the tent, sleeping bags, and pillows for tent mates together in one big bag, preferably with backpack straps. By "big," we mean a 110-liter bag. Keeping all this gear in one big bag accomplishes a few different goals: If you and your tent mate are not on the same cook crew, for example, the one who isn't in the kitchen can get your tent set up.
Also, this gear tends to be bulky, so consolidating it into one bag takes less space in general. This approach also leaves each individual to pack their personal gear the way they want in a separate bag (rather than to trying to cram everything into one shared bag, which is generally a disaster).
You can see in the photo below the pile of stuff that Harry (my husband) and I pack in "Big Orange," a SealLine Pro Pack 115L. This bag easily accommodates one good-sized tent, two down sleeping bags in compression stuff sacks, and two standard pillows (recommended for a great night's sleep).
Backpack straps also are essential if you might float a river that requires a hike in to the launch site. For example, when we ran the South Fork of the Flathead, we hired horse packers to haul most of the heavy raft gear to the put-in, while we river runners hiked the 20-ish miles to the put-in with most of our personal gear and light camping gear in backpack dry bags.
Over the years, we have collected a few big dry bags, including a 1987 Bill's Bag that has developed some pinholes from our abuse and is now the bag we used to carry trash.
Modern-day Bill's Bags are even tougher than the originals. If I were buying one today, I would get the NRS 110L Heavy-Duty Bill's Bag, which is reinforced on the bottom and has a removable harness. We also use Cascade Designs' SealLine Pro Pack 115L, which has an excellent harness system. You can see from the photo below that it has wide, padded shoulder and waist straps as well as a handy handle at the top that you can use to hoist it out of the boat.
Medium-sized bag for personal gear
Again, a duffel-bag style dry bag is deluxe, but upright bags work fine, too, especially if you take a somewhat minimalist approach. For an affordable, sturdy, all-around medium-size dry bag, the SealLine Baja Dry Bag (an upright style) works great.
If you're looking for a duffel bag, you'll find most dry bag manufacturers now offer these. A few to check out are the Watershed Yukon, the SealLine Pro Zip Duffel, and the NRS Expedition DriDuffel Dry Bag. (We own the Watershed Yukon, not the others, but we have other bags by these manufacturers and can vouch for them.)
So what duffel dry bag do we have in our group? One that isn't well known in the boating circles: It's a waterproof duffel from Ortlieb, which makes bags for bicyclists and motorbikers as well as outdoor adventurers. This bag has kept gear dry after complete submersion, has a watertight zipper, and a nice padded strap. Just something else to consider if you want to mix things up in your dry bag collection. Ortlieb has a nice collection of roll-top dry bags, including the Ortlieb Dry-Bag PS10 Valve, which is available with a valve and straps for maximum compression (great for sleeping bags), and the hefty Ortlieb X-Tremer 150L.
Tips for packing an upright dry bag
You can make an upright dry bag with a roll-top closure work for your personal gear with some savvy packing. Here's the scheme I use to cut down on dry bag dumping:
Put your camp boots or hiking shoes on the bottom: That will keep the sand and dirt on them at the bottom of your bag, and it's fairly easy to slide those big items out without dislodging the rest of your bag.
Put just-in-case warm clothes on top of those shoes. Depending on whether you're on a hot desert trip (where bringing warm clothes is just a doomsday precaution) or an Idaho trip where it might actually be chilly at night, you might never use this gear. Push it to the bottom.
Put your camp pants and shirts on top of the warm clothes. You will be using those every night, so they should be fairly close to the top.
Put underwear and sleeping clothes in a mesh bag on top of those. Keeping those essential but small items in a separate mesh bag will save time and frustration.
On top, put your toiletries bag so you can quickly get your contact lenses out, use a face wipe to get the grime off your face, apply some lotion, or pop some ibuprofen.
To give you an idea of how much you can fit in a medium-sized duffel, behold the pile of gear below, which is typically what I pack for a 4- or 5-day river trip where the evenings will be cool.
This pile includes 3 T-shirts, 2 fleece shirts, mesh bag with underwear, toiletries bag, hiking boots, sunshirt, 2 pairs of camp pants, fleece jacket, 2 pairs of shorts, light down jacket, and a couple of pairs of socks. This all fits in the SealLine Baja 30L bag.
And here's a comparison of the Baja SealLine with the Ortlieb 85.
Small dry bag for easy access
If you're paddling your own inflatable kayak or SUP, you will want a few things handy on the boat throughout the day. For that type of boat, nothing beats the Watershed Ocoee or something similar: It's a small duffel style so you don't have to dig for your belongings.
As Audrey Crockett pointed out in her post on essential accessories for SUPs, this bag also has several anchor points so you can affix it securely to your boat. And it's a great size, accommodating a decent-sized supply of sunscreen, snacks, and even an extra fleece.
One note: When choosing your small day bag, don't get sucked in by "dry sacks." Get an actual dry bag, as it needs to withstand steady splashing throughout the day—if not an actual capsizing—so it needs to be waterproof. If you're in a paddle raft or oar rig, everyone on the boat can typically share one small day bag.
And one more dry bag that we consider essential (but others might not) is one for our guitar. We got ours from Jack's Plastic Welding (I haven't seen a guitar dry bag anywhere else) and it's been helping us bring the music for more than a decade.
Dry bags: essential river gear
At the end of the day, any dry bag you get from one of the leading river gear manufacturers (NRS, Cascade Designs (SealLine), Jack's Plastic Welding, etc.) will work great and last for years of river running. Do you have a favorite dry bag? Drop us a comment and share your recommendation.
Read more about river gear
The Aire Tributary Spud is a little powerhouse of an inflatable kayak that is intended for kids. But it has been embraced by the … Read more
Although I wasn't in the market for a new inflatable kayak, I've been intrigued by the STAR Viper, which is representative of a newer … Read more
No question, paddling gear is expensive. It's easy to be overwhelmed by lists of must-have gear and to feel that everything must be new. … Read more
When inflatable kayaks first came on the whitewater river-running scene, they were often derided by hard-core paddlers as toy boats or duckies (but not … Read more
Some river runners don't put much stock in personal hygiene on a multi-day river trip. (Pre-teen boys come to mind.) Admittedly, a sun shower … Read more
2 thoughts on "Tips for Choosing and Using Dry Bags for River Trips"
Big Orange once served as a primary pack for a 10 day backpacking trip and did quite well.
Pros: waterproof so you needn't worry about a pack cover, can hold a lot of stuff.
Cons: no internal or external frame so how you pack it makes a huge difference, no hip strap, can hold too much stuff
If you're tromping through bogs in the rain it might be a good choice.
Good point about a frame being a bonus when you're on a long hike especially.
Source https://whitewaterexcitement.com/blog/how-many-rafters-can-fit-raft/
Source https://www.brexpeditions.com/whitewater-raft-materials-design/
Source https://riverbent.com/tips-for-choosing-and-using-dry-bags-for-river-trips/