Grand Canyon Rafting Trips
Endless in scenic wonder, rich in Native American history and loaded with fun and adventure, Western River Expeditions' Grand Canyon rafting tours are a once-in-a-lifetime experience. Exploring the Grand Canyon by river is an experience unlike any other. Discover hidden waterfalls and paradisiacal side canyons – areas of Grand Canyon National Park that are accessible only by river. Listen to the sound of the mighty Colorado River as you lie down under a blanket of innumerable stars each night of your Grand Canyon rafting vacation. Watch the morning sun cast its warm glow through towering canyon walls. Discover the rush of excitement from legendary Colorado River whitewater.
Choose your Grand Canyon rafting trip:
The Best Way to Experience Grand Canyon
The Grand Canyon. There is something truly special and magical about this place. Six million people a year look down at it from the rim, but only a fraction of that get to come down on the river and find the little hidden gems that you would never see from the top. It's a big, big place, but on the river, you get the chance to feel how small and intimate every moment is. From the bottom, you get to see all the amazing waterfalls, and side canyons and hidden oases and hikes, and history that really makes the Grand Canyon. Grand.

Grand Canyon Rafting Expeditions

3 Day Expedition
Scenic flight and helicopter entrance into Grand Canyon at Whitmore Wash
Begins and Ends: Las Vegas
Season: April-September
River Distance: 89 miles
Two nights camping by the river
Rapids: 15+ class II-III
Boat Type: Western's J-Rig
Capacity: 28 passengers
Deposit: $500 per person
Minimum Age: 9

4 Day Expedition
Scenic flight, one night stay at Bar Ten Ranch (horseback, skeet shooting and more) and helicopter entrance into Grand Canyon at Whitmore Wash
Begins and Ends: Las Vegas
Overnight at Bar 10 Ranch
Season: May-September
River Distance: 89 miles
Two nights camping by river
Rapids: 15+ class II-lll
Boat Type: Western's J-Rig
Capacity: 28 passengers
Deposit: $500 per person
Minimum Age: 9

6 Day Expedition
Upper two-thirds of Grand Canyon, helicopter exit from Grand Canyon at Whitmore Wash and scenic flight return to civilization
Begins and Ends: Las Vegas, NV or Marble Canyon, AZ
Season: April-September
River Distance: 188 miles
Rapids: 60+ class III-V
Boat Type: Western's J-Rig
Capacity: 28 passengers
Deposit: $750 per person
Minimum Age: 12

7 Day Expedition
Upper two-thirds of Grand Canyon with one extra day for exploration, helicopter exit from Grand Canyon at Whitmore Wash and scenic flight return to civilization
Begins and Ends: Las Vegas, NV or Marble Canyon, AZ
Season: April-September
River Distance: 188 miles
Rapids: 60+ class III-V
Boat Type: Western's J-Rig
Capacity: 28 passengers
Deposit: $750 per person
Minimum Age: 12

Choosing the Best Grand Canyon Rafting Experience
Raft the upper two-thirds (188 miles) of the Colorado River from Lees Ferry to the Helicopter pad at Whitmore Wash on the 6 or 7 Day Grand Canyon rafting trip. Or, explore the lower third (89 miles) of the Colorado River on the 3 Day expedition. You can add an overnight stay at the Bar Ten Ranch to make it a 4 Day Grand Canyon trip.
3 or 4 Day Trip
6 or 7 Day Trip
Length
89 miles, 4 day includes night at Bar 10 Ranch
188 miles, 6 or 7 day options ( +/- days in the canyon)
Popular Features
Travertine Gotto, Lower Granite Gorge, Pumpkin Springs, Helicopter ride into the canyon, Jetboat out
Redwall Cavern, Little Colorado River, Elves Chasm, Deer Creek Falls, Matkatimiba Canyon, Havasu Creek
Rapids
Less intense (great introduction to whitewater)
Famously intense whitewater (Crystal, Hermit, Lava Falls)
Minimum Age
9 years old
12 years old
Raft
Western J-Rig
Western J-Rig
Helicopter
Helicopter from Bar 10 Ranch (Begins river trip)
Helicopter ride to Bar 10 Ranch Airstrip (Ends river trip)
Flights & Return
Start: Air Tour from Las Vegas to Bar 10 Ranch. Return: Jetboat and coach Bus to Las Vegas.
Start: Optional Air Tour from Las Vegas to Marble Canyon. Return: Flight from Bar 10 Ranch to Marble Canyon or Las Vegas.
Grand Canyon Rafting – Frequently Asked Questions
What are my options for a Grand Canyon rafting trip? »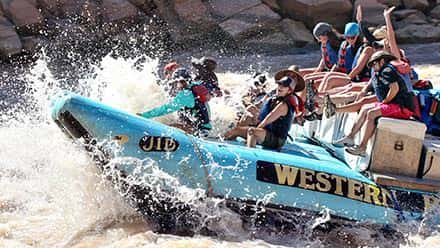 Week-long Grand Canyon rafting trips are the most popular option available, accommodating much more travel into the canyon. Miles matter when it comes to exploring all that the Grand Canyon has to offer. Some trips last for five or six days, but only travel 88 miles to Phantom Ranch. Travelers may want to consider opting for rafting trips with motorized rafts, like Western's J-Rig, to cover more ground in one week than you would with an oar-powered craft
How do these rafting packages differ? »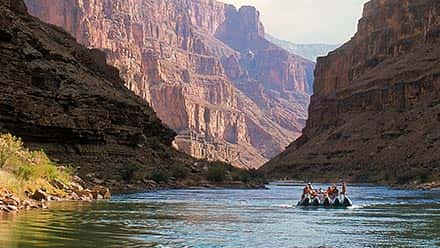 The number of days is usually the biggest difference among our Grand Canyon rafting packages. For newcomers, the 3-day expedition is usually the best introduction to whitewater rafting.
The 3-Day Expedition – A Perfect Introduction to Grand Canyon Rafting
The 3 Day Expedition is an excellent way to introduce yourself to the Grand Canyon – and even to whitewater rafting in general. Half the length of the 6-7 day trip, with milder white water rapids, and fewer, shorter hikes, the 3-day expedition is the perfect introduction to Grand Canyon rafting. The lower part of the canyon is not short on scenery though! Begins and ends in Las Vegas, Includes flight to Bar Ten, helicopter, jetboat, and motorcoach return
The Bar Ten Ranch 4-Day Grand Canyon Tour adds a night on the rim before rafting for 3 days in the lower canyon.
The 4 Day Expedition includes all the river trip of the 3-day, but pause for a night at the Bar Ten Ranch after your scenic air tour over Lake Mead and the Western end of the Grand Canyon. Enjoy horseback rides, skeet shooting, local beef BBQ dinner, an optional ATV ride, an evening of cowboy entertainment (best in the west – or at least for 80 miles around, a helicopter ride into the Grand Canyon, and a speedy jetboat ride out! Yeehaw!
6-7 Days is the ultimate Grand Canyon Rafting Vacation through the upper two-thirds of the Grand Canyon
Western's upper Grand Canyon 6-7 Day Expedition is, in our opinion, the ultimate Grand Canyon rafting vacation. It traverses the most iconic – or well known – section of the Grand Canyon, which includes popular features like Redwall Cavern, the Little Colorado, Crystal, Hermit, Granite rapids, Elves Chasm, Deer Creek Falls, and Matkatimiba and Havasu Canyons. At the end of this trip, a helicopter takes you up and out of the canyon at mile 188 to the Bar Ten Ranch airstrip for return to Las Vegas or Marble Canyon, AZ.
What's the difference between the Lower and Upper Grand Canyon? »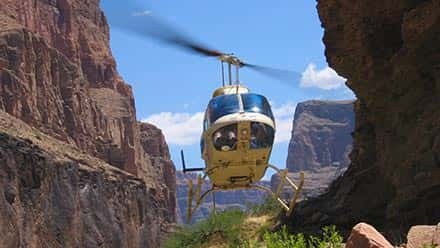 Western River's Upper Grand Canyon rafting trips comprise the first two-thirds of the Grand Canyon from Lee's Ferry to the helicopter pad at Whitmore Wash – a total of 188 miles of river. The Lower Grand Canyon rafting trips travel through the final third of the Grand Canyon from the helicopter pad to Lake Mead – a total of 100 miles of river.
Some Grand Canyon rafting outfitters split their "upper" and "lower" trips at Phantom Ranch (mile 88) where their guests hike out and new guests hike into the canyon.
Are there any age restrictions for a Grand Canyon trip? »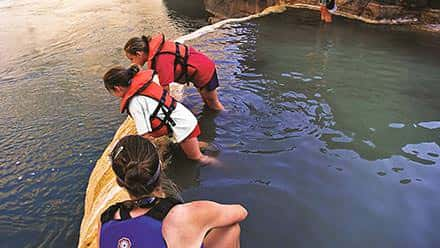 The minimum age requirement for the upper section of the Grand Canyon (Lee's Ferry to Whitmore Wash) is 12 years. The lower canyon (Whitmore Wash to Lake Mead) has less intense rapids and has a minimum age of 9 years.
The minimum age requirement for Western's upper section of the Colorado River (Western's 6 or 7-day expedition) is age 12. Families with kids ages 9-12 are best suited for the lower third of the Grand Canyon on the 3-day or 4-day expeditions.
Learn more about the physical requirements of a rafting trip with our resource page.
When is the Best Time to Raft Grand Canyon? »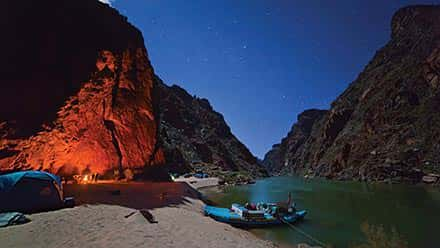 The peak season runs from April to September. Be sure to brace yourself for higher temperatures during July or August.
APRIL – April is best for witnessing the desert in brilliant cactus blooms. Rain and cooler temps are possible but are generally diminished by the end of March. Expect verdant green canyon slopes rather than the dry yellow which appears as early as June. Expect generally clear skies and clear streams.
MAY – Cactus blooms linger as temperatures rise. Generally clear skies and clear streams.
JUNE – Vegetation dries, wildflowers hide, and temperatures rise in June. Days get longer, but that doesn't necessarily equate to more hikes during the days, rather just more sunlight during camp hours.
JULY – Summer days in the Grand Canyon get HOT in July, making a nice splash in rapids or a sidestream dip all the more enjoyable.
AUGUST – Temperatures linger in the ranges of hot and produce increased cumulous shade clouds and occasional thunderstorms in the canyon. Thunderstorms in the canyon are always awesome in both sight and sound. You'll never forget the sound of thunder in the Grand Canyon!
SEPTEMBER – Sunlight shifts and shadows make the canyon more pronounced than the direct sunlight of summer.
When are helicopters used in the Grand Canyon? »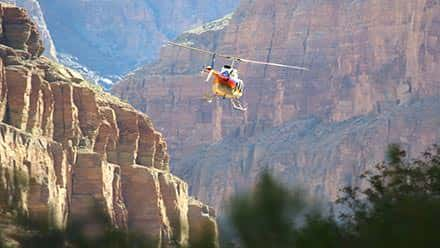 There are only a few ways into or out of the Grand Canyon—and a 7-minute Papillon helicopter ride at Whitmore Wash is one of the easiest. It's also a very memorable and thrilling way to begin or end a Grand Canyon rafting trip!
The helicopter pad at Whitmore Wash (mile 188) is positioned just within the Hualapai Tribal lands, and right at the river's edge. Guests from the upper two-thirds of the canyon fly out to Bar Ten Ranch while new guests fly in to begin a 3-day rafting trip in the remaining lower third of the Grand Canyon toward Lake Mead. In the early 1980's Western River Expeditions partnered with the Hualapai Tribe and the Bar Ten Ranch to make this the ideal exchange for guests flying into, or out of, their Grand Canyon rafting trip.
What are the rapids like in the Grand Canyon? »
The upper two-thirds of the Grand Canyon from Lee's Ferry to just below Lava Falls contains class III-V rapids. Rapids in the lower third of the Colorado River through the Grand Canyon are much milder (class II-III). If you are concerned about the level of adventure involved in Grand Canyon rafting you will be interested to learn more about the design of Western's exclusive J-Rig raft.
What should I pack for a Grand Canyon river trip? »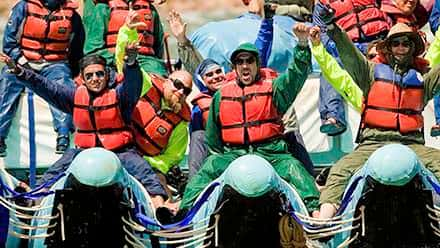 Your packing list, provided by Western River Expeditions has been carefully compiled over so many decades of running these Grand Canyon rafting trips. Some will say the list was "spot-on", while others may say they "never used this item or that". Often the difference comes down to what the weather did that week in the canyon. There is no underestimating the value in being prepared, with the right gear. That said, there is a balance in how much your one duffle bag can carry – and whether you can carry that duffle bag up the beach or not! Each trip has a packing list specific to it, so once you pick a trip, you'll know what to pack!
What is camping like in the Grand Canyon? »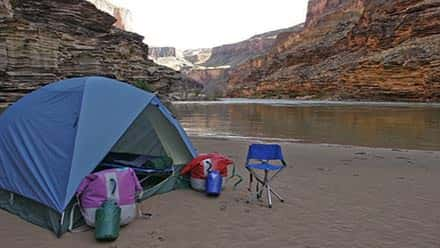 It's pretty easy to be a happy camper when your outfitter and guides provide top-of-the-line camping equipment like tents, cots, meals, and river dry bags. We will also provide instructions on how to set up your campsite to make sure you not only have proper accommodations but also the opportunity to truly bask in the scenery of the Grand Canyon.
Is hiking involved in a Grand Canyon river trip? »
Rafting trips include plenty of hiking in the Grand Canyon that allows access to waterfalls, slot canyons, native ruins, and geologic wonders that casual hikers from the rim will simply never see. The amount of hiking varies by the number of days and the trip guide. Some rafting outfitters that exchange guests at Phantom Ranch have their guests hike 7 miles or more to/from the rim a mile above to begin/end their rafting trip.
What is the experience of a Grand Canyon trip like? »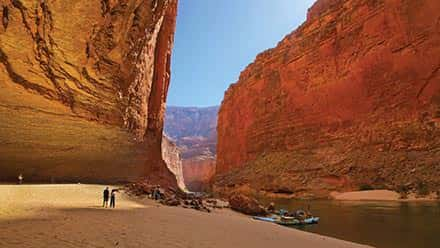 Nearly 5 million tourists visit the rim of the Grand Canyon each summer to bask in the majesty of this viewpoint. It's a part of the iconic American road trip. With opportunities to go white water rafting on the Colorado River or take a hike through this incredible landscape of geology, it is truly a sight to behold for all ages.
How much does a Grand Canyon rafting trip cost? »
For 3-4 days in the various sections of the Grand Canyon, you can expect to pay anywhere from $1,800 to $2,200. In the upper sections of the Grand Canyon, you can expect to pay between $3,400 and $4,200 for 6-7 days. Western River Expeditions trips through the Grand Canyon are on motorized J-Rig rafts. Some companies offer non-motor (oar-powered) trips that can take as long as 21 days with costs over $5,000.
How Long do Grand Canyon rafting trips take? »
All Grand Canyon rafting trips last for days and even weeks, depending on the mode of travel. There are no 1-day rafting trips in the Grand Canyon. Available access points in or out of the canyon prohibit 1-day rafting trips in the Grand Canyon.
Our upper 6-7 day and our lower 3-4 day trips are among the most popular among Grand Canyon rafting trips offered. We encourage you to come join us on the river!
Complimentary Expedition Guide!
Request your complimentary Expedition Guide download for any rafting adventure. These comprehensive PDF guides include river maps, overview, full itineraries, camping and weather information, details on physical requirements, packing lists and more.
Grand Canyon Rafting Companies and Reviews
Here's the list of rafting companies that are licensed by Grand Canyon National Park to do tours on the Colorado River.
This page focuses on extended, multi-day trips that cover the length of the Canyon, or at least half of it. Single day trips are listed on a separate page.
Choosing a Grand Canyon Rafting Company
Competition is generally a good thing for consumers, but there's a lot of businesses that run river tours down the Grand Canyon!
The sheer number of established, "grandfathered" companies may be the reason behind the dominance of commercial, motorized tours in a wilderness setting (but that's another story!).
It would take someone a whole day to comb through all of their websites. If you aren't careful, consumer fatigue could easily play a role when choosing your rafting company.
So instead of just posting a bunch of links to the companies, I've included some of the basic differences between them, and added sample prices for the 2021 season in the chart below.
If you're not clear on the difference between an "oar" trip and a "paddle" trip, or don't know the first thing about "Diamond Creek" or "Whitmore Wash," then you are not ready, Padawan. Go back and have a look at my Beginners' Guide.
Hopefully you've already made some decisions about your ideal trip, like the number of desired days, and "motorized" or "non-motorized." The next recommended step is to browse this listing. Focus on a handful of companies that seem to specialize in your needs.
As long as you choose the type of tour that suits you, then your chosen guiding company won't make or break your vacation
If you don't want to tackle all that yourself, keep scrolling to see about the free travel agents that can help you.
Comparing Grand Canyon Rafting Companies
Generally, all of these companies are wonderful. They're approved concessionaires of the National Park Service that follow a strict set of rules, especially regarding safety. Here's a link to those specific regulations.
They employ guides and crew that are some of the best, happiest people on earth that love what they do. It's a coveted job, so the companies can afford to be picky about who they hire.
Your enjoyment of these trips relies on 3 main things:
Your attitude
The attitude of those around you
The guides' management of group dynamics
In other words, there's too many variables to attribute a better experience to any particular company.
Again, it's best to focus on the style of trip that suits you – particularly the following factors:
number of days
distance covered
motorized vs non-motorized
expected activity level (more or less hiking, paddle trips, etc.)
Free Travel Agents
Still feeling overwhelmed? It's simple and free to get comprehensive help from the experts. There's a couple of organizations that are happy to be your ally in finding the best fit for you. They are:
They're able to provide this service at no extra cost to you through receiving referral fees from the individual companies. Think of it like booking a hotel through Expedia rather than booking directly through the hotel's site.
Some Notes about the Chart Below
These guides only operate from April 1st until the end of October.
Each company has a different minimum age requirement.
The companies listed tend to focus on the full, upper, or lower Canyon.
Listed prices are only a sample of what each company has to offer, and do not reflect their full catalog. You'll have to go to each individual company's website to check on their full options and availability.
All information and pricing in the chart below is reflective of the 2021 rafting season.
If you've been on a commercial rafting tour and care to leave a review, please do so in the comments section!
Grand Canyon Rafting Trips by Advantage Grand Canyon

As experts in Grand Canyon rafting we provide a complimentary service in finding, booking and coordinating your raft trip based on YOUR needs and preferences.
The Real
Advantage
We Are Specialists. Grand Canyon rafting is all we do! We've done it in every raft, down every route and in every season.
Your Experience Is
Our Business
We'll explain why one outfitter's Grand Canyon rafting trip may be better than the another's based on your requirements and expectations.
Our Resume Is Our
Customers
We have booked thousands of passengers on trips with all 15 commercial rafting companies and it's always at no cost to you. We're supported by our outfitters.
All
Access
Access to all river trips from all outfitters all in one place. View them all now on our TripFinder – Search engine for all outfitters, or let us provide you with customized trip options.
Adventure Grand Canyon Client Reviews


"Check out Advantage Grand Canyon to book an expedition that meets your definition of 'Grand'."
Rasul S – Charlotte, NC
"Thank you Advantage Grand Canyon for putting together a trip that my wife and I will cherish a lifetime!"
Allen C – Scottsdale, AZ
"I couldn't imagine having to book this on my own. Save yourself the trouble, and go with this company."
Stephanie B – San Diego, CA
"Spent an hour on a conference call with me and my buddies answering all of our questions. Awesome service!"
Jarrett H – Del Ray, FL
"Customer service is bar none. Highly recommended for anyone wanting to experience the Grand Canyon adventure."
Anne C – Broomfield, CO
Frequently Asked Questions
Does it cost more if I book through you?
Absolutely not. We are priced exactly the same as the operators who are selling the exact same Grand Canyon river raft trips. We are a free service to you and get paid a fee from the outfitters for referrals. We do the leg work and contact every outfitter on your behalf. Allow us to assist you in finding the right trip based on your needs.
When is the best time of year to raft the grand canyon?
The rafting season is from April – October and each month has its' own beauty. Spring and Fall trips feature more mild temperatures and cooler, more comfortable sleeping conditions. June through August trips are the more popular months and often reach temperatures between 100-115 degrees during the day. The monsoon season begins on June 15 and ends on September 30, but the storms peak between mid-July and mid-August. During this time, you can anticipate occasional showers periodically. These showers often come and go and are refreshing given the high temperatures. If you're looking for a Grand Canyon raft trip with extended hiking, outfitters offer these in spring and fall as the cooler temperatures allow for longer hikes.
Restrooms – How, When and Where?
While on the river, there are plenty of pit-stop opportunities, and disposable systems should you have to go #2 when not at camp. Just ask your guide and they will accommodate! There are even ways to pee into the river while on raft, privately! When docked at camp, a toilet facility also known as the "Groover" is always available. There is a hand wash station with an "OCCUPIED" sign leading down a path to the toilet. The restroom will have a toilet seat just like what you have at home, and is much more comfortable than a port-a-potty. It will be hidden away from the view of others as placement is carefully decided on by the trip leader (proximity to the kitchen – downwind and not too close to the river) and often will feature a gorgeous view of the Colorado river.
Do I need experience to raft the colorado river in Grand Canyon?
You'll be happy to know that 70% of our guests have no previous river rafting experience, let alone never have spent a night sleeping outdoors so the answer is no, no previous experience is necessary for most Colorado river trips in the Grand Canyon. The only exception (by a couple of outfitters strong recommendation) would be a lower canyon all-paddle trip as the first couple of rapids are among the largest of the river, and there is very little time to get comfortable in the raft prior to these rapids. An open mind, a positive outlook will ensure you'll make wonderful memories that will last a lifetime on your Grand Canyon Rafting Trip
Which Outfitter Offers The Best Grand Canyon Rafting Trips?
There are 16 commercial outfitters that offer Grand Canyon rafting adventures, and they are all unique in their own way. To begin, all must keep excellent safety records and history per national park regulations. All employ very experienced guides (trained in first aid) with thousands of river miles spent rafting Grand Canyon as well as other rivers in the world. In addition, you can expect high quality rafts/gear and everything you need to ensure an amazing rafting experience. What varies is their individual itineraries: Where trips begin or end, how many river miles they travel, how many days and the raft type. Some commercial outfitters will offer sleeping cots, while others a self-inflating sleeping pad. Some will offer camp chairs, even pillows and even a way to charge you camera battery. Some focus only on non-motor trips, while others offer motor as well as non-motor. These are some of the main differences between one outfitter to the next and I recommend calling us to discuss in further detail. Our experts will match you with the outfitter/trip the best fits your needs.
Do I Need To Physically Prepare For My Trip?
Regardless of raft type (motor, non-motor) these raft trips are active and include daily side canyon hikes (elective). On these hikes, you will often cross streams, have step up onto larger rocks, so Ideally getting some exercise prior is recommended. Break in your new shoes, walk around in your new river sandals a hand full of times to avoid blisters. Walk around your neighbourhood and perhaps an elliptical machine or stair master for a couple of weeks prior. If, however, you are planning a partial canyon trip (upper or lower canyon route) which requires a strenuous 7.5-9.5 mile hike in or out of the canyon, a more serious workout program must be adopted at least 2 months in advance of your trip. Contact us and we can provide additional information.
Ready to Raft the Grand Canyon? We'll Make it Possible!
In addition to being one of the most popular tourist destinations in America, the Grand Canyon is also home to an unmatched assortment of world-renowned rafting routes and adventure destinations. Each year, over 22,000 vacationers and travelers descend on the Grand Canyon to experience the Colorado River's world-class rafting routes for themselves. As a result, the process of planning, scheduling and booking personal water rafting trips or canyon tours ranges from impractical to downright impossible.
Fortunately, Advantage Grand Canyon can provide you with the itinerary planning tools and outfitter connections to circumvent this logistical nightmare. Specifically, Advantage Grand Canyon will cut through booking delays and scheduling red tape, guiding you through the three key steps to planning a river rafting trip on the Grand Canyon:
Deciding on a suitable trip length, raft type and rafting route.
Connecting you with one of the sixteen major rafting outfitters operating along the Colorado River.
Creating a comprehensive pre/post trip itinerary and packing list.
Grand Canyon Rafting Trips – How To Plan Yours
Commercial Colorado River rafting operations in the Grand Canyon are only active from April through to October. Because Grand Canyon rafting expeditions are so popular, we highly recommend that would-be adventurers plan and book their trip reservations at least a full year in advance. If you're looking for a late booking, get in touch and we'll see if any outfitters have free spots due to last-minute cancellations.
To help you plan the perfect trip, Advantage Grand Canyon collates and categorizes an exhaustive amount of rafting expedition data from each of the sixteen rafting outfitters operating in the Grand Canyon. You can use the Advantage Grand Canyon database to filter for a range of trip features, including trip length, start/end date, activity itineraries, tour pricing, gear provisions, raft type and route availability. The results of this search make it easy for travelers to compare trip options and narrow down their search to a single outfitter.
Choosing the Right Raft Type
There are five main rafting options you can choose from when planning your Grand Canyon river rafting trip. We've listed a brief description for each of the main raft types below:
Motor
Motor rafts are the most popular rafting option for Grand Canyon trips. Motor rafts are typically around 35 feet long and can comfortably hold up to fifteen passengers plus dry bags and camping gear. The minimum age to experience Grand Canyon river rafting on a motor raft is 8 years old.
Guided by a qualified tour guide and powered by a quiet four-stroke engine, motor rafts typically travel at around 8 miles per hour — that's nearly twice the average speed of the Colorado River's current. As a result, motorized trips are widely regarded as the most time-effective way to explore the Grand Canyon and Colorado River.
Oar rafts are a medium-sized raft type that can typically seat between six and eight passengers. Directing and propelling an oar raft are the responsibilities of your rafting guide — passengers are NOT required to assist with the rowing. The average speed of an oar raft rarely exceeds the speed of the Colorado River current, around 4 miles per hour.
One advantage of using an oar-powered raft, as opposed to a motorized raft, is that the float trip speed of an oar raft allows you, the passenger, to spend more time chatting with your river guide and exploring the sandy shores of the Colorado River.
Paddle
Paddle rafts are the smallest raft type available for Grand Canyon river rafting. Unlike motor rafts or oar rafts, passengers on a paddle raft have to use a small wooden paddle to assist with the propulsion and steering of their raft.
During a river rafting trip, paddle raft passengers will need to closely follow their rafting guide's instructions, especially while traversing the Grand Canyon's whitewater rapids. Because travelling on a paddle raft is more physically demanding, we recommend that you only select this option if you have previous experience with paddle-powered river runners or rafts.
Dory rafts are a relatively uncommon sight along the Colorado River; in fact, only two Grand Canyon rafting outfitters currently support dory trip rafting tours. A dory raft can hold up to four passengers plus a rafting guide.
Unlike the inflatable rafts described previously, Grand Canyon dories are constructed from either hardwood or fiberglass. Because of their rigid and canoe-like design, dory rafts are marginally faster and significantly more agile than other non-motorized raft types.
Hybrid
The term "hybrid raft" doesn't actually denote a specific type of raft; instead, it refers to a raft formation that includes both paddle rafts and oar rafts. By grouping these raft types together, passengers can experience and alternate between two different yet highly complementary rafting options.
Choosing a Grand Canyon Rafting Route, Click Here!
When you use Advantage Grand Canyon's trip planning database, it's easy to tailor your river expedition to both your rafting preferences and trip-length requirements, from thrilling day-long whitewater rafting trips to relatively serene multi-day floats downriver. For more detailed information on routes, rafts or the classification of rapids, you can either search through our comprehensive trip database or submit a full-service Build My Trip itinerary request.
If you're short on time, you can choose from a wide array of whitewater rafting and canyon hiking day trip expeditions. However, if time isn't an issue, there's no better way to explore the Colorado River than to raft the entire Grand Canyon, a 280 mile journey that starts from the put-in at Lees Ferry and ends at Lake Mead. If you'd prefer a shorter multi-day trip, our highly experienced Grand Canyon rafting outfitters also carry out a variety of rafting expeditions along the Upper and Lower Canyon.
The Upper Canyon stretches from Lee's Ferry to Phantom Ranch and is approximately 88 miles long. The two most popular Upper Canyon routes are Lees Ferry to Whitmore Wash and Lees Ferry to Diamond Creek.
The Lower Canyon runs for 192 miles from Phantom Ranch to Lake Mead and is one of the most popular stretches of the Grand Canyon. Rafting expeditions in the Lower Canyon take on some of the most notorious whitewater rapids along the Grand Canyon; namely, Lava Falls and Crystal Rapids.
Remember, if you choose a rafting expedition with a put-in or take-out point at the canyon rim, you'll need to complete an 8 mile accessibility hike along the Bright Angel Trail. Canyon hiking up or down the Bright Angel Trail is a physically demanding trek; therefore, we recommend that you rack up some hiking experience (if you haven't already) in high temperatures and high humidity if you're considering a mid-canyon rafting trip.
Making the Most of Grand Canyon National Park, Click Here!
Whether you're on a motorized raft trip or a paddling adventure, our exciting Grand Canyon rafting trips offer near-constant opportunities to make the most of the Grand Canyon and soak up the natural beauty of the Colorado River. In a single hour of rafting, it's not uncommon to go from the roar of rushing whitewater to the glacial elegance of ancient limestone rock formations.
During breaks from rafting, you'll also have the chance to join your tour guide and fellow passengers on optional canyon rim tours and hikes. Canyon hikes along the north, west and south rim of the Grand Canyon not only offer spectacular views, they also give you the opportunity to learn more about the cultural significance of the Grand Canyon to Native Americans. For more information about the Native American inhabitants of the Colorado River Basin, we recommend that you make a stop at the nearby town of Peach Springs, the capital of the Hualapai nation.
Depending on where your rafting adventure concludes, you may have the opportunity to exit the Grand Canyon via a helicopter tour. On an extended helicopter ride, you'll have the chance to inspect other major canyons and lakes intersecting the Grand Canyon or Arizona river basin, including world-renowned sites like Antelope Canyon, Lake Powell, Cataract Canyon and Glen Canyon.
Source https://www.westernriver.com/grand-canyon-rafting
Source https://www.downthetrail.com/grand-canyon-rafting/rafting-companies-and-reviews/
Source https://www.advantagegrandcanyon.com/