Where to Stay in Napa Valley: 7 Best Areas
When looking for where to stay in Napa Valley, there's no shortage of "Wine Country" towns to choose from where you can enjoy easy access to hundreds of sprawling vineyard estates that span from the foothills to the bay!
Famed for its hilly vineyards and gourmet culinary scene, California's Napa Valley transports visitors to a land of endless summer just north of San Francisco.
Many of the best areas to stay in Napa Valley provide access to world-class vineyards, spas, restaurants, shopping, excursions and more.
When planning a Napa Valley vacation, it's important to know how to get around because this destination is much more spread out than other parts of California.
Napa County has a fixed-route bus system called VINE that runs the length of Napa Valley daily with a starting point in Napa City. Terminating in the San Francisco Bay Area, VINE runs all the way to the ferry terminal in Vallejo.
There is also another transportation option called the Napa Valley Wine Train that brings you on a 36-mile trip to and from St. Helena on refurbished antique railway cars.
That said, most people who vacation in Napa Valley rent cars to make it easier to get from place to place.
Many of the region's resort-style hotels are located at least a small distance from the center of the nearest town. However, some of the busier wine towns have major hotels attached to their downtowns.
Table of Contents
Where to Stay in Napa Valley: 7 Best Areas
1. Napa City, where to stay in Napa Valley for first time
Known as the "heart" of Wine Country, Napa City is famed for having one of the loveliest historic downtowns in California.
Downtown Napa City is centered on a riverfront promenade that's buzzing with restaurants and shops. You can even rent kayaks to paddle along the Napa River for a nice change of pace.
Some highlights of downtown include the famed Oxford Public Market and the historic Napa Valley Opera House. However, Napa City is best known for its collection of wine-tasting rooms.
While this city has a small, intimate feel, you'll find no shortage of hotels to choose from. If you're staying near the promenade, you'll have your pick of major hotel chains right in downtown.
If you'd like to find something slightly cheaper, you can save up to a $100 by staying somewhere located within a five-mile walk of the city's center.
You'll also find a number of resort hotels peppered all throughout the city's outskirts that offer views that are more open to the hills surrounding you.
BEST PLACES TO STAY IN NAPA
2. St. Helena, one of the most popular Wine County cities
The starting point for many Napa Valley holidays, St. Helena has a beautiful main street lined with restaurants and shops. It is peppered with everything from gourmet chocolate shops to Michelin-rated restaurants offering private cooking lessons.
Favorites like Beringer Vineyards, Charles Krug Winery and Merryvale Vineyards are located right on Main Street in St. Helena. Further out, you'll find world-class vineyards like Pride Mountain Vineyards and Merryvale Vineyards.
When not soaking up the wine experience in St. Helena, a visit to the famed Robert Louis Stevenson Museum gives you a chance to tour the perfectly restored home of the famed writer.
St. Helena's Robert Louis Stevenson State Park features a gorgeous trail that will bring you to a summit where the entire San Francisco Bay Area is on display from an eagle-eye vantage point!
An elite place to stay in Napa Valley, St. Helena is peppered with resorts and wellness spas that charge top dollar to stay in one of the most popular Wine County cities.
McKinstry Street Station in St. Helena is where boarding begins for the Napa Valley Wine Train route!
BEST PLACES TO STAY ST. HELENA
3. Calistoga, where to stay in Napa Valley in a spa and wellness destination
A true spa destination, Calistoga is one of the smaller Wine Country towns. It's a great place to stay in Napa Valley if you're booking a stay for the sole purpose of rejuvenation due to its collection of natural hot springs and mud baths.
It is also home to California's Old Faithful Geyser. In fact, this is one of the only spots in Napa Valley where the wine scene is actually upstaged by the wellness scene.
Nearly every hotel is a wellness retreat that offers dips in mineral pools, sunrise yoga and healing hikes.
However, historic vineyards like Schramsberg Vineyards, Vincent Arroyo Winery and Chateau Montelena provide ample opportunities to tour estates dating back to the 1800s.
Of course, the crown of Calistoga is Castello di Amorosa. Built to resemble a true medieval-style castle, this winery transports you to Tuscany in the heart of California's wine country.
If you'd like to get out among the redwoods, Bothe-Napa State Park is a beautiful hiking spot in Calistoga.
BEST PLACES TO STAY IN NAPA VALLEY IN CALISTOGA
4. American Canyon, where to stay in Napa Valley on a budget
A low-profile Wine Country destination compared to others on the list, American Canyon is just being discovered as a NorCal gem.
Famed for its beautiful bay views, the city offers a number of nature points to explore when you want to take a breather from wine tours.
Wetlands Edge Park places you right on the Napa River and Bay Trail to explore a watershed system that connects to the San Francisco Bay.
For bird watchers, there's no better spot in American Canyon than Glass Beach.
For a complete change of pace from American's Canyon's vast network of nature trails, plan a trip to the 24-hour Napa Valley Casino.
As far as accommodations, American Canyon is a budget option when compared to other towns in Napa Valley.
The city has a steady supply of lower-end hotel chains without the huge variety of spas and resorts that you'll find just a few miles away.
BEST PLACES TO STAY IN NAPA VALLEY IN AMERCIAN CANYON
($$)Holiday Inn Express Hotel & Suites Napa Valley-American Canyon, an IHG Hotel
($$)Fairfield Inn and Suites by Marriott Napa American Canyon
($)Hampton Inn Discovery Kingdom Napa Gateway
5. Yountville, a picture-perfect town
If you happen to see colorful hot-air balloons drifting over the pastoral slopes of Napa Valley, it's almost guaranteed that they took off from Yountville.
Home to Napa Valley Balloons, Yountville is a picture-perfect town that's peppered with some of the best restaurants in Napa Valley.
In fact, people come from throughout the Bay Area just to dine at the French Laundry. Downtown Yountville is peppered with gourmet chocolate shops, art galleries and European spas.
To scratch your shopping itch, check out the Shops at the Marketplace for one-of-a-kind, ultra-upscale boutiques.
To enjoy a self-guided tour of the Yountville Art Walk, simply follow the cues after starting at the famed Gallery 1870 located at V Marketplace on Washington Street.
Of course, Yountville more than holds its own when it comes to the selection of wineries offered. The list of must-visit wineries in town includes Bell Wine Cellars, Cosentino Winery, Cliff Lede Vineyards and Priest Ranch Winery.
Peppered with resorts and spa-style hotels that represent some of the priciest per-night stays in all of Wine Country, Yountville is a place to skip if you're seeking large hotel chains or budget stays.
BEST PLACES TO STAY IN YOUNTVILLE
6. Rutherford, home to magnificent and historic winery estates
Rutherford is best known for being a "Cabernet Country" tucked within Wine Country. The beautiful output here is credited to the famed "Rutherford dust" soil that is baked into the rolling hills.
Rutherford is home to some of the most magnificent and historic winery estates in all of Napa Valley.
The list of must-visit estates includes Cakebread Cellars, Peju Winery, Round Pond Estate, Rutherford Hill Winery, Inglenook and the St. Supery Winery.
In fact, Rutherford is one of the major highlights of the Napa Valley Wine Train.
BEST PLACES TO STAY IN NAPA VALLEY IN RUTHERFORD
7. Oakville, a low-key place to stay in Napa Valley
A quiet NorCal hamlet, Oakville can be easily missed if you speed by the exit on Highway 29. However, you might want to pinpoint this wine-country gem if you're looking for a low-key place to stay in Napa Valley.
For those in the know about wine culture and history, Oakville is famed for being home to the legendary and enigmatic To-Kalon vineyard.
Considered by wine historians to be the most important growing spot in California, the well-drained soil that makes up To-Kalon has actually been the source of "turf wars" among wine dynasties for years.
It's a fun spot to see for people interested in California's wine history. Some of the epic wineries that can be visited without contention in Oakville today include Opus One Winery, Turnbull Wine Cellars and Silver Oak Cellars.
The acclaimed Robert Mondavi Winery in Oakville is considered to be one of the most important education centers for wine in North America.
The first winery developed in Napa Valley in the post-Prohibition era, the beautiful estate hosts everything from educational tours to live concerts today.
While Oakville is a must-see spot on any Wine Country itinerary, it's not an easy place to stay in Napa Valley if you're looking for an abundance of overnight accommodations.
Tiny Oakville doesn't have the large collection of hotels and inns that you'll find in neighboring towns. Many people choose to stay just a few minutes away in Yountville or Rutherford.
Top 15 Places to Visit in Napa Valley, California
The rolling, sun-kissed landscapes of Napa Valley, California, have entranced locals and visitors for well over a century. During that time, the area has exploded into a popular tourist destination with a wide variety of options for visitors looking to explore the top places to visit in Napa Valley.
Known as one of the top viticultural areas in the world, the fertile soil of the valley, combined with its near-perfect climate, have made this area a premier location for grape growing and wine producing.
But while it's famous for its world-class wines, especially its prized Cabernet Sauvignon, and the more than 400 wineries that call the valley home, this Californian paradise is also a noteworthy culinary hotspot, boasting some of the state's finest dining. Along with that comes beautiful, lavish accommodations at charming bed and breakfasts and large resort hotels and even a growing craft beer scene. These are the top 15 places to visit in Napa Valley.
Located roughly 75 minutes north of San Francisco is the city of Napa, California, the second-largest city in California's wine country after nearby Santa Rosa. Founded in 1847 by California pioneer Nathan Coombs, Napa's downtown area is known for its late-1800s and early-1900s architecture; a popular promenade along the Napa River, which is lined with an array of shops and restaurants; and a thriving arts scene that includes the Napa Valley Opera House. Also known for its great food and, of course, its wine, Napa serves as the perfect gateway to the expansive and world-famous wine country to its north.
Napa Palisades Saloon
Situated on the corner of First and Main Street in downtown Napa, California, Napa Palisades Saloon is a rustic gastropub and brewery with a true Americana vibe that serves local craft beers, including ones from their own Napa Palisades Beer Company, as well as numerous guest taps.
In addition to their beers, Napa Palisades Saloon's menu also offers gourmet American comfort and pub food, unique draft cocktails and wines, and whiskeys, which can be enjoyed while watching sporting events on one of their eight big-screen TVs or on their outdoor patio.
As far as beers go, their fantastic Loco IPA their Gold Rush Red are must-haves. It's easy to think a saloon might not have amazing food, but Napa Palisades Saloon bucks that idea with a sensational menu that offers juicy and decadent burgers, a delicious avocado toast with cotija cheese, beer-soaked ladyfingers, and much more. This gastropub food can't be topped and make Napa Palisades Saloon one of the top places to visit in Napa Valley, without a doubt.
Oxbow Public Market
Known as the best community gathering place for food and wine in downtown Napa, and one of the best places to visit in Napa Valley, Oxbow Public Market is a 40,000-square-foot marketplace that offers a little bit of everything for everyone, with food vendors, artisan cafés, and even an organic produce outlet for local farms.
Founded in 2007, the market is all about organic and sustainable agriculture and the local harvest and is an active supporter of local food producers and the Napa Valley agricultural community. Their goal is to improve the food culture of Napa Valley through community outreach, education, and supporting local farms and businesses.
Some of Oxbow Public Market's highlights include buying some fresh meat at Five Dot Ranch. You can also buy rubs and spices for your meat nearby, and at other shops, and you can sample local olive oils, including a fantastic jalapeno one, and buy freshly-made pizzas. If you go to Five Dot Ranch, I recommend getting a T-Bone steak with some macaroni and cheese on the side. They're both phenomenal choices, as are the raw oysters at Hog Island Oyster Co.
Eiko's Fish Market is a great place to grab an incredibly fresh rainbow roll. I've eaten sushi all over the world and theirs is some of the best I've ever had! Wash it all down with some local craft beers or a flavorful cocktail from Napa Valley Distillery to top off your Napa Valley culinary experience!
Andretti Winery
If wine is what you're after in Napa Town, you'd be remiss to pass up Andretti Winery, an award-winning boutique winery hidden along a quiet country road in the Oak Knoll District. Radiating the charm of an old, rambling Italian village, visiting this Tuscan-themed winery, a passion project of famed racecar driver Mario Andretti, is like taking a trip to centuries past, where a slower pace of life was the norm.
After marketing a commemorative bottle of wine in 1994 to mark his retirement from competitive auto racing, Andretti was bitten by the wine bug and teamed up with longtime friend and former Kmart CEO Joe Antonini and purchased a 53-acre vineyard and winery in the northern part of Napa, California the following year, and the winery officially opened in 1996.
Today, Andretti winery boasts a large selection of super-premium wines made from grapes that grow on-site and others that are sourced from various locations around California, which can be sampled in their tasting room. Their 2014 Syrah is a delicious selection, as is their 2015 Pinot Noir, while their 2015 Muscat is a wonderful dessert wine that isn't too sweet. Andretti Winery is the perfect spot to kick off any Napa Valley wine country adventure!
Silverado Resort and Spa
Visitors setting out to explore the Napa Valley over the course of several days will need a place to recharge and relax in-between tastings and tours and there's no better place to get some R&R in the area than the Silverado Resort and Spa, which is situated on a beautiful 1,200-acre estate that features gorgeous oak groves and picturesque vineyards. This historic, award-winning resort and spa located just 10 miles outside Napa Town is the epitome of Napa Valley serenity and is surrounded by some of the area's most renowned wineries.
If you prefer Rhone Valley Wines here are some Rhone Blend Wines you might like!
Boasting 340 large, one-bedroom condominium suites, some of Napa Valley's best dining, top-of-the-line business facilities, a 16,000-square foot full-service spa, an exercise facility, and a plethora of on-site recreational activity areas such as ten tennis courts, ten swimming pools, and two eighteen-hole golf courses, Silverado Resort and Spa has everything any wine enthusiast, or anyone looking for a peaceful getaway, could possibly want or need.
Book your stay today to see why Silverado Resort and Spa is one of the top places to visit in Napa Valley!
Miminashi
If you find yourself craving fine Japanese food during your time in wine country, never fear, because one of Napa Valley's best restaurants, Miminashi, also happens to be the best place in the area for high-quality Japanese cuisine. A hidden gem even among locals, Miminashi is an Izakaya-style restaurant whose menu and interior design honor the spirit of Japanese culture. Miminashi came into being after chef and owner Curtis Di Fede fell in love with Japan and its cuisine after spending time in the island nation following his departure from his previous restaurant, a southern Italian-influenced restaurant also in Napa.
Miminashi's extensive menu offers a variety of yakitori, or grilled and skewered meat, including nearly every part of the chicken and various cuts of beef tongue; yellowfin tuna sashimi; delicate chicken wings; spicy Tantanmen ramen with pork, green cabbage, egg, and nori; a savory egg custard with asparagus and snap peas called chawanmushi; wontons called gyoza with pork and ginger; a grilled Monterey Bay squid salad; a savory pancake called okonomiyaki made from tasty Napa cabbage; and many more mouthwatering options.
I highly recommend their succulent Hawaiian tuna sashimi, amberjack sashimi, and salmon sashimi, as well as the pork belly yakitori and chicken fat fried rice, all of which are made to perfection. Discover this hidden gem in Napa by having a fantastic meal there the next time you're in California wine country!
Yountville
In the North Bay part of the San Francisco Bay Area is Yountville, a small town of under 3,000 residents that went by the name Sebastopol from 1855 to 1867. The town was named after a trapper and early pioneer named George Calvert Yount, who moved to California from New Mexico in 1831 and is known for establishing the first vineyard in the Napa Valley area. Since then, the number of vineyards in the valley has exploded, and the town of Yountville is now known for its gourmet diners and two Michelin-starred restaurants.
Silver Trident Winery
The Silver Trident Winery in the heart of Yountville next to Bistro Jeanty, is a fantastic spot to begin your tasting room hopping adventure.
This small winery's passion for richly layered wines with depth and complexity is apparent from the moment you step inside. Everything from their grapes to their staff is handpicked, and they ensure the quality of their wines by focusing their passion on every step of the wine-making process.
Silver Trident's Cabernet Sauvignon is their specialty, much like the rest of the Napa Valley region, but their menu also contains unique varietals including a Rosé Pinot Noir, a Pinot Noir from the Russian River Valley, and a rare Malbec that can't be found in many other places. If you're a lover of complex and layered wines, Silver Trident is a must!
JCB Tasting Salon
The JCB Tasting Salon, also in Yountville, is a very unique wine country experience that fuses their exclusive Napa Valley wines with luxury and high-end style and fashion, in a combination tasting room and retail shop that is the brainchild of Jean-Charles Boisset. Each wine in his JCB Collection is a limited edition and is a celebration of Boisset's French heritage and love of California.
I highly recommend JCB Tasting Salon's sparkling wines, which are imported from Burgundy, as well as their Pinot Noir from Burgundy and the Russian River Valley, their 100% Cabernet Sauvignon, and their Surrealist, which is out of this world. In their shop, you can find lavish products including the custom-designed JCB jewelry collection, luxury home and wine accessories, glassware, JBC perfumes, and more, all of which make for great gifts for the special people in your life.
For a taste of opulence alongside your wine, give JCB Tasting Salon a visit!
Jessup Cellars
The third and final tasting room I recommend in Yountville is Jessup Cellars, whose staff is known as the friendliest and most knowledgeable in all of wine country! Over the last two decades, this family-owned spot has become known for their ultra-premium wines, and for being as passionate about 'the art of the blend' and their varietal wines from select Napa Valley vineyards as they are about giving back to their community by supporting the arts and other worthy, local causes.
Jessup Cellars focuses mostly on red blends, but also create an amazing Sauvignon Blanc and Chardonnay. Pretty much every grape that grows in the Napa Valley area is represented somewhere on their menu. Their 2016 Sauvignon Blanc, 2014 Pinot Noir, Sauvignon Blanc-based blend called Table For Four, 100% Petite Syrah, and Infinite Recursion blend are all incredible, and I highly recommend them!
Do not miss out on this incredible tasting room! It is, without question, one of the best places to visit in Napa Valley!
Cliff Lede Vineyards
Located on a sixty-acre estate in Napa Valley's Stag Leap District is Cliff Lede Vineyards, which was established by a Canadian Bordeaux enthusiast named Cliff Lede in 2002.
With the help of Napa Valley's best viticulturist, David Abreu, the vineyards were replanted to focus on producing wines from estate vineyards. Three years later, a state-of-the-art winery and a cave system were built into a hillside above the vineyards.
Cabernet Sauvignon, Sauvignon Blanc, and Cliff Lede Vineyard's flagship Poetry Cabernet Sauvignon are among the most popular wines crafted by winemaker Christopher Tynan. The estate also boasts a five-bedroom bed and breakfast that operates like a private villa, called Poetry Inn, whose elegant rooms feature awe-inspiring views of the valley below, private balconies, and indoor and outdoor showers.
Their Pinot Gris is fantastic, as are their Fel wines from northern California. I also recommend their Pinot Noir and Cabernet Sauvignon, both of which are outstanding!
St. Helena
Also in the North Bay part of the San Francisco Bay Area in Napa County, roughly midway between Yountville and Calistoga, is the small city of St. Helena, which is only 5.03 square miles in area and is home to just under 6,000 people. The city is known as the location of a branch of the Culinary Institute of America, and its exceptional food extends to its phenomenal eateries. The St. Helena American Viticultural Area is comprised of 416 vineyards, which sit on 6,800 acres, and includes some of Napa Valley's best wines.
The Model Bakery
If you're looking to visit a St. Helena mainstay that serves some of Napa Valley's best breads, baked goods, breakfasts, and lunches, pay a visit to The Model Bakery, a nearly 90-year-old establishment that has served as a charming community gathering place since 1908.
Already a well-known local spot for decades, The Model Bakery saw its popularity increase in 2017 after the eatery's English muffin was featured on talk show host and philanthropist Oprah Winfrey's list of her favorite things. Oprah even gets a monthly shipment of English muffins from them!
The English muffin certainly lives up to the hype. It's a delicious, crispy, and buttery English muffin that is perfectly toasted. I recommend having the English muffin breakfast sandwich, their wonderful scones, and their croissant sandwich with bacon, cheese, and pesto. Be sure to also try the English muffin with some of their phenomenal almond butter. It should come as no surprise that The Model Bakery is one of the top places to visit in Napa Valley!
Goose and Gander
The delicious culinary traditions of St. Helena can also be experienced at Goose and Gander, one of the best-rated restaurants and one of the top places to visit in Napa Valley. This public house, which serves creative and unpretentious American fare, is not only popular with locals; it is also a place where people passing through the city often stop to grab a bite to eat.
The menu at Goose and Gander, which features rustic American cuisine and bar bites, is constantly evolving and changes based on what is in season at the moment.
The shrimp and grilled watermelon salad with jalapeños is a spicy and refreshing starter, and for your entrée, you can't go wrong with either their famous burger or fried chicken sandwich with a mixed green salad on the side. Their inventive desserts, which include a chocolate layer cake with ganache-style layers, spearmint ice cream, fried huckleberry hand pies, corn mousse, and pistachio crisp, are all heavenly and the perfect way to cap off a wonderful lunch!
Pride Mountain Vineyards
Located on the border between Napa and Sonoma Counties in the San Francisco Bay Area is Pride Mountain Vineyards, which is technically located in Santa Rosa, California, and can be reached by driving west from St. Helena for roughly twenty minutes.
Previously named Summit Ranch, Pride Mountain Vineyards' 235-acre estate blends perfectly with the rugged, mountainous terrain around it and was founded in 1989. The wines at this family-owned winery are barrel-aged in a 23,000-square-foot cave system dug between 1999 and 2001, which at an average of 59°F, is the perfect temperature for aging big red wines.
Because Pride Mountain lies on the border between Napa and Sonoma Counties, every wine they make must be designated to whichever county that wine's grapes were grown in, and wine from that county's grapes must then be produced in that county, effectively creating two wineries in one facility.
The caves here were dug right into the nearby mountain. It's easy to understand why their 2014 Merlot (80% Napa, 20% Sonoma) was called the best Merlot in America by Food & Wine Magazine after trying it, and their 2012 and 2013 Cabernet Sauvignons were both awarded 100 points. They're one of only four wineries in America that can boast two perfect scores in back-to-back years. If you're looking to try some of the best wines in all of America, you have to visit Pride Mountain Vineyards!
Auberge du Soleil
Nestled among thirty-three acres of stunning heritage olive and oak trees on a sunny, terraced hillside in Rutherford, California between Yountville and Calistoga, is one of the top places to visit in Napa Valley, Auberge du Soleil.
Opened in 1986 by French restaurateur Claude Rouas and his business partner, Bob Harmon, this gorgeous resort features fifty elegant and luxurious guest rooms and suites and offers top-notch service, stunning views, and remarkable culinary talents, which can be experienced in their on-site restaurant, which is the best place in the valley for a Sunday brunch!
From the resort restaurant's deck, you can enjoy a spectacular three-course Saturday or Sunday brunch while looking out at the picturesque serenity of Napa Valley.
With an extensive selection of menu items that include beverages like sparkling wine, mimosas, and Bloody Marys; muffins, pastries, and artisanal breads; starters such as oysters on the half shell, white corn soup, poached shrimp, potato gnocchi, and sautéed fois gras; and main courses including seared ahi tuna, northern halibut, buttermilk pancakes, duck confit hash, a Maine lobster omelet, and a Cabernet-braised short rib, there is no shortage of mouthwatering options. I can't recommend the oysters and duck confit enough; they are out of this world!
Calistoga
Calistoga, the northernmost of our recommended California wine country cities, is a town of roughly 5,100 that is located in the Upper Napa Valley and spent its early years as a mining and agricultural settlement and a tourist attraction due to the natural hot springs in the area. The Calistoga American Viticultural Area is noted for its volcanic soil, hot days, and cool nights, which contribute to the color, flavor, acidity, and structure of the wines produced there.
Castello di Amorosa
Along St. Helena Highway in Calistoga is Castello di Amorosa, a gorgeous, medieval-style castle whose towers, ramparts, perfectly manicured grounds, and picturesque surroundings could make you swear you've been transported to the rolling hills of Tuscany.
The castle, which was initially meant to be a simple, farmhouse-style winery when it was conceived by owner and fourth-generation winemaker Dario Sattui in 1993, serves as a 13 th -century-style winery and offers guided tours to its guests, tastings of their Italian-style wines, and daily food and wine pairing experiences.
Many of Castello di Amorosa's components were brought over from Europe. The winery features stainless steel fermentation tanks, which are used to produce their white wines, as well as an incredible underground wine cellar and grand barrel room with hundreds of barrels. The castle also features an underground armory to add to the medieval aesthetic. The architecture is mesmerizing and the wine is even better!
Their Pinot Bianco, Pinot Noir, Cabernet Sauvignon, La Castellana Super Tuscan blend, are all absolutely delicious and highly recommended. Because Castello di Amorosa doesn't distribute their wines, you either have to visit the castle to try them or buy some from their online store. If you love exceptional wine, Castello di Amorosa is easily one of the top places to visit in Napa Valley.
Madrigal Family Winery
One of the best wineries to tour in the Calistoga area is the Madrigal Family Winery, whose history dates back to the 1930s when current winemaker Chris Madrigal's grandparents family left Mexico for Napa Valley and began farming apples, walnuts, pears, and grapes.
Since then, three generations of the family have farmed some of the valley's finest vineyards. Today, Madrigal Family Winery, which produces 15 kinds of wine that's meant to be matched with food and was established in 1995, produces roughly 6,000 cases of wine annually.
The staff at Madrigal Family Winery, is courteous and knowledgeable. I highly recommend their 2014 Napa Valley Sauvignon Blanc, a delicious summer wine that has a lot of fruit flavor, as well as their oak-aged Sauvignon Blanc (which has notes of pineapple and apricot), their three-blend Rosé, their Las Viñas del Señor Cabernet Sauvignon, their phenomenal 2014 Petite Syrah Port, and their 2014 Petite Syrah, which was the winery's first vintage wine.
Sampling Madrigal Family Winery's delicious creations on their deck, which has a gorgeous view overlooking the vineyard, is a real treat, and the atmosphere is like a little slice of heaven. Do not miss out on this amazing winery the next time you're in the Napa Valley area!
Even if you aren't a wine enthusiast, Napa Valley offers more than enough variety to occupy your time, with incredible fine dining, interesting sites, and phenomenal resorts at every turn. But to wine lovers, the valley is an entire world of exceptional flavors and textures, expert food pairings, and fantastic winery tours that have made this area of northern California a premier viticultural destination for well over a century. It lives up to the hype and then some. Book your Napa Valley vacation today to enter a whole new realm of possibility!
Have you already been to the Napa Valley? Read more here about the best wineries around the world to visit.
25 Best Things to Do in Napa Valley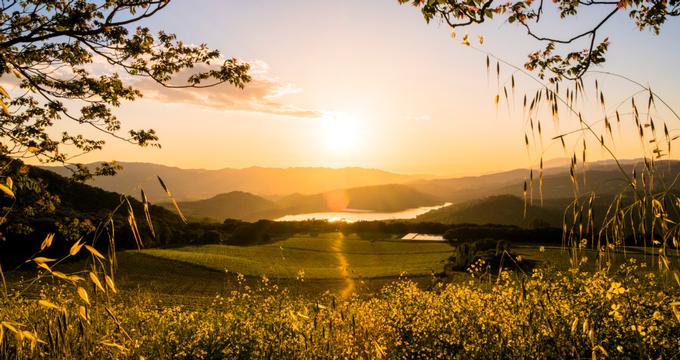 Situated on agricultural land that is perfectly suited for vineyards, Napa Valley is famous for its beautiful nature in wine making. Ride the famous Napa Valley Wine Train, stroll through Downtown St Helena, see a performance at the theater and go on a fun tour that will let you get to know this beautiful Northern California destination.
We recommend that you call the attractions and restaurants ahead of your visit to confirm current opening times.
1. Napa Valley Wine Train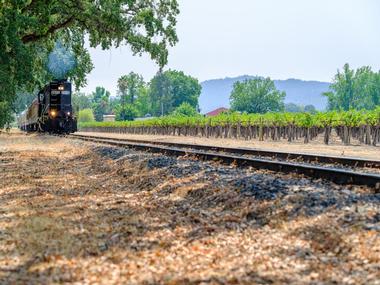 Many of us wish that we could experience the romance of the past centuries, and the Napa Valley Wine Train gives you just that. Guests are served multiple meals of their choice. The service is excellent on this antique train running along a 25-mile track in the Napa Valley.
The train has Pullman rail cars that are accented with Honduran mahogany paneling, brass furnishings, and glass partitions, not to mention the cozy plush armchairs that offer those desirable vintage memories. Guests also visit the Napa Valley Love Lock Bridge, which connects the valley's wine station to the boarding platform. They can buy padlocks inscribed with their names or initials to make their tour even more memorable.
1275 McKinstry St, Napa, CA 94559
Fun day trip ideas: Getaways in California, East Coast beaches, NC quick trip, Romantic weekend getaways — You are reading "25 Best Things to Do in Napa Valley" Back to Top
2. St Helena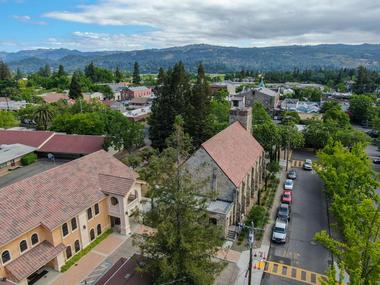 St Helena is an active community with some of the best wine immersion experiences. The town is home to some of the top restaurants in California, attracting both local and international guests with their classic meals and outstanding customer service.
Spend an afternoon in Crane Park where you can have a picnic or visit the playground with the kids. Relax at a day spa, visit an art gallery and explore the area by bike. St Helena is not to be missed on your tour of the valley.
Things to do near me today: Getaways from Seattle, NC day trips, FL, Near Atlanta, AL — You are reading "25 Best Things to Do in Napa Valley" Back to Top
3. Napa Art Walk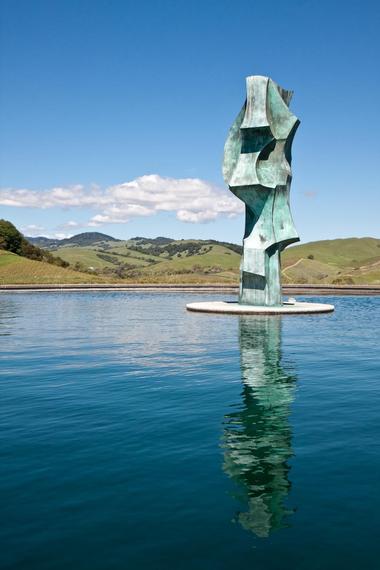 Throughout the early part of the 21st century, Napa's downtown region has been revitalized thanks to measures put into place by the city's government to control the region's historic flooding. Flooding control measures have transformed Napa's riverfront area into a highly walkable public space, offering ample opportunities for visitor exploration and biking. Napa Art Walk was launched in 2009 as a way to enhance the city's downtown environment through the display of public art pieces. As a result of the ARTWalk's popularity, the city has seen a resurgence in publicly-displayed artwork, with a number of unrelated art pieces being installed at sites and businesses throughout the city.
Napa Art Walk showcases a range of unique and beautiful art by talented artists. It also holds an international exhibition every two years, exhibiting the best sculptures of the period and offering them for sale. The selected sculptures are assessed by a jury to ensure that they are among the best. The project is a joint effort of the City of Napa and the Arts Council of Napa Valley and receives support from the National Endowment of the Arts, the California Arts Council, and a number of regional businesses and organizations. Photo credit: Infinity Visuals
3299 Claremont way #5, Napa, CA 94558
Our experts' top picks for a long weekend getaway: CO, From San Diego, VA, OH, WI, MI, IL, IL Places, VA, San Diego, TX — You are reading "25 Best Things to Do in Napa Valley" Back to Top
4. K. Laz Wine Collection
Offering tastings at two separate Napa Valley locations, the K. Laz Wine Collection can give you a glimpse behind the curtain to sample, savor, and enjoy some of Napa Valley's greatest ever wines. The K. Laz Wine Collection Yountville location is at 6484 Washington Street, Suite C, Yountville, CA 94599. Guests at this location can choose from a range of tasting options, each with its own features. Local cheeses are served alongside the wines at this location.
The secondary location for K. Laz Wine Collection wine tastings is at 500 First Street, Napa, CA 94559. The same options for tastings are available, ranging from The Taster through to The Centurion, with The Artisan and The Cult also available and offering their own unique selections of wines. There is a great selection of cheeses, charcuterie, wood-oven pizzas, and dim sum can be served alongside the various wines. Wine tastings with K. Laz Wine Collection at both the Yountville and the Napa locations should last around 90 minutes on average. Interested parties can call 707 415 5040 to learn more and all tastings need to be reserved in advance. klazwinecollection.com
More places we like: NC beaches, Ft Lauderdale, Day trips from NYC, From Chicago, PA, CT, CA, Hilton Head, Castles in Texas, GA beaches — You are reading "Fun Things to Do in Napa Valley this Weekend with Friends" Back to Top
5. Castello Di Amorosa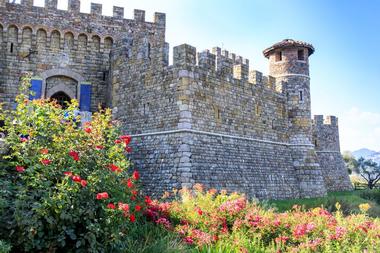 Visit this Tuscan-style castle, with its several different and captivating levels, to get a taste of an Italian winery. This beautiful site includes a stream winding through a valley surrounded by large hills.
A large hall, decorated with hand painted frescoes and furnished with a fireplace from Tuscany and a long Italian table, ideal for business meetings, can host up to 140 people. A Grand Barrel room is used to keep the wines while the French oak trees imbue them with a natural taste and color that is the perfect accompaniment to the delicious food served at Castello Di Amorosa.
4045 St Helena Hwy, Calistoga, CA 94515, Phone: 707-967-6272
Expert opinion: Where should I go this weekend for fun? FL, CA, Myrtle Beach, OR, New England weekend, Charlotte, Williamsburg, LA, PA — You are reading "What to Do in Napa Valley this Weekend" Back to Top
6. Napa County Historical Society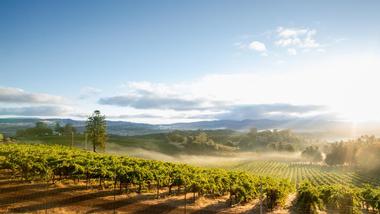 The Napa County Historical Society was established in 1948 with the purpose of preserving local history. It secured Goodman Library, close to downtown Napa, where diverse topics on Napa Valley history are kept in books, manuscripts, publications, scrapbooks, maps, blueprints, and other ephemera.
The society provides exhibits, lectures, events, and research and educational activities to keep their county's history live. Historical tours and sightseeing groups are welcome at the library. The tourists receive a guided tour from professional and experienced historians who take them through diverse topics and answer any question on historical Napa. It is a perfect experience for students and researchers who are interested in the history of America and of the Napa County in particular.
1219 1st St, Napa, CA 94559
Top Rated: Last minute places for couples: Denver, Boca Raton, Louisville, CA, Virginia Beach, San Antonio, AZ — You are reading "Top Romantic Tourist Attractions in Napa Valley" Back to Top
7. Hall Napa Valley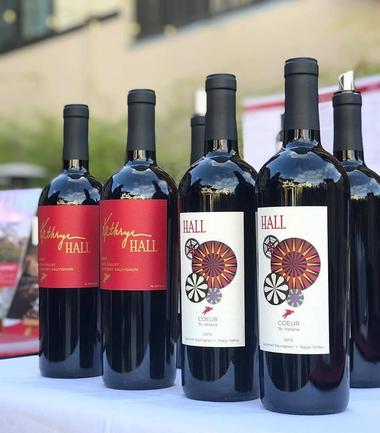 Hall Napa Valley is one of the most beautiful vineyards in Napa Valley, located near the slopes of the Mayacama Mountains. It is owned and run by Kathryn and Craig Hall. The winery is known for its superb cabernet sauvignon made in the old style of the great Bordeaux wines. The tours of the vineyard and the winery start with a glass of Sauvignon Blanc and a slow stroll around the magnificent grounds. Let their experienced wine experts tell you the stories about the Hall, its vision, and the history of the property. They will guide you through the meticulously restored historic Bergfeld building and point out some of the special pieces in the extensive art collection. The tour ends in one of their private salons where the guests can sit down and taste four of their award-winning artisan wines.
401 St Helena Hwy, St Helena, CA 94574, Phone: 707-967-2626
Affordable things to see near me, must-visit beaches: Catskills, Pink Sand beaches, Best Places to Visit, Bar Harbor, Destin, Minneapolis, Jacksonville, Key West, Nashville, AZ , From LA — You are reading "What is There to Do with Kids in Napa Valley" Back to Top
8. Brix Restaurant and Gardens
Brix Restaurant and Gardens is one of Napa Valley's most picturesque restaurants and wedding venues. The restaurant is usually open for Lunch and Dinner Service, as well as Carry Out.
It originally opened in 1996 as a farm-to-table restaurant set on 16 acres of beautiful Napa orchard and winery landscape. The venue, which has been acclaimed by international publications such as Wine Spectator, offers ceremony seating for up to 200 guests in a venue showcasing unparalleled views of the nearby Mayacamas Mountains. All ceremony packages offer a full dance floor, a gardenfront reception area, and full setup within the venue's private vineyard ceremony area, with onsite restaurant catering available for an additional fee. Wedding guests can also explore the property's beautiful flowered gardens and citrus orchards or sample its signature estate-grown Cabernet Sauvignon, produced under its Kelleher Family Vineyard label.
7377 St Helena Hwy, Napa, CA 94558, Phone: 707-944-2749
9. Things to Do in Napa Valley: Napa Valley Bike Tours
Napa Valley Bike Tours offers a range of experiences to suit different preferences and budgets. You may start your ride from Napa, St. Helena, or any of the other prescribed start points and then proceed to various destinations, all with varying distances and all along the Napa Valley Vine Trail.
Route maps for self-guided riders are provided and expert advice and tour guides are also available to prevent any form of confusion. There are more than thirty wineries along the trails, ensuring that even casual riders can enjoy the trip. There are custom programs for corporate groups, such as team building activities.
6500 Washington St, Yountville, CA 94559
Insider travel recommendations: NC, NM, ME, VegasFrom LA, WY, Hot Springs, Midwest , Things to Do in Reno, Ohio castles,, KY, South Padre Island, Dream vacation spots — "Best Things to Do in Napa Valley for Locals & Tourists – Restaurants, Hotels" Back to Top
10. Di Rosa Center for Contemporary Art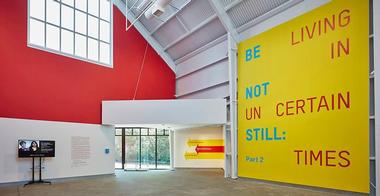 di Rosa Center for Contemporary Art offers a unique setting where visitors can view the art of Northern California. Sitting on 217 scenic acres in a former vineyard in Napa Valley's famed Carneros region, the center features a number of galleries, a sculpture park, and a 35-acre lake. di Rosa Center for Contemporary Art started as a vision of the vineyard owner and art collector Rene di Rosa who donated the proceeds from the sale of his vineyard for the development of this world-class art center. Today di Rosa Center organizes exhibitions of contemporary art by regional artists and offers a range of educational programs for children and adults. The center also maintains a permanent collection of works by notable artists who lived or worked in the San Francisco Bay Area since the mid-twentieth century. The collection includes a wide range of media, styles, and subject matter.
5200 Sonoma Hwy, Napa, CA 94559, Phone: 707-226-5991
11. Things to Do in Napa Valley: Bale Gristmill State Historic Park
At Bale Gristmill State Historic Park you can take a step back in time to marvel at California's rich rural heritage. Back in the day, this mill formed an integral part of community life as local settlers gathered together there to grind their grains into flour. The mill was built in 1846 and is one of just a handful of similar vintage mills that are still operational. Besides admiring the craftsmanship of the early pioneer builders, you can see the original set of millstones and 36ft water wheel in action. The Historic Park is also home to the first church which was built in the Napa Valley and the Pioneer Cemetery.
Bale Gristmill State Historic Park, 3369 St. Helena Highway North, Saint Helena, CA 94574, 707 942 4575
12. American Canyon, Napa Valley, California
The American Canyon is at the southern end of Napa Valley. From here you have the advantage of exploring the Carneros wine growing region, encountering the cool and foggy breeze that provides the perfect weather conditions for Pinot Noir and Chardonnay.
The American Canyon offers a taste of outdoor adventure, with green hills and the Napa River completing the natural look. There is a 1.4-mile path through to the riverbank and there are plenty of melodious birds to keep your senses busy along the way. The Chardonnay Golf Club, lake, horses, and wildlife preserves crown this location, ensuring that recreation activities become part of your trip.
600 Main Street Napa, CA 94559
13. Things to Do in Napa Valley: Rombauer Vineyards
Rombauer Vineyards is a renowned Napa Valley wine maker established in 1980 by the Rombauer family. Their St. Helena Winery is located high up on a tree-covered hilltop near Silverado Trail. The winery is famous for their award-winning Chardonnay, Cabernet Sauvignon, Merlot, Zinfandel, and Sauvignon Blanc. The winery offers tours and wine-tasting by appointment. The winery's tasting room has a wonderful porch that offers spectacular views of the Mayacamas Mountains and the surrounding lush garden with more than 100 plant species and many flowers. Among the greenery are whimsical artworks collected over time by Koerner Rombauer.
3522 Silverado Trail N, St Helena, CA 94574, Phone: 866-280-2582
14. Things to Do in Napa Valley: Napa Valley Fly Guides
Napa Valley Fly Guides are headed by Richard, who has been a fisherman all his life. Fishing is his passion, and he has been part of the team for around nine years. Having extensive experience of Yuba River, Putah Creek, and Stanislaus River, he recommends them as best for fly fishing, which involves the catch-and-release method.
Napa Valley Fly Guides offers a great way to spend a day outdoors and get to know Napa's beautiful nature.
Napa, CA, Phone: 707-294-4738
Free points of interest close to me: Indoor amusement parks, Mendocino
15. Oxbow Public Market, Napa Valley, California
The Oxbow Public Market provides cocktail moments to help you relax from the noise and stress of the day. Guests are allowed to drink, dine, and even shop in the market at their own pleasure. The market is also dedicated to offering you original brands from California.
There are drinks here made with Napa Valley Distiller's handcrafted spirits and stored in Bourbon barrels to improve their color and give them the preferred oak taste. There are also such specialties as Brandy Cordial and Cherry Brandy, which have aged in the barrels and thus have a greater flavor as well as the sweet smell of butterscotch pudding, chamomile toffee, and treacle pie.
610 & 644 1st St, Napa, CA 94559
Near me on a budget: Huntsville AL, New Hampshire getaways, Stowe, Toledo, Places to Visit in Puerto Rico, Deadwood, Dover, La Grange — You are reading "25 Best Things to Do in Napa Valley" Back to Top or Amazing things to do around me
16. Silver Oak Winery
Silver Oak Winery is an Oakville winery that was founded by Justin Meyer and Raymond Twomey Duncan in a dairy barn in 1972. From its humble roots, the winery has grown to encompass more than 400 acres throughout the Napa and Alexander Valleys and has become the only winery in North America to operate an American oak cooperage. Second-generation Duncan family members operate the winery according to sustainable winegrowing principles, producing a wide variety of fine wines, including the company's signature Napa Valley Cabernet Sauvignon. Winery tastings and tours are offered at the company's public tasting room throughout the week, including private tours and tastings for small groups. All tour participants receive a complimentary Silver Oak wine glass for tastings that may be taken home as a souvenir after tours.
915 Oakville Cross Rd, Oakville, CA 94562, Phone: 707-942-7022
17. Platypus Tours
Platypus Tours caters to both small groups between two and six people and larger charter groups with more than six people.
Guests get a chance to have a relaxed and enjoyable conversation and a winery tasting, at only $15 per person per tasting, is also provided to enhance the light-hearted mood, and guests can be sure of getting the best wine brands available. Guests are taken to the tour on a bus, with mineral water and cheese provided, and a tour guide brings the guests through the history and charm of wine making and local culture.
1015 Coombs St, Napa, CA 94559
18. Gott's Roadside, Napa Valley, California
Whether you are a local or international tourist driving through Napa Valley, Gott's Roadside is the ideal place to relax for a snack, lunch, or even a chilling drink on a hot day. This burger joint has a way of giving hotdogs, onion rings, hand-spun shakes, and even cheese burgers that extra-special subtle taste that will leave you craving more.
Chinese chicken salads and crispy Ahi Poke Tacos are made using local ingredients, while California centric wines, such as Napa Valley Cabernet Sauvignon and Anchor from San Francisco, add to the local American flavor.
933 Main St, St Helena, CA 94574
19. Things to Do in Napa Valley: Skyline Park
Skyline Park provides a fascinating and thrilling experience to add to your camping activity. Tent camping is provided, with a range of amenities to suit every budget, and horse camping is a welcome and captivating activity.
There are trails convenient for hiking, biking, and horse riding as well as recreational activities such as disc golf, archery, and the Martha Walker Native Plants Garden. Skyline Park is open for the larger part of daytime.
2201 Imola Ave, Napa, CA 94559
20. Things to Do Near Me: Auberge Du Soleil, Napa Valley, CA
Known locally as the 'Inn of the Sun', this hotel offers a vivid illustration of a sunlit hotel. Set among the vineyards, guests can take in the exquisite views that bring to mind the natural essence of the wine they may be sipping. The cozy Michelin-starred restaurant and spa, swimming pool, outdoor sculpture garden, and yoga pavilion provide just the relaxing mood.
Other recreation can be found at the fitness center, tennis court, or through the use of one of the complimentary Mercedes-Benz vehicles. Other complimentary amenities include a live fireplace and in-room iPads, making this hotel perfect for a memorable vacation.
180 Rutherford Hill Rd, Rutherford, CA 94573
21. Things to Do in Napa Valley: TORC
TORC is a delightful globally-inspired farm-to-table offering from executive chef Sean O'Toole, originally opened in 2014. The high-end Napa restaurant is known for its lively music soundtrack, rustic-chic decor, and open-plan kitchen, which is housed within a stone wall dining room with an open-truss ceiling and handcrafted pinewood tables. Dinner guests can enjoy a plethora of playful fare crafted from farm-fresh ingredients, including elegant land and sea entrees such as heritage pork belly, wild Atlantic cod with lemon-caper brown butter sauce, Maine diver scallops, and hand-cut pappardelle and tagliatelle plates. Prime dry-aged New York strip and farm-to-table boar service for the table is also available, along with gourmet appetizers such as duck wings and jamón ibérico. A Taste of TORC prix fixe menu is also offered, with fine international wine pairings available for an additional fee.
1140 Main St, Napa, CA 94559, Phone: 707-252-3292
22. Things to Do Near Me: The Hess Collection Winery and Art Museum
Though the Hess Collection Visitors' Center was affected by the earthquake, it was rebuilt in September and has since been certified as sustainable. Mt Veeder Winery and Vineyards have also been re-certified as sustainable by the California Wine Growing Alliance and were the first to receive certification as a Napa Green Winery. The winery has taken on a code of sustainable wine growing practices.
For instance, it releases a herd of goats into the Veeder Estate Vineyards for weed control and uses cool fermentation and inoculated yeast, adding to the methodology of winemaking. A variety of exclusive wines is provided, among them Pinot Gris, Albarino, and Viognier.
4411 Redwood Rd, Napa, CA 94558
Romantic resorts & ideas: Yachats, AL, MI — You are reading "25 Best Things to Do in Napa Valley" Back to Top
23. Round Pond Estate, Napa Valley
Round Pond Estate is located in the Rutherford region in Napa Valley. It is located in the midst of vineyards, gardens, and orchards, giving it a perfect and natural country look and luring guests to enjoy a cool breeze during wine tasting.
The estate provides guests with an opportunity to taste local wines, such as the Vineyard Cabernet Sauvignon wines, alongside other delights such as olive oil, red wine vinegar, and artisan syrup. Round Pond Estate is known to provide the best red wines, among them the award winning Kith and Kin, Left Bank Blend, and Rutherford Cabernet.
875 Rutherford Rd, Napa, CA 94558
24. Things to Do in Napa Valley: Kale Wines
Kale Wines was formed in 2008 by married duo Ranko and Kale Anderson, sourcing high-quality grapes from some of the Napa Valley's best vineyards to create Rhône-inspired fine wines under their own private label. The small-batch handcrafted winery blends ancient winemaking techniques with modern technologies to bring out the unique characteristics of each vineyard's grape varietals, showcased in delicious rosé, Syrah, Grenache Blanc, and red and white blend varieties. Visitors can purchase wines at Napa's The Wine Thief, a founding vintner partner of the winery, which is open to the public daily during the afternoon hours. Private tastings are also available to the public directly at the winery by appointment, with food and wine pairings available in a private indoor seating area. The winery is a family-friendly experience, with high chairs available for guests upon request.
708 1st St, Napa, CA 94559, Phone: 707-224-4041
25. Things to Do Near Me: Woodhouse Chocolate, Napa Valley, California
Woodhouse Chocolate allows you to shop for a variety of chocolate bars and barks under one roof and is one of the best chocolate stops in Napa Valley, with chocolates in various shapes and sizes offered in beautifully designed boxes. Shoppers can also shop for party gifts and favors as well as seasonal boxes of chocolates.
Woodhouse Chocolate is definitely a great stop on a family outing to stock up on chocolate bars, truffles, and a caramel collection for enjoyment during the drive. These refreshing snacks offer a relaxing and cool experience after a long and tiring day and there is even a champagne drink to go with your chocolate.
1367 Main St, St Helena, CA 94574
25 Best Things to Do in Napa Valley
, Photo: Napa Valley Wine Train , Photo: Courtesy of Uladzik Kryhin – Fotolia.com , Photo: Photo credit: Infinity Visuals , Photo: Alessandro Cristiano/stock.adobe.com , Photo: Courtesy of Yuval Helfman – Fotolia.com , Photo: Courtesy of digidreamgrafix – Fotolia.com , Photo: Hall Napa Valley , Photo: Brix Restaurant and Gardens , Photo: Courtesy of lunamarina – Fotolia.com , Photo: Di Rosa Center for Contemporary Art , Photo: kwphotog/stock.adobe.com , Photo: American Canyon , Photo: Rombauer Vineyards , Photo: Courtesy of Dave Willman – Fotolia.com , Photo: Oxbow Public Market , Photo: Silver Oak Winery , Photo: Courtesy of mofupic – Fotolia.com , Photo: Gott's Roadside , Photo: Courtesy of Marco – Fotolia.com , Photo: Auberge Du Soleil , Photo: TORC , Photo: The Hess Collection Winery and Art Museum , Photo: Round Pond Estate , Photo: Kale Wines , Photo: Woodhouse Chocolate
Cover Photo: Courtesy of richardja – Fotolia.com
Petrified Forest National Fossils Day
The Petrified Forest National Fossils Day provides an opportunity to have a diversified experience and learn more about fossils, the fossilization process, and how it relates to nature as well as the environment of petrified trees and the plant life in the region, which has a more than 3-million-year a history.
Guests interested in this history can see the petrified redwood trees arranged together in a grove. A walk through the site also offers a view of an array of redwood trees that grew here 3.4 million years ago and were turned to stone by a volcano and its ash fall. A naturalist guides people through the grove and a self-guided tour is also possible.
4100 Petrified Forest Rd, Calistoga, CA 94515
Oakville Groceries is one of the longest-standing groceries in California, having been established in 1881. It offers a collection of some of the best farmer products in the area, usually fresh and in a wide variety. Talented artisans display their unique artwork in Oakville Groceries, while purveyors from Napa Valley and Sonoma Valley grace the grocery with their outstanding products.
Oakville Groceries was recently renovated to suit the current local trend and now draws more people and is able to accommodate a wider variety of products. Local foods and salads, entirely reminiscent of California, are even available for online viewing.
7856 St Helena Hwy, Oakville, CA 94562
Oxbow Cheese Merchant
This merchant is located just half a mile from downtown Napa, inside the main Oxbow Market. Its list of products hosts a wide variety of light foods and wine. The merchant is also a local hub to which people flock on Fridays and weekends and is popular for its ability to provide both local and international wines. Guests are also encouraged to ask for recommendations based on specific wines to suit their interests. Panini sandwiches and cheese are a favorite lunch item which you can either take home or have packed as a take-away meal.
Oxbow Public Market 610 1st St, Napa CA 94559
Napa River Historical Tour, Napa Valley, California
In this region, the Napa River is fairly smooth, allowing safe and enjoyable navigation. Napa River Historical Tours provides guests with life vests and paddles and their kayaks can be used by kids from seven years of age, perfect for a family vacation. A tour guide will take you through a historical narration during the ride. The tour takes about 1.5 to 2 hours, which is long enough for a kayak trip, yet seems brief enough to make tourists long for more. Flexible cancellation policies are available, especially during changes in whether conditions. Phone: 707-227-7364
You are reading "25 Best Things to Do in Napa Valley " Back to Top
The Calistoga Brewery
The Calistoga Brewery was the first commercial beer brewing establishment in Napa County. Due to its long experience in brewing beer, the brewery has been able to develop some of the best beer brands in the region, such as Calistoga Wheat Ale, Pilsner, and Porter. During specific seasons, the brewery offers special beers such as the German Kolsch, Blitzen I.P.A, and Belgian Pale Ale.
The brewery also sells 22-ounce bottles, all hand-filled. There are two bars for different beers, a new air conditioned pub and a patio, to suit the tastes of the guests. Picnics on the beach, biking in Napa Valley, and hiking up Palisades and Mt Helena represent great perquisites for the cold drinks on offer here.
1250 Lincoln Ave, Calistoga, CA 94515
Uptown Theatre, Napa Valley, CA
The Uptown Theatre provides live entertainment, showcasing some of the best music and comedy and hosting some of the most popular artists from California and other states in America. The theater is designed in such a way that the last row is less than 100 feet from the stage, providing each member of the audience with an unobstructed view.
There is plenty of street parking around the theater in the evening and there is an even larger free parking garage at the corner of Franklin and Clay streets. A clear map guiding you to this popular and famous theater is available online.
1350 3rd St, Napa, CA 94558
Napa Valley Balloons
Napa Valley Balloons gives guests the chance to see the panoramic aerial views of Napa Valley. The balloons are well designed, allowing all passengers a clear view and the flights last one hour, after which the guests can indulge in a post-flight breakfast at the prestigious Domaine Chandon. Guests also receive pre-flight tea or coffee and pastries if they arrive early.
A ride in a standard balloon costs $239, however a private flight for couples is available at $2200 for two, perfect for marriage proposals, honeymoons, and other special occasions. Guests receive in-flight photos and champagne flutes on request, in addition to a Certificate of Ascension.
4086 Byway E, Napa, CA 94558
You are reading "25 Best Things to Do in Napa Valley " Back to Top
Located on the estate that was once the Cedar Knoll Vineyard Company founded in 1881, Palmaz Vineyards is a unique Napa Valley winery owned and run by the Palmaz family, originally from Argentina. Abandoned and dilapidated for years, the vineyards had to be replanted, the building rebuilt, and the vinery completely redesigned. The family today cultivates about 55 acres, mostly devoted to cabernet sauvignon, but also Riesling, chardonnay, muscat and small plantings of other grapes. Palmaz Vineyards is famous for their massive underground wine cave cut into the Mount George rock, enormous underground fermentation dome, and a unique process of wine making that uses the latest technology to control and monitor wine production. The winery today produces about 9,500 cases of wine yearly, mostly cabernet sauvignon and chardonnay. Other varietals are only available at the winery.
4029 Hagen Rd, Napa, CA 94558, Phone: 707-226-5587
You are reading "25 Best Things to Do in Napa Valley " Back to Top
Source https://thenomadvisor.com/where-to-stay-in-napa-valley/
Source https://davidsbeenhere.com/2019/02/28/top-15-places-to-visit-in-napa-valley/#:~:text=Known%20as%20the%20best%20community%20gathering%20place%20for,even%20an%20organic%20produce%20outlet%20for%20local%20farms.
Source https://vacationidea.com/california/best-things-to-do-in-napa-valley.html