Where to Stay in Austin – Neighborhoods & Area Guide
Amidst something of a gentrified revival, Austin is fast becoming one of the most popular cities to explore in the USA. Regularly topping lists of best places for city mini-breaks and romantic getaways, the world's attention has been caught by Austin's reinvention. As the Texas state capital, Austin has a wealth of history and heritage to explore.
Recently, curious and quirky coffee shops, thrift stores, and cafes are cropping up left, right and center. Locals are passionate about food and there is a seemingly never-ending supply of innovative food trucks rustling up some pretty delicious, locally sourced and internationally inspired culinary creations.
A city that has been renowned for decades for its thriving music scene, Austin provided a platform for musical legends such as Janis Joplin and Willie Nelson. The student population does wonders for the social opportunities in Austin. There are live music events night and day scattered throughout this happening city and its varied neighborhoods.
Away from the hustle and bustle of the happening Downtown, visitors to Austin can seek serenity in Zilker Park or enjoy a quick dip at Barton Springs Pool.
Let's explore where to stay in Austin and discover the best neighborhood in the city for you.
Downtown
Source: Ryan Conine / shutterstock Downtown Austin
It seems only appropriate to start at the epicenter of everything Austin – in the thriving Downtown. A multifaceted neighborhood, Downtown is both fashionable and functional. Here you will find the impressive Texas state capital building and big business office blocks. This area sees people from all walks of life coexist in harmony. Hundreds of busy professionals scurry around, phone in one hand, coffee in the other, while laissez-faire students catch up for brunch and visitors saunter the streets with camera in hand.
The vibe in Downtown changes throughout the course of the day. Come the early morning, those busy professionals cram onto public transport, creating something of a frenetic feel. Once the sun starts to set, Downtown Austin really comes into its own. Refreshed and revitalized by the sight of the moon, the bars fill up and exude a fun-loving and fancy free atmosphere.
Good For: City Slickers, Culture Vultures, Whistle-Stop Travelers
Neighborhood Highlights: Texas State Capitol Building, Austin City Hall, Austin Children's Museum, 6th Street Nightlife Scene, Bullock Texas State History Museum
Hotel Recommendations:
– You'll find Aloft Austin just 500m from the Capitol Building. Super modern, bright and spacious, Aloft Austin is becoming increasingly popular. Feel free to hide away in your private ensuite room, or get mingling in the hotel's uber-trendy bar and covered garden lounge. – Offering the homeliness and spaciousness of a private apartment with the services and amenities of a hotel, Locale 2nd Street is a contemporary accommodation suitable for all. The ceiling to floor windows provide breathtaking views, and guests have access to the property's impressive fitness center. – Whether you stay one night or one month in Austin, Guild Lavaca St will help you feel right at home in the Texan capital. The decor is modern and minimalist. You have access to your own private kitchen, including smart coffee machine and dishwasher.
East Downtown
Source: booking.com East Austin Studios
If the idea alone of the busy Downtown gets you feeling overwhelmed, give a moment's thought to East Downtown. Away from the bustling business epicenter, the East Downtown neighborhood may be a little less refined but is free from the hustle and craziness.
Travelers keen on exploring Austin's music scene and food culture will surely fall for the rustic charm of East Downtown. As you will have come to expect in Austin, the evening kick starts with the first strum of an acoustic guitar and finishes with tacos from the street food trailer trucks, as you and your new-found crew head back to base.
Many locals have had their fill of life on Downtown's 6th Street, and instead convene at the neighborhood's best happy hour haunts like Small Victory and Shangri-La. Hidden gardens, fairy-lit patios and long bench tables make East Downtown Austin's best hipster hangout.
Good For: Foodies, Music Lovers, Like a Local Travelers, Young Travelers
Neighborhood Highlights: Contemporary Austin Jones Center, Mexic-Arte Museum, Museum of the Weird, Happy Hour Bars & Restaurants, Live Music Bars
Hotel Recommendations:

– This fully-equipped apartment is ideal for travelers keen to feel at home in East Downtown. Having a kitchen allows you to stock up on groceries at the Farmer's Market and cook for yourself. The decor is stylish and modern and the whole place feels brand new. – This fully functioning apartment features a kitchen (complete with coffee machine), living room, and private bathroom. Guests are welcome to make use of the fitness center and the outdoor swimming pool. Buzzing 6th Street is only 1km away, so you get the best of both worlds here. – Uniform in style but comfortable and welcoming, this Super 8 is conveniently close to Interstate 35, making your arrival and departure from Austin as easy as can be. Guests have access to Super 8's outdoor swimming pool and vending machines. A complimentary continental breakfast is included.
Red River Culture District
Source: booking.com Holiday Inn
If Austin were an atom, then Red River would be its nucleus. Encompassing a radius of just three blocks, the Red River is the heart and soul of Austin's music scene. Awash with pumping nightclubs, lively bars and quirky diners, it is the only place to stay for lovers of anything and everything musical.
There is a strong sense of community in this neighborhood, proving that music really brings people together. Whether you are a sucker for a bit of hillbilly rock or prefer the extravagance of the cabaret, Red River truly has something for everyone.
Admittedly, it is the nightlife scene that is the major draw card, so what is on offer during the day? Well, with Downtown Austin just a few blocks away and Zilker Park only six stops away on the metro, Austin is your oyster.
Good For: Music Lovers, Party People, Young Travelers, Culture Vultures
Neighborhood Highlights: Empire Control Room & Garage, Cheer Up Charlies, The Sidewinder, Palm Door on Sixth
Hotel Recommendations:
– The Holiday Inn Express is perfect for travelers heading to the Red River Culture District. With so much to see, do and experience, you only really need a place to rest your head. Breakfast is included, as is WiFi. All rooms are ensuite. – A great choice for travelers who want to hit the ground running when they arrive. The team serves up a classic American breakfast each morning and there is an in-house restaurant that is open 'till late. The rooms are colorful and modern with ensuite bathrooms. – The highly sought after Guild Red River is ideal for couples. This romantic retreat comes with everything you could wish for, including a spa bath. The decor is incredibly stylish yet the apartment is homely and welcoming. You can socialize with other guests on the sun terrace.
South Congress
Source: Alfie Photography / shutterstock South Congress
South Congress is an area of Austin that is putting itself firmly back on the map. Now affectionately named 'SoCo', South Congress is artsy and accommodating. If you travel to seek connection, to meet people, absorb culture, dance, eat and smile, South Congress is the place for you.
Foodie travelers will have a field day in South Congress. Be sure to time your visit to fall on a Thursday, when the main street stays open late and the community comes together to be just that, a community.
Get your camera ready to snap the countless murals and graffiti artworks that are scattered around the neighborhood. Take some time to saunter through the streets, toss a dollar or two in the hat of a busker or living statue, and get in flow with the laid back feel of SoCo.
Good For: Foodies, Artists, Young Travelers, Backpackers, Solo Travelers
Neighborhood Highlights – The Continental Club, Street Entertainers & Performers, Murals & Graffiti Walls, Yard Dog Art Gallery, Sfanthor House of Wax.
Hotel Recommendations:
– Quaint and cozy, this gorgeous two-bedroom holiday home nestled away in central South Congress features high tech amenities like keypad entry and excellent WiFi. SoCo Hideaway is ideal for modern travelers. South Congress is a safe neighborhood and this spacious property is great for families. – Ideal for couples and road trippers, SoCo House is right at the heart of happening South Congress. The property has secure on-site parking and pets are allowed too. The sun-trapped patio is the perfect place to relax after a long day exploring Austin. – Stylish, upmarket, and with the highest possible levels of comfort, South Congress Hotel is worth every cent. Rooms come with private ensuite, luxury, complimentary toiletries and fluffy bathrobes. The pool and patio area is a wonderfully relaxing spot and the staff will wait on you hand and foot.
Zilker
Source: Roschetzky Photography / shutterstock Zilker, Austin
Sitting south of the Colorado River is the peaceful neighborhood of Zilker. Home to one of Austin's most loved attractions, Zilker Metropolitan Park, this scenic spot is ideal for travelers who enjoy the great outdoors and keeping fit on the road. Many locals refer to Zilker Metropolitan Park as the 'soul of the city,' and it is not hard to see why. A community space for one and all, to use how they please.
As a neighborhood, Zilker offers you the best of both worlds. You are welcome to embrace the tranquility of expansive Zilker Metropolitan Park, while being within a short walk of the major must-visit tourist hotspots in Austin, such as the State Capitol and Bullock Texas State History Museum across the river.
There are ample restaurants and cafes to explore and, as ever in Austin, the culinary delights continue to get bigger and more innovative than ever.
Good For: Active Travelers, Families, Couples, Like A Local Travelers
Neighborhood Highlights: Zilker Metropolitan Park, Barton Springs Pool, Zilker Zephyr Toy Train, Zilker Hillside Theater, Austin Nature and Science Centre, Umlauf Sculpture Garden & Museum
Hotel Recommendations:
– Just a 14-minute walk from Zilker Metropolitan Park, Guild Lamar Union is at the heart of the neighborhood. Each suite has a fully equipped kitchen and spacious living room. Ideal for families or groups of travelers, as each suite can sleep up to four people.
Chic SoLa Retreat – AIRBNB – Contemporary in design, homely in atmosphere, Chic SoLa Retreat has all the amenities you could ask for and then some – including free street parking and excellent WiFi. The beds are exceptionally comfortable and the property can sleep up to six people per night, ideal for families and groups.
The Zilker Experience – AIRBNB – The Zilker Experience is one of the most affordable accommodation options in the neighborhood. Compact, cozy and sleeping up to four people per night, The Zilker Experience helps keep you on budget in Austin. Featuring fully equipped kitchen, garden area, and free parking onsite.
Travis Heights
Source: Roschetzky Photography / shutterstock Travis Heights Overlook
Easily one of Austin's most affable and affluent neighborhoods. Home to some of Austin's most lavish properties, Travis Heights is perfect for travelers who require next-level comfort during their travels.
Big Stacy Park is a beautiful and relaxing place to spend an afternoon and is often much less populated than busy Zilker Metropolitan Park. Again, whereas Zilker has Barton Springs, Travis Heights has Ladybird Lake, which is ideal both for active travelers and those who want to embrace the romance of Austin. Be sure to enjoy a sunset or two lakeside, perhaps with a picnic dinner.
The real highlight for nature lovers in Travis Heights is the Statesman Bat Observation Centre. As dusk approaches, the city skyline comes alive with bats flitting here and there in picture-perfect silhouette form.
There are dozens of locally run coffee shops and craft brew houses to sample in Travis Heights too.
Good For: Luxury Travelers, Active Travelers, Older Travelers, Couples
Neighborhood Highlights: Ladybird Lake, Statesman Bat Observation Centre, Big Stacy Neighborhood Park, Larry Monroe Forever Bridge
Where to stay in Austin right now
In a city packed with eclectic arts, delectable eats, and outdoor activity galore, deciding where to stay in Austin can be tough, even for repeat visitors, let alone first-timers. Strapped for time and just looking to do the highlights ? Downtown is always a good place to start. Perhaps you're a hipster kid planning on shopping vintage and kicking back at a dive bar or three in good company? Go East. Or are you looking for some luxurious R&R by the lake? Well, west is best. And that's just the beginning, for there are plenty of worthy nooks North, South, and everywhere in between.
If you need a little help to discover what's best for you, good news! We've plucked five fantastic neighborhoods within those nodes that are a cut above the rest. Boasting exciting things to do from corner to corner, distinct character in true ATX fashion, and a good number of them are even walkable (which, in Texas, is a huge bonus). Get ready to check in and have an absolutely rockin' time with our guide to the best places to stay in Austin.
An email you'll actually love
Get into a relationship with our newsletter. Discover the best of the city, first.
By entering your email address you agree to our Terms of Use and Privacy Policy and consent to receive emails from Time Out about news, events, offers and partner promotions.
Awesome, you're subscribed!
Thanks for subscribing! Look out for your first newsletter in your inbox soon!
Where to stay in Austin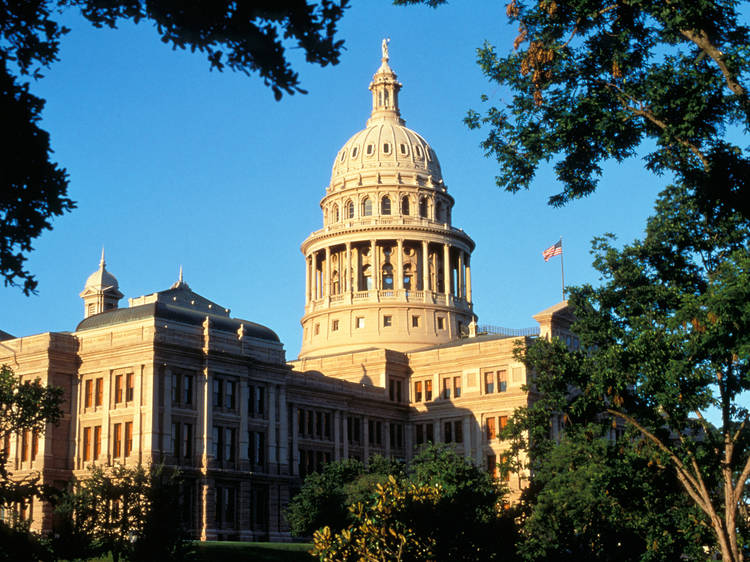 1. Downtown
The first stop for a powerhouse weekend of fun, downtown Austin is where you'll find bustling activity day and night. From the most romantic restaurants to eclectic sightseeing tours , the downtown core is compact enough for walking yet has no shortage of must-dos. Take a museum stroll early in the day, dine your way around town, then get your laughs at one of Austin's many comedy shows before hitting up the downtown nightlife.
EAT
You know those giant platters that make life easier for the indecisive? That is Fareground in a nutshell. Austin's first food hall, located at One Eleven Congress, carries the best of the city under one roof so you can food-hop for your starter, main, side, and dessert. Our top picks: Taco Pegaso for guac and queso, Austin Rôtisserie for rotisserie chicken, and an Israeli dessert from TLV . Two on-site bars provide liquid refreshments.
DRINK
Downtown's trendiest nightlife spot promises a sinfully good time (it is spiritually themed, after all). The historic building is decked out in religious artifacts, stained glass windows, and a DJ booth made from a vintage organ. Go for a Seven Deadly Sins cocktail, like Lust (tequila, mezcal, absinthe, strawberry syrup, and blackberries) or the wickedly sweet Gluttony (vodka, heavy cream, coffee liquor, and nutmeg).
DO
As the Live Music Capital of Texas, Austin knows how to put on a show. The Paramount Theatre is Downtown's finest stage, not only for music but for comedy, screenings, musicals, talks, drag performances, and more. Opened in 1915, it is the oldest theatre in Austin, and legends from Miles Davis to Dr. Maya Angelou have graced the auditorium. Their annual Paramount Anniversary Gala is an Oscar Party-style night out for those looking to turn it up in a gown (when Congress Avenue is transformed into a red-carpet fiesta), but a quick look at their events calendar is sure to offer something to tickle your fancy.
STAY
As an architectural wonder and more-often-than-not official partner of virtually every major event, the Fairmont Austin is the most happening stay downtown. Towering rooms feature floor-to-ceiling windows so guests can soak up skyline vistas, but don't spend all day in bed—the hotel has plenty of social spaces up for grabs that you won't want to miss. The rooftop pool is the largest downtown, lined with palm trees and a very celebratory crowd, and downstairs you'll find the acclaimed restaurant Garrison, famed for cooking up Austin's best steak.
If you do just one thing…
Duck into the Texas State Capitol , if only for a peek at the beautiful building (it is actually taller than our nation's capitol). Free daily tours are available, too.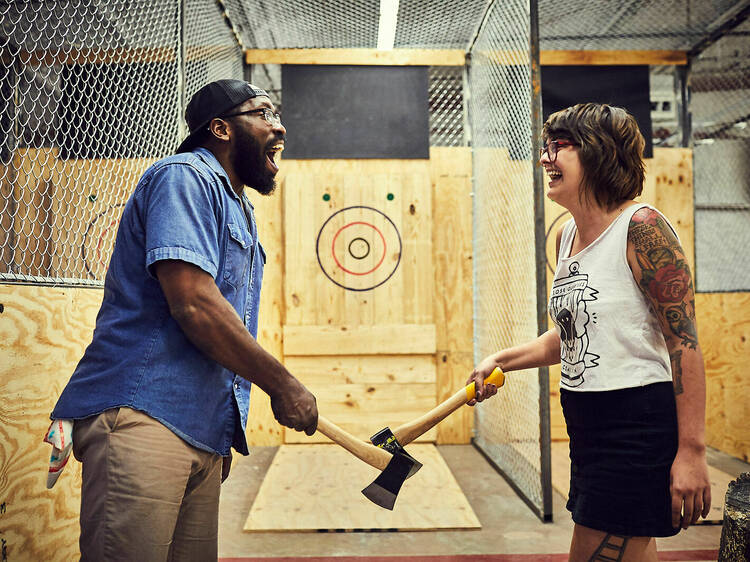 2. East Austin
As one of the city's fastest-growing neighborhoods, there is an amazing range of diversity in East Austin. For starters, you'll find old-school dive bars in harmony with the best cocktails in town. Plus, throughout this artsy hub is an abundance of galleries, colorful street art, independent stores, taquerias, and juice bars.
EAT
There could be a thousand things Austinites love about Old Thousand, but just one is enough: they make the greatest Xiao Mian and Egg Rolls in the state (sorry, Houston ). The hangout fuses Chinese and Texan charm, which makes for a tremendous night out, and they cater to veggie friends (Kung Pao Brussels? Yes, please) while also serving a killer cocktail program.
This iconic spot boasts exposed stone walls lit by flickering candles. Led by veteran Austin bartender Scranton Twohey, it is the perfect place to wet your Whisler (ahem). In addition to the main inside bar and a large open patio, you'll find Mezcaleria Tobala upstairs—an intimate venue styled after the traditional Oaxacan mezcal bar.
DO
Whether or not you've got an axe to grind, Urban Axes will help you let off some steam. Get a friendly competition going as you go up against mates with 1.5-pound hatchets, each thrown at an archery-style target at the end of a fenced-in lane. Once you're done, chill out with food and drink (BYO food, soda, beer, and wine) and discuss your techniques.
STAY
ARRIVE East Austin makes a cracking first impression. Your check-in experience includes saddling up to the bar for a welcome drink and snack— on the house . There is an industrial-chic vibe here with polished marble that contrasts with concrete, airy windows alongside a wooden bar, and just the right balance between luxury and casual. Choose your fix between the on-site gin bar and Cartel Coffee Lab (both will give you a buzz).
If you do just one thing…
Get down to the White Horse Saloon honky tonk. This joint is frequented by a mix of people unafraid to get up close and personal during a two-step class on Friday and Saturday nights.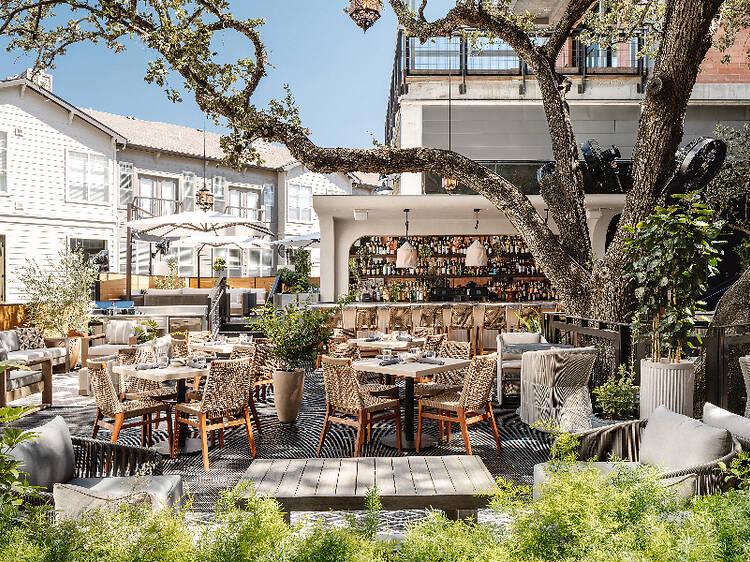 3. South Congress
Just across the river from downtown sits South Congress, a go-to destination even among locals. You'll find funky boutiques and taco bars lining active streets, alongside some of Austin's most popular cafes. From March to October, the Congress Avenue bridge draws visitors to this part of town, hoping to see around 1.5 million bats take part in a nightly migration. What else? A number of buses also have routes along Congress, making this area a viable place to stay if you're relying on public transportation.
EAT
Veer off the main drag, and you'll stumble upon Austin's best Indian cuisine at South First Street. Mumtaz Market is an evolution of the long-time South Asian cafe and lounge, G'Raj Mahal. The menu is packed with authentic traditional curries and creative takes on entrees such as the Pork Rechaad, Gnocchi Saag, and Seafood Malabar. Spice up your life at brunch, lunch, happy hour, or dinner—just don't forget to order a mango lassi.
DRINK
This Mediterranean restaurant on Music Lane doubles as a solid watering hole. Aba's bar program, crafted by Liz Pearce, showcases rare Mediterranean-inspired wines and spirits; try one of its Israeli and Armenian Blanc de Blancs, or cool down with its Life on Freezy Street, a frozen cocktail best enjoyed out on the oak tree-shaded patio. Aba also has a wide selection of non-alcoholic cocktails in case it is too early for the hard stuff (although in Texas, it is never too early).
DO
The Continental Club opened its doors in 1955 on South Congress Avenue and has since hosted the likes of Led Zeppelin's Robert Plant, Wanda Jackson, and ZZ Top's Billy Gibbons—up to standard for a place that regularly billed the likes of Double Trouble, Paul Ray & the Cobras, and Joe Ely back in the 1970s and '80s. It's a tiny stage in a small room, but the performances in front of the iconic red curtain make this the top spot for live music in SoCo.
STAY
Since opening on SoCo, this residential-style boutique hotel has been all the rage. Interiors are designed by award-winning Austinite Patrice Rios, who splashes Texan charm with chic style for an elevated home-away-from-home experience. There are just 80 rooms—all of which are suites—that contain anything from kitchenettes or kitchens to dining spaces, large living rooms, and even washers and dryers. If you've ever wondered how Austin's tech crowd lives, this is your preview. Social spaces include an outdoor hangout designed around three 80-year-old heritage oak trees, an open area to play bocce ball, croquet, and lawn bowling with a heated outdoor swimming pool; and Simona's , a coffee and cocktail bar.
If you do just one thing…
Time your visit to a Candlelight Concert at some of Austin's most beautiful and historic houses. The SoCo edition, at Vuka Bouldin Creek, is certainly a local favorite. Check Fever for a calendar of events.
WHERE TO STAY IN AUSTIN
If you want to be central, the best area to stay in Austin is Downtown. In this central business district, you'll be treated to top restaurants and bars, as well as the vibrant shopping district of 2nd Street. You'll also be within walking distance of major attractions like the State Capitol building, the Bullock State Texas History Museum and the historic building of the Driskill Hotel. This area is great for the arts, with The Paramount Theatre and the Austin Ballet nearby. There are plenty of transport options, too, with the Downtown and Austin train stations serving the area.
Known as the "music capital" of the US, Austin plays host to two world famous music festivals: South by Southwest, and the Austin City Limits Festival. Aside from these festivals, you'll always find live music on the street of this small but charismatic city. When you're not enjoying the entertainment, take the time to visit the whispering gallery of the majestic State Capitol building for a free guided tour. In summer, take a refreshing dip in the natural waters of Barton Springs Pool. Or, why not bike or stroll the trails at Lady Bird Lake? Take a paddleboard out on the water and look back on sweeping views of the city.
On the map, which shows the best area to stay in Dallas, you can see a selection of some of the best located hotels.
If you are interested in where to stay in Austin, you may also be interested in where to stay in Dallas, where to stay in Houston and where to stay in Sant Antonio.
Downtown – The Best Area to Stay in Austin
First time, tourist, a weekend
Downtown is perfect for families as it offers a peaceful environment with various entertainment and outdoor activities. The Capital Center in Downtown is a top tourist spot. People visit this place to admire the spectacular architecture of the building that tells about Texas's History. The Capital Center can be seen from anywhere in Downtown.
Another exciting part about Downtown is Lady Bird Lake located in the South of Downtown. This spot is ideal for families as it offers a lot of entertainment and recreational activities like kayaking, rowing, canoeing, biking, hiking, and much more. This popular picnic spot is a must visit if you are in Downtown.
If you want to enjoy the spectacular nightlife of Downtown, then move to the famous 6 th Street. 6 th Street is a strip of bars, restaurants, and clubs. There are live music events held almost on a daily basis. If you are interested in karaoke, then this is the place to be.
The Austin Children's Museum is one of the most fun places for kids to be. The people that are visiting Downtown with family should not miss visiting this place. The museum is a learning place for kids and allows kids to take part in different workshops. All in all, Downtown Austin is a highly recommended place for people visiting Austin.
Other Areas to Stay in Austin
Northwest Austin
The Domain, families, with a car

Northwest Austin is a happening place that offers a lot of entertainment and recreation for its residents and visitors. There are several amusement parks, museums, restaurants, historic sites, and much more to enjoy in Northwest Austin.
This place is ideal for families as it provides a lot of entertainment options for them. There are several zoos and fitness centers throughout Northwest Austin. Every spring, there is an Arts and Culture camp for the artistic and creative souls. Children can take part in this break camp and enhance their arts skills. There are several waterways and lakes in Northwest Austin where people can enjoy water activities and sports like paddle boating and much more. Northwest Austin is a refreshing place to live in, especially for families that want their children to grow in a natural environment surrounded by parks and lakes. This side of Austin is also a hub of commercial businesses.
East Austin
Trendy, University, young adults
For food and entertainment lovers, East Austin is a fantastic place to stay! This up-and-coming neighborhood has seen a huge increase in tourism over the past few years. With a wide range of hotel options from budget to luxury, East Austin has a really nice cultural blend.
The international restaurants make East Austin a top draw for foodies. Indeed, you can enjoy cuisine from all over the world here, with top-quality Latin American, North American and Italian restaurants, amongst many others. Nightlife is also a specialty of East Austin. With a number of lively bars, clubs and entertainment venues, travelers who want to party the night away will be happy here. Cultural travelers can also enjoy East Austin too. The district is home to several interesting art exhibitions and cultural, historic museums. Or if you are a shopper, you can spend the day in the many boutique stores dotted around East Austin.
Rainey Street Historic District
Nightlife
With iconic, historical homes and a vibrant nightlife, Rainey Street Historic District is a brilliant place to stay for those who love to mix partying with cultural sightseeing. Ideally located in downtown Austin, Rainey Street is very well-connected to public transport, and of course you are within walking distance of many of Austin's other central districts.
Rainey Street is home to numerous bars and clubs which are packed with events all through the week. These include live music, live entertainment and much more. This makes Rainey Street a brilliant place for active young people to stay. As well as the partying, Rainey Street is emblematic of Austin's cultural diversity. You can visit nearby cultural sites such as the Mexican American Cultural Center as well as numerous other insightful museums. In terms of accommodation, there are a range of great hotels for all types of traveler, ranging from luxury to budget.
North Loop
Funky neighborhood
North Loop is yet another of Austin's buzzing neighborhoods particularly well-suited to young and energetic tourists. Located in the northern part of Austin, just north of the University of Texas, North Loop has a perfect mix of student life combined with a more relaxed feel, giving you the best of both worlds. It is also a shopper's dream.
It is natural that North Loop has a vibrant nightlife given its proximity to the university. You can choose from a range of bars and clubs, and even enjoy entertainment in the Coldtowne Theater. Within this neighborhood, you won't find it difficult to find a good place to eat either! There is an ideal range of restaurants, Taco bars and even popular local coffee shops to choose from. In terms of accommodation, North Loop has much variety. You can choose from a range of hotel options or authentic local guesthouses.
South Austin
South Congress, shopping, restaurants

South Austin is a lively place that provides its residents with a lot of activities to indulge in. This part of Austin is perfect for people that love live music, vintage shopping, and outdoor activities. The city is covered with tall oak trees that enhance the beauty of this place. It offers outdoor recreation activities for people of all ages including cycling, running, jogging, canoeing, paddleboarding, and much more. South Austin has several parks that are perfect for the people that want to enjoy some fresh air in a natural environment. The Barton Springs pool is one of the most popular spots in South Austin. This place is crowded with people in summer when the Sun is up. Moreover, the people living in South Austin can enjoy outdoor recreation such as hiking, fishing, camping, etc.
The McKinney State Park is another famous spot in South Austin that is perfect for families. The park offers a serene environment full of greenery. The visitors can also enjoy sighting wildlife including deer, fish, and different species of birds in South Austin. South Congress Avenue is popular amongst shopaholics as it has several amazing shopping stores. Moreover, the place consists of antique shops, art galleries, food stalls, restaurants, and vintage clothing stores. South Congress gets a lot of crowd including celebrities. This laid-back place is fun to stay with a variety of entertainment and recreational activities.
Source https://www.thecrazytourist.com/where-to-stay-in-austin-neighborhoods-area-guide/
Source https://www.timeout.com/austin/travel/where-to-stay-in-austin
Source https://bestlocationhotels.com/destination/austin/