Trekking To Machu Picchu In December – A Wet And Wild Adventure
Because many people get time off over Christmas, I often get asked by our readers if trekking to Machu Picchu in December is a good idea.
Therefore, I thought it would be a good idea to put together a quick article in response to this question to help all our readers decide for themselves.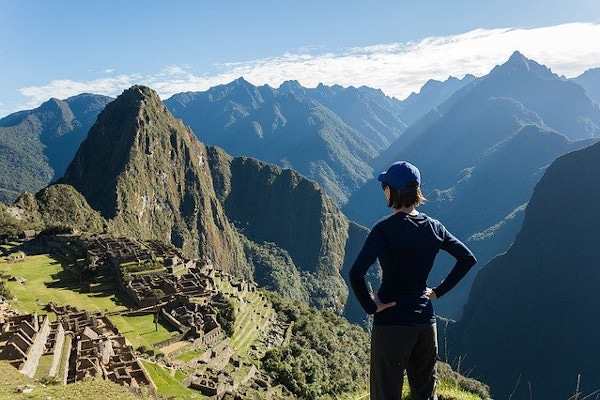 Get a Machu Picchu trek quote
Start planning your Machu Picchu hiking holiday.
Trekking to Machu Picchu in December
Is Machu Picchu open in December?
The first point to be made clear is that both the Inca Trail and Machu Picchu are open during December. In fact, Machu Picchu remains open all year-round and the Inca Trail is only closed in February for yearly repairs.
Therefore, hiking to Machu Picchu in December is certainly an option.
Don't panic if you can only go in February as there are plenty of other trekking routes to Machu Picchu that remain open during this period such as the Lares, Salkantay trail and Vilcabamba trail.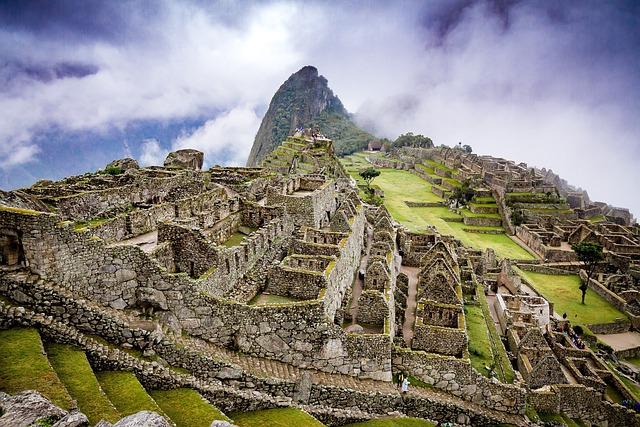 Cons of December Treks to Machu Picchu
Trekking to Machu Picchu in December becomes a bit of a gamble when you consider the weather on the Inca trail.
December is the wet season in Peru and rain certainly prevails throughout December. The rain is not torrential though and it's usually just a drizzle that occurs for a few hours a day. That being said, some days are totally clear.
If you hate rain, then trekking to Machu Picchu late in the year may not be the best option for you.
If you do decide to trek to Machu Picchu in December or January, then bringing a lightweight rain poncho to go over your clothes and day pack is highly recommended.
Cloud cover is also a factor you need to consider.
Photographers generally avoid the wet season in Machu Picchu like the plague because more often than not, cloud cover obscures the best views. Once again though, this is not always the case and some days (and occasionally weeks) will be crystal clear with stunning vistas.
The ruins of Machu Picchu are often shrouded in cloud and this is certainly not the best way to see the ancient citadel in all its glory.
Another consideration when trekking to Machu Picchu in December is the trails themselves. These can be water logged and often extremely muddy. The Inca Trail is often steep and gets quite slippery when the mud thickens.
The mud is never extremely deep however, and there are usually ways around it. You may want to bring some gaiters with you though.
Machu Picchu: A Guide To Visiting The Lost City Of The Incas During Christmas
Machu Picchu is an ancient Incan city located in the Andes Mountains of Peru. The city is situated on a mountain ridge above the Urubamba River, at an altitude of 2,430 metres (7,970 ft). Machu Picchu is one of the most popular tourist destinations in the world, and is often referred to as the "Lost City of the Incas". Christmas is a popular time to visit Machu Picchu, as the weather is generally mild and dry. December is also the start of the high season for tourism in Peru, so accommodation and tour prices will be at their highest. If you are planning to visit Machu Picchu during the Christmas holidays, it is recommended to book your tickets and accommodation well in advance.
Machu Picchu is located in the Cordillera of Vilcabamba, in the midst of the Andes Mountains. The climate is temperate all year, but it gets chilly and cloudy during the wet season. Global warming has made the weather more unpredictable, so it is less likely to rain. Reservations are required at least three months in advance for high season trips to Machu Picchu. Most tourist services increase in price between 30 and 100%, depending on the time of year, but some increase as much as 200%. Machupicchu has a lot to offer, and if you're on a tight budget, you can make the most of your stay. Many jubilee parties are already being held in May in Cusco.
During June, the month with the most tourists, Machu Picchu has a high level of activity, with visitors from all over the world. The snow cover of the mountains is accentuated in July and August. The best months for visiting Machu Picchu are the months of August, September, and October, when the first rains fall, the Inca shrine begins to turn green, and the sun shines most days. In these months, the weather warms up, and the cold of winter is replaced by a pleasant summer. In addition to the peak tourism season, a variety of service costs begin to rise. Machu Picchu tours should take place between April and October, depending on the season. The subtropical zones and forests along the route of the Inca Trail have not changed significantly during the dry season. Unless you've been hiking for a long time, we recommend avoiding February.
Machu Picchu is not an ideal destination during the rainy season, as this is what many people dislike. Between December and February, there is a greater chance of heavy rain, which can muddy and slippery the trail.
Visit Machu Picchu in January for beautiful views of the Picchu ruins without having to worry about tourists. During the rainy season, there are fewer visitors to Arequipa's most popular attraction. Trekking in rainy weather is far from ideal, with mud all around. The rain, on the other hand, produces a plethora of flora.
This is the first point to make clear: both the Inca Trail and Machu Picchu are open during the month of December. The Machu Picchu National Park is open all year, and the Inca Trail is only closed in February to allow yearly maintenance. As a result, hiking to Machu Picchu in December is an excellent option.
Because of the extremely wet conditions in December, trekking to Machu Picchu is not advised. As the rainy season progresses, hiking becomes less appealing. In any case, you can still travel to Machu Picchu by train from Cusco.
Is Christmas A Good Time To Visit Machu Picchu?
Credit: www.machutravelperu.com
There is no definitive answer to this question as it depends on a variety of factors such as your travel style, budget, and preferences. That said, Christmas can be a great time to visit Machu Picchu as the crowds are typically smaller than during peak season and the weather is generally mild. Keep in mind that hotels and other tourist services may be more expensive during the holidays, so it is important to plan ahead and book early.
Adios Adventure Travel's United States office can be found at 6660 N.M. Highway 89 in Columbia, Maryland. Get up to speed on the ban on plastic water bottles, as well as the latest hourly entry times and other stories at MACHU PIC NEWSCHU. We are pleased to report that traffic congestion is now noticeably lighter. Every year, between 6 a.m. and 5:30 p.m., Machu Picchu National Park is open 24 hours a day, seven days a week. It begins in late November and ends around March, when it reaches its dry phase. The wettest period of the wet season, January and February, is the peak of the wet season, and the most rainfall (6/150 millimeters) can be seen during this time. The driest months are the June/July months.
Every February, the Inca Trail is closed for maintenance. Despite the fact that there isn't a low season, January appears to be the slowest month. Permits went on sale in October 2018, marking the beginning of the end of a three-year process. Bookings made 6 months or longer in advance were more likely to result in a hike on the first try.
Winter is a great time to visit Machu Picchu or hike the Incan Trail because the weather is mild, the crowds are sparse, and the views are breathtaking. During the rainy season, from March to September, there is a chance of freezing temperatures and cloudy skies.
Machu Picchu: Christmas Day Just Like Any Othe
Machu Picchu is open all year, including on Christmas Day, which is appropriate given that the Incas and civilisations that preceded them did not celebrate Christmas. Christmas Day is nothing more than another day, with no Christmas trees, no decorations, and no Santas.
Is It Ok To Go To Machu Picchu In December?
Credit: www.machutravelperu.com
Yes, it is definitely ok to go to Machu Picchu in December! The weather is actually really nice at that time of year, with average temperatures around 22 degrees Celsius. Plus, there are fewer tourists around, so you'll be able to enjoy the experience more.
I get a lot of questions from readers on whether or not it's a good idea to visit Machu Picchu in December. In December, rain falls, but it isn't as heavy as usual and the trails are open all year. On some days, however, the best views can be obscured by cloud cover and stunning vistas can be obscured. When the mud thickens, the Inca Trail becomes slippery and steep. There is usually a way around the mud, but it is not very deep. If you intend to travel to Machu Picchu in December, you will have a much better chance of having a more relaxed hike and less crowds. Hike Machu Picchu in December if you want to. There will be fewer people on the trails, and there will be many sections of the ancient ruins that you can explore yourself (depending on when you arrive). Crowd cover is a problem for most photographers, especially those who are skilled, but you will almost certainly have a clear day for taking photos at the park.
During the month of February, rainy weather, landslides, and poor weather are common threats to visitors at Machu Picchu. Even if you're not a big fan of the city, a visit to Machu Picchu can be a pleasant day trip from Cuzco. To make the journey a success, I outline the steps below. Despite the fact that it necessitates some planning, it is doable without much effort. The majority of the trails at Machu Picchu will be closed in February, so be prepared for this. The rest are included in the Peru Adventure Trail, the Salkantay Trek, and the Choquequirao Trek. Using these steps, you can make a one-day trip to Machu Picchu from Cuzco. Come early in the morning to catch the first glimpse of Cuzco. It will be more difficult to reach Machu Picchu before the trails close if you arrive in Cuzco later. Machu Picchu's Information Center (CIMA) is accessible via public transportation. Machu Picchu is the first stop on your journey to the Picchu, and you should spend some time here. Maps of the site, advice on weather and trail conditions, and information on how to purchase tickets can all be found at theCIMA website. The Machu Picchu Trail is a two-hour drive from the Inca Trail. It's one of the most popular trails at Machu Picchu, but it's also the most crowded. It should take at least two hours to hike to the site. You should allow for another two hours of sightseeing at Machu Picchu. There isn't much time to waste here, and there's no need to rush things. A bus will take you to Cuzco. We have a bus from theCIMA every half hour that takes us back to Cuzco in a matter of minutes. You can also visit Machu Picchu if you don't want to hike by taking the Salkantay or Choquequirao Treks. Trail maps for these areas are less difficult and necessitate more effort. It is recommended that you spend at least four hours on either of these trails.
After traveling all over the world, I finally understand where my heart belongs – Burma.
Visiting Peru in December? This is what you should know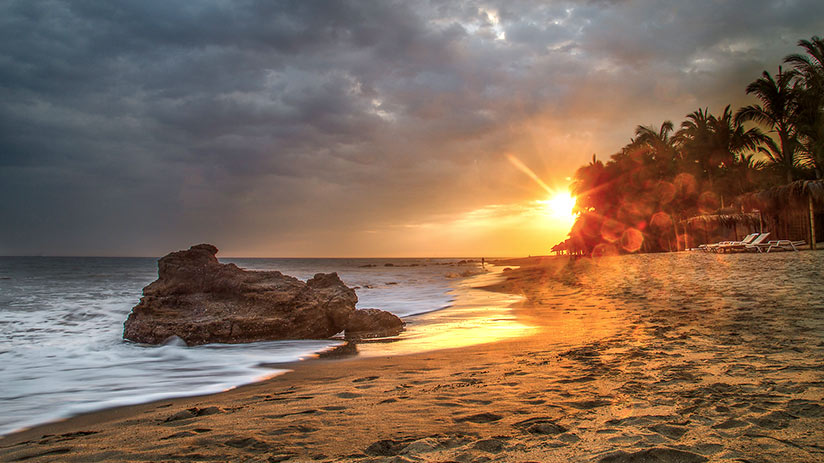 For most people around the world, December is the best month of the year. Joy, gifts, happiness, snow… Wait, snow? For all Peruvians -including the team of Machu Travel Peru-, December is a synonym of sand, sun, and great waves. It marks the official start of Peru's beach season. So, visiting Peru in December is a terrific idea. Well, as for the Andean mountains and the Jungle, rains start falling. But in the case of Amazonia, the climate is hot and humid throughout the year.
The remote possibilities of having a white Christmas will be compensated with temperatures rising to 30°C in the coastal regions of Peru. Spending your holidays relaxing under the sun while tasting delicious seafood and sipping a pisco sour, doesn't sound so bad, right? But if the tropical temperatures are not your thing, there are a lot of places to visit in Peru. Take them into consideration before starting your journey.
What to do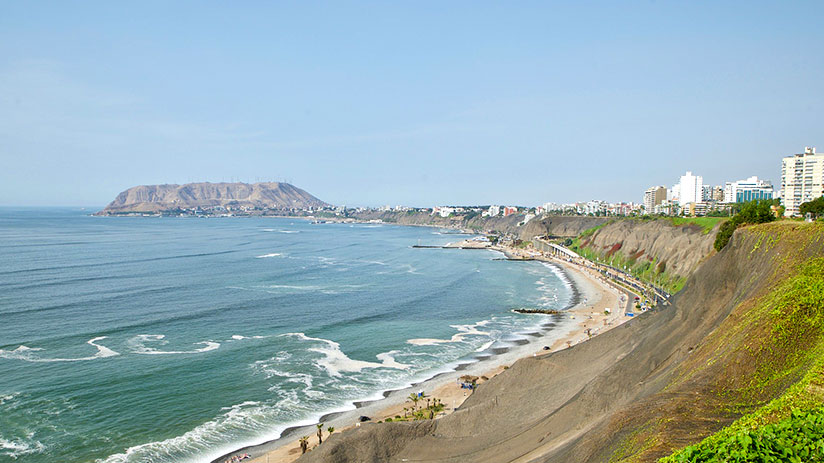 A country as diverse and big as Peru really offers it all. This country is a truly beautiful, colorful and vibrant place to spend your holiday.
Sightseeing in Lima: The Peruvian capital is rich in culture and history. It counts with unique architecture, interesting museums, cool nightlife, stunning art movement, and a growing culinary scene. Lima is by far the best place to try Ceviche (the national dish) while you are sipping a pisco sour (the national drink). You can also watch the sunset from the jetty of Miraflores or wander around the artistic streets of Barranco. If you are interested in Peru's history and colonial past, the historic center is a must-visit.
Hit the beaches: Peruvians tend to flock to the beaches in December. Peru's coastline boasts stunningly unique and beautiful beaches along the Pacific Ocean. Although it's not possible to say which are the most beautiful, we will mention some of them: Punta Hermosa, San Bartolo, Huanchaco, Playa Roja, Punta Sal.
Surfing and watersports: If you are a surfer and you love a relaxed vibe, you must definitely go to Lobitos, Chicama, Mancora, and Cabo Blanco. These enchanting and fulfilling beaches are blessed with ideal shaped waves. December is the perfect month for waves since Peru attracts more northerly swells that bring along warmer water. Also, diving, kiteboarding and whale and dolphin watching are popular.
Wildlife viewing on the Ballestas Islands: Known as "The Galapagos Islands of Peru", these islands offer great aquatic wildlife viewing. They are home to rare birds, sea lions, turtles, dolphins, and whales. Its location on the Pacific coast is accessible from the beach town of Paracas. During your Ballestas tour, you can also explore the sand dunes of Huacachina. It's an oasis paradise that offers a scenery second to none.
Trekking in the Andes: The Andes offers lots of off-the-beaten paths in Peru. There is an abundant nature with ample opportunities for hiking, treks, outdoor activities and exploration that will allow you to discover stunning mountain scenery. There are plenty of opportunities for day and multi-day hikes like our Machu Picchu tours. These can include visits to ancient ruins, hot springs, and even waterfalls.
Peruvian traditions
One of the main things you should do when visiting Peru in December is to know the Peruvian traditions. Christmas and New Year's Eve are the most expected dates through the year.
Peruvian Christmas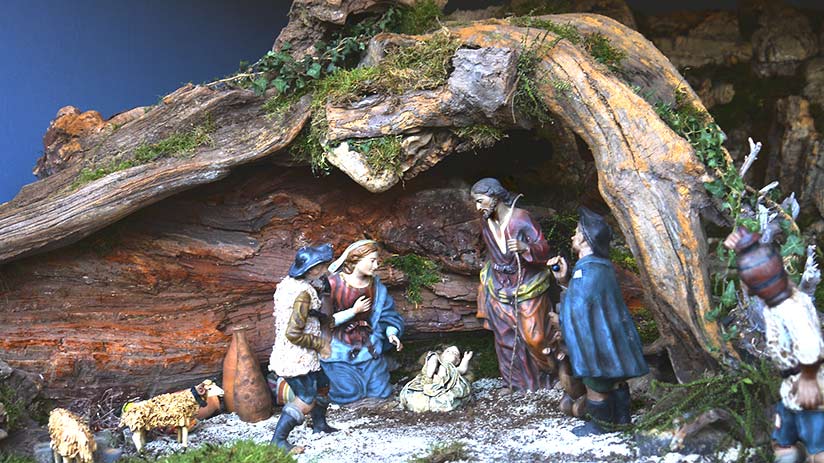 In most parts of the world, Christmas is a special date for families to come together and celebrate. In Peru, there is a traditional Christmas dinner. It normally consists of roast turkey served with rice, potato or apple puree and pasta salad. A common alternative is roast pork, often Lechon or suckling pig. Also, fish dishes are common around the coastal and Amazonian areas.
This exquisite dinner is accompanied by Paneton, a traditional cake/bread that is filled with dried fruits. Also, it is served with hot chocolate. Nobody in the family can refute eating it in December, even when that means sweating nonstop. There is no match for hot chocolate and Paneton when they come to get into the Peruvian Christmas spirit. In fact, it's a ridiculously yummy combination. So, when visiting Peru in December, you must follow this tradition.
The main event: On December 24th, the most common Peruvian Christmas tradition is the unveiling of Jesus Christ. Yep, Peru is a religious country. A tiny Jesus is covered with a blanket and, at midnight, Peruvians remove the blanket. It symbolizes the birth of Jesus. After the big Christmas dinner, everyone opens their presents. This is probably the best part of the celebration for kids.
Besides, on December 25th, everything is really chill, people usually spend the day at home or visiting their families.
Peruvian New Year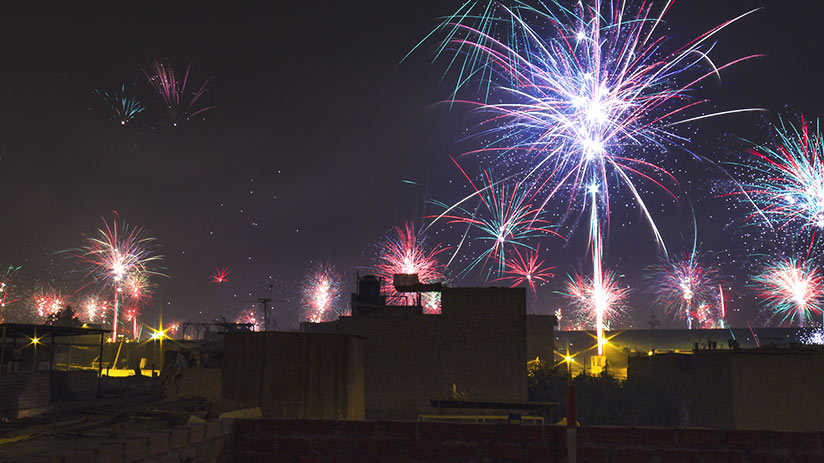 Here, Christmas is to the family as New Year is to friends and party. During this celebration, all the Peruvian traditions are meant to bring fortune and good luck for the upcoming year.
One of the most popular ones is the twelve-grapes tradition. When the clock strikes midnight, you must eat twelve grapes under the table while making a wish per grape. A thirteenth grape must be eaten to seal the deal! Also, sprinkling rice around the house is supposed to bring luck, health and especially money.
Another tradition is related to underwear. Wearing it in a specific color means what desire you want to come true for the upcoming year. Yellow is for luck, red for love, green for money and white for health. In fact, yellow underwear is the most popular. Some people even take a bath of flowers. Peruvians use to bathe in a basin with flowers of different variety and color depending on the wish. For example, roses are for love.
Finally, the funniest Peruvian tradition is dressing up a real-size doll with old clothes, and filling it with fireworks. Then, burn it on the streets. It symbolizes the transition from the old to the new. It's particularly funny when these dolls have the face of a corrupt politician.
Where to go when visiting Peru in December
Christmas in Cusco
Certainly, Cusco is really festive during December. The combination of Andean and Christian traditions makes Cusco more unique and special.
Every year on December 25th, a huge Christmas market called Santuranticuy takes place in the Plaza de Armas. Over 1000 stalls offer a vast variety of nativity figures, decorations, religious ceramics, handmade toys, seasonal food and much more. This is a great way to learn and enjoy the authentic part of the Andean culture.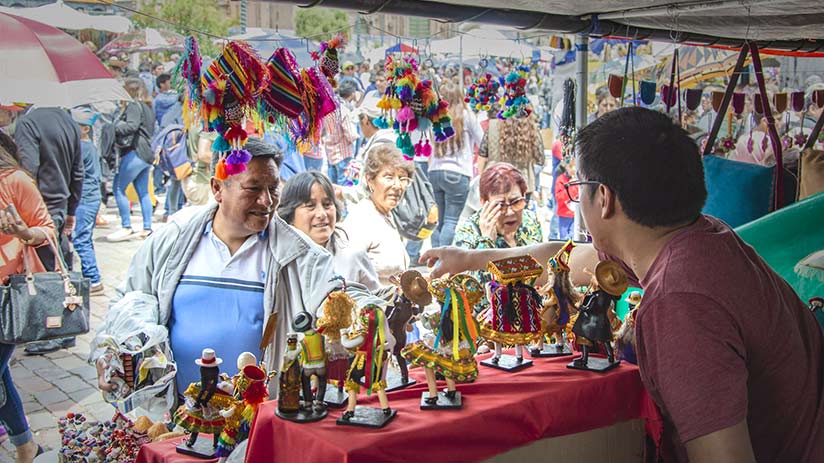 But aside from those commercial stalls, many people from the local hill communities come to the Plaza de Armas. They sell twigs and moss that are bought by the townsfolk to use when making their nativity scenes. In truth, people from the hill communities travel long distances on a budget; even some of them end up spending the 24th sleeping at the Plaza de Armas. They don't have too much. They sell their stuff to make a little money to provide their families with some kind of Christmas celebrations. Sad but true. Certainly, this is also a real part of Peru which exists outside the tourism. So, if you plan to travel to Cusco, keep in mind that it's always good to support local communities.
New Year's Eve in Cusco
Travelers and people from all over the region flock at Plaza de Armas for the countdown to the New Year. There are amazing fireworks displayed every year. After this incredible show, people go to bars or nightclubs until the sun comes up. Don't get surprised. Cusco is the craziest party city in Peru, so it's not an exception to celebrate this way, especially when visiting Peru in December.
Christmas in Machu Picchu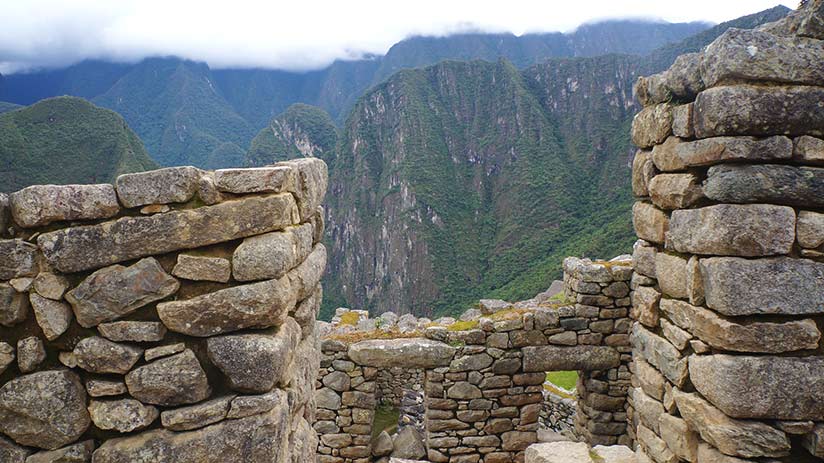 If you want to escape Christmas and all the eccentric festivities, you can still opt for a Christmas trek that lets you get to Machu Picchu. You will enjoy a holiday cheer in one of the seven wonders of the world. Without a doubt, one of the best things to see in Peru. It will be completely epic.
New Year's Eve in the Sacred Valley
On the 1st of January, you can join the "Sinkuy" festivity. It takes place in the central Plaza of Ollantaytambo where people play a bowling game. The tradition consists of the mayor and his wife throw the first ball and then the game gets started. All the people wear costumes, bring chicha (Inca beer), meat and animal-shaped bread.
To conclude, Peru counts with many festivals that are held all over the country. You must take them into consideration; your journey might become a really memorable one. In Machu Travel Peru, we are sure you will have an incredible jolly old time.
Peru has so much to offer, it can be hard to know where to start. With many years of experience in the tourism sector, Machu Travel Peru is happy to help with anything regarding your trip to Peru and any tours around it. Make your travel experience an unforgettable one!
Source https://www.machupicchutrek.net/trekking-to-machu-picchu-in-december/
Source https://www.burma-travels.com/machu-picchu-a-guide-to-visiting-the-lost-city-of-the-incas-during-christmas/
Source https://www.machutravelperu.com/blog/visiting-peru-in-december