Top Non-Touristy Things to do in Rome
Photo by Giuliani & CO flickr.com/photos/giulianieco/
Best Unusual Things to do in Rome
Want to get away from the crowds and experience Rome the way locals do? Then take a look at our list of top non-touristy things to do in Rome.
Explore Rome's street art on the back of a Vespa
Witness incredible forgotten buildings and hidden walls flourish in color and drawings on a 3-hour street art tour of Rome on the back of a Vespa.
See millenary buildings and ancient ruins smoothly blend with this new disrupting form of art. Enjoy outdoor street art signed by international artists such as Diamond, Lucamaleonte, Blu, Sten & Lex and many others. And get your camera ready for the most unconventional Rome you would ever imagine! From Tormarancia, to Porto Fluviale and Garbatella, get ready to discover a whole new side of the Eternal City.
Learn to make food like the Italians
Experience real Italian culture and food by learning to make pasta, pizza, tiramisu and Roman specialties with a cooking class.
What better way to embrace Italian culinary culture than to learn to make Italian food in a cooking class? All it takes is booking one of our cooking classes. From learning how to prepare Roman pasta dishes (carbonara, cacio e pepe, and amatriciana), to learning the secrets behind pasta or pizza-making, we've got you covered with these cooking classes in Trastevere and the historic center. The Chef will be there every step of the way, teaching you everything you need to know. Get ready, because you will learn to make homemade pasta / pizza / Roman delicacies from scratch. After you've cooked away, sit down and enjoy your meal over lunch!
Indulge in wine tasting in an authentic enoteca
Indulge in an authentic wine tasting in a charming wine bar in the historic center, footsteps from Campo de' Fiori.
Listen as the sommelier takes you on a journey around Italy and its wine production through the tastings of 6 different fine wines. You will start off with a glass of sparking wine, either Prosecco or Franciacorta, accompanied by taralli – a characteristic Apulian snack. You will then proceed into tasting two different types of Italian white wines, paired with a selection of local, Umbrian or Tuscan cheeses. And for last, you will taste two outstanding red wines from Italy, as well as a selection of hand-picked salami and cured meats.
Discover Trastevere and Villa Borghese with a treasure hunt
Locals and foreigners can now discover Rome in an interactive way with Foxtrail – a mix between an outdoor escape game and a treasure hunt.
Forget reading endless guides on the best places to visit in Rome and leave it to Foxtrail to help you discover Rome. Two trails are active (but more to come soon) in two of Rome's most beautiful areas: Trastevere and Villa Borghese. Gather your group (from two to six people), book your slot (or more slots if you are a big group) and explore Rome. There are departure slots every 15 minutes (that way you won't meet other groups along the trail) and you can even book last-minute on the same day! Each trail combines technology and creativity, offering interactive installations and clues that take you through off-the-beaten path areas in Rome. Great for expats and tourists of all ages, and Romans as well!
Browse for antiques at Porta Portese
Porta Portese is much loved by local Romans, and every Sunday this enormous flea market is filled to the brim with people searching for a good bargain.
Founded after the Second World War as a new base for the black market, Porta Portese, at the back of the Trastevere district, is the most famous Sunday market in Italy. The vast and diverse array of objects that's for sale is astounding. From priceless antiques to household detergents and secondhand clothing, if you can imagine it, you'll probably find it!
Via Portuense from Piazza Porta Portese to Piazza Ippolito Nievo.
Every Sunday from dawn to 2 pm (Trastevere)
Visit St Paul Outside the Wall
Although it's not as well known as St. Peter, the Basilica of Saint Paul Outside the Walls is still a popular pilgrimage destination for many Catholics.
It was originally founded by Emperor Constantine in the 4th century, and its rather long name comes from the fact that it was once located outside the city's walls. The Basilica is the burial place of Saint Paul the Apostle, and the interior features a fascinating array of religious, artistic and historical sights to explore.
Piazzale San Paolo, 1
Daily from 7am – 6.30pm
Free entry
Go rafting on Rome's Tiber River
Get your team spirit on with an outdoor adventure and experience Rome like never before by rafting along the Tiber River! Get away from the hustle and bustle and see the Eternal City from the river.
The route starts near Piazza del Popolo, then goes down the river, playing on some white water rapids. From Castel Sant'Angelo to the Tiberina Island, get ready to see Rome from a different perspective, away from the noise and traffic. How many people can say they've rafted along the Tevere?
Buy fresh produce at Testaccio food market
If it's a true taste of Rome's local produce you're after, then Mercato di Testaccio is the place for you. Situated in what was once a traditional working-class neighbourhood, this market offers a great choice of seasonal produce, freshly baked goods, ready-made meals and regional delicacies.
With English seldom spoken, this is the perfect spot where visitors will be able to witness a bit of daily life in the heart of the Eternal City.
Entrances from Via Galvani, Via Franklin & Via Manuzio (Metro B Piramide)
Mon – Sat from 7am – 3.30pm
Take a bike ride along the Ancient Appian way
Enjoy a bike ride through the Roman countryside that so well impressed 19th century travellers such as Byron, Goethe and Stendhal. An extraordinary tour of absolute beauty.
Pedal on the Ancient Appian Way, a 2300 year-old cobblestone Roman road while going past an ancient sepulchre, a Roman statue, the ruins of a circus, an imperial palace, the Christian catacombs and pagan mausoleums; then leave the Ancient Appian Way to head towards the ancient Roman aqueducts rising over the fields on the horizon and follow them on their way back to Rome.
Take a stroll around San Lorenzo
Located just north of Rome's Termini station, the trendy neighbourhood of San Lorenzo is a great place to explore if you want to get away from the main tourist drag.
With its hip clubs and bars, cool street art and funky shops; this district exudes a modern bohemian atmosphere that you won't find anywhere else in Rome.
Step into a fairytale in the Coppedè district
Rome is filled with picturesque buildings, piazzas and fountains, but there is one district in particular that not only deserves to be called picturesque, but also seems to embody the definition of the word.
The Coppedè neighbourhood, named after the flamboyant architect that designed the 'quartiere ' between 1913 and 1927, is one of Rome's most exclusive, and smallest, districts. What makes this area so captivating though, is its delightfully tongue-in-cheek mix of architectural styles. Taking his inspiration from Medieval, ancient Greek, Art Nouveau, Neo-Classic and Baroque styles, Gino Coppede built a residential area that makes one feel like you've stepped into a world of fantasy and magic.
The entire nieghbourhood lies between Piazza Buenos Aires and Via Tagliamento – and although it's off the beaten track, it's still easy to reach, either with the tram 3 or tram 19, both of which have stops at Piazza Buenos Aires.
Experience Ponte Milvio's lively nightlife
If you don't have your own transport, then getting to the Milvio Bridge and its very cool neighbouring district, isn't that easy, but this is also one of the main reasons why it's not overrun by tourists. The bridge itself is one of the oldest in Rome, dating from 206 BC, and in the last decade has become the most sought after place for young lovers to declare their love by hanging a lock on the bridge and throwing the key in the river.
The area around the bridge is also famous for being one of the centers of Roman "movida" (nightlife). In the square in front of the bridge there's an assortment of stylish cocktail bars, nightclubs and restaurants. If you want to dance the night away and sip on swanky cocktails, then come join the locals for a guaranteed fun night out.
Explore Fascist architecture in EUR
A physical reminder to the ambitions of Mussolini and his Fascist party, EUR is a peculiar and surprising suburb of Rome.
The area receives very little tourist attention, which doesn't really come as a big surprise, since it lacks the sights most people associate with Rome, such as cobblestoned streets, colourful markets, quaint restaurants and ancient ruins. It is, however, a fascinating area worth exploring, especially if you're passionate about architecture and contemporary history. The most famous landmarks are the 'square Colosseum', the Palazzo della Civiltà del Lavoro, and the enormous artificial lake, which is surrounded by a well-tended park where you can have a stroll or enjoy a picnic.
To get there take Metro Line B south towards Laurentina; then get off at the Fermi station, which is close to the lake.
Get your 30-page essential guide to Rome
A lifetime isn't enough to explore Rome. But if you plan ahead, a short period of time can give you a grand picture of the Eternal City. Just remember one thing: Rome isn't just about the monuments, the museums and the views… it's a lifestyle. And if you want to immerse yourself in this thousands-year-old city, this insider guide will become your best friend!
35 Amazing Day Trips from Rome – Best Places to Visit nearby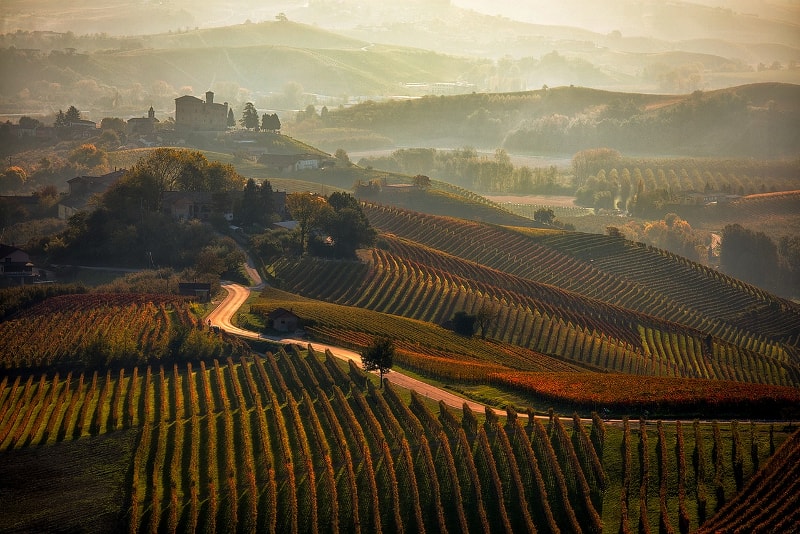 Are you looking for the best day trips from Rome? Some cool places to visit for a day out of the city? You are in the right place! Beyond Rome lies a wealth of options for day trips and excursions. Some of the most rewarding tourist destinations can be reached within an hour, either by car, bus, or train.
Whether heading north or south from Italy's capital, there's plenty to see and do on a day excursion from Rome. From beautiful beaches to stunning monuments, vineyards to picturesque villages, discover 35 amazing places to visit from Rome – an eclectic mix of day tours out of Rome to meet every budget!
1 – Pompeii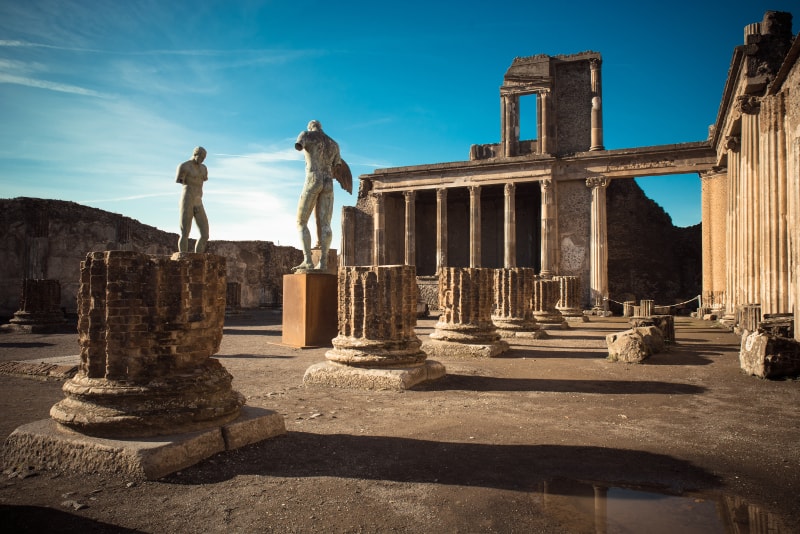 Step into a time machine and take a trip back into the past to the ancient city of Pompeii. Explore the majestic homes as well as modest ones that have been perfectly restored and preserved or visit Roman shops that were once frequented by Pompeii's citizens. In other parts of Pompeii, baths and brothels stand ready for exploration, while the Villa of Mysteries offers a bizarre experience with frescoes that have confused scholars for many years. Join in on the debate and try to interpret the preserved frescoes or walk through the ancient streets of the city to spot graffiti that can still be seen to this day on some of the city's walls.
2 – Naples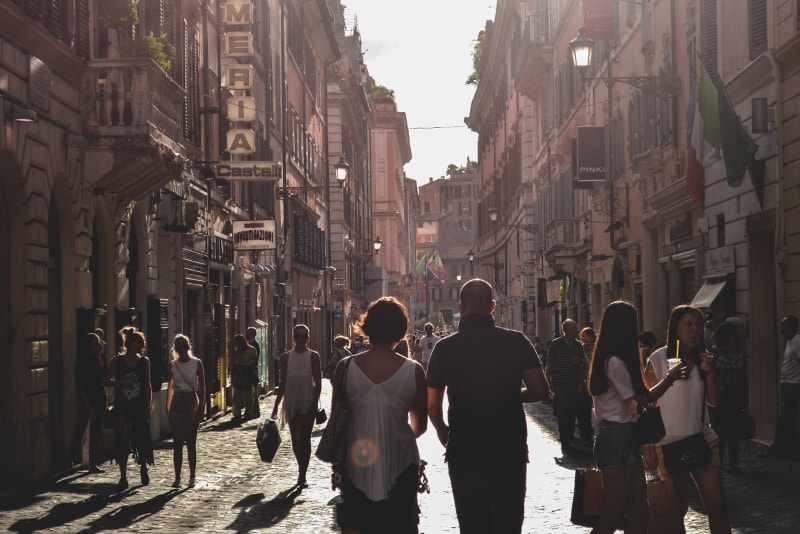 Naples is the gateway city to Mount Vesuvius and Pompeii and in actual fact, you can visit both places in one day. A city full of history and attractions to visit such as Castel Naples and National Archeological Museum. Also famous for being one of the most famous Italian city for pizza so you might be interested to join a food tour around Naples to get to know their cuisine. You won't be disappointed.
3 – Mount Vesuvius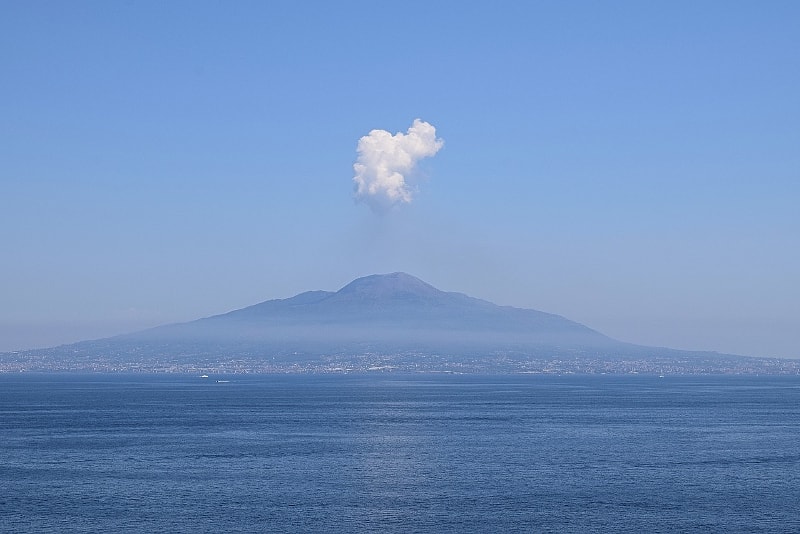 Depart for an extraordinary tour and h ead to the peak of Mount Vesuvius, one of Italy's most popular tourist attractions. Discover the bay of Naples from another perspective with your volcanologist guide.
4 – Caserta Royal Palace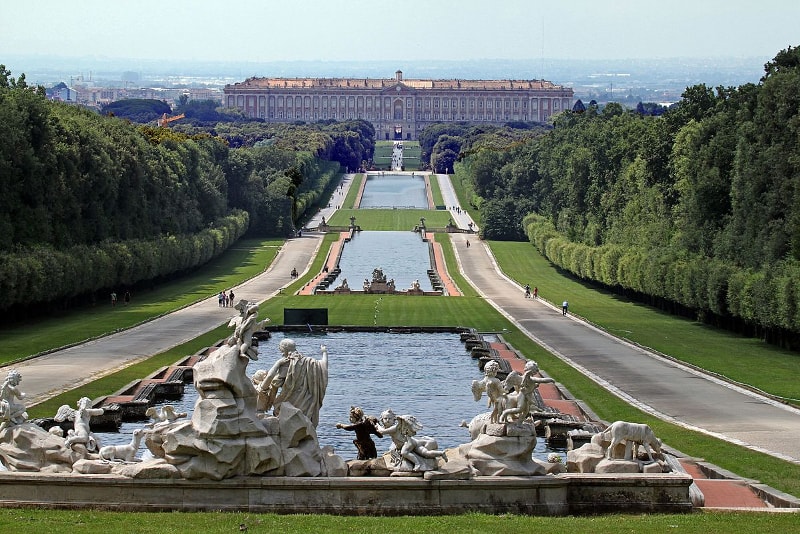 Referred to as an Italian Versailles, this Royal Palace in Caserta is the largest in the world (UNESCO World Heritage). This royal palace has five floors, 1200 rooms, 34 stairs and 1742 windows. All its decoration, tapestry and frescoes are breathtaking. Make sure you book a guided tour if you decide to visit Casera Royal Palace for the day so you get a comprehensive guide of its history. If you are travelling there by train or car, you can book your tickets in advance to avoid the queue.
5 – Venice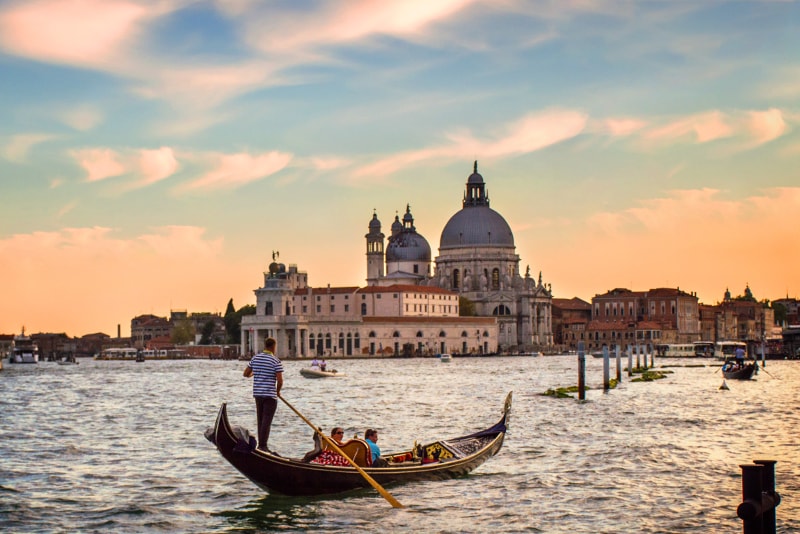 Experience one of the most romantic cities in the world. Heavily touristy but with fascinating architecture, canals to wander around on a gondola and stroll around the labyrinth of cobblestone streets, as well as its world-class museums. If you're in Rome and want to travel to Venice you may want to travel there on a speed train to save up time. From Venice, you can visit some of the islands on a ferry like Burano, Murano, Torcello.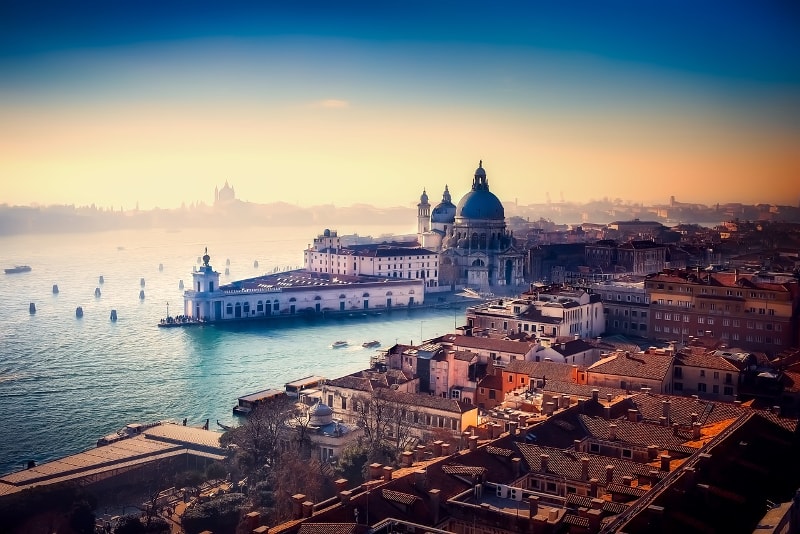 The main attraction in Venice Saint Mark's Cathedrals Archdiocese of Venice is one of the most famous churches and one of the best-known examples of Italo-Byzantine architecture.
6 – Calcata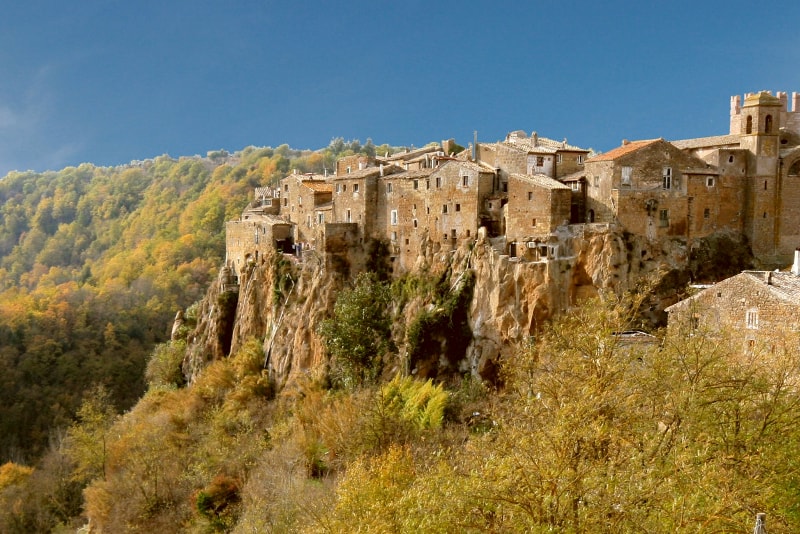 Perched atop a rocky mountain, Calcata is one of the most beautiful and unique villages just 30 km from the city of Rome. Calcata makes an ideal excursion from Rome for those who are looking for something different to do whilst in Rome. Its bohemian atmosphere and medieval architecture are definitely enchanting.
7 – Monte Cassino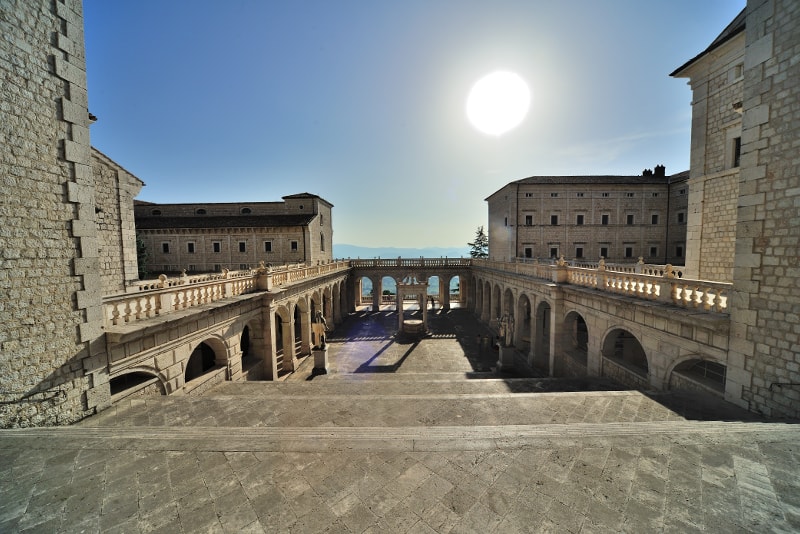 Famous for its monastery built by Saint Benedict in 529 for himself and the monks from Subiaco. Just a 2-hour drive from Rome, Montecassino Abbey has a lot of history to learn about. From when it was destroyed by the Langoboards and again during the wartime; to understand fully how much its monastery suffered, you can combine your day trip out of Rome with a tour of WWII battlefields in the Montecassino area.
Day Trips from Rome to Amalfi Coast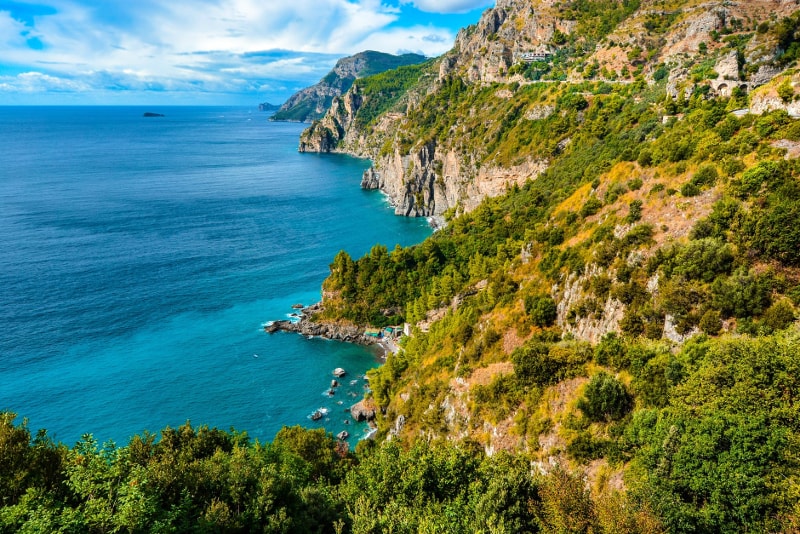 Fall in love with one of Italy's most beautiful coasts on a day trip from Rome, where you will explore the enchanting town of Amalfi. Their beautiful narrow streets spill down the hill and their colourful houses are its true essence. You can also reach the beach and relax while enjoying some sun.
8 – Positano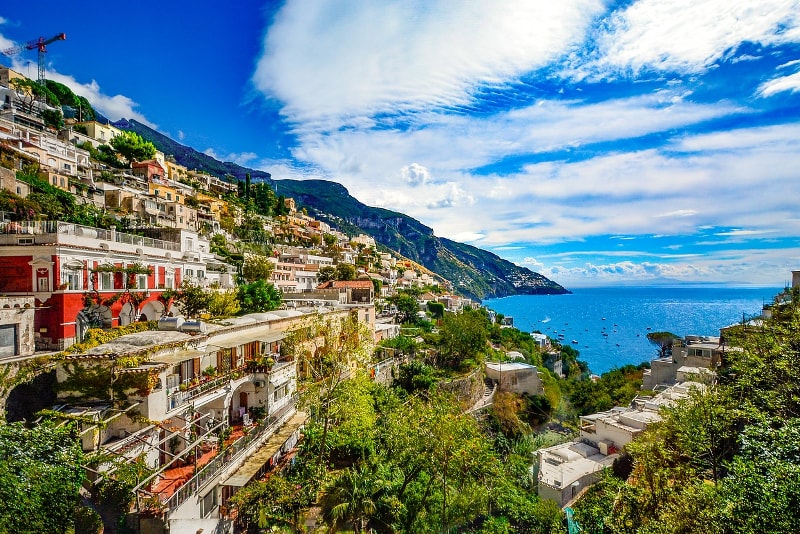 You can also find Positano on the famous Amalfi Coast, perched on a hill which spills down to the water. It is a very popular destination so if you're planning a day trip to Positano, it's best if you schedule it during the spring season. As it's in Amalfi Coast, consider taking a day tour out of Rome to Amalfi Coast and explore Positano and its other beautiful quaint towns.
9 – Sorrento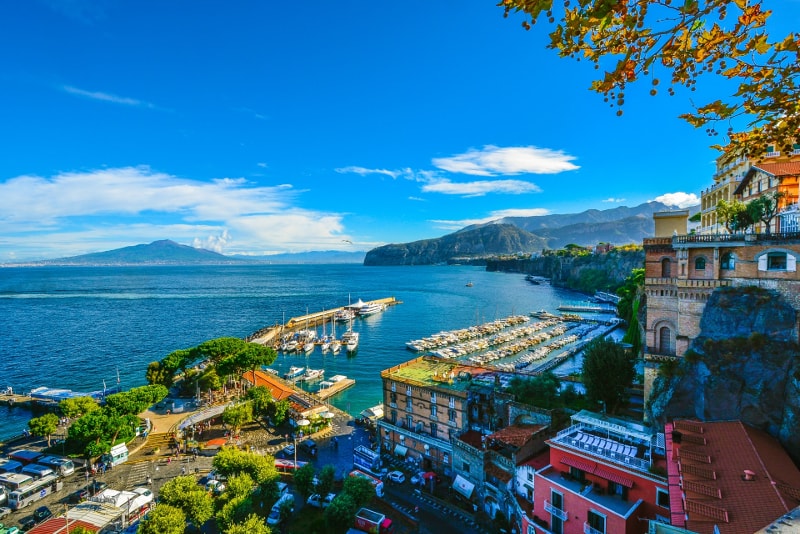 Overlooking the bay of Naples, Sorrento is a favourite holiday destination. There are not shortage of fun things to do in Sorrento. Apart from the beautiful scenery, it also offers museums and characteristic markets. You can experience the heart and soul of Piazza Taso where you will find many restaurants or go to the Marina Grande to eat some seafood. Sorrento has many places to explore and its scenery is beautiful. Due to its proximity to Naples, you may want to take a day trip from Rome to Naples and include Sorrento in your itinerary.
Day trips from Rome to Tuscany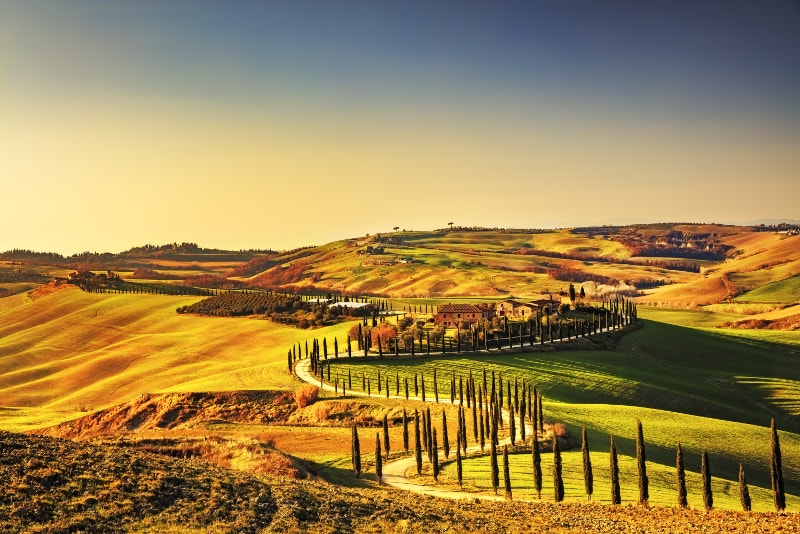 Interesting history, beautiful countryside and delicious food, Tuscany has a lot to offer. If you only have one day to visit somewhere outside of Rome, this day trip from Rome to Tuscany can be your best option. You get a guided visit of Siena, San Gimignano and Pisa. Explore the city of Siena and the cathedral, Chianti hills for a Tuscan lunch and wine tasting. Wander around the streets of San Gimignano and admire Pisa's architecture. This type of day trip lasts for 12 hours approximately.
10 – Florence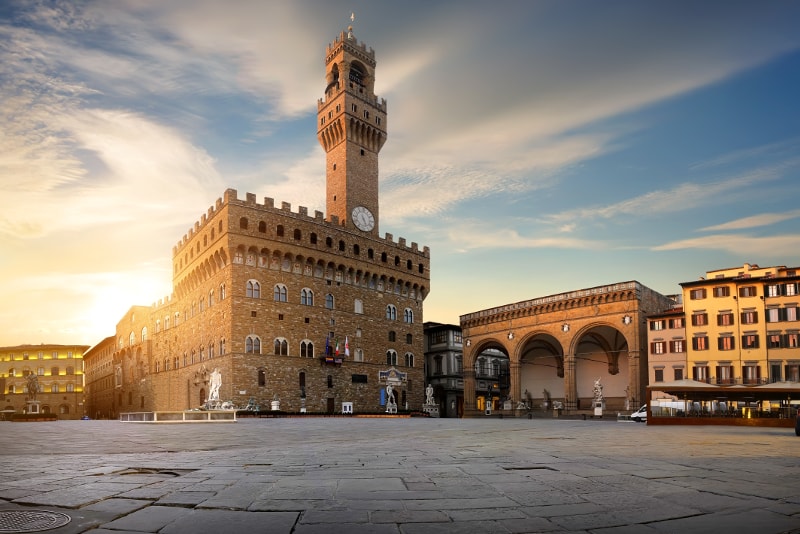 Florence is a must-visit so make sure you add it to your itinerary. Florence is home to some of the most important Renaissance heritage highlights in the world such as Uffizi Gallery, the Bargello, Santa Maria Novella or the Santa Croce. Also, the library of San Lorenzo is a must-visit as it shows Michelangelo's pure architecture. After all the museums and monuments that you will visit, you will be mesmerized.
11 – Siena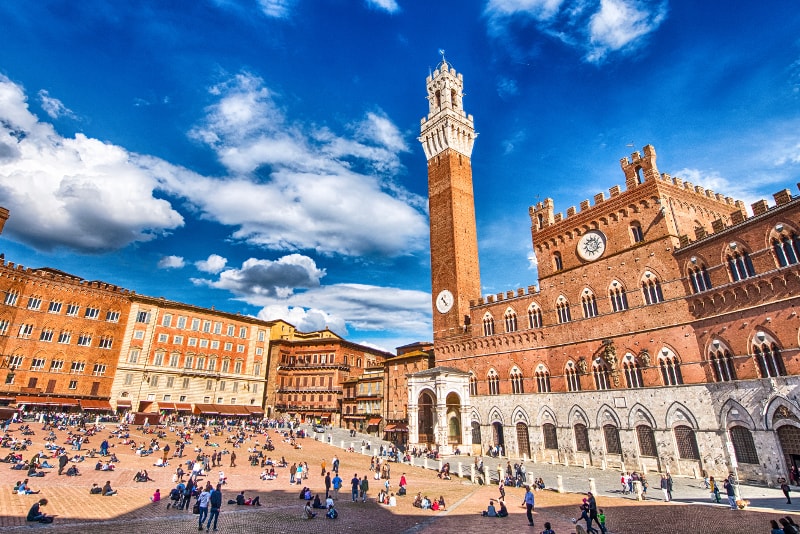 The ancient city of Siena boasts of UNESCO World Heritage sites. It is famous for its Palio, a horse race which runs in Piazza del Campo two days a year; its medieval architecture, the Palazzo Civico with its stunning frescoes and Torre del Mangia, a 400-steps tower which has amazing views overlooking the city and its surroundings.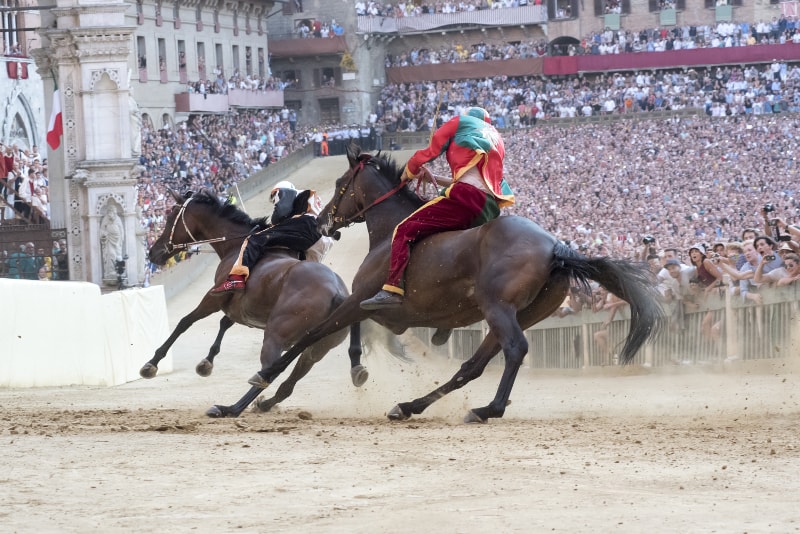 Don't miss the "Palio di Siena" – a horse race that is held twice each year. It takes place on 2 July and 16 August, in Siena.
12 – Pisa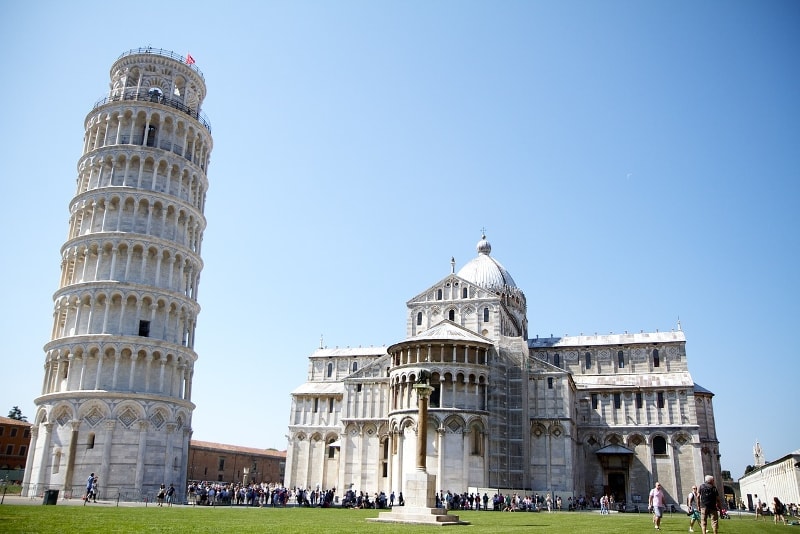 You've probably seen thousands of pictures of The Leaning Tower of Pisa, as it is the icon of the city. But it's not all just about the Leaning Tower, Pisa also has more than 20 historical sites like churches, museums, art galleries and more to explore. Wander around the old town and understand why Pisa is one of the most important cities in Italy, as it used to compete back in the days with Genoa and Venice as a maritime powerhouse.
13 – San Gimignano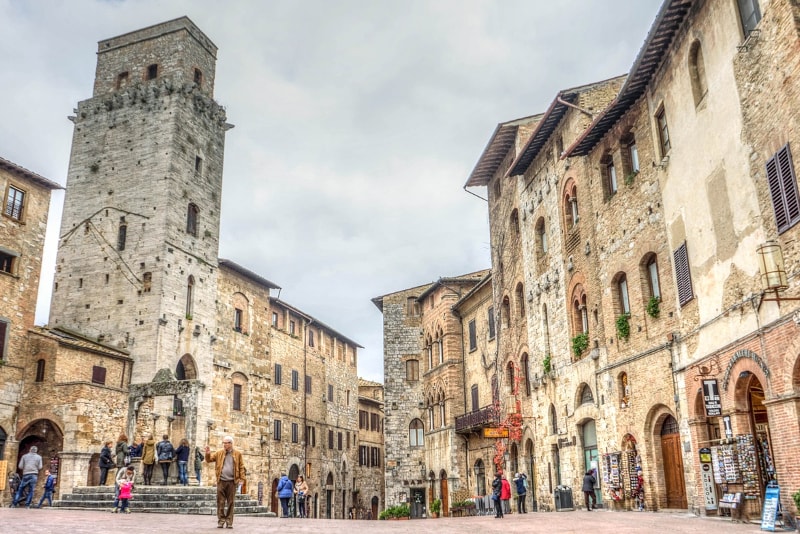 San Gimignano is one of the most picturesque villages in Tuscany. It boasts 14 medieval towers, cobblestone streets to wander around in and admire the old medieval architecture of the buildings. It's small enough to be visited on a day trip from nearby cities such as Siena, Florence and Rome.
14 – Livorno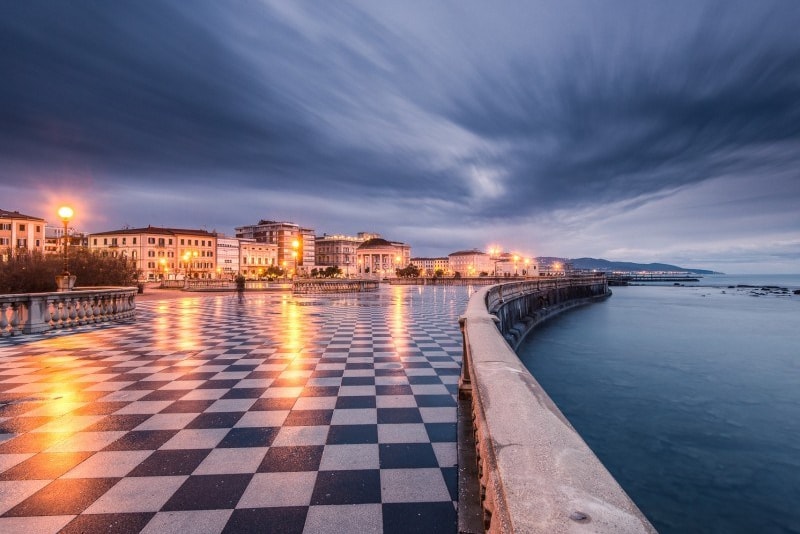 On the western coast of Italy in Tuscany, Livorno is well-recognized to be similar to Venice. It's surrounded by canals and it's one of the oldest parts of the city. Here you can enjoy some local food, wandering around the city with its majestic squares, numerous bridges and architecture.
15 – Cortona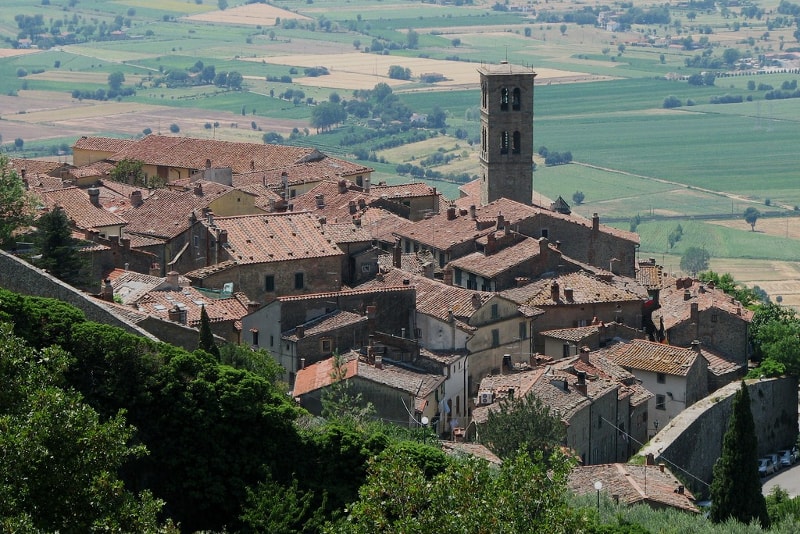 An old town with Etruscan origin easy to enjoy on foot and its beautiful surroundings. Set on an altitude of 600 metres, it has beautiful views. It offers many good restaurants and bars that serve typical dishes of Tuscany and its delicious wines. Near to the Lake Trasimeno, Montepulciano, Arezzo, Siena, Orvieto, San Gimignano and much more other beautiful villages. If you want to maximize your experience in Tuscany, include Cortona in your itinerary.
16 – Arezzo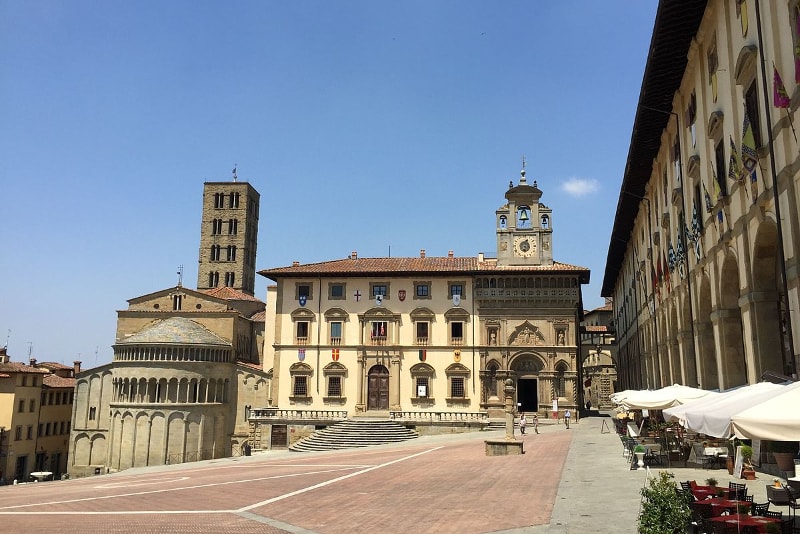 Birthplace of the famous Giorgio Vasari and Piero della Francesca, Arezzo is an open museum of their art. Nowadays it is an agriculture trade centre and has machine, clothing, jewellery and gold industries, also a touristic place in Tuscany. The piazza Granda is its main place to visit with many cafes and restaurants, pass by Arezzo's cathedral, the Medici Fortress which offers a 360-view of Arezzo and the surrounding areas. Don't miss their traditions where each of Arezzo's neighbourhood has their own team of knights who joust twice a year in June and September.
17 – Capalbio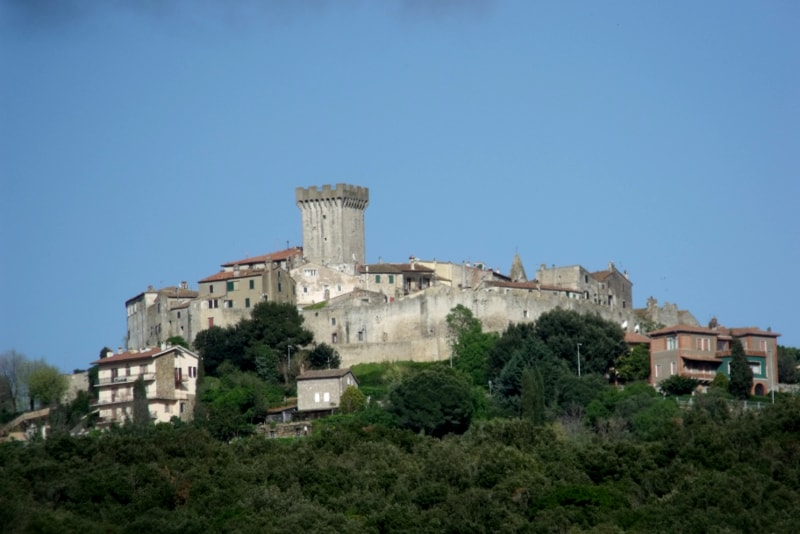 A beautiful gorgeous village in Southern Maremma that is an easy day trip from Rome. This charming city is best to visit in the summer season for its sandy beaches, its top places to visit is the Fortress of Aldobrandeschi and the Church of San Nicola. Capalbio is rich in history, natural vistas and long sandy beaches. This can be an ideal day trip from Rome if you want to get away from the hustle.
Day trips from Rome to Umbria region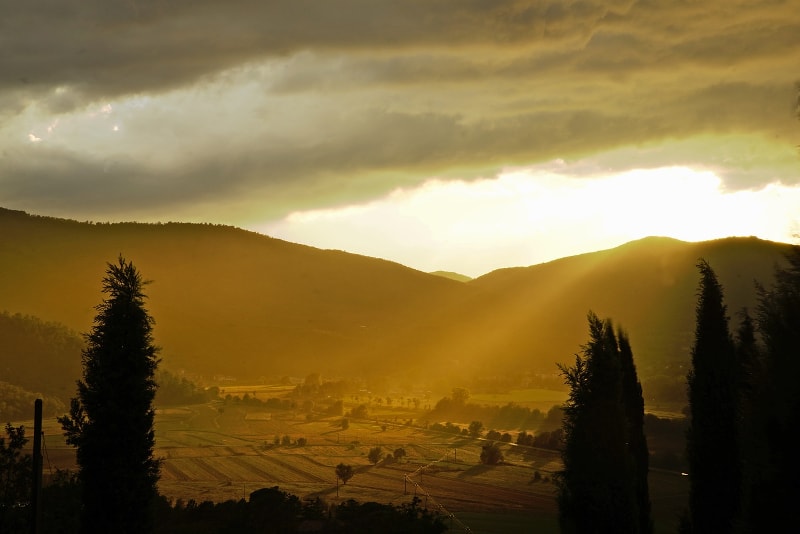 Explore the Umbria region from Rome and discover everchanging, untouched landscapes in the green of stunning valley.
18 – Assisi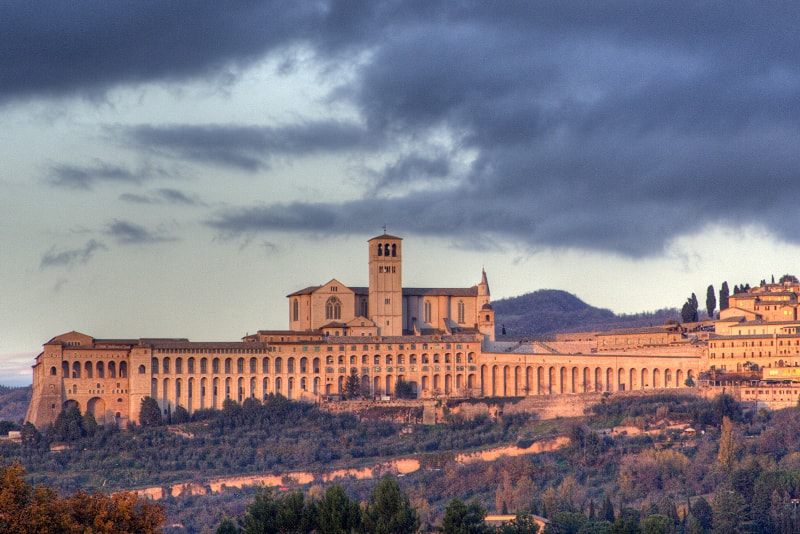 A small Umbrian town in central Italy, Assisi is a short drive away from Rome. It is best known for being the birthplace of Italy's patron saint, St. Francis of Assisi, who is also one of the most popular Catholic saints in history. The main attraction of the town is the 13th-century Basilica di San Francesco, which houses sacred relics of St. Francis along with gorgeous frescoes depicting his life.
19 – Orvieto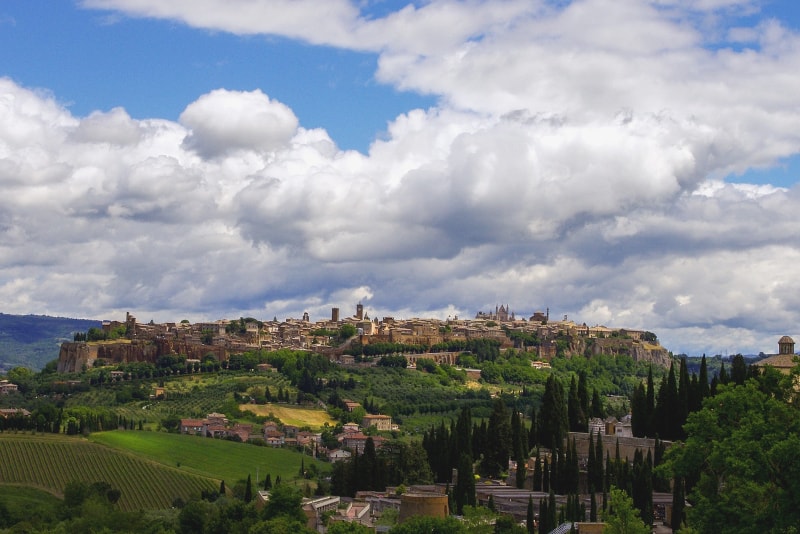 Sitting on a grand stone throne a thousand feet above the valley floor, the town of Orvieto in the Umbria region is an absolutely stunning day trip destination. Orvieto is the most striking and memorable of all of Italy's hill towns and features a 13th-century cathedral and former papal residences as well as an extensive and intricate network of underground tunnels.
The town is separated into two distinct sections: the old-town on the hilltop and the relatively modern part of town below. While there are some points of interest in the new part of town, your time is best spent at the top of the hill where the lively Orvieto cathedral beckons.
Day trips from Rome nearby

20 – Tivoli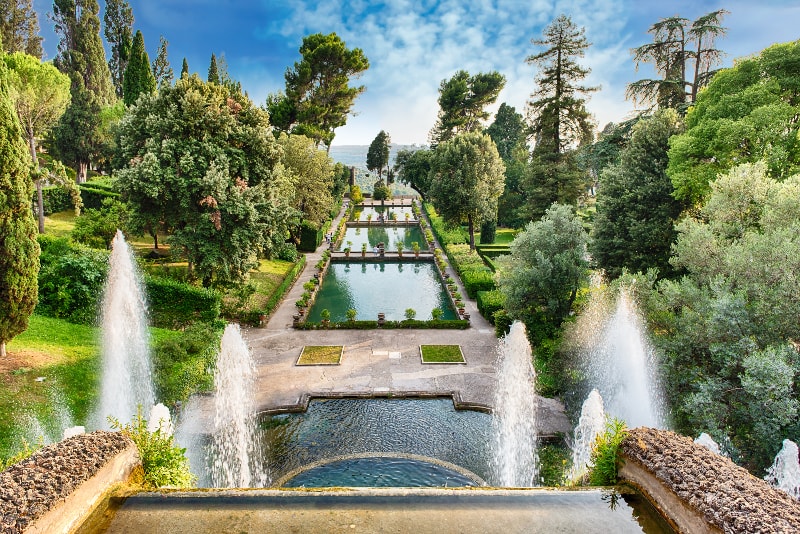 Just an hour away from Rome, the historic town of Tivoli is home to many UNESCO World Heritage Sites, such as Hadrian's Villa and the Villa d'Este. They are composed of a large number of structures, lakes, libraries, temples and gardens. Not be missed are the Fountain of the Dragons, the Hundred Fountains and the Water Organ Fountain in the Villa d'Este.
21 – Ancient Ostia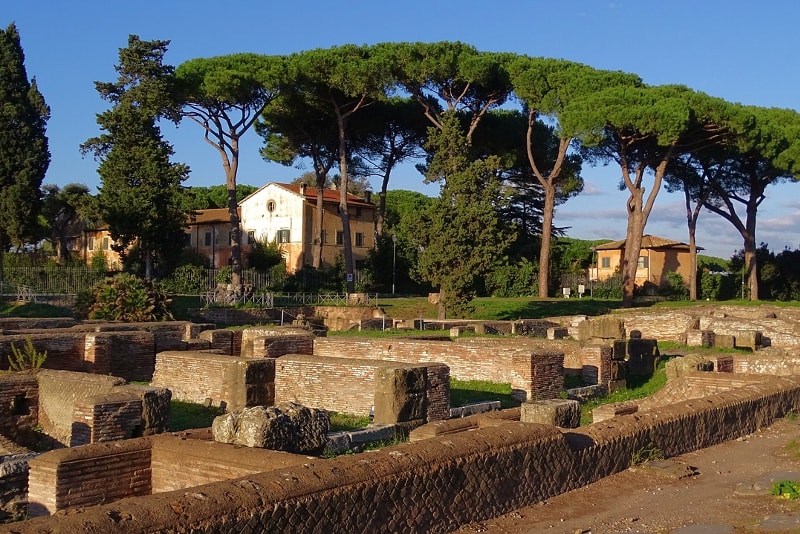 This ancient city was the main port of Rome and of major commercial importance. Nearly all of the city of Antica is an incredible excavation site which dates back to the 7 th century although there are some sites that are still uncovered and date back to the 3 rd century.
It's must-visit attractions are Baths of Neptune, the theatre, Capitolium and Forum, Decumanus Maximus and much more… Make sure you visit Ostia Antica with a tour guide in order to get a comprehensive explanation of its rich history.
22 – Castelli Romani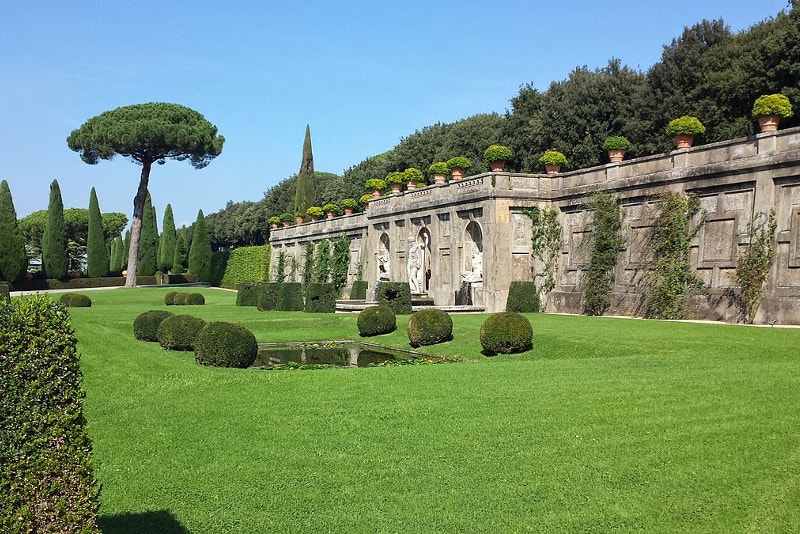 Castelli Romani is home to several beautiful towns. Great villas and palaces can be found all over the villages, as the area was once a favourite retreat for wealthy Roman residents in the past.
For those who are keen on tasting some of the region's white wine, make sure to visit the town of Frascati. Meanwhile, the town of Castel Gandolfo is home to the Papal Palace and its magnificent garden. Other towns to visit include Velletri, home to an archaeological museum dating back to the Iron Age, Arricia, which is famous for its roast pork, and Albano Laziale, a town with a lengthy history.
Castel Gandolfo
Easily accessible side trip from Rome due to its proximity (40 minutes approximately). You can learn from history, art and culture in Castel Gandolfo by visiting the Pontifical Villas of Castel Gandolfo. Go up to the castle to enjoy the views over the Lake Albano. Castel Gandolfo has a lot to enjoy from so if you're looking to visit more than just the typical attractions in Rome.
23 – Matera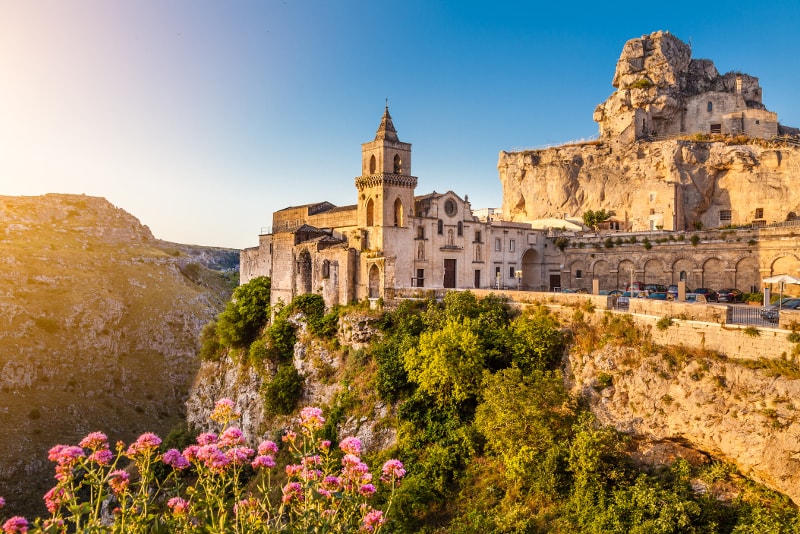 It boasts very well preserved rock-cut settlements that are considered World Heritage. It is recognized for its caved houses on limestone rocks. If you're looking for something different and unique, Matera will fulfil your expectations.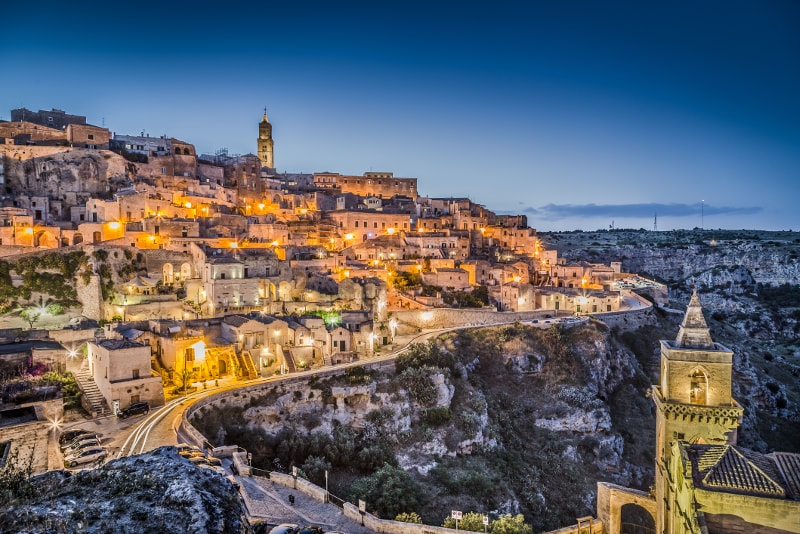 It is a city full of hidden treasures, museums, festivals, concerts and much more.
24 – Giardino di Ninfa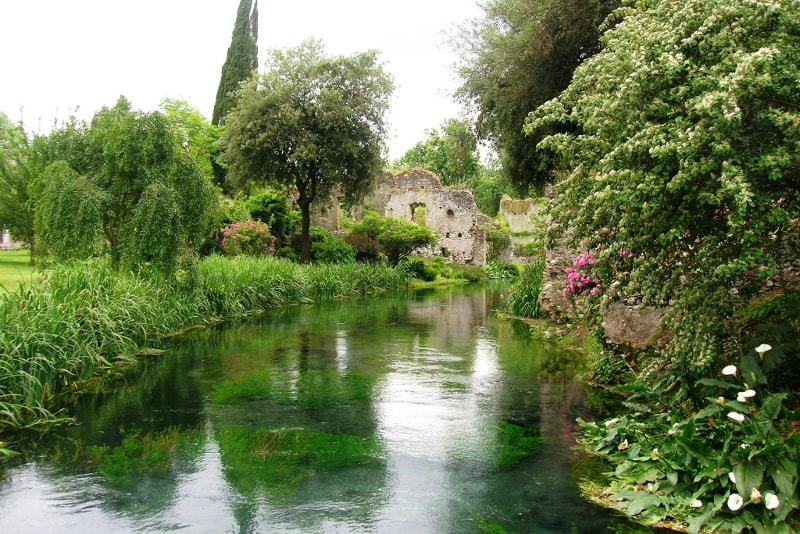 A great example of Italian medieval architecture, the Giardino di Ninfa is a park situated in Cisterna di Latina of central Italy. There are tour guides in this garden between the months of April and October only.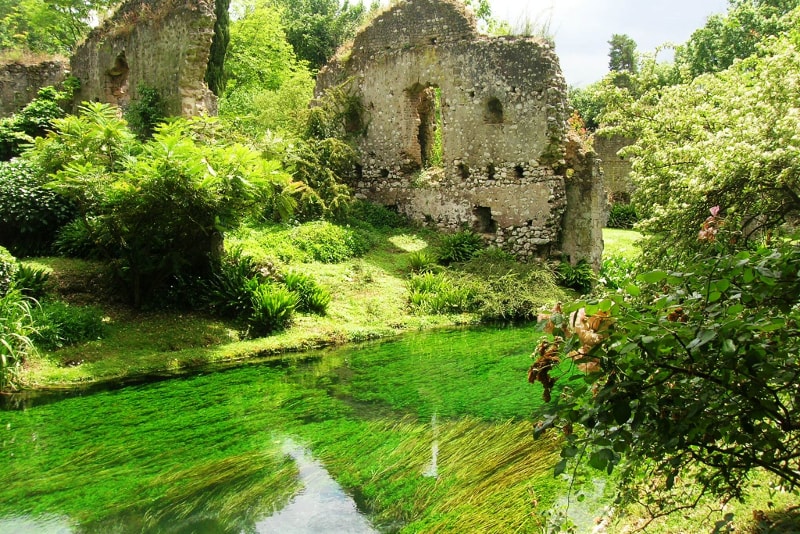 The availability to visit the garden is due to preserving the garden, the remains of a medieval castle, churches, clock towers, palazzos and plenty more to see.
25 – Cerveteri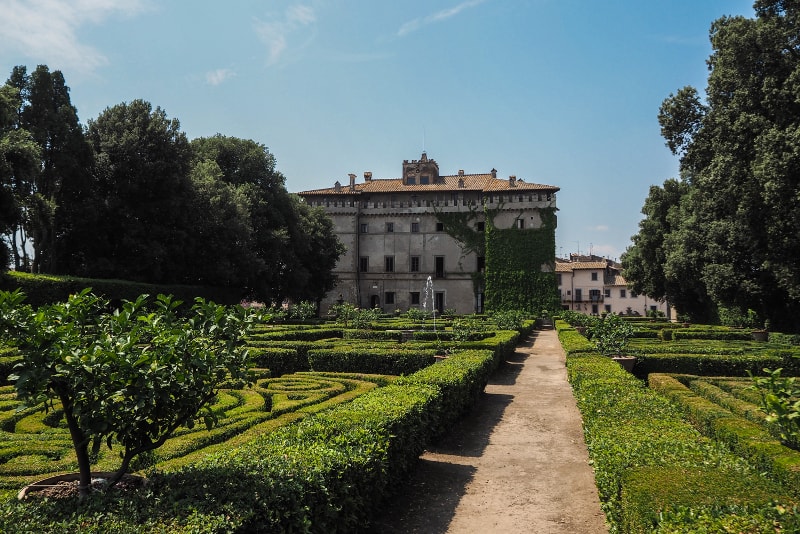 Famous for its well-preserved Etruscan Necropolis, just a 50 minutes drive from Rome. Its main attraction is the Necropolis of the Etruscans but not only this, it also has many historical sites and cultural attractions: the Ruspoli Castle, Cerite National Museum where you can see artefacts from the necropolis, Piazza San Pietro and many other attractions.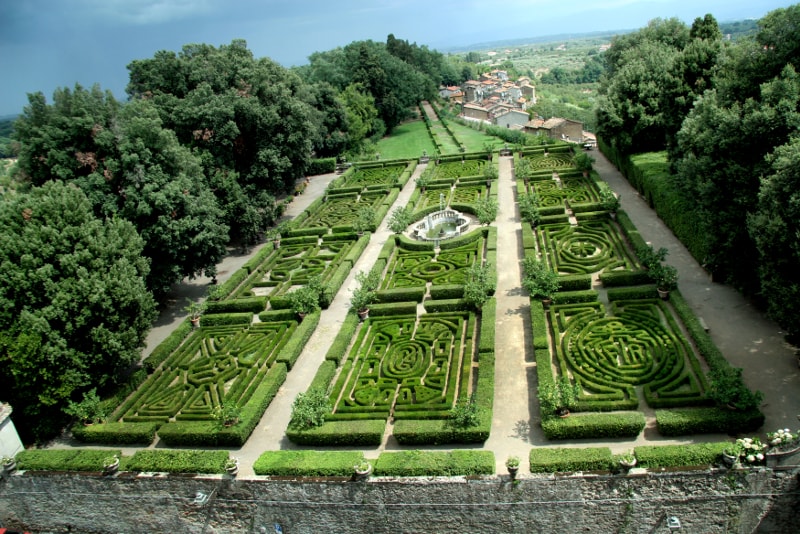 Day Trips from Rome to Apulia region

26 – Apulia
Apulia is a region in Southern Italy towards the eastern coast which offers a lot of things to see. It has many UNESCO World Heritage such as Trulli in Alberobello, the castle of Frederick II in Castel del Monte, Longoboard sanctuary in Monte Sant'Angelo. It also has beautiful traditional houses full of history in Ostuni, baroque buildings and Romanesque-gothic churches all over this region.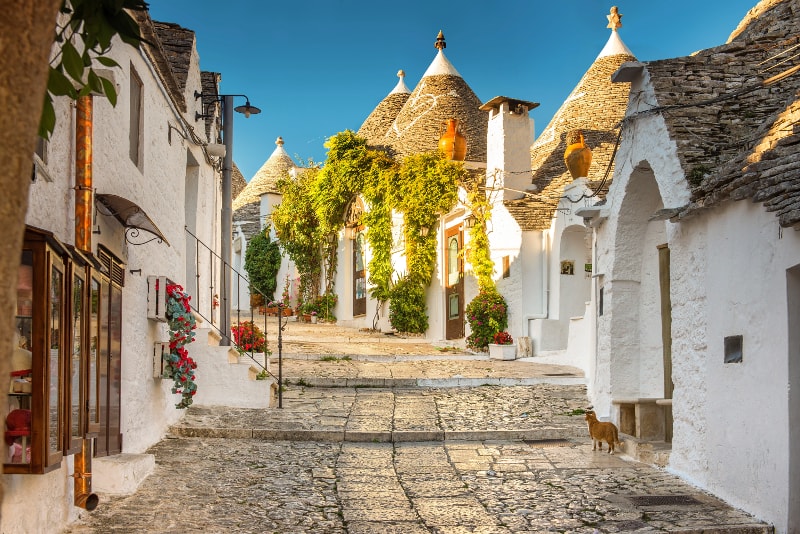 The region of Apulia, in general, has a vibrant vibe so if you're looking for relaxing on a beach, culture, art and tradition, you should come here. There are plenty of day trips from Rome to Apulia region where you can have a thorough tour of almost everything there is to see in Apulia.
Day Trips from Rome to the seaside, lakes and islands
27 – Capri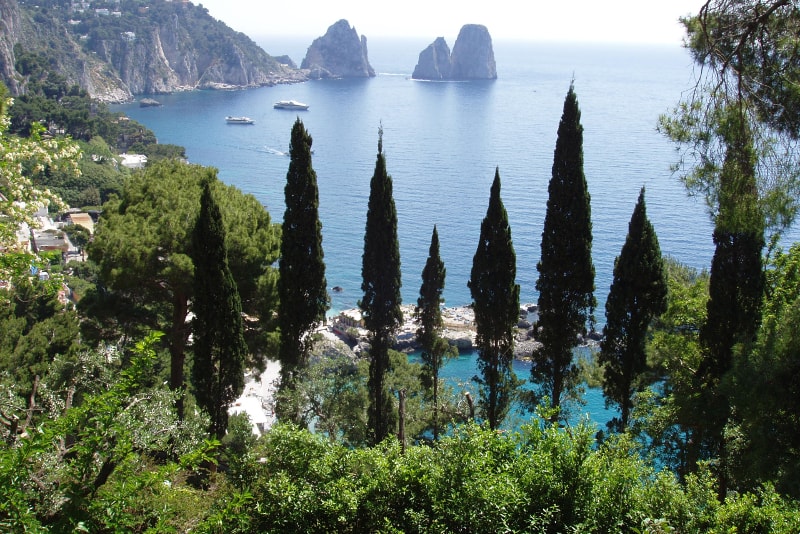 Escape to an island in the Tyrrhenian Sea for a day trip from Rome. Tours usually take you to Naples and from there they take you to Capri on a boat. In Capri you shouldn't miss out on Blue Grotto, a small beautiful cave and Anacapri where you can get on a cableway. It'll take you up to the top of Monte Solaro and have breathtaking views of the gulf of Naples and Salerno.
28 – Ponza island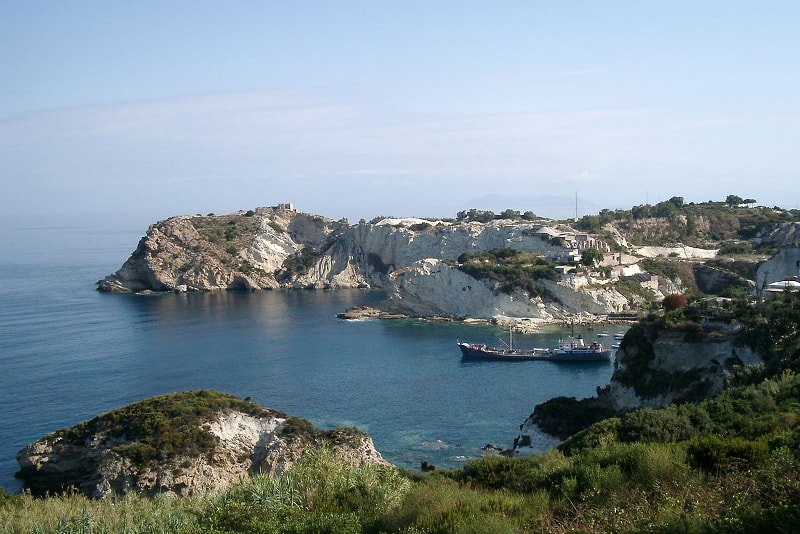 Ponza island is just off the coast of Italy south of Rome and north of Naples. Ponza has plenty of Etruscan, Roman and other remains. Most famous site in Ponza is probably the Roman Gallery which is a Roman tunnel that connects the town of Ponza to the beach of Chiaia di Luna. You can enjoy snorkelling and swimming in the clear blue sea and other many water activities.
29 – Santa Marinella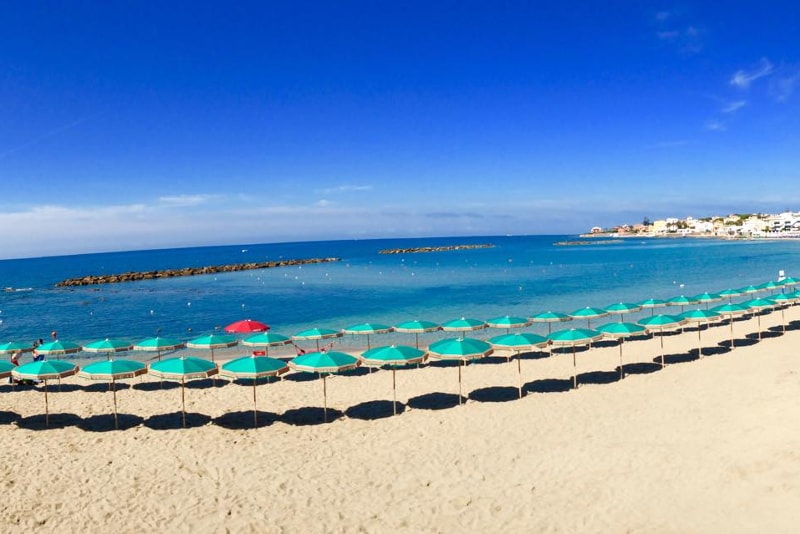 If you're visiting Rome in the summer and want to explore more than just city, Santa Marinella is a great place for a day trip to cool off, eat some fresh seafood and relax on the beach. Santa Marinella is a perfect seaside day trip from Rome, just 50 minutes away.
30 – Lake Trasimeno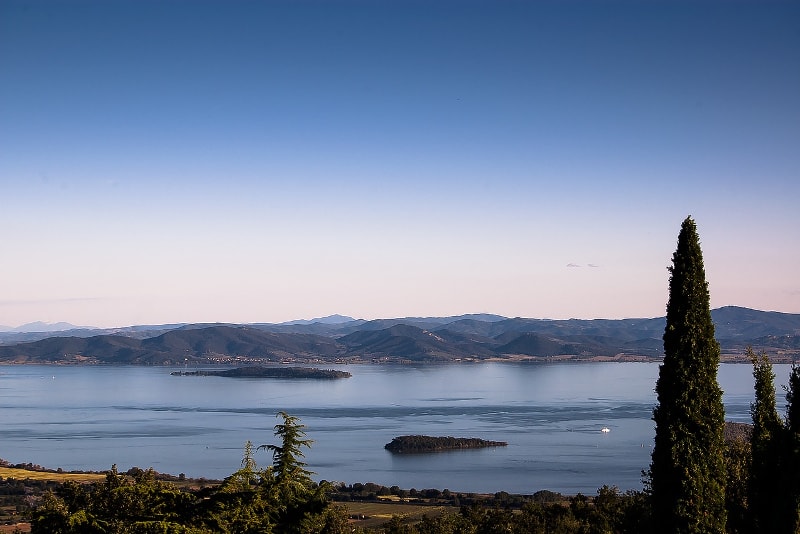 One of the best things to do in Lake Trasimeno is a tour of the islands by ferry: Island Polvese and Island Maggiore. Not only this, but you can also go round the Lake Trasimeno by bike to explore the Lake quicker and enjoy the views. There are castles to visit, palaces and much more to explore perfect for relaxation and wander around. Since there are plenty of things to do, consider looking for day trips from Rome to Lake Trasimeno. You won't regret it!
31 – Lake Martignano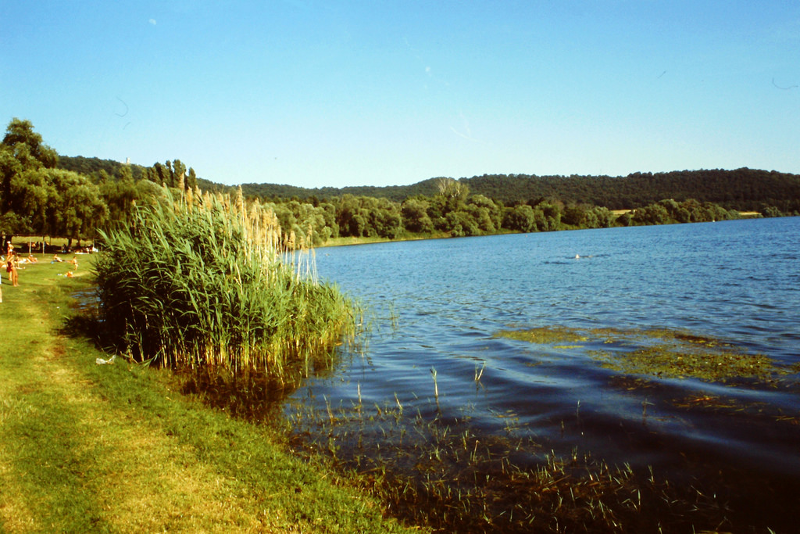 credit to Flickr
Lake Martignano, a very calm lake to enjoy the peace and tranquillity. It is a perfect day trip from Rome to get away from the hustle. Not only you can spend the day, but you can also stay overnight at a campsite. You can visit the Agriturismo il Castoro where you can enjoy grass beach and hammocks to make your stay more comfortable, as well as a restaurant in the area to enjoy grilled meat.
32 – Lake Bracciano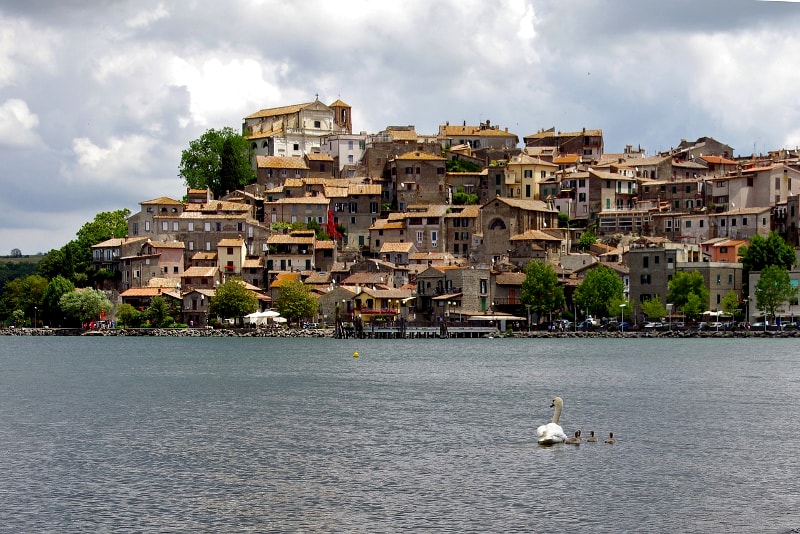 Located in Bracciano, the Lake Bracciano is a volcanic lake which is characteristic for its clear waters. Many water activities can be enjoyed here like sailing, canoeing, scuba-diving. Lake Bracciano belongs to the Bracciano-Martignano Natural Park so it is well-preserved. You can visit Lake Bracciano on a day trip from Rome and visit the town of Bracciano whilst you're there. The town of Bracciano has a medieval castle worth visiting.
33 – Lake Vico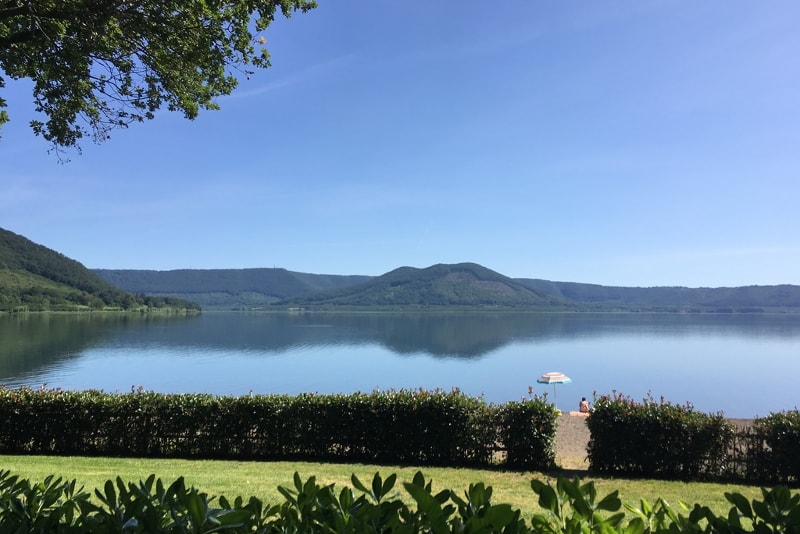 An unspoiled area in Lazio with fresh, clear and calm waters. The perfect place to enjoy some paddle boarding, kayaking around the lake and canoeing for adventurous travellers. In addition to a good variety of water activities, Lago di Vico has a lot of nature to explore and bird species to watch. It has plenty of treks to walk in and picnic tables to stop at and eat whilst being in total nature. You can find Lago di Vico just an hour and 20 minutes from Rome.
34 – Anzio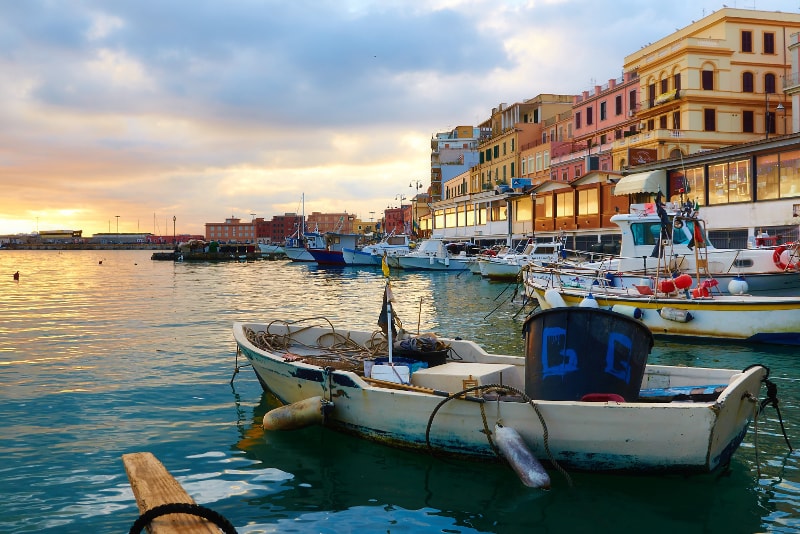 About 1 hour away from Rome, Anzio is a fishing port famous for its delicious fish plates and for being a significant site during World War II. It also has a harbour for ferries and hydroplanes to the islands of Ponza, Palmarola and Ventotene. You can combine a day trip from Rome to Anzio and Ponza islands if you're feeling adventurous.
35 – Sperlonga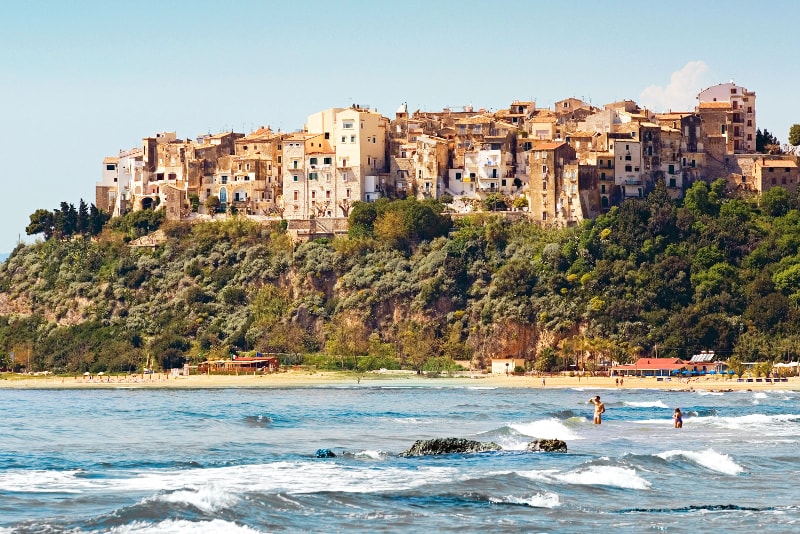 Its main attraction is the beach, Sperlonga is a famous summer destination for families. Famous for its grotto (cave) which has sculptures representing scenes of Odysseus. Not much more to see, Sperlonga is a destination to relax in, on its beaches, walk its promenade, go up its watchtower and visit its archaeological museum.
We hope this comprehensive guide helps you find out more about the many day trips from Rome. If you have any queries please do not hesitate in commenting below!
Accessible Rome
Looking for accessible Rome tips? Rome streets and sidewalks can be notoriously difficult to navigate as a pedestrian, let alone in a wheelchair or with a walking stick.
Visiting Rome in a wheelchair? Find out how to get around and what to expect.
Wheelchair Accessible Rome and Other Options for Visiting Rome with Limited Mobility
I usually recommend walking around Rome, so you can go slowly and see smaller streets and piazzas.
Of course, this is not always feasible. If you have limited mobility, there are still lots of way to enjoy Rome.
Here's what you need to know about visiting Rome with limited mobility or in a wheelchair:
Sight-seeing in Rome in a Wheelchair
The ancient Romans were pretty amazing at building aqueducts, roads, and monuments that have stood for centuries.
Unfortunately, it seems that modern Rome has not quite come up to 20th century standards when it comes to accessibility.
We have a lot of uneven cobblestone streets (that already make walking hard on one's feet), broken curbs, and either non-existing sidewalks or sidewalks so narrow, you need to walk in single file.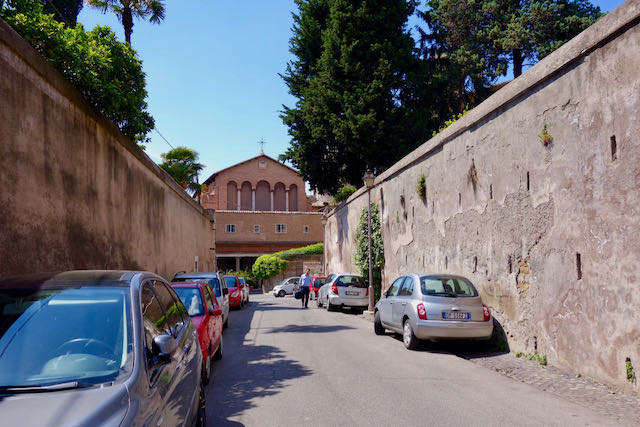 On this Roman street, there is no sidewalk, and what little side-space there is, has been taken up by cars parked illegally.
These are barely ideal conditions for walking, let alone getting around on wheels, whether we are talking about a wheelchair, bicycle, or baby stroller.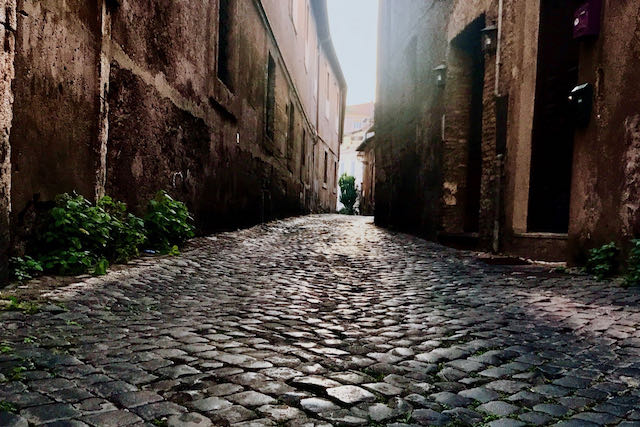 On this typical Trastevere street, you can see the types of cobblestones we have in a lot of places around Rome – charming but uncomfortable, and sometimes, difficult to manage.
Accessible Rome Sites
Most of Rome's popular attractions have at least some accessibility for people with limited mobility or in a wheelchair.
The Vatican and Sistine Chapel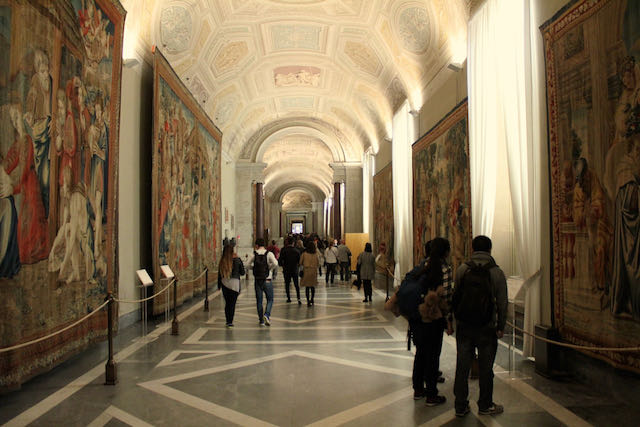 Visiting the Vatican in a wheelchair is very doable. You may miss parts of the normal itinerary but of course you will see the Sistine Chapel.
Where Saint Peter's Basilica is concerned, you can visit it with a wheelchair.
I've found the best online advice about this is on John Sage's website .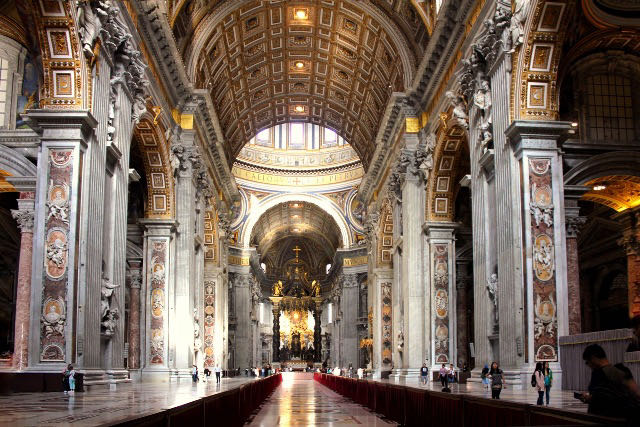 You can visit Saint Peter's basilica in a wheelchair. You can skip the security line, and go up a special ramp for wheelchairs.
Colosseum, Roman Forum, and Palatine Hill
The Colosseum is certainly visitable in a wheelchair, but your options are a little limited.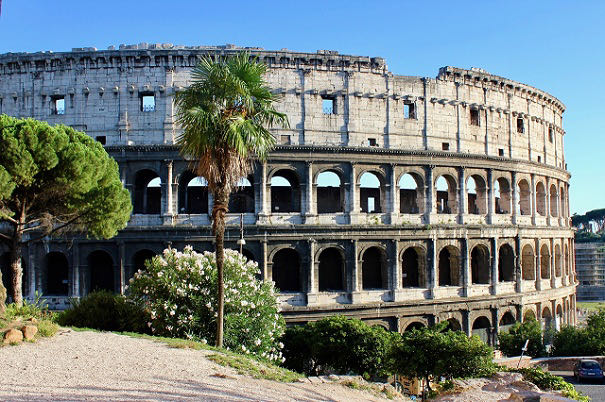 You can visit the Rome colosseum in a wheelchair.
There is a ramp for entry, and you can move around parts of the lower level.
There is an elevator to reach the second level.
Unfortunately, it's not possible to visit the underground or upper tiers in a wheelchair.
The perfect 3-day itinerary in Rome
Trying to figure out how to organize your visit to Rome? I've got the perfect 3-day itinerary for first-time visitors (or those who have not been here in a while.) It works for a 2.5 day visit as well.
And if you have more time, or want suggestions for extra/other things to do, you'll find that there too.
Pantheon
Luckily it's pretty easy to visit the Pantheon in a wheelchair.
The square is paved with cobblestones but they are fairly uniform and the ground is mostly flat.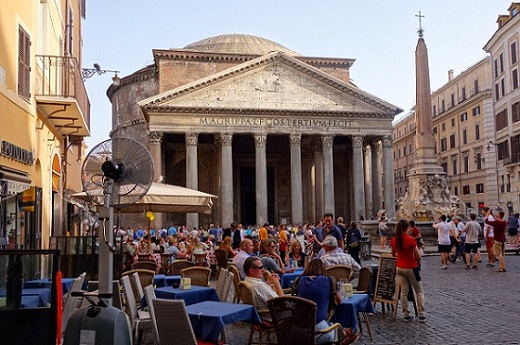 Although things are gradually changing, the Pantheon remains something of an obstacle course for travelers with a disability
Inside the Pantheon, you can easily navigate those original marble floors put there during the reign of the Emperor Hadrian in around 120 C.E.
Rome it's lagging in many critical areas of accessibility. Pantheon it's not one of them
Galleria Borghese
You can come in your own, or ask to borrow one of theirs once you arrive.
You cannot book one of their wheelchairs in advance, but just ask when you get there.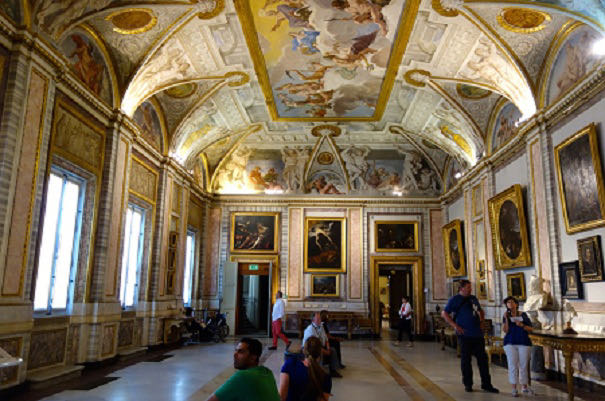 Visiting the Galleria Borghese in a wheelchair is very doable, and you can see both floors and all the rooms.
There is an elevator inside that will allow you to visit both floors of this amazing museum.
This page is all about the accessibility of the Galleria Borghese, but it's only in Italian (try using Google translate to read it).
Capitoline Museums
The Capitoline Museums is one of the more accessible Rome attractions. You can visit much of the museum in a wheelchair.
I discovered, thanks to wheelchairtraveling.com, that the issue is more about GETTING TO the entrance to the Capitoline Museums.
Luckily wheelchair access isn't a problem at any of the main rooms of Capitoline Museums
But to get up the hill, you will need someone pretty strong and capable to push you up along the winding ramp on the side, or, you will need to take a taxi up there.
Piazzas in Rome
Piazza Navona with its Baroque fountains offers so much to do and completely accessible for wheelchair users.
Large piazzas like Piazza Navona, Piazza della Rotonda (where the Pantheon is), and Piazza del Popolo are also fairly easy to navigate in a wheelchair.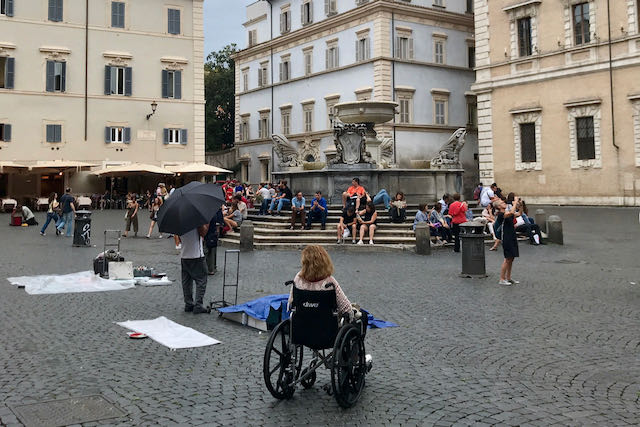 Santa Maria in Trastevere is a large, fairly flat piazza that is pretty easy to get around in a wheelchair.
Ready to plan your trip?
Less Accessible Rome Sites
While there are a few less accessible Rome sites for those in a wheelchair, you can still see a lot of Rome.
Below are some not-so accessible Rome places you might want to either skip, or visit with a tour company that specializes in tours of these areas.
Palatine Hill
The Palatine Hill is pretty difficult to manage in a wheelchair.
Below you can see the sign for a ramp for wheelchairs. But most of the rest of Palatine Hill is made up of stairs, and bumpy dirt and stone roads, with lots of broken tiles.
The founding fathers of Rome chose this hill to found the city. The terrain varies throughout its slopes. Nonetheless many amazing areas are accessible with wheelchair.
There are a few places with ramps, but to see the best the Palatine Hill as to offer if you are in a wheelchair, you will need to be a little adventurous and intrepid.
However, I discovered this company called Rome and Italy Tours. They have developed this amazing portable chair, which they call a "Wheely Trekky", and they can take you to the Palatine Hill and other similar less accessible Rome sites (see below for my suggestions for tour companies that specialize in accessible tours).
Trevi Fountain
On one hand, it may seem that visiting the Trevi Fountain in a wheelchair is not that difficult. On the other, you have two factors that do in fact make it a bit hard to manage.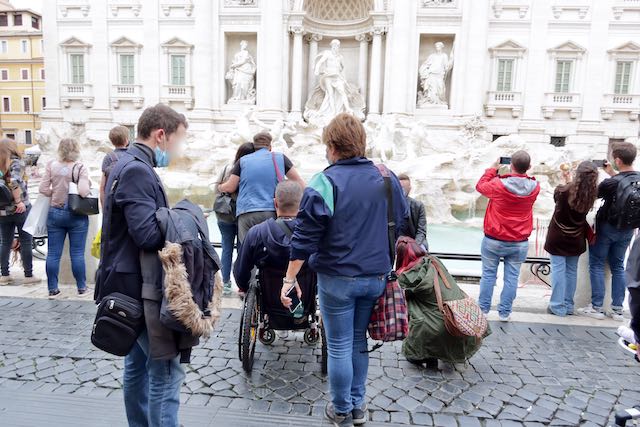 Yes you can visit Trevi Fountain if you are in a wheelchair. But it can be a bit difficult, especially when it's crowded.
The first is the small space that the Trevi Fountain is in .
The fountain seems outsized compared to the minimal space available for people to gather to look at the fountain. And this means it's almost always crowded (except in the dead of winter, or between the hours of 2am-6am).
And the crowds definitely make it a pain to try to jostle for a spot in a wheelchair.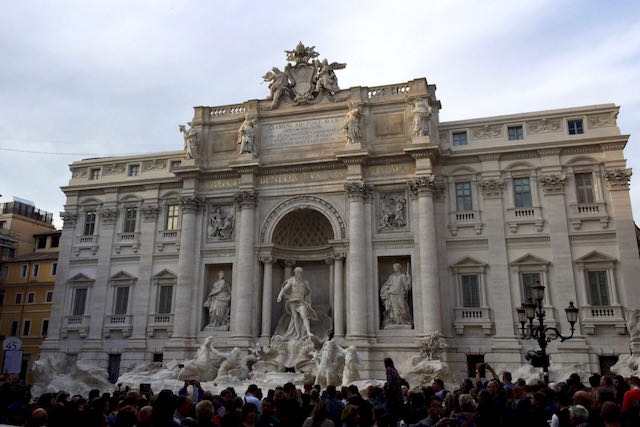 The Trevi Fountain is beautiful but it's also often very crowded. You often need to jostle and push for a spot. Not an ideal way to see it if you are in a wheelchair.
The second factor making it hard to see the Trevi Fountain is the stairs.
It doesn't mean you cannot see the Trevi Fountain in a wheelchair. This just means that you may not be able to get down and close to the basin.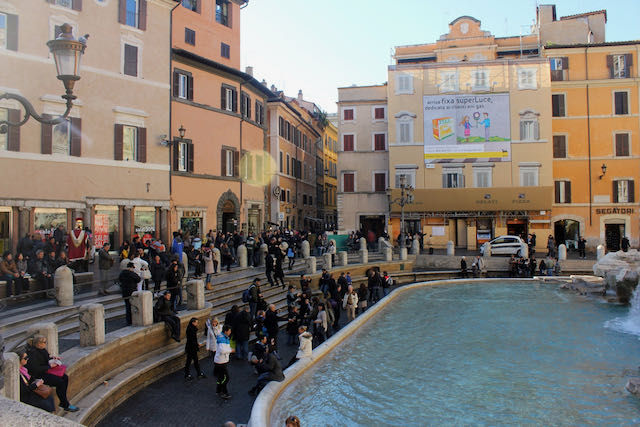 If you are in a wheelchair, you may not be able to get a closeup of the Trevi Fountain from the basin at the bottom.
My suggestion is to try to come early in the morning, or in low season, when there are fewer people.
Dawn is in my opinion the best time to see the Trevi Fountain. This is also true if you are visiting Rome in a wheelchair. No crowds, no pushing.
Castel Sant'Angelo
Most of a visit to Castel Sant'Angelo involves walking up and around the building itself.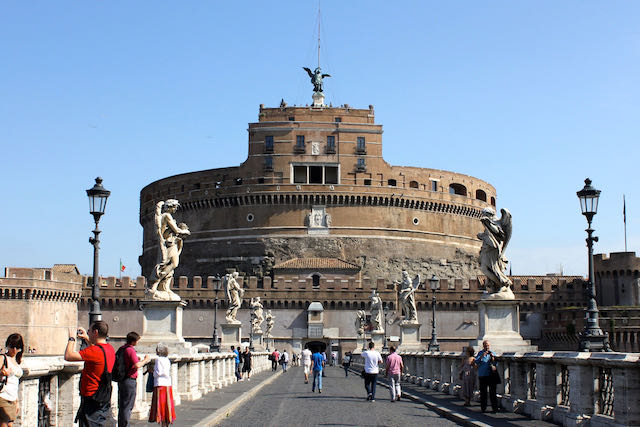 Rome's cultural institutions are not fully committed to accessibility. At Castel Sant'Angelo visitors in wheelchairs are welcome to use an elevator to go all the way to the top
There is an elevator to take visitors to the top, but you miss most of the best of what the museum has to offer.
It's possible to visit this monument in a wheelchair, but just know, your options will be unfortunately limited.
Accessible Rome Tours
You can book wheelchair accessible tours directly through the Colosseum website or the Vatican Museums website.
But if you want a more hands-on approach, and a tour specifically tailored to your disability, I have found that it's best to go through an agency that specializes in these types of tours.
Here are a few agencies that offer dedicated accessible tours in Rome:
Sage Travelling bill themselves at the "European Disabled Travel Experts", and they have great, detailed information about visiting Rome and other parts of Italy and Europe. They also offer specific tours in Rome, based on your needs. You can contact them directly via their website.
Accessible Italian Holiday specialize in Italy tours and tourism for the disabled. They offer personalized accessible tours. You can contact them via their website.
I am really impressed with the website of Rome and Italy Tours. They focus on tours for the disabled, but they also have an amazing solution that nobody else seems to have. With their wheelchair invention, the "Wheely Trekky", they can take you to some fairly difficult-to-manage areas like the Palatine Hill. Check their tour options on their website here.
My Best Tour has a fairly clunky and difficult to read website, but they do offer a variety of tours in Rome for the disabled. Visit their page here.
StPetersBasilicaWheelchair is a company that rents wheelchairs, but they also offer tours of the Vatican and the Colosseum for people in a wheelchair.
Accessible Rome – Practical Matters
Disclosure : If you make a purchase through a link on this page, I may receive a small commission – at no extra cost to you. Thank you for supporting my site!
Where can you rent a wheelchair in Rome

You can rent a wheelchair for your visit to Rome (and other parts of Italy), through this website, this website, or this website.
*I am not affiliated with any of these companies but I know they provide reliable wheelchair rentals in Rome.
Freewheel Accessory
One of the suggestions I read about was to make sure you have a Freewheel wheelchair accessory.
It makes getting around in a wheelchair much easier, which, in Rome, is a big plus.
Hotels in Rome with Accessible Facilities
More and more Rome hotels have facilities for people with disabilities.
I would suggest avoiding apartment rentals and even small B&Bs unless they specifically say they cater to people with wheelchairs.
Many medium-sized and larger hotels not only have rooms that cater to people with disabilities, but also whole common areas of the hotel such as wide elevators, ramps, and restroom facilities in the lobby or restaurant.
John Sage Travel has done a lot of research on the best wheelchair accessible hotels in Rome. You can visit his page here.
You can also use the below search engine for Booking.com.
Start with your dates and once it takes you to the Booking.com booking site, you can go a little down the left-hand menu until you get to "Accessibility Features", and fine-tune the search from there.
Getting Around Rome in a Wheelchair or Walker
As mentioned at the top of this page, Rome's sidewalks can be difficult to navigate, even on foot.
We have a lot of cobblestones and often, they are broken and sticking up.
We do have some ramps on some sidewalks, but it's not consistent, and, often, these are blocked by illegally parked cars.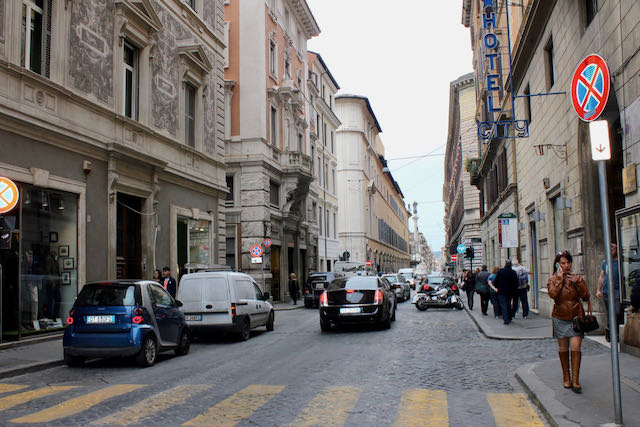 Accessible Rome – Rome's streets and sidewalks are not exactly wheel-friendly.
If you are not in a wheelchair but use a walker, your best bet is to try to avoid the cobblestone streets in Rome's historic center.
When it's not possible to avoid these areas, go slowly and take care because the cobblestones can be really uneven and even broken.
An excellent walker with seat!
It's easy to travel with and has a seat.
The easiest outdoor areas to get around in a wheelchair are the Pantheon, Piazza Navona, via dei Fori Imperiali, Piazza Santa Maria in Trastevere, Vatican Square, and Piazza del Popolo.
The via dei Fori Imperiali is one of my favorite streets to visit in Rome, and it's very wheelchair friendly due to the smooth surfaces, lack of (much) traffic, and extra wide sidewalks.
These all have relatively smooth pavements, sidewalks and/or streets.
Riding the Metro in Rome in a Wheelchair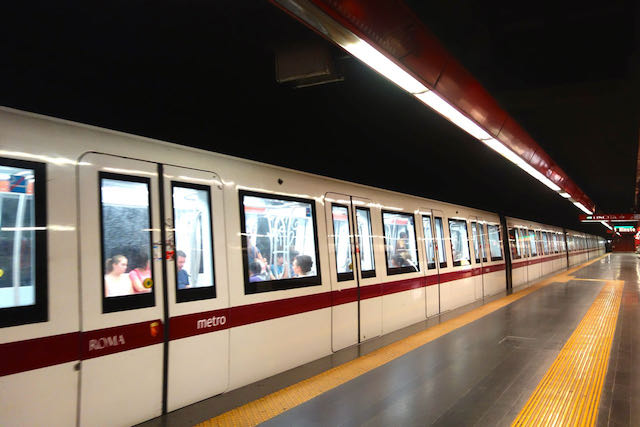 Rome's metro system has several locations around Rome with elevators/lifts and access for the disabled.
To find out which Rome metro stops have facilities for the disabled, visit this page published by the city of Rome.
Getting around Rome by Bus in a wheelchair
Accessible Rome – Several of Rome's buses have facilities for the disabled.
The Rome public transportation system does not yet have this info in English. But I can tell you that the following lines have facilities for the disabled:
H, 81, 85, 90, 170, 490, 44, 46, 60, 360, 80, 590, 87, 660, 671, 664, 558, 650, 20, 786, 781, 990.
Getting around Rome by taxi in a wheelchair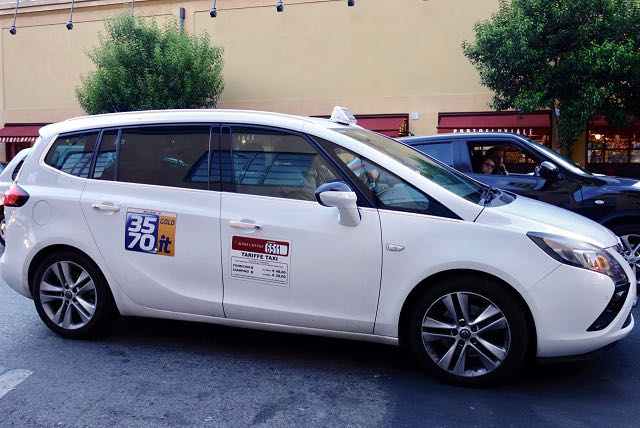 Among 7800 licensed taxis in Rome ( source updated on 31-12-2020 ) only 0.5% of them are available to users in wheelchairs. It's not always easy to arrange for a taxi with facilities for disabled
There are several taxi cooperatives that you can call. The biggest one, 06 3570, has a large fleet of cars and vans outfitted for people with disabilities. You can visit their site here.
I also read on this website that she used regular taxis, and simply folded up the wheelchair and placed it in the trunk. She said all the cab drivers she dealt with were very friendly and accommodating.
Hiring a private service for transport in Rome in a wheelchair
All of the accessible Rome tour sites I linked to above also offer transportation in vans equipped specifically for people in wheelchairs. You can contact this one for more information.
Some Excellent Resources – with my thanks
While researching what to write for this page about Accessible Rome, I came across some fantastic resources, some of which I refer to on this page.
These sites were written by people who have a lot of experience travelling with a wheelchair themselves, so I humbly defer to their expertise.
Two of the best sites you can refer to are wheelchairtraveling.com and sagetraveling.com.
Also, while writing and researching this page over several months, some of my readers have also chimed in. If you have any suggestions for me to add to this page about Accessible Rome, or to change something you see that may be incorrect or incomplete, I welcome your input.
I am grateful for the advice of everyone who helped me put this page about Accessible Rome together.
Source https://www.romeing.it/non-touristy-things-to-do-in-rome/
Source https://tourscanner.com/blog/day-trips-from-rome-places-to-visit/
Source https://www.romewise.com/accessible-rome.html