The Top 15 Free Things To Do In Washington DC
Washington DC is an amazing place to visit and it is one of the best cities to find affordable attractions and experiences for your enjoyment. Not everyone is traveling with a huge budget to put toward having fun, but never fear, there are many fun free things to do in Washington DC and you will not be bored on your visit, even if you are on a tight budget.
Once you have arrived in the city, make sure to take the time to drop off your bags at Bounce luggage storage in Washington DC . Being free of heavy bags will make it much easier to have fun while you visit this city and peace of mind about your storage solution doesn't hurt either. Once your bags are safe and secure, you can start enjoying the free things to do in Washington DC.
Free Things to Do in Washington DC
Visit the National Mall
The National Mall is an amazing and historical experience that you can enjoy for free. This is one of the key areas that you will want to add to your must-see list in the District. When you visit the National Mall, you can wander through amazing memorials like the Lincoln Memorial and the Jefferson Memorial as well as take in the atmosphere at the Reflecting Pool.
This is one of the best things to do in Washington DC with kids because they will be mesmerized by the sights and the sounds. You will be standing face-to-face with American history when you visit this location and there are few places in the city that so completely exemplify what Washington DC is all about.
Check Out the Supreme Court
Many people are not aware that the supreme court offers open seating on a first-come, first-served basis. These seats are available before court sessions Monday through Friday and you do not have to pay to witness the highest court in the United States attending to its duties. There are also 30-minute lectures here about how the court functions that take place periodically throughout the day.
This is a really moving and special experience because many people will never get to sit in on any court proceedings during their lifetime, let alone court duties of this magnitude. If you love the law or are interested in learning about how the Supreme Court does its job, this is the right activity for you to enjoy during your stay.
Visit the Capitol Building
Head here to take part in free tours that are offered throughout the day. You will be able to learn more about the history of the US government and you can choose to sit and watch the US congress at work. Balcony seats for sessions are free and are offered on a first-come, first-served basis as well.
Tickets for both of these experiences are handed out quickly, so you will need to make sure that you arrive early to pick yours up. This is a great choice for those who have always wondered what goes on behind closed doors when policy-making is being done. Make sure to take a few photos of the stunning national capitol columns before you leave.
Holocaust Memorial Museum
This is a free museum that is moving and that tells important stories about racism and what we have learned from it over the years. There is a lot of moving material that is covered in the exhibits in this museum and you will want to head here for an emotional and educational experience. Tickets for the Holocaust Memorial Museum sell out quickly, so you will want to go online to get yours the day before you wish to attend.
This is a location in Washington DC that tells a critical set of stories and that can help us all to broaden our horizons and improve our awareness of important issues.
Smithsonian Museums
The Smithsonian is not only an amazing place to go to enjoy amazing exhibits on all kinds of subjects, but it is also free. You can come here to enjoy the National Museum of Natural History, the National Air and Space Museum, the Smithsonian Gardens, and more.
This is one of the most amazing collections of art, history, and artifacts anywhere in the world. You will love everything about your visit to these amazing places and you will probably run out of time trying to get through all the exhibits during your visit.
There are actually various Smithsonian Museums in Washington DC that are represented on the site and the general name does not do justice to all of the art and history that you can experience here in a small area.
The National Archives
Have you ever wanted to see the Declaration of Independence in person? If so, you need to head to the National Archives. This is a spot that is also home to one of the last remaining copies of the Magna Carta. History buffs will have an amazing day here and will leave replete with amazing historical knowledge and happiness.
You will want to add this to your list even if you are not interested in the other exhibits at the National Archives. Seeing the Declaration is something that no one should miss out on when they visit Washington DC.
The National Gallery
The National Gallery of Art has art on display from masters like Monet and Leonardo da Vinci. There are pieces of all ages and genres here to enjoy as you wander through the many galleries. Art students often come here to paint and to practice and you will love watching them hard at work on their craft.
The National Gallery is the perfect place to drop in for free access to some of the most timeless and special art that has ever been created. The National Gallery in Washington DC is usually near the top of people's lists for places to visit when they are in Washington DC.
Thomas Jefferson Memorial
This memorial to one of the founding fathers is one of the most beautiful buildings in the capital. This memorial commemorates Jefferson's love for architecture and culture. You will be amazed by the serene and airy building that seems to have been dropped into the capital from another time. This is a memorable and moving spot to visit and no trip to Washington DC is complete without a stop here.
Korean War Veterans Memorial
This is one of the most famous memorials along the Mall. This memorial was made for the millions who fought and died during the Korean War. The 19 statues here represent all the soldiers who were involved in the conflict and the strips between them are meant to represent rice paddies. This is a haunting and very moving memorial that offers you insight into the emotions that this conflict embodied.
The 19 statues of the Korean War veterans almost appear to be looking right through you and you expect them to stir and start moving as you pass by. This is a place that is hard to deny and you will leave feeling humbled and better connected to the shared American history that this memorial represents. Just like the Vietnam Veterans Memorial, this commemorative experience has a lot to say.
The National Zoo
The zoo in Washington DC is actually part of the Smithsonian and is also free for your enjoyment. This park is 160 acres in size and there are 1,800 animals that are represented here. This zoo was one of the first in the world to create a research center and this is still one of the leading zoos in the development of improved medicine and care for zoo animals everywhere.
If you have kids with you, this can be a great place to visit, but people of all ages love this zoo. There is something really undeniable about being able to see majestic animals in action and the zoo promises you all of that and more.
Theodore Roosevelt Island
This is one of the best hikes in Washington DC and you will have lots of fun during your visit here. The views of the Potomac River are incredible here and the trail is only 1.6 miles long. This hike is right within Washington DC and it is friendly for all ages. The footbridge that leads to the island is memorable and you can easily get here from public transit if you are not staying in the area.
Rock Creek Park
This is one of the original parks that was ever created in the United States and it is located right within Washington DC. You can head here for horseback riding, hiking, or a guided tour of the park. There are historical buildings that are still on site here and you will feel like you have stepped out of the big city into the quiet of the country as soon as you arrive. Rock Creek Park is a really amazing place to head if you are dying for some nature during your stay.
Martin Luther King Memorial
This incredible memorial is a recent addition to the National Mall in Washington DC, having been completed in 2011. This is the first memorial to honor a person of color on the Mall and snippets of his "I Have a Dream" speech are scattered across the faces of the monument. Visiting the Martin Luther King memorial is a must-do item and you will not be disappointed in this stop.
The Mall offers many amazing memorials to see and they range in age. This being the newest of the memorials gives it a uniquely fresh and bright appearance that many of the older memorials do not. You will be able to wander through a whole host of memorials that evoke emotions and that tell the story of the United States in various ways.
The White House
Perhaps the most iconic building in the United States and Washington DC, if not in the world, the White House is free to visit on certain days. You will have to book a tour weeks in advance, so this is one of the things that you should plan well before you head out for your visit.
The original White House was burned down by the British in 1812, and it was not actually white. What you are visiting when you stop in today is a building that was put up in the 1970s. You will be able to learn about all kinds of US history during this tour as well as hear about the personalities that have lived within its walls.
This is the most iconic building in the nation's capital and you will probably want to at least drop by to see it from the street. You will get far more from the free tour, but just witnessing this unique and special building can be very exciting as well.
Arlington National Cemetery
The Arlington National Cemetery is the site of the final resting place of thousands of soldiers and the home of the Tomb of the Unknown Soldier. They also do the changing of the guard here, which is a very memorable experience. Astronauts, explorers, soldiers, and presidents have been buried here and you can find out where specific graves are located if you wish.
The iconic rows of crosses and headstones here could belong to Civil War Soldiers, peacekeepers, foreign nationals, and other people who have served the United States in a time of need. This is another emotional and moving place to visit in Washington DC that will humble you and make you feel the weight of the human experience.
While not a comfortable experience for some people, this is a place to go if you want to understand the true weight of freedom and what it means to be allowed to enjoy it.
Washington DC Has Lots of Enjoyable Free Experiences
There are so many really incredible free things that you can do when you visit the nation's capital. Most places that have so much art, history, and beauty to offer will charge for the privilege of seeing it. This is not the case in Washington DC, and you will be able to spend days wandering through free exhibits and sights if you wish. This is one of the most cost-effective cities to visit due to all the free things that are on offer here.
If you are planning your trip to the nation's capital, you will want to make sure that you use this list to help you to save some money while still having an amazing time. Most of these sights and exhibits are all in the same relative location as well, which makes seeing them all relatively easy. You will be able to enjoy a day full of fun tours and sightseeing with ease when you decide to head to Washington DC for your vacation.
Thinking of a trip to the United States capital? Discover the six amazing, must-see places to visit in Washington DC.
Washington DC is home to many of the nation's symbols and world-renowned sights that are a must-visit for anyone visiting the capital for the first time. With so many historic monuments and buildings dotted around the city, it can be overwhelming to decide all you should explore. The following are the six best must-see places to visit in Washington DC, attractions that should be at the top of any itinerary.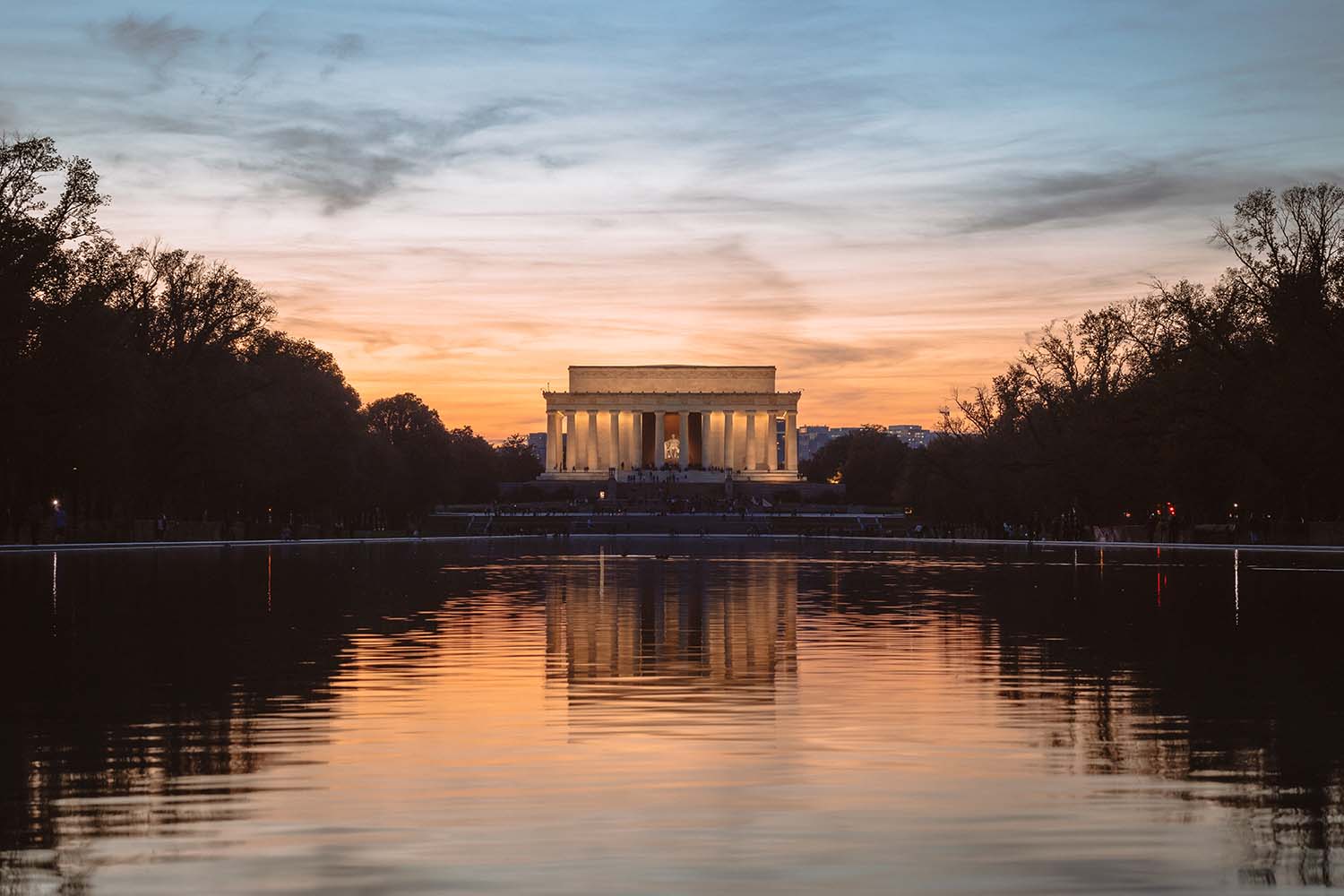 Photo, Andy Feliciotti.
Lincoln Memorial
A trip to Washington DC would not be complete by stopping by one of the most visited memorials in Washington, the neoclassical Lincoln Memorial. The iconic monument was built in 1922 to honor the 16th and perhaps the greatest of all US presidents, Abraham Lincoln.
Lincoln led America through the Civil War and took steps that eventually abolished slavery. The memorial represents his belief in the freedom and dignity of everyone. At the centre is a 19-foot tall marble statue of the President. It is surrounded by 36 columns. One for each of the states in the Union that existed at the time of his death in 1865.
The Lincoln Memorial has been the site of numerous historical events since its completion. Martin Luther King Jr. delivered his famous "I have a dream…" speech from the memorial's steps in 1963.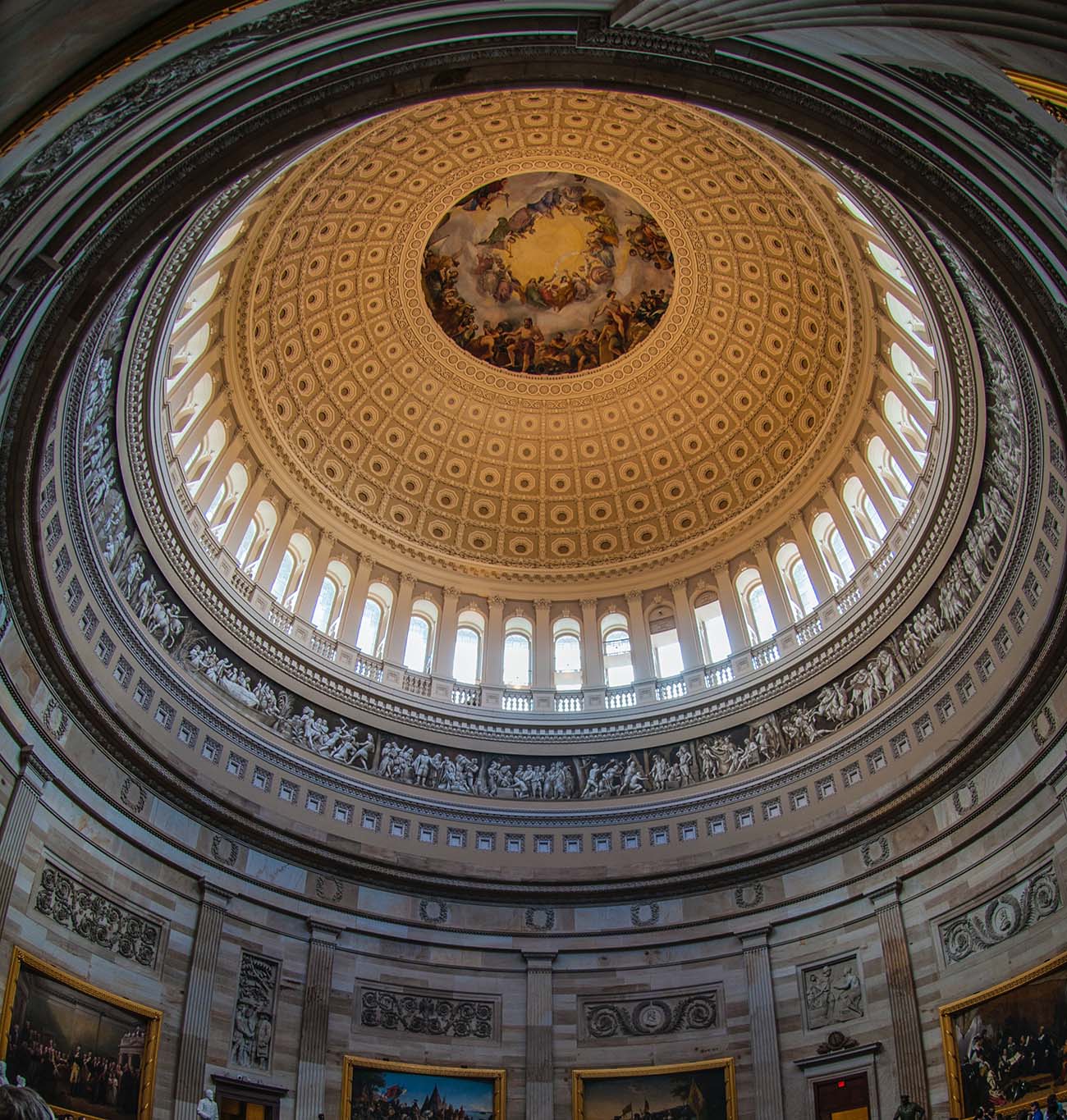 Photo, Eric Cook.
US Capitol
This is the home of the legislative branch of the US government. And also a rather famous setting for a recent act of white terrorism. Including the House of Representatives and Senate, the Capitol Building at Capitol Hill is one of the most significant landmarks in Washington state. As the meeting place of the legislature, it is in this iconic building where politicians and lawmakers enact laws that govern the country.
Visitors can reserve a free guided tour online, which begins at the Visitor Center. Through tours, exhibits, and films, you will learn about the building's history. Also how the government functions, and how it was initially established in the US.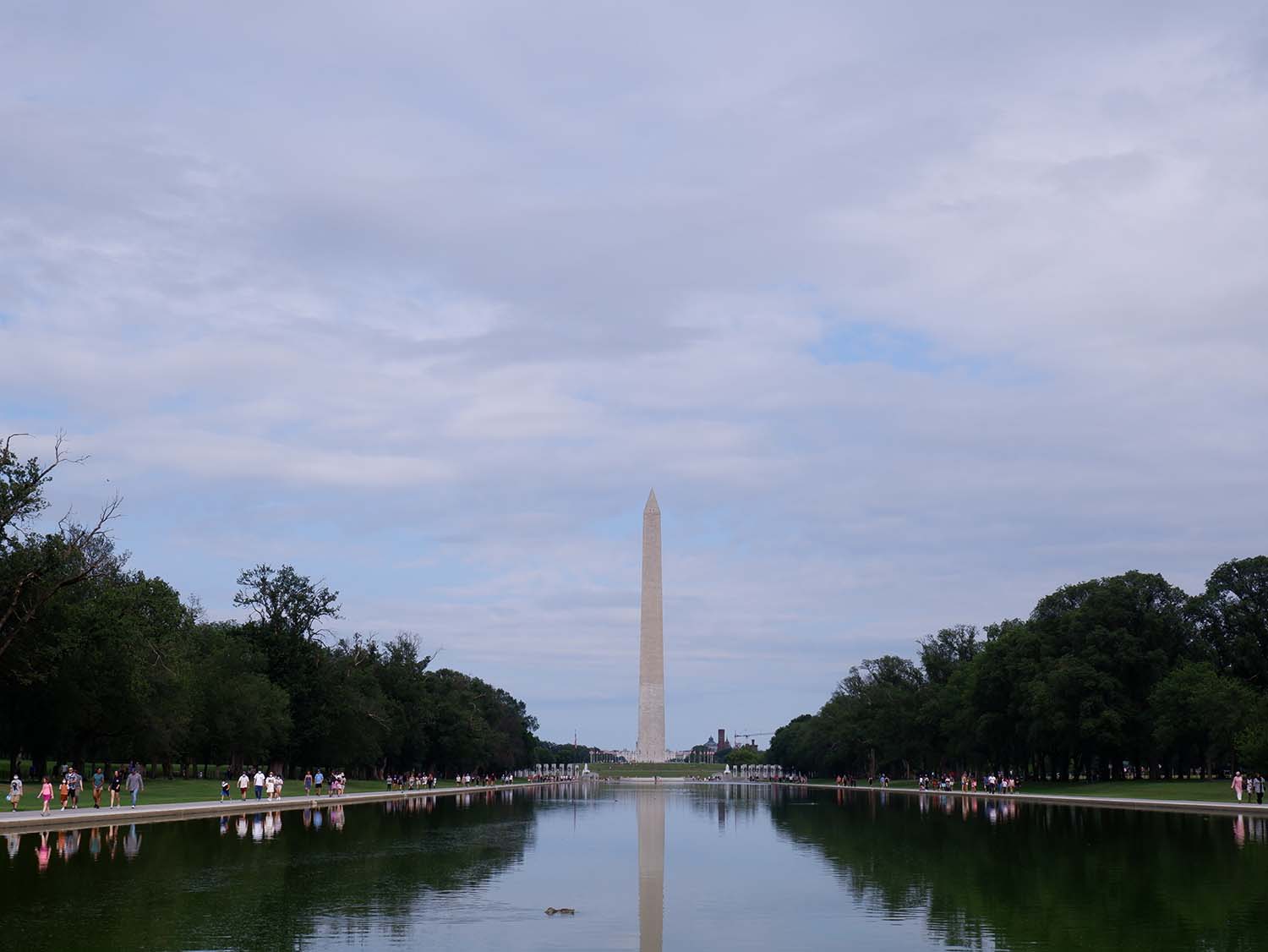 Photo, Stephanie Rhee.
National Mall
The National Mall stretches from the Capitol Building to the Lincoln Memorial is the hub of activity and the most visited national park in the US. It honours members of the armed forces who laid down their lives while defending the country. Several inspiring memorials and museums line the National Mall. The most prominent being the Washington Monument at its centre point.
These include war memorials to veterans of World War II, the Vietnam War, and the Korean War. It also contains numerous museums of the Smithsonian Institution, like the National Museum of African American History and Culture.
Furthermore, the National Mall is also the national stage for celebrations, festivals, and movements. The annual Independence Day celebration takes place around the Washington Monument. So, whatever the occasion, it's a must-see spot.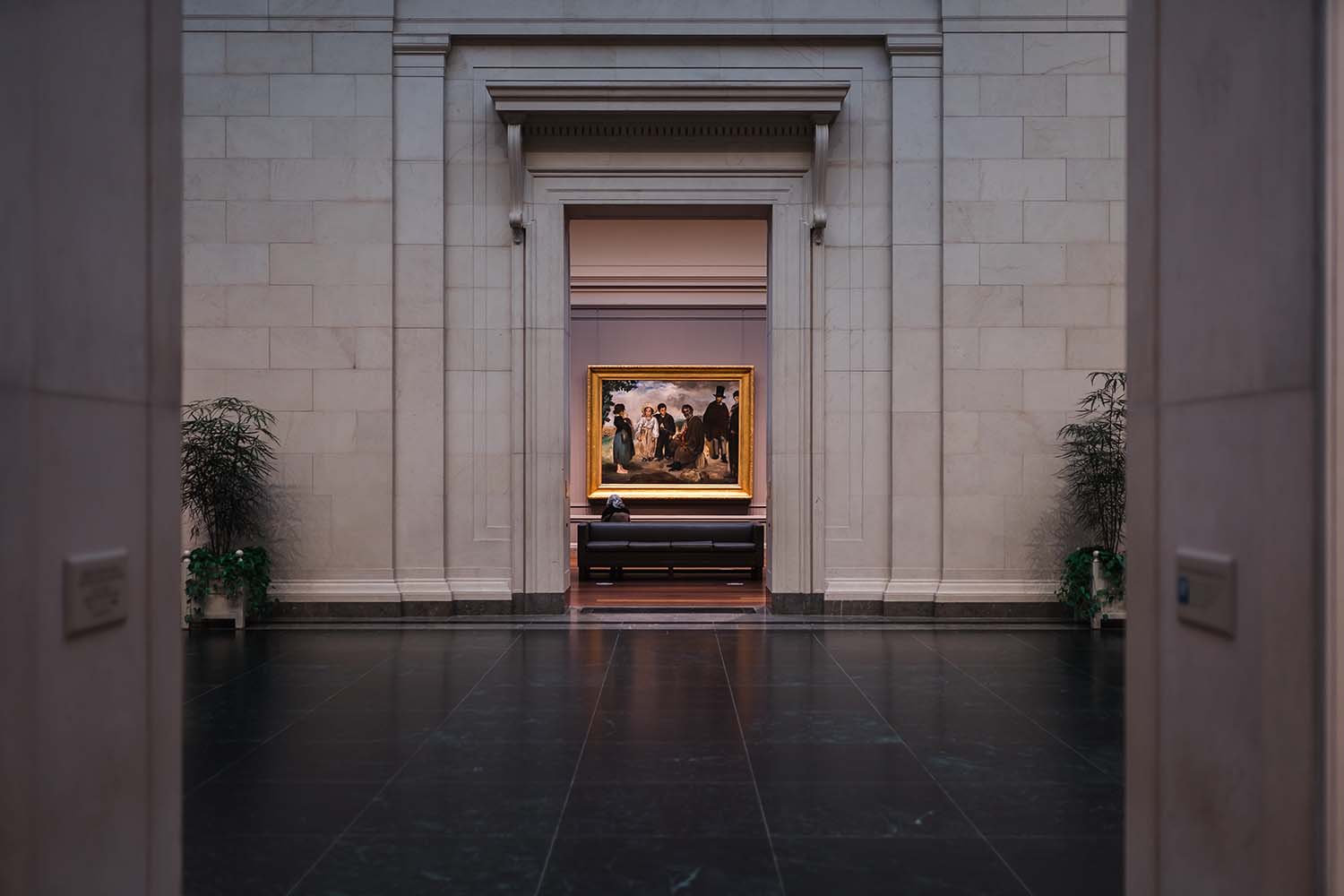 Photo, Nick Pryde.
National Gallery of Art
Located on the National Mall, the National Gallery of Art is amongst the world's leading art museums. It is also one of the largest in North America. It features an extensive and diverse collection of works of art from several countries and historical eras.
These include paintings, drawings, photographs, decorative arts, and sculptures dating back to the Middle Ages. Leonardo da Vinci's only work in the Americas and the largest mobile created by Alexander Calder are just two of the many treasures present in the museum.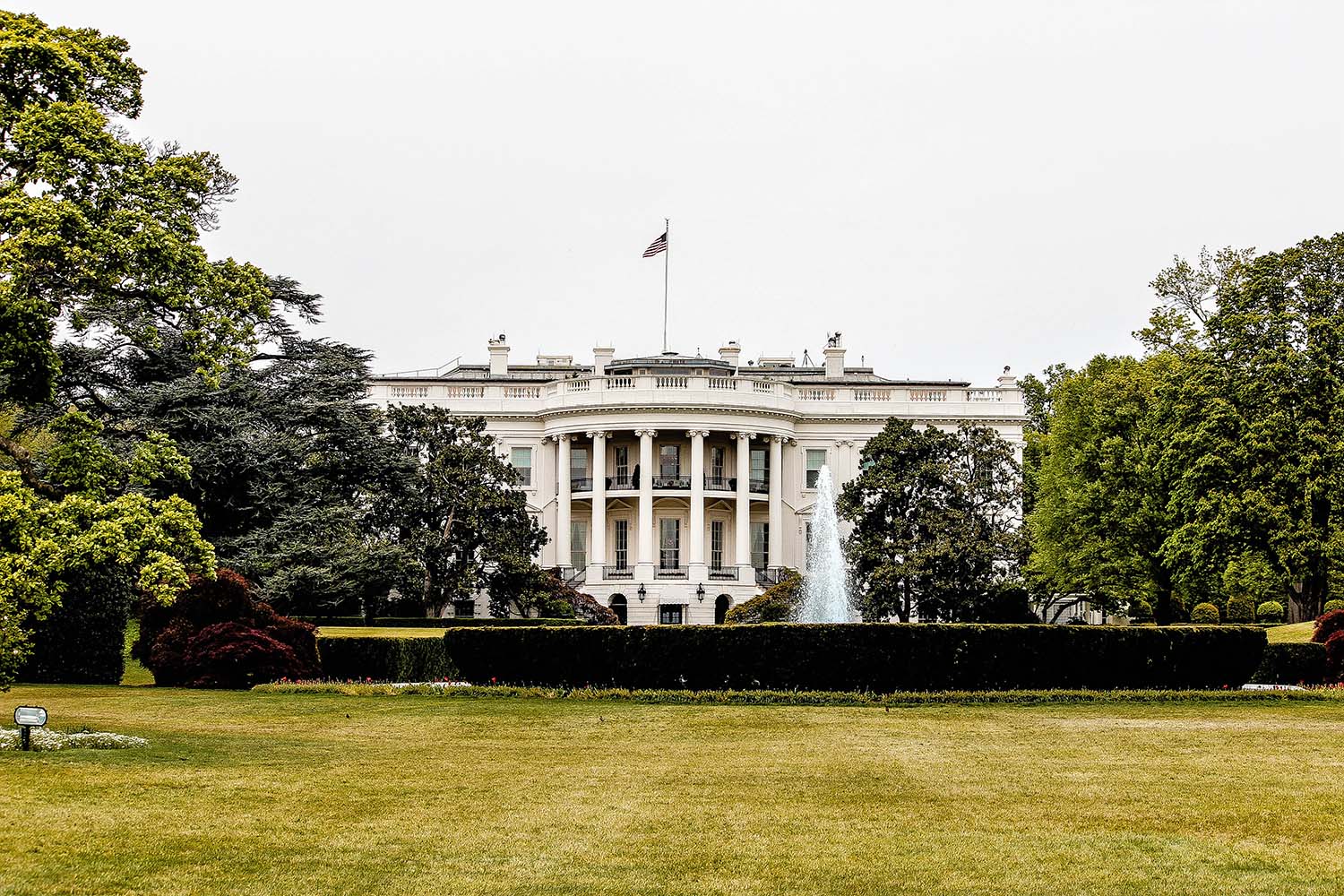 Photo, René DeAnda.
The White House
Not just one of the must-see places to visit in Washington DC, but also one of the most iconic sights in the US. The White House. The official living and working space of the President of the US. While gaining access to tour this famous landmark is a bit tricky and requires prior approval from your Member of Congress by submitting a tour request well in advance, seeing the White House up close during a trip to Washington DC is more than worth it.
At the very least, standing outside the property's gates and marvelling at one of the world's most famous residences is a sight to behold. Especially now the orange beast has left town. You may also stop in at the White House Visitor Center, which is a fascinating experience. You will also learn about the history of the building. The first presidential families who inhabited it, the furnishings of past presidents, and its architecture. Everything. In the end, you can also head to the gift shop where you may pick up some souvenirs.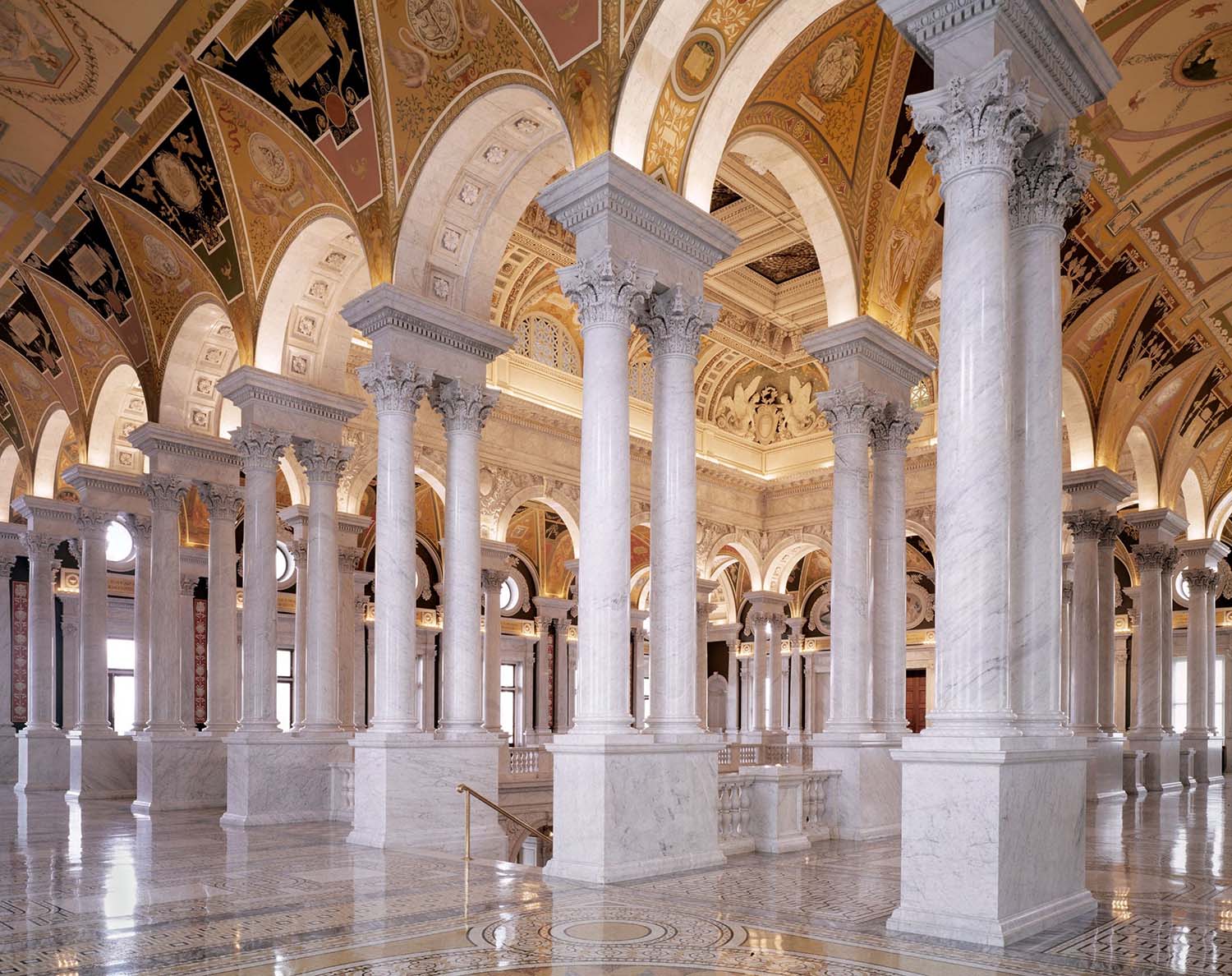 Photo, Library of Congress.
Library of Congress
The Library of Congress is the world's largest library, housing more than 170 million items in its collection that offer an excellent literary and historical experience. These include but are not limited to books, photographs, recordings, newspapers, and manuscripts. It also features several exhibits and galleries, showcasing some of the best collections in the library. Year-round exhibitions, interactive displays, films, concerts, and other special events make for an incredible visitor experience.
If you are a history buff, making a quick stop and walking through this oldest federal cultural institution in America should be at the top of your Washington DC bucket list.
So, there we have it. The top must-see places to visit in Washington DC. One of the most visited cities in the US, Washington DC offers an abundance of opportunities to learn about the nation's history and government. Also to view many of the most iconic sights in America.
The vibrant city also boasts some great art and cultural attractions in the country. By keeping in mind this list during your visit to Washington DC, you can rest assured not to miss out on the best the nation's capital has to offer you.
Things to Do in DC at Night
This post is a look at things to do in Washington, DC at Night, including a top 10 list as well as free activities and things to do with kids, updated for 2022.
We also list nightlife and entertainment options.
Top 10 Things to Do in DC at Night
1. Visit the Memorials
DC is known for its iconic monumental architecture, from the Washington Monument and the Lincoln Memorial to great buildings like the White House and the U.S Capitol Building.
And if you wondering which ones are best to visit at night, our answer is – ALL OF THEM. (though we personally like the Vietnam Wall better during the day!)
With the exception of the Washington Monument, memorials in D.C. are open 24-hours a day and can be enjoyed just as well at night as during the day.
We suggest twilight, as you will have the opportunity to see the memorials come to life, though be prepared for gift shops to close around 9 pm and restrooms to be locked around midnight.
You will still be able to venture into any of the memorials, no matter the hour – and don't expect to be alone as some memorials are more popular at night.
2. Take a Night Tour
You could walk to the memorials on your own, but there is no shortage of guided tours that you could take to see the memorials and monuments lit up at night.
Of course, your first choice is us, DC by Foot.
We offer about a dozen different pay-what-you-like and ticketed night tours, including:
We even offer audio and self-guided tours.
Additionally, there are numerous dinner cruises as well as bus, bike, and segway tours that offer evening and nighttime tours, and we review and compare them all on our DC night tours page.
TIP: Outings such as the Big Bus Night Tour are included with the Washington DC Sightseeing Pass.
3. Explore the Museums Open Late
Our capital region's museums offer much to do for its guests after regular hours.
More and more DC museums showcase thematic events, musical performances, tours, and parties after 5 pm.
Smithsonian: Many of the more popular Smithsonian Museums stay open late on select days in the summer.
While everything else closes at 5:30 pm, you may find the Air and Space, Natural History, or American History open until 7:30 pm.
The National Portrait Gallery is one of the few museums that says open late every night until 7 pm.
Also, open late is the International Spy Museum – open until 6pm or 7pm depending on the day of the week.
For the daily schedule of extended hours, visit the Smithsonian website.
TIP: Some museums with late hours are included on the Washington DC Sightseeing Pass.
You can also see what is on at the ARTECHOUSE, open until 9pm. This is an immersive, interactive space that fuses art and technology.
4. Get Out on the Town
The hottest neighborhoods for nightlife, as in any city, are constantly shifting as new areas emerge.
Here in Washington DC, new hubs for upbeat nightlife are emerging every year.
Some of the most popular neighborhoods to hang out in are H St NE, Adams Morgan, Georgetown, and U Street NW.
Our favorite thing to do? Look for speakeasies – you'd be surprised how many there are (I suppose that is the point!)
5. Watch Sunset Parade (at Iwo Jima)
With the backdrop of the US Marine Corps Memorial (Iwo Jima), you can watch musical performances by "The Commandant's Own," the Marine Drum and Bugle Corps, as well as a precision drill by the Marine Corps Silent Drill Platoon.
6. The Phillips Collection's Phillips After 5
The Phillips Collection is housed in the Dupont Circle neighborhood and is a prominent stop on our Embassy Row Tours.
It is the first modern art gallery in the United States and showcases an impressive collection.
The Phillips Collection is a happening place to be seen in Washington on the first Thursday night of every month when the museum is open late and has a live band, drinks, snacks, and thematic displays.
This event is extremely popular among the younger crowds and often ticket sell out in advance so plan ahead if you want to experience this truly wonderful evening of art and culture in a relaxed live concert setting.
Tickets cost $12 for adults and $19 for Students (Senior Citizens and Under 18 can enter for free).
Details and a calendar of events along with ticket purchase options are available online. Note: as of October 2022, no dates have been scheduled yet.
7. Escape from the Titanic. or a Pirate Ship
Escape games are an exciting way to spend an evening and Georgetown has the newest one in DC.
The Escape Game has 5 different themed rooms. You can escape from the Titanic, a Pirate Ship, a Cabin, a Mad Scientists Lab or a Mummy's tomb.
TIP: Some escape games are included at no extra cost with the Washington DC Sightseeing Pass.
8. National Gallery of Art Concert Series
Sunday night free concerts at the National Gallery of Art started during WWII and have continued on a first-come-first-served basis to the general public.
Many musicians who have performed at the National Gallery of Art have gone on to worldwide fame.
More than 3000 such free concerts have taken place here at The Gallery since this program began.
The season of concerts begins every Fall.
9. Attend a Sports Event
DC is has become a sports city with highly ranked professional teams that are often favorites!
The Washington Nationals baseball team is one of the best teams to watch in the National League and the Nats Park stadium is rather luxurious.
You can easily spend $100s for the good seats, but the $10 standing room tickets are a big hit and you can watch the game from the bar in the outfield.
Nats Park is an easy walk from Navy Yard station on the Green line – just follow all the fans in red ballcaps!
DC residents are big Capitals fans and rightfully so, as our hockey team is a good one to cheer for! The Capitals and the Wizards and Mystics basketball teams play at Verizon Center (which technically isn't the Verizon Center anymore, its the Capital One Arena but most locals are creatures of habit and still call it Verizon Center.
The games are played downtown at the famed Verizon Center in Chinatown, easily accessible on foot, by bus, or on the Red, Yellow, Green lines.
DC United soccer team and occasionally the champion women's team the Washington Spirit can be found at Audi Field in SW DC.
Technically, the football team plays in Maryland, at FedEx Field. Even though it's not in the city, it's still accessible by public transportation.
Take the Blue line to Morgan Boulevard Metro Station. Turn left onto Garrett Morgan Boulevard and follow the sidewalk for less than a mile to FedEx Field.
10. Catch an Outdoor Movie!
Georgetown Sunset Cinema: At the Georgetown Waterfront Park, right beside the Potomac River, enjoy a relaxed movie under the night sky every Tuesday evening.
Films at the Stone: As we encourage you to check out our nation's wonderful memorials at night, you might also want to combine your visit to the Martin Luther King, Jr. Memorial with its summer movie screenings.
You can also watch movies at Union Market Drive-In (or walk-up), Library of Congress, and various neighborhoods around DC. See the full schedule here: https://www.washingtonian.com/2021/06/17/drive-ins-and-other-outdoor-movies-around-the-dmv/
Free Things to Do in DC at Night
There are a lot of free things to do in DC, even at night. Many of our top ten have no ticketed price, such as visiting the Smithsonian Museums and our name your own price walking tours.
For even more free things to do year-round, visit our Free in DC post.
National Gallery of Art Sculpture Garden features Jazz in the Garden:
This event is immensely popular all summer long among DC residents as well as visitors.
While there is soothing live jazz filling up the air all around, visitors relax and enjoy each other's company in the lawns, picnic style. Many bring blankets and snacks (drinks can be purchased at the café on-site).
You can also walk around and engage with some awe-inspiring works by sculptors such as Claes Olderburg or Joan Miro.
Jazz in the Garden happens every Friday evening starting at 5 PM (May through August) For 2022, reservations are required. For a complete schedule of artists.
The Millennium Stage at the Kennedy Center: You're invited for a free performance.
The schedule runs the gamut from jazz and soul to opera and plays productions. There is also yoga, film screenings, art markets & more, all at their outdoor community campus – The Reach.
You're best to check the schedule ahead of time and plan your visit around something that appeals to your taste.
Military Evening Concerts:
On many nights of the week, you can find a military band performing throughout the city.
From pop tunes to patriotic songs, these performances take place in some of the most beautiful venues – outside at the memorials.
US Navy Band has one at the Capitol west steps (the side facing the Mall) in August. Open to the public and no tickets needed. See their schedule here.
US Air Force Band performs in various places around the nation's capital. Open to the public and no tickets needed. See their schedule here.
Family-Friendly DC at Night
Washington DC is a great place to visit with kids. And if you're not tuckered out by night, there are lots of ways to still explore the city after sunset.
Many of the free events listed above are also great fun for kids.
National Building Museum's Summer Block Party
Each summer, the National Building Museum has a special installation built in the Great Hall with select dates open late.
In addition to being able to visit this architectural gem and its unique annual exhibits, the Summer Block Parties often feature live music outside on the lawn and catered food from a local restaurant.
Twilight Tattoo
An evening military show just across the river at Fort Myers in Virginia.
This free and open to the public event showcases Drum & Bugle Corps, Drill Teams, and live music.
Evening Parade at the Marine Barracks
Every Friday in the Summer at 8 and I (8th Street and "Eye: Street SE) you'll see the oldest Marine installation in the US and performance of precision and discipline.
Entertainment & Nightlife in DC
If you're looking for some great places to get a drink or listen to some music, DC really has too many options!
Kennedy Center Shows
The Kennedy Center is the official home to the National Symphony Orchestra and the Washington National Opera.
But, the center is also always presenting some of the best in theater, opera, ballet, comedy, and music.
If you're thinking about attending a performance during your visit it's best to check the calendar ahead of time and buy tickets in advance.
The Kennedy Center Rooftop: You can walk out on the sprawling rooftop and balcony arena of the Kennedy Center and soak in one of the best views of our country. The rooftop of the Center is free and open to all and hands-down the best Washington experience one can have.
NOTE: Here are a few more venues that frequently host either concerts or other theatrical events in Washington DC:
Ford's Theatre
This historic site is a featured stop on our Lincoln Assassination Walking Tour, but Ford's is also a working theatre.
The chance to see world-class theatrical performances in a historical setting is one of the perks of visiting Washington, D.C.!
Don't miss Ford's performance schedule and consider attending a show – and if you visit during the Christmas holidays, you must see A Christmas Carol!
During the spring and summer, Ford's Theatre presents a special one-act play called One Destiny, which talks about the events of the assassination at the theatre from the perspective of those who witnessed it from the stage.
The play is great for families with children ages 8 and up – it really brings history to life.
Tip: If you want a good view of the President's Box, select seats in the Left Orchestra (but not too far back) or in the Left Balcony.
Don't worry, you will have a chance to get out of your seat and get a good photo of the President's Box before and after the play and during intermission.
You can use visit the Museum while attending a play at Ford's Theatre! The Ford's Theatre Museum is open one hour before performance time and during intermission.
Your performance ticket can also be used to visit the Petersen House before 5 p.m.
DC Nightlife by Neighborhood
Adams Morgan: Adams Morgan attracts a younger crowd and always has live music. Popular spots are:
If you want to add a bit of history, we have a self-guided tour of Adams Morgan as well.
DuPont Circle is a lovely place to explore during the day with its shopping and historic buildings.
At night, it can be quiet, but the longtime landmark Kramerbooks & Afterwords Café and bookshop is open until 1 am on weekdays and 3 am on weekends.
Looking to get your geek on? DuPont Circle's Board Room bar has over 30 different type of board games to rent and plenty of table space to play. Battleship anyone?
If you're looking for something more to your evening than cocktails, the nearby Keegan Theatre offers award-winning productions of hit musicals and plays.
U Street corridor, historically known as 'Black Broadway', is well known for its history, soul food, and live jazz venues.
The iconic Ben's Chili Bowlis where you will end your night for a not so healthy meal and a milkshake.
Walk over to the nearby Lincoln Theater to get a flavor for the neighborhood which has seen an economic resurgence in the past ten years.
Check out our U Street Walking Tours – self-guided and offered as a private option.
Georgetown: The classic Georgetown place for live music is called "Blues Alley" and is located near the corner of Wisconsin and M streets. Blues Alley is a listening bar so expect incredible jazz musicians, but don't go to chat.
Then take a walk to the waterfront park for dessert and enjoy the lovely views of the city along the river.
Try out Georgetown's newest attraction – The Escape Game – there are 5 different themes from Titanic, a Cabin in the woods, or a Pirates Adventure.
We have an extensive guide to visiting Georgetown to help you get there, park and explore – as well as take some tours.
H Street NE is the newest comer to the DC nightlife list. This one and a half-mile stretch just northeast of Union Station now offers both good restaurants and nightlife options.
We like Toki Underground for its hearty bowls of ramen noodles
The Atlas Theateris a local arts collaborative featuring music, dance, theatre and more
Gallery Place Chinatown has lots of neon lights and people strolling around gives this area an energetic vibe. The Chinese restaurants are great, though this isn't the historic Chinatown so don't expect anything authentic – for that, drive out to Annandale, Virginia!
Want to see the coolest club in town? Go to Ultabarfor its upbeat music with table service and dance floors.
What's Happening Tonight in DC?
As noted above, we offer several evening walking tours. If you want to know which are running tonight, check out our full calendar.
The best place to learn more about everything that is happening each night is through one of the many local media websites. They publish news and reviews about events happening in Washington DC every day/week. Below are some of our favorites:
About The Author

Canden Arciniega
Canden is a historian and tour guide in Washington DC with 4 published books about the city. She has written for HuffPost Travel and has been featured in the Washington Post, WTOP, and numerous other DC papers. She's also been interviewed by the BBC, NPR, Travel Channel and Discovery Family Channel. Canden is the producer of our podcast, Tour Guide Tell All With a M.A. in History from University College London and a B.A. in History from Elon University, she is an authority on D.C. history, and has led tours in the city for over 10 years. She currently resides in DC, but has also lived in London and South Korea, and has travelled to 28 countries. Her two children (both under the age of 4) have their passports and own frequent flier accounts.
Source https://usebounce.com/guides/washington-dc/the-top-free-things-to-do-in-washington-dc
Source https://www.we-heart.com/2021/11/18/must-see-places-to-visit-in-washington-dc/
Source https://freetoursbyfoot.com/things-to-do-in-dc-at-night/