Thailand or Malaysia? Which is the best travel destination?
Thailand or Malaysia? Which South-Eastern Asia Country should be your next travel destination? They are both internationally renowned beach destinations, but which one is the best? We will explore everything you need to know about each country and try to figure out if you should travel to Malaysia or to Thailand?
Both countries offer a wide variety of things to do but they are mostly sought for their beaches, relaxed day by day, cheap prices, excellent food, and nature. So, we will use 16 topics to compare Thailand and Malaysia:
Tourist attractions;
Outdoor activities;
General beauty;
Beaches;
Culture and heritage;
Vibe;
Resorts;
Eco-friendliness;
Shopping;
Nightlife;
Food scene;
The people;
Travel facilities;
Travel safety;
Costs;
Tourist index;
Now, if you are looking for complete guides to Malaysia and Thailand have a look at ours:
Malaysia vs Thailand – Travel Edition
Tourist attractions in Thailand vs Malaysia
Malaysia is a very eclectic country in terms of tourist attractions. It has all the natural things you would expect like beaches, tropical forests, and highlands, but also has History, colonial heritage, and temples. Plus, it has a very modern city with huge skyscrapers, parks, mega malls, and museums. Malaysia is very family-friendly with many child-friendly beaches, theme parks, and zoos/animal attractions. Some of the most famous attractions in Malaysia are Langkawi, Penang, Malacca, Kuala Lumpur, Taman Negara, and the Tioman and Perhentian Islands.
In some ways, Thailand's landmarks and attractions are similar to Malaysia, with famous beaches, rain forests, and a unique culture that evolved with much less influence of the western world. Although, very different Bangkok also has its modern side with malls and parks. However, Thailand seems to be more prepared for backpackers, solo travelers, and digital nomads than for families. Some of the most famous attractions include Kanchanaburi, Phuket, the Phi Phi islands, Bangkok, Chiang Mai, and Ayutthaya.
We are going to give a tie here. Both countries are packed with things to do, that surely won't be a problem whatever your final call is. But note that, the tourists in Thailand and in Malaysia are slightly different
Outdoor activities and Natural Beauty of Thailand vs Malaysia
Before visiting both countries we thought that Thailand would win this item easily. However, it's actually the opposite. In our opinion, Malaysian outdoors activities are much better than in Thailand.
Our favorite outdoor activity in Malaysia is hiking in the forests and national parks. Even small national parks have incredible hikes, like Penang National Park. Though there are plenty of other things, like snorkeling and diving in the islands, Jungle trekking in Taman Negara, exploring Kilim Geoforest Park in Langkawi, all the canopy walks spread over the country and obviously the beaches.
Thailand also has plenty of hikes, but they aren't remotely as amazing as the ones in Malaysia. We did a few but we only really enjoyed it in Kanchanaburi, but it was mostly because of the history of the place than nature. One thing that's extraordinary is the Erawan falls, also in the Kanchanaburi region, and obviously some of the beaches.
So, for us, Malaysia is the better option for nature lovers.
General Beauty of Thailand vs Malaysia
The natural beauty and the outdoor activities are very connected, it's difficult to enjoy outdoor activities in places that aren't nice… Fortunately, both countries are generally nice with some areas really extraordinary.
In Thailand, we found the Kanchanaburi region incredibly beautiful and Maya Bay is also wonderful (before it becomes crowded). The north of Thailand is also attractive and bucolic but doesn't come close to the highlands and parks of Malaysia. Ayutthaya is also very interesting but in a different way. Koh Lipe is probably the most beautiful island in Thailand rivals any beach in the world.
However, Malaysia takes it to the next level, the forests, the parks, reserves, and national parks are incredible, and still, have plenty of wildlife. Not at a Costa Rica level, but still enjoyable. The Geopark in Langkawi is also incredible and the islands in East Malaysia are astonishing.
So, Malaysia also wins this in terms of natural beauty.
Who has the best Beaches? Malaysia or Thailand?
Both Malaysia and Thailand are world-renowned for their beaches, but which one has the best beaches? We have been to quite a few both in Thailand and Malaysia, and we preferred the Malaysian ones. Although we were a bit disappointed a few times in both countries.
We found the beaches in the Perhentian islands to be absolutely wonderful, with warm water, soft sand, few people, and plenty of snorkeling opportunities right from the beach. Langkawi also has a few great beaches and some not so great, while Penang was very disappointing in this regard. The only exception is Turtle Beach in Penang National Park, but I wouldn't recommend Penang if the beach is all you care about.
In Thailand we found ourselves underwhelmed honestly. There are wonderful beaches, of course, but they are much harder to find than one may expect. And definitely not like we see tourism brochures… Maya Bay is amazing, but… it's very crowded, even in the early hours of the morning.
Phuket and the main Phi Phi beaches are not even a beach anymore, they are more like an adult theme park, and that's true to a few other beaches. We haven't been to all the beaches in Thailand and we are sure that there still are very nice beaches, but don't expect them to be everywhere or easy to reach. We haven't been to Koh Lipe, but we have many fellow bloggers telling us that it is the best paradisiac island in Thailand.
In a hindsight, and surprisingly, Malaysia wins this one, but not by much…
Culture and Heritage
This is going to be a hard one… not because they are similar, but because they are so different. The history, religion, culture, and society of Thailand and Malaysia are so distinct that if we didn't know any better we wouldn't think they are neighbors. But, is one more interesting to explore than the other? Let's see!
Malaysia is a real melting pot of cultures. Malacca and Georgetown are the original spice trade centers. Georgetown has mainly a British heritage, but Malacca was colonized by the Portuguese, the Dutch, and the British before returning to Malay rule. And all of this shows when you are visiting it.
Besides the colonial heritage, Malaysia is constituted by 3 main cultures, Malay, Chinese, and Indian. The Malay is obviously the dominant one, but both Indians and Chinese are very visible everywhere in Malaysia. You have amazing Indian and Chinese religion, food, temples, tourist attractions, and obviously people. All of this makes visiting Malaysia an incredibly rich experience.
Thailand is very different, it was never really colonized by external powers, which created a very unique culture. It's obviously Asian and it was influenced (and it influenced) by their neighbors. Nevertheless, it's a country's peculiar personality and this is cool as you can't really experience it anywhere else. It's authentic. The Thai Food, the Muay Thay, the Thai Massage, Buddhism, and the full moon parties, and the Songkran are some of the most famous things about Thailand and what makes a trip to it very special.
We will have to give a tie to this one because it really depends on what you want to experience. The diversity of Malaysia, or Thailand's uniqueness.
Vibe – Malaysia vs Thailand
The vibe is something difficult to explain, right? It's what you feel when visiting a place, and this differs so much from person to person… For us, Thailand has a much better vibe. The people are nice, the environment is relaxed, it's a country where people tend to feel at home easily – it's perfect for slow traveling and digital nomads.
Malaysia is also a good place to be, to take sun vacations or even stay longer, but it isn't as carefree as Thailand and the people aren't charming. Thailand is all about welcoming people, they are born into the hospitality industry. Malaysia not so much. The only problem with Thailand is that it's so popular and touristy that it's becoming less authentic
So, Thailand wins this one, without a doubt.
Resorts and accommodation of Thailand vs Malaysia
In terms of resorts and accommodation, both countries have plenty of options, particularly in the bigger destinations.
In general, both Malaysia and Thailand have very cheap hostels and guest houses, you can find no-frills stays for 10-15 USD for a double room. Sometimes with breakfast, like the one we stayed in KL for a few days. Though they also have luxury resorts for people who don't mind spending a few extra bucks. Phuket and Langkawi have excellent high-end resorts.
Finally, we need to note that in both countries, the most touristy and beach areas of both countries have some really bad accommodation, so please make sure you choose hostels and guesthouses with plenty of reviews. In Phi Phi, the Perhentian, and Phuket, there are some really bad places… And sometimes they aren't that cheap!
We will have to give another tie on this one. Thailand and Malaysia share the same positives and negatives in terms of accommodation and resorts.
Who is more eco-friendly? Malaysia or Thailand?
This is a very important issue and a very trendy one. It's also a topic where the southeast Asian countries don't excel at. So, sadly, this is more like which is the least bad of the two…
We found that both countries had problems with waste management, particularly where there are lots of tourists, like the Phi Phi islands, Phuket, or Penang. We were particularly shocked by these two places. Batu Ferringhi and even the parts of Penang national park had trash all over the beaches which were disheartening. The main Phi Phi and Phuket was just downright terrible.
We also found Georgetown and KL a little cleaner than Bangkok and Chiang Mai. On the downside, Malaysia has been struggling to protect its rainforests although it still has a big rain forest, which we can't really say the same about Thailand.
We are going to give Malaysia the win on this one, but it's possible that you will see things that you won't like in either of the countries.
Shopping
Although shopping is possibly the last reason we use to choose a travel destination, we know many of you love to shopping while traveling, and there's nothing wrong with that. Plus, this is an interesting topic when comparing Thailand and Malaysia.
Both countries have plenty of shopping opportunities. Thailand and Malaysia both have huge night markets where you can find anything and everything. Plus, both countries have a few megamalls with all the shops you can think of and much more. Also, both countries are fairly cheap. So, what's the difference?
In Malaysia, you have more, mega malls, high-end shops, while Thailand has many more local markets (particularly night markets) and they are bigger than in Malaysia.
As we prefer markets to malls, we are giving the win to Thailand. But if you prefer the Malls, then Malaysia, particularly Kuala Lumpur, is the better choice.
Nightlife
This is a fairly easy one. Nightlife is one of the most famous things about Thailand. The water festival, the full moon parties, Phuket, Khaosan Road, and Koh Phangan are all worldwide famous and people go to Thailand only to party and enjoy the nightlife. There are activities for everyone, from the most ordinary bars to the infamous Ping Pong shows and ladyboys. If you are looking to party, there's no doubt about what to choose.
Malaysia, on the other hand, has a very small nightlife, and it's kind of a niche thing. It's just not in their culture. Also, alcohol is much more expensive, which doesn't help to promote it.
So, Thailand is the clear winner here.
Food scene
If the Nightlife was an easy call, the food is a really hard one. Thai food is simply amazing! It's full of unique dishes, strong but balanced flavors, and fresh ingredients. We loved Thai food so much that we even did a cooking class. There are quite a few dishes that everyone needs to try in Thailand. Some of these include Pad Thai, sticky rice with mango, Kwaw Pad, Green papaya salad, Laab moo, and Tom Yum and Khao Soi.
Thai cuisine is as unique as it is tasty! However, food in Malaysia can be as good as in Thailand, though with a different Style. In Malaysia, we can see 3 different cuisines, Malay, Chinese, and Indian. As we said above, Malaysia is a mixture of these 3 different cultures and that really shows in culinary. With such powerful cuisines, it's difficult to find better places to eat than in Malaysia. However, within Malaysia, Georgetown is widely regarded as a foodies paradise and one of the best places in the world to eat.
We were very tempted to give the win to Malaysia and its 3 cuisines, but we will give a tie! You can't really go wrong with either country!
The people
This is another easy win for Thailand. Thai people are really good hosts and seem to enjoy having tourists around. They always, greet you with that beautiful Thai smile, making you feel welcome in their country. Despite the huge number of tourists, Thailand is a country where we always felt at ease and welcomed. The only downside of the Thai is that their English isn't very good – most of them only know a few sentences.
Malaysians aren't really similar to Thais. They aren't rude or anything, but they don't make you feel at home or welcomed. It's fairly easy to find very nice Malaysians (particularly the Indians) but in general, they don't care much for the tourists. On the upside, their English is much much better than the Thais.
Despite the bigger communication problems, Thailand wins this one.
Travel infrastructure – Thailand vs Malaysia
Malaysia is richer and better developed than Thailand. The roads are better, it has more cars and taxis and fewer tuk-tuks and songthaews. It's also easier to find malls, modern grocery stores, and fast-food restaurants. However, the difference isn't that big, and Thailand has developed its travel infrastructure very fast. Langkawi is the exception here, for some reason, there aren't public transports on the islands and you have to use the taxis or rent a car…
In Thailand, the infrastructure isn't as well integrated, and in most towns, there aren't many public transport options – you may need to use many more tuk-tuks. However, there are so many tourists in Thailand that there's always a way of getting to the places where you want to be.
In terms of long-haul buses, we believe the countries are very similar. The buses are good, frequent, easy to use and reach everywhere.
So Malaysia wins this item, but you'll hardly have any problems moving around in Thailand.
Thailand vs Malaysia – safey
Both countries are very safe for tourists. It's very unlikely that you experience any kind of violent crime in Thailand or in Malaysia. Although statistics show that Malaysia is slightly safer than Thailand. The biggest threat to tourists is probably road safety. Asians are well known for being quite crazy when driving and our experience matches this cliche. Neither of the countries is similar to Laos or Cambodia, but it's still a very different experience from the western world.
One other thing we need to mention here is the scams, and in this regard, Thailand is much worse than Malaysia. You need to be aware of some famous travel scams like "the Grand Palace is close but I'll take you to a better one", or the taxi driver going the long route to reach the destinations, or taxi meter is broken… and many other.
In a hindsight, Malaysia wins this.
Which costs more? Thailand or Malaysia?
Let's talk about money! If you are anything like us, you are a budget traveler and you don't want to spend more than you need. Lucky for you, both countries are very very cheap. They are among the cheapest we have ever visited. You won't have problems in Malaysia or Thailand. unless you are a heavy drinker / huge party goer.
People tend to say that Thailand is much cheaper than Malaysia, we can't really see it. As budget travelers and bloggers we tend to keep track of all of our expenses during a trip, so we can compare costs. In Thailand, we have spent 29 USD per person per day, while in Malaysia he has spent 28 USD per person per day. On both trips, we included absolutely everything we have spent, including bank fees and souvenirs, except fly in/out, and we traveled as a couple.
Nevertheless, you should note that we don't really drink and that's something that's much more expensive in Malaysia. If you want to drink / party, you'll pay two, three, four times more in Malaysia than in Thailand. And that's why we will give Thailand the win here!
Which feels more crowded? Malaysia or Thailand
Finally, we have the tourists index, meaning the number of tourists of a destination. And, it is also a very easy call. Thailand clearly has more tourists than Malaysia. It's not that Malaysia isn't touristic, it is! In fact, Malaysia is a very touristic destination, in the most commercial way, with resorts, theme parks, and everything that comes with it.
However, Thailand takes it to another level. We have written it before and repeat it, in Thailand, there are tourists everywhere, and everything is a tourist attraction. You can find destinations that are more for partygoers (Pattaya), others for resorts lovers (Phuket), digital nomads destinations (Chiang Mai), and even hippies destinations (Pai). But all of them are very popular among their target audience.
So, Malaysia wins this one, mainly because it's difficult to find a country with more tourists than Thailand. Although, neither of these destinations is a good one if you want to go to an untouristic destination.
Malaysia or Thailand – The Verdict
Statistically, Malaysia wins this showdown, with 7 wins against 5 of Thailand, with 4 draws and many close calls! In reality, this was one of the most difficult and leveled comparisons that we have made! However, it doesn't really matter how many wins a destination has, it's all about how it matches your expectations and what do you want to take from this trip!
So, you should choose to travel to Malaysia if you:
Travel as a family;
Want to snorkel and dive;
Want to explore a melting pot of cultures between Malay, Chinese, Indian and Colonialism legacy;
Are extremely picky with safety;
It's important that the locals speak English;
Prefer Mega malls to local markets;
Want to hike in National Parks and tropical forests.
On the other hand, you should travel to Thailand if you:
Want to drink and party;
You don't mind the crowds of tourists;
Interaction with smiling, easy-going locals is important to you;
Want to experience a unique culture;
Want to explore endless markets and night markets;
Want a very carefree and easy-going vibe.
Note that both destinations have good beaches, amazing food, are in general inexpensive, safe, and easy to travel to! Now you can choose which one fits you better!
Affiliate Disclamer

Traveldrafts.com is a participant in the Amazon Services LLC Associates Program, an affiliate advertising program designed to provide a means for sites to earn advertising fees by advertising and linking to Amazon.com.
Thailand Or Malaysia: The Honest Comparison You Need In 2022!
S outheast Asia is one of those regions of the world everyone wants to visit at some point in their lifetime.
The vibrant cultures, incredible food, breathtaking landscape and exotic wildlife sum up the lure of this part of the globe – and Malaysia and Thailand are no exception.
However Thailand and Malaysia are very different, so making the right decision about which to visit for your once-in-a-lifetime holiday is important.
That's why we're here to help! Having visited both destinations we compare them below, showing you their differences, similarities and what to expect in each.
So let's dive in!
CONTENTS:
A Quick Overview Of Thailand vs Malaysia
How Do The Beaches & Landscape Compare
How Does The Culture & Vibe Compare
A Taste Of The East: How Does The Cuisine Compare
Which Is The Better Choice
A Quick Overview Of Thailand vs Malaysia
Both countries have beautiful landscapes, mountains, jungles and waterfalls to explore. So they're great destinations for a sunseeker that's also looking for some adventure.
However if beaches are your main priority, then Thailand is a better choice than Malaysia. The white sand beaches in this country are better than Malaysian ones, and the countless Thai islands are also spectacular. We recommend some of our favorite beaches later on in this article.
But Malaysia with it's 800+ islands also has a stunning coastline, and unlike the popular spots in Thailand, beaches in Malaysia don't tend to get as busy, making them the perfect place to unwind.
In fact Malaysia would probably be the better vacation choice if you're looking for a laid-back, quiet holiday. Whereas if you're seeking a lively nightlife scene, and a fun vibe, Thailand will be the best choice – as we explain later.
Both countries have spectacular landscapes away from the coastline as well as jaw-dropping wildlife – but Malaysia is probably the better choice for wildlife seekers. The country's Borneo region is arguably one of the best places for wildlife in the world, with elephants, tigers, and leopards among other species.
For Muslim tourists, it will be easier to find Halal food in Malaysia as it's a majority Muslim nation, and sourcing Halal options in Thailand can be quite difficult.
However alcohol is also much more expensive in Malaysia, therefore if you are an you love your evening drinks, then Thailand could be a better option.
Below we look at what sort of excursions are available in both countries, before comparing the culture and food in each.
How Do The Beaches & Landscape Compare?
Thailand
This nation is one of those rare destinations that has it all. Beaches for relaxing, a famous nightlife and party scene, and food that's known around the globe.
For fantastic beaches, head out into the islands. Phuket's famous beaches include Kata Beach, which offers a busy slice of paradise with street vendors, upmarket hotels, and beach activities such as surfing and snorkeling.
Freedom Beach offers a more serene choice, whilst still providing convenient access to food vendors and beach chairs. In general, expect a livelier and busier beach experience than what you would get in Malaysia.
That said, if you travel away from Phuket there are more laid-back coastal options. One of our favorites is Sunrise Beach on Ko Lipe. This gorgeous long stretch of white sand has shallow warm water perfect for swimming. It's laid back, quiet by Thai standards, and the perfect place to unwind.
After a day's relaxing, head to the region of Krabi where you can go rock climbing, jungle trekking, and sea kayaking. Its stunning natural beauty, jungle-covered interior and incredible cliffs and caves offer an array of activities for tourists who want more from their trip than just relaxing on the beach.
For those looking for a more wholesome time, Koh Tao (meaning Turtle Island) on Thailand's east coast is home to the country's most beautiful coral reefs. Which naturally makes it the top destination for scuba diving and snorkeling.
Whilst if you want to see Thai wildlife head to Isaan. This barely visited region of Thailand – as we've written about before – is home to breathtaking national parks, hiking trails, elephants, and even temples built on volcanoes! It's a region almost all tourists ignore, but it feels like Thailand before tourism took over.
Malaysia
For the best beaches in Malaysia, one of our favorite spots is the Perhentian Islands. Although hotels have started to spring up in this region, it remains largely unspoiled.
Expect soft white sand beaches, warm water for swimming, and swaying palm trees. It's calm, quiet, and a perfect place to unwind from the stress of everyday life.
For somewhere even more remote, but with some of the best turquoise water in Malaysia, head to the little island of Rawa.
There are no roads on this island making it a real secluded paradise. Our top tip is to rent a kayak and circle the island's coastline – it's surrounded by coral making it a great place to spot colorful reef fish.
Away from the coastline Malaysia has vast regions of wild mountainous rainforest – perfect for hiking, wildlife spotting, and jungle trekking.
Adventurous travelers should have a go at climbing the nation's highest peak, Mount Kinabalu, which stands at 4095 meters. Located in Borneo, you'll have to pay a fee to climb the mountain (around 200 USD) but that pays for your accommodation over 2/3 nights, a guide, meals, and the permit to hike this World Heritage Site.
Staying in Borneo, a visit to Gunung Mulu National Park will expose you to some of the world's most fascinating – but also rare – animals. This protected rainforest is packed with flora and fauna, and a trip down the jungle rivers will give you a chance to spot species like monkeys and porcupines.
A trip to northeastern Borneo and you may witness the rare endangered pygmy elephant. Whilst if you cross over into Indonesian Borneo you can visit Tanjung Puting National Park – home to majestic orangutans.
How Does The Culture & Vibe Compare?
Both are culture-packed countries where you're guaranteed to experience the incredible east.
Malaysia, whilst a majority Muslim country, is relatively liberal. Therefore bathing suits and discreet drinking is allowed on public beaches. However drinking in front of mosques, for example, would be quite disrespectful.
Thailand has a world-famous nightlife scene, especially in Koh Phangan (more on that below), Patong and Bangkok. So if you're looking for parties and fun past midnight, Thailand would be the best choice.
Although Malaysian cities like Kuala Lumpur also have decent bars and entertainment, a night out in Malaysia for the majority of people tends to involve a cup of milky tea and some sweet treats!
Thailand
Thailand is a country known for its food, culture, stunning scenery, and more recently a great party scene.
For those looking for a wild time, Bangla Road in Patong offers its own selection of bars, go-go clubs and neon-covered craziness. As well as the famous adult entertainment clubs that have become synonymous with Thailand.
Koh Phangan is most well-known for its Full Moon Parties. This small East Coast island is home to the most famous parties in Thailand and 10,000 to 30,000 people flock to them every month.
Around 90% of Thais identify as Buddhists, and there's also a significant Hindu influence in the country too. Therefore away from the parties and beaches, Thailand is a very spiritual place filled with spectacular temples.
One of our favorites – and one of the most serene – is situated in Phanom Rung Historical Park. A remnant of the Khmer Empire, Phanom Rung is a breathtaking temple built on the rim of an extinct volcano.
You could – and should – also have a go at Muay Thai, Thailand's national sport. Muay Thai (or Thai Boxing) can be traced back to 18th century Thailand, and has its roots deeply ingrained in Thai culture. Gyms up and down the country offer training sessions (from a single day, to several months!) for foreigners and it's a fantastic way to get to know this country and culture. In fact that's something we've even written about in the past.
Malaysia
Malaysia is a multi-religious and multi-ethnic country, although 60% of the population are practicing Muslims.
A large minority of Malaysians are Hindu, and a trip to Batu Caves combines Malaysia's rugged beauty with its religious side. Situated just outside the capital of Kuala Lumpur, this huge network of limestone caves have been turned into Hindu temples and are now an important pilgrimage site.
For something a little more contemporary, the Genting Highlands is a hill-resort built 1,800 meters above sea level on Mount Ulu Kali. This colorful and eccentric resort can be reached by cable car, and has several large casinos to enjoy. It seems in a strange and quirky world of its own, and is definitely worth a visit.
Another hill town – and one with a longer history – is Cameron Highlands which was formally used as a retreat for the British during the colonial period. The production of tea was a major economic factor during colonization, and Boh Plantation – which you can visit – still exists from that time.
A Taste Of The East: How Does The Cuisine Compare?
Both countries will provide a treat for your tastebuds. Whilst Thai food gets all the plaudits, Malaysian cuisine is a rising star.
Thailand
Thai food is famous around the world – and no wonder – so if you're a food lover, Thailand is going to be a dream destination.
Make sure you try the iconic Pad Thai – a stir fry dish made with thin rice noodles, meat or shrimp.
For something a little less known, Thailand's remote and rarely visited northeast – Isaan – has a traditional dish called Laap which is delicious. It's made up of minced meat seasoned with fresh herbs, lime juice and fish sauce, and is served with sticky rice.
You must try Thailand's comfort food – Khao Phat – as well. This is good hearty fried rice that comes combined with a variety of ingredients. It's perfect for a long day exploring Thailand's sights.
Malaysia
Malaysian food is beginning to appear around the world, with dishes like Satay now found in the US, UK, and other nations. These tasty skewers of meat are seasoned with a variety of spices and usually accompanied with a peanut sauce.
One of the most popular foods in Malaysia is Rendang. This spicy meat dish (usually beef or chicken) is made by slow-cooking the meat along with coconut milk, chilli and spices. The result is exceptionally rich and tender.
A beloved Malaysian dessert – and a great one on hot days – is Ais kacang. Made from red beans, palm seeds, sweet corn, peanuts and shaved ice (an eclectic mix!), this multi-colored treat will cool you down on a hot summer day.
Thailand vs Malaysia: Which Is The Better Choice?
A holiday to either Thailand or Malaysia is going to be an unforgettable experience with great food, scenery and culture. But both countries provide very different vacations.
If you're looking for the best beaches, lively nightlife, cheap drinks and an all-round fun vibe, Thailand will be a better holiday destination than Malaysia. However if you want a quieter vacation which divides time between the beach and other activities such as wildlife watching in Borneo, then Malaysia should be your choice.
Recommended For Your Trip To Thailand Or Malaysia
*This article may contain affiliate links which allows Wandering our World to make a small commission on any sales made – and keep the coffee flowing! It involves no extra cost to yourself. As an Amazon Associate we earn from qualifying purchases, but only recommend products we believe in.
A Travel Comparison for Vacations, Honeymoons, and Tours Thailand vs. Malaysia
Both Thailand and Malaysia are in backpacker friendly Southeast Asia. Thailand is the most popular country to visit in the region and its economic dependence on tourism can drive prices up a bit. Still, both countries, like most places in Southeast Asia, are relatively affordable to visit. Both Thailand and Malaysia have a strong infrastructure to support tourism, but in general, Malaysia's economy is less driven by the tourist dollar. This makes it easier to have a more "authentic" experience in Malaysia. Although negotiating prices is encouraged in both countries, bartering is a must in Thailand where tourist prices are dramatically higher than local prices.
Which country is cheaper, Malaysia or Thailand?
Should I visit Thailand or Malaysia? This is a popular question for many travelers. By figuring out which country is more expensive, you'll understand where you'll get more bang for your buck. A week in Malaysia can cost you about $440 (per person), while a week in Thailand may cost you around $610. These differences become even more noticable if you plan to spend a longer time in the country. 10 days, two weeks, or even one month of travel to Malaysia or Thailand can really add to your travel budget.
Accommodation is often cheaper in Thailand compared to Malaysia ($27 vs. $34). Budget travelers often stay in cheaper hostels and guest houses, while nicer hotels usually appeal to families and upscale travelers.
Compare hostel, B&B, and guesthouse prices between Malaysia and Thailand to find the cheapest accommodation here: Malaysia hostels and Thailand hostels.
When comparing food in Thailand vs. Malaysia they are not just different in cuisine, but also in price. Meal and restaurant costs in Thailand ($13) are often cheaper than Malaysia ($13).
How much are flights to Thailand and Malaysia?
The price of a plane ticket may help you decide which country you should visit.
Find a Hostel in Thailand or Malaysia
Hostels, guest houses, and locally owned B&B's are often the cheapest form of accommodation.
Related Articles for Thailand
Related Articles for Malaysia
When is the best time to visit Thailand and Malaysia?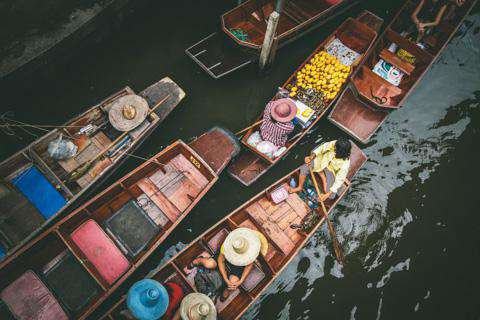 DAmnoen Sudak Floating Market, Thailand
The high season for travel in Thailand is in the winter months from November to February. In the north, the dry season is between November and May. The southern coasts stay relatively dry during this time as well. The wettest time on the western coast is usually from April to October. The east coast experiences more rain between September and December.
Malaysia stays hot and humid throughout the year. Due to seasonal winds, the wet season on the eastern coasts is from November to February, while the wettest months on the western coasts are April and October.
Why is Thailand more expensive than Malaysia?
Contrary to what you might expect, Thailand is generally more expensive for visitors than Malaysia. Perhaps the biggest reason for this is because Thailand's economy is strongly dependent on tourism while Malaysia's overall economy is more diverse.
Thailand has a bus system in place that caters specifically to backpackers and travelers. These bus companies are significantly more expensive than the public transportation system that locals use. Travelers are welcome to use this public bus system, but the marketing efforts of the private buses often lure visitors away from it.
Malaysia's economy is much less dependent on tourism, so visitors usually depend on the same transportation system as the locals. Accommodation also tends to be better in quality for a lower price in Malaysia, again, due to supply and demand. Also, a diverse range of restaurants keeps prices for food competitive throughout the country.
What are the most expensive and cheapest cities and regions in Thailand and Malaysia?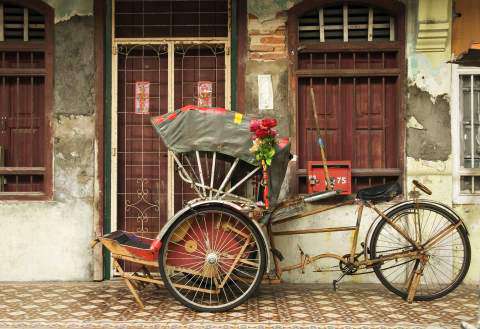 Penang, Malaysia
As a general rule in Thailand, the more touristy a destination, the more expensive it is. While this is true in many countries, it is even more extreme in Thailand. Southern Thailand is more expensive than northern Thailand with some of the most expensive areas being Phuket, Koh Samui, the beaches in Krabi provinc, and Koh Phangan. The time of year can also dramatically effect cost. During the Full Moon Party, for example, prices in Koh Phangan can climb, but expenses are more reasonable during slower times. Check the calendar and plan ahead.
Prices in Malaysia are relatively cheap and consistent throughout. As the capital city, prices in Kuala Lumpur can be a bit more expensive than more rural areas, but budget options are still plentiful within the city. If you visit the Cameron Highlands, you might pay a bit more for a rental car or tours, and public transportation in the area can be a bit limited.
Compared to peninsula Malaysia, Borneo can be quite expensive due to a lack of infrastructure. Although budget accommodation and cheap food are available, most people in Borneo choose to do a variety of activities. This is where the price starts to climb (but is well worth it). Depending on what activities you choose to participate in, Borneo could quickly become one of the most expensive areas that you might visit in Southeast Asia.
How you can save money when visiting Thailand and Malaysia?
Negotiate for most services and items. This is particularly true in Thailand. As is the case in much of Southeast Asia, most items for sale at shops and markets are negotiable. Furthermore, it is also possible to negotiate for a hotel or hostel room in many places, and sometimes even at restaurants. Generally, if something is offered to you, and you feel the person offering it is a little bit pushy, then it is safe to assume that the price is negotiable.
Venture off the beaten path. The prices in crowded areas tend to be the highest.
Travel with the locals. Find local transportation whenever possible and avoid paying a premium for "VIP" buses.
Slow down and "travel slow". If you're rushing through the country, you're going to spend more money on transportation without seeing much. Transportation costs can be expensive due to the overall price of fuel and labor, so the more places you visit, the more money you're going to spend.
Plan your schedule with regards to holidays and festivals. Special events are fun but expensive. If going to the Full Moon Party isn't your priority, avoid the island areas during these times. Also look at the holiday schedule to see when locals are on vacation.
Subscribe to our Newsletter
By signing up for our email newsletter, you will receive occasional updates with coupons and discounts, plus travel tips and advice from experienced budget travelers!
Source https://www.traveldrafts.com/thailand-or-malaysia-which-is-the-best-travel-destination/
Source https://wanderingourworld.com/thailand-or-malaysia/
Source https://www.budgetyourtrip.com/compare/thailand-vs-malaysia/1