Where To Stay In Nashville: 5 Best Areas & Neighborhoods
The most populated city in Tennessee is Nashville. Also known as the "Country Music Capital of the World," Nashville is a hotbed of interesting culture and good vibes. Whether you find yourself in Nashville for business, pleasure, or a mix of both, there is so much for you to do.
As Nashville's nickname implies, country music is king in Nashville and serves as its biggest attraction. There are so many bars, clubs, concert halls, and venues that are filled with live music and have positive atmospheres. The Music City is where so many stars break out and become popular. This is a fantastic place to see great artists in their natural state before fame finds them.
Along with the rich culture of nightlife, there are tons of museums and historical sites that relate both to country music and the local environment. Nashville is a gem of Americana and will provide you with tons of memories.
Here are five fantastic areas to stay in while in Nashville!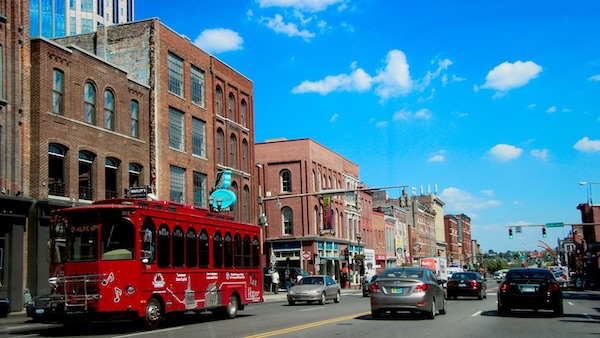 The Gulch
One of the upscale areas of Nashville is known as The Gulch. This is mostly an industrial area, but it also holds a lot of higher-end attractions. These attractions include fine dining restaurants, luxury stores, and exclusive nightclubs. All of this considered, this is one of the more expensive places to stay as the hotels are very high-end and well-known.
If you visited The Gulch many years ago, you wouldn't even recognize it now. It went from old-timey warehouses and factories to fancy shops and towering hotels. This was a complete transformation that benefits all visitors to Nashville.
The Gulch is also home to the Nashville Music City Center, Country Music Hall of Fame, and the Yazoo Brewing Company. All of these are great stops and located right in this neighborhood. Plus, you are in pretty proximity to Downtown, so it is easy to venture out and see the rest of Nashville.
Best place to stay in The Gulch
Thompson Hotel. Address: 401 11th Avenue South, Nashville, TN 37203, United States of America.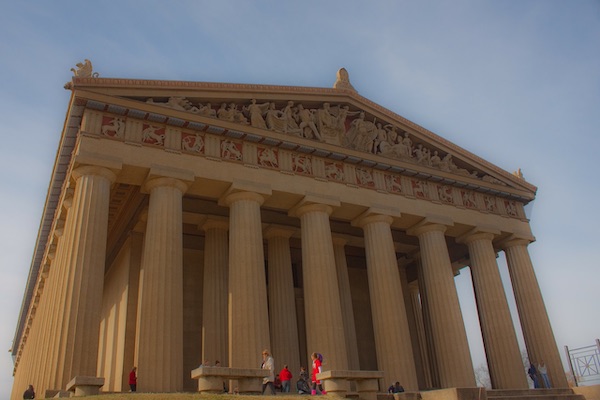 Midtown
Right next to The Gulch is Midtown. This neighborhood is also known as West End and is a bustling area full of stuff to do. More specifically, the nightlife is on full display and has some of the best opportunities to party in the entire city. This is mostly because of Vanderbilt University is right in this area. With the college, there are great party scenes that pop up at the local bars and restaurants.
In addition to the nightlife, there are a few staples that are worth checking out. The biggest of which is the Parthenon that is an actual replica of the ancient one built in Greece. This is an awesome site and worth seeing. There is also the Centennial Arts Center, JFK Plaza, and the Belmont Mansion. This is an awesome place to stay that keeps you in the loop of all the action.
Best place to stay in Midtown
Hutton Hotel West End. Address: 1808 West End Avenue, Nashville, TN 37203, United States of America.

Downtown
The heart and soul of Nashville are located Downtown. This is where a lot of the iconic Nashville attractions are located. When you think about going to Nashville, some of the things that come to mind include watching live music and barhopping through the Downtown area. This is exactly what goes down in this area. When choosing to stay here, you will be in the heart of the popular action. Going out on the town and barhopping while live country music fills the streets is the essence of Nashville.
This is where the Nashville Music City Center and the Johnny Cash Museum are located. There are must-see destinations for country music lovers. If country music isn't your forte, there are some great historical locations here. This means the Tennessee State Capitol building. After all, Nashville is the capital and does hold some amazing architecture and historical focal points. Littered throughout these fantastic attractions are public parks and green spaces. This adds a sense of openness and clarity amongst the inner-city chaos.
Best place to stay in Downtown Nashville
The Bobby Hotel. Address: 230 4th Avenue North, Nashville, TN 37219, United States of America.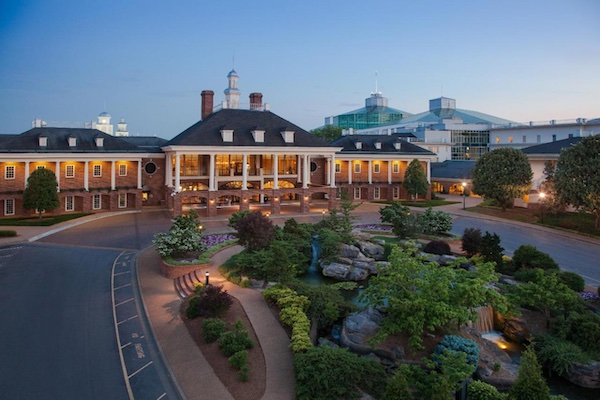 Music Valley
Music Valley is an extension of central Nashville that focuses on the music aspect of Nashville's culture. As the name implies, country music is king here and is a must-visit area no matter what neighborhood you decide to stay in. The biggest attraction in Nashville is located in Music Valley. This is the Grand Ole Opry. Visitors from near and far come to Nashville to specifically visit the Grand Ole Opry. Every year, the industry's biggest stars and up-and-comers headline shows for weeks at a time. This is a truly spectacular site in Nashville.
There is also the Gaylord Opryland Resort that offers incredible amenities to Music Valley's patrons. The Nashville Palace complex is here and yet another live music venue for visitors to enjoy. Whether country music is part of your identity or not, visiting Music Valley for at least a day is very important. You can even get a tour of the Grand Ole Opry without visiting a concert. If you don't like the music, you can still experience the history and culture.
Best place to stay in Music Valley
Gaylord Opryland Resort & Convention Center. Address: 2800 Opryland Drive, Nashville, TN 37214, United States of America.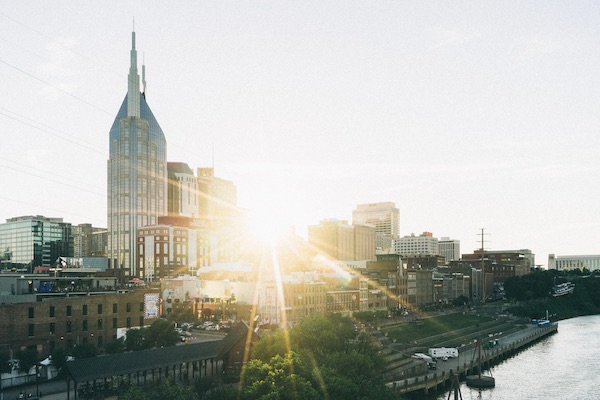 SoBro
Finally, there is SoBro. SoBro is short for South of Broadway and is yet another music-filled neighborhood that has a rich culture. It may be obvious, but SoBro is just south of the main Broadway drag. However, the same energy is very similar to nightlife is a focal point of staying here. It is super convenient to attend the top events by just walking down the street from your hotel.
A cool place to visit in SoBro is the Music City Walk of Fame Park. This is similar to the one you would find in Hollywood, but it is central to music and is a respected area in Nashville. This is a cool look back into history from a modern perspective.
Luckily, SoBro is not the most expensive area in the city, so you can still see all of the things you want to why not spending a ton of money. While you save some money on accommodations, you can use it to attend a concert or see more of the city.
Best place to stay in SoBro
Hyatt Place Downtown. Address: 301 3rd Avenue South, Nashville, TN 37201 , United States of America.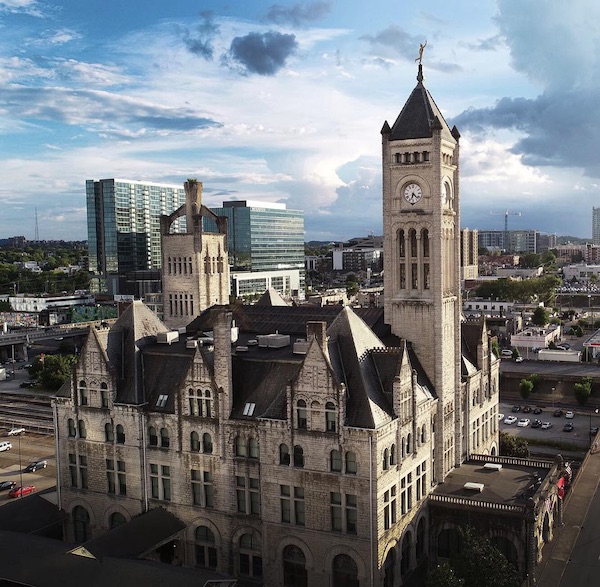 Where travel critics stay in Nashville
Want to know where travel critics from publishers like The New York Times, Frommer's, Fodor's and Lonely Planet stay in Nashville? Check out our overview of all recommended hotels, hostels and B&Bs in Nashville.
Budget
"Well located, only a block from Lower Broadway, and up to the minute in style and function. The common space in the basement, with its rather regal exposed stone walls and beamed rafters, is your all-hours mingle den." — Lonely Planet.
Address: 177 1st Ave North, Nashville, TN 37201, United States of America.
Mid-range
"Blending old and new, Colonial and modern, the hotel was renovated and opened again in December 2016. Guests can now enjoy a historical stay with contemporary influence and local touches." — Fodor's.
Address: 1218 6th Avenue North, Nashville, TN 37208, United States of America.
Luxury
"Tennessee's only five-star hotel nearly met the wrecking ball after falling into disrepair. Meticulously restored to its full glory in 2003, this Downtown hotel, a Beaux-Arts gem that first opened in 1910, attracts a decidedly upscale clientele that includes heads of state, celebrities, and business magnates." — Frommer's.
Address: 231 6th Avenue N, Nashville, 37219, United States of America.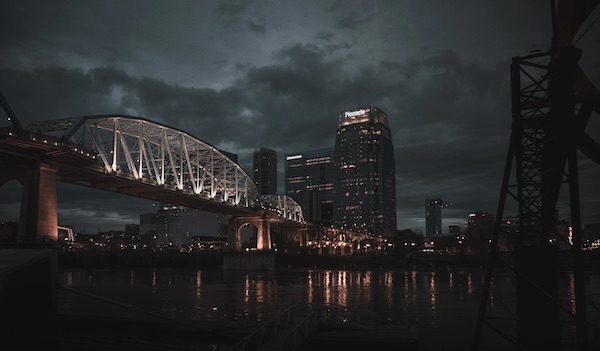 FAQ: Nashville hotel recommendations
If you're looking for a budget, boutique, or luxury hotel in Nashville-or maybe your travel plans require a splendid hostel? Want to know which hotel serves the best breakfast? Here are all those answers and more about where to stay in Nashville.
What is the best boutique hotel in Nashville?
You like some luxury but don't like the famous chain hotels. If you're looking for the best boutique hotel in Nashville, you should check out Fairlane. It's a very cool hotel that has been highly recommended by travelers and experts. Make sure you check our shortlist of the best boutique hotels in Nashville, it's a manually curated list of the most unique and romantic hotels in the city.
What is the best luxury hotel in Nashville?
If money isn't a problem and you're looking for a luxury hotel in Nashville, then go for Union Station Hotel. The hotel offers excellent service, it's in a top location, it has been rated very highly by previous guests and renowned travel critics have recommended it. Also check out our list of the best luxury hotels in Nashville, it's a manually curated list of the most exclusive 5-star hotels in the city.
What is the best budget hotel in Nashville?
If you're looking for a cheap hotel in Nashville, then book The Russell. It's an excellent budget hotel offering great value for money. It's in a good location, it's been recommended by travel experts and the hotel has excellent customer reviews. Make sure you check our shortlist of the best cheap hotels in Nashville.
What is the best hostel in Nashville?
If you're looking for a great hostel in Nashville, then you should check out Downtown Hostel Nashville. The hostel has magnificent reviews by backpackers, it has been recommended by well-known travel experts and it's in a good location.
How much does it cost to stay in a Nashville hotel?
If you're looking for a 3-star hotel in Nashville then you'll have to pay around $195 per night. For a 4-star hotel, you have to pay about $320 per night and if you're looking for a luxury 5-star Nashville hotel that will cost you about $400 per night.
Which Nashville hotel is the best for families?
If you're looking to visit Nashville with your family, then try the Hermitage Hotel. The hotel has excellent recent reviews by families.

Best things to do in Nashville
There are a lot of things to do in Nashville and surrounding areas, including day trips, attractions, museums, sightseeing tours and many other activities. Here's our list of 3 things you should definitely do when you're in and around Nashville:
Explore the City of Nashville Tour by Golf Cart
Aboard an open-air, low-speed vehicle, cruise through Nashville to see more than 35 landmarks and other sightseeing locations. Price: $49. More info.
Nashville Hop-on Hop-off Trolley
Discover the attractions of Nashville at your own speed on this hop-on hop-off trolley bus tour. Forget about driving or parking the car: Just sit back and relax, and get off and explore at any of the 14 stops. Price: $44. More info.
General Jackson Showboat Lunch or Dinner Cruise in Nashville
Cruise on Nashville's Cumberland River aboard one of the country's largest paddle-wheel boats, the 'General Jackson Showboat', during this excursion. Price: $106. More info.
Deciding where to stay in Nashville
To summarize, this travel guide has covered the best areas of Nashville, as well as some hotel tips and things you can do. It's now up to you to decide which area you prefer.
Top 5 neighborhoods to stay in Nashville
Downtown
Midtown
Music Valley
The Gulch
SoBro
As you have seen in this article, there are a lot of things to explore, and deciding where to stay in Nashville is important. Whether you stay in Downtown, Midtown, Music Valley, The Gulch or SoBro, all those neighborhoods are in good locations.
The atmosphere of the area, whether you travel for leisure or business, whether you travel with your family or friends, and proximity to the attractions you prefer to visit should probably be the deciding factors. Whatever your preference is, you'll have a great time in Nashville.
Nashville neighborhoods guide: The best places to stay in Nashville
If you flip through random photos of Nashville, you'd think the whole city is one big neon honky-tonk paradise, where the boot-scooting and beer-swigging lasts until the wee hours. That does happen in Music City, for sure, and it is fun. But that's really just five blocks on Lower Broad. Nashville is more diverse and nuanced than that.
When picking a place to hang your (cowboy) hat while visiting, consider the following Nashville neighborhoods based on how you want to spend your time in town. Each one has visitor-friendly attractions, great food, well-craft cocktails, live music (obviously), plus a few surprises. From out-of-this-world restaurants and bars to live-music venues and kid-friendly things to do, the city is ripe for discovery.
To help you select your hotel in Nashville (or your Airbnb) we've come up with the best places to stay in Nashville. There's not a bad choice among them.
An email you'll actually love
Get into a relationship with our newsletter. Discover the best of the city, first.
By entering your email address you agree to our Terms of Use and Privacy Policy and consent to receive emails from Time Out about news, events, offers and partner promotions.
Awesome, you're subscribed!
Thanks for subscribing! Look out for your first newsletter in your inbox soon!
Best places to stay in Nashville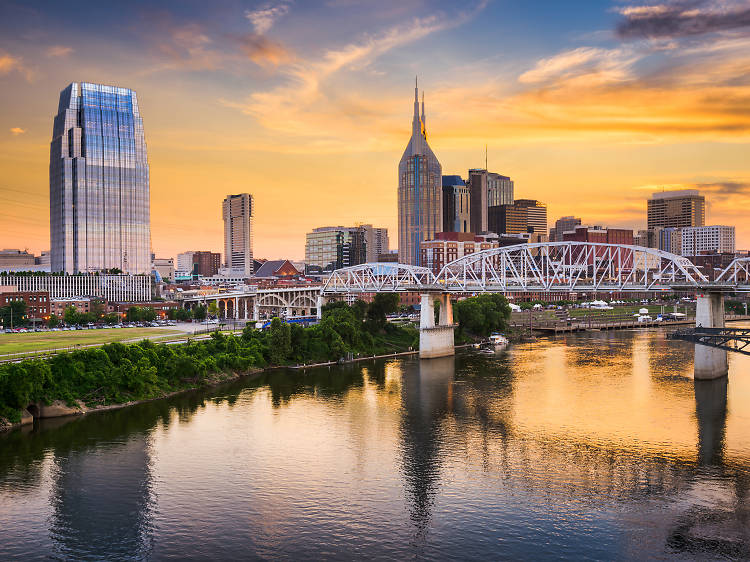 1. Downtown
Downtown is Nashville's economic and tourism hub, as well as the geographic center and home to Lower Broad. This is where you'll find the honky-tonks, belting out Western swing music al­most any hour of the day. But this area isn't just for partiers; in addition to some of the biggest attrac­tions, Downtown is home to swanky hotels, restaurants, and enviable views of the Cumberland River. This location appeals to tourists who want a walkable stay in Music City, no car needed.
EAT: Fifth + Broadway's Assembly Food Hall is a collection of small eateries from the city's best restaurants. Want hot chicken? Chinese comfort food? Red-velvet tacos? Kurdish food? Check, check, check, and check. It is all here at affordable prices, with amazing views of the Ryman Auditorium and Broadway. Free live music is an ongoing perk.
DRINK: As discussed, there are many honky-tonk-style bars in downtown Nashville. Locals love Robert's Western World because the owners hire great musicians to play world-class Western swing and country music . and because they sell cheap beer.
DO: Head to the second floor of the Nashville Public Library. That is where the Civil Rights Room details the most significant events of the 1960s student-led sit-in protests that happened here and helped to desegregate the entire country.
STAY: With a minimalist 1970s décor and a decidedly 2020s approach to service and amenities, The Fairlane Hotel is one of the best spots in town. Head here to lounge in velvety opulence, and take in city views from guest rooms with floor-to-ceiling windows. Grab breakfast from the Bagelshop downstairs before heading out to explore.
If you do just one thing. Catch a show at the Ryman Auditorium . Seriously, it doesn't matter who's playing, you just want to experience the sacredness and fabulous acoustics of the space. If you can't snag tickets, do a daytime tour to see the backstage magic.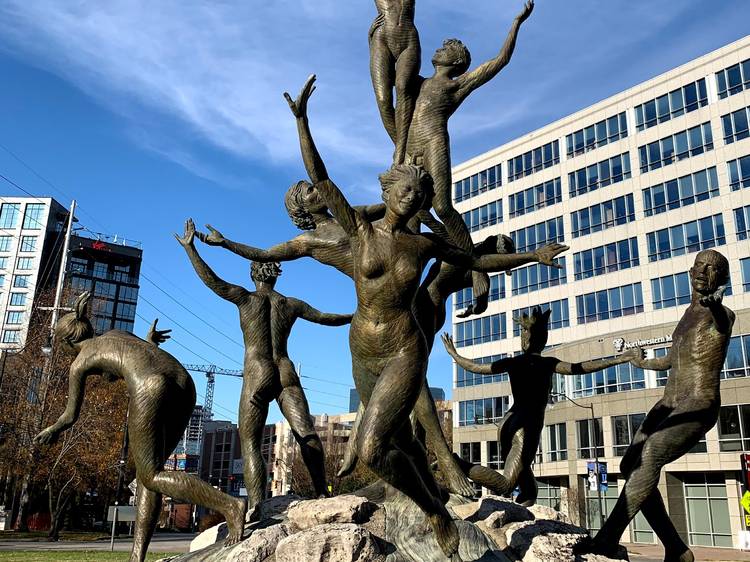 2. Music Row
Music Row is where the business of Nashville gets done. Two parallel streets (connected by a roundabout sporting the joyful Musica sculpture) are lined with former houses converted into music studios and office towers. Scattered between these music-industry essentials are places to eat, drink, listen to music, and sleep.
EAT: With 32 seats around an open kitchen, The Catbird Seat provides a multi-hour culinary performance as much as it offers a mere dinner. Book in advance and watch the team make magic from local ingredients.
DRINK: Q: Is there anything more Nashville than drinking beer and listening to singer-songwriters tell tales of universal woe? A: No, there is not. The best of this Music City action takes place at Bobby's Idle Hour Tavern , a beloved Music Row bar.
DO: Names like Elvis Presley wrote and recorded hit after hit at Historic RCA Studio B . The Music Row studio, preserved as it was then, is open for tours. Book your tickets and catch the shuttle here; tours depart from the Country Music Hall of Fame and Museum.
STAY: With its signature red staircase, popular rooftop pool, and extra-large guest rooms with great views, Virgin Hotels Nashville is the best way to stay in the center of it all.
If you do just one thing. Shop at Any Old Iron , designer Andrew Clancey's temple to all things sequined. If it is good enough for Miranda Lambert, Lady Gaga, and Taylor Swift, all of whom have worn Clancey's designs, it is good enough for you to take home (if you make it there, note that Clancey now has a line in Free People stores).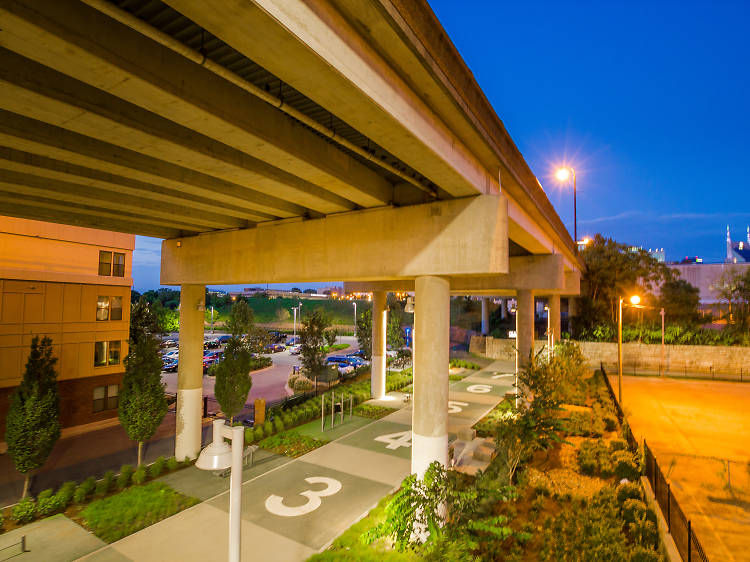 3. The Gulch
Named for the physical gulch that houses the railroad tracks that ran through this area, this is perhaps Nashville's most modern neighborhood in terms of construction, with high rises and dense city living combined with retail space. It is within walking distance to downtown, SoBro, and Midtown, but chockfull of its own attractions, primarily shopping-, eating- and drinking-oriented (but what else do you need?).
EAT: Celebrity chef Maneet Chauhan brings her take on Indian food, spices, and cooking to lucky Nashvillians at her flagship Chauhan Ale and Masala House . Order a selection to sample her fusion recipes, but don't skip the hot chicken pakoras.
DRINK: If your idea of a good time includes playing duckpin (a type of bowling that doesn't require rental shoes), bocce, pinball, or foosball, head over to Pins Mechanical. All these games, plus cocktails, beer, and wine (which are sure to improve your aim), are on the menu at the inclusive bar.
DO: Walk the Gulch Greenway to Frankie Pierce Park in Capitol View. This urban outdoor oasis is perfect for walking or biking an easy one-mile path along city streets, with views of skyscrapers and green spaces. There are plenty of outdoor murals to stop and admire en route.
STAY: A glass tower from the outside, the Thompson Nashville is a modern hotel with lots of interesting touches, including art elements made from reclaimed wood from the surrounding neighborhood. Don't skip a trip to the rooftop bar, L.A. Jackson.
If you do just one thing. Among all these high-rises is a simple cinder block building, which for decades has housed the best bluegrass music in the country. The Station Inn is a must for all visitors to Nashville, not just The Gulch.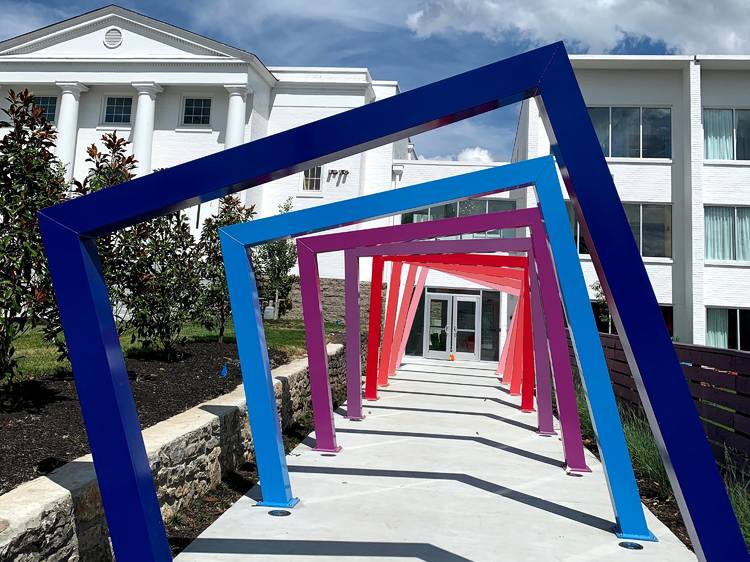 4. East Nashville
East Nashville has a love-hate relationship with the "hip" moniker it has earned over the years thanks to its high concentration of creative folks. This large neighborhood just east of Downtown is home to stylish vintage boutiques and purveyors of handcrafted goods, not to mention many of the tastiest chef-owned restaurants and the best tiny watering holes.
EAT: Melvil Arnt and his parents moved to Nashville from Paris, and that is evident in every part of Once Upon A Time In France ,­ from the décor to the food to the wine list. The French bistro doesn't take reservations, so plan to chat with locals over a glass of wine while you wait for a table.
DRINK: Order a tropical cocktail or two at Pearl Diver , a stylish lounge that brings an island vibe to its menu, its communal spaces, and its attitude. If you've only been to cheesy tiki bars, be prepared to be impressed by the thoughtfulness of this tropical experience.
DO: Browse in the small boutiques at the Shoppes on Fatherland and nearby at the Five Points Alley Shops. These collections of tiny storefronts house handcrafted goods, vintage finds, and more.
STAY: The Gallatin Hotel's brightly colored hallways, front archways, and garden underscore the "Stay Joyful" mantra. In addition to the plethora of selfie spots, the hotel contributes to a local initiative that works with Nashville's homeless population.
If you do just one thing. Every single Monday at 5 Spot , locals cut a rug. They call it Motown Mondays, but in truth, it's just dancing to a bunch of good music, starting with Western swing. Lots of people who show up know their footwork, but you don't need to be an expert to join in.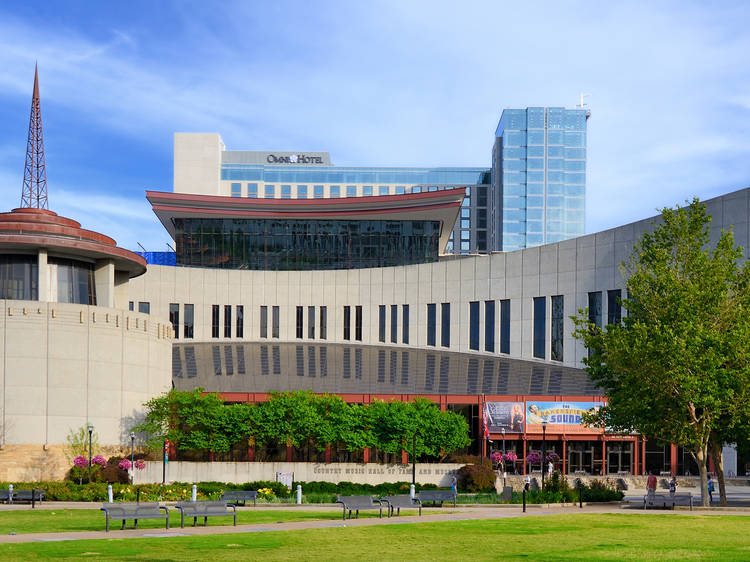 5. SoBro
The moniker means "south of Broadway" and this micro-neighborhood separates itself from other areas downtown. It is home to the hockey arena, the symphony, the convention center, and a range of hotels, restaurants, and museums. Like its neighbor to the north, Sobro is a walkable area for tourists, but with a more offbeat vibe.
EAT: It is not magic to make a restaurant that is fun and serves good food and drink, although sometimes it can feel like it. At House of Cards , you can eat some steakhouse-style classics (or a vegan surf and turf, if that's your thing) and watch mentalists and magicians do their thing. Pack a sports jacket, as there is a dress code to get in on this fun.
DRINK: An amazing contemporary art collection (all of which is for sale, just ask to see the binder) is as good as the specialty cocktails on the menu at the hideaway called Bar Sovereign .
DO: While the honky-tonks have the flash, Nashville is a songwriter's town at heart. Hear their stories and acoustic sets by catching a low-key sit-down show at The Listening Room Café .
STAY: The luxury Joseph Nashville is stacked with one-of-a-kind experiences, from its world-class art collection (don't forget to look down when at the rooftop bar) to its award-winning Italian kitchen and indulgent spa. Enjoy the views from the guest rooms out to the city below.
If you do just one thing. learn about country music. A trio of music-themed museums, the Johnny Cash Museum , the Patsy Cline Museum , and the Country Music Hall of Fame and Museum give you a deep dive into the genre's roots. Whether an avowed country music fan or not, these are must-visits.
Where To Stay In Nashville: The Ultimate Neighborhood Guide
Nashville, the capital of Tennessee, has plenty to offer visitors. Of course, country music fans will be in seventh heaven in Music City thanks to attractions like the Country Music Hall of Fame, the iconic Grand Ole Opry, The Ryman Auditorium, and the Johnny Cash Museum. But there's more to Nashville than country. As well as seemingly infinite live music venues, the city offers amazing restaurants, galleries where you can explore the visual arts, the chance to delve into the history of the state at the Tennessee State Museum and the Tennessee State Capitol, and a vibrant night scene that rivals any in the country. In fact, there are many unmissable things to do at night in Nashville that you definitely shouldn't neglect on your next trip.
Since the city has so much to offer, your choice of where to stay in Nashville will have a big effect on the kind of trip you have. Obviously, downtown Nashville offers most of the main attractions. But the city is also home to several other vibrant neighborhoods that are worth exploring. And if you want to see another side of Nashville, one that most tourists and even some locals are unaware of, you'll need to do some exploring.
Thankfully, Bounce is here to help. Offering luggage storage locations in Nashville around the world, Bounce makes it easy to explore Nashville and anywhere else you might want to visit. Drop off your bags at a convenient and secure Bounce location and get ready to see what makes Nashville so special.
Where to stay in Downtown Nashville
Downtown Nashville is an obvious choice for where to stay in Nashville, and there is good reason for that. If you want to be within walking distance of everything the city has to offer, this is the best place to do it. Downtown Nashville is home to some of the city's top attractions, including the popular Country Music Hall of Fame, the National Museum of African American Music, the Tennessee State Capitol, and the Tennessee State Museum, among other options.
Plus, staying downtown is one of the best ways to enjoy live music. Lower Broadway in the city center is absolutely packed with bars and honky-tonks where you'll be able to hear endless examples of the city's musical talent and possibly catch the next big artist on their way up in the city. When it comes to nightlife, downtown Nashville is hard to beat. That's even more true if you include The Gulch, a formerly industrial area that has been reinvented as a vibrant neighborhood full of trendy restaurants and microbreweries. If you want to sample some of the best cooking in Nashville, whether it's local favorites like hot chicken and soul food or the latest in international cuisine, this is one of the best places to do it.
Sounds good, right? Well, it is. But downtown Nashville is hardly a hidden gem. Hotels in the downtown area will cost more than they do in any other part of the city. Also, while you'll find plenty of luxury hotels mixed in with budget accommodations, it can be a struggle to locate midrange boutique hotels. If that's what your dream Nashville trip entails, it might be better to look elsewhere.
If money is no object and you like a taste of the highlife when visiting Nashville, the Hermitage Hotel is hard to beat. Offering a great central location close to the State Capitol, this five-star establishment dates back to 1910, and the spacious suites with floor-to-ceiling windows plus the on-site restaurant and the traditional afternoon tea make it one of the best luxury hotels in the city. This hotel also offers one of the best brunches in Nashville , which is good to know if you overindulge in the endless nightlife options in the area. Of course, all this luxury comes at a price, and not a cheap one. Alternatively, the Fairlane Hotel offers a slightly cheaper alternative less than half a block away. If you'd prefer a more modern hotel, the JW Marriott Nashville offers 24-hour room service from three different on-site restaurants and is within walking distance of the area's top attractions. There's also an on-site spa and an outdoor pool, making this a hotel that has everything you need in a desirable location.
Where to stay in East Nashville
If you're wondering where to stay in Nashville that will put you in one of the most creative districts of the city, East Nashville is a place you should seriously consider. Located on the other side of the Cumberland River from downtown, this neighborhood is where you'll find some of the most creative up-and-coming restaurants, coffee shops, and bars in the whole city. It's also a fantastic place to go shopping, thanks to the seemingly endless supply of fashion boutiques and vintage stores that make this area their home. Plus, if you're looking for brewpubs that eschew Nashville's traditional country esthetic in favor of something more modern, East Nashville is where you'll find them.
Located just a little outside the city's built-up core, East Nashville's location next to the Cumberland River means it also has some enticing outdoor activities to offer. Shelby Bottoms Park is a great place to rent a bike and take a cruise along the water before heading to Eastland Avenue to check out vintage stores and eateries. It all makes East Nashville the perfect place to explore the cutting edge of the city's creative spirit. This trendy neighborhood full of hip restaurants isn't the cheapest in the city by any means, but it does offer some cheaper options than downtown Nashville.
Where to stay in Germantown
This neighborhood, located north of downtown, owes its name to German immigration to Nashville in the mid-19th century. Although you won't find too many traces of this European ancestry in the neighborhood today, it's still a great place to stay in the city outside of the downtown core. The Tennessee State Museum lies just to the south of the neighborhood, and Germantown is known as one of the best places in Nashville to shop and eat. Many of the city's top restaurants are located here, making it the perfect place to stay for foodies. You'll also find plenty of boutique hotels in this historic area that ooze old-school charm.
As you get beyond Germantown and head into North Nashville, you'll be able to explore the African American history of the city. This area played a big role in the civil rights movement in Nashville, and is home to the historic Fisk University. You'll also find great soul food restaurants here, including popular local favorites Monell's and City House. Best of all, this area remains relatively undiscovered by tourists, so it's the ideal place to get a better sense of the real life of locals in Nashville. You'll find that hotel prices are much cheaper here than in downtown, and it's very easy to reach all the city's main attractions from here. If you're wondering how to get around Nashville, check out our guide to the city's public transportation system.
Where to stay in Green Hills
Wondering where to stay in Nashville where you can be close to the more natural side of Tennessee? The aptly-named Green Hills is the first place you should look. This area is home to the beloved Warner Parks, which offer some of the best hiking in the city. The demanding trails through the Tennessee forest are the perfect introduction to the backcountry of the state, and will make you feel like you've traveled a long way from the bustling city even though you really haven't.
For more natural splendor, check out Cheekwood Botanical Garden and the vast Natchez Trace Parkway which is accessible in this area. You'll also find plenty of hotels in the surrounding neighborhood that make ideal places to stay if you want to be away from the noise and bustle of downtown. Most of the major hotel chains have a foothold in the area, including Courtyard by Marriott, Hilton, and Hampton Inn.
Where to stay in Midtown
Located right next to downtown Nashville, Midtown is home to some of the city's top attractions, including Centennial Park and its impressive Parthenon. It also borders Music Row, which is one of the best places in the city to explore the history of music in Nashville and also enjoy live music in the many bars and venues you'll find here. If you're wondering where to stay in Nashville that lets you enjoy what downtown has to offer at a slightly slower pace and a potentially cheaper price, Midtown is your answer.
Centennial Park is the centerpiece of this neighborhood, and it's no wonder why. As well as its ample green space and lake, along with the replica Parthenon that recalls ancient Greece, this park hosts Musicians Corner, a free music festival that will remind you why Nashville is known as Music City – as if it was possible to forget.
Midtown is a great place to stay where you'll be close to everything you want to see without paying the premium you will to stay downtown. For example, check out the Hayes Street Hotel, which offers modern rooms and complimentary breakfast plus an on-site fitness center close to Vanderbilt University. Homewood Suites by Hilton offers pet-friendly rooms right on Centennial Park, but if cheap hotels are more your thing, places like the Best Western Music Row offer unpretentious accommodation in a great area for nightlife.
Where to stay in Music Valley
In a city with as much to do as there is in Nashville, it's tempting to want to stay as close to downtown as possible. However, depending on your tastes, you may find that the Donelson area and Music Valley work out better for you. For one thing, Donelson is bordered to the south by Nashville International Airport, making it easy to reach from the moment you get into town. But also, Music Valley is home to some of Nashville's top attractions.
One of those is the Grand Ole Opry. While in Nashville, you should make it your mission to catch this legendary radio show performed live at the Opry House, which is about as Nashville an experience as you could possibly have. Plus, Music Valley is also home to Gaylord Opryland Resort. This sprawling complex is one of the top attractions in Nashville, offering a waterpark complete with artificial beaches, shopping, restaurants, and music venues. The resort is operated by Marriott and has an on-site hotel, but you can access many of the facilities without being a guest. Although Donelson lies outside the city center, it is connected to Riverfront Station by the Music City Star commuter rail line, so if you choose to stay in this area, you won't find it difficult to get into central Nashville to enjoy everything it has to offer.
Conclusion
Part of the appeal of Nashville for tourists is that many of the city's top attractions are within walking distance of one another in Nashville's charming city center. However, the city has more to offer than the Country Music Hall of Fame and the Tennessee State Museum. The eclectic and vital neighborhoods of Nashville offer hiking trails, amusement parks, historical attractions, incredible restaurants, and just about everything else you need to give you a spectacular vacation. So drop off your bags at a Bounce luggage storage and open yourself up to exploring other parts of the city. When you see everything there is to do in Nashville, you'll be glad you did.
Source https://thishotel.com/articles/5-best-areas-to-stay-in-nashville-tennessee/
Source https://www.timeout.com/nashville/hotels/where-to-stay-in-nashville
Source https://usebounce.com/guides/nashville/where-to-stay-in-nashville