Jaisalmer Travel Guide: 10 Best Places to Visit in Jaisalmer for an Unforgettable Trip
One of the best places to visit from Jaipur (and something on my bucket list for a couple of years) has been Jaisalmer. This is because, until 2019, I hadn't been to a single desert in the world.
And while I did visit desert areas in both Kazakhstan and Vietnam, visiting Jaisalmer's sand dunes was definitely a unique experience and a quite cherished one as well, especially since I knew there are so many awesome places to visit in Jaisalmer.
Honestly, the desert sand dunes stretch for miles and miles around here and you could easily get lost if not careful.
Apart from the amazing sand dunes, the Jaisalmer city itself is quite enchanting. It felt like I am in some Arabian story as the narrow streets are filled with colorful shops and vendors.
And the 'Golden City' is quite apt as you are surrounded by golden-colored buildings and historical monuments everywhere.
In this Jaisalmer travel guide, I will be listing down everything that you need to know to plan a trip to this wonderful Indian city.
Places to Visit in Jaisalmer
The Golden City is full of exuberance and culture and trust me, it has so much for you to explore. The heart of Thar desert, this city has a wonderful past and heritage which will make you look in awe at every nook and cranny here.
Did you know Jaisalmer was a gateway for trading with the Persian countries? Or that the Golden fort is one of the few living forts in India? There is a lot to Jaisalmer than just the Thar Desert and you only realize it once you visit this gorgeous city.
A few things which make Jaisalmer really special is that it happens to be one of the largest wind farms in India. And it is filled with gorgeous Havelis and bungalows which were constructed during the time when Jaisalmer acted as a trading center.
Later, the trading center was shifted to Mumbai by the Britishers but there are still numerous Havelis and mansions that you can explore around here.
Jaisalmer is also known for its Merasi music community which is an important part of their cultural and religious experience.
So, make sure that you check them out when visiting this golden city. All in all, there is a lot to learn about Jaisalmer and the best way to do that is to explore the streets and Havelis of Jaisalmer.
How to Reach Jaisalmer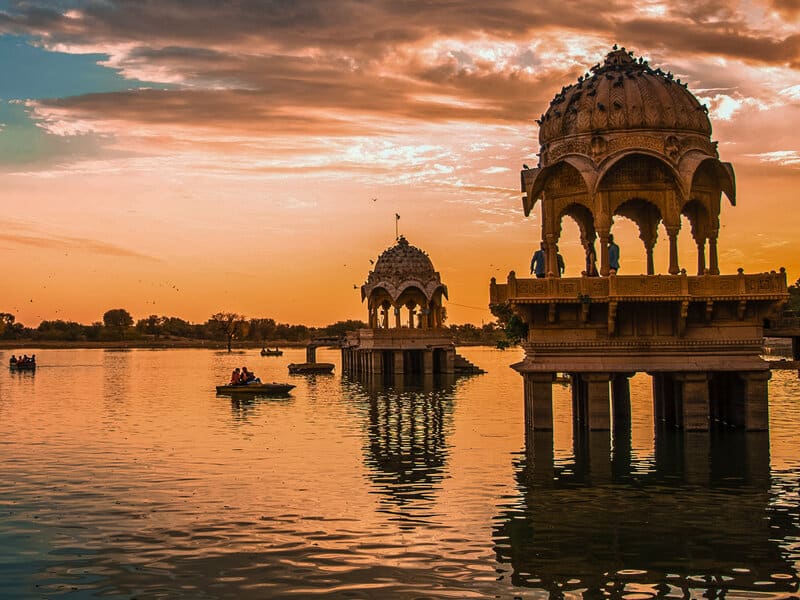 Now, there are different transportation modes available to reach Jaisalmer, depending on your origin point. If you are starting from Delhi, then you can reach using a flight, bus, or even a train. You can also try to reach Jaipur or Jodhpur first if you are traveling from far away.
Here is detailed information on how to reach Jaisalmer.
By Road
Jaisalmer is well-connected with many cities, both inside the state and outside. So, you will find public and private buses from Jodhpur, Jaipur, Mount Abu, Bikaner, etc. to Jaisalmer. You will also find private buses to Jaisalmer from cities like Ahmedabad, Delhi, and so on.
In case there is no direct bus from your city, you can try to reach one of these major cities first and then get a bus to Jaisalmer. But if you are planning to visit here as a short weekend getaway from Delhi-NCR, getting your own private vehicle is cost-effective and fun.
By Rail
Jaisalmer also has a railway station which has direct trains from cities like Jaipur, Delhi, Jodhpur, Ajmer, etc.
You can check out the trains from your respective city to Jaisalmer on the IRCTC website. In case there isn't any direct train, then you can search for a train to cities like Jaipur, Delhi, Jodhpur, etc. and then change the train for Jaisalmer from there.
From the railway station, you will find autorickshaws, taxis, etc. to take you to your accommodation in the city.
By Air
Another option is to take a flight to the Jaisalmer Airport which is situated on the outskirts of the city, around 10-15 km away. But the frequency of flights is less here so it might be better to reach Jaipur by flight and then take a train/bus to reach here.
How to Travel in Jaisalmer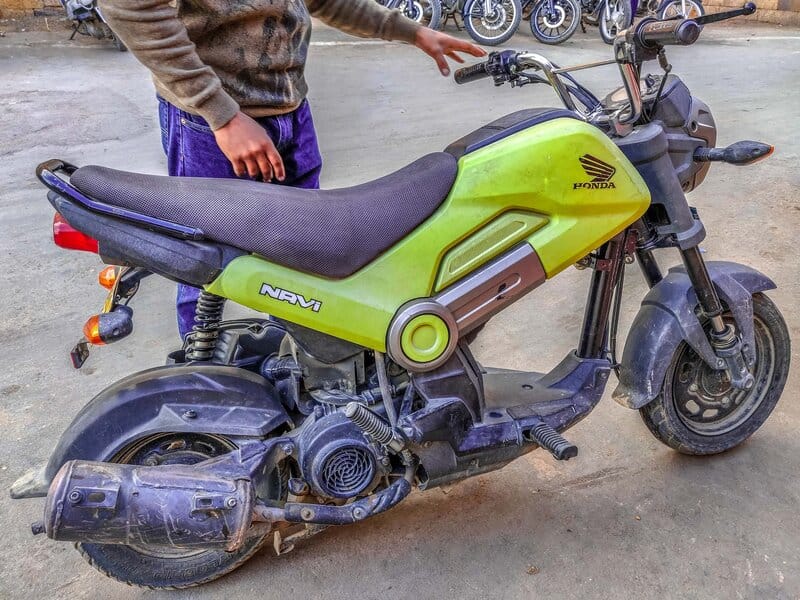 Since this is a small city, you won't find local buses available in the city or to the Sand Dunes. However, there are other modes of transportation available that you can check out.
Auto Rickshaws
You will find a lot of Auto-Rickshaws around here which charge reasonably. So, you can take an Auto to reach the railway station, airport, etc. An autorickshaw will charge you around 50 INR from the Gadisar Lake roundabout.
Walking
Honestly, my favorite way to explore this city was by walking. In the city, the fort and the Havelis are quite close by so you can easily cover it on foot. You can start by covering Moti Mahal, Nathmal ki Havel, Patwon ki Haveli, and then make your way to the Jaisalmer Fort.
Also, make sure that you choose accommodation near these streets as it will make it easier for you to explore on foot.
Two-Wheeler
Another great way to make the most of your short time in this city is by renting a two-wheeler. From bikes to Active, you will find rental shops for almost all two-wheeler brands. This will make it easier for you to explore the nearby sights like Bada Bagh, Vyas Chhatri, Kuldhara Village, and so on.
The cost of an Active is around 250 – 300 INR and of a bike is around 1200 INR for a day. You can also use the scooty to travel to the Sam Sand Dunes or Khuri Dunes and save money on expensive taxis.
Finally, if you don't know how to ride a two-wheeler then your only option for reaching the Thar desert is using a cab/taxi. The cost of a private taxi is 2500 INR for a one-sided journey to the Sam Sand Dunes.
However, if you are traveling alone and have opted a group package for the Sand Dunes, then you can share the cost with other travelers.
Best Time to Visit Jaisalmer
Since Jaisalmer stays hot throughout the year, with the minimum daily temperature of 25 degrees Celsius, it is important to plan your trip during the right month.
Winter Season
The best time to visit Jaisalmer is in the winter months when the sun is comparatively bearable. This also happens to be the peak season for Jaisalmer as people from all over the world travel here to enjoy the desert camping experience.
So, if you don't mind a little crowd and wish to enjoy the weather in Jaisalmer then winter is the best time to visit Jaisalmer. You can plan a trip here anytime between October to March to have a lovely experience.
Summer Season
Summer season is the absolute worst time to visit the Golden City. And this is not just because it is scorching heat here at that time but also most of the activities and camps shut down during this period.
As a result, you won't find many options for a desert jeep safari or camel safari to explore the sand dunes.
Monsoon Season
The Golden City experiences very little rainfall so there is no monsoon season really. The summer season ends around July end and the locals start getting for the winter season from August.
So, you can plan a visit in the August – October period but you will not find many activity options to choose from.
Best Places to Visit in Jaisalmer
Are you looking for a few places to visit in Jaisalmer to make the most of your trip?
Please find below a few of the top places to visit in Jaisalmer, a few of which are my personal favorites.
Vyas Chhatri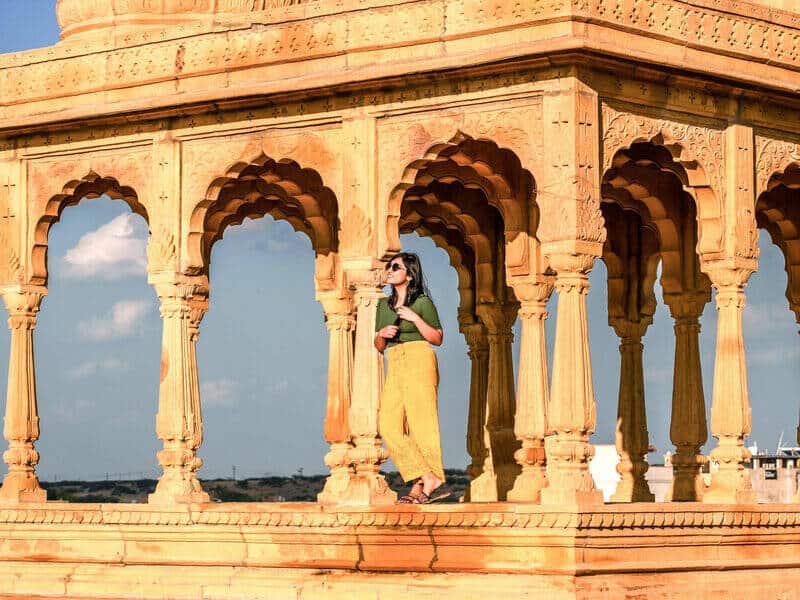 One of the best places to visit in Jaisalmer, Vyas Chhatri is an exemplary example of Rajasthani architecture. This is a cremation ground where you will find cenotaphs dedicated to the sage Ved Vyasa, author of Mahabharata.
This cremation ground for Brahmins has gorgeous yellow sandstone cenotaphs that are placed on a raised platform. And each of the cenotaphs has a beautiful, intricately-designed chhatri on the top of the neatly-carved pillars.
Another great thing about this place is that it is built on a hill and offers an amazing view of the Golden Fort and some mesmerizing sunsets. It is located around 4 km from the city center and is mostly a secluded point so you can enjoy watching the sunset in peace here.
Timings: 8:00 a.m. to 7:30 p.m.
Entry Ticket: 100 INR per person
Bada Bagh
Another popular site to visit in the Golden City is Bada Bagh that features a huge collection of cenotaphs of Jaisalmer Maharajas. Built in the 16th century, the first cenotaph in this region was of Jai Singh II who was best-known for making the city green. So, to honor him, his son Lunkaran built his cenotaph here and created a park around it.
After that, more cenotaphs got added in this region and now it has numerous cenotaphs, more than in Vyas Chhatri as well. As a result, this location makes for a good backdrop for landscape photography as well. It is located around 10 km from the city and takes barely 15 minutes to reach.
Timing: 8:00 a.m. to 6:00 p.m.
Entry Ticket: 100 INR per person
Jaisalmer Fort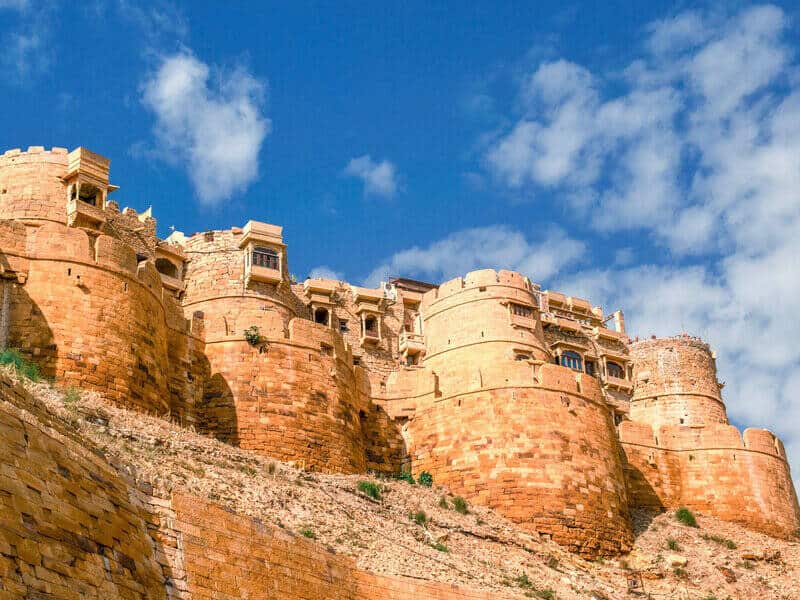 One of the most interesting things about Jaisalmer city is that it has one of the largest forts in Rajasthan and even India that is still used as a residential area.
So, you will find locals living inside the fort as well as outside the fort. Also known as Sonar Quila, this fort was built in 1156 AD under the reign of the Bhati ruler Rawal Jaiswal.
Another interesting fact about this fort is that it has survived attacks from different rulers over the years including Humayun, Ala-Uddin-Khilji, and so on.
So, if you have always wondered how a real-life fort looks like then spend some time in this Golden Fort. You will find several temples, museums, restaurants, markets, etc. also inside to explore.
Timings: Any time
Entry Ticket: Free
Gadisar Lake
One of my favorite places to visit in Jaisalmer, Gadisar Lake is another popular spot which was built under the rule of Raja Rawal Jaiswal.
According to the locals, this rainwater lake was used to provide water to the entire city but now it is mostly used for boating and there are several temples and shrines on the embankment of this lake.
Personally, I loved visiting this place during the evening and just enjoy the evening breeze while watching people boating around the lake.
Timings: Any Time
Entry Ticket: Free
Boat Tickets: 10 INR for a rowboat, 50 INR for a paddleboat, and 100 INR for a shikhara
Salim Singh ki Haveli (Moti Mahal)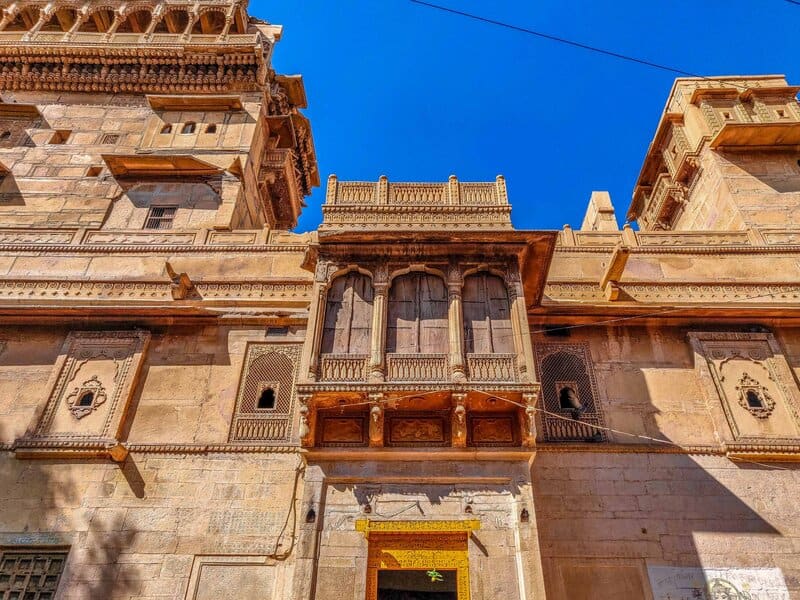 If you are interested in architecture then Salim Singh ki Haveli is one of the best places to visit in Jaisalmer. Constructed in 1815, this haveli was built by Salim Singh and is particularly famous for its unique peacock-shaped roof along with an exquisitely designed pavilion.
This haveli is barely 500 meters from the Golden Fort and gives great insight into the Mughal-style architecture. This haveli has around 38 balconies while the walls here were covered with imperial Mughal-style paintings and there was also a Moti Mahal inside the haveli as well.
Timings: 8:00 a.m. to 6:00 p.m.
Entry Ticket: 50 INR per person
Kuldhara Village
Popularly known as the Haunted village of Jaisalmer, Kuldhara Village is situated around 20 km from the city. This village was built in the 13th century and was a prosperous village where the Paliwal Brahmans lived.
However, the village and the neighborhood were abandoned in the 19th century and there are several reasons cited for it.
Some say it was because of the shortage of water while a 2017 study says that the area was deserted because of an earthquake. One popular theory is that because of the persecution of Jaisalmer's minister, Salim Singh, the area was abandoned.
Whatever be the reason, this village has become a popular tourist spot now so if you love historical places, then one of the best things to do in Jaisalmer would be to stop here on the way to the sand dunes.
Sam Sand Dunes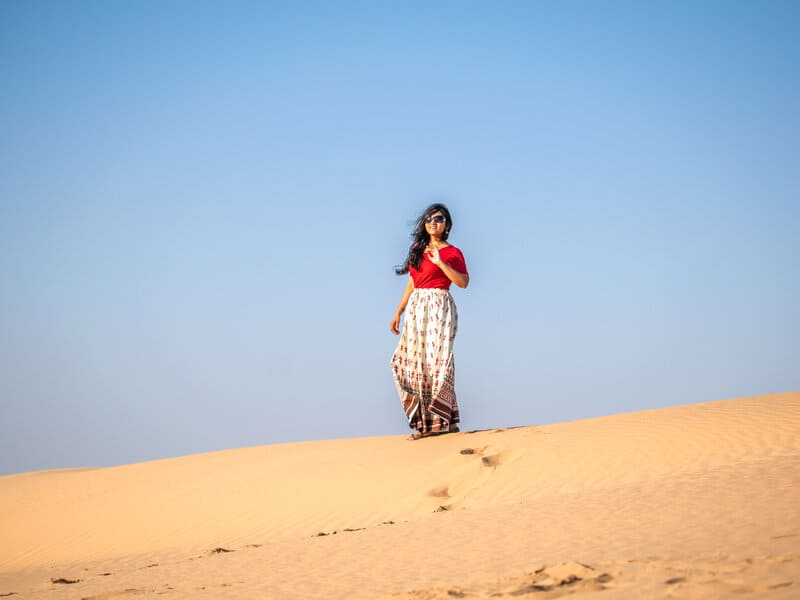 Of course, one of the top places to visit in Jaisalmer is the famous Sam Sand Dunes. This is one of the most authentic desert sand dune sites in India where you can observe 30-60 meter tall sand dunes.
Here, you can enjoy Desert Safari on a camel or in a jeep, both are equally amazing and unique experiences.
You can also stay in one of the camps here to enjoy a sunrise or sunset in the desert along with some local cultural performances and some time away from the city.
Khuri Dunes
Although Sam Sand Dunes is the popular desert spot in Jaisalmer, there is another equally amazing sand dune located in the Khuri village which is comparatively secluded.
So, if you wish to experience the Rajasthan desert at a less popular spot then Khuri Sand Dunes is the perfect place to visit in Jaisalmer. It is located around 40 km from the city and offers the same experiences as the Sam Sand Dunes.
You will find a few camping sites here as well where you can reserve a booking to enjoy a night in the desert.
Nathmal ki Haveli
Another popular haveli to visit in Jaisalmer is the Nathmal ki Haveli which was built around 500 years ago.
This haveli has a gorgeously carved exterior while the interior is covered with miniature paintings. You will find two elephants outside made up of yellow sandstone and are placed as the guards of the haveli.
Apart from that, there are paintings carved in the walls and pillars of horses, cattle, flora, and so on. It is said to have the most unique architecture in Jaisalmer which is why it is such a popular spot to visit.
Timings: 8:00 a.m. to 6:00 p.m.
Patwon ki Haveli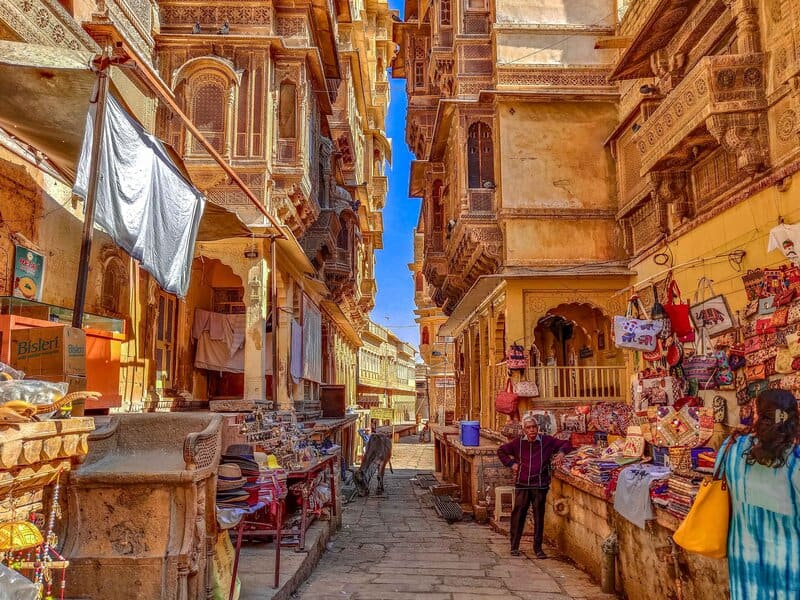 One of the top Havelis to visit in the Golden City, Patwon ki Haveli is actually a cluster of 5 small Havelis and was the first haveli to be constructed in the Jaisalmer city.
The first haveli in this cluster was built in 1805 for Guman Chand Patwa, a renowned trader, who got the 5 separate Havelis built for his 5 sons.
Another interesting thing about this haveli is that it is the largest Haveli in Jaisalmer and located in a narrow lane.
There are jewelry and craft vendors in the lane, just outside the haveli where you can purchase Rajasthani craft and accessories.
The arches and the gateways of this Haveli have different mirror-style work and paintings which make them different from each other.
So, if you are interested in shopping Rajasthani jewelry and designs, then one of the rest things to do in Jaisalmer is to take a stroll in this area and shop to your heart's content.
Timings: 8:00 a.m. to 5:00 p.m.
Entry Ticket: 100 INR per person
Where to Stay in Jaisalmer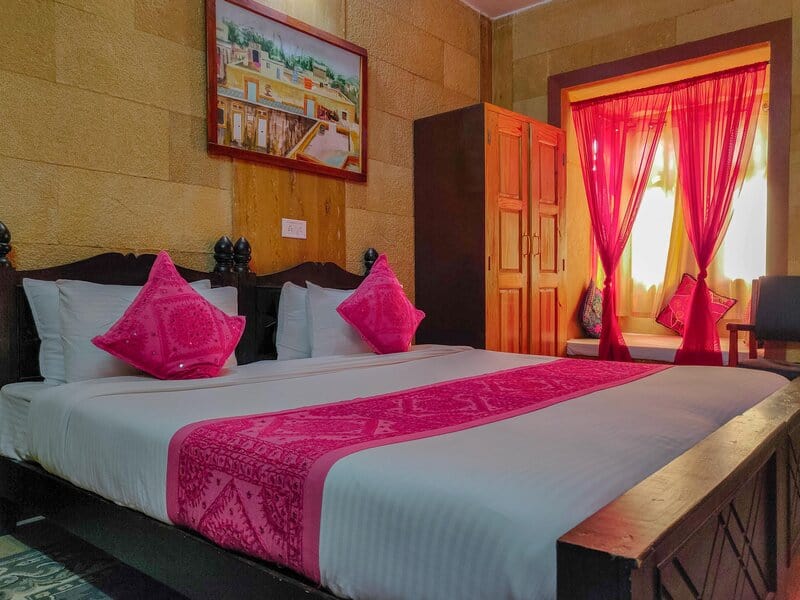 In Jaisalmer city and the Desert area, you will find many options for staying. In the city, you have hostels, guest houses, and luxury hotels as well where you can book a bed or a room.
And you will find a place to stay from 100 INR to 50,000 INR. So, it depends on what kind of facilities you are looking for and what is your budget.
Hostels
If you are traveling solo or with a couple of friends then choosing a hostel would be a good idea. There are many hostels in Jaisalmer to choose from including Zostel, LaVie Hostel, Blue Eye Hostel, and so on.
There are a few other hostels as well so you can use the Booking.com Search Engine below to find the right hostel for you.
Guest Houses and Home Stays
Apart from hostels, there are several guesthouses and homestays available in Jaisalmer as well.
These properties are usually perfect if you are on a tight budget and don't need a lot of fancy facilities or services. Also, it is a great way to interact with the locals and learn about their routines and culture.
Here are a few options for you to check out: Bob Cafe and Guest House, Bob Marley Guest House, Mud Mirror Guest House, and so on.
Most of the guesthouses charge between 200 – 2000 INR and offer free breakfast to the customers as well.
Hotels and Resorts
I stayed at the Mystic Jaisalmer Hotel which was outside the Jaisalmer fort. There are many other hotels as well, both inside the fort and outside the fort that you can consider. Ideally, a room in Jaisalmer in a good hotel will cost you around 2500 – 3000 INR including breakfast.
And you have a few resorts like Suryagarh, Jaisalmer Mariott, and so on. Yes, these resorts will be extremely expensive but if it is luxury you want, then these will be the best choices for you.
For the desert camping, you will easily find budget and luxury desert camps in both Sam Sand Dunes and Khuri Dunes. A few worth mentioning are Le Royal Camps, Dream Royal Desert Camp, Golden Desert Camp, Rajputana Desert Camp, and so on.
These desert camps usually offer a 1-night 2-day package inclusive of a few activities, stay, and meals. And usually, these desert camps start at 2000 – 3000 INR per person with basic facilities.
Where and What to Eat in Jaisalmer
One of the best things to do in Jaisalmer is to try the Rajasthani cuisine which is extremely delicious. This gives you a chance to experience the authentic Rajasthani dishes in Jaisalmer quite easily.
In this section, I have mentioned a few top dishes that you have to try when in the city along with a few restaurants that I personally liked here.
Food to Try in Jaisalmer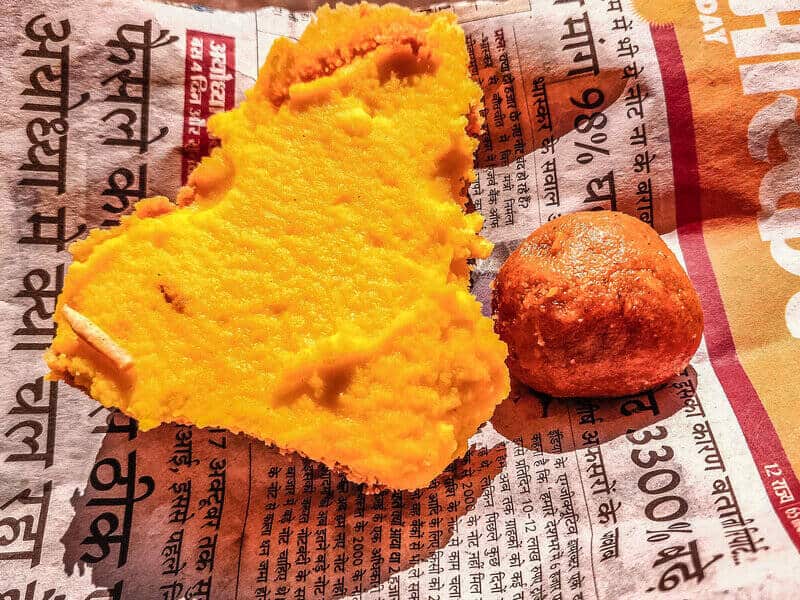 Your trip to Jaisalmer is incomplete if you don't try these street food and local dishes in the city.
Malai Ghevar
One of the most popular Rajasthani deserts to try is a Ghevar which is available in different forms. In the golden city, you will find that Malai Ghevar is the most in-demand and rightly so. The dessert melts in your mouth and leaves a nice aftertaste as well.
Trust me, I fell in love with Malai Ghevar here the first time I tried it. It was soft yet firm and melted in my mouth and they make it fresh so you won't be disappointed.
Cost: 400 – 450 INR per kg
Ghotua Laddoo
Another top Rajasthani dessert to try here is the Ghotua Laddoo. Made up of condensed milk, gram flour, ghee, and sugar, this delightful laddoo is quite different from your normal besan and atta ka laddoo. This one melts in your mouth too and leaves you wanting more every time.
Gatte ki Sabji
With appropriate spices, this Rajasthani dish consisting of besan or gram flour sausages is cooked in a yogurt-based curry. You can have it with roti or rice, it tastes delicious either way.
Ker Sangri
Ker Sangri is a local Jaisalmer dish which is made using local desert beans and capers, found in the desert region. This vegetable dish is slowly cooked using the local spices and chili and tastes amazing with bajra roti.
Pyaaz ki Kachori
Another common Rajasthani dish that you will find in almost all households is the Pyaaz ki Kachori. You will find it almost at street shops and is best-eaten for breakfast usually. You can have it with a chutney or kadi, both taste delicious with it.
Dal Baati Choorma
Obviously, a trip to Rajasthan without eating Dal Baati Choorma is a trip incomplete.
The dish is made up of wheat-bread balls, called baati, which is cooked in a tandoor or firewood with the help of ghee. Apart from this, there is a dal made up of soaked lentils and churma that is made up of bean, wheat, sooji, sugar, and ghee.
Chhaas
Chhaas or Buttermilk is one of the most popular drinks in Rajasthan so, you have to give it a try when in Jaisalmer. You will find it at almost all the street shops and restaurants in the city and it is a great way to keep yourself cool and refreshed under the scorching heat of this region.
Bhaang
Apart from chhaas, bhaang drink and sweets are also quite famous in the city. In fact, there is a government authorized bhaang shop here which serves authentic bhaang in the form of drinks, cookies, cakes, and so on.
This shop is outside the Jaisalmer Fort wall, near the Jaisal Italy restaurant.
Restaurants in Jaisalmer
I couldn't try a lot of restaurants here as we stayed for 3 nights in the Desert Camp itself. However, there are a couple of places in the city which I tried. Here are the ones whose food I truly enjoyed.
Chandan Shree Restaurant (Opposite Jaisal Italy Restaurant)
Situated just outside the Jaisalmer Fort, this small restaurant offers the most delicious meals at a reasonable cost. Although the ambiance is pretty basic, the food served here is hygienic and delicious. And you can easily enjoy a meal of 250 INR for two people.
I tried here the Shahi Paneer and Tawa Roti and it was pretty good, in my experience.
Thar Cafe Restaurant
Another amazing restaurant where I dined a couple of times is the Thar Cafe Restaurant. It is situated just outside the Jaisalmer Fort, near the parking area and it overlooks the Jaisalmer Fort wall and towers. The ambiance is also decent here and you can enjoy the clear sky while feasting on your delish food.
I particularly liked the Kadhi and the Chaas here and would definitely recommend it to others as well. You can expect to spend around 300 – 400 INR on a meal for two here.
Jambheshwar Bhojnalay (Behind Hotel Neeraj)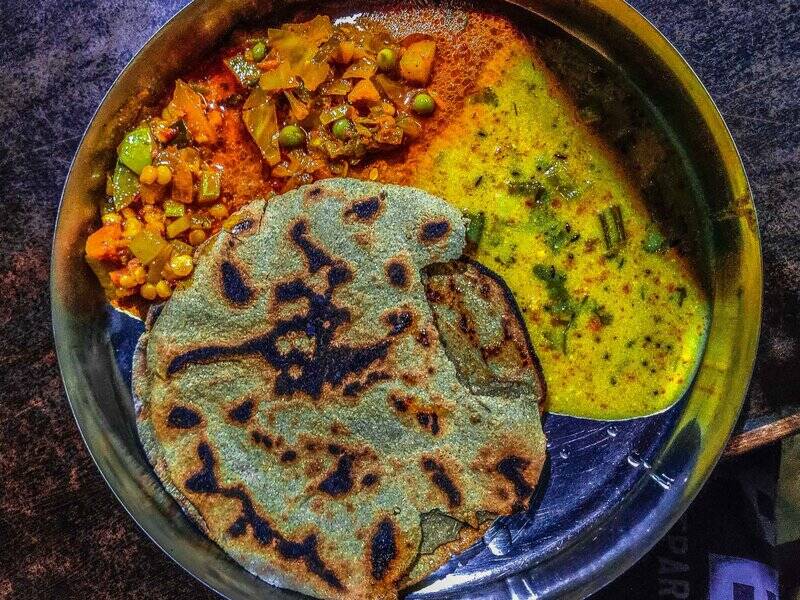 When you visit any city in Rajasthan, feasting on the Rajasthani thali is a must. However, most of the restaurants serving Thalis in the city area were either disgustingly expensive and not authentic. So, a local suggested me to try out the local dhaba near the HP Petrol Pump on the Gadisar Lake Main Road.
And honestly, it was the most authentic Rajasthani food ever. Plus, the entire meal cost me 100 INR for a plate including a glass of Chaas.
Summary
Visting Jaisalmer was a dream come true and I am so glad I could tick it off my bucket list this year. Experiencing the exciting Desert Jeep Safari, watching gorgeous sunsets, eating delicious food, and sweets, Jaisalmer was a true haven for me.
And I am not going to forget how this gorgeous place made me feel. Trust me, with so many awesome places to visit in Jaisalmer, two days are just not enough to cover this city.
But there are still a lot of other places to cover in Rajasthan and I am so excited to plan how to visit other destinations in this state for now.
Have you also been to Jaisalmer till now? If yes, then do let us know in the comments what did you love the most about this place?
Jodhpur to Jaisalmer Road Trip [A Guide]
So, you are thinking of venturing out on a Jodhpur to Jaisalmer road trip? Then, congratulations, you are setting up for one of the marvelous experiences in all of Rajasthan.
The 190 miles (307 km) stretch from Jodhpur to Jaisalmer traverses what locals call "the desert magic" while taking you on a wild ride through one of the most picturesque, quirky, and offbeat places in Rajasthan.
So, without any further ado, let's learn what's in store for you on the beguiling Jodhpur to Jaisalmer road trip.
Planning a Rajasthan road trip soon and do not know where to begin? Connect with our travel expert and book a fantastic private trip to Rajasthan in no time. Hurry! Request a quote now!
Jodhpur To Jaisalmer Road Trip Facts
How far is Jaisalmer from Jodhpur? How is the route?
The direct route from Jodhpur to Jaisalmer is around 281 km which is roughly 175 miles. The entire road stretch is a paved National Highway. However, with the detours that we highly recommend (i.e., travel via Pokhran), the distance will be around 307 km (190 miles).
On this route, you will travel on two National Highways – on NH 114 till Pokhran and on NH 15 from Pokhran to Jaisalmer.
You will find the route mostly uneventful and comfortable; however, there will be a few patches where the road will be unpaved and might cause you discomfort. So, do look out for these patches and try to drive slow on them.
If you are worried about the number of petrol pumps and eateries, then let us tell you that there are ample of them on the entire route. So, even if you head out early in the morning, do not worry.
What is the drive time for the entire Jodhpur to Jaisalmer Road trip?
If you were to drive straight through, the drive would take you on an average of 4-5 hours, given that the roads are clear without any congestion. However, there are many eateries that you'll want to stop along the way and many detours that you must not miss. So, add a variance of at least one hour for food, and estimate the rest as per the number of detours you are willing to make.
What is the best time to take the Jodhpur to the Jaisalmer Road Trip?
Ideally, the best season for a Jodhpur to Jaisalmer is between October to February as the weather during this time is pleasant and not unbearable for Jaisalmer.
However, if you ask us, we would suggest you take this road trip early on, maybe in September end or October first week, given that you can bear some extra hours in the sun.
That is because this way, you can save yourself from the maddening crowd that flocks here during the peak tourist season.
Note: May is the hottest month in Rajasthan, averaging 40° C ( 104 ° F). If you do not want to bear the brunt of the scorching sun, avoid taking this road trip at this time.
Also, avoid August, too, as the frequent rain showers might spoil all your travel plans.
What is the recommended timeline for a Jodhpur to Jaisalmer Road Trip?
See for this road trip; you can either start early from Jodhpur, take a few detours and reach Jaisalmer on the same day. Or you can take your time with the detours and complete this road trip in 2 days with a night stay in Osian.
The choice is yours, and to be honest, it boils down to how long you sit behind the steering wheel? If you think you'll be able to drive for six-plus hours and enjoy everything that comes your way, then completing this trip in a day makes sense, otherwise not
Do note that to explore Jaisalmer and Jodhpur properly; you need two days each. So the ideal timeline of this road trip is around 5-6 days, depending on your preferred way of covering the Jodhpur Jaisalmer stretch.
Do you need to plan this road trip asap? Ping our travel specialists now for their expert input and for planning your road trip to bits. Do this, and you will thank us later.
What to see between Jodhpur and Jaisalmer by road? – possible detours
Rajasthan is a colossal land of incredible people, culture, and stunning natural terrains. Years after years, people have visited and revisited this state in search of a luxurious escape from everyday life.
So it only makes sense to say that there is a lot to see and do on this road trip. In fact, all the possible detours on it are very much awe-inspiring—one of the reasons why we refrained from the itinerary concept on this road trip. There was no way in which we could fit these diverse places in a themed itinerary box.
So let your imagination run wild while you shortlist the detours from the following that you may want to add on your Jodhpur to Jaisalmer road trip.
1. Balsamand Lake
If you want to start your drive with some tranquility and peace, then, do visit the Balsamand Lake on your way to Jaisalmer from Jodhpur.
Balsamand Lake is an artificial lake built in 1159 AD. The lake is a kilometer long and is set amidst a manicured garden of trees not far away from Jodhpur.
You can easily cover it if you've made it early on the Jodhpur – Jaisalmer highway
Now a part of a heritage property, the lake was once a primary water source for the city of Jodhpur. You will find this property reminiscing its glorious past with its many red sandstone structures that are sprinkled all across its shores.
Visit this place early in the morning to spot monkeys and peacocks.
2. Mandore
Mandore is the second pitstop that will grace you with its presence on your road trip.
Often referred to as the abandoned treasure trove of the desert, Mandore is located some 9 km (5.5 miles) from Jodhpur city.
What you are destined to see in this former capital of Marwar is a unique blend of melancholy and luxury, which is a rarity on its own.
Spend at least one to two hours here exploring the much-infused history of this town. In this pursuit, live an incomplete fairy tale straight out of a history textbook at the best-preserved structures.
If not for this, come here to get some fantastic pictures clicked.
To do so, go to Mandore Gardens for what can be undoubtedly called the town's glorious past.
1. Cenotaphs or Chattris of the many Maharajas of Jodhpur – a group of red sandstone buildings with intricate carvings, pillars, and elaborate corridors dating back to the 17th- 18th century.
2. The Hall of Heroes that showcases beautiful images and statues of Rajput heroes.
3. The temple of 33 crore Gods consists of a myriad of murals and sculptures dedicated to Hindu gods.
4. Mandore Palace and Fort: You can avoid this if you wish; however if you want to catch a glimpse of how a 6th-century structure looks, you should certainly go there.
Essential Info:
Mandore Gardens remain open daily from 9 am until 10 pm and charge INR 50 or ($ 0.78) per person.
3. Osian
Not even 100 km from Jodhpur lies your next pitstop, which is best known as the "Oasis of the Thar Desert."
Like many others, you too may mistake this town as a small and uneventful getaway. However, to your surprise Osian or Osiyan will sprawl before you, enormous, stately, and strangely intimidating.
This town was once the major religious and cultural center of the Mewar Kingdom. It was home to a plethora of shrines, most of which got devastated with time, leaving behind a few temples that speak of the legacy of that era.
A rugged terrain, glittering sand dunes, and an array of ancient temples make Osian an offbeat delight, even today.
Besides basking in the gorgeous terrain, there are a plethora of activities you'll be able to indulge in while you are here.
1. Visiting Sachiya Mata Temple. During your time in Osian, we'd highly recommend you see the beautiful Sachiya Mata Temple. This temple is perched on a hill and is dedicated to Lord Indra's wife, who is of equal significance in both Hinduism and Jainism. Reach the temple complex after climbing a flight of hundred steps.
2. Surya Temple: Famous as the "Khajuraho of Rajasthan," the Surya or Sun Temple is a 10th-century shrine of the Sun God best known for its architectural splendor and intricate carvings.
3. Mahavira Temples: 15 km from Osian lies another set of gorgeous ancient temples, that can make your heart skip a beat. Once there were around 108 of these beautifully carved temples, now only a few remain for pilgrims and tourists alike.
4. Indulging in camel safari is another great thing to do in Osian. Even though you'll be heading to the safari city of Jaisalmer, there is a certain something to the camel safari in Osian that may not be found in Jaisalmer. Maybe it is because of its rural vibes or the less crowded camping scene, or its more pocket-friendly nature.
Essential Info:
There is no entry fee per se for any of the temples in Osiyan. Plus, anytime before dusk and after dawn is suitable for a visit here.
4. Khichan Village
If birds fascinate you and make your heart happy, then taking a detour to Khichan Village (in winters) makes absolute sense for you.
Located some 150 km from Jodhpur, Khichan is the village of the migrating birds.
Every year tens of thousands of birds flock to this village to demonstrate the unique man bird relationship Khichan is famous for.
Note: Take this detour only if you travel in the winter months somewhere after October and before March
5. Pokhran
Pokhran is not only the halfway milestone on the Jodhpur to Jaisalmer road trip, but it is also a mesmerizing town that was once a favorite place of the Rajasthan royals.
Exhibiting the authentic Rajasthani flavor and an array of beautiful structures, a small halt at Pokhran can render you beautiful photography spots and fascinating views
Here are the places that you should definitely see in Pokhran:
1. Pokhran Fort is a beautiful structure smacked right in the heart of this town. It is several hundred years old and is home to some of the region's most magnetic palaces. Do visit the Pokhran museum inside the fort to view relics, sculptures, clothes, and frescos.
Essential Info:
Entry to the fort is allowed from 8 AM onwards. The fort closes at 7 PM, and you can enter the fort by paying only 50 INR as a foreigner (20 INR for Indians). A visit to the museum will cost you extra. It will be around 200 INR (50 INR for Indians).
6. Ramdevra Temple
About 12 km from Pokhran is a village called Ramdevra dedicated to a Hindu saint with the same name.
You can make a brief stop at this temple as it holds in high reverence by both Hindu and Muslim devotees.
The temple is not out of the ordinary. Still, it attracts a lot of tourists and devotees.
If you stop here, you will totally find some solace, especially after hours of driving.
7. Jaisalmer War Memorial
Located 10 km before the Jaisalmer city, right where greenery slowly begins to disappear and sand dunes appear, is this beautiful memorial of the Indo Pak war.
If you stop here, you will be subjected to a sight filled with glorious memories of wars, the struggles, weapons, etc.
Essential Info:
You can spend an hour reminiscing in history if you may please. Entry to the park will cost you around 30 INR, and watching a documentary on the same will be another 30 bucks.
What are the places to see in Jodhpur?
Jodhpur, the second-largest city of Rajasthan, has a treasure worth of places that you can see. The sheer variety of its attractions will give you an idea of its diversity and colossal roots.
Here are the places that you shouldn't miss before embarking on your Jodhpur to Jaisalmer Road trip:
Mehrangarh Fort: You can't really come to Jodhpur without exploring the Mehrangarh Fort. This structure defines the skyline of the city and flaunts the absolute delight that Rajasthani craftsmanship is.
Jaswant Thada: It is an intricately crafted cenotaph that features a white marble lattice screen and a whimsical dome. Often regarded as the perfect place to grab the stunning views of the Fort and the city, Jaswant Thada is not the place to miss on this road trip.
Rao Jodha Desert Park: This park is a 70-hectare expansive park with more than 80 native species of rock-loving plants. This is the perfect place for nature enthusiasts and for anyone who is remotely attracted by unreal landscapes.
Umaid Bhawan Palace: It is one of the last grand palaces to be built in India. The royal family still inhabits a part of this palace. The other half is converted into a museum and a palace hotel.
These were our top picks that you shouldn't miss while you are in Jodhpur. If you want to read about Jodhpur in detail, click here for in-depth information on the city.
What are some places to see in Jaisalmer?
You've taken the Jodhpur to Jaisalmer Road trip and reached Jaisalmer, now what? You need to know what to explore there, right!?
Here are places you need to see in the Golden city of Jaisalmer:
Jaisalmer Fort or Sonar Fort is the main attraction of the city. Situated at some height above the now-famous Jaisalmer city, the area enclosed inside the fort was once the city itself. The fort is made with yellow sandstone and still houses over 5000 people. Visit this place to see the various structures inside the fort and eat at some of the fort's cafes.
Sam Sand Dunes: Go on a desert adventure at Sam Sand dunes. Have fun dune bashing, camping under the sands, and going on camel safaris.
Gadisar Lake is where you can rekindle with peace. It is an artificial lake once built to serve the city. Today it is a popular tourist spot with temples and statues.
What are some road tips that can come in handy on a Jodhpur to Jaisalmer Road trip?
1. Avoid driving at night or after the sun goes down. That's because there will be some patches on the Pokhran route that might not be the smoothest. Plus, if you are stuck, getting help at night will be an issue.
2. Make a lot of stops so that you get ample time to recharge yourself. This won't be a problem as there is an awful lot to see on the road trip.
3. Don't underestimate the time it takes to get to places in Rajasthan. There are so many other factors like traffic governing when you will reach your destination. Being prepared mentally helps big time.
4. There will be tolls along the way, so keep changes in handy. However, if you are traveling with a travel agency, they will take care of everything.
We hope you enjoyed this guide on the Jodhpur to Jaisalmer road trip. Here is another Jodhpur road trip that you might like. We are looking forward to seeing you soon raiding the roads of Rajasthan. However, if you are still not sure about it or want assisting in planning your road trip, feel free to ping us!
Chainika Dhaila – Content Writer
An engineer by education and writer by choice. She is a globetrotter with a pure desi heart.
Her notion spree runs faster than a jet when she entangles herself with the thread of any culture. Her zeal for writing originates from her love for reading and trust us! She is a complete Potterhead.
The 5 most memorable road trips in Rajasthan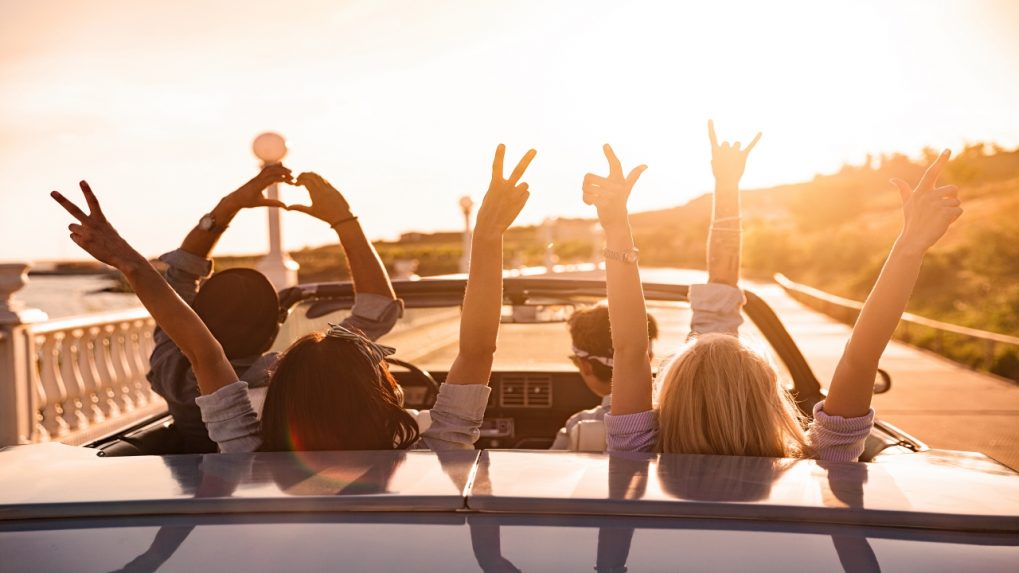 5 Min(s) Read
By Sanhita Baruah Nov 15, 2022, 06:21 PM IST (Published)
Taking a road trip is a fantastic way to see a lot of different sights. Here are a few examples of fantastic road excursions you may take in Rajasthan.
Most of the images that come to mind when we think about Rajasthan include deserts, castles, garrisons, and the region's rich cultural heritage. The food of Rajasthan has become a popular topic of conversation. As a travel enthusiast, you already know how incredible road journeys in Rajasthan can be. Taking a road trip is a fantastic way to see a lot of different sights. You may decide between day tours and multi-day excursions. You may also plan your road journey throughout this beautiful state with the use of a Rajasthan road map. Here are a few examples of fantastic road excursions you may take in Rajasthan.
Recommended Articles
A check of Softbank's India holdings as allegations against Masayoshi Son put pressure on firm
Nov 18, 2022 IST 4 Min(s) Read
Pfizer vaccine expert brings threat over flu pandemic back into focus — How serious is it
Nov 18, 2022 IST 4 Min(s) Read
Shareholders, not firms, to bear share buyback tax burden. Here's what Sebi's proposal means for you
Nov 18, 2022 IST 4 Min(s) Read
With COP27 countdown timer on, who pays what for climate crisis remains unanswered
Nov 18, 2022 IST 4 Min(s) Read
Your travel from Delhi to Rajasthan will begin in Delhi, and the drive to the state capital of Jaipur should take around 5 hours. It's one of the finest road trips since you can leave Delhi before sunrise and be in Jaipur before lunchtime. Many of the Pink City's sights may be seen in one day. Along the route, you'll find a number of convenient stops where you may rest and get some refreshments. The journey can be completed in only two days, making it ideal for a weekend getaway.
Pataudi, Bhiwadi, Neemrana Fort, Alwar Fort, and Sariska Tiger Reserve are a few stops along the way from Delhi to Jaipur (Alwar)
Old Rao Dhaba (Bhiwadi), Haldiram's, Just Desi (Kotputili, Rajasthan), Rtdc Midway Cafe & Motel (Behror), and Kotputili (Rajasthan) are some of the best restaurants in the area.
One of the most enjoyable road trips is between Jaisalmer and Jodhpur. From the "golden city" to the "blue city," you'll pass through several small towns and get a glimpse of rural Rajasthan. Longewala, Pokharan, Tanot Mata Temple, Khichan, and Osian are just a few of the sights you may see on your excursion. In Jodhpur, you may see the Umaid Bhavan Palace, Rao Jodha Desert Park, Jaswant ThadaMehrangarh Fort, etc.
Along the route from Jaisalmer to Jodhpur, you may stop at the Tanot Mata Temple, the Longewala, the Pokharan Fort, Osian, Khichan, the Mehrangarh Fort, the Jaisalmer Fort, and the Umaid Bhawan Palace.
Motel Pokaran Rtdc Midway and Manvar Resort are three of the finest dining establishments in the area (Jodhpur-Jaisalmer Highway)
It's possible to take a lengthy yet fascinating road journey from Udaipur to Pushkar. You should expect it to take you approximately 5-6 hours to make the trip there and back, maybe a bit more if you stop for food and rest along the way. Start off in Udaipur and make a pit break in Ranakpur to see the beautiful Jain temple there. In addition to the over 400 temples in Pushkar, the nearby city of Ajmer is also worth seeing.
Pushkar Lake, the Varaha Temple, Brahma's Temple, Merta City, Naga Pahar, Mahadev Temple, Lake Pichola, Saheliyon Ki Bari, Lake Palace, and many more attractions may be seen along the route from Udaipur to Pushkar.
Khamma Ghani, The Foodflix, Shree Bherunath, Yashika Resort, Jammu Himachal, Annpurana, and Jammu Himachal are some of the best restaurants in the area.
The drive between the forts of Chittorgarh and Kumbhalgarh will be an unforgettable experience. If you like exploring forts, your experience will be unforgettable. Travellers may enjoy the sights of temples like the Ranakpur Jain temple and others along the route to Kumbhalgarh. Chittorgarh and Kumbhalgarh both provide a wide range of sights and activities for visitors. Palaces and forts made of stone at these two locations include intricate carvings and stunning architecture that will leave you in awe. The Aravalli Mountains provide a stunning backdrop for the already stunning Kumbhalgarh Fort.
From Chittorgarh to Kumbhalgarh, there are many historical sites to see, including the forts and palaces along the way.
Chittorgarh Fort Haveli, 1458 AD Kumbhalgarh & Restaurant, Vinayak Restaurant, and Pangat Restaurant are some of the finest dining establishments in the area.
Travelling to Mount Abu by car from Udaipur is likely to be a soothing experience. Since there is just one hill station in all of Rajasthan, Mount Abu was traditionally a summer retreat for the state's royal family. Today, visitors come from all over the world to see the site. Mount Abu is a popular tourist destination because of its beautiful lakes, ancient temples, and mild climate. To go to Mount Abu from Udaipur would take around three hours of travel time. Mount Abu is also a fantastic destination for outdoor activities like hiking and camping.
Sirohi National Park, Udaipur City Palace, Ranakpur Temple, Kumbhalgarh Fort, The trading center in Pali, and Rajsamand Lake are only a few of the attractions between Udaipur and Mount Abu.
Restaurants like Hotel Kunal's, Jodhpur Bhojnalaya, Gyan Sarovar's, Wok by the Lake, and Jhumar's are some of the best in the area.
You can't take a road trip across Rajasthan without being immersed in the region's history, culture, and rich tradition. Because of this, a trip to this area will be full of interesting experiences. The indigenous culture of Rajasthan takes great pleasure in welcoming and accommodating visitors, making every road journey across the state an enjoyable experience.
Source https://meanderwander.com/best-places-to-visit-in-jaisalmer/
Source https://www.thegrandindianroute.com/jodhpur-to-jaisalmer-road-trip/
Source https://www.cnbctv18.com/travel/destinations/the-5-most-memorable-road-trips-in-rajasthan-15119691.htm