Ideas for Your Family Vacation in Jacksonville
With 1,100 miles of navigable water, Jacksonville has more shoreline than any other city in the nation. The easiest way to get on the water is aboard the St. Johns River Taxi, which has multiple downtown stops on its 30-minute loop. It also offers tours that focus on the environment or science and history. Monitor wait time and locations on the taxi's live tracking site.
The St. Johns River Ferry, 4610 Ocean St., is a car and passenger ferry that has operated between Mayport Village and Fort George Island since 1874. Also known as the Mayport Ferry, it departs every half hour and is a great, scenic way to spot dolphins, manatees and big fish on the water.
Beachside Buggies, in cooperation with the Jacksonville Transportation Authority, provides free, on-demand rides between the beaches on electric carts and passenger vans.
Best Beaches
The Jacksonville area has 22 miles of beaches. The city's main beaches – Jacksonville Beach, Neptune Beach, Mayport Beach and Atlantic Beach – are public and pet-friendly if the family pooch is along for the trip.
Home to 40-foot sand dunes and some of Florida's best golf courses, the quieter seaside community of Ponte Vedra Beach, just south of downtown Jacksonville, is a favorite upscale retreat for families.
Huguenot Memorial Park, 10980 Heckscher Dr., allows visitors to drive on the sand and park on the beach, making it easy for families with a lot of gear in tow.
Family Photo Op
The maritime forest at Big Talbot Island State Park, State Road AIA North, is a Jacksonville favorite photo spot, with a giant driftwood collection on the mile-long "Boneyard Beach."
The Jacksonville Beach Fishing Pier, 503 1st St. North, stretches more than 600 feet into the ocean and provides a beautiful backdrop, as well as an easy spot for fishing. (There's a bait shop on the pier.)
Surfing
Jacksonville's beach break and soft, sandy bottom make it a prime surfing location – and a great place to learn the art of riding waves. The Wave Masters amateur surfing competition has been held every May here since 1983.
Jax Surf & Paddle, 241 Atlantic Blvd., in Neptune Beach offers extended and half-day surf camps for kids, ages 6 to 16.
The all-female staff at Saltwater Cowgirls, 931 3 rd St. North, in Jacksonville Beach provides girls-only surf camps for ages 7 to 17, and private lessons for all ages. Learn more about favorite surf spots, like "The Poles" outside of Kathryn Abbey Hanna Park, and surfing competitions at Visit Jacksonville.
Crazy Fish offers airboat tours for a thrilling view of the Jacksonville area.
Outdoor Thrills
Crazy Fish, 4461 Port Arthur Rd., offers airboat and fishing tours on the Intracoastal Waterway. Take the Do-It-Yourself route and rent a Stand Up Paddleboard (SUP) or kayak from one of the many outfitters that offer rentals and tours.
The Public Trust Environmental Legal Institute of Florida offers free, downloadable paddle guides for the Intracoastal and Greater Jacksonville.
Fun Food
Mayport shrimp, harvested by generations of shrimpers here for centuries, is best sampled at one of the city's many fish camps, where it's found fried, steamed, in chowders and in classic shrimp burgers.
Maple Street Biscuit Company, 410 N. Third St. in Jacksonville Beach, is a favorite breakfast spot for fresh-squeezed Florida orange juice and Southern comfort food like biscuits and gravy, waffles, and grits.
At Sweet Pete's, 400 N. Hogan St., there are behind-the-scenes factory tours and candy-making classes where kids can learn how to make gummy candies, chocolate truffles or taffy. The offerings even include "toddler time" for ages 2 to 4, with story time and a sweet treat.
Tree Hill Nature Center is a 50-acre preserve with a butterfly garden and trails for exploring.
– Tree Hill Nature Center
Animal Encounters
The 122-acre Jacksonville Zoo and Gardens, 370 Zoo Pkwy., is home to more than 2,000 animals, with the award-winning African Forest exhibit of primates and many opportunities to interact with animals such as stingrays, giraffes, and lorikeets. Native wildlife is also abundant in the most-visited gardens in North Florida.
Night hikes for ages 5 and up are 1½-hour, behind-the-scene tours for groups of six of more that showcase the after-hours activity of tigers, jaguars, reptiles and other animals.
Tree Hill Nature Center, 7152 Lone Star Rd., is a 50-acre wilderness preserve dedicated to hands-on environmental education. Along with trails and a butterfly garden, you'll find animal and nature exhibits and shows.
Indoor Retreats
In downtown, the Museum of Science and History (MOSH), 1025 Museum Circle, features interactive exhibits, daily science and live animal shows, and the largest single-lens planetarium in the world. A "Little Learners" hands-on class for pre-schoolers and their caregivers occurs at 10 a.m. on the second Wednesday of every month.
The Hands On Children's Museum, 8580 Beach Blvd., is a small refuge for children 8 and under that features castle, grocery store and other kid-friendly play areas.
Artful Escapes
On the first Wednesday of every month, downtown Jacksonville comes alive for Art Walk, featuring family-friendly visual and live arts events that encourage people to walk around and explore galleries and shops. Discover public art and murals using the Cultural Council of Greater Jacksonville's interactive map.
At the Museum of Contemporary Art (MOCA), 333 N. Laura St., head to the fifth-floor "Art Explorium" for 16 interactive art stations for children that link basic visual art principles with works in the museum. Admission is free on the first Wednesday of every month during Art Walk from 5 p.m. to 9 p.m.
The Cummer Museum of Arts & Gardens, 829 Riverside Ave., offers monthly "Art for Tots" classes that help develop sensory and motor skills through art and "Art Adventures" studio classes for ages 6-12 on the third Saturday of each month. Be sure to check out the museum's Gallery Under Five, an exhibit for ages 18 months through 5 years that features miniatures replicas of the museum's artwork that children can touch and feel. Even the door is scaled down!
Green Spaces
Jacksonville has the largest urban park system in the nation, with more than 80,000 acres of green spaces. At Hemming Park, a historic downtown public square at 135 W. Monroe St., a fenced-in Kids Zone in the northwest corner features 100 big blue foam blocks for creative construction projects. The park regularly hosts food trucks, concerts and events.
Visit the city's oldest landmark, a 250-year-old Treaty Oak tree, at Jessie Ball Dupont Park, 1207 Prudential Dr. The octopus-like Southern live oak, which is more than 70 feet tall and 25 feet in circumference, is so beloved that cables have been installed to support its heavy limbs and a lightning protection system has been installed. Climbing isn't allowed, but walking through it is an adventure.
Free Fun
The first-floor Jax Makerspace inside the downtown Jacksonville Public Library, 303 N. Laura St., hosts workshops on everything from coding and digital photography to ukulele playing and lantern making, best for ages 12 and up.
The Seawalk Pavilion, 75 1 st Street North, in Jacksonville Beach schedules free concerts, light shows and moonlight movies.
Family Sports
At Topgolf Jacksonville, 10531 Brightman Blvd., families can compete with micro-chipped golf balls to see who hits the most targets or play giant Jenga matches.
Edge Rock Gym, 3563 Phillips Hwy., has classes and day passes for indoor rock climbing, including a Rocks & Rope teen class for ages 12 to 17.
Historical Spots
The Timucuan Ecological and Historic Preserve, 12713 Ft. Caroline Rd., is a 46,000-acre national preserve that is home to the French colonial settlement of Fort Caroline and Kingsley Plantation, the oldest surviving plantation house in the state. Family-friendly house tours and ranger talks are scheduled regularly.
The Ritz Theatre and Museum, 829 N. Davis St., was rebuilt on the site of a historical theater in the La Villa community, known from the 1920s through the 1960s as the "Harlem of the South." The 426-seat hall still presents live music, dance and theater, including family matinees.
More Family Fun
Traveling to other Florida destinations with your gang? Here are more ideas for family fun around the Sunshine State.
6 Great Reasons to Visit Jacksonville
Whether you're a foodie looking for freshly caught Florida seafood or an art aficionado who's into special events, these Jacksonville attractions offer something for everyone.
Our friends at Visit Jacksonville came up with six awesome reasons to visit Jacksonville, a city that's brimming with lots to do and year-round fabulous weather.
1. Jacksonville's Natural Attractions
Palm trees along the Saint Johns River. Alluring, isn't it?
– VISIT FLORIDA file
Explore Jacksonville's diverse and extensive network of greenspace, including the Jacksonville Arboretum & Gardens , Timucuan Preserve , Big Talbot Island State Park or any of the other many parks in the area.
#OnlyinJaxTip: Plan a beachside picnic at Black Rock in Talbot Island.
2. Foodie Fun
Fish tacos in Jacksonville, perfect for the beach.
– VISIT FLORIDA file
In addition to quality southern-style options, Jacksonville's seafood scene is unique on the Eastern Seabord. Heavily influenced by North Florida's Menorcan and Balaeric population, you'll find spicy sweet Datil-based sauces, fantastic paella and locally caught mahi and flounder dishes at Jacksonville's wide range of seafood restaurants.
#OnlyinJaxTip: Order the fresh Mayport shrimp catch whenever you can.
3. Get Artsy
The Jazz Festival in Jacksonville.
– VISIT FLORIDA file
For the best arty Jacksonville attractions, stroll through the Art Walk the first Wednesday of every month, explore the Museum of Contemporary Art and the Cummer Art & Gardens , or head to an event like the Jazz Festival — and see why Jacksonville is ranked one of the top art destinations in the country.
#OnlyinJaxTip: Grab lunch or a glass of wine at MOCA's Cafe Nola.
4. Craft Breweries
The Intuition Ale Works beer lineup ready for sipping.
– Laura Evans Photography for Intuition Ale Works
The Jax Ale Trail gives barley and hops enthusiasts the opportunity to explore local craft breweries or tour the Budweiser Brewery . You could also plan your trip around the annual Jaxtoberfest Beer Festival .
#OnlyinJaxTip: Jax has some of the friendliest Uber drivers in the East — get to know them!
5. Fantastic Events
Fireworks are among the special events you can experience in Jacksonville.
– VISIT FLORIDA file
Grab a front-row seat for the fireworks shows each summer and for special events .
#OnlyinJaxTip: If sports are more your thing make sure to check out home Suns games on Friday nights which always feature a free fireworks show.
6. Spectacular Beaches
Imagine doing this on your Jacksonville vacation.
– VISIT FLORIDA file
Jacksonville has more coastline than any other city in the U.S., and much of it is freshwater and enclosed waterways. The beaches here definitely make the list of top Jacksonville attractions. Rent a boat, take a stand up paddle board lesson, learn how to kayak, or just relax on Jacksonville's beaches .
#OnlyinJaxTip: Make sure to check out one of the city's weekend SUP Yoga classes.
6 Places Near Jacksonville That You Ought To Visit On Your Florida Trip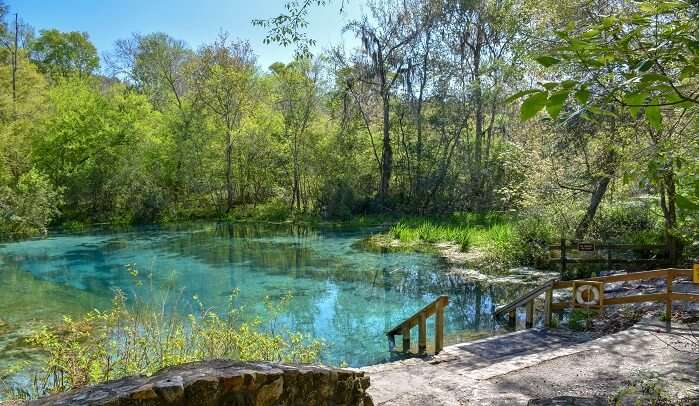 Jacksonville, the 'Sunshine State of Florida', is famous for world-class cuisine, thriving, nightlife, and the longest coastline. No wonder this city in Florida works its charm on the visitors. What also makes it a popular place is the exciting places near Jacksonville as it is strategically located to other gems of Florida. If you are flying to Florida on your US trip, it is recommended that you add a few more days to your itinerary and explore all these places mentioned below to make it one helluva trip.
Places Near Jacksonville
Here are some of the best places to visit near Jacksonville that can be covered in a day. You can add others to your Florida trip itinerary as these places are just awesome.
1. Amelia Island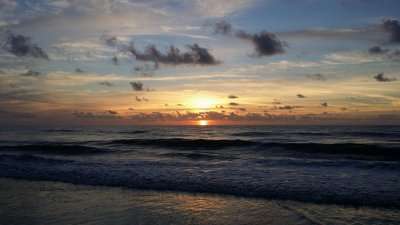 Just 30 miles away from Jackson, Amelia Island is a beautiful, serene place with shimmering white sand beaches and lush green forests. The bountiful of nature makes it one of the best places near Jacksonville Florida. There is Fernandina Beach on the northeast corner of the island that boasts of picturesque shores, luxury resorts, and sprawling golf clubs. What also makes it a great attraction nearby Jacksonville is that you find festivities and events happening all around the year.
Distance from Jacksonville: 53 km
How to reach: The nearest airport is Jacksonville Airport. You can rent a car and have a non-rush road trip to the island.
2. Ichetucknee Springs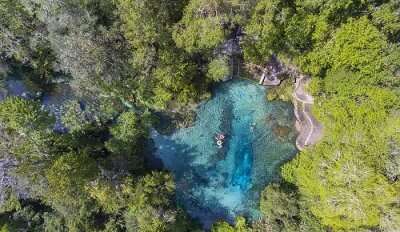 Ichetucknee Springs is hands down one of the most beautiful attractions near Jacksonville where you can spend your entire day amidst nature. The irresistible beautiful springs are a perfect spot to get away from all the hustle bustle of the city life and just enjoy the calmness and charm of the surroundings. While you are there, revel in the exhilarating experience of cave diving at the Blue Hole Springs, the largest of Ichetucknee.
Distance from Jacksonville: 128 km
How to reach: There is a bus from Jacksonville to Lake City. You will have to cover the further distance to the springs by taxi. There is a tram that will take you inside the Spring Park.
3. Blue Springs State Park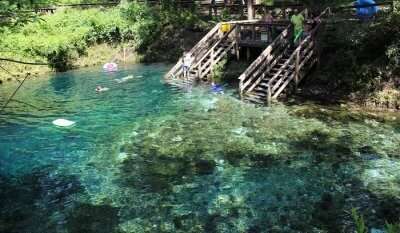 If you are looking for places near Jacksonville airport so that you can begin your trip right when you land in Jacksonville, drive yourself to Blue Springs State Park. the 2,600 acres of pristine and unspoiled landscape sure seem tantalizing to the eyes. It is just two-hour drive from Jacksonville and becomes very popular in the summer season when people come to enjoy kayaking and canoeing. The manatees from West India also add charm to the landscape. The best time to visit Blue Spring State Park is from November-March.
Distance from Jacksonville: 186 km
How to reach: It only takes an hour and a half to reach the park from Jacksonville. So, it is better you hire a cire for a day. Also, arrive early because this park gets full early during the season.
4. Palatka
Palatka is a simple, historic town lying an hour drive away from Jacksonville. The old town charm with its perfectly preserved homes and antiquated churches make this place a must visit on your Florida trip. Go back in time during your visit to Palatka, preferable to 1800s where the time stands still. You will find a thriving art scene and vibrant culture in Palatka which is best enjoyed through Palatka Mural Tour. For a dose of nature and adventure, you can visit Ravines State Garden Park.
Distance from Jacksonville: 99 km
How to reach: You can take a bus from Jacksonville to Palatka. The train to Palatka from Jacksonville only costs $16.
Planning your holiday but confused about where to go? These travel stories help you find your best trip ever!
Real travel stories. Real stays. Handy tips to help you make the right choice.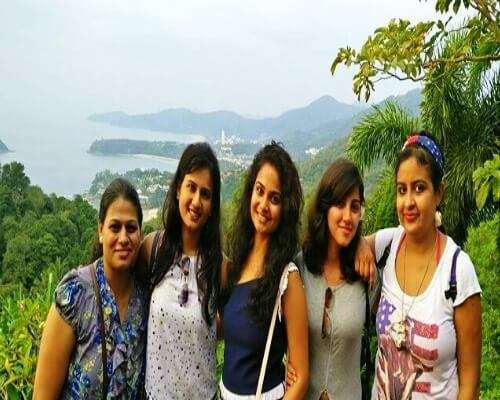 Ramya Narrates The Story Of 6 Girls On An Extraordinary Trip To Thailand
Bangkok. Phi Phi. Krabi. Why should guys have all the fun?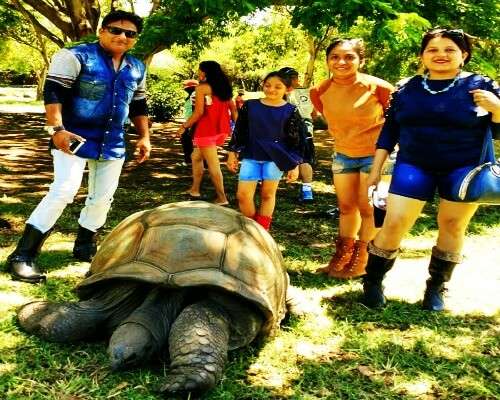 Sandeep Illustrates On The Best Activities For A Family Trip To Mauritius
Water sports. Cocktail parties. And unlimited fun at Casela.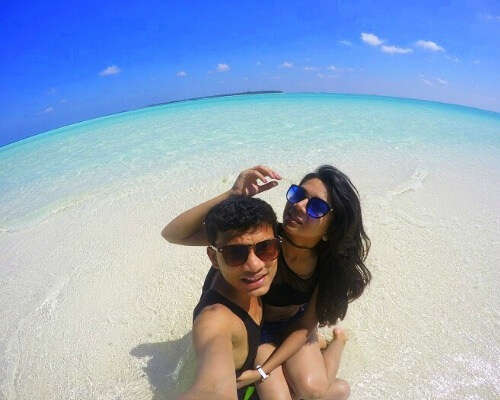 Nisarg Can't Stop Praising His Honeymoon Trip To Maldives
There was snorkeling, sightseeing, luxury, comfort, & much more!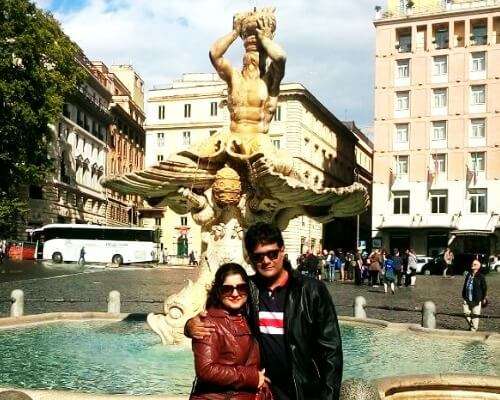 Sabyacsachi's Romantic Trip Proves Europe To Be The Mother Of All Vacations
For Art, Culture, Luxury, & more.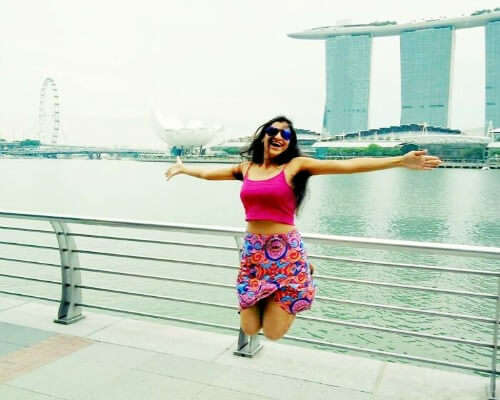 Srishti Talks Of Her Amazing Trip To Singapore With Her Mother & Niece
A fun-filled destination for ages indeed!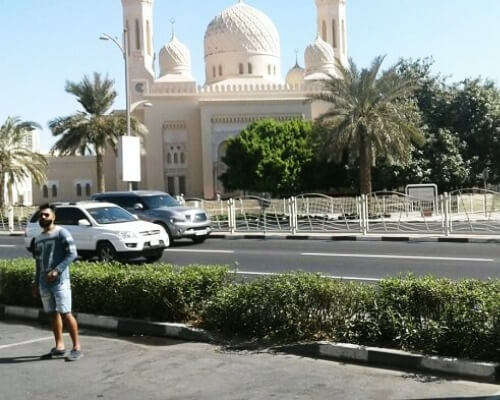 67-Year Old Sridhar Tells How He Beat The Odds & Took A Solo Trip To Dubai
Desert safari. Burj Khalifa. Welcoming locals. Tell me more!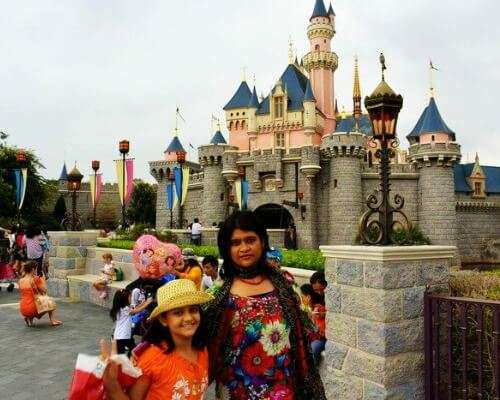 Not Adventure Lovers? Saurabh's Family Trip Proves Hong Kong To Still Be Full Of Fun
Your kids will love Disney Land & Ocean Park!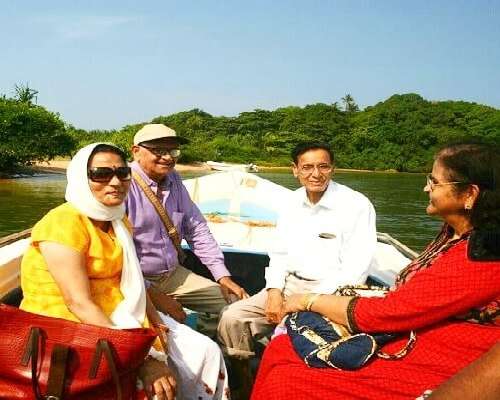 Ravi's Tale Of A Sri Lanka Family Tour Is All You Need To Know About Ramayana Tour
For the love of Ramayana & Travel!
See more at TRAVELTRIANGLE.COM
5. Gainsville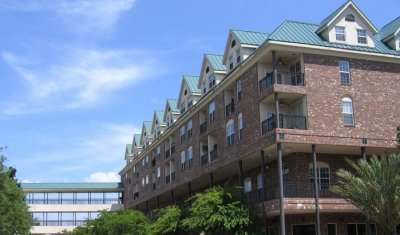 What makes Gainsville one of the best places near Jacksonville for a visit is its youthful, vibrant charm which is possible because it is home to the University of Florida. Gainsville is also a great place for nature lovers to visit as it is a hotbed to numerous natural attractions and state parks where you will find an abundance of flora and fauna. Visit the Devil's Millhopper Geological State Park for its enormous sinkholes.
Distance from Jacksonville: 114 km
How to reach: The nearest airport to Gainsville is Jacksonville Airport. You can take a bus to Gainsville from Jacksonville which will only take an hour to reach.
6. Tampa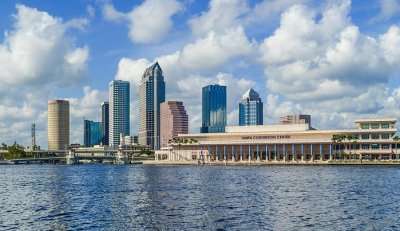 Tampa is one of the exciting places near Jacksonville that you should not miss visiting on your Florida Trip. Located on the Gulf of Mexico, it is one of the most traveled cities in the US. The beaches galore provide an excellent opportunity for fishing and gorging on fresh seafood. Do check out the Clearwater Beach and Indian Rock Beach during your visit. If you enjoy coastal views and marine-oriented way of life, then you should definitely check this place out.
Distance: 320 km
How to reach: You can take a direct flight from Jacksonville to Tampa. There are buses and trains also available if you prefer that.
So, these were a few places near Jacksonville that should make in your itinerary to enjoy your trip to the USA to the fullest. Florida is one of the most popular states in the USA famous for its beaches abd exciting theme parks. So, here are cues to having fun in the Sunshine State. However, stay away from the alligators and crocodiles that are in abundance in Florida. Also, enjoy diving and driving in Miami which is a paradise for divers.
People Also Read
Looking To Book A Holiday Package?
Book memorable holidays on TravelTriangle with 650+ verified travel agents for 65+ domestic and international destinations.
Source https://www.visitflorida.com/travel-ideas/articles/family-vacation-ideas-jacksonville/
Source https://www.visitflorida.com/travel-ideas/articles/top-attractions-in-jacksonville/
Source https://traveltriangle.com/blog/places-near-jacksonville/