How to Plan the Perfect Loire Valley Itinerary
This article may contain compensated links. Please read disclaimer for more info.
Loire Valley Trip Planner
The Loire Valley is the region around the Loire River's middle stretch in Central France. Comprising about 800 km2, this is the biggest area in France ever to be included in UNESCO's World Heritage list.
The Loire Valley is one of the most beautiful destinations in France, a delicate blend of nature, history, and French elegant art-de-vivre. Here, you can enjoy vibrant medieval towns, fairytale castles, stunning gardens, delicious food, and some of France's best wines.
There is such a variety of stunning places to see in the Loire Valley that it is difficult to choose only a few of them!
This Loire Valley Trip Planner is here to help you plan the perfect Loire Valley itinerary. Read about the best time to go, Loire Valley itinerary suggestions, things to do, and our best tips.
Best Time to Visit the Loire Valley
The Loire Valley sits right in the center of France, dividing north and south, so it gets relatively hot in summer (around 25°C in July) and cold in winter (around 7°C in January).
The best time to visit the Loire Valley to have good weather is from April to October. Spring is a great time to visit the chateaux's gardens, all in full bloom.
The best seasons for outdoor activities are spring and autumn. The shoulder seasons in the Loire Valley are perfect for walking and cycling.
The months of July and August see the crowds in the Loire Valley, especially around the main sites. For the best accommodation and prices, it will be key to book well in advance. Also, we recommend buying skip-the-line tickets online in advance for the main châteaux in the Loire Valley.
The season to avoid for your Loire Valley trip is winter. The winter months see rain and cooler temperatures, and some châteaux may be closed.
Loire Valley Day Trip from Paris
Thanks to its proximity to the French capital, the Loire Valley is one of the most popular day trips from Paris. Have a look at this article on how to plan a day trip to Loire Valley from Paris (self-guided or with a guided tour) and get the most out of your day in the Loire Valley.
Take a Loire Valley Road Trip
For extended trips to the Loire Valley, we recommend taking a road trip. Taking a road trip in France is just about one of the coolest things you can ever do, and with a car, some good tunes, and the best company, you are set for one of the most memorable adventures in your life.
A French self-drive holiday also allows you to visit all the stunning châteaux and medieval towns, which are more difficult to reach by public transportation.
If you don't have a car in France, we recommend booking one with Discover Cars. This site is great because it takes all major rental companies, such as Hertz, Avis, and more, and compares prices for you. If this is your first time driving in France, check out our best tips for renting a car in France.
If you are looking for Loire Valley itinerary suggestions by car, have a look at this 5-day Loire Valley road trip. You will also find this Loire Valley road trip in our France by Car e-book, complete with the best places to dine for each day and our recommendations on customizing this driving holiday for shorter or longer trips.
How to Get to the Loire Valley
If you land at Charles de Gaulle Airport (CDG), you can pick up your rental car at the airport and start your Loire Valley trip from there. The drive from CDG Airport to Orléans takes less than 2 hours (200 km) – Click here to rent a car at Paris Charles de Gaulle Airport
If you plan to explore Paris before visiting the Loire Valley, you can take a train from Paris to Tours, Blois, or Orléans and then pick up your rental car in one of these cities. The train journey from Paris to Orléans, for example, takes 1hr 7 min.
Defining the Perfect Loire Valley Itinerary
Loire Valley map from francetourism.com.au
The Loire Valley is more than fairytale castles. The region s also known for its vibrant cities, medieval towns, and natural wonders, so the perfect itinerary Loire Valley combines a little bit of all these things.
If you visit the Loire Valley for the first time, you may want to stick to the main sites. However, the most memorable Loire Valley trips usually begin when you leave the beaten path.
TIP: To get the most out of the Loire Valley, we recommend a minimum of 3 full days, but ideally 5-6 days.
So what should include the perfect Loire Valley itinerary?
One of the Loire Valley's main cities
One or two of the Loire Valley's medieval towns
Two of the most popular Loire Valley Castles
One of the castles off the main tourist track
A stay in one of the stunning chateau-hotels in the Loire Valley
A Loire Valley wine tour
One or two outdoor activities
The list of things to do in the Loire Valley can be longer or shorter depending on the duration of your Loire Valley holiday.
For example, for a Loire Valley 3-day itinerary, stay in one of the cities mentioned above. From there, visit a medieval village, one or two top castles, and take a wine tour. With one or two more days, add at least one night in one of the stunning château-hotels nearby.
Best Cities in the Loire Valley
The Loire Valley's main cities are a good place to put down your suitcases for a couple of days. Enjoy the city's atmosphere and main sights and explore the rest of the Loire Valley on day tours. Here are the cities in the Loire Valle not to miss:
1. Orléans
Orléans is the capital of the Centre-Val-de Loire region. The city is famous as the city of Jeanne d' Arc, a French heroine who, on the 8th of May 1429, played a decisive role in the town's liberation from the occupying English.
Over recent years, this dynamic city has engaged in major conservation projects to reveal all its former splendor.
Orléans is a good base to explore the medieval towns of Beaugency, Meung-sur-Loire, and the castles of Chambord and Cheverny.
2. Blois
Blois is a beautiful city with remarkable architectural and cultural heritage. Its Old Town is very compact, and you can easily explore it on foot. In Blois, don't miss to visit the Château de Blois, the Loire's finest in-town château, and home to seven French Kings!
Blois is a good base to explore the medieval town of Beaugency, the city of Amboise with its Royal Castle and the Clos de Lucé, and the castles of Chambord, Cheverny, Chaumont sur Loire, and Chenonceau.
3. Tours
Tours is a historic city, the capital of the French kingdom, even if for a short time, and with a rich heritage. It is also a student city, with a lively city center populated by many restaurants and bars that pop up their terraces outside as soon as the beautiful days arrive.
Tours is an excellent base to explore the medieval towns of Chinon, and Langeais, the city of Amboise with its Royal Castle and the Clos de Lucé, and the castles of Chenonceau, Azay-le-Rideau, and Villandry.
4. Saumur
Sitting on the River Loire banks, in the region of Pays-de-la-Loire, the city of Saumur has a pretty medieval Old Town to explore crowned by a fairytale medieval castle and plenty to see and do.
Saumur is a good base to explore the medieval towns of Chinon and Langeais, the city of Angers with its imposing medieval castle, the magnificent Abbey of Fontevraud – burial place of the Plantagenets in France – and the castles of Azay-le-Rideau, and Villandry.
Stay in One of the Château-hotels in the Loire Valley
Château des Arpentis
For a total Loire Valley experience, stay a couple of nights in one of the wonderful château-hotels in the Loire Valley. Many Loire Valley Castles have found new lives as château-hotels and now offer accommodation with discerning five-star service that will treat you like a royal, if only just for the night. Explore the best castles of the Loire Valley during the day, and choose your particular château to rest your head at night.
Click here for the best chateau-hotels in the Loire Valley. Other château-hotels in the Loire Valley worth considering are:
Château de Noizay (Relais et Châteaux) near Amboise
Domaine des Hauts de Loire (Relais et Châteaux) near Chaumont-sur-Loire
Château d'Artigny (Grandes Étapes Françaises) near Tours
Château de Beauvois (Grandes Étapes Françaises) near Villandry
Château de Chissay near Château de Chenonceau
Château de la Menaudière near Château de Chenonceau
Château de Gizeux near Tours
Château de Marçay near Chinon
Château de Troussail in Cheverny
Château Belmont in Tours
Les Sources de Cheverny in Cheverny
Château de Perreux near Amboise
Château des Arpentis near Amboise
Château de Rochecotte, near Villandry, Rigny-Ussé and Chinon
Château de Pray near Amboise
Best Castles in the Loire Valley to Visit
Château de Chenonceau
In the Loire Valley, you will find some of the most beautiful French castles to visit. Most of the Loire Valley Castles were built during the Renaissance, so they are very different from castles near Paris.
If you plan to visit Paris and the Palace of Versailles before heading south to the Loire Valley, don't worry! Versailles and the Loire Valley Castles are two different experiences.
As there are several hundred châteaux in the Loire Valley, with about 100 open to the public, it's quite difficult to choose only a few for your itinerary Loire Valley!
If you don't know what Loire Castles to visit, this best Loire Valley Castles list may help. For a perfect Loire Valley itinerary, we recommend visiting only 2-3 castles a day and completing the rest of the days with other activities.
If you plan on visiting the Loire Valley during the high season, we recommend buying tickets to the most popular castles online. Below we list the Loire Castles you will need advance tickets for and have added links to our favorite trusty providers for your convenience.
Best Medieval Towns in the Loire Valley to Visit
The Loire Valley is dotted with some of the most beautiful medieval towns in France and other picturesque villages accredited with labels like 'Plus beaux villages de France' (Most beautiful villages in France) or 'Petites Cités de Caractère' (Small towns of character). You will certainly be charmed by their tuffeau stone houses, flower-filled streets, and medieval remains!
Here's the list of the best small towns and villages in the Loire Valley.
Along the banks of the Loire River
Along the banks of the Vienne and Indre Rivers
Along the banks of the Cher River
Other Loire Valley Villages worth Exploring
St-Florent-le-Vieil
Le Toureil
Montsoreau
Yèvre-le-Châte
Candes-Saint-Martin
Crissay-sur-Manse
Oudon
Trentemoult
Paimboeuf
Taste the Wines of the Loire Valley
If you like French wine, we recommend adding the visit to one or two wineries in Loire Valley, where you'll learn about the history of the land, and get to taste several local wines paired with delicious cheeses.
The Loire Valley is one of the largest wine regions in France, where you can find some of the best French wines. If you are looking for lighter wines, the wines of Loire Valley are right up your alley. There are great selections of lighter red wines, delicate, fruity white wines, sweet roses, and a large production of sparkling wines.
Because wine-tasting and driving are far from perfect partners, here are some suggestions for wine day tours in the Loire Valley:
Loire Valley Wine Tasting Tour with Private Driver (departs from Tours and Amboise)
Loire Valley Wine Tour in Vouvray and Montlouis (departs from Tours)
Caves Ambacia, Tour and Wine Tasting (in Amboise, no transportation)
Other Fun Things to Do in the Loire Valley
Of course, the Loire Valley offers much more than sightseeing. If you are visiting the Loire Valley for more than two or three days, consider one of these fun activities:
1. See the Loire Valley Castles from Other Points of View
Balloon ride over the Châteaux de la Loire – Photo courtesy: France Montgolfières ©
A visit to the interior of the Châteaux of the Loire Valley is a must, but it's worth viewing the castles from other perspectives for more magnificent views.
Take a boat trip to see the Château de Chenonceau from the water. The Canoë Company offers different boat tours that are guided or self-guided, with different itineraries.
You can also see the châteaux (and the Loire Valley) at sunset in a hot-air balloon with France Montgolfières (now called The French hot air balloon company). Our trip with them over Fontainebleau was an incredible experience that we recommend. You can check our review here.
2. La Loire à Vélo (The Loire Valley by Bike)
Explore the beautiful landscapes of the Loire Valley by following part of the famous Loire Valley bike route. We have covered different sections already, and it's always a fun experience!
3. Taste the Regional Food
France is well-known for its great food, and the Loire Valley region is no exception. Here's the list of some delicious specialties from the Loire Valley:
Game Meat – Wild boar (sanglier), deer (cerf), duck (canard), quail (caille), pigeon and rabbit (lapin).
Fish – Commonly served fish in this region include pike perch/zander (sandre), bream (brème), and eels (anguilles). They are usually served with a butter sauce (beurre blanc).
Goat Cheese (chèvre) such as Saint Maure, Pouligny-St-Pierre, Selles-sur-Cher and Crottin de Chavigno.
Rillettes – usually made using pork, it's a textured pâté and served spread on bread.
Touraine Rillons (Rillons de Touraine) – slow-cooked pork belly cubes.
Caramelized Apple pie (Tarte Tatin) – this famous dessert comes from this region, and more specifically from Sologne.
4. Shop
Most of the castles open to visitors have impressive souvenir shops with interesting history books and novels and medieval-related merchandise.
If you take a wine tour, don't miss the opportunity to buy a couple of your favorite bottles. Prices are always cheaper than in the wine shops in the city.
Where to stay in the Loire Valley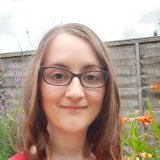 The Loire region spans 175 miles, so naturally if you're considering booking a tour of the Loire Valley, the first question will be where to stay.
This post looks at some of the most central and popular locations in the Loire Valley, as well as locations which are a bit more remote or farther afield.
We explain the pros and the cons of each location and their position in relation to some of the Loire Valley's main attractions. We hope this will help you to decide which area would suit you best during your stay in the Loire.
When you visit the Loire Valley, you'll know what it means to experience 'the good life' in France. The mild climate, tasty local gastronomy, and Loire Valley wine, as well as the warm and welcoming character of the local people, are all a real draw.
The Loire Valley is scattered with centuries' old chateaux, some of which have been converted to hotels. Many of them have beautiful formal gardens which make for an enjoyable and peaceful outdoor experience in the spring, summer, and fall. Add to that the beautiful vineyards and charming towns, and the Loire Valley has something for everyone.
Staying close to the must-sees of the Loire Valley
Many travelers who visit the Loire Valley stay in Blois or Orléans, but we don't recommend these towns are they are not central enough if you're planning to tour the whole region.
If you want to see the region's most famous castles, Amboise or Cheverny will be the best places to stay in the Loire Valley. However, if you prefer a more urban setting, many Loire Valley tours depart from the lovely town of Tours.
The Town of Tours
Tours started out as a Gallic-Roman settlement but is nowadays a university town and popular departure point for tours of the Loire Valley.
It's worth visiting Saint-Gatien cathedral, which reflects various styles of architecture throughout French history. It has a gorgeous Gothic facade and towers whose bases date back to the 12th century, with Renaissance tops.
The old town is very pretty. However, Tours is a little too touristy for our taste, so unless you particularly want to visit it, we would recommend you consider other places to stay in the Loire Valley.
The town of Tours in the Loire Valley – Place Plumereau (CC BY-SA 2.0)
Amboise
The gorgeous Chenonceau castle is just a 20-minute drive away from Amboise. In the city, you have Amboise castle overlooking the Loire River, a residence once favored by royalty in the 1600s.
There is also the Chateau du Clos Lucé which is famous for being the home of the great Italian artist, Leonardo Da Vinci between 1516 and 1519. The domaine is now a small museum and contains many working models of Da Vinci's designs.
Although Amboise is a popular tourist destination, we think it's the best town to stay in the Loire Valley if you prefer a more central location.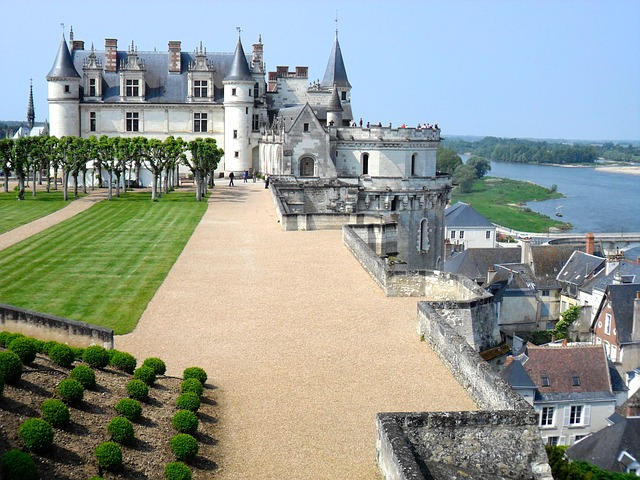 Cheverny
Cheverny is a good option if you prefer to escape from the city to more peaceful, rural surroundings.
I n Cheverny itself, you'll find Cheverny castle . This has been privately owned by the same family for more than 600 years, and they still live in the chateau today. The interior is beautifully decorated and the extensive gardens are lovely to walk through on a good day. Cheverny castle might look familiar to fans of the comic book series The Adventures of Tin-Tin . The castle was the inspiration for the fictional Marlinspike Hall.
The famous Chambord castle is a 20-minute drive away from Cheverny.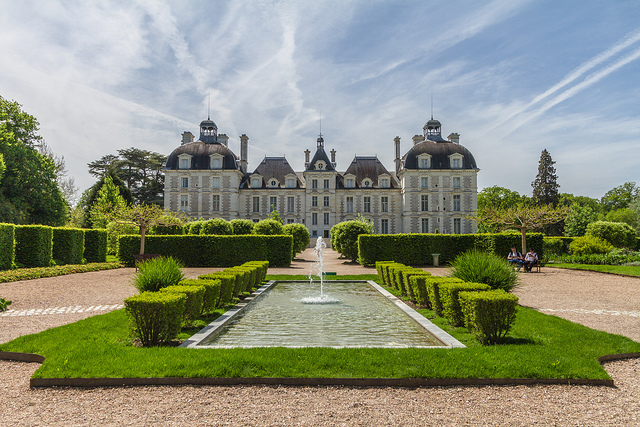 Cheverny Castle (Benh LIEU SONG – CC BY-SA 4.0)
The Loire Valley off-the-beaten track
When deciding where to stay in the Loire Valley, there are three main things you'll want to take into account.
First, do you prefer to stay in an urban or rural area?
Second, do you mind staying where most other tourists stay, or would you prefer a break from the crowds?
Finally, do you mind being a bit further away from the most famous castles if it means slightly lower prices and more peace and quiet?
Staying in the more famous urban areas of the region (e.g. Amboise or Tours) you will find that you have to pay about 20% more for your accommodation.
On the other hand, in the countryside, there are some lovely options which are still pretty central, and these accommodations tend to offer better quality and value for money. It also means you avoid the tourists arriving on day tours from Paris.
If you want to escape from the tourist crowds, the following areas are great places to stay. They're very close to a few of the nicest Loire Valley chateaux, and only 45 minutes to 1 hour 30 minutes' drive away from other famous castles like Chambord and Chenonceau.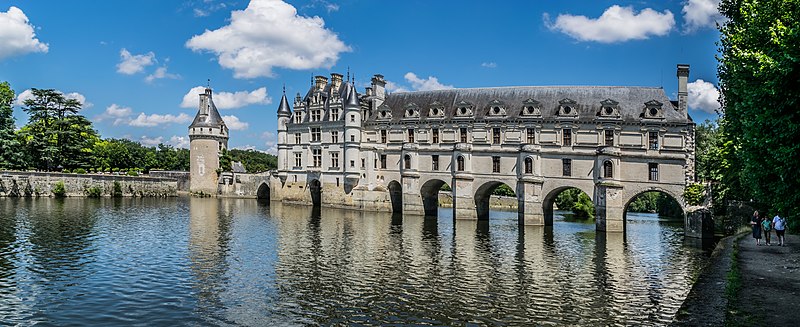 Chenonceau Castle (Krzysztof Golik – CC BY-SA 4.0)
Chinon
Chinon is where France Just For You co-founder Emilie went to high school. We have loved this town for a long time. It exudes medieval charm with its stone and half-timbered houses.
Chinon castle sits atop a golden cliff on the edge of town, overlooking the city. It was in this castle that Joan of Arc, the so-called virgin warrior and French national heroine, convinced King Charles VII to fight the English invasion in the 15th century. You'll want to visit the well that Joan of Arc used to step on as she dismounted her horse.
There are splendid views across the Vienne River from the castle walls. From the other side of the river, you can enjoy equally spectacular views of the city and the castle.
As well as Chinon castle, you will be well located for visiting other Loire Valley chateaux such as Villandry, Azay-le-Rideau, Langeais (Emilie and Guillaume's hometown) and Ussé.
Chinon is one of the best places to stay in the Loire Valley if you want to do a wine tour. This area is famous for its vineyards, which mainly produce Cabernet Franc red wine. Loire Valley wine is light and fresh, and we have a few favorite wineries which we include in our Loire Valley itineraries.
Apart from its proximity to vineyards and castle, a number of hot air balloon tours also depart from the regions of Chinon and Amboise. We went on an early evening hot air balloon ride which departed from Chinon, and the view of the castle and city was breath-taking.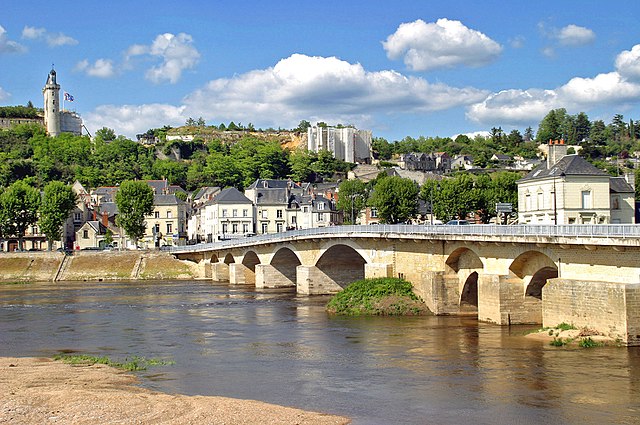 Chinon castle (W. Bulach – CC BY-SA 4.0)
Langeais
Langeais is our hometown and has its own castle, the Chateau de Langeais. Langeais castle was first founded in 992 by Fulk Nerra, one of the early counts of Anjou and a celebrated builder of medieval castles. However, it was destroyed during the Hundred Years' War (1337 – 1453) and later rebuilt by King Louis XII in the mid-to-late 15th century. It is this Chateau de Langeais which still stands today and is an excellent example of late medieval architecture.
Chenonceau and Chambord castles are about 40 minutes and 1 hour 20 minutes respectively from Langeais and Azay-le-Rideau. However, as well as having their own beautiful castles, Langeais and Azay-le-Rideau are also just fifteen minutes' drive away from Villandry castle and its stunning formal gardens.
So overall, both Langeais and Azay-le-Rideau are pretty convenient locations if you're still deciding where to stay in the Loire Valley.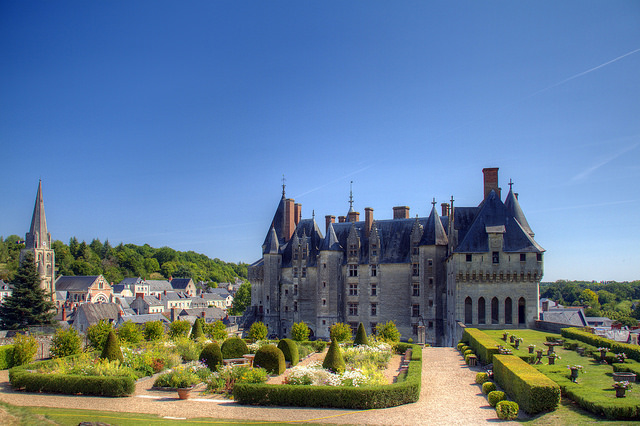 Langeais Castle on a beautiful summer's day (Campus France – CC0 1.0)
Azay-le-Rideau
The town of Azay-le-Rideau is just a few steps from Azay-le-Rideau castle and can be a lovely place to stay in the Loire Valley if you prefer more of a quiet village atmosphere.
Also within easy reach of the town of Langeais, this pretty village has a nice range of restaurants and cafes where you can relax after a long day exploring the castles. The Chateau d'Azay-le-Rideau was recently restored and refurbished and is a lovely example of Renaissance architecture. You'll be struck by the pretty reflections of the chateau in the Indre River.
Just along the river from Azay-le-Rideau castle is the less-well-known Chateau de l'Islette, which is still lived in today but also open to the public. This is a beautiful little castle, quite reminiscent of its neighbor but with fewer visitors, so it's a nice escape from the tourist crowds. Enjoy relaxing in one of the deck-chairs in the pretty grounds or gather around a picnic table for an al fresco lunch.
The Chateau de Villandry with its beautiful formal gardens is just 15 minutes' drive from Langeais and Azay-le-Rideau. It was the last chateau of the Renaissance period to be built next to the River Loire.
Villandry gardens demonstrate the typical architecture and gardens of the period and are spread among three terraces to form the kitchen gardens, the water garden, and the ornamental garden. There is also a maze on the second terrace, which is quite fun to explore. The gardeners at Villandry castle are continually replanting and renewing the gardens, so even if you've visited before there will always be something different to see.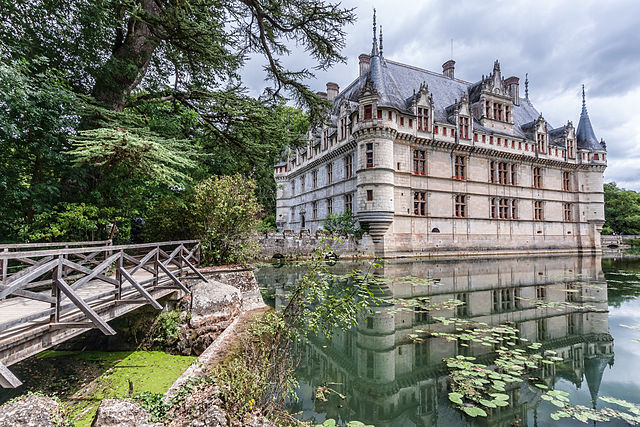 Azay-le-Rideau castle (Jean-Christophe BENOIST – CC BY 3.0)
Staying Farther Afield
Saumur
Saumur is a pleasant town to stay in in the far west of the Loire Valley. However, it may be too far away from some of the more famous castles, such as Chambord, which is located 1 hour 45 minutes' drive away in the east of the region.
If you want to experience staying in cave homes, which are a special feature of this region (see the paragraph about troglodyte accommodation below), Saumur is certainly a good option for your stay in the Loire Valley.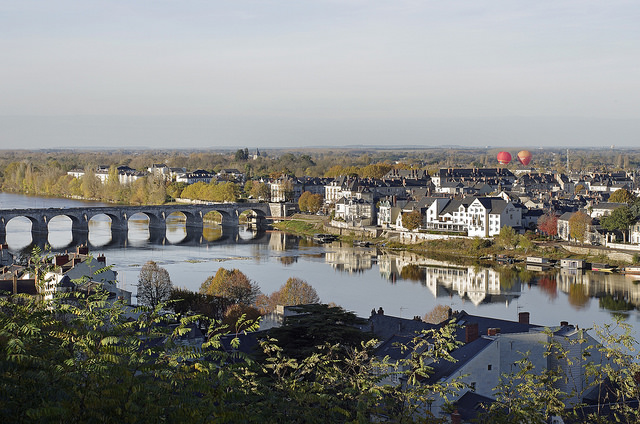 The pretty town of Saumur in the west of the Loire Valley (Daniel Jolivet – CC BY 2.0)
Types of Accommodation
We discuss the types of accommodation available in France on another page of our website. In the Loire Valley, we think the best options are to stay in a premium Bed & Breakfast so you can interact with locals and where you will receive a warm welcome.
However, if you're looking for something a bit different, you might enjoy staying in troglodyte accommodation.
Troglodyte homes are domesticated cave dwellings and are a very special feature of the Loire Valley. These are found in cavities in the Loire Valley's cliffs and plains which were originally a consequence of mining for the famous tuffeau stone starting from the 11th century. This is the local limestone from which many of the region's castles were built.
Over the centuries, the quarrying created an extensive network of caves and underground galleries. Some of these extend for several miles. Humans started to move into these caves centuries ago, as the indoor temperature remains fairly constant through the seasons.
The human cave dwellers are known as 'les troglodytes', and many of these dwellings have been renovated and fitted with modern furniture and amenities.
Staying in one of these troglodyte accommodations is to experience an important piece of the Loire Valley's history. Many of these can be found in the Saumur region.
Of course staying in a chateau is also quite special and there are several in the region which accept overnight visitors.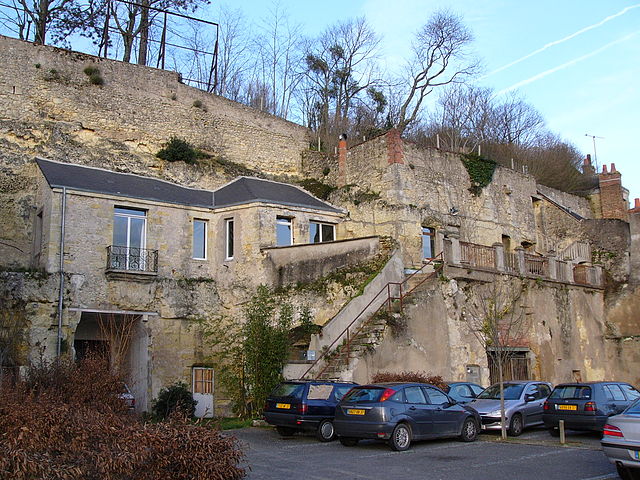 Troglodyte cave dwellings in the Loire Valley (Croquant – CC BY-SA 4.0)
Beyond visiting castles, there is plenty more to do in the Loire Valley. You might like to go on a hot air balloon ride or a wine tasting tour, or get active and go kayaking in the Loire River. We also know some great cycling routes alongside the river.
Find out more about our Loire Valley tours here or contact us to tell us about your wishes for your next vacation in France!
Fascinating Towns to Visit in the Douro River Valley in Portugal
About the Douro River – Portugal's River of Gold
At 557 miles (897 km), the Douro River is one of the major rivers flowing through the Iberian Peninsula, crossing from central-northern Spain into Portugal and terminating into the Atlantic at the bustling city of Porto. With the exception of Porto and a handful of other populous towns along the way, once the Douro enters into Portugal, major population centres become less frequent along the river. Instead, the hills along its shorelines are veiled in innumerable vineyards and groves, as the region's micro-climate is apt for the cultivation of olives, almonds, and grapes. It is here that delicious port wine is made. The Douro's winegrowing (vinhateiro) region has been designated as a World Heritage Site by UNESCO.
Transportation in the Douro River Valley
Though some visitors may drive through the valley, the best views can be seen via historic steam train or by embarking on a river cruise. The Linha do Douro (Douro Line), completed in 1887, chugs along 100 miles (160km) on a river-hugging track from Porto to Pocinho, passing through more than 20 tunnels, over 30 bridges and stopping at 34 stations, many of which are no more than a platform with a small shelter. For our journey through the Douro River Valley, we set sail on the River of Gold cruise with Viking River Cruises .
Whether you drive, take a train, or cruise, this is a region you should definitely add on your next visit to Portugal. The lack of metropolitan cities, crowded streets, and traffic jams will put your mind at ease, especially if you're enjoying a glass of flavorful port wine as you take in the scenes of the breathtaking Douro River Valley. We'll share with you the places we visited along the Douro as part of Viking's River of Gold cruise. So, whether you're embarking on this exact cruise or simply planning your own self-made journey through the Douro River Valley, we hope this information helps you discover some fascinating places in this stunning, sometimes overlooked, region in Portugal.
Lamego
The ancient city of Lamego is most well known for its small hilltop chapel – The Shrine of our Lady of Remedies. Built in 1791, this location has become a site of pilgrimage for many devout worshipers who arrive in the city each August and September to pray at the shrine. Many of these pilgrims humbly climb the 686 steps to the hilltop shrine on their knees in the hopes of having a miracle bestowed upon them. Azulejos (traditional blue and white painted tiles), urns, and statues of saints adorn the 9 terraces along the double staircase leading to the shrine flanked by twin bell towers.
Down below, the town centre contains dozens of other historical sites and museums in addition to a variety of shopping options. Lamego's Cathedral (Sé), built in the 12th-century by the first king of Portugal, has seen many modifications and refurbishments over the centuries. Despite these changes, the church now represents a beautiful blend of Gothic, Renaissance, and Baroque styles. An intricate stone exterior, along with its cloister, make it worthy of a visit. The Museum of Lamego (Museu de Lamego) is located in a beautiful building that was once an 18th-century Episcopal palace. Paintings, furniture, jewelry, archaeological findings, medieval tombs, and Flemish tapestries are among the fascinating exhibits displayed throughout the museum.
Bitetos
Bitetos is a former Roman village of ancient origins and is now most well known for the Aplendurada Monastery. Now a beautifully restored inn, this 1,000-year-old Benedictine monastery once served as the center of religious life in this region of the Douro River Valley for centuries, and also as a stop for pilgrims traveling to Santiago Compostela and Rome. Within its historic walls, visitors can gaze upon fancy furnishings and Roman and Moorish influenced décor, along with historical artwork and a beautifully restored carriage. Its splendid restaurant is mostly utilized for special events. It is here where our Viking group enjoyed the locally made vinho verde (green wine) and further enjoyed an evening of delectable dining and traditional fado music.
Favaios
A village known for its homemade bread and sweet wine? We're there! Within the village of Favaois is a classic wine and bread museum which tells the story of how these important products have shaped the region's traditions and its population. Its four-cornered loaf (Trigo de Favaois) is a pillar of local cultural and economic life. Visit a local bakery that has been passed down through the generations to sample traditional bread fresh out of an oven heated with wood and old grapevines.
Favaois is unique in that it is located on a plateau on top of a mountain. So while it sits high above sea level, the region is extremely flat when compared to other hilly regions found throughout the Douro Valley. The village of Favaois is pretty much synonymous with Moscatel, a sweet wine produced from a single grape variety. During your visit to Favaois, don't miss a visit to Quinta da Avessada, a beautiful century-old wine-growing estate where you can tour the atmospheric cellars, enjoy scenic views of the surrounding vineyards, and sample delicious wines in a rustic tasting room. The owner, Luis Barros, is a true delight and will make your visit to Avessada a memorable one… guaranteed!
Mateus
The Palace of Mateus (Casa de Mateus) is one of Portugal's most recognized icons because it graces the distinctive flask-shaped bottle of the locally-made Mateus r osé wine. Back in the 60s and 70s, this slightly bubbly, medium-sweet wine was all the rage in Europe and North America. By the late 80s, the r osé was supplemented by a white wine version and accounted for 40% of Portugal's table wine exports. In more recent years, the original recipe has been tweaked, making it a little less sweet to accommodate more modern palates. The palace that has since been made famous because of the popular wine is open to visitors. Truth be told, we were more impressed by the palace gardens than the interior of the 18th-century royal residence itself.
Pinhão
When in Pinhão, be sure to check out the village's railway station. It was built in 1937 and is adorned with 24 port production scenes made up of beautifully painted azulejos, Portugal's distinctive blue and white tiles. The village of Pinhão sits along a scenic bend in the Douro River and serves as the epicenter of the valley's port wine making region. Wine estates, known as quintas, dot the landscape. We had the opportunity to visit the Quinta do Seixo estate, located just outside of Pinhão. This 100-acre estate is one of the most traditional and renowned wine-producers in the region. The views from their terrace of the valley below will leave you speechless!
Castelo Rodrigo
On a hilltop 2,200 feet above sea level, tucked away near the Spanish border, is the medieval fortress town of Castelo Rodrigo. The town is named for its castle, which has been listed as a National Monument since 1922. Other notable features of the village include its fortified walls, ruins of the Cristóvão de Moura palace, a 16th-century pillory, a medieval church, a parish church, a medieval cistern, and inscriptions attesting to the existence of a substantial new-Christian community (notice the cross painted on the wall – center).
Almond trees surround the village, making these delicious nuts the local delicacy. There is a fabulous shop within the village where you can sample and purchase a variety of flavored almonds. Stroll along the steep cobblestone streets, wander past 16th-century houses, and admire the distinct Portuguese Manueline-style windows as you take in one of Portugal's 12 historic parishes.
Porto
One of Europe's oldest cities features colorful buildings, steep and narrow streets, and atmospheric neighborhoods. Because of its significant architecture and rich history, UNESCO has designated Porto's historic city centre as a World Heritage Site. There is so much to do in Portugal's 2nd largest city, we put together a completely separate post. For starters, you can take a stroll along the popular riverside promenade in the Ribeira neighborhood for scenic views of the Douro and of the port cellars on the other side of the river in Vila Nova de Gaia (simply known as Gaia) . Walk across the Dom Luis bridge to get to Gaia where you can tour and/or taste delicious port wine at 58 different wine companies. Of all the port wine we tasted in Portugal, Taylor's was our favorite!
Salamanca, Spain
Salamanca isn't exactly along the Douro River, but it was an included stop on the River of Gold itinerary. The journey to Spain's oldest college town required a long, but comfortable motor-coach ride through the scenic Iberian countryside. We quickly forgot about the lengthy border-crossing ride when we arrived in La Dorada (The Golden City), which gets its nickname from the beautiful glow from the sandstone structures. Europe's oldest (and possibly most beautiful) university, dating back to 1134, sits in the heart of Salamanca, along with the city's main square (Plaza Mayor), two Cathedrals, the House of Shells, and a multitude of Medieval, Gothic, and Baroque buildings. Despite the seemingly large size of the city, it favors more of a small Spanish village feel. Oh, and while you're there, don't miss the opportunity to sample freshly made churros served with thick hot chocolate at Valor!
So, while this isn't an exhaustive list of places to visit in the Douro River Valley in Portugal (and heck, we even threw in a city in another country located a good distance from the river), these are the places we visited during Viking's River of Gold itinerary. So, if our goal for this post is met, you're either ready to book yourself on a Viking River Cruise or you now have a good idea of places to visit during your own self-guided tour of the Douro River Valley in Portugal.
Want a closer look at our time in the Douro River Valley with Viking?! Check out our video below!

We'd like to thank Viking River Cruises for hosting us on-board the Viking Torgil to experience the River of Gold itinerary. As always, our write-ups are an accurate reflection of the experiences we had.
Source https://travelfrancebucketlist.com/loire-valley-itinerary/
Source https://www.france-justforyou.com/blog/where-to-stay-in-the-loire-valley
Source https://forgetsomeday.com/fascinating-towns-to-visit-in-the-douro-river-valley-in-portugal/