Drive Between Austin and San Antonio: Road Trip Tips & Info
Texas is a huge state – and one that it takes a lot of time to drive across, no matter where you're going. But if you're planning to make the drive between Austin and San Antonio, you might be surprised: it's a relatively short drive – as Texas road trips go – and there are some fascinating sights along the way.
In this post, you'll learn all the basics about the drive between San Antonio and Austin, including the distance and travel time you can anticipate. I've also included some of the best stops to make between these two Texas cities, should you wish to explore more than the two-lane interstate running between them. Finally, I include other tips on making this drive (and why you should drive rather than fly). Read on to learn everything you need to know about driving between Austin and San Antonio.
TL;DR: How long is the drive between San Antonio and Austin? The direct drive from Austin to San Antonio (or vice versa) is 82 miles (132 km) and should have a drive time of 1 hours, 29 minutes in normal traffic.
In this post, I promote travel along a route that crosses the the traditional lands of the Ndé Kónitsąąíí Gokíyaa (Lipan Apache), Coahuiltecan, Esto'k Gna (Carrizo/Comecrudo), Shawandasse Tula (Shawanwaki/Shawnee), Jumanos, Tonkawa, Sana, Nʉmʉnʉʉ (Comanche) peoples. With respect, I make a formal land acknowledgment, extending my appreciation and respect to the past and present people of these lands. To learn more about the peoples who call these lands home, I invite you to explore Native Land.
Table of Contents
Distance Between San Antonio & Austin
Calculating the distance you have to cover between places is a crucial part of planning a road trip. As the crow flies, it's roughly 74 miles between San Antonio and Austin. Luckily, you can almost travel as the crow flies if you drive from San Antonio to Austin since the driving distance is quite the same.
A nonstop drive between San Antonio and Austin is roughly 80 miles along I-35. As I always say, the distance may vary slightly depending on your start and end points within each city.
Drive Time Between Austin & San Antonio
Learning the driving time is the second most important part of arranging an itinerary. So here's the quick answer for the time you'll spend on the San Antonio to Austin drive.
The San Antonio to Austin drive takes around 1 hour, 30 minutes. Once again, this time varies depending on where you start in San Antonio and end in Austin. The fastest route is on Interstate 35, where the average speed limits are 75 miles.
If you happen to be planning an Austin to San Antonio drive, don't worry. The distance is the same either way if you're taking Interstate 35.
7 Stops to Make on Your Drive Between San Antonio & Austin
While you can drive straight through from San Antonio to Austin, you might want to check out the interesting places along the way and stretch your legs. Below, you'll find seven pit stops you can make along the drive between Austin & San Antonio.
1. The Alamo
Originally named Mission San Antonio de Valero, the Alamo is a perfect pit stop for history buffs and scholars. Franciscan missionaries built the Alamo in 1718, a historic Spanish mission and fortress complex that served as home to missionaries and American Indian converts. Later in 1793, Spanish officials secularized San Antonio's missions and distributed their lands among the Christianized Indians.
Fast forward forty-three years, the Alamo became the site where folk heroes Jim Bowie and Davy Crockett fought the Battle of the Alamo during the Texas Revolution. Go inside and revisit the past of this remarkable place.
2. Natural Bridge Wildlife Ranch & Caverns
The Natural Bridge Wildlife Ranch & Caverns are two natural wonders you can see in your drive between San Antonio and Austin. A great stop if you're traveling with kids, The Natural Bridge Wildlife Ranch is an "African Safari, Texas-Style". Inside, you can see more than 500 animals representing more than 40 species. The ranch features species from every continent except Antarctica.
The Caverns at Natural Bridge is a stunning system of caverns with gorgeous rock formations like the Colossal Dome room and stalactites and stalagmites. There are loads of tours you can choose from to explore the wonders hiding beneath the Earth's surface.
3. The World's Largest Pecan
You'll find many places where it's worth taking a picture along the drive between Austin & San Antonio. However, none will be as good as The World's Largest Pecan if you want to take a goofy photo. Back in 1962, Seguin, the "pecan capital of Texas," built its first massive pecan in front of the City Hall. The giant pecan was five feet long and 2½ feet wide and weighed approximately 1000 pounds.
For years, it held its title as the world's largest pecan until some pecan farmers in Brunswick, Missouri built an even bigger one in 1982. However, in 2011, Seguin decided to win its title back and built a new 16-foot long pecan!
4. Jacob's Well Natural Area
You can't miss the opportunity to visit Jacob's Well Natural Area on your drive between San Antonio and Austin. Jacob's Well is an artesian spring inside the second-largest fully-submerged cave in Texas. Every day, the artesian spring delivers thousands of gallons of water from the depths of the Trinity Aquifer to Jacob's Well, the headwaters of Cypress Creek. You can stop by this amazing place all year round.
Swimming is only available seasonally and requires reservations. You're warned: the waters there are freezing, but you'll appreciate them during the hot summer days in Texas.
5. McKinney Falls State Park
McKinney Falls State Park is a great stop in your drive between Austin & San Antonio to explore nature and history in one place. Way before McKinney Falls became a state park, it was the home of Thomas McKinney, a trader, merchant, and co-founder of Galveston, Texas. In 1850, McKinney established a ranch on these lands where he raised livestock and lived there until 1873 when he died of kidney disease. When the government opened the park in 1976, it was named after McKinney.
Today, visitors can still see the ruins of McKinney's homestead, his horse trainer's cabin, gristmill, and stone walls in the park. For those who enjoy outdoor recreation, you can also go hiking, mountain biking, bicycling, swimming, and birding in McKinney Falls State Park.
6. Cathedral of Junk
Head to the Cathedral of Junk if you'd like to appreciate some unorthodox art on your road trip. One of Austin's most offbeat attractions, The Cathedral of Junk is a multilevel junk shelter that stands quietly in the backyard of an unassuming house. The artist behind this artwork is Vince Hannemann, who used over 60 tons of junk to build The Cathedral of Junk. You can find everything erecting the Cathedral's walls: lawn mower wheels, car bumpers, kitchen utensils, ladders, cables, bottles, circuit boards, bicycle parts, and a lot of stuff that is impossible to identify.
While Mr. Hannemann is happy to welcome visitors, call ahead to confirm this location is open and set up a time to meet with him.
7. Texas State Capitol
The Texas State Capitol Building will be your first stop if you drive from Austin to San Antonio. Designed in 1881 by architect Elijah E. Myers, the Texas State Capitol is a gorgeous historic building that's even bigger than the United States Capitol in Washington, DC.
Inside, the building features exquisite architecture, from the dome and Terrazzo mosaics to the door hinges. The manicured gardens are equally beautiful and charming. You can take free tours to explore all the monuments, portraits, and sculptures that this national landmark houses. The Texas Capitol Collection is very interesting and includes battle artworks and several historic artifacts.
Other Tips for Your Drive Between San Antonio & Austin
Here are some final tips to help you plan your drive between Austin and San Antonio:
The route from Dallas to San Antonia is entirely in big ol' Texas.
The major city along the route between Austin and San Antonio is San Marcos, which is also roughly halfway along the drive. This is the best place to stop if you need to stop and stretch your legs.
There actually aren't any rest stops between San Antonio and Texas.
There are plenty of gas stations and truck stops along the entire route if you need fuel, toilets, snacks, or other services.
Should You Fly Between Austin & San Antonio Instead?
Most of the time, choosing between flying or driving to a destination depends on personal preferences, time constraints, and costs. However, this time there's a clear winner: driving. Both time and cost-wise, a drive between San Antonio and Austin is far more convenient.
Regarding time, you'll spend 1 hour, 20 minutes to cover this 80-mile road trip, whereas taking a plane will take you around three hours if you add to the 39-minute flight the time you spend getting to the airport, taking off, and landing.
Cost-wise, driving from San Antonio to Austin costs $9.08 for a one-way trip and $18.16 for a round trip. Meanwhile, a one-way flight from San Antonio, TX to Austin, TX, costs around $140.
Besides the benefits of driving, a road trip between these two cities means getting to know places you wouldn't otherwise. So, go ahead and start planning that San Antonio to Austin road trip!
Have any other questions about driving between Austin and San Antonio? Let me know in the comments!
You May Also Like
10 Epic Road Trips from Oklahoma City
April 7, 2022
Drive Between Omaha and Denver:
Road Trip Tips & Info
November 26, 2021
From Austin To San Antonio: My 13 Favorite Experiences Along I-35
San Fernando Cathedral Light Show (Photo Credit: Grossinger / Shutterstock.com)
Mention San Antonio, and people immediately think of the Alamo – maybe the Riverwalk. But the city, and others in Texas Hill Country, are home to more than those two treasures. From an African safari in the middle of Hill Country to art on the sides of buildings in Austin, exploring Texas is more than just hitting the popular joints. While we enjoyed seeing the Alamo and walking along San Antonio's water attraction, my wife and I loved exploring attractions along Interstate 35 in San Antonio and Texas Hill Country.
Here, in no particular order, are my top choices for places to visit along Interstate 35 between San Antonio and Austin.
Briscoe Western Art Museum (Photo Credit: Tim Trudell)
1. Briscoe Western Museum, San Antonio
Offering a different take on Texas's cowboy days, the Briscoe Western Art Museum embraces contemporary artists' views on the wild west. The museum includes art highlighting the region's history from the perspective of Indigenous peoples, Mexico's vaqueros, and Anglo settlers. With saddles once used by Pancho Villa as well as sculptures celebrating Native American leaders Sitting Bull and Crazy Horse, the Briscoe shares stories with the art. Anglo art features wagons and a stagecoach as well as remnants from the Alamo. A self-guided tour of the museum's three floors includes beautiful art intertwined with the region's history. An exhibit hall features special exhibits. Afterward, stroll through the outdoor sculpture garden.
Tim Trudell
2. Natural Bridge Wildlife Ranch, New Braunfels
With giraffes, wildebeest, sable antelope, and ostriches, New Braunfels' Natural Bridge Wildlife Ranch transports visitors to Africa's Serengeti. Featuring 24 species, the ranch offers guided and self-guided tours at the drive-thru sanctuary. A guided tour includes lots of background information on the animals. Tours typically take 2-3 hours, and I recommend purchasing some feed pellets to share among the animals, as they will approach vehicles and appreciate the treats. The landscape's hills, woods, and flat, open spaces make it easy to envision you're in Africa. The ranch also includes a walking section that features lemurs and African crowned cranes. While there, visitors can grab a bite or treat at the cafe and pick up souvenirs in the gift shop.
The wildlife ranch is part of dual attractions in the area. Natural Bridge Caverns started with a 60-foot-long limestone bridge over a valley. In 1960, college students explored underground and found 2 miles of breathtaking views with jagged rock formations, spires, and paths. Today, visitors can explore about a half-mile of the caverns on the Discovery Tour. Traveling 180 feet below the surface, your guided tour on a lighted path takes you along flowstones, chandeliers, and soda straw formations. The Hidden Passages Tour takes explorers into a different section of the caverns, where you'll see unique shapes, including stalactites and cave ribbons. Each tour takes about an hour. However, you can combine the tours for a sure-fire fun exploration of the Natural Bridge Caverns. Plan for about 2 hours.
Make your visit a full-day event with the wildlife ranch and caverns, as well as checking out the zip rails and ropes course. You'll traverse along rope obstacles and zip rails 60 feet above the ground.
Pro Tips
The Natural Bridge Caverns and zip rails and ropes course require a lot of walking, including stairs.
For the caverns, you'll want to arrive about 30 minutes before your tour.
3. Air Force Security Forces Museum, Lackland Air Force Base
Home to the Air Force's basic training squadrons, San Antonio's Lackland Air Force Base includes the Security Forces Museum, offering a look at the service's law enforcement and security forces history. From the days of the Air Police to duty during the Middle East conflicts, the two-floor museum gives an interesting look at the military service's police history. Free and open to the public, veterans and others will enjoy an up-close look at the Air Force unit.
Combine your visit to the Security Forces Museum with stops at the Airmen Heritage Museum and Air Park as part of the Airmen Heritage Training Complex.
Pro Tip: Visitors must have a valid state-issued ID, such as a driver's license as well as auto registration and proof of insurance to gain access. The base visitors center verifies information, which can take 30-60 minutes, so you'll want to plan accordingly.
Tim Trudell
4. Murals, Austin
A must for any visitor, explore Austin's unique vibe through its public art mural scene. Begin with the Greetings from Austin mural on First Street, then head to South Congress Avenue, where you'll find dozens of beautiful art pieces along the walls of shops and restaurants. From Willie Nelson for President and Mr. Rogers to bison, South Congress shows off artists' takes on beautiful art.
Pro Tip: Parking can be a challenge. However, there is street parking available a block or two off of Congress, as well as parking garages on the main route. Congress can be a long walk, so you may want to find a garage about midway along the avenue.
Living History (Photo Credit: Tim Trudell)
5. New Braunfels Conservation Plaza, New Braunfels
Among beautiful flowers and botanicals, enjoy touring 18 historical buildings that help tell New Braunfels' history. Each building at the New Braunfels Conservation Plaza represents an era in the city's history. From an 1849 farm barn loaded with equipment and an 1865 general store to an early 1900s auto garage complete with an antique car inside, stroll 3.5 acres, soaking in the history of this Hill Country community.
Pro Tip: Wear comfortable walking shoes, as most of the paths are gravel.
Tim Trudell
6. Market Square, San Antonio
Market Square offers more than just a home for outstanding restaurants and shops. Explore the city's Latin history by strolling through the market's shops. You'll learn the story behind major attractions and events, such as dolls celebrating Dia de los Muertos (Day of the Dead), as well as enjoy the vibrant colors of Mexican pottery.
Pro Tip: The Market Square has a parking garage about a block from the main attractions. I recommend parking there. With elevators and stairs, it offers easy access to the shopping center.
Tim Trudell
7. Lady Bird Johnson Wildlife Center, Austin
As Texas' botanical garden, the Lady Bird Johnson Wildlife Center highlights plants and flowers native to the state. Exploring more than a dozen gardens, from pollinator gardens with flowers and plants attractive to butterflies and a variety of bees to a grove of important regional oak trees, the botanical garden is home to about 900 species of plants and flowers. You'll find cacti, a variety of flowers, and prairie grass among the gardens. The wildflower center, opened in 1982 and renamed in honor of the former First Lady of the United States in 1997, features an observation tower that provides impressive views of its 284 acres.
Pro Tip: Wear comfortable walking shoes during your visit. While most paths are paved, you should always be on the lookout for any uneven spots. It's easy to spend several hours at the wildlife center, so you may want to enjoy lunch or a delicious baked treat at the café.
Tim Trudell
8. Texas State Capitol, Austin
Learn about the history of key Texans, such as Sam Houston, during a guided tour of the state capitol. As you explore the building during a 1-hour guided outing (self-guided tours are also available), you'll visit both chambers of the Texas legislature and learn about the art inside the House of Representatives and Senate. When you arrive at the capitol, stand in the middle of the rotunda and look up at the dome; you'll see Texas spelled out around the star. After your tour, explore the capitol's grounds, checking out its natural beauty and sculptures in the area.
Tim Trudell
9. The Saga At San Fernando Cathedral, San Antonio
San Fernando Cathedral's facade lights up at night, telling the story of San Antonio. The Saga – a laser and light show focused on the area's history from its prehistoric era through the Alamo and contemporary times – immerses the front of the church at San Antonio's Plaza de Las Islas Canarias in history. The laser show, complete with music and other audio, runs at night on Tuesday and from Friday through Sunday.
Tim Trudell
10. Historical Murals, New Braunfels
New Braunfels' German immigration and Mexican history are on display through a series of downtown murals. Offering a look at the city's Hispanic influence, a large mural tells the story from early agriculture days through Spanish expeditions, as well as a look at vaqueros. Other murals explore the German immigration to Hill Country, organized by Prince Carl of Solms-Braunfels. Another mural celebrates New Braunfels' entertainment history, including movie theaters and western dances.
Wetlands in Austin (Photo Credit: Tim Trudell)
11. Lady Bird Lake, Austin
Home to the world-famous bat watching under the Congress Avenue bridge, Lady Bird Lake offers a variety of fun activities. Formerly known as Town Lake, Lady Bird Lake is actually a reservoir on the Colorado River. Covering more than 450 acres, the lake attracts kayakers as well as riverboat tours. With plenty of trails, it's a popular walking area with amazing views of nature and Austin's downtown skyline. Perhaps lesser-known, a wetlands area is located near the lake. With birds such as cormorants, egrets, and herons, it's easy to spend hours admiring them as they move about freely from one grass area to another, or spend time on rocks or logs.
jahawk1 / Shutterstock.com
12. San Marcos River, San Marcos
With river temperatures at 72 degrees Fahrenheit year-round, the San Marcos River is a must for water playtime. Whether you prefer to go tubing (floating on the river on an inflated inner tube) or enjoy a workout with a stand-up paddling experience, the San Marcos River offers a lot of fun. Consider renting a kayak for a more-relaxed float on the water.
13. LBJ Museum Of San Marcos, San Marcos
While the Lyndon B. Johnson Presidential Library is located in Austin, San Marcos was a major influence in his life. Attending college, his experiences at Texas State University helped form his social and political views, paving the way for his leadership in passing civil rights legislation as president. Exhibits at the LBJ Museum of San Marcos include presidential artifacts and memorabilia, paintings, book collections, and a copy of his Great Society speech.
Tim and his wife Lisa have been writing their blog The Walking Tourists for eight years. They live in the Midwest and enjoy writing about its attractions. They focus mainly on the Midwest, but enjoy traveling all over. With daughters living in the Seattle area, they also have a fondness for the Pacific Northwest.
Tim is a freelance writer and online content creator. He has authored two books about Omaha attractions and restaurants: "100 Things to Do in Omaha Before You Die" and "Unique Eats and Eateries of Omaha". A third book about Nebraska tourism — "100 Things to Do in Nebraska Before You Die" — will be published in April 2020. He writes magazine, newspaper, and online articles as well as offering ghostwriting services. He loves writing.
As a one-time community journalist, his affection for the stories journalists share has never waned. Having been a manager of people, he is intrigued by people's leadership qualities and practices.
Austin vs San Antonio: 9 Things to Know BEFORE Moving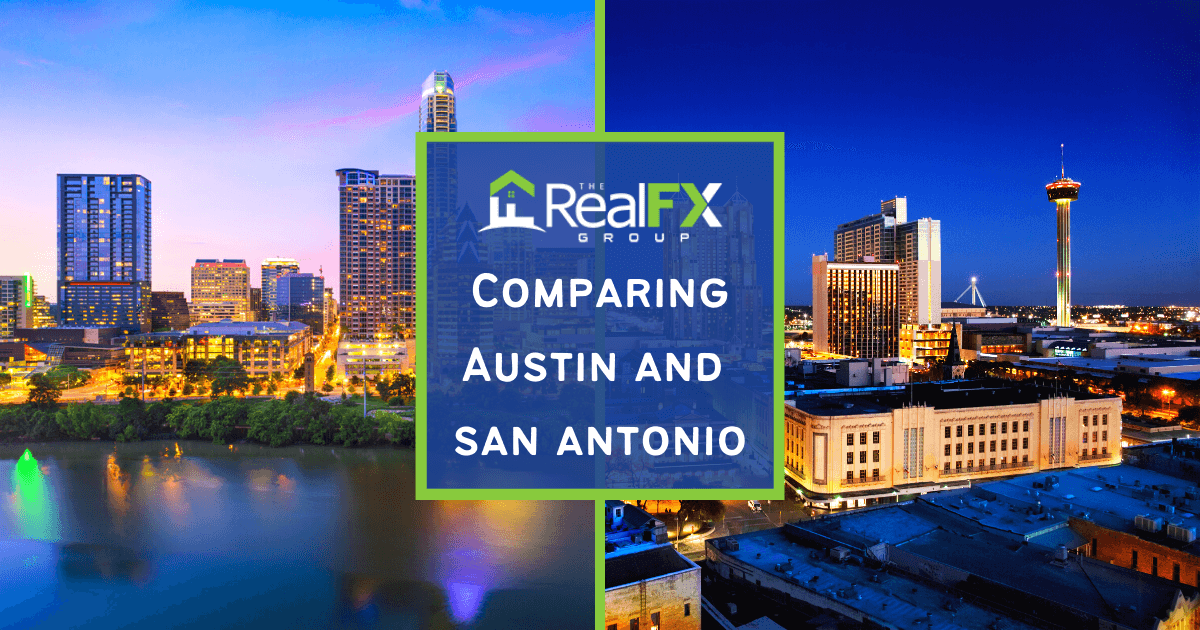 Those looking to move to Texas will see two names rise to the top of the list: Austin and San Antonio. While relatively close to each other, these two cities have significant differences. Still, these metropolitan areas have natural beauty, fun things to do, nighttime hotspots, and thriving economies to offer prospective residents. To decide which location best fits your lifestyle, it can be helpful to see side-by-side comparisons of what life is like in each city. Keep reading to learn everything you need to compare these two Texas cities before deciding to buy a home in Austin or San Antonio.
Austin Economy vs. San Antonio Economy
Texas cities usually have lower unemployment and cost of living than the rest of the U.S. This remains true with Austin and San Antonio. With similar industries and appeals, San Antonio and Austin each boast a robust economy.
Cost of Living
The cost of living in Austin is 33 percent higher than in San Antonio. Food and groceries, utilities, transportation, and healthcare are more expensive in Austin. Even though housing in Austin is more expensive, it is also rapidly expanding to accommodate new residents. The median cost of a home in Austin is $369,000. Comparatively, San Antonio's median housing cost is around $175,000.
Job Market
The Austin economy is experiencing rapid job growth and lower unemployment. Currently, the unemployment rate is about 5.1%, and future job growth is projected to be roughly 25.5% in the next ten years. In the past three years, Austin has still managed to move positively with an increase of 1.7% in jobs.
By comparison, San Antonio is still one of the fastest-growing cities in Texas. With an unemployment rate of around 6.6% and job growth for the next ten years projected to be approximately 15.2%, things are looking good for the San Antonio economy. In the past five years, jobs have increased by about 2.7%.
The economies in Austin and San Antonio are upward-reaching with a positive outlook in terms of unemployment and job growth. Austin and San Antonio residents alike can look forward to job growth that far exceeds the U.S. average for years to come.
Top Industries & Biggest Corporations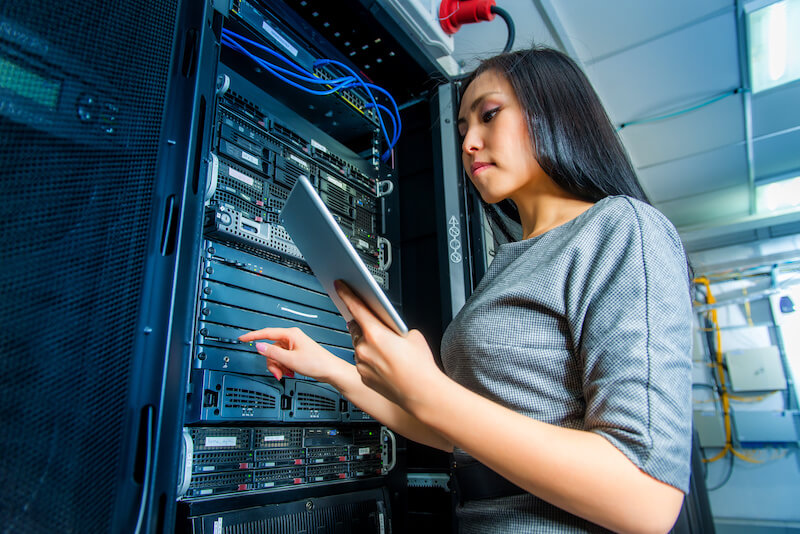 With rapid expansion thanks to corporate locations established in the area and a growing reputation for manufacturing, Austin's top industry most often rests in technology and science. Their top sectors are advanced manufacturing, technology, corporate headquarters, and data management, among others. Some of their top companies fall into these categories, with 3M, a manufacturing and technology innovation company, Amazon, and Apple at the pinnacle.
While not as high-profile compared to Austin in terms of corporate presence, San Antonio maintains a healthy business environment through low taxes and investing in infrastructure. San Antonio thrives in the technology and science industries with significant involvement in healthcare, bioscience, aerospace, information technology, cybersecurity, and the new energy economy.
While San Antonio residents enjoy a lower cost of living, Austin residents are experiencing lower unemployment and more significant job growth. Similar industries thrive in both cities, and they are expected to experience rapid growth that far exceeds estimates for the U.S. overall.
Austin Commutes vs. San Antonio Commutes
Commuting is a time investment for both of these two major Texas cities. However, traffic patterns and the cost and reach of public transportation differ. Despite relatively long commutes, there are suburbs near metro areas that can cut down travel time for Austin and San Antonio residents.
Traffic Patterns and What to Expect During Rush Hour
In Austin, rush hour starts as early as 6 a.m. and lasts until around 9 a.m. Interstate 35 is congested starting around 6:30 a.m., but weekday traffic hits its peak around 8 a.m. The evening rush hour occurs between 4 p.m. and 7 p.m. Traffic begins as early as 3 p.m., hitting its peak at around 5 p.m. Drivers can expect some lunch-time congestion during the workweek at around noon. For early morning commutes, a 30-minute trip can be expected to extend another 12 minutes and, in the evening, another 19 minutes for the same 30-minute trip.
San Antonio has a lot of traffic centered around downtown that expands into more wide-open areas around the suburbs. Major freeways are available, though traveling by main streets is possible if desired. Rush hour in San Antonio occurs from 7:30 a.m. to 9 a.m. and then from 4:30 p.m. to 6 p.m. While traffic may not be as substantial in San Antonio as in other major U.S. cities, rapid city growth may be contributing to longer commute times.
Public Transportation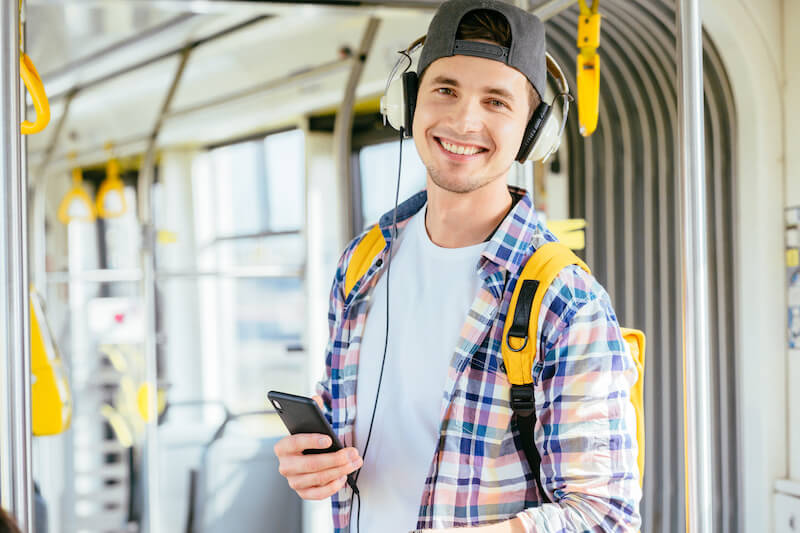 Public transport for Austin is provided via Capital Metro. Local service passes are available for a month ($41.25), a week ($11.25), a day ($2.50), and a single ride ($1.25.) Reduced fares for qualifying residents are about half as expensive. Commuter passes are a bit more expensive, at close to double the costs per travel option. While Austin's public transport is more costly, many convenient options are available through Capital Metro. Metro Bus offers frequent stop service all over town and the University; Metro Rapid provides regular services to a limited number of stops; Metro Rail brings people from the outskirts into downtown.
VIA, San Antonio's public transport, offers passes for a month ($38), a week ($12), a day ($2.75) a semester ($38), and annually ($365). Discounts are available for children 5 to 13, seniors aged 62 and older, medicare recipients, disabled, active-duty military, and students. These reduced rate passes are about half as expensive. VIA offers late-night services through Downtown Lineup and VIA Primo, and Express offers fewer stops directly to downtown during morning and afternoon rush hours. VIA Link is an on-demand service accommodating neighborhoods outside of traditional bus routes. ViaTrans offers transit for people with disabilities, and Van Pool offers a carpooling service for employees of the same industry to rideshare together.
Both cities have Uber, Lyft, and taxi services where prices vary per commute, and both towns have bike renting services.
Best Suburbs in Each City for Short Downtown Commutes
Getting downtown at a decent time is often the priority for residents of major cities. As such, it may be a significant consideration to have housing near to downtown to make commutes easier. In Austin, homes in Round Rock are among the best options for downtown commuters. Residents of this area experience shorter commute times than in other Metro area suburbs. With 64.8 percent of commuters having less than a half-hour commute, most area residents drive alone. About 8.5% percent of commuters carpool, and less than 1% use public transportation.
In San Antonio, one of the best suburbs for a short downtown commute is Terrell Hills. Residents of Terrell Hills experience shorter commute times across the board, with 75% of residents having a commute of less than a half-hour. Most area residents drive alone, but about 1% take public transport and about 5.6% carpool.
Commutes in Austin and San Antonio can add time to drives during rush hour. San Antonio rush hours do not last as long as in Austin, and cheaper public transportation options. Public transportation in both cities is extensive, offering many opportunities to increase accessibility to residents all over and outside of the town.
Things to Do in Austin vs. San Antonio
Indoors or outdoors, during the day or night, both of these bustling Texas cities offer plenty of recreation for their residents and the surrounding area. The beautiful, lush Texas landscape facilitates plenty of outdoor activities; yet, nighttime hotspots also abound.
Outdoor Activities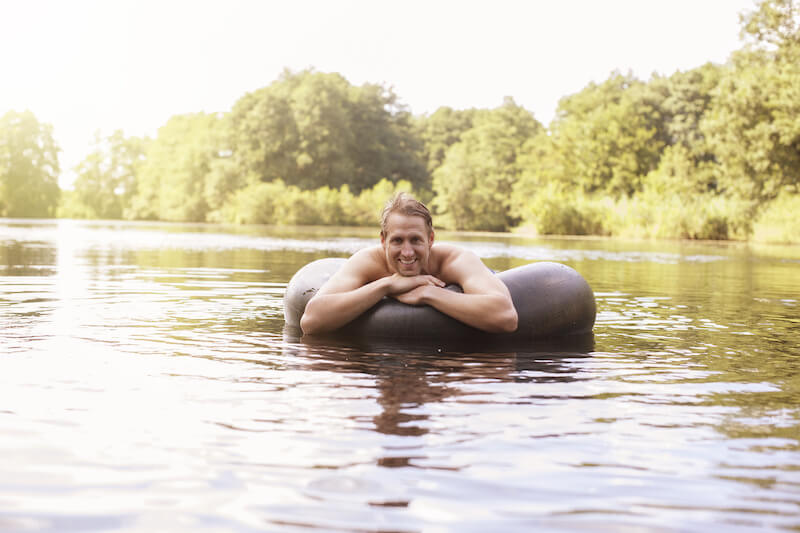 Austin's outdoor recreation is plentiful. Austin residents can participate in hikes, bike rides, and water activities with creeks, green belts, state parks, and springs. Some outdoor hotspots include Barton Creek Greenbelt, McKinney Falls State Park, and Pedernales Falls State Park, where the river runs through limestone cliffs and into the shaded seclusion of a mesquite forest.
San Antonio has a similar, robust outdoor activity selection. Hiking and biking trails are prolific, but a San Antonio favorite is tubing down the Guadalupe, San Marcos, Coma, and Frio rivers. One of San Antonio's most remarkable outdoor features is Canyon Lake. With a playground and one of the deepest lakes in Texas, the area's wooded hills, and various outdoor recreation opportunities, this area is a prime spot for camping throughout the year.
Sports
A variety of Division 1 and 2 sports teams play in the Austin area. Men and women's rugby consistently win national championships and play across divisions. Other sports teams play in soccer, football, hockey, baseball, and roller derby. Perhaps most notably, Austin's University of Texas Longhorns boast 51 national championship titles. Professional sports teams compare well with other national teams, but Austin's charitable groups also draw attention. Texas Rollergirls is a non-profit public charity, and Central Texas Wolfpack is a charitable football team raising money for agencies in central Texas.
Sports in San Antonio are not as varied as in Austin but are still profoundly beloved by city residents. Home to the San Antonio Spurs and women's San Antonio Stars basketball teams, sports fans in the area can also enjoy minor league baseball and soccer.
Nightlife
From concerts to nightclubs, comedy, and bars, Austin has it all for a bustling nightlife. Downtown Stubb's Barbecue is an Austin staple for authentic barbecue and live music. Nightclubs also abound, but a secretive local favorite, Barcelona, is an underground bar and dance club where the night's D.J. decides the vibe. Cap City Comedy Club offers big names and local stars in stand-up comedy for a more relaxed night out. Finally, bars in Austin are too plentiful to nail down to a single favorite. However, a notable location, Sholz Garten, still serves traditional German foods along with Texas favorites and a range of beers after 150 years in business.
San Antonio has an equally diverse nightlife. Blue Bonnet Palace hosts concerts of many different genres on their indoor and outdoor stages, starting with live music venues. The Ivory Lounge is an upscale nightclub with white leather furniture and specialty martinis to make one feel like a VIP. The Pegasus Night Club always includes lots of music and dancing. Finally, San Antonio's bars boast world-class drink selections. Mad Dogs British Pub Riverwalk offers draft and imported beers, exotic cocktails, and a tropical terrace to enjoy the drinks. Perhaps equally as historically significant, San Antonio's The Menger Bar sits in the 162-year old Menger Hotel.
Sports in Austin may be more varied, but competitive teams thrive in both cities. Outside recreation and nightlife may break even in the beautiful outdoor landscape, water activities, and bars. Each town has a remarkable number and variety of options for fun and relaxation, including historically significant bars and buildings that would add value to any outing.
Austin or San Antonio: Which City Sounds Like Home to You?
Those considering a move to Austin or San Antonio have a lot to consider. With job availability being a significant component, residents of both cities have nothing to fear. Low unemployment and rapid growth make for a thriving economy. As growing cities, both areas have significant commutes and rush hours to contend with, but there are suburbs near to downtown that may cut down on commute time. Finally, these cities have a wide variety of recreation opportunities for outdoors lovers and bar hoppers looking for unique drinks and scenery. These two major Texas cities have significant appeal for anyone looking to settle in a thriving metropolitan area.
If you're looking for an Austin home, contact The RealFX Group at (512) 956-7390 to get in touch with an experienced local real estate agent and discover your Austin dream home today.
Source https://greatplainstravel.com/drive-between-austin-and-san-antonio/
Source https://www.travelawaits.com/2739688/things-to-do-austin-to-san-antonio-i-35-texas/
Source https://www.realfx.com/blog/moving-to-austin-or-san-antonio/