Best Time to Visit Boracay

On this page, you will find information about the climate and the best time to visit Boracay. We created climate tables and charts for the location of Boracay. These contain details about temperatures, precipitation and more.
Furthermore, we analyzed all climate data and provide a recommendation about which months are best to visit Boracay for your holiday.
Climate Overview
Geography and General
Table of Contents
Boracay is a small island in the Philippines and covers just ten square kilometres off the coast of Panay.
Despite its small size, Boracay has become the most popular holiday destination in the Philippines in recent years. The most famous figurehead of the island is the beautiful beach section called White Beach.
Kitesurfers enjoy Bulabog Beach, while on Diniwid Beach and Puka Shell Beach the focus is usually on comparatively quiet bathing fun.
In general, Boracay – especially the tourist mile on White Beach – is also known for its vibrant nightlife. International media cheer the dream beaches and the diverse night life equally. No wonder that the island has experienced a real boom in the past decade.
If you landed on this small island in the early eighties as an adventurous globetrotter without electricity and tourist infrastructure, you probably won't recognize Boracay today at all. Nevertheless, the island has its very own, unmistakable charm.
Boracay is home to around 33,000 inhabitants, almost all the locals speak English and thus enable uncomplicated communication. Main languages are Tagalog and Cebuano.
Climate on Boracay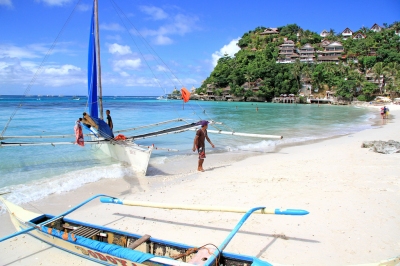 Boracay is located in the tropics and is under the constant influence of the ocean, the temperatures are therefore constantly high and there are only minor fluctuations during the course of the year. There are no classical seasons on Boracay, rather the climate of the Philippines island is mainly determined by the monsoon:
From about the end of November to the end of May the Amihan (north-east monsoon) prevails, from the beginning of June to the middle of November the Habagat (south-west monsoon) determines the climatic conditions decisively. "However,"monsoon" by no means refers to hurricanes or generally bad weather, but first of all only a certain climate season.
In fact, the hot low season on Boracay begins slowly in May, and the rainy season usually begins in the course of June. In general, there is a risk of typhoons in the Pacific Ocean, especially between July and November. During this time, the Philippines was repeatedly devastated.
The climate on Boracay outside the rainy season is much more pleasant. Towards the end of November, the humidity decreases noticeably, whereby it can come up to the end of the year again and again to stronger showers. From Christmas to Easter the absolute peak travel season on Boracay begins, January to April form the core of the dry season.
Best Time of Year to Visit Boracay
Greg Rodgers is a freelance writer and photographer from Kentucky. He's been covering all things Asia for TripSavvy since 2010.
Michele Falzone / Getty Images
Deciding the best time to visit Boracay in the Philippines is a little tricky. You'll have to choose between the risk of rain during the wetter months or dealing with growing crowds that come to enjoy the sunshine.
Boracay can be enjoyed practically any time of year, but don't get surprised by less-than-ideal weather or big holidays that cause room prices to skyrocket!
Understanding the Climate
Boracay is affected by two primary weather patterns: the Amihan and the Habagat. The Amihan season (beginning sometime in October) brings a cool, northeast wind blowing across the island; there is usually less precipitation. The Habagat season (beginning sometime in June) brings wind from the southwest and often plenty of rain as the southwest monsoon enters the region.
The best time of year to visit Boracay is ideally between the dry and wet seasons, during the transition months. With a little luck, you'll still enjoy nice weather as well as beat the crowds and rate increases. November is often a great month to visit Boracay.
The Dry Season
Predictably, the driest months on Boracay are also the busiest as crowds come to take advantage of the idyllic weather. If Boracay gets too busy, you could always escape to another island alternative in the Philippines.
Mother Nature doesn't always follow a set pattern, but Boracay Island experiences the least amount of rain between the months of November and April. February and March are often the driest months. The island still does receive periodic rain during the 'dry' months, and typhoons in the region can certainly produce plenty of days with perpetual rain.
The Rainy Season
The wettest months on Boracay are usually between May and October. Traveling during the low/rainy season does have some advantages. Along with fewer crowds on the beaches, you'll often find much better deals on hotels and people are more willing to negotiate prices with you. There are still plenty of sunny days to enjoy during the rainy season—it's all just a matter of luck!
The wettest months on Boracay are typically from July to October.
Temperatures
You probably won't have to worry about being chilly on Boracay, no matter what time of year you choose to visit! Average highs for the year are around 85 degrees Fahrenheit (29.4 degrees Celsius) and lows average around 75 degrees Fahrenheit (24.3 degrees Celsius).
The hottest months on Boracay usually coincide with the wet season, which means that there will be plenty of humidity if you wander too far from the coasts. Temperatures begin to rise in May and remain hot until October.
Typhoons and Tropical Storms in the Philippines
Although most tropical storms and typhoons hit the region during the Habagat period (July to September), they can affect Boracay at any time of year. In fact, Typhoon Haiyan, known locally as Typhoon Yolanda, was the deadliest in history and hit the Philippines in early November.
Planning Around Holidays
Along with the weather, big holidays should be taken into account when deciding the best time to visit Boracay. You can still enjoy the island during busy periods, but you're going to have to share! Along with busier beaches and buffets, prices for hotels will undoubtedly climb.
Some holidays that cause crowds to surge include Christmas, New Year, Chinese New Year, and Holy Week (the week leading up to Easter). Even if some holidays aren't given much fanfare locally, lots of tourists enjoying time off in their home countries will head to the island.
The Truth About Traveling to Boracay During Low Season
I love Boracay. Ever since my first visit to the Philippines' most popular beach in November 2013, I've dreamed about frolicking in its turquoise waters on oh so many occasions. I mean, look at it. It's no wonder White Beach is my second favorite beach in Southeast Asia. It's perfect!
White Beach during my visit in November 2013.
For those who don't know, Boracay is a tiny 7 kilometer-long island. The Philippine isle is dotted with sleepy beaches and hidden coves. But the main attraction is the world-famous White Beach, which takes up a whopping 4 kilometers of the island. This beach really is as pretty as they come. Sometimes…
Let's just say she can be a bit temperamental.
What to expect when traveling to Boracay during the low season…
What a lot of people don't know is that Boracay isn't always so picture perfect. And before I traveled there for the second time earlier this month (in July 2015) I wasn't really aware of this. Maybe I was just in denial. I mean I had heard that White Beach bears the brunt of Habagat.
Haba-what you ask?
Habagat is an annual wind that blows from June to October and the westerly-facing White Beach bears the brunt of these vicious winds.
Like most places in Southeast Asia, the Philippines' Habagat season (or the low season) has heavy rainfall, skyrocketing temperatures and high humidity. As a seasoned traveler, these are all things I'm very familiar with. I am actually a big fan of traveling during the offseason. Most of my Southeast Asian travels have occurred during the summer months. And I am very familiar with the monsoon season and the heat and humidity that come with it.
But Habagat was a special kind of beast.
I came to Boracay expecting the placid turquoise waters and the powdery white sand I had fallen so in love with during my previous visit. But what I found instead was a tumultuous sea and an endless barrage of 2-5 foot waves. White Beach, which I remember to be a wide swath of white sand, was under water for most of the day, reduced to nothing more than a narrow ribbon of sand.
Walking on the main beach drag was like walking through a wind tunnel. People were leaning forward fighting to forge ahead, sun hats were blowing off women's heads, the fine sand was pelting bare faces and legs. On my first day in Boracay, I realized perhaps a little sundress wasn't the best attire after my, very ungraceful, Marilyn Monroe moment.
What I found out during my week-long visit to the island is that Habagat is kind of brutal. Boracay's businesses try their best to keep customers comfortable and happy by lining White Beach with two-story wind guards, which shield visitors from the lashing winds and tiny sand missiles. The wind guards are kind of a life saver but they also detract from the beauty of White Beach. During this time of year there are no candlelit dinners on the beach, no sunset cocktails lounging on beanbag chairs, no restaurants with an ocean view.
The winds get so bad at this time of year that many hotels have Habagat specials, offering major discounts to travelers in an effort to drum up business.
I spent a total of six days in Boracay in the month of July and while I did my best to enjoy my time there, I can't say I would choose to travel to Boracay in July again. The beach I saw, while still ruggedly beautiful, didn't resemble the beach I visited in November 2013. That being said, it's always possible that I had really bad luck (something that seems to plague my travels these days). In the future I'd probably avoid the months of June and July, but I have a feeling that August-October might be pretty ideal.
The perks of traveling to Boracay during the low season:
I will say that there are some great reasons to travel to Boracay in the low season. One of the main reasons I decided to visit Boracay in July was because I read quite a few blog posts about the perks of traveling to Boracay during the low season months. And while Habagat kind of ravaged White Beach and the weather didn't cooperate, when the sun did come out it was still beautiful. In my opinion, the low season still has a lot going for it.
When the sun comes out it's still pretty gorgeous!
Discounted Hotels
I did get a substantial discount on my hotel. Just to give you an idea I stayed at Alice's Boracay in the semi-budget area between piers 2 and 3. I ended up paying 1280 pesos ($28 US) for a double room per night at Alice's Resort, which was about a 30% discount off the high season rate.
Seriously, just go onto Agoda and you'll find that hotels are heavily discounted at this time of year. Also, feel free to negotiate. There are so many hotels in Boracay that you can easily get a 20-50% discount and get breakfast included during this time of year, especially if you agree to stay a week or longer.
Fewer Tourists
The number one issue travelers have with Boracay is that it's too touristy. (UPDATE: In 2018, the government closed Boracay for six months to clean up the island and deal with the impact over tourism has had on the destination. So the touristy Boracay I experienced may not exist anymore. I'm not sure though since I've not been back.) In fact, this nearly deterred me from ever even visiting. And it's true, the tons and tons of visitors who flood White Beach year in and year out can take away from the experience. That's where the low season comes in.
A lot of people make it sound like if you travel to Boracay during the low season, you're going to have the place all to yourself. If you are expecting this you'll be sorely disappointed. Boracay is still touristy during the low season. But the number of tourists is much more manageable during these months.
Cheaper Flights
The low season is also a great time to snag cheap tickets to and around the Philippines. I flew from Kuala Lumpur to Kalibo for $45 US. Not too shabby for a 4-hour flight. Check out out Philippine Air and AirAsia for cheap tickets.
I wouldn't say that my trip to Boracay was a total bust. Like I said before, I love Boracay. But I really do wish that I'd known just how different White Beach would be in the low season. There is always a chance that I just had really bad luck with the weather during my visit. So please, please do your own research before altering your travel plans. Boracay is a wonderful place. It is seriously paradise and I know I'll be back many, many times in the future.
Do you have experience traveling to Boracay in the low season? I'd love to hear about your experience in the comments! I'm curious to see if I had back luck or if this is the norm at this time of year.
You can also keep up with me on Instagram, Facebook and Twitter!
Source https://www.sunpope.com/boracay/
Source https://www.tripsavvy.com/when-to-visit-boracay-1458698
Source http://travel-lush.com/the-truth-about-traveling-to-boracay-low-season/