10 Best State Fairs to Visit this Year
The state fair is a yearly American tradition. Taking place in late summer and early fall, state fairs celebrate a state's cultural history with exhibits, attractions such as live-music and entertainment, and always great fair food. Every year there are hundreds of fairs across the country, but here we've outlined the 10 best state fairs to visit this year.
10. Arizona State Fair
The Arizona State Fair in Phoenix is one of the largest state fairs in the country, consistently ranking in the top 5 for average yearly attendance. Over a million visitors attend the fair each year. There, they can take part in over 75 amusement rides and over a hundred different food booths. The central state also always has popular performers on top of the always present live-music being performed around the fairgrounds.
9. Washington State Fair
Formerly known as the Puyallup Fair, the Washington State Fair is one of the largest in the country. It's grown significantly in the last few decades to well over a million visitors each year. The fair still centers around the agricultural heritage of the state, and has many exhibits and activities centered around farming, as well as abundant fresh locally grown products.
Trover Photo by Quentin Doroquez, Washington State Fair
But that's not all that the fair provides. The Knockout Concert Series brings together some of the most popular acts in the country. Wash that all down with some of the most exciting food and drink vendors in the state.
8. Wisconsin State Fair
For eleven days each year, the Wisconsin State Fair takes over the month of August. The fair is especially noted for its many culinary fried delicacies. The state is famous for its fried cheese curds, and some of the best can be found at the fair. Don't forget to sample the deep fried maple bacon cookie dough, peanut butter buffalo burgers or other concoctions on the menu in West Allis, Wisconsin.
7. Kentucky State Fair
It's no surprise that the state that made the Kentucky Derby and Bluegrass Music would know how to put on a great state fair. From their legendary horse shows to fantastic music venues, the Kentucky State Fair is one of the summer's top events in Louisville. Along with the big names in their concert series, horse displays and agricultural exhibits, the fair also has the great Southern fair food you'd expect to see.
6. The Great New York State Fair
One of the country's oldest state fairs, the Great New York State Fair takes place in Syracuse for thirteen days. The state's great agricultural heritage and history takes center stage at the fair, with many different exhibits and activities. The fair also has ample entertainment in live-music and attractions. Finally, don't leave without sampling some of the fare from the Taste NY Food Truck Competition that goes on each year.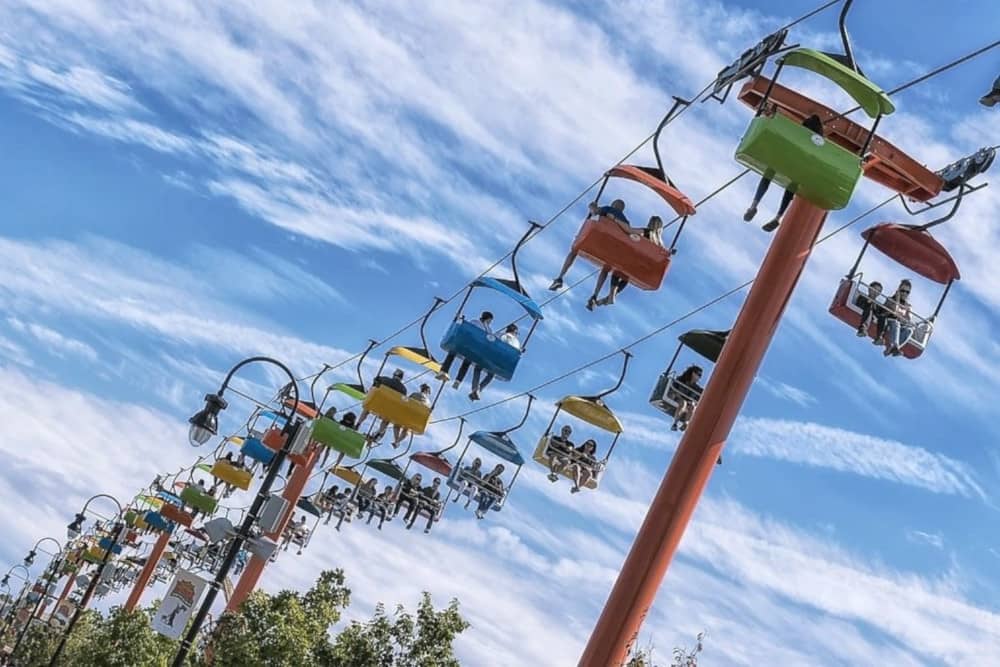 Trover Photo by Gary Burke, The Great New York State Fair
5. North Carolina State Fair
The North Carolina State Fair takes place each year in Raleigh and features agricultural exhibits, attractions such as Ferris wheels and amusement rides, along with live-music and great fair food. Walk through the different agricultural competitions, and stay for the nightly fireworks show.
4. The Big E
The Big E, or Eastern States Exposition is a combined state fair featuring the states of Connecticut, Maine, Massachusetts, New Hampshire, Rhode Island and Vermont. With that many states being featured, the Big E is a one of the largest fairs in the country.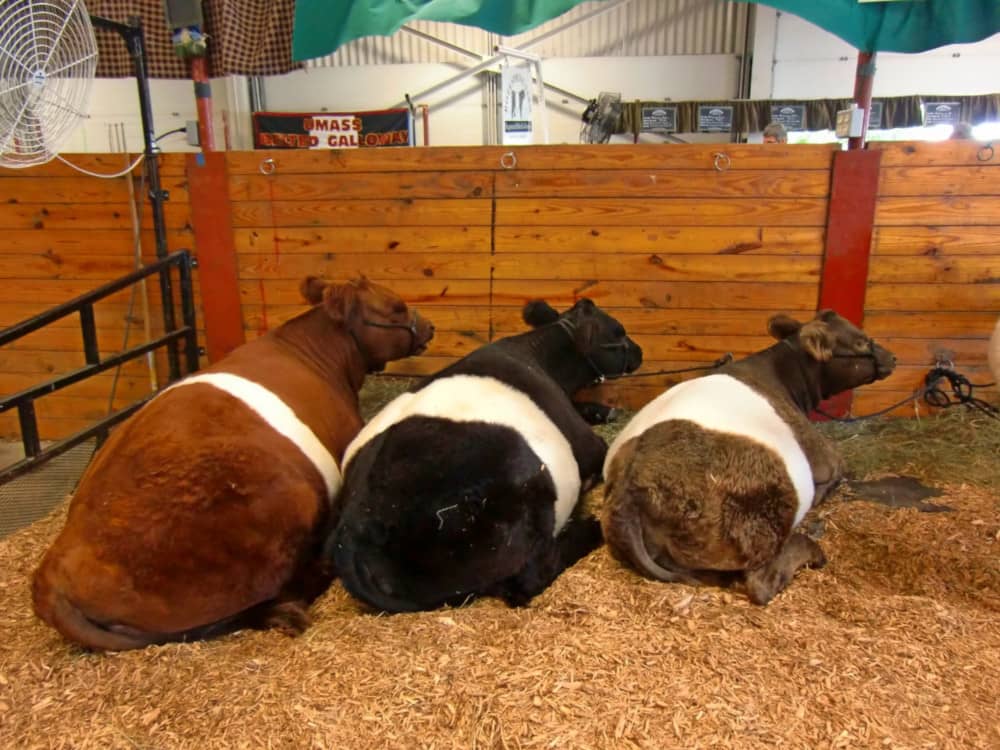 Trover Photo by Jennifer Brockaw, The Eastern States Exposition
Traditional fair foods from each of the states are prominently featured, with favorites like corn dogs, fried dough, or new inventions such as bacon cheeseburgers on glazed donut buns. The Big E Concert Series provides an open-air performing setting with big-name bands and musicians.
3. Iowa State Fair
With well over a million visitors each year, the Iowa State Fair is one of the country's largest and best known. Agricultural contests are common throughout the fair, most famously featuring the Butter Cow. This cow is sculpted each year out of pure butter and makes an appearance at the fairgrounds. Other famous butter sculptures through the years have been Elvis Presely, as well as a butter rendition of Leonardo Da Vinci's "The Last Supper".
Trover Photo by Jumpseat Explorer, Iowa State Fair
The Iowa State Fair is famous for their fried food, and over the years as featured fried Snickers, Oreos, fried Coke, and perhaps most infamously, fried butter.
2. State Fair of Texas
With an attendance of over two million, the State Fair of Texas is often the largest fair in the nation. The fair begins with opening day ceremonies and an annual Friday parade through downtown Dallas. The festivities continue with an annual college football game between Oklahoma and Texas, known as the Red River Rivalry. The State Fair of Texas is also the only state fair to feature a full auto show.
Trover Photo by Sweetphotoingnomas, State Fair of Texas
When it comes to bizarre fair foods, Texas can't be beat. Recent fairs have included fried avocados, fried peanut butter and jelly, fried s'mores, and deep fried chicken bacon.
1. Minnesota State Fair
The largest fair in the country by daily attendance, the Minnesota State Fair is not an event to miss. The fair features entertainment, agricultural exhibits, as well as attractions and activities for residents to showcase their unique talents. Art galleries, crafts stands and live-music are omnipresent throughout the fairgrounds. The juried competition of fine arts is one of the fairs most unique and exciting attractions and features incredible pieces from Minnesota residents.
Trover Photo by Angelica B., Iowa State Fair
The fair also has an annual 5-k run and horse showmanship show. The Grandstand, a music venue with seating for up to 17,000 features some of the biggest national names. Finally, the fair food can't be beat. Along with the usual fried eccentricities, there are treats such as "Sweet Martha's Cookies", a cookie stand that serves chocolate chip cookies by the bucket.
More Like This
This Lunar New Year, Expedia returns with a "roaring" new set of travel predictions for the Year of the Tiger, developed by popular Hong Kong-based Fengshui Master, Qi Xian Yu.
The global impact of coronavirus is affecting travelers everywhere. Here's how you can prepare and what to expect if you booked travel with Expedia.
The global impact of coronavirus is affecting travelers everywhere. Here's how you can prepare and what to expect if you booked travel with Expedia.
Expedia, Inc. is not responsible for content on external Web sites.
© 2021 Expedia, Inc., an Expedia Group company. All rights reserved. Expedia and the Airplane Logo are trademarks or registered trademarks of Expedia, Inc. CST# 2029030-50.
Arizona State Fair
Judy Hedding is a Phoenix resident and has written more than 1,000 articles about Greater Phoenix and Arizona since 2000.
Each year about one million people, Arizona residents as well as visitors from other states, come to Phoenix to attend the Arizona State Fair. The phrase "something for everyone" has never had more meaning than when applied to the fair. Of course, kids and teens love the fair, but adults can enjoy the entertainment and activities just like their younger counterparts.
When is the Arizona State Fair?
The dates for the 133rd Arizona State Fair are October 5–28, 2018. The Fair is closed on Mondays and Tuesdays. Wednesday through Friday the Arizona State Fair opens at noon. On Saturdays and Sundays gates open at 11 a.m.
2017 Single Day Regular Admission
Ages 6-13: $7
Ages 14-54: $10
Ages 55 and up: $7
Ages 5 and under are admitted free
Included in the Price of Admission
Going to the Arizona State Fair doesn't have to use up your monthly entertainment budget. There are plenty of things to do that are free once you are in. Rodeos, racing, petting zoo, science, 4-H exhibits, and more are available at no extra charge once you have paid your general admission to the fair.
Rides
The Midway is where a lot of the action takes place. You can buy tickets in various package options, including all day ride wristbands. There's a service charge for buying tickets online.
Additional Admission Packages
In addition to all day wristbands for rides, Season Passes and Fast Passes (front-of-the-line ride passes), VIP parking and advance daily admission passes are also offered. You can check out all the ticket package options online.
Win First Prize
There are several competitions at the Arizona State Fair this year, including various cooking and eating contests as well as online contests.
Where Is It?
The State Fair is held at the Fairgrounds (where else?) at 1826 W. McDowell Rd (19th Ave & McDowell Rd) in Phoenix, AZ. There is a $10 charge for parking at the fairgrounds. Parking is $5 in the 20th Ave. & Encanto parking lot (SW corner of 19th Ave & Encanto). You can park for free at the State Capitol Building parking lot at Washington and 19th Avenue on Friday nights and after 10 a.m. on Saturdays and Sundays. That's about a mile and a half away. Here's a map, parking details, shuttle details and directions to the Fairgrounds.
The Arizona Department of Transportation usually provides detailed motorist information, including any travel or road restrictions, for this event. Call 5-1-1, then *7. The call is free.
Arizona State Fair 2018 Concert Schedule
One of the most popular attractions at the Arizona State Fair has to be the concert program. Where else can you see internationally known performers for the price of admission?
General Admission concert seating is free with your admission to the Arizona State Fair. You can also reserve seats in advance; reserved seats are cheaper than your typical concert tour ticket charge. You may purchase tickets for reserved seats:
at the Box Office located at 1826 W. McDowell Road in Phoenix from 10 a.m. to 5 p.m., Monday – Friday. The Arizona State Fair box office is open for walk-up sales only, no phone calls.
online
Here's this year's concert schedule:
Friday, October 5 at 7 p.m.
Garry Allan
Saturday, October 6 at 7 p.m.
The Flaming Lips
Wednesday, October 10 at 7 p.m.
38
Thursday, October 11 at 7 p.m.
Wallflowers
Friday, October 12 at 7 p.m.
Fiesta Friday
Wendesday, October 17 at 7 p.m.
Pitbull
Thursday, October 18 at 7 p.m.
Anthrax
Friday, October 19 at 7 p.m.
Paulina Rubio
Saturday, October 20 at 7 p.m.
Big and Rich
Wednesday, October 24 at 7 p.m.
Casting Crowns
Thursday, October 25 at 7 p.m.
Nathaniel Rateliff & The Night Sweats
Friday, October 26 at 7 p.m.
Old School Jam
Tip: Doors open one hour before concert time. For popular concerts, it is not unusual for people to line up an hour before the doors open (two hours before concert time) for general admission seating. There are more than 14,000 seats in the Veterans Memorial Coliseum.
Arizona State Fair Annual Favorite Attractions
Arizona Milk Producers' Milking Parlor
Copper Gloves Boxing
Flying Meatball Circus
Fry's Culinary Stage
Godfrey The Magician
The Great American Petting Zoo
Kerr's Farm Tours
Mitchell's Marionettes
Native Spirit
rePercusssion
Roberto the Magnificent
Sale of Champions
Swifty Swine Swimming and Racing Pig Show
The Backyard
Thunderbird Model Railroad Club Display
Tyzen the Hypnotist
Quarter Midget Racing
FMX & Democross & Freestyle Monster Trucks
All-Indian Rodeo
Figure 8 Racing
High School Rodeo
Bring Your Appetite and Your Courage!
Arizona State Fair foods are always a big hit, with something new every year. My favorite fair foods are pretty traditional. You know, like spuds and chocolate covered scorpions.
Discounts on Admission and Rides at the Arizona State Fair
The only thing better than going to the Arizona State Fair is getting a great deal when you go! Here are the special promotions and discounts usually offered at the Arizona State Fair. Ride promotions do not include Extreme Rides, Gravity Storm, or rock wall rides. These offers may not be used in conjunction with other offers or coupons. No refunds.
Admissions are available to purchase online at a discounted price before the Arizona State Fair begins. A General Admission ticket is good for any one day of the Fair and admits one person.
After opening day you can check online to find discounts and bargains for almost every day that the Arizona State Fair takes place!
Note: Ride promotions may exclude certain rides and activities.
Where to Stay: Hotels and Motels Within About Three Miles of the Arizona State Fairgrounds
People come from all over the country to attend the Arizona State Fair, and it can be difficult to determine which hotel to choose. Here are a few things for you to consider.
The Arizona State Fair Is Back: Here Are 9 Things to Do at This Fall Tradition.
Photo courtesy Arizona State Fair
The fried Twinkies and turkey legs are calling our names.
One of metro Phoenix's most beloved fall traditions has returned: the Arizona State Fair is happening now through Oct. 30 from Thursdays through Sundays. If you've ever been, you know the state fair is truly a smorgasbord for the senses.
General admission tickets cost $15 each. On Oct. 14, 21, and 28 from noon to 6 p.m., you can bring in 10 cans of non-perishable food to benefit St. Mary's Food Bank and receive free admission. Ride and game tickets are available for a separate fee.
Here's what to see, do and eat at the fair.
Order a Cinnamon Toast funnel cake—and other classic fair foods
Image via Arizona State Fair
One of the main attractions that keeps people returning to the fair time and time again is classic fair food. The fair's website even proclaims that it's "Now open for fried fun on a stick."
Dive into funnel cake dusted with powdered sugar, fried Twinkies, turkey legs, deep-fried Snickers, and hot dogs galore.
A few food highlights include: a colossal eight-inch plate-sized donut at Texas Donut. Another novelty at this year's fair is the Cinnamon Toast funnel cake. If you want to go high-end, there's an option for you. Piggly's Seafood is serving a lobster roll and lobster fries.
And because fair food is typically known for its enormous portion sizes, you may want to check out Taste of the Fair Fridays. For just $3 each, you can sample small sizes of Fair Favorites from noon to 6 p.m. Every fair stand will offer at least one $3 food item.
Be enamored by a circus performance
Image via Arizona State Fair
From Sept. 29 to Oct. 9, watch a vibrant performance of the Omnium Circus' "I'm Possible."
In this show, a young boy dreams of joining the circus. Expect aerial artistry, flying hula hoops, a free-standing ladder, and other circus tricks.
Keep in Mind: This is a separate ticket. Purchase of a circus ticket includes admission to the fair.
Get up close and personal with a miniature donkey
Image via Arizona State Fair
The fair is home to the Great American Petting Zoo, which takes place at the Agricultural Center. Look forward to getting up close to a variety of (mostly) farm animals. You might see cows, ducks, donkeys, goats, donkeys, sheep, billy goats, chickens, colorful birds, llamas, pigs, and more.
Pro Tip: The fair is also known for its Oasis Camel Dairy where you can milk camels. Yes!
Experience zero gravity and more thrills on carnival rides
Image via Arizona State Fair
Kids—or kids at heart—will delight in riding on various carnival rides. They can take a spin on the carousel, enjoy the mini bumper cars, stand in a zero gravity machine, ride two different Ferris wheels, or slide down the colorful 42-inch Euroslide. Take in a bird's eye view of the entire fairgrounds if you take the Skyride chairlift.
Learn more about individual rides here. Ride tickets are sold separately. Guests can purchase wristbands for $50 and get unlimited rides on Thursdays.
Free Ride: Additionally, kids can get up to three free rides for reading books. One book read equals one free ride. A parent, teacher, or guardian will need to sign the Official Red and Ride Report available here to score this deal.
Listen to live music
Photo courtesy Arizona State Fair
Included with admission is the Backyard Concert Series. Fair-goers can enjoy live music from tribute bands like Super Diamond, a tribute to Neil Diamond, on Oct. 27, and Green Today, a tribute to Green Day, on Oct. 28.
Here's a complete list of artists slated to perform. All of the tribute bands perform at the Backyard Stage.
Be astounded at a magic show and other live entertainment
Image via Arizona State Fair
The fair hosts an array of dynamic entertainers. From Oct. 20 to Oct. 30, see Godfrey the Magician at the Carnival Stage. Watch ventriloquist Joe Gandelman perform on the Carnival Stage and around the fairgrounds on Oct. 30. Attendees can even watch a Paradise Perch Bird Show.
Get your holiday shopping done early
Fair-goers can also shop for products from a variety of vendors at a few places on the grounds. Find shoes, leather goods, homemade fudge, mattresses, patio furniture, holiday gifts, and more at the Shopping Pavilion and the Hangout, both on the south side of the grounds. You can also find more vendors under the Grandstand at the Mercado.
Bonus: The Hangout also features a bar and even arm wrestling contests.
Chat up some creators about their artwork
Photo courtesy Arizona State Fair
Head inside the Coliseum to see a variety of artwork from artists competing for ribbons. See sculptures, quilts, fine art wood carvings, chalk art, painting, and photography displayed throughout.
You also can watch demos here. See chef whip up baked good—and maybe even sample some—or learn how to knit and crochet.
Scream your support for the entertainers willing to brave monster trucks and bull-riding
Image courtesy Arizona State Fair
On the closing weekend of the fair, you can watch Monster Trucks tear it up at the Grandstand from Oct. 28 to 30. On Oct. 22, watch Xtreme Arizona Bull Riding. See the rodeo on Oct. 7, 14, Oct. 15, and Oct. 21. These events are included with the price of admission, and all take place at the Grandstand.
Visit azstatefair.com for more information and to purchase tickets.
Want to discover more fun things to do across Arizona? Follow us on Instagram!
Teresa K. Traverse Teresa K. Traverse is a freelance writer and editor who's based in Phoenix, Arizona. She's also a dog mom, a traveler, and a magazine aficionado who's always searching for her next great cup of coffee.
Source https://www.expedia.com/stories/10-best-state-fairs-to-visit-this-year/
Source https://www.tripsavvy.com/arizona-state-fair-2677406
Source https://coppercourier.com/story/arizona-state-fair-must-see-attractions/