Best Places to Stay in Dubai: 2022 Guide to Dubai Accommodation For All Budgets
The city of Dubai has been transformed only over a matter of decades from a small fishing village and trading port to one of the mega-cities of the Middle East.
Renowned for its glitzy and glamourous exterior and Arabian allure – not to mention year-round sunshine, it's far more than just a stopover city these days. From families to couples, business travellers to backpackers and everything in between, modern Dubai has so much to offer.
But where will you find the best places to stay in Dubai? With over 3000 hotels, let alone rental properties and apartments, it's tough to know where to start. Your decision will likely depend on:
Your reason for visiting Dubai
How many are in your travelling party
Budget to spend on accommodation
We are firstly going to take you through the layout of the city so you can understand how the different areas of Dubai relate to one another, then we will jump into the detail of top Dubai hotels to suit:
Please note this page contains affiliate links. Should you book any of the hotels, AirBnBs or hostels after clicking on our links we may earn a small commission at no additional cost to you.
Best areas to stay in Dubai – Dubai city layout
Dubai is a long, spread out city largely based along a 40 kilometre or so stretch of the Arabian Gulf coast. In recent years, development has very much encroached inland on the desert and there are more "up and coming areas" then there are food trucks (though that can be a close tie in Dubai).
There is no city centre of Dubai per se, so you should base where you stay around the type of Dubai trip you are after. Unlikely many other cities, a lot of Dubai is not walkable which makes choosing the best area in Dubai even more essential.
The location you choose as a visitor to Dubai can be absolutely key to your Dubai experience. Whilst the public transportation network in Dubai is reasonably comprehensive it largely operates around the strip of Sheikh Zayed Road, which runs through the heart of the city parallel to the coast. You don't want to spend half your time traipsing across the city so plan wisely.
We would recommend for tourists on longer stays to get themselves well placed for transport and with relaxation facilities. If you are on shorter stays, place yourself nearer to the airport. There is certainly no "one size fits all" experience for Dubai – and yes budget plays a big part
Top Tourist Areas of Dubai
Let's look at each of these areas in much more detail and top accommodation choices for each budget.
Places to stay in Dubai – Downtown Dubai
Think the Burj Khalifa, the Dubai Mall and all the buildings that sit around these top attractions including sweeping skyscrapers, the Dubai Opera and all the amenities the Dubai Mall has to offer from its epic Aquarium to the Olympic-sized ice skating rink, cinemas, KidZania, VR Park, and even the Burj Park nestled in between – not to mention the nightly light & sound Dubai fountain show that's wowed visiting crowds for years.
You are also in good proximity to the airport and the older historic parts of Dubai. The downtown are of Dubai would be our top pick for shorter stays on a reasonable budget who will mostly be out and about exploring and don't want to spend all their time at the beach.
Staying in Downtown Dubai gives you brilliant access to the Dubai Mall, Burj Khalifa and beautiful water front promenades
Pros of staying in Downtown – Incredibly central and convenient to main attractions and the city's best restaurants, top city bars; easily walkable promenades and Metro connection, all the way through to Dubai International Airport (DXB).
Cons of staying in Downtown – It can seriously dent your budget! Convenience does not come cheap in top tourist areas. You also miss some of the benefits of sunset on the Arabian Gulf coast and the more lively buzz of Dubai Marina & JBR (more below!).
Our top accommodation picks for Downtown Dubai:
Budget – Rove Downtown
Hostel – Friends House Hostel
Mid-range – Renaissance Downtown Hotel
Luxury – Palace Downtown
Family / Hotel Apartment – Ramada Downtown Dubai
Places to stay in Dubai – Dubai Marina
A man-made marina area sitting to the west of the city, this is another hub of tourist activity. The incredibly picturesque marina surrounded by high-rise towers is home to several of Dubai's top dining & nightlife options.
Dubai Marina is the departure point for many cruises as well as the Dubai Water Taxi & Dubai Water Bus which can take you to Downtown.
The Dubai Tram also runs from Dubai Marina to Dubai Media City and on the south side of the Marina, you can connect with the Red Metro.
Pros of staying in Dubai Marina – It really has everything holidaymakers need at hand and great transport connections, close to Dubai Parks & Resorts and Abu Dhabi border, minutes to JBR The Walk & The Beach. Enjoy the beauty of overlooking the marina action and a fabulous nightlife vibe.
The other huge advantage of staying in Dubai Marina is nearly all rooms are hotel apartments meaning you have extra kitchen and washing amenities – great for longer stays. There's also a good range of alternate AirBnB options in Dubai Marina which we look at here (you won't believe some of the spectacular high-rise options!)
Cons of staying in Dubai Marina – You are quite far from DXB airport and the attractions of Downtown; Depending on what side of the marina you may still have some considerably walking to do. Cheaper options than Downtown but still costly for tourists on a tight budget.
Our top accommodation picks for Dubai Marina
Budget – Rove Dubai Marina
Hostel – At The Top
Mid-range – Grosvenor House Hotel & Apartments
Luxury – Address Dubai Marina
Family / Hotel Apartment – Dubai Marriott Harbour Hotel & Suites
Places to Stay in Dubai – Jumeirah Beach and JBR
It's important to note these really are two separate things. "Jumeirah" is often loosely used to refer to pretty much any areas along the beach frontage of Dubai from Bur Dubai to the northeast all the way down to Dubai Marina.
JBR is short for "Jumeirah Beach Residence" which sits wedged between the beach front (aptly named "The Beach") and the adjacent promenade area "The Walk" to the north and Dubai Marina to the South. Here you will find some of Dubai's best beachside accommodation and hotel apartments perfect for families. Not all may have their own private beach but you may get beach club access and almost certainly some sea views.
As the name might strongly suggest, this is a great area to stay if you are seeking out some sun, beach, water sports and pool time during your time in Dubai, whilst still wanting to be well-connected to the rest of the city. It's arguably the top spot for tourists as the area is walkable and has so much to offer.
The distinctive high-rises that line JBR can be a great value beachfront option in Dubai
Other areas of Jumeirah Beach to look out for as there are plentiful amenities nearby are the Jumeirah chain hotels attached to Souk Madinat Jumeirah, Jumeirah Beach Hotel (attached to Wild Wadi), the ultra-luxurious Burj Al Arab and up and coming La Mer beachfront area to the north, including Pearl Jumeirah & Nikki Beach.
There's also Le Meridien Mina Seyahi, One&Only Royal Mirage & Four Seasons to name but a few of the luxurious hotels in Jumeirah with their own private beach frontages to consider along Jumeriah Beach. You may find private villa accommodation on AirBnB in this area too.
NB: There isn't really "budget" when it comes to staying right on the beach. You can certainly get much cheaper hotels along JBR and immediately inland within Dubai Marina if you are happy to compromise on star-rating and facilities. Along the beach, you can bank on a minimum of $100 USD per night starting price – but there are a few hidden highrise shared dorm hostels to consider.
Ultra luxurious beach front at One&Only Royal Mirage, Jumeirah Beach east of JBR
Pros of staying in JBR / Jumeirah Beach – Access to the beach, of course! The unmissable soft white stands and superb sundowner locations all along the coast. JBR has the added
Cons of staying in JBR / Jumeirah Beach – The resorts further along the coast from JBR are not really walkable to anything. Some will offer complimentary shuttle services to attractions such as Mall of the Emirates, but you're otherwise a little "trapped in". You're also some distance from the airport.
Our top accommodation picks for JBR / Jumeirah Beach
We also recommend you check out our guide to the Best Dubai Beach Resorts With Private Beach which captures many of the Jumeirah Beach properties.
If staying actually on the beach isn't in your budget, there are plenty of public beaches in Dubai you can day trip to or spoil yourself to a one-off day at a luxury beach club.
Places to Stay in Dubai – The Palm Jumeirah
Now let's clarify any name confusion again; the Palm Jumeirah very specifically refers to the manmade peninsular that juts into the Persian Gulf from Jumeirah. It is bathed in luxury housing and apartments and a plethora of luxury resorts. You really need to take a helicopter ride or skydive to take in just how vast this offshore development is!
This is your ideal serene resort break where you may not even want to leave your hotel! All the resorts are frankly incredible, world-class quality, it'll simply come down to your individual budget as it's nearly all 5-star hotels, though some budget and mid-range options are opening up along Palm West Beach.
As per Jumeirah Beach, you won't really get "budget" but we've picked out the best value luxury choices.
Luxury resorts are strung around the outer crescents of the Palm Jumeirah, whilst luxury villas can be found on the inner fronds for big family choices
Pros of staying on Palm Jumeirah – A stunning taste of Dubai luxury, ample outdoor activities and amazing sunsets over the Arabian Gulf to be enjoyed.
Cons of staying on Palm Jumeirah – The price tag will put most average travellers off staying on the Palm. You're also quite far from the airport – and almost everything else in Dubai! There's only one road on and off the Palm so expect lots of taxis/transfers and long commutes if you want to sightsee or get back to DXB Airport.
Budget – Andaz by Hyatt Palm Jumeirah
Mid-range – Fairmontthe Palm
Luxury – They're all amazing, see them compared here
Family / Hotel Apartment – Rixos the Palm Hotel & Suites
Places to stay in Dubai – Bur Dubai
Often referred to as "Old Dubai" or historical Dubai, this is where you will find the city's oldest buildings including the Dubai Museum, the Al Fahidi Historical Neighbourhood and the more modern additions of Al Seef and Al Jaddaf, as well as the large parklands that surround Dubai Creek.
While some would argue you get a much more authentic Dubai experience here, others will complain that the hotels are a bit more run down – "old" in Dubai terms can simply mean the hotel has been there since the 1990s! It is still one of the best areas to stay in Dubai.
Bur Dubai sits on the western side of Dubai Creek and encompasses many smaller and older areas of the city
There is a real mixed bag of accommodation in Bur Dubai these days as newer developments are bringing new brand-name hotels to the area, but in traditional Arabic styling to blend into the redeveloped areas of the city. You will find bargain basement digs too for those on an absolute shoestring budget.
(NB the area we're describing "Bur Dubai" means Mainland Dubai – we have encapsulated Al Karama, Oud Metha, Al Seef, Al Jaddaf through to Zabeel and the start of Sheikh Zayed Road highrises)
Pros of staying in Bur Dubai – Undoubtedly, it's the corner of the city where 5-star luxury comes without the humongous price tag, and you can enjoy some great rooftop views back to Bur Dubai.
It's an excellent choice for apartment-style accommodation and positioning yourself well, you can be less than 10 minutes to the Metro which takes you to Downtown Dubai in minutes. For convenience, you are also only 10 to 15 minutes away from the airport. There's a lot to love about "Old Dubai"!
Cons of staying Bur Dubai – accommodation can be dated so choose wisely. Newer hotels are great but can push up the cost of those around them so maybe not always the bargain are you suspect!
Best accommodation options in Bur Dubai
Places to stay in Dubai – Deira
Just across the creek from Bur Dubai on the eastern bank you will find another of Dubai's older neighbourhoods and home to the city's famous gold and spice souks.
Providing good transport links, you are close to Downtown still with the Red Metro connection, really near to the airport – making it a favourite location with long layover passengers for DXB and you are only moments away from neighbouring Emirate Sharjah.
Not everything in Deira is old and cheap – there are many luxury hotels and even a golf course to be found along Dubai Creek with unrivalled views of the city and incredible boardwalk restaurants along the waterfront to enjoy. However, like Bur Dubai, these luxury hotels are often at a fraction of the cost for what you get compared to Downtown.
Pros of staying in Deira – You are close the city and cheaper than many other locations; Deira is also a favourite area for foodies and cheap eats as well as bargain hunters.
Cons of staying in Deira – Many hotel choices are dated. It can be a noisier area of the city at night with traffic congestion.
Places to Stay in Dubai – Al Quoz & Al Barsha
Set back from the beachfront you will find Al Barsha – best described as the area surrounding the Mall of the Emirates, Al Quoz is one of the city's up and coming areas best known as the city's art and cultural district.
In between the often-industrial feel from the outside, there are hidden gems designer cafes and fitness studios mixed in with skate parks. Enjoy the Alserkal Avenue Arts District, Brekkie at Tom & Serg; It's definitely an area to keep your eye on for experiencing a newer side of Dubai.
Al Barsha is the area of the city you'll find the Mall of the Emirates, famed for its indoor ski slope but also home to a huge number of fashion outlets making it a shopper's paradise. You'll find some hotels are attached to the Mall whilst others sit a block or so away
Pros of staying in Al Qouz/Al Barsha – Good value for money and good-sized rooms close to transport connections (many next to Mashreq Metro).
Cons of staying in Al Quoz/Al Barsha – It's a little bit no-man's land. Most of the budget accommodation is not easy walking distance to Metro or nearby attractions. Some areas are quite new and still lack the character of the older areas of Dubai nearer to the Creek
Budget – Rose Park Hotel Al Barsha
Midrange –Sheraton Mall of the Emirates
Luxury – Kempinski Hotel Mall of the Emirates
Family / Hotel Apartment –Doubletree by Hilton Hotel & Residences
Places to stay in Dubai – the Desert & Beyond
Beyond the city of Dubai, when the skyscrapers end and the endless housing estates slowly peter out, there's an awful lot of sand! There are a few small townships beyond the city and into the mountains (yes, the United Arab Emirates has mountains!) such as Hatta, but no other big towns, within the Dubai Emirate.
Remember there is a whole lot more UAE to explore – don't limit yourself to just Dubai Emirate. You can find our complete guide to what can be found beyond in the 7 Emirates of the UAE here.
Al Maha exclusive luxury desert accommodation for adults only
Exploring the desert is no doubt on your to do list for Dubai too, but did you know you can actually stay in the desert overnight?
Two top choices to consider for desert-style luxury:
Al Maha in the Dubai Desert Conservation Reserve
Bab al Shams Desert Resort & Spa
You can see our complete guide to Dubai & UAE luxury desert stays here, or for those who prefer to get even closer to nature, a great guide here on where to camp overnight in Dubai.
So now we've got you geographically sorted in Dubai, let's start to look at particular traveller types and which areas and accommodation choices might suit you best.
Best areas to stay and hotels in Dubai for Business Travellers
If you are here for a conference or going to the World Trade Centre, there are many hotels that line the first section of Sheikh Zayed Road, near to the World Trade Centre roundabout (only around 10 – 15 minutes to DXB Airport).
Be mindful that while things may look close on the map, there's a rather large road to cross if you stay on the northern side and one way systems make navigating even this small area of the city in a taxi challenging.
The most convenient options sit on the south side of SZR and have immediate Metro access to Dubai International Airport and the famous landmarks of Downtown.
Within the heart of DIFC – the financial district – you will find plenty of large brand name hotels and some very modern and breath-taking accommodation choices with spacious rooms. There are also plentiful apartments and AirBnB style options if you're staying longer on a business trip.
Plentiful high-rise and business hotel options along Sheikh Zayed Road between the World Trade Centre and Downtown Dubai
Some of our favourite choices include:
Budget – Ibis One Central– 2-star business accommodation done right. Honestly, if you just need a place for your head and the convenience of WTC and into the city by Metro, this is a superb value option in the centre of the action, clean, easy, and convenient.
Mid-range – Gevora Hotel – nothing quite like bragging rights you stayed in the world's tallest hotel, overlooking the world's tallest building, right? A great value 4-star option in between WTC and Downtown.
Luxury – The Ritz-Carlton DIFC in the heart of the financial district, just one stop from the Dubai Mall and plentiful dining and relaxation amenities on site.
Best areas to stay and hotels in Dubai for short City Breaks
Just because you are only on a short stopover (we are talking here less than 48 hours), don't feel you need to be restricted just to the areas closest to the airport. On all but the worst traffic days (ie public holidays when everyone is trying to get to the airport – you can see when they fall here), you should be fine to base yourself anywhere in the city and rely on the Metro or taxies to get around
We would lean towards staying in Bur Dubai/Downtown for a short stopover rather than the beach – simply for the convenience of fitting in more sightseeing and getting a good mix of old and new Dubai; save Dubai Marina/JBR area for a longer vacation.
Some options we recommend you try to mix a little relaxation and leg stretching between flights:
Budget – Premier Inn Dubai Al Jaddaf– convenience in an up and coming modern area of the city at a great price per night, close to Al Jadaf Metro
Hostel –
Mid-range – Grand Hyatt – a surprisingly affordable luxury resort option next to Dubai Creek Park
Luxury – Jumeirah Creekside – totally spoil yourself and unwind between flights
Family / Hotel Apartment – Burjuman Arjaan by Rotana – best of old and new Dubai, walk to Al Seef Waterfront and Burjuman Mall, or easy Metro ride to Downtown, 10 minutes to DXB with apartment conveniences
If you do want ultra-close to the airport through you can't sniff at Le Meridien – far more than just a conference centre hotel they have a great range of dining choices and recreation facilities making it a perfect place to stretch out and relax between long flights or base yourself before an early start, you are only 3 minutes drive back to terminal 3.
Best areas to stay and hotels in Dubai for family vacations
If you are here for a longer stay vacation with a family or larger group, we recommend Dubai Marian or JBR as your top pick – or Palm Jumeirah if the budget will permit for a resort holiday:
Some top choice Dubai hotel apartments through to family resorts to consider:
Doubletree by Hilton Jumeirah Beach– Good-sized and reasonably priced luxury hotel apartments on the beachfront, halfway between Bluewaters Island & The Walk JBR
The Westin Mina Seyahi Beach Resort & Marina – fabulous access to a range of restaurants outdoor pools and recreation facilities on Jumeirah beach – same facilities as Le Meridien at a lower price point for families
Jumeirah al Naseem Madinat Jumeirah – a beautiful luxury stay attached to the modern Souk Madinat Jumeirah & with complimentary access to Wild Wadi
The Ritz-Carlton Dubai – unsurpassable beachfront family luxury with easy access by foot to the conveniences of JBR & The Walk
Want to be closer to the sightseeing of Downtown and don't care too much for the beach? Some other Dubai Downtown and city side options for families to consider include:
Roda Al Murooj Residence– resort-style accommodation immediately adjacent to Dubai mall but with a family-sized apartment -akin to a very fun and funky upscale backpackers style accommodation adjacent to Dubai Mall
Grand Hyatt Dubai– another resort-style option with slides, close to the airport at a considerably cheaper price than beachfront resorts
Best areas to stay and hotels in Dubai for theme park vacations
There are several choices when it comes to theme parks, with the advantage being if you stay at an onsite hotel, your hotel price can be packaged with attraction tickets. Our "top 3"in this category are:
Atlantis The Palm – combine with Aquaventure, the Lost Chambers and Dolphinarium
Jumeirah Beach Hotel– combine with Wild Wadi (any of the Jumeirah chain hotels will afford you the same benefit, JBH is the closest)
Lapita Dubai Parks & Resorts– luxury Polynesian resort for inclusive tickets to Legoland Dubai, Legoland Water Park, Motiongate or Bollywood.
You may also want to check out this guide to which hotel resorts offer that little extra "wow factor" from slides to mini waterparks in your hotel + our guide to Dubai's best waterparks.
Stay at sensational family hotel Jumeirah Beach Hotel for complimentary tickets to Wild Wadi
Where to stay in Dubai on a Budget
Budget and Dubai don't often sit comfortably hand in hand – and many travellers have different interpretations of what budget means! We'll put it this way – Dubai, on the whole, is not a great value budget backpacker city.
Yes, you can find much cheaper options, and even hostels which may come as a surprise to many, albeit this is still a developing area of the tourism market and quality is hugely variable.
The key, as most budget travellers know, is to seek out what's important to you and do your research thoroughly. Will you take the convenience of location over the size of your room and facilities? Or would you rather have a little extra personal space and stay further out of town, saving your budget for meals and attractions? Just be careful in Dubai you don't stay too far out and all your budget then goes on transport. A slightly more expensive but central choice may be your answer.
Where to seek our good value accommodation in Dubai
A surprisingly good value chain to keep your eye out for is Rove Hotels in some great locations including near the airport, Downtown – minutes from the Dubai mall, Dubai Marina, and newly opened Dubai Parks & Resorts.
Also, look into some of the newer areas, Al Jaddaf is part of Bur Dubai and up an coming area where you will find brand new hotels at very reasonable prices near the Green Metro.
On the opposite side of the city as you drive towards Abu Dhabi and after the Dubai Marina area is Ibn Battuta. You can find some better value properties here than in Dubai Marina – albeit the atmosphere is not the same but a short Metro ride home after a night out. This part of town would also be a good budget choice during Expo 2020.
When it comes to what you actually get in Dubai for "Budget" you may be really pleasantly surprised to find most will include breakfast, Wi-Fi and even access to pools and fitness centres in their price. It depends on how many you want to share your room with!
Hostels in Dubai
Some hostel options we recommend you try (via HostelWorld):
– overall one of the best in Dubai (though at the time of updating this guide October 2020 they appear to not be taking bookings). On the 66 th floor of the Elite Residence Tower you'll get amazing views of Dubai Marina. They offer breakfast and late checkout as well as an amazing rooftop pool to enjoy. Being in Dubai Marina there are plenty of amenities nearby.
Bombay Backpackers DXB – enjoy the spectacular highlights of staying in JBR & The Walk in a wonderful central location offering great amenities. Superior & Deluxe dorms sleep between 6 to 12 in Male, female and mixed guests from 60 AED per night. Linen included and access to a swimming pool, laundry, shared common room with games and cooking facilities.
DXB Backpackers – High rise hostel accommodation close to the beach in JBR, offering private doubles and mixed dorm rooms. Your linen is included as well as pool & fitness centre access, Dorms from 70 AED, Privates from 120 AED. – In the Barsha Heights area of Dubai, you are close to Dubai Internet City. There are male/female/mixed dorms from 70 AED per night.
Friends House Hostel– it's all location location if you want to be close to the Downtown action you are just a bridge walk over to Dubai Mall Metro. There are male/female and mixed dorms starting from 36 AED per night
Most hostels in Dubai operate with single-sex rooms making them a less attractive choice for those of you travelling as a couple or family. You may well find a cheaper hotel room in Bur Dubai or Deira at the equivalent price or not much more than a private room for two people in a hostel.
You can check out our complete guide to exploring Dubai on a budget here – you may also enjoy our guide to 30+ Things to do in Dubai FREE! and really cheap this year.
Getting Around in Dubai – Why it's so important for where to stay in Dubai
So we mentioned at the outset not many areas of the city are easily walkable. It's simply not the way the city grew from the Creekside and west. With vast swathes of land, development has occurred across the city in large and distinct blocks with huge areas in between.
Newer developments in the last couple of decades see a much better set up with tourists and pedestrian access front of mind – primarily we're talking about Downtown Dubai and Dubai Marina/JBR – hence why these are popular areas to stay.
Dubai Marina has wide promenades making it easy to access on foot
Anywhere else in the city, due largely to the heat – not to mention lack of footpaths or a foreseeable way to cross huge 8-lane roads – you are best catching a public taxi or Uber to get around, even for short hops. This can add time and money to your trip to Dubai.
Staying anywhere with a Metro station in walking distance most definitely helps, but even a Metro crossing point over the highway can take several minutes to navigate! The city really is big, which is why we can't emphasise enough choosing a location for its convenience above all else. The rest of your itinerary will fall into place around this.
As well as the Metro, there is a comprehensive bus network that covers the city and a growing network of water buses.
Other points to be aware of when booking Dubai Accommodation
Beware of extra charges and taxes. Whilst VAT of 5% is supposed to be inclusive, many will quote it separately, as well as municipality tax, tourism fee and service charges. You can see our complete guide to Dubai Tourism Taxes here.
Some hotels in Dubai are dry – i.e. no mini bar or onsite alcohol service in the bars/restaurants. If this is important to you please check this before booking.
Prices can vary hugely by season and events. Don't forget to check out our best time to visit Dubai guide to see what might be happening during your visit and why prices might be fluctuating. Generally speaking, prices dip over the hottest summer months when hotels are trying to increase occupancy and are very expensive in December over Christmas to New Year particularly.
Use multiple booking search tools to nab your best price. We do love the convenience of Booking.com – especially their flexible cancellation policy – so we have largely linked to their site here as a starting point for your search. We also recommend you use a search comparison tool such as Hotels Combined. HC compares all the different search engines (including Booking, and even the hotel themselves) to give you the best prices for your dates.
Looking to stay somewhere with wow factor in Dubai?
Don't miss these addtional Dubai accommodation guides if you're seeking out something special:
Where to find Dubai's most stunning infinity pools
Stay in a hotel villa with your own private swimming pool!
Hotels with the most incredible views of Burj Khalifa
25+ best places to catch Dubai's incredible sunsets
Many hotels have spectacular Burj Khalia AND sunset vews – like the Renaissance Downtown
Before you go… More important things you should know when planning a trip to Dubai
Pop into our essential planning informationpage, it includes everything you need to know about getting around Dubai, a handy guide on what to pack and top tips for first-timers on the do's and don'ts, laws and customs to be aware of.
Check out this incredible list of 150+ places you should visit when you're in Dubai.
Pick up a Dubai Passto save up to 50% on top Dubai attractions
Don't forget to pack your travel insurance.
Take me back to the Dubai essential travel planning resources page
Please note we are not a travel agency. This site is a travel blog to help newcomers to the UAE and transit passengers self plan their trip, we cannot book your flights, hotels, visas or connections for you. We may make a small commission if you click on any of our recommendation links.

Dubai Travel Planner
A guide to which area to stay in Dubai in 2022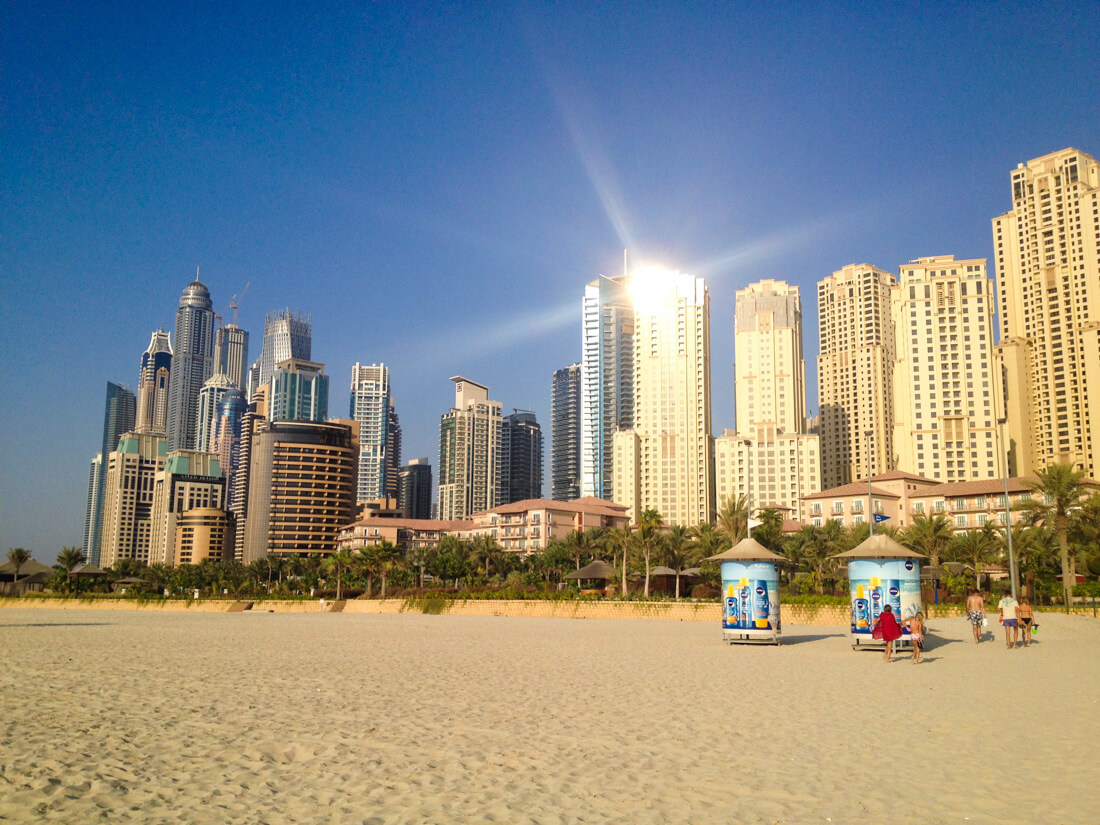 Dubai, the top touristic destination in the Middle East, is a city of huge dimensions.
It has a population of 3.1M spread across a vast area of 4,114km².
To give you an idea, Madrid is another big city with the same number of people, yet, it has an area of just 600km², which is 7 times less than Dubai
This means that in Dubai there is a lot of empty space and distances between the different places are huge.
Therefore, unlike European and some Asian cities, Dubai is a city not to be walked, as many neighborhoods and places which look like they are close, are actually separated by several kilometers which can't be walked, even if you wanted to, basically because there is no place to walk.
Moreover, the different districts and areas of Dubai are extremely different from each other, with so many different landmarks, things to do and, of course, extremely different budgets.
For the above-mentioned reasons, it is important to do some proper research before choosing which hostel to stay in Dubai.
For example, if you want to be close to the beach in Marina, which is the most touristic spot, but you are on a budget and decide to stay in the Old City, you should know that going from the Old City to Marina is a 30km journey. Going by metro takes up to 2 hours and a taxi would roughly cost around 75AED (20USD).
This guide tells you which area to stay in Dubai, depending on what do you want to do there as a tourist and, of course, your budget.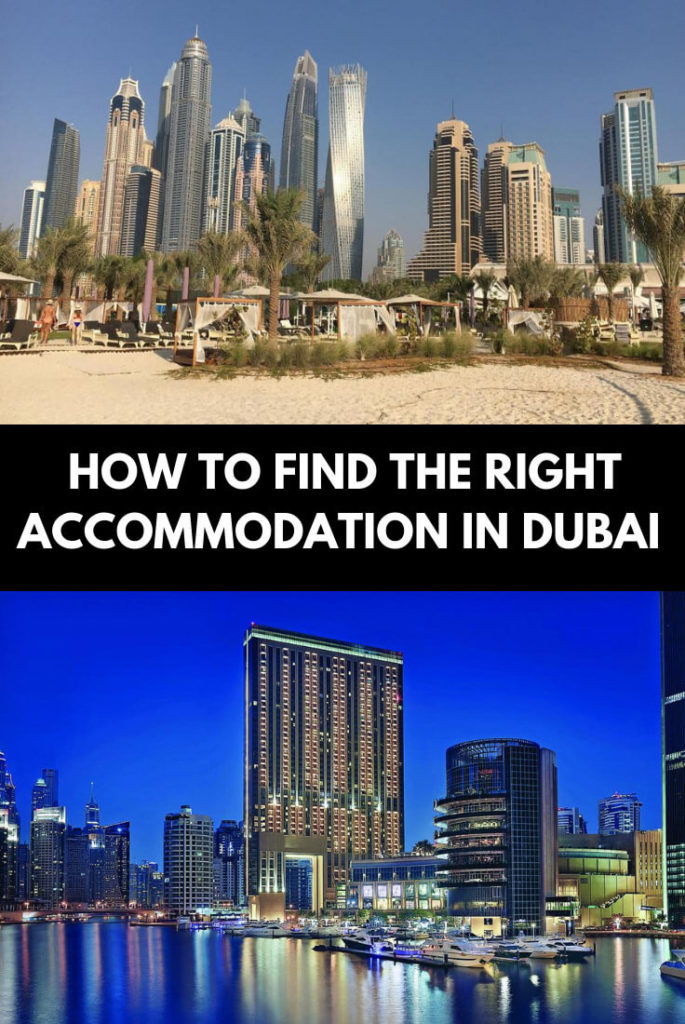 Most tourist-friendly areas where to stay in Dubai:
Remember to get travel insurance for Dubai
Dubai's health care is terribly expensive, so insurance is a must.
IATI Insurance offers different plans, for all budgets.
Get your 5% exclusive discount if purchasing via this link
Remember that, in Dubai, many websites and internet calling services, like WhatsApp or Skype, are blocked and, if you want to access them, you will need a VPN. For that, I recommend ExpressVPN, the best and fastest VPN in the market
CLICK HERE TO LEARN MORE ABOUT ExpressVPN
What area to stay in Dubai: map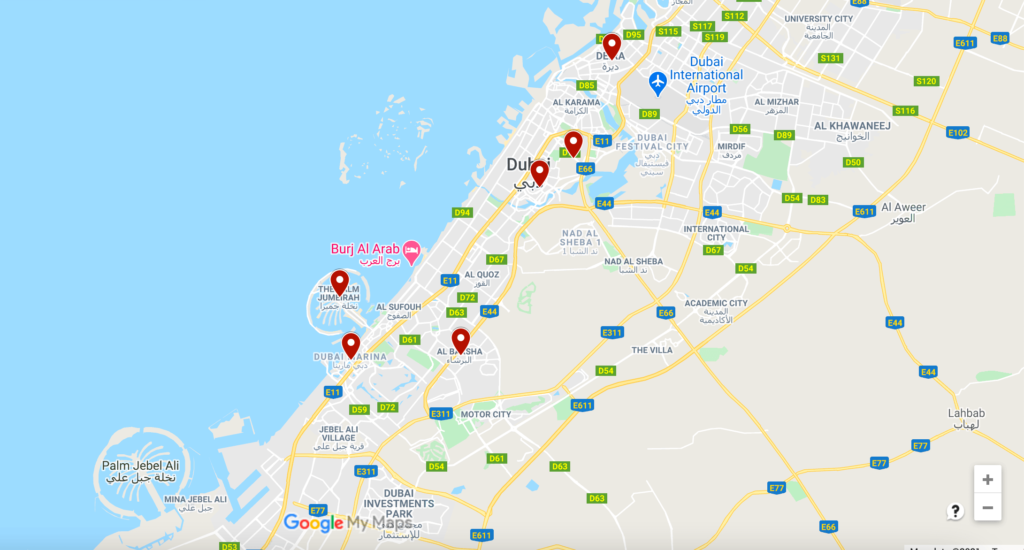 1 – Which area to stay in Dubai: The Marina & Jumeirah Beach Residence (JBR)
The relatively new neighborhood of Dubai Marina and JBR is the most Westernized area in the city, practically the only properly walkable part of the new Dubai and, in my opinion, the best place to stay in Dubai.
JBR refers to the beach, the promenade and all the buildings which are in the first line. The Marina is everything behind there, including the tallest skyscrapers and the canal.
Most European expats choose to live here, as it is the easiest place to live in, with plenty of bar options and no strict restrictions, like the way women dress at the beach, for example.
Why you should stay here:
Basically, you should stay here if you want to be where the fun is.
There is the beach, plenty of restaurants and bars and with the canal and all the skyscrapers, it is actually very impressive.
It is also very well connected to the metro.
Not good if:
If you traveled to Dubai for shopping, Marina doesn't have great options, even though the Mall of the Emirates, the second most famous mall, is just 7km away.
You should also know that this is an expensive area, in fact, one of the most expensive in Dubai, even though you can find a few budget options.
It is also far from Downtown, where Burj Khalifa and Dubai Mall are, around 23km, and even further from the Old City and Deira (30km).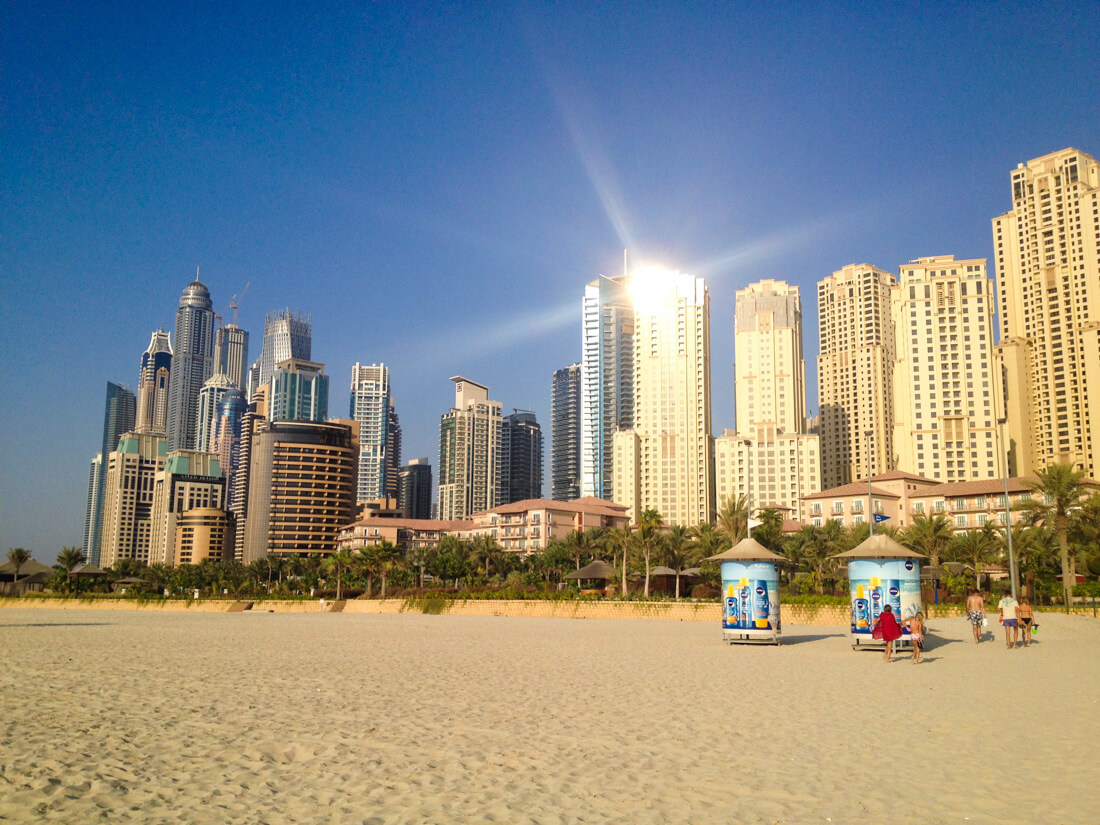 JBR Beach and Marina – Which area to stay in Dubai
Which area to stay in Dubai: Best accommodation in the Marina and JBR
Note that prices may be subjected to change depending on the season and special promotions, so don't be surprised if, suddenly, the mid-range option has a similar price to the budget option.
The cheapest (Hostel) – Backpacker Tina – Budget hostels are slowly being opened all across the city and, in Marina, Tina is the most budget one. Like most buildings here, everything is great, brand-new and the building has all kind of facilities, including a gym and a pool! If you are a backpacker, this is the best place to stay in Dubai.
Budget (Hotel Apartment) – Pearl Marina Hotel – After hostels, the only places to stay which are within a budget range are hotel-apartments. There are quite a few options and Pearl Marina Hotel is the one with more reviews. Located in the Marina with awesome views to the canal excellent views, the hotel also offers a terrific breakfast, even though apartments are equipped with a kitchen, so you can cook your own.
Mid-range – Jannah Marina Bay Suites – With impressive views of the sea, this mid-range is actually a very good value-for-money option, as rooms and not particularly expensive, yet, facilities are amazing! It has a pool and a jacuzzi.
Affordable luxury – JA Ocean View Hotel – A 5-star hotel in all its essence but pretty affordable for what you get. Ocean View is just next to the beach, and it has a few amazing restaurants and a superb breakfast with the most unimaginable options. If you want to stay in a real 5-star place without spending thousands, look no further.
Top-luxury – The Address – One of the most peculiar buildings of the Marina, and my most favorite one, especially because of its simplicity, is The Address Hotel, the top-luxury place in the area and also where the coolest and most frequented bars are. It is said that this is one of the greatest places to stay in Dubai.
2 – Which area to stay in Dubai: Al-Barsha
Al Barsha is the functional neighborhood of Dubai.
On the one hand, it is not a very appealing place. Besides wandering around the Mall of the Emirates (the second most famous mall) to see the Ski Resort, tourists don't have much to do here.
On the other hand, however, there are quite a few expats living here, basically, because it is very well-connected to the metro, is close to both Marina and Downtown and you can save a few hundred of dollars rent per month.
Moreover, it has everything you may need, from a Carrefour to many types of shops and some really good local restaurants, from Arabic to great Indian and Pakistanis, so Al-Barsha is actually a great place to stay.
If you don't know which area to stay in Dubai, Al-Barsha is actually great and a good option for those who want to be near the main landmarks but don't want to spend a fortune.
Why you should stay here:
It's close to the Mall of the Emirates, the second-best mall in Dubai and where the ski resort is.
It is also significantly cheaper than Marina and Downtown and it is very well-connected to the metro. It also has a couple of nice bars and plenty of good restaurant options.
Not good if:
You really want to be close to the main landmarks or you are looking for an even cheaper place like Old Dubai.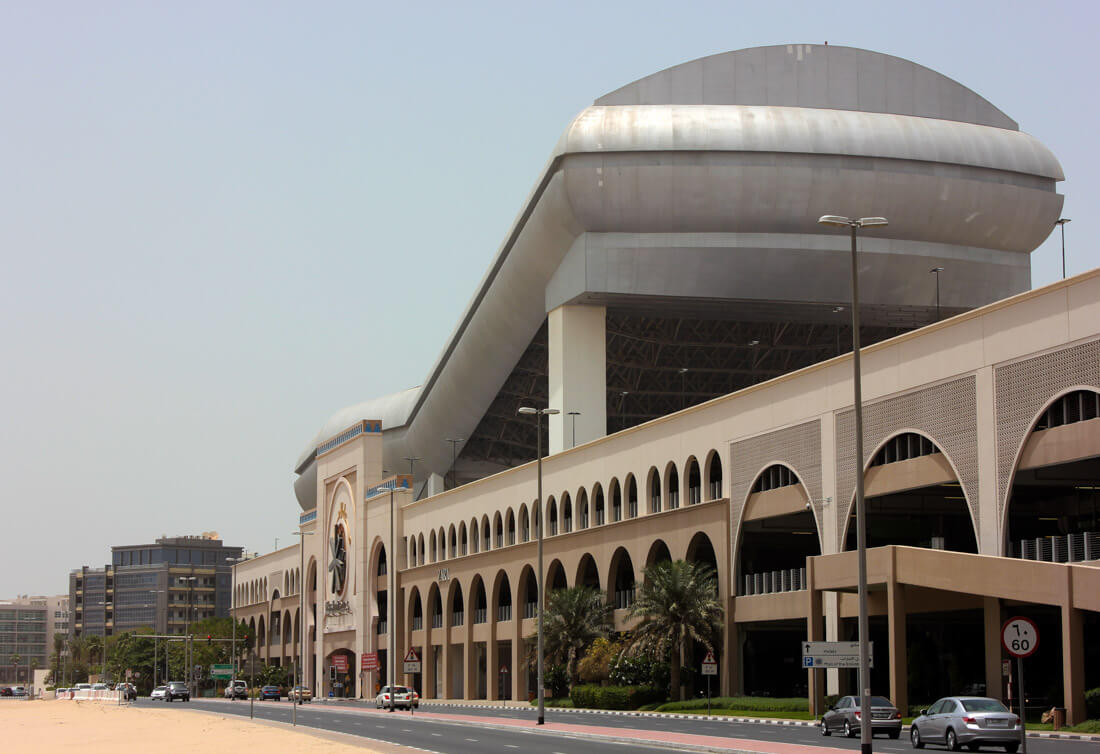 Al-Barsha Ski resort – What area to stay in Dubai
Which area to stay in Dubai: Best accommodation in Al-Barsha
The cheapest – Tulip Al Barsha Hotel Apartment – In Al-Barsha, there are plenty of hotel apartments and this one is the best value-for-money in the area, with the best location in Al-Barsha, just next to Mall of the Emirates and the metro station. It is not really the cheapest but, for a few more USD, you get perfect service.
Nicer (mid-range) – Al Khoory Atrium – This 4-star hotel has a great roof-top pool from where you can even see the Burj al-Arab and it is ideal for both families and couples who are on a budget. Everything is pretty neat, brand-new and reasonably priced.
Affordable luxury – Elite Byblos Hotel – If you are looking for a 5-star hotel but you don't want to spend a fortune, this hotel is one of the best value-for-money options in the whole of Dubai, so that's why it has one of the largest numbers of reviews. It's located right next to the Mall of the Emirates and it also has one very popular Arabic restaurant, serving exquisite Middle Eastern and Emirati food.
Top luxury – Kempinski Hotel – The top luxury hotel in the area is Kempinski, which is located inside the Mall of the Emirates. I used to go there a lot because it has the best Spanish restaurant in Dubai and its cuisine and set up is pretty close to some bars from back home. The rest of the hotel is everything you would expect from a luxury hotel, with the difference that this one is cheaper than the ones in Marina or Downtown.
3 – Best area to stay in Dubai: Downtown
Downtown is Dubai as seen on TV and, for many people, the best area to stay in Dubai.
With some of the tallest skyscrapers, including the Burj Khalifa, the most luxurious shops, fancy boulevards, and the most glamorous clubs and fine-dining restaurants, Downtown is the reason why Dubai is famous.
Whether you want to go to the top of Burj Khalifa, shop in the world's largest mall or just check out the fountain show, all tourists come here at some point during their trip.
The area, however, is the most expensive in the city but, thanks to the introduction of some little relatively cheap accommodation, today, more people can afford to stay here.
Why you should stay here:
If you want to be close to the most important landmarks, like the Burj Khalifa and the Dubai Mall, as well as the most exclusive clubs, best restaurants and luxurious shops, then this is your place. It is also relatively close to the Old City.
Not good if:
You are on a budget or you prefer to be closer to the beach in Marina, which is 23km away.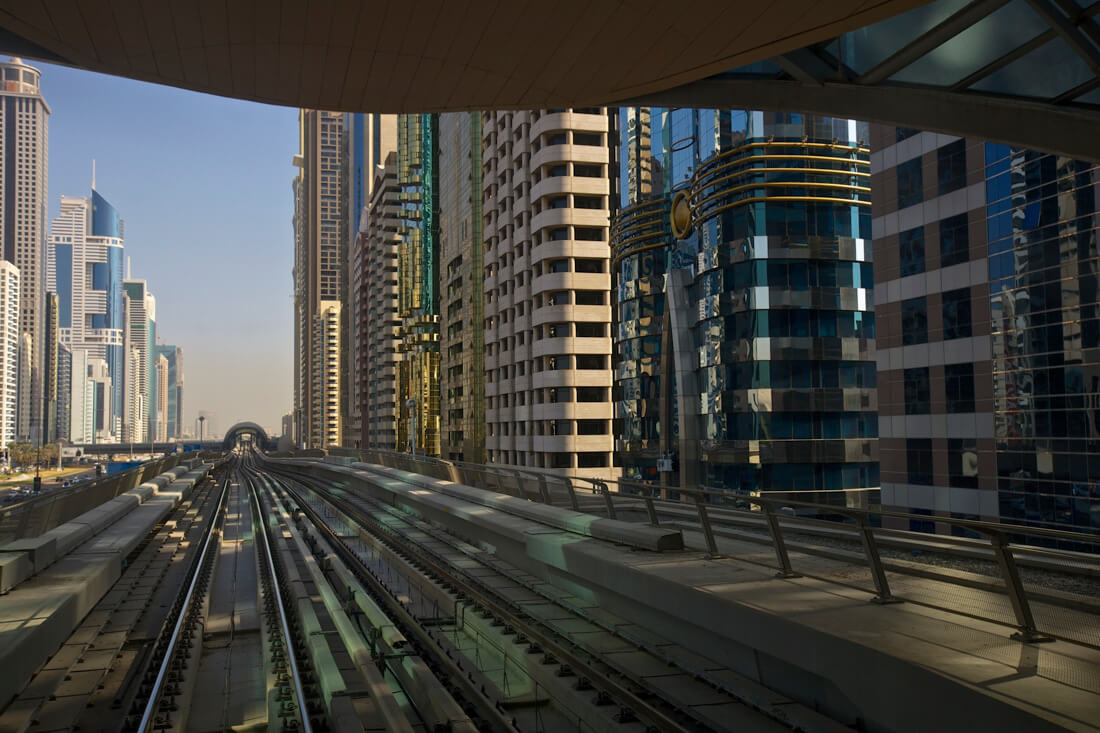 The metro along downtown – Best area to stay in Dubai
Best area to stay in Dubai: Best accommodation in Downtown
The cheapest (hostel) – The solo traveler – This is kind of a luxury hostel and not only because of its mind-blowing views to Downtown's skyline but because all buildings in Downtown are like that. You will see that dorms aren't cheap but still, this is the cheapest you can find in this area.
Budget – Movenpick Hotel Apartments – A hotel-apartment branch property that belongs to the well-known Movenpick chain. As in the rest of the city, hotel apartments are always the cheapest option. The ones offered by Movenpick are pretty neat and good for any kind of traveler who is looking for a value-for-money option. They also have good hotel services, like great restaurants, pool, gym, etc.
Mid-range – Rove Downtown – This hotel chain has hotels all across Dubai and they are famous for their great design that inspires real Western modernity, something not seen that often in Dubai, as most good hotels try to preserve the traditional Arabic design, in a modern way of course. This hotel has a cinema and its location is unbeatable.
Top luxury – Armani – This hotel is inside the Burj Khalifa, so I believe there isn't much to say, right?
4 – Best area to stay in Dubai: Bur Dubai
Bur Dubai is the heart of the Old City of Dubai.
Composed of narrow alleys, real bazaars, and traditional architecture, Bur Dubai is the real soul of the city, a place which has been inhabited for centuries.
Mostly inhabited by Indians (and it has been like that since it was founded), this is a place to finally experience some actual culture.
If you want to choose which area to stay in Dubai based on price, Bur Dubai also offers the cheapest rates when it comes to accommodation. Moreover, it also has some of the most authentic and cheap Indian restaurants in town.
You should stay here if:
This is the best area to stay in Dubai for people on a budget and those more interested in traditional culture than luxury stuff.
Not good if:
There are no nice bars and, besides very local restaurants, they aren't really fine-dining options. It is also far away from famous the extravagant Dubai monuments.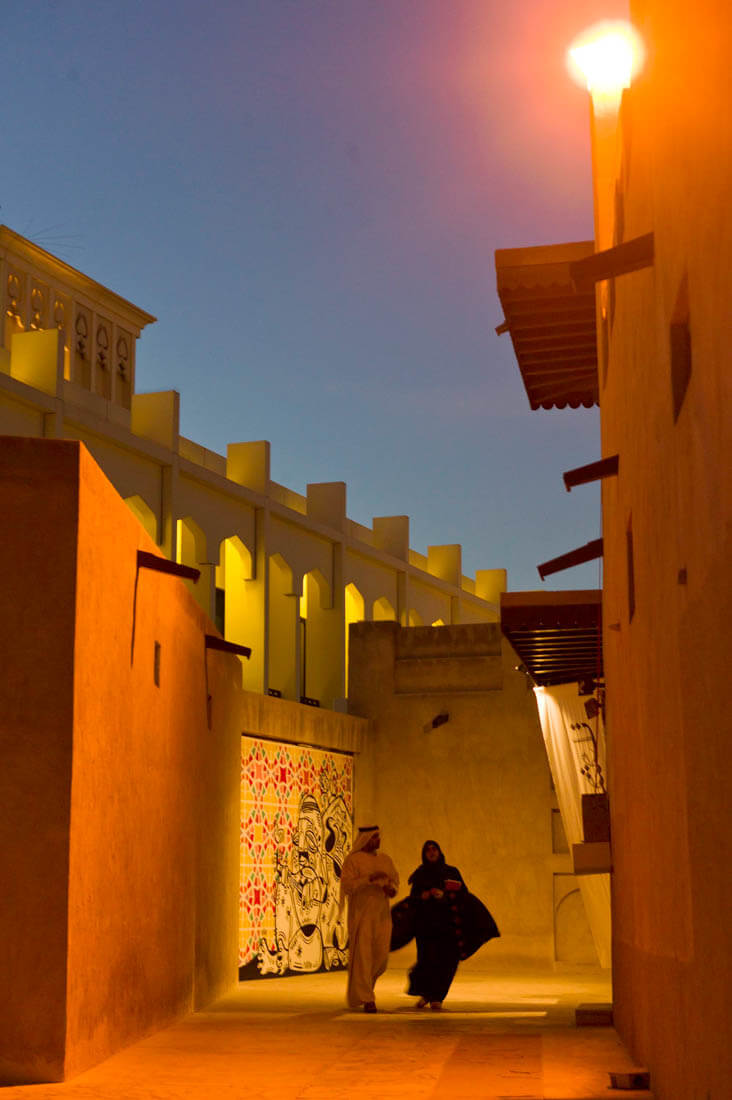 Bur Dubai – Where to stay in Dubai as a tourist
Best area to stay in Dubai: Best accommodation in Bur Dubai
The cheapest – Al Raien Hotel Apartment – The cheapest hotel in Bur Dubai doesn't have the best reviews ever but it is still quite decent and, at this price, you won't find anything better.
Nicer (but also budget) – Ambassador Hotel – It is a bit more expensive than the previous one but it is much better. Very simple but comfortable. The location is great and the staff strive to make your stay just perfect.
Mid-range (but also cheap) – Citymax Hotel Bur Dubai – A mid-range option in Bur Dubai is like a budget option in Downtown. Citymax Hotel is one of the favorite and most-booked hotels in the area. Modern facilities and great comfort.
Affordable luxury – Movenpick Hotel – If it was in the Marina, this hotel might be way beyond your limits but, in Bur Dubai, it is very affordable and, of course, it doesn't lose the quality service that characterizes Movenpick.
5 – What area to stay in Dubai: Deira
For people on a budget, this is also of the best areas to stay in Dubai.
Deira is like the continuation of the Old City (Bur Dubai) but it is a bit more modern.
On the one hand, it has the largest traditional souq but, on the other hand, it is also a business district and, in fact, it was the first business area to ever set up in Dubai.
The area, nevertheless, has a soul, meaning that here you find normal streets with normal shops and walkable areas and, like in Bur Dubai, it is also mostly inhabited by Indians.
However, Deira is under a process of modernization and the Government is building some pretty cool stuff around.
You should stay here if:
You are on a budget or want to be close to the airport. Also, this would be a good alternative to Bur Dubai, as they have built many modern buildings with plenty of fine-dining restaurants and a lot of bars.
Not good if:
Being close to the airport means that it is far away from everything else, including the beach and all landmarks but it is well-connected by metro.
Deira City Center – Where to stay in Dubai as a tourist
What area to stay in Dubai: Best accommodation in Deira
The cheapest – Al Jawara Metro Hotel – The cheapest (decent) option in Deira. Nothing special but it fulfills its function.
Nicer (but also budget) – Lavender Hotel Deira – If you want to stay in a slightly better place but just pay a few more dollars, Lavender is definitely a better value-for-money option, with more modern and spacious rooms.
Mid-range – Rove City Center – The same hotel recommended in Downtown. Rove is a chain of modern designed hotels which tend to be a very good value-for-money option. The one in Deira is the same as in Downtown but you pay half the price.
Affordable luxury – Al Bandar Rotana Dubai Creek – The best well-rated 5-star hotel in Deira has lower prices than any other 5-star hotel in the area. It is built by the river and everybody remembers the breakfast buffet.
6 – Where to stay in Dubai as a tourist: Palm Jumeirah
Palm Jumeirah (or The Palm) is one of Dubai's most remarkable landmarks.
It's basically a palm-shaped island which is attached to Dubai's mainland. It is actually huge, with a length of several kilometers from the beginning till the edge of the island, where you find the Atlantis Hotel, one of the most luxurious hotels in the city and a replica of the same hotel in The Bahamas.
You should stay here if:
You are looking for real luxury or just because you feel like staying in The Palm
Not good if:
There are no budget options and there is not much to do besides the beach and your hotel. It is far away from everything and not very well-connected.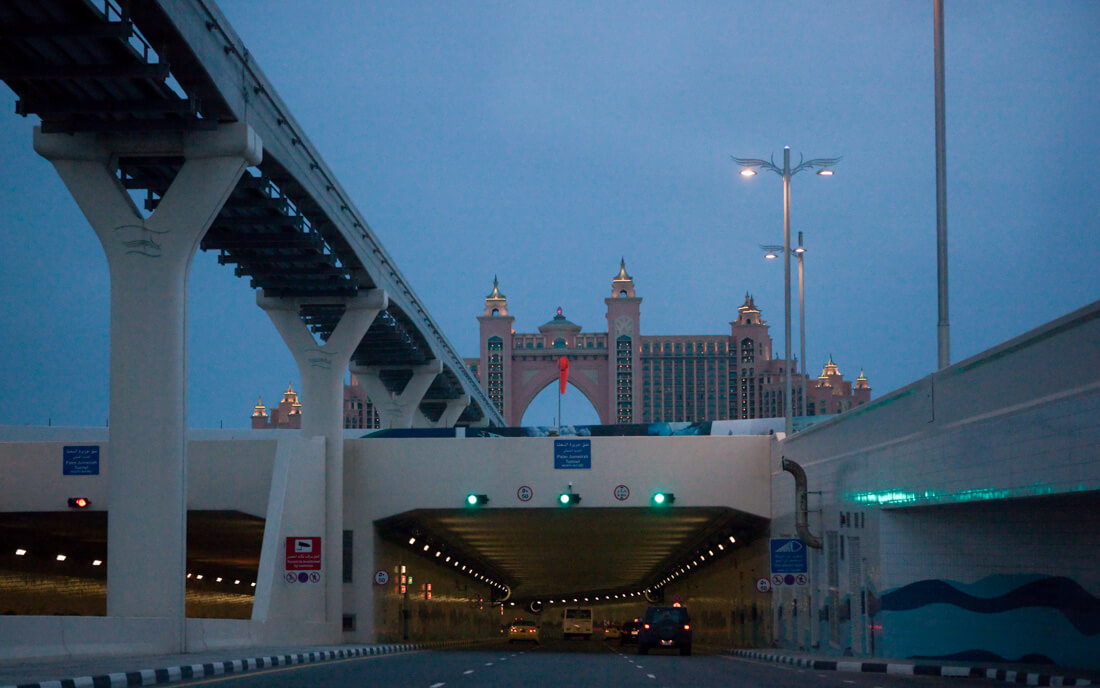 The monorail and the Atlantis – What area to stay in Dubai
Where to stay in Dubai as a tourist The Palm
The cheapest (which is already very expensive) – Aloft Palm Jumeirah – There are no budget options in The Palm and the cheapest you can find is this 4-star hotel, which is great anyways. It has a private beach with great views of Dubai skyline.
Top-rated – Waldford Astoria Dubai Palm Jumeirah – After Aloft Palm, all hotels are crazy expensive and this 5-star has the best rates and most positive comments. Besides having proper 5-star hotel facilities, with awesome beach and views, people claim that it serves the most excellent food and also that they offer plenty of water sports activities.
Most popular Hotel – Atlantis – One of the most famous landmarks in Dubai is the Bahamas replica of Atlantis at the very edge of the island. It offers real luxury but it is not the most expensive hotel in the area, so this may be a good choice as well.
These were, in my opinion, the best areas to stay in Dubai. Do you have any other hotel suggestion? Would love to hear it!
Seven of the best areas to stay in Dubai
F or a moderately sized city, Dubai has an impressive diversity to its districts; move from one area to another and you'd be forgiven for thinking you were in a different city altogether – if it weren't for that ever-present skyline.
Here's our roundup of some of the most interesting areas in Dubai – which ones will catch your eye?
Al Seef/Al Fahidi – Old Dubai, for tradition and culture
This is as traditional as Dubai gets: wind towers, tiny twisting streets, lively souks, sun-baked courtyards and museums galore, all beside Dubai Creek, where you can look across the water to working dhows. Pop in to the Sheikh Mohammed Centre for Cultural Understanding for a traditional Emirati meal, and to learn about the UAE's culture: check ahead to see what's on offer during your visit. And for accommodation, tradition and luxury go hand-in-hand, with boutique hotels such as XVA or Al Seef Heritage Hotel.
Jumeirah – Beachside suburbia, for refined luxury
Long one of Dubai's most desirable districts, Jumeirah stretches for miles along the seafront to the southwest of central Dubai, and is perfect for those looking for the ultimate in luxury. Lined with elegant villas, and small but perfectly formed commercial areas, Jumeirah is also home to hotels such as the sumptuous Mandarin Oriental and the world-famous Burj Al Arab. La Mer is a highlight: a collection of boutique shops, restaurants and a thrilling waterpark, right on the seafront.
Heart of the action: shopping, opera and the finest restaurants are on your doorstep if you stay Downtown Credit : Getty
Downtown – New centre, at the heart of the action
The area around Burj Khalifa has become the city's new centre of gravity, and is home to many of the newest, most exciting attractions Dubai has to offer. Stay here for The Dubai Mall, Dubai Opera, The Dubai Fountain – and, of course, the tallest tower in the world. Dinner at Souk Al Bahar, complete with a fountain view, is not to be missed. There are many, many hotels here, but for something different try La Ville at City Walk, not far from Downtown – or for a more budget-friendly option, try Rove Downtown.
The Palm – Ultimate glamour, for bragging rights
If you want to show off, The Palm is the place to be. This enormous man-made island in the shape of a palm frond is home to some of the glitziest properties and hotels in Dubai, including the Fairmont, Waldorf Astoria, and Atlantis, at the furthest edge of the rim. To add to its bragging rights, the region recently unveiled the world's largest fountain – The Palm Fountain – which covers 1,335 square metres and has more than 3,000 LED lights, 7,500 nozzles and can shoot water up to 105 metres. The Palm is best viewed from the air, so why not throw in a seaplane trip to snap your hotel from above? For a more terrestrial, but still terrific, view of Atlantis, visit The Pointe (also great for a spot of shopping and dining) on the "trunk" of The Palm.
Dubai Marina – High-rise heaven for indulgence and adventure
Looking almost like a separate city, Dubai Marina consists of hundreds of high-rise towers around a marina. There's a lot going on here, including some of Dubai's best dining and nightlife options, including a lot of sensational spots right on the beach, in the fittingly-named development The Beach, right by Jumeirah Beach Residence (JBR). Stroll along Marina Walk, catch a water taxi – or go jet-skiing, parasailing or skydiving. For accommodation, try The Address Dubai Marina, attached to Marina Mall, or the InterContinental, next to JBR.
Deira and Garhoud – Handy city links for stopovers
If your time in Dubai is short, perhaps because you're stopping over on your way to somewhere else, then stay close to the airport in Deira or Garhoud. For a taste of luxury (and a round of golf), spend a night at Park Hyatt on the banks of the Creek. Or to explore the city, try Rove City Centre, a short walk from Dubai's excellent Metro system. And for a touch of culture, drop into the stunning Jameel Arts Centre across the creek from Garhoud.
Outside Dubai – Tranquillity and pampering
Escape the bustle of the city for a very different experience at one of Dubai's tranquil resort hotels. Al Maha Desert Resort and Spa, within the Dubai Desert Conservation Reserve, offers an unparalleled chance to experience the wilder side of the Arabian Peninsula, with oryx, falcons and camels – and offers day passes for desert experiences and spa treatments, even if you're not staying there. Or try JA The Resort in Jebel Ali, for a combination of pampering and golf.
Broaden your horizons in Dubai

In Dubai, you'll find all the right ingredients for a sun-soaked trip. The sophisticated metropolis by the sea provides unforgettable experiences, from serene safaris in the desert to dining in the world's tallest building.
Broaden your horizons with a trip that takes in its exhilarating mix of record-breaking architecture, traditional neighbourhoods and white sand beaches. You'll return home with plenty of tales to share.
Source https://www.dubaitravelplanner.com/best-place-to-stay-in-dubai/
Source https://againstthecompass.com/en/area-dubai-accommodation/#:~:text=Downtown%20is%20Dubai%20as%20seen%20on%20TV%20and,,Downtown%20is%20the%20reason%20why%20Dubai%20is%20famous.
Source https://www.telegraph.co.uk/travel/explore-dubai/best-areas-to-stay/