25 Top Tourist Attractions in Barcelona
Barcelona is one of the world's most popular tourist destinations, attracting millions upon millions of visitors each year. So why is it so popular? Well, it has almost everything any holidaymaker would desire. Easy access, favorable weather conditions, attractive beaches and surrounding mountains, a buzzing nightlife, tasty local cuisine and it's steeped in culture and history.
It's also a sight-seeing wonderland, housing many recognizable monuments. Variety's the word with Barcelona and the city has something for everyone; families, couples and singletons alike. There are the tourist attractions in Barcelona travelers shouldn't miss if they ever decide to visit the Catalan capital:
25. Monastery of Pedralbes [SEE MAP]
© Gitanna / Dreamstime
The quiet beauty of the Monastery of Pedralbes provides a safe harbor for travelers who want to escape the hustle and bustle of Barcelona. This gothic monastery was built in 129y by Queen Elsenda who sought forgiveness for her sins. It is considered an outstanding example of Catalan gothic architecture.
Arched outer corridors overlook swaying palm trees. Its original occupants were Poor Clares, nuns from mostly noble families; they were charged with protecting the city. Some nuns still live in the monastery, which today houses the city museum.
24. Palau Guell [SEE MAP]
© A41cats / Dreamstime
Barcelona is filled with significant buildings designed by noted architect Antoni Gaudi. A good place for visitors to begin their appreciation of his work is Palau Guell or Palace Guell. It's one of his first major works, and sets the tone for his designs to follow.
Gaudi designed Palau Guell for an extremely wealthy resident. Because the tycoon entertained a lot, the house was designed around a central hall, with other rooms designed to fit the family's needs. Gaudi's use of space and lighting in the Palau Guell was innovative for its time.
23. Poble Espanyol [SEE MAP]
© Juan Moyano / Dreamstime
Built in 1929, Poble Espanyol is a huge open-air museum four times the size of FC Barcelona's football pitch. The complex is composed of various sections, each of whom represent a specific Spanish region.
There is also a flourishing handicraft market which is perfect for souvenir shopping. Here you can wander from Andalusia to the Balearic Islands in the space of a couple of hours, visiting surprisingly good copies of Spain's characteristic structures. The village also hosts the Fondation Fran Daurel, where you can enjoy an interesting collection by artists like Picasso and Miró.
22. Fundacio Joan Miro [SEE MAP]
Andy Mitchell / Flickr
Joan Miro was one of Barcelona's most famous artists, a master who created works known around the world. Usually foundations are set up after a person dies to honor their ideas, but Miro created his own legacy by setting up the Fundacio Joan Miro himself.
It was designed to be a place where younger artists could explore contemporary art, with Miro's own works providing the nucleus for this study. The foundation opened in a modern building in 1975 and is a good place to see a great collection of Miro's work in one place.
21. Museu Nacional d'Art de Catalunya [SEE MAP]
© Leshchymenko / Dreamstime
Sitting atop a hill, the Museu Nacional d'Art de Catalunya looks more like a massive castle than an art museum, a museum that holds a king's ransom in treasures. It is here, however, that visitors will find the greatest Catalan art from the 10th century to the 20th century.
Here visitors will find impressive Romanesque murals that graced church apses, and Gothic art from the era when Catalonia was expanding across the Mediterranean. The gallery also contains paintings by the great Spanish artists El Greco and Velasquez.
20. Arc de Triomf [SEE MAP]
© Yulia Belousova / Dreamstime
The Arc de Triomf was constructed in 1888 to welcome international visitors to Barcelona's Universal Exhibition, the world's fair of its day. The massive decorative arch is located on the Passeig Lluís Companys, a promenade.
The classical style arch, now a famous Barcelona landmark, is noted for its sculptural decorations that are symbolic of Barcelona at that time. One frieze welcomes visitors to the exhibition, while reliefs extol agriculture, industry and commerce. The top of the arch features shields from Spain's 49 provinces; they are topped by Barcelona's coat of arms.
19. Sant Pau Recinte Modernista [SEE MAP]
Peris / Flickr
Travelers who are fond of art nouveau will definitely want to put Sant Pau Recinte Modernista on their Barcelona bucket. The former hospital, with a façade that resembles a church, is the top-ranked art nouveau site in Europe. Sant Pau Recinte Modernista was built in the first third of the 20th century as a hospital and healthcare research center.
It served this purpose for 100 years, and today houses a variety of international organizations. The complex, with underground tunnels connecting the building has a pavilion that is devoted to the history of medicine in Barcelona.
18. Placa de Catalunya [SEE MAP]
© Darwin Lopez / Dreamstime
Every city has a big square where people congregate to celebrate, mourn or just see each other. NYC has Times Square, Beijing has Tiananmen Square and Barcelona has Placa de Catalunya. The city's nerve center is a place to meet friends, sit on the grass or take a break from shopping at nearby stores.
Integral to the square are six sets of sculptures that represent the four capitals of Catalonia, labor and wisdom. The plaza opened in 1927 on land that once fronted the gates to a walled Barcelona.
17. Palau de la Musica Catalana [SEE MAP]
People don't go to the Palau de la Musica Catalana just to hear music, they go to see the concert hall's over-the-top ornate interior. While the exterior is impressive, it just can't compare to the main concert hall with its glass-top ceiling.
Built in the early 1900s, the Palau de la Musica Catalana is a tourist attraction in itself, with its stained glass windows and massive chandeliers. The inside of the old hall has been compared to the interior of a Faberge egg. A smaller hall is more modern and subdued, but still opulent.
16. Tibidabo [SEE MAP]
© Mirco Vacca / Dreamstime
Travelers who collect panoramic views should go to the top of Tibidabo, at 512 meters (1,880 feet) high the highest mountain overlooking Barcelona. The easiest way to get there is via Spain's first funicular. But there's more than just stunning views on this mountain top.
There's the Sagra Cor church that took 60 years to build and is topped with a sculpture of the Sacred Heart of Jesus. Sharing space with this impressive church are an amusement park and a telecommunications tower. All three are visible from Barcelona below.
15. Parc de la Ciutadella [SEE MAP]
© Fagundes / Dreamstime
The Parc de la Ciutadella is a lot happier place today than when it was founded in 1714. After Philip V conquered Barcelona, he ordered a citadel – the largest in Europe – to be built by forced labor so he could maintain control over the Catalans.
Over the centuries it transformed into peaceful uses, becoming a major oasis of green in the city. Citadel Park was the site for the 1888 Universal Exhibition. Today it is home to a zoo, a small lake, the Museum of Natural Science, and Als Voluntaris Catalans, a sculpture honoring Catalans killed in World War I.
14. Barcelona Cathedral [SEE MAP]
© Karol Kozlowski / Dreamstime
Add Cathedral of the Holy Cross and Saint Eulalia, as it's officially known, to the list of beautiful Gothic buildings in Barcelona. The church also known as Barcelona Cathedral or La Seu because it's the seat of the archbishop.
The cathedral dates back to the 14th century and honors St. Eulalia, co-patron saint of Barcelona, who was killed by Romans by putting her in a knife-studded barrel and rolling her down the street. The entire church is ornate, with towers and spires reaching into the sky. It is a major tourist attraction and now boasts a gift shop that caters to visitors.
13. Museu Picasso [SEE MAP]
Twyxx / Flickr
With over 4,000 works by the painter, the Museu Picasso houses one of the most extensive collections of artworks by the 20th-century Spanish artist Pablo Picasso.
In particular, the Museu Picasso reveals Picasso's relationship with the city of Barcelona, a relationship that was shaped in his youth and adolescence, and continued until his death. The museum is housed in five adjoining medieval palaces in Barcelona's La Ribera.
12. La Boqueria Market [SEE MAP]
© Valentin Armianu / Dreamstime
Foodies may think they've died and gone to heaven when they visit La Boqueria Market, a colorful market (and tourist attraction) in the old town. Located just off La Rambla, the market dates back to 1297 when meat was sold at the city gates. More than meat is sold there today.
There's an array of foods, from farm-fresh produce, seafood, spices and candies being sold by more than 200 stalls. Buy the fixings' for a picnic lunch or eat at one of the many restaurants before continuing sightseeing.
11. Santa Maria del Mar [SEE MAP]
© Jeewee / Dreamstime
The beautiful Santa Maria del Mar (Saint Mary of the Sea) is an icon for Catalan Catholics. Construction of this massive church began in 1329 when Aragon King Alfonso IV laid the foundation cornerstone. It was finished in 1384, a prime example of Catalan Gothic architecture.
Though the outside seems severe, the inside more than compensates for this. Beautiful stained glass windows, high narrow columns and simplicity of design invoke feelings of spaciousness and serenity. Over the centuries, the cathedral has been damaged by earthquakes and fire, yet always regains its beauty.
10. Camp Nou [SEE MAP]
Oh-Barcelona.com / Flickr
One for the sports fans, yet still one of Barcelona's most popular attractions. This stadium is home to formidable European football champions F.C. Barcelona.
With a capacity of 99,000 people, this breathtaking sporting arena is Europe's largest. A tour of the ground is definitely worthwhile and you never know, you might be lucky enough to catch a game!
9. Montjuïc [SEE MAP]
Photo Kamil / Flickr
Montjuïc is a broad shallow hill with a relatively flat top to the southwest of the city center. The eastern side of the hill is almost a sheer cliff, giving it a commanding view over the city's harbor immediately below. The top of the hill was the site of several fortifications, the latest of which remains today.
Another interesting sight is the Palau Nacional (National Palace), originally built as the central pavilion for the International Exhibition. The majestic building in neo-Baroque style is home to the Museu Nacional d'Art de Catalunya (MNAC). Montjuïc is also home to a number of sports facilities built for the 1992 Olympics.
8. Casa Milà [SEE MAP]
Rob Shenk / Flickr
Built between the years 1906 and 1910, Casa Milà (La Pedrera) was the last civil work designed by Catalan architect Antoni Gaudi. The colorful building is considered one of the artist's most eccentric and enticing architectural creations with not one straight edge on the exterior.
Tours of the interior and the incredible roof structures are available. It also hosts a large exposition of Gaudi works, covering Sagrada Familia and Casa Batlio, not only La Pedrera itself.
7. Gothic Quarter [SEE MAP]
© 88and84 / Dreamstime
Old is good, especially when it's the Gothic Quarter, located in the oldest part of Old Town Barcelona. Some say the quarter dates back 2,000 years, but what travelers will see today isn't that old: a maze of narrow streets flanked by buildings from medieval times to the 19th century.
Travelers will see the Jewish Quarter, considered the Gothic Quarter's prettiest section; walk the paths where a young Picasso went to school; eat at Can Culleretes, the oldest restaurant in Barcelona, dating to 1796, and shop at the colorful Boqueria market.
6. Barceloneta [SEE MAP]
Out of Barcelona's seven different beaches, stretching over 4.5 km (2.8 miles) of coastline, Barceloneta probably tops them all. It is one of the most popular and is closest to the city center. Along the 1,100 meter (3,600 feet) sandy beach runs a walkway popular with joggers and cyclist.
Not surprisingly this place can get crowded, especially during the summer months when the beach bars open up and the beach quickly fills up with locals and tourist.
5. Font Màgica [SEE MAP]
jeroen_bennink / Flickr
Font Màgica is a fountain located below the Palau Nacional on the Montjuïc hill and near the Plaça d'Espanya and Poble Espanyol de Barcelona. The fountain, like most of the surrounding developments, was constructed for the 1929 Barcelona International Exposition.
On selected evenings, when the fountain is activated, it attracts hundreds of visitors who watch the spectacular display of light, water and music. At the same time, the Palau National is illuminated, providing a beautiful background.
4. Casa Batllo [SEE MAP]
marimbajlamesa / Flickr
It's hard to find the words to describe Casa Batllo, perhaps because it looks like a carnival gone insane. One of architect Antoni Gaudi's most famous buildings, Casa Batllo is a mish-mash of colors, building materials and what-have-you styles.
There's a large onion-like dome that's reminiscent of a mosque; a colorful wavy tiled roof line and lots of sculptures. Gaudi turned an nineteenth century building into Casa Batllo, sometimes called the "house of bones" because of the many jaws on one sculpture. It was a home without equal, but not one most people would feel comfortable living in.
3. Parc Guëll [SEE MAP]
With other major works in the city including La Casa Batlló and La Pedrera, this has to be one of Antoni Gaudí's most celebrated and it is certainly one of the most emblematic of Barcelona.
The area was originally meant to be a residential property development with Gaudi doing much of the planning and landscape design. Only two houses were built and the land was later sold to the city of Barcelona and turned into a park. It is home to the famous Salamander sculpture, as well as other buildings and structures designed by the architect. With stunning views of the city, this is a magical experience.
2. La Rambla [SEE MAP]
This is probably the city's most famous street and is a bustling hive of activity. It is often called Las Ramblas, because it is actually a series of several different streets that all have a distinct feel.
Located just off Plaza Catalunya and leading right down towards the port and beach, visitors will find street performers, lots of bars and restaurants and the fabulous Boquería Market, a true feast for the eyes.
1. Sagrada Familia [SEE MAP]
La Sagrada Familia is the most popular attractions in Barcelona, attracting nearly 2.8 million visitors each year. It is a large and intricate basilica designed by Antoni Gaudi, a Catalan architect. Construction began in 1882 and continues to this day. The building is predicted to be completed within the next 30 years. It should be noted that this beautiful basilica has been funded completely by donations, as Gaudi had intended.
Work on La Sagrada Familia began in March of 1882 by Francisco de Pala del Villar, the diocesan architect. Gaudi was commissioned to take over the work at the end of 1883. He continued with the designing and building of this unique project until his death on June 7, 1926 at the age of 74.
Following his death, a series of talented architects continued the construction according to Gaudi's plans. Unfortunately, during the Spanish Civil War in 1936, a fire destroyed many of these plans. Trying to follow the remains of the original designs has been a challenge for present-day architects working on the building.
The design of La Sagrada Familia incorporates interpretations of many architectural styles, such as Arat Nouveau, Gothic and Catalan Modernism. Gaudi's original plans called for a temple large enough to seat 13,000 people. Because he disliked straight lines, his towers were inspired by the peaks of Montserrat Mountain outside Barcelona, and had similar uneven lines.
Anyone interested in architecture will find this building fascinating to study. The plans include 18 spires, which represent Jesus Christ, the Virgin Mary, the four Evangelists and the Twelve Apostles. Work is still taking place on some of these spires, while others are open to the public.
The design also calls for three facades on the building. These include the Nativity Facade facing east, the Passion Facade facing west and the Glory Façade facing south. The Nativity Facade was completed in 1930. The Passion Façade and the Glory Façade are still under construction.
Visitors will be captivated by the intricate design elements and the religious symbolism built into all the spaces of the church. The completed section of the church is open to all who wish to view it, as are the completed towers. In addition, a small museum exists within the building where one can find scale models and drawings showing the plans for the construction of the building.
La Sagrada Familia has been offering worship opportunities since the fall of 2010 for those who may wish to take part. Additionally, Pope Benedict XVI consecrated the church and proclaimed it a basilica in November 2010 during his visit there.
In his plans, Gaudi knew that his masterpiece would not be completed during his lifetime. He planned for it to be built in parts, thus assuring that each generation might be able to concentrate on one of the sections. This beautiful basilica is nearly finished, and when it is, Gaudi's vision will finally be fulfilled.
Map of Barcelona
© OpenStreetMap © MapTiler © Touropia
A second visit to Barcelona
If it is the second time you're visiting Barcelona and you have a few days at your disposal, below you will find our suggestions for visiting those places in the city which you might not have seen before.
Below you will find an alternative itinerary for 3 days in Barcelona avoiding the most famous attractions and enabling you to discover some hidden gems in and near the Catalan capital.
The alternative Barcelona
Day one: Barcelona's most unusual museums
Barcelona knows how to surprise people in the most extraordinary ways, for example, by completely altering the traditional concept of what a museum should be. In this city, in fact, there are no limits to the level of creativity and different art forms. You'll see what we mean as you enter the Erotic Museum or the Wax Museum which is located in La Rambla, or if you visit the Museum of Illusions which is situated on Carrer del Pintor Fortuny 17. If you're interested in original exhibitions, it is always worth checking for what might interest you at MACBA and at the CCCB , (Barcelona's Center of Contemporary Culture), both of which update their exhibits on a regular basis. For example, in 2017 there was a fascinating exhibition that was entitled "1000 m² of desire", which focused on exploring the relationship over the years between architecture and spaces that are dedicated to love. When you find yourself in the city for a second visit and you have already seen the major attractions such as La Sagrada Familia and Parc Güell , why not enjoy a stroll through the Ciutat Vella and stop off to visit one of the strangest museums in Barcelona. it'll be a great way to experience the city for a second time!
Unusual Museums in Barcelona's Ciutat Vella
Day two: alternative shopping in Barcelona
There are plenty of places where you can shop in Barcelona, from the very famous Corte Inglés to the Hard Rock Café as well as the shops belonging to famous labels along the Passeig de Gràcia. So as to spend some time in a slightly more original and different way on your second visit to Barcelona, an idea worth considering is to spend the day walking through the city's alleyways discovering the best places in which to find some really alternative shopping . There are streets like the Carrer d'Elisabets which will really surprise you: in this street which crosses La Rambla, you will find shops that specialize in English "street fashion" with a range of creative prints on soft cotton T-shirts as well as fun accessories for the home or which you can take back as gifts for friends like those you will find in a great shop called Ale-Hop. In addition to the shops in the center, it is always worth getting away from the more touristy areas and you'll be surprised by the creativity of the local craftsmen who trade their products across all the city's different neighborhoods : treat yourself to a stroll through the Vila de Gràcia or Poblenou . and if you're looking for something really different, you'll love the Palo Alto Market which is held on the first Sunday of the month in the latter neighborhood. You also shouldn't miss out on the stalls that are erected on public holidays which are celebrated in the city such as the book stalls that are on view at the fiesta of Sant Jordi.
Day three: outside the city center
If you have been staying in Barcelona and are curious to see more of the surrounding area, you will be amazed by the beauty that Catalonia has to offer. If you are here in summer time, we would recommend that you do some excursions to the surrounding areas and to some of the seaside towns along the Costa Brava such as the wonderful small towns of Roses and the enchanting Cadaqués. There are several medieval towns that are just a stone's throw from the coast such as Pals, Castelló d'Empúries and Besalù, all of which are nestled in greenery and full of history and traditional cuisine which are just waiting to be explored. One of the most popular destinations for tourists, in part due to its proximity to Barcelona but equally because it is so vibrant is Sitges where you can have a swim and relax on one of the most beautiful beaches close to Barcelona. We would suggest that you hire a car in Barcelona to travel to these places, something that is easy to do and often proves to be the cheapest option if you are on holiday with friends or family. If the latter is the case, then we can tell you that you'll definitely make your children happy by giving them a present they will remember forever: taking them to the leisure park of PortAventura. This is located about an hour and a half by car from the Catalan capital and is situated high up overlooking the sea. And, since 2017, there's also the wonderful Ferrari Land where you can experience the thrill of launching yourself at the speed of a Formula One racing car as you go up the highest and fastest roller-coaster ride in Europe!
Second Cities: Destinations to Add onto a Trip to Barcelona
Lori Zaino is a writer for TPG and TPG UK covering travel, news, points and miles and more. She's been based in Madrid, Spain almost 15 years and is an expert in travel throughout destinations such as Europe, Southeast Asia and Africa.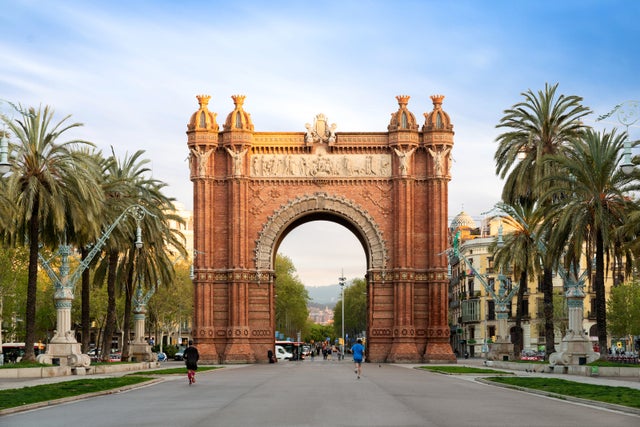 This post contains references to products from one or more of our advertisers. We may receive compensation when you click on links to those products. Terms apply to the offers listed on this page. For an explanation of our Advertising Policy, visit this page.
Update: Some offers mentioned below are no longer available. View the current offers here.
Welcome to TPG's series, Second Cities. The series is designed to help travelers find smaller or less-popular-but-equally-amazing places to visit that are no more than a few hours by air or land from your original destination so you can maximize your itinerary.
A trip to Barcelona, Spain, is on everyone's must-go list — and with good reason. Famous for its nearly finished Sagrada Familia cathedral and other Gaudí-designed landmarks like Park Güell, you can also easily end your day of tourism out on the city's lively Barceloneta Beach.
The downside is that Barcelona's city center can be overcrowded and full of tourists, so if you want to enjoy a more authentic escape, add another destination or two for a city break. And if you're heading to Madrid, check out the TPG recommendations for second cities to add on to a trip to Spain's capital.
Menorca
Ibiza and Mallorca seem to get all the fame, but Menorca may be the most underrated island in the Balearics — and possibly the most beautiful. If you've ever been to Spain, Portugal or Italy in the summer, you know that tranquil beaches are very hard to come by. One of your best bets for serenity is Menorca, the first place in Spain to see the sunrise each day from its 137 miles of coastline.
Getting there: The flight from Barcelona to Menorca is under an hour. And with low-cost carriers like Vueling and Ryanair offering one-way flights as low as $23, you can leave your airline miles safely tucked away and pay for your ticket in cash.
Where to stay: Menorca is so small that it doesn't have many large brand hotels, except Melia. But, it does have a number of chic boutique properties. Casa Albertí is particularly quaint, housed in a former Masonic lodge with expansive views from its rooftop terrace. Head over to Hotels.com Venture using your Capital One Venture Rewards Credit Card, which will earn you 10X miles per dollar spent through Jan. 31, 2020, and book a spot.
What to see and do: Unlike its sister islands of Ibiza and Mallorca, you shouldn't come to Menorca to party. Instead, explore some of the island's long coastline, much of it sandy beaches. The water at most of the Menorca beaches is warm and shallow, making it an ideal spot for families with young children. Explore some of the many coves, like Cala Trebaluger or Cala Des Talaier. Or sun yourself on the long sweep of golden sands backed by grassy cliffs at Playa de Binigaus.
The most popular activity on Menorca is probably beachcombing, but the entire island is considered a UNESCO Biosphere Reserve. If you want to see why, head to the Albufera Natural Park, which has over 100 species of water birds flapping around its lagoons. While you're diving or snorkeling, you might spot hammerhead sharks in addition to many species of fish and coral at the Northern Marine Reserve.
The island is also dotted with over a thousand megalithic sites. The large stone structures, caves and structures were built by the Talaiotic people back in times BC. Menorca even has its own version of Stonehenge, the Torre d'en Galmés.
For epic views of the idyllic landscape, hike up El Toro, Menorca's largest mountain. Hikers should also plan to trek part of the Camí de Cavalls, a coastal path dating back to 1330 that takes you to almost every part of the island. The 114-mile route goes along cliffs, hidden beaches, grassy hills, monoliths, lighthouses, jagged rock formations and more, a perfect way to see all of what Menorca has to offer.
San Sebastián
Besides having one of Europe's best city beaches, La Concha, San Sebastián has plenty of culture, art and history to keep you entertained. But the real call is cuisine — foodies should plan to eat their way through this northern Spanish city.
Getting there: The San Sebastián Airport (EAS) is about an hour-and-15-minute flight from Barcelona on airlines like Vueling or Iberia. Build it into your itinerary with Barcelona as a multicity if you plan to fly Oneworld.
Where to stay: The opulent Luxury Collection Hotel Maria Cristina dates back to 1912 and was frequented by aristocrats and royalty (60,000 Marriott Bonvoy points per night). Though now refurbished, the hotel retains much of its original regal charm.
What to see and do: If your pick is high-end dining, San Sebastián has the most Michelin stars per capita in the world — 16! But if you prefer something a little less fancy, the city is famous for its pintxos (what tapas are called in the Basque country). Originally small pieces of baguette piled high with food, with a stick (pintxo) "pinching" the food to the bread, the concept has evolved immensely over the years. From toppings as simple and no-frills as Iberian ham on bread to other curated, spiced-to-perfection combinations of foods and flavors, there are pintxos to fit every taste and budget.
Although La Concha is the most famous beach, head to Zurriola Beach, just a short walk from the Hotel Maria Cristina, for a younger, surf-style vibe.
For panoramic views of the city, sea and mountains, take the funicular up Monte Igueldo. If you're traveling with a family, stop and enjoy the Monte Igueldo Amusement Park at the top of the peak. History buffs might prefer to admire views from Monte Urgull, which features a 12th-century castle and fortress.
San Sebastián is also close to some other exciting destinations you may want to visit for a day trip. It's a 50-minute drive from Biarritz, France, and just over an hour from Bilbao, where you can explore the Guggenheim Museum, designed by Frank Gehry.
Andorra
The name of this small principality may not ring a bell, but Andorra, just 180 square miles, sits at the foot of the Pyrenees mountains between France and Spain.
Getting there: You can reach Andorra by car from Barcelona in under three hours. The drive, which takes you through a few national parks and past towering mountains, is stunning — but consider asking your rental company to include chains during the winter months. For those concerned about the drive, a bus will get you there in just under four hours.
Where to stay: The Hotel Palome is ideal in winter or summer, with extra space to store cycling, ski and hiking gear — even a bike garage for you to clean or work on your bike pre- or post-ride.
What to see and do: Famous for its magnificent mountains, Andorra is best for skiing and snowboarding (you can even dogsled here) during a winter visit. Ski resort areas like Grandvalira and Vallnord offer some of the best powder in all of the Pyrenees.
If you aren't an avid skier, though, a visit in summer offers all sorts of interesting activities — especially if you like the outdoors. Andorra has three national parks: the Valle de Sorteny, with 700 species of flowers and plants; the Madriu-Perafita-Claror, a UNESCO World Heritage Site covering 10% of Andorra; and the Valles del Comapedrosa, home to the highest peak in the principality, Alt de Comapedrosa (almost 10,000 feet). Trekking and cycling are the most common ways to enjoy the parks' flora and fauna.
One of the most popular year-round activities is shopping, thanks to Andorra's very low tax rate of just 4.5% on most goods (and visitors from the US can get this refunded when leaving the EU if they complete the proper paperwork). Despite its tiny size, Andorra has over 2,000 shops and two shopping festivals each year with sales, discounts, contests, musical events and more.
Andorra takes spa visits to the next level at Caldea, one of the largest and most famous spas in Europe. Located over 18 floors in the tallest building in Andorra (and one of the most unique, with its mirrored, triangular architecture), the spa has separate sections for families and adults-only, both using thermal waters natural to the principality. Prices start at €37/$41 for a three-hour entrance to the spa's baths, pools, hydromassage showers, sauna and more.
Frontier Airlines increases price of unlimited all-you-can-fly pass, international destinations now included
Source https://www.touropia.com/tourist-attractions-in-barcelona/
Source https://barcellona.shop/en/visit-barcelona/barcelona-in-three-days/a-second-visit-to-barcelona.html
Source https://thepointsguy.com/guide/barcelona-second-cities/