25 Best Places to Visit on Memorial Day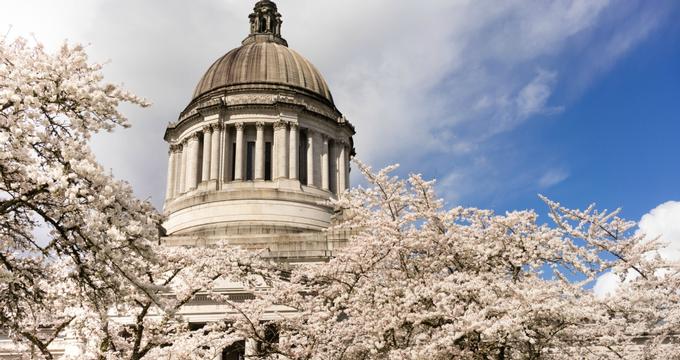 Memorial Day is celebrated each year on the last Monday of May to honor all the men and women who have lost their lives in the armed forces. As the days get longer and the harsh winter weather recedes from memory, the long Memorial Day weekend is a great time to get away for a few days and enjoy the start of summer. You can take your pick from a wide range of getaway ideas depending on your personal preferences – choose a beach location like Portland, Martha's Vineyard or Biloxi or head inland to enjoy outdoor pursuits in wonderful places like Coeur d'Alene, Bend, or Canyonland National Park. There are also several interesting and educational city breaks for foodies and culture vultures.
We recommend that you call the attractions and restaurants ahead of your visit to confirm current opening times.
1. Coeur d' Alene
Conveniently located in northwest Idaho, Coeur d'Alene is a picturesque lakeside city that offers visitors several outdoor recreational facilities, including a large selection of water sports on Lake Coeur d'Alene (and on several additional lakes located within a short drive). You can get to grips with kayaking, stand-up paddleboarding, and fly fishing or pull on your hiking boots and hit some trails in the Coeur d'Alene National Forest. Other outdoor activities include cycling, mountain biking, and golf. The city also has an indoor water park that the whole family will love. If you want to add some culture to the bag, you can visit the Museum of North Idaho to learn about regional history or join the Downtown Art Walk.
Fun day trip ideas: South Carolina, Oregon, Texas — You are reading "25 Best Places to Visit on Memorial Day" Back to Top
2. St Paul, Minnesota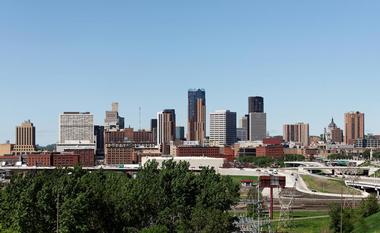 St. Paul, the capital of Minnesota, is stretched along the eastern bank of the Mississippi River close to its confluence with the Minnesota River. St Paul adjoins Minneapolis, forming the Twin Cities. St Paul is home to the interactive Science Museum of Minnesota, known for its dinosaur skeletons and high tech immersive theater. The best place to learn about Minnesota's past is the Minnesota History Center, featuring diverse interactive exhibits, and not far from the center is the ornate beaux arts Cathedral of Saint Paul. The Minnesota State Capitol features elaborate paintings of scenes from the Civil War. Como Park Zoo and Conservatory offers a home to various wild animals and its gardens and children-friendly attractions are a delight to explore.
Things to do near me today: From Phoenix, WV, IN, AK, Boulder — You are reading "25 Best Places to Visit on Memorial Day" Back to Top
3. Chincoteague Island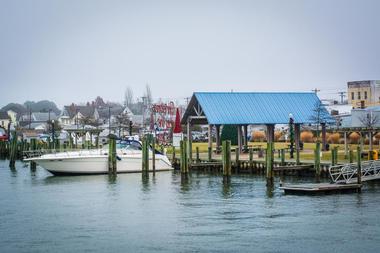 Chincoteague Island is a beautiful 7-mile-long barrier island off Virginia's Eastern Shore and is Virginia's only resort island as well as a place where you can hunt for your own dinner on its famous clam shoals and oyster beds. You can walk along the miles of long sandy beaches, watch beautiful boats in the charming Chincoteague marina, or go searching for the famous wild ponies in the island's interior or along the beaches. Visit the historic Assateague Lighthouse, which was built in 1867, take a bike history tour of the island, and learn about the place and people who wrote its history. Enjoy fresh seafood in one of many restaurants, take a boat tour to see the island from the water, and stay in one of many beautifully restored Victorian bed and breakfast inns.
Our experts' top picks for a long weekend getaway: WA, Charleston, New England, Cleveland, San Diego — You are reading "25 Best Places to Visit on Memorial Day" Back to Top
4. Bend, Oregon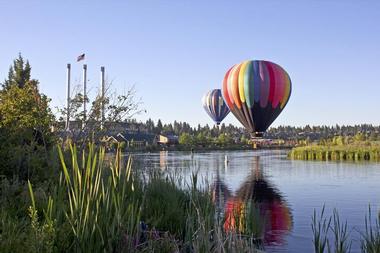 Nature lovers and outdoor enthusiasts simply can't go wrong when choosing Bend, Oregon, for their Memorial Day getaway. The city is perhaps best known for winter sports, but there is also a wide variety of enticing summer activities on offer. Hikers have many brilliant trails to choose from ranging from under 2 miles to over 11 miles, all set against stunning mountain and lake backdrops. Beer lovers may like to attempt the Bend Ale Trail, where your hiking efforts are rewarded by regular beer tastings. You can keep the entire family busy exploring lava tubes, caving, kayaking, and playing mini-golf. In addition, the Sun Mountain Fun Center provides hours of indoor fun if the weather is less than perfect.
More places we like: NJ beaches, Retreats, San Francisco, Asheville — You are reading "25 Best Places to Visit on Memorial Day this Weekend with Friends" Back to Top
5. Hood River, Oregon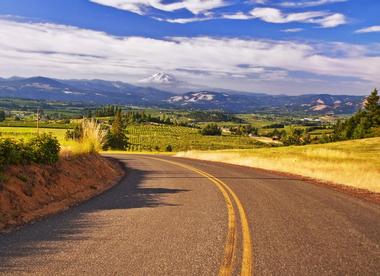 Hood River is another of Oregon's popular winter sport centers that also have a lot to offer spring/summer visitors. If you enjoy getting outside and active, you will find several scenic hiking trails to explore, including the Gorge 400 Trail and the Twin Tunnels Trails, which is also suitable for cyclists. You can take a scenic drive along the 35-mile Hood River Fruit Loop, which winds through acres of apple, pear, and cherry orchards, stopping along the way to stock up on cider, wine, and preserves. Families can have hours of fun at the Waterfront Park, where you can swim, kayak, or try stand-up paddleboarding. If the weather is less than perfect, you can head to the interesting Western Antique Aeroplane and Automobile Museum.
Expert opinion: Where should I go this weekend for fun? WI, Day trips from NYC, From San Francisco, Tampa, FL, LA, From Minneapolis, ID, From Dallas — You are reading "25 Best Places to Visit on Memorial Day this Weekend" Back to Top
6. Biloxi, Mississippi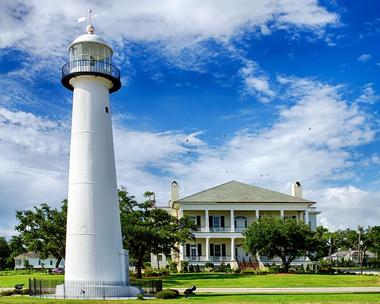 There is no better time than the Memorial Day weekend to head due south to Biloxi, on the fabulous Gulf of Mexico. Although the city is known for its many casinos, Biloxi also offers stunning powder-white beaches, several golf courses, a wide array of water sports and both fresh and saltwater fishing. You can learn how to surf, stand-up paddle, or even take scuba diving lessons with one of the several outfitters in town, go hiking or biking in the Airley Lake Recreation Area, or learn about the history of Biloxi on a Bay St. Louis Historical Walking Tour. There are several museums to visit on rainy days and a host of family-friendly attractions for the children. Round off a busy day with a fresher-than-fresh seafood feast at one of the many restaurants.
Top Rated: Last minute places for couples: CT, IL, CA, MD, VT, VA, Atlanta, From Chicago, MD beaches — You are reading "25 Best Places to Visit on Memorial Day" Back to Top
7 of the Best D-Day Sites to Visit in Normandy If You Have Just 1 Day
Seeing for yourself the best D-Day sites to visit in Normandy is an absolute must-do for any World War II enthusiast. In fact, it tops the bucket list of every one of them that I know.
It's not always the most "fun" vacation, but this collection of sites absolutely beats the hell out of anything you'll see in Paris or the Loire Valley. You can have your van Gogh and your Chateaux; just give me a war museum and a few battle sites and I'll be a happy—but still really sad—camper.
But the best part? You can still see many of the best D-Day sites to visit in Normandy even if you only have one day. So if you have just one day to spend touring World War II sites in Normandy, start with these 7 places:
(I can verify the accuracy of this itinerary as I personally road-tested all 7 of these sites myself in one unforgettable day.)
Pro tip: If you haven't planned your trip to Normandy yet, try to Visit as close to D-Day as possible. More on that in a minute.
Table of Contents
The best D-Day sites to visit in Normandy
I believe the overall goal of travel is to inspire you, change you, make you into a better human being–and a visit to these D-Day sites will do just that. Can the Eiffel Tower say that?
Now there are a lot of D-Day sites to visit in Normandy, France, as you can imagine—memorials, museums, battlefields, cemeteries, and tons of random other things. Are they all worth a visit? Probably. Do you have three months to spend in France? Probably not.
Subscribe to DWWII
So I've chosen seven that I feel are the best D-Day sites to visit in Normandy for when you don't have much time but still want a well-rounded, diverse experience.
1. Caen Memorial Museum
The Caen Memorial and Museum, located in the British Sword Beach sector, opened on D-Day in 1988. Many regard it as the best World War II museum in France. Visit on or around D-Day like I did and the abundance of decorated war veterans there to greet you upon entering will be a great introduction.
The Caen Museum was built on top of the former underground headquarters of a German general and is every inch a lesson in symbolism.
You enter the building through a small door in the middle of a huge flat façade representing the Allies' breach of the seemingly impenetrable Nazi Atlantic wall. The entrance into the museum itself is a downward spiral staircase into a dark underground symbolizing the decent into war/Hell.
The museum covers the subjects of:
the start and globalization of the war,
the various resistance movements,
genocide and mass violence,
liberation and the end of the war (cel-e-brate good times, come on),
the D-Day landings and the Battle of Normandy (to name a few),
and has a strong focus on the topic of peace.
There museum offers a movie theater, a gift shop that got most of my travel money, the underground bunker of German General Wilhelm Richter, a café and two restaurants, and three gardens dedicated to American, Canadian, and British soldiers who died in Normandy.
Still looking for a place to stay in Normandy? Check out my guide to picking the perfect hotel every time.
Why Caen Memorial Museum is one of the best D-Day sites to visit in Normandy
It's one of the most comprehensive museums on the topic of World War II
Go big or go home. Either way, go get me a tissue.
It's very, very visual
The museum displays countless historical artifacts, artwork, video and sound recordings, newsreels, props and replicas, maps, and more to help me read as absolutely little as possible. (I am on vacation after all.) This museum has everything: airplanes, jeeps, tanks, artifacts of the times, and unexploded bombs that didn't worry me at all.
A large part of the museum focuses specifically on the D-Day landings and the Battle of Normandy
Which is where you are and what you came to learn about. And if it's been a while since you've watched Saving Private Ryan, this museum will prepare you for the rest of the most popular D-Day sites to visit in Normandy.
Meet war veterans
I visited the Caen Museum on June 8 th (two days after the D-Day anniversary) and the place was full of uniformed British war veterans, many from World War II. They were excited to chat with visitors and pose for pictures.
Meeting so many vets in Normandy just two days after the D-Day anniversary will give you all the warms and fuzzies, and probably a teary eye or two.
If you want to check out more actual museums while you're in Normandy, you might like my post on 14 must-visit Normandy museums for WWII enthusiasts. This area has museums dedicated to just about every part of D-Day and the Battle of Normandy (and beyond).
2. Arromanches-les-Bains
I'm in love with the town of Arromanches. Excuse me, the 'commune' of Arromanches because that's what they're calling it. Turns out, 'commune' is actually a technical term used to denote "the smallest French territorial division for administrative purposes." So, there's something you might not have known.
The commune of Arromanches is a small seaside town famous for its former artificial harbor. Only around 600 people live there, but that's still the most that ever have.
Arromanches-les-Bains in World War II
The town is charming as heck and at the center of the Gold Beach landing zone. It played an invaluable part in the D-Day landings, hence, the entirety of World War II.
Here, the Allies built an artificial and "temporary" harbor to facilitate the unloading of vehicles, materials, and people into Europe. Mulberry Harbor, as it's formally known, had, by June 12, 1944, helped bring 300,000 men, 54,000 vehicles, and 104,000 tons of supplies into Europe.
Arromanches is spotted with memorials and World War II gift shops, is easily stroll-able, and makes a great spot for a scenic lunch. What's left of the artificial harbor can still be seen sitting out in the ocean.
After lunch you can visit Musée du Débarquement, a D-Day museum that focuses on the building of the artificial harbor, and/or Arromanches 360°, a circular, fully immersive theater that puts you, pretty literally, in the middle of the 100-day Battle of Normandy. I didn't do this but it sounds absolutely terrifying. (These two museums are described more fully in my post on great WWII museums in Normandy.)
Why Arromanches-les-Bains is one of the best D-Day sites to visit in Normandy
Time travel
With Arromanches, it was love at first D-Day site. Immediately upon arriving, the sense that we'd gone back in time was overwhelming. Like I fell asleep at some point on the extremely short drive from the Caen Museum and woke up in the 1940s. This excited me to no end since time travel is my favorite kind of travel.
The town swarmed with war enthusiasts decked out in full World War II army uniforms of all ranks. World War II army Jeeps driven by uniformed soldiers jammed the parking lots and streets. And 1940s big band and swing blared into the town center from the speakers at the Musée du Débarquement.
The feeling of actually "being" in a historical time period is something you can't get looking at artifacts in a museum.
Arromanches played such an important role
Arromanches and its artificial harbor played such a huge role in the war you'd be crazy to skip this one. I told you how many men, vehicles, and supplies entered Europe through this harbor as of June 12th.
But, by the end of its use 10 months later, that number had increased to 2.5 million men, 500,000 vehicles, and 4 million tons of supplies. It's majorly, enormously, hugely because of the artificial harbor at Arromanches that the Allies were able to help defeat Nazi Germany.
Visible history
Remnants of the artificial harbor still sit out there in the water after all this time. I always prefer to see my historical artifacts in situ.
It's not such a sad destination
Because the Allies wanted to use Arromanches for the building of their harbor, no troops ever landed here on D-Day—this ensured the beach was preserved and free of war debris.
Because Arromanches was such a huge a contributor to the defeat of Nazi Germany and not a battleground, the atmosphere is completely unique. There's swing music instead of silence, photography, Frisbee-throwing, and smiles and laughter instead of grief.
★ More information: Normandy Tourism's Arromanches page
3. Longues-sur-Mer Battery
Like Arromanches, visiting the German battery at Longues-sur-Mer won't drag you down.
The Longues-sur-Mer battery, situated between the Omaha and Gold landing beaches, consists of four gun installations like the ones seen above and were used by the German troops on D-Day. Well, sort of.
Heavy bombing of this site by French and U.S. ships on the night before and the morning of the D-Day landings made getting any sort of use out of these about as difficult as saving that Private Ryan fellow ("It's like finding a needle in a stack of needles.").
British ships eventually dismantled three of them, leaving the last one (only barely) operating for a little bit longer, though it didn't really matter. The German crew of about 120 survivors surrendered the next morning.
Why Longues-sur-Mer Battery is one of the best D-Day sites to visit in Normandy
It's a historical monument
The Longues-sur-Mer battery is the only German coastal defense battery to be classified as an official historic monument. I haven't seen the others but… this one is probably the best.
It's well preserved
These bunkers look almost exactly as they would have 75 years ago. Again, there's a lot to be said for seeing these artifacts in their original locations.
Excellent views
The Longues-sur-Mer battery provides excellent views over the Atlantic and the D-Day landing beaches. From here you can really gauge the strength and power these guns must have had.
Enjoy some solo time
This area is so beautiful and you'll probably be here all alone. One thing I learned while checking out some of the D-Day sites to visit in Normandy is that to really be able to reflect on what you're seeing and what happened at each one, it's best to do so alone. Take a solo stroll along the path and imagine this place the way it must've been on June 6, 1944.
Since I visited on June 8th, just two days after the D-Day anniversary, there was a group of enthusiasts camping out nearby in an authentic World War II campsite.
★ More information: This page is pretty informative.
4. Normandy American Cemetery
The final scene of Saving Private Ryan, when old man Ryan arrives at the grave of Captain John H. Miller and says, "Tell me I have led a good life. Tell me I'm a good man" will pretty much sum up your visit to Normandy American Cemetery, where this and the opening scene of the movie took place.
You'll ask yourself all the similar questions: These people died for me… am I good person? Have I proven their sacrifice worthwhile? Would they be proud of the life I've lived?
The most emotional site of the day
The Normandy American Cemetery was the most emotional for me of all the best D-Day sites to visit in Normandy. Besides the fact that, at its very basic, it's a cemetery, I think all the emotion comes from knowing so much about these soldiers and how, why, and for what they gave their lives.
I think part of the emotion is sadness–for what they and their families went through, but also the fact that I'll never get to personally say Thank you. Part is confusion–How can humans do these things to other humans? And a large part is gratitude.
About Normandy American Cemetery
Normandy American Cemetery serves as the final resting place for 9,387 U.S. soldiers, most of them victims of the D-Day landings and ensuing battles. There are 9,238 Latin crosses, 149 Stars of David, and the Wall of the Missing with the names of 1,557 soldiers missing in action.
The cemetery overlooks (the strikingly picturesque) Omaha Beach and, because the French government gave this land to the United States free of charge and taxation to use forever, is considered American soil.
At Normandy American Cemetery you'll find a Visitors Center; the Wall of the Missing; the semicircular memorial colonnade with the sculpture "Spirit of American Youth Rising from the Waves" and large maps of military operations; and the most beautiful, idyllic spot on Planet Earth.
Having visited just after the D-Day anniversary, we also saw groups of uniformed World War II soldiers and a handful of jet flyovers.
Why Normandy American Cemetery is one of the best D-Day sites to visit in Normandy
To say Thank You
Because there are 9,387 (+1,557 more) men there that you need to say "Thank you" to. Literally every. single. thing. you have and have ever had, and everything your parents and their parents have ever had and been able to do, you owe to these 10,944 Americans.
Because of them, we even exist today. Because of them, we live the kind of lives that are so free of concern our biggest complaints are that our steaks are undercooked and our flights are overbooked. You owe them all the thanks you've got in you.
An incredible visual
Seeing how far and wide the white crosses (and stars) span here is a great way to visualize just how many soldiers sacrificed themselves to put an end to Hitler and the Nazi threat. And, remember, these are just the American fighters.
Heaven on Earth
Visit Normandy American Cemetery to experience Heaven as close as you ever will on Earth. Maybe it was just the day I was there, but the Normandy American Cemetery is, without a doubt in my mind, the most peaceful place I've ever visited.
It was a perfect day: summer sun shining but not hot, the waves rolling in on the empty beach downhill from the cemetery, gentle breezes blowing through the surrounding trees, soft green grass, blue sky dotted with puffy white clouds, absolute silence except for the singing birds. It almost didn't feel real.
If you like visiting filming locations
If you like visiting locations you've seen in movies, you must come here. Saving Private Ryan is one of the most highly rated World War II and D-Day movies out there and this place plays such a huge part.
Visit the Niland Brothers
Similarly, you can visit the graves of the Niland brothers. In total there are 45 pairs of brothers buried at Normandy American Cemetery and among them are Robert and Preston Niland.
The Nilands are two of the four brothers from the real-life Saving Private Ryan family (yes, that movie was based on a true story). You can find their crosses at Plot F Row 15 Graves 11 and 12, respectively.
5. Omaha Beach
You can visit Omaha Beach, notoriously where American troops suffered the worst on D-Day, and the experience is surreal. Everything about it will shock you: the massive size, the weight you feel just by being there, and how, this place that was once total Hell on Earth, is also just a pleasant beach surrounded by quaint French cottages.
You're there, seeing it with your own eyes, getting bit by the sand flies with your own legs, and yet it doesn't feel real. This can't possibly be the place you've seen on so many screens.
On the beach you'll find the sculpture (seen below) of "Les Braves" by French sculptor Anilore Banon, the three parts representing the Wings of Hope, the Rise of Freedom, and the Wings of Fraternity.
Also read: For more must-see D-Day sites in and around Omaha Beach, check out that link for my post on what to see at Omaha Beach: 11+ Inspiring Stops.
Why Omaha Beach is one of the best D-Day sites to visit in Normandy
Main site for D-Day history
Omaha Beach is ground zero for American D-Day history. Maybe even all of World War II history. Almost everything you know about D-Day happened right here and though there isn't much to see, Omaha Beach is all about feeling.
To see it in modern times
It's fascinating to compare what you've seen in movies to the real thing. (This article is a great introduction to that.) These comparisons are everything when it comes to putting the war, especially all of the physical obstacles the troops overcame, into perspective.
★ More information: Normandy Tourism's D-Day Landing Beaches page
You might like: If you're here in the U.S. you can see a Higgins Boat and actual survivor of the Normandy beach landings at the American Heritage Museum in Hudson, Massachusetts. Check out my post on this museum to learn more.
6. Pointe du Hoc
As one of Normandy's best D-Day sites, Pointe du Hoc proves that nothing is impossible.
Pointe du Hoc is a 100-foot cliff overlooking the English Channel. It's the highest point between Utah Beach and Omaha Beach and at the time was fortified with a wall of German gun casemates (like the ones at Longues-sur-Mer).
Pointe du Hoc on D-Day
On the morning of D-Day, the U.S. Army captured Pointe du Hoc after scaling the cliffs—a feat many previously believed to be impossible. And when you stand on the cliff yourself, you'll agree 110%.
They did so with the use of grappling hooks and rope ladders that were fired from rocket launchers on their landing crafts. These guys scaled a cliff with just rope while being shot at with automatic weapons from all angles. This is the definition of a hero in case you weren't aware. This stop motion, little-green-army-men re-enactment portrays the scene perfectly.
Also check out: You can see one of only two Pointe du Hoc grappling hooks left in existence on display at the Smithsonian National Museum of American History in Washington DC. Check out my post on WWII sites in Washington DC here.
Today, Pointe do Hoc still has its German gun casements and bunkers, is completely covered in bomb craters, and serves as home to a surprisingly large population of sheep.
You can walk the entire site, look over the cliffs, pay your respects at the memorials, and I watched a sheep being born. True story.
Why Pointe du Hoc is one of the best D-Day sites to visit in Normandy
You can see what 'impossible' really looks like
Nothing you need to do after this will seem too difficult, too inconvenient, or worth complaining about. Next time you think about calling something you have to do "impossible," think of Pointe du Hoc.
To see the the bomb craters
The bomb craters at Pointe du Hoc provide a visual you can't get anywhere else. No other D-Day sites have bomb craters like the ones you'll see here. There are so many; and they are still here. You must see this for yourself. (See what Pointe du Hoc looks like from above here.)
★ More information: ABMC's Pointe du Hoc page
7. La Cambe German War Cemetery
Because travel is all about growing as a person… but also about throwing your mind, your beliefs, and your emotions for a loop.
Visiting a German cemetery in Normandy just days after the anniversary of D-Day may seem… strange? maddening? treacherous, even? And you're absolutely right; it does. It did.
But then you get there and what you experience is something different and unexpected. You'll discover there's a moment when you stop thinking of these German soldiers exclusively as villains.
Sure, many of them were horrible people but most didn't want to die fighting our soldiers any more than ours wanted to die fighting them. You know about Hitler… do you think they had much of a choice? (I'm asking honestly; this is a highly debatable question.)
Everyone was a victim during WW2; no one wins in war. And some cemeteries will just get to you regardless of who is buried there.
About La Cambe German Cemetery
La Cambe German Cemetery started out as a cemetery for both American and German soldiers. They eventually moved the Americans either back to the U.S. or to the aforementioned American Cemetery and more Germans moved in.
Today, the total grave count at La Cambe stands at 21,222 (the largest cemetery in all of Normandy) packed into a space one-tenth the size of the Normandy American Cemetery. All belong to victims of the Allied D-Day landings and the resulting battles, and most of these soldiers were close to being teenagers.
They've adorned the cemetery with imposing black crosses and the whole site mirrors this idea: heavy and dark.
At the cemetery's center is a large mound under a statue of a woman and a man representative of the mothers and fathers who lost children in the war. The mound itself represents nothing—it actually holds the unidentified bodies of almost 300 German soldiers. Graves here are a 2-for-1 deal and some don't even have names at all.
Be as angry as you want to be, just don't forget these men were fellow human beings once. Men who loved family members, felt loneliness, had best friends, played sports, wrote love letters, and probably, at some point, did something nice for someone they didn't know.
"two German soldiers"
Why La Cambe German War Cemetery is one of the best D-Day sites to visit in Normandy
To see the contrast
To see (and feel) the stark contrasts (both visual and emotional) between the American and German cemeteries. Normandy American Cemetery is white, bright, open, and beautiful. It leaves you feeling so grateful you think your heart is sure to burst.
La Cambe German Cemetery is profoundly heavy and dark. You'll leave feeling all around confused and disheartened.
We are all equal
Visiting La Cambe helps you understand how equal we all are. The events of D-Day have doubtlessly left us all feeling sad, but we Americans don't own the rights to those feelings.
Experiencing a German cemetery helps paint a broader picture of the war. It wasn't just Us vs. Them; it was All of Us vs. Intolerance and Hate.
★ More information: Normandy Tourism's La Cambe German Military Cemetery page
Before your trip to Normandy
As always, I recommend gearing up for your trip to the best D-Day sites to visit in Normandy by reading all the books and watching all the movies. Here's where you can start:
Read these books:
Band of Brothers by Stephen Ambrose
New York Times bestseller about the U.S. Army's 101st Airborne Division. This book tells the stories of these men and their leaders from when they enlist in the Airborne, to their parachuting into France early on the morning of D-Day, and on to their capture of Hitler's Bavarian outpost, the Eagle's Nest in Berchtesgaden.
Stephen Ambrose is a phenomenal writer and his books are easy to follow and endlessly engaging. Pick up Band of Brothers here.
D Day: June 6, 1944: The Climactic Battle of World War II by Stephen Ambrose
Amazon says: "Stephen E. Ambrose's D-Day is the definitive history of World War II's most pivotal battle, a day that changed the course of history." And since it's Stephen Ambrose it's bound to be perfection. Pick up D-Day: June 6, 1944 here.
Double Cross: The True Story of the D-Day Spies by Ben Macintyre
A little D-Day behind-the-scenes action for you. Amazon says: "[Operation Fortitude] was the most sophisticated and successful deception operation ever carried out, ensuring Allied victory at the most pivotal point in the war." Reviewers say it's more for history and WW2 buffs than it is for spy novel enthusiasts. Pick up Double Cross here.
Omaha Beach: D-Day, June 6, 1944 by Joseph Balkoski
John Hillen of the New York Post says: "Balkoski's depiction of 'Bloody Omaha' is the literary accompaniment to the white-knuckle Omaha Beach scene that opens Steven Spielberg's Saving Private Ryan." If you've seen Saving Private Ryan, you know that's quite a description! Pick up Omaha Beach: D-Day, June 6, 1944 here.
Arromanches-les-Bains
Watch these movies and miniseries
Saving Private Ryan (1998)
Amazon description: "Seen through the eyes of a squad of American soldiers, the story begins with World War II's historic Omaha Beach D-Day invasion, then moves beyond the beach as the men embark on a dangerous special mission. Captain John Miller (Tom Hanks) must take his men behind enemy lines to find Private James Ryan, whose three brothers have been killed in combat."
Film magazine Empire describes the 27-minute Omaha Beach landing scene as the "best battle scene of all time." That same scene was named Number 1 on TV Guide's list of 50 Greatest Movie Moments. Watch this movie! Check out Saving Private Ryan here.
The Longest Day (1962)
Known as the definitive movie about D-Day and full of stars: John Wayne, Sean Connery, and Henry Fonda (among many others).
It depicts D-Day from the perspectives of both the Allied and German forces and uses actors and military consultants who personally fought in the war. Check out The Longest Day here.
Band of Brothers (2001)
An epic, 10-part HBO miniseries based on the book by Stephen Ambrose (I told you it was good). Steven Spielberg and Tom Hanks produced it–just as they did Saving Private Ryan (good again). Some of its biggest stars include Damien Lewis, Michael Fassbender, Donnie Wahlberg, Ron Livingston, David Schwimmer, and Tom Hardy. Check out Band of Brothers here.
Ike – Countdown to D-Day (2004)
Amazon description: "IKE: COUNTDOWN TO D-DAY follows the 90 terrifying days leading up to the invasion as General Dwight D. Eisenhower decides the fates of thousands of soldiers while managing complex strategic relationships with British Prime Minister Winston Churchill, American General George S. Patton, Britain's Field Marshall Bernard Montgomery and French President Charles de Gaulle.
In this climate, one man, Dwight Eisenhower, pulled the world's leaders together for one of history's most infamous battles." Check out Ike – Countdown to D-Day here.
Storming Juno (2010)
Half movie, half documentary. Juno Beach was one of the five D-Day landing beaches, this one invaded by our Canadian allies. Storming Juno portrays Canada's role in D-Day through the true stories of paratroopers, tank crewmen, and regular infantry. Check out Storming Juno here.
More info for your day in Normandy
› Heading to Normandy? Read hotel reviews on Tripadvisor, then book your room here.
› But where do I personally recommend? Check out the Gold Beach Hotel, where I stayed.
› What else have I covered in France? Check out these posts.
› Like this post? Have questions? Reach out on Facebook | Twitter | Instagram
Top 20 Memorial Day Weekend Destinations in the South
Since 1966, the editors of Southern Living have been carrying out the mission of the brand: to bring enjoyment, fulfillment, and inspiration to our readers by celebrating life in the South. We inspire creativity in their homes, their kitchens, their gardens, and their personal style. We are a friend they can trust, a guide to the seasons, a helping hand during the holidays, and a relentless champion of the Southern way of life.
Memorial Day weekend is finally here, and Yelp has given us some inside scoop on the top destinations in the South. To compile this list, Yelp looked at cities in the South that saw the biggest spike in search traffic during Memorial Day Weekend in 2017. The list of the best places to go is truly top notch, as it includes some of our South's Best winners for best beaches, prettiest cities, and more. Yelp went above and beyond and even suggested things to see and do and places to eat in these amazing Southern cities and towns. Those businesses and sites are among the highest rated in each city in Yelp's database. So whether you're going to one of these destinations this year for the kick-off-to-summer weekend or you want to plan an anytime trip, these cities and businesses are the best of the best. According to Yelp's data, these are the most popular Southern places to go for Memorial Day weekend.
1. Ocean City, Maryland
See: Ocean City Life-Saving Station Museum
Visit Website | View Yelp Reviews
Learn about the history of Ocean City and the story of the "Storm Warriors" of the United States Life-Saving Service, predecessors of today's Coast Guard, who stood watch to rescue sailors from ships wrecked offshore.
Do: Odyssea Water Sports
Visit Website | View Yelp Reviews
Get active on the water and rent pontoon boats, jet skis, paddle boards, and kayaks from this family-owned business.
Eat: Hooked
Visit Website | View Yelp Reviews
Yelpers love the crab dip, pesto fries, and French toast bread pudding at this local seafood spot.
2. Arlington, Virginia
See: Tomb of the Unknown Soldier
Visit Website | View Yelp Reviews
At the Arlington National Cemetery rests an unidentified World War I soldier whose tomb is guarded by United States Army members. Unknown soldiers from World War II, Korea, and Vietman are also honored at the memorial.
Do: Potomac Heritage Trail
Visit Website | View Yelp Reviews
Discover the beauty of the Potomac Heritage train on foot, bicycle, horse, or boat.
Eat: The Liberty Tavern
Visit Website | View Yelp Reviews
Yelpers rave about the fried chicken and Vermont pizza at this neighborhood restaurant and bar that's been a local favorite for more than 10 years.
3. Saint Augustine, Florida
See: Castillo de San Marcos
Visit Website | View Yelp Reviews
With a more than 340-year history, this former Spanish fort is one of the oldest structures in the United States.
Do: Oldest House Museum
Visit Website | View Yelp Reviews
The oldest house in Florida, as well as its surrounding garden and towering old oak trees, serves as a museum and popular wedding venue.
Eat: Maple Street Biscuit Company
Visit Website | View Yelp Reviews
Yelpers' top choice is the The Squaking Goat, a fried chicken biscuit with fried goat cheese and house-made pepper jelly, as well as the sausage gravy at this local biscuit house that serves up Southern comfort.
4. Pigeon Forge, Tennessee
See: Country Tonite Theatre
Visit Website | View Yelp Reviews
This award-winning country music variety show goes way beyond singing and dancing.
Do: Dollywood
Visit Website | View Yelp Reviews
Every Southern family should make a trip to Dollywood at least once. You'll never run out of things to do at this incredible Smoky Mountain destination.
Eat: Local Goat
Visit Website | View Yelp Reviews
According to Yelp reviewers, the Deep Fried Deviled Eggs, Cheese Fondue and BGT Burger with goat cheese, crispy onions, and bacon jam are worth an order at this restaurant and bar that prides itself on making everything from scratch.
5. Galveston, Texas
See: Moody Mansion
Visit Website | View Yelp Reviews
This 1895 estate is 28,00 square feet and four stories of historical charm. Take a self-guided audio tour or a behind the scenes tour of the mansion.
Do: Baywatch Dolphin Tours
Visit Website | View Yelp Reviews
See the real locals of Galveston on a 45-minute dolphin tour on the water.
Eat: Mosquito Café
Visit Website | View Yelp Reviews
If you get brunch during your visit to Galveston, it needs to be at the Mosquito Café. The Mosquito Benedict and French Toast are most popular with Yelp reviewers.
6. Asheville, North Carolina
See: The Biltmore Estate
Visit Website | View Yelp Reviews
The largest privately owned house in the country and the original home of the Vanderbilt family, the Biltmore House and the entire Biltmore Estate are awe-inspiring.
Do: Blue Ridge Parkway
Visit Website | View Yelp Reviews
Dubbed "America's favorite drive," Blue Ridge Parkway consists of more than 460 miles of views that cover mountains, rivers, waterfalls, and more.
Eat: HomeGrown
Visit Website | View Yelp Reviews
This Asheville spot is all about sourcing its food locally, and Yelpers can't get enough of the Cheesy Grits, Buttermilk Fried Chicken, and Redneck Pot Pie.
7. Savannah, Georgia
See: Wormsloe Historic Site
Visit Website | View Yelp Reviews
The gorgeous avenue of live oaks that leads up to this colonial estate is beautiful enough for its own visit, but the museum, complete with costumed interpreters, is educational and fun.
Do: Free Savannah Tours
Visit Website | View Yelp Reviews
You won't miss a single bit of Savannah's rich history with this guided walking tour.
Eat: The Olde Pink House
Visit Website | View Yelp Reviews
Get a taste of true lowcountry cuisine in a restored 18th century mansion. According to Yelp, the Crab Soup, Pork Shank, and BLT Salad are worth an order.
8. Jacksonville Beach, Florida
See: Catty Shack Ranch Wildlife Sanctuary
Visit Website | View Yelp Reviews
See tigers, lions, cougars, leopards, and more at this sanctuary for rescued endangered big cats.
Do: Beach Life Rentals
Visit Website | View Yelp Reviews
However you want to explore Jacksonville Beach, whether on a beach bike, paddle board, kayak, or surfboard, Beach Life Rentals can make it happen.
Eat: Gilbert's Southern Kitchen and Bar
Visit Website | View Yelp Reviews
At this local joint, you'll find modern versions of Southern comfort classics. Yelpers favorites include the Blue Crab Perlot, the 24 Hour Brined Southern Fried ½ Chicken (ask for it hot), and fresh seafood picks like shrimp and fish.
9. Corpus Christi, Texas
See: Art Museum of South Texas
Visit Website | View Yelp Reviews
Check out modern art exhibits right on the waterfront.
Do: USS Lexington Museum
Visit Website | View Yelp Reviews
This World War II aircraft carrier turned floating museum is full of educational exhibits, including a flight deck with 20 aircrafts, a flight simulator, and a 3D theater.
Eat: Black Diamond Oyster Bar
Visit Website | View Yelp Reviews
Get your fill of fresh oysters, cold beer, and live music at this sunny spot. Yelp reviewers recommend the Flounder, Fried Shrimp, and Mahi Mahi with Lemon Butter Crab Sauce—yum!
10. Panama City, Florida
See: St. Andrews State Park
Visit Website | View Yelp Reviews
Swim, snorkel, scuba dive, kayak, canoe, fish, hike, watch wildlife, or simply chill out on the white sands of this park.
Do: Lagoon Pontoons
Visit Website | View Yelp Reviews
Lagoon Pontoons has more than pontoon rentals. Try out a double decker boat, a jet ski or boat dolphin tour, fishing boat rentals, sunset catamaran cruises, and more.
Eat: Hunt's Oyster Bar & Seafood Restaurant
Visit Website | View Yelp Reviews
Yelpers rave about the Grouper, Cheese Grits, and Crab Legs at this downhome seafood joint.
11. Columbus, Georgia
See: Chattahoochee Riverwalk
Visit Website | View Yelp Reviews
This outdoor park stretches 15 miles along the Chattahoochee River. This is a great way to see the city and enjoy the outdoors.
Do: National Infantry Museum
Visit Website | View Yelp Reviews
There's so much to learn at this museum that's dedicated to honoring the U.S. Army Infantrymen. Browse current exhibits, sit back in the Giant Screen Theater and even have a virtual reality experience in combat simulators.
Eat: 7th Street Provisions
Visit Website | View Yelp Reviews
This restaurant is serving up French-inspired Southern dishes with a rotating menu that changes with the season's fresh produce. If they're on the menu when you visit, Yelp reviewers love the Mushroom Turnovers and Braised Lamb Shank.
12. Hilton Head Island, South Carolina
See: Coastal Discovery Museum
Visit Website | View Yelp Reviews
This isn't your usual museum. With trails, gardens, a butterfly enclosure, historic homes, and more, there's plenty to do other than look at indoor exhibits.
Do: Live Oac Outdoor Adventure Company
Visit Website | View Yelp Reviews
Go on a dolphin tour, take a fishing trip on a chartered boat, or go tubing or boarding behind a boat. This company has whatever you need for any kind of boating trip.
Eat: A Lowcountry Backyard Restaurant
Visit Website | View Yelp Reviews
Sit back and relax with the comfort of a cozy lowcountry setting. Yelp reviews praise the Charleston Fried Green Tomato BLT, Potato Chip Meatloaf, and Banana Puddin', which all sound right up our alley.
13. Wilmington, North Carolina
See: Airlie Gardens
Visit Website | View Yelp Reviews
Airlie Gardens features 67 acres of walking paths, gardens, sculptures, and more. It's the most beautiful way to spend a day.
Do: USS North Carolina Battleship Memorial
Visit Website | View Yelp Reviews
Tour this World War II battleship turned museum for a historical day on the water.
Eat: Coppy Penny
Visit Website | View Yelp Reviews
You can't go wrong with this restaurant's affordable menu of good eats, but Yelp reviewers can't stop talking about the French Onion Soup, 109 Chestnut Chicken Sandwich, and Asian Slaw.
14. Naples, Florida
See: Keewaydin Island
Visit Website | View Yelp Reviews
Pull up to this island on boat and enjoy a day at the beach. Don't bother packing a picnic basket—food trucks' water cousins, food boats, will come by.
Do: Collier-Seminole State Park
Visit Website | View Yelp Reviews
Hike, bike, bird watch, kayak, boat, or stay and camp out for the night at this state park that's over 7,000 acres.
Eat: 7th Avenue Social
Visit Website | View Yelp Reviews
This restaurant works with local vendors and farmers to bring only the freshest food to the table. The menu changes with the times, but Yelpers have raved about the Conch Sliders, Short Rib Pot Roast, and Fried Green Tomatoes.
15. Biloxi, Mississippi
See: Biloxi Lighthouse
Visit Website | View Yelp Reviews
This 1848 lighthouse is the city's signature landmark. Take a guided tour or visit for a photo opp.
Do: Biloxi Shrimping Trip
Visit Website | View Yelp Reviews
Learn about the shrimping industry and catch some Gulf Coast shrimp for yourself on this educational and interactive boat tour.
Eat: Patio 44
Visit Website | View Yelp Reviews
Relax on the patio with creole-style cuisine fresh from the Gulf. Yelp reviewers love the Gouda Grits, Blue Crab Fondue, and Fried Green Tomatoes.
16. New Braunfels, Texas
See: Gruene Historic District
Visit Website | View Yelp Reviews
This charming town, founded by German settlers, has tons of attractions to offer, including restaurants, stores, a winery, and adorable bed and breakfasts.
Do: Gruene Hall
Visit Website | View Yelp Reviews
See a show and experience the outdoor garden at the oldest continually operating dance hall in Texas. You'd be amazed at some of the big names that have played here.
Eat: Gristmill River Restaurant
Visit Website | View Yelp Reviews
This local restaurant has been open since 1977 beneath the city's iconic water tower. Enjoy live music and Yelp reviewer favorites like the Beef Tenderloin Sandwich and the Spinach Artichoke Dip.
17. Annapolis, Maryland
See: William Paca House and Garden
Visit Website | View Yelp Reviews
This estate dates back to the 1760s and belonged to one of Maryland's four signers of the Declaration of Independence. Take a tour of this incredibly restored house and its two-acre garden.
Do: Kayak Annapolis
Visit Website | View Yelp Reviews
This isn't just another kayak rental service. On this tour, you'll hear the area's history, too.
Eat: Iron Rooster
Visit Website | View Yelp Reviews
If breakfast for dinner is your favorite, this local favorite serves up breakfast options all day, as well as lowcountry entrees and fresh seafood. Yelpers give the Waffle Burger, French Toast, and Crab Cakes (Cakes on Cakes) rave reviews.
18. Charleston, South Carolina
See: Magnolia Plantation & Gardens
Visit Website | View Yelp Reviews
Founded in 1676, this historic plantation has a house tour, a nature train, a boat tour, and several other sites.
Do: Palmetto Carriage Works
Visit Website | View Yelp Reviews
Take a tour of historic Charleston from a carriage with the oldest carriage company in town.
Eat: Poogan's Porch
Visit Website | View Yelp Reviews
Stop by this beautiful Charleston favorite for brunch or dinner. Yelpers' favorites are Chef Isaac's She Crab Soup, Pimiento Cheese Fritters, and Pulled Pork Benedict.
New Orleans, Louisiana
See: Old New Orleans Rum
Visit Website | View Yelp Reviews
Tour this rum distillery that only uses locally source Louisiana sugar cane to produce its rum. There's a complimentary shuttle to the distillery, and you'll get a sample, too!
Do: Cajun Encounters Tour Company
Visit Website | View Yelp Reviews
Tour the city of New Orleans, local plantations, or the swamps with this company that does it all.
Eat: Cochon
Visit Website | View Yelp Reviews
You can find traditional creole flavor at this rustic spot. Yelp reviews can't get enough of the Fried Alligator with Chili Garlic Mayonnaise, the Pork Cheek Sauce Piquant with Hominy Grit Cake, and the Wood-Fired Oysters with Chili Garlic Butter.
20. Charlottesville, Virginia
See: Thomas Jefferson's Monticello
Visit Website | View Yelp Reviews
This incredible historic site features a house and plantation, a museum and research institute, a presidential library, and so much more. It's a must-see if you're in town.
Do: Wish Wish Wine Tours
Visit Website | View Yelp Reviews
Tour several wineries and breweries in the Charlottesville area with a group big or small.
Eat: Oakhart Social
Visit Website | View Yelp Reviews
This hip spot is dinner-only, so be sure to add it to your schedule. Yelpers can't stop ordering the Shaved Salad, House Sausage Pizza, and Hanger Steak.
Source https://vacationidea.com/vacation-ideas/best-places-to-visit-on-memorial-day.html
Source https://destinationwwii.com/best-d-day-sites-to-visit-in-normandy/
Source https://www.southernliving.com/holidays-occasions/memorial-day/places-to-go-memorial-day-weekend