15 Best Things to Do in Sedona, Arizona
What do you look for when picking the perfect vacation spot? Outdoor adventures? Shopping? Wineries? Great restaurants? Beautiful sunsets? A fun place to take the kids? What if I told you that you could get all of these in one place…Sedona, Arizona. In this article, learn about the best things to do in Sedona with tips to have the best experience.
So far, we have visited Sedona four times. Every time we are here, we fall in love with Sedona even more.
On our first two visits, we were just passing through. Both times, we stopped here for lunch on the drive from Phoenix to the Grand Canyon. It was just enough time to get a brief glimpse of this beautiful place…and to know that we needed to plan a return visit.
Three years ago, we spent a very busy 24 hours here. Once again, we were on a road trip through Arizona, but we had just enough time to hike Devils Bridge and Bear Mountain and dine at a few great restaurants. We vowed to return soon.
Which brings us to our most recent visit. In April 2021, we spent six awesome days in Sedona. This place totally rocks…pun intended. The combination of outdoor adventures, restaurants, and shopping makes Sedona a perfect holiday getaway, whether you have just a day or two, or much longer. We learned A LOT about Sedona and we can't wait to share this with you in this article.
Let's get started.
Overview of Sedona
Before we dive into the best things to do in Sedona, it helps to get a quick geography lesson.
Below is a map of Sedona. I highlighted the main sections of Sedona, as well as a few nearby towns and destinations. Some of the best things to do in Sedona aren't actually in Sedona…they are located just a short drive away and are well worth your time.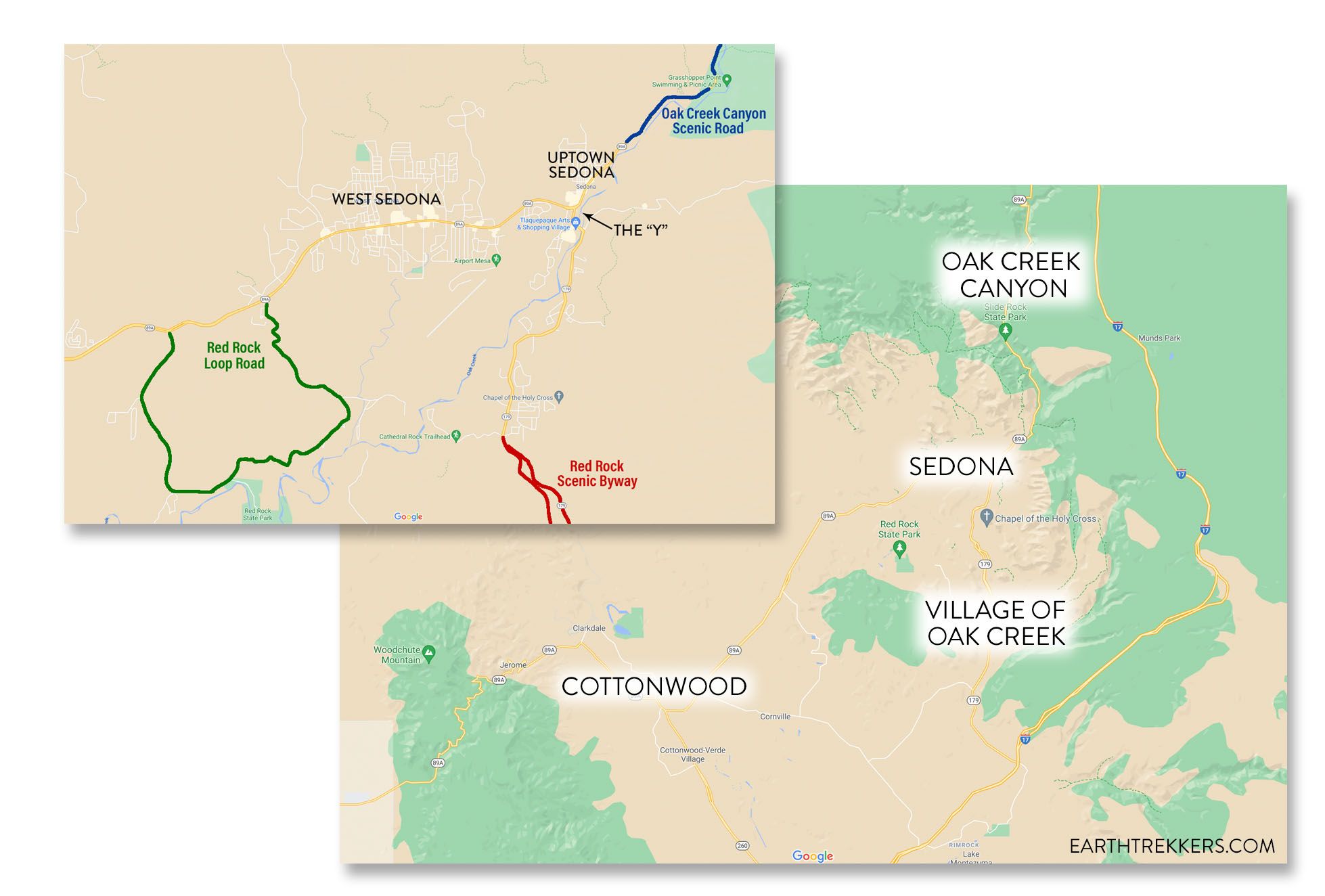 Sedona is split into two sections: West Sedona and Uptown Sedona.
West Sedona
Highway 89A travels east-west through West Sedona. This is where you will find numerous hotels and restaurants and have access to some of Sedona's best hikes.
Uptown Sedona
Uptown Sedona is located north of the intersection of Highway 89A and Highway 179 (the "Y"). Uptown Sedona feels more urban and crowded than West Sedona, and during the busy season, the roads and sidewalks get very congested. This is where you will find some of Sedona's best restaurants and shopping.
The "Y"
This is the intersection of Highway 89A and Highway 179.
Oak Creek Canyon
Located north Highway 89A, Oak Creek Canyon is a forested, shady canyon and it looks and feels a lot different than Sedona. Hike the West Fork Trail and/or visit Slide Rock State Park.
Village of Oak Creek
The Village of Oak Creek is located a short drive south of Sedona on Highway 179. Visit Cathedral Rock and Bell Rock and have brunch or dinner at some of Sedona's highest rated restaurants. If you are traveling on a budget, this is a good place to stay…hotels are cheaper here than in Sedona.
Cottonwood
Like the Village of Oak Creek, Cottonwood is just a short drive from Sedona. It is an off-the-beaten-path destination, with lower crowds and lower priced accommodations. It's also a hub for the Verde Valley Wine Trail…so don't miss Cottonwood if you like the idea of adding a winery or two to your trip to Sedona.
Best Things to Do in Sedona
Below we list the best things to do in Sedona. At the end of this section, you can see them on a map, or skip ahead now.
1. Visit the Landmarks of Sedona
There are several natural landmarks that are a must-see when you visit Sedona. Some of these can be seen right from the road, but there is one uber popular spot that you can only get to by hiking.
Bell Rock
Bell Rock looms over Highway 179. If you are driving through Sedona, this bell-shaped rock is impossible to miss. You can simply see it from the highway but if you have more time, you can hike around or even up onto Bell Rock. This icon is located just north of the Village of Oak Creek.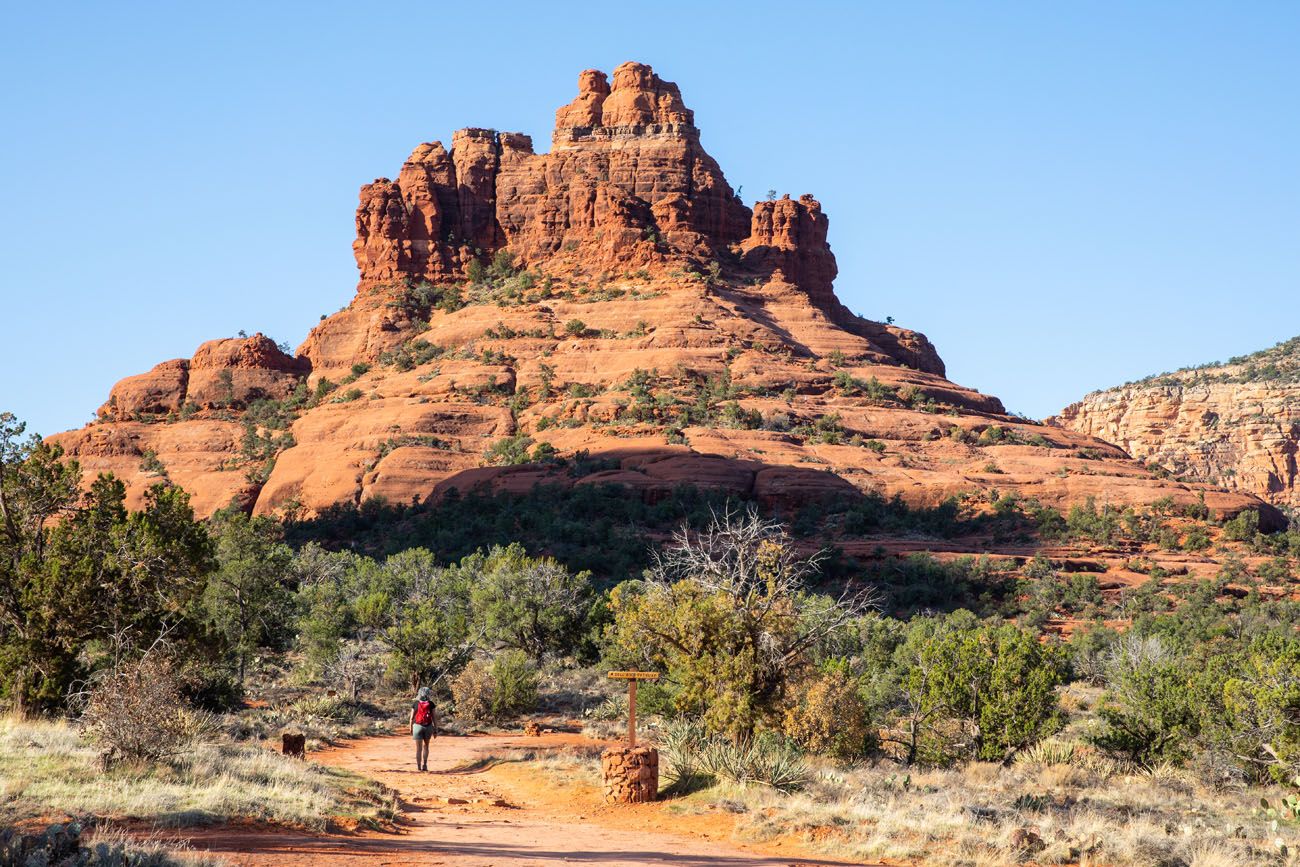 Bell Rock | Best Things to Do in Sedona
Cathedral Rock
Cathedral Rock is a much larger and grander version of Bell Rock. You can also see Cathedral Rock from Highway 179, but for the best experience, I recommend hitting one of the hiking trails that lead to Cathedral Rock.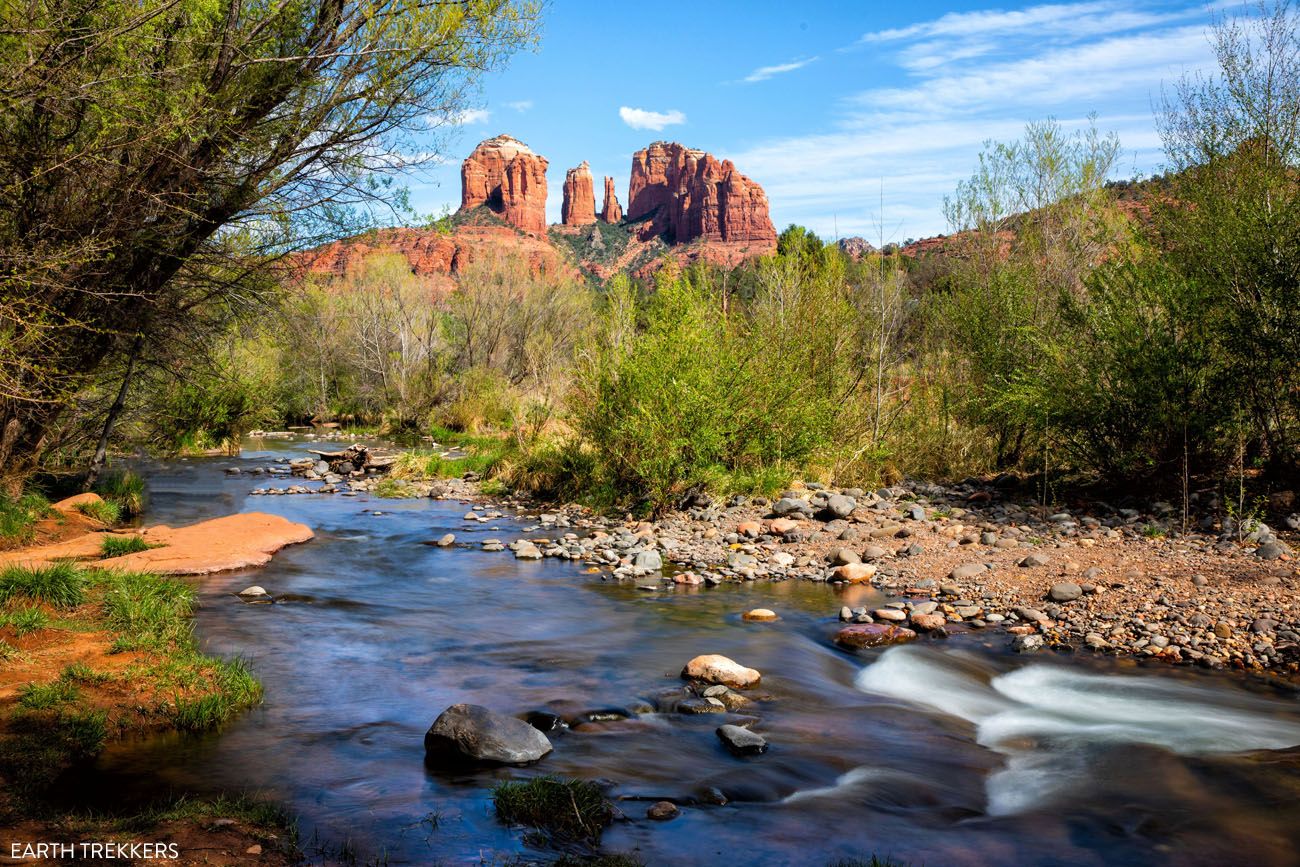 Cathedral Rock and Oak Creek. This photo was taken at the Crescent Moon Picnic Site.
There are three ways to see Cathedral Rock:
Hike up Cathedral Rock. Starting at the Cathedral Rock Trailhead on Back O Beyond Road, hike and rock scramble your way up onto Cathedral Rock for some truly amazing views. This hike is 1.2 miles round-trip and takes an hour or two. Learn more here.
Hike Red Rock Crossing to Cathedral Rock. Starting on the west side of Cathedral Rock, hike Red Rock Crossing to get up close to Cathedral Rock. Extend the journey by following the Templeton Trail around the north side and then hike up onto the rock for those amazing views.
Crescent Moon Picnic Site. For iconic views of Cathedral Rock, and to capture it in a photo with Oak Creek, visit the shady and quiet Crescent Moon Picnic Site. It is $11 to enter and this picnic area is open from 8 am to dusk.
Devils Bridge
Devils Bridge is a natural arch in Sedona. The only way to get here is by hiking and it is one of the most popular trails in Sedona. Learn more here.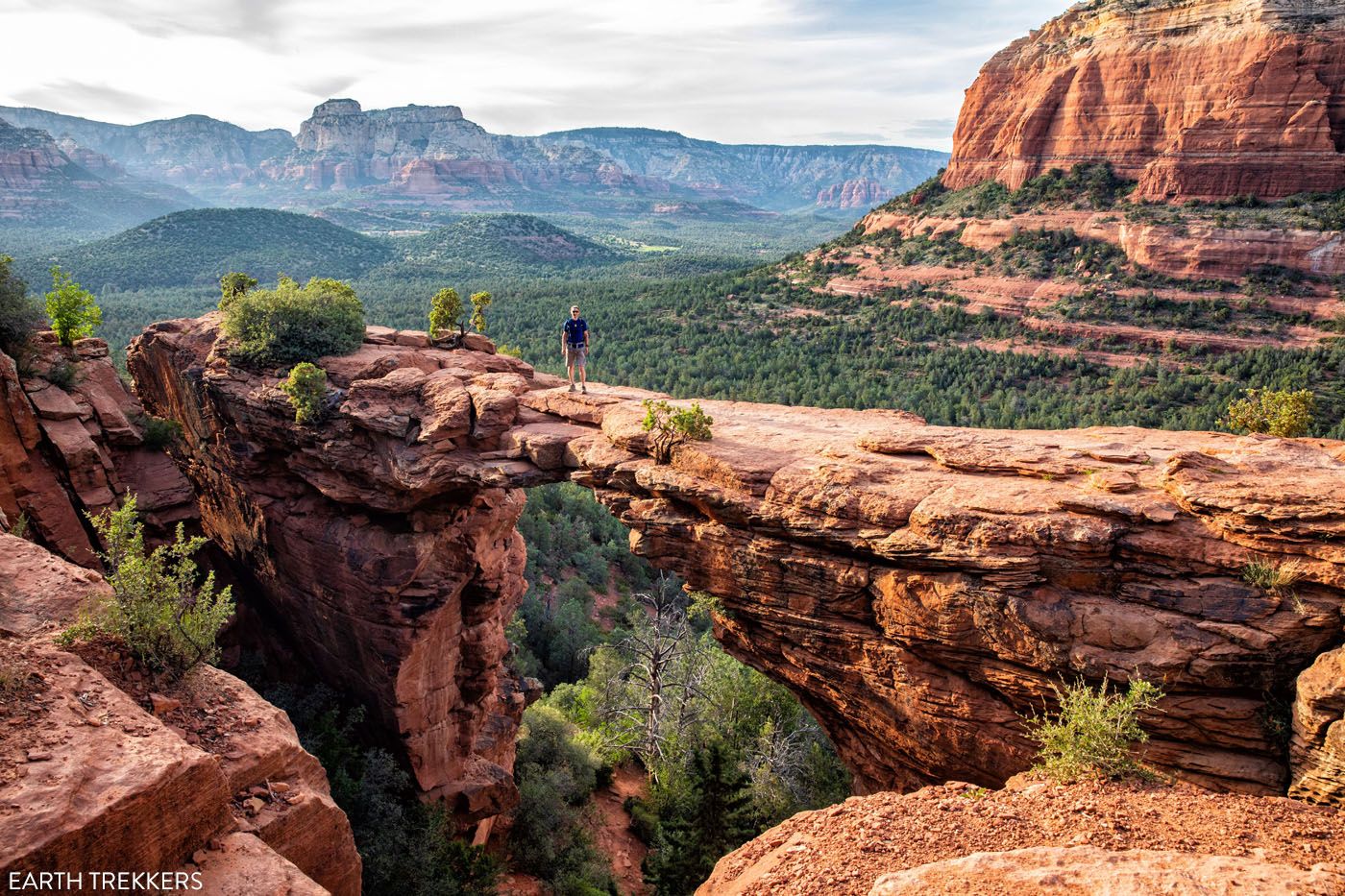 Devils Bridge | Best Things to Do in Sedona
The View from Airport Mesa
Airport Mesa is a tree and shrub-covered mesa that is located just south of West Sedona. From the Airport Mesa viewpoint, you get panoramic views over Sedona and notable rock formations such as Chimney Rock and Capitol Butte (aka Thunder Mountain). You can also hike the Airport Mesa Loop.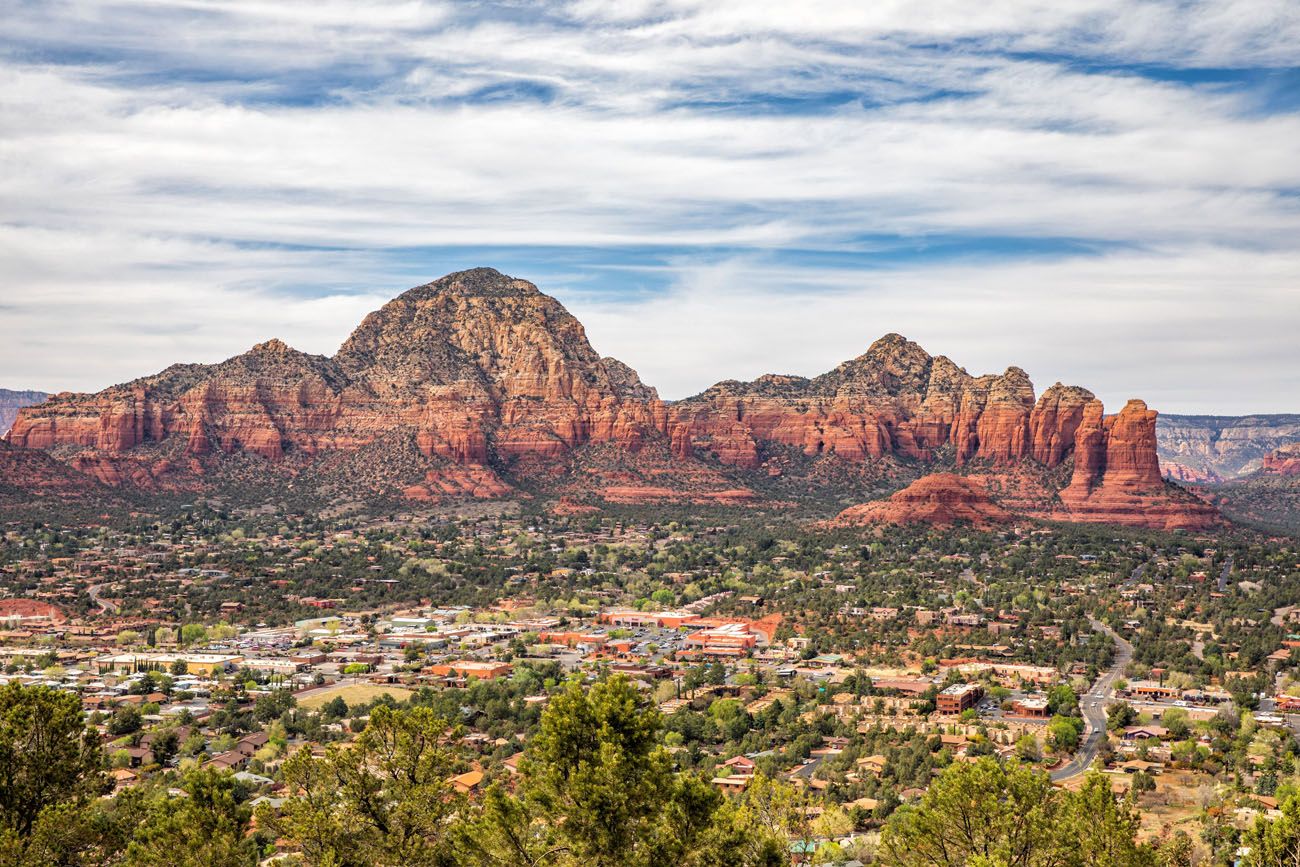 Airport Mesa view | Best Things to Do in Sedona
2. Chapel of the Holy Cross
The Chapel of the Holy Cross is another well-known landmark in Sedona.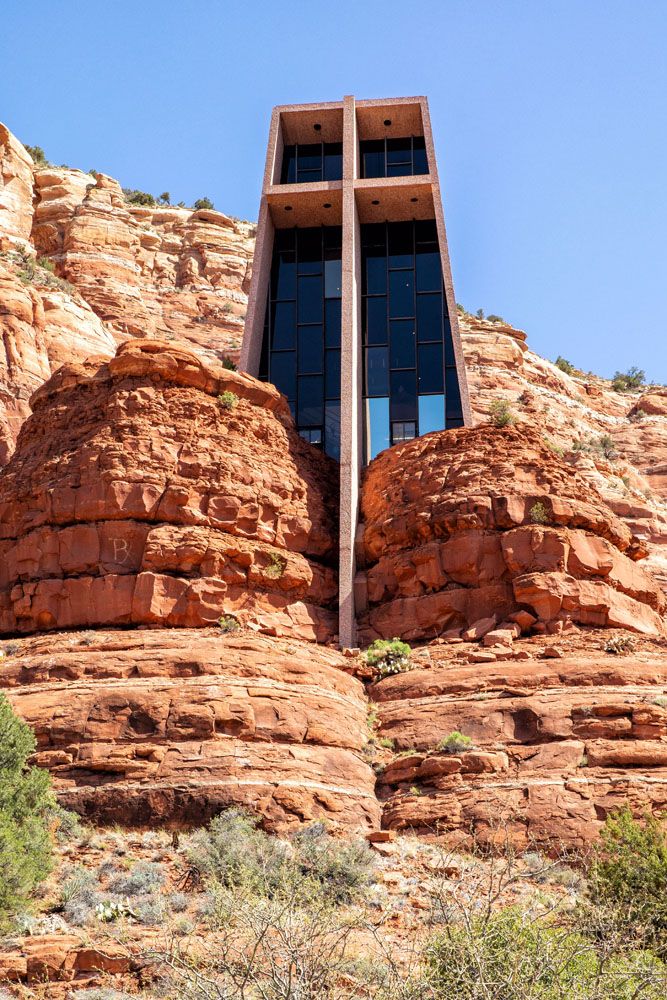 This Roman Catholic Chapel was built in 1956. In 2007, the chapel became one of the Seven Man-Made Wonders of Arizona.
To visit the Chapel, drive to the end of Chapel Road and keep your fingers crossed that you will be able to get a parking spot at the upper parking lot (if not, there are additional spaces on the lower road, underneath the chapel). From the terrace, you can look out over Sedona.
The chapel is open from 9 am to 5 pm seven days a week and free to visit. It is closed on Christmas and Easter. For the schedule of daily mass, click here.
3. Go on a Scenic Drive
If you want to see the red rocks of Sedona without hitting a hiking trail, you have three beautiful scenic drives to choose from.
Red Rock Scenic Byway
Driving the Red Rock Scenic Byway is one of the best things to do in Sedona. It's quick and easy to do and it is the perfect way to see some of Sedona's most stunning scenery. If you are just passing through Sedona on a road trip, put the Red Rock Scenic Byway on the top of your list.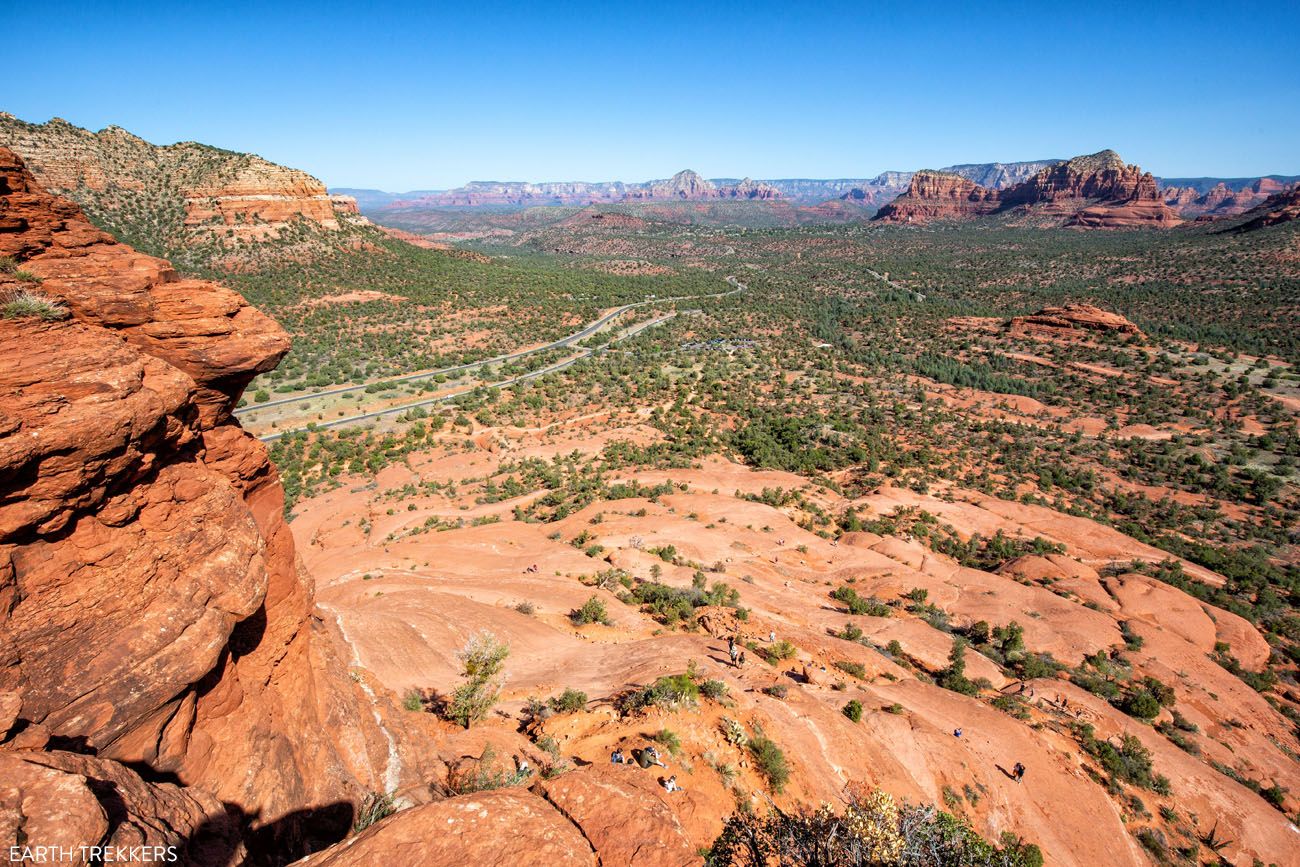 Overlooking the Red Rock Scenic Byway from Bell Rock | Best Things to Do in Sedona
Just 8 miles long, this scenic byway passes through some of the most recognizable landmarks in Sedona. The Red Rock Scenic Byway is located along a portion of Highway 179, between the mile markers 302.5 and 310.0. It starts south of the Village of Oak Creek, travels north through this town, past Bell Rock, and ends at Back O Beyond Road.
PRO TRAVEL TIP: If you are visiting Sedona on a very quick visit, but you have an hour or two to get out and explore, consider adding on the short, fun hikes up Bell Rock or Cathedral Rock.
Oak Creek Canyon Scenic Road
This scenic drive starts north of Sedona. From Uptown Sedona, take Highway 89A north, as it twists and turns through Oak Creek Canyon. You leave the red rocks behind and travel through a shady canyon. You will pass Slide Rock State Park and the West Fork hiking trail before reaching the Oak Creek Vista.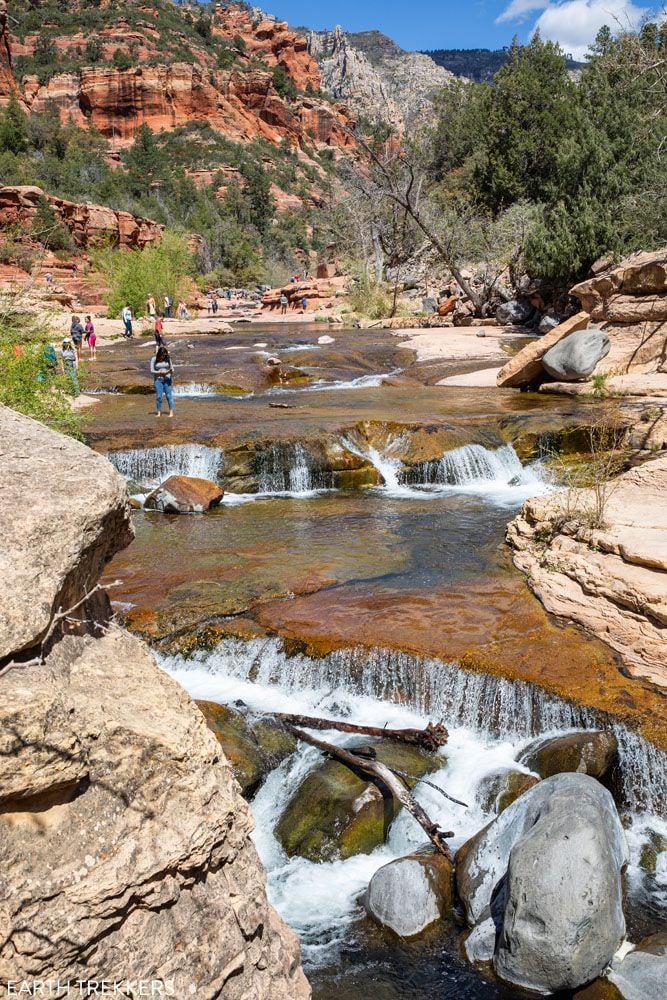 Slide Rock State Park | Best Things to Do in Sedona
This drive is 16 miles long and it takes about 90 minutes if you drive out-and-back from Sedona (without time for stops).
Red Rock Loop Road
This scenic drive is an underrated experience in Sedona. We LOVED this drive. The view of Cathedral Rock is absolutely beautiful from this loop.
Red Rock Loop Road is located in West Sedona and the entire loop is 8 miles long. It is best in the afternoon, when the sun illuminates the west side of Cathedral Rock. The view from the road is fantastic but there are several overlooks to visit on the drive. Lover's Knoll offers a beautiful view. I had fun photographing Cathedral Rock with this juniper tree.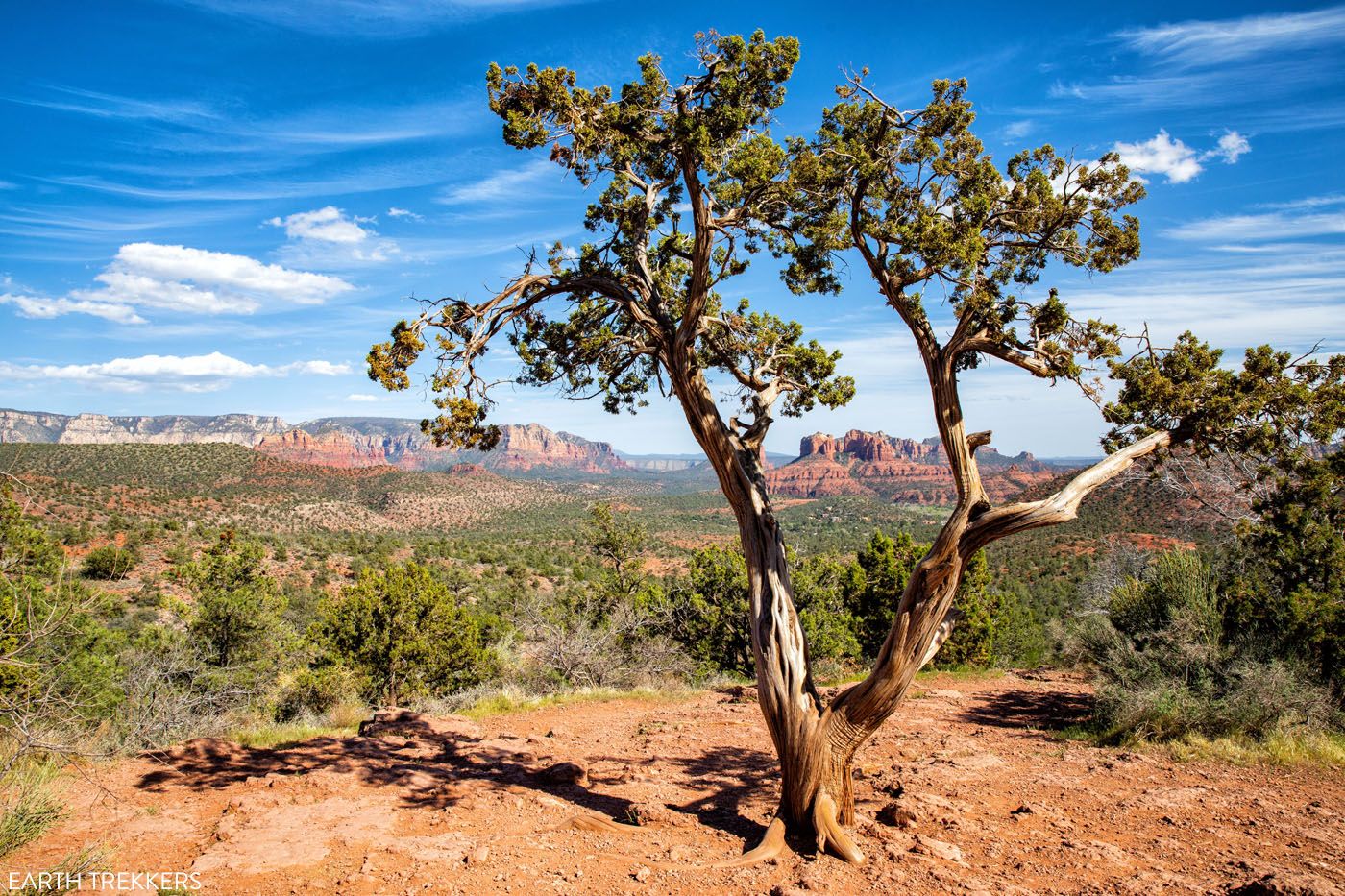 There is also an unmarked pull-off (GPS Coordinates: 34°50'43.2″N 111°49'35.5″W) but this parking lot is very rough and rocky so if you are in a standard vehicle, you might want to skip this overlook.
4. Go Hiking
Without a doubt, hiking is one of the best things to do in Sedona. For some people (like us), hiking is the #1 reason why you are planning this visit to Sedona.
In Sedona, you can hike through canyons, to hidden caves, natural arches and vortexes, and you can hike to the top of some of the highest mountain peaks.
The list of hikes is long, so long that you could literally spend weeks here and never run out of new areas to explore. Here is a list of the best hikes in Sedona.
Devils Bridge. This is the most popular hike in Sedona. It ranges from 2 to 4 miles, depending on where you park. The highlight is standing on Devils Bridge, a natural arch and one of the best photo-ops in Sedona.
Bell Rock and the Courthouse Butte Loop. Hike around Courthouse Butte and Bell Rock, a 4 mile trail that is easy and suitable for all ages and ability levels. For even better views, hike up onto Bell Rock.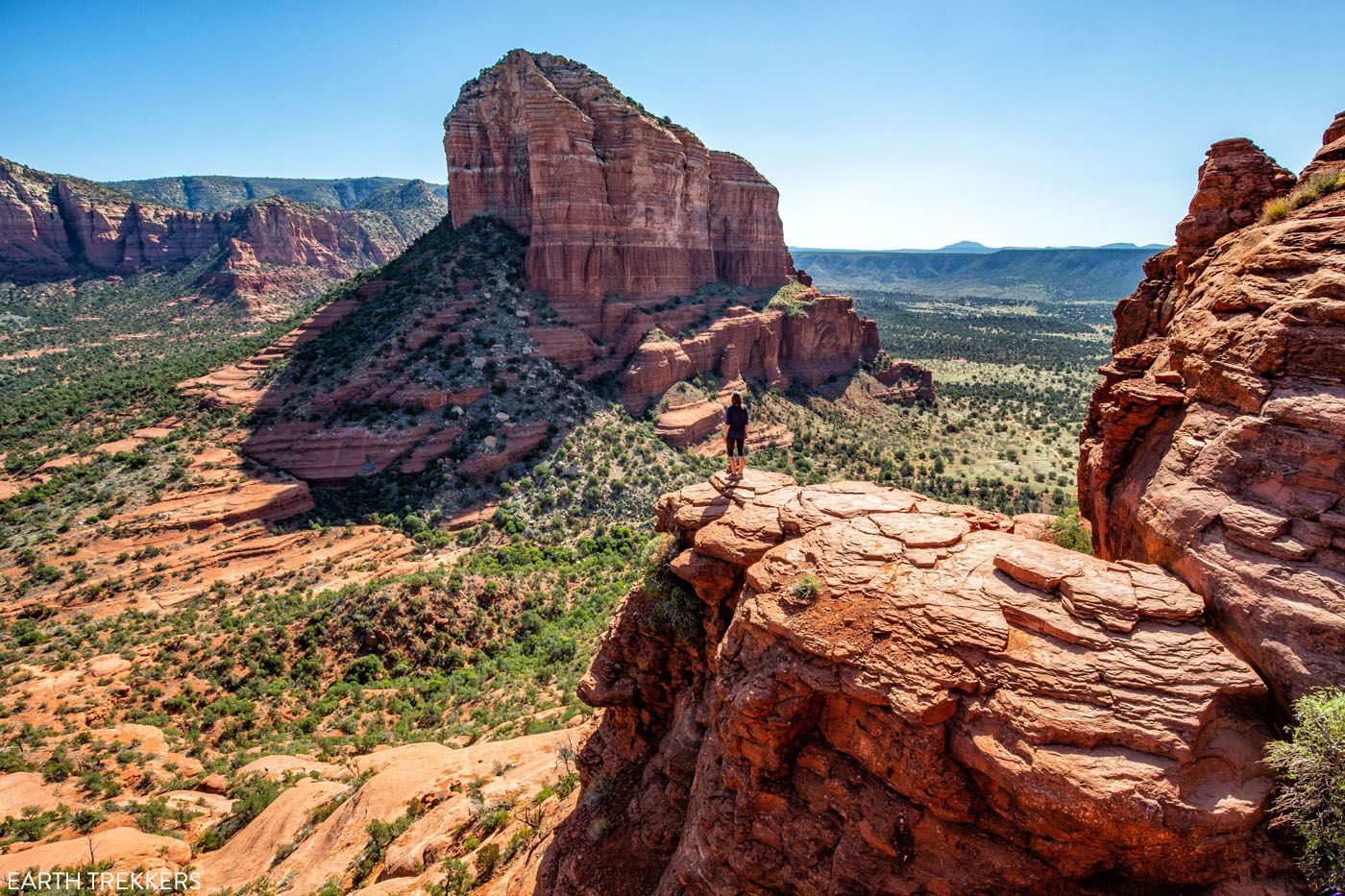 The view of Courthouse Butte from Bell Rock | Best Things to Do in Sedona
Cathedral Rock. This is an essential hike in Sedona. This hike is short and sweet, and with some rock scrambling and jaw-dropping views, it's tons of fun from start to finish. It's just 1.2 miles round-trip.
Cathedral Rock | Best Things to Do in Sedona
Boynton Canyon. This hike takes you through a beautiful canyon in the Red Rock Secret Mountain Wilderness. Add on the short detour to the Subway Cave, one of the most beautiful hidden caves in Sedona. This hike is 6.3 miles long (7 miles total if you add on the Subway Cave).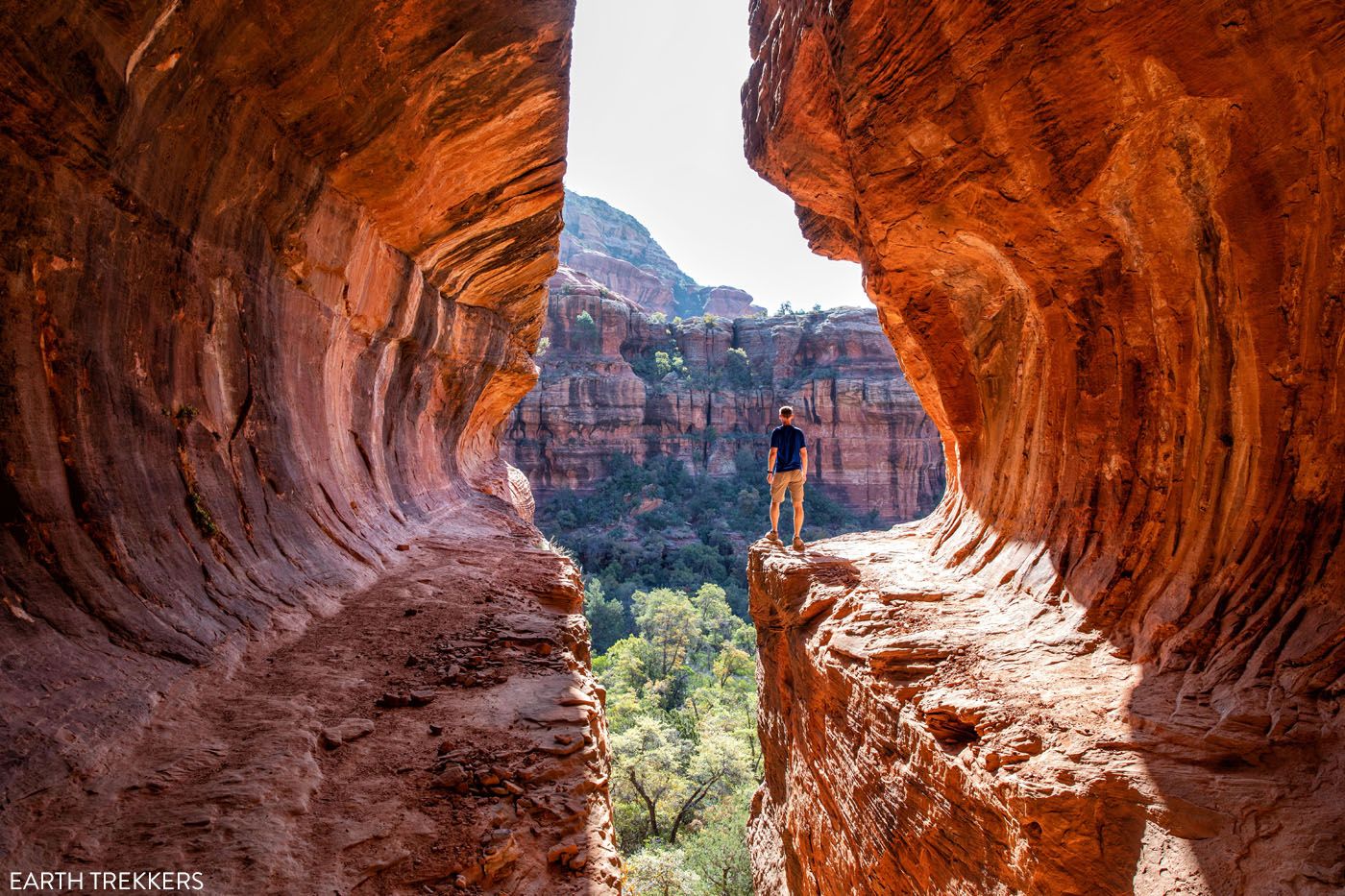 Subway Cave on the Boynton Canyon trail
Soldier Pass. This fun hike takes you past Devils Kitchen and the Seven Sacred Pools. As a bonus, hike to the Soldier Pass cave. This hike is 4.5 miles out-and-back.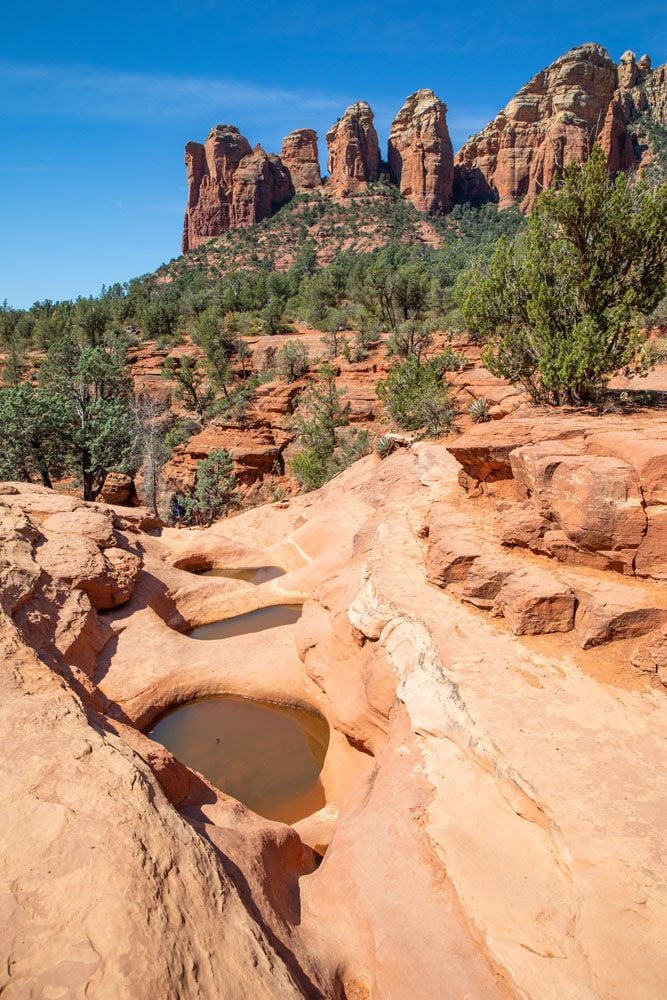 Seven Sacred Pools on the Soldiers Pass Trail
Brins Mesa. Brins Mesa can be hiked out-and-back (about 3 miles round trip) or it can be combined with Soldier Pass, forming one big loop (6 miles total).
Bear Mountain. This hike is only 5 miles round-trip but with a massive elevation gain, it is the hardest on this list. Your reward…panoramic views from one of the highest points in Sedona.
West Fork Trail. This easy trail meanders along Oak Creek. It's shady and quiet and a great option on a hot day in Sedona. The West Fork Trail is 6 miles out-and-back.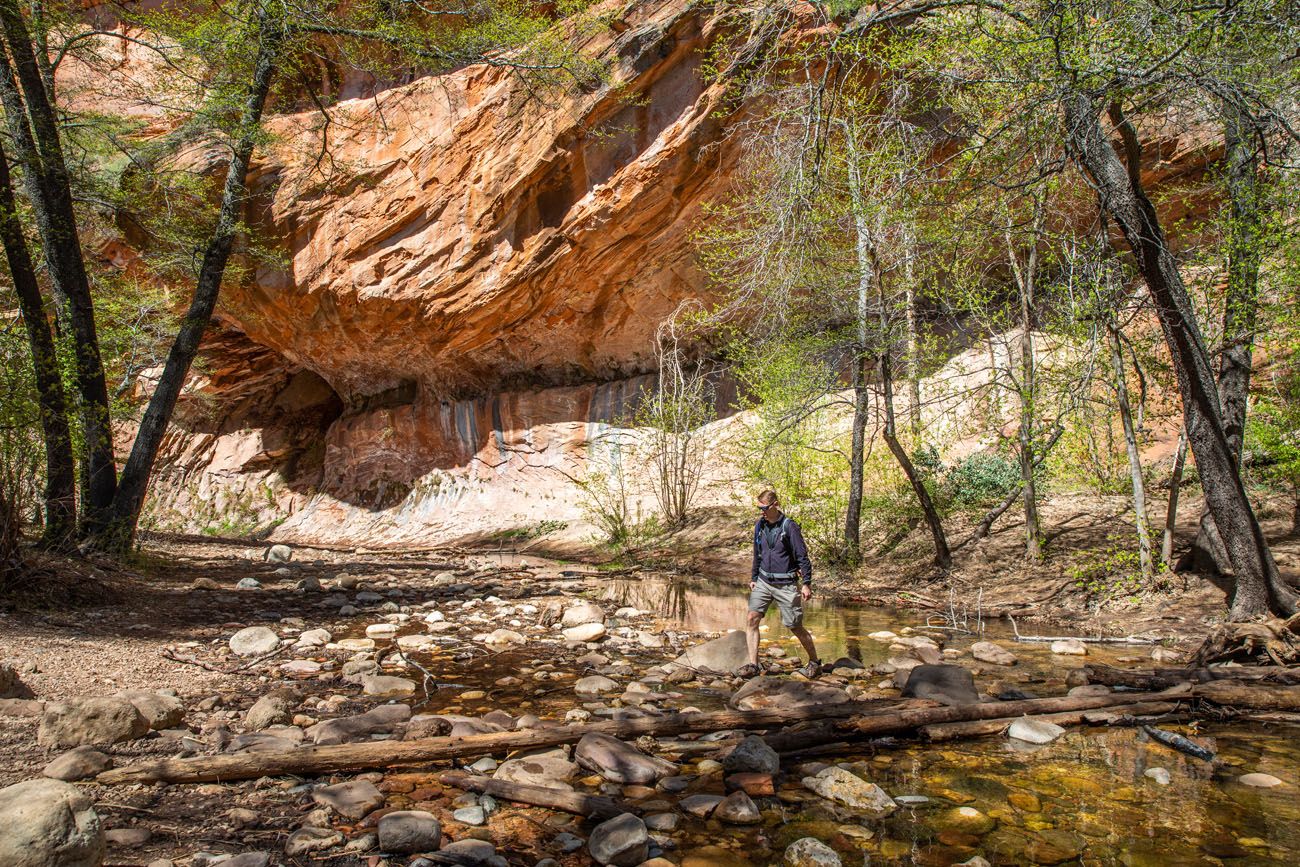 West Fork Trail | Best Things to Do in Sedona
For a longer list of hikes to do in Sedona, with many more photos and hiking stats, read our Sedona Hiking Guide.
While in Sedona, please practice the seven principles of Leave No Trace: plan ahead, stay on the trail, pack out what you bring to the hiking trail, properly dispose of waste, leave areas as you found them, minimize campfire impacts, be considerate of other hikers, and do not approach or feed wildlife.
5. Explore the 4WD Roads
One of the coolest things to do in Sedona is to explore the network of 4×4 roads. You can do this on your own, in a high-clearance 4WD vehicle, or by joining a tour.
If you want to explore Sedona's rugged and remote landscapes, and aren't necessarily a big fan of hiking, put this on the top of your list.
There are six main roads to explore. These are listed in order of difficulty, starting with the easiest roads to drive.
Schnebly Hill Road. This rugged, rocky road is easy to drive but it's also the least favorite on our list. This road is so rough that you will be rattled and jostled for the entire 12 mile out-and-back journey. Highlights include the cow pies (rock formations that resemble cow pies…not actual cow pies), the Merry Go Round, and the view from Schnebly Hill Vista.
Dry Creek Basin. This road is 11 miles long, out-and-back, and takes you to the Devils Bridge trailhead, the Van Deren Cabin, and Vultee Arch. It is a boring road to drive and you will be sharing the road with hikers on their way to Devils Bridge, so keep your speed low. This road is only worth the drive if you want to hike Devils Bridge or Vultee Arch, or see a historic cabin.
The Outlaw Trail. This is a 6 mile point-to-point drive that is located west of Sedona. We started at the Honanki Ruins and drove the road south. From the drive, you have great views of Bear Mountain and the red rocks of Sedona.
Diamondback Gulch. This road is similar to the Outlaw Trail, but with several steep descents and climbs, it is more challenging to drive. It's 7 miles, point-to-point, and this drive is more about the big descents and climbs than views of the landscape.
Diamondback Gulch | Best Things to Do in Sedona
Soldier Pass. We loved this drive. It is very short, just 2 miles round trip, but it's just challenging enough to be lots of fun. This road heads parallel with the Soldier Pass hiking trail and along the way you can stop and visit Devils Kitchen and the Seven Sacred Pools. To drive this road, you must have a permit. Only 12 are awarded per day and you can reserve yours in advance on the recreation.gov website.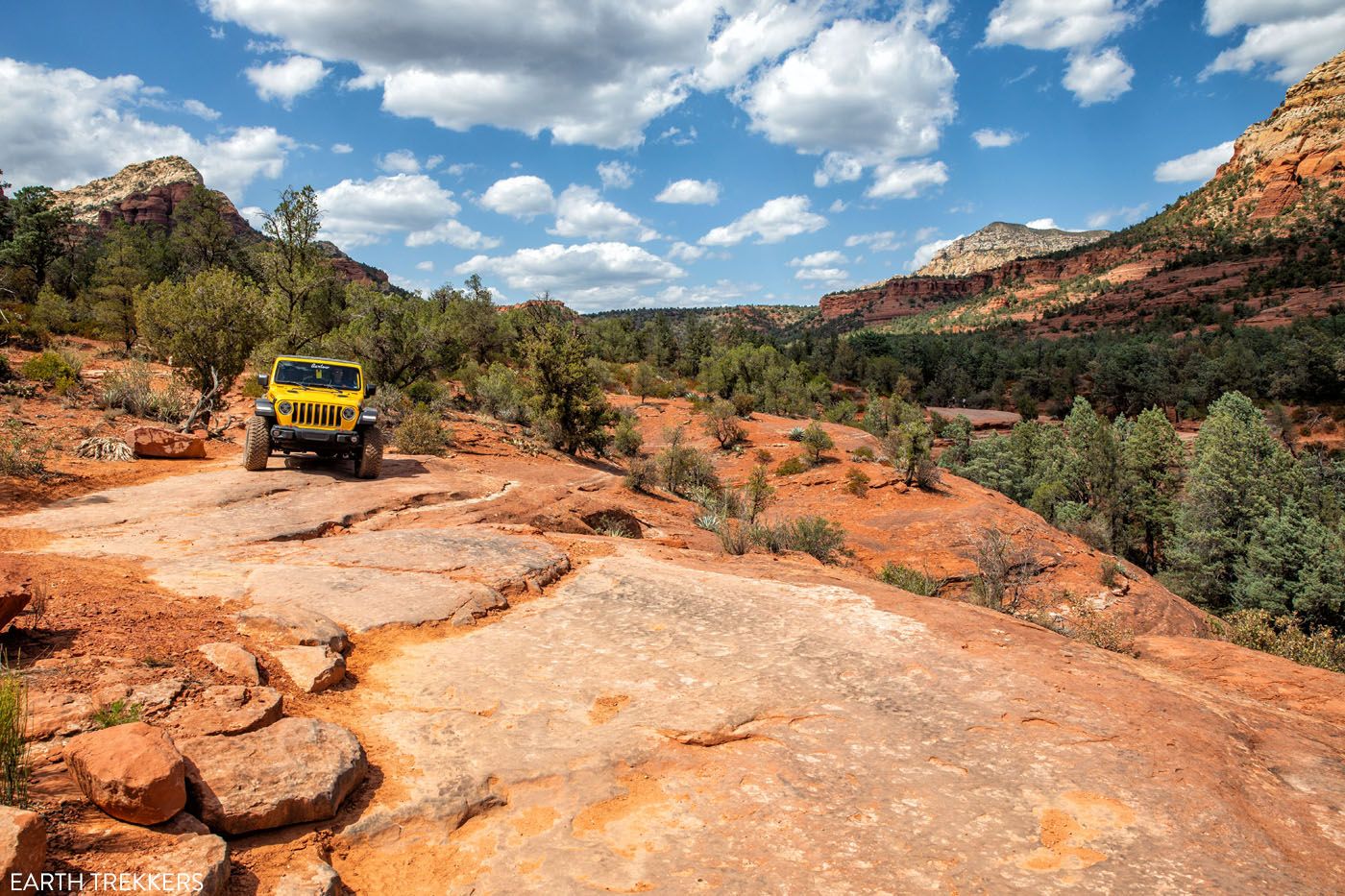 Soldier Pass | Best Things to Do in Sedona
Broken Arrow. If you only have time for one 4×4 road in Sedona, this is the one we recommend. It is extremely fun to drive and the views along the trail are amazing. It is a technical drive so prior experience is a must.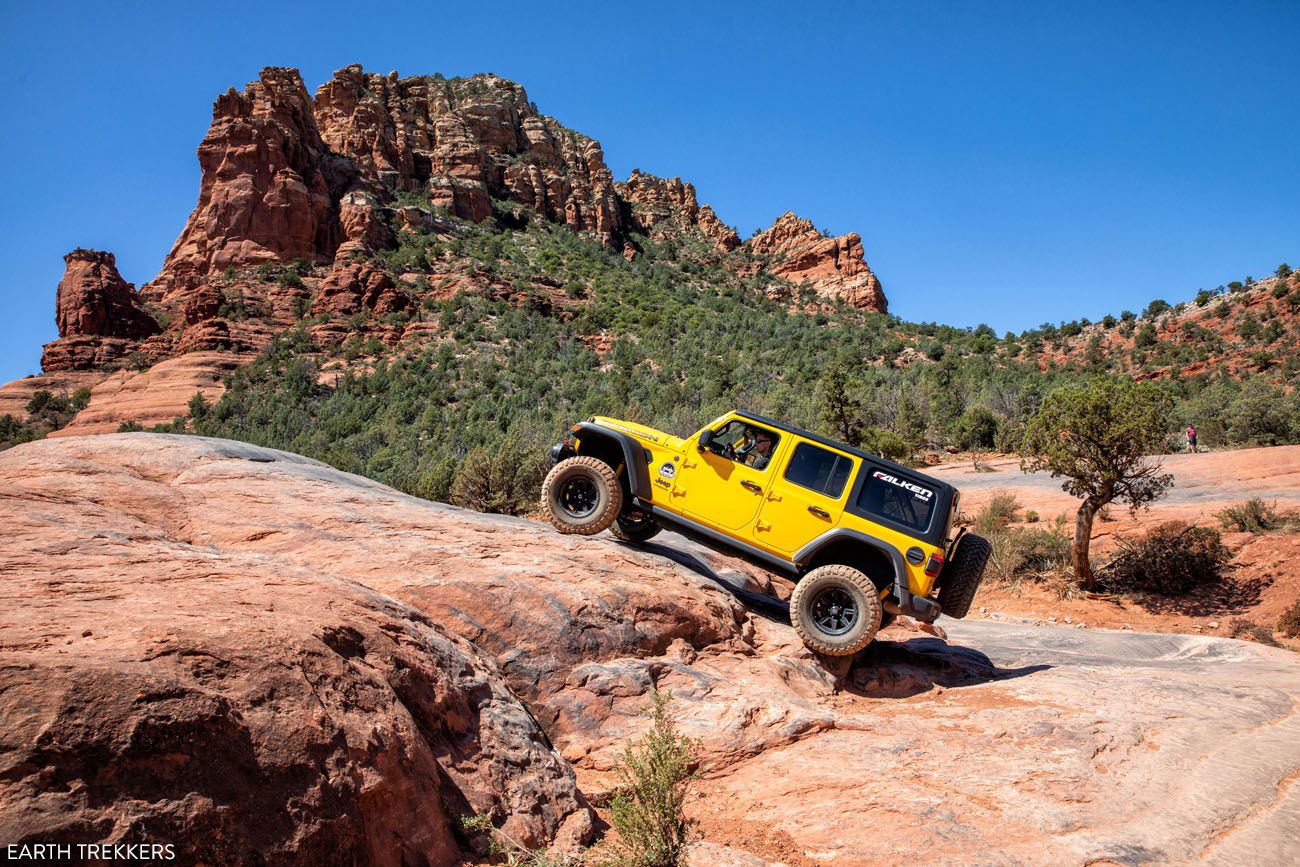 Broken Arrow | Best Things to Do in Sedona
To drive these roads, we rented a Jeep Rubicon from Barlow Adventures in Sedona. Driving these 4WD trails was one of the highlights of our visit.
You can also have a similar experience by joining a Pink Jeep Tour.
6. Visit the Sedona Vortex Sites
Thousands of people visit Sedona every year to experience the vortex sites. These energy centers are thought to facilitate meditation, mind and body healing, prayer, and creative thinking.
There are four main vortexes (or vortices) in Sedona and they are located at Airport Mesa, Bell Rock, Cathedral Rock at Red Rock Crossing, and Boynton Canyon. There are also vortices at the Chapel of the Holy Cross and Schnebly Hill.
Some people report a tingling in the hands or a heightened sense of awareness. Others inexplicably break into tears. At these sites, it is not unusual to find people meditating or doing yoga, to channel this source of energy.
While in Sedona, you can hike to these sites and experience this energy for yourself, or take a Jeep tour to the vortex sites.
7. Get a Psychic Reading
After tapping into the mystical energy from Sedona's vortexes, why not get a glimpse of what the future holds for you?
Psychic readings are offered at many different spots in Sedona, but one of the best places to go is the Center for the New Age, which is located at the "Y," across the street from the Tlaquepaque Arts & Crafts Village. It's hard to miss this bright purple building as you drive through Sedona.
Take your pick from psychic clairvoyant readings, tarot readings, aura photos, couples readings, dream interpretations, and chakra alignments. They also provide Vortex tours and UFO sighting tours. Whether you believe in psychic readings or not, this is still a fun place to visit and it's easy to add on to your visit to Tlaquepaque Village.
Along the same lines, here is a nighttime UFO and stargazing tour that is very popular in Sedona.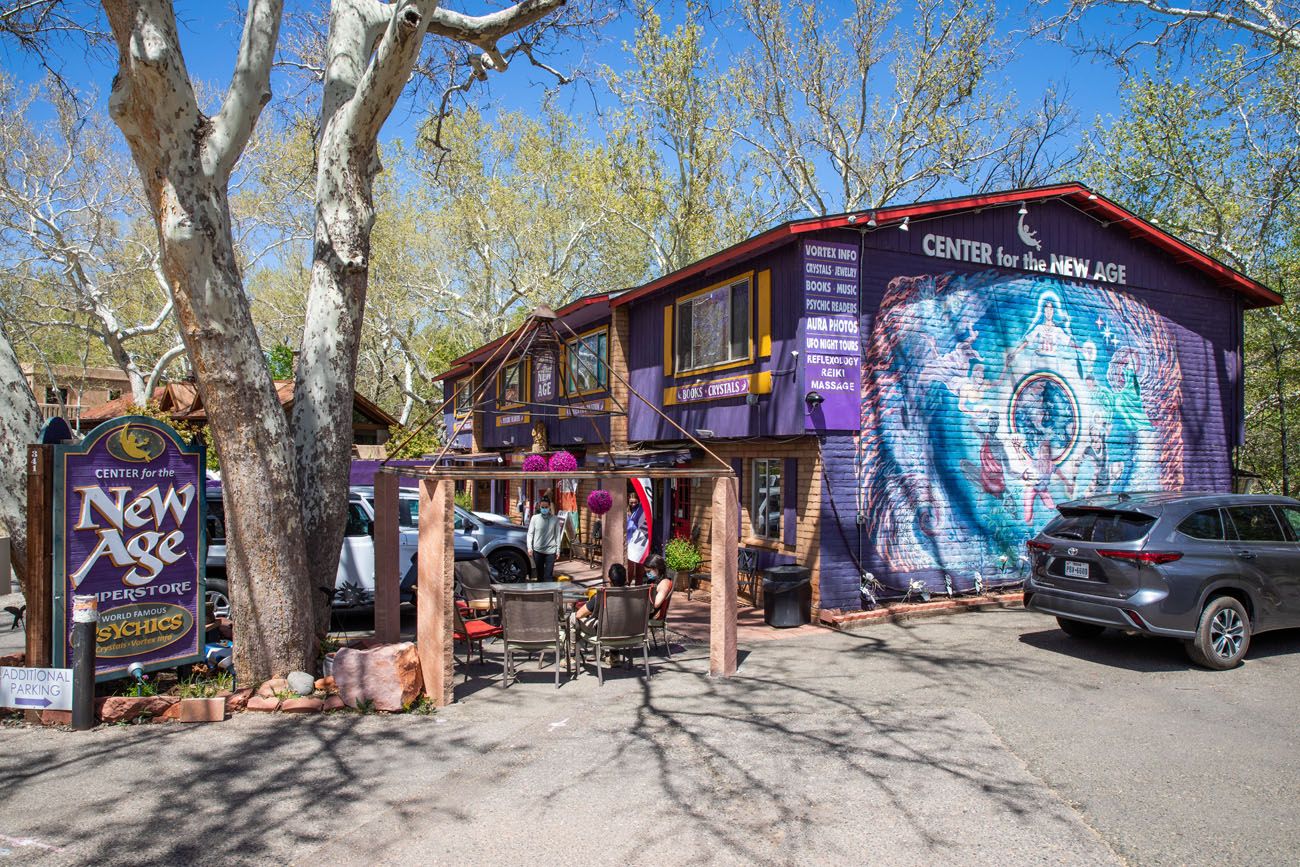 8. Go Shopping at Tlaquepaque Arts and Crafts Village
Tlaquepaque (pronounced T-la-keh-pah-keh) is one of the best shopping experiences in Sedona. This beautiful collection of Mexican-styled buildings is home to over 50 boutique arts and crafts shops, as well as a few great restaurants.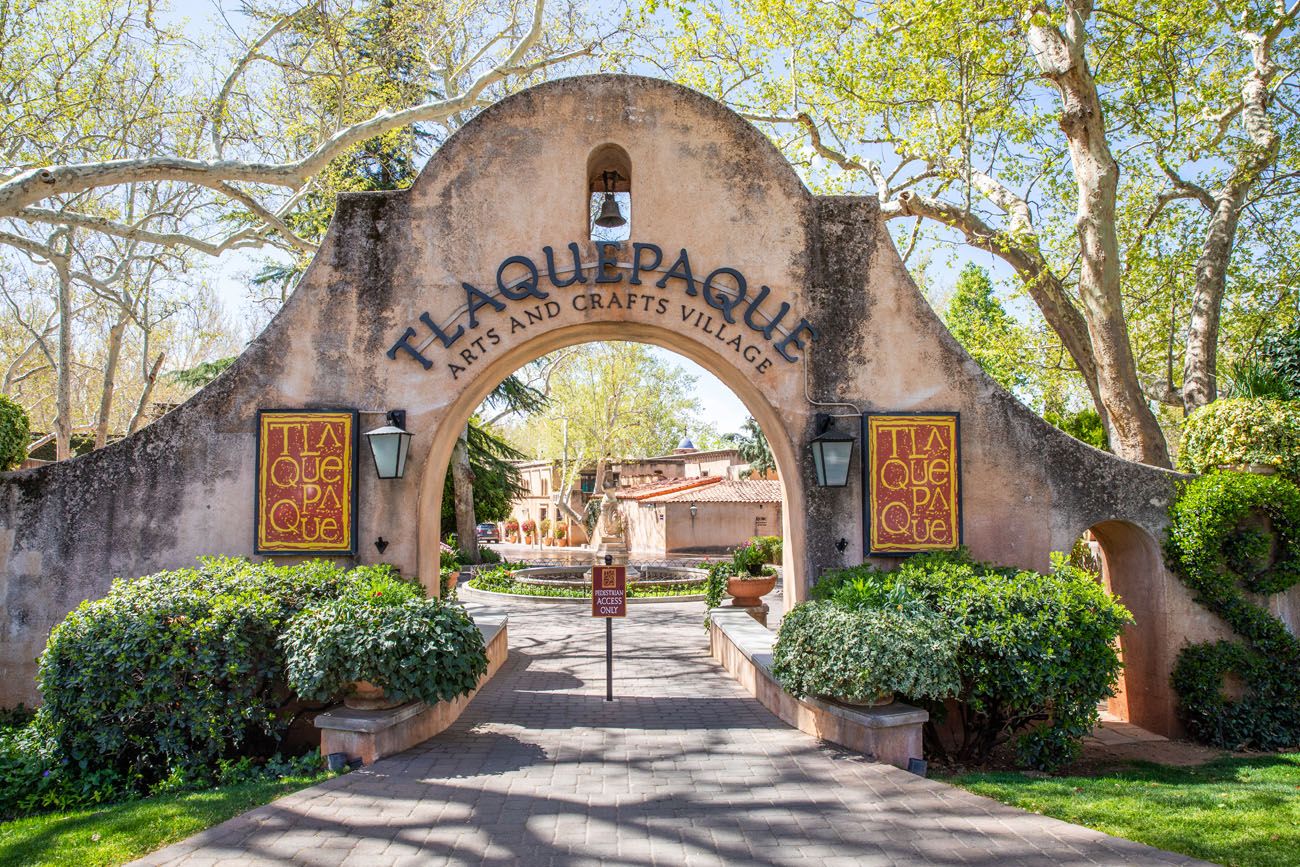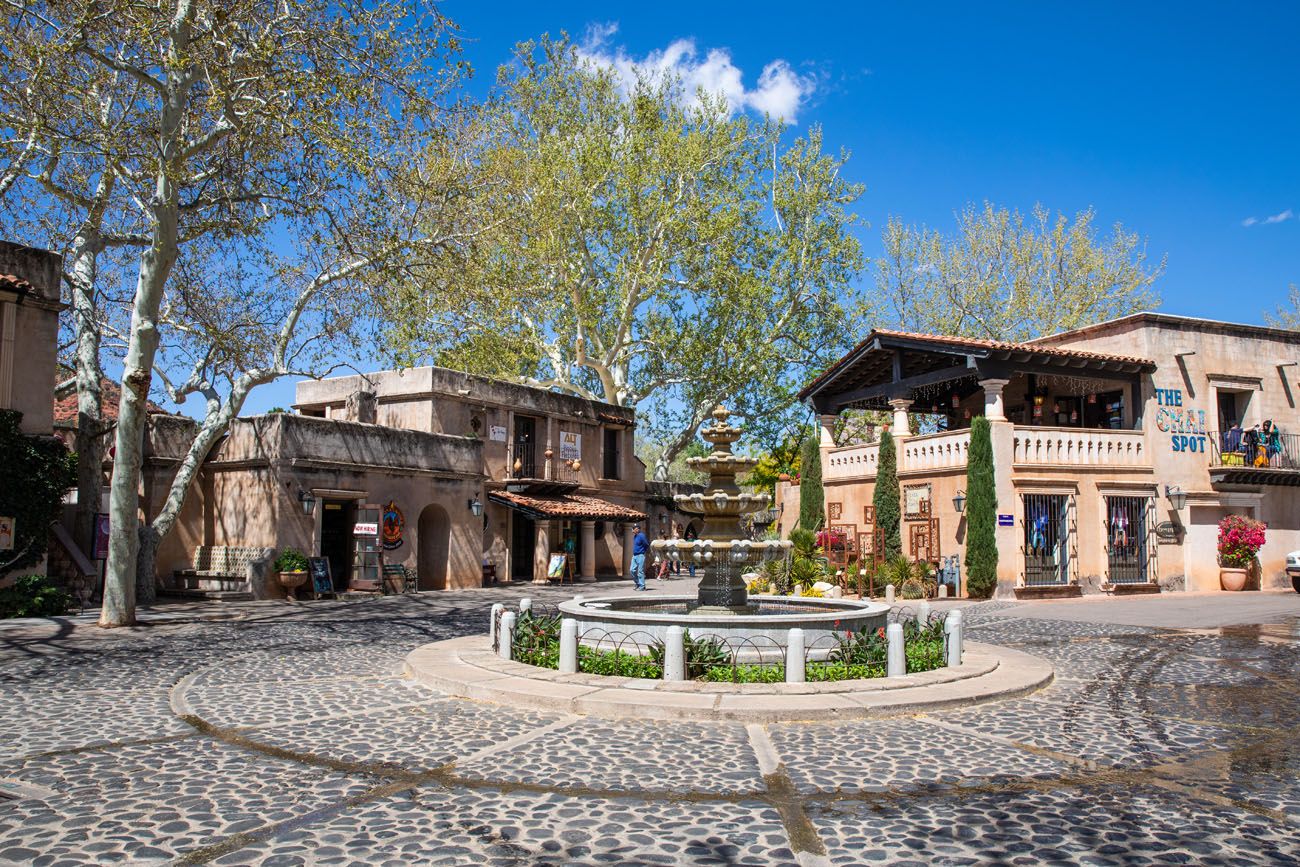 Stroll along the cobblestoned streets, go window shopping, and keep a look out for artists and sculptors who may be at work in one of the art galleries. This is also a popular wedding destination in Sedona.
There are several restaurants to choose from. El Rincon Restaurante Mexicano had the longest line (and the food smelled amazing), but the Oak Creek Brewery and Grill and René at Tlaquepaque also were quite busy.
Tlaquepaque Arts and Crafts Village is open daily from 10 am to 6 pm. Some restaurants are open longer on Fridays and Saturdays. There is onsite parking which filled by mid-morning during our visit. For more information, and for special events, visit the official website.
9. Visit the Amitabha Stupa and Peace Park
Located at the base of Thunder Mountain is a 14 acre park that is dedicated to spiritual renewal. The Buddhist Amitabha Stupa is a place for prayer and meditation for everyone, regardless of religious affiliation.
A stupa is a monument that holds sacred relics and is associated with the Buddha. Stupas are built to promote prosperity, end famine, and practitioners of Buddhism walk around the stupa in a clockwise direction during meditation. This represents samsara, the endless cycle of rebirth.
This quiet, serene park is a wonderful place to visit. A visit here feels like you are transported to the east, where stupas abound in countries such as Bhutan, Myanmar, and Nepal. Prayer flags flap in the breeze and a statue of the Buddha overlooks the Amitabha Stupa.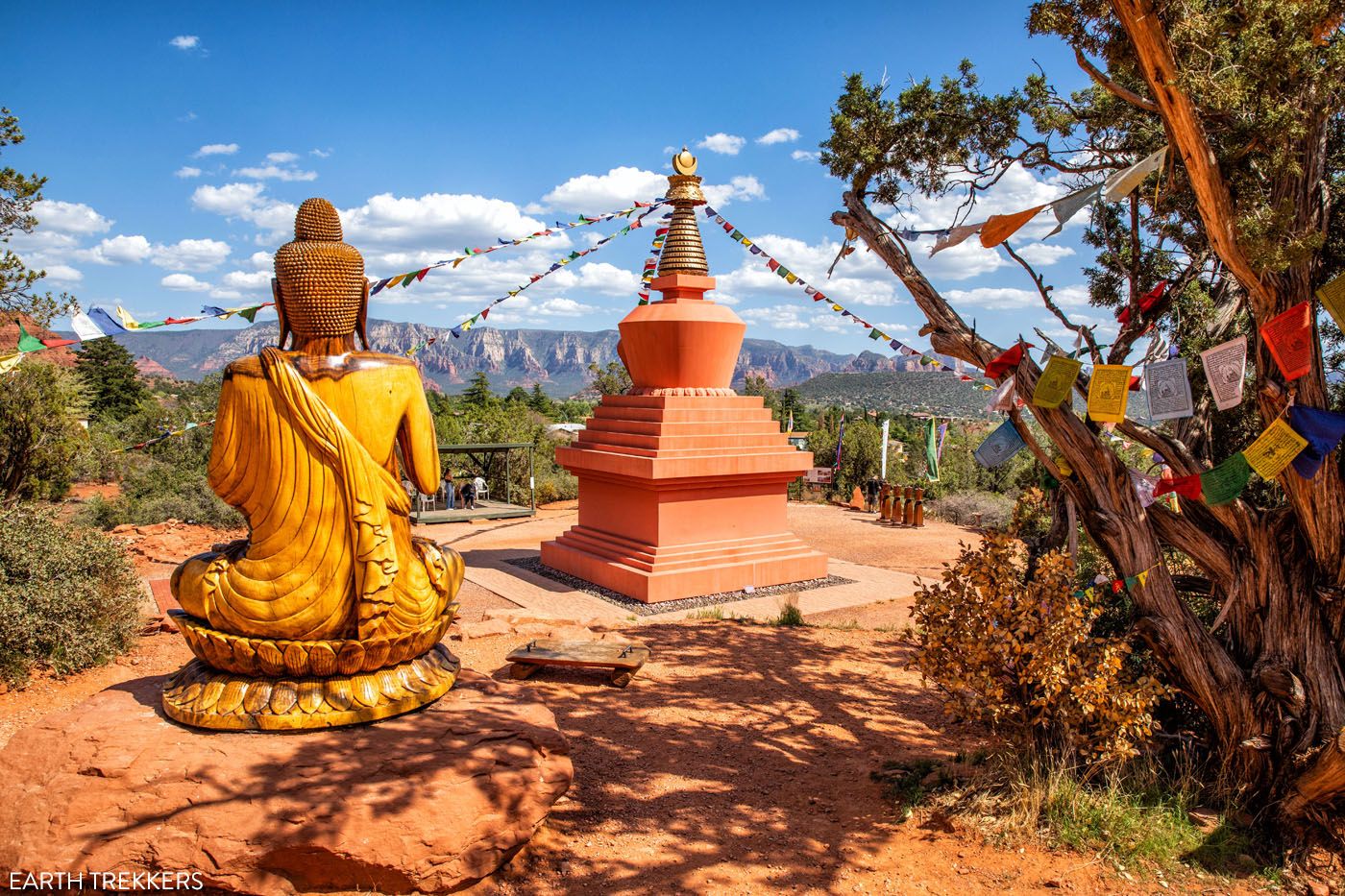 Amitabha Stupa | Best Things to Do in Sedona
Walk the trails, circumambulate around the Amitabha Stupa, and find a quiet, shady spot to meditate.
If you are looking for peace and serenity while in Sedona, this is well worth the visit. It's free to visit (donations are accepted) and open daily from dawn until dusk.
10. Go Mountain Biking
One of the best ways to explore Sedona is on a mountain bike. Bring your own bike, rent one in Sedona, or join a mountain bike tour. Popular places to mountain bike are around Bell Rock and Courthouse Butte, the Chuckwagon and Mescal Trails in West Sedona, and around Cathedral Rock.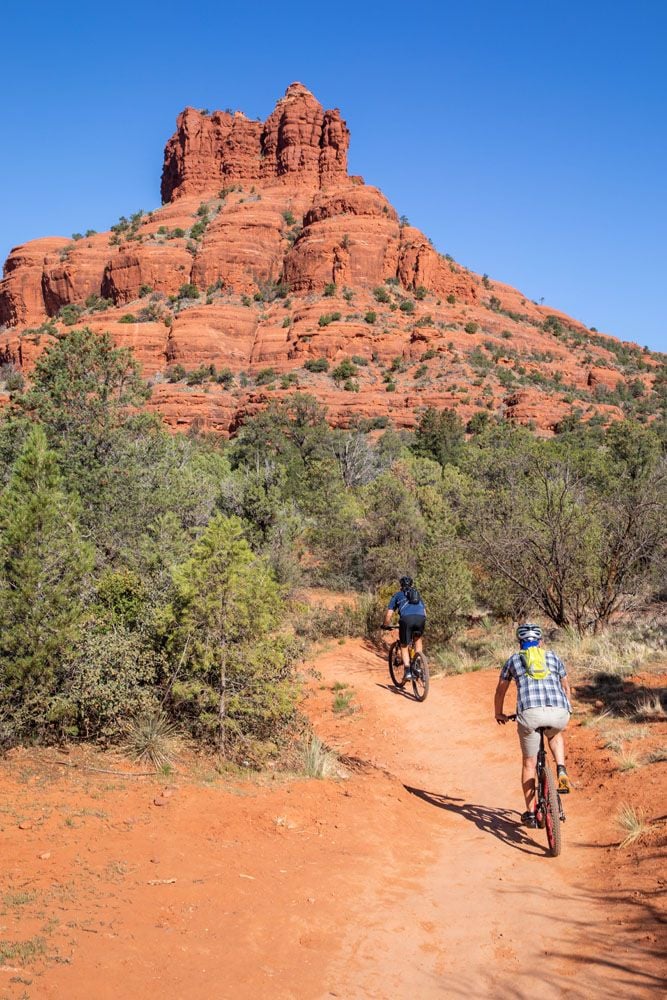 11. Relax at Slide Rock State Park
If you are traveling with kids, put Slide Rock State Park high on your to-do list.
This swimming spot is a great place to cool off in hot weather. Kids, and kids at heart, will love sliding down the waterfalls into the shallow pools of water. One slide is 80 feet long! There also a few places to go cliff jumping and several short trails to hike.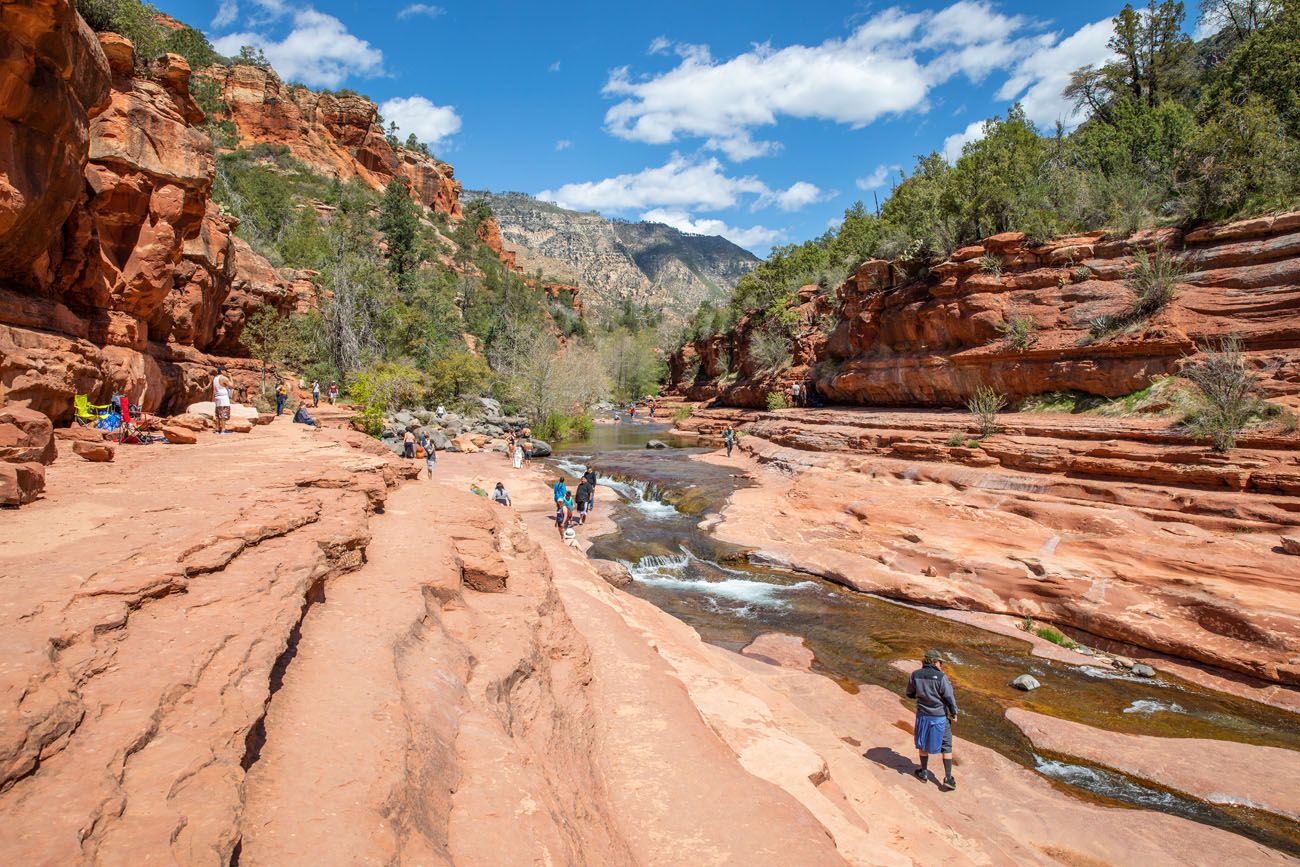 Slide Rock State Park | Best Things to Do in Sedona
Note: The algae on the rocks are what makes them so slippery…and so much fun. But it's also very easy to slip and fall down. Bring a pair of water shoes to increase traction so you don't have any unfortunate surprises.
PRO TRAVEL TIP: During the warmer months and on weekends, the parking lot will fill by mid to late-morning. I have read reports where people had to wait over 45 minutes in order to get a parking space, so get here early.
Park hours vary according to the time of year. In the summer, Slide Rock State Park is open from 8 am to 7 pm, last entry one hour prior to closing. The entrance fee ranges from $20 to $30, depending on season and day of the week. Get the full details on price and hours of operation here.
12. Visit the Palatki and Honanki Heritage Sites
There are several cliff dwelling sites in Sedona. Palatki and Honanki are the largest. These cliff dwellings were inhabited by the Sinagua people from 1,100 to 1,400 AD. Both sites contain the remains of ancient buildings and pictographs.
From what we were told and what I read online, Palatki Heritage Site is the more impressive of these two sites. It is also easier to get to.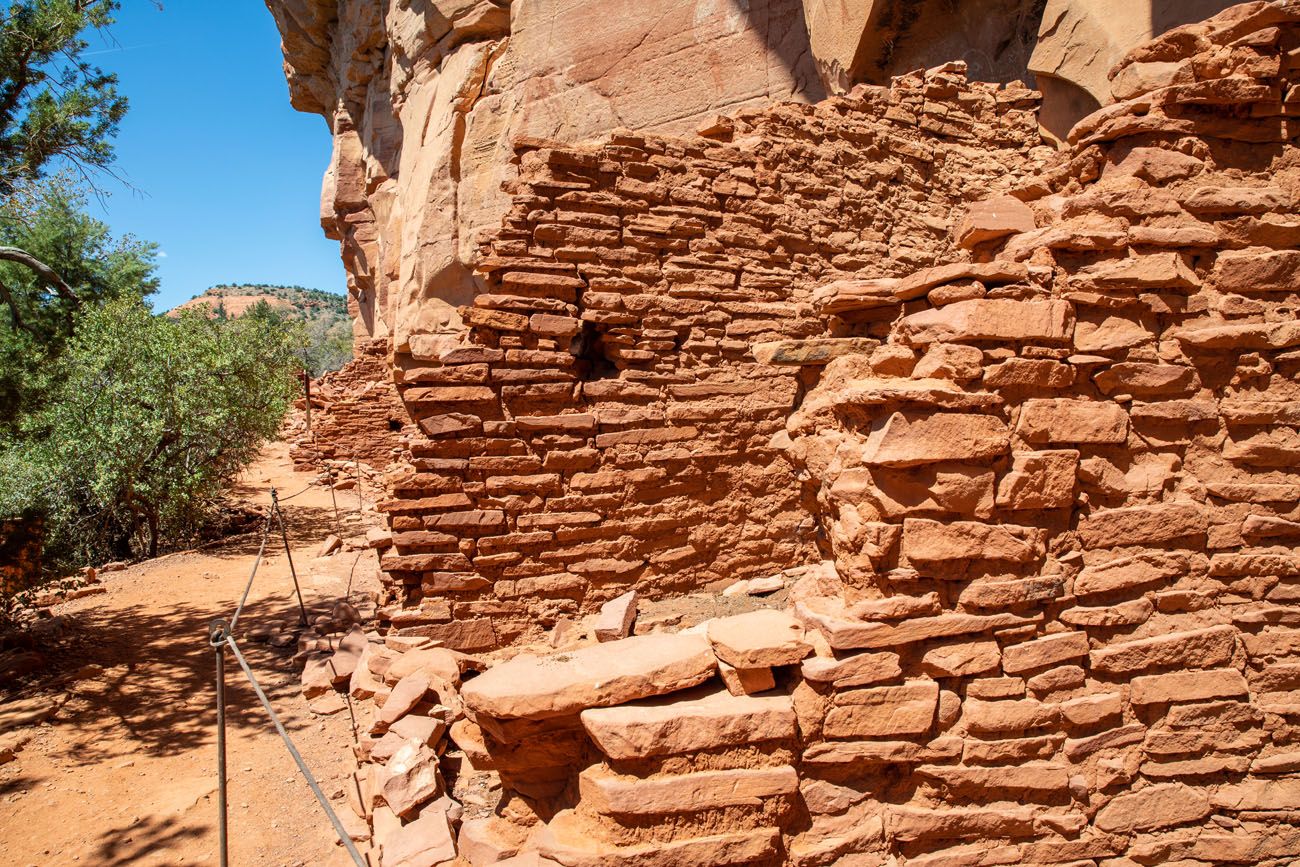 Honanki Heritage Site | Best Things to Do in Sedona
To get to Palatki Heritage Site, you will take Boynton Pass Road. This road becomes a well-graded gravel road a short distance past Aerie Road. Turn right onto Forest 525 Road, stay right at the fork, and take Forest Road to the end, where it dead-ends at this site.
To get to Honanki Heritage Site, it is a longer drive on gravel roads. The last few miles are on a rough, rutted road so it's best to have a high-clearance vehicle. To get here, take Boynton Pass Road, turn right onto Forest 525 Road, and then stay left at the fork. Take N Loy Butte Road/Forest 525 Road 4.3 miles until you get to the Heritage Site. If you have a high-clearance 4WD vehicle, you can also drive the Outlaw Trail to get here.
To visit both the Palatki and Honanki Heritage Sites, you will need a Red Rock Pass ($5 per day or $15 per week) or an America the Beautiful Pass.
13. Watch the Sunset
Sunsets are gorgeous in Sedona, when the setting sun bathes the red rocks in warm, golden light. Here are several of the best places to watch the sunset in Sedona:
Airport Mesa
Crescent Moon Picnic Site/Red Rock Crossing
From the saddle of Cathedral Rock
Devils Bridge
14. Visit the Wineries on the Verde Valley Wine Trail
Wine lovers, rejoice! Located in and around Sedona are numerous wineries, many of which are open for tours and tastings. Called the Verde Valley Wine Trail, you can visit several or all of these wineries, getting your passport stamped along the way.
If you have visited the Kentucky Bourbon Trail, this wine trail offers a similar experience. You can print out a copy of the passport before your trip. At each winery you visit, get your passport stamped. At the end of your visit, submit your passport and you will be entered to win a prize out of the quarterly drawing.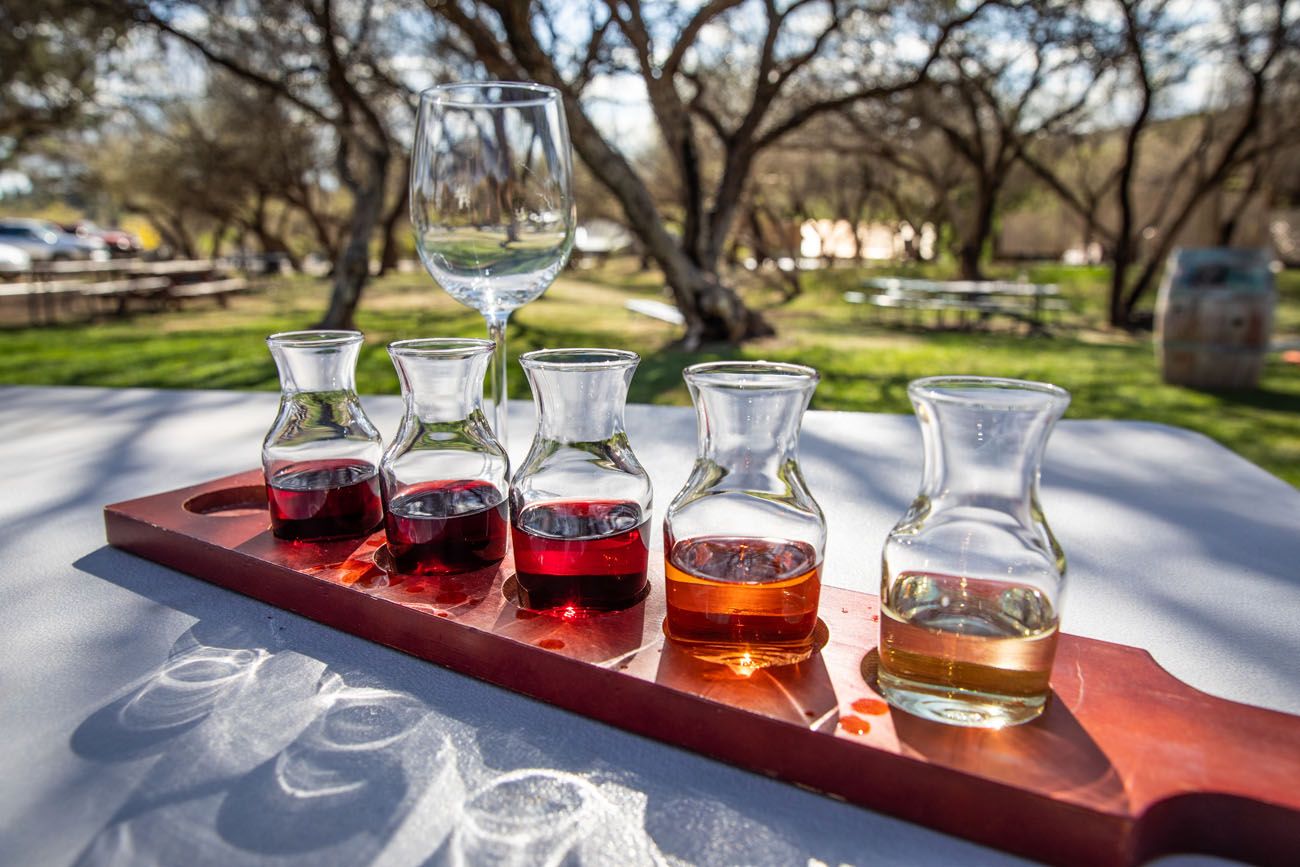 There are several wineries to visit in Sedona but most of the wineries are located in Cottonwood, Clarkdale, and along Page Spring Road. We visited five of the wineries (Javelina Leap, Oak Creek Vineyards, Page Spring Cellars, Arizona Stronghold, and the Merkin Vineyards Osteria).
Our favorite spot was Page Spring Cellars. Not only is their wine delicious, but they have walking trails and covered patios and decks. Purchase a bottle of wine and enjoy the view. We were tempted to spend our entire afternoon here but we wanted to get out and explore more of the wine trail.
Nearby Javelina Leap and Oak Creek Vineyards were nice, but they lacked the vibe and the great outdoor spaces that we saw at Page Spring Cellars.
In the town of Cottonwood, we had a full tasting at Arizona Stronghold (the Lozen and Bayshan were our favorites). Then we had dinner at Merkin Vineyards Osteria. Yum!! This was one of our best meals during our visit to Sedona and highly recommend making the short drive out this way. Sedona can be a busy place and Cottonwood is a great place to escape the crowds.
For more information about the Verde Valley Wine Trail, visit the official website.
15. Enjoy Sedona's Best Restaurants
For me, the perfect day starts with a hike and ends with a nice dinner and a glass of wine. Maybe that's why I like Sedona so much.
Below is a list of top restaurants in Sedona, either from our experience or from recommendations we got before our visit.
Mariposa. This beautiful restaurant offers big views of the red rocks of Sedona. The food is fantastic too…this Latin-inspired grill serves steak, fish, and chicken dishes and one of the best burgers we have ever eaten. The yucca fries are delicious!
Elote Café. This restaurant came highly recommended by our Facebook fans. It must be good because we could not get a reservation during our visit…so it's still on our to-do list. Elote Café serves Mexican and southwestern dishes and the desserts look amazing.
The Hudson. This is a favorite of the locals and tourists. The food is amazing and the view from their outdoor patio is stunning. We had lunch here, walking here from Tlaquepaque Arts and Crafts Village.
Cucina Rustica. Located in the Village of Oak Creek, this restaurant is also run by Lisa Dahl, owner of Mariposa. Dine on Italian food in a beautifully decorated restaurant. When the weather is warm, make a reservation for the outdoor patio.
Vino Di Sedona. Tim and I LOVED this place. Live music, wine, small plates of food, all in an outdoor setting. This is a fun place to spend the afternoon or evening.
Picazzo's Healthy Italian Kitchen. This is one of my favorite Sedona restaurants,especially for lunch. My go-to is the Spicy Thai Peanut Quinoa Bowl but I have also read great reviews about their pizzas.
Saltrock Southwest Kitchen. Located in Uptown Sedona, dine at an outdoor terrace that overlooks Oak Creek. The food is great but the real reason to go here, in my opinion, is for the margaritas. I highly recommend the spicy, smoky West Fork Margarita.
Mole. This underrated restaurant serves great street food tacos and sangria. I think it makes a great lunch spot.
We tried more than what I list here…but I'm curious, if you have been to Sedona, what are your favorite restaurants? Let us know in the comment section below.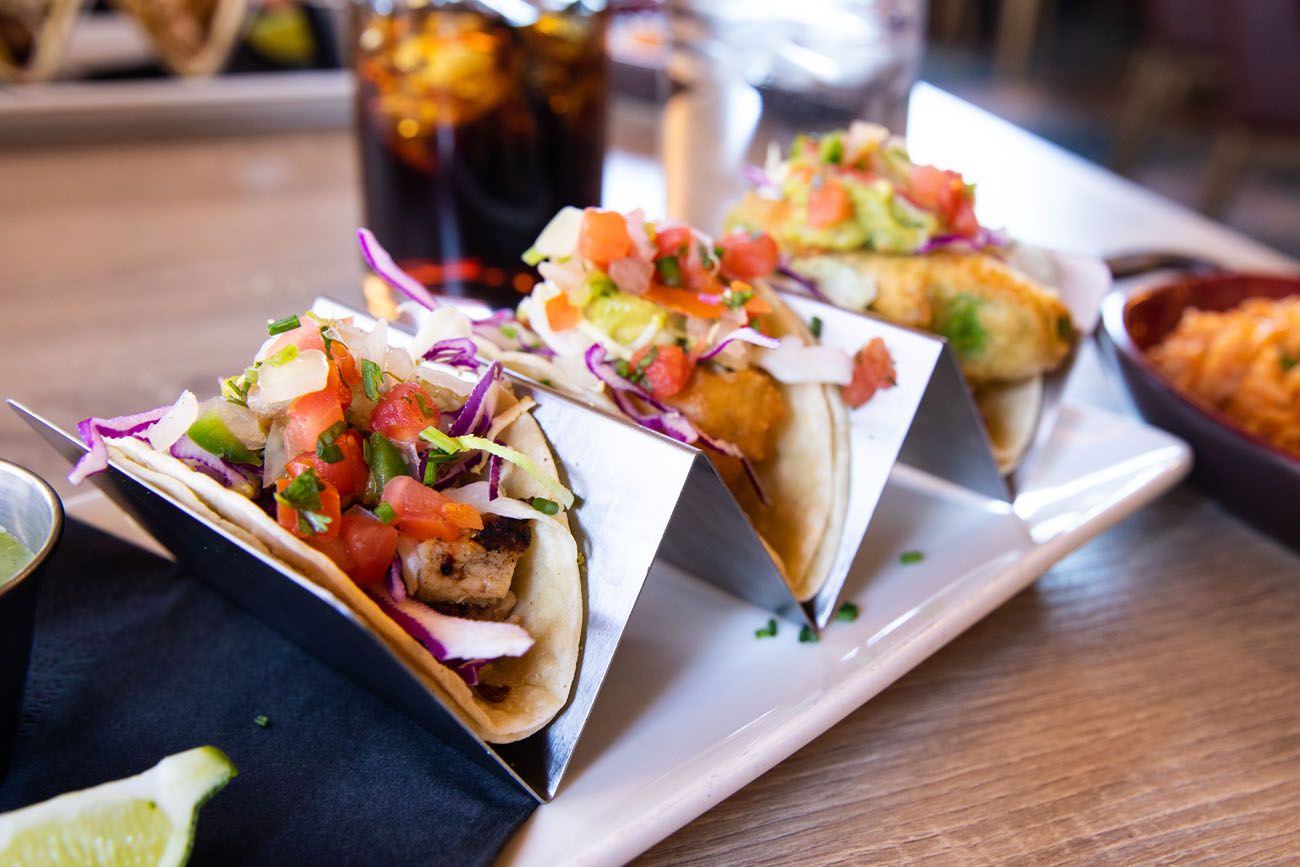 Things to Do in Sedona: On a Map
How to Use This Map: Click the tab in the top left hand corner of the map to view the layers (landmarks, hiking trails, restauarants, etc). You can click the check marks to hide or show layers. If you click the icons on the map, you can get more information about each point of interest.
If you click the star next to the title of the map, this map will be added to your Google Maps account. To view it on your phone or computer, open Google Maps, click the menu button, go to "Your Places," click Maps, and you will see this map on your list.
Top 10 Things to Do in Sedona
Going to Sedona for your first time? Here are 10 things to do in Sedona on your first visit:
This concludes our list of the best things to do in Sedona. For more information, keep scrolling for recommendations on where to stay and links to our Sedona articles. And if you have any questions, let us know in the comment section below.
Airport Mesa Loop | Best Things to Do in Sedona
Planning Your Time
How many days do you need in Sedona? The answer to that question depends on how much you like hiking.
Sedona is one of the best places to visit in the USA for hikers. You can spend one week here, hiking one to two trails a day, and never run out of new places to explore.
If you love hiking, I recommend spending a minimum of three days in Sedona. This gives you enough time to pick five or six hikes from Sedona's long list of hiking trails, sample a few restaurants, and catch a few sunsets.
If you are not a hiker, then you can see the best of Sedona in just a day or two. In my opinion, Sedona is really geared to hikers. But with its great restaurants and shopping, scenic drives, and sunset viewpoints, two days is the perfect amount of time to spend in Sedona if you don't want to go hiking.
For those with limited time, say for instance you are on a road trip through Arizona, it is possible to see the best of Sedona in one day. Go hiking, have lunch in Sedona, visit the Chapel of the Holy Cross or do a little shopping, and end the day with sunset views from Airport Mesa.
If you are planning a longer visit to Sedona, you can spend three or more days hiking your favorite trails, driving or taking a tour of the 4WD roads, and going out to dinner at night.
Sedona Shuttle
As of spring 2022, there is a brand new shuttle in Sedona. This shuttle is free to ride and runs to several of the most popular trailheads. It has been implemented to easy traffic congestion in Sedona and help eliminate the parking issues at the popular trailheads.
Here is a quick overview of the trailheads and hikes you can get to with the shuttle.
Trailheads/Hikes You Can Get to with the Sedona Shuttle:
Dry Creek Trailhead:Devils Bridge, Chuckwagon Trail, Dry Creek Trail
Soldier Pass Trailhead:Soldier Pass Trail, Devil's Kitchen, Seven Sacred Pools
Cathedral Rock Trailhead:Cathedral Trail
Little Horse Trailhead:Cathedral Trail,Bell Rock, Chicken Point
The shuttle runs every day until April 17. Past April 17, the shuttle will run from Thursday through Sunday. Buses operate from 8 am to 6:30 pm.
Before your visit, I recommend getting updates on the hours of operation and routes of the Sedona Shuttle on the official website. I do my best to keep this post updated, but since this shuttle is new and the schedule is evolving, hours and routes may change. On the official website, you can also get real time updates on when the next shuttle will arrive. Here is a link to the Sedona Shuttle guide.
Where to Stay in Sedona
If you are looking for a place to stay, we have two great recommendations. On our most recent visit we stayed at the Courtyard by Marriott Sedona. This is located in West Sedona. It is a beautiful property and from our room we had sunset views of Cathedral Rock.
A Sunset Chateau is a smaller boutique style property. We stayed here two years ago and had a wonderful experience.
For more information about where to stay in Sedona, read our article Where to Stay in Sedona: Best Hotels for Your Budget
More Information about Sedona
Where Are You Going Next?
If your visit is part of a bigger road trip through Arizona or the American Southwest, here is more information to help you plan your trip.
ARIZONA ROAD TRIP: The Ultimate Arizona Road Trip Itinerary
GRAND CANYON: The Complete Guide to Grand Canyon National Park
GRAND CANYON: How to Spend One Perfect Day in the Grand Canyon
SAGUARO: 8 Amazing Things to Do in Saguaro National Park
PETRIFIED FOREST: Petrified Forest National Park: Travel Guide & Itinerary
ANTELOPE CANYON: Should You Visit Upper or Lower Antelope Canyon?
MONUMENT VALLEY: The Complete Guide to Monument Valley for First Time Visitors
ROAD TRIP IDEA: Two Week American Southwest Itinerary: Grand Canyon & Utah's Mighty 5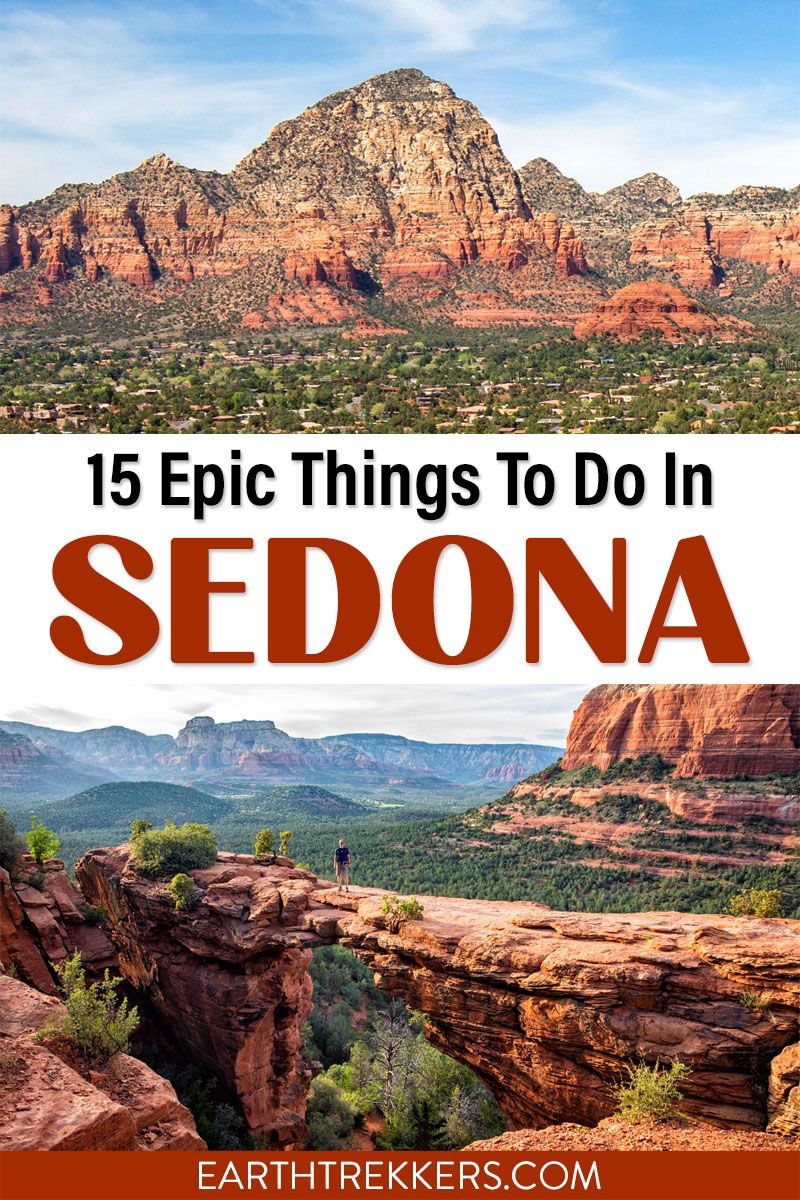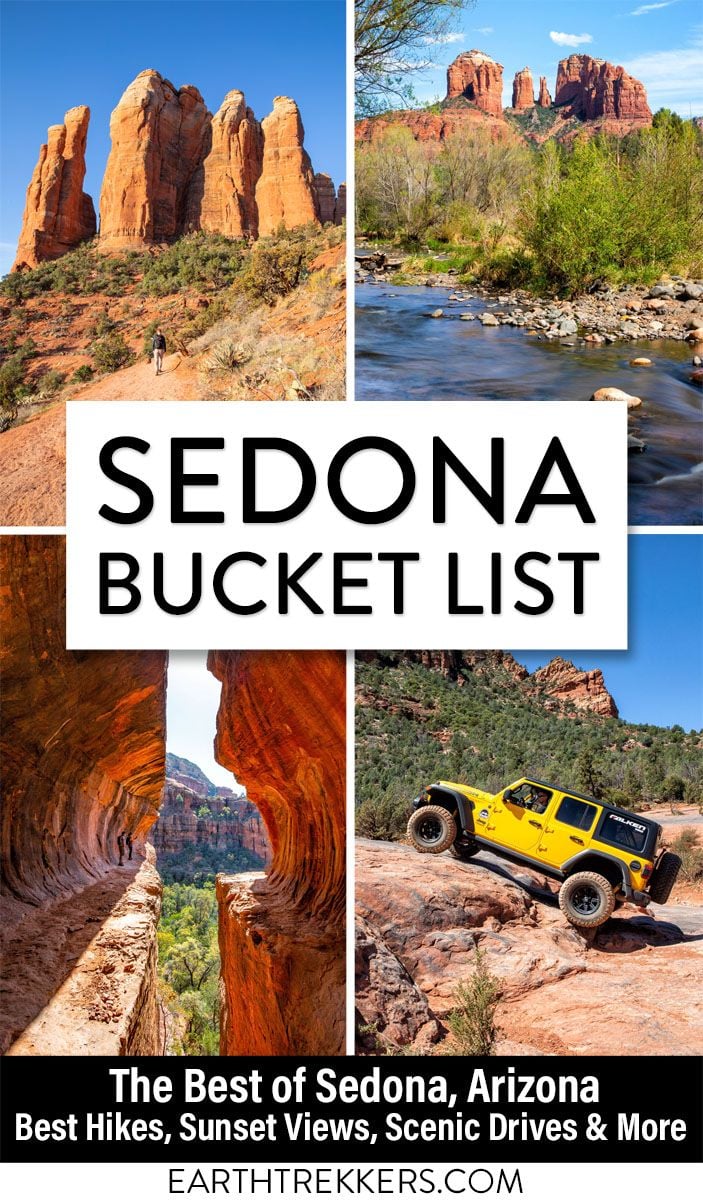 Note: This post contains affiliate links. When you make a purchase using one of these affiliate links, we get paid a small commission at no extra cost to you.
All rights reserved © Earth Trekkers. Republishing this article and/or any of its contents (text, photography, etc.), in whole or in part, is strictly prohibited.
22 Top-Rated Attractions & Things to Do in Sedona
Set amid beautiful red rock mountains, buttes, and canyons, Sedona is one of Arizona's most beautiful destinations. The scenery here is nothing less than stunning, with unbelievable views from every street corner and hiking trail.
Also known as a spiritual center, particularly for its energy vortexes, the city has a unique vibe and attracts visitors with a diverse set of interests. Attractions range from the spectacular natural areas and scenic drives to Native American ruins, architecture, galleries, and sacred sites. Many of the best things to do in Sedona are free, including hiking, mountain biking, or stargazing. The city is a designated Dark Sky Community.
Visitors often come to Sedona on a day trip from Phoenix, but for those with more time, a longer stay is definitely worthwhile. If you decide to use Sedona as a base, you can easily take a day trip to the Grand Canyon or nearby Flagstaff.
Find your way around and plan out your stay with our list of the top tourist attractions in Sedona.
1. Cathedral Rock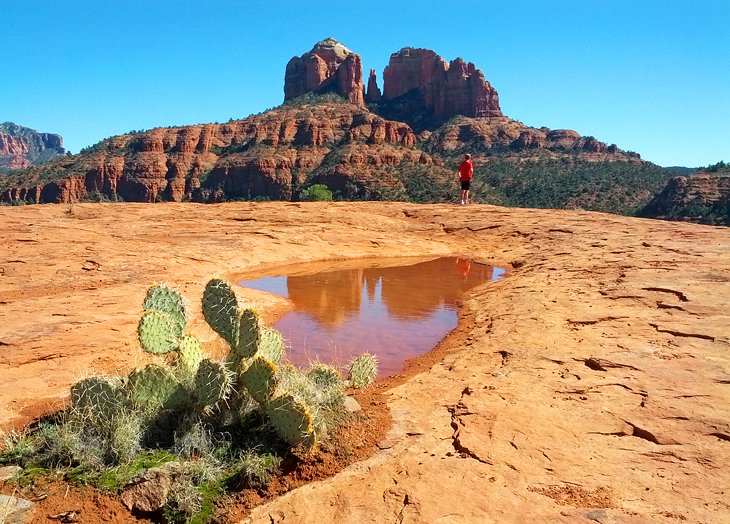 Cathedral Rock seen from Secret Slickrock Trail | Photo Copyright: Lana Law
Cathedral Rock is the most photographed attraction in Sedona and one of the city's most impressive sites. You can see the rock from Highway 179 as you drive from Oak Creek Village into Sedona, or from the backside at several locations.
The most classic view of Cathedral Rock is from Red Rock Crossing Park, at the Crescent Moon Picnic Site.
If you feel an urge to climb this amazing rock formation, a hiking trail leads up to the saddle, where you're treated to incredible views to the east and west. It's also the location of an energy vortex.
2. Uptown Sedona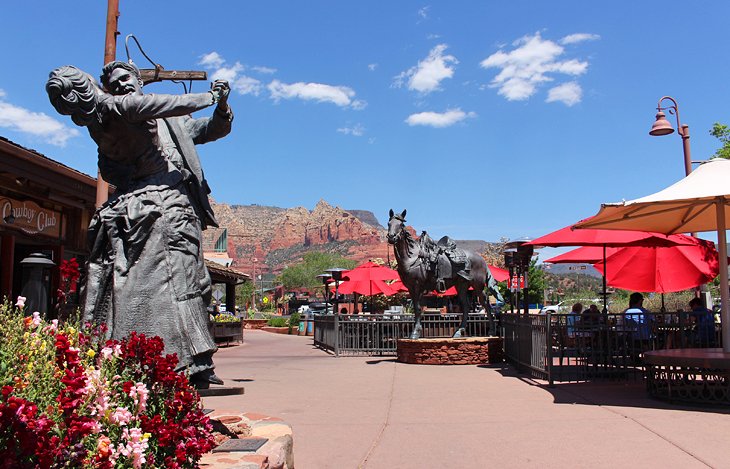 Uptown Sedona | Photo Copyright: Lana Law
Uptown Sedona is the old town, where you'll find boutiques, tourist shops, galleries, cafes, and restaurants. This area runs along Highway 89A, beginning where Highway 179 ends. If you are heading up Oak Creek Canyon towards Flagstaff, you will pass right through Uptown Sedona.
Establishments here include everything from jewelry and craft stores to crystal sellers and casual cafeteria-style restaurants to fine dining. This is also where Jeep tours start from.
Parking can be at a premium along here, especially on weekends, but there is a parking garage where you can usually find a spot.
This is a convenient location if you plan on staying in Sedona. If you base yourself at a hotel in Uptown, you can walk to dinner, stroll down to Tlaquepaque to browse through galleries, shops, and more restaurants, or sign up for various tours that start from the main street.
Two of the best hotels in this area are the posh hillside L'Auberge de Sedona and the more mid-range Arabella Hotel Sedona .
3. Red Rock Scenic Byway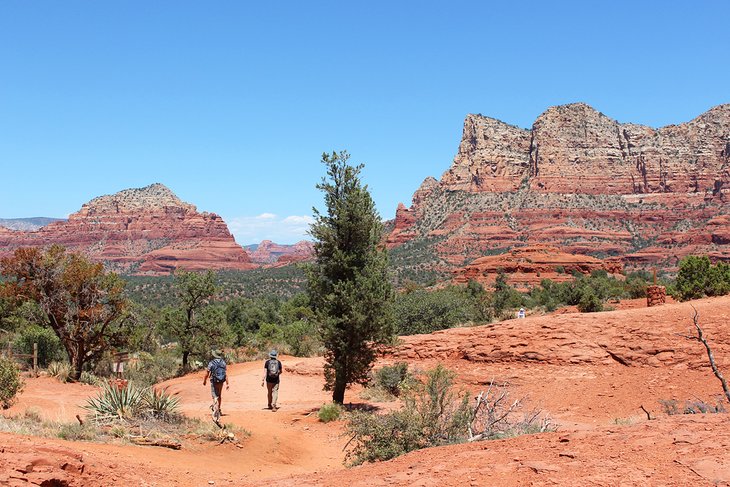 A stop along the Red Rock Scenic Byway | Photo Copyright: Lana Law
The Red Rock Scenic Byway is a stunning drive along Highway 179, running from south of the Village of Oak Creek to Sedona. Along here are numerous natural attractions; hiking and biking trails; and pullouts with parking lots, which allow you to stop and appreciate the sights. Near the north end is the Tlaquepaque arts and crafts village.
Some of the most popular sights long this route are Bell Rock, Cathedral Rock, and, just a short distance off the road, Chapel of the Holy Cross.
If you are coming from Phoenix, take exit 298 off Interstate 17 to access the Red Rock Scenic Byway.
4. Oak Creek Canyon Scenic Drive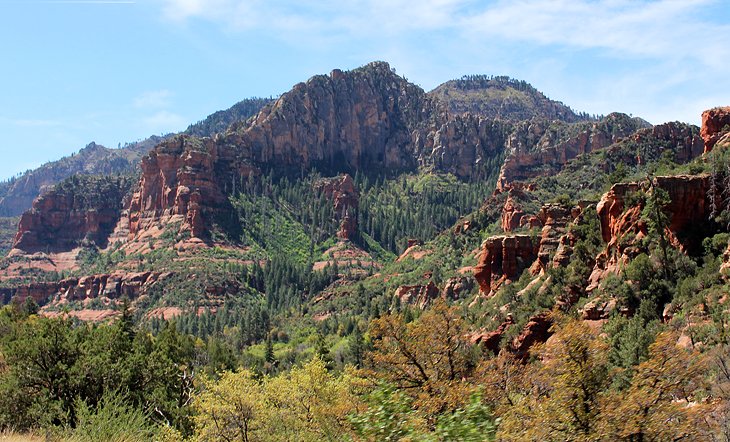 Oak Creek Canyon Scenic Drive | Photo Copyright: Lana Law
Stunning Oak Creek Canyon is just upstream from Sedona, on the way to Flagstaff. Rock formations, cliff walls, and forests line the scenic road, Highway 89A, which follows Oak Creek before climbing up the canyon along a dramatic stretch of twisting road with switchbacks.
The sharp corners and steep hills make this a road you will want to drive during the day and try to avoid after dark.
One of the main attractions along this route, particularly from spring until fall, is Slide Rock State Park. You'll also find hiking trails off this drive. One of the most spectacular hikes here is the West Fork Trail.
5. Hiking Trails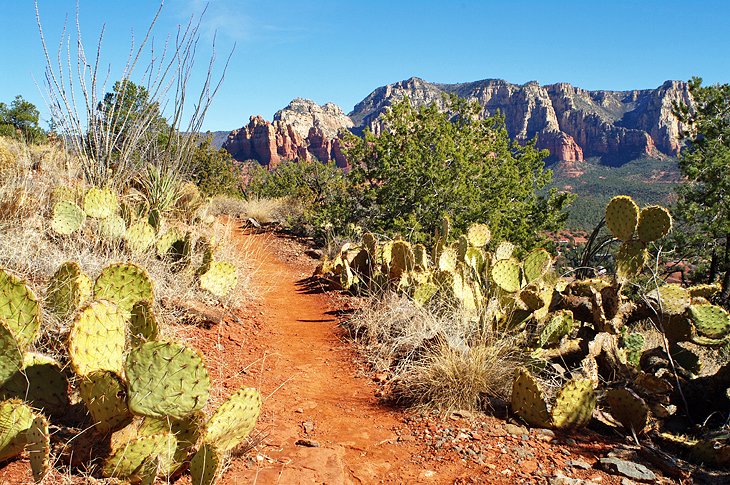 Hiking trail on Airport Mesa | Photo Copyright: Lana Law
One of the best ways to explore the natural beauty around Sedona is to lace up your hiking boots and hit the trails. Many of the hikes are less than three miles and can easily be done in just a couple of hours, but they offer access to some of the most amazing views in the area. Longer and more challenging hikes can also be found around Sedona, leading to mountain tops and up canyons.
Canyon hikes offer easy hikes, with spectacular scenery and the huge orange cliff walls surrounding you. Alternatively, you can hike to the top of a mountain or butte for fantastic views out over the landscape.
Some of the most popular hikes are to Devil's Bridge, Cathedral Rock, and Bell Rock. These are a few of the usual recommendations from the tourist information office, but if you want to escape the crowds and enjoy some of the local favorites, see our article on the best hikes in Sedona.
6. Jeep Tours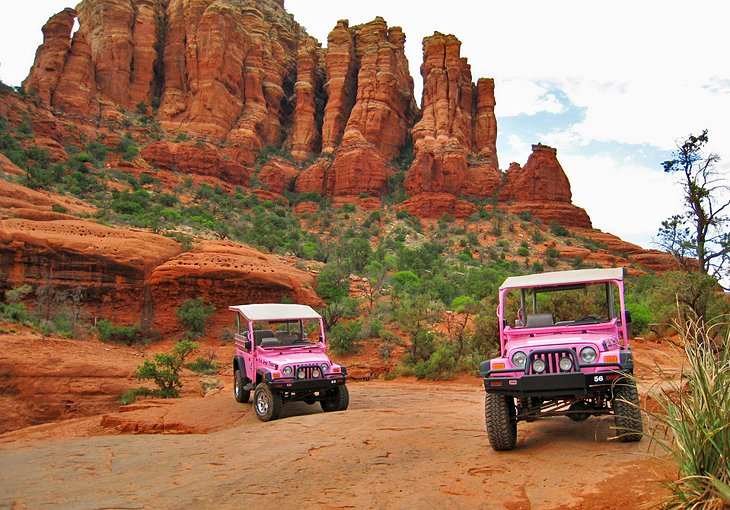 Jeep Tours | mroach / photo modified
Jeep tours are one of the most popular things to do in Sedona. These trips allow you to see areas you wouldn't be able to reach without an off-road vehicle and take you through some areas you wouldn't think possible in a Jeep.
The Sedona Outback Trail Jeep Adventure is a two-hour off-roading adventure through rugged terrain and past some of the landmark rock formations in the area. These tours are in open-air Jeeps, which are themselves an iconic sight in Sedona. Be prepared for a bumpy ride. The drivers are knowledgeable and keen to share the local history and geology of the area.
7. Chapel of the Holy Cross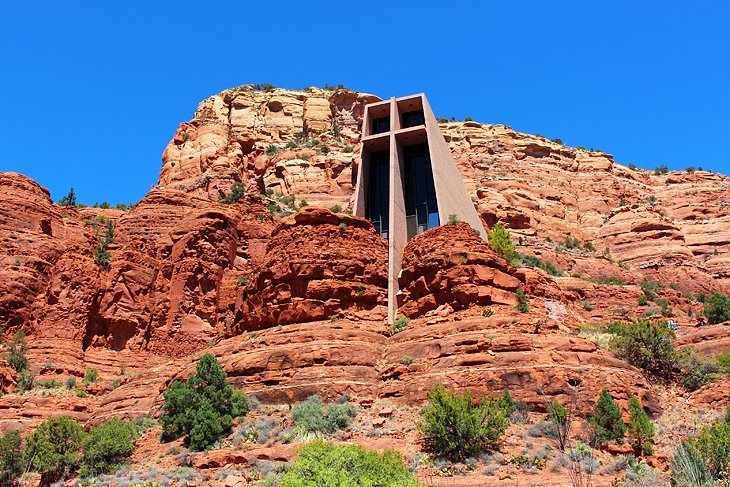 Chapel of the Holy Cross | Photo Copyright: Lana Law
The Chapel of the Holy Cross sits perched on a small red rock plateau below a multi-hued sandstone ridge, creating one of the most impressive architectural sites in Sedona.
It was built in 1956 by Marguerite Brunswig Staude, a pupil of famous architect Frank Lloyd Wright.
This breathtaking landmark building incorporates a 90-foot cross that dominates the structure, and the front face of the chapel is all windows. The modern appearance, with sharp lines and angles, contrasts with the rounded red rocks but fits in beautifully with the surroundings.
The turn for the road to the chapel is signposted off Highway 179.
Address: 780 Chapel Road, Sedona, Arizona
8. Mountain Biking Trails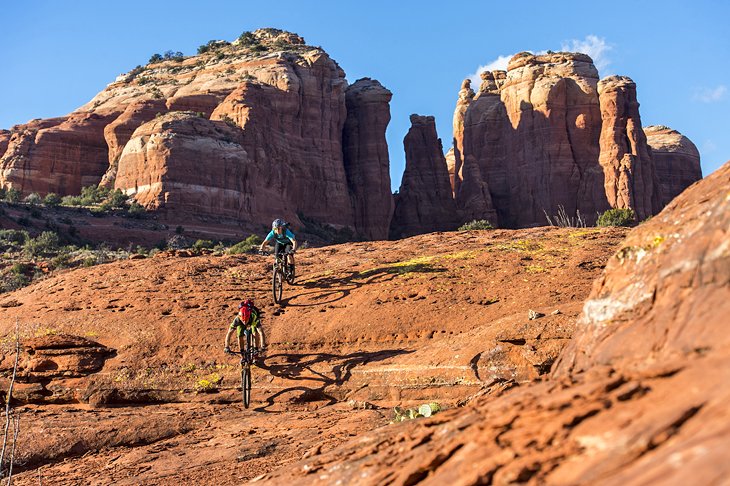 Mountain biking on Hiline Trail | Photo Copyright: Colin Meagher courtesy of Thunder Mountain Bikes
Sedona is one of the best mountain biking destinations in the country. The trails are outstanding and offer a bit of something for all level of abilities, perfect for everyone from families to advanced riders.
Apart from a few snowy days here and there in winter, you can pretty well mountain bike in Sedona year-round.
Trails wind their way through the spectacular mountain scenery, across dirt, and along areas of slickrock. Some of these trails lead past interesting attractions like Bell Rock, Cathedral Rock, and Doe Mesa. The level of difficulty ranges from easy to extreme but there are really trails here for everyone.
Local bike shops offer repairs, bike rentals, information, and maps. One of the best places is Thunder Mountain Bikes in West Sedona. The trails are well marked and rated on maps according to difficulty. The Sedona Mountain Biking Trails map is a must-have item before you head out.
Be sure to bring your camera – these trails feature some of the best photo locations in the entire area. For a closer look at the trails, see our list of the best mountain biking trails in Sedona.
9. Vortexes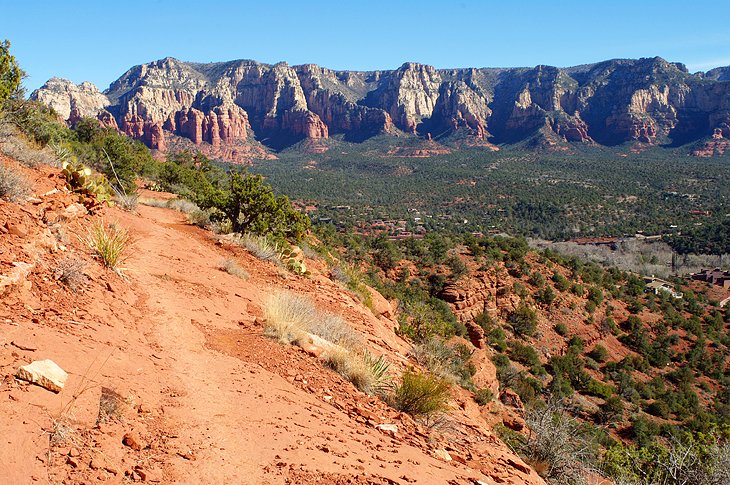 Energy vortex area on Airport Mesa | Photo Copyright: Lana Law
One of the more unique attractions in Sedona are the vortexes, found in natural locations around the area. What is a vortex? These are said to be centers of energy in the earth that can inspire healing, self-awareness, and spirituality.
Vortexes have different properties. Some are masculine vortexes, feminine vortexes, or balanced vortexes, and some of these go by different names, such as electrical, magnetic, or combination vortexes.
Some of the most common and accessible energy vortexes are found in Boynton Canyon, near the start of the Boynton Canyon hike and Enchantment Resort; on Airport Mesa, near an overlook at the side of the road; and on Cathedral Rock.
Boynton Canyon and Airport Mesa are the two easiest locations to reach, both of which are just a short distance from the parking lot. Cathedral Rock requires a short but intense hike. However, if you are up for it, the Cathedral Rock hike is one of the best in Sedona.
If you want to learn more about vortexes and be taken to some of the sites, you can sign up for a Sedona Vortex Tour by Jeep . On these 2.5-hour tours, a guide will point out natural features and explain the history and significance of vortexes.
10. Bell Rock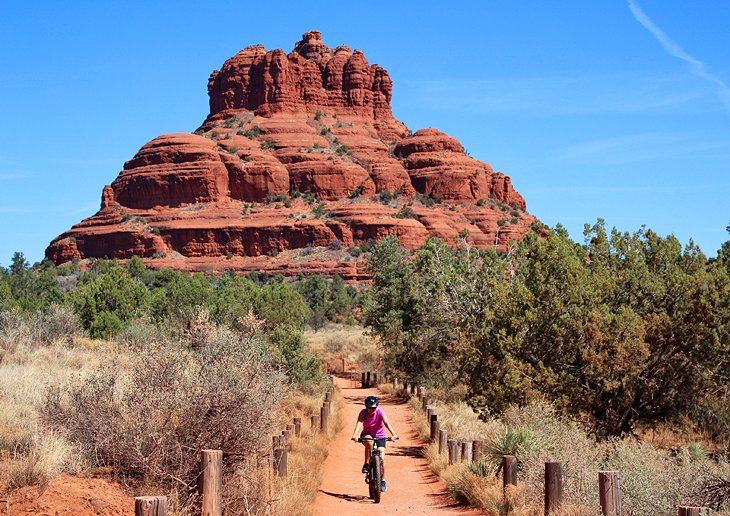 Mountain biker in front of Bell Rock. | Photo Copyright: Michael Law
One of the key natural sites around Sedona is the aptly named, Bell Rock. This bell-shaped formation is just south of Sedona in the Village of Oak Creek, along the Red Rock Scenic Byway, and is one of the first sites you will come to as you approach Sedona from the south.
Easily accessible just off the road, this is a popular stop for tourists. You can park and have a quick look, walk up to it, do a short and easy hike along the side of the bell, or if you brought your mountain bike, you can do an easy ride here.
While the trail will take you around the skirt of the rock, you can also scramble up the rock a short distance.
Behind Bell Rock is Courthouse Butte, another famous sight and hike.
11. Boynton Canyon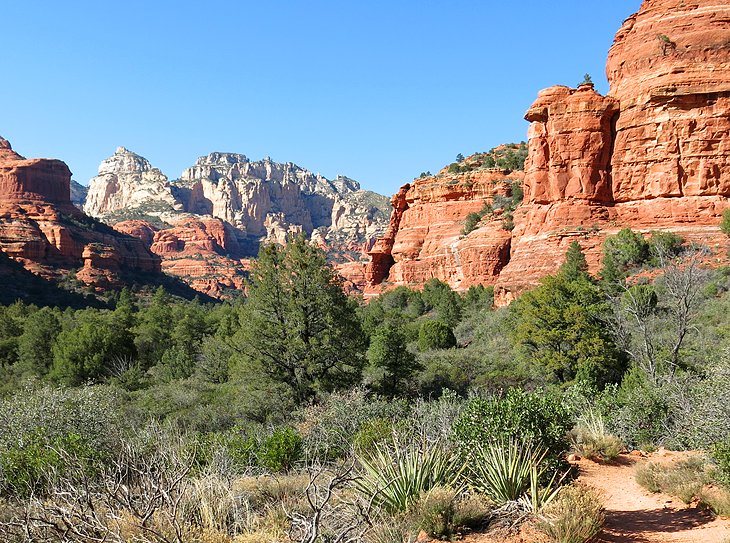 Boynton Canyon Hiking Trail | Photo Copyright: Lana Law
Boynton Canyon, about eight miles west of central Sedona, is another one of those special places with multiple reasons to visit.
The number one reason people come to Boynton Canyon is to do the Boynton Canyon hiking trail. This is a 6.1-mile in-and-out trail below the spectacular canyon walls, through a mix of vegetation, including large pine trees near the far end.
Another reason people visit this area is for the vortex found near the start of the Boynton Canyon hiking trail, on a short side spur. This is one of the more accessible vortexes, and it doesn't require climbing or walking along the edge of a cliff to reach. The vortex, known as a balanced vortex, rests in the saddle between two rock spires.
If you aren't interested in hiking or vortexes, you can simply come to enjoy some of the best views in Sedona. The luxury Enchantment Resort is a great place to come for a meal, or even spend a couple of nights.
The resort has a gated entrance but they are happy to welcome guests who are not staying here and simply want to have a meal at one of the excellent restaurants. Tii Gavo and View 180 restaurants offer outstanding dining for either a casual or upscale experience. You can sit inside and appreciate the views through the floor-to-ceiling windows, or outside, where you can enjoy the warmth of the sun and stare out at the red rocks.
12. Day Trip to the Grand Canyon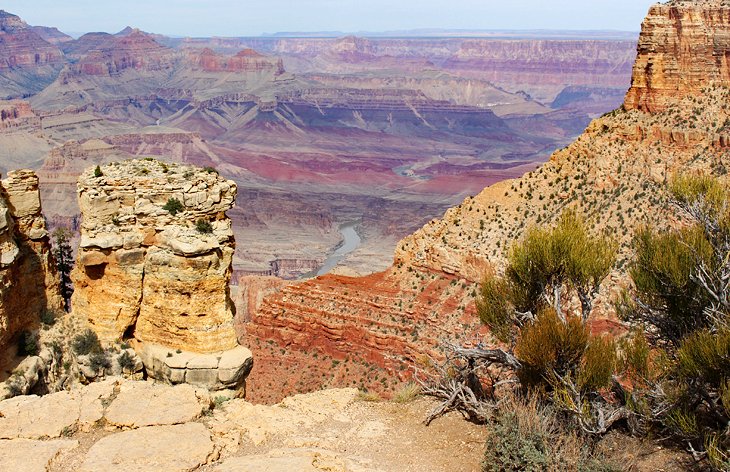 South Rim of the Grand Canyon | Photo Copyright: Lana Law
From Sedona, it's just a 2.5-hour drive to one of the most famous and awe-inspiring sights in America.
The drive from Sedona takes you up through the beautiful Oak Creek Canyon to Flagstaff. From here, you can do a loop, driving through Williams or up Highway 180 past the often snowcapped Humphreys Peak, to the Grand Canyon. Several options are available for getting from Sedona to the Grand Canyon.
Spend the day seeing the sights along the rim of the canyon or take a scenic flight over and into the canyon. To complete the loop, follow the Rim Road east along Highway 64 to Cameron and return via Highway 89. This will give you the best overall routing and allow you to see some of the fantastic scenery just east of the canyon, including views over the Little Colorado River.
If you would prefer to sit back and enjoy the scenery rather than watching the road while you drive, the Ultimate Grand Canyon Tour from Sedona or Flagstaff offers a great way to see this amazing site. As well as a fabulous drive along the rim of the Grand Canyon, this tour also stops at Wupatki Ruins, Sunset Crater Volcano National Monument, and a trading post on a Navajo Reservation.
13. Slide Rock State Park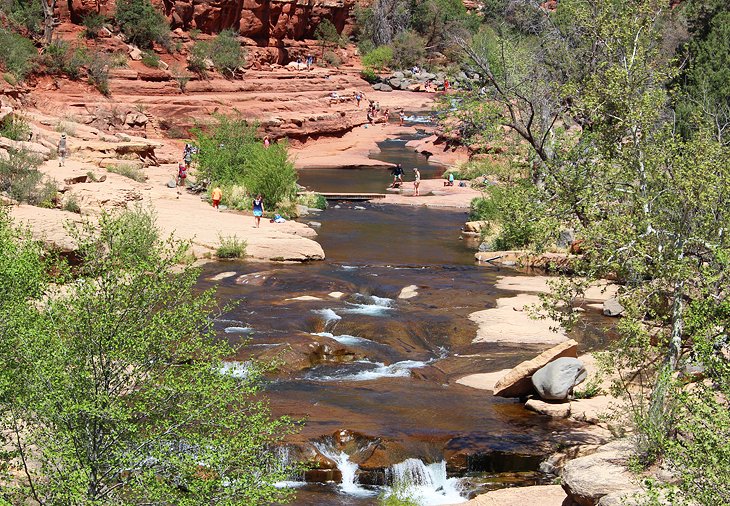 Slide Rock State Park | Photo Copyright: Lana Law
Slide Rock State Park is located along Highway 89A in Oak Creek Canyon, north of Sedona. The park is both a historic site and natural attraction, although most people enjoy coming here on warm days to play in the river.
At this point, Oak Creek flows over a series of small waterfalls on the smooth rock, creating a natural slide and water park. On hot days, the park is packed with people sliding along the rock and swimming in the natural pools. As fun as this looks, the rock is hard, and you can come away a little bumped and bruised if you aren't careful.
The park site was once a large apple farm owned by Frank L. Pendley. He was able to devise an interesting and successful irrigation system that allowed for the growing of apples. The original homestead can still be seen.
Address: 6871 North Highway 89A, Sedona, Arizona
14. Palatki Ruins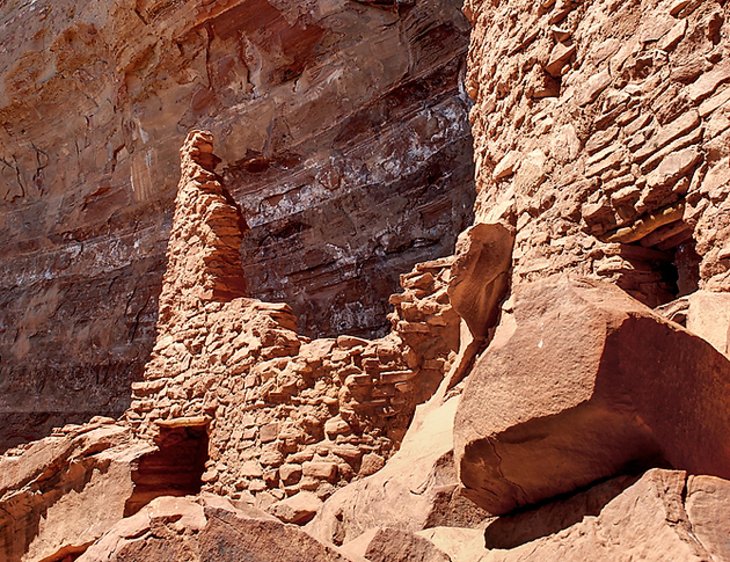 Palatki Ruins
The Palatki Heritage Site is a well-preserved ruin and one of the largest Sinagua villages in the area. Palatki was inhabited by the Sinagua about 800 years ago, but the rock art indicates cultures used this site 3,000 to 5,000 years earlier.
There are two trails at the Palatki Heritage Site: one trail takes visitors to the Sinagua cliff dwellings, and a second trail leads to the rock art alcoves.
It's best to call and make a reservation before showing up. A volunteer guide will show you around the site and explain the history and significance.
A short drive away from here, but in the same vicinity, are the Honanki Cliff Dwellings. This site was occupied from AD 1130-1280, and originally contained about 60 rooms and an unknown number of pictographs. These cliff dwellings are an excellent example of Sinagua architecture and rock art. This sacred site has been well-preserved, and a trail has been added for better viewing.
15. Airport Mesa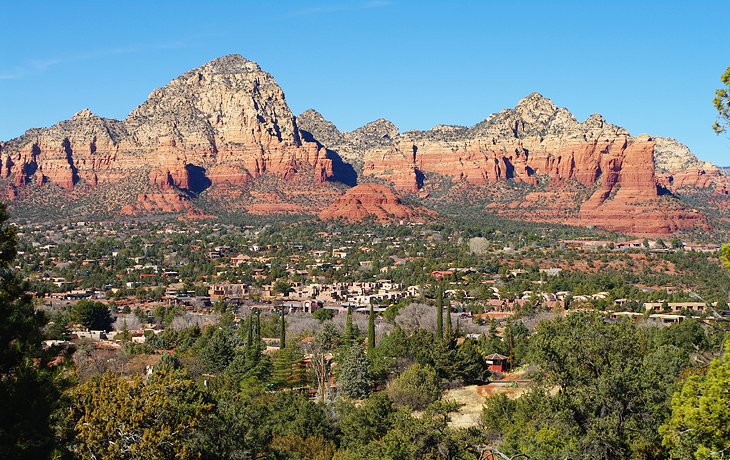 Airport Mesa | Photo Copyright: Lana Law
Airport Mesa is a table top mountain in Sedona looking out over the entire area. The airport is located on a flat field on top of the mesa, thus the name, and many people come up here to go for a hike; look out from the viewpoint, which is also the location of an energy vortex; or enjoy a meal at the Mesa Grill, where you can watch the planes take off and land.
Off the winding road leading to the top is the lookout point, on the left side of the road. You'll need to walk about a quarter-mile loop up about 60 feet to the top of a rock, where you can see out over Highway 179 to the colorful face of the Mogollon Rim. Views here are fantastic.
If you are looking for something romantic to do in Sedona, head up to the airport lookout for sunset. A spur leads off this path to the left as you are looking out to the rim, to an unmarked area, which is the masculine or negative energy vortex.
Additional beautiful views can be had from another lookout farther up Airport Road on the right side. Views here extend out over Uptown Sedona towards Coffee Pot Rock and Soldier Pass.
For something a little more adventurous, you can also do the Airport Mesa Loop Trail, a 3.5-mile hiking trail that runs along the edge and around the mesa.
16. Red Rock Crossing and Crescent Moon Picnic Site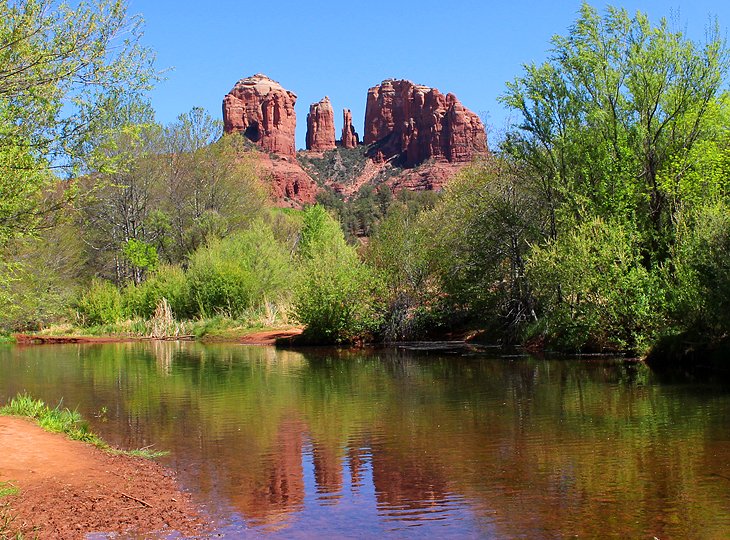 Cathedral Rock from Red Rock Crossing | Photo Copyright: Lana Law
If you are familiar with the classic site of Cathedral Rock reflecting in the calm waters of Oak Creek, this scene is the view from the Crescent Moon Picnic Site at Red Rock Crossing.
This is a fee area but it's a nice place to come and enjoy the creek on a hot day. You can wade in the creek, enjoy a picnic, or just relax and appreciate the scenery.
This is an incredibly popular location with photographers who come here in the late afternoon, when the sun is lighting up Cathedral Rock, and line up on the bank waiting for the right moment to take their shot. This is one of the best places to visit in Sedona if you are looking for the classic view of Cathedral Rock.
17. Tlaquepaque Arts and Crafts Village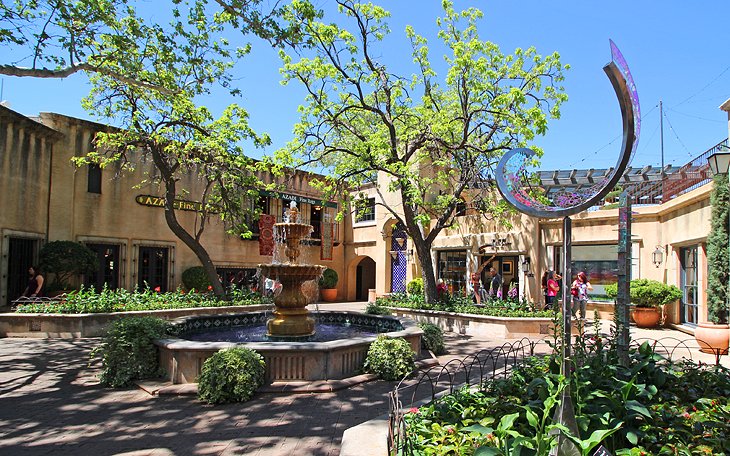 Tlaquepaque Arts and Crafts Village | Photo Copyright: Lana Law
Tlaquepaque is a recreated Mexican-style village with art galleries, craft shops, clothing stores, and restaurants. The original idea behind the village, in the 1970s, was to create an artists community.
Shoppers can still see artists at work, although most of what you will find is simply interesting retail establishments, many of which showcase glass, ceramics, sculptures, weavings, paintings, decorative arts, photography, jewelry, and decor, among others items.
The setting is reminiscent of an older time period, with cobbled streets, courtyard fountains, balconies, majestic archways, and vine-covered buildings. With the addition of Tlaquepaque North, the complex now spans both sides of Highway 179.
Address: 336 State Route 179, Sedona, Arizona
18. Amitabha Stupa and Peace Park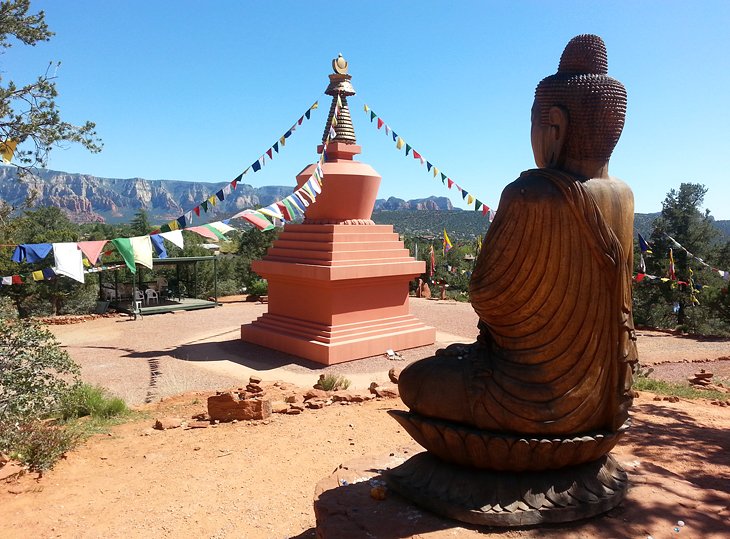 Amitabha Stupa and Peace Park | Photo Copyright: Lana Law
The Amitabha Stupa and Peace Park is a place of serenity and tranquility that is often overlooked by tourists. It's a spiritual place that attracts people of all faiths and fits in beautifully in Sedona. Prayer flags flow off the 36-foot stupa and blow in the wind.
Surrounding the area are juniper trees and prickly pear cactus backed by the distant mountains, glowing an orange color, almost the same hue as the stupa itself.
People come here for prayer and meditation. The custom is to walk around the stupa in a clockwise direction three times.
Amitabha Stupa and Peace Park is located in West Sedona in a residential area.
Address: 2650 Pueblo Drive, Sedona, Arizona
19. Red Rock State Park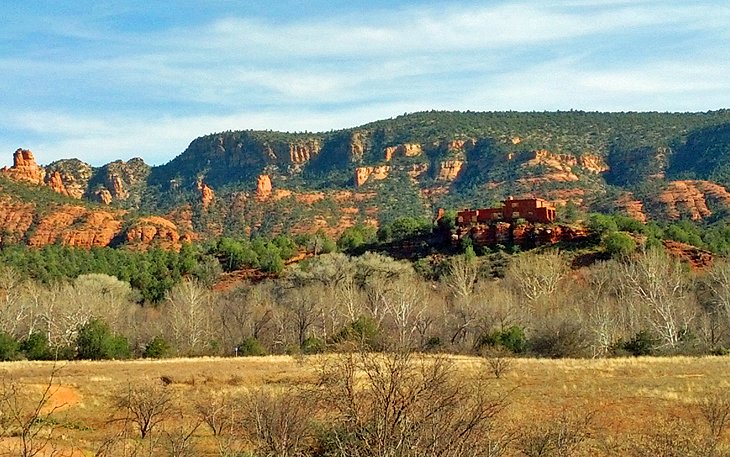 Red Rock State Park
This park, located approximately 10 minutes outside of Sedona towards Cottonwood, is an easy outing for those looking to experience some nature and local history. Located on more than 286 acres, the park encompasses a section of Oak Creek, several hills, and the former site of the Smoke Trail Ranch owned by the famous Jack and Helen Frye.
The visitor center provides an in-depth overview of the flora and fauna found around Sedona, with interactive exhibits suitable for all ages. The fascinating history of the Frye's and their Smoke Trail Ranch, along with the development of the park, is also chronicled.
One of the park's more interesting sites is the abandoned House of Apache Fire, built in 1947, situated on a hilltop commanding beautiful views.
Easy hiking trails provide views out to the red rock countryside and allow for a close-up look at the House of Apache Fire. One of the more impressive views is the Seven Warriors formation, seen from the Bunkhouse Trail.
The park is also a favorite haunt of bird-watchers. On the lower side of the visitors center, a bird feeding station has been set up and attracts a diverse set of avian visitors ranging from hummingbirds to woodpeckers.
Address: 4050 Red Rock Loop Road, Sedona, Arizona
20. 1st Friday in the Art Galleries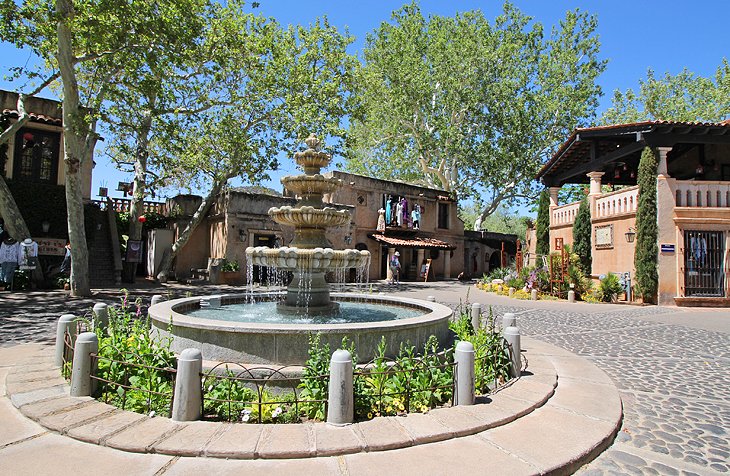 Tlaquepaque, part of the 1st Friday in the Art Galleries | Photo Copyright: Lana Law
The first Friday of every month, the galleries of Sedona open their doors in fun fashion, offering snacks and beverages and opportunities to meet some of the artists or chat with other tourists.
Rather than the usual quiet gallery settings, the establishments are full of people socializing as they contemplate the art and talk with artists about their pieces and concepts. This is a great introduction to Sedona's art scene.
The 1st Friday in the Galleries runs from 5pm to 8pm and is free. Much of the excitement is focused around the galleries at Tlaquepaque, Uptown Sedona, and Hillside Sedona.
21. Take a Drive to Montezuma Castle National Monument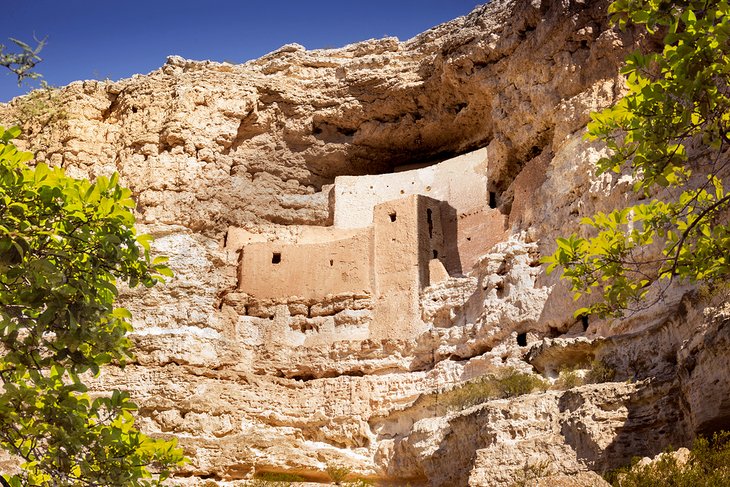 Montezuma Castle National Monument
One of Arizona's most impressive cliff dwelling sites is just a short and scenic 30-minute drive from Sedona in Verde Valley. Reached via a short level pathway, the cliff dwellings are located high up in the sheer rock face, underneath a large rock overhang.
Research suggests that the Sinagua people inhabited this site nearly 900 years ago, approximately 1050 CE. Their ingenuity is reflected in the sheer size of the 20-story dwellings they somehow managed to build high up on the cliff walls.
While visiting the cliff dwellings, be sure to also stop by Montezuma Well. This huge desert sinkhole, 386 feet across, is continually filled by 10,000-year-old water from deep within the earth. A pleasant and easy 0.7-mile-loop trail takes you to an overlook and then past a burbling brook that drains the well.
22. Sedona Heritage Museum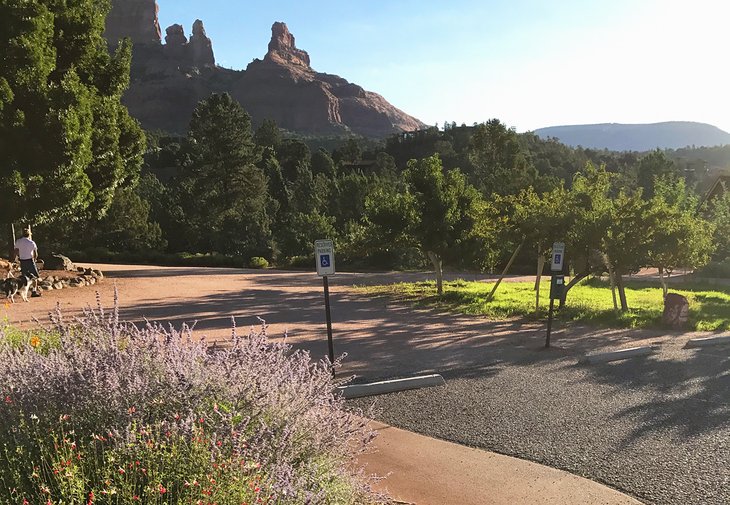 Path at the Sedona Heritage Museum | Norton Gusky / photo modified
Most people come to Sedona and are instantly captivated by the stunning red rocks and beautiful scenery, but never give a thought to how the city was founded and functioned for many years before it became the place it is today.
Well that deficiency can be easily rectified by a visit and self-guided tour of the Sedona Heritage Museum. Most of the structures from the Jordan Homestead, dating from 1931, have been restored and are listed on the National Register of Historic Places. Inside these structures, you'll find interesting exhibits on the history of Sedona beginning in 1876, it's first residents, Sedona's movie history, and the Jordan family.
The museum is located near uptown Sedona on Jordan Road in the Jordan Historical Park.
Address: 735 Jordan Road, Sedona, Arizona
Where to Stay in Sedona for Sightseeing
The best place to stay is near Uptown Sedona, close to shops, restaurants, and galleries, but the luxury resorts outside of town make attractive bases for hikers and nature lovers. The nearby Village of Oak Creek, a six-mile scenic drive to the south, is smaller but is also surrounded by mesas and mountains, and offers a range of budget hotels. West Sedona is a five-minute drive from Uptown and also offers some good hotel choices.
Visiting Sedona in December

Celebrate the holiday season with a winter getaway to Sedona! During the month of December there are endless activities for the whole family to ring in this special time of year. Winter is also a fantastic time to visit Sedona because it is considered the slow season. It is easy to discover discounts on lodging and book last minute reservations at any of the outstanding restaurants in town. Read on for our complete guide to visiting Sedona in December—benefits, drawbacks, typical weather, things to do, and more!
benefits of visiting in december
The biggest benefit to visiting Sedona in December is being able to hike the popular trails with less crowds. By midday in the spring and the fall, there is hardly a parking spot to be found at the popular trailheads. Not the case in the winter. Another advantage to visiting Sedona in December is that there are incentives offered by many of the hotels and restaurants. Since winter is considered the slow season, Sedona businesses offer these deals as an effort to stay afloat until the spring. Be sure to check out the best deals on lodging at the many Sedona hotels, cabins, and bed and breakfasts.
drawbacks of visiting in december
The biggest drawback to visiting Sedona in December is the wintery weather. Since Sedona sits at an elevation of 4,350 feet, temperatures can hover around freezing; and if you're in the mountains you may encounter snowy trails. If winter isn't your thing, aim for visiting Sedona another season.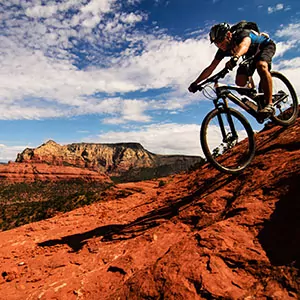 things to do in december
Sedona is a magical place during the holidays. There are several annual activities dedicated to ringing in the holiday season as well as other fun things to do during the colder months. Below are a few options of things to do when visiting Sedona in December:
Sedona Tree Lighting: The annual Christmas Tree Lighting takes place in early December where you can enjoy refreshments and a visit with Santa. Admission is free.
Holiday Sweet Stroll: In mid-December, Sedona transforms into a scene out of the Christmas Carol during the Sweet Stroll. Enjoy holiday shopping and festivities at this event for the whole family.
RunSedona: Temperatures in Sedona in the winter are ideal for running. That's why each year in Sedona there is a half marathon, 10K, and 5k races each December. Don't miss one of the most scenic races in the entire country!
Pamper Yourself with a Spa Day: Sedona is well-known for being a community that values physical and spiritual wellness. There are several spas in Sedona that will allow you to relax and rejuvenate yourself. You're on vacation after all!
Take a Hot Air Balloon Ride: Imagine yourself towering above the red rocks of Sedona, enjoying views that few others get to experience. See Sedona from the air and book a hot air balloon tour of Red Rock County. A quiet, aerial tour gliding over the desert canyons and red rocks is a peaceful way to experience the landscape of Sedona. Red Rock Balloon Adventure only runs their tours at sunrise due to weather and conditions, so plan accordingly.
Drive the Red Rock Scenic Byway: 7.5 miles of stunning scenery featuring red rock formations and plenty of lookout points to take it all in. It only takes about 30 minutes to drive it, but we recommend carving out an afternoon to stop at all the viewpoints.
Go Stargazing: Bring along some hot cocoa for a winter night you won't soon forget. Bundle up and enjoy one of the best places in the entire United States to marvel at the night sky. Sedona is one of only twenty certified Dark Sky Communities in the entire world. Sedona has made significant efforts to reduce its light pollution, which is not only good for the environment, but fantastic for seeing the nighttime sky. We recommend driving west out of Sedona and out on to Dry Creek Road for the best views.
Take a Jeep Tour: One of the more popular ways for adventure seekers to see the landscape of Red Rock Country is by taking a guided Jeep tour. There are several local companies that organize private Jeep tours. A guided Jeep tour through Sedona is the chance to take an exhilarating trip through the desert canyons and red rocks. Leave the driving up to someone else, the views will be all your own. Pink Adventure Tours is a popular company that offers several tour options in the Sedona area including Broken Arrow, Diamondback Gulch, and the Honanki Heritage Site to see ancient ruins of the Sinagua people. A Day in the West, the oldest family-owned Jeep Tour company in Arizona offers private Jeep tours and combination Jeep and horseback riding tours as well.
Explore Sedona with Award Winning Guides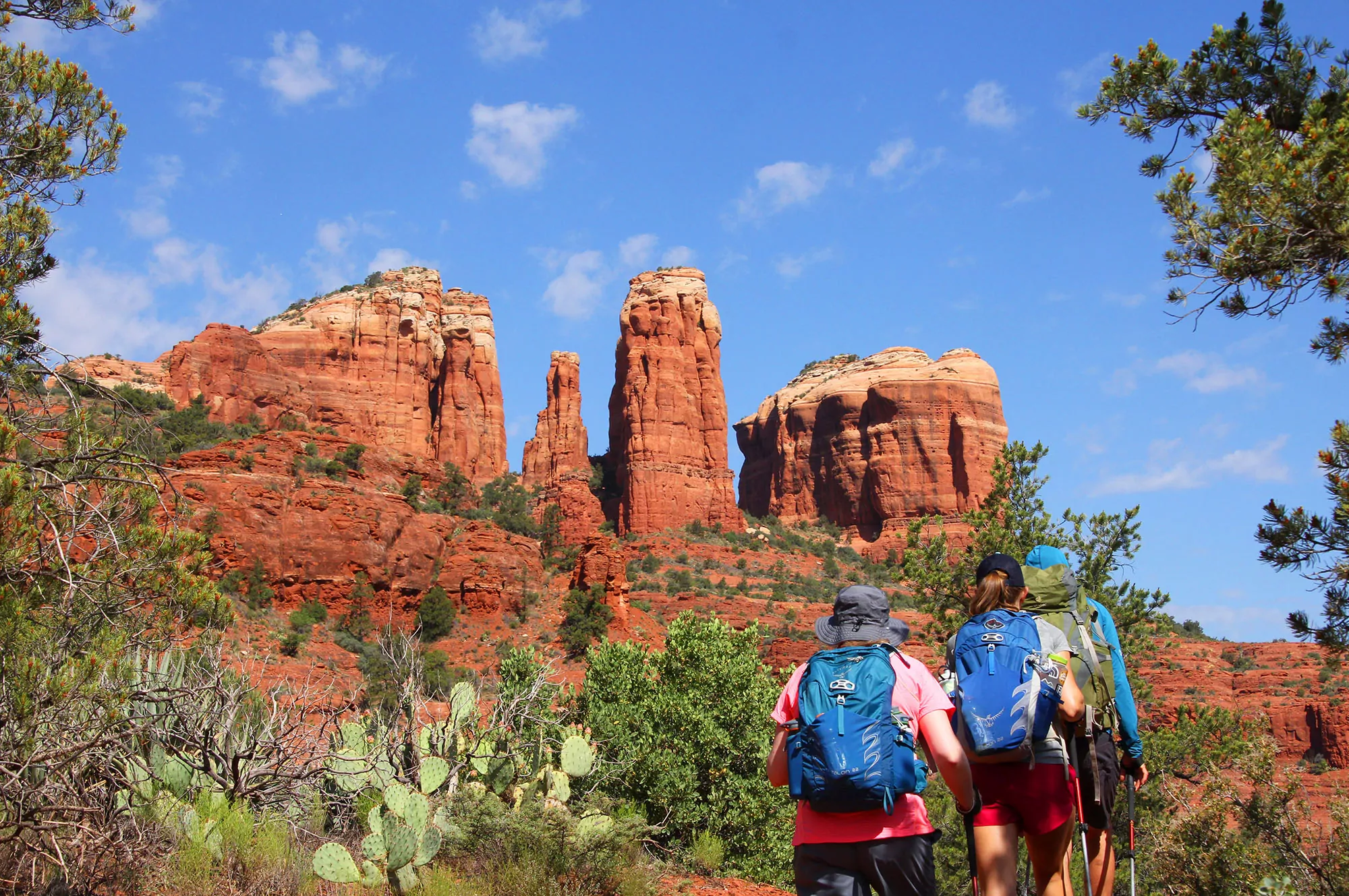 hiking in december
One of the most highly recommended things to do in December in Sedona is to hike. The popular trails will be significantly less crowded and offer a chance for desert solitude and quiet reflection. If you're looking to book a guided adventure, Wildland Trekking runs guided day hikes and backpacking trips in Sedona in December. Keep in mind that temperatures on trail will be chilly so bring extra layers, water, and plenty of snacks. Below are a few suggestions for day hikes and be sure to check out our top ten list for even more.
Cathedral Rock Trail: Cathedral Rock is a natural sandstone butte that is one of the most photographed places in the entire state of Arizona. This hike is one of the most popular in Sedona due to its length at 1.5 miles round trip. A short but sweet ascent takes you up to the mystical, towering spires. Make sure you have sturdy footwear as it becomes a rock scramble about halfway up the trail.
Bell Rock Loop: Begin at the base of Bell Rock to ascend approximately one mile to the top via the Bell Rock Loop Trail. This short hike is another extremely popular one so keep in mind the day of time and season you're visiting. Bell Rock offers some of the most stunning panoramic views of Sedona. This is a must-do hike.
West Fork of Oak Creek: This 6.5 mile out and back trail with an elevation gain of 567 feet makes for a nice stroll through the canyon floor. Beware there are a few stream crossings so wear appropriate footwear. This hike is an wonderful option 365 days of the year— in the fall, maple trees turn a bright red; in the winter, icicles dangle from the red rocks.
Devil's Bridge: Devil's Bridge is the largest natural sandstone arch in Sedona. This is popular hike due to the fact that you have the option walk out onto the top of the arch (you'll likely have to wait your turn, however). As mentioned earlier, this hike can be challenging to access. The Coconino National Forest lists two recommended routes to get to the Devil's Bridge Trailhead if you don't have reliable transportation. The first is Mescal to Chuckwagon to Devil's Bridge trails (4 miles round-trip) from Long Canyon Road, or the Chuckwagon Trail to the Devil's Bridge Trail from Dry Creek Road (5.8 miles round trip).
weather in december
The average high in Sedona in December is 57°F (14°C) and the average low is 31°F (0°C). The average monthly precipitation is 1.5 inches; either falling as snow or rain. Be prepared for winter conditions on trail by bringing extra layers, plenty of water, and snacks.
JOIN A GUIDED HIKING ADVENTURE
Sedona is home to some of the Western United States' most iconic and scenic hiking vacations. Wildland Trekking offers trips that highlight the must-see features of Sedona and the Grand Canyon: other-worldly rock formations, views, solitude, adventure, and fascinating natural and cultural interpretation.
Guided Sedona treks are all-inclusive which covers permits; local transportation (excluded on some day tours); meals; equipment; safety systems and professional hiking/wilderness guides; all of which allows visitors to maximize their time in Sedona and focus entirely on enjoying Red Rock Country.
SEDONA ADVENTURE TOURS
INN-BASED HIKING PACKAGES: these tours are all-inclusive packages with lodging, amazing daily hikes, expert guides, meals, transportation and more!
SEDONA CAMPING TOURS: camping-based hiking packages provide all-around hiking experiences of Sedona.
SEDONA DAY HIKE TOURS: maximize your day in Sedona on a fully guided, award-winning hiking tour of one of the area's best trails.
ALL ARIZONA HIKING TOURS: check out a full list of Arizona offerings, which include Sedona and the Grand Canyon.
ARIZONA BACKPACKING TRIPS: explore options for discovering Arizona on an all-inclusive backpacking trip with expert guides and mind-blowing scenery.
ABOUT THE AUTHOR
Erin McCarthy is a freelance writer and former Colgate University Outdoor Education Leader. When Erin isn't writing, she is exploring the mountains and rivers of the Greater Yellowstone Ecosystem. You can view her complete portfolio at www.erinannmccarthy.com.
Related Pages

Visiting Sedona in April
Visiting Sedona in August
Visiting Sedona in February
Visiting Sedona in January
Visiting Sedona in July
Visiting Sedona in June
Visiting Sedona in March
Visiting Sedona in May
Visiting Sedona in November
Visiting Sedona in October
Visiting Sedona in September

wildland Wires
Sign up to receive our exclusive Wildland Wire emails and stay up to date with Wildland Trekking's promotions, discounts, contests, outdoor tips and tricks, trip reports and more!
Source https://www.earthtrekkers.com/best-things-to-do-in-sedona-arizona/
Source https://www.planetware.com/tourist-attractions-/sedona-us-az-se.htm
Source https://wildlandtrekking.com/sedona-visitor-guide/visiting-sedona-in-december/