20 Greatest Places to Visit in Philadelphia (2022)
Until I visited Philadelphia I had never registered that this is really where the United States of America happened.
The founding fathers met here, the declaration of independence was signed here, the first US Presidential Residence was here, the first American Flag was created here (more of that to come) – there are firsts everywhere in Philadelphia.
And with those firsts come photo opportunities! Not only does Philadelphia supply a large number of did you know-interesting-quirky stories for a good Instagram caption, but it also serves up art, food, views and more to create a highly photogenic city.
Here is my guide to the Most Instagrammable Places to visit in philadelphia.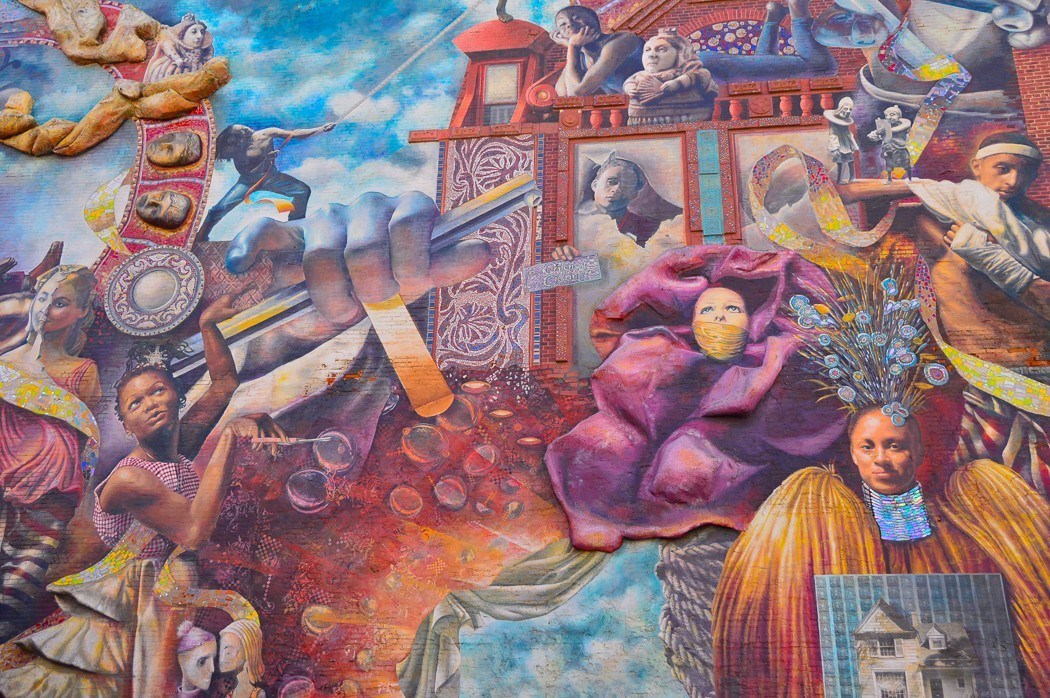 Amazing Mural Art
20 Greatest Places to Visit in Philadelphia
Table of Contents
1. Mural Arts Program
Philadelphia has over 4,000 murals! That means it has more than anywhere else in the world. One of my sightseeing in Philadelphia highlights was the Mural Arts Program .
The Mural Arts program has been running for over 30 years and over 15,000 residents and visitors see this outdoor art gallery via their fantastic tours each year. The works in the Mural Arts Program are stunning.
However, they are made far more compelling when you learn the stories behind them. The Mural Arts Program works closely with the local community where the mural will be located.
This ensures that the community is part of the creation of the mural – locals even sometimes appear in the murals – or are part of the creation of the murals. This is one of the great points of interest Philadelphia options.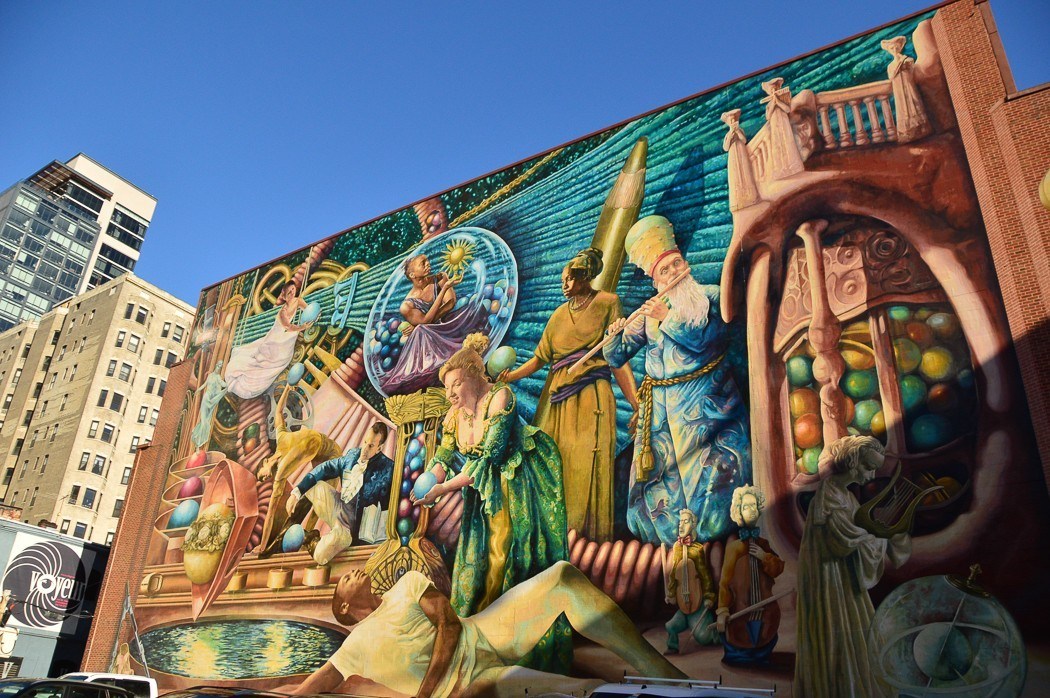 The murals are just amazing!
From forgotten heroes to celebrating the connection between Philadelphia's rivers and local flora, every mural on the Mural Arts Program has a backstory. The best way to experience the Mural Arts Program is through one of the tours regularly run by the program.
The tours vary across the year. Also, as there are so many murals the content varies so this is a Philadelphia attraction you can visit multiple times. [separator type="thick"]
⇒ Make sure you look fantastic in your travel photos and get one of the best travel hair dryers with diffuser.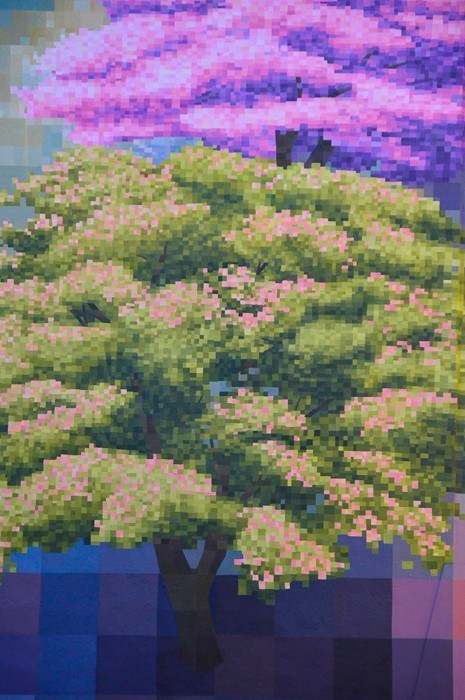 2. All things Isaiah Zagar and his Magic Garden
South Philadelphia is home to a different type of street art. Isaiah Zagar is a local award-winning mosaic artist who has works on over 200 public walls in Philadelphia. Born and raised in Philadelphia, Zagar started working on applying his art to public spaces in 1991.
What makes Isaiah Zagar's work quite unique is its often three-dimensional format and the heavy use of mirrors and glass to throw light in interesting ways depending on the time of day. I literally stumbled upon his murals as I was walking around South Philadelphia.
A good chunk of Isaiah Zagar's work is in the streets bordered by 3rd and 11th and South and Fitzwater Streets. This is one of the more secret places in Philadelphia.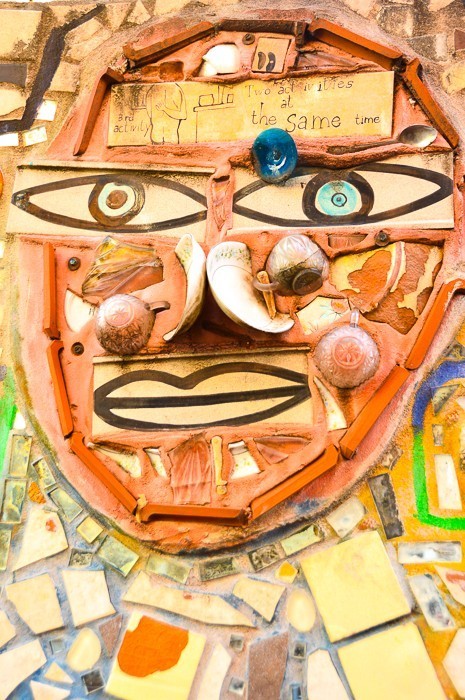 Isaiah Zagar mosaic
Zagar then also has a non-profit gallery/museum that is in his largest public artwork – Philadelphia's Magic Gardens. There are two galleries, a sculpture garden, an outdoor courtyard and even a gift shop in the Magic Garden. This was one of my favourite things to see in Philadelphia.
Philadelphia Magic Gardens is open Wednesday-Monday from 11 am-6 pm. It is possible to buy tickets ahead of time on the Magic Gardens website.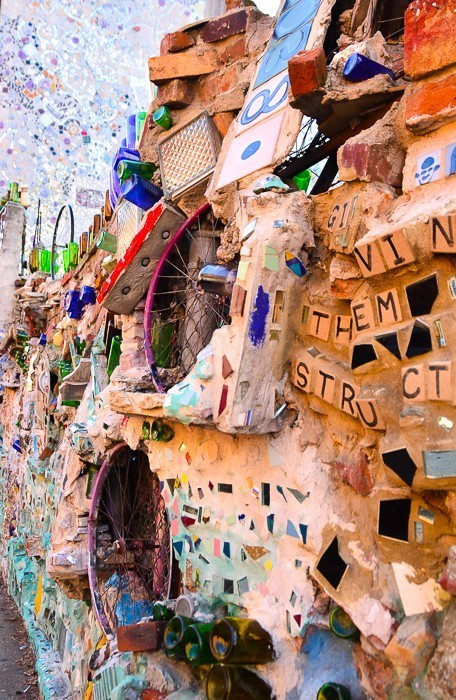 In the Magic Garden
3. The Skyline from Loews
I shouldn't really be writing about this one of the Philadelphia tourist attractions is meant only for paying guests. But once I went and saw it I couldn't not mention it in a Philadelphia sightseeing post.
Loews Philadelphia Hotel is an upmarket property in the heart of Philadelphia. The 33rd floor at Loews Philadelphia Hotel offers a fantastic view of the city skyline and is best visited at sunset. There are several function rooms on the 33rd floor and a more general area.
Loew's has a very nice bar so perhaps have a drink here to feel less guilty about rushing up to the 33rd floor.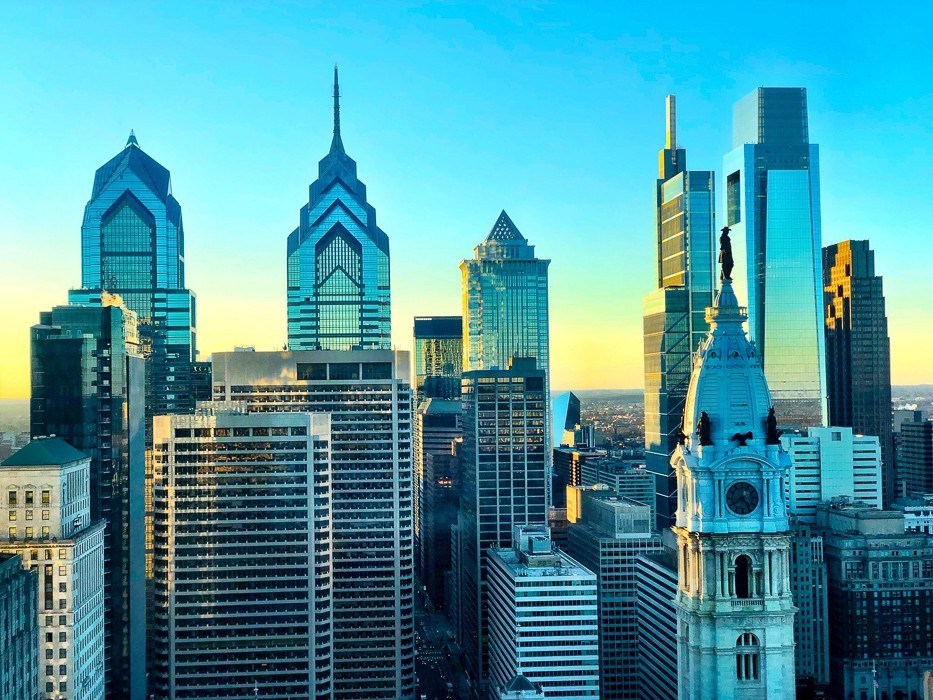 The skyline from Loews
4. One Liberty Observation Deck
The 57th floor of One Liberty or Philly from the Top has an observation deck that is open 365 days a year. This view is 360 degrees of the city and includes everything except, of course, the building itself -which is included in the view from Loews.
The One Liberty Observation deck itself is enclosed. A sightseeing Philadelphia must do!
5. Reading Terminal Market Philadelphia
Established in 1893, Reading Terminal Market is America's oldest continuously operation Farmers Market. Read all about it and some of the great food tours that really show you behind the scenes in my post on Philadelphia Food Tours.
Reading Terminal Market is one of the top tourist attractions in Philadelphia. From a pure photography point of view, there are quite a few great opportunities at Reading Terminal Market.
The first stop is Beiler's donuts – amazing looking colorful donuts that were made to appear on Instagram! Next up are sweet pretzels. These are hardstyle pretzels that have been covered in icing and sprinkles.
And try Asher's Chocolates for some nice shots.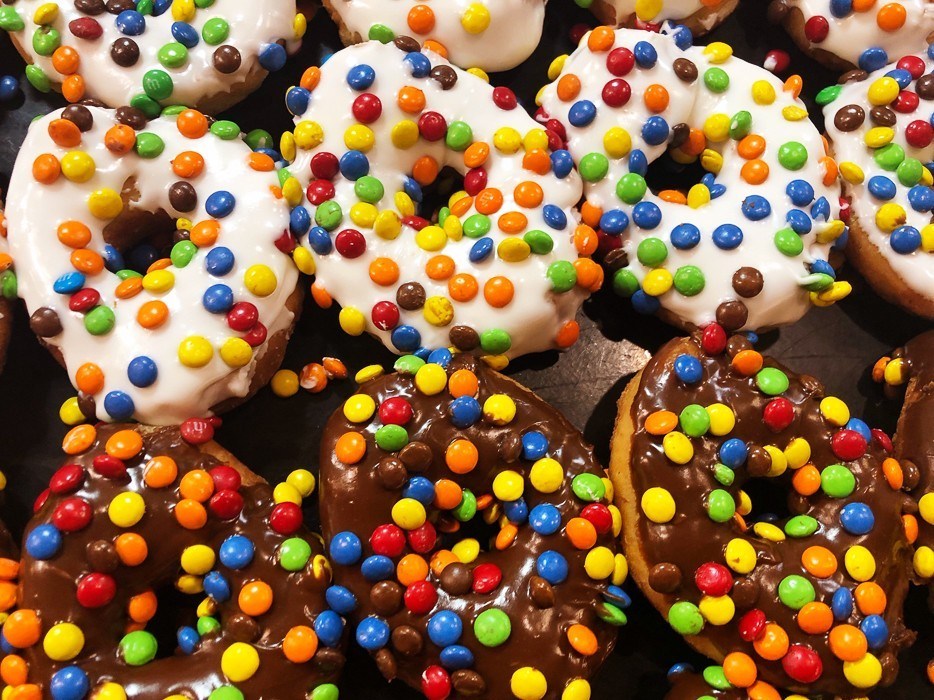 How good do these donuts look??
Next up is Philbert – official pig of Reading Terminal Market. He is the traditional meeting point at Reading Terminal Market. Philbert enjoys getting dressed up and is currently in a relationship with the pig at Pike Place Market in Seattle.
I also liked the neon signs throughout Reading Terminal Market – particularly for things like Cheesesteaks. Tommy Dinic's is known for its pork sandwich and has a stall in some nice photogenic shades of red.
The exterior sign for Reading Terminal Market itself is also a nice shot.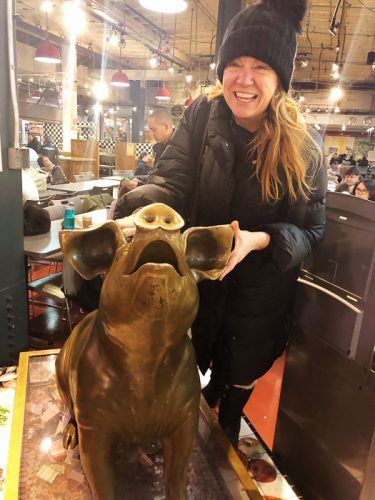 I also liked the Beck's Cajun Cafe sign shot with the red lampshades next to it, the fresh produce area with its nice black background and up close with Bassett's deluxe ice-cream.
Get some great behind the scenes shots by visiting Reading Terminal market with the Taste of Philly Food Tour. Carolyn knows everyone at the market and has a great eye for where to get good photos. She also knows the best places to visit at Philadelphia landmark Reading Terminal Market.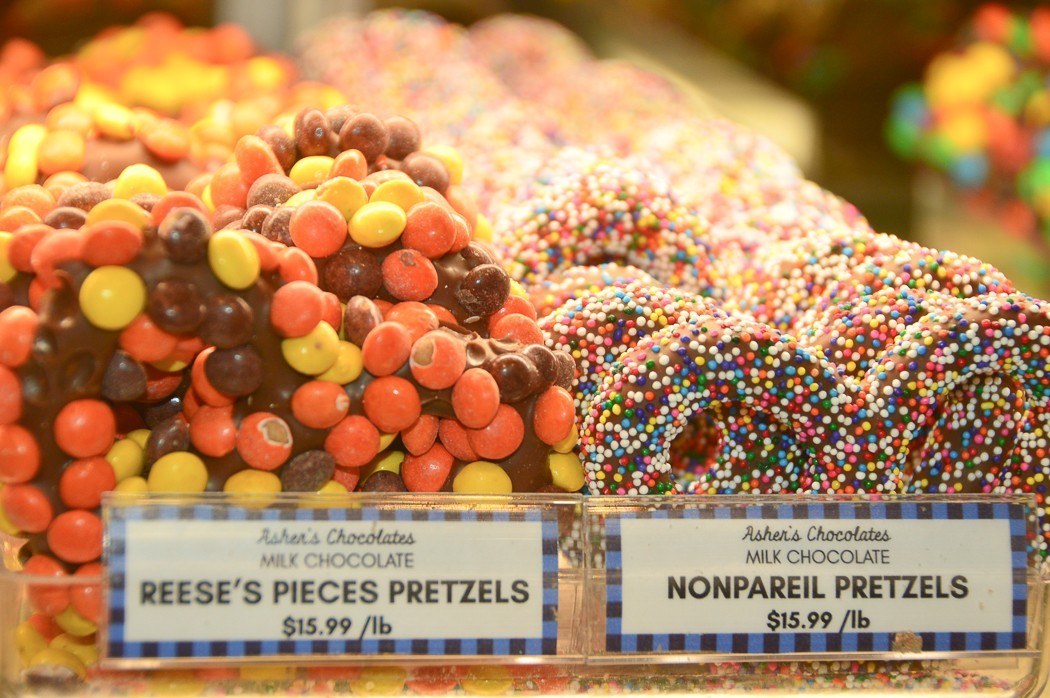 6. The Italian Market
The Italian Market is an area rather than a classic covered market. The Italian Market area is 9th street between Christian Street and Washington Avenue. The area is filled with foodie businesses that have been passed down through the generations.
Don't miss Di Brunos for some fantastic deli shots – cheeses galore.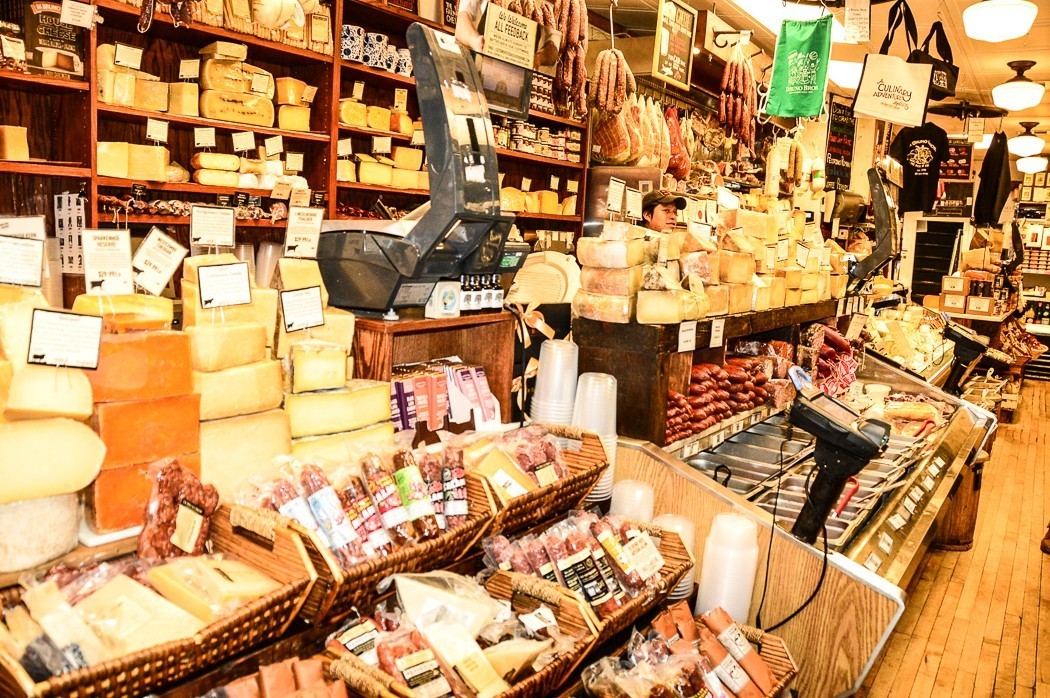 cheese shop in the Italian market Philadelphia" >Di Bruno's cheese shop
Cannuli's in the Italian Market has some great neon signs and pigs that lend themselves well to photography. Again, I recommend taking a tour to really get underneath the area.
I went with the Philly Tour Hub and would highly recommend them to explore one of the most foodie Philadelphia attractions.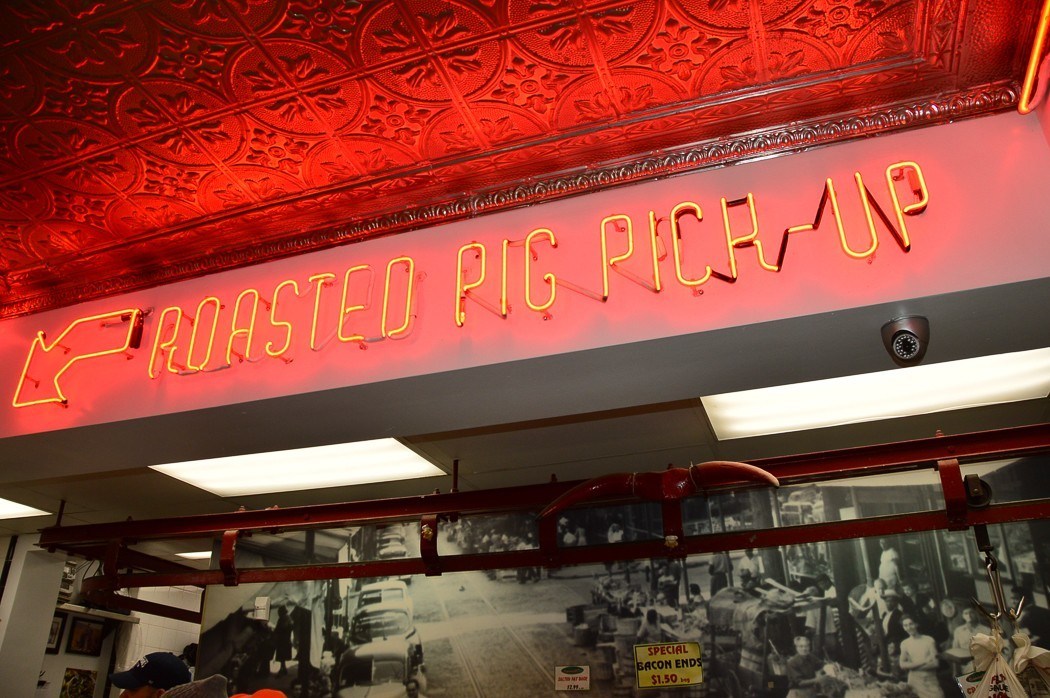 Love the neon signs of the Italian Market
7. Penn Museum
Penn is one of the best-known museums in Philadelphia. There are nearly a million archaeological artifacts on display at the Penn Museum .
The museum includes everything from the Bull-headed Lyre from 2450 BC Iraq, one of the earliest musical instruments in the world, to a crystal sphere from 19th century China. When I visited Penn Museum I went on a rather quirky Ancient Alcohol tour.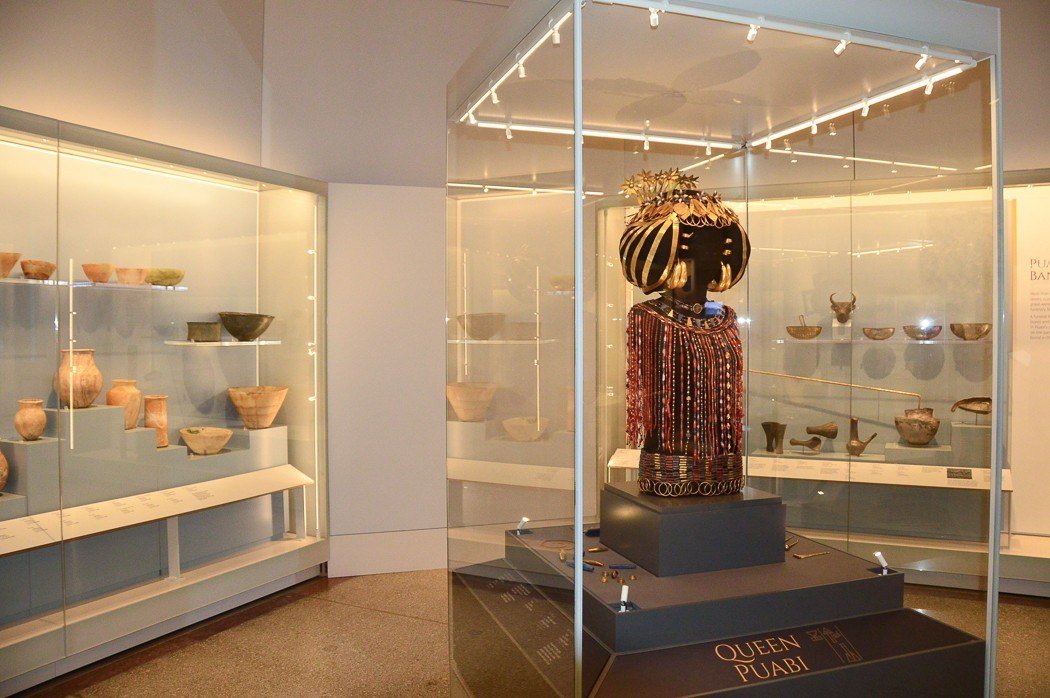 Penn Museum exhibits
I saw some of the earliest wine glasses – well they looked more like wine saucers – from the Ancient Greeks. See a golden beer straw fit for a Queen, hieroglyphs that set out alcohol rations for the afterlife and the first-ever wine jars.
This Penn Museum tour finishes off with a beer that has been recreated to match the taste profile of that which was enjoyed by the Egyptians – an acquired taste. A slightly different side to Philadelphia tourism! [separator type="thick"]
⇒ Few things are more fun than going to vegas! But it's not just about gambling – check out my post on 20 Fantastic Things to do in Vegas besides gamble! [separator type="thick"]
8. The Rocky Stairs and Rocky Statue
When it comes to things to do in West Philly you can't miss paying homage to the Rocky movies. The infamous steps that Rocky runs up in the movie are the 72 steps outside the Philadelphia Museum of Art.
The Philadelphia Museum of Art is a lovely building – but needs good light to be interesting enough for a good Instagram post. If you are travelling with someone or can find a trustworthy looking stranger the quintessential shot is to be running up the actual stairs.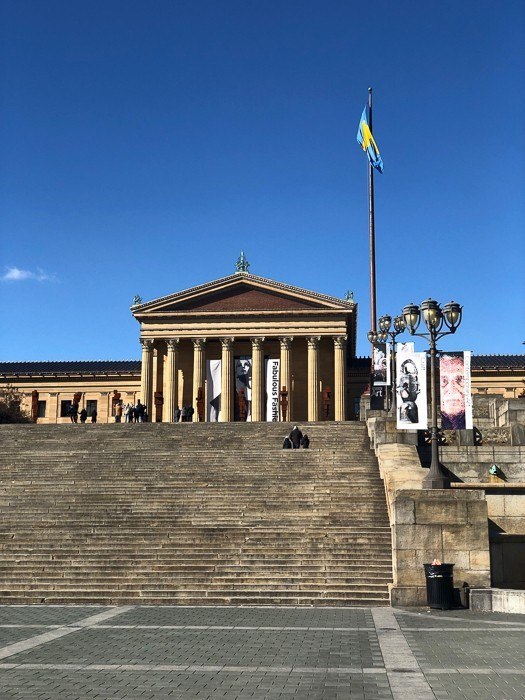 The Rocky Stairs!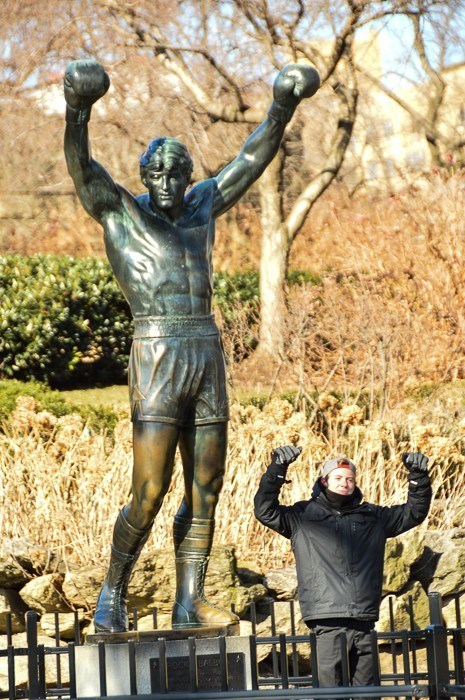 Get your photo taken with Rocky!
The other option is to pose with one of the Rocky statues at the bottom of the stairs. Arms up and byo boxing gloves to mimic the winner's pose. It was a rather cold minus seven degrees when I visited Philadelphia so I chose to capture a stranger doing the pose with Rocky.
The Rocky statues used to be at the top of the stairs but were moved to the bottom when it was agreed that they weren't really art. [separator type="thick"]
⇒ Canada has some very Instagram worthy cities – check out my posts on 17 Instagrammable & Fun Things to do in Ottawa and Outaouais and 26 Instagrammable things to do in New Brunswick. [separator type="thick"]
9. Philadelphia Sculptures
Philadelphia spends a lot on art – or it has a lot spent on art through required expenditure levels by developers. This means that quirky sculptures like a giant clothespin to figures of national historical significance. They do appear to be on most corners!
Check out this great interactive map that the Association for Public Art has created.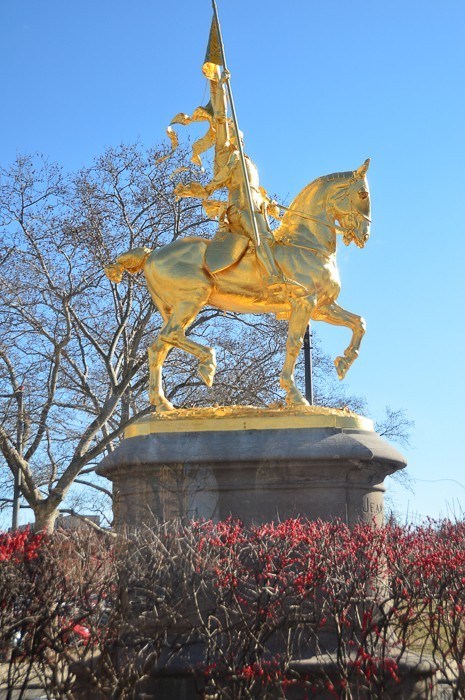 10. The Comcast Centre and Comcast Technology Centre
The Comcast Centre or Tower building was commissioned in 2005 and named after its primary tenant, Comcast. It is the 2nd tallest building in Philadelphia at 58 stories. The Comcast Technology Centre is a newer skyscraper that opened in 2018.
At 160 floors it is the tenth tallest building in the United States. It has a winter garden, a half-acre public plaza and a very fantastic coffee bar by Greg Vernick. Both buildings are very photogenic.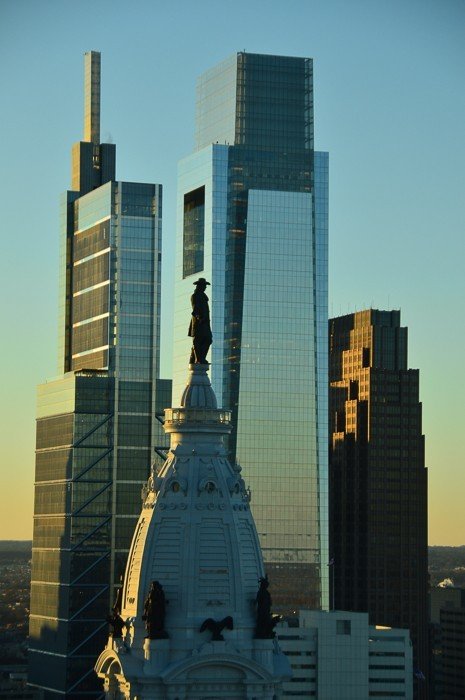 11. The inside of The Bourse
The Bourse was the first commodities exchange market in America. It is now the home of a number of very tasty food outlets who serve at all times of the day. There are some cute insta friendly food stalls at The Bourse.
But for me, the highlight of this lesser-known of the tourist attractions Philadelphia is when you look up and see the brilliant use of glass and natural light.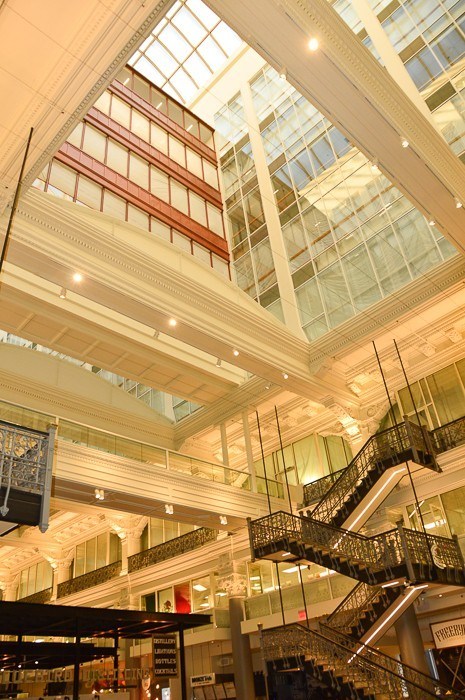 inside The Bourse
12. The Love and Xoxo Signs
When it comes to things to do in downtown Philadelphia you can't miss the iconic Love sign. The Love sign is in well Love Park as you would expect!
The very similar in style, yet not so often photographed, xoxo sign is outside The Bourse. The Love sign is very well photographed so the Xoxo is a bit more unique for your Instagram feed. [separator type="thin"]
⇒ Heading to NYC? Check out my post on 8 Fun Things to do in Lower Manhattan. [separator type="thin"]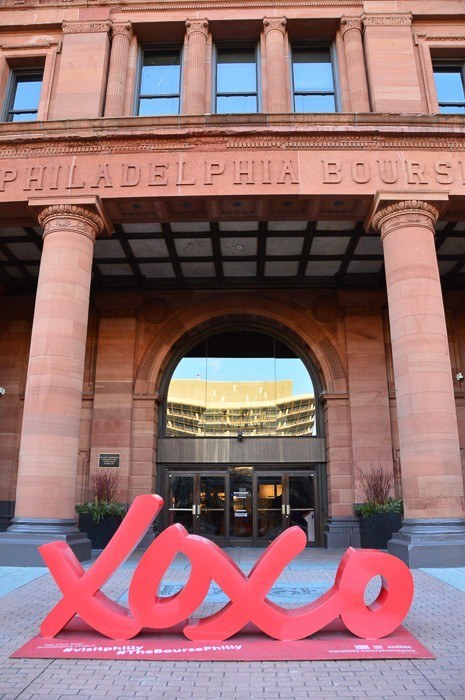 Kisses and hugs at The Bourse
13. The First Home of the President
The first US Presidential Residence was built in Philadelphia and was known as The President's House . The President's House was used until 1800 until the White House was created in Washington DC. The building was demolished in 1832.
In late 2000 the foundations were discovered. It is across the street from the Independence Visitor Centre. The area, located on Independence Square, is now an open-air museum and provides some nice angles for photos and one of the must-do places to see in Philadelphia.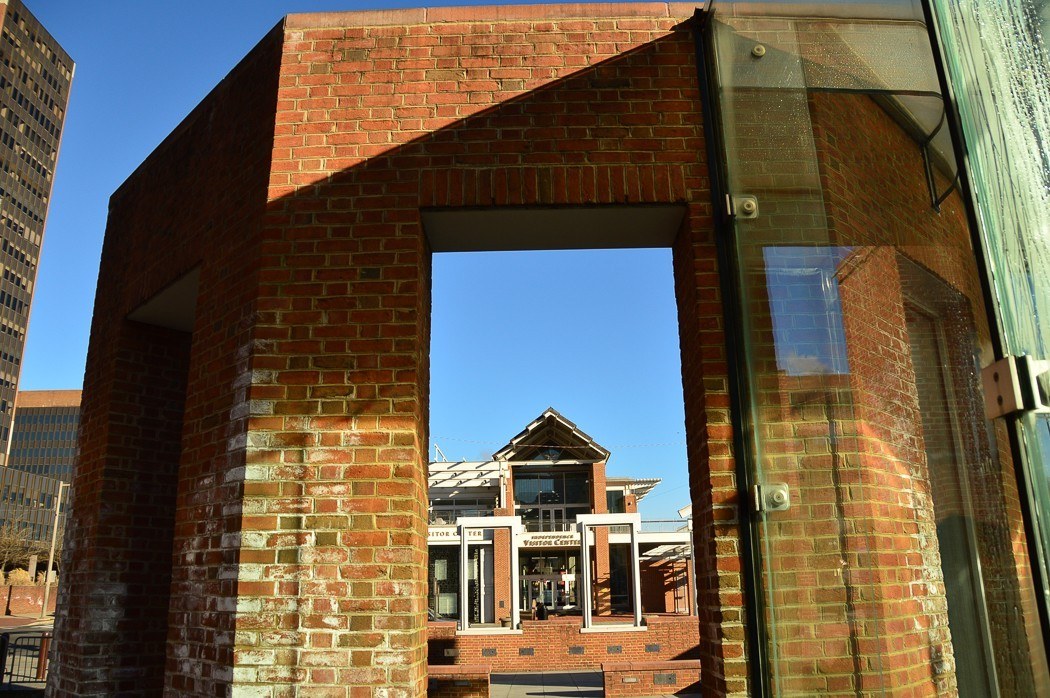 The President's House
14. The Oldest Street in America
Elfreth's Alley claims to be the oldest continuously inhabited residential street in America. Elfreth's Alley is extremely cute and photogenic with its red brick buildings and colorful doors. It must drive the people who live here mad but I imagine that is offset by the improvement to their property prices!
Try to get to this well-known attraction in Philadelphia early to get the right light. A great way to see Elfreth's Alley and find out more about the fascinating history of Philadelphia is by taking a tour.
I had a brilliant tour guide with Philly Tour Hub and learned so much – it was freezing and I still didn't want the tour to end!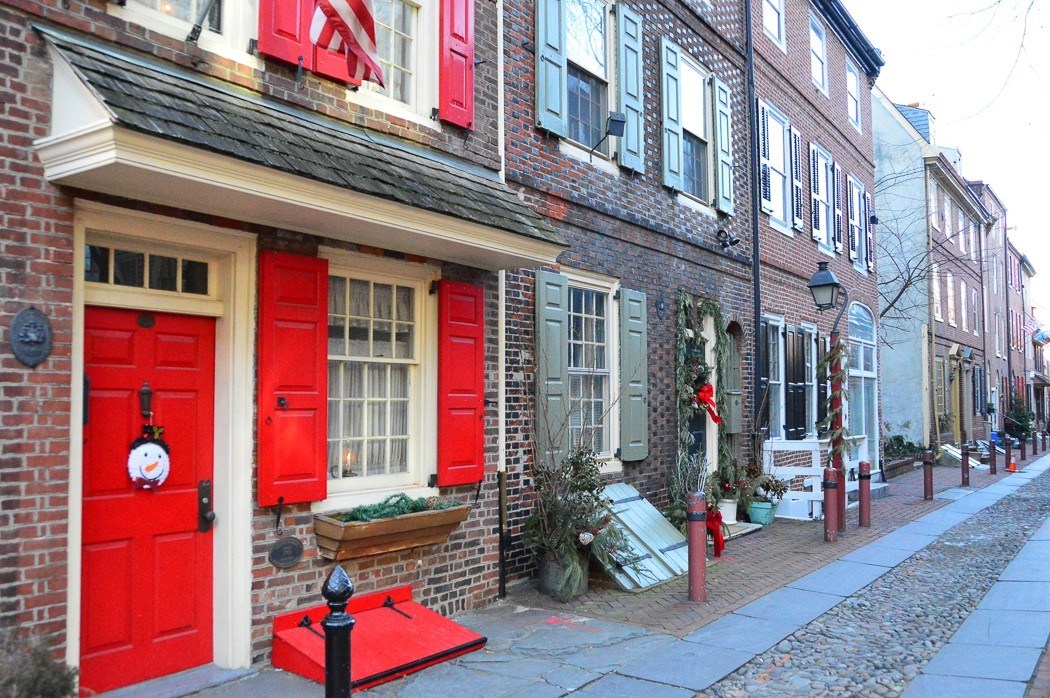 Elfreth Alley
15. America's First Flag
The first American Flag was made by Betsy Ross in Philadephia. Betsy was a seamstress and it is claimed that this is where she was living when she designed the flag. The story goes that she was personally briefed by George Washington and 2 other founding fathers.
Find out more at Visitor Centre at Betsy Ross House.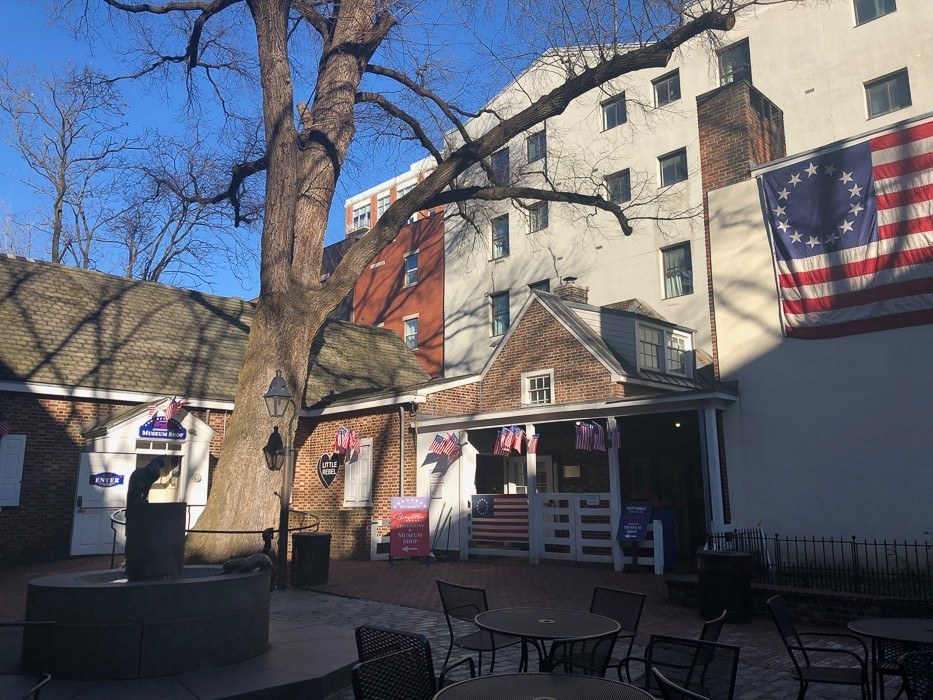 The Betsy Ross house in philadelphia
16. The Liberty Bell
The world-renowned symbol of American freedom, The Liberty Bell , is in the middle of Independence Square and free to visit. Try to go for some late afternoon light and catch Independence Hall (where the Declaration of Independence was signed) behind it.
Alas, when I visited there was a government shut down on so I couldn't actually go inside the Liberty Bell Centre and photograph the Liberty Bell. I had to make do with a shot of the Liberty Bell from outside the luckily glassed-in building.
It wasn't really of Instagram quality so I haven't shared it – but you should definitely go and take one from the inside! [separator type="thin"]
⇒ Baltimore is just 2 hours from Philadelphia – check out my posts on great Baltimore Food tours , staying at the lovely Hotel Indigo Baltimore and the top coffee shops in Baltimore. [separator type="thin"]
17. Ship Chandelier at The Kimpton Monaco
I stayed at the Kimpton Monaco and loved it – as you'll see further down the post. One of the things I really enjoyed about this Philadelphia hotel was all the quirky touches.
And one of the most appealing was the giant chandelier that hangs in the entrance of the Kimpton Monaco that is shaped like a ship. Certainly not a form of lighting I have been before.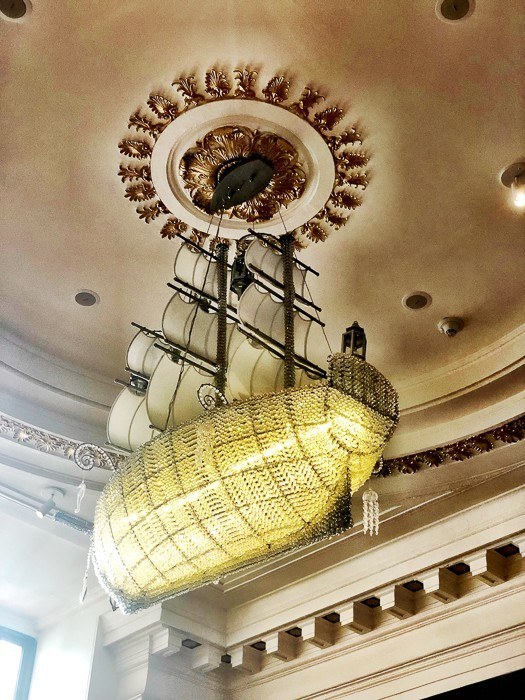 The ship chandelier at the Kimpton Monaco
18. Pipe Organ at Macy's
Macy's is the current tenant of what was the Wanamaker Department Store (of course America's first department store as it was in Philadelphia). The building is a National Historic Landmark and one of its highlights is the amazing Great Pipe Organ.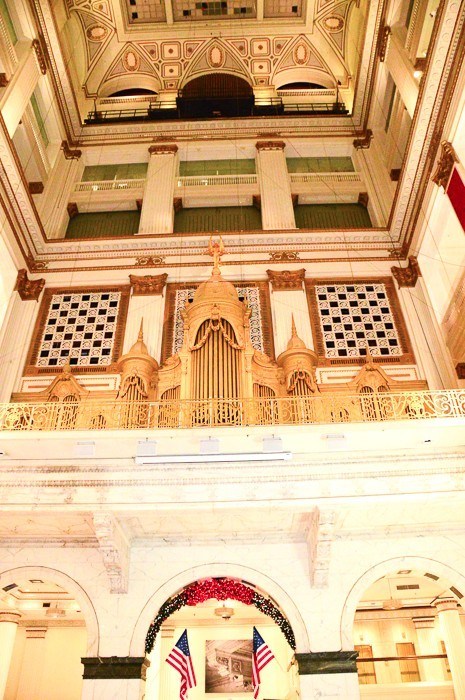 The pipe organ in Macy's
19. Antique Row
Antique Row is on Pine Street between 13th and 10th is a range of extremely photogenic red brick buildings with walk up stairs and colourful doors – as well as some cute cafes for coffee stops in between shots.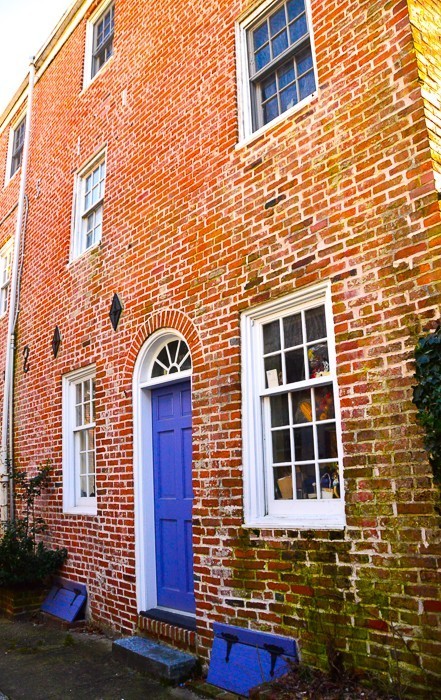 Antique Row
20. Battle of the Philly Cheesesteak
You have most likely heard about Philly Cheesesteaks. These meat and cheese sandwiches are a symbol of Philadelphia and there are extensive reasons why they taste better in Philadelphia than anywhere else (the bread is key, the provolone cheese, the water in the bread etc etc).
As you would expect, many claim to have the best cheesesteak in Philadelphia. However, the most common question around who serves the best cheesesteak is Pat or Geno's? These two Philadelphia institutions are located across the road from one another.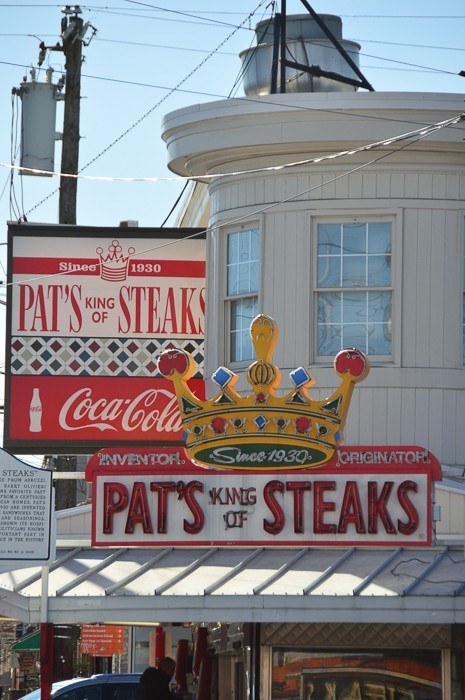 Pat's signs all claim his title!
Pat's is where the cheesesteak started. The story goes that Pat had a hot dog van and the cheesesteak was his lunch. However, when a customer smelt the cheesesteak and asked to buy it he realised there was a bigger opportunity in cheesesteaks than hotdogs.
And it was, until Geno's opened across the road in 1966. Many felt Geno was crazy for opening across the road from Pat's. Geno's view was that he wouldn't need to do any advertising as his target market was across the road.
Well more than 50 years later both of them are still in business and appear to be doing quite well. The fact that the story of their rivalry makes for good copy can't have hurt either….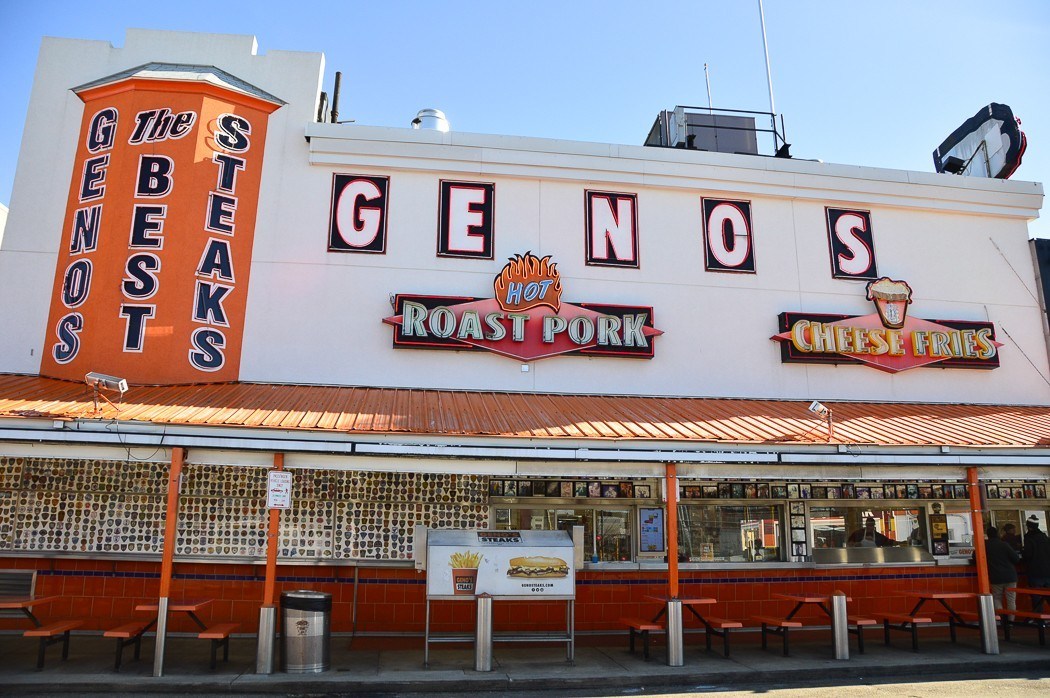 Geno's Steakhouse
From a photography point of view, both the signs and the 1950s feel eat outside decor of Pat's and Geno's make for some good shots. Good colours as well. [separator type="thick"]
⇒ Another very Instagram friendly city not too far from Philadelphia is baltimore. See more in my post on the 10 Most Instagram Worthy Baltimore Attractions. [separator type="thick"]
Top Tips for Getting some Great Photos of Philadelphia
-If you're after a real local eye for Instagram follow Kyle Huff . In addition to being an Instagrammer, he is also the social media person at the Philadelphia Convention & Visitors Bureau.
-Get on the Philadelphia Hop On Hop off Bus. I do love a Hop on Hop off Bus! This is one of the best ways to see Philadelphia. It is also a great way to capture some key Instagram friendly items and has 27 different stops including the many sculptures throughout the City, the Rocky Steps, One Liberty Observation Deck..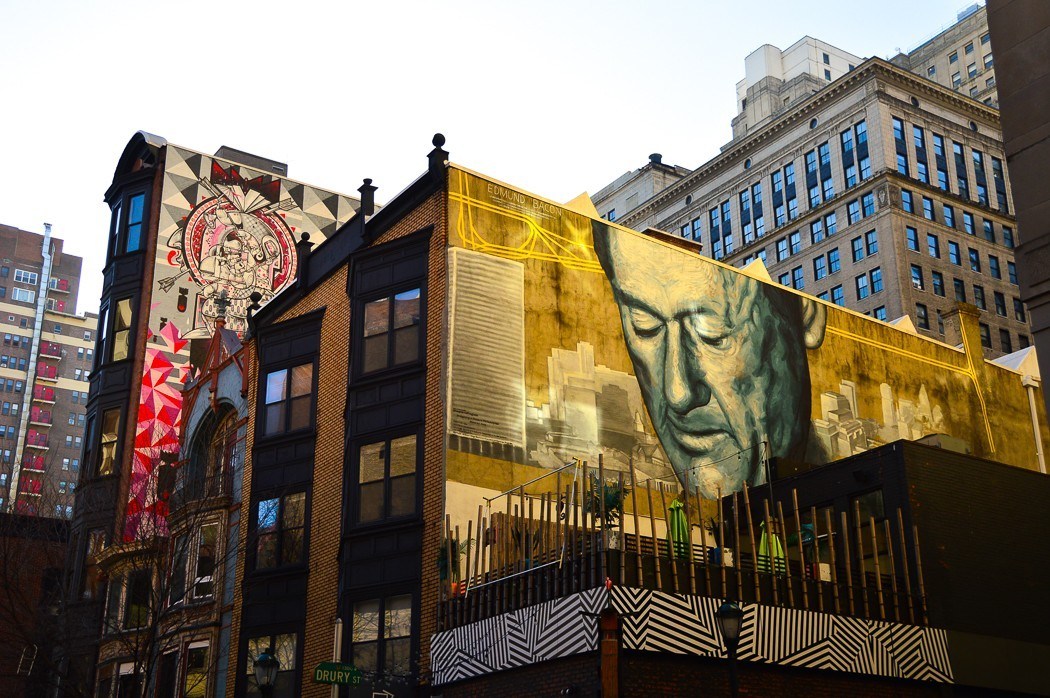 More street art
-take a photography tour of Philadelphia – I am sure you will find some more off the beaten spots for photos if you head out with local photographers. -in general, I am a big fan of taking tours.
Tours used to be so dull – these days there are passionate tour guides with fantastic stories to tell. And I find the tour guides are great for pointing out where to get the best photographs and at what time of day. [separator type="thin"]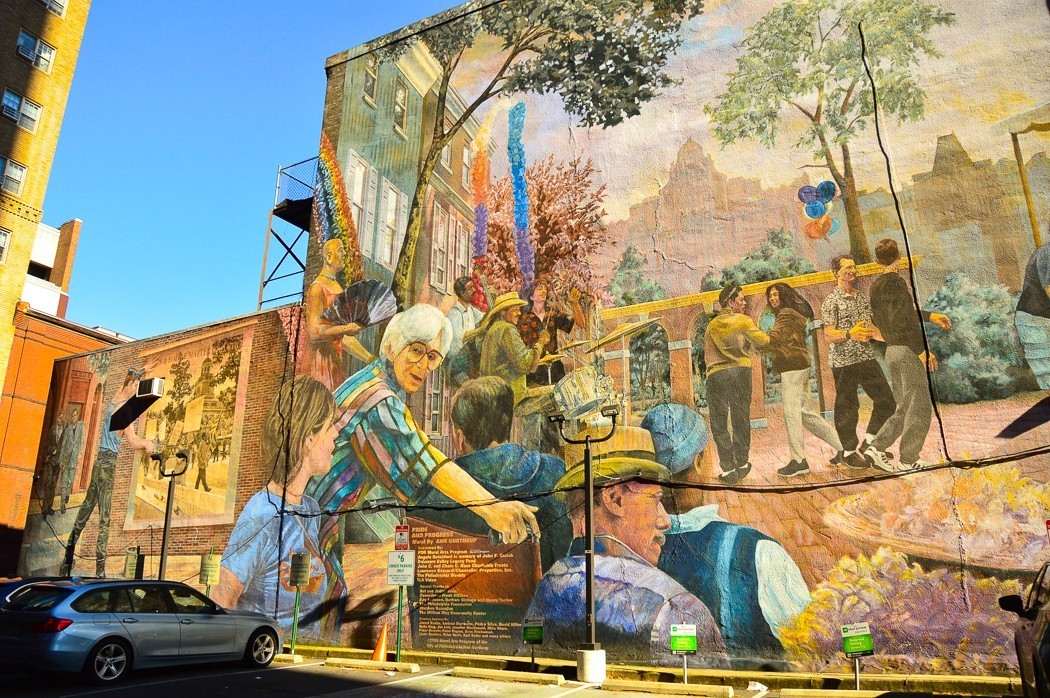 Boutique Hotels in Philadelphia
I stayed in the stunning Kimpton Hotel Monaco and just loved it. My kind of boutique hotel. There is an eclectic and colourful design theme throughout.
Guests are greeted in the lobby at the Kimpton Monaco with an amazing chandelier in the shape of a ship.
The Kimpton Monaco has a number of fun concepts like a free happy hour each night as well as free coffee in the morning. It is a nice personal touch that encourages guests to meet each other.
The location of this Philadelphia boutique hotel couldn't be better. It is right on Independence Square – it is virtually possible to see the Liberty Bell from the Restaurant. The Bourse food exchange is also literally next door.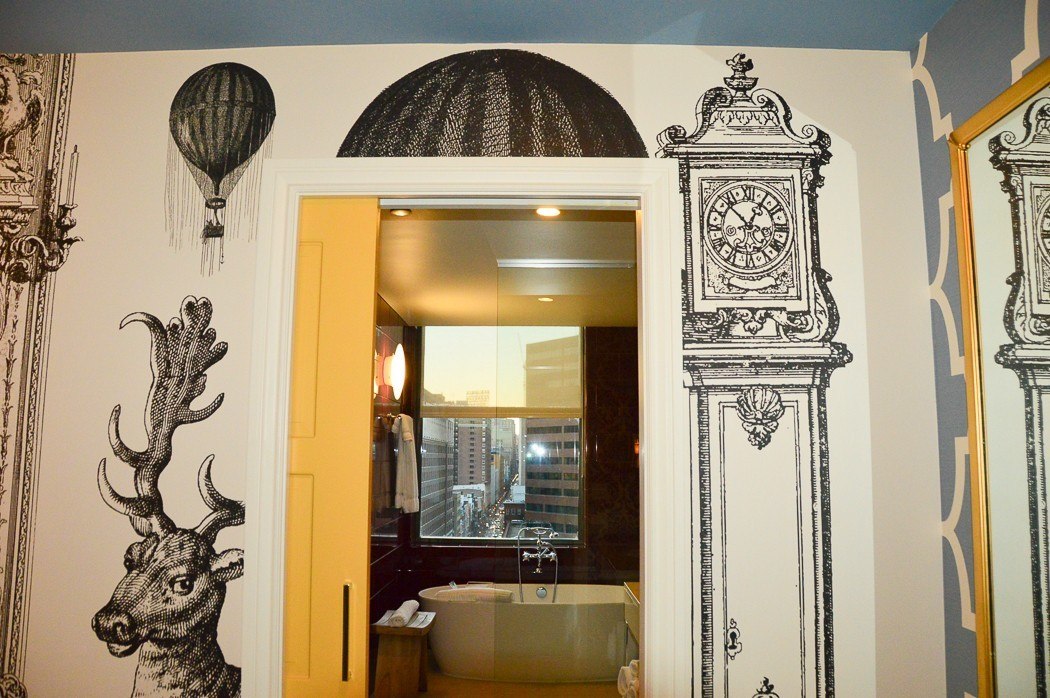 My stunning bathroom at the Kimpton
For places to eat in Philadelphia and drinking there is the Red Owl Tavern on the ground floor. I like that the hotel restaurant is a "real" restaurant. The Kimpton Monaco also has a rooftop bar/lounge but it wasn't open when I was there as it was -7 degrees.
Every room at this Philadelphia boutique hotel has a yoga mat, pets are welcome, there is a "soaks" menu for different bathing options, hotel bikes – there were so many fun and charming things on offer that I wish I had of been able to try.
I will definitely be staying at Kimpton hotels again.
⇒ Read reviews on TripAdvisor ⇒ Book Now
Speaking of which, in case you don't or can't stay at Monaco, Kimpton has another hotel in Philadelphia – Kimpton Hotel Palomar.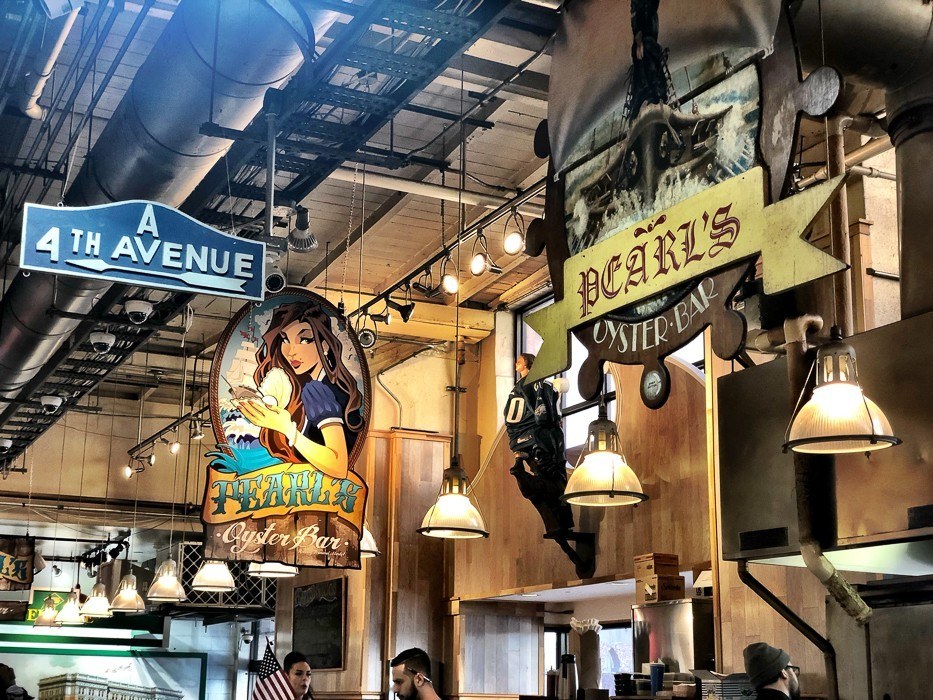 Where is Philadelphia & How to get to Philadelphia
Philadelphia International Airport is only 11km from the centre of Philadelphia.
⇒ If you're planning a trip to the US and thinking about flying premium economy – which is a great idea – check out my reviews and comparisons of American Airlines Premium Economy 777 , Virgin Atlantic Premium Economy Review and British Airways World Traveller Plus Review .
Another option is to take the train to Philadelphia from new york which is what I did. Trains for Philadelphia run out of Penn Station frequently and this was a really easy and comfortable option.
The fast train is not far over one hour each way. Both stations have loads of good places to get snacks, meals and reading material for the journey.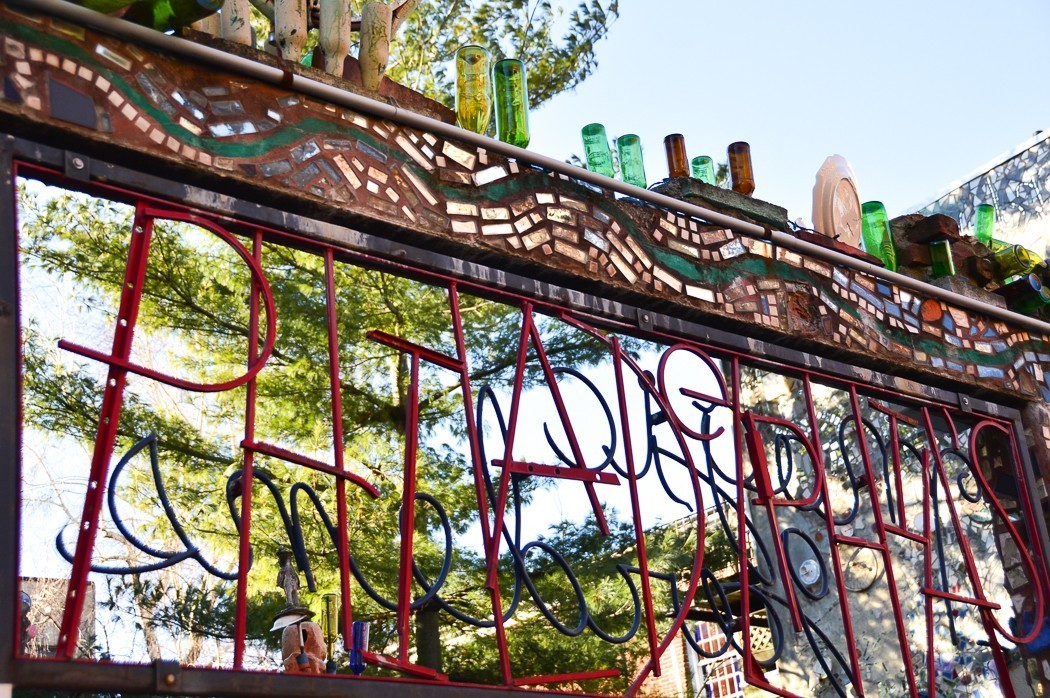 Magic Garden entrance
⇒ Interested in heading to California? Check out my posts on Unique Restaurants in San Francisco, 15 Gorgeous Sunflower fields in California, Things to do in Calistoga review of the great Solage Spa, 19 awesome places to watch San Diego Sunsets, visiting Yosemite in One Day , 15 Best Northern California Hot Springs, 15 Best Places to Watch San Francisco Sunsets, 10 Stunning Sunsets in California and in Yosemite in October, 32 Best Places in Bay Area, 17 Great Stops on a Road trip from Los Angeles to San Francisco, 31 California Landmarks and my guide to a Livermore Wine Tasting.
Who Paid for What in this Post
A big thank you to the fantastic team at the Philadelphia Convention and Visitors Bureau. They sponsored my trip (eg paid for things) and were fabulous. My costs were covered but the views in this post, as always, are all my own.
And while we're on that track – some of the links in this post will take you to websites with whom I have a commercial agreement. If you make a purchase on those sites I will receive a small commission. I wanted to make sure you knew this.
11 Places To Visit In Philadelphia For A Remarkable Vacay In 2022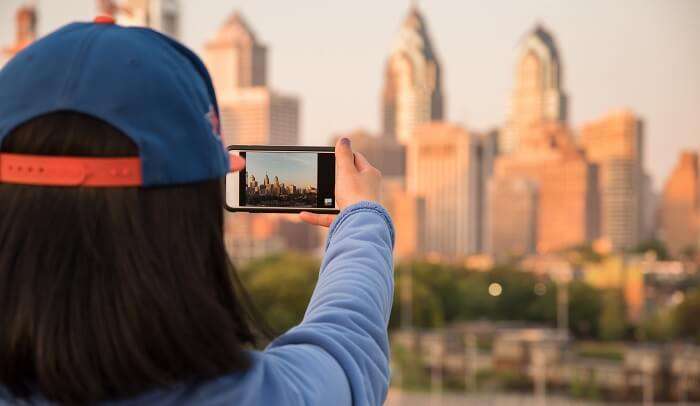 Pennsylvania, as difficult as i is to pronounce the name, it's worth it. The place is beautiful and is home to the historical city of Philadelphia because The Declaration of Independence was signed here. It is one of the largest cities in the state of Pennsylvania in the United States and is popular for its art, music, and iconic food. There are many art museums and landmarks that have been shown in Hollywood movies. Visit this city for its musical and performance arts events and diverse colonies. It is dotted with many shops, restaurants, night pubs, historical sites, and the many popular places to visit in Philadelphia.
Best Time To Visit Philadelphia
The weather in Philadelphia is great all around the year. The best time to visit the city is between the months of March and May. Summer is the peak season. You can visit the city in fall and winter season for cheaper rates. For picturesque landscapes and Cherry Blossom bloom visit Philadelphia in during the spring season.
Best Places To Visit In Philadelphia
If you are wondering which are great places to visit in Philadelphia then here is a list of those. Check these out for an amazing vacay in the beautiful city.
1. Independence Hall
2. Liberty Bell Centre
3. Museum Tour
4. Parks in Philadelphia
5. The Philadelphia Zoo
6. Historical Sites
7. Reading Market Terminal
8. The Barnes Foundation
9. Please Touch Museum
10. The Franklin Institute Science Museum
11. Elmwood Park Zoo
1. Independence Hall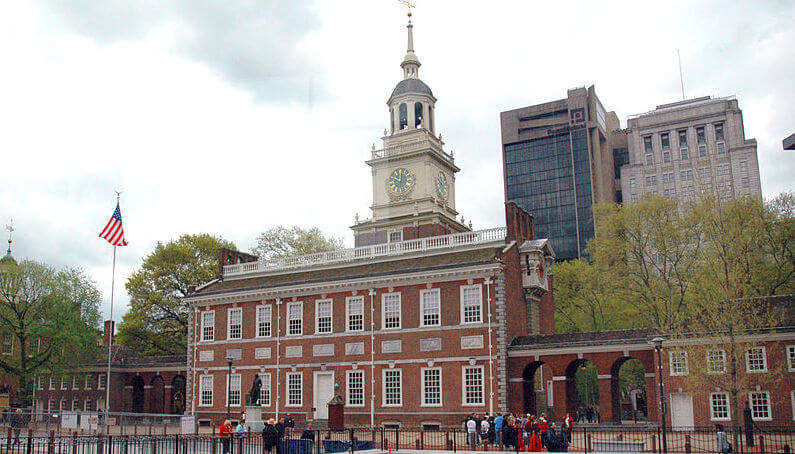 One of the most important places to visit in Philadelphia is the Independence Hall. The Declaration of Independence was signed at this hall on July 4th 1776. This is also the place where the American Flag was unveiled for the first time. This hall as been restored several times and bears historical significance. You can visit this hall which is located inside the Independence National Historical Park.
It has a screening area, shops, and eateries inside the park. You can choose from various walking tours inside the park. You can visit the museums inside the park, take a selfie, play glass armonica, and explore the exhibits inside the museum.
Location: Chestnut Street
Key attractions: Museum exhibits, legal documents, walking tours
Opening Hours: 9.00 am to 5.00 pm
Entry Fee: $1 for reservation
2. Liberty Bell Centre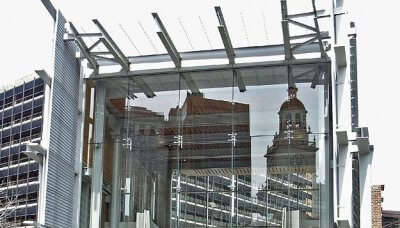 Liberty Bell Centre symbolizes freedom and is one of the most famous historical places to visit in Philadelphia. Take a walking tour around this center and visit the series of exhibit rooms. You will witness the history of how this Bell came into existence following a series of incidents that took place post the installation. There is also an x-ray exhibit to showcase the insides of this Bell. It is displayed in front of a window and the visitors are not allowed to touch it. It is made with a mix of metals like copper, tin, lead, zinc, gold, and silver. It has a crack and since has not been used to ring the bell. Though the crack is recast the clapper is still not used. If you are visiting this city in the summer, you have to wait lines to view the exhibits as well as this Bell. You can plan your tour in spring as well as autumn to this city as it looks beautiful during this season.
Location: Market Street
Key attractions: Exhibits inside the hall
Opening Hours: Open 24 hours
Entry Fee: Free
3. Museum Tour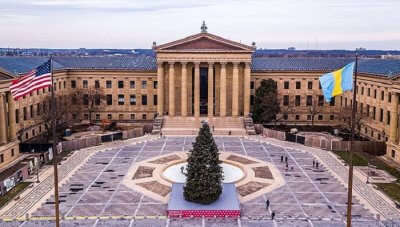 Visit the Rodin Museum to view the large collection of the sculptor Auguste Rodin. The Thinker is the most well-known sculpture of this sculptor. The Philadelphia Art Museum is located at the Benjamin Franklin Passaway and is one of the largest museums in the city that showcased millions art pieces from various artists making it one of the popular places to visit in Philadelphia for art lovers. The New Hall Military Museum is located at the Chestnut Street and has exhibits from the Military and Navy.
The Shoe Museum is a hidden gem in the city and worth a visit for the historical significance every shoe bears. Shoes used from various cultures including the ancient Egyptian display of sandals is fascinating for history buffs. You can find the detailing on every shoe and read about their history. The Eastern State Penitentiary is an abandoned prison built in the Gothic style and is converted into a museum.
Location: Various locations
Key attractions: Exhibits and history in each museum
Opening Hours: Vary for each
Entry Free: Starting from $10
4. Parks in Philadelphia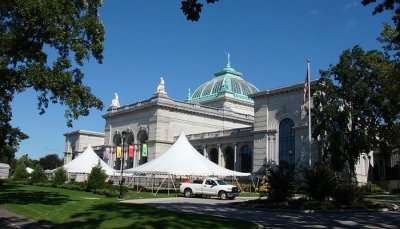 There are nearly 30 parks in the city. You can choose from the top five to visit for relaxing and recreational activities. The Fairmount Park is one of the top tourist places to visit in Philadelphia and has sculptures, performance arts centers, historic mansions, and museums. Wissahickon Valley Park located in the Chestnut Hill is lovely for driving and scenic view of the green pastures. Love Park is an iconic landmark and has fountains, benches, and lush greenery. Spruce Street Harbour Park is great to visit during all seasons for events, festivities, food, and beer gardens. Visit it for LED lights, hammocks, and other entertainment options. Dilworth Park is a must visit in November and during winters. It has many outdoor events such as musical events, festivals, cafes, etc. There is also an ice rink for those who love skating.
Location: Various locations
Key attractions: Festivals, events, landscapes, creeks, sculptures, and recreational activities
Opening Hours: Vary
Entry Fee: Vary
5. The Philadelphia Zoo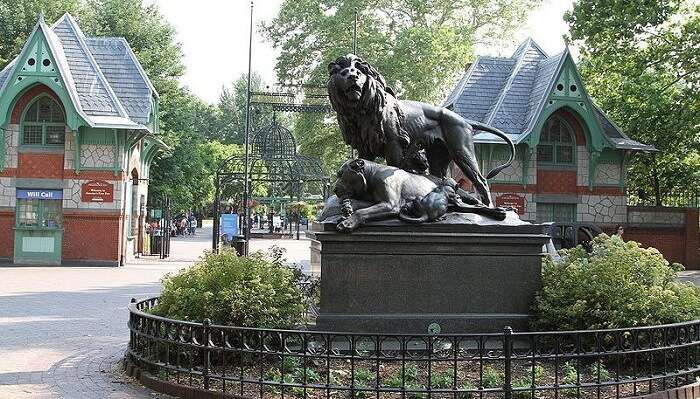 It is spread across a land of 48-acres. It has a Victorian garden, beautiful sculptures, and shrubs. It has more than 500 species of plants. It has exhibits of animals from various species and is one of the best places to visit in Philadelphia for animal lovers. This is a good place to go with family and kids. Kids will learn about various animal species. You can take the Zoo trails and meet humoungs species and get a unique view of the animal in its cage. It has many adventure rides and attractions for kids. Cross bridges, balance ropes, swan rides and many other attractions let kids and adults have a fun time at the zoo. Meet your favorite animals and interact with them in a semi-private environment. Feed the penguins, otters, giraffe, and interact with other animals up and close.
Location: Girard Ave
Key attractions: Exhibits, plant and animal species, rides, and close encounter with animals
Opening Hours: 9.30 am to 3.00 pm
Entry Fee: Starting from $16
Planning your holiday but confused about where to go? These travel stories help you find your best trip ever!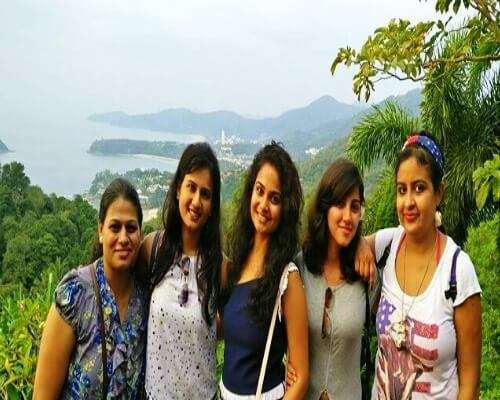 Ramya Narrates The Story Of 6 Girls On An Extraordinary Trip To Thailand
Bangkok. Phi Phi. Krabi. Why should guys have all the fun?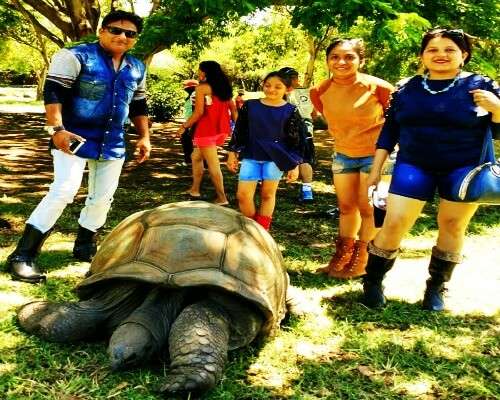 Sandeep Illustrates On The Best Activities For A Family Trip To Mauritius
Water sports. Cocktail parties. And unlimited fun at Casela.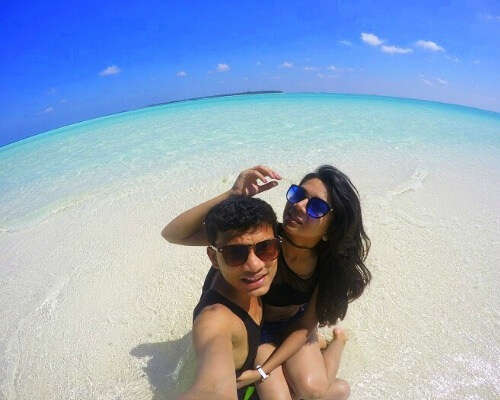 Nisarg Can't Stop Praising His Honeymoon Trip To Maldives
There was snorkeling, sightseeing, luxury, comfort, & much more!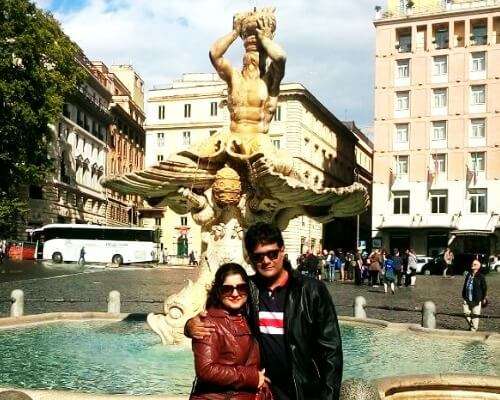 Sabyacsachi's Romantic Trip Proves Europe To Be The Mother Of All Vacations
For Art, Culture, Luxury, & more.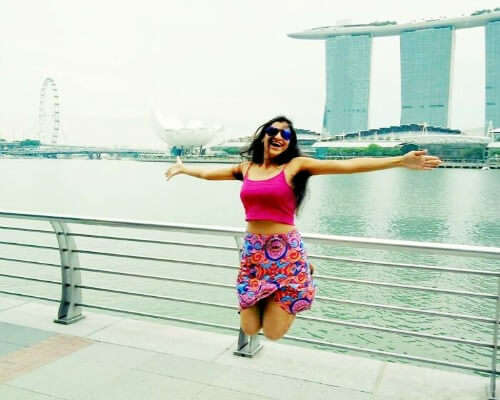 Srishti Talks Of Her Amazing Trip To Singapore With Her Mother & Niece
A fun-filled destination for ages indeed!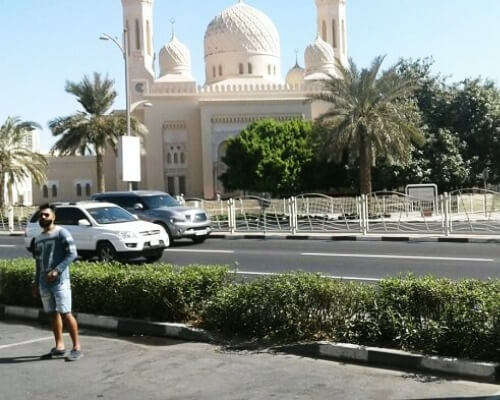 67-Year Old Sridhar Tells How He Beat The Odds & Took A Solo Trip To Dubai
Desert safari. Burj Khalifa. Welcoming locals. Tell me more!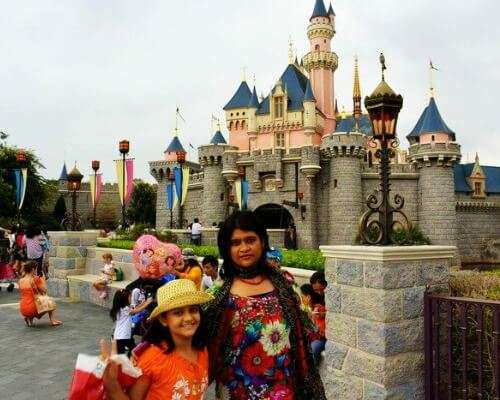 Not Adventure Lovers? Saurabh's Family Trip Proves Hong Kong To Still Be Full Of Fun
Your kids will love Disney Land & Ocean Park!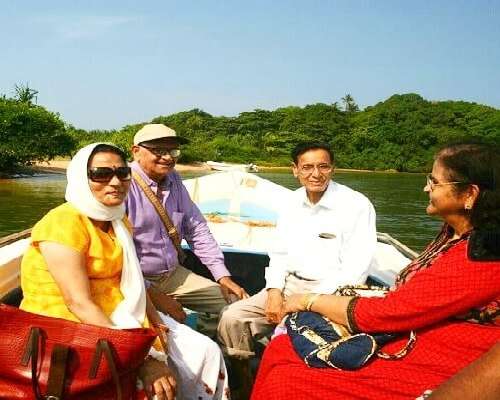 Ravi's Tale Of A Sri Lanka Family Tour Is All You Need To Know About Ramayana Tour
For the love of Ramayana & Travel!
See more at TRAVELTRIANGLE.COM
6. Historical Sites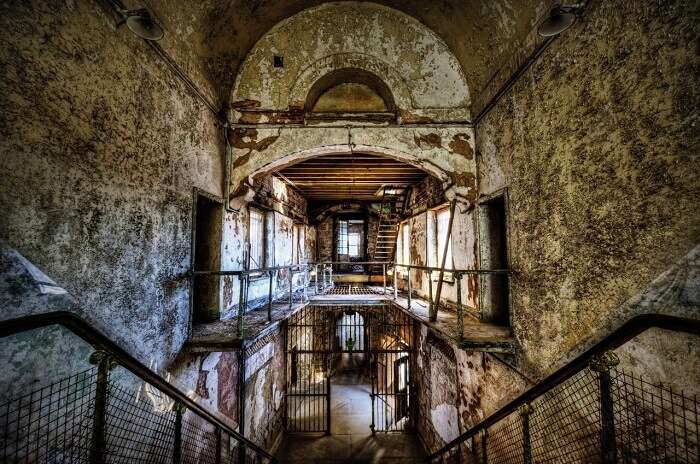 Visit the Independence Visitor Center and take historic walking tours before you enter the Independence Hall. It has a cafe, gift shops and a place where you can purchase nearly 60 tickets to various tourist attractions in the city. The Free Quaker Meeting House was built in the 17th century where you can find original benches from the meeting house. Christ Church Burial Ground is a cemetery where Benjamin Franklin was buried. This is a cemetery of many leaders of America who created history. Betsy Ross House is the home of the seamstress who designed the American Flag. You can take a self-guided tour to her place and view her rooms, personal items, and many other artifacts. Visit the streets of Elferth's Alley and view the homes which have been built in the 17th and 18th century.
Location: Various locations
Key attractions: Key historical sites in the formation of the United States
Opening Hours: Vary for each site
Entry Fee: Starting from $5
7. Reading Market Terminal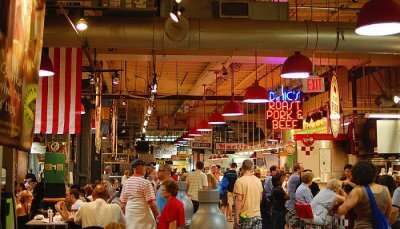 This is a historic landmark in the city. It is a place to relish the iconic food of the city, indulge in some retail therapy, and buy from the fresh produce of farmers. It is known for it unique ambiance. You can taste food from different stalls, buy clothes, jewelry, handicrafts, gifts, and many other items. You can relish on pretzels, donuts, ice creams, drinks, beverages, and have a good time exploring this market. You will find everything you need at this market which is one of the most popular places to visit in Philadelphia. It has many gourmet and speciality shops to choose from. You can also purchase flowers and plants from exotic species inside this market. You can take the cooking demo classes, tasting and sampling tours, dine, and listen to live music. You can spend an entire day at this market exploring various stalls and shops.
Location: 51 North, 12th Street
Key attractions: Food stalls, clothing stores, dining options
Opening Hours: 8.00 am to 6.00 pm
Entry Fee: Free
8. The Barnes Foundation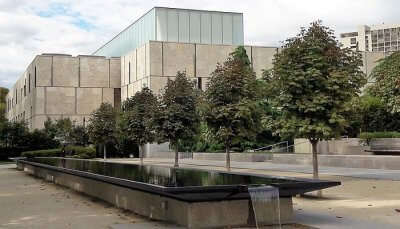 This is a part of the Museum District of the city and is one of the most important places to visit in Philadelphia. It has a huge collection of French Impressionist paintings. There are paintings and sculptures from renowned artists from around the world. You can plan a visit on Sunday and take a view of the entire collection at this museum. You can spend an entire day at this museum and take classes in various certified art programs. You can attend art lecture and mingle with people of similar interests at this place. This is a must-see for art lovers who dwell in the artsy devices. It has a dining and a coffee area and facilities for people with disabilities are provided. You can take a guided tour to these galleries and view the collections inside this gallery.
Location: Benjamin Franklin Parkway
Key attractions: Paintings and sculptures from various artists
Opening Hours: 11.00 am to 5.00 pm
Entry Fee: Starting from $25
9. Please Touch Museum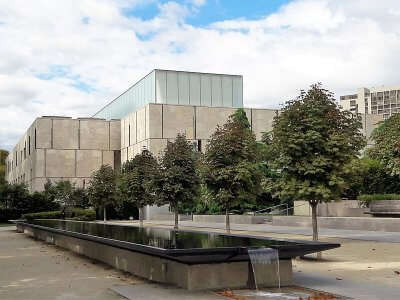 A must-visit museum for kids as it has carousels and many interactive activities for kids. There are fun sessions such as creative art, storytelling, museum programs and many more learning and interactive activities which boost critical thinking, creativity, and mental abilities, making it one of the most popular places to visit in Philadelphia for kids. Kids also get to meet new people and boost their communication and social skills. Adults and kids can collaborate for these fun and interactive activities. There are list of events and activities at this museum where you can spend a lot of time learning and exploring entertainment and recreational options. There are exhibits, collections and a 100 year old carousel to take a spin. Kids will have a lot of fun visiting this museum. Their curiosity can find new avenues and boost their confidence with these learning and interactive fun.
Location: Memorial Hall
Key attractions: Carousel ride, learning and interactive sessions
Opening Hours: 9.00 am to 5.00 pm
Entry Fee: Starting from $5
10. The Franklin Institute Science Museum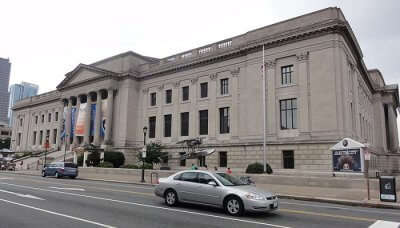 This is a creative museum where you are allowed to perform experiments in science, space travel, information technology, and many other sciences. It has a planetarium, many museums, and exhibits inside which let you explore various aspects of science. You can find escape rooms, flight simulators, virtual reality tours, interactive maps, and many exhibits and gameplays inside this museum which makes it one of the best places to visit in Philadelphia. There are many events organized by the museum. You can find buy tickets to live shows, sci-fi movies, science festivals, community night and more. Science buffs can take a tour inside this museum and experience one of a kind interactive fun. You can also buy goodies and accessories from the store. Take a cultural and educational tour inside this museum with family and kids. There are also summer camps, camp-in sleep overs, travel programs and workshops organized at this museum.
Location: 222 North 20th Street
Key attractions: Interactive fun, exhibits, virtual reality, games, live shows, workshops, and many entertainment options.
Opening Hours: 9.30 am to 5.00 pm
Entry Fee: Starting from $8
11. Elmwood Park Zoo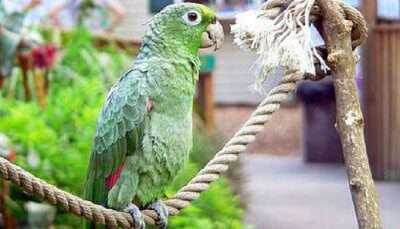 A zoo that houses more than 100 exotic and endangered species. It is a perfect place for a picnic with family and kids. You can hand feed and pet many animals inside the park zoo. You can find many exotic species of amphibians, birds, mammals, reptiles, and more inside the zoo, making it one of the places to visit in Philadelphia to interact with wildlife. Spot white-tailed deers, barn animals, and get a close encounter with a few species. You can find Capybaras, bisons, ferrets, cougars, jaguars, and many more species of animals. Kids will love the tree top adventure which are 50 in number to choose from. Experience wildlife up and close with these adventures. The zoo has lush vegetation and many adorables such as the otters keep the audience entertained. There are pools, places of dining, and lounge areas which serve craft beers.
Location: 1661 Harding Boulevard
Key attractions: Exotic animal and bird species, tree top adventures
Opening Hours: 10 am to 4 pm
Entry Fee: Starting from $10.95
Philadelphia is one of the best places to visit for art, music, and history. There are many historic sites which are a must-see. You can taste the iconic Philadelphia food at the food stalls and market areas and should definitely not miss out on the interesting places to visit in Philadelphia on your trip to USA.
Disclaimer: TravelTriangle claims no credit for images featured on our blog site unless otherwise noted. All visual content is copyrighted to its respectful owners. We try to link back to original sources whenever possible. If you own the rights to any of the images, and do not wish them to appear on TravelTriangle, please contact us and they will be promptly removed. We believe in providing proper attribution to the original author, artist or photographer.
Please Note: Any information published by TravelTriangle in any form of content is not intended to be a substitute for any kind of medical advice, and one must not take any action before consulting a professional medical expert of their own choice.
Frequently Asked Questions About Places To Visit In Philadelphia
What is a great location for tourists to stay?
Tourists can stay at a location close to the National Historic Park. There are many budgeted and luxurious hotels close to this area.
Can you visit the Liberty Bell at night?
You get the best view of the Bell when you visit it at night because it is illuminated.
How long is the Independence Hall Tour?
It takes about 30 to 40 minutes to tour the hall.
Is photography permitted inside the parks and buildings?
Yes, photography and videos are permitted in most of the buildings except the West Wing of the Independence Hall.
Are parks pet-friendly?
Most of the parks are pet-friendly as long as they are tied on a leash.
What localities are safe and unsafe in Philadelphia?
Chestnut Hill, Fairmount Park, Somerton are some of the safe localities in Philadelphia. Further North and South areas are not safe for tourists to travel alone in the night.
Is Philadelphia a walkable city?
Yes, it is a walkable city and stands 5th in place as a walkable city in U.S
One Day in Philadelphia Itinerary – Top things to do in Philadelphia, Pennsylvania
Philadelphia, the City of Brotherly Love. The story of this city is the story of how the United States were born. But this place is by no means stuck in the past. It is a vibrant destination and a melting pot of different cultures in the truest sense. There is really a lot to see and many things to do in one day in Philadelphia, so if you're here for one day you'll need a plan. With a good itinerary, you will be able to fully immerse yourself in the flow of this city and see everything that makes it special.
Plan your trip
What's the best time to visit Philadelphia?
If you're not sure when to visit Philadelphia, keep in mind that the middle of the summer here is fairly hot with a lot of humidity, while temperatures often drop below the freezing point in winter. So, the period between April and June is the best time to visit, not just because of the weather but because of reasonable accommodation prices. Due to the city's immense historical importance, the place is crowded during the summer. To avoid that, and if a spring trip is out of the question for you, September is also a great time to visit Philly.
Streets of Philadelphia, Author: xiquinhosilva , Source: Flickr
A few facts about Philadelphia
The city was founded in 1682 by William Penn but is probably most famous for its role in the American Revolution. This is where the Declaration of Independence was signed in 1776, which marked the separation of the United States from Great Britain. Philadelphia was actually the capital of the US before Washington, D.C., and during that period (more precisely, in 1787) the US Constitution was created here, too. Today, this is one of the most popular destinations for college and university students from all over the country. Movie fans will surely know it as the city which is home to Silvester Stallone's Rocky.
Independence Hall, Philadelphia, Author: xiquinhosilva , Source: Flickr
One Day in Philadelphia Itinerary
Follow this guide and make the most of your trip even if you're short on time. These are the top sights and things to do during your one day in Philadelphia.
Start your day from Washington Square
Washington Square is a great starting point for your tour, since most of the sites you will want to see are located in the city's downtown area, also known as Center City. A beautiful and well-kept park stretching over more than six acres is a great place to relax or enjoy some recreation. As a matter of fact, this part of Philadelphia is full of beautiful parks, so you can always find a place to stop and simply chill out a bit.
Washington Square, Philadelphia, Author: Britt Reints, Source: Flickr
Here you can also visit the Tomb of the Unknown Revolutionary War Soldier. A piece of the nation's history and with an eternal flame in front of it, this is the only monument dedicated to all those unnamed soldiers who gave their lives in the war. From there, it's just a short walk up the 6 th Street to the most important place in the city.
Visit Independence Hall
When you visit Philly, a visit to Independence Hall is certainly a must. Certainly, one of the most significant buildings in all of the US, this is where both the Declaration of Independence and the US Constitution were made official.
Independence Hall, Author: xiquinhosilva, Source: Flickr
Assembly Room, Philadelphia, Author: Britt Reints, Source: Flickr
In front of the hall, you won't want to miss the chance to check out the famous Liberty Bell, a symbol of the country's independence. You may want to plan ahead for this one, though, as there is often a line for both of these attractions, but you usually only have to wait about twenty minutes. The good news is that for both of these sites the tickets are completely free.
Liberty Bell, Philadelphia, Author: Britt Reints, Source: Flickr
Explore the Reading Terminal Market
After soaking up all that history, you will surely want to grab something to eat. The best way to do that and keep experiencing Philly at the same time is to visit the Reading Terminal Market. It's just a few blocks north-west from the Independence Hall and all kinds of food from all over the world can be found there, and the place is constantly bustling with life and activity.
Readin Terminal Market, Philadelphia, Author: Britt Reints, Source: Flickr
A variety of donuts, numerous baked goods and tons of different kinds of meat can be bought there. Of course, don't forget about the famous Philly cheesesteaks, the sandwiches that put this city on the map!
Philly cheesesteaks
See the Rocky steps
As mentioned earlier, this is Rocky's city. And if you want to see or maybe even recreate the famous scene of the boxer climbing up the steps, you need to come to the Philadelphia Museum of Art.
Philadelphia Museum of Art
Not only is it located in a modern and fairly easy-going neighborhood, but the collection it houses has something for everyone. Rare documents and books are accompanied by an incredible array of works of art ranging from Monet and Cezanne to Asian authors. It's good to remember that every Wednesday night is Pay What You Wish night, so you can get a bargain deal on the tickets. Of course, the "Rocky steps" are just in front.
Rocky Statue, Author: Geoff Alexander, Source: Flickr
Philadelphia nightlife
So, you're done sightseeing and now want to relax a bit. What are the things to do in Philadelphia at night? Well, there are loads of restaurants, bars and live shows in downtown Philly, but if you move out of that area to, for example, University City, you can still find some very interesting places. However, Centre City remains the main hub of Philadelphia's nightlife, primarily the area around the Reading Market. No matter if you like fine dining, rooftop bars or simply want to hear some live jazz, you are guaranteed to find a perfect place for yourself. And if you can't decide, simply join a bar tour and hop from pub to pub until you taste everything there is to taste.
Where to stay in Philadelphia?
Loews Philadelphia Hotel
1200 Market Street, Philadelphia, PA 19107
A modern high-class hotel, Loews Philadelphia Hotel is located at the very core of Philadelphia's Centre City. Therefore, it is perfect for everyone who wants to explore all the historic sites around here and really feel the pulse of this fascinating city. Indoor pool, sauna and a steam room are among the hotel's features, and you can enjoy your drinks and meals in the hotel's exquisite Bank & Bourbon Restaurant where they age their own bourbon and use it to create unique drinks.
Hilton Garden Inn Philadelphia Centre City
1100 Arch Street, Philadelphia, PA 19107
Hilton Garden Inn Philadelphia is another hotel with an excellent location, just a minute's walk from the Reading Market. You have a huge variety of dining options in the vicinity and can reach all the sites very easily. Additionally, there is a subway stop nearby if you wish to travel outside Centre City. The hotel features an indoor heated pool and a fitness centre, and their Garden Grill & Bar serves cooked-to-order breakfast.
City House Hostel Philadelphia
17 North 2nd Street, Philadelphia, PA 19106
Want a place with a great atmosphere and hosts who can give you great advice when exploring the city? Well, City House Hostel Philadelphia is the answer! It is located in Centre City, very clean and comfortable and even offers free beer sometimes. The staff is always at your service, plus the front desk is open 24 hours a day. The rooms are perfectly neat and tidy, and you have access to free WiFi, of course. Great service and excellent value for young travelers.
Day trips from Philadelphia
If you ever run out of things to do here, you can always plan an exciting day trip from Philadelphia. The city is surrounded by interesting places ideal for this kind of activity, so you really have a variety of options. Here are some of the most popular suggestions.
New York City
It may surprise you that Philadelphia is just an hour and a half away from New York City by train. As a matter of fact, the train will drop you off in the middle of Manhattan, so you will be able to explore the Big Apple thoroughly in one day even if you don't have a car. Hop on a bus tour, check out the sites on your own or simply grab a slice of the famous New York pizza, the choice is yours.
Check out our New York City in a day itinerary!
Amish Country
If you want something completely opposite of New York, head west of Philadelphia towards Lancaster County, also known as Amish Country or Dutch Country. Go back in time, choose one of the available tours and see how people lived almost 200 years ago. This is an excellent place to relax and enjoy a stress-free day. Try some of delicious Dutch specialties in the restaurants here, too!
Washington D.C.
History-lovers won't want to miss the opportunity to visit Washington D.C. on their day trip from Philadelphia. It's a journey you can make in about two hours, and once again you have loads of tours to help you get around and visit the most important places. Congress and the White House are a must, but you can also check out many museums, including the Smithsonian complex.
Check out our Washington in a day itinerary!
Extra tips for visiting Philadelphia
– Philly PHLASH is a great and cheap way to get around town. For just 5$, you can get a pass which will allow you to ride these buses all day (for a single ride, the ticket is two dollars). The buses are purple, so you can easily notice them, they operate every 15 minute and cover all the most important sites
– A unique way to learn about the city's past is to listen to a story from various storytellers scattered all over the historic area, all completely free!
– Many restaurants do not serve drinks, but you can bring your own if you want; just check ahead of time and then visit a liquor store to buy the beverage you like.
PIN FOR LATER!
If you have any other propositions for this One Day in Philadelphia Itinerary feel free to share it in the comments below!
Make sure you have everything you need
What to pack for your next trip?
Make your next trip as simple and as enjoyable as possible by packing smart. It's amazing how much stress top travel items can save you, so choose carefully.
Things like lightweight travel backpacks, for example, are ideal for short trips and allow you to move around with ease, and a passport holder will make sure you keep your documents safe at all times.
Check our travel checklist guide for 2021 to make sure you haven't missed anything, and travel to your next destination in style and with maximum comfort.
Source https://theboutiqueadventurer.com/places-to-visit-in-philadelphia/
Source https://traveltriangle.com/blog/places-to-visit-in-philadelphia/
Source https://onedayitinerary.com/one-day-in-philadelphia-itinerary/