Weekend in Austin: The Perfect 2-Day Austin Itinerary
This post contains affiliate links, which means that we may receive a commission if you make a purchase using these links.
This Southern hotspot has a little bit of everything, and its sights are the subject of many a top 10 list, so we've put together the perfect action-packed itinerary for a weekend in Austin.
This guide will get you around to all of the must-visit tourist hotspots and let you in on some legendary local secrets too. Best of all, everything fits neatly into two days of totally Texan fun.
From buzzy live music bars to deep dives into state history to finger-licking, fall-off-the-bone barbecue, we're digging into the best Austin has to offer, and basically scheduling your days for you to boot.
So save this Austin itinerary and keep it handy when you head down South because trip planning has never been easier!
Want to see even more of Texas? The best way to explore the giant Lone Star State is definitely by car, and lots of the best road trips in Texas can use Austin as a taking off point or drive-through destination.
When to Visit Austin
There are pros and cons to any time of year, but there's no doubt that, whenever you visit, there will be plenty of activities to pack your weekend in Austin with.
Here's a breakdown of what weather and activities you can expect in each season.
Summer in Austin
How to describe summer in Austin? In one word…hot. Temperatures typically hover in the 90s, but 100+ degree days are not uncommon.
However, summer is also when the city comes to life, with tons of options to stay cool. Natural swimming holes, outdoor concert series, and Lake Travis kayaking are all best enjoyed during the warmer months.
Fall in Austin
Fall is the back-to-school season in this college city, which means the restaurants and bars will be swarming with lively crowds and the music scene will be in full swing.
An autumn weekend in Austin also gives you the chance to attend one of their legendary music festivals, among the best in the country.
Austin City Limits Music Festival happens every October, and recent years have featured headliners like Paul McCartney, Billie Eilish, and Coldplay.
It's also the season of pumpkin patches, corn mazes, and horseback rides galore!
Winter in Austin
Winter in Texas is much milder than most of the country, but Austin can still see some cold snaps.
It's the perfect time for indoor activities like museum visits, but visitors can also embrace a little chill with trips to a rooftop ice skating rink or, during the holiday season, a stroll under Christmas light displays.
Spring in Austin
Spring is a lovely time to visit Austin when the weather is pleasant and events are being held all over the city. The famous South By Southwest, a music, film, and interactive media festival, is held every March.
Where to Stay in Austin
There are a plethora of unique places that offer top-notch comfort, from modern apartments to cozy and secluded spaces. How cool is that?
We wrote a summary below of a few properties worth checking out, but if you'd like to browse more options, including hotels, check out our guide to where to stay in Austin or best Airbnbs in Austin.
The link above is a curated list of those places. Still, here's a quick answer for the top 3 places:
: It's in the heart of Austin, so you can walk to most attractions. : This cozy and functional apartment is near South Congress and Lady Bird Lake, so you're close to the center but sleeping in a quiet area. Love it! : Unique and modern apartment within walk distance to 6th street, Downtown, and many eateries.
How We Structured This Austin Weekend Guide
First, we will talk about our perfect 2-day Austin itinerary with tips on what to do, see, and eat.
But, if you actually have 3 days in Austin, so a long weekend, you will want to read our suggestions on what to do on that last day of your trip. Enjoy!
Austin Weekend Itinerary: Day 1
For your first day in Austin, it's time to dig into the local history and culture. Austin is the capital of Texas, the second largest city in the state, and one of the fastest growing urban areas in the country!
There are dozens of museums and educational sites, so day one will be spent hitting the highlights.
After all, no weekend in Austin would be complete without a visit to such celebrated spots as the State Capitol, the Texas State Cemetery, and the Bullock History Museum (just to name a few).
You'll also get to know Austin's art culture with a tour of the city's stunning graffiti walls and galleries such as the Contemporary Austin Jones Center and the Mexic-Arte Museum.
You can also add some quirkier attractions to the list, like the Museum of the Weird.
Fuel up With Some Breakfast Tacos
With a busy day ahead, you can't skip the most important meal. Austin is known for its mouth-watering TexMex, so set aside the typical scrambled eggs and bacon for the much yummier and more fitting breakfast tacos.
Jo's Coffee is a beloved Austin institution located in the heart of downtown. They are open from 7 AM serving up strong coffee and hot, hearty dishes that will kickstart your morning and leave you full and ready to take on some sightseeing.
We recommend their signature Turbo, a "sweet, creamy, cold coffee drink" with a yummy blend of chocolate and hazelnut alongside a migas taco, which comes with eggs, cheese, tortilla strips, peppers, and onions.
Snap Some Shots at Austin's Graffiti Walls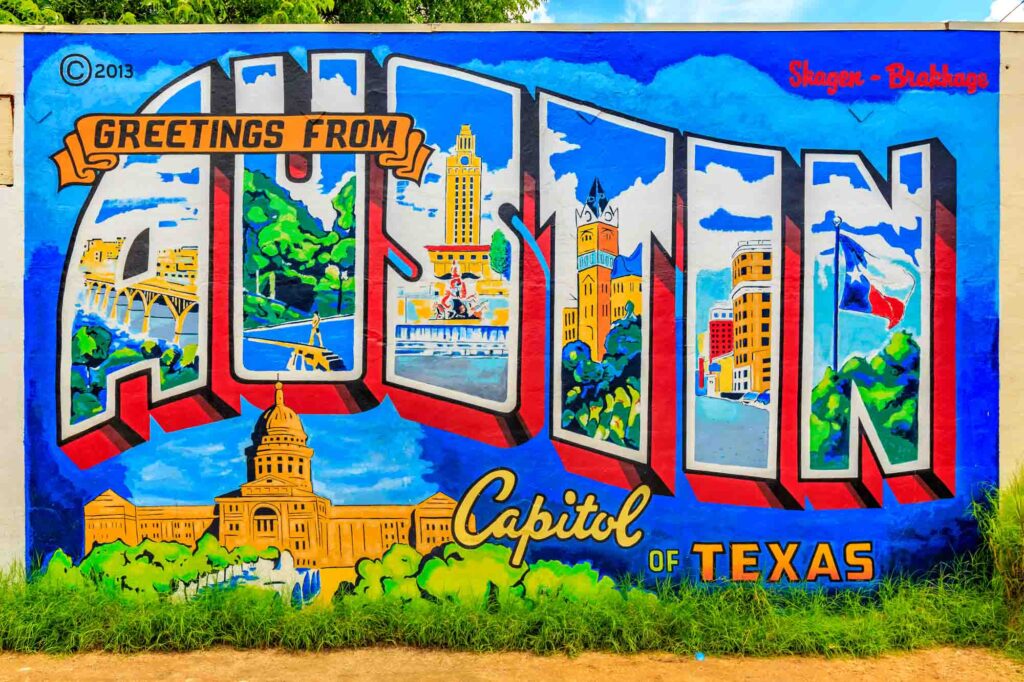 Exploring the city's graffiti walls is one of the things to do on a weekend in Austin
Next up on the Austin itinerary is a tour of the city's graffiti walls. Austin is known for its street art, which can be found anywhere and everywhere there's enough space for a sketch.
One of the most popular–a cursive scrawling of the words "I love you so much" is actually on the wall of Jo's Coffee, so you can start right after breakfast.
It was actually written by the owner's partner more than a decade ago. So sweet!
From North Austin to South Austin to Downtown, there's no shortage of street art, so pop a few coordinates into your phone or just walk around and discover what you can.
For those that like a more organized experience, a number of companies offer guided tours that hit all the best spots and even take photos for you along the way.
Visit the State Capitol
State Capitol building in Austin, Texas
If you're visiting Austin, you absolutely have to hit the State Capitol. This gorgeous red granite building is the seat of the state government and home to some of the most incredible architecture in the city.
Tours run regularly from 8:30 AM-4:30 PM on weekdays, as well as 9:30 AM-3:30 PM on Saturday and 12 PM-3:30 PM on Sundays.
Feel free to take yourself on a self-guided tour with their informational pamphlet if you prefer to go at your own pace.
Don't forget to spend some time exploring the grounds around the building, which hold a variety of historic sites, monuments, and beautiful landscaped lawns perfect for picnicking.
There are a good number of famous Austin food trucks that hang around this area, so you can grab lunch to go and eat on the grass (try Leroy and Lewis for creative barbecue)!
For those that prefer sit-down spots, Texas Chili Parlor is just next door, and they dish up proper TexMex and other Southern cuisines that can get quite spicy.
Go Museum Hopping
A whole weekend in Austin could be spent on museums alone, but for the sake of leaving some time for other activities, we'll recommend just a few.
The Contemporary Austin Jones Center is actually made up of two museums that showcase modern art from across the world. You'll find an outdoor sculpture garden, ground-breaking exhibitions, and lots of special events to keep an eye out for.
Meanwhile, the Mexic-Arte Museum highlights Mexican and Latino art and culture, with both traditional and contemporary displays.
For something a bit more out of the box, try the Museum of the Weird, which really took the city's "Keep Austin Weird" motto to heart. There, you can browse all kinds of oddities, from shrunken heads to strange animals.
Blanton Museum of Art has world masterpieces, including European and Latin American Art.
Lastly, history buffs will feel at home in the Bullock Texas State History Museum, where you can learn about the local culture and all things Texas history–the Civil War, Reconstruction, the oil boom, and so much more.
Dinner and Drinks at Iron Cactus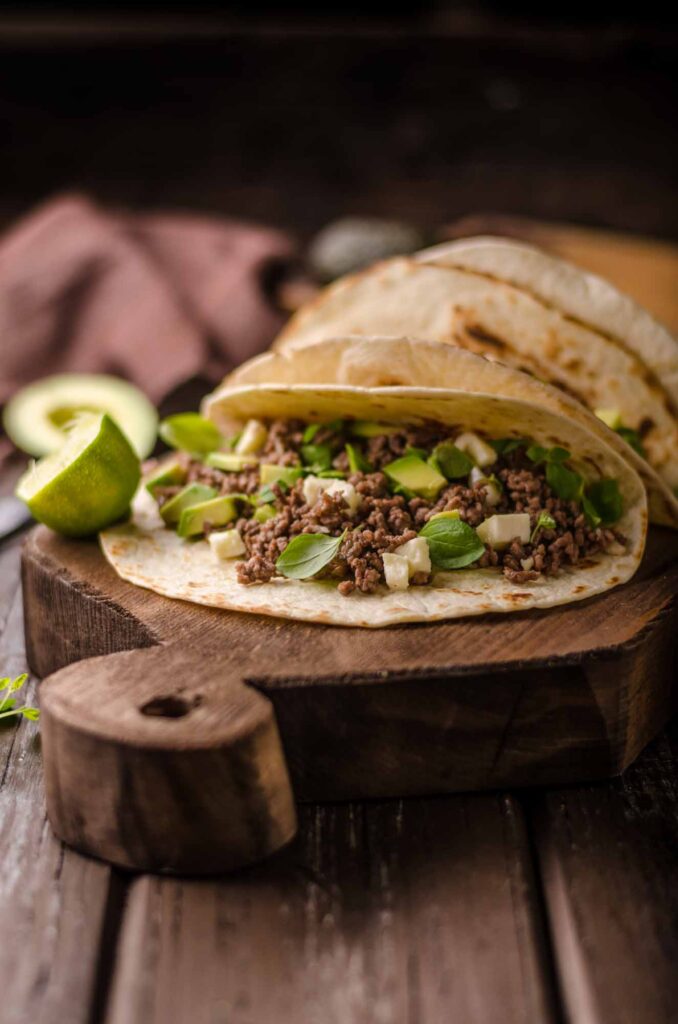 Hopefully, you're not tired of Mexican food yet, because that's what Austin is all about.
Iron Cactus boasts traditional south of the border dishes and more than 75 different tequilas, so there's no doubt that their menu can sustain you well through happy hour and beyond.
Perhaps even better, the restaurant looks out over downtown Austin, with birds-eye views of the city lights as they come on after sunset.
Austin Weekend Itinerary: Day 2
After a more mentally engaging first day, this one is for sunshine, outdoor activities, and a good shot of adrenaline.
Kick things off with an exploration of Zilker Park, then wander around the artsy SoCo area–shop, grab lunch, enjoy the lively atmosphere–before dressing up for dinner and drinks.
If you've still got energy to spare, end your time in Austin with a bang by heading out to the rough-and-tumble Sixth Street for parties galore.
Breakfast at Snooze Eatery
This adorable cafe is much-loved and usually quite busy. They specialize in healthy and hearty options for early morning fuel or a casual brunch.
Dig into a sweet potato hash, a stack of peanut butter cup pancakes, or a breakfast pot pie, and don't forget to include their house blend coffee. Yum!
Have Fun in the Sun at Zilker Park
Central Park, who? Austin is the home of its cooler, sunnier counterpart–Zilker Park. Stretching for over 350 acres, Zilker has something for everyone.
Go for a dip in Barton Springs Pool, a super refreshing natural swimming hole that stays the same temperature all year round.
Stroll through the stunning Zilker Botanical Gardens, which features a rose garden, koi ponds, and even a prehistoric area that recreates the habitat of dinosaurs that used to live in the region.
Watch a show at the Zilker Hillside Theater, which regularly hosts a range of concerts (jazz, country, and everything in between) as well as summer musicals and Shakespeare in the Park.
Do a Walk and Stop Along SoCo
Courtesy of Visit Austin | Amy's Ice Cream
South Congress Avenue is one of Austin's trendiest areas, full of boutique vintage shops, iconic restaurants, and street performers vying for your attention.
We suggest a walk and stop because there is such an abundance of intriguing places to explore. It's simple–just keep strolling, and head into any place that catches your eye.
When you get hungry, Magnolia Cafe and Torchy's Tacos are two of the best restaurants in Austin, and just happen to be right next to each other.
While Magnolia Cafe dishes up incredible down-home cooking, Torchy's Tacos features, you guessed it, even more TexMex (because there's no such thing as too many tacos when in Texas).
Of all the things to do in Austin this weekend, SoCo is a must.
Dress up for Dinner at Barley Swine
Wind down the day with an experience that lets you just sit back, relax, and be totally taken care of. All you have to do is put on your best dress or suit.
At Barley Swine, award-winning chefs craft incredible farm-to-table meals that delight the palate while also supporting farmers in the region. And according to the rave reviews, a night here will make your weekend in Austin unforgettable.
Traveling as a couple? This spot makes for a fabulous date night and even scored a spot on our list of the most romantic things to do in Austin.
But partnered up or not, the dining experience at Barley Swine is unparalleled, and their menu features a range of elevated Texan options, from melt-in-your-mouth prime rib to pecan chocolate brittle cookies.
It's a great way to take a break from TexMex and street food (although both are basically gourmet meals in Austin) and try some of the bolder culinary innovations in the city.
Sip and Shake a Leg at Sixth Street
Partying at the Sixth Street is one of the things to add to your 2-day Austin itinerary
One of the perks of a weekend visit to Austin is that the party scene will be in full swing.
If you're willing to get down and dirty with the locals, a stop at the (in)famous Sixth Street is a must. This lively bar street is where all the college kids and fun-loving Austinites go when they're looking for an all-out party.
Every night, Sixth comes to life with neon signs, giant crowds, and boisterous bands jamming at almost every restaurant. In fact, Austin is known as The Live Music Capital of the World!
But don't worry if that's not your scene. Around the area, there are also plenty of more upscale establishments and some swanky speakeasies for those looking for a less rowdy night.
Try The Cat's Pajamas for a retro-themed bar that features Neon lights, DJ, swings, and cool people, or visit The Parish, arguably the best live music venue in Austin (and that's saying a lot).
Whatever way you go, can you really say you've been to Austin if you haven't at least hung out and people-watched at Sixth Street?
Have 3 Days in Austin? Here's What You Can Do!
Visit a couple of breweries in Austin: Besides music, Austin is also famous for its delicious craft beer. So do yourself a favor and visit one of its great breweries, such as Blue Owl Brewing or Zilker Brewing. Alternatively, you could take a private breweries tour in the city!
Go on a self-guided tour: You can go on a free self-guided history tour in Austin. All you need is your mobile. The series is available through the Otocast app (iOS or Android).
Go mural hunting: Austin, like Dallas, has a strong street art culture. The city is packed with colorful murals and lots of photo ops you can't miss.
Go on a day trip: Texas has no shortage of incredible towns and places to visit, so you have a wide range of day trips from Austin to choose from. Some of our favorite places are Fredericksburg and San Antonio.
Austin Itinerary Summary
We made a handy summary of this Austin itinerary to make your life easier. Still, you will want to bookmark this page to check all the details later on.
Day 1
Fuel up with some breakfast tacos at Jo's Coffee.
Snap some shots at Austin's graffiti walls.
Visit the State Capitol, then have some Tex-Mex at the Texas Chili Parlor
Go museum hopping: Contemporary Austin Jones Center, Museum of the Weird, Blanton Museum of Art, and Bullock Texas State History Museum.
Have a Mexican dinner at the Iron Cactus.
Day 2
Breakfast at Snooze Eatery.
Have fun in the sun at Zilker Park.
Do a walk and stop along SoCo, and stop at Magnolia Cafe or Torchy's Tacos for some bites.
Dress up for dinner at Barley Swine.
Sip and shake a leg at Sixth Street.
Did you like this weekend in Austin itinerary? Then share it with a dear friend who might like it too!
20 Best Things To Do In Austin: The Ultimate Bucket List
If you are looking for the ultimate bucket list of the best things to do in Austin, you have come to the right place! Austin is a spectacular city with activities and attractions everyone is sure to enjoy.
From spooky ghost tours to world-class art museums to gorgeous natural beauty, this list is filled with stops that will make your visit to Austin an amazing experience! Visitors will want to take in the great outdoors at Austin attractions like Barton Springs and Mckinney Falls State Park. You'll also want to absorb the variety of arts and culture with artwork from around the world!
Austin is home to truly Texan activities as well. You won't want to miss an evening of country dancing at Broken Spoke, a Texas dancehall, or see the stories of everyday Texans at the Bullock Texas State History Museum. There are plenty of great places to visit in Austin!
Whether you have a day or a whole week to enjoy the Austin cityscape, you will want to include these best things to do in Austin!
If you are planning on visiting, discover some of the Best Places To Stay In Austin for your trip!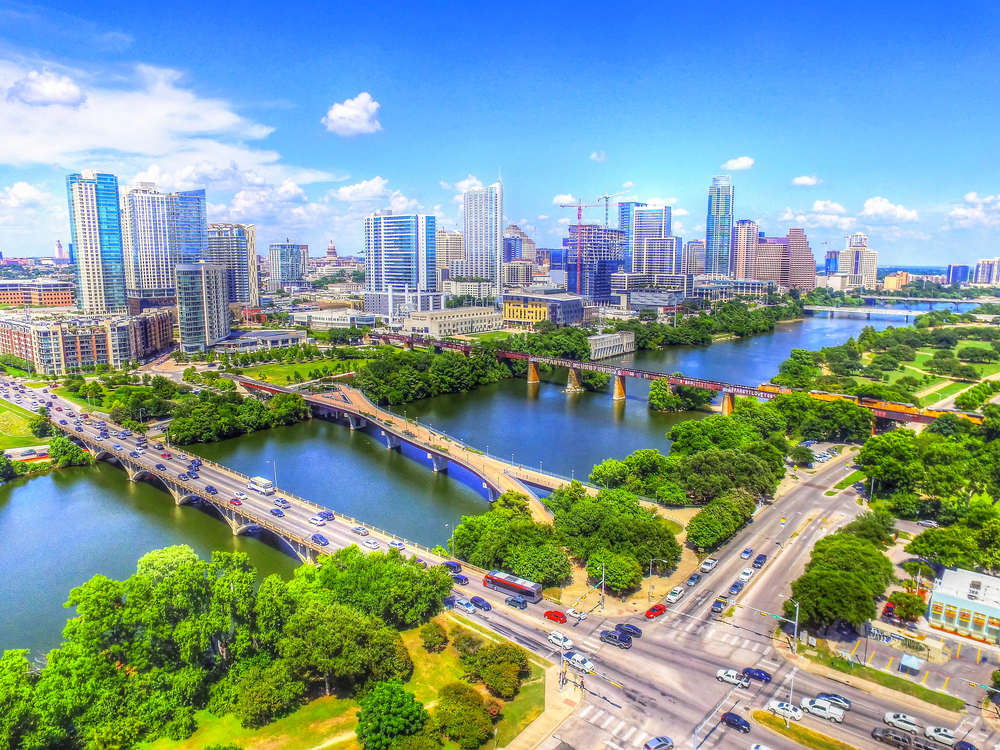 20 Best Things To Do In Austin: The Ultimate Bucket List
Barton Springs
Barton Springs is one of the essential Austin attractions! Located in Zilker Park, it is a beautiful natural spring with a swimming area open to the public. And with 70-degree water year-round, it is the perfect place to take a dip.
Not only can you wade in the magnificent spring water, but Barton Springs also features grassy areas around the spring to relax and enjoy the view. It is also the perfect spot for a picnic lunch or afternoon snack! If you have kids accompanying you they will enjoy Splash!, an educational exhibit that teaches the biology and history of Barton Springs and the aquifer that feeds it.
Barton Springs is also home to the Barton Springs Salamander! What's not to love about Barton Springs, with its relaxing waters and natural beauty. So make sure to stop at Barton Springs as it is one of the best things to do in Austin! And if you are looking for more natural Texas beauty check out these great springs in Texas!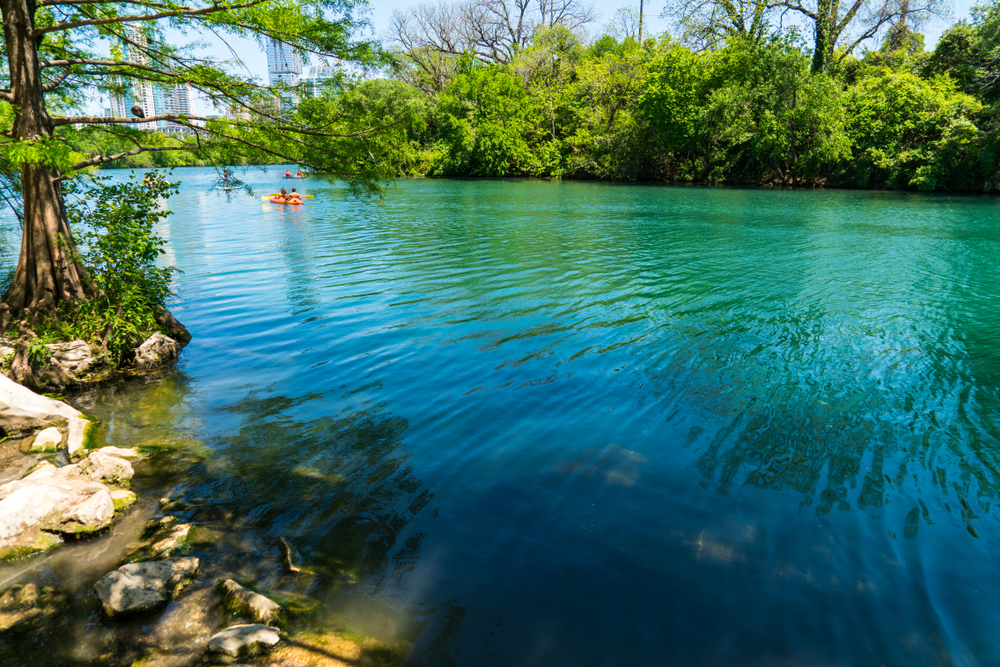 Austin Bats
The Austin Bats are one of the most popular Austin tourist attractions! A colony of about 1.5 million Mexican Free-tail Bats live under Congress Avenue Bridge.
From around March to November, this impressive bat colony emerges nightly from under the Congress Avenue Bridge in their search for food. This is a once-in-a-lifetime experience! Taking a tour to experience this unique bat colony is sure to be one of the best things to do in Austin.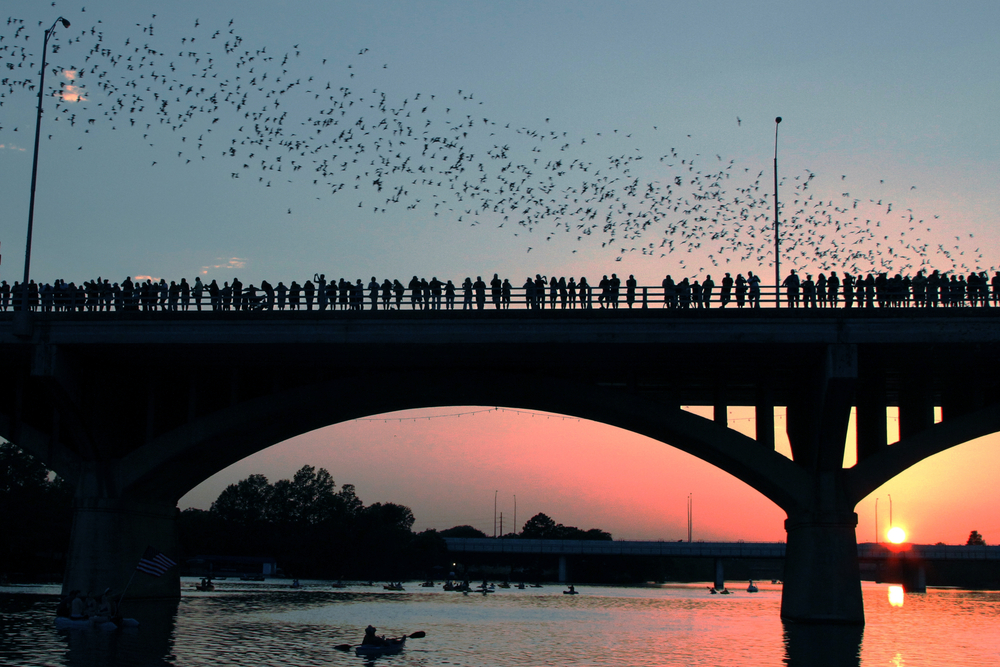 Ghost Tour
You will want to make sure to check out the haunted side of Austin. Take a ghost tour to visit haunted hotels, shops and restaurants. With tours available for all ages, the family is sure to enjoy this edge-of-your-seat activity.
Walk the streets of Austin at night and perhaps you will cross paths with a spirit of Austin's past. Searching for ghosts and the paranormal is definitely one of the spookiest things to do in Austin!
Texas Capital Building
What would a trip to Texas's state capitol be without a visit to the capitol building? The Texas Capitol Building is full of history and exploration, making it one of the best things to do in Austin!
You will definitely want to check out the Capitol Tours to make sure you don't miss out on the hidden treasures of the state capitol building! With important history and beautiful architecture, the state capital building is an essential stop when visiting Austin.
Visiting the capital building along with the tours is free making it one of the best free things to do in Austin!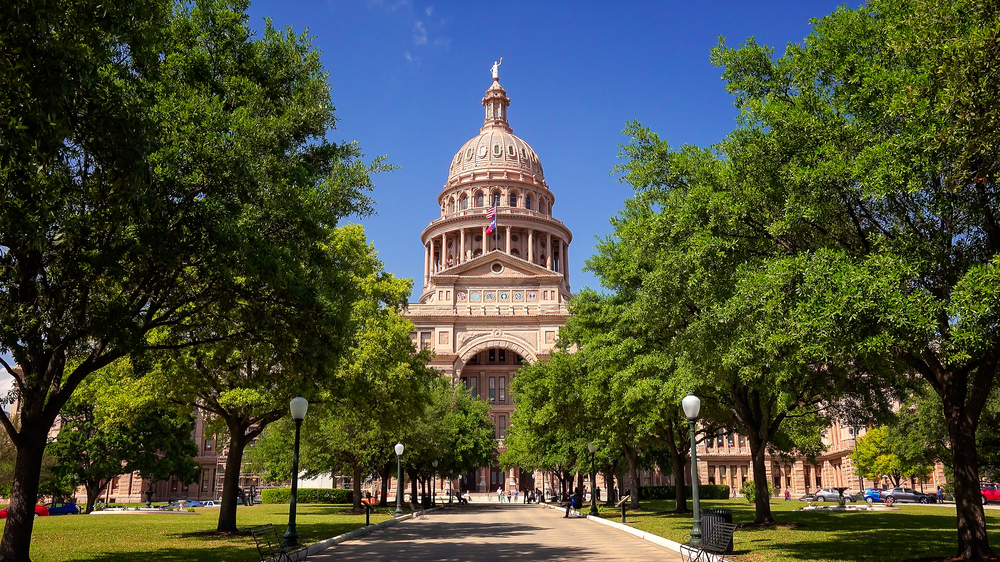 McKinney Falls State Park
If you are looking for the perfect outdoor experience in Austin, look no further than McKinney Falls State Park! There is something for everyone at McKinney Falls, one of the neatest Austin attractions.
Mckinney Falls has camping, biking, hiking, fishing, and more! Whether you want a restorative day hike, a traditional camping experience or you want to go geocaching, McKinney Falls is one of the best places to visit in Austin!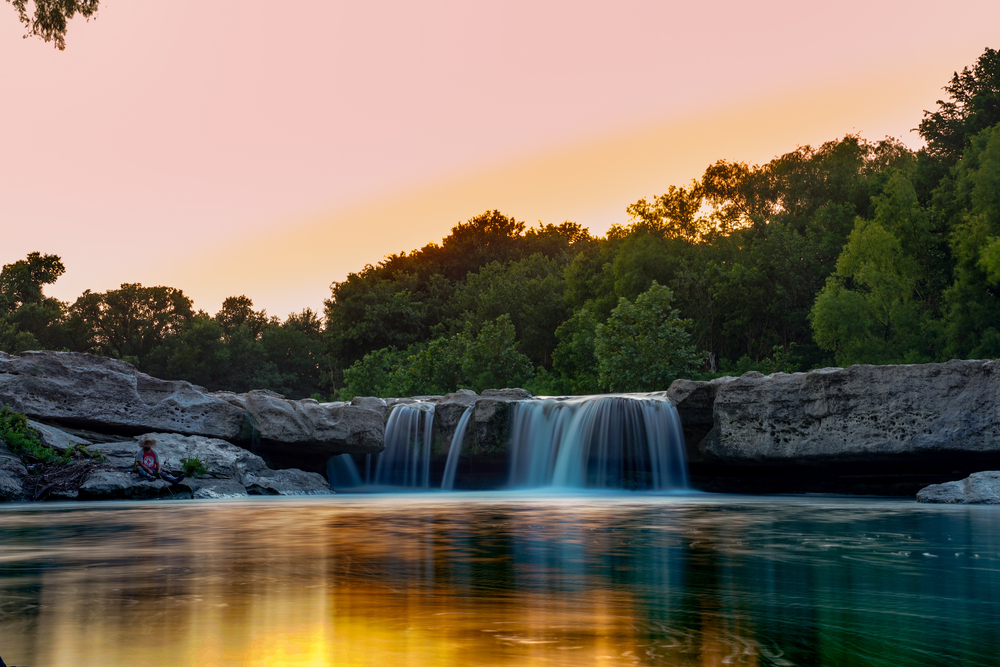 Bullock Texas State History Museum
The Bullock Texas State History Museum is full of Texas history and one of the best museums in Texas! With its focus on both big parts of Texas history such as Texas gaining statehood and a special exhibit on stories from everyday Texans, the Bullock Texas State History Museum is a truly unique experience.
This is definitely one of the best places to visit in Austin! And if you are looking for more culture to experience, check out our list of other great museums in Texas!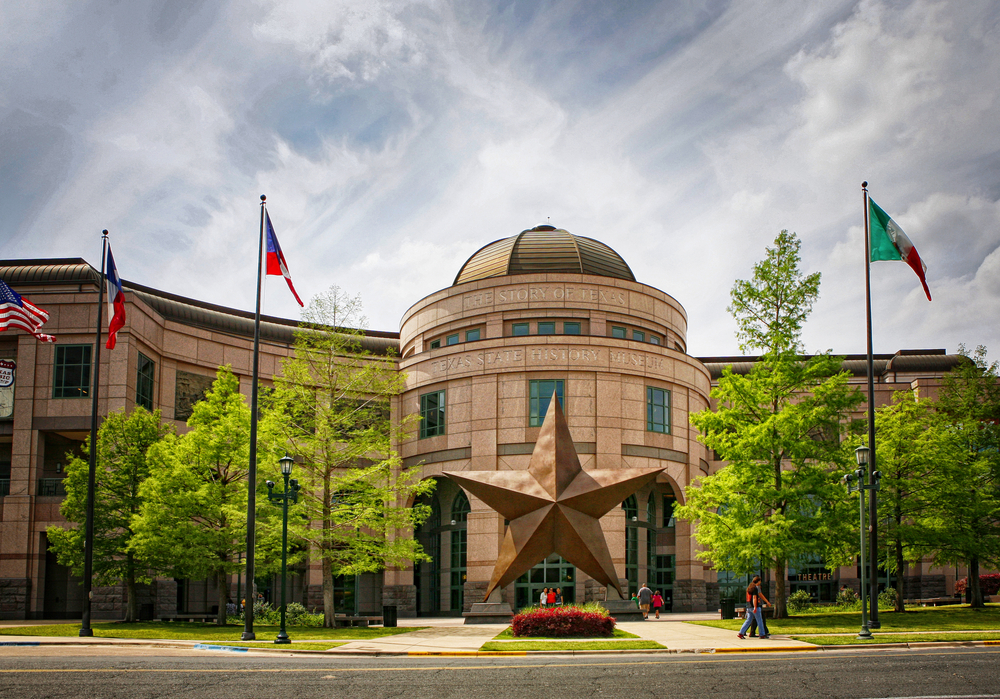 editorial credit: GSPhotography / Shutterstock.com
Zilker Botanical Gardens
One of the best things to do in downtown Austin is the Zilker Botanical Gardens! With several themed gardens such as the Taniguchi Japanese Garden and the Rose Garden, it is a beautiful place to spend an afternoon. There are even special events at times, like yoga in the garden!
Zilker Botanical Gardens also features a Children's Garden, koi ponds, and a butterfly gate making it one of the best things to do in Austin with kids. So make sure to take a stroll through Zilker Botanical Gardens while visiting Austin!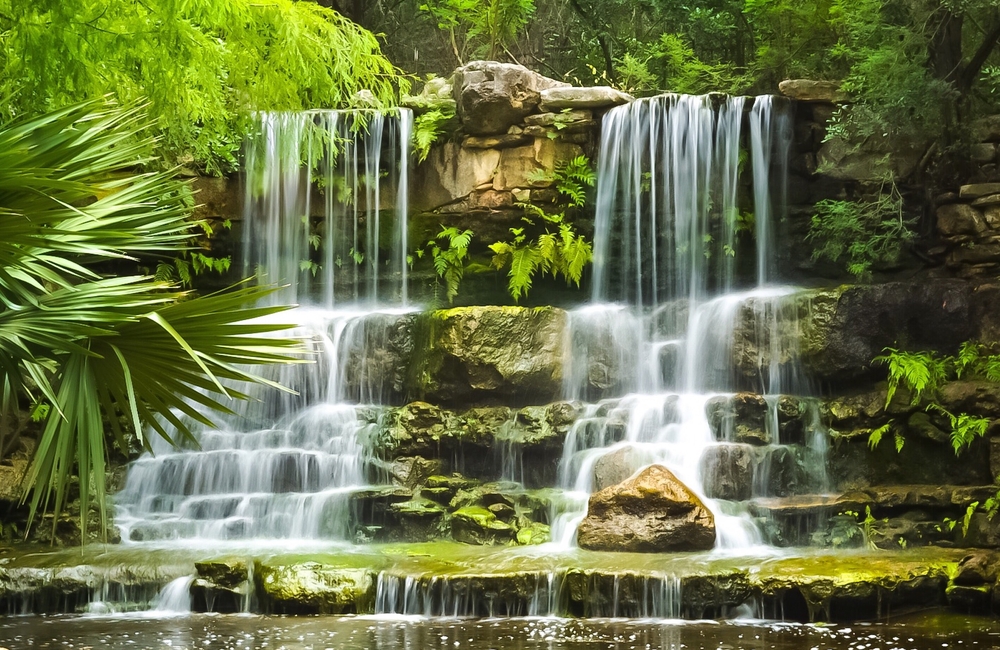 Cathedral of Junk
This one-of-a-kind backyard artwork/clubhouse is one of the cool things to do in Austin! Started in 1988, the Cathedral of Junk was built by Vince Hannemann in his backyard in the Austin suburbs. Vince is always happy to show visitors around when he is at home.
From a zen garden of TVs to a throne room, the Cathedral of Junk is a truly unique structure. Built from car bumpers, bicycle wheels, cables, and other random items brought to the creator over the past few decades, the wonders never cease at one of the best things to do in Austin!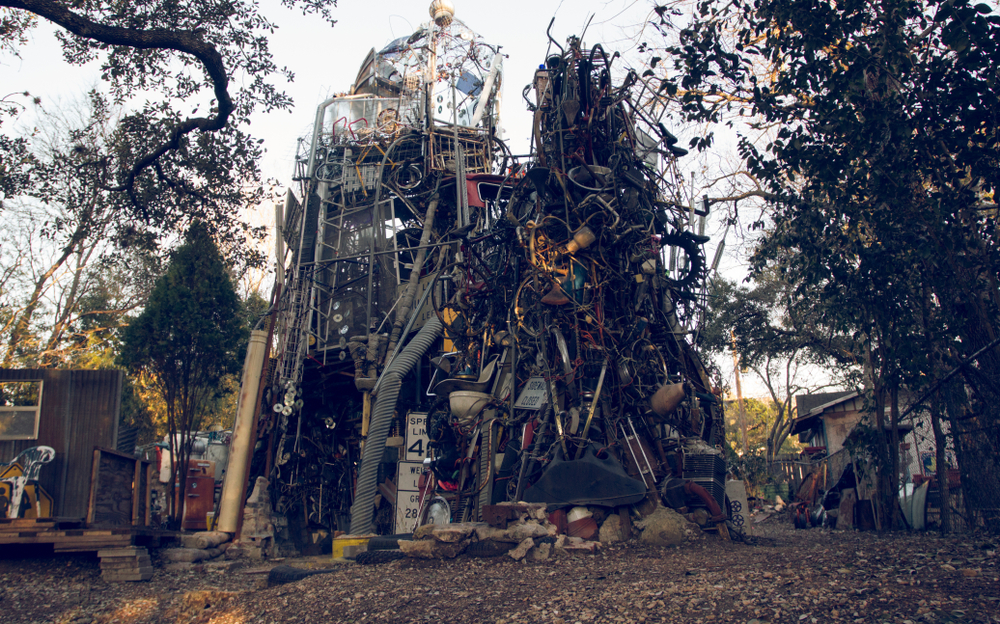 editorial credit: PiercarloAbate / Shutterstock.com
WonderSpaces
Wonderspaces is an immersive and interactive art museum featuring unique and modern art installations making it one of the best Austin activities!
To experience the whole Wonderpsaces show takes about 75 minutes making it the perfect stop for an afternoon or morning to fill out your day. With installations featuring light, sound, and interaction from visitors, you won't want to miss out on one of the best things to do in Austin!
Magic's Theater
If you are looking for a fun night out, look no further than Magic's Theater! Offering an exciting magic stage show along with close-up magic shows, Magic's Theater is one of the most fun things to do in Austin!
Magic's Theater also hosts Live Jazz nights and is home to a museum filled with magic history, including Harry Houdini's Chinese Water Torture Cell. Any lover of magic should include a visit to Magic's Theater, one of the best things to do in Austin!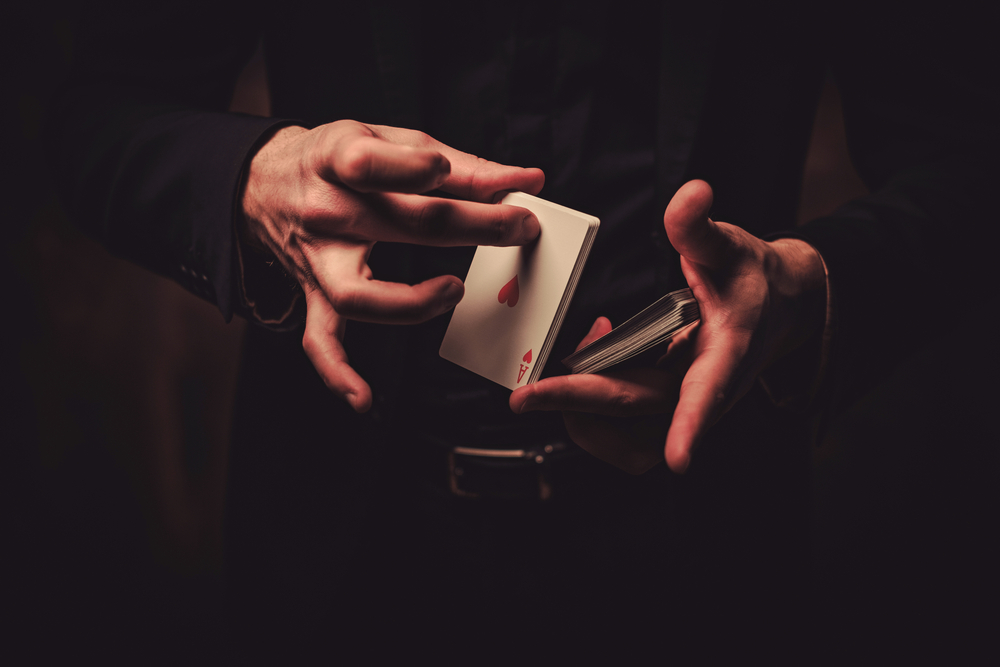 Keep Austin Weird/South Congress Avenue
Keep Austin Weird is a movement that promotes small, independent businesses in Austin. South Congress Avenue is filled with one-of-a-kind shops, bars, and restaurants making the most fun things to do in Austin!
South Congress Avenue is home to vintage shops, boutiques, gift shops, and more. Not only are there a variety of shops, but there are also street vendors offering different goods as well. South Congress Avenue is an eccentric part of what keeps Austin weird, making it one of the best places to go in Austin.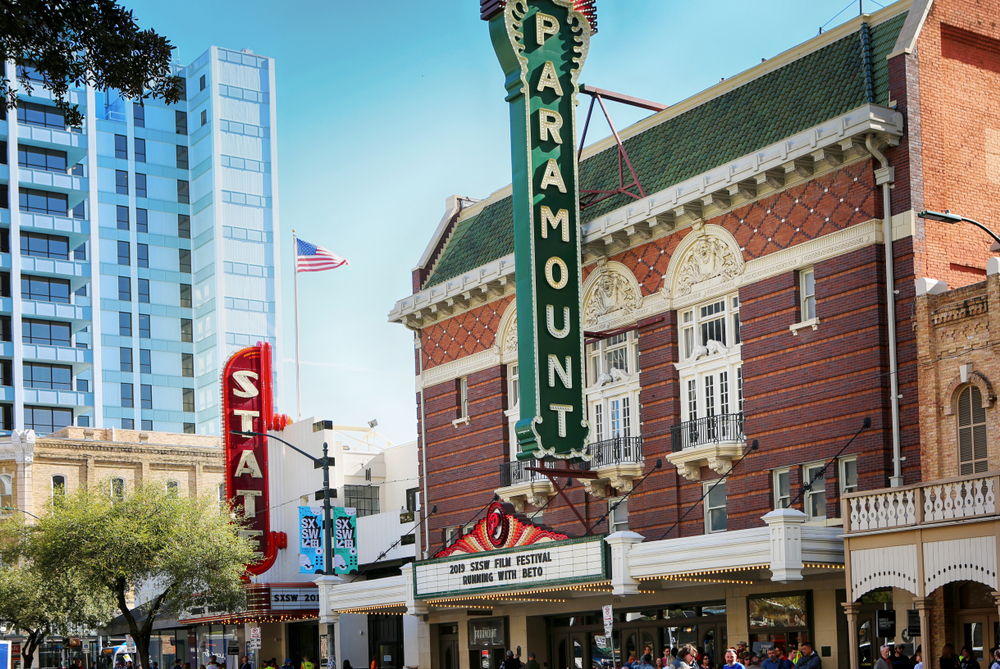 editorial credit: GSPhotography / Shutterstock.com
Blanton Museum of Art
Located at The University of Texas at Austin, the Blanton Museum of Art is one of the best things to do in Austin! It is home to over 19,000 artworks in its permanent collection.
Blanton Museum of Art is home to a variety of art, from European paintings to Modern art to a beautiful building by artist Ellsworth Kelly. The museum also hosts different exhibitions throughout the year as well, making it one of the best places to go in Austin!
Mount Bonnell
Mount Bonnell is one of the best things to do in Austin for couples. Mount Bonnell is one of the highest points in Austin featuring a beautiful view of the city. With a pavilion at the top of Mount Bonnell, it makes the perfect spot for a romantic picnic!
The hike to the top is more of a leisurely hike rather than a strenuous one making it a relaxing outdoor activity. Mount Bonnell trail is also family-friendly and dog friendly too! Make sure to make an excursion to Mount Bonnell, one of the best things to do in Austin!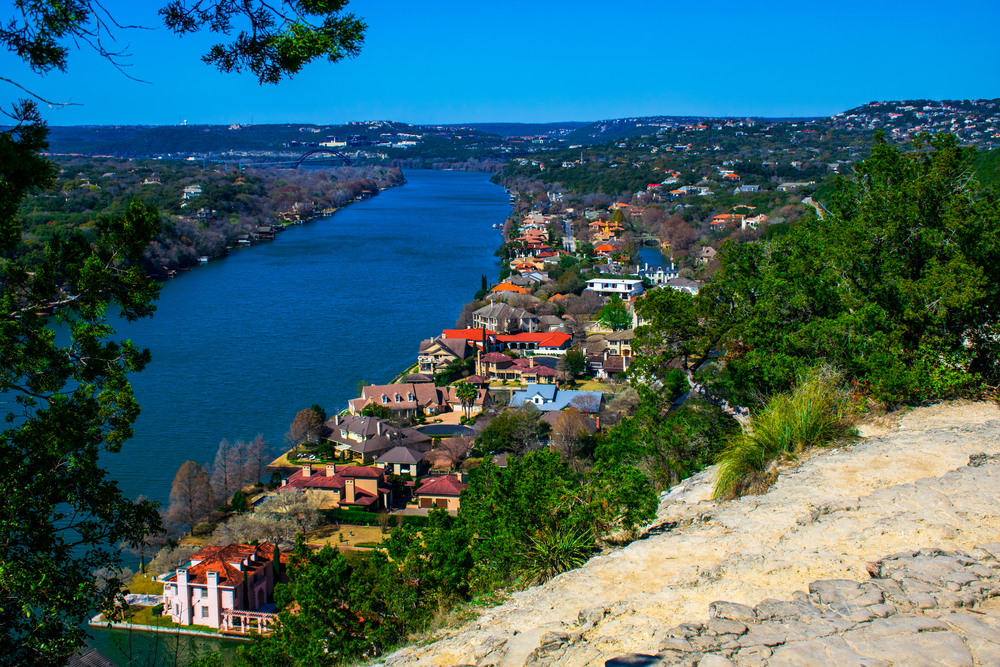 Mexic-Arte Museum
Mexic-Arte Museum is a special museum that focuses on Mexican, Latino, and Latin American art and culture. Located in the heart of Austin's vibrant downtown, Mexic-Arte Museum is one of the best places to visit in Austin!
So grab a friend and experience this enriching art experience! Mexic-Arte Museum also offers free admission and free tours every Sunday. With its unique art collection that showcases paintings, decorative arts, sculpture, performance art, and photography, Mexic-Arte Museum is one of the best things to do in Austin!
Esther's Follies
Laughter is an important part of any good time and Esther's Follies will definitely bring the laughter to your time in Austin. Known as a modern-day vaudeville theater, Ester's Follies is one of the most fun things to do in Austin!
Located on 6th street in downtown Austin, Ester's Follies is surrounded by wonderful restaurants and other nightlife, making a show the perfect thing to add to an evening on the town. You will definitely want to grab a seat and get ready to laugh at Ester's Follies, one of the best things to do in Austin.
Broken Spoke (Two-step dancing)
What would a trip to Texas be without some Two-step? Whether you are a pro or a complete novice, Broken Spoke is sure to provide a great time. With dance lessons every Thursday through Saturday night, an evening at Broken Spoke is one of the best things to do in Austin for couples!
Broken Spoke also features live music and a menu featuring Tex-Mex, steaks, and BBQ! You will definitely want to complete a visit to Austin with a night out at Broken Spoke, one of the most authentic things to do in Austin!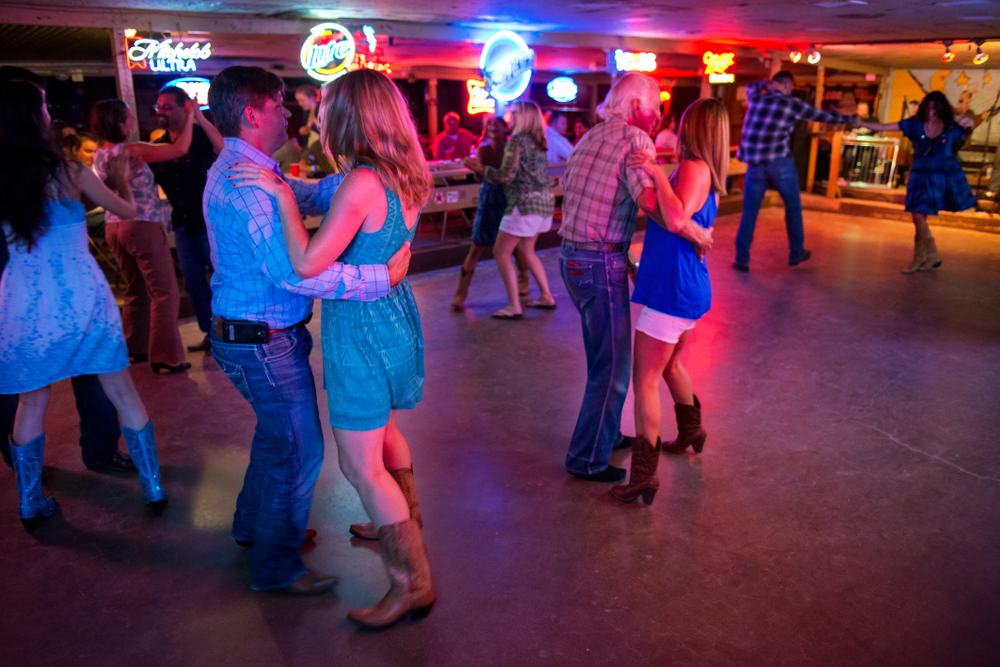 editorial credit: TLF Images / Shutterstock.com
Bar Hopping on Sixth Street
Sixth Street is a hot spot for Austin's nightlife and culture. Sixth Street has a growing reputation as the Bourbon Street of Austin. With plenty of bars to enjoy, you won't want to miss out on one of the best things to do in Austin!
You can enjoy a fancy cocktail at Midnight Cowboy or a beer at Shakespeare's Pub. And if that doesn't suit your taste you can always stop by Casino el Camino for its dive bar vibe or have an elegant evening at The Driskill. No matter where you end up, bar-hopping on Sixth Street is definitely one of the cool things to do in Austin!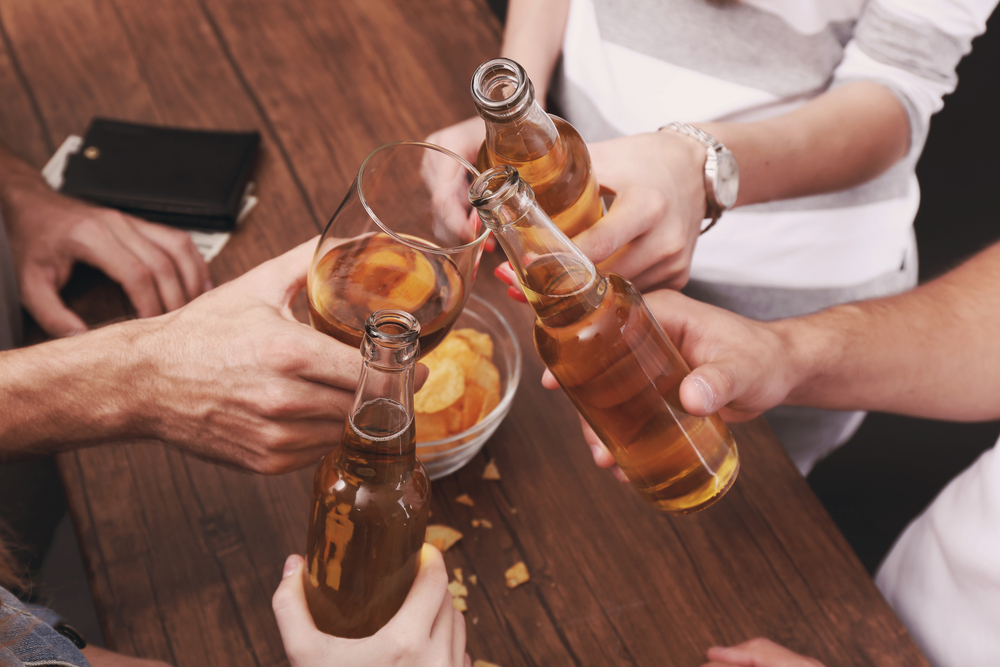 Pinballz
If you are looking for some old-school fun then look no further than Pinballz. The Original Pinballz Arcade in Austin features a variety of pinballs, modern-day video games, and classic arcade games making it one of the neatest Austin attractions.
Pinballz also offers a menu of food and drinks to add to your day of fun. Visitors can also find their way through the Zombie Crisis Escape Room Challenge. With plenty of games and activities, Pinballz is definitely one of the best things to do in Austin with kids!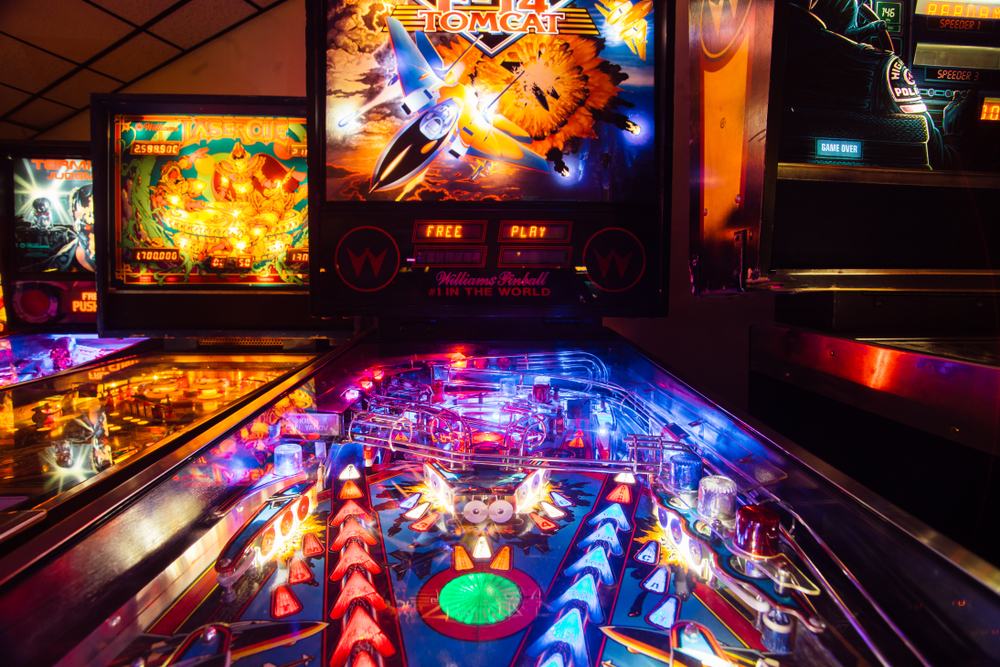 editorial credit: Atmosphere1 / Shutterstock.com
Museum of Ice Cream
Experience the Sprinkle Pool or take a journey through the Banana Forest at the Museum of Ice Cream! The Museum of Ice Cream is a one-of-a-kind, interactive experience making it one of the best Austin tourist attractions!
A day at the Museum of Ice Cream is sure to be fun for your imagination and your taste buds! Not only will you get to travel through the Rainbow Tunnel, but you'll also get to enjoy sweet treats along the way. The Museum of Ice Cream has vegan treats as well for those who prefer a non-dairy treat!
Museum of Ice Cream also has a cafe and bar with unique treats and drinks. You will definitely want to visit the Museum of Ice Cream, one of the best things to do in Austin!
UMLAUF Sculpture Garden and Museum
UMLAUF Sculpture Garden and Museum is the perfect blend of outdoor beauty and culture. While the permanent collection is mainly comprised of over 100 sculptures by Charles Umlauf, the museum also has new exhibits throughout the year as well.
UMLAUF also hosts family days with kid-friendly activities and has a garden storytime occasionally. Admission is always free for those 12 and under, making UMLAUF Sculpture Garden and Museum one of the best things to do in Austin with kids!
Where to stay in Austin right now
In a city packed with eclectic arts, delectable eats, and outdoor activity galore, deciding where to stay in Austin can be tough, even for repeat visitors, let alone first-timers. Strapped for time and just looking to do the highlights ? Downtown is always a good place to start. Perhaps you're a hipster kid planning on shopping vintage and kicking back at a dive bar or three in good company? Go East. Or are you looking for some luxurious R&R by the lake? Well, west is best. And that's just the beginning, for there are plenty of worthy nooks North, South, and everywhere in between.
If you need a little help to discover what's best for you, good news! We've plucked five fantastic neighborhoods within those nodes that are a cut above the rest. Boasting exciting things to do from corner to corner, distinct character in true ATX fashion, and a good number of them are even walkable (which, in Texas, is a huge bonus). Get ready to check in and have an absolutely rockin' time with our guide to the best places to stay in Austin.
An email you'll actually love
Get into a relationship with our newsletter. Discover the best of the city, first.
By entering your email address you agree to our Terms of Use and Privacy Policy and consent to receive emails from Time Out about news, events, offers and partner promotions.
Awesome, you're subscribed!
Thanks for subscribing! Look out for your first newsletter in your inbox soon!
Where to stay in Austin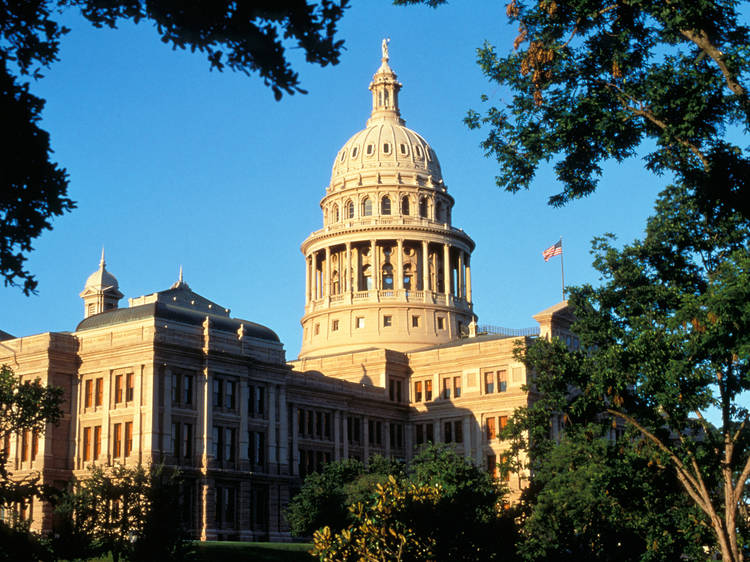 1. Downtown
The first stop for a powerhouse weekend of fun, downtown Austin is where you'll find bustling activity day and night. From the most romantic restaurants to eclectic sightseeing tours , the downtown core is compact enough for walking yet has no shortage of must-dos. Take a museum stroll early in the day, dine your way around town, then get your laughs at one of Austin's many comedy shows before hitting up the downtown nightlife.
EAT
You know those giant platters that make life easier for the indecisive? That is Fareground in a nutshell. Austin's first food hall, located at One Eleven Congress, carries the best of the city under one roof so you can food-hop for your starter, main, side, and dessert. Our top picks: Taco Pegaso for guac and queso, Austin Rôtisserie for rotisserie chicken, and an Israeli dessert from TLV . Two on-site bars provide liquid refreshments.
DRINK
Downtown's trendiest nightlife spot promises a sinfully good time (it is spiritually themed, after all). The historic building is decked out in religious artifacts, stained glass windows, and a DJ booth made from a vintage organ. Go for a Seven Deadly Sins cocktail, like Lust (tequila, mezcal, absinthe, strawberry syrup, and blackberries) or the wickedly sweet Gluttony (vodka, heavy cream, coffee liquor, and nutmeg).
DO
As the Live Music Capital of Texas, Austin knows how to put on a show. The Paramount Theatre is Downtown's finest stage, not only for music but for comedy, screenings, musicals, talks, drag performances, and more. Opened in 1915, it is the oldest theatre in Austin, and legends from Miles Davis to Dr. Maya Angelou have graced the auditorium. Their annual Paramount Anniversary Gala is an Oscar Party-style night out for those looking to turn it up in a gown (when Congress Avenue is transformed into a red-carpet fiesta), but a quick look at their events calendar is sure to offer something to tickle your fancy.
STAY
As an architectural wonder and more-often-than-not official partner of virtually every major event, the Fairmont Austin is the most happening stay downtown. Towering rooms feature floor-to-ceiling windows so guests can soak up skyline vistas, but don't spend all day in bed—the hotel has plenty of social spaces up for grabs that you won't want to miss. The rooftop pool is the largest downtown, lined with palm trees and a very celebratory crowd, and downstairs you'll find the acclaimed restaurant Garrison, famed for cooking up Austin's best steak.
If you do just one thing…
Duck into the Texas State Capitol , if only for a peek at the beautiful building (it is actually taller than our nation's capitol). Free daily tours are available, too.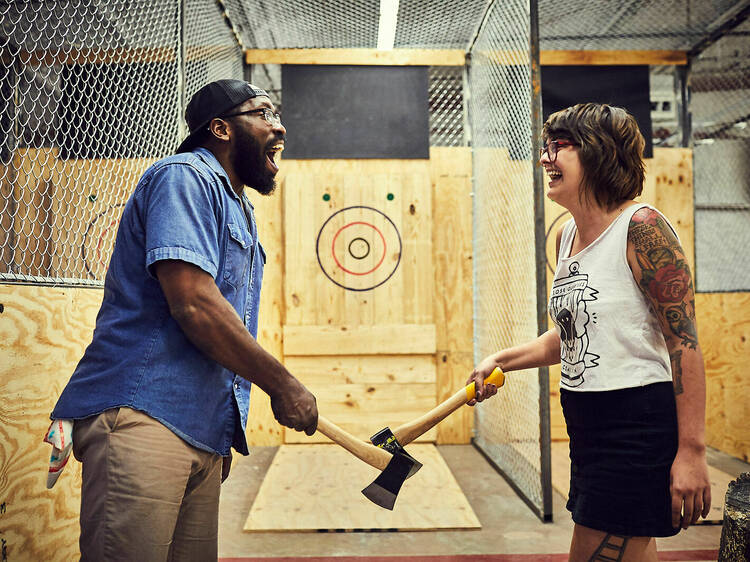 2. East Austin
As one of the city's fastest-growing neighborhoods, there is an amazing range of diversity in East Austin. For starters, you'll find old-school dive bars in harmony with the best cocktails in town. Plus, throughout this artsy hub is an abundance of galleries, colorful street art, independent stores, taquerias, and juice bars.
EAT
There could be a thousand things Austinites love about Old Thousand, but just one is enough: they make the greatest Xiao Mian and Egg Rolls in the state (sorry, Houston ). The hangout fuses Chinese and Texan charm, which makes for a tremendous night out, and they cater to veggie friends (Kung Pao Brussels? Yes, please) while also serving a killer cocktail program.
This iconic spot boasts exposed stone walls lit by flickering candles. Led by veteran Austin bartender Scranton Twohey, it is the perfect place to wet your Whisler (ahem). In addition to the main inside bar and a large open patio, you'll find Mezcaleria Tobala upstairs—an intimate venue styled after the traditional Oaxacan mezcal bar.
DO
Whether or not you've got an axe to grind, Urban Axes will help you let off some steam. Get a friendly competition going as you go up against mates with 1.5-pound hatchets, each thrown at an archery-style target at the end of a fenced-in lane. Once you're done, chill out with food and drink (BYO food, soda, beer, and wine) and discuss your techniques.
STAY
ARRIVE East Austin makes a cracking first impression. Your check-in experience includes saddling up to the bar for a welcome drink and snack— on the house . There is an industrial-chic vibe here with polished marble that contrasts with concrete, airy windows alongside a wooden bar, and just the right balance between luxury and casual. Choose your fix between the on-site gin bar and Cartel Coffee Lab (both will give you a buzz).
If you do just one thing…
Get down to the White Horse Saloon honky tonk. This joint is frequented by a mix of people unafraid to get up close and personal during a two-step class on Friday and Saturday nights.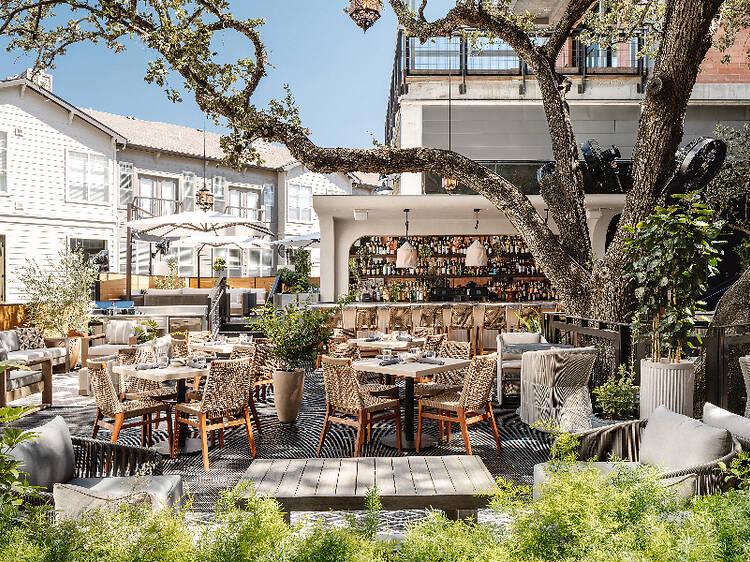 3. South Congress
Just across the river from downtown sits South Congress, a go-to destination even among locals. You'll find funky boutiques and taco bars lining active streets, alongside some of Austin's most popular cafes. From March to October, the Congress Avenue bridge draws visitors to this part of town, hoping to see around 1.5 million bats take part in a nightly migration. What else? A number of buses also have routes along Congress, making this area a viable place to stay if you're relying on public transportation.
EAT
Veer off the main drag, and you'll stumble upon Austin's best Indian cuisine at South First Street. Mumtaz Market is an evolution of the long-time South Asian cafe and lounge, G'Raj Mahal. The menu is packed with authentic traditional curries and creative takes on entrees such as the Pork Rechaad, Gnocchi Saag, and Seafood Malabar. Spice up your life at brunch, lunch, happy hour, or dinner—just don't forget to order a mango lassi.
DRINK
This Mediterranean restaurant on Music Lane doubles as a solid watering hole. Aba's bar program, crafted by Liz Pearce, showcases rare Mediterranean-inspired wines and spirits; try one of its Israeli and Armenian Blanc de Blancs, or cool down with its Life on Freezy Street, a frozen cocktail best enjoyed out on the oak tree-shaded patio. Aba also has a wide selection of non-alcoholic cocktails in case it is too early for the hard stuff (although in Texas, it is never too early).
DO
The Continental Club opened its doors in 1955 on South Congress Avenue and has since hosted the likes of Led Zeppelin's Robert Plant, Wanda Jackson, and ZZ Top's Billy Gibbons—up to standard for a place that regularly billed the likes of Double Trouble, Paul Ray & the Cobras, and Joe Ely back in the 1970s and '80s. It's a tiny stage in a small room, but the performances in front of the iconic red curtain make this the top spot for live music in SoCo.
STAY
Since opening on SoCo, this residential-style boutique hotel has been all the rage. Interiors are designed by award-winning Austinite Patrice Rios, who splashes Texan charm with chic style for an elevated home-away-from-home experience. There are just 80 rooms—all of which are suites—that contain anything from kitchenettes or kitchens to dining spaces, large living rooms, and even washers and dryers. If you've ever wondered how Austin's tech crowd lives, this is your preview. Social spaces include an outdoor hangout designed around three 80-year-old heritage oak trees, an open area to play bocce ball, croquet, and lawn bowling with a heated outdoor swimming pool; and Simona's , a coffee and cocktail bar.
If you do just one thing…
Time your visit to a Candlelight Concert at some of Austin's most beautiful and historic houses. The SoCo edition, at Vuka Bouldin Creek, is certainly a local favorite. Check Fever for a calendar of events.
Source https://www.roamingtheusa.com/weekend-in-austin-itinerary/
Source https://texastravel365.com/best-things-to-do-in-austin/
Source https://www.timeout.com/austin/travel/where-to-stay-in-austin