17 Best Places to Visit in the Dominican Republic in 2022
The Dominican Republic is one of the most breathtaking places in the world, and it has more than just excellent baseball players to offer. Check our list of the top 17 places to visit while on the island and why each one is a must-see destination.
17 Best Places to Visit in the Dominican Republic in 2022
Sharing the island of Hispaniola with Haiti, the Dominican Republic is quickly becoming a tourist hotspot in the Caribbean. With varying terrains throughout the country, you'll feel like you're traveling to different countries all in one trip.
Whether you prefer to spend your days soaking up the sun on the beaches, hiking through the mountains, seeing the rainforest, or in lesser-known towns, the Dominican Republic has something for everyone's tastes.
Here are 17 of the best places to plan your dream trip to the Dominican Republic.
1. Punta Cana
Punta Cana is arguably one of the most beautiful places in the Dominican Republic. The resort town sits on the easternmost coast of Hispaniola and is famous for its almost 20 miles of white sand beaches and crystal clear waters.
This is the area of the Dominican Republic you should go to when you're craving an all-inclusive resort experience or a standard resort experience. Excellent resorts line the beaches and are ready to cater to your every need.
Tourists love this area for several reasons. Beach and water activities are abundant, and there are plenty of companies ready to rent jet skis, banana boats, and more to you. Parasailing, kayaking, swimming with dolphins , and zip-lining are popular in Punta Cana.
2. San Felipe de Puerto Plata
You'll find Puerto Plata on the country's northern coast. Most people refer to the province as the birthplace of tourism in the Dominican Republic and is the province's capital city. As the third-largest city in the country, there's a lot to do here.
One of the main attractions in the city of San Felipe de Puerto Plata is to see the 16th-century fort that's still standing. The Fortress of San Felipe was constructed and used in the 16th century to protect the province from pirates and other invaders.
Other popular things in San Felipe de Puerto Plata include touring the Macorix House of Rum , walking through Umbrella Street, and eating delicious local cuisine.
3. Santo Domingo
Santo Domingo is a beautiful place to visit in the Dominican Republic as it's the capital city of the entire country and one of the Caribbean's oldest cities. You'll find it on the country's southern coast, where it's the perfect blend of city and beach town.
You can't miss walking through the walled, cobblestone area of the city, which has historical significance. Some of the buildings in the city date back to the 1500s, like their famous cathedral .
When you're not wandering the city soaking up the history, you can lounge at one of the several beaches. Each one is beautiful, with plenty of water activities for you to choose from.
4. Playa Dorada
Playa Dorada is similar to Punta Cana as they are essentially beach resort towns. You'll find this beach town in the province of Puerto Plata, just east of the central city.
It's still a bustling tourist destination, but you may find there are fewer than in Punta Cana. It's a great place to stay when you want to stay in a resort that's close to all the activities you want to do.
You can have a relaxing beach day with a drink in your hand, go horseback riding on the beach at sunset, kite surfing, etc. You'll love the small beach bars that serve tropical cocktails and local cuisine. For those who love golfing, there's a tremendous 18-hole course nearby.
5. Las Terrenas
This town is on the Samana Peninsula, on the northeastern side. Las Terrenas is a great place to visit in the Dominican Republic when you want that resort town feeling while still embracing an authentic Dominican Republic city.
Las Terrenas features fewer resorts than Playa Dorado and Punta Cana, making it perfect for those who hate large crowds. You can choose one of those or a smaller vacation rental to stay at.
The beaches are stunning, with the two most popular being Playa Las Terrenas and Playa Bonita. When you need a break from the beautiful beaches, you can go hiking on the nearby trails, spend time at the beach bars, hit the casino, or tour their Haitian art museum.
6. Cabarete
Cabarete is another smaller resort town on the Dominican Republic's northern coast. People flock to this peaceful resort town for the beaches and to go snorkeling in the bay, which contains a protected coral reef.
If you want to try your hand at surfing, then Encuentro Beach is the best option. They also have a surf school if you want lessons. Other famous beaches that have the calmest waters in the town are Kite Beach and Cabarete Beach.
With more tranquil waters, they're famous for water sports besides surfing. People love the laid-back nature of Cabarete. You can take your time doing everything here. There are great parks outside the city limits if you need a break from the beaches.
7. Sosua
Lost Mountain Studio/Shutterstock
Sosua is in the Puerto Plata province and is perfect for people who want a beach getaway and feel like they're still in a somewhat bigger city. While now all you'll see are beautiful beaches, great shops, delicious restaurants, and activities to do, it wasn't always this way.
Before becoming one of the Dominican Republic's tourist destinations, Sosua was a haven for Jewish refugees in 1938. They were given land, dairy, and cheese factories, and to this day, you can still eat products from these factories.
Sosua is one of the best places to go snorkeling or scuba diving in the country because they have several reefs and various colorful fish to admire. If you enjoy the great nightlife while traveling, then you'll love this town.
8. Samana
On the Northern side of Samana Bay sits the historic town of Samana. It's also the capital city of the Samana province. What initially made Samana a famous destination was the last stop Christopher Columbus made in the New World, back in 1493.
Each city in the country has different months where tourism peaks, and for Samana, it's between January and March. The weather is a little colder but still mild, and the main reason people come to Samana is to go whale-watching .
Whale-watching needs to be on your itinerary if you visit during the beginning of the year, but there are things to do here year-round. The beaches are fantastic, and there's a water park and a casino.
9. Eastern National Park
For nature enthusiasts, Eastern National Park is a dream. Located a few hours east of Santo Domingo, this national park is an island and is one of the Caribbean's largest marine parks.
A vast coral reef system off the park's coast regularly brings snorkelers and scuba divers. You can take a tour here where you can rent all the gear you need. If you prefer to stay on land, there are great beaches and tropical forests for you to explore.
You can go bird watching, hiking, and lounge on remote beaches all day. If you go to the right spots, you can see early cave drawings indicating early indigenous life on the island.
10. La Romana
La Romana lies on the southwest side of the Dominican Republic. The city sits on the Caribbean Sea and overlooks the Chavon River. It's a great town with the best of everything that the Dominican Republic can offer.
While there are golf courses throughout the country, the ones in La Romana are some of the best in the entire Caribbean. Even if you're not a golfer, you can't miss playing a round at one.
The resorts are fabulous and offer you discounted tickets to various tours and museums in the area. Another can't-miss stop in La Romana is their massive cigar factory. Even if you don't smoke them, learn how they make them and tour the facility.
11. Bayahibe
Before becoming a great tourist destination and resort town in the Dominican Republic, Bayahibe was a small fishing village. Nestled on the Caribbean coast of the country, you'll have access to stunning beaches and a great town where you can feast on local cuisine.
Bayahibe Beach is less than a mile from the center of town and offers guests boat rides to some secluded beaches in the nearby national park.
With calm waters, snorkeling, scuba diving, and paddleboarding are popular. If you love scuba diving, you'll love that you have over 20 diving sites to choose from during your trip here.
12. Jarabacoa
Glenn M. Harden/Wikimedia.org
There are dozens of beach towns to visit in the Dominican Republic but traveling inland still provides you with some beautiful places. Jarabacoa is in the heart of the country and features a tropical climate, giving the town the nickname "the city of everlasting spring."
Jarabacoa is a haven for those who love hiking and exploring waterfalls. There are several waterfalls nearby that are worth seeing.
The mountains are mesmerizing, and even if you don't want to venture deep into the forests, there's plenty to do here. You can go golfing, visit the Cistercian monastery , or, if you're there in February, attend one of the country's most famous Carnivals.
13. Santiago de los Caballeros
Santiago de los Caballeros is the capital of the Santiago province and the second-largest city in the country. There are several Santiagos throughout the Caribbean and South America, but this one is historically the first.
This city is in the heart of the Cibao Valley and is famous for agriculture and exportation. It's a central financial, political, cultural, and industrial hub with a rich background you'll love exploring.
They're famous for exporting Dominican cigars, clothing, and rum. Finding all the street art, touring cigar factories, and seeing monuments are all great things to do in the city.
14. El Limon Waterfall
If you're heading to the Dominican Republic to chase waterfalls, then El Limon Waterfall is one of the best. Situated near the Atlantic Coast of the country, the waterfall drops about 170 feet, and it is a spectacular sight to see.
Seeing the waterfall is only half the fun. First, you need to get there! The path to El Limon Waterfall will take some time, but it's worth it.
Most people go on horseback riding tours to the waterfalls since the falls take about 40 minutes to get to by foot. You'll have to pass several rivers to get to the falls, but you can cool off in the swimming hole at the bottom once you arrive.
15. Playa Rincon
Playa Rincon is on the tip of the Samana Peninsula and features some of the softest sand beaches in the country. This specific spot is where Christopher Columbus was rumored to land during his voyage.
It's a quieter area of the country, so this is an excellent option if you prefer to have some quiet while lounging on the beach. You can stay here at one of the several hotels, but you can also reach the beach by boat from Las Galeras in 20 minutes.
The beach is the main attraction of the area, with two miles of coastline, and there's enough room for everyone to lounge, read a book, enjoy a drink, or anything else.
16. The Salt Mines of Salinas
One of the most fascinating places in the Dominican Republic is the Salt Mines of Salinas. It's a great day trip to incorporate into your itinerary. It almost looks like something out of a storybook with the pink water.
The salt mines are to blame or thank for the beautiful pink water of the lake.
There are also sections of the lake that are blue, yellow, and gray. Be sure to bring your phone or camera to this location because you'll want to grab some fantastic photos to remember your trip.
17. El Pico Duarte
For adventurous travelers, seeing or even climbing El Pico Duarte is one of the best things to do while in the Dominican Republic. El Pico Duarte is the tallest mountain in all of the Caribbean! El Pico Duarte is over 10,000 feet high and offers unparalleled views of the country.
Despite the tropical climate, it's tucked into two national parks in the Dominican Republic and can often get pretty chilly. If you plan on traveling to El Pico Duarte, you can climb the mountain via two or three-day excursions.
Things to Consider
Before you pack your bags and board your flight, there are a few things you'll want to consider to make your trip to the Dominican Republic more enjoyable:
You can't drink the tap water
You'll have to exchange your money once you land (if you plan on carrying cash)
Unless you're from Chile, Ecuador, Argentina, South Korea, Peru, Japan, or Israel, you'll most likely need to pay a tourist tax (most airlines include this in the price of the flight)
If you plan to climb their highest peak, you'll need to allow a few days for the journey to the top and back
Frequently Asked Questions
Bruno Ismael Silva Alves/Shutterstock
There are so many beautiful places to visit in the Dominican Republic. Picking where you want to visit is half the battle of planning your trip. These are some of the most frequently asked questions of people planning trips to the country:
What is the most beautiful part of the Dominican Republic?
The entire country is stunning, but if you ask almost anyone who's been to the country before, they'll tell you that Punta Cana. The area is filled with white sand beaches, resorts, golf courses, and plenty of things to do.
What is the cheapest month to visit the Dominican Republic?
If we're talking about flights, the cheapest month to visit is August. It's because it's hot during this time and many people aren't visiting, so you'll find lower flights, hotels, and activities throughout the country.
Do I need a passport to travel to the Dominican Republic?
Anyone traveling into the Dominican Republic will need a valid passport. Once you're in the country, you're free to travel from town to town without one.
When is the best time to visit the Dominican Republic?
Most people consider May the best time to visit the Dominican Republic. It's right before hurricane season starts meaning there are roughly nine hours of sunshine a day and lower prices since it's not at the height of the tourist season.
Does the Dominican Republic have hurricanes?
Since the Dominican Republic is an island in the Atlantic Ocean and the Caribbean Sea, hurricanes are possible here and happen. The Atlantic Hurricane season runs from June 1st through November 30th every year.
Luckily, we can see these storms coming and track them, making planning your trip to the country easier.
So, What are the Best Places to Visit in the Dominican Republic?
There are so many beautiful places to see in the Dominican Republic. There's a place for everyone from spending your days lounging on the beaches, eating all the food at all-inclusive resorts, hiking, or climbing mountains. Now all you have to do is pick your favorite destination and plan!
When to Go:
Where to Stay:
What to Do:
Affiliate Disclaimer
As an Amazon Associate I earn from qualifying purchases. We are also a member of several other affiliate networks. If we link to any product, you should assume that we'll receive a commission when you buy it, at no extra cost to you. This is how we keep the lights on (i.e. pay for content, product research, guides, and more).
10 Best Places to Visit in the Dominican Republic
If you're in the mood for a Caribbean holiday, the Dominican Republic is the place to go. It shares the island of Hispaniola with Haiti in the Greater Antilles. The island is where Christopher Columbus made his first stop in the New World in 1492 and which later became the first capital of the Spanish empire in the Americas. You'll find plenty of evidence of the country's Spanish heritage.
Today, however, people visit the Dominican Republic for its beautiful sandy beaches, clear waters and water sports activities. Off-shore activities include deep sea fishing and whale watching. There's really not any good reason for you to stay home after you've seen these best places to visit in the Dominican Republic.
10. Las Terrenas [SEE MAP]
Las Terrenas, on the north coast of the Dominican Republic, was once a small fishing village. But that all changed in 1946 when the country's president ordered rural residents from Santo Domingo to settle here as farmers and fishermen. Today, Las Terrenas is a growing tourist destination known for its pretty landscapes, white sand beaches and clear ocean water. It's popular with foreigners and Santo Dominicans since it's only a two-hour drive from the capital. Top beaches include Playas el Portillo and Las Ballenas. Las Terrenas also is a good place to go dolphin and whale watching.
9. Jarabacoa [SEE MAP]
tepena / Flickr
Because of its tropical climate, Jarabacoa is frequently called "the city of everlasting spring." The area is known for its mountains and scenic beauty, including the Jimenoa and Baiguate waterfalls, and the Ebano Verde Scientific Reserve. If you're an adventuresome visitor, you might try crossing the Jimenoa River on a wood and rope footbridge. More timid travelers may opt for a round of golf on a nine-hole course or a visit to the Cistercian monastery of Santa Maria del Evangelio. Come February, Jarabacoa hosts one of the most famous Carnivals in the country.
8. Playa Rincon [SEE MAP]
Pierre Mangin / Flickr
You may be walking on history as you beach comb on Playa Rincon: It's one of two places in the Dominican Republic rumored to be THE spot where Spanish explorer Christopher Columbus first touched land in 1492. But even if it's not, you'll enjoy strolling on the soft sandy beach, which, at nearly two miles long means there's room for everyone, though you may have to share the beach with stuff the ocean washed in. Still, Playa Rincon is considered one of the most beautiful beaches in the Caribbean. You can get there via a 20-minute boat ride from Las Galeras.
7. El Limon Waterfall [SEE MAP]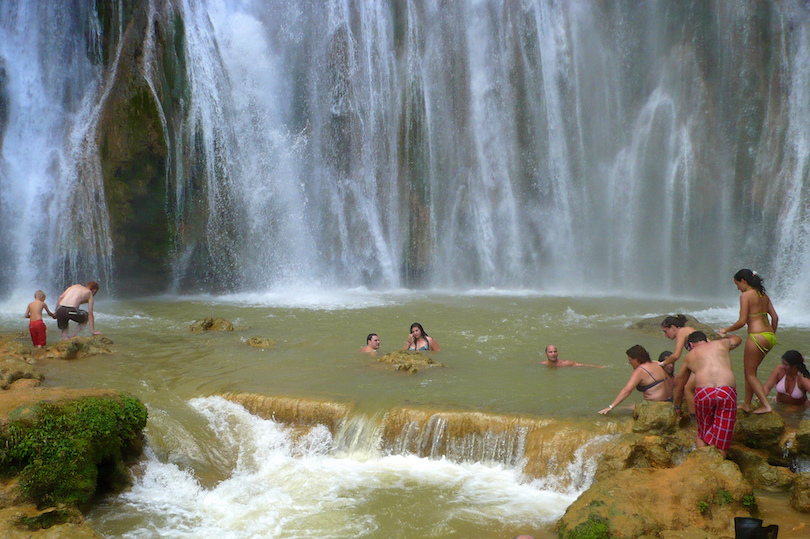 Francisco Becerro / Flickr
El Limon waterfall definitely doesn't live up to its name, The Lemon. Instead, El Limon is a spectacular waterfall that drops 50 meters (170 fee)t near the Atlantic Coast side of the Dominican Republic. Getting there can be a sweaty and wet ordeal since you'll cross several rivers on horseback (the main way to get there), but once there, you can cool off in the spectacular swimming hole at the bottom of the falls. You may need the dip even more if you've opted to walk the 40-minute trail over sometimes steep terrain.
6. Santo Domingo [SEE MAP]
Santo Domingo is the capital of the Dominican Republic and its largest city – indeed, it has the largest metropolitan area in the Caribbean. Founded in 1496 on the Ozama River, it is the oldest European settlement in the Americas. It also holds a number of other New World firsts: capital of the Spanish empire, castle (Alcazar de Colon), monastery, cathedral (Cathedral Santa Maria la Menor) and university. The best place to take in this rich history is, of course, the historic district where you'll find majestic buildings reflecting Middle Ages architecture. You can also see the Fortaleza Ozama, the oldest fortress in the Americas.
5. Cabarete [SEE MAP]
Jeff / Flickr
If you're into adventure sports, Cabarete is a good place to indulge yourself. Founded in 1835 by former slave owner, this once quiet fishing village is now a kite-surfer's dream, hosting many international competitions. It's one of the most popular surfing spots in the Caribbean. Cabarete has a good infrastructure for tourism, with top hotels and eateries, all of which are easy to find, since the village has only one main street. Cabarete has pretty beaches, but if you get tired of them you can explore nearby caves or go kayaking, snorkeling or scuba diving.
4. Samana [SEE MAP]
Samana, capital of the province with the same name, is a pretty, historic town located on northern Samana Bay. Its main claim to fame is that it's the last stop Christopher Columbus made the New World in 1493 before heading back to Spain. In more modern times, it's a great place to go whale-watching, since thousands of humpback whales head to the bay to give birth between January and March. During these months, Samana is the tourism capital of the Dominican Republic. It may interest baseball fans to know that several notable pitchers, including Wily Peralta, grew up here.
3. Bayahibe [SEE MAP]
Reinhard Link / Flickr
In a country that is known for its beach destinations, the resort town of Bayahibe is no exception. The former fishing village is now one of the top places to visit in the Dominican Republic. Bayahibe Beach is located less than a mile from town, but you're more likely to visit here to catch a boat to Saona and its fabulous beaches located within a national park. Bayahibe also is the best scuba diving locations in the country, with more than 20 dive sites. Don't scuba dive? How about stand-up paddle boarding or snorkeling?
2. Sosua [SEE MAP]
Hispaniola News / Flickr
In 1938, long before the Dominican Republic became a top tourist destination, its president offered safe haven to 100,000 Jewish refugees. About 800 settled in Sosua and were given land where they started a dairy and cheese factory. You can eat products from Productos Sosua today. Sosua is a popular destination for diving enthusiasts who like the calm waters, reef structures and the many varieties of fish they'll see. Sosua is a place where nature is still making beaches, some naturally and others by storms. By day, Sosua is a typical beach resort; by night, it's a haven for party animals.
1. Punta Cana [SEE MAP]
Punta Cana is one of the most popular beach destinations in the Dominican Republic. It stands apart from other beach resorts in the country, however, because it has beaches that face both the Atlantic Ocean and the Caribbean Sea. Punta Cana has 100 km (60 miles) of coastline with mainly shallow waters, but the beaches can be windy sometimes. Punta Cana is a party town where you can swim with dolphins or sharks, race a speed boat, or go deep sea fishing, catamaran sailing, whale watching or zip lining. Plan to be very busy during your visit.
Top 10 Places to Visit in the Dominican Republic
Lebawit Lily Girma is an award-winning travel writer, photographer, and author of several Caribbean guidebooks for Moon Travel Guides. She is currently based between Santo Domingo, Dominican Republic, and Washington, D.C.
While Punta Cana is the most popular place to visit in the Dominican Republic, this second-largest country in the Caribbean boasts many areas that are as spectacular and diverse in geography. From a large lake home to American crocodiles to lagoons where pink flamingos thrive, soaring mountains, wild, undeveloped beaches, and a capital city ranked as a UNESCO World Heritage Site, there's a lot to the Dominican Republic that many miss seeing. Here are the top 10 places you should visit in the Dominican Republic.
Santo Domingo
TripSavvy / Lara D'agostino
The Dominican Republic's capital offers modern and historical sides, along with plenty of shopping, dining, arts, music, and nightlife. Santo Domingo's Colonial City–also known as the Zona Colonial–is a World Heritage Site since 1990 as the oldest city in the Americas, built when the Spanish settled here in 1496 and brought enslaved Africans.
Visit historic sites turned museums, including the first hospital, the first university, and the first cathedral built in the "New World." Walk the neighborhood's charming streets–enjoy its parks, sidewalk cafes, and live music. Nearby, the Malecon's breezy seaside boulevard is lined with restaurants and casinos. In the city center, you'll find shopping malls, upscale restaurants, and botanical gardens.
The Samana Peninsula's Beaches
TripSavvy / Lara D'agostino
Dominicans will agree that among the most stunning beaches in the DR are the ones that lie along the Samana Peninsula's rugged coastline. From Las Terrenas to Las Galeras, beaches here are wild, dramatically framed with cliffs and palm trees as far as the eye can see. Las Galeras boasts stunners such as Playa Rincon, reached by boat, while Las Terrenas has easily accessible Playa Coson and Playa Bonita. There are also secluded beaches that few tourists get to, including Playa del Valle and Playa El Moron.
Parque Nacional Armando Bermúdez
Tucked in the center of the Dominican Republic, Parque Armando Bermúdez is the most accessible departure point to a two-day overnight expedition to Pico Duarte—the highest summit in the Caribbean at 10,105 feet. The park also offers numerous daytime trails for those who wish to immerse themselves in nature, swimming in the Yaque del Norte River, which flows directly from the peak. It's a great spot to spend a day out in the mountains while visiting the mountain resort town of Jarabacoa.
Constanza
Constanza is a complete departure from what you expect to find in the Caribbean, and that's precisely why you'd visit. Tucked at 4,000 feet above sea level, it's the highest altitude inhabited town in the region. It's also the heart of the DR's agriculture. Drive along fields of chayote, potatoes, and even strawberries. Stop at a local colmado or corner shop and order a strawberry milkshake or batida. Go hiking or biking in the hills to take in the fresh mountain air. One of the most spectacular national parks and birding locations in the country lies here at Valle Nuevo National Park. Hike its trails, lined with giant pine trees and ferns, and warm up from the cold temperatures by a chimney when you overnight in a mountain cabin.
Barahona Province
FERNANDO BANDINI / Getty Images
Barahona province was made for the adventurous traveler in search of road trips, serendipitous cultural encounters, and a rustic, great big outdoors. This least visited province of the DR boasts scenic drives, with roads snaking between a dramatic landscape of mountains and an iridescent turquoise sea. Beaches are pebblestone for the most part, and the sea too rough to swim far, but there are stunning river parks, where freshwater streams tumble down to meet the sea and create pools idea for a swim.
Lago Enriquillo
If you're a fan of crocodiles and iguanas, you'll find them at Lago Enriquillo in the southwest of the Dominican Republic. Take a boat ride onto the lake to spot American crocodiles lurking beneath the waters of this giant part salt, part freshwater lake. Lago Enriquillo is also the largest lake in the Caribbean, lying at the lowest altitude in the country below sea level. Within the park's dry forest grounds, endangered green iguanas thrive and will welcome you from the moment you enter the parking lot. You might even spot a few crossing the road.
Parque Nacional Jaragua
This national park boasts a lagoon that's home to a colony of pink flamingos, among numerous other bird species. There are multiple trails, easily accessible after you pay a single entrance fee, guided or solo, as well as caves, a mangrove coastline, and secluded beaches. Hop on a boat ride of Laguna Oviedo to spot more birds and take in the natural scenery.
Puerto Plata Province
Among the most well-rounded destinations in the Dominican Republic, Puerto Plata's province offers a little bit of everything: beaches, culture, outdoors, and water sports. Beach lovers will find numerous options along its northern coastline, from Playa Dorada, lined with resorts to Playa Alicia in Sosua, and Cabarete's kitesurfing and surfing hubs, Kite Beach and Playa Encuentro. Inland, brave the 27 Damajagua waterfalls, hike trails in El Choco National Park, and go canyoning in the countryside. Cultural experiences are easily found, too, from cacao plantation tours, where you can make chocolate, to dining out in historic downtown Puerto Plata.
Bayahíbe
TripSavvy / Lara D'agostino
In the early morning, thousands of tourists descend on Bayahíbe VIllage's bay to depart on catamaran day trips to nearby Saona Island. While it's a worthwhile day trip, it's also worth it to overnight in the village, stay in a boutique hotel or guesthouse and enjoy the lively international atmosphere, from local to foreign-owned bars and restaurants. Walk the colorful streets to view traditional Bayahíbe wooden homes, beach hop along the shoreline and catch the sunset in front of the bay; it's one of the most beautiful in the Dominican Republic.
Monte Plata
You won't hear of it often, but Monte Plata is an outdoor lover's dream with its lush forests and waterfalls tucked inside national parks. An hour drive north of Santo Domingo, Monte Plata boasts a stunning waterfall at Salto de Socoa with a deep emerald pool for dips close to shore. Nearby, Salto Alto is even more impressive with a 75-foot cascade and pool that's safe to explore, as well as other areas of the park with plenty of picnic tables. If you're not much of a beach fanatic, Monte Plata is an ideal day trip in the Dominican countryside.
Source https://travellersworldwide.com/best-places-to-visit-in-the-dominican-republic/
Source https://www.touropia.com/best-places-to-visit-in-dominican-republic/
Source https://www.tripsavvy.com/top-places-to-visit-in-the-dominican-republic-4777612