20 Best Places to Visit in Portugal
For such a small country, Portugal packs a punch. From cosmopolitan cities and out-of-the-way towns and villages, to lively beach resorts and spectacular national parks, this diminutive nation offers an incredibly diverse range of visitor attractions.
Occupying a wedge of Iberia and sharing a border with Spain and a fantastic coastline with the Atlantic Ocean, Portugal's location in this sun-kissed corner of Western Europe lends it a singular appeal.
Its southern reaches remain a compelling vacation destination, renowned for gloriously sandy beaches and world-class golf courses. The country's interior, meanwhile, offers a wealth of contrast: rolling plains; broad rivers; deep, verdant valleys; and remote mountain ranges.
Defining Portugal's history is an amazing collection of monuments and historic buildings, many of them recognized by UNESCO as World Heritage Sites. And underpinning the country's personality is its people – open, friendly, and hospitable. Spend some time traveling the country, and you'll be enamored by the color, flavor, and warmth of its character.
For help planning your trip, see our list of the best places to visit in Portugal.
1. Lisbon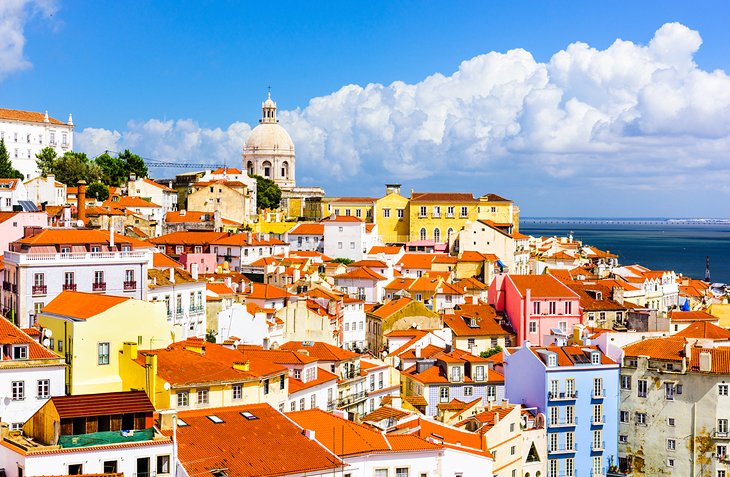 Lisbon
Lisbon, the capital of Portugal, is one of Europe's most alluring cities. Set on the banks of the River Tagus, this vibrant Atlantic port is scattered over a series of hills that heighten its splendid waterfront location. Exploring the city's historic core is a journey into its fascinating past – a heritage exemplified by celebrated visitor attractions, such as the mighty Castelo de São Jorge and Alfama, the oldest part of Lisbon.
A collection of world-class museums extends the cultural experience. To the east, away from the city center, you can marvel at the modernity of Parque das Nações and its crowd-pulling sites such as the brilliant Oceanário.
Across to the west in Belém, Portugal's golden Age of Discovery is mirrored in the magnificent Mosteiro dos Jerónimos and the quirky Torre de Belém, both UNESCO World Heritage Sites.
In between, you can amble across handsome tree-lined squares; stroll along broad, riverfront esplanades; or take in jaw-dropping panoramas from the various miradouros, or viewpoints, dotted across the city.
2. Sintra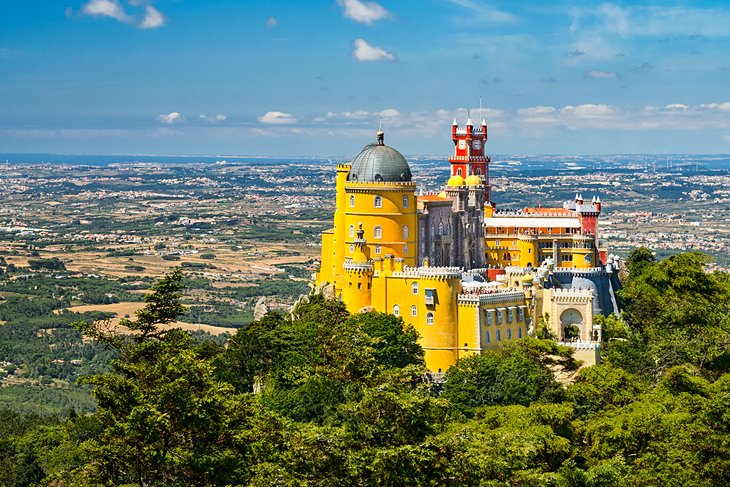 Sintra
Enchanting Sintra is one of the gems in Portugal's glittering sightseeing crown. Recognised by UNESCO for its remarkable cultural landscape, this historic and captivating town is definitely worth putting aside a full day to absorb. It's one of the most popular day trips from Lisbon.
Clustered under the lip of the wooded Serra da Sintra hills, the town is dominated by the landmark Palácio Nacional, its signature twin chimneys looming over a pretty square edged with houses painted in a palette of pale pink and ochre with splashes of yellow.
Peering down over this picture postcard setting is the ancient Castelo dos Mouros, seemingly hewn out of the granite escarpment it runs along. Crowning the highest hill is the bewitching Palácio da Pena, used in the 19th century as a summer retreat by the Portuguese royal family.
Sintra offers plenty of hiking trails for the avid walker, but you'll need a stout pair of legs to conquer the demanding hills surrounding the town. The highest points of the serra offer breathtaking views across the Atlantic coastline and distant Cascais.
3. Porto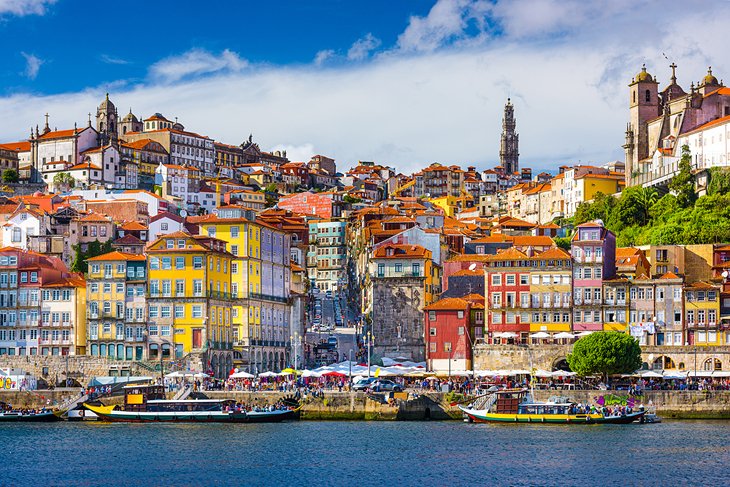 Porto
With its robust granite architecture and commercial disposition, Oporto (or "Porto"), Portugal's second city, rewards visitors with a very different experience to that of the capital.
Sited at the mouth of the River Douro and blessed with a waterfront – the Ribeira – acknowledged by UNESCO as a World Heritage Site, Porto is a destination endowed with Baroque churches and Neoclassical buildings that number some of the best examples of their kind in the country. Of particular note are the needle-like Torre dos Clérigos and the imposing Sé, the city's cathedral.
Another landmark structure is the iconic Ponte Dom Luís I, the spectacular double-decked iron bridge that spans the Douro and connects the city with Vila Nova de Gaia. A leisurely stroll along the Ribeira delivers a tangible sense of history, where you can breath in the briny atmosphere of the place.
The river provides a scenic route to the Douro Valley, a verdant landscape of terraced hillsides dotted with hamlets and villages. A popular sightseeing option is to join one of the many cruises that ply the meandering waterway.
4. Évora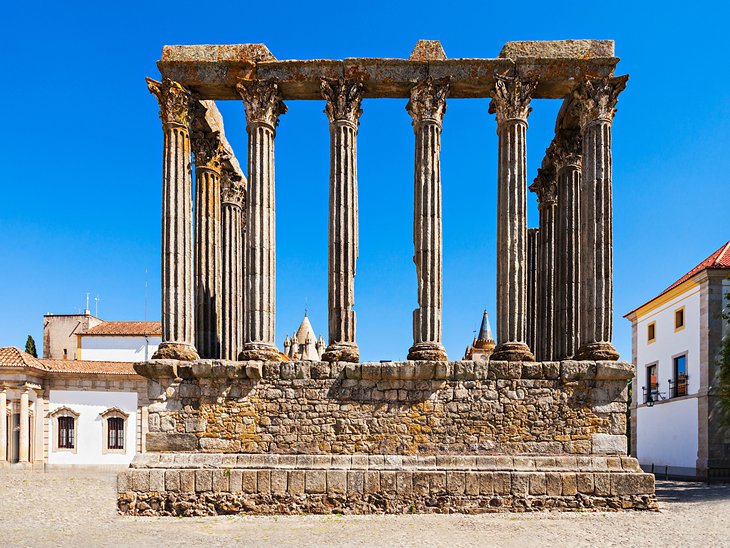 Évora
Deep in the heart of the Alentejo is Évora, one of the most beguiling destinations in Portugal. Renowned for its amazing ensemble of well-preserved monuments, Évora deserves close and unhurried scrutiny.
Its medieval walls enclose centuries of history, a timeline illustrated by the impressive Templo Romano, which dates from around the second century; the brooding but compelling 12th-century Sé (cathedral); and the Igreja de São Francisco, with its lugubrious Capela dos Ossos, completed in the mid-1550s.
The historical significance of Évora and the unspoiled condition of its architectural treasures has won it coveted UNESCO World Heritage Site status. But you'll also be taken with the city's delightful market-town ambience and down-to-earth personality: it's a pleasure to wander and shop through its Moorish alleys; browse engaging museums; and lunch in attractive squares, where you're considered a guest rather than a tourist.
5. Óbidos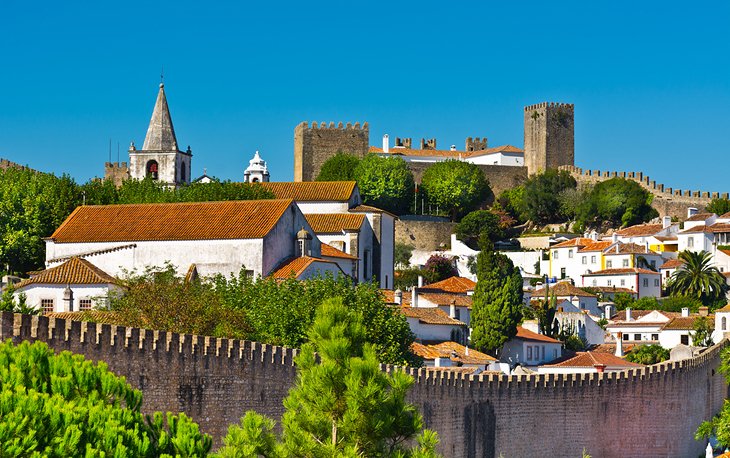 Óbidos
What does a king give his queen for a wedding present? For the lucky queens of Portugal, it was the achingly pretty town of Óbidos, a custom that prevailed for hundreds of years. These days, it's gifted to the general public, and it's certainly worth the hour's drive north out of Lisbon to reach it.
Óbidos is an artist's dream. An assortment of whitewashed cottages, cafés, and handicraft stores lining a series of narrow, cobbled streets are completely enclosed by sturdy medieval walls.
There's also the Igreja De Santa Maria, which features a wonderful interior of blue and white 17th-century azulejos (tiles).
A museum on the town's attractive square includes rare works of art by the 17th-century painter, Josefa de Óbidos.
You can walk along the top of the battlements for lovely views over the terra-cotta rooftops and the lush plains beyond. The fortifications form part of the landmark castle, whose keep looms guardian-like over the charming scene below. The castle itself is now a pousada, an upscale period hotel.
6. Tavira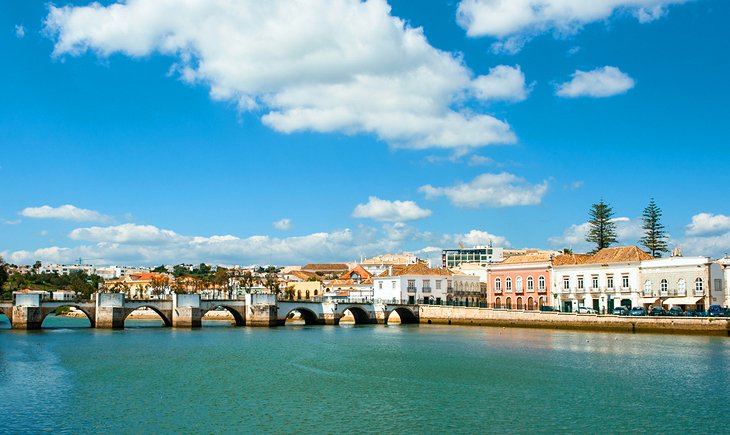 Tavira
Cited by many a guidebook as the most captivating town in the Algarve, Tavira does indeed tick all the scenic boxes. The Rio Gilão cuts a smile through this pleasantly laid-back town, with a Roman footbridge connecting one side with the other.
The waterfront makes for a wonderful walk, before or after you've uncovered the rest of Tavira's historic treasures. The castle walls provide glorious views across the old town and the nearby coast. You can also explore the Igreja de Santa do Castelo, the grandiose church where warrior knights are entombed.
The town also boasts a fascinating museum, the Núcleo Islâmico. Highlights include a rare 11th-century figurative vase.
An appealing option, especially during the hot summer months, is to visit the offshore Ilha de Tavira, an enormous beach that, even in high season, has plenty of room to spare. It's reached by passenger ferry from a jetty at Quatro Águas.
7. Parque Natural da Ria Formosa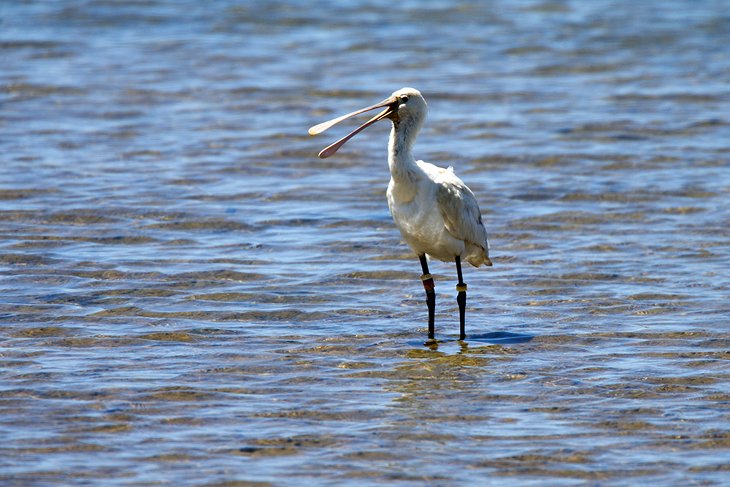 Parque Natural da Ria Formosa
The Algarve is justly famous for its pristine coastline, and one of its natural wonders is the Parque Natural da Ria Formosa. This protected marine habitat constitutes a 60-kilometer stretch of marshland, saltpans, shallow water lagoons, and sand dune islands that run from Quinta do Lago east past Faro all the way to Cacela Velha.
A haven for an abundance of flora and fauna, the park is crisscrossed by a series of nature trails with proximity to some of the animals associated with this region of Portugal. From observation hides built on the lakes, bird-watchers can spy species like the rare purple gallinule, while out on the mudflats, flocks of greater flamingo can be admired. On land, look out for the delicate sea daffodil and flourishing goosefoot and, if you're lucky, the Mediterranean chameleon.
One of the walks passes the renowned San Lorenzo golf course, itself a draw for all sorts of birdlife. The park's headquarters are near Olhão, where visitors can pick up maps and information leaflets.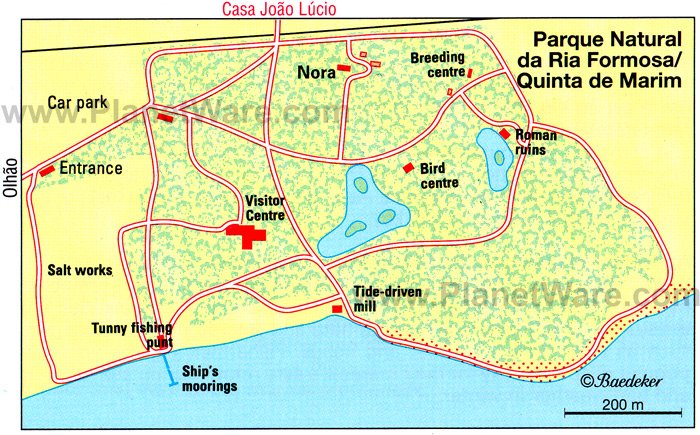 Parque Natural da Ria Formosa Map (Historical)
8. Coimbra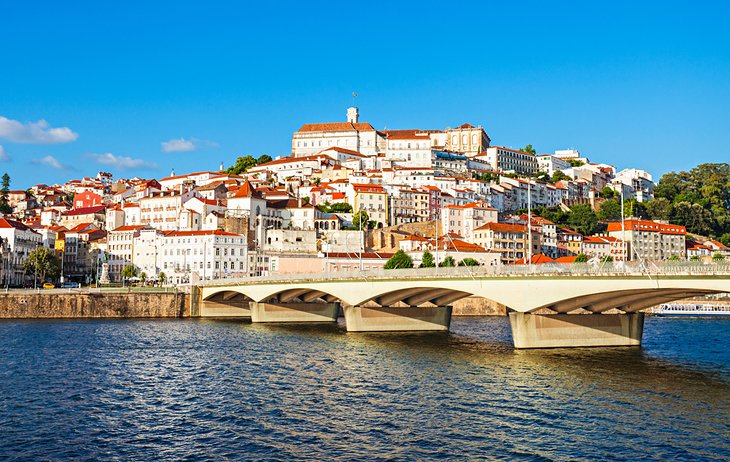 Coimbra
The historic hilltop university in Coimbra is just one reason to visit this venerated Portuguese city. But the wealth of additional visitor attractions, much of them clustered around the Velha Universidade, classified by UNESCO as a World Heritage Site, merits a full day's sightseeing.
The undoubted highlight of a tour of the old university campus is the stunning Biblioteca Joanina, a Baroque gem of gilded and marbled wood and frescoed ceilings. You can also climb to the top of the 18th-century clock tower for a giddy perspective over the entire area. Your exploration should include the imposing late 12th-century Se Velha (old cathedral).
Back in the old town below, there are further historic buildings to discover, among them two former convents and the Igreja de Santa Cruz, consecrated in 1131, which contains the tomb of Portugal's first king, Afonso Henriques.
Elsewhere are a number of interesting museums; a botanical garden; and the fun-filled Portugal dos Pequenitos, a park containing scale models of the country's most prominent traditional buildings.
And the river itself is a pleasant diversion, with a broad esplanade flanking both banks – great territory for long, lazy walks.
9. Parque Natural da Serra da Estrela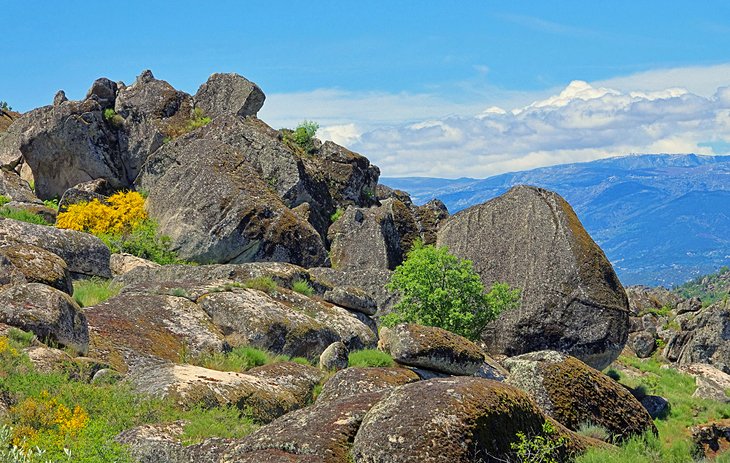 Parque Natural da Serra da Estrela
For good reason, the highest peaks on mainland Portugal, the Serra da Estrela, are called the "star mountains." Rising to 1,993 meters above sea level at its highest point, the range, or more precisely the plateau, is a dramatic natural feature of central Portugal. It is often snowcapped in winter, when opportunistic skiers take advantage of what is probably the shortest ski season in Europe.
Otherwise, the granite escarpments and glacier-cut valleys are classic hiking country, with a network of signed long-distance paths and tracks covering the terrain. Along the way, walkers can take in some absolutely stunning countryside and absorb the traditional character of the place, epitomized in villages like Linhares and Valezim.
The mountains are home to the Serra da Estrela sheepdog, a breed unique to Portugal. You are bound to come across proud locals walking one of these powerful but mild-mannered dogs. The area is also known for the deliciously rich and creamy Serra cheese – arguably Portugal's finest cheese. Look for it on sale in the stores that serve many a local village.
10. Elvas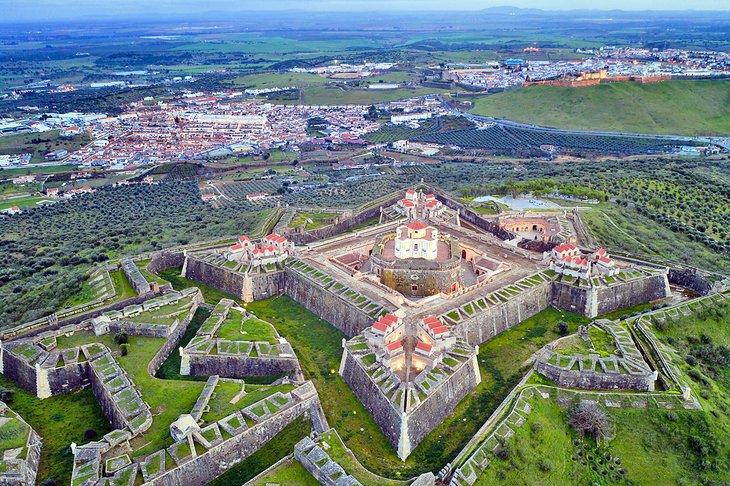 Aerial view of the star-shaped fortress in Elvas
The heavy, star-shaped walls that make up the military fortifications surrounding Elvas are among the best-preserved examples of military architecture in Europe. In fact this frontier town, set on a hilltop in the Alentejo, 15 kilometers from the border with Spain, is so remarkable for its mid-17th-century defences that UNESCO has declared Elvas a World Heritage Site.
It's a long drive east (and should perhaps be combined with a visit to the nearby Spanish city of Badajoz), but those making the effort to reach this fascinating destination will be rewarded with a truly imposing circuit of walls, deep moats, and star-shaped ramparts. Within this impregnable ring lies a warren of steep, cobbled streets and a number of worthy visitor attractions, notably the Igreja de Nossa Senhora da Consolação, whose nondescript façade belies a truly glittering interior.
A castle, set on the north wall, affords fine views over the area and takes in two smaller outlying forts and the Aqueduto da Amoreira, the town's impressive 16th-century aqueduct.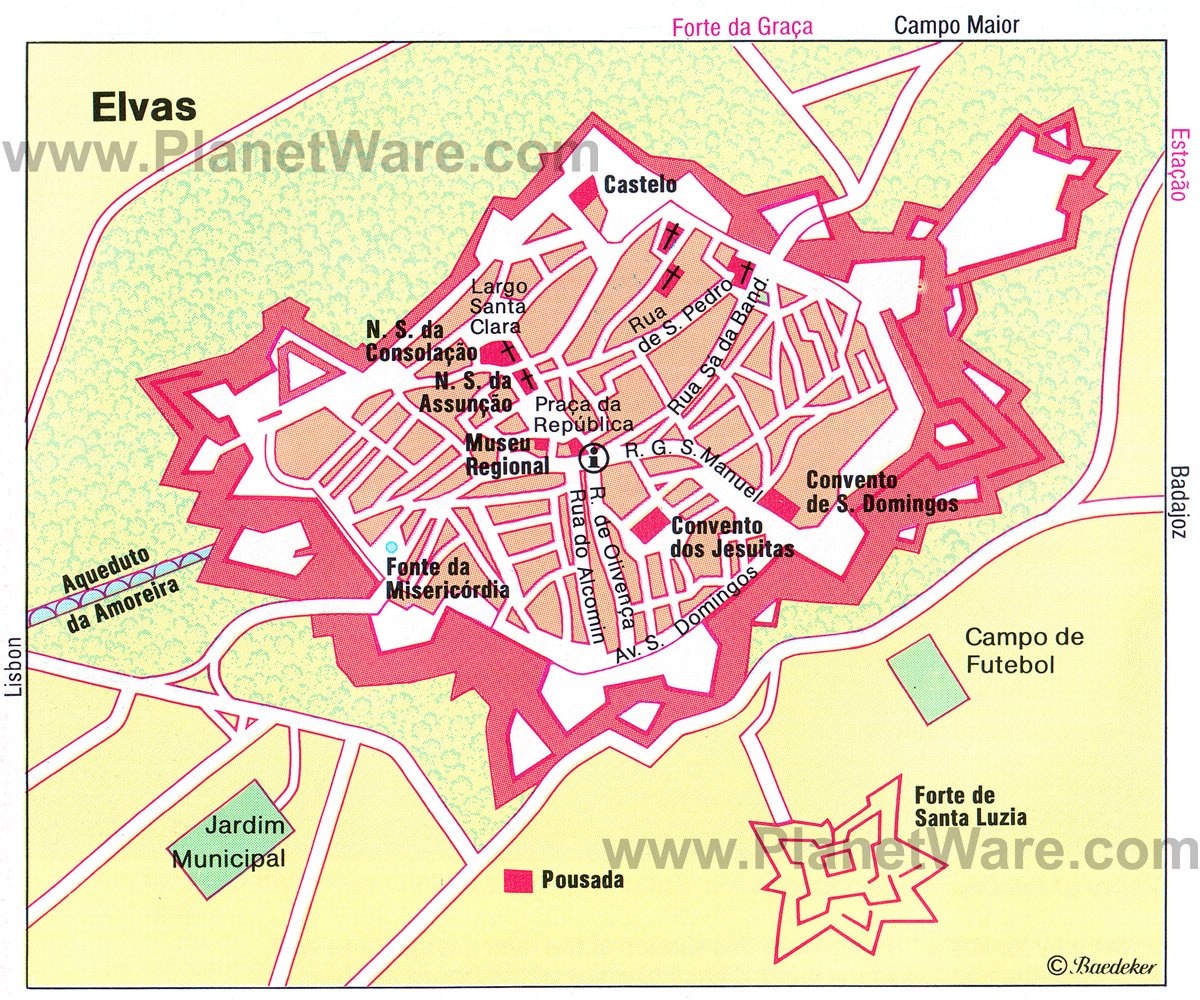 Elvas Map – Attractions (Historical)
11. Guimarães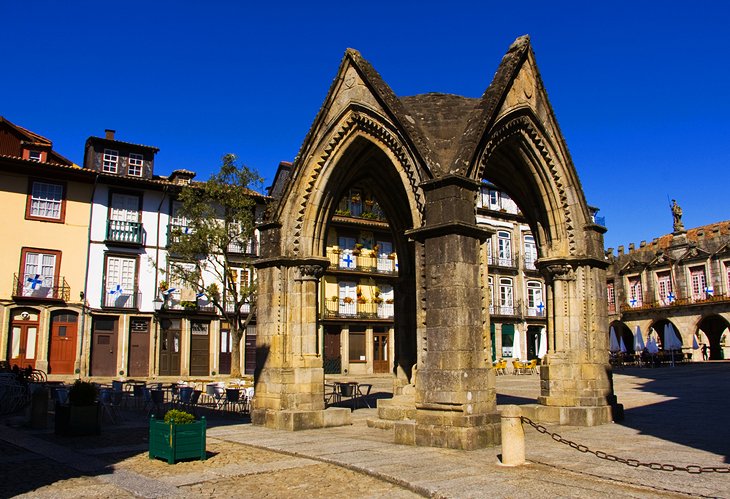 Guimarães
It's fitting that the old center of Guimarães is a UNESCO World Heritage Site, given that this noble city was once the capital of Portugal. That was during the 12th century, when the country's first king, Afonso Henriques, proclaimed this northern city the birthplace of the nation.
A hugely evocative place, Guimarães is the location of a number of important historic monuments, not least the castle, where Afonso was reputedly baptized. The equally significant Paço dos Duques, the royal palace, houses an engaging museum, although the Museu de Alberto Sampaio, which is in the Romanesque cloister of Nossa Senhora da Oliveira, on Largo da Oliveira, has a no less outstanding collection of artifacts.
Actually, Guimarães's famous main square appears straight out of the Middle Ages, with its elaborately carved granite facades; ornate statuary; and the Padrão do Salado, a 14th-century shrine standing in front of the monastery.
After re-living all this history, you should browse the medieval quarter by exploring on foot the maze of narrow cobbled streets past several wonderfully preserved old town houses.
12. Braga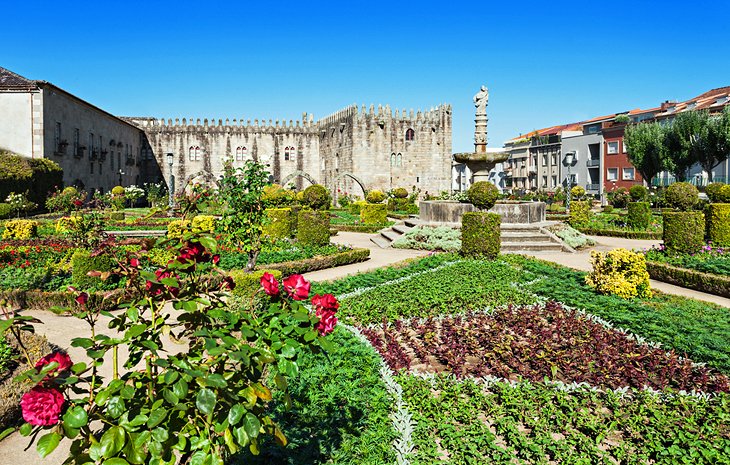 Braga
Braga is one of Portugal's grandest cities. Located in the north of the country, the destination has a long history as a religious and commercial center. To wander Braga's historic quarter is to enter a predominantly 18th-century world of handsome mansions, imposing churches, and striking palaces. A number of spruce parks and gardens break up the austere granite veneer that characterizes much of the architecture.
Begun in the 11th century, Braga's cathedral, the Sé, is an obvious visitor attraction and symbolizes the fact that the city remains the ecclesiastical capital of Portugal. The city's central square is a wonderfully atmospheric place to linger, perhaps in one of the cafés housed under the arcades. The adjoining 14th-century Torre de Menagem is all that remains of Braga's original fortifications.
A worthwhile diversion is the Bom Jesus do Monte, the spectacular religious sanctuary located 1.5 kilometers east of the city. Pack a picnic and expect large crowds at weekends.
13. Parque Nacional da Peneda-Gerês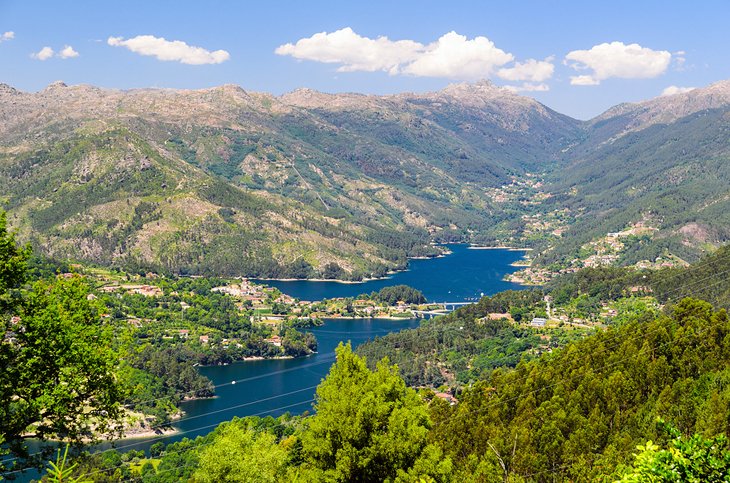 Parque Nacional da Peneda-Gerês
Portugal's only national park, the magnificent Parque Nacional da Peneda-Gerês is one of the country's greatest natural wonders. Occupying more than 700 square kilometers in Portugal's northeast Minho region, near the border with Spain, the rocky terrain encompasses dramatic mountain scenery; lush, yawning valleys; tumbling waterfalls; and deep, crystal-clear lakes.
Traditional villages, hamlets cut from granite and even an old spa resort, Caldas do Gerês, add personality to this bleak but beautiful landscape.
Wolves and wild boar still roam the park's more remote regions, while above, golden eagles spiral effortlessly on mighty thermals rising over dramatic peaks.
The park is a magnet for outdoor enthusiasts. Waymarked trails offer plenty of hiking opportunities, from two-hour romps to day treks. Scattered rural guesthouses and a few designated camping sites provide basic accommodation, though there are hotels in larger towns.
Spring is an ideal time to visit, with the countryside already bursting into full bloom. But even in midwinter, this outstanding destination remains a very special place.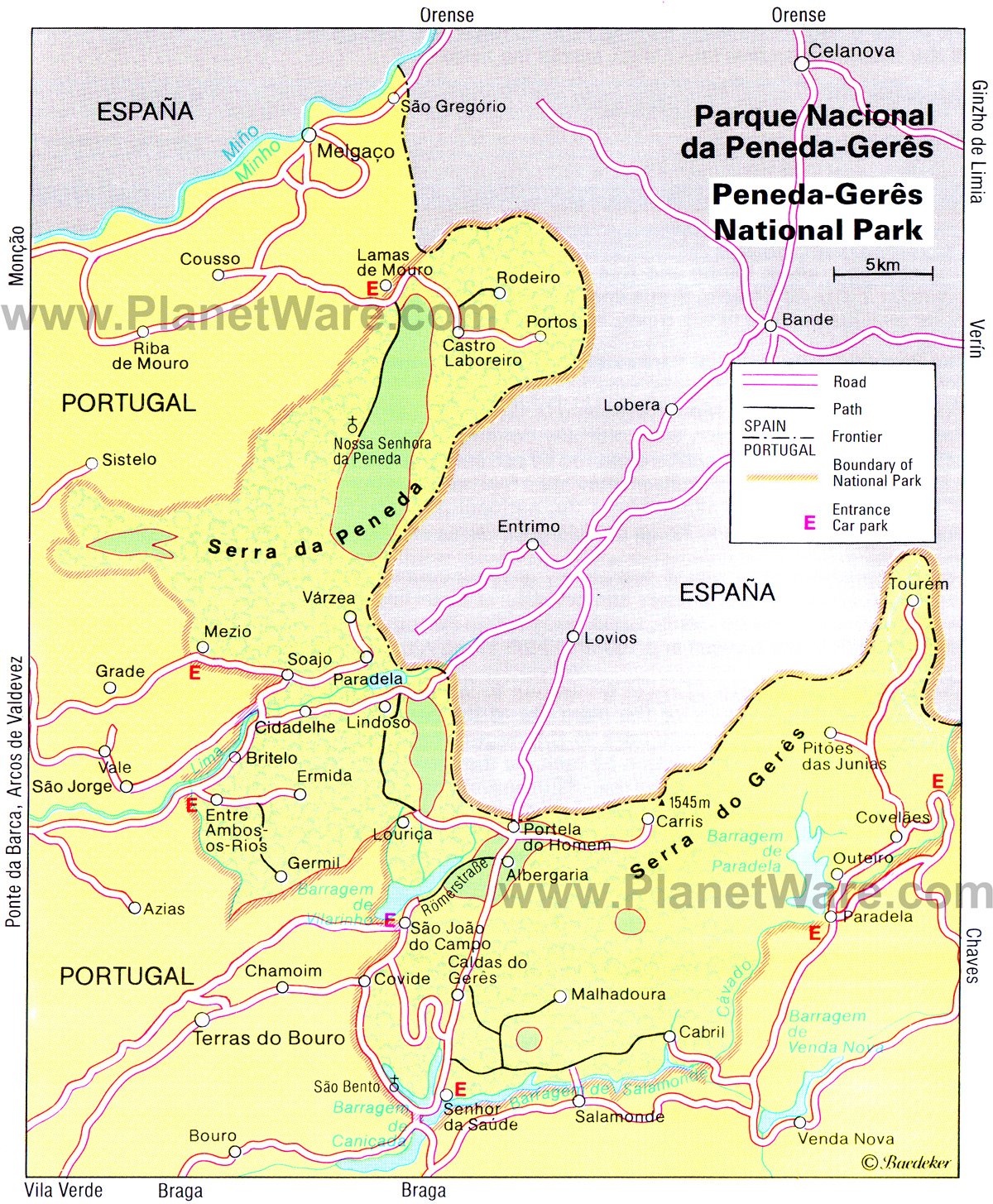 Peneda-Geres National Park Map (Historical)
14. Bragança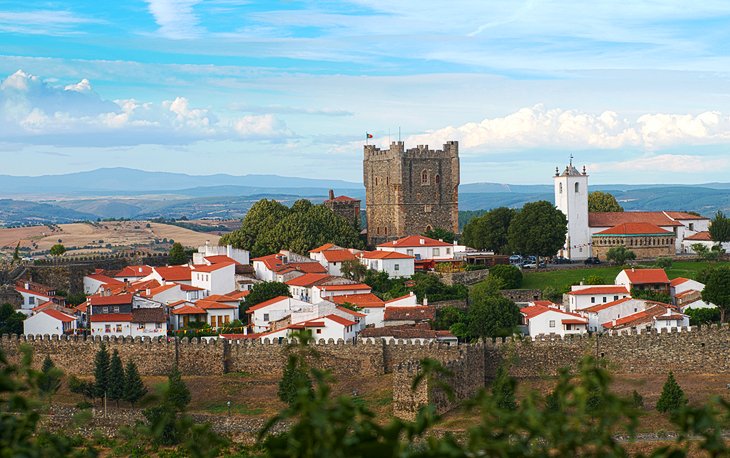 Bragança
The most remote city in Portugal is also one of its most enticing because you literally do have to travel to the farthest corner of the country to get to Bragança. The old town is especially compelling in that it's completely enclosed by a ribbon of imposing granite walls.
By exploring this walled Cidadela, or "citadel," which dates from 1130, you can glean a tangible sense of the Middle Ages. The ancient streets are lined with squat, whitewashed cottages, and the church of Santa Maria features a striking painted ceiling. But it's the brooding castle and its sturdy keep that really catches the imagination.
Another highlight is the Domus Municipalis, an odd pentagonal council chamber that dates from the 15th century. It's the only surviving example of Romanesque civic architecture in Portugal. Because of the distances involved, it's worth planning an overnight in Bragança, and while the Cidadela is the obvious attraction, the outlying Parque Natural de Montesinho, a 70,000-hectare reserve lying between the city and the border with Spain, is an enticing alternative.
15. Mértola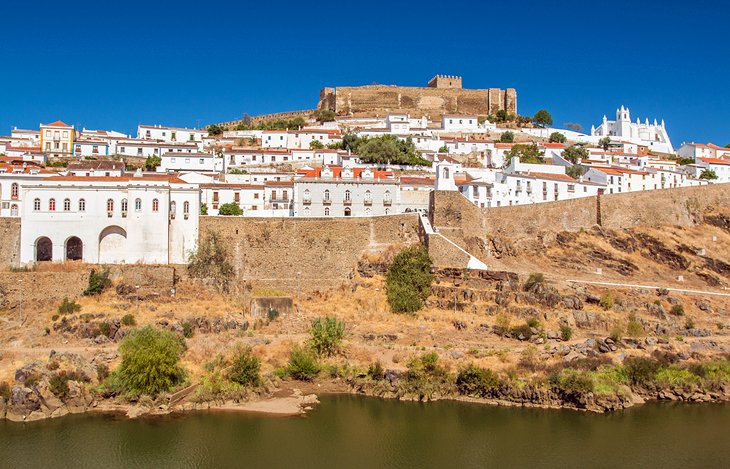 Mértola
The Alentejo has its fair share of hilltop towns, but few are as appealing as Mértola. Furthermore, this whitewashed smudge of a community sits over the River Guadiana, and the scene is quite idyllic. But what really sets this destination apart is the fact that the whole place has been designated a Vila Museu – a museum site.
Mértola's origins date back to the Phoenicians, who created a bustling river port, a facility later used by the Romans and then the Moors. This diverse and colorful timeline is the basis for the cluster of excellent mini-museums dotted in and around the old town, with each one devoted to a separate epoch.
Helping to illustrate the Arab's residency is the landmark 13th-century castle strategically perched on the top of a hill. The views from the keep command a glorious panorama of the surrounding countryside.
The castle grounds feature an excavated site, where you can admire evidence of Moorish, Roman, and Christian occupation. Not surprisingly, Mértola's church, sited just outside the castle walls, used to be a mosque.
16. Lagos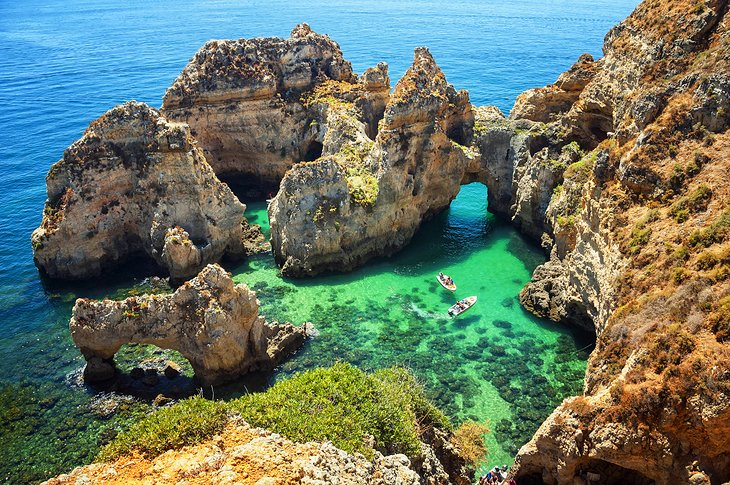 Lagos
One of the premier resort towns in Portugal, Lagos basks in the warmth of the Algarve sun and is the preferred vacation destination for thousands of visitors, who flock to the country's south coast every year.
Known for the fabulous beaches that flank the town either side of its international marina, Lagos is also home to some truly magical rock formations, sandstone cliffs that tower over a series of sea caves and weirdly shaped grottoes. If you can lure yourself away from the sand, these can be visited as part of a fun-filled sightseeing cruise, among numerous other water sports options.
Back on terra firma, Lagos' cultural draws include the remarkable Museu Municipal and its adjoining Igreja de Santo António, the interior of which is one of the most lavishly decorated in the entire region.
And if you appreciate sunsets, you'll love Ponta da Piedade: the lighthouse is a favorite spot to watch the sun dip below the Atlantic horizon.
17. Faro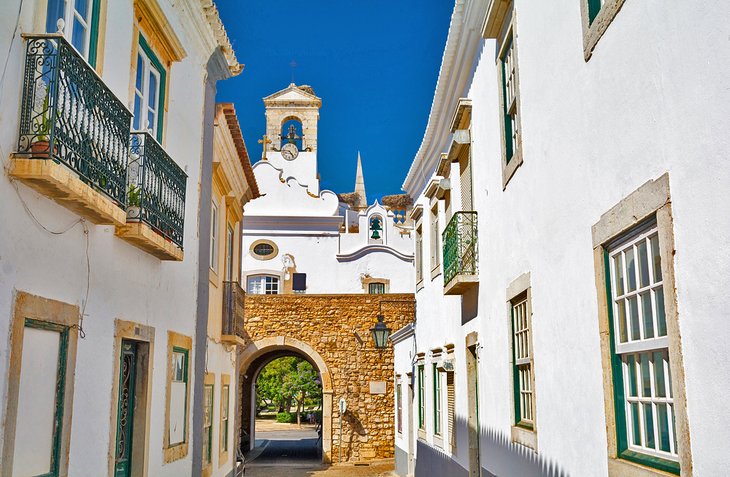 Faro's Old Town
The largest city in the Algarve and the regional capital, Faro has more to offer the visitor than often meets the eye. With its international airport, imposing shopping mall, and sea of concrete high-rises, first impressions are of a nondescript urban sprawl. But peel away the modern veneer, and this is a city with lots to see and much to tell.
Faro's Cidade Velha (Old Town) is the historic core and where tourists should head for. Ringed in part by 16 th -century walls built on Roman foundations, the Old Town's centerpiece is the impressive Sé (cathedral). Dating back to the 13 th century, this venerable building boasts a dazzling Baroque interior of gilded and lacquered woodcarvings, inlaid marble, and fine azulejo tiling. A highlight is climbing the narrow staircase to the top of the medieval tower, where you can admire sweeping views across the quarter and the Parque Natural da Ria Formosa.
Other Old Town standouts include the fascinating Museu Municipal de Faro, itself set within the hallowed confines of the serene Convent of Our Lady of the Assumption. Beyond the walls is Igreja do Carmo. The church is known for its spooky Capela dos Ossos (Bone Chapel), lined with the skulls and bones of more than 1,000 monks.
18. Aveiro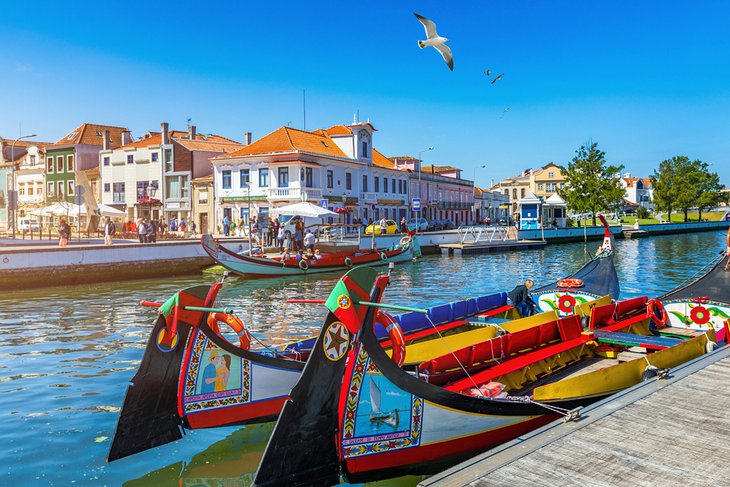 Traditional boats on the canal in Aveiro
Not for nothing is Aveiro called the "Venice of Portugal." This attractive city set in the country's Beira Litoral region lies on the edge of a system of coastal lagoons and is crisscrossed by a series of canals that have become the destination's distinguishing feature. Colorful gondola-like boats called barcos moliceiros, traditionally used to harvest seaweed but today used as novel sightseeing vessels, navigate these narrow waterways.
The city is famed for its Art Nouveau architecture – embellishing the picturesque waterside are dozens of shops, restaurants, and houses featuring this early 20 th -century decorative style. In fact, there's a museum dedicated to this artistic expression, the Museu Arte Nova.
But for a broader picture of the city's culture and heritage, spend time browsing the Museu de Aveiro. Occupying the 15 th -century Convento de Jesus, the museum's fascinating collection includes exhibits relating to Santa Joana, a daughter of King Afonso V who lived in the convent from 1472 until her death in 1489.
Luring visitors beyond the city center is the Vista Alegre porcelain works. Established in 1842 and a hallmark of fine craftsmanship, Vista Alegre exports its products around the world. A museum, the founder's palace, and a shop selling discounted merchandise are all worth discovering.
19. Beja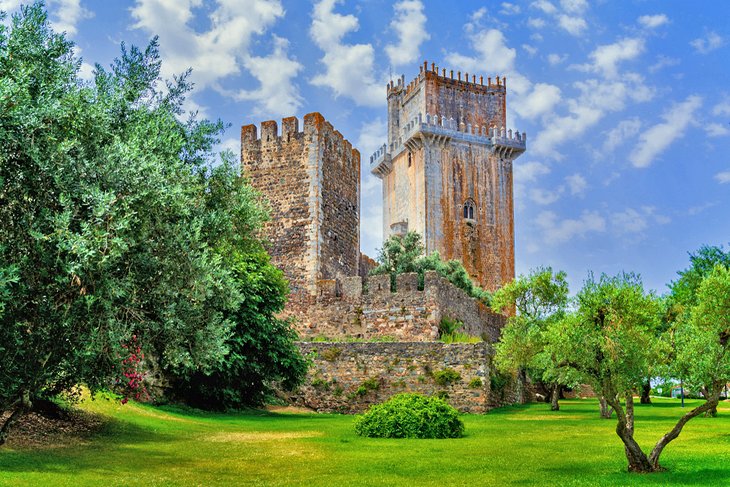 Beja Castle
Rural sun-drenched Beja is the main town of the Baixa Alentejo (Lower Altenjo). Commanding a strategic position in the center of a vast region of golden plains, Beja was founded as Pax Julia by Julius Caesar in 48 BC and grew into an important and prosperous city.
Roman influence is still evident today in and around the destination, notably at the Ruinas Romanas de São Cucufate, the ruins of a villa complex located to the north of Beja.
Most of Beja's monuments, however, are clustered together in the historic old town. A rewarding introduction to the city's illustrious past is to visit the Museu Regional. Housed in the impressive Convento de Nossa Senhora da Conceição, the museum is noted for its Roman artifacts and Flemish paintings. History buffs should also spend time in the Museu Visigótico, set outside the castle walls within the Visigoth-era Igreja de Santo Amaro.
The castle itself is always worth a detour, not least for its 40-meter-high keep, the Torre de Menagem. You can climb a steep flight of stairs to reach the top and admire a truly inspiring panorama.
20. Parque Natural da Arrábida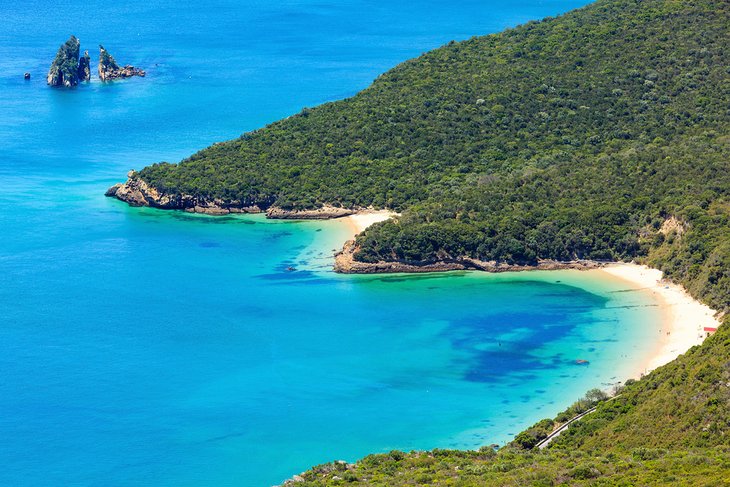 Parque Natural da Arrábida
The Arrábida Natural Park is just 40 kilometers south of Lisbon but a world away from the urban clamor that is the Portuguese capital.
Hugging a wedge of coastline between the city of Setúbal and the town of Sesimbra, this verdant swathe of scrub and woodland blankets the craggy slopes of the Serra da Arrábida mountain range, a stunningly beautiful environment separated from the Atlantic Ocean by ribbons of golden sand.
The park is a haven for wildlife and perfect for biking, hiking, and other outdoor pursuits. Meanwhile, the truly adventurous can indulge in coasteering – climbing, walking, jumping, and swimming Arrábida's rocky coastline.
In fact, the coast is dotted with a number of superb cove beaches. Praia do Ribeiro do Cavalo is especially scenic, framed as it is by outcrops of limestone rock formations and ideal for swimming, diving, or snorkeling.
Inland, cultural curiosity can be satisfied by advance booking a tour of the Convento da Arrábida. Hidden away in dense shrub land, this enigmatic convent was built by Franciscan monks in 1542. Tours take in the monastery building, gardens, shrines, and cells.
To recuperate from a busy day's sightseeing, head for the achingly pretty harbor village of Portinho da Arrábida. Here, you'll find a cluster of quaint waterfront restaurants that face the crystalline waters of the Bay of Setúbal.
More Related Articles on PlanetWare.com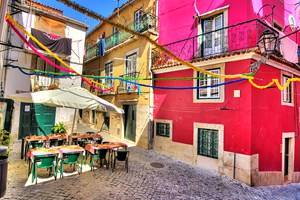 Planning Your Portugal Itinerary: Once you have figured out what you want to see and the places you want to visit, it's time to start thinking about a routing and what's practical. Depending on the amount of time you have, you may want to focus on just one or two areas, or you may decide to see it all. For help planning, see our article on Where to Go in Portugal: 7 Great Itineraries. If you simply want to relax on your vacation, see our list of the Best Holiday Resorts in Portugal.
17 Best Places to Visit in Portugal
Located on the western coast of the Iberian peninsula, Portugal is one of Europe's most visited countries due to its idyllic climate, affordable travel costs and exceptional attractions. The richness of Portugal's heyday – when it used to rule a huge empire from Brazil to Macau in China – is something you can definitely see in its architecture.
Elegant and drenched in opulence, the buildings of Lisbon and Porto – especially in their respective Old Towns – certainly reflect the wealth of Portugal's imperial days.
The Algarve in southern Portugal is a long stretch of towns and beaches from Lagos to Faro. Hotels and golf courses jostle for space in this famous region of the country. Hiking along the Algarve offers great coastal views, but taking a trip to one of Portugal's islands – like Madeira or the archipelago of the Azores – is a whole other world of beauty. Plan your trip to this terrific European travel destination with our list of the best places to visit in Portugal.
17. Viana do Castelo [SEE MAP]
Set in a scenic spot at the mouth of the Lima River, Viana do Castelo lies in the north of Portugal, right next to the Atlantic Ocean. The small city boasts interesting and impressive historical and cultural landmarks and is a popular stop along the Portuguese Way.
As it has long been an important pilgrimage site, numerous centuries-old churches and a gorgeous Gothic-style cathedral can be found dotted around town. Its well-preserved medieval center is also home to fine palaces and manor houses, as well as a couple of small museums.
Overlooking everything from its prominent hilltop position is the beautiful Basilica of Santa Luzia, which was modeled on Sacre Coeur in Paris.
Besides all the divine architecture and magnificent monuments, Viana do Castelo offers astounding views over the surrounding area and is an excellent base for exploring the Lima Valley. Many people visit to hike in the foothills or lounge on its beautiful beaches.
16. Monsaraz [SEE MAP]
© Marco Costa / Dreamstime
Fought over and ruled by everyone from the Romans and Visigoths to the Arabs and Knights Templar, Monsaraz boasts a long and illustrious history. The settlement was sought after as it occupies a scenic and strategic hilltop position overlooking the Guadiana River on the border with Spain.
Much of its fascinating past is still visible; within the walls of the medieval village, you can find age-old archaeological sites and awe-inspiring architecture. While its crumbling castle is the main attraction, lovely churches and chapels can found hidden away among its winding cobbled streets and beautiful white-washed buildings.
From the village's walls and watchtowers, you can enjoy breathtaking panoramas out over the waters of Alqueva Dam and the patchwork of green, brown and yellow fields surrounding it. A magical place to visit, Monsaraz is one of the oldest villages in the whole of Portugal.
15. Nazare [SEE MAP]
Located in the historical Estremadura Province, the small town of Nazare is set in a scenic spot, with rugged coastal cliffs and beautiful beaches lying all around. One of Portugal's most popular seaside resorts, it is famed for the enormous waves pounding its Atlantic coastline.
Due to the ferocious waves flung up by the undersea Nazare Canyon, the town has long attracted surfers to its shores. While riding record-breaking waves is a popular pastime, many people prefer to simply relax on its golden sands or bask in its panoramic coastal views.
Home to lots of charming cobbled lanes, the center of Nazare is full of fantastic seafood restaurants, small boutiques, and peaceful pensions. It also has a couple of chapels, churches, and museums for visitors to check out, as well as a lovely funicular that takes you to the nearby hilltop. While Nazare is packed during summer, it is also a popular place to celebrate both New Year's Eve and Carnaval.
14. Peneda-Geres National Park [SEE MAP]
Lying in the northwest of the country on the border with Spain, Peneda-Geres is a lovely place to visit and is Portugal's only national park. Established in 1971, it protects precious landscapes and ecosystems as well as countless villages set in scenic and secluded spots.
Sprawling over a vast area, the park encompasses everything from sweeping valleys and verdant forests to rolling foothills and fast-flowing rivers. Its mountainous confines are home to diverse fauna and flora species. A number of excellent hiking trails and camping sites can be found dotted around its peaks and plateaus.
Peneda-Geres is also home to more than a hundred granite villages that have a timeless look and feel and are set among the stunning scenery. The small settlements have been around for centuries, so the park not only preserves the peaceful and picturesque nature, but their ancient way of life too.
13. Braga [SEE MAP]
The third-largest city in the country, Braga lies in the north of Portugal surrounded by gently rolling hills, sweeping valleys, and fertile farms. Although it is known as the 'city of archbishops', it boasts much more than just churches, with a charming old town and lively nightlife for visitors to explore.
While its historical center is full of winding narrow lanes, elegant plazas, and beautiful old buildings, there is a youthful and lively feel about town thanks to its large student population. As such, cheap but excellent cafes, restaurants and bars abound, while magnificent monuments and museums can be found here and there.
As it is home to the Archdiocese of Braga, it is an important stop on the Portuguese Way pilgrimage path, and many people visit during the week-long Semana Santa. This is when religious processions parade around between the city's staggering number of gorgeous Baroque churches.
In addition, one of it's (and Portugal's) most famous tourist attractions is the serene hilltop sanctuary of Bom Jesus do Monte, which provides stunning views over the surroundings.
12. Tomar [SEE MAP]
One of Portugal's most pretty and picturesque towns, Tomar lies in the center of the country, surrounded by fertile farmland. As it was once the headquarters of the Knights Templar, its ancient streets are home to important historical, cultural and religious monuments.
In the center, you can find beautiful buildings that exhibit some exquisite architecture, with Gothic, Manueline, and Renaissance styles all displayed. While centuries-old churches, chapels, and palaces abound, its main attraction is the Castle and Convent of the Order of Christ.
Once a Templar stronghold, it was from this sprawling and spectacular citadel complex that Portugal's overseas expansion and Age of Discoveries began.
Remarkably, it was also in Tomar that the nation of Portugal was founded. For centuries, it was a massively influential city and settlement. This rich history, culture, and heritage is still evident wherever you go, and a number of important festivals and events still take place in the town every year.
11. Guimaraes [SEE MAP]
Boasting one of the most beautiful and well-preserved historic centers in Portugal, Guimaraes lies in the north of the country, not far from Braga. The city is often called the 'birthplace of Portugal,' as it was here that the nation's first king Afonso Henriques was born.
At the heart of Guimaraes lies its two main attractions – its majestic tenth-century castle and Grand Dukes of Braganza Palace. Fascinating to explore, they boast exquisite architecture and offer an invaluable look at the city's rich history and heritage.
Its magnificent medieval center is also wonderful to walk around and is home to pretty plazas, lovely old buildings, monuments, museums, and art galleries.
Despite all the history, the city has a vibrant and youthful feel due to its large student population. Many lively cafes and bars are dotted about its streets. When visiting Guimaraes, many people head to the top of the nearby Penha Mountain to enjoy fabulous views over the city.
10. Coimbra [SEE MAP]
A charming city situated by the Mondego River in Central Portugal, Coimbra is home to a treasure trove of historic sites, beautiful gardens, the country's second style of fado music, and a lively culture that is centered around one of Europe's oldest universities.
One of the best things to do in Coimbra is to simply get lost and discover the many historic attractions from the stunning Old Cathedral to the Gothic Monastery of Santa Clara-a-Velha, which contains the tomb of Queen Isabel.
No trip to Coimbra would be complete without a visit to the University of Coimbra to admire one of the world's most beautiful libraries, the Joanina Library.
Cobblestone squares throughout the city offer quaint shops and cafes to drink coffee and people watch, while lovely city parks and botanical gardens are perfect for leisurely strolls and picnics.
The vibrant culture scene in Coimbra is most noted for its fado music performances and academic festivals, which feature a Tin Can Parade welcoming students at the beginning of the school year and an eight-day "Burning of the Ribbons" party following the end of the second semester.
9. Azores [SEE MAP]
salady / Flickr
Lying in the middle of the Atlantic, the Azores archipelago is located around 1,500 kilometers off the west coast of continental Portugal. Volcanic in origin, its nine islands boast breathtaking landscapes that offer incredible outdoor recreation opportunities.
Hiking around the islands is a delight as verdant valleys and mountains overlook scenic shorelines riddled with rugged cliffs, secluded coves, and pristine beaches. Among its most impressive sights are the towering Mount Pico – the highest peak in the archipelago – and the idyllic crater lake of Lagoa do Fogo.
As the waters surrounding the Azores teem with life, dolphin and whale watching are popular pastimes, as are scuba diving and sailing. While most people visit the archipelago for its amazing nature parks and marine reserves, it also boasts some lovely seaside cities and towns, such as Ponta Delgada and Angra do Heroismo.
8. Aveiro [SEE MAP]
pedrosimoes7 / Flickr
Hugging the country's Atlantic Coast in Central Portugal, Aveiro is a bustling city often called "the Venice of Portgual" due to its picturesque setting of scenic canals connected by charming bridges and dotted with colorful gondolas and speed boats. Historic sites, gorgeous beaches and tasty cuisine also make Aveiro an attractive travel destination.
The most enjoyable way to experience Aveiro is by walking, but tour boats and a free-use bicycle system are also available for getting around. Aveiro's many sightseeing gems include the Aveiro Cathedral, the São Gonçalinho Chapel and the Convento de Jesus. These all offer lovely architecture and art works.
The Forum Aveiro is a shopping mall featuring a wide selection of shops, restaurants and a cinema. Markets like the Fish Market and Central Market are great places to find fresh fish, meat, produce and handicrafts perfect for souvenirs.
Known as the Silver Coast, Aveiro's coastline is well-loved for its clean, beautiful beaches such as Costa Nova, São Jacinto and Barra, which offer swimming, sailing and kite surfing.
7. Evora [SEE MAP]
Jos Dielis / Flickr
Evora may be a small town in the Alentejo plains region of southern Portugal, but it packs huge tourist appeal. With a history dating back more than 2,000 years, Evora was once a flourishing city under Roman rule. Today, Evora is the capital of the Alentejo region, regarded for its well-preserved Old Town, which shelters more than 4,000 historic structures including the old Roman walls and temples.
All of Evora's main attractions lie within close distance of one another, making the city easy to explore by foot. A really enjoyable way to sightsee Evora is by a horse carriage ride, which can be found near the 13th century Cathedral of Evora, one of Portugal's most important Gothic structures.
Other must-see historic sites include the Giraldo Square with its Renaissance fountain, the University of Evora, an eccentric chapel decorated with actual human bones, and the ruins of an ancient Roman temple.
A stroll along the city's old aqueduct offers a myriad of shops, cafes and houses cleverly tucked between the arches. Not far outside the city is Europe's largest complex of prehistoric megaliths that are also worth a look.
6. Obidos [SEE MAP]
Located on a hilltop in the Centro Region of western Portugal, Obidos is encircled by an old fortified wall. In the 8th century the Moors established a fortification on top of the hill. It was taken from the Moors by the first King of Portugal, Afonso Henriques, in 1148 and modified in the 14th century.
Besides the wall, the magnificent medieval castle and historic center of Obidos make up the city's main attraction and can easily be walked. A labyrinth of narrow, cobbled streets leads visitors along busy squares, inviting cafes, quaint shops, markets selling local handicrafts, and whitewashed houses spruced with colorful flowers.
Elegant old churches like Santa Maria and St. Peter's, with their hand-painted tiles, ceilings and walls, please the eye. The castle with its commanding edifice, huge gates, towers and battlements, is now a luxurious hotel but a marvel to behold nevertheless.
Every July, Obidos steps back into time with its annual Medieval Festival, which features a costumed parade, jugglers, wandering minstrels, jousting knights, performance shows and a handicraft fair showcasing medieval wares and foods like spit-roasted meat and tasty sausages.
5. Porto [SEE MAP]
World famous for its production of fine port wine, the busy city of Porto sprawls along the hills overlooking the Douro River in northern Portugal, prized for both its natural and architectural beauty.
Well-connected to other major cities, Porto provides a good public transport system of buses, metro and cable railway. At the heart of Porto is the charming pedestrian zone, the Ribeira, an atmospheric place on the river, buzzing in live music, cafes, restaurants and street vendors. Dominating this popular tourist setting is the Ponte Dom Luis, a metal, double-deck arch bridge that links Porto to Vila Nova de Gaia, well-known for its port wine cellars.
Among Porto's many architectural treasures are beautiful old churches with elaborate interiors, artistic works and gardens such as the Church of Saint Francis and Porto Cathedral. Other landmarks include the Cleric's Tower and palaces like the Stock Exchange Palace with its remarkable Arab room.
In addition to sightseeing, Porto offers plenty other exciting things to see and do. Distinguished museums and concert halls offer quality arts and culture. The traditional marketplace of Mercado do Bolhão presents choices of fresh fish, vegetables, fruits and handicrafts. Boat cruises on the river and walks along the garden-lined esplanade of the Foz bestow breathtaking views of the city's natural beauty.
4. Madeira [SEE MAP]
Sporting the nickname "Floating Garden of the Atlantic," Madeira Island is a fertile oasis in the Atlantic Ocean between Portugal and North Africa, popular for its lush green landscapes, flower gardens, wines and annual New Year celebrations, which feature one of the world's largest displays of fireworks.
One of Europe's most beautiful travel destinations, Madeira Island is the largest island of the Madeira archipelago, an autonomous region of Portugal. The island's natural beauty, year-round mild climate and virtually crime-free status attract tourists from all over the world. While Madeira can be reached by plane, cruise ship and ferry, tourists can easily get around the island by bus and rental cars.
Madeira's main attraction is its wealth of verdant landscapes that range from lush parks, colorful gardens, enchanting forests and nature reserves to lofty mountains and pebbled beaches lapped by blue ocean waves.
Must-see places include the Orchid Garden and the Laurissilva Forest, which harbors the world's largest concentration of laurel. Other places not to miss are the levadas, an impressive system of canals and aqueducts, which provide walking paths that wind through beautiful scenery.
The island's coastline offers pebbled beaches, crystal clear water, natural rock pools and activities like fishing, diving, sailing and whale watching.
The capital and largest city on Madeira is Funchal, home to historic churches, fortresses, tourist resorts, museums, restaurants and markets as well as the tree-lined Lido Promenade, which presents spectacular ocean views.
3. Sintra [SEE MAP]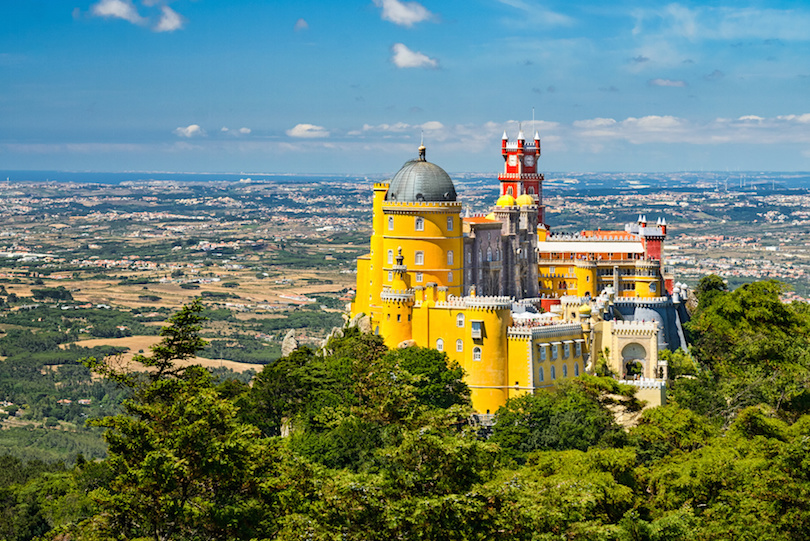 Nestled in the foothills of the Sintra Mountains on the Lisbon Coast, just a day trip away from Portugal's capital city, Sintra presents a spectacular setting of verdant hills, sprinkled with pretty villas, royal retreats, palaces and castles dating as far back as the 8th century. Prized by the Romans, Moors and Portuguese royalty, Sintra's beauty even enchanted the famous poet, Lord Byron, to write of it in a personal letter, describing it as the most beautiful village in the world.
Sintra's hills make walking an effort, but the rewards are worth it. For those who don't wish to walk, there are buses that stop near all of the city's attractions such as Pena's Palace, a fantastical castle reminiscent of Germany's Neuschnwanstein.
Built in the mid-1800s and serving as a summer retreat for the Portuguese royal family, Pena's Palace is surrounded by forested parklands containing exotic trees, plants and flowers. Additionally, the Regaleira Palace and Gardens offers stunning architecture and intriguing Masonic symbols.
Also not to be missed are the impressive ancient ruins of the Castle of the Moors crowning the city's highest hill, and the romantic Monserrate Palace with its subtropical gardens. For an interesting diversion, the Toy Museum houses more than 20,000 toy items spanning history back to ancient Egypt.
2. Algarve [SEE MAP]
Sunny Mediterranean climate, gorgeous beaches, picturesque towns, flower-clad hills, historic sites, fabulous cuisine and affordable costs are just some of the reasons that make the Algarve one of Portugal's most popular tourist destinations. Located in the country's southernmost region, the Algarve offers a feast for the eyes, from tranquil landscapes of olive groves, traditional whitewashed villages and lovely villas to the wild, windswept coast with its dramatic cliffs dotted with summer resorts.
The Algarve is occupied by bustling cities and quaint towns alike, offering delights of cobbled streets, historic architecture and beautiful old churches. Faro is the region's capital, and Lagos is the area's hot spot for nightlife. Looped by orange groves, Silves is best known for its red sandstone castle, while Tavira is an elegant town packed with Renaissance monuments, bridges and castles.
Peppered with Roman ruins, the idyllic countryside also offers a wide range of golf courses, and the strawberry tree-covered Monchique mountain range is great place for hiking, biking and horse riding. The coast is home to beautiful beaches and secret coves, offering water activities like swimming, deep-sea fishing, cave exploring and yacht cruises.
The Algarve's production of fresh food like fruit, almonds, carob beans and seafood contribute to its delicious cuisine. Distilled from the local strawberry tree berries, Medronho is the traditional drink found throughout the Algarve.
1. Lisbon [SEE MAP]
Stretching along the banks of the Tagus River near the Atlantic Ocean, Portugal's capital and largest city winds upward among seven steep hills, forming an enchanting destination of warm weather, alluring alleys, quaint shops, Gothic cathedrals, impressive bridges and colorful neighborhoods, reverberating in traditional fado music.
One of the world's oldest cities, Lisbon's biggest appeal lies in its diverse neighborhoods, or bairros. Among the most popular of these districts is Belém, favored for its royal palaces, gardens and historic monuments and landmarks such as the Jeronimos Monastery, one of Portugal's most visited sites. The city's oldest district is Alfama, an old Moorish quarter, distinct for its maze of cobblestone streets, rustic architecture, St. George's Castle and fado restaurants and bars.
Chiado is the cultural hub with museums, theaters and concert halls. Featuring glass and steel buildings, commercial establishments and casinos, Parque das Nações is the most modern district, while Bairro Alto is the entertainment zone, buzzing with numerous bars, discos and nightclubs.
Dining in Lisbon is a delight all its own from pastelarias serving up divine pastries to outdoor cafes and bars featuring Portuguese tapas, beer and wine to fine restaurants serving international cuisines.
Lisbon offers a good network of public transportation with buses and metro, but the most exciting way to experience the city is by taking one of the vintage trams such as the well known Tram 28, which winds along historic quarters, gardens and main attractions.
Map of Portugal
© OpenStreetMap © MapTiler © Touropia
Top 10 Portugal: the best towns and cities in Portugal
Portugal is a fascinating and varied country, with vibrant cities, glorious beaches and wonderful climate. Geographically, Portugal may only be small but there is much diversity between it's landscapes, cultures and peoples
This is a country dominated by the sea both historically and culturally. There are the magnificent seafaring cities of Lisbon and Porto, the lively beach resorts of the Algarve and the traditional fishing towns of the Atlantic coastline.
The interior of Portugal is as equally varied, from the abundant wine-growing region of the Douro through to the arid hills of the Alentejo. Here ancient fortified towns are set within stunning natural scenery, and there are whole regions virtually undiscovered by modern tourism.
Portugal is a wonderful destination for your holiday and this guide will detail our top 10 favourite places to visit.
Related articles: Portugal's best beach – Where to visit Portugal? – 1 week in Portugal (suggested routes with maps)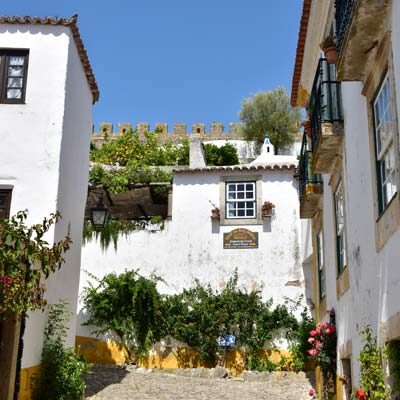 Obidos is a charming walled town and popular day trip from Lisbon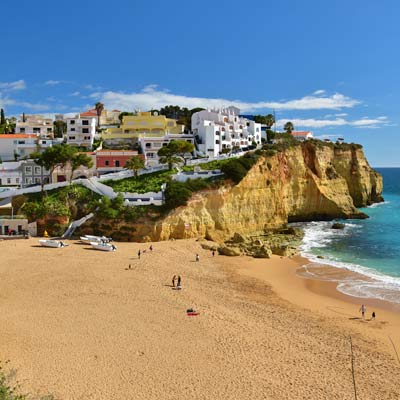 Carvoeiro on the Algarve coastline, is a favourite for family holidays
Our top ten best towns and cities in Portugal
The following is our top 10 favourite places to visit in Portugal.
1) Lisbona 2) Tavira 3) Evora 4) Porto 5) Lagos 6) Vila Nova de Milfontes 7) Sintra 8) Guimarães 9) Nazaré 10) Viana do Castelo
The next section explains why they are in our top 10 of Portugal
10) Viana do Castelo
This top 10 list begins with one of the most overlooked regions of Portugal, the far north. Viana do Castelo is the largest city of this region, and is a hard-working city, which built its fortunes on shipbuilding.
Its instantly recognisable tourist attraction is the Santuário de Santa Luzia chapel, standing high above the city. From the vantage point of the chapel's dome roof, the dramatic Costa Verde coastline can be seen extending both north and south. The Costa Verde is a wild and rugged coastline, of beautiful beaches, jagged cliffs and powerful seas.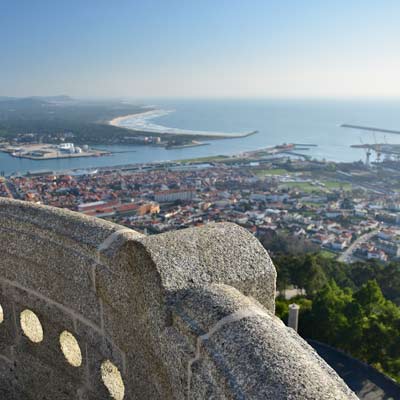 Viana do Castelo is barely known by tourists, but there is a lot to discover, with a delightful historic centre, a busy working port and a hospitable people. During your visit you can take enjoyable day trips to pretty Ponte de Lima and the northern border town of Valença.
Our opinion: If you wish to escape the summertime tourist masses then head to the far north of Portugal.
Related articles: Viana do Castelo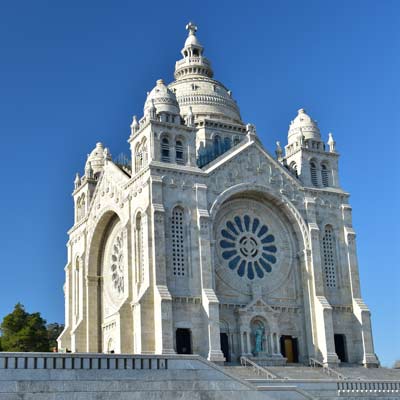 The Santuário de Santa Luzia chapel. The Gothic appearance makes it seem much older than it actually is, being completed in 1904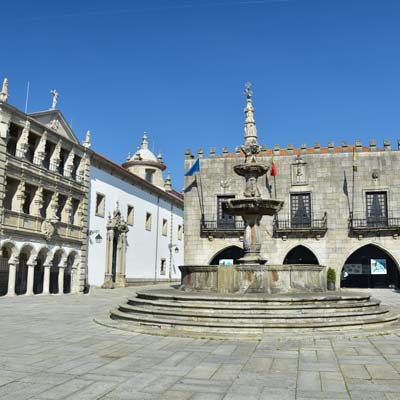 The Praça da República is the main plaza in Viana do Castelo
9) Nazaré
Nazaré is famed for its colossal wintertime (Nov-Jan) waves, which can reach as high as 30m, and attract daredevil surfers.
Surfing a 30m wave in the winter months…..
Nazaré has much more to offer than extreme surfing, and is one of Portugal's best beach resort towns. Nazaré boasts a vast sand beach, a characterful town and a rich fishing heritage.
Above Nazaré is the Sitio headland, with its delightful historic centre, lighthouse and views over the Praia do Norte beach, onto which the massive winter waves crash.
In the summer, Nazaré has a lively holiday atmosphere, but still retains its Portuguese character. While on holiday to Nazaré you could take day trips to the Gothic monastery at Alcobaça, the historical town of Batalha or the fishing town of Peniche.
Our Opinion: There is no need to head to the Algarve when there are such beautiful beaches near Nazaré and along the Costa de Prata.
Related articles: Nazaré introduction – Batalha introduction – Peniche guide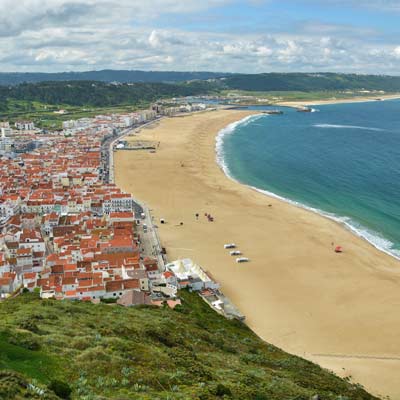 The beautiful beach of Nazaré, as seen from the top of the Sitio headland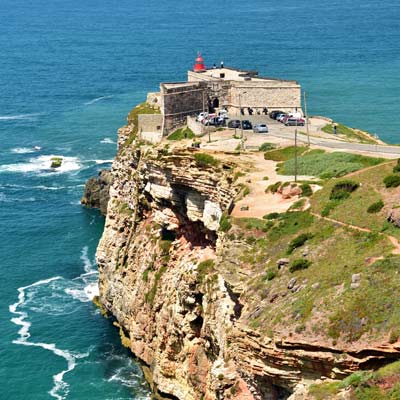 The Farol da Nazaré lighthouse, on a peaceful summer's day and with calm seas
No 8) Guimarães
Guimarães is regarded as the historic birthplace of Portugal, being where the first king of Portugal (Afonso I) was born and where the fledgling country was established in 1128.
This extensive history is reflected in the varied monuments and sights contained within the delightful cobbled streets of central Guimarães. There is an ancient castle, a medieval palace, a Gothic monastery and pretty streets filled with traditional houses – Guimarães is a joy to explore. To the south of the city is Penha hill, where there are scenic hiking trails and wonderful viewpoints.
Guimarães is a charming, small city which can be easily visited as a day trip from Porto.
Related articles: Guimarães introduction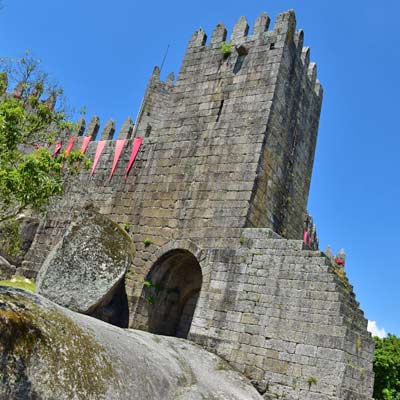 The ancient castle in Guimarães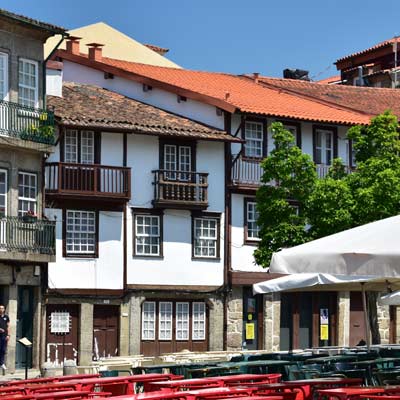 The traditional house in the historic centre of Guimarães
No 7) Sintra
Sintra is set amidst the pine-covered hills of the Serra de Sintra, and hidden within the region are wondrous palaces and extravagant mansions. The Sintra hills tend to have a slightly cooler climate than Lisbon and historically the town was the summer retreat for the Portuguese nobility.
Found within Sintra is a medieval palace, the ruins of a Moorish castle, numerous grand villas and the Pena Palace, one of the most beautiful buildings in Portugal. Sintra is regarded as the best day trip from Lisbon, and is connected to Lisbon by a direct railway.
Our opinion: We adore Sintra, but the town has succumbed to over-tourism; it's not fun to wait for an hour for the tourist bus or standing in the endless ticket queues. If there were fewer tourists, it would be at number two in our list.
Related articles: Sintra introduction – Day trip to Sintra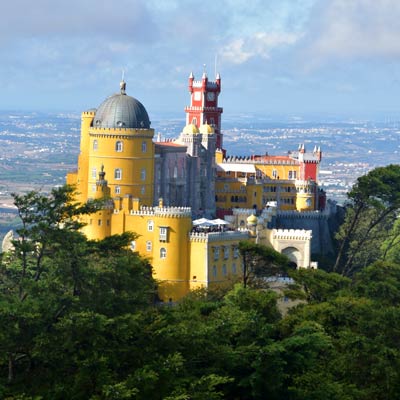 The colourful Pena Palace is always a highlight of a visit to Sintra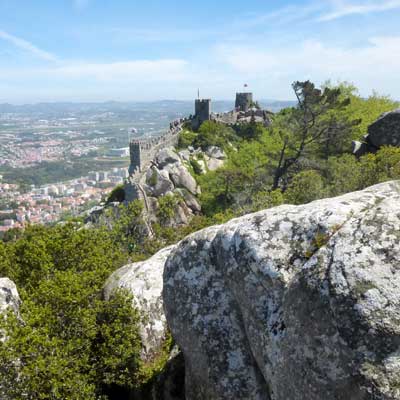 The Castelo dos Mouros is high above Sintra and once guarded the town
No 6) Vila Nova de Milfontes
When you mention "Vila Nova de Milfontes" to the Portuguese they generally respond with "wow" or "beautiful", and this is from a people who are accustomed to their stunning coastlines.
Vila Nova de Milfontes is at the heart of the wild and rugged Alentejo coastline, a region of powerful seas, windswept landscapes and vast beaches. This is a destination if you love the raw beauty of nature or are an outdoors person, enjoying activities such as hiking, cycling or surfing.
The Portuguese love Vila Nova de Milfontes, and during their summer holidays (mid-July and August), it is transformed from a peaceful village into a bustling and lively resort. Outside of the summer season, it is relaxing and calm.
Our opinion: : If you have a car and the time, go and explore the Alentejo coastline.
Related articles: Vila Nova de Milfontes introduction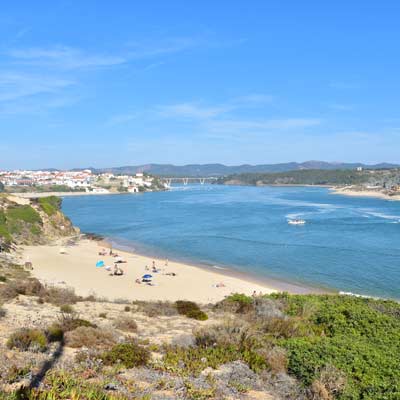 Vila Nova de Milfontes lies on the banks of the Mira River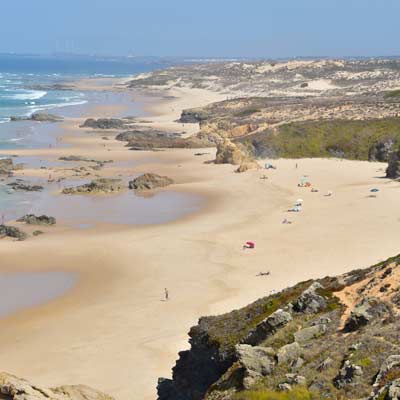 The pristine Alentejo coastline
No 5) Lagos
Lagos is one of the finest holiday destinations on the Algarve coastline, and combines a vibrant city and glorious beaches.
Lagos is on the picturesque western Algarve, a coastline formed of towering sandstone cliffs, vast expanses of golden sands and hidden cove beaches. These beaches near Lagos, such as the Praia Dona Ana, are considered as some of the best in the country, while south of Lagos is the beautiful Ponte da Piedade headland.
Lagos is a bustling city with a large selection of restaurants, bars and numerous interesting tourist attractions. The city is a great destination from which to explore the western Algarve and popular day trips include Sagres, Portimão and Silves.
Related articles: Lagos introduction – 1 week in Lagos – Lagos' beaches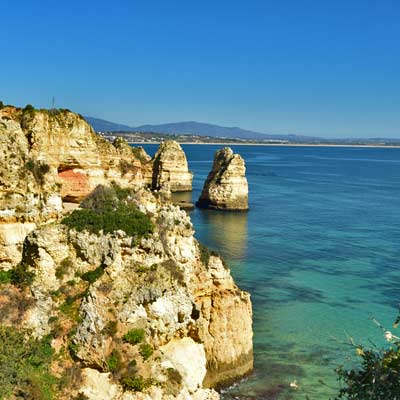 The stunning Ponte da Piedade headland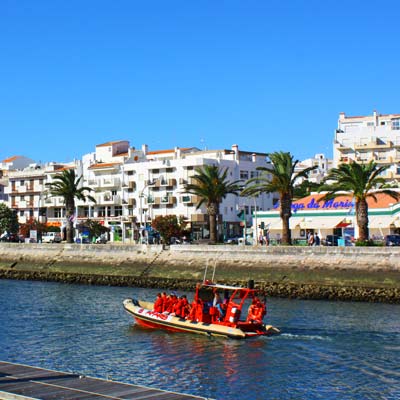 A boat tour heading out of the Lagos estuary
No 4) Porto
Porto is the unassuming second city of Portugal, which through its varied wealth of sights and activities has recently been discovered by main-stream tourism.
Porto may have a hard-working and modest mentality, but it is a city with a rich history, and nightlife and artisan scenes that are flourishing. Porto is a city which is on the up, and can easily rival much larger Lisbon for a city break.
Within Porto are the characterful Ribeira and Baixa districts. Historically boats ladened with Port from the Douro Valley sailed into the city, to store the Port in the vast cellars that line the banks of the Douro River. These cellars are still in use today and each of the major port producers offers tours (some by boat) and tasting sessions.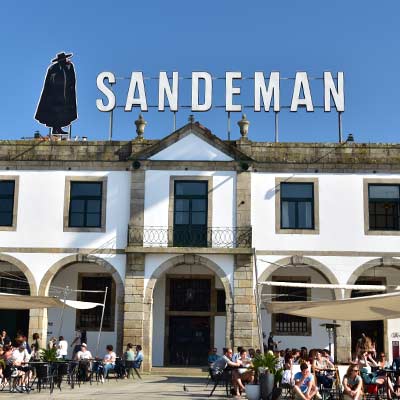 For a longer stay, there are enjoyable day trips to Guimarães (see number 8), Braga or Lamego, and in the summer there are beaches at Matosinhos, Vila do Conde or Povoa de Varzim.
Our opinion: Porto is a great destination for a city break in the summertime. While many of southern Europe's cities struggle with summertime over-tourism, Porto is calm, offers empty beaches and queues for tourist attractions are unheard of.
Related articles: Porto introduction – 1 week in Porto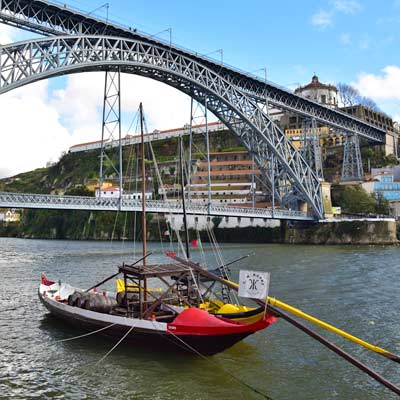 The Ponte Luís I, is the iconic bridge of Porto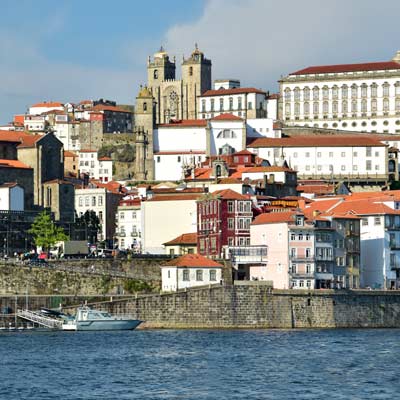 The Ribeira district of Porto
No 3) Evora
Evora is at the heart of the arid Alentejo region and is one of the most culturally rich cities of Portugal. Evora was once an important trading town and religious centre, and this extensive history is reflected by the varied sights of the city.
Evora is famed for its beautifully preserved Roman Temple, gothic cathedral and creepy Bone Chapel, all set within a characterful historic centre. Evora operates at a slow pace, brought about by the intensely hot summers, but it is a young city with a large university and student population.
Evora is the ideal base from which to explore the Alentejo region, with day trips to Elvas, Estremoz and Evoramonte.
Advice: A car is needed to get the most from the Alentejo region
Related articles: Evora introduction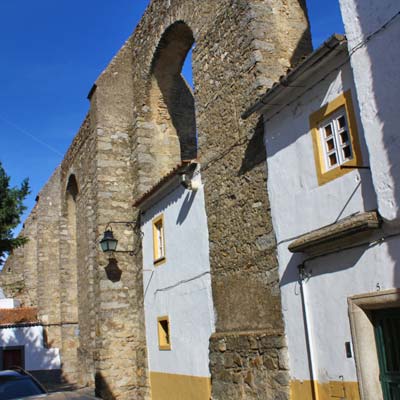 Traditional houses and shops constructed between the arches of the aqueduct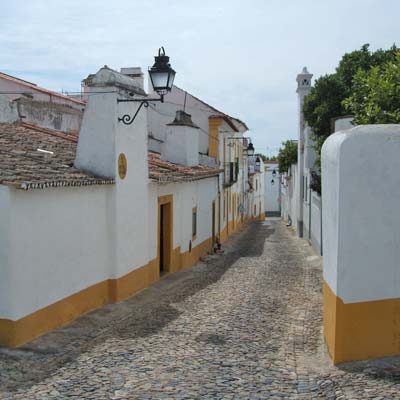 The charming cobbled backstreets in Evora
No 2) Tavira
Tavira is our favourite holiday destination in Portugal. While many towns in the Algarve have succumbed to mass tourism, Tavira has barely altered, retaining its distinctive character and abundance of Portuguese charm.
Tavira lies on the quieter eastern Algarve and was an important Moorish (9th century) trading town and major port during the 14th century. This history is played out along the cobbled streets and small plazas, where ancient town defenses stand next to traditional tiled villas.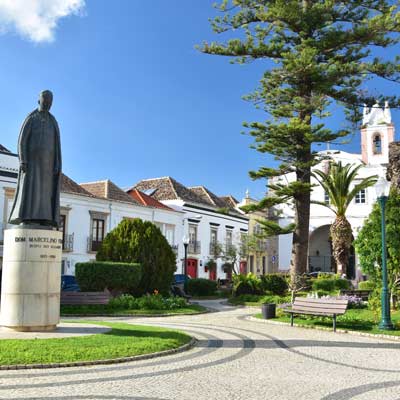 Tavira maybe a popular holiday destination but it has lost none of its Portuguese charm
The beaches of Tavira lie within the protected coastline of the Parque Natural da Ria Formosa, and are some of the finest pristine beaches in the entire Algarve. Tavira has a rich fishing heritage and this can be savoured by the delicious fish-based regional cuisines, served up in the numerous family restaurants within the historic centre.
Our opinion: For a relaxed and authentic Portuguese holiday destination, there is no better choice than Tavira.
Related articles: Tavira introduction – Tavira's beaches – 1 week in Tavira
Cemitério das Âncoras, Praia do Barril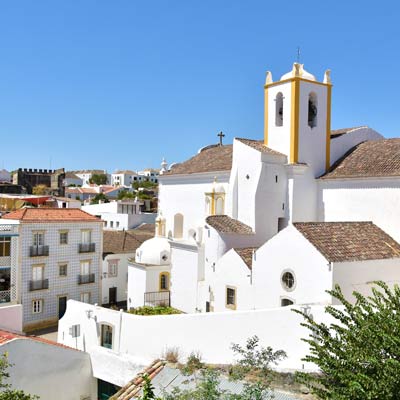 The Igreja de Santa Maria do Castelo church, was originally the largest mosque in the Algarve
No 1) Lisbon
Lisbon is one of the world's greatest capital cities, and has to be the first place you visit in Portugal.
It is a city which has it all for tourists: history, nightlife, culture and most importantly, fun. Lisbon is a vibrant and diverse city, which is forward-thinking and liberal, but has not forgotten its history and past.
The city is a joy to explore with grand plazas leading to narrow cobbled streets that are dissected by the quaint tram network. Lisbon has so many varied districts, each one proud of its own unique history and architectural styles. There is the ancient Alfama district, the grand plazas of Baixa or the seafaring history of Belem.
To top Lisbon as a destination, there are glorious beaches only a short train ride away, meaning that a holiday to Lisbon can both be a beach holiday and city break. Lisbon is a destination for all tourist types be that from families, young couples through to the more mature traveller.
Our opinion: Lisbon is simply an outstanding holiday destination, which all visitors fall in love with.
Related articles: Lisbon introduction – top 10 sights and activities in Lisbon – 3 days in Lisbon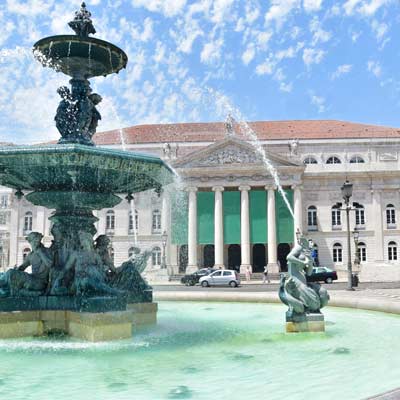 The magnificent plazas of the Baixa district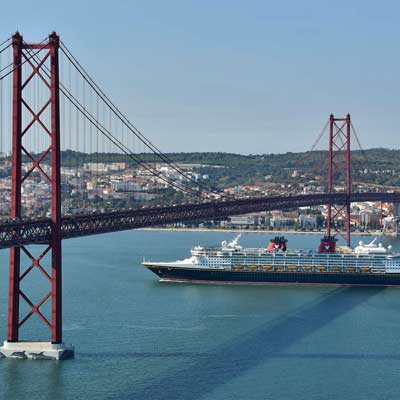 The Ponte 25 de Abril bridge spans the Tejo estuary. Lisbon is popular destination for cruise ships (this is the Disney Magic departing from Lisbon)
Source https://www.planetware.com/portugal/best-places-to-visit-in-portugal-p-1-22.htm
Source https://www.touropia.com/best-places-to-visit-in-portugal/
Source https://myportugalholiday.com/portugal-guides/top-10-places-to-visit-in-portugal.html