16 Top-Rated Tourist Attractions in Puerto Rico
As a tropical Caribbean travel destination, Puerto Rico has it all and then some. Beautiful palm-lined beaches, some with calm warm waters lapping the golden sand and others with huge waves and famous surf breaks, draw all kinds of beach seekers, from couples and families to hard-core surfers.
Home to the US Forest System's only tropical rainforest and the nighttime wonders of the Bioluminescent Bay, Puerto Rico is a pleasant surprise for nature lovers. Add to this the culture and charm of historic San Juan, with its colonial architecture and old forts, and the picture is complete.
Puerto Rico is a complex island with a Spanish Caribbean culture and an obvious American twist. This is particularly visible around San Juan, with its American chain restaurants and other comforts associated with mainland USA. Venturing further afield, you will find quaint towns, small villages, beautiful islands, caves, and a rugged mountainous interior.
For more sightseeing ideas, see our list of the top tourist attractions in Puerto Rico.
1. Old San Juan (San Juan Viejo)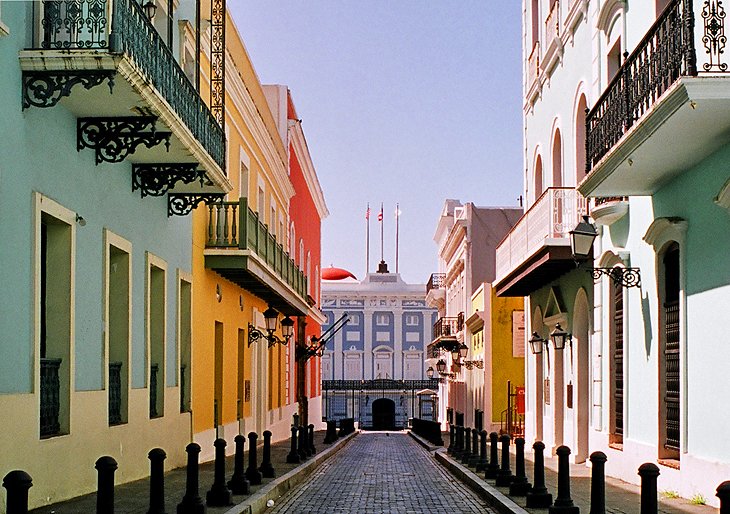 Old San Juan (San Juan Viejo) | Photo Copyright: Lana Law
Walking the streets of Old San Juan, with its lovely colonial architecture and imposing forts, is like stepping back into another era. This is one of the best places to visit in Puerto Rico, so make sure you allow some time on your itinerary for this city.
More than 500 years old, and the second oldest city in the Americas, Old San Juan is a mix of Spanish colonial history layered with present day Puerto Rican life. The entire area is a UNESCO World Heritage Site, with hundreds of restored 16th- and 17th-century Spanish colonial buildings. Today, you can dine, shop, or even stay in some of these beautiful old structures.
Read More: Top-Rated Tourist Attractions in San Juan
2. El Morro Fort (Fuerte San Felipe del Morro)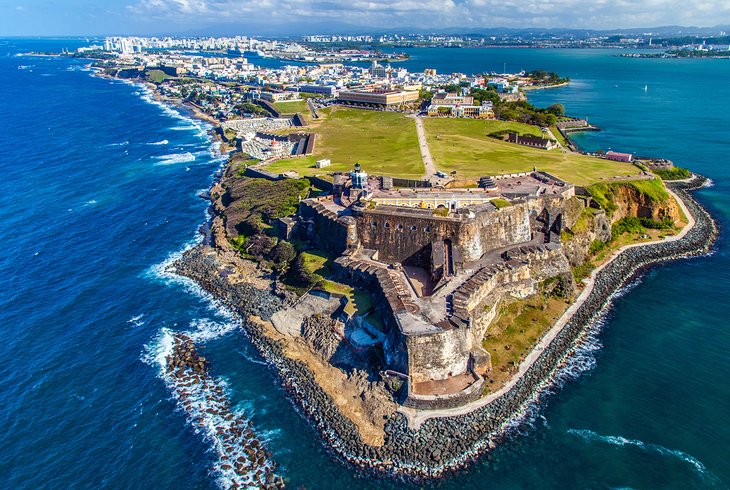 Aerial view of El Morro Fort in Old San Juan, Puerto Rico
The main attraction in Old San Juan, and one of the top tourist destinations in Puerto Rico is El Morro Fort (Fuerte San Felipe del Morro). Set majestically out on a peninsula, this fort dating from 1539 is a fascinating step back in time.
Wander through the well-kept grounds of this national park and give some thought as to what life would have been like here nearly 500 years ago. Explore the dungeons, walkways, ramps, and tunnels, much of it built in the mid to late 1800s. Be sure to ascend to the top of the walls and walk out to one of the guard towers for fantastic views out over the ocean and back towards Old San Juan, the modern city towering in behind.
It's a short walk from the Old City to El Morro. Try to come in the morning when the temperatures are cooler. At night, El Morro is lit up and makes for fantastic photos.
3. Castillo de San Cristóbal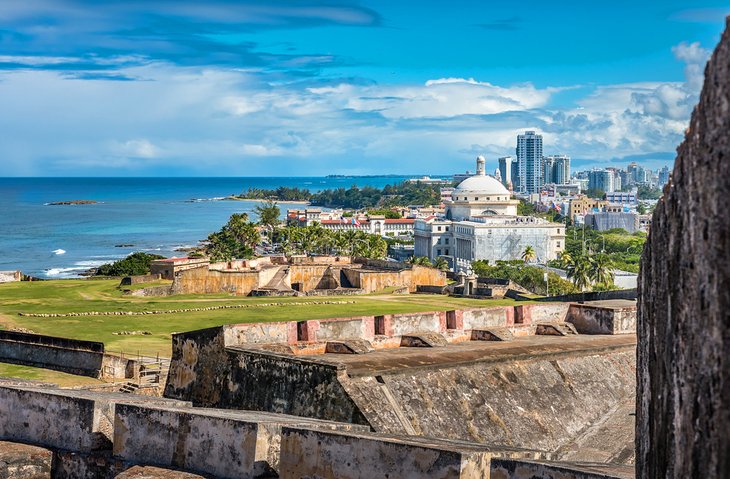 Castillo de San Cristobal
Hiding in plain sight but still in the shadow of the more famous El Morro (which gets all the fame), Castillo de San Cristóbal is definitely worth a visit. Bring your walking shoes – San Cristobal is bigger than El Morro. In fact, it is the largest Spanish fort ever built in the New World and a UNESCO World Heritage Site.
Castillo de San Cristobal is a fun place to explore. For defensive purposes, five separate units are interconnected with moats and tunnels, and spread across 27 acres. If one unit was breached, the occupants could easily move to another one.
Constructed between 1634 and 1790, the fort was designed to stand guard over the eastern gate of historical San Juan. Unlike El Morro, which was constructed and designed to repel a sea attack, Castillo de San Cristobal was designed to protect against an attack from the landward side.
Castillo de San Cristobal is a national park. Your admission here is good for a week and also gets you into El Morro.
4. El Yunque National Forest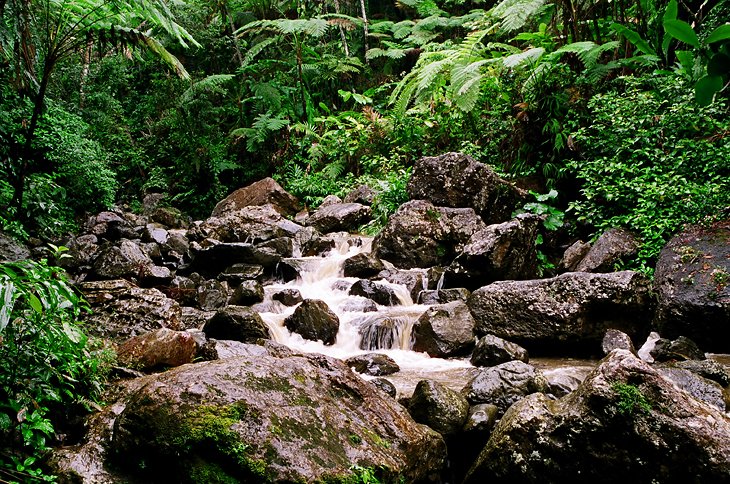 El Yunque National Forest | Photo Copyright: Lana Law
Experience some of Puerto Rico's lush inland beauty at El Yunque National Forest. Spread along the Luquillo Mountains, including Pico El Yunque, El Yunque National Forest is home to the only tropical rainforest in the National US Forest System.
Walking trails wind through the forest, allowing hikers a closer look at some of the 240 species of trees and hundreds of species of plants (50 species of orchids alone), as well as an abundance of smaller wildlife. El Yunque's peak reaches 3,500 feet above sea level, and the forest covers 43 square miles, including three-quarters of the island's remaining virgin forest.
El Yunque National Forest is one of Puerto Rico's most popular natural attractions and is often visited on a tour from San Juan. The main highlights in El Yunque National Forest include La Coca Falls, Yokahú Tower, Baño Grande, Baño de Oro, and La Mina Falls.
Located beside the highway, La Coca Falls features an 85-foot cascade onto boulder formations and is the first major attraction visitors will come to in El Yunque.
The El Portal Tropical Forest Center is a visitors' center for those seeking information on the area. Nearby is Yokahú Tower, a 1930's tower that is open to the public to climb, offering good views out over the rainforest.
The climate here is considerably cooler than along the coast and at lower elevations, and it is noticeably wetter.
El Yunque National Forest was severely damaged by the back-to-back hurricanes in 2017. Repair and recovery has been almost completed, with the main visitor center set to open in 2022. Check with local operators to find the latest updates.
5. Culebra Island (Isla Culebra)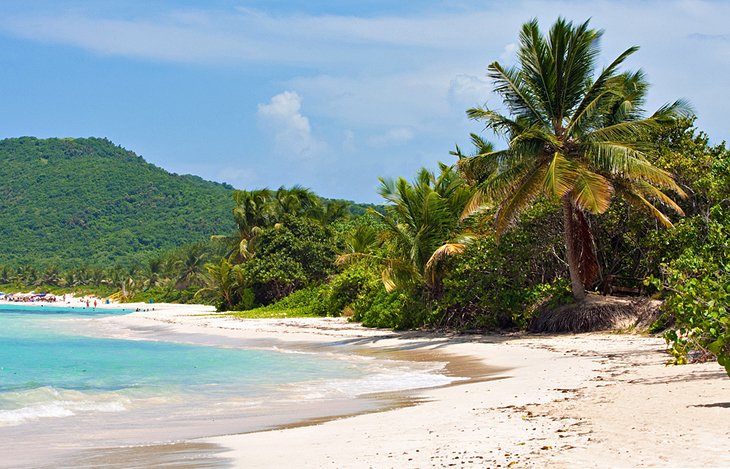 Culebra Island (Isla Culebra)
Although Culebra is often mentioned in the same breath as Vieques, this smaller island with beautiful beaches and lush hills has its own unique character. The pace here is unhurried, and the atmosphere relaxed. Eco tourism is big on the island, and many of the tourist establishments are run by expats.
About 17 miles east of Puerto Rico and 12 miles west of the Caribbean island of Saint Thomas, Culebra is only seven miles long and three miles wide, with 23 offshore islands of its own. The area's coral reefs are considered some of the best in the entire Caribbean.
The horseshoe-shaped Playa Flamenco is the most popular beach on the island and as close to perfect as possible. The water is clear with no surf, making it a good place for swimming or diving, and the blazingly white sand is lined with palms.
Isla de Culebra National Wildlife Refuge is a well-preserved slice of nature that includes the entire coastline of Culebra and more than 20 offshore cays. More than a third of Culebra is designated as the Culebra National Wildlife Refuge, which includes Cayo Luis Peña, a small island just west of Culebra. Here, coves and rugged terrain make for some interesting but challenging hiking opportunities.
6. Vieques and Bioluminescent Bay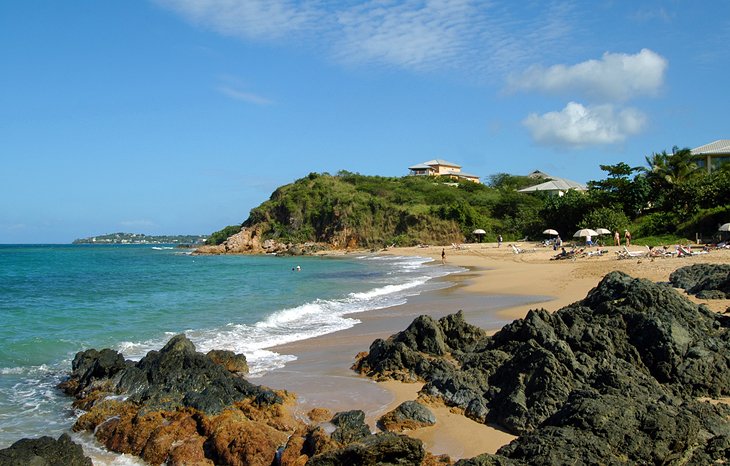 Vieques
Vieques, eight miles from mainland Puerto Rico, has become a popular beach resort with small, upper-end hotels, restaurants, shops, and galleries. With the departure of the United States Army from the island in 2003, Vieques turned its focus to tourism.
Beautiful beaches are now supported with a quality tourism infrastructure that attracts both Puerto Ricans and foreign travelers, who take the time to make their way over to the island. There are no large hotels or high-rise condo complexes. At 21 miles long and five miles wide, Vieques is the largest of the Spanish Virgin Islands but still offers a small-island feel.
The island is also known for a unique phenomenon at Mosquito Bay (also known as Bioluminescent Bay), where a large concentration of phosphorescent dinoflagellates light up movement in the water at night.
Take a tour, either in a boat or canoe, or a bioluminescent bay kayak trip after dark to experience this natural wonder. While this phenomenon occurs in other areas of Puerto Rico, this is this best place to experience it. Vieques can be reached by air or ferry, with ferries departing from Fajardo.
7. Catedral de San Juan Bautista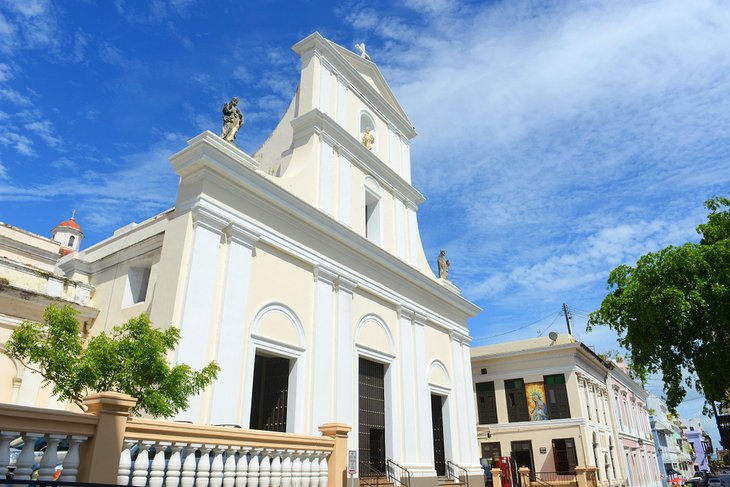 Cathedral of San Juan Bautista
Dating back to 1540, the Catedral de San Juan Bautista, also known as the Cathedral of San Juan is one of the most important religious sites in Puerto Rico. The church is famous for being the final resting place of Ponce de Leon, the Spaniard who undertook the quest for the Fountain of Youth.
One of the lesser known facts about the church is that it is the second oldest structure in the Western Hemisphere. However, the church has aged well, with the generous support of its parishioners. Inside, it's immaculate, and the stained-glass windows glow as brightly, if not more so, than the day they were created.
The Catedral de San Juan Bautista is a working church and the seat of the Archdiocese of Puerto Rico.
8. Cayo Icacos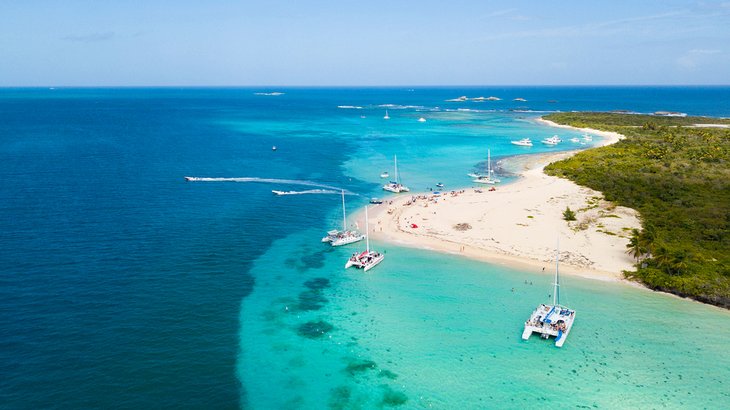 Cayo Icacos
With all the beautiful beaches on the mainland, it may seem strange to want to get on a boat and go to another one. However, don't let that thought process derail you from one of the best things to do when visiting Puerto Rico.
Cayo Icacos, known for its incredible beach, is about a 20- to 30-minute boat ride from Fajardo, a small town found at the northeast end of the island. Cayo Icacos is located in La Cordillera Nature Reserve, so you won't find any development here; it's as close to a deserted island as you can get.
Most people take a tour on a large catamaran that includes transport, a luncheon, and drinks. These sociable tours leave around 9am and return around 4pm each day, with a stop for snorkeling at an offshore reef on the way back.
9. Surfing and Whale Watching at Rincon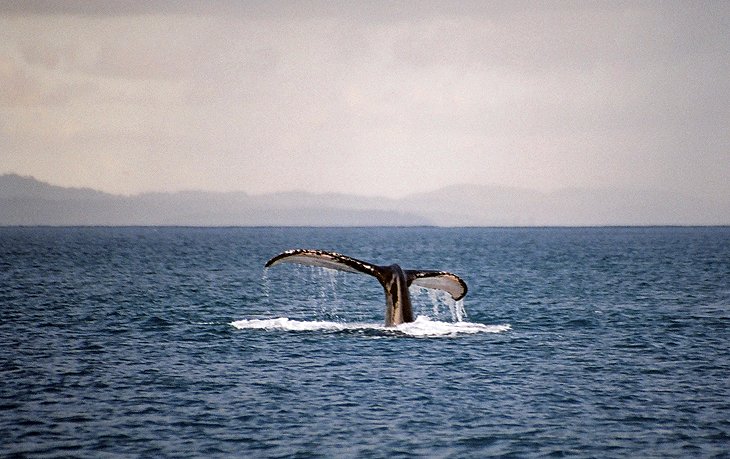 Surfing and Whale Watching at Rincon | Photo Copyright: Lana Law
Often called "Pueblo del Surfing" (Surfing Town) and "Little Malibu," Rincón is known to Puerto Ricans as a "Gringo Paradise." The dominant language in the area is English, with many foreign surfers and other expats making this town their home.
Rincon became a surfing mecca after the World Surfing Championships in 1968, when images of Rincón and the frequent 15-foot-high waves were transmitted worldwide. Surfing not your thing? Beautiful beaches that are suitable for swimming are mostly to the south of town.
Rincón is also one of Puerto Rico's main areas for whale watching excursions. The prime whale watching season is mid-January through to March, when humpback whales are in the area. Tours are easily arranged in town.
10. Luquillo Beach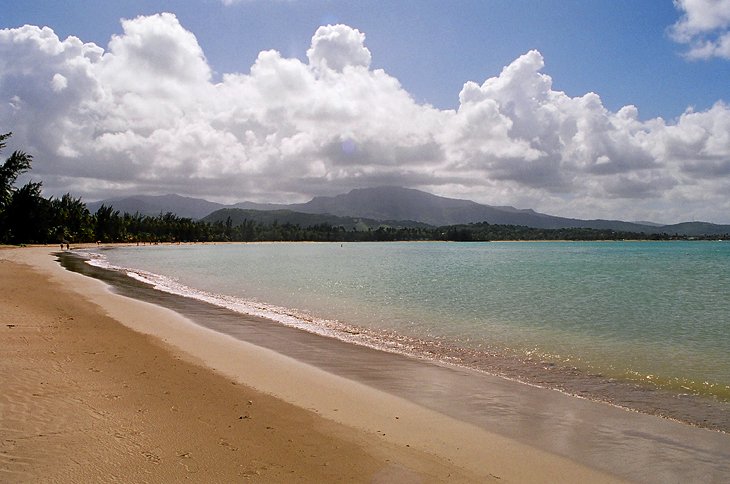 Luquillo Beach | Photo Copyright: Lana Law
For an easy escape from the busy beaches of San Juan, Luquillo is a terrific option. Luquillo Beach, just a short drive from the city, is a palm-lined stretch of golden sand that offers a fair degree of tranquility, without surrounding high-rise buildings and development.
The water is generally calm for swimming and the beach stretches on for almost a mile, making it ideal for walking. On the grounds, which are shaded with coconut palms, are modern restrooms, showers, and changing rooms with lockers, and just outside the entrance are food sellers. A stop at the beach can be combined with a day trip to El Yunque National Forest.
11. Rio Camuy Caves (Parque de las Cavernas del Río Camuy)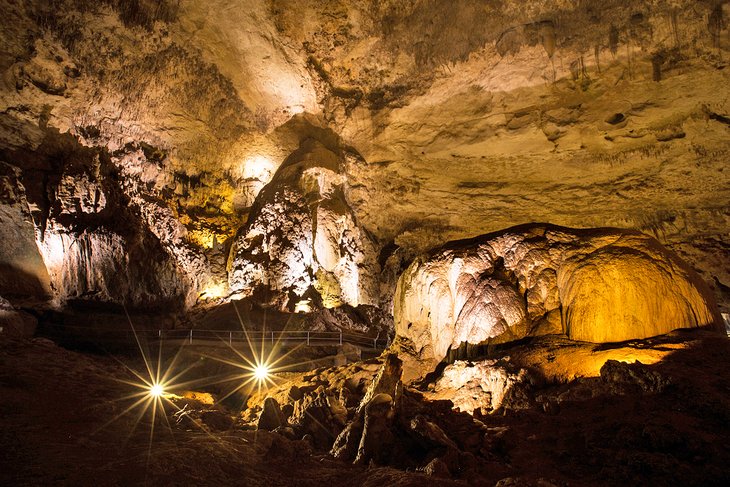 Rio Camuy Caves (Parque de las Cavernas del Río Camuy)
The Rio Camuy Cave Park features a huge cave system covering 268 acres and is thought to be the third largest cave system in the world. A trolley bus transports visitors to a 200-foot-deep cave, or sinkhole, which is now a preserved area known as Cueva Clara Empalme.
The caves feature various rooms, in some cases with extremely high ceilings, stalagmites, and stalactites, and rivers rushing along the base. A guided tour leads visitors through the Cueva Clara Empalme. In addition to the natural wonders the cave system presents, it's also interesting to note that the caves were used by the indigenous population long ago.
You'll find the main entrance to the caves located in the Quebrada area of Camuy.
12. Ponce's Historic City Center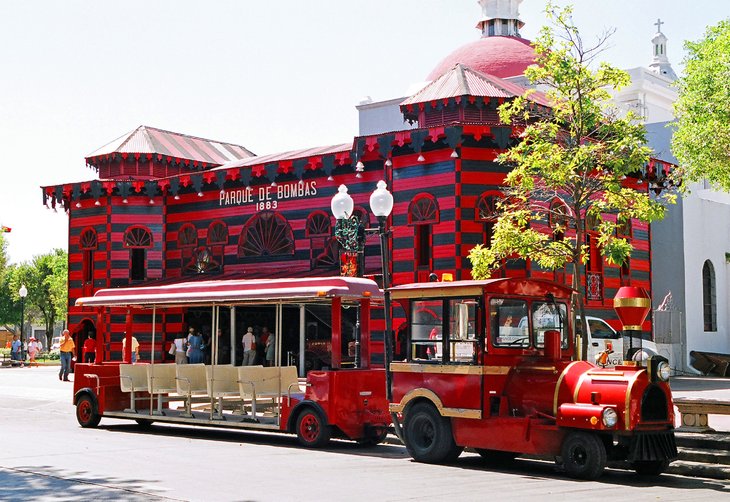 Ponce's Historic City Center | Photo Copyright: Lana Law
While Ponce is a large city and generally not on the typical tourist route through Puerto Rico, its historic city center is a delight, with 17th-century architecture and open plazas. The Plaza Las Delicias is a good starting point for visitors, with cafés and park benches for convenient people-watching.
Buildings of particular note here are the red- and white-striped Old Ponce Fire Station, the City Hall, and the much more recently built Cathedral (Catedral Nuestra Señora de la Guadalupe). Ponce also has a large number of quality museums, most notably the Ponce Museum of Art.
13. Isla Verde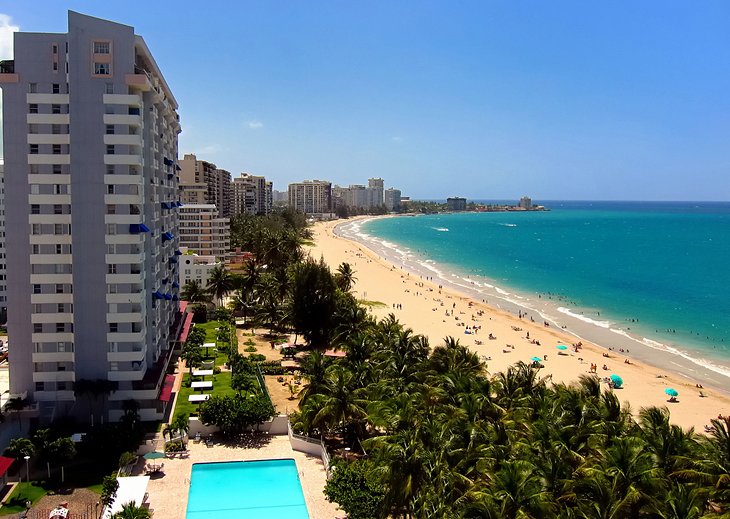 Isla Verde
For the all-inclusive crowd looking for nice resorts and a decent beach within easy reach of a major airport, Isla Verde is just the answer. Everything an overworked, sun-seeking, beach-loving vacationer could ask for – minus Puerto Rican culture – can be found right here. With calm waters lined by a white-sand beach and backed by palm trees and resorts, Isla Verde is a tropical get away with all the comforts.
This area is a suburb of San Juan, and those who are looking to get off the resort without venturing too far will find the historic streets of Old San Juan just a short taxi ride away. Similarly, El Yunque National Rainforest can also be done as an excursion for a quick escape from the beach.
Read More: Top-Rated Tourist Attractions in San Juan
14. Condado Beach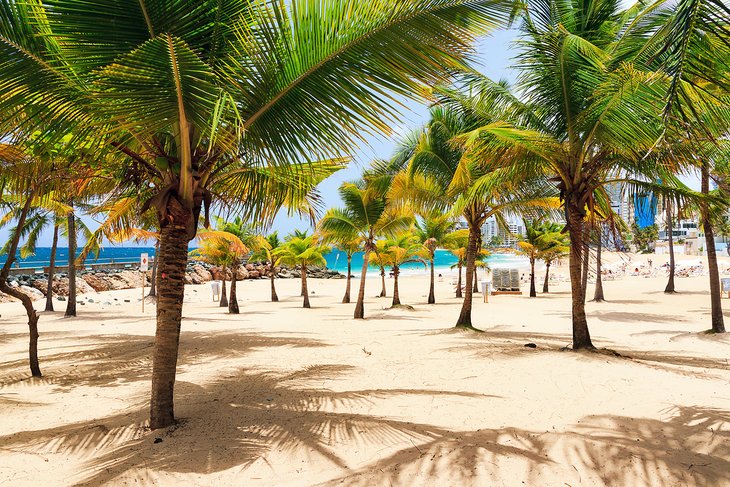 Palm trees on Condado Beach
Similar in nature to Isla Verde, Condado Beach is a beach destination that is mere minutes from the historical sights of Old San Juan. The beach is lined with condo and hotel towers, creating a lively scene here with some of the best people watching in the city.
Condado Beach itself is a relatively small beach with golden sand, washed by the warm waters of the ocean. For a longer stretch of sand, head a bit east to towards Punta Piedrita.
It's what is back from the beach that makes this area hum. The Condado area of the city is a trendy and luxurious place, with Michelin-rated chefs whipping up the latest trendy dishes, while upscale boutiques showcase the latest styles in clothes and home décor.
Some of San Juan's swankiest hotels are here, including the spectacular and popular 5-star-rated Condado Vanderbilt Hotel .
15. Seven Seas Beach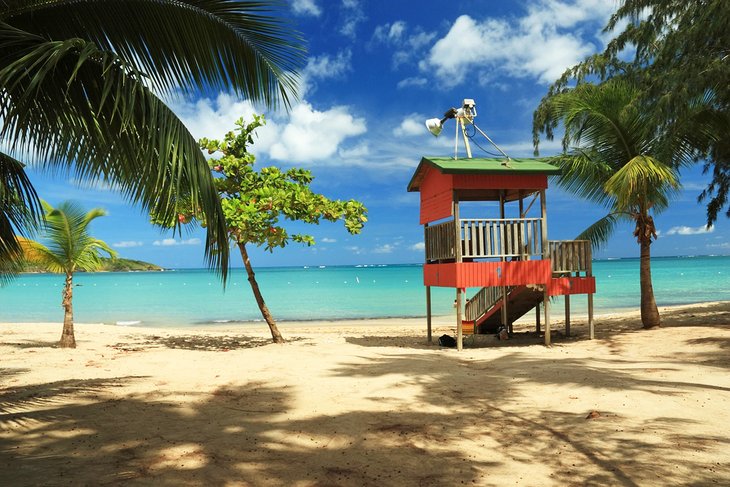 Seven Seas Beach
Only 30 miles from San Juan, Seven Seas Beach is a quiet beach with calm, clear waters and great facilities. The beach is family friendly, and just back from the sand, you'll find picnic tables, restrooms, concession stands, and easy parking.
The sand here is a golden brown, and the beach has a gentle slope. The swimming area is roped off, and boats are prohibited. The best section of the beach is at the western end; the eastern end can be rocky.
16. Museum of Art Puerto Rico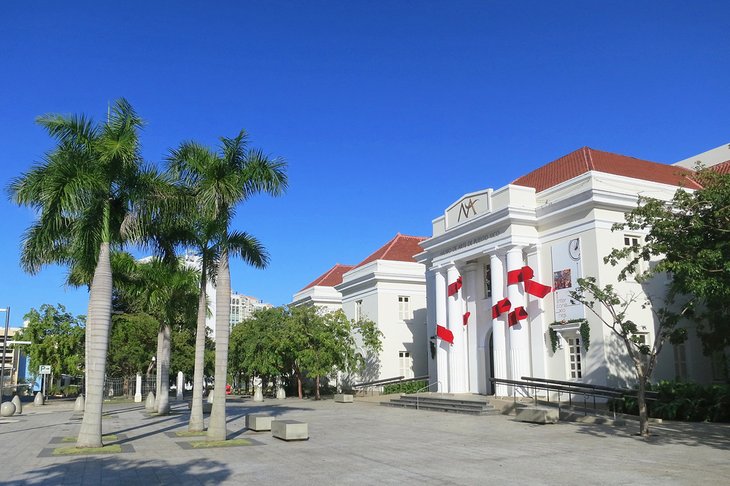 Museum of Art Puerto Rico| Paul Sableman / photo modified
One of the most important museums in Puerto Rico, the Museum of Art is one of the top cultural things to do in San Juan. The permanent and temporary collections are showcased in 24 different halls throughout the 130,000-square-foot museum. The museum is spread out across two buildings, one historical and one modern.
The main focus of the permanent collection is work from the 17th century through to more contemporary works. A good way to get a better understanding of all the cherished pieces is to take one of the free tours offered on Saturday at 10am or Sunday at 2pm.
Address: #299 De Diego Ave, San Juan
Frequently Asked Questions
When is the best time to visit Puerto Rico?
The best time to visit Puerto Rico is December to May. This is the dry season, and at this time, the weather will be consistently warm and sunny. You'll pay more, but it's definitely worth the premium.
What is the best way to get around Puerto Rico?
Within the historic Old City of San Juan, it's all about walking. Streets are narrow, and you'll want to take your time checking things out. If you are arriving via cruise ship, the port is only a 10-minute walk away.
If you plan on exploring the rest of the island, rental cars are easy and affordable. The same rules of the road apply as mainland USA.
Intercity buses, called guaguas, are available, but the routes and schedules are not ideal for tourist use. For short hops between towns or in town, jump on a publico. These are minibuses and are very cheap. You can stand on the side of the road and flag them down.
15 Best Places to Visit in Puerto Rico
There are really two Puerto Rico's. The one known for rest, relaxation, and cocktails, and the one beloved by outdoor adventure adrenaline junkies.
If you're the one looking for your next beach holiday, you'd do well to consider Puerto Rico – it's the stuff that Caribbean daydreams are made of. With fantastic beaches, incredible waves, and stunning coral reefs, you'll find a beach to suit your mood.
If you're looking for action try hiking through the rainforests, considered some of the wettest on Earth, or head into the mountains for some awe-inspiring views.
Puerto Rico's culture is unmistakably fun and includes incredible cuisine, dance, and sports fanatics.
Lets explore the best places to visit in Puerto Rico:
1. San Juan
Source: flickr San Juan
Tucked inside a tiny islet that protects the harbour, San Juan is an old town, settled by colonists roughly 100 years before the Mayflower landed in Massachusetts.
This incredible town balances an intense modern energy with bona fide historical roots as one of the oldest settlements in the Americas.
Surrounded by walls that are 15 feet thick, the city isn't just a museum of artefacts, though you will be amazed at what's been preserved, it's a complex system of growing neighbourhoods filled with unbelievable restaurants, galleries, night life, and shopping.
And of course, you can't forget the beaches. The north of the city is lined with crystal blue water with great resorts along the shore.
2. Rio Camuy Caves
Source: flickr Rio Camuy Caves
About one hour's drive from the capital of San Juan is where the planets third largest river carves out roughly 220 caves over the course of ten miles.
You can visit with one of the many organized tour groups or find an adventure operator who will show you what spelunking was meant to be.
Geologists hypothesize that there could be as many as 800 undiscovered caves there. Run by the Parques Nacionales, the caves are located in a 300-acre park and park guides offer walking tours of the area.
This is nature at her best and most stunning. And if you're wondering what that heat is, it's the heat that's given off by the hundreds of sleeping bats that nest at the top of the caves.
3. Culebra & Vieques
Source: flickr Playa Brava, Culebra
Just seven miles from the mainland, the two spectacular gems of Puerto Rico's Caribbean are Vieques and Culebra.
After 50 years of military occupation (now over), you'll be surprised by the completely laid-back atmosphere and the towns populated by expats, locals, and sailors on leave.
There's a ton of delights waiting to be discovered on the islands: endangered turtles and herds of beautiful wild horses. Most people go for the incredible beaches.
Several are deserted, which allows you to stretch out and sink in and many say that Vieques and Culebra have the best beaches in all of the Caribbean.
All in all, the islands haven't been over developed yet which allows them to keep their quaint vibe.
4. Mosquito Bay
Source: flickr Mosquito Bay Vieques
If you're going to be spending time on the island of Vieques, most travellers will tell you that Mosquito Bay needs to be your home base.
If the calming view of Sun Bay isn't enough, the seclusion that you feel is often one of the major draws here.
The beach is about two miles long, one of the few with public facilities and life guards on the island, and people love the feeling of getting away from it all.
For that very reason, the beach is most popular in the evening time, around sunset.
5. El Yunque National Rainforest
Source: flickr El Yunque National Rainforest
The only tropical forest in the entire United States National Forest Organization, El Yunque is a huge favourite among those who love hiking and being in nature.
Just 35 miles east of San Juan, the park receives over 100 billion gallons of precipitation each year.
Remember to wear waterproof clothes and bring waterproof gear as well.
There are 13 trails that range from easy to difficult. Be sure to check out Big Tree Trail and La Mina – both of which follow La Mina River and wind up near La Mina Falls.
Another necessity is to plan for at least two days. Camping is a great option but there are plenty of accommodations in the area as well.
6. La Vuelta Cycling Tour
Source: vueltapr La Vuelta Cycling Tour
If you're looking for a way to see the entire country at the perfect pace, consider participating in the La Vuelta Cycling Tour.
You'll see all 375 coastal miles of the country from the seat of your bike. Don't be intimidated by the name, it's more of a tour than a race, and people from all over enjoy the spirit and the community of it all.
For three days each January, riders cycle through tropical rainforests, marinas, coconut plantations, cover some fantastic beaches, and go through over 42 towns.
You probably do need to be relatively fit to enjoy La Vuelta, but the organizers set up rest stops along the route and many riders break and relax for a while during the day in order to take in their surroundings.
At night, there's incredible food and Puerto Rican hospitality to enjoy.
7. Ponce
Source: flickr Ponce
Many consider Puerto Rico's second largest city to be reflect the essence of the country.
The often repeated saying, Ponce es Ponce (Ponce is Ponce) reflects its reputation for being a bit unique.
When you walk through town and see the lovely fountains in the square, or stroll down the narrow lanes of the historic centre, you'll get a sense of the wonderful history of the place.
You'll find all the urban problems of a modern city – like traffic congestion and crowding, but you'll also find over a dozen museums, wonderful colonial architecture, and a fabulous boardwalk filled with restaurants worth visiting two or three times each.
8. Fort San Cristóbal
Source: flickr Castillo San Cristóbal
Built to protect old San Juan from attacks, Fort San Cristóbal isn't on many of the travel guides (like the more popular Fort El Morro), but it's worth your time to get a sense of the history of Puerto Rico.
The views of the shore from the fort are worth the trip alone. Spend an hour or two wandering through the sprawling complex, visiting the dungeons and picturing life gone by as you stand in the courtyard and take it all in.
9. Condado
Source: flickr Condado
If you've come to Puerto Rico for the beach, it's entirely possible that you'll never get any farther than Condado.
Located in the middle of some unbelievable high rise towers and resort, Condado is the place for beach bars and any water sport you can think of.
This is a beach in the heart of the city so it's lively and something is always happening there. Waiters will cater to your every cocktail whim and its close proximity to so many hotels makes it easy to spend a day in the sun and then head out into the city at night.
10. Carolina Beach
Source: flickr Carolina Beach
Also in San Juan, Carolina is a public beach that's popular with both tourists and locals.
Families love it because the tides aren't too strong and there's a life guard on duty during the day.
It's popular, which translates to often crowded, but for many, that kind of energy is what makes a beach great. Great water sport rentals here too so plan to bring a cooler of your favourite beverages and spend a day relaxing.
11. Guanica State Forest
Source: wikipedia Guanica State Forest
Calling all nature lovers! Guanica was designated as a Biosphere Reserve in 1981 and this dry forest is one of the best in all of the Caribbean.
Guanica is also well-loved by birds. More than 50 percent of Puerto Rico's bird species make their home here.
There are over 36 miles of trails to hike and discover the more than 700 plant species in the forest – 48 of which are, unfortunately, endangered.
The forest covers about 1000 acres and gets about 30 inches of rain each year (compared to El Yunques' 200+ inches!) – enough to keep it green and beautiful. Bring your binoculars and enjoy.
12. Fort El Morro
Source: flickr Fort El Morro
Jutting out from San Juan harbour is El Morro, strategically placed there in the 16th century to defend the city against sea attacks. This six story fort is massive and is considered the number one place to explore when travelling in the city. The views are inspiring and the history is intriguing. If you're feeling adventurous, go underground and explore the prison cells and extensive tunnels. It's recommended that you plan half a day for El Morro as there is plenty of ground to cover here.
13. Las Cuevas of Desecheo
Source: flickr Desecheo Island
Designated as one of Puerto Rico's "Galapagos of the Caribbean," Desecheo's history is a little bizarre and definitely unique.
The interior is off limits due to the possibility of unexploded ordinance left over from military training in the 1940's.
There's also a ton of Rhesus monkeys on the island. They were brought there in the 1960's as part of a science experiment.
Out by the shore, underwater, lie the real reasons you visit Desecheo. There's an extensive network of undersea caves and canyons that make this the perfect destination for scuba diving.
Just 12 miles from the mainland, the island is uninhabited and you'll love relaxing on its beautiful beaches between dives.
14. Mona Island
Source: flickr Mona Island
Mona Island is 22 square miles of uninhabited ecological reserve. If you're looking for unspoiled and pristine Puerto Rico, this is the place.
The island has park rangers that oversee the camping facilities and you can stay there from May to November.
Explore the island and discover ancient carvings created by the Taino Indians who once made the island home.
Another of the "Galapagos of the Caribbean" islands, this place exudes mystery and rugged beauty. If you want off the grid you won't do better than Mona Island.
15. Hell Mile Extreme Race
Source: gustazos Hell Mile
In Cerro de Nandy in San Lorenzo, you can take part in a killer extreme race known affectionately as Hell Mile.
Attracting extreme athletes and wide assortment of interesting characters, the course is a one-mile run up and down a rather intense mountain.
But it's not just up and down once. During round two you make the same trek with a 15-25 pound bag. And then in round three the bag gets heavier.
And if that isn't enough, they hold the race in July, one of the hottest months everywhere. This well-known race is a point of pride not just for the survivors (er, participants), but also for the locals.
If you're not feeling up to three rounds of Hell Mile, consider stopping by and watching the extreme fun. Sure to make for some great stories back home.
The 17 Best Places to Visit in Puerto Rico in 2022
Puerto Rico is the epitome of a Caribbean paradise that has it all. From the shimmering waters with picturesque palm trees that line the beaches to the large waves renowned for their surf breaks, families, couples, and solo travelers alike are in store for a special treat on their trip to Puerto Rico.
We've taken the liberty of compiling the best places to visit while in Puerto Rico. Read on to see our top picks and why we love each one!
The 17 Best Places to Visit in Puerto Rico
With hundreds of miles along the coast of the Atlantic Ocean, numerous beaches feature pristine water and black sand beaches. Moreover, the water is warm year-round, providing many outdoor activities such as hiking, canyoning, surfing, ziplining, and more.
Puerto Rico is commonly referred to as an island but is actually an archipelago, with a central island, four other smaller islands, and hundreds of islets and cays.
Puerto Rico's primary island isn't that big, so it's relatively easy to drive the entire length of PR in 24 hours. You might need to get yourself a vehicle to experience everything Puerto Rico offers. Below are destinations that you have to visit.
1. Old San Juan
Our first destination is full of history, food, and cultural celebrations — Old San Juan . Despite how tiny this area is, you'll find some of the most popular things to do in Puerto Rico.
There are golf carts at your disposal for no additional cost that can transport you around the city to see some of the most popular Puerto Rican landmarks, like Castillo San Cristóbal , El Morro, and more.
Guided tours are available for visitors interested in understanding Puerto Rican culture and heritage, as well as the history behind some of the island's oldest buildings. Some of which are half a century old and hold great significance.
Despite all of the old-time charm that history buffs are sure to enjoy, there are always parties taking place and thriving nightclubs. While in Old San Juan, don't forget to visit attractions such as La Capilla del Cristo, El Paseo la Princesa, and San Juan's Gate.
2. San Juan
Martin Wheeler III/Shutterstock
San Juan is on a tiny island. Approximately 100 years before the Mayflower arrived in Massachusetts, colonists settled in San Juan, making it one of America's oldest settlements. As a result, it is a perfect blend of historical surroundings and modern vibes.
The city features walls that are 15 feet thick that surround it. Although the city is rich in history, it has a complex system of flourishing neighborhoods full of quality restaurants, shopping, galleries, and incredible nightlife.
The beaches are definitely worth mentioning as well. Towards the city's north, there are vibrant waters with excellent resorts along the shore.
3. La Parguera
La Parguera is a perfect place for individuals who love to fish. It's a quaint fishing village along the coast in the La Parguera Nature Reserve . La Parguera coincidentally has one of the most biologically diverse ecosystems on the island.
Nature lovers will enjoy the mangrove forests, wildlife, and extensive coral reefs. This area offers plenty of occasions for snorkeling, biking, hiking, bird watching, and scuba diving.
Although there are no luxurious resorts or hotels in La Parguera, there's no shortage of rustic inns or boats that have been converted into Airbnbs to allow you to soak in the simple sea life.
La Parguera boasts more than 30 islets and cays, giving you something different to observe daily. You can choose to kayak through the mangroves, walk the boardwalk for an exquisite dinner or go scuba diving at La Pared.
4. Ponce
Ponce is Puerto Rico's second-largest city, and many say it serves as a reflection of the true essence of Puerto Rico as a country. The deep history of Ponce is palpable when taking a stroll down the narrow streets or just by simply seeing the beautiful fountains in the square.
As you wade through traffic, the typical obstacles in modern and urban cities, you'll see gorgeous colonial architecture, fabulous restaurants, and more than a dozen museums for you and the family to visit.
5. Rincón
Rincón is further west along the island and is most notable for being a surf town. This place is the exact opposite of the busy city of San Juan. Interestingly, surfing is the main attraction here, and there are many spots to go to, such as Marias, Tres Palmas, and Dome, just to name a few.
Aside from surfing, there are many other activities to get into, such as snorkeling, horseback riding along the beach, and paddleboarding. You can also enjoy shopping for fresh fruits and veggies at the local farmer's market and check out the weekend activities that locals enjoy.
6. El Yunque National Rainforest
Dennis van de Water/Shutterstock
El Yunque has the distinction of being the only tropical forest in all of the United States National Forest Organization. People who love the great outdoors will love this atmosphere which is perfect for hiking and peacefully enjoying nature.
Be sure to bring waterproof gear and clothes, as the park receives 100 billion gallons of rain yearly. The park features 13 trails which vary in difficulty from easy to hard. The trails you don't want to pass up on are the La Mina and Big Tree Trail.
The abovementioned paths shadow La Mina River and end at La Mina Falls . You need to plan for at least two days. You can choose to camp; however, there are other viable accommodations in the area.
El Yunque National Forest is just one hour away from San Juan by car, and you can choose to take a guided tour or travel there on your own to the most coveted locations. Once there, choose between ziplining, horseback riding, or hiking as you take in the spectacular views of the forest.
7. Vieques and Culebra
You must visit Vieques and Culebra — two islands close to the main island and plenty of tourist attractions. Either of these two islands can easily be the focal point of your trip, starting with Vieques near eastern Puerto Rico.
You can take a trip to the beach, go snorkeling, scuba diving, seashell hunting, and more while basking in the sun. Culebra is a bit further from the coast, around 20 miles.
You can reach these destinations by using a ferry or traveling in a helicopter, both of which offer the opportunity to experience the land from excellent vantage points.
It's an easy trip that can be a full day's worth of adventure or an overnight adventure, depending on your preferences. You can choose to stay at a rental house or local bed & breakfast or camp in the designated areas of Flamenco beach.
8. Mosquito Bay
If you decide to spend significant time on that island of Vieques, most people will advise you to make Mosquito Bay your home base. The welcome isolation you feel here is part of the allure that draws people to this location.
The beach had lifeguards and public facilities and was about two miles long to boot. This beach happens to be the busiest during the evening and when sunset is imminent.
As previously mentioned, Mosquito Bay glows bright blue thanks to the microscopic bioluminescent critters visible at night. Mosquito Bay holds the official Guinness World Record title for the brightest bioluminescent bay in Puerto Rico and even the world.
9. Cabo Rojo
Cabo Rojo is at the southwestern tip of Puerto Rico and boasts nearly 30 miles of beautiful coastline. Here you'll find seascapes, nature parks, and more alongside tall limestone cliffs.
For those looking for fine dining, there are seafood restaurants to choose from, such as Downtown Boqueron . Choose between Boqueron, Combate, and other secluded and popular beaches.
Remember that they tend to become overcrowded on holidays and even weekends. So, if you have an urge to be a bit more secluded, head over to Playa Sucia.
10. Santurce
Santurce features Museo de Arte Contemporáneo and Museo de Arte de Puerto Rico along with local shops and other galleries. Santurce is about 15 minutes from Old San Juan, close to the Condado district.
Over the years, the area has become known as a culture and arts hub, with many buildings displaying beautiful murals and galleries showcasing the work of local artists.
Food is also done right in the town of Santurce. Exquisite restaurants are easily found right beside other quaint eateries. At the Santurce Marketplace, La Placita de Santurce, you can find live music, authentic local food, culture, and other forms of entertainment.
Here you can find fresh fruits, vegetables, local dishes, and flowers sold by local farmers during the day. Be sure to take advantage of the block party-style celebration each weekend.
11. Distrito T-Mobile
Nicknamed the Caribbean Time Square, this location in San Juan is known for having several entertainment venues where you can grab a bite to eat, get drinks, and dance the night away.
There are more than twelve eateries, multiple event spaces, an adventure park, and more. Begin your journey by taking a trip through the main plaza with tons of bright lights that make the space festive and enjoyable.
Additionally, some venues feature hosts and lovely entertainment. There's also a sports bar, the Arena Medalla , that advertises local artists and Puerto Rican sports figures, has excellent local brews, and neon lights everywhere.
You can watch sports games on numerous large televisions, reserve one of the private rooms for a night of karaoke, and much more. There are also foosball tables, pool tables, and card games going on all night.
If you want to turn it into a family event, try Todo Verde .
This recreational park offers rock climbing, ziplining, virtual reality games, classic arcade-style machines, and more. Additionally, you will find plenty of excellent dining establishments featuring all types of cuisine, from burgers to pasta, tapas, and authentic Puerto Rican dishes.
12. Cayo Icacos
One of the best places to visit when you travel to Puerto Rico is Cayo Icacos. It's another one of the beautiful beaches near the main island of PR. It might seem odd to focus on one beach when there are so many options, but this incredible location is worth it.
It's about a half-hour from the small city of Fajardo, toward the northeastern tip of the archipelago. You can find Cayo Icacos in La Cordillera Nature Reserve . There isn't much here regarding modern developments, so it's pretty much deserted.
However, that's the allure that brings most tourists to this destination! Consider an island tour on a massive catamaran that will transport you to this serene beach, provide lunch and drinks, and allow for socialization with the other passengers.
It lasts about seven hours daily, from 9 AM- 4 PM. You also get to stop and go snorkeling along the offshore coral reef toward the end of the tour.
13. Isla Verde
If you're more interested in all-inclusive locations with a suitable beach not too far from the airports, you'll love Isla Verde. You get sunbathing, delicious foods, gorgeous resorts, multiple tourist attractions, and more right at your fingertips.
The It thing you'll be missing out on is the authentic experience of Puerto Rican culture.
The waters are warm and calm, the weather is tropical, and the palm trees are abundant. Isla Verde is a suburban area in San Juan, and you get to experience a bit of city life and off-the-path scenery not too far from one another.
14. Rio Camuy Caves
Take a trip to the Rio Camuy Cave Park , which has a massive cave path covering nearly 300 acres. Many people deem it one of the largest cave systems globally.
You can take a trolley bus to explore the deep cave (200 feet), or Curva Clara Empalme , which was previously a sinkhole and has now become a preserved area. There are several rooms in the cave. Some have stalactites, stalagmites, high ceilings, and rushing rivers throughout.
A tour guides visitors around the area and gives a brief presentation on how the indigenous peoples used the caves years before. The primary entrance to the cave systems is in the Quebrada area.
15. Guanica State Forest
Jason Patrick Ross/Shutterstock
Guanica State Forest is the best place to visit if you love and appreciate nature. As of 1981, it became a Biosphere Reserve and amongst the best dry forests in the Caribbean. Over 50 percent of the bird population also call this location their home.
You'll find nearly 40 miles of hiking trails and over 750 plant species, of which almost 40 have become endangered.
Guanica State Forest is nearly 1000 acres wide and receives around 30 inches of rain annually. So there's no shortage of lush greenery to enjoy with your binoculars!
16. Condado
Luxury hotels, resorts, major department stores, fine dining eateries, and beach views are waiting for you in Condado . Sunsets on the Atlantic Ocean look stunning and never get old, no matter the viewpoint.
This community features chic boutiques and many activities like yoga classes, paddleboarding, surfing, and more. Condado also boasts aqua fitness classes, Zumba, recreational areas, playgrounds, spacious parks, and much more for families and solo travelers alike.
17. Manatì
There are tons of fun attractions to get into in Manatì . It's not among the most popular locations or highly publicized by travel agencies, but it's worth visiting.
If you enjoy natural pools, biking and hiking trails, gorgeous beaches, water springs, and lakes, don't hesitate to leave San Juan and take a trip to Manatì.
This small town has a lot of cultural and historical relevance and significance to the people of Puerto Rico, and it's fantastic to observe the greenery. There are massive green vines, limestone hills, and a more disconnected and calm life outside of San Juan.
Things to Consider
Here are a few points to consider before traveling to the island of Puerto Rico:
Getting Around Puerto Rico
It depends on where you visit when deciding whether you want to rent a car to get around Puerto Rico. If you stay within the confines of San Juan and Old San Juan, the city is walkable, and you shouldn't need much more than local public transportation.
However, no one recommends just staying in one place when there's so much more than these notable areas. If you plan to venture out a bit, minibusses, taxis, intercity buses, and miniature golf carts are also available to carry you around town.
You'll want to book a tour or two on a cruise ship or catamaran to get the best out of being surrounded by so many fantastic beaches.
Passports
When visiting Puerto Rico, you won't need a passport or additional documentation beyond your standard identity card. The currency in PR is the US dollar, so you don't have to exchange money.
Since it's a US territory, you're welcome to go as if traveling to any other state. There are also talks that Puerto Rico could soon become the 51st state of America !
Legal Drinking Age
In Puerto Rico, you're allowed to drink at 18 years old. They have the largest and best rum distillery, Casa Bacardi , which is worth checking out if you want an authentic taste of their signature alcoholic beverage.
Bugs & Weather
While the weather is beautiful in Puerto Rico and every bit as tropical as you'd imagine, there are still many days when it rains. You don't want to forget your umbrella on the trip, as it rains frequently depending on the season.
Also, with tropical weather comes bugs, and mosquitoes, to be exact! So don't leave your hotel or resort without bug repellant, or you'll be paying for it the entire time and even when you return home.
Frequently Asked Questions
Javier Cruz Acosta/Shutterstock
Here are the responses to the most commonly asked questions regarding places to visit in Puerto Rico:
Is Puerto Rico expensive?
Puerto Rico is one of the costlier Caribbean archipelagos. While several free activities involve nature and enjoying the scenery, you'll still pay a pretty penny for their car rentals and hotels compared to other Latin American countries.
You can venture out to some areas that are further away from the mainland, where you might be able to find lower prices for hotels and food.
How many days do I need in Puerto Rico?
It's best to plan a vacation in Rome for seven to ten days. If you'd like to explore the surrounding islands and primary tourist events and attractions, this is the lowest number of days you should book.
Ideally, two weeks is the perfect amount of time to experience everything the islands have to offer without feeling rushed.
When is the best time to visit Puerto Rico?
It's best to visit Puerto Rico from December through May. This period is when the weather is consistently tropical, and it's the dry season. Keep in mind that you have to pay higher prices, but this is when you have a greater chance of beautiful weather with less worry about rain and hurricanes.
Will a US cell phone work in Puerto Rico?
You don't have to worry about the reliability of your cell phone service when visiting PR from the United States.
You shouldn't have to change your carrier or phone plan, and you should get pretty good reception around the island. Most major cell phone companies offer coverage in Puerto Rico as part of their domestic plans.
Are people friendly in Puerto Rico?
Many visitors have expressed that Puerto Ricans are incredibly hospitable, social, friendly, and family-oriented. Using a little Spanish here and there goes a long way in PR!
So, What's the Best Place to Visit in Puerto Rico?
San Juan or Old San Juan are amongst the most popular destinations to visit in Puerto Rico. Not only are there top tourist attractions in these places, but you can experience the best beaches, water activities, historic locations, and more in these towns.
Puerto Rico is a beautiful Caribbean island you'll love when you arrive, so have a safe trip and enjoy!
Source https://www.planetware.com/tourist-attractions/puerto-rico-pr.htm
Source https://www.thecrazytourist.com/15-best-places-visit-puerto-rico/
Source https://travellersworldwide.com/best-places-to-visit-in-puerto-rico/