15 Best Places to Live in North Dakota
Almost perfectly rectangular and sharing a border with Canada, North Dakota is small but mighty.
If you had to guess which American state has the second best economy, chances are you wouldn't say, North Dakota. But thanks to an oil drilling boom in 2016, little old North Dakota's economy flourished and looks set to stay that way too. Unemployment rates are at a staggeringly low 3.2% meaning North Dakota has the lowest unemployment rates of all fifty states.
The smallest city in North Dakota, called Maza, is home to just five permanent residents. There are no towns or villages in the state, regardless of size, every place is a city. Funnily enough, Maza doesn't make our top 15!
We have collected together the 15 best places to live in North Dakota by listening to locals, reading up on rankings and assessing the infrastructure so you can get on with the decision of where to buy your next home.
Here are the best places to live in North Dakota:
1. Fargo
Source: David Harmantas / shutterstock Fargo
Providing the backdrop for hit TV series Fargo, the city of Fargo is as icy cold in winter as the show would suggest.
With a population of 113,464 people, this city happily retains its small-town feel while providing in plenty all the amenities and facilities every major city needs. As stereotypical as it sounds, being the midwest, the residents of Fargo are friendly and welcoming. If you are as open and chatty as they are, you'll find it no trouble getting a job around here.
In all honesty, the major downside to Fargo is the crime rates. Still significantly lower than the national average but way high than say, Burlington in Vermont, this could be a stick in the mud for some people considering relocating here.
2. West Fargo
Source: carriescarr / Flickr West Fargo
Fargo, West Fargo, it's all about Fargo in North Dakota! In terms of crime levels, West Fargo is much safer than Fargo itself.
It is a toss up when it comes to schooling. If you are a parent then the schools in Fargo have a slightly higher rating of B+, whereas West Fargo is simply rated as B. A small difference for some but a deciding factor for others.
As a commuter, this neighbourhood is located ideally close to Highway 94. A property in West Fargo would see you get onto the Highway in less time than Fargo itself, which is particularly useful during rush hour.
Median rent in Fargo and West Fargo are essentially the same; but property here in West Fargo is on average $5,200 more expensive. However, being a bit more suburban, you will find properties come with bigger gardens and larger driveways too.
3. Bismarck
Source: Ace Diamond / shutterstock Bismarck
Coming in a fair third place is the North Dakotan capital, Bismarck. The State Capitol stands tall above the city below in a modern, art deco style. Bismarck is a great place to raise a family, close to the Missouri River and the Dakota Zoo too.
Falling well within the top 10 places for Millennials in North Dakota, Bismarck's house prices are a little less agreeable than Fargo, with median home value hitting $183,100. Despite this difference, 64% of the 66,980 population live in owned homes. Median rent comes in at $752 a month, well below the national average, which explains the millennial appeal.
With live bands or DJ sets every weekend and most weeknights too, throughout the city there is plenty to keep you entertained and socialising.
4. Grand Forks
Source: Brenda Riskey / Wikimedia Grand Forks
In a firm fourth place comes Grand Forks; tucked away to the east, right on the border with Minnesota Grand Forks is home to a diverse population of 54,944 people.
A reasonable cost of living teamed with great public schools and varied nightlife too, all boost the appeal of Grand Forks. This city can proudly boast five A-rated schools, offering your little ones a great education, as well as a fantastic range of extracurricular activities.
Median home value is very similar to Fargo, lying around $163,800. That said, $149,900 will get you a quaint 4-bed, 3-bathroom home with a generous garden, connected to central Grand Forks by reliable bus routes.
5. Horace
Source: afiler / Flickr Horace
Happily coming 5th in our 15 best places to live in North Dakota is Horace. With a population of just 2,500 people, in any other state we would be referring to Horace as a village, a small town perhaps, but nevertheless, we are in North Dakota so this tiny, rural community is officially considered a city!
There is something about Horace that makes you feel immediately at home, this is reflected by the 95% of the residents who lived in an owned home. Resultantly, median home values here spiral up to $244,900. However, and this is a big however, the median rent is still $740; on par with Bismarck. The only downside is that rental properties are few and far between.
Horace is widely considered as the best place to raise a family in North Dakota and in official rankings comes in a competitive second best place to buy a house in the state. You just might be waiting a while for the right house to come on the market!
6. Devil's Lake
Source: publichall / Wikimedia Devil's Lake
They say you shouldn't judge a book by its cover, nor should you judge a place by its name. Devil's Lake marginally misses out on the top five best places to live in North Dakota but lies comfortably in the top ten.
Definitely more suburban than Horace, Devil's Lake is an ideal location for people looking to rent a property, with median rents a minimal $524 per month. Moreover, with a rent to ownership ratio of nearly 1:1, there are plenty of properties out there available for tenants to move in right away.
If you want to get out on the water there are ample opportunities to do so on the lake itself. Fishing is a favourite local pastime. With casinos and hunting being the next most popular hobbies, Devil's Lake is perhaps a more of a senior neighbourhood than it is family orientated.
7. Jamestown
Source: Daniel M. Silva / shutterstock Jamestown
With its very own domestic airport, connecting you to Pittsburgh in just 55-minutes, Jamestown is a great little commuter town, rather, city! Perfectly equidistant from Bismarck and Fargo, Jamestown is right on Highway 94, from anywhere in the city you can be on the Highway running east or west within half an hour.
Great cost of living, matched with job opportunities, as well as access to health and fitness facilities, if you enjoy suburban living and want to be able to afford your own home then Jamestown may just be the place for you. With median home value at an agreeable $109,300, it is not aspirational to think about buying a property here.
8. Valley City
Source: chief_huddleston / Wikimedia Valley City
Flying daily, across the state, to Devil's Lake and to Denver, Colorado, Valley City is well connected in the air and on the ground. Another stop along Highway 94, Valley City is 35-minutes east of Jamestown and an hour west of Fargo.
This tight-knit community welcome newcomers and if you are looking to get on the property ladder, anywhere in the US, then Valley City may just be the place to do it. Median home value is just $89,800, and with rent averaging $575, City Valley would be a great place to lay low and save for your own home.
Valley City is transected by a tributary of Lake Ashtabula and there are many parks and community fields for residents to enjoy at their leisure.
9. Beulah
Source: afiler / Flickr Beulah
Schooling in Beulah is certainly not of the high standard found in Grand Forks but with good jobs, decent cost of living and ample housing, if you are an empty nester then Beulah could be a contender.
Median rent is a little higher here than the rest of the state; at $609, it's still well below the national average, however. With 3,286 people calling this Mercer County neighbourhood home, there is very much a community feel to the area, with one of the state's lowest crime rates to match.
Little Beulah is ranked as the best place to buy a house in North Dakota and the second safest place in the state too. As such, this area is popular with Millennials, although this hasn't made the population all that diverse, yet.
10. Wahpeton
Source: afiler / Flickr Wahpeton
Again, public schools here are not in keeping with the standard of those in our top five. That said, if you are looking as Wahpeton as a base to commute to work, or rent a house to help to save to buy a house, then this small neighbourhood is a good place to look.
Rent averages at $516 a month and residents note that there is 'always a helping hand' available in this united community. The cleanliness of the city is another desirable factor, as well as nightlife and job opportunities for young people.
Crime rates are consistently low here and with only 7,800 people to police, the force can spring into action whenever their services are needed.
11. Lincoln
Source: afiler / Flickr Lincoln
Within easy reach of Bismarck Airport, Lincoln just falls short of the top ten places to live in North Dakota.
A staggering 97% of the small population of 3,093 people live in owned homes. Unsurprisingly this has sent the median rent rocking up to $1,150 making it one of the most expensive areas in North Dakota to rent a property, and in all honesty, the properties here aren't great value for money for the tenants either.
Despite this, Lincoln is ranked as the best place for Millennials in North Dakota, with residents referencing the good schools, low crime rates and proximity to Bismarck as their top three reasons for wanting to live here.
12. Mandan
Source: afiler / Flickr Mandan
Situated just north-west of Bismarck is Mandan, and much like Lincoln is a popular choice with Millennials. Perfectly placed by Highway 94, Mandan is a great little commuter suburb.
Very much with a city atmosphere, the neighbourhood feel certainly prevails. With median rent bang on the state median and well below the national average, you can get yourself a cute little home for the reasonable price of $760.
Great for families and for young people, this growing city is expanding at just the right pace. Populated enough to generate a bit of a buzz but slow enough that no-one gets left behind.
All the shops you could ask for and right on the Missouri River which is great for fishing, here aside from the weather and the suburban cost of living, it is hard to find considerable fault with Mandan.
13. Williston
Source: afiler / Flickr Williston
Far from unlucky 13, we find Williston as 13th best place to live in North Dakota.
With ISN Airport connecting you multiple times daily to Denver and Minneapolis for business folk, this city is something of a dream. The reason Williston ranks lower than its North Dakotan counterparts is quite simply the public schooling and the crime rates.
With the best school in the neighbourhood getting a steady B-rating, parents will likely look elsewhere, especially when you consider that, sadly, motor vehicle theft and burglaries in the area occur above the national average.
14. Minot
Source: afiler / Flickr Minot
It may be small but Minot Airport is one key reason why people love living in this area of North Dakota, if only for the easy travel by air to Denver, Las Vegas, Minneapolis, and Phoenix.
Although falling dramatically behind on the outdoors activities scale, this can be taken with a pinch of salt given the job opportunities, housing availability and very reasonable cost of living.
Home to 46,194, this is something of an up and coming area so you'd do well to get on the property ladder here while median home values are still under $200,000.
15. Dickinson
Source: afiler / Flickr Dickinson
Residents note 'community effort' as being one of the key reasons for sticking it out in Dickinson.
Although the schools are not as great as say, Fargo, given the reasonably low crime rates, housing cost, quality and availability, as well and good commuting distances, there is little reason to discredit Dickinson.
For those into outdoor pursuits then Dickinson will fall lower down your consideration list, but what it lacks in outdoor activities it makes up for in ample health and fitness facilities.
10 Best Places to Visit in North Dakota
Desolate and wild, yet scenic and beautiful, underpopulated North Dakota is one of the least-visited states in the whole country, although it certainly has a lot to offer visitors. While much of the state is covered in endless wheat fields, the badlands in the west are simply stunning, with the Theodore Roosevelt National Park an undoubted highlight.
Exploring the great outdoors in North Dakota is a rewarding experience, and horseback riding through the wilderness is truly unforgettable, as is camping under the stars. With some lovely cities and towns for you to explore, the local events and festivals on offer are fun and entertaining ways to learn more about the rich culture, heritage, and history of the people who live here.
10. Fort Union Trading Post [SEE MAP]
© Chamey / Dreamstime
Located on the border with Montana and lying next to the Upper Missouri River, the Fort Union Trading Post is a reconstructed version of one that used to exist here in 1828. An important historical site, the post is where various Indian tribes came to exchange furs and buffalo skins for guns, beads, and blankets.
Visiting the Fort is an interesting experience; you gain insights into the culture, history, and importance of the site. Every June, the Rendezvous gathering allows visitors to watch actors bring the trading post's past to life.
With educational and engaging year-round exhibitions, Fort Union is the perfect place for history lovers to learn more about North Dakota's fascinating past.
9. International Peace Garden [SEE MAP]
Hugh Millward / Flickr
Nestled amidst the Turtle Mountains, the International Peace Garden lies right on the border with Canada and straddles the frontier between North Dakota and Manitoba. The garden is absolutely huge and is a tribute to the longstanding friendship and peace that exists between Americans and Canadians.
A beautiful place to visit, there are over 2,300 acres of gardens, lakes, wildflowers, and waterfalls that are home to many different species of birds and animals. With over 155,000 flowers planted in delightful displays, wandering around the International Peace Garden is a peaceful and relaxing affair.
Two floral flags of both nations chime every fifteen minutes and the lovely chimes perfectly complement the soothing trickle of water that you can hear in various parts of the garden.
8. Medora [SEE MAP]
Roderick Eime / Flickr
While many people simply use Medora as a gateway to the South Unit of the Theodore Roosevelt National Park, there is much about the historic town that makes it a place worth visiting on its own. Located in the badlands, Medora is blessed with breathtaking scenery and there are loads of great outdoor activities for you to enjoy, whether it's horseback riding, hiking or camping.
For a small, laidback place, there are quite a few good restaurants that serve up hearty and delicious food – you will definitely notice a cowboy theme about town! Head to the nearby Chateau de Mores for an interesting look at the life of the former Marquis who lived here.
There is also a great museum which looks at what life in the area used to be like. In summer, Medora comes alive for the fun and festive Medora Musical – a Western-style musical that celebrates Roosevelt's legacy.
7. Maah Daah Hey Trail [SEE MAP]
Roderick Eime / Flickr
Linking the North Unit to the South Unit of Theodore Roosevelt National Park, the 144-mile Maah Daah Hey Trail is one of the best mountain biking trails in the country and is simply a delight to travel along.
Whether by foot, bike or horseback, the stunning badlands all around you are mesmerizing; wandering through the wilderness alone with your thoughts is a rewarding experience. Camping the night in the rugged terrain under the twinkling stars is magical, and you are really following in the footsteps of Teddy Roosevelt himself, who did the same journey all those years ago.
Well signposted and with amenities every twenty miles, visitors can either stay in one of the nearby towns or attempt to complete the whole trail in one go, camping along the way. With some breathtaking scenery on offer, the Maah Daah Hey Trail is a lovely outdoor adventure that will make you fall in love with the badlands.
6. Minot [SEE MAP]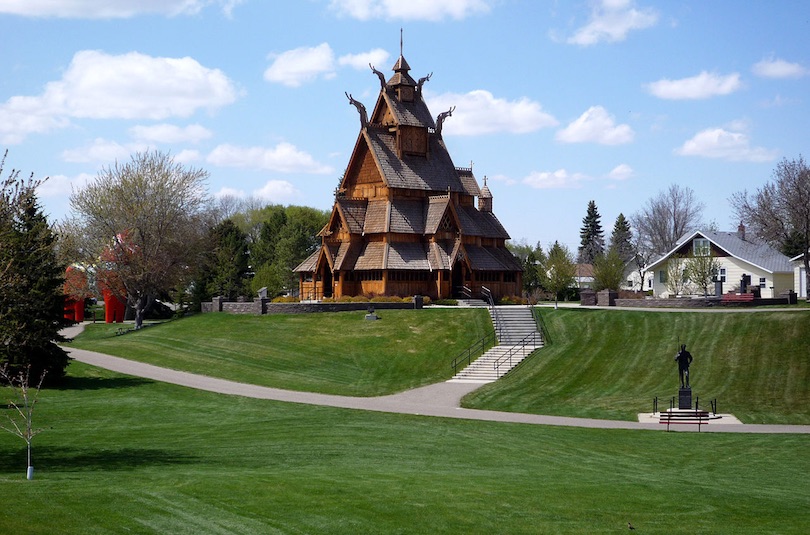 Bobak Ha'Eri / Wikipedia
Since it was founded in 1886, Minot has become known as 'Magic City,' due to its rapid growth and expansion – which accounts for the somewhat haphazard sprawl of its outskirts. Although slightly grimy and run-down, the downtown is slowly being rejuvenated; new businesses, shops, and restaurants have been springing up of late.
While Minot is a laidback town, the city really comes alive during the fantastic North Dakota State Fair that takes place every July. Worth checking out are the nice museums around town, as well as Roosevelt Zoo. The Scandinavian Heritage Park is particularly fascinating, with Gol Stave Church the undoubted highlight.
Well worth stopping by, Minot is a great break when driving through the bleak landscape that surrounds it.
5. Grand Forks [SEE MAP]
Tony Webster / Flickr
The third largest city in North Dakota, Grand Forks lies on the banks of the spectacularly named Red River of the North but is unfortunately prone to flooding. A lively college town, its cosmopolitan downtown is a bustling place, full of life.
The city has been rebuilt and revitalized since a tragic fire and flood in 1997. With a vibrant art and culture scene, as well as some great restaurants on offer, Grand Forks is a happening place with a lot going on.
Home to some interesting and educational museums, the city's green spaces and riverside location mean there are loads of fun outdoor activities and watersports for visitors and locals alike to enjoy.
4. Bismarck [SEE MAP]
© Glenn Nagel / Dreamstime
While Bismarck's continuing expansion means that the urban sprawl is slightly soulless and unattractive, the capital of the state's small downtown is a great place to hang out; there are lots of nice restaurants, cafes, and shops, as well as the city's main shopping mall.
Surrounded by wheat fields and situated in the Great Plains, summers in the state capital are lovely, while winters can drag on a bit. Although Bismarck is not blessed with many attractions, it has lots of great parks and trails for visitors to explore.
Sertoma Park, which lies along the banks of the Missouri River, is particularly nice. From here, many people visit the nearby Fort Abraham Lincoln State Park with its interesting historical sites.
3. Theodore Roosevelt National Park North Unit [SEE MAP]
© Renate Hartland / Dreamstime
The Theodore Roosevelt National Park is a beautiful place to visit due to the spectacular scenery and amazing wildlife. The park is divided into two sections. The North Unit is a great entry point for tourists to the Badlands; the visitor's center has exhibits, short films and displays on the park's history, animals and geography.
There are some great paths and trails that snake away from the center, and a short drive away is the Oxbow Overlook, which offers some fantastic views of the park. Walking amidst the fauna and flora is a revitalizing feeling – you may even catch a glimpse of some of the majestic animals that roam freely around the stunning scenery.
2. Fargo [SEE MAP]
aj leon / Flickr
The largest and most populated city in the state, Fargo is the cultural and economic hub of North Dakota and was named after the founder of Wells Fargo Bank. Once known as the Gateway to the West, the city has undergone many identity changes since its founding.
At one time or another, it has been a fur-trading post, a 'divorce capital,' and a frontier town. Famed for the Coen Brother's film of the same name, the city itself has little going for it in the way of tourist attractions, although it is a great place to live.
It boasts some interesting museums as well as numerous theatres, restaurants, coffee shops and lots of pretty green spaces. Well worth stopping by if you're traveling around the state, the Fargodome is your best bet if you're looking to enjoy a Broadway musical or large sporting event.
1. Theodore Roosevelt National Park South Unit [SEE MAP]
© Robert Philip / Dreamstime
Set in the North Dakota 'Badlands,' the Theodore Roosevelt National Park South Unit is the perfect place to stop by when visiting the fantastic wild landscapes of the region. With amazing rock formations that are a stunning mixture of red, yellow, black and silver, and tufts of green springing up here and there, the Badlands make for memorable viewing.
Named after the former President who liked to hunt bison here, the park commemorates his work in preserving the United States' natural resources. The South Unit welcomes visitors to explore Roosevelt's old cabin that is located next to it, and there is a nice museum which looks at the history and nature of the park.
Lying next to Interstate 94, the park is easily accessed and the wildlife viewing on offer is brilliant, with bison, coyotes, cougars and more residing within its boundaries. A wonderful place to visit, from the South Unit you can hike or horse trek amidst the stunning scenery of the park – you can even camp under the beautiful stars.
Map of North Dakota
© OpenStreetMap © MapTiler © Touropia
8 Best Things to Do in North Dakota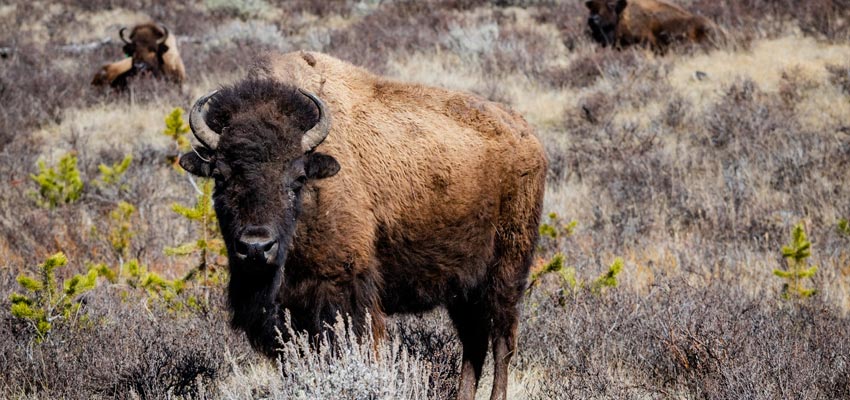 With its endless stretches of stunning scenery, the fascinating glimpse into history it provides, and unparalleled raw beauty – there is no shortage of things to do in North Dakota.
It's quite interesting how, despite being an incredible destination for all history and nature lovers, North Dakota still remains one of the least-visited states in the US.
But a closer look at this state reveals a plethora of things to do in North Dakota that are enough to make you want to add it to your must-visit list.
You'll get to drive along remote routes, marvel at the rolling plains as they meet with the clear blue skies, get lost at largely untouched areas and have a cultural experience like no other.
What is North Dakota famous for?
Without a doubt, Theodore Roosevelt National Park is one of the most important North Dakota attractions.
Since it made it was dubbed as one of the top places to travel in 2016 by the New York Times, the park has quickly grown in popularity and became a center of the tourist trade in North Dakota.
If you're looking for things to do in North Dakota, I highly recommend you start with that.
As it's one of the main highlights of any trip to North Dakota, I also recommend you spend the longest part of your trip there.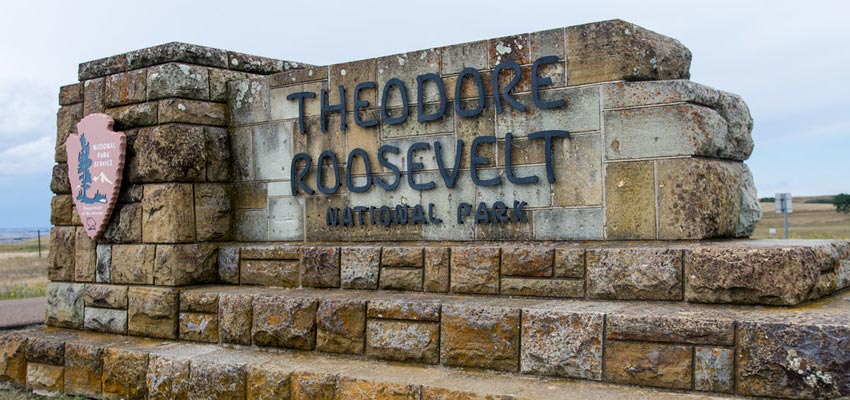 What is the Theodore Roosevelt National Park?
It was named after the 26th president of the United States (who was also an avid naturalist and rancher) and is a place that is widely known for incredible scenery.
Think of the Little Missouri River snaking its way through endless rolling hills that stretch over 70,000 acres, preserved wildlife, and natural beauty surrounding your every move.
Best time to visit
The best time to visit this top North Dakota attraction is during the summer. If you're not really a fan of crowds, then I recommend visiting during the shoulder season (so either May or September).
Things to do there:
A scenic drive alongside its free-roaming bison.
Hike along one of its many hiking trails.
Take a horse ride along the Peaceful Valley Ranch.
Climb through the Ridgeline Nature Trail.
Hike along the Wind Canyon Trail for the incredible panoramic vistas it offers.
8 Best Things to Do in North Dakota
There are a lot more things to do in North Dakota than visiting the Theodore Roosevelt National Park.
Here are some of my recommendations:
1. Enchanted Highway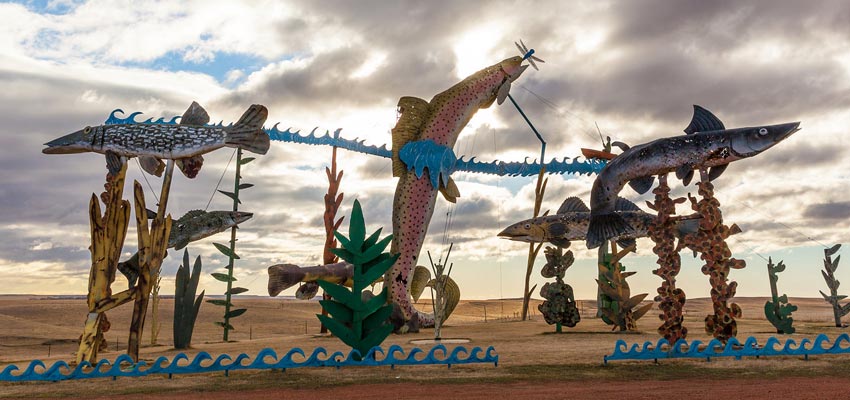 If you're an avid road tripper, then the Enchanted Highway is bound to be one of the top North Dakota attractions for you.
The 32-mile highway appeals to all types of travelers and is a whimsical display of incredible sculptures and miles of stunning scenery.
2. The Scandinavian Heritage Association
This is quite an interesting part of North Dakota that pays homage to Sweden, Finland, Norway, Denmark, and Iceland.
The park includes the Gol Stave Church Museum, Dala Horse, Heritage Center and plenty of statues that reflect the material possessions and lives of settlers who left North Dakota behind for a promising new life in the New World.
3. The North Dakota Heritage Center and State Museum
This is one of the most popular things to do in North Dakota.
The museum is an interesting display of a staggering 12,000 years of history divided into different sections for different periods.
The museum has exhibits dedicated to dinosaur skeletons, cultural artifacts from the Native American culture and a lot more.
4. Frontier Village & The National Buffalo Museum
If you want to experience the raw grandeur of the world's largest bison, then I recommend visiting this top North Dakota attraction.
You'll get to learn everything about buffaloes at the National Buffalo Museum alongside a collection of pioneer buildings that feels like stepping into a time-portal.
5. Plains Art Museum
Another museum on this list of top things do in North Dakota, the Plains Art Museum is renowned for its impressive collection of artifacts and pieces of art by, both, local and international artists.
6. The Lewis & Clark Trail
You'll get to follow the footsteps of Lewis & Clark on this now world-famous trek that will most definitely inspire you to make your own discoveries.
7. Maah Daah Hey Trail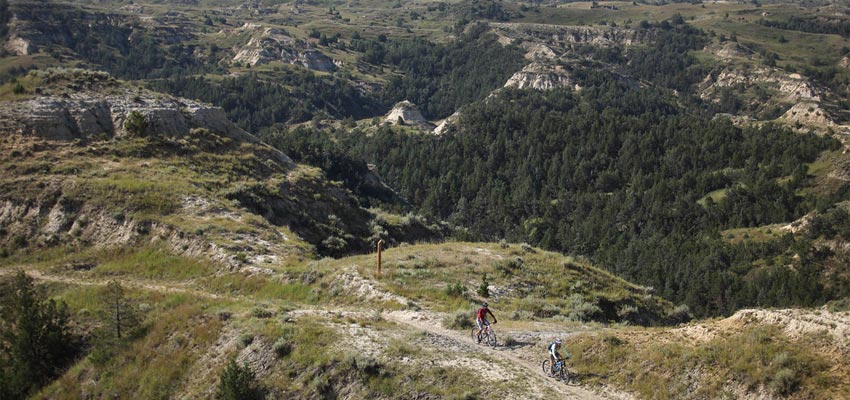 If you're an avid hiker, a nature lover or a big outdoor enthusiast – this one's for you!
This is one of the best North Dakota attractions and has been attracting all adventure lovers for years – from the hikers to the bikers to the horseback riders!
Covering over 140-miles, the Maah Daah Hey Trail is a treasure trove of staggering landscapes and scenic day trips.
8. Fort Abraham Lincoln State Park
The Fort Abraham Lincoln State Park will fully immerse you in history by engaging you with stories about the Mandan Indians who lived there.
There's a lot more to do including hikes, camping next to the water and horseback rides.
The park includes four primitive campsites, modern reconstructed military buildings, and a few recreational facilities.
When is the best time to visit North Dakota?
From late May through October is definitely when you should visit North Dakota.
Because of North Dakota's location, the four seasons there are quite distinct with extremely cold and windy winters, pleasant summers, and unpredictable weather during Spring and Fall.
For the best weather visit in June, July or August, but if you want to avoid crowds and the high humidity, then I recommend visiting in late May or September-October.
What is there to do in North Dakota in the winter?
Which brings me to my next point – what are the top things to do in North Dakota during the winter months?
Despite the reputation it gets for being quite frigid during the winter months, there is no shortage of North Dakota attractions and things to do in winter.
Yes, it's cold. But all you need to do is bundle up and get ready to explore all that the state has to offer.
Bottineau Winter Park
Perched amidst the Turtle Mountains, the Bottineau Winter Park is a haven for all winter lovers.
There are plenty of skiing and snowboarding opportunities for visitors of all skill levels in its eight trails.
If you're still a beginner, I recommend visiting the Southside Hill, and if you're an expert, the head straight to the glade runs.
Frost Fire Ski Area
Another treasure trove of winter activities, the Frost Fire Ski Area boasts a wide range of activities.
You can try snow tubing, snowboarding, and skiing there.
Make sure you visit Dragon's Mouth – this terrain park includes 10 trails with a range of difficulty for visitors of all skill levels.
Huff Hills Ski Area
This is one of those North Dakota attractions that is perfect for all snow lovers.
It has an incredible vertical drop (450-foot drop to be exact!) and around 16 runs with lessons for individuals and groups.
The cherry on top, however, are the meals that are cooked by the stone fireplace overlooking the incredible landscapes of the park.
Stay at one of the many lodges in North Dakota
Honestly, does anyone sound better than curling up next to a fire on a cold winter evening?
There are plenty of lodges and cabins at parks in North Dakota that can make the winter months a bit more fun.
Rent a cabin at Cross Ranch State Park and indulge in some of its many winter activities like cross-country skiing and snowshoeing.
Stay at Eagle Ridge Lodge for a romantic getaway.
Rent a lodge at the peaceful Moose Creek Lodge for a chance of ultimate relaxation amidst the diverse wildlife and tranquil landscapes of the park.
Enjoy all the winter activities at full force in North Dakota
One of the best things to do in North Dakota in winter is to participate in one of the many winter activities offered by the state.
Try your luck at ice-fishing at Devils Lake, Lake Metigoshe State or Icelandic State Park.
Visit one of the snowmobiling trails in North Dakota. Don't worry – the state has a staggering 2,800 miles of snowmobiling trails.
Is it really a winter well spent if you haven't been ice skating at least once? You could ice-skate at pretty much at any of the towns in North Dakota.
One of the best things to do in North Dakota in winter is cross-country skiing thanks to the state's rolling hills and flat prairies that make it a haven for all skiers.
Try curling or snowshoeing at one of the major state parks in North Dakota.
North Dakota Has Many Attractions
The magnificence of North Dakota lies in its rugged badlands and lush woodland settings.
Don't miss out on what this state has to offer from its incredible culture & heritage to its wide range of activities and landscapes.
Source https://www.thecrazytourist.com/15-best-places-live-north-dakota/
Source https://www.touropia.com/best-places-to-visit-in-north-dakota/
Source https://scenicstates.com/best-things-to-do-in-north-dakota/