13 Best Things to Do in Dar es Salaam, Tanzania
Jessica Macdonald lives in South Africa's Eastern Cape province and has been TripSavvy's Africa Expert since 2016. She also covers travel products and has written about everything from camping knives to climbing chalk.
Located on the Swahili Coast, Dar es Salaam is the jumping off point for those traveling to Zanzibar or Pemba by ferry; while Julius Nyerere International Airport is Tanzania's biggest port of entry. Dar es Salaam served as the country's capital until 1974, and remains its premier center for arts and entertainment. Those that stay longer than a few hours in transit have the opportunity to discover excellent global restaurants, fascinating museums and art galleries and a collection of beautiful offshore islands. Wherever you go, the city's cultural diversity shines through — the result of Arab, German, British and Indian influences mixing with its own Swahili heritage.
Note: Dar es Salaam has a high crime rate and travelers should be aware of their surroundings at all times. Make sure to stay in a reputable area and never take an unlicensed taxi.
Stock up on Souvenirs at the City's Craft Markets
Sohadiszno/ Getty Images
Tanzania is home to many skilled artisans. If you want to take their work home with you, plan a visit to at least one of the city's numerous craft markets. In the northeast, Mwenge Woodcarvers Market specializes in traditional African sculptures carved from local timber. Most vendors create their masterpieces on-site, and you should be able to see them at work. If you don't have time to get out to Mwenge, head to the smaller craft market at waterfront shopping centre The Slipway. For those with a sense of adventure, Kariakoo Market is the largest (and most chaotic) market in Tanzania and sells everything from spices and vegetables to clothing and crafts.
Discover Tanzanian History at the National Museum
RIEGER Bertrand/Getty Images
Although the exhibits at the National Museum have seen better days, they cover a wide range of topics including archaeology, ethnography, biology and the arts. The ethnographical artifacts are particularly worthwhile, affording an insight into Tanzania's kaleidoscope of different cultures — from the Shirazi traders who brought Islam to the Swahili Coast, to colonialists from Britain and Germany. Look out for archaeological finds from the digs at Olduvai Gorge, where Louis and Mary Leakey unearthed the origins of mankind. These include a replica of the hominid skull known as the Nutcracker Man, discovered in 1959. The museum is open daily from 9:30 a.m. to 6:00 p.m. and costs Tsh6500 per adult.
Experience Traditional Life at the Village Museum
RIEGER Bertrand/Getty Images
A 20-minute drive northwest of the city center takes you to the Village Museum, an open-air re-creation of the traditional homes of Tanzania. The site is spread across 15 acres and gives you the chance to explore more than a dozen different types of ethnic homestead, all with authentic furnishings. The huts are surrounded by indigenous crops and occupied by costumed craftsmen who demonstrate traditional weaving, carving and pottery skills — all of which makes for an interactive experience that's especially popular with kids. If you're lucky, you may catch the daily tribal dance and drumming performance for an additional Tsh2000. Regular admission is priced at Tsh6500 per adult.
Be Part of the Action at Kivukoni Fish Market
The waterfront suburb of Kivukoni is home to the famous Kivukoni Fish Market, where local fishermen arrive early every morning to offload the catch of the day from their traditional dhows. Restaurateurs, hoteliers and members of the public gather at around 7:00 a.m. to bargain fiercely for the best seafood in a raucous auction — providing a fantastic opportunity for photographers and the chance to see an impressive range of Indian Ocean species. Throughout the rest of the day, you can purchase fresh fish or seafood that has already been cleaned, cooked and prepared. You'll need a strong stomach for the smell, and haggling is expected. The market opens at 6:00 a.m.
Head to The Slipway for Boutique Shopping
For a more sedate shopping experience, head to pedestrianized expat hangout The Slipway. This peaceful enclave is home to a range of boutiques selling stylish clothing and quality (but pricey) Tanzanian artwork. There's also an excellent bookshop, a hotel and a supermarket that sells international and gourmet ingredients you'll struggle to find elsewhere in the city. When you finish shopping, regroup with sundowners at The Waterfront, an open-air bar and restaurant with a global menu and beautiful Msasani Bay views. The Slipway is also a popular departure point for fishing charters and excursions to the islands of the Dar es Salaam Marine Reserve. It's located on Yacht Club Road.
Add to Your African Art Collection
DKart/ Getty Images
If you're especially interested in African art, there are plenty of opportunities for expanding your collection in Dar es Salaam. The Tingatinga Arts Cooperative Society (located between Msasani and Oyster Bay) houses more than 100 artists dedicated to preserving the legacy of Edward Saidi Tingatinga. In the 1960s, Tingatinga's distinctive painting style became a national emblem and the artists' colorful renderings of people, plants and animals are uniquely Tanzanian. In the north of the city, Nafasi Art Space is a haven for contemporary art with 37 studios offering work across all mediums — and the chance to see it being created. It also hosts regular workshops, art lectures, exhibitions and fairs.
Shop for Unique Tanzanite Jewelry
Found only in the foothills of Mount Kilimanjaro, the tanzanite is unique to Tanzania and considered one of the rarest gemstones in the world. It was discovered in 1967 and named by Tiffany & Co, who described it as the "loveliest blue gemstone discovered in over 2,000 years." One thousand times rarer than diamonds yet more competitively priced, these breathtaking violet blue stones change color in the light and make for a particularly impressive memento of your time in Tanzania. There are many places to buy them in Dar es Salaam. One of the most reputable jewelers is The Tanzanite Dream, located on Mataka Road in Upanga and open every day except Sunday.
Enjoy a Family Day Out at Kunduchi Water Park
If you're traveling with kids or have a soft spot for water rides, make time for the 30-minute drive north of the city to Kunduchi Wet 'n' Wild Water Park. There are more than 29 slides and several well-maintained pools (including a play pool for smaller children). You can spend the day floating down the Lazy River or plunging down slides that tower some five stories high. The park is also home to a go kart circuit and is the largest water theme park in East and Central Africa. There are several restaurants and bars on-site. The park is open from 9:00 a.m. to 6:00 p.m.
Join the In Crowd at Coco Beach
Meshack Mwakalukwa/ Getty Images
The most popular of Dar es Salaam's city beaches, Coco Beach is located on the Msasani Peninsula in the upmarket neighborhood of Oyster Bay. With its golden sand and palm-fringed shore, it's a favorite spot for affluent locals, expatriates and travelers in the know. Come to cool off with a swim on a humid summer day, to people watch or to soak up the vibe created by lively street food vendors and buskers. The beach is lined with trendy restaurants, bars and clubs and the weekends offer regular beach parties. Combine your visit with a tour of nearby Oyster Bay Shopping Center, known for its art galleries and produce markets.
Sample the City's Global Restaurants
This cultural diversity is also reflected in the city's cuisine. Hole-in-the-wall spots like Grace Shop serve up Tanzanian specialties such as ugali and mchicha for a few shillings; while Mamboz Corner BBQ is a top choice for African-style grilled chicken. You can also find Chinese, Indian, French and Italian restaurants to suit every budget, while Addis in Dar is the city's most popular option for authentic Ethiopian meals. Dar es Salaam's expat community can usually be found dining on pizzas at fashionable Zuane Trattoria or queuing for pain au chocolat, eclairs and tiramisu at European bakery Epi d'Or. Check Lonely Planet's restaurant guide for the best places to eat in Dar.
Admire Colonial Architectural Landmarks
wilpunt/ Getty Images
Dar es Salaam became a major city in the 19th century under the auspices of the Sultan of Zanzibar. Later, it was the administrative and commercial center of German East Africa, and then of British Tanganyika. Its colonial heritage is evident in landmarks like the Gothic-style St. Joseph's Cathedral (built at the end of the 19th century) and the Azania Front Lutheran Church (built in the Bavarian style around the same time). Both places of worship are still in use today and were constructed by German missionaries. The official residence of the Tanzanian president, State House, was built for the British Governor in 1922 and blends African and Arabian architectural styles.
Head Out For a Night on the Town
Whether you prefer glossy nightclubs or backpacker watering holes, Dar es Salaam has the right nightspot for you. Put on your dancing shoes for an evening at trendy Havoc Nightspot on the Msasani Peninsula, or head to rooftop bars like Rouge and High Spirit for cocktails and panoramic Kivukoni views. Sports aficionados head to the Slow Leopard to drink imported beers and watch the game on big screen TVs. If you're traveling around East Africa on a shoestring, you'll find cheap drinks and good music at O'Donovan's Reggae Bar in Masaki. Wherever the night takes you, walking after dark is not advised so be sure to organize trustworthy transport.
Explore the Dar es Salaam Marine Reserve
Attilio Polo's Fieldwork/ Getty Images
If you're looking for a respite from city life, book a day trip to the idyllic, uninhabited islands of the Dar es Salaam Marine Reserve. Of the four islands, only two are frequented by tourists (Mbudya and Bongoyo). Both offer pristine white beaches, clean turquoise water and safe swimming. On the eastern shore, several dive sites await, giving the opportunity to spot an array of tropical fish and colorful corals. You can hire a thatched beach banda for the day, and feast on grilled seafood sold at the islands' waterfront shacks. Excursions leave from Dar es Salaam harbor, The Slipway and Kunduchi and cost around $20 for four people.
13 Top-Rated Tourist Attractions in Dar es Salaam
One of East Africa's busiest ports, Dar es Salaam is Tanzania's largest city and commercial center. Though "Dar," as it's called, is short on typical tourist attractions, it is loved among travelers for its seaside setting; surprisingly laid-back vibe; and eclectic influences, thanks to its mix of African, Arabic, and Indian cultures.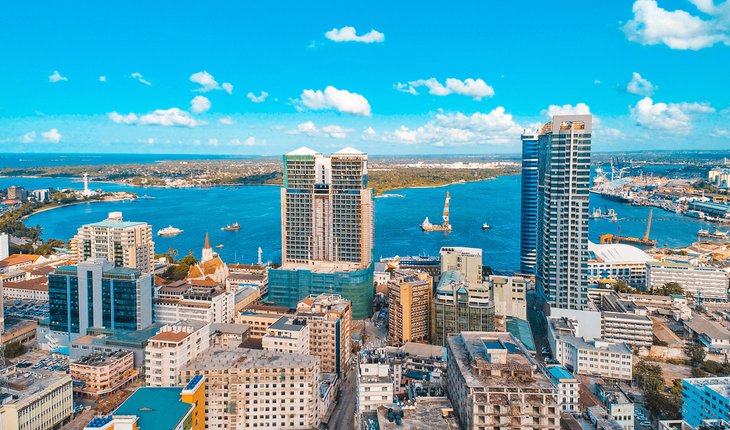 Aerial view of Dar es Salaam
The name means "haven of peace" in Arabic and was more fitting of Dar's former status as a sleepy fishing village than this now booming metropolis. Straddling some of the most important sea routes in the world, Dar es Salaam harbor is Tanzania's main port. On the northern section of the harbor is Kivukoni Front, with a bustling fish market where dhows sail in every morning at dawn to offload the night's catch.
German colonists organized Dar by arranging a grid pattern of streets fanning out around the port. The Lutheran Church and St. Joseph Cathedral are notable structures on the waterfront, and the city has a worthwhile museum. The city's architecture is a mix of Swahili, German, Asian, and British influences.
If you're wondering about beaches in Dar es Salaam, you can escape the hustle and bustle of the city on day trips to beautiful Mbudya or Bongoyo Island to bask on their white-sand shores.
For more sightseeing ideas, read our list of the top attractions and places to visit in Dar es Salaam, Tanzania.
1. National Museum & House of Culture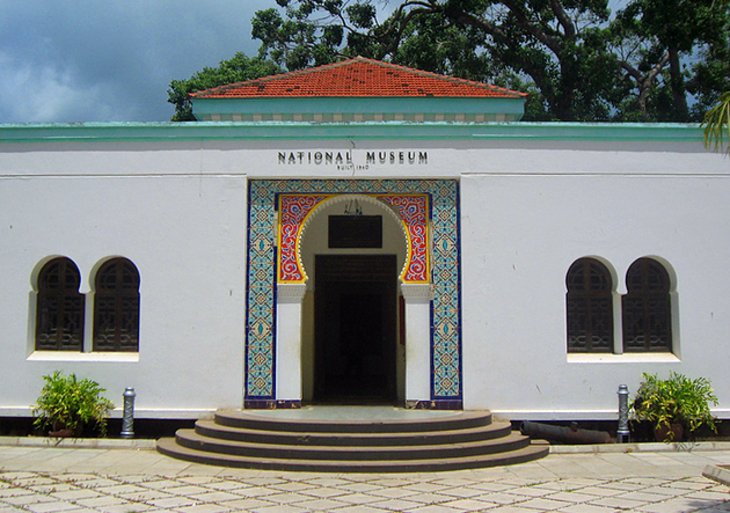 National Museum & House of Culture | David Bacon / photo modified
The National Museum & House of Culture takes you on a journey through Tanzania's colorful past. Originally opened in 1940 as a memorial to King George V, the museum displays important fossils of some of the earliest human ancestors unearthed during the Leakey digs at Olduvai Gorge.
You can also learn about Tanzania's tribal heritage and the impact of the slave trade and colonial periods.
Other highlights of the museum include ethnographic displays on traditional crafts, customs, ornaments, and musical instruments, as well as a small collection of vintage cars, including the Rolls Royce used by former president, Julius Nyerere.
Address: Shaaban Robert Street, Dar es Salaam
2. Village Museum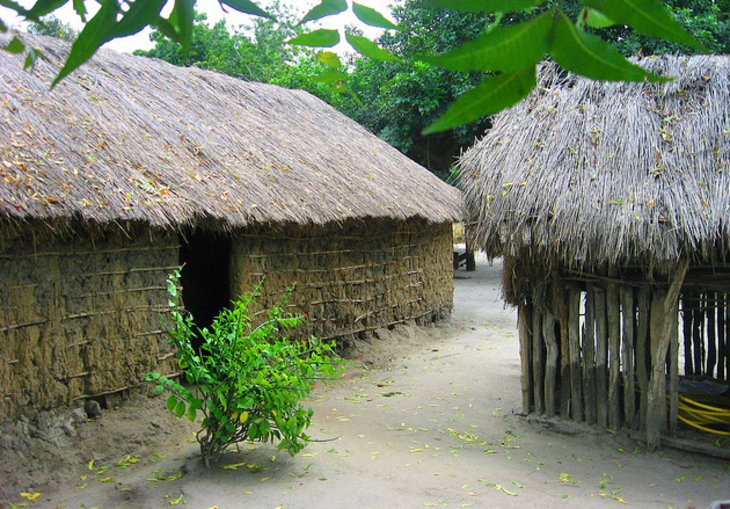 Village Museum | Shaun Metcalfe / photo modified
About 10 kilometers north of the city center, the Village Museum showcases traditional dwellings from some of Tanzania's 120 ethnic groups. You can wander through replicas of tribal homesteads, scattered across 15 acres, and learn about traditional customs and crafts.
Most visitors take a self-guided tour here, as each hut has interpretative signs detailing how the dwellings are constructed and the materials used. But you can also hire a guide if you want more information.
The museum also hosts tribal dances, and other cultural activities. Children, in particular, love exploring the different huts and traditional artifacts.
Address: Bagamoyo Road, Kijitonyama
3. Day Trip to Mbudya Island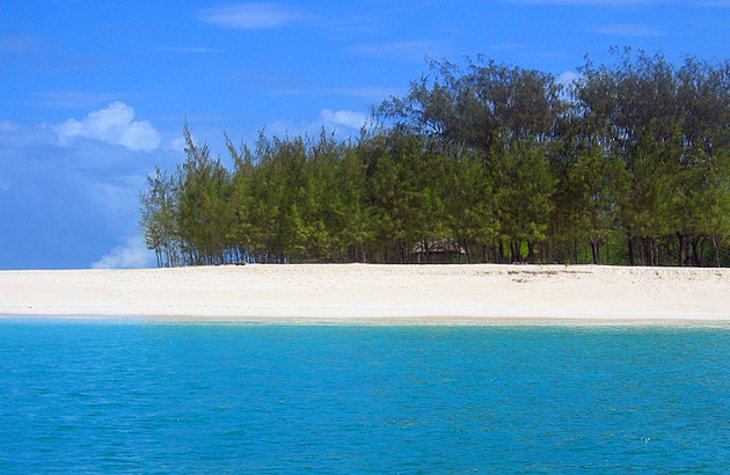 Mbudya Island | Dom Pates / photo modified
Beautiful Mbudya Island, in the Dar es Salaam Marine reserve, seems a world away from the hustle and bustle of downtown Dar es Salaam.
Sun seekers come here to bask on the island's white-sand beaches and snorkel and swim in the turquoise waters. Bandas (thatched huts) are available for rent on the beach, and locals sell fresh barbecued seafood and cold drinks.
This is one of the most popular day trips from the city – it's a quick motorboat ride from the White Sands Resort & Conference Centre .
4. Day Trip to Bongoyo Island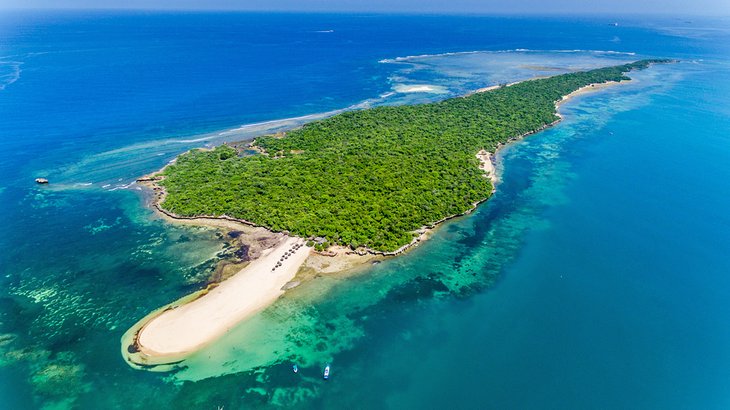 Aerial view of Bongoyo Island
Lying off the Msasani Peninsula, Bongoyo Island makes an idyllic day trip or half-day trip from the city. Popular things to do here include relaxing under the shade of thatched umbrellas on the white-sand beach and cooling off in the clear waters.
Snorkeling is also popular. Angelfish, starfish, clownfish, and sea urchins, are just some of the marine species you might spot among the coral.
Behind the beach, nature trails wind between baobab trees to the island's opposite shore. The open-air snack bar serves cold drinks and fresh barbecued seafood.
Bongoyo lies about four miles north of the city, and you can catch a boat here from the Slipway pier. The trip takes about 30 minutes.
5. Shopping in Dar es Salaam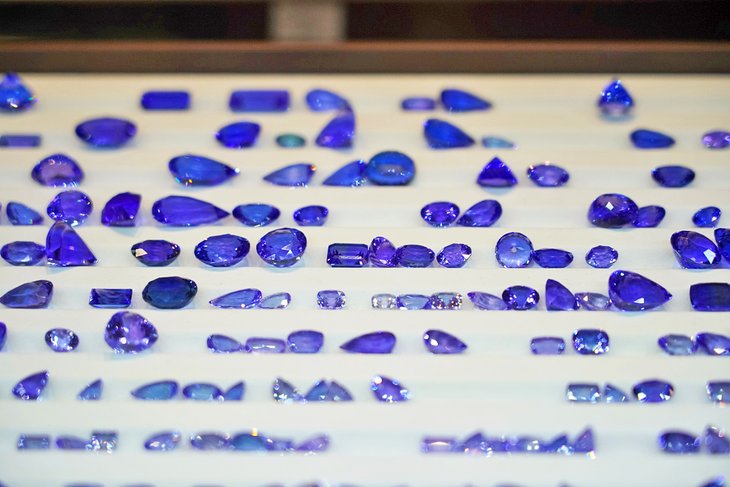 Tanzanite for sale in Dar es Salaam
Looking for souvenirs for your friends and family while you're visiting the city? You'll find plenty of diverse places to shop in Dar es Salaam.
The Slipway Shopping Center, a palm-lined Swahili-inspired shopping mall on the waterfront, is a great place to start. Here, you'll find everything from colorful clothing to local artwork, sculptures, masks, and hand-made bags.
Tanzanite is one of the top things to buy in Dar es Salaam, and you'll find a store selling it here. This blue or violet-hued stone is found only in Tanzania and makes a unique gift for someone special.
The Slipway is also a stop on the Dar es Salaam nightlife circuit – live music wafts from some of the waterfront venues here, and it's a wonderful spot to watch the sunset after you've splashed your cash on gifts. This is also one of the popular places to eat in Dar es Salaam. You'll find several restaurants here – some with lovely views over the water.
For color and chaos, head to Kariakoo Market. This indoor/outdoor market spills into several city blocks, and buzzes day and night. This is where the locals shop, and it's a fun place to soak up the vibe and capture some colorful photos. Stalls brim with kaleidoscopic fabrics, teetering towers of baskets, fragrant spices, and fresh produce.
Feel like some fresh seafood? Kivukoni Fish Market on the waterfront sells the catch of the day fresh off the boats.
And if you're looking for a posh place to shop, Oyster Bay is home to hip boutiques and art galleries. This is where the vibrant Tinga Tinga painting style originated, and you can purchase these colorful art pieces at the Tinga Tinga Arts Cooperative Society.
6. Kivukoni Fish Market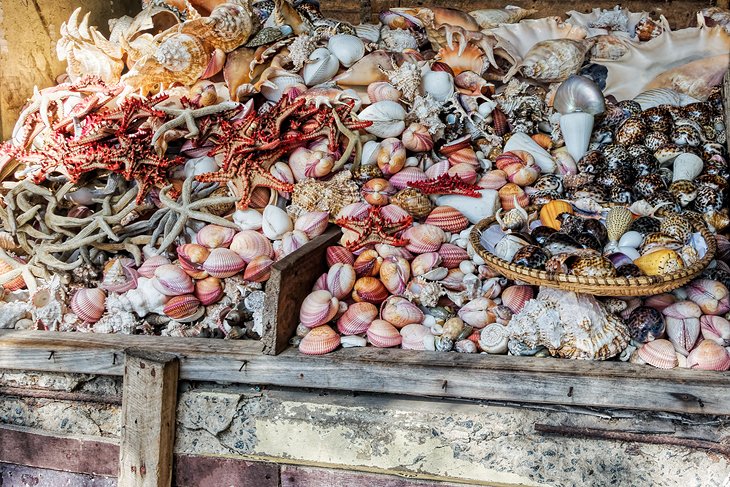 Kivukoni Fish Market
If you want to soak up a slice of daily life in Dar es Salaam, head to Kivukoni Fish Market. Visiting this busy harbor front is one of the most popular things to do in Dar es Salaam – especially if you love seafood.
Fishing boats arrive early in the morning to offload their catch, and it's auctioned to local restaurants and the public.
Bargain hard if you're in the market for some fish. You'll have plenty of varieties to choose from, and you can also enjoy a seafood meal while you're here.
The best time to visit the market is early in the morning.
7. St. Joseph Cathedral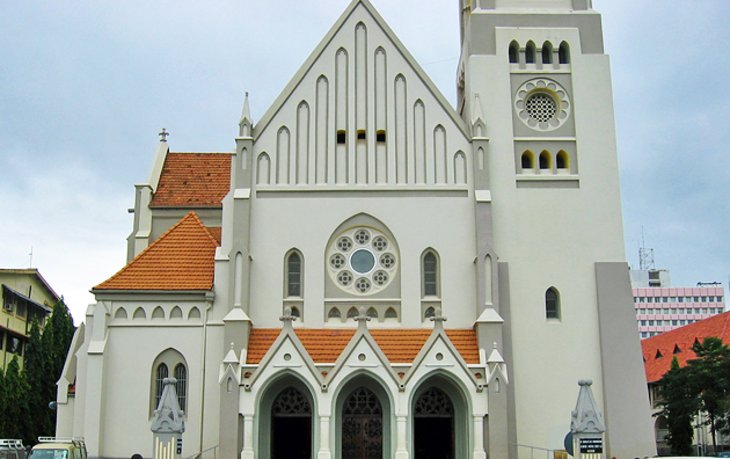 St. Joseph Cathedral | Alexander Johmann / photo modified
Built by German missionaries from 1897 through 1902, this Gothic-style Roman Catholic church looks a little incongruous amid the steel and glass skyscrapers bristling along the harbor front. But it's a cool and calming place to sit and reflect on a hot day.
St. Joseph Cathedral is the seat of the Dar es Salaam archdiocese, and several striking features make it worth a visit. Most notable are its shingled spire, vaulted interior, and beautiful stained-glass windows. The cathedral also contains many of the original German inscriptions and artwork, including a carved relief above the main altar.
To really soak up the atmosphere here, try to attend a packed Sunday morning service, when the church reverberates with the soulful strains of the local choir.
Address: Sokoine Drive, Dar es Salaam
8. Oyster Bay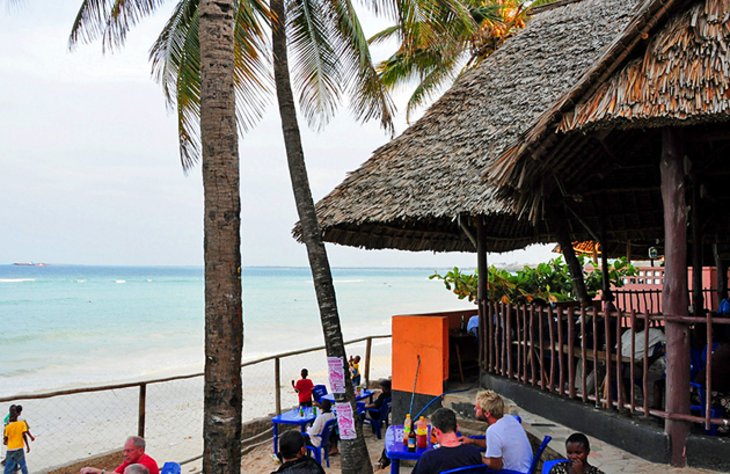 Oyster Bay | Paul Scott / photo modified
The affluent expat enclave of Oyster Bay is one of the best hangout places in Dar es Salaam – especially on the weekends. Locals and tourists alike come here to stroll Coco Beach, savor street food, and listen to live music.
Fancy some shopping while you're here? Head to the Oyster Bay Shopping Center. Here, you'll find farmers markets, boutique shops, and art galleries. Look for the famous Tinga Tinga paintings in the galleries – this vibrant artistic style reputedly originated in Oyster Bay before spreading across East Africa.
Oyster Bay lies about six kilometers north of the city on the Msasani Peninsula.
9. Wellworth Kunduchi Wet 'N' Wild Water Park
Wellworth Kunduchi Wet 'N' Wild Water Park is the largest water park in East and Central Africa. It's right next to Wellworth Kunduchi Beach Hotel and Resort , about 19 kilometers from the center of town.
Popular with families, the park is a colorful mix of pools, playgrounds, fast-food restaurants, and more than 29 water slides of varying heights, catering to both adults and young children.
Prefer your thrills on dry land? Speed demons can race around Tanzania's only Go Kart track here, too.
Address: Mtongani, Kunduchi Beach
10. Azania Front Lutheran Church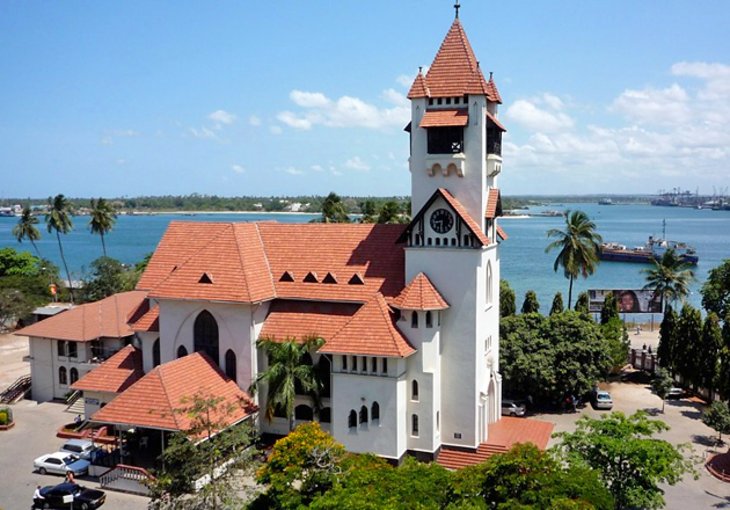 Azania Front Lutheran Church | RIGHT TO HEALTH / photo modified
With its red-tile belfry rising above the surrounding rooftops, Azania Front Lutheran Church is a major landmark in Dar es Salaam. German missionaries built it in 1898.
Tiled canopies over the windows provide shade, and the gardens are a welcome retreat for weary tourists.
At one time, Azania was the center of the original 19th-century German mission; it is now the cathedral for the diocese.
Address: Kivukoni Road, Dar es Salaam
11. Askari Monument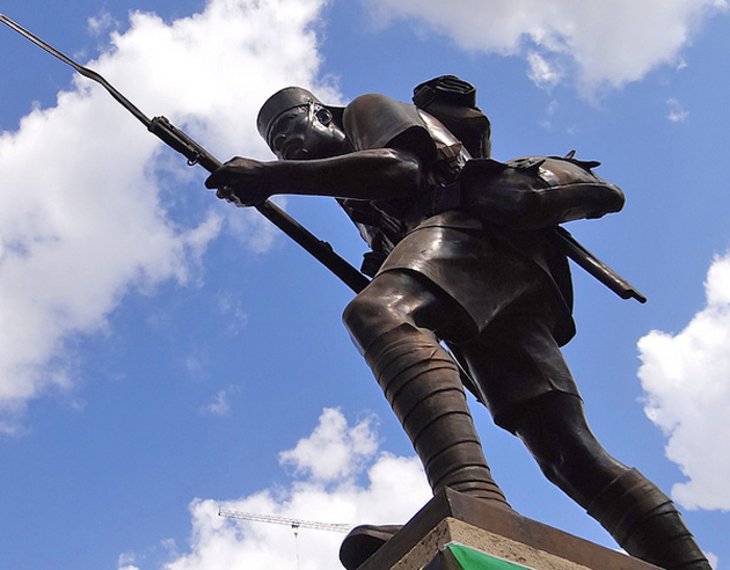 Askari Monument | Adam Jones / photo modified
If you're taking a sightseeing tour of downtown Dar, you might wonder about this striking statue at one of the city's major intersections. Cast in bronze, the Askari Monument depicts an Askari (soldier) in a World War I uniform, the bayonet of his rifle pointing towards the nearby harbor.
It commemorates the African troops who fought as the Carrier Corps in World War I. If you get close enough to take a photo, look for the inscription in English and Swahili written by Rudyard Kipling, the famous British writer and poet.
The statue stands about a block back from the Azania Front Lutheran Church.
Address: Azikwe Street and Samora Avenue, Dar es Salaam
12. Botanical Gardens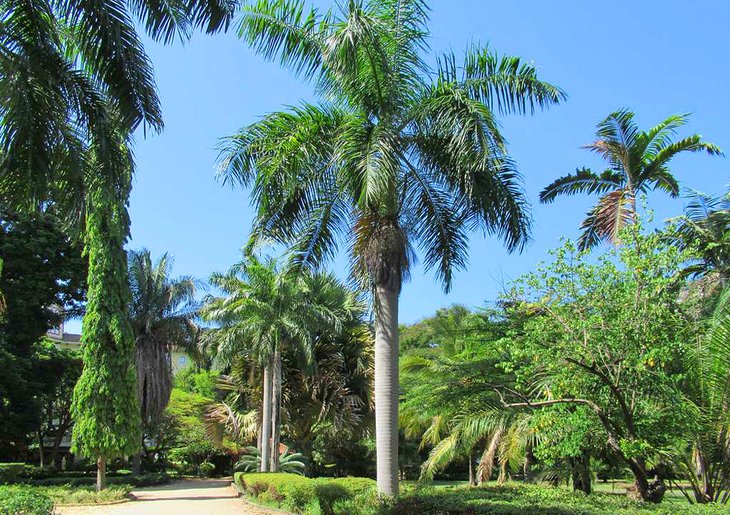 Dar es Salaam's Botanical Gardens | David Stanley / photo modified
Craving an escape to nature from the city? You'll find some tranquility at Dar es Salaam's Botanical Gardens.
Home to the Dar es Salaam Horticultural Society, the Botanical Gardens were established in 1893 by Professor Stuhlmann, the first Director of Agriculture. They were used as a trial plot for testing different types of plantation crops and tree species.
Today, you can admire a lush mix of indigenous and exotic plants, including purple bougainvillea, blue jacaranda, scarlet flame trees, and red hibiscus.
Though the gardens are only a fraction of their former size, they are one of the few places in the world to see the beautiful coco-de-mer palm tree outside its native Seychelles.
Address: Samora Avenue, Dar es Salaam
13. State House
Built in the late 1890s, the State House was the original residence of the German Governor. In 1922, the British rebuilt the State House, adding scalloped upper-storey arches and a crenellated parapet, after they nearly destroyed the building during World War I.
The State House is now the home of the current president. Although it is closed to the public, the building is an eye-catching landmark along the harbor front.
Address: Luthuli Street, Kivukoni
Where to Stay in Dar es Salaam for Sightseeing
Luxury Hotels: On the harborfront, the Hyatt Regency Dar es Salaam, The Kilimanjaro is one of the city's top hotels. Amenities include a spa with a sauna and steam room, two restaurants, a lounge with an outdoor terrace, and a harbor-view infinity pool. Many rooms have water views.
Value Hotels: In the city center, near restaurants and shops, Tanzanite Executive Suites accommodates guests in clean, modern studios and suites with complimentary breakfast.
More Related Articles on PlanetWare.com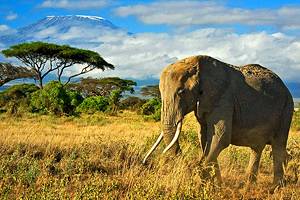 Exploring East Africa: Looking for more places to visit near Dar es Salaam? Check out our article on the top attractions in Tanzania, from the famous wildebeest migration in Serengeti National Park to Ngorongoro Conservation Area and Zanzibar's beautiful beaches. And while you're in East Africa, don't miss seeing the highlights of Kenya. Fly into the capital, Nairobi, and head out on safari. The Maasai Mara, Amboseli, and Samburu National Reserves and Tsavo National Park offer some of the world's best game-viewing.
23 Fun Things to do in Dar Es Salaam, Tanzania
View from Upanga, Dar Es Salaam
Dar Es Salaam is Tanzania's largest and most influential city.
However, Mount Kilimanjaro, the northern circuit of African wildlife and the island of Zanzibar, are the reasons why many tourists that visit Tanzania, miss the largest city altogether.
With 4 – 6 million inhabitants, Dar Es Salaam is a vibrant East African city that includes lots of excitement and plenty of character.
Culture, beaches, shopping and food – Dar Es Salaam has a little slice of adventure for you to enjoy.
Here are 23 fun things to do in Dar Es Salaam, Tanzania
Kariakoo Market
1. Kariakoo Market
One of the busiest and most thrilling markets in Dar Es Salaam is the local Kariakoo market.
This is the place to go if you are hunting for the best bargains in town or wish to see the authentic side of local style Tanzanian shopping. If you plan to go shopping, make sure you do some bargaining to get the best deals.
As a quick word of warning, be careful with your money and possessions when you walk around Kariakoo, mostly because it's a bustling crowded market. Don't bring something with you that you're too attached to.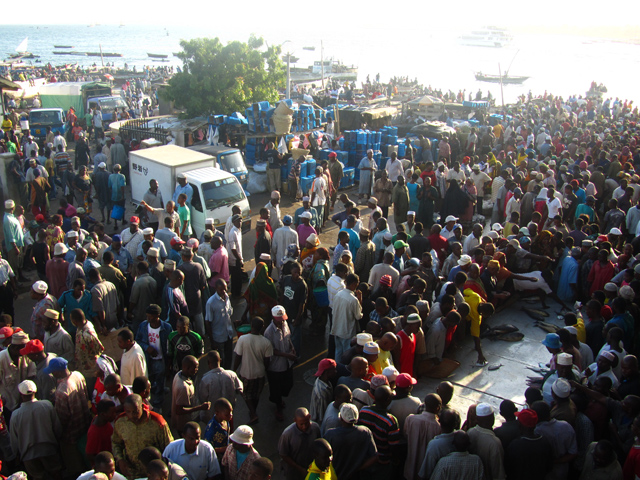 Things to do in Dar Es Salaam
2. Dar Es Salaam Fish Market
One of my favorite things to do in Dar Es Salaam is wake up early in the morning and wander around the Dar fish market.
People gather from around the city to purchase the fresh catch of the day. Climb the flight of stairs leading towards to the official offices for a lovely bird's eye view of the fish market.
Arrive at around 6:30 am to catch the most energized fish auctions taking place. The last time I went to the market, we came home with a red snapper, and a few kilos of fresh prawns and crabs. We had a few delicious meals after that.
Dar Es Salaam, Tanzania
3. View of Dar Es Salaam
Located near the Azania Lutheran Church, you can go to the New Africa Hotel and navigate your way to the Sawasdee Thai food restaurant for a great view of Dar Es Salaam and the harbor.
Otherwise, in a number of other building, including the newly built revolving restaurant, you can get a nice view of the city.
Askari Monument, Dar Es Salaam
4. Askari Monument
One of the most well known historical statues of significance in Dar Es Salaam is Askari Monument. Depicting a soldier with his bayonet pointing to the harbor, the monument is a reminder of the soldiers that fought as the Carrier Corps in World War I.
The cast bronze Askari Monument is supposedly located in the precise center of Dar, in the middle of the roundabout that bisects Samora Avenue with Maktaba Street.
Azania Lutheran Church
5. Azania Lutheran Church
Originally built by German missionaries in Tanzania, the Azania Lutheran Church is an iconic structure located at Dar Es Salaam's harbor front. From the cathedral you'll have easy access to other tourist attractions around town.
When you enter the church, someone will probably approach you and start to guide you around, even without your asking. If you're alright for this, just let me show you around, and at the end, they might ask for a donation to the church.
You can go up to the top of the Azania Lutheran Church, and see the bell tower.
National Museum, Dar Es Salaam
6. National Museum of Dar Es Salaam
If you want to learn more about the history and culture of Tanzania or see some of the fossils that have been uncovered in the country, you'll be interested in visiting the National Museum.
Get exclusive updates
Enter your email and I'll send you the best travel food content.
The museum is not setup in the most entertaining way, but if you are willing to read, you'll learn quite a bit.
One of my favorite exhibits at the National Museum of Dar Es Salaam was a functional bicycles made entirely out of wood – everything from the frame to the wheels was all wooden – amazing.
Open hours: daily from 9:30 am – 6 pm
Price: Adults – 6500 TZS, Students – 2600 TZS
Temple Street, Dar Es Salaam, Tanzania
7. Temple Road
If you are walking around downtown Dar Es Salaam, take a stroll down Temple Road where you'll find a selection of religious temples. There's not much else to do, but you can visit a few of the temples and have a look around.
8. Pugu Hills Nature Reserve
Pugu Hills is a designated nature reserve located around 25 kilometers from the center of Dar Es Salaam. Along with an opportunity to hike the trails, you can also choose to bird watch or visit the cave which is famous for its colony of bats.
You can either get to Pugu Hills on your own or take a tour.
Coco Beach
9. Coco Beach on the Weekends
Coco Beach, also known as Oyster Bay, is a stretch of beach located on the Msasani Peninsula of Dar Es Salaam. If you are looking for fun things to do in Dar Es Salaam, head over to Coco Beach on the weekend when it's packed full of local Tanzanians and Asians.
There are plenty of street food snacks and sometimes live music. The open area is also a place where frequent concerts and parties take place – check the city events guide.
Swimming is not really recommended at Coco Beach, though some choose to wade in the water.
10. Bagamoyo Town
Similar to Mombasa or Lamu, Bagamoyo town located north of Dar Es Salaam, is an ancient East African trade port. The town has been influenced by Arabs and Indians to create a uniquely Swahili culture.
On a day trip to Bagamoyo, you can visit ancient ruins, old churches and mosques and tour one of Tanzania's only college of arts known as Chuo Cha Sanaa.
Bongoyo Island day trip from Dar Es Salaam
11. Bongoyo Island
One of the most entertaining things to do in Dar Es Salaam is swim in the beautiful warm tropical Indian Ocean – but not right in Dar itself – there are a few locations that aren't far that are much better (and cleaner).
Bongoyo Island is a small island off the coast of Dar that makes a fantastic day trip of lazying on the beach, snorkeling and dining on fresh fried fish and chips.
Since becoming a marine reserve a few years ago, fees have severely increased, but it's still worth it. Get to the island by taking a boat from The Slipway shopping center.
Price: $20 per person roundtrip (but minimum of 4 people)
North Beach, Dar Es Salaam, Tanzania
12. North Beach – Jangwani and Mbuja Island
North of Dar Es Salaam there are a few lovely beaches and islands to enjoy as well.
From White Sands hotel in Jangwani, you can take a boat to Mbuja Island, a great place to unwind and eat freshly caught Indian Ocean seafood.
South Beach, Dar Es Salaam
13. South Beach – Kigamboni
Seclusion, peace and quietness is how I would describe the South Beach area of Dar Es Salaam. There are a number of hotels that you can visit, or you can rent your own personal banda thatch covered hut for the day.
The lanky palm trees rustling in the breeze and the rythmic wash of waves makes spending a day at South Beach one of the most relaxing things to do in Dar Es Salaam.
Get there by personal vehicle or by local dala dala minivan. You'll need to cross to the Kigamboni side of Dar by taking the ferry across the port – the ferry ride alone is an awesome Dar experience.
Village Museum, Dar Es Salaam, Tanzania
14. Village Museum
More of a hands on than the National Museum, the Village Museum offers a chance to observe a number of typical style Tanzanian traditional huts and learn more about the tribes of the country.
Dance and drum performances are available upon request if you pay a little extra for the ticket. It's a just a little extra, and the dance is pretty much available whenever you're ready.
When I visited, the museum was quite quiet with just a few other there.
Mwenge Carvers Village
15. Mwenge Wood Carvers' Village
Located on the outskirts of town, Mwenge Carvers' Village is a great attraction in Dar Es Salaam if you are in the market for Tanzanian souvenirs.
Though there is a lot of the same same type of things, if you take the time to browse around you'll come away with some unique and quality Tanzanian handicrafts.
Famous tinga tinga art of Tanzania
16. Tingatinga Art Center
Tanzanian's have long been famous around Africa for their artwork (even on the streets of Dar). The modern movement of Tingatinga painting is one my my favorite styles of Tanzanian art.
An artistic movement that began with Edward Said Tingatinga, the style is characterized by extremely bright oil colors and cartoon imaginative figures.
The Tingatinga center is a rainbow of color and artistic inspiration. You can browse around and buy anything you see.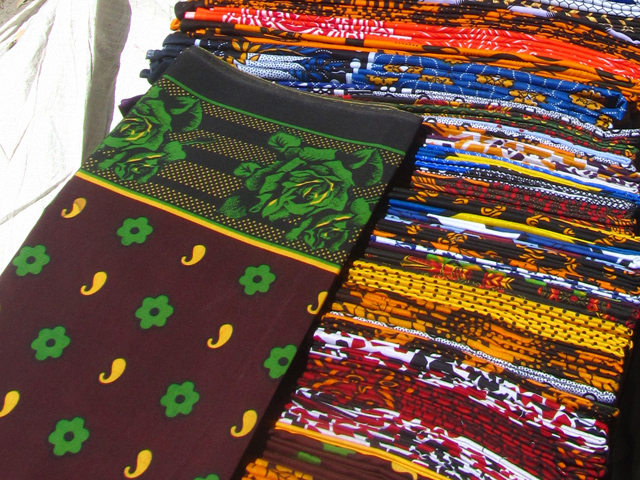 Kanga Shopping
17. Kanga Shopping – Uhuru St.
A popular thing to buy in Dar Es Salaam are the colorful pieces of wrap around cloth known as kangas. These brightly dyed rectangles of fabric are available in infinite colors, with infinite patterns and often include a message written in Kiswahili.
Head over to Uhuru Street in downtown Dar Es Salaam for a huge distribution selection of kangas.
Nyama choma in Tanzania, roasted meat
18. Nyama Choma
Just like in neighboring Kenya, nyama choma (roasted meat – often goat) is wildly popular – and incredibly delicious. Go to a local restaurant, order your choice of meat and wait for it to slowly roast.
In Tanzania, nyama choma is served with a few chillies and sometimes a tomato and red onion garnish. Many Tanzanians choose to wash down their nyama choma with a few beers.
As soon as I arrive in Tanzania every time, I make sure I get my fill of nyama choma.
Price: 8000 TZS per kilo
Delicious skewers of mishkaki in Dar Es Salaam
19. Mishkaki
There aren't too many things better in this world than grilled meat on stick, and in Dar Es Salaam, they really know how to do it well.
Mishkaki is the Tanzanian version of skewered meat – street style shish kebabs. The meat, usually beef or chicken, is first marinated in some spices and I think a bit of tomato sauce (depending on the recipe of course), cooked on a bed of hot coals, and served with hot chili and lime juice.
Mishkaki makes a wonderful dinner, and is often paired with a plate of chips to make the meal complete. If you're looking for a great place to eat mishkaki in downtown Dar Es Salaam, try this place.
I'm a happy man with a plate of chili paneer…
20. Indian Food
With a sizable population of Indians, there's a decent selection of delicious Indian food available in Dar Es Salaam (just like with Kenyan food).
The Upanga area, in central Dar, is one of the best areas of town to locate good Indian food. You'll find everything from whole in the wall Indian restaurants to more upscale Indian restaurant.
Here are few of the most famous Indian restaurant in Dar Es Salaam:
Bawarchi
Delhi Dar Bar
Patel Grounds (sports club with a restaurant in the evening)
Chapan Bhog
In Dar, there are also many Tanzania restaurants that serve Indian influenced food, like grilled tandoor chicken.
This popular snack is called Zanzibar Mix
21. Zanzibari Mix
There is one dish in Dar Es Salaam that is rare, but is a gem of an example of an expertly prepared dish that sums up the realm of cultures and traditions of the city: Zanzibari Mix.
The makeshift Mama Mumtaz restaurant is not easy to find – in fact, you'll probably have to walk to Kariakoo market and ask someone to direct you to it. Zanzibari mix is incredible – a comforting combination of deep fried fritters in a coconut milk curry and garnished with fresh chutneys and chili sauce.
My new favorite afternoon spot, is this place in Upanga.
Tanzanian Street Food
22. Tanzanian Street Food
Whether it's roasted maize or mama cooked Tanzanian chapatis, you won't want to miss a few meals and snacks of Tanzanian street food when you visit Dar Es Salaam!
Fresh Tanzanian Street Coffee
23. Tanzanian Beverages
Everywhere you travel you'll encounter a new and unique set of local beverages. When you are in Tanzania you may want to sample the selection of locally brewed beer, have a few cups of Dar street coffee and especially guzzle a pungent Stoney Tangawizi.
After spending a few days in Dar Es Salaam you may want to visit the famous island of Zanzibar for a relaxing holiday. Be sure to read about how to get from Dar Es Salaam to Zanzibar and then check out these top things to do in Zanzibar.
Most important, have fun in Dar Es Salaam!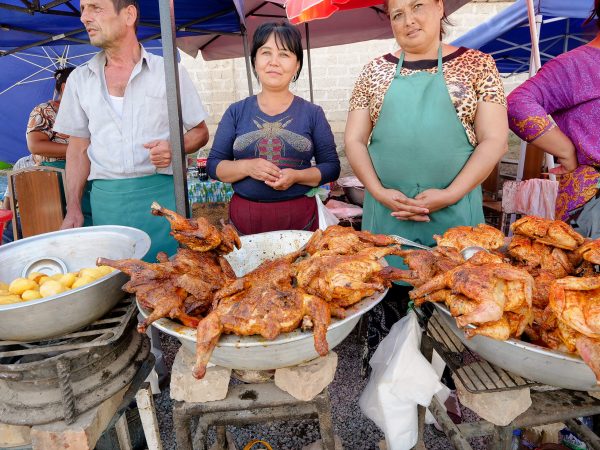 Highlights of Uzbekistan – 14 Days of Meat, History, and Hospitality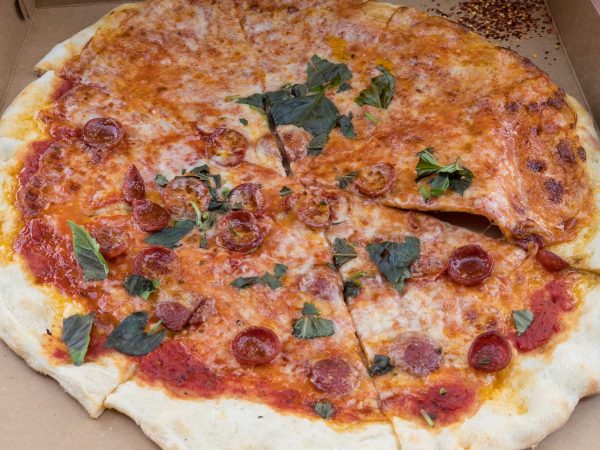 10 Must-Eat Restaurants In NYC: New York City Food Guide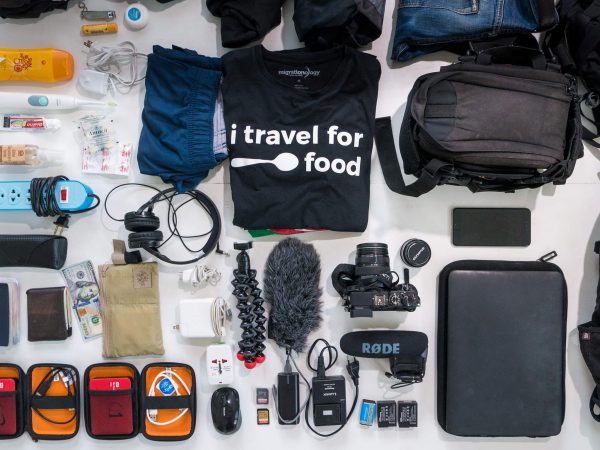 My Ultimate Travel Packing List (Everything I Carry)
Get exclusive updates
Enter your email and I'll send you the best travel food content.
116 comments. I'd love to hear from you!
Leave a Reply Cancel reply
i would love to travel here really nice place
What I would like to say about your post is that you only need to have a look, at first glance, you understand how hard people have worked to write your post, you have not put any useless content at all. . Wrote my post in beautiful words.
Thanks for giving sharing ideas!
I m coming Tanzania on 28the December..
Really wish i come all this places
I am a indian but i can say also i am half Tanzanian
Because i have spend almost my half life (18 years) years there.
So mimina kumbhuka sana sana sana bongo
nakupenda sana bongo……
Chips Ltd Resto is must a visit.! authentic local food, beautiful crowds , location Uhuru Street off Libyan Street
Oooh I must try and come to there its seems mind blowing I don't want to miss out
Umesahau kuweka zege au chipsi mayai
I love Tanzania
I recently visited Dar in December 2017. Its a bustling city and generally safe. I preferred to stay in Kariokoor at HongKong Hotel and I got to visit the museum, Coco Beach and took a ferry to Kigamboni. There are tuk tuks to ferry you around at really friendly prices. I travelled back by bust to Nairobi at the ned of my trip though its a really long ride and it would be preferable to break it up into two with a stop over in Moshi or Arusha. Tanzanians are generally polite, helpful and welcoming.
yeah thats our crazy tanzania. karibu tena
Will like to visit it
Hello! your blog has been helpful for our upcoming Tanzania trip. Thank you! Would you know the best budget place or area to stay in Dar which is like the middle of everything? we'll move from zanzibar and the south and north. Is it okay to stay in the kariakoo area? Thanks again!
yes and very safe. karibu sana tanzania
Chealsea Hotel, Uhuru Street
what a beautiful city .I have visited dar esalam twice .Wow beautiful beaches and Nature along the cost of the indian ocean and the entire city makes me so excited .Great country and great people.
kariu sana. thats our tanzania. peace for all and to all
This list is fantastic. I will be visiting Dar soon on a solo trip in August. Trying to experience as much of the day and night life as I possibly can. Any local bars / clubs you can recommend. Thank you so much
wow karibu sana. most welcomed dear
I was born and live in Dar es Salaam. You do me proud. Hongera!
Very very interesting.
A great job.
Very well documenté.
Nice surprise to see the development of Dar. We lived there from 1977 til 1984 near Yacht Club, our sons went to IST, we loved it and still remember the days, weeks, month and years with all the friendly Tanzanians !
Nice country Tanzania n Tanzanian people dar id heart of Tanzania i like so much Beach n N many mor funn available here so. I love This country
Great work! you really give me the information I want for my trip to Dar es Salaam. I will definitely try at least 10 of them
I got much benefit from this site. it is very very helpful. thanks
This is so good . Beautiful city to visit with hospitable people
Hi
It's a wonderful and useful post!
I can see its been a while since it was posted, but perhaps you have any posts about preparation for going to Tanzania, like things that should be considered etc.
thanks in advance
You realy did good job. Be blessed.
I work at the hospital in Tanzania in a rural area and i hav been coming in dar for various official tasks but i couldn't explain clearly what is happening on the ground to that much. For sure receive my appreciation
Hahaha. I laughed at the church tour is it really that they take you around and ask for contribution.
I would love to visit village museum, national museum, go on a ferry to zanzibar, coco beach, bongogo island and kanga shopping. How do I plan this by distance. I mean visit close by locations same day. I have just four nights to spend in Dar es salaam.
I like dar ad salam vry much
Great list! I find myself using it – and I'm a local! Just one thing though, number 7, thats actually Mosque Street. However there is a Temple Street in Dar.
Hi Mark!
You have about Dar es Salaam just like a local resident not a foreigner..Bravo ! thump up.
I grew up in Dar es Salaam and i can say it change alot.
Come again and am sure you will have a lot to cover
Hey Raymond, great to hear from you, thank you for reading. I actually visited about 1 year ago and I've been meaning to update this post with some new info and photos. Will try to do that soon. Are you still living in Dar now?
I love this list! Thank you so much! I will definitely use it to visit Dar Es Salaam!
Hey Cindy, you're welcome, thank you very much, and hope you have a great trip to Dar!
Wow nice to read this… actually I'm shifting to Dar es salaam as my husband has got job there… I was wondering if I can find someting to see there and I think your article will help me a lot..
Thanks
Hi Manisha, good to hear from you, and glad that you'll be moving to Dar Es Salaam. Glad this post is helpful. All the best with the move.
Hello Mark my name is Rachel A. Temu, I am a Tanzania native. I studied in Wartburg college Waverly, Iowa perusing International Relations and Politics minor in Sociology then I moved to Scotsdale, Arizona and continued my Barchelor degree at Arizona State university at the main campus in Tempe.
I worked in hotels such as Whyndham Hotel in Phoenix Dowton at the 1st street and and Van Buren then I also worked at the Holiday inn at the Scottsdale. Also I worked at the USA as the legal affair officer. Hospitality has been my passion since then. I left Arizona and come home 2008 after I lost my farther with chronic bronchitis then I resume back in the the USA 2009. When I returned back to the states I decided to return home and take care of my mother who was left alone. In 2009 I joined the the Kilimanjaro Kempinski hotel as the VIP and lodge manager, only worked for 3 months and I later joined the agriculture company in Israel Kibutz and never liked it I came home and joined the New africa hotel as the assistant sales manager for about 8 months then I landed a new job at the Singita Grumeti reserve at Serengeti national park which is the number one hotel in the world owned by an American Billionaire Paul Tudor Jones working as the Guest relations manager and assistant lodge manager to Sasakwa lodge.
Later I moved back to Dar and joined the Motisun group of companies and worked for the Whites sands hotel as the PR and the communication manager. For about two years and ahalf. Now I am currently joined the Ramada Encore the new hotel in downtown soon to be opened as the reservation and revenue manager.
One thing I will like to tell you I have been thrilled with your blog and you have been inspiring me immensely. I love food and I am thinking to take culinary classes to practice a professional executive chef Both in the kitchen and bakery.
Kindly let's keep in touch my email adress is [email protected] looking forward to hear from you.
Go team ASU.
Hey Rachel, great to hear from you, thank you so much for sharing. I'm going to write you back at your e-mail address.
I am Tanzanian and I just came across your website whilst looking for a restaurant concert and I was I impressed, especially after I read the comments (yes I am that particular not counting the other words my friends use! ;)), but I was impressed by the fact that whilst you love my country (hear, hear!), you were very honest in telling people to be careful. As they should in any busy city.
Missed out on a lot though, especially in the new Masaki/Msasani Dar, karibu tena!
Btw, this is just to you,no need to post online, just wanted to give kudos.
uhh! back from the trip to Tanzania, to be honest, Dar-es Salaam is a very boring city, people here, specially the taxi drivers, the sellers, even the airport staff's dig for money, they will be staring blank so that you may give them some shillings out of your pocket, i would prefer Nairobi better…
Moving to Dar next week…. staring off my exploring with this list. Thank you
Good to hear that Najda, have a great time in Dar.
Great article, Dar has changed a lot since 2012, but still all these places mentioned are great to visit, you can also get new information on what to do in Dar by asking on team tanzania on facebook, highly recommended. I will add also bicycle tour by afriroots.co.tz/
Thank you Karoli. Thank you for sharing about the bicycle tour, sounds great.
hey! how is the safety in dar es salaam and zanzibar?
I am heading there for a humanitarian trip i was SO excited until i read the government warnings about increasing terrorism, bombing, acid attacks and mugging/pickpocketing/kidnapping tourists.
Hey Mariam, yah the increase in crime is true, but I think it's still about using common sense – dressing appropriately, acting appropriately, be careful with belongings. Another thing you should do if you're walking around streets is – if you carry a should strap bag or backpack – you should make sure it's not tightly wrapped around you. There have been quite a few incidents where motorbikers have whizzed passed and grabbed bags, with the person still attached. So it's best to not carry a bag walking around, but if you do, just make sure it's not too attached to you. Don't worry too much, just use some common sense and you'll have a wonderful time. Hope this helps! – Mark
Hi Mark, you make the place come alive, thanks!
Would you know why swimming is not advised at Coco beach; is the water dirty, is it swift currents, or dangerous animals like yellyfish or sharks ??
Have a good one,
Henri.
Hey Henri, thanks for reading! As for Coco Beach, mostly just because the water isn't very clean – it's just too close to the city where sewage is often dumped into the ocean.
So, I know its a bit late to comment on here, but hey, better late than never.
I'm an Indian-Tanzanian, Indian by looks, but otherwise I've been born and bred Tanzanian..
I just want to say that you've missed out on a lot of places..and food:
-All the seafood that is offered around and on the ferry, such as shrimps, octopus, sea horse, etc.
-The "Mama mtilie" food, a whole meal at the cheapest price, usually served food is ugali with kidney beans in a gravy with spinach on the side
-The food found in Oysterbay – Cassava/Banana/Potato crisps, roasted/deep fried sweet potatoes/cassava, and the delicious salad they serve it with.
Hi Batul, thank you so much for all that suggestions, I appreciate it. Will check them out on my next visit!
This is a great help for me. Since, I will be working on Dar Es Salaam. Thank you and Be safe
No problem Carmel, thank you for reading!
This is the best guide to Dar Es Salaam that I've found on the internet (and believe me, I've been looking). I'm also completely obsessed with street food and will be in Dar in July this year so was wondering if you could give me some specific streets or areas of Dar that sell some of the dishes you mentioned? We're staying around Oyster Bay.
Thanks again for the brilliant guide!
Hey Suzy, good to hear from you and glad you'll be going to Dar Es Salaam. Downtown Dar is probably the best area for good street food, and at night about you'll find restaurants along Morogoro and Zanaki and also Kisutu street.
Tingatinga – what a cute name! LOL
I would love to visit the museum, go to the beach and shop for Kanga. Is Kanga like Balinese sarongs? I like it that it's cotton, with beautiful colors and patterns and not see through. The view was so beautiful and some places have striking resemblenece to the Virgin Islands. Cocos beach – why would you not go into the water? Are you concerned about the safety?
Speaking of safety, it would be nice if you make a posting about safety caution in Africa, i.e. how to safeguard your possessions, what shots you need to get before you travel ( I heard you need to get shots before you travel, like malaria etc. Also you need to be careful of Dengue fever).
I try not to be so uppity here, but how are the bathrooms when you go around the town? In Thailand you just need to go to the closest mall. What happens when you're traveling in the town, markets, etc and nature calls you?
Hey, thanks for the suggestions. I'll try to write up a safety guide!
Spot on mark, missed home badly just feel trapped in the western, feels gotta something to give before sijarudi for good, what can I do to my people in tz? Kind of charity? But I have to narrow who need most, thanks mark nimekumbuka bongo home sweet home
Headed there next month! This was a great read and I am even more excited now!
Glad to hear that Asia, hope you have a great time in Dar!
Thank you Mark. I was born in TZ and studied in Dar in 1979, but it's been 31 years since i've been back, and am going back on 13/07. Oh yes!! Really looking forward to the mishkaki, nyama choma. ugali, makai, mogo, kahawa, and fresh fish and fruit!!
Hey Divyesh, great to hear you'll be going back to Dar, enjoy the food!
mambo ! wonderful, upbeat, esp the food section may i add a 24th (to music lovers).. the radio tanzania with its amazing amount of recordings of tanzanian music from the last several decades, near tazara
Hey Martyn, great, thanks a lot for sharing!
Me and some family are going to the Island 0f Zanzabar for a week for my daughter's wedding. After that i wanted to stay in Dar for a few days and tour the city. My exwife is afraid it might not be safe. Is it a safe city and will it be easy to navigate around only speaking english? thank you for any answers.
Hi Anthony, as for safety, it's not the safest in the world, but at same time being careful (like not wearing anything too flashy, or carrying your wallet in your back pocket, or not going out too late) are all great ways to keep safe. As for language, some people can speak a little English, but not too many. That being said, people are friendly and willing to help and point you in the right direction. Hope you have a great visit!
I have tried all the 23 Fun things u mentioned while i visited Dar Salaam. It is such a great article. Thanks.
Hey Jiti, wow, fantastic you've done all these things too!
I was born and raised in Dar, before I migrate to Texas 10 years ago. Thanks for sharing, I am determine to return home for good. Dar is one of the best place on this earth. I love the place and I love the people. You nail every area from Bagamoyo to Kigamboni (KG). I miss home.
Hey Iddy, great to hear you're from Dar, hope you can get back. I agree, I love Dar, such a great mixture!
Amazing! Done some of it and will do some more in it. Thanks!
Great to hear that Giang, thanks for checking this out!
well reading all this seems dar a salaam is safe but recent new tells us otherwise,lots of tourists getting robbed everyday,its a shame the very people tanzania needs are being robbed,i just wondered if the government is doing anythinf about it,i hope so before they destroy the economy,WONDERING.
Hi Abby, thanks for the comment. It is unfortunate that there is a lot of crime in Dar lately, but I still think it's a great city. I hope the government will be able to increase security and crack down on the recent theft and muggings.
Right up until about 20 years ago, thieves were dealt with, very severely, by the people of Dar themselves and they learned their lesson by getting a good thrashing! Not like now, where they steal even your car mirror with a smirk on their faces as you watch them do it and even the police do nothing about it! I hope it improves too, possibly with a new govt. Otherwise the people should start sorting it themselves again lol
AYSHA MAHMOUD BURNETT
COOL STUFF.
AFTER MOVING TO ZIMBABWE AND LIVING THERE FOR DONKEY YEARS, AND THEN IMMIGRATE TO TEXAS SINCE 2001, WHEN I SEE SUCH THINGS, I START WISHING THAT
I WOULD GROW WINGS AND FLY WAY UP, UP HIGH BACK TO MY BONGOLAND.
Haha, thanks so much for the comment Aysha. Growing wings and being able to go wherever we would like would be great!
pls b informed on temple street there r masjid (which is in the picture ) n temples
Even at the seemingly bustling city, like Dar, there will always be interesting things only to be discovered by those who explore deep into the heart of it. Thanks for this list, Mark! Btw that bowl of Zanzibari Mix just looks so delicious!
No problem Bama, you're right, there are so many things to discover in any city!
Left Tanzania 32 years ago. Visit family on regular basis. Excellent presentation. Also there is a restaurant called Khana Khazana who present variuos dishes and excellent atmosphere.
Also when visiting Bagamoyo must visit Crocodile farm where you are able to hold a small one in your hands and experience the strength of this reptile. Love Tanzania.
Hey Azad, yes, I'm been to Khana Khazana a number of times as well and have fully enjoyed it! Thanks!
Do not miss Naima for the exotic fresh fruit drink of Mabungo, Khungu etc and nearby there is a resturant Retreat for typical Indian vegiterial food it is amazing ummh masala dhosa and idli sambhar etc.
While in Bagamoyo the museum is brilliant and the green turtle park amazing we saw a tutle which swam from Bagamoyo to Australia and back came to lay its eggs it is characteristic for a green turtle to come back to its orginal birthplace to lay its eggs.
Hi Mariam, thanks a lot for Dar es Salaam and Bagamoyo suggestions!
I left Dar es Salaam over 32 yrs ago and your delightful pictures etc brought the memories flooding back, tempting me to return for a visit. Thank you soooooooooo much!
No problem Maria, I'm glad you enjoyed this and thank you for taking a look. Hope you can make a trip back to Dar soon!
Quote"……head over to Coco Beach on the weekend when it's packed full of local Tanzanians and Asians." Ahh! Tanzanians and who? How does the author know all these Asians are not Tanzanians?
Hey Robert,
I don't think Asian doesn't mean Tanzanian – sure plenty of the Asians in Tanzania are Tanzanian, but doesn't mean they're not Asian as well.
Fully agree with you. Lots of Asians & almost all are Tanzanians. I was born & grew up there but left almost 40 yrs ago. Visit my family & friends every other year. Heading back in June for 2-3 months. I have been to & seen most places you suggest & also have eaten everything you have suggested. Next time around try their BBQ Jumbo shrimps/prawns from restaurants, sweet BBQ Yams & BBQ Cassava from street vendors. Try the "heart of Palm" sold at the Oysterbay beach. They sell them by slices & don't forget the coconut popularly known in Kiswahili as "Madaafu"…sold on the streets & at Oysterbay too.
Thanks for stopping by F.K and for the added input. Cool to hear that you grew up in Tanzania and still make frequent visits. I'm drooling right now for some of those jumbo BBQ Indian Ocean prawns and the hearts of palm!
nice list, you missed out the other type of mishkaki known as sururu! it's best when its straight off the grill and then dipped into a tomato n chilli chutney
Source https://www.tripsavvy.com/things-to-do-in-dar-es-salaam-4176852
Source https://www.planetware.com/tourist-attractions-/dar-es-salaam-tza-dar-dar.htm
Source https://migrationology.com/things-to-do-in-dar-es-salaam-tanzania/