12 Best Cities to Visit in Utah
Renowned for its scenic beauty and vast array of outdoor activities, Utah has long been one of the most popular states to visit and explore. Hidden away among all its incredible landscapes, you can find lots of lovely cities and towns which act as gateways to the stupendous scenery and nature that surround them.
While Utah's main attraction is undoubtedly the great outdoors and its numerous national parks and natural monuments, it also has a rich history and heritage for visitors to delve into. In cities such as Provo and Logan you can learn more about its pioneer past and early Mormon settlers while Moab and Price instead boast prehistoric petroglyphs and paleontological sites.
While most of the best cities in Utah have a laidback small town feel to them, both Salt Lake City and Park City have a wealth of dining options, shops, and nightlife for you to enjoy. Although the state is rightfully known for its dazzling array of natural riches, its cities are also well worth checking out for all that they have to offer up.
12. Lehi [SEE MAP]
© Dreamstime
Named for a prophet in the Book of Mormon, the small city of Lehi has a rich pioneer and old west history for visitors to delve into. Surrounded by magnificent mountains with Utah Lake lying just to the south, it is conveniently set right in between Salt Lake City and Provo.
Founded in 1850 by Mormon pioneers, Lehi is now one of the country's fastest growing cities due to its thriving tech start-up industry. This has led to some great restaurants and bars popping up as well as countless shops and hotels.
The city is mostly known though for Lehi Roller Mills – a famous landmark featured in Footloose – and Thanksgiving Point; a huge complex containing gardens and golf courses, museums, and movie theaters. In addition, some fantastic hiking and skiing can be enjoyed in the nearby mountains.
11. Brigham City [SEE MAP]
Jasperdo / Flickr
Nestled in the north of Utah amidst the soaring mountains of the Wasatch Range, Brigham City is a very peaceful and picturesque place that has a lovely small-town feel. Despite this, it offers up lots of amenities and has several interesting historic sites and museums for guests to check out.
Also settled by Mormons in the 1850s, the city is named after Brigham Young who was the second president of the Mormon Church. Visitors can learn about the city's past at either the Brigham City Museum or Box Elder Museum with attractive architecture to be spied along its historic main drag.
In addition, the city is renowned for its peaches with festivals, parades, and pageants being held each September. It is also a great base for exploring both Bear River Migratory Bird Refuge and Golden Spike National Historic Park.
10. Vernal [SEE MAP]
© Dreamstime
Known as 'Dinosaurland', Vernal has long been a popular destination due to all its fascinating fossils and epic outdoor activities. Set in the northeast corner of Utah, the town is surrounded by beautiful scenery with winding rivers and canyons on show alongside dramatic gorges, mountains, and desert.
Amidst this wonderful wilderness you can enjoy hiking and mountain biking or fishing, swimming, and camping with river rafting being particularly popular. Besides Red Fleet State Park, there is the enormous Ashley National Forest to check out and vast Flaming Gorge National Recreation Area.
The town's main must-see sight however is Dinosaur National Monument which boasts a staggering array of ancient fossils and petroglyphs with more dinosaur skeletons to be found at the Utah Field House of Natural History.
9. Ogden [SEE MAP]
© Dreamstime
Set just south of Brigham City, the historic railroad city of Ogden and its atmospheric old town lie just forty minutes' drive from Salt Lake City. The first European settlement established in Utah, it has a lively historic district to explore and acts as a gateway to several of the state's best ski resorts.
Founded by fur trapper and mountain man Miles Goodyear in 1846, it has acted as a major railway hub for most of its history. While the historic heart of town once hosted saloons and brothels, its well-restored buildings are now instead home to restaurants and art galleries, museums and shops.
Aside from strolling about its scenic streets, Ogden's main draw is the stunning scenery and nature that lies on its doorstep. In the Wasatch Mountains to its east there are loads of trails to hike or bike along with splendid skiing on offer at Snowbasin and Powder Mountain.
8. Price [SEE MAP]
© Dreamstime
As it is located near to lots of incredible nature and historic sites, the small town of Price is a great place to spend a night or two. While its wealth of outdoor activities and prehistoric petroglyphs are what entice most people, it is also noted for its multicultural make-up and thriving dining scene.
Lying amidst the remote reaches of Utah's Castle Country, Price was founded as a mining town with its railroads and coal mines attracting everyone from Greeks and Italians to Mexicans and Japanese. In both its prehistoric and pioneer museums you can learn more about its captivating past.
In the nearby Nine Mile Canyon you can spy awe-inspiring ancient Native American artworks while San Rafael Swell has stupendous scenery, hikes, drives, and camping for you to enjoy.
7. St. George [SEE MAP]
© Dreamstime
Tucked away in a scenic and secluded valley in the southwest of the state, the sun-kissed St. George truly is blessed when it comes to its array of outdoor riches. Besides the Grand Canyon and Bryce Canyon, it lies near to Zion National Park and the state parks of Snow Canyon and Sand Hollow.
Due to this, the city is a great base from which to explore the surrounding landscapes which include everything from deserts and canyons to mountains and lakes. In addition to hiking and biking about, boating and camping are also popular as is rock climbing and ATVing.
While the superb scenery is certainly its main draw, St. George has a growing arts and culture scene to delve into as well as countless shops and restaurants and a scattering of interesting historic sites.
6. Provo [SEE MAP]
© Dreamstime
The third-largest city in the state, Provo lies just forty minutes' drive to the south of Salt Lake City alongside the large Utah Lake. One of the most conservative communities in the country, it mainly acts as a base for visiting the nearby national parks and nature sites.
Founded in 1849 as Fort Utah, life in the city is dominated by the Mormon Church with most shops and restaurants being closed on Sundays. Besides stopping by the museums and art galleries on the Brigham Young University campus, there are interesting Mormon temples to see as well as historic sites related to both the church and early pioneers.
From Provo you can easily visit Bridal Veil Falls, the Timpanogos Cave system, and Uinta-Wasatch-Cache National Forest – all of which offer up some stunning scenery and excellent outdoor activities.
5. Logan [SEE MAP]
© Dreamstime
Often overlooked by visitors, Logan is very much a hidden gem with lots of incredible nature and outdoor activities for you to enjoy. Set in a scenic spot amidst the Wasatch Mountains in northern Utah, the small city also has a rich history and heritage to uncover.
Established in 1859 by Mormon settlers, its historic heart is dotted with beautiful old buildings and landmarks such as its Tabernacle and Temple. While the American West Heritage Center offers up a fascinating look at the area's past, Utah State University's sizeable student population lends the city a lively and youthful feel.
Most people, however, visit for its fantastic hiking, mountain biking, and kayaking with superb skiing to be enjoyed in the winter months. In addition, the Logan National Scenic Byway is a treat to drive along, particularly during fall due to its colorful foliage.
4. Cedar City [SEE MAP]
© Dreamstime
Sandwiched between two massive mountain ranges, Cedar City is a very picturesque place to visit with a wealth of wonderful wilderness to explore. Besides acting as a convenient gateway to Zion National Park and Cedar Breaks National Monument, it is also known for its huge Shakespearean Festival which takes place each summer.
Also founded by Mormon pioneers in the 1850s, the sleepy college town lies in the southwest of the state, not far from both Dixie National Forest and Bryce Canyon. Aside from hiking and mountain biking amidst the stunning scenery, guests can go skiing at the Brian Head and Eagle Point resorts.
In the summer, the town really comes alive when all kinds of performances and events are held on its college campus for the Shakespearean Festival.
3. Park City [SEE MAP]
Michael R Perry / Flickr
Home to some of the biggest and best ski resorts in the US, Park City lies tucked away amidst the Wasatch Mountains, just forty minutes' drive from Salt Lake City. Once a boom-and-bust mining town, it was transformed into a world-class mountain resort for the 2002 Winter Olympic Games.
Nowadays, it is a very popular place to vacation due to its splendid ski resorts that sprawl across the surrounding mountains. While Deer Valley and Park City Mountain boast countless slopes for you to shoot down, some great hiking and mountain biking can be enjoyed in the sunny summer months.
Although most people come for its outdoor activities, Park City has a charming Main Street packed with restaurants and shops to explore and also hosts the famous Sundance Film Festival each year.
2. Moab [SEE MAP]
faungg's photo / Flickr
Very much a mecca for outdoor adventure enthusiasts, the tiny town of Moab is surrounded by awe-inspiring landscapes that just beg to be explored. Set in the east of Utah in a dry and desolate part of Canyon Country, it lies not far from both the Arches and Canyonlands national parks.
Due to its proximity to these parks, Moab has long been a popular tourist destination with its center now dotted with shops and restaurants, hotels, and tour companies. From here, you can arrange to go river rafting down the Colorado River or off-road among its massive mesas and elegant arches.
In addition, you can enjoy hiking, mountain biking, and rock climbing amidst its spectacular scenery, while prehistoric petroglyphs and dinosaur fossils can sometimes be spied here and there.
1. Salt Lake City [SEE MAP]
brittreints / Flickr
The capital and largest city in the state, Salt Lake City boasts everything from historic and cultural sites to sublime nature and outdoor recreation activities. Set between the sparkling waters of Great Salt Lake and the rearing Wasatch Mountains, it really does have something for everyone to enjoy.
Well known for being home to the headquarters of the Mormon Church, its main tourist attraction is undoubtedly the enormous Temple Square which lies at its heart. Here, you can find some exquisite architecture and historic buildings as well as monuments and a museum on the Mormons.
Besides visiting its temple and tabernacle, you can also head to see its striking State Capitol or City County Building with numerous museums to be found on its sprawling university campus. On top of all this, some brilliant hiking and skiing can be enjoyed in the nearby mountains.
Map of Cities in Utah
© OpenStreetMap © MapTiler © Touropia
23 Most Beautiful Places to Visit in Utah!
The best places to visit in Utah cover some of the most spectacular natural scenery on the planet. Utah's national parks are legendary for their scenic beauty.
But other than the Mighty 5 national parks, you will find numerous other naturally beautiful areas to explore in Utah, from the Great Salt Lake to Grand Staircase Escalante National Monument.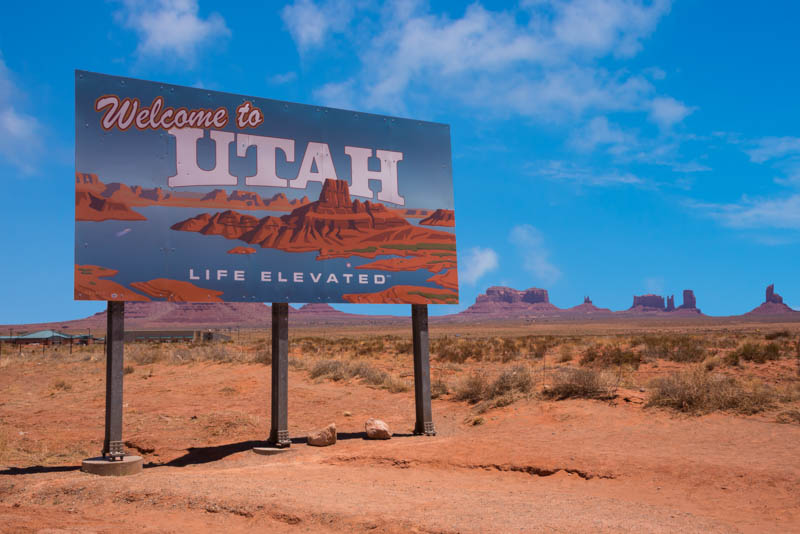 Utah offers year-round outdoor recreation, from hiking and biking in the warmer months to skiing and snowboarding in the winter. Utah's cities are vibrant and make ideal bases from which to explore the state's mind-boggling natural riches.
While we've explored quite a bit of Utah, we have several destinations still on our bucket list.
For this round-up of the best places to visit in Utah, we sought suggestions from our colleagues in the travel blogging community, and we've received a diverse array of places for your Utah itinerary.
Excited? Read on to discover the must-visit places in Utah!
Bryce Canyon National Park
Bryce Canyon National Park is one of Utah's "Mighty 5" national parks. Its incredible natural beauty warrants a spot at the top of your Utah bucket list. From hikes to scenic drives, Bryce Canyon has something for everyone.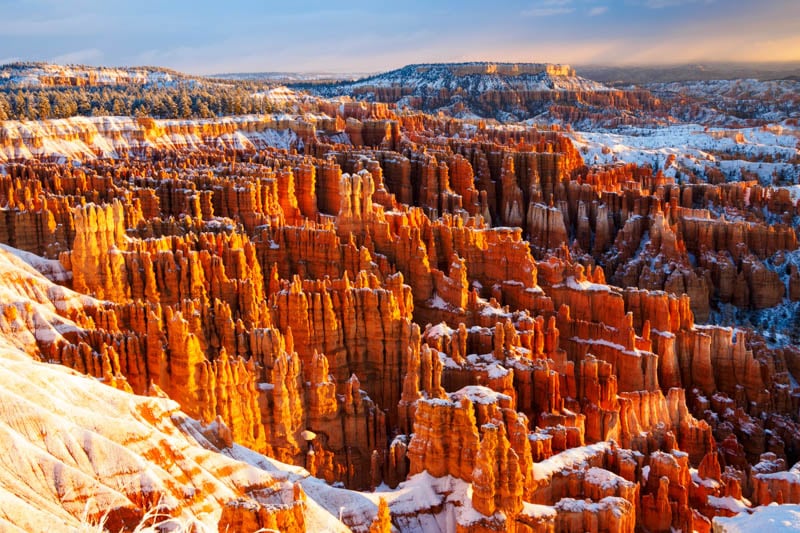 Bryce Canyon is most famous for its hoodoos, a type of natural rock formation formed over millions of years by erosion. The largest concentration of hoodoos in the world is found in this part of Utah.
If you're looking for the best weather and fewer crowds, consider visiting Bryce Canyon from March to May or September to October.
For a unique experience and some solitude, you can also visit Bryce Canyon in the winter to snowshoe amongst the hoodoos. Bryce Canyon is one of the most scenic national parks to visit in winter.
The best way to get oriented in Bryce Canyon is on a scenic drive. Along the park's main road, you'll find 15 vantage points overlooking Bryce Amphitheater. These viewpoints, like Rainbow Point and Bryce Point, provide unique views of the canyon and its hoodoos.
If you're looking to hike, the best trail in the park is the Queen's Garden/Navajo Loop. This trail takes you down into the canyon to walk amongst the hoodoos. For a more strenuous hike in Bryce Canyon, consider hiking the Peek-a-Boo Trail instead.
Last but not least, sunrise over Bryce Amphitheater is an essential part of any Bryce Canyon National Park itinerary. From Sunrise Point, you'll catch the first light illuminating the hoodoos, making them glow.
Contributed by Julia of Well Planned Journey
Zion National Park
Zion National Park is a stunningly beautiful national park. The main section of the park is Zion Canyon, and unlike most canyons, the access road runs along the floor of the canyon, rather than the rim, so you see the walls of the canyon all around you. Zion is one of the best national parks to visit from Vegas.
The park is closed to vehicular traffic most of the year. Instead, a frequent shuttle runs along the length of the canyon, and stops at multiple viewpoints along the way. This is a great way for all visitors to see the park.
There are several legendary hikes in the park. When you hike The Narrows, you actually walk in a shallow river through a narrow slot canyon with towering walls on both sides.
The other famous hike is to Angel's Landing. It's not for the faint-of-heart (or those with a fear of heights): the last section involves walking on a narrow ledge with a steep drop off on one side, holding on to a chain drilled into the side of the cliff. At the end, though, you will be rewarded with sensational views the length of the canyon.
For adventure seekers, this is also a great place to go canyoneering. The area around the park has multiple narrow, multi-tiered slot canyons and even beginners can rappel down 200-foot cliffs inside the tubes carved by flash floods. It's an adventure of a lifetime!
For those seeking fewer thrills, there is also a bike path in the Watchman section of the park that runs alongside a river and provides wonderful views of the surrounding canyon walls.
There is truly something for everyone in Zion. The park is open all year, but the best time to visit Zion is May and September, when the temperatures are lovely and it isn't too crowded.
Contributed by James of Parks Collecting
Arches National Park
Arches National Park in Moab is a must-visit in Utah. Not only is it one of the five amazing national parks to visit in beautiful Utah, but it's also filled with amazing rock formations which give it the iconic name, Arches.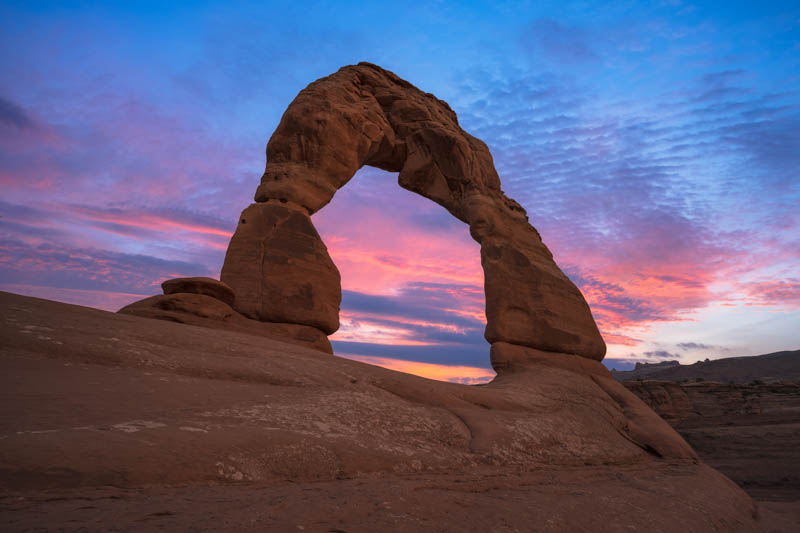 The best time to visit Arches National Park is in the spring or fall months. During the summer, temperatures get pretty high, usually well above 100 degrees, which doesn't create the best conditions for hiking. Instead, this increases the chances of getting heat exhaustion and heatstroke.
Winter is also a nice time to visit Arches, but you'll encounter more snow on the trail, and possible snowstorms on the drive to and from the area. In the spring and fall months, the temperatures are milder, making them perfect for exploring outdoors, without high chances of snowstorms.
The best thing to do in Arches National Park is to go hiking! Outside of the park in Moab, you can go off-roading and rent either UTV or a Jeep. But inside the park, get out and enjoy some trails.
The hike to Delicate Arch is one of the most iconic and popular hikes in the park. If you want to beat most of the crowds, go either during the week, at sunrise, or at night! Also sunrise and sunset are the best times for photography! At night, you can shoot the Milky Way with the Delicate Arch. This is a 3-mile round-trip hike.
After, hike to Sand Dune Arch which is less than a mile round trip for a stunning arch tucked away in a canyon. From there, take the short walk to the Double Arch, which gives you stunning views of two giant arches next to each other.
Make sure to follow Leave No Trace Principles when visiting this beautiful park.
Canyonlands National Park
As the largest national park in Utah, Canyonlands National Park has all the views and expanse to rival the Grand Canyon National Park but without the crowds, so visitors can enjoy the quintessential Western experience without the teeming tourists.
The best time to visit Canyonlands is in the spring or the fall when the daytime temperatures are perfect for daytime exploration, and the nights are refreshingly cool.
When deciding on what to do, consider the three different districts. Divided by the Colorado River, each district provides a different experience.
The Island in the Sky mesa is perfect for a scenic drive. Stop at one of the various overlooks for the thrilling experience of standing over 1,000 feet higher than the surrounding area.
The backcountry of the Needles, surrounded by towering red and white banded spires, is ideal for both casual and experienced hikers. Take a break at Cave Spring and experience a historic cowboy camp or follow the cairns to Pothole Point.
For a bit of a challenge, put your hiking and four-wheel driving experience to the test by exploring the wild, remote trails of the Maze. Difficult-to-navigate terrain, including sharp turns and plummeting drops, make this district a worthy spot for those looking for incredible views and aren't afraid to work for it.
End your trip by camping under the night sky. The lack of pollution and nearby urban settlements opens the night sky to up to 15,000 stars, providing viewers a breathtaking and otherworldly view.
Capitol Reef National Park
Capitol Reef might be the smaller and lesser known of Utah's wildly popular Mighty 5 National Parks, but quieter means fewer crowds and more space to explore a stunning natural environment.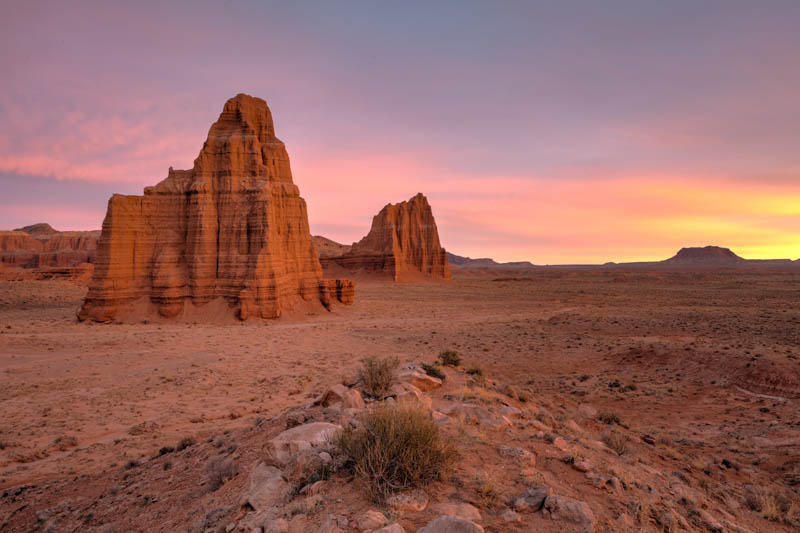 The beauty of Capitol Reef lies within its simplicity. All of the family-friendly highlights can be ticked off in just half a day, before driving ultra-scenic Highway 12 on to Bryce Canyon.
Capitol Reef's unmissable hike is an easy but picturesque 1.8 mile round-trip trail to Hickman Bridge. The route is dotted with smooth spherical shaped imprints as though an ice cream scooper has carved out the path, and its conclusion is an impressive natural sandstone bridge similar to those at Arches National Park.
After the hike, pick orchard grown fruit and take pictures of the incredibly photogenic Fruita Barn, before cruising down the National Park scenic drive to Grand Wash and Capitol Gorge.
Fall is the best time to visit Capitol Reef to avoid crowds and enjoy comfortable hiking conditions. But the ace up Capitol Reef's sleeve is being home to the most vibrant autumnal foliage colors of all the Utah parks.
When planning the perfect Utah road trip vacation, be sure to spend a relaxing half day at Capitol Reef National Park.
Contributed by Mark + Kristen of Where Are Those Morgans?
Monument Valley
Monument Valley is one of the more remote areas of Utah. Located in the far southeast corner of the state, this desert region offers scenic roads that seem to stretch as far as the eye can see.
The desolate road through Monument Valley is surrounded by unique rock formations that jut up from the ground, creating a picturesque landscape. The area was made famous after being featured in the movie Forest Gump.
There is even a small roadside stop seemingly in the middle of nowhere called Forest Gump Hill that gives the exact view of Monument Valley that is depicted in the Tom Hanks movie!
A visit to Monument Valley, which sits on the Navajo Indian Reservation, may include hiking or a scenic drive down the Tribal Park Loop. This gravel and dirt road can be explored as a self-drive or with a Navajo guide.
While a bit off the beaten path, Monument Valley is a must for any southwest USA road trip itinerary. Spring and fall are ideal times to visit.
Stay at least one night in this remote area of Utah so you can enjoy some of the best stargazing in the continental USA. The sparsely populated area of Monument Valley has hardly any light pollution, making it pitch black at night and ideal for stargazing.
Contributed by Melissa of Parenthood and Passports
The Wasatch Range
On a clear day in Salt Lake City, it is impossible to miss the majestic mountains that line the horizon to the East. Known as the Wasatch Range, they are the western edge of the Rockies and stretch from the Idaho-Utah border down to central Utah. For locals and visitors, they provide a year-round, unlimited supply of outdoor activities.
One of the most popular sections of the Wasatch Range contains Little and Big Cottonwood Canyons. These canyons have shot Utah to fame on the ski circuit, as they contain the world-class ski resorts of Alta and Snowbird, and their smaller neighbors Solitude and Brighton.
These resorts each average 500" of snow a year, ranking them in the top 10 snowiest ski resorts in North America! They are also some of the most accessible, as they are a 20-40 minute drive from the airport in Salt Lake City.
In the warmer months, the Wasatch Range transforms into a mecca for hiking, rock climbing, mountain biking, fishing, and camping. A few noteworthy hikes in the Cottonwood Canyons area include Cecret Lake (easy), Willow Lake (easy), Red Pine Lakes (challenging), and the summit Mount Olympus (challenging). There are many more trails to discover!
If you find yourself there in the fall months, aspen, oak, and maple trees bring epic fall colors to the Wasatch. You can drive through the area to see some of the most beautiful scenery in Utah.
Contributed by Xin of Xinventure Blog
Salt Lake City
Often overlooked as a mere jumping-off point for a road trip of the Mighty 5, Salt Lake City is a fantastic city to visit and is well-worth setting aside a few days to get to know while you're in Utah.
Known as "The Crossroads of the West," Salt Lake City is filled to the brim with culture, green spaces, great restaurants, and a fun college culture. While you're here, be sure to visit the Utah State Capitol building for its great views and beautiful grounds, and explore the Campus District, home to the "U of U" and a really fun part of town.
Nearby, the Red Butte Gardens is one of the biggest (and best!) arboretums in the U.S., with beautiful nature paths. No trip to Salt Lake City is complete without checking out Temple Square and its eponymous Salt Lake Temple, with its six spires. The Salt Lake Temple is the headquarters of the Mormon faith, which has many followers in Utah, and is quite a marvel of engineering!
Sports fans should be sure to stop at the Utah Olympic Park, where the 2002 Winter Olympic Games were held. Today it is a large sports complex.
Lastly, outdoors enthusiasts will love visiting the Great Salt Lake, the largest saltwater lake in the Western Hemisphere, for paddle-boating and canoeing, and the Bonneville Salt Flats.
Salt Lake City is a great place to visit year-round, with great skiing options in the winter and mild and lovely summers and shoulder seasons.
Text by Tegan + Alex of Why Not Walk Travel Guides
Snow Canyon State Park
Located in the Red Cliffs Desert Reserve near Saint George in southwestern Utah, Snow Canyon State Park is a place of spectacular beauty, featuring towering sandstone cliffs. The park offers lots of opportunities for outdoor recreation.
With several miles of trails winding through the park, hiking is popular in Snow Canyon. Family-friendly hiking trails lead through the main canyon, with options to explore many side canyons as well.
Visitors also enjoy technical rock climbing, rock scrambling, wildlife viewing, photography, biking, and horseback riding. The campground in the park is open all year.
Snow Canyon is home to diverse vegetation, from creosote bush to desert willow. It is also home to many species of animals, including rarities such as desert tortoises and gila monsters. Look for coyotes, kit foxes, quail, roadrunners, leopard lizards, gopher snakes, and canyon tree frogs.
Spring and fall are ideal times to visit, with pleasant daytime temperatures, although winters here are mild as well. Wildflowers provide carpets of color when conditions are right.
Snow Canyon State Park is close enough that it makes for one of the best outdoor-focused day trips from Vegas you can do.
Contributed by us
Vernal
Vernal is the gateway to adventure travel in the northeast corner of Utah. The area bills itself as Utah's Dinosaur Land. The main visitor center (Quarry Visitor Center) for Dinosaur National Monument is less than half an hour from the town.
If dinosaurs bring you to town then you should first visit the Utah Field House of Natural History, where you can see some dinosaurs that were found locally, like the velociraptor.
After you have seen some great dinosaurs, drive to the Quarry Visitor Center, where you can see where many of these dinosaurs were found. You can see these fossils in situ, still half embedded in the rock.
Another great place to visit just outside of Vernal is McConkie Ranch. Here you can see some wonderful pictographs carved into the rocks. The rock art is from the Fremont people, who were a Native American people that carved these pictures 700-2,000 years ago.
One of the more fun experiences in the area is a rafting trip. Vernal has a number of outfitters that can take you on a rafting trip in the Green River, through Dinosaur National Park. The best of these is the rafting trip through the Gates of Lodore, a 3-day rafting trip.
Text and photo by Chris of Amateur Traveler
Natural Bridge National Monument
Natural Bridges National Monument is one of the most scenic places to visit in Utah. Located in southeastern Utah, near Four Corners National Monument, Natural Bridges National Monument can be conveniently visited along with a trip to stand at the spot where the four US states of Utah, Colorado, New Mexico, and Arizona meet.
The three bridges that give the monument its name are Kachina, Owachomo, and Sipapu, named in honor of the Puebloans that once inhabited this land. The main drive through the monument has overlooks and trailheads that facilitate access to the three beautiful bridges. Also worthy of a visit is Horse Collar Ruin, a well-preserved Pueblo site.
Hiking is a popular activity in Natural Bridges National Monument. Easy walks lead to viewpoints for the bridges and Horse Collar Ruin. Longer, moderate hikes take you up close to each of the three bridges. Birding, the scenic drive through the park, and night sky observation are other popular things to do here.
Spring and fall are the best times to visit Natural Bridges National Monument. Spring and fall offers wildflowers or leaf color respectively, with the most pleasant temperatures.
Since it is located in the desert, summers in the monument are hot and dry, not conducive to outside wandering. Occasional dangerous thunderstorms may also occur in the summer.
Contributed by us
Provo
Provo is a small city, home to college students and conservatives—but it is quickly becoming a major music, food, and art hub.
The center of life in Provo is downtown, located on Center Street and University Avenue. Here, you'll find dozens of restaurants with cuisine from all over the world—Belgian-style fries, sushi, French pastries, and Navajo tacos are just some of the most beloved options.
Between meals, spend time wandering the area looking for dozens of colorful murals painted by local artists.
Whether it's live concerts on the street in the summer or seasonal events throughout the year, there's always something to do in Provo. Karaoke, a fish spa, shopping at the Shops at Riverwoods, and a board game café are just a few of the exciting options.
Outdoor lovers will want to visit Utah Lake, Utah's largest freshwater lake just minutes from downtown, or head into the mountains to go for a drive.
Provo Canyon is where you can see 607-foot Bridal Veil Falls, raft down the Provo River, or reach Sundance Mountain Resort for skiing, hiking, ziplining, and mountain biking.
If you want to learn about Provo's history and culture, visit Brigham Young University, the private college that put Provo on the map. See a sports event, enjoy an outstanding musical performance, or visit one of the museums. Then, take part in a BYU tradition by hiking to the "Y" on the mountain—it provides one of the best views of Provo and Utah Lake below.
Provo may not enjoy the fame of Southern Utah or have the big city vibes of Salt Lake City, but it is easily one of the best cities to visit in the state. You'll want to plan a long weekend discovering what makes this unique college town so interesting and exciting!
Contributed by McKenna of One More Step Travels
Grand Staircase Escalante National Monument
Located in the heart of Utah's red rock country, Grand Staircase Escalante National Monument is one of the state's best kept secrets.
Grand Staircase Escalante National Monument is about one hour away from more touristy Bryce Canyon National Park. However, while Grand Staircase is much larger (about 1.9 million acres), it gets a relatively small number of visitors, compared to some of the most popular national parks in Utah.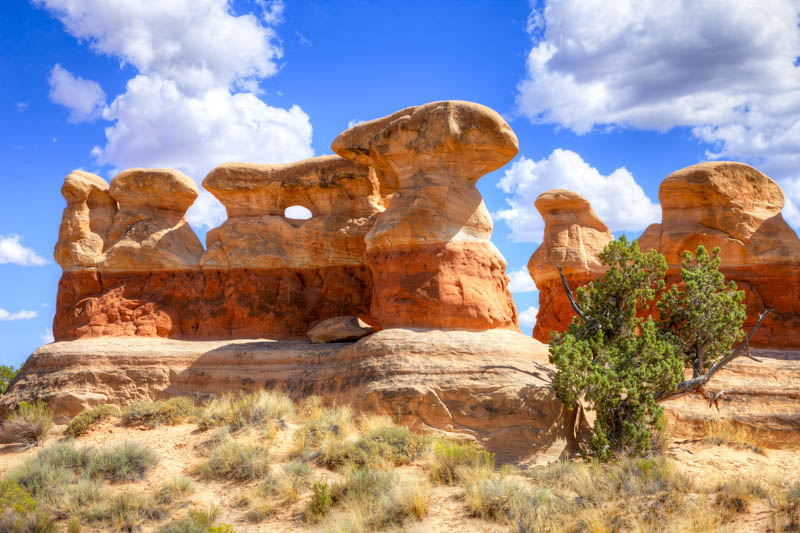 It's a great place for anybody who wants to escape the crowds and do some backcountry hiking and camping.
If you love history, you might also want to know that Grand Staircase boasts an incredible paleontological history. Researchers have unearthed over 20 species of dinosaurs in the Grand Staircase Escalante, and it's not uncommon to see excavation projects in this area.
The biggest challenge is the remote location of Grand Staircase. This national monument is located away from cities and airports and it takes hours to get there from most touristy destinations in the southwest region.
However, the long trip is well worth it. This national monument designated by President Bill Clinton in 1996 boasts some of the most unique geology with mesas, towering buttes and canyons, as well as some of the most clear dark skies in the country, which makes it a perfect place for stargazing.
Text by Daria of The Discovery Nut
Goblin Valley State Park
One of the most fantastic places to visit in Utah is the stunning Goblin Valley State Park. Goblin Valley State Park is located in central Utah, about an hour and a half away from Capitol Reef National Park.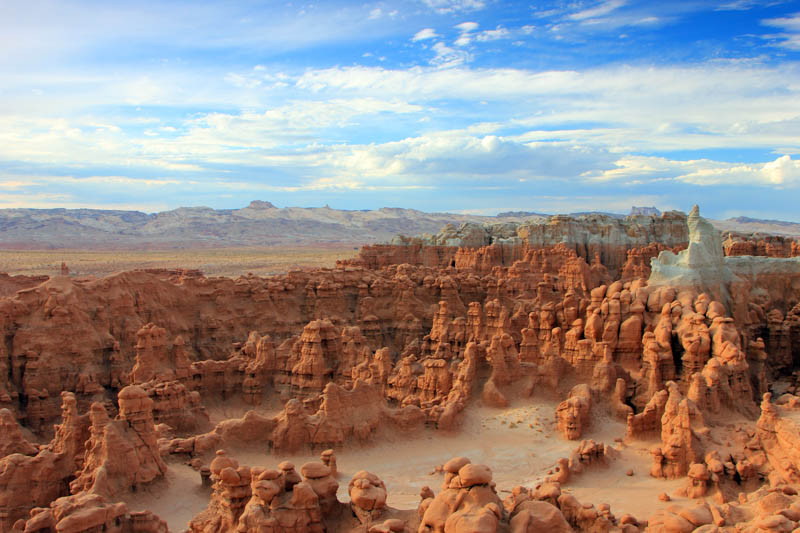 If you are on a Utah national park road trip, you must definitely make a pit stop at Goblin Valley for a few hours! The park is filled with hoodoos, which are bright orange and brown formations that resemble mushrooms and spires. It is breathtaking, and unlike anything you have ever seen before.
One of the best things to do in Goblin Valley is to wander and explore it on your own. The park is pretty small, as it is a 3-square-mile valley. You can walk around and climb to the top of the plateau to get a better look from above.
You can also do some official hikes like The Goblin's Lair, Valley Of The Goblins, Three Sisters, and Goblin Valley Trail. You can also stay in the cutest yurt, surrounded by hoodoos, and all you have to do is make reservations in advance.
Goblin Valley is a small park in Utah and not well known, but it truly is a gem and a great place to explore while on the way to Moab or Capitol Reef.
Contributed by Michelle of The Wandering Queen
The city of Moab is surrounded by beautiful national and state parks, but even without the parks there are many wonderful things to do, ranging from family-friendly activities to high-adrenaline adventure options.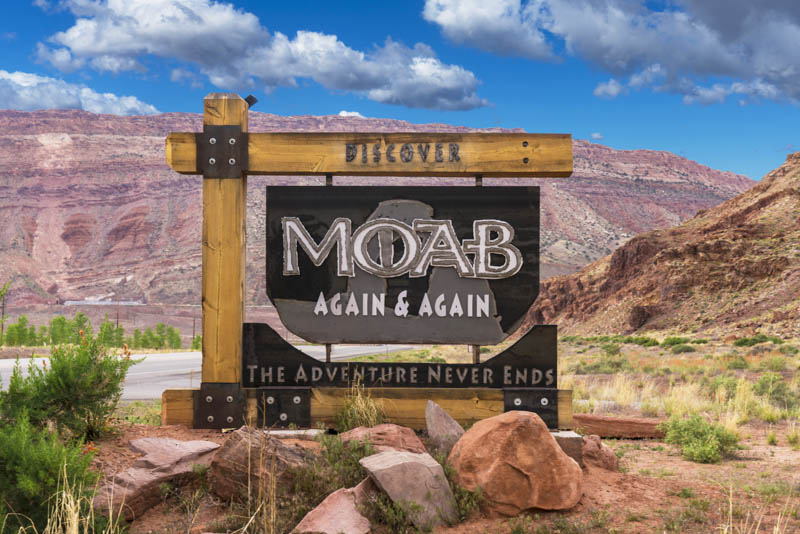 There are also a few choices for museums, including a dinosaur museum, history of Moab museum and film museum. The city of Moab has some great local restaurants and a really fun atmosphere.
Moab has several camping areas. Some sites are in the national parks, but there are also some beautiful campsites along the Colorado River and near town. These camping areas have restrooms and, even better, a great beginner biking trail that leads toward town and a public park.
The Colorado River meanders its way through Moab and the national parks. To get on the river, you have several options. You can book a jet boat tour: many companies have both intense and scenic versions. Or you can opt for a rafting trip or even a night time tour to explore some of the petroglyphs along the rock faces.
Other active activities include biking, hiking, and off-roading via Jeep or ATV. There are numerous choices for bike trails throughout the area. Hikes come in all sizes as well. Be sure to bring plenty of water, it's hot.
Contributed by Lori of Fitz 5 on the Go
Dead Horse Point State Park
Dead Horse Point State Park is one of the most magical desert destinations in Utah. It tends to be overshadowed by its neighboring national parks, but it's so worth visiting if you want to explore some of the best hikes in Moab without crowds.
Not only does Dead Horse offer some of the best canyon views in Utah, paired with quiet trails, but you can also go on a mountain biking adventure to reach magnificent viewpoints of the Colorado River down below.
If you're feeling up for it, you can also take advantage of the campgrounds scattered along the park or opt to sleep in a yurt! Not only is camping in the desert an experience of a lifetime, but you'll also get to learn why Dead Horse Point's night skies are internationally appraised (it's considered one of the best spots in the world to go stargazing!)
The best time to visit Dead Horse Point is during the fall, as you'll get pleasant weather and not too many other visitors. Spring is another lovely time to visit weather-wise, but avoid spring break to ensure you get a more secluded visit. Avoid visiting during the summer as the scorching heat can really break your trip.
Text by Meg of Fox in the Forest
Kanarra Falls
Kanarra Falls is a perfect place to visit in Utah if you want to experience a slot canyon like The Narrows in Zion National Park without the crowds. Just about an hour away from the park proper, Kanarraville is home to this easy day hike which leads you through a beautiful sandstone canyon to a small waterfall.
The hike to Kanarra Falls is about 3 miles round trip. The trail takes you along Kanarra Creek for a bit, then you will come to the entrance of the slot canyon. Here you begin to hike in the creek itself until you reach the main waterfall. If you're having fun, you can continue on past the waterfall itself and eventually climb a cool ladder to the top of the falls and beyond.
Plan for your hike to take a few hours to half a day, depending on how far you go and your fitness level. The best time to hike to Kanarra Falls is between April and October. Though summer can be quite hot, with the water and shade in the slot canyon, it's not as terrible as some Utah desert hikes.
A permit is required to hike to the falls, which can be purchased online or at a kiosk at the trailhead. Also, be aware that flash floods are a serious danger in slot canyons, so do not do this hike if rain or thunderstorms are in the forecast (especially likely in July, August, and September).
Whether you're on a road trip through Utah or just need a break from the masses of people in Zion, Kanarra Falls is a hidden gem in Utah that you don't want to miss!
Contributed by Allison of She Dreams of Alpine
Grafton Ghost Town
Grafton Ghost Town is only five miles outside of Zion National Park, and an excellent additional stop while you are in the area. There is a mystery about ghost towns, and Utah has its fair share — the unforgiving landscape left many frontier towns abandoned.
Grafton has a fascinating history and has been faithfully restored so that people can visit and learn about its tumultuous past. It was first settled in 1859 by Mormons who were fleeing religious persecution. But this spot along the Virgin River was doomed from the beginning.
Grafton was flooded within its first three years of settlement, and as a result moved further away from the river. It was difficult land to irrigate and therefore farming was a constant struggle.
There were also initial and understandable difficulties with the native Indian population. While friendship and acceptance were eventually restored, the cemetery is full of settlers lost in these early struggles. Most subsequent generations moved away to easier pastures, and no one has lived in Grafton since 1945.
You may also recognize Grafton Ghost Town from the 1969 classic western movie, Butch Cassidy & The Sundance Kid. Explore the restored church and schoolhouse, farmers' cottages, and the cemetery: it's a fascinating glimpse into how settler communities lived.
Text by Hannah of HH Lifestyle Travel
Buckskin Gulch
Buckskin Gulch is one of the best places to visit Utah. At over 13 miles (21 km) long, Buckskin Gulch is for sure the longest and deepest slot canyon in the Southwestern United States. What makes it special is that Buckskin Gulch is also possibly the longest slot canyon hiking trail in the world. It's a perfect place for hiking and adventure lovers.
The Buckskin Gulch hike is most often done as a day hike. You decide how many miles you want to hike and when you want to return. Usually, it's about 5-8 miles both ways in one day.
It's also possible to do this hike as an overnight backpacking trip and sleep in the tent, but a backpacking trip requires a permit.
Buckskin Gulch is located along the Utah and Arizona border, between Kanab and Page. To start the hike, you need to get to Wirepass Trailhead. If you drive from Kanab, head east on US89 for 38 miles (from Page, AZ, it will be 35.5 miles). Turn right onto the gravel House Rock Valley Road and continue for 8.4 miles.
The canyon is deep, dark, and narrow. It's not a strenuous hike, but there are some obstacles and rocks, so hiking boots with good grip are necessary. Take adequate drinking water and snacks. During the hike, you will see unusual rock formations to admire.
Late spring and fall are best for this hike, but it's open year-round. However, if it rains, hiking in slot canyons is not recommended, due to high flood risk.
Contributed by Agnes of The Van Escape
Stansbury Island
One of the most unique places to visit in Utah is Stansbury Island. Stansbury Island is the second-largest island in the Great Salt Lake, which is the largest saltwater lake in the Western Hemisphere!
Visit Stansbury Island to experience the beautiful and mystical pink water you'll find along the island's shore. The pink color comes from salt-tolerant bacteria and algae that can only survive in such highly-salinated environments. Drive to the north point of Stansbury Island Road for the best spot to see the gorgeous pink water, relax, and take photos.
Another top thing to do on Stansbury Island is to see the beautiful, white, salt evaporation ponds used by Morton Salt that line both sides of the road as you drive onto the island. Be sure to get out of your car to view them before continuing down the dirt road to explore the rest of the island.
Finally, be sure to hike to the peak of Castle Rock. Castle Rock has large, fun boulders to scramble near the peak and sweeping views of the lake and Antelope Island. Camping is available anywhere on Stansbury Island's BLM land but take note that some areas of the island are private property: they are clearly marked.
The best time of year to visit is spring or fall. However, the lake's pink hue does always depend on the bacteria levels in the water. No matter when you go, experiencing the Morton Salt ponds, the pink lake, and the sweeping views of Castle Rock will be a memorable experience for everyone.
Blanding
Blanding is a hidden gem for outdoor lovers in the southeast corner of Utah. It's great for hiking and history lovers alike and even better, the two can be combined for the ultimate adventure.
There is no bad time to visit Blanding, but summer can get extremely hot, so if you go then, keep that in mind. Spring and fall are ideal.
There are so many amazing things to do in Blanding and the surrounding area, that you could stay busy for weeks, even months, but you'll likely only have a few days so here are some of the best things to see.
Just on the edge of town you can see the Five Kiva Pueblo ruin and visit Edge of the Cedars State Park Museum. A little further out, you can see the Butler Wash Ruin.
Finally, a little further out than that, you can hike to the House on Fire ruin, visit Natural Bridges National Monument, see the Upper Sand Island Petroglyphs in Bluff, or drive Valley of the Gods.
While the town itself maybe a little, well, bland, it's definitely worth visiting and makes for the perfect stop between Monument Valley and Moab.
Contributed by Megan of Red Around the World
Antelope Island State Park
One of the lesser known but must-visit destinations in Utah is Antelope Island State Park. Located only an hour's drive from Salt Lake City, this little haven in the middle of a relatively urban area is home to a large herd of buffalo along with other fantastic wildlife like antelope, coyotes, deer, hare and much more.
Located right on the Great Salt Lake, this beautiful park has hiking trails, a beach and even several campgrounds to be able to enjoy everything the park has to offer.
A trip to Antelope Island State Park is fantastic in any season. In the winter, if in town for a short trip or doing a longer ski road trip itinerary, be sure to include a stop at the park. During winter time, you get incredible views of snow-capped mountains in the distance and camping is open year round.
For the best wildlife viewing, head down to the ranch, which takes you the furthest into the island. If you have extra time, be sure to try out some hikes or enjoy a picnic by the lake.
If you prefer warmer weather, we suggest visiting during the spring or summer. In the spring with the vegetation and flowers blooming, it is a perfect time to enjoy hiking. Summers can be very hot in the area so be sure to bring lots of water.
Contributed by Lina of Bucket List Places
Faux Falls
One of the hidden gems in Utah is Faux Falls near Moab. It's one of the best places to visit in Utah because of its seclusion. A short, easy hike will lead you to a waterfall where you can swim.
Faux Falls is a man-made waterfall connected to Ken's Lake right outside the city of Moab. In an area full of visitors looking to see magnificent national parks, visiting Faux Falls is an escape from the crowds. It's a refreshing break in the heat of the desert to cool down in the pools created by the waterfall.
Just a ½ mile hike along the creek takes visitors to the lower falls. Once there, wade in the water at the base of the waterfall or walk behind the falls. Prepare to get wet! Swimming gear and water shoes are recommended. There's a secondary pool, about the size of a large hot tub, near the base of the falls as well.
While you're in the area, Ken's Lake has a lot to offer: swimming, paddle boarding, fishing, or lounging with inflatables in the water. There are campgrounds adjacent to the lake, but book them early as spots are limited.
The best time to go to Faux Falls is spring through fall when the weather is the warmest and the water is most enjoyable.
Contributed by Nikki of She Saves She Travels
We hope you enjoyed this round-up of the most exciting destinations in Utah. Which one will you pick for your next trip?
MORE INSPIRATION FOR TRAVELS IN THE USA
The Best Places to Visit in New England
The Best Places to Visit in Florida
The Best Places to Visit in the Pacific Northwest
The Best Places to Visit in Arizona
The Best California Weekend Getaways
The Best Places to Visit in Nevada
The Great US National Parks of the West
Did you find this article informative? Pin it for later reference!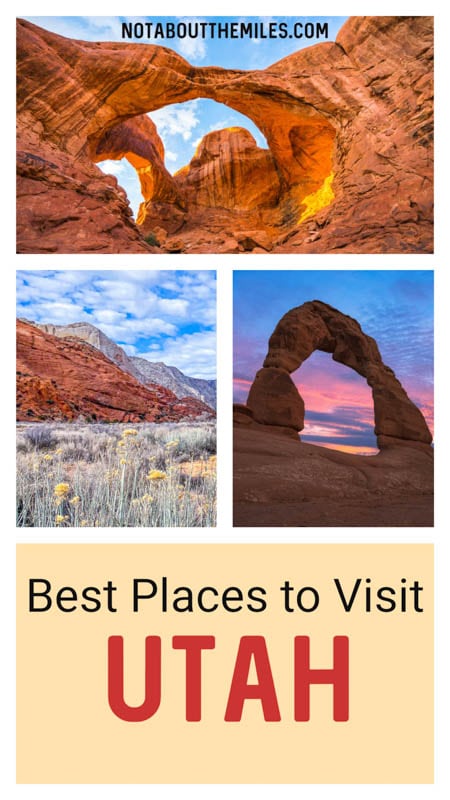 Dhara
Dhara's travel interests are eclectic, spanning everything from natural wonders to history, culture, art and architecture. She has visited 22 countries, many more than once, plus almost all 50 states of the USA, and has amassed a hoard of cherished travel moments.
You May Also Like:
13 Best National Parks to Visit in February!
Valley of Fire from Las Vegas: Things to Do + Tips for Visiting!
26 Best Things to Do in Las Vegas (That Aren't Gambling)!
Leave a Comment Cancel reply
This site uses Akismet to reduce spam. Learn how your comment data is processed.
About Us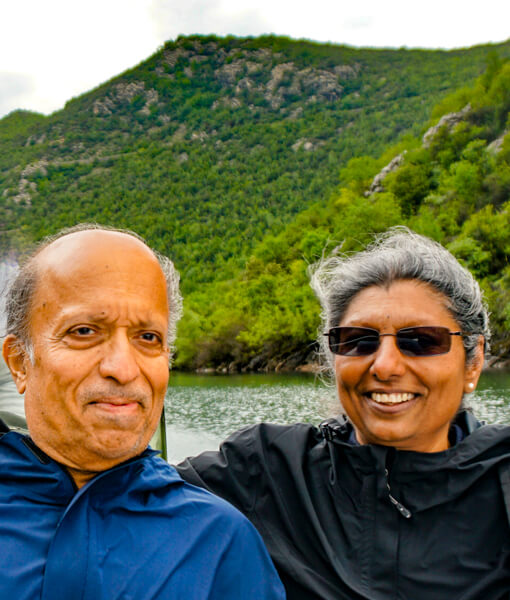 Hi! We are Dhara and Kishore. Through this blog, we hope to inspire you to seek out and savor beautiful travel moments.
Our travel articles are currently focused on the USA, Canada, and Europe. You will find in-depth information on cities and towns, natural areas, and cultural and historic landmarks.
Join us as we explore the world in search of memorable travel experiences.
25 Best Places to Visit in Utah (Vacation Spots Not to Miss!)
If there's one word that sums up all of the best places to visit in Utah, it's unique.
With its enormous variety of landscapes, its incredible collection of national and state parks, and its huge number of interesting things to do, Utah just may be one of our favorite US states to explore!
If you're looking for the best Utah vacation spots to add to your itinerary, this travel guide is for you.
We teamed up with several other travel writers for this roundup of the best travel destinations in Utah, and one thing is for certain: they definitely show off just how diverse Utah is.
From beloved national parks set in the desert to cherished ski towns located high in the mountains, the Beehive State is a year-round destination that is deserving of a very long bucket list.
Here are the best places to visit in Utah!
Table of Contents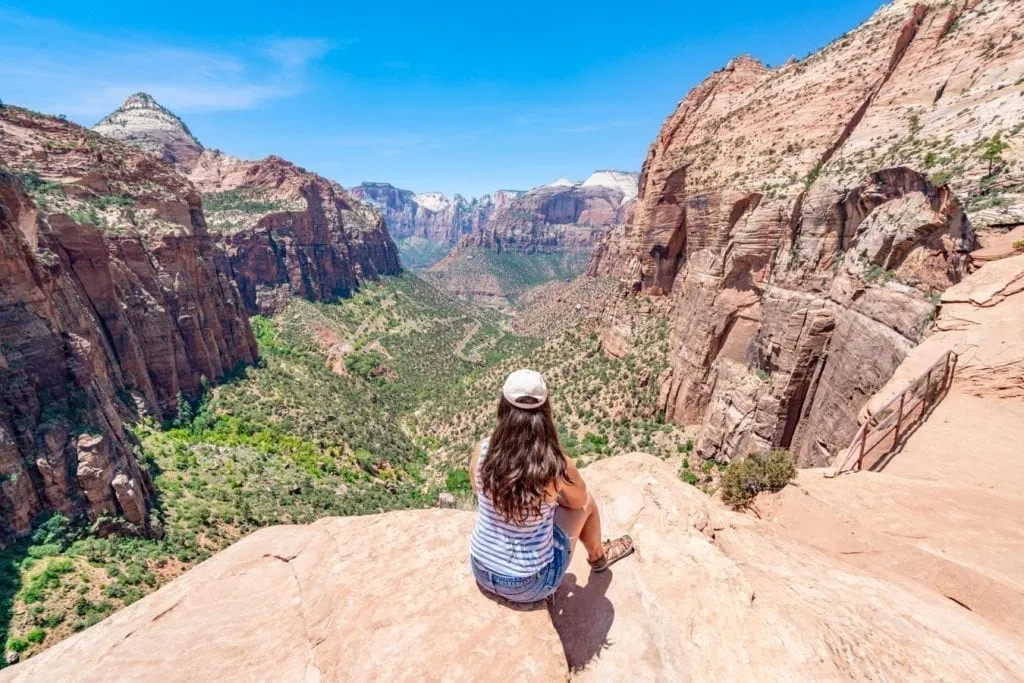 Best State + National Parks to Visit in Utah
Arches National Park
With over 2,000 sandstone arches within its borders, Arches National Park definitely ranks among the most unique places to visit in Utah–or, in fact, the entire USA.
Packed with trails and desert views, a visit to Arches National Park feels a bit like visiting a playground that's big enough for adults.
The best hikes in Arches are exciting but not too difficult, the views of and through the arches themselves are magnificent, and the variety of places to visit will ensure that you'd need to spend several days in the park in order to cover most of its most famous arches.
(But that being said, even one day in Arches NP is worth the effort to get there).
Located just outside of Moab in southeastern Utah, Arches National Park is easily combined with a visit to Canyonlands National Park and Dead Horse Point State Park–but more on those below.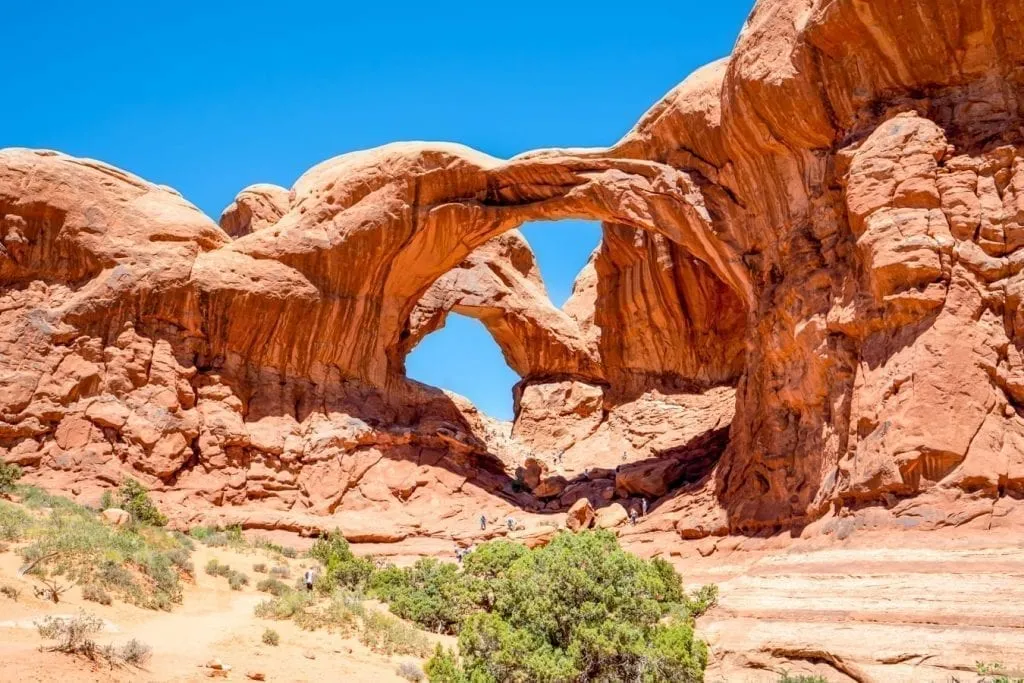 Dead Horse Point State Park
From Allison of Eternal Arrival
If you're in Moab enjoying all the amazing hikes there are to do in nearby Arches National Park and Canyonlands National Park, don't forget about some of the lesser-known hidden gems in the Moab area as well!
One of these such gems is Dead Horse Point State Park, just a 45-minute drive from Moab.
This little-known state park offers one of the most marvelous vistas in all of Utah, which is saying quite a bit given how many incredible views there are in the state.
Dead Horse Point is best known for its incredibly impressive outlook over the Colorado River, in a particularly beautiful canyon where the powerful river has etched a gorgeous landscape over the millennia.
At this point, you can look out from the mesa over the Colorado River 2,000 feet below you.
It's an incredible spot for sunset and you'll often find plenty of keen photographers prepping their tripods each night at the overlook.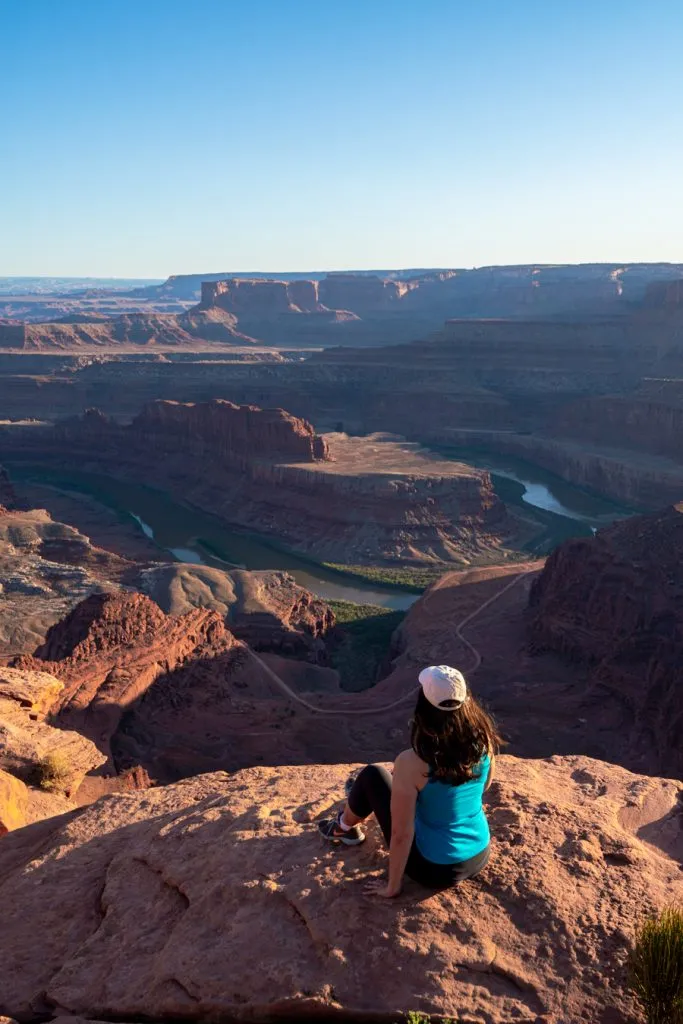 Despite its famous overlook, there are other reasons to visit Dead Horse Point State Park, including hiking and mountain biking trails.
The landscape itself is really interesting, an arid high desert nearly 6,000 feet in the sky, a riot of red rock strewn with purplish and orange tones as well.
The colors become even more impressive during the golden hour and time just after sunset, when the reds richen and turn even more vibrant.
It's possible to camp at Dead Horse Park State Park: there are 40-some-odd spots for RVs, a few yurts you can rent, and some spots for tent camping as well.
However, there is also plentiful free camping in Utah even in the pricy Moab area, so there are plenty of places to get even more lost out in Utah's beautiful nature.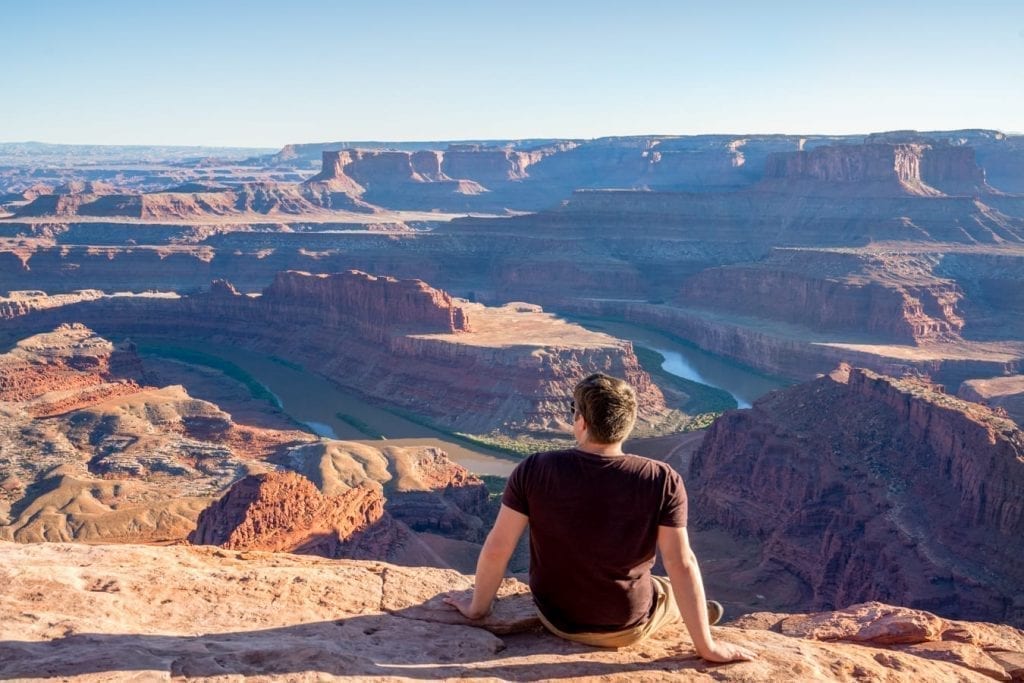 Canyonlands National Park
From Adriana of Czech the World
Breathtaking canyons, beautiful views, and fantastically formed buttes: welcome to Canyonlands, the largest national park in Utah!
If you want to see the true wild west, this is the place.
One can sit at these magical viewpoints for hours and it doesn't get old!
Canyonlands is perfect for everyone – either you just drive from one viewpoint to another or you are searching for a real backcountry adventure like hiking or cycling.
Canyonlands National Park is divided into four districts: the Island in the Sky, the Needles, and the Maze.
The Island in the Sky is the closest district to Moab, and can easily be enjoyed while driving your car on a paved park loop.
This is also where you'll find the famous Mesa Arch.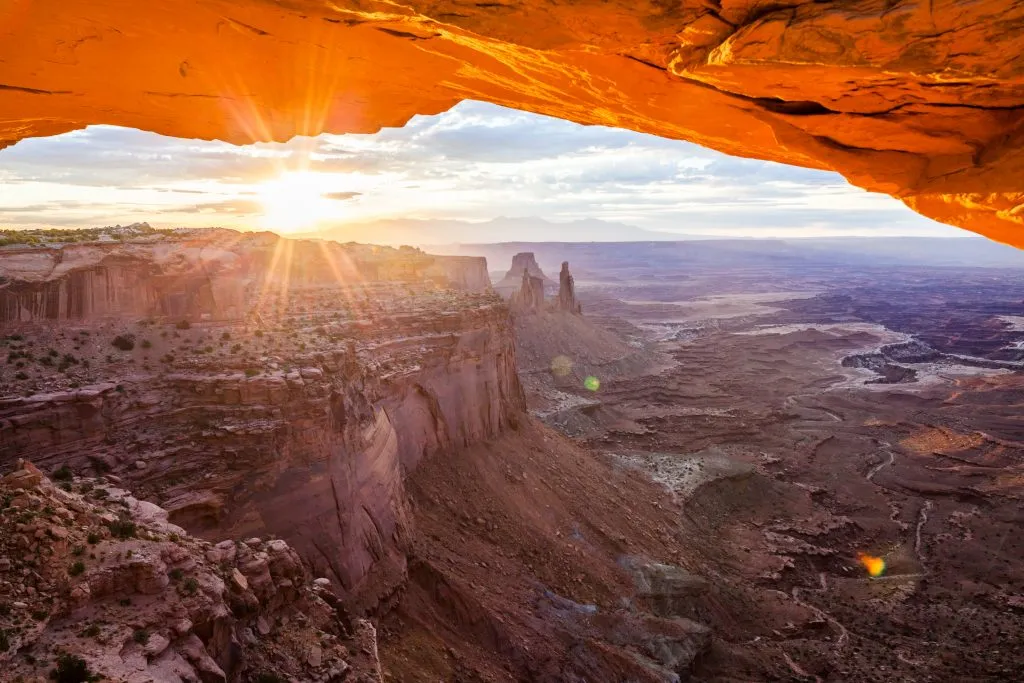 The Needles District is the perfect place for hikers because there are more than 100 hikes leading into the backcountry full of amazing sandstone spires!
The Maze is the least accessible district of Canyonlands and requires more time, proper equipment, and self-sufficiency.
In case you want to enjoy the rivers, several rafting companies offer guided tours from half-day excursions to week-long floats.
If you are staying overnight in the park, don't forget about stargazing!
Canyonlands is one of the International Dark-Sky Reserves and it's possible to see up to 15,000 stars throughout the night.
Canyonlands National Park is simply an amazing destination and shouldn't be left out of any western road trip.
Coral Pink Sand Dunes State Park
From Lauren of Ready, Set, PTO
Coral Pink Sand Dunes State Park should definitely be on your Utah travel bucket list!
The sand dunes were formed from the erosion of Navajo sandstone, which is where it gets its light pink coloring, and the dunes are nestled between red sandstone cliffs.
Coral Pink Sand Dunes State Park is very picturesque and one of the best state parks in Utah.
Located near the town of Kanab, Utah, about 30 minutes southeast of Zion National Park, Coral Pink Sand Dunes is a great stop along a southwest Utah road trip.
I recommend visiting for a day to hike, go sandboarding down the dunes, or just capture some epic photos!
However, there's also a campground in the park if you want to spend more time there.
Entrance to Coral Pink Sand Dunes costs $10 per car
I recommend hiking up to the top of the dunes to soak in the views!
It's harder than it looks to walk up to the top, and it might help to keep your shoes on if the sand is hot.
If you're feeling adventurous, you can rent a sled or sandboard from the front office to slide down the dunes once you reach the top!
Go early in the morning to have the place to yourself, before people start riding ATVs, and also for a chance to see wildlife tracks in the sand.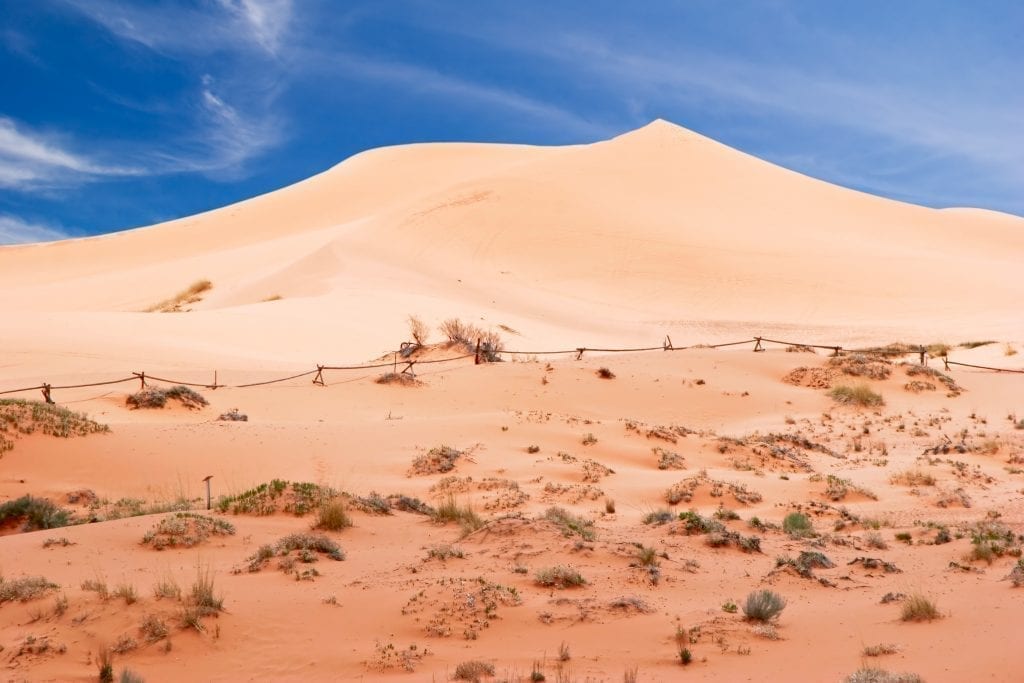 Natural Bridges National Monument
From Cosette of KarsTravels
Natural Bridges National Monument is in Southeast Utah and has 3 beautiful natural bridges, named Sipapu, Owachomo, and Kachina.
It was the first national monument of Utah on April 16th, 1908, and definitely belongs on your Utah bucket list!
The Owachomo bridge is the oldest, smallest, best accessible, and the most photographed of the 3.
Sipapu Bridge is the largest of the 3 and the second-largest natural bridge in the USA.
Kachina bridge is the widest and youngest of the 3 bridges.
To reach all the natural bridges you can use a trail and an overlook. They're along the main driving loop.
The overlooks are 10-minute hikes and a must-visit for everyone.
With more time on your hands try one of the hikes leading to the bridges, they take 1 to 2 hours.
For more strenuous hiking go on one of the 3 loop trails, they pass all 3 or 2 of the natural bridges and the canyon. The hikes vary from 5.7 to 9.8 miles.
The natural bridges are the main attraction at the national monument, but not the only ones.
There's also the Horse Collar Ruin, an ancestral Pueblo site, which is exceptionally well preserved.
The overlook for the ruin is a little further than the others, it's a 30-45 minute hike, and well worth it to learn more about the human history of the monument.
For lovers of stars and dark sky, Natural Bridges National Monument has some of the darkest skies in the USA and was the first International Dark Sky Park.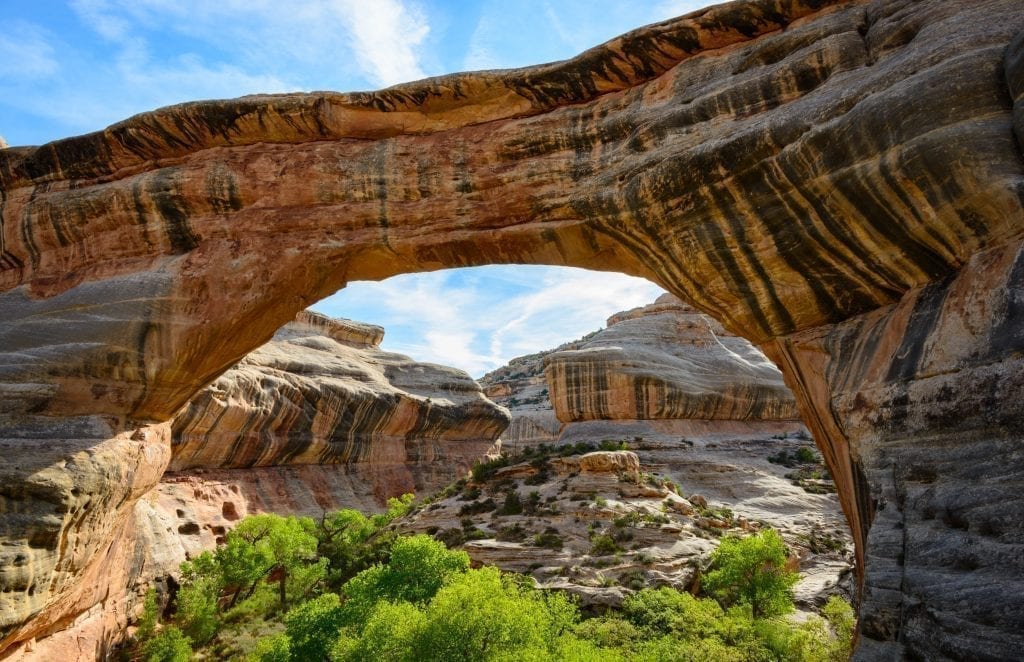 Zion National Park
Home to what is arguably Utah's most famous hike–the formidable yet widely loved Angel's Landing–Zion National Park is the most visited of all of Utah's Mighty Five National Parks.
Standing in the stunning canyon and looking down on the Virgin River, it's not hard to see why!
Zion National Park is stunningly beautiful, and home to a wide variety of hikes.
In addition to ascending high into the air at Angel's Landing, you can also go completely in the opposite direction by hiking in the bottom of a canyon right through the river in The Narrows.
Other popular hikes in the park include the Canyon Overlook Trail, the Subway (permits required), and the Observation Point Trail.
Whatever your skill level, there is definitely an unforgettable hike for you within Zion National Park!
Due to its popularity, Zion is also one of the most crowded vacation spots in Utah–if you have your heart set on visiting, be sure to plan ahead and/or visit during winter!
Winter trips to Zion, while a bit different than more typical spring and fall trips, can be magical.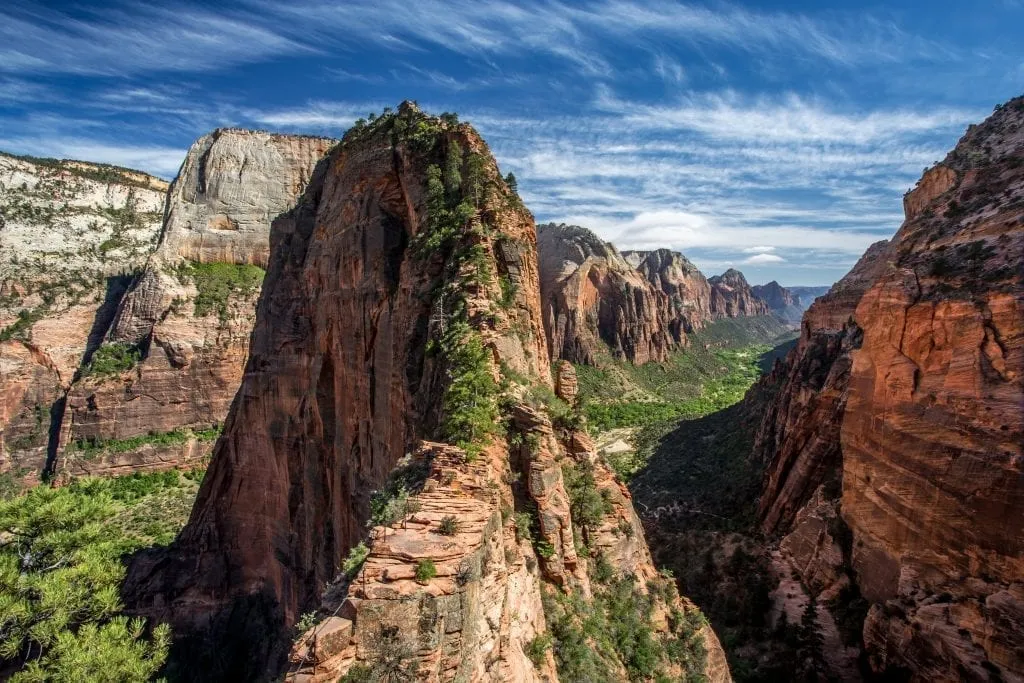 Kodachrome Basin State Park
From Daria of The Discovery Nut
Located 20 miles away from Bryce Canyon National Park, Kodachrome Basin State Park is one of Utah's best hidden gems.
Compared to more popular national parks in Utah, Kodachrome isn't crowded.
The area boasts over 2,000 acres of prime wilderness with bright orange colors and clear blue skies.
It's surrounded by the Grand Staircase Escalante National Monument and can be accessed through the northern entrance from Cannonville.
What makes this park special is the sandstone spire-like formations and towering sand pipes, that dominate its bright-orange landscape.
These geologic formations are believed to be the remains of geysers that once populated this area.
After the sandstone eroded, these colorful layers of sediment became exposed giving the area an array of unique colors that change under the bright sun.
Kodachrome offers multiple hiking trails with relatively low elevation gain which makes it a perfect place for hikers of all levels.
Some of the best trails are the 1.5-mile Angel's Palace Trail, and Shakespeare Arch and Sentinel Trail, a 1.7-mile loop that offers a stunning overlook of the Grand Staircase Escalante National Monument.
Aside from being an excellent hiking destination, Kodachrome is also a photographer's paradise. Many people come here to snap photos of amazing bright rock formations, especially during sunrise and sunset.
Unfortunately, the arch collapsed in April 2019, but although you no longer can see it, you can still hike the trail and enjoy the great views.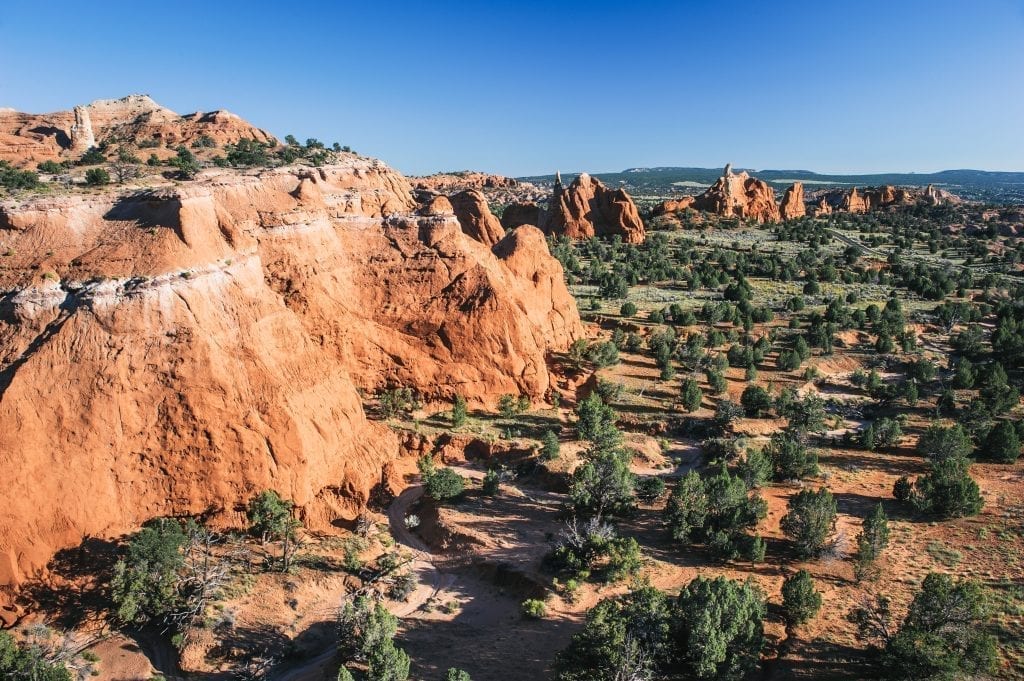 Bryce Canyon National Park
From Francesca of Homeroom Travel
Bryce Canyon National Park is one of the most unique places to visit in Utah.
One of the "Mighty 5" National Parks of Utah, it offers majestic sites and has miles of amazing hiking trails.
Opt to spend at least one day in Bryce Canyon National Park on any Utah trip. You will not be disappointed!
Bryce Canyon is about 270 miles from both Las Vegas and Salt Lake City. From there, visitors will need a rental car to get out to the park.
Although there are many places to stay near Bryce Canyon, you can opt to stay in Springdale near Zion National Park if you do not want to continually move hotels.
April through October is the best time to visit the park, but visiting in the wintertime will also get visitors some snow-covered views!
The most popular hike in Bryce Canyon is the Queen's Garden Trail combined with the Navajo Loop.
Combined, this 2.5-mile trail takes visitors through Wall Street, a trail lined with tons of gorgeous rock formations.
Visitors will also see Thor's Hammer and the Queen Victoria Hoodoo (both popular formations).
Besides hiking, visitors can take in one of the many gorgeous viewpoints.
Bryce Point will give visitors the best view of the park and is a popular place to watch the sunset.
No matter what adventure visitors choose, Bryce Canyon National Park is well worth a visit.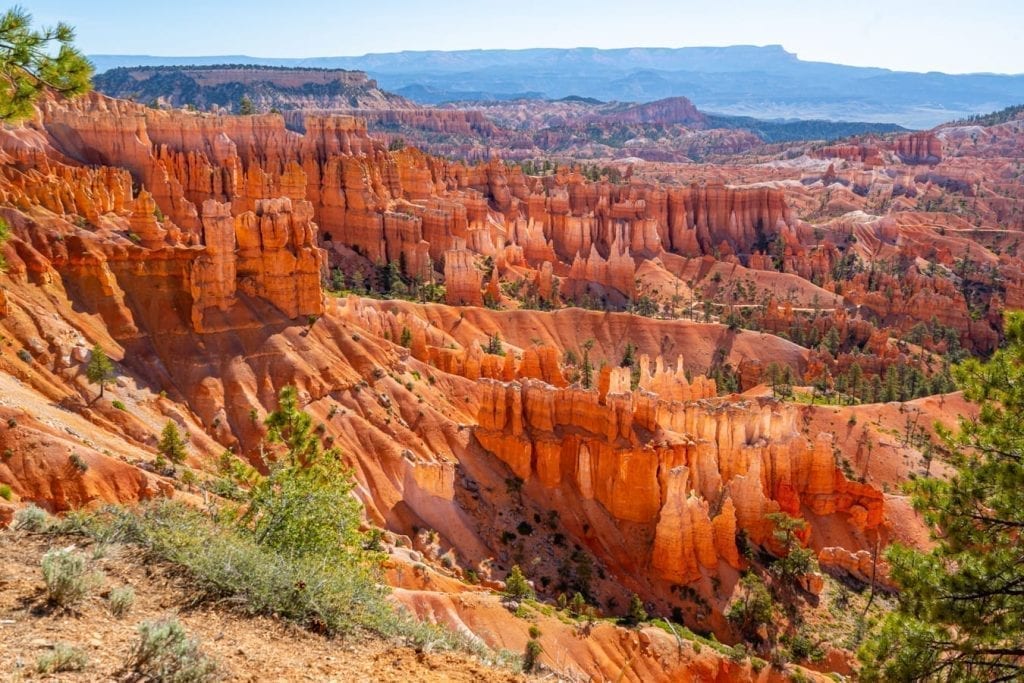 Goblin Valley State Park
Wandering into Goblin Valley feels a bit like wandering into a classic Mario game on an old Nintendo 64.
The unique hoodoos that are found in this valley give the desert landscape a distinctly whimsical appearance, and depending on who you ask, look a bit like overgrown mushrooms… or curious goblins.
While there are some trails in the park, the valley where you'll find the largest concentration of goblins has no distinct trails.
Instead, when visiting Goblin Valley State Park, you can wander through an absolute maze of formations.
Goblin Valley State Park is located conveniently between Moab and Capitol Reef National Park.
If you're road-tripping Utah's Mighty Five, consider adding this quirky state park to your list of places to go in Utah!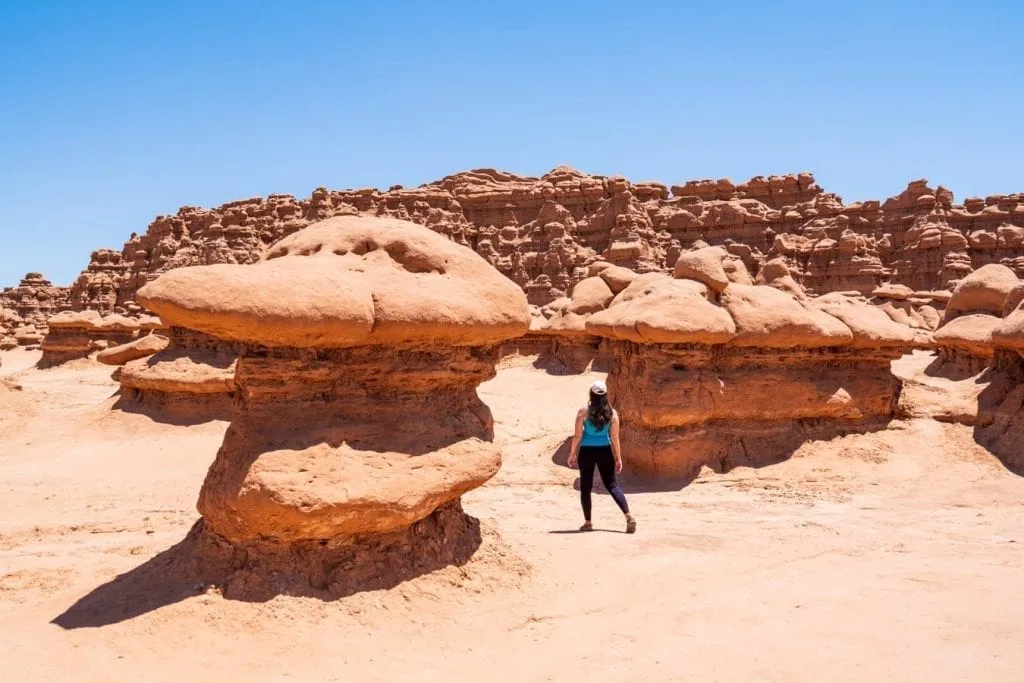 Capitol Reef National Park
From Taylor of Travel Outlandish
Capitol Reef is often forgotten on a southwest road trip , being overlooked for the jagged canyons of Zion and the spectacular geology of nearby Arches nearby.
But, cruising right past Capitol Reef National Park on Highway 24 would be a massive mistake.
The grandest feature of Capitol Reef National Park is the Waterpocket fold, a 160km bend in the earth's crust.
It's hard to understand what that actually means until you've seen it for yourself. Climb up high to see the sloping effect of rock layers tilting from west to east some 2100 meters.
Another feature of the park is that scenic Highway 24 meanders right through it.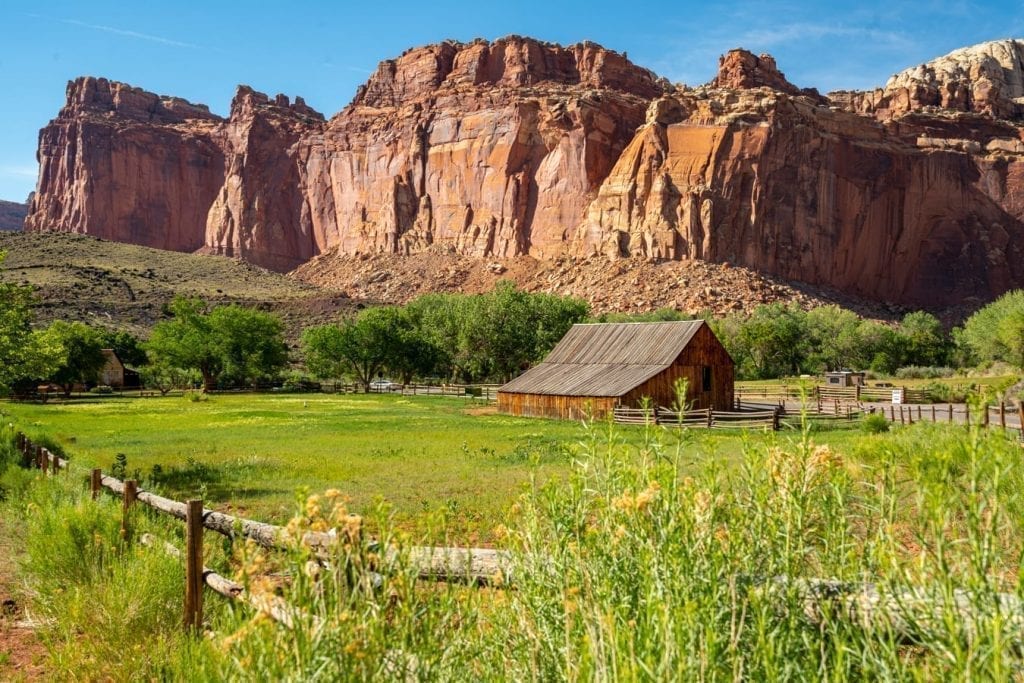 It's possible to drive the length of Capitol Reef and see many of its most impressive features out your window!
The other scenic drive in the park, the creatively named Scenic Drive, is also a good way to experience the slickrock, slot canyons, and sandstone formations.
While hiking isn't the main draw of Capitol Reef, the Upper Muley Twist Canyon and Rim Overlook and Navajo Knobs are a couple of the best trails in the park.
And perhaps the most unexpected thing to do in Capitol Reef is to pick fruit in the Fruita Rural Historic District.
Between June and October, you can pick fruit from some of the 3,000 fruit trees flourishing in the desert.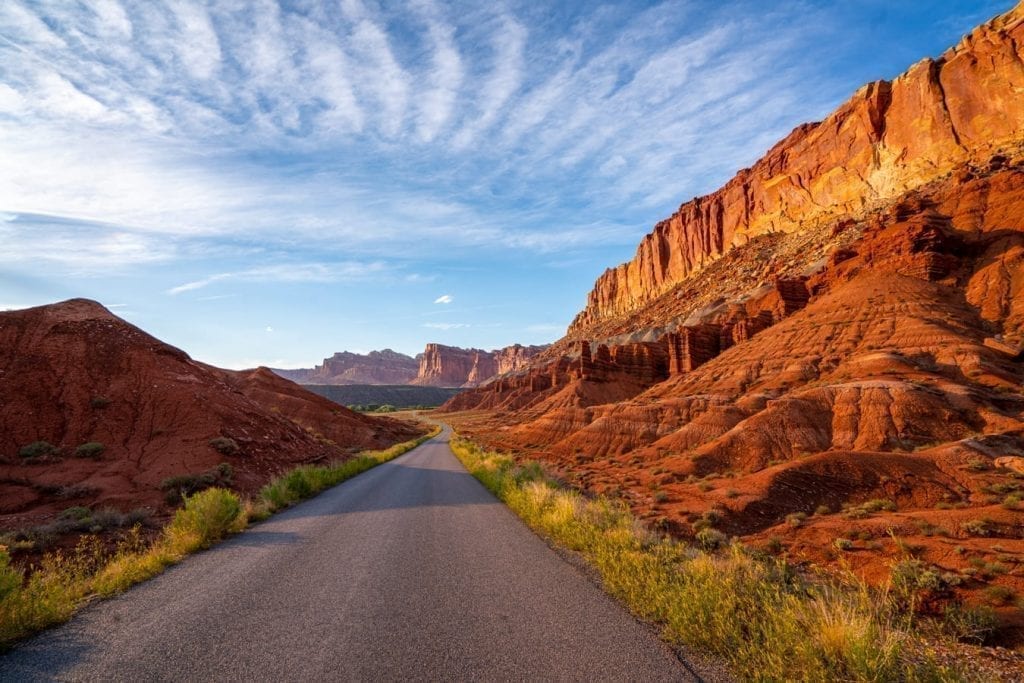 Cool Utah Vacation Spots in Cities + Towns
Salt Lake City
Salt Lake City is one of the most unique cities in the United States. Where else can you visit Brigham Young's old house or eat funeral potatoes?
There are enough museums, botanical gardens, and other cultural wonders to keep a visitor to Salt Lake City occupied for several days.
The most visited tourist attraction in Salt Lake City is Temple Square.
This National Historic Landmark belongs to the Church of Jesus Christ of Latter-Day Saints, so it's the best place to go to learn more about this church's history.
The sister missionaries lead free tours of the square every day. But if you're not interested in the tour, you can explore the lovely square on your own.
You can also hear the famous Tabernacle Choir perform here. They have open rehearsals on Thursday and a broadcast every Sunday, but you should definitely reserve tickets in advance.
Don't make the mistake of thinking Temple Square is the only thing to do in SLC!
If you want to learn what life in 19th and early 20th century Utah was like, be sure to check out the living history museum This is the Place.
If you are more interested in science, stop at the Natural History Museum of Utah to see some amazing dinosaur bones.
The stunning Red Butte Garden is just a short distance away, and it offers amazing views of Salt Lake City and its surrounding mountains.
Finally, remember Salt Lake City is Utah's capital, so take a moment to tour the Utah State Capitol Building. Keep an eye out for the beehive sculptures. After all, Utah's nickname is the Beehive State!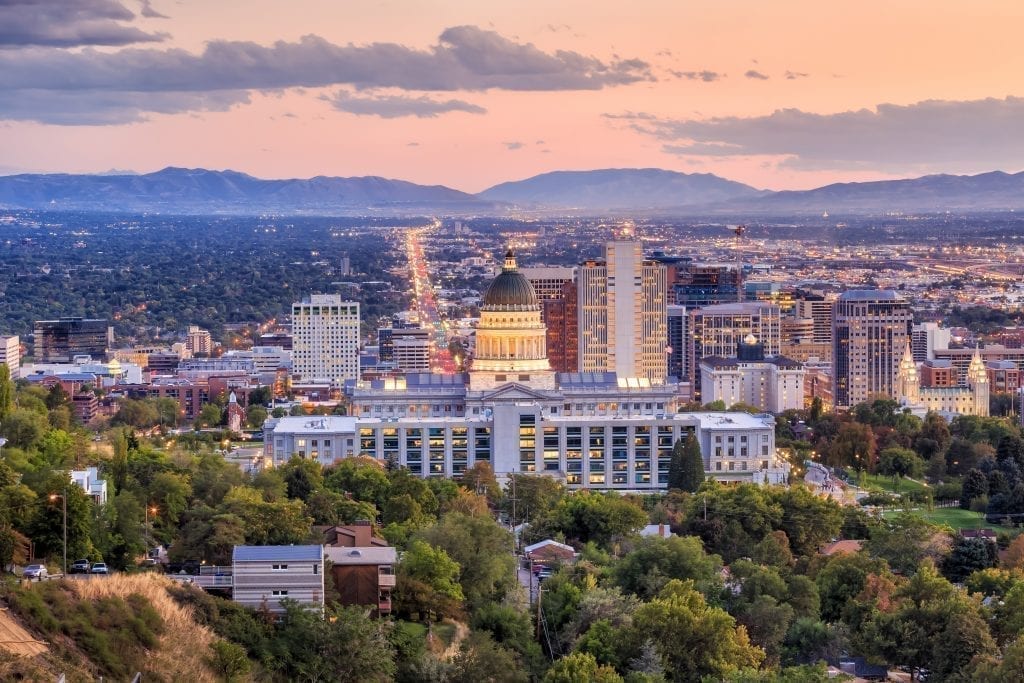 Hurricane
From Becky of Two Wheeled Wanderer
For many travelers, Hurricane, Utah is simply the gateway town into Zion National Park, but it's actually an incredible area to explore.
There are miles upon miles of world-class mountain biking singletrack, a great state park, endless off-roading opportunities, and a surprising number of great restaurants.
For mountain bikers, the most popular network is Gooseberry Mesa. Explore slickrock riding, incredible views, and trails for every level of rider.
If you're looking for an epic day in the saddle, head out on the 24-mile Hurricane Rim Loop that showcases amazing views of Zion and a pedal along the Virgin River.
If you have kayaks or want to spend an afternoon by the water, Sand Hollow State Park is one of the prettiest parks in the state.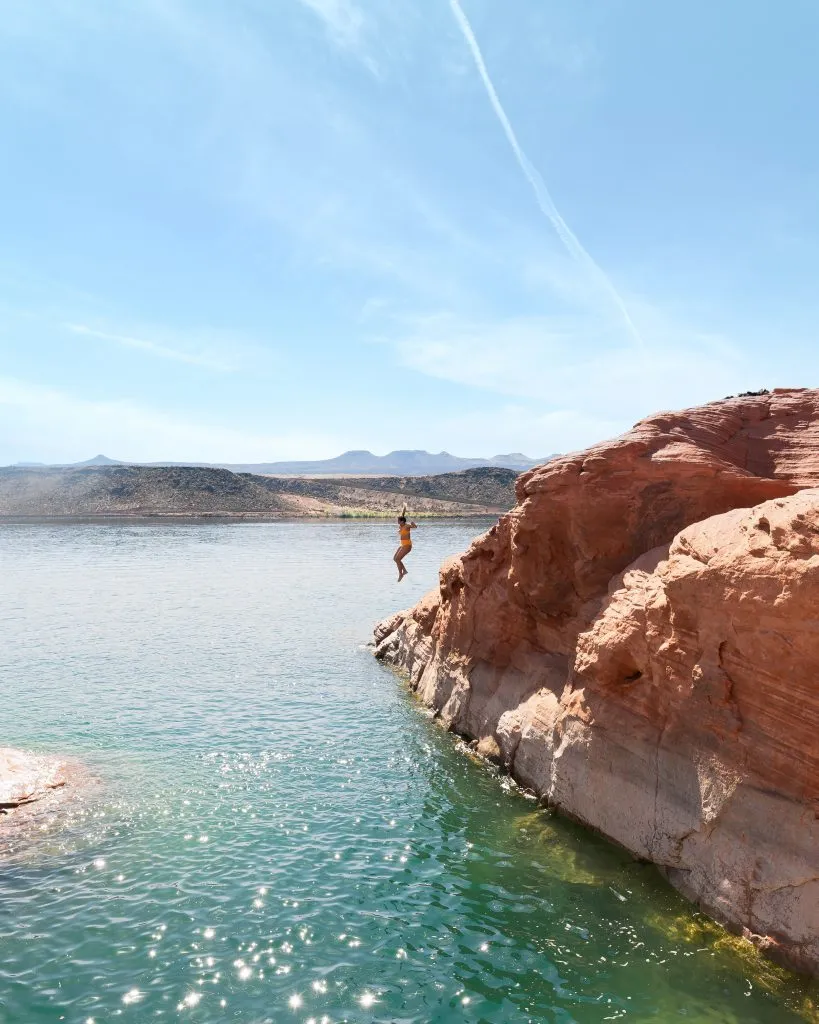 The blue waters of Sand Hollow Reservoir contrast with the surrounding red rock making it a very picturesque and special place. You can also camp overnight.
Off-roading is one of Hurricane's most popular draws. The surrounding area is scattered with fire roads that can be explored by truck, jeep, or OHV.
A popular drive is to head out to beautiful Toquerville Falls, 35 minutes from Hurricane, to swim in the idyllic swimming hole and watch the cascades fall down the red rock.
And for those looking for a meal or snack, Hurricane is home to some really good food.
The Dixie Pizza food truck makes homemade pizza every weekend (call to order ahead!) and the River Rock Roasting Company serves incredible breakfasts and really good coffee.
Park City
From Dan of Cabin Critic
Whether visiting in winter or summer, Park City is a gem in Utah located an easy 45-minute drive from the Salt Lake City airport.
In the winter months, the city is alive and the slopes are filled with skiers and snowboarders at the largest lift-served ski resort in the USA, Park City Mountain Resort.
At the Utah Olympic Park, you can see the structures and memorabilia from the 2002 winter Olympics.
One of the many unique experiences is going on a thrilling bobsled ride on the Salt Lake 2002 Olympic Winter Games Sliding Track.
When you aren't enjoying winter sports you can stroll the shops on Park Slope's picturesque Main Street and enjoy the hearty local cuisine.
End your day relaxing in a hot tub or keeping warm around a firepit.
The summer comes with beautiful weather and smaller crowds.
The ski resorts offer unique activities like an alpine slide, mountain coaster, zip lines, mini-golf, and a few ski lifts are open you can take up enjoy hiking and mountain biking.
Take the opportunity to be outside, enjoying fly fishing, mountain biking, hot air ballooning, horseback riding, river rafting, and golf all summer long.
Park City has a unique charm unlike any other area in Utah.
If you love enjoying the snow or being outside in the summer, you might find Park City to be perfect for you.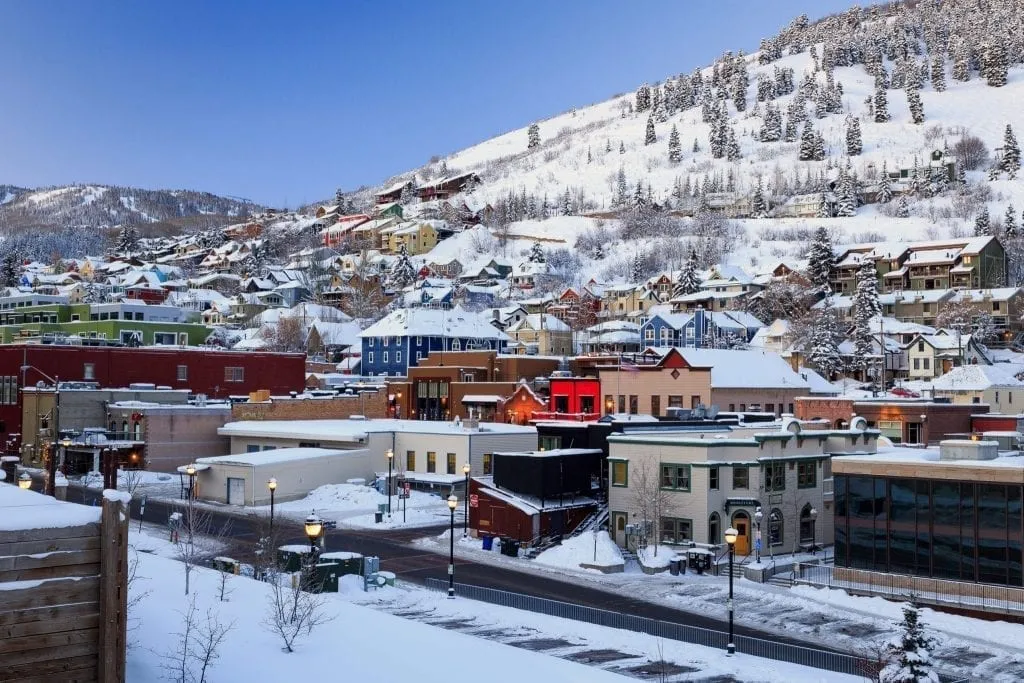 Vernal
From Leigh of Campfires and Concierges
Vernal is definitely one of the best places to visit in Utah. Known as "Dinosaurland," the geology of this region has allowed for the amazing preservation of dinosaur bones and fossils.
While the majority of the best things to do in Vernal are outdoors, there are some key Vernal museums to include in your trip as well.
Start your trip to Vernal at the Utah Field House of Natural History State Park Museum, where dozens of dinosaur skeletons are on display.
Next, head to Dinosaur National Monument, where you can view 1,500 fossils still embedded in the Quarry Wall exhibit.
Don't miss the scenic drive out to Harper's Corner, with several hikes and scenic overlooks along the way.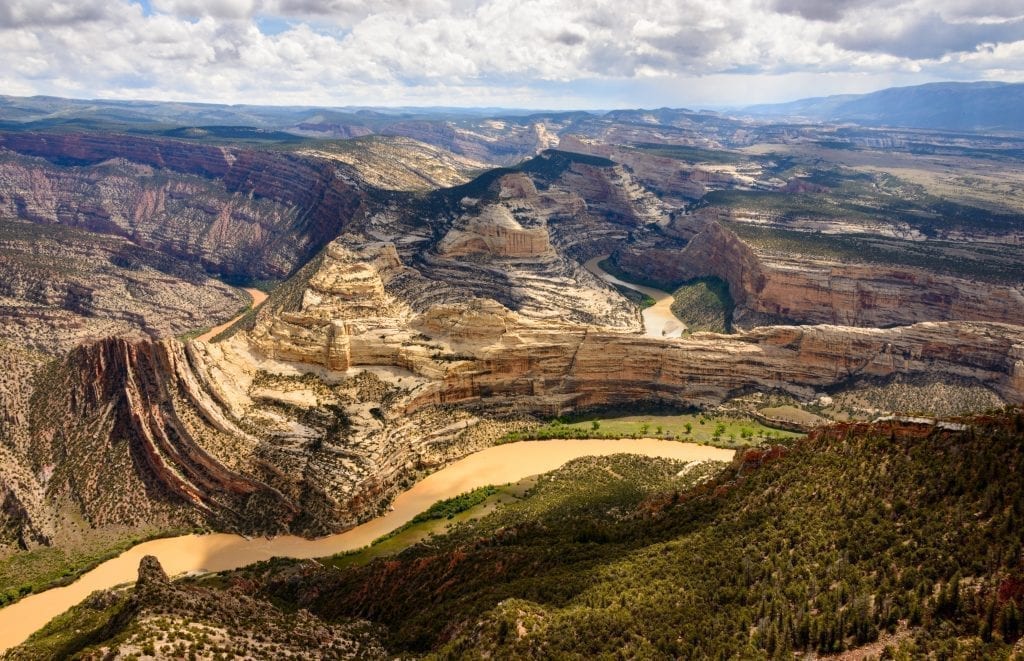 About an hour south of Vernal is a spot on BLM land known as Fantasy Canyon. This surreal area is full of unusual rock formations that will make you question if you are still on Earth.
It's a small area that you can explore in about an hour, but well worth the drive from Vernal.
Other things to do in Vernal include a rafting trip on the Green River, where day trips and overnight camping trips are both an option.
Red Fleet State Park and Flaming Gorge National Recreation Area are both great spots for water recreation, hiking, and camping.
Moab
From Jarrod of Ramble Around the World
Moab, Utah is a tiny little town in the middle of the desert, packed with all the lodging, supply shops, and restaurants an adventurer could need to appreciate the surrounding landscape.
Its deep red cliffs shoot toward the sky forming arches, balancing rocks and skyscrapers made of pure sandstone in the desert.
It's a place of extremes, where summer heat quickly rises above 110 degrees and winter coats its landscape in snow.
Moab is a paradise for outdoor lovers, including hikers, rock climbers, mountain bikers, and off-roaders. It offers an untamed version of fun for each of those and many more.
Its extremes lend themselves to the surrounding landscape, which includes easy access to 2 national parks.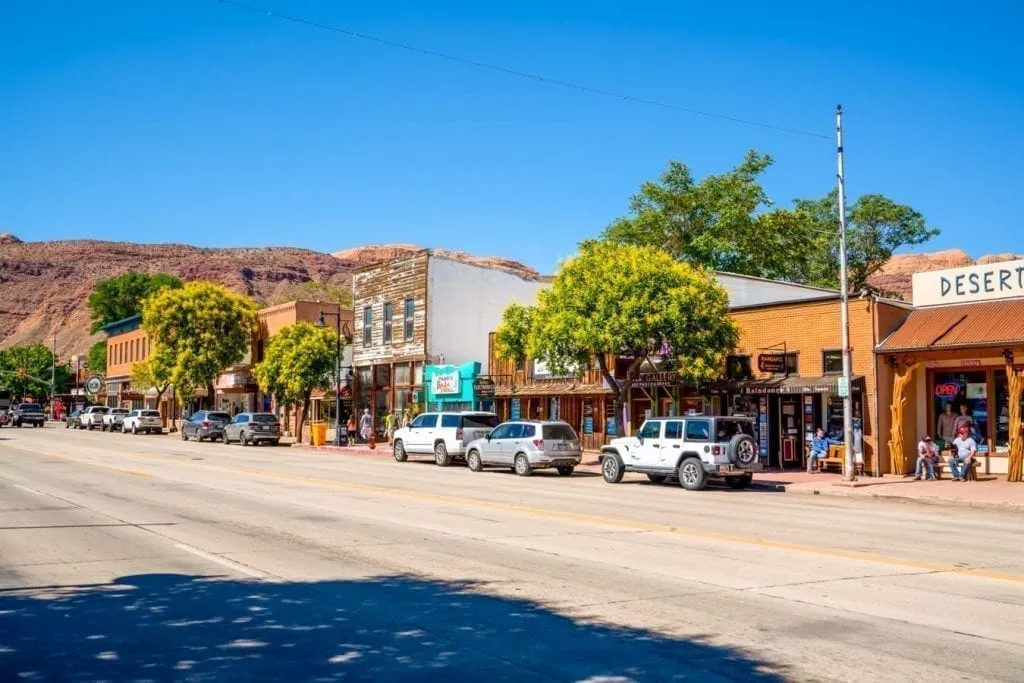 At the town's center, Moab sits just 10 minutes from Arches National Park, 30 minutes from Canyonlands National Park, and 40 minutes from Dead Horse Point State Park, an astounding landscape in its own right.
But those who seek adventure don't have to go far from town. Corona Arch sits outside of both national parks and is one of the best and most underrated arches in the area.
Those seeking a taste of history can drive the banks of the Colorado River down Highway 279 or Kane Creek Boulevard in search of pictographs, an ancient art form of the Ute Indians from more than 500 years ago.
Pictographs can be found carved into the sides of those precious red rock sandstone cliffs that surround the town in every which way.
Whatever kind of adventure you're searching for, you'll have a great chance of finding it in Moab.
Corona Arch may not be in a national park, but it is stunning!
Kanab
From Samantha of My Flying Leap
Nestled between Zion, Bryce, and the Grand Canyon lies a small town packed full of amazing scenery and set against a tapestry of gorgeous red rock.
Just a little over an hour north of Page and Lake Powell , you'll find the town of Kanab, Utah.
This area is known for its Western Legends Roundup festival, an ode to lovers of the Old West, and the filming of some notable classic western films like "Gunsmoke."
Kanab is filled with some beautiful scenery including the Vermillion Cliffs overlooking the town.
The Grand Staircase-Escalante National Monument holds many of the sights including the Peek-a-Boo and Spooky Slot Canyons and the famous and often-elusive area in Coyote Buttes North known as The Wave.
A permit is required to view this stunning striped slickrock painted in streaks of orange, red, and gold and it's challenging to secure one.
The Wave is technically in Arizona, but Kanab, Utah is the best jumping-off point for visiting.
A striking alternative with much easier access is Coyote Buttes South with similar features including arches, thin fins, and teepees.
Hike out to see the free-standing wind-sculpted erosional statues with names like Dali Rock, the Frog, and Turtle Rock.
Then head over to the photo-worthy expanse of the Coral Pink Sand Dunes State Park where you can see the wind-blown erosion of these striking sandstone buttes and plateaus.
Source https://www.touropia.com/best-cities-in-utah/
Source https://notaboutthemiles.com/places-to-visit-in-utah/
Source https://www.ourescapeclause.com/best-places-to-visit-in-utah/