10 of the most beautiful places in South Korea
The list of beautiful places in South Korea is long and is filled with verdant plantation fields, ancient temples, an extensive offshore archipelago, and trendy neighborhoods.
The country is brimming with traditional folk villages that introduce travelers to its ancient culture. Thriving alongside are its modern, swanky cities with their high skyscrapers and brilliant skylines.
In a nutshell, South Korea is a complete package that appeals to explorers, vacationers, culturally curious, and history buffs too. There are popular cities buzzing with an urban lifestyle, countryside with their off-beaten paths, and distant destinations pegged with majestic castles.
Interestingly, when it comes to the Land of the Morning Calm, most people only think about traveling to its capital city Seoul.
However, there is so much more the country has to offer.
Here is a list of 10 beautiful places in South Korea to inspire a comprehensive and fulfilling trip to the gorgeous Asian nation.
There is a really good chance that this post contains affiliate links. If you click one of them, we may receive a small commission (for which we are deeply grateful) at no extra cost to you.
Tip: Be sure to become a member of our brand new Korea Travel Planning and Tips Facebook group. The purpose of this group is to help you plan an amazing vacation to Korea. You can ask questions and exchange tips with fellow travelers.
South-Korea essentials
Here you can find all our Korea posts. These will help you to plan an unforgettable trip.
Since foreign credit and debit cards don't always work, we advise you to bring some extra cash.
Tipping is not required or expected in South Korea.
Don't lose time upon arrival at the airport and order your Korea travel sim or portable wifi device in advance so that it's ready and waiting for you at the airport when you arrive.
The most comfortable way to travel around Korea is by renting a car. However, if you plan to travel around by train, preorder your discounted Korea Rail Pass here.
We found it easy to travel independently around South-Korea. However, if you are looking to join an organized tour, take a look at Tourradar or read our post on how to choose the best Korea tour package.
Last but not least, make sure you have travel insurance.
Best places to visit in South Korea
Bukchon Hanok Village is one of the most beautiful places in Korea.
Bukchon Hanok Village in Seoul
Settled adjacent to the bustling capital city is the old and well-preserved Bukchon Hanok Village.
Since, the village is located north of Seoul's two prominent landmarks, the Jongno Area and the Cheonggyecheon Stream, it was named Bukchon which translates to Northern. Hanok is the native word for the traditional Korean houses that brim the district.
This picturesque neighborhood was formerly the residential quarter for nobles and high-ranking government officials.
Today, it boasts opulent houses, and winding alleys that work as a time capsule to its wealthy era. Dotting the place is also a collection of cozy guesthouses, upscale boutiques, tea houses, cultural centers, and restaurants.
Several houses have been refurbished into cultural museums, artisan workshops, and art galleries.
Its traditional architecture dates back to the Joseon Dynasty and is the main reason why Bukchon Hanok Village is among the most beautiful places in Seoul.
Other amazing things to do while you are in Seoul
Wander around Gyeongbokgung Palace the largest palace of the Joseon dynasty.
Visit the DMZ once considered the most dangerous place on earth.
Shop till you drop.
Try the delicious Korean street food.
Rent a Hanbok.
Visit a themed café.
Read also:
The best things to do in Seoul.
The perfect Seoul itinerary for first-time visitors.
What to do when you have 4 days in Seoul.
Best things to do in Seoul at night. .
Best day trips, day tours, and weekend trips from Seoul.
Korea is extra cheerful during the cherry blossoms.
Jinhae
Witness the country's Morning Calm at the gorgeous Jinhae.
Located just 1 hour away from Busan, this stunning landscape also makes a wonderful day trip from Busan.
One of the reasons why this Changwon city is among South Korea's most beautiful places is the Jinhae Gunhangje Festival.
Visit this beautiful place in Korea in April to take part in the country's biggest spring fest. Decorated with the natural cherry blossoms in their full bloom, it offers a sight for sore eyes.
The most picturesque scene is witnessed at the Yeojwacheon Stream, where cherry blossom trees line both its sides and ornamental lights at night set a romantic mood.
One of the nights ends with the spectacular Sokcheonhang Port Multimedia Fireworks Show.
In Petite France, you can immerse yourself in the French atmosphere (Picture by Chen Zhongsheng)
Gapyeong
Nestled in Gyeonggi Province, Gapyeong is where the Battle of Kapyong, a major Korean battle, was fought. Today, the city serves as a popular Korean travel destination that pulls thousands of travelers from across the world.
Dotting the beautiful city is a chic town called Petite France, which is reminiscent of Colmar. Gapyeong also boasts the pictorial Garden of Morning Calm housing 5000 species of plants.
Nature is lush at the district's Nami Island and Gapyeong Rail Park.
Perhaps, with the bungee jumping and water sports adventure in Hoegok-ri, the place also becomes an attraction for thrill-seekers.
Seoraksan National Park
Seoraksan National Park
Seoraksan is the third-largest and one of the most beautiful mountains in South Korea. Sprawling across its surroundings is the eponymous national park.
It is famous for its landscape, lushness, clear streams, and vibrant wildlife.
Pegged in the northeast of Korea, the mountain rises to astounding heights. Daecheongbong Peak, with a height of 1,708 meters, is the highest peak within the park's borders and offers exhilarating views.
A variety of nature trails encompass the mountain, making it a welcome paradise for hikers of all skill levels.
Most of these trails take only a few hours to complete and offer scenic vistas on the way. One of them being the Geumganggul Cave.
The park itself is humongous at 163.6 square kilometers and spans four cities and counties. With its dense lushness, flora, and fauna, it was the first to become a national park in Korea. While flanked by the tall Seoraksan summit, the park is also dotted with over 30 other small mountains.
Another popular site in the park is the Ulsanbawi Rock, a formation of six granite peaks.
One of the best ways to view the park is via the cable car that goes up to the Gwongeumseong Fortress.
Additionally, the park also boasts cultural sites like the historical Buddhist temples of Baekdamsa and Sinheungsa.
The wildlife is also rich here.
Observe closely and you might spot rare Korean musk, Siberian flying squirrels, or even an Asian black bear.
The Donggung Palace looks stunning at night
Donggung Palace and Wolji Pond in Gyeongju
No list of the most beautiful places in South Korea is ever complete without the mention of this stunning landmark.
Once the residence and a banquet site for national events organized by the crown prince of the Silla Kingdom, the palace today stands, seemingly afloat, on the Wolji Pond for tourists to marvel at its majestic nightscape.
The history of the pond is fascinating. The pond was named Anapji Pond until pottery was discovered with the name "Wolji" meaning a pond that reflects the moon.
Tracing the shores of its emerald waters is the regal palace. Amidst this royal site lies Gyeongju National Museum with over 30,000 relics, a Wolji Miniature, and much more. There's also a souvenir shop from where you can get books about the palace's history and replicas of some relics. It is a gold mine for the history buff in you.
However, what makes the Donggung Palace and Wolji Pond one of the best places to visit in South Korea is their beauty past sundown. Awash in a flood of light, the palace gleams as the pond lives up to its name with the reflection of the luminous moon.
The iconic Yonggungsa Temple in Busan
Haedong Yonggungsa Temple, Busan
Tucked by the sea, the Haedong Yonggungsa Temple enjoys a calm ambiance.
Also known as the Temple on the Coast or Water Temple, it is a popular spot to watch the sunrise, especially on the first day of the year.
During April, the beauty of this cultural site stuns everyone with blooming cherry blossoms.
And later, on Buddha's birthday, it lights up with hundreds of paper lanterns, becoming the best place to witness Busan's Lantern Festival.
At the entrance, rows of 12 larger-than-human zodiac animals, other statues, and various carved stones welcome you.
Past the unique sculptures is a 7-story pagoda and three temples that preserve the unique religious traditions of the country. One of them is dedicated to the Goddess of Mercy.
The main temple complex is guarded by four stone lions signifying joy, sorrow, anger, and happiness.
You will also find large statues of Yacksayeorae Healing Buddha and Laughing Buddha here. At the shrine of Daeungjeon Main Hall rests the oversized golden statue of the Future Buddha.
Perhaps, the most notable religious sculpture is the mystical statue of Goddess of Mercy or Haesu Gwaneum Daebul, on which heavy snow never settles and around which arrowroot flowers grow all year round.
In short, this temple is where Buddhism and nature intertwine to create a meditative atmosphere to practice spirituality.
Enjoying the amazing views of the Haedong Yonggungsa Temple is one of the best things to do in Busan.
Other amazing things to do in Busan
Take colorful pictures at the Gamcheon Cultural Village.
Take the Songdo Cable Car and admire Busan from above.
Relax in a Korean Spa.
Get a tan on the beach.
Read also
The perfect 2 day Busan itinerary.
The best area to stay in Busan for first-time visitors.
Amazing things to do in Busan at night.
How to choose the best day tour from Busan.
The Cheonjiyeon waterfall on Jeju island
Jeju Island
The scenic Jeju Island, fondly known as the Island of the Gods, is among the most beautiful places in Korea, and rightly so.
Located just off the South Coast of the country, it boasts a scenic setting that drives jetsetters, holidaymakers, and honeymooners by the thousands.
Lush with unparalleled tropical beauty, it is a romantic destination perfect for couples as well as nature lovers.
The island also features a volcano called Hallasan that overlooks the 224km semi-tropical national park.
Hallasan also commands the wild coastline with numerous waterfalls and the world's longest lava tube.
Wrapped inside these tubes is the Manjang cave with a 1km eerie passageway.
Dotting this idyllic destination are also a whole series of Dol Hareubang statues carved from lava rocks. They are thought to represent gods and were placed at the gates to stop demons from entering.
Look closely, they are quite reminiscent of Easter Island's moai.
Apart from the statues and geological gems, the island boasts an extravagant theme park, Jeju Loveland, dedicated to sex. Massive nude statues can be seen locked in passionate embraces or caught in ecstatic throws.
Perhaps, holidaymakers will also be interested in the soothing water, oxygen, and massage therapy offered at the island's Hanwha Therapy Resort.

Jeonju
The 16 th largest city in Korea, Jeonju is a melting pot for an eclectic food scene, historical architecture, hanok guesthouses, scenic environs, and buzzing nightlife.
While there is a lot offered by this beautiful city, nothing surpasses the fame of its gastronomy.
Gourmets will fall in love with this UNESCO City of Gastronomy.
Even Koreans believe that food in general tastes best here.
Not only does the city serve delicious food, but it is also the birthplace of Korea's start dish – Bibimbap, a rice bowl topped with veggies, an egg, and chili paste.
Today, a variety of bibimbap is served in the eateries and food stalls across the city. One variety that you must absolutely try when on a visit is the bibimbap waffle.
Another reason that makes Jeonju-si one of the best places to visit in South Korea is that here you can sleep and live like royalty.
Dotting the city are many lavish hanoks that have been turned into palatial hotels over time.
One of them is owned by the last King's grandson, thus making it the perfect regal abode for anyone willing to taste royalty.
Suncheon bay at Sunrise
Suncheon Bay
The Suncheon Bay in Jeonnam is a coastal wetland comprising a 3.5km-long bubbling stream, an expansive tideland, a wide reed field, and an eponymous national garden.
Untouched by development and mankind, the bay area and its salt swamps have their natural scenes flawlessly preserved even today.
The addition of the Suncheon Bay Natural Garden has provided a verdant habitat for migratory birds, indigenous plants, and native animals.
Its dense canopy is a collection of over 500 species of trees and 113 species of flowers.
A variety of harlequin tulips and royal azaleas add vibrant colors to the garden.
Visit the garden in the month of May to watch a beautiful yellow wave of canola flowers take over its green canopy.
The Secret Garden in Changdeokgung Palace is one of the most beautiful places in Seoul
Changdeokgung Palace in Seoul
The UNESCO-listed Changdeokgung Palace tops the list of prettiest places in Seoul. The name of this palace translates to Prospering Virtue Palace.
Within its traditional Korean walls are five main palaces that were built during the Joseon Dynasty and illustrate the beauty of Korean architecture.
Enclosed inside its grand façade are several prominent highlights.
These highlights include the giant Donhwamun Gate, the formal Gwolnaegaksa Complex, and the Korean harem in Huijeongdang Hall.
Perhaps, the most important high point of a visit to the Eastern Palace is seeing the Huwon Secret Garden.
This fragrant area lies behind the Changdeokgung Palace and spans 32 hectares.
The garden is so enormous it takes up 60% of the palace ground. Inside this beautiful Eden are multiple landscape lawns, lotus ponds, and over 26,000 specimens of trees.
The secret garden is also called Geumwon meaning Forbidden Garden because it was only meant for the king. Even high-ranking officials and nobles were prohibited from entering the garden.
Today, it is open to the public and allows anyone to breathe in the idyllic views of what can only be described as paradise on Earth.
Conclusion
When touring the beautiful places in Korea, even the most experienced and well-prepared traveler is in for a pleasant surprise.
When it comes to the places to visit in South Korea, a photograph seldom does justice to their splendor.
Whether you explore Seoul or a hamlet in its distant northern corner; the sea-side temple or a wetland reserve, Korea will surprise you with its scenic and cultural heritage at every step.
The most important tip would be to keep multiple camera batteries because you will be snapping every few seconds.
After all, South Korea is a land of fine architecture unseen elsewhere, pictorial cherry blossoms, high volcanic peaks, and 3000 offshore islands.
The country is a harmonic concoction of beautiful sites. Besides, it also serves scrummy food that will make even the least foodie person's stomach growl.
A part of the country's glory is also its festivals, be it the Lantern Festival or the Jinhae Gunhangje Festival. Korea is trendy and ancient; serene and effervescent; minimalistic and indulgent; religious and romantic – all at the same time.
10 Best Places to Visit in South Korea
Occupying the southern half of the Korean Peninsula is the country of South Korea. Completely distinct and independent from neighboring North Korea, South Korea is a thoroughly modern, engaging and thrilling destination for travelers. Major cities like Seoul offers the buzz of an urban metropolis along with fantastic nightlife and a chance to discover the latest technological marvel.
However, South Korea is also home to scenic national parks and plenty of places where you can slow down and enjoy the atmosphere. From islands off the coast to the fearsome border zone in the middle of the Korean Peninsula, there are countless things to do, see and explore on your next trip to South Korea.
10. Suwon [SEE MAP]
The city of Suwon is the capital of Gyeonggi Province, and it is just 30 km (20 miles) outside of Seoul. It is easily accessible from Seoul by car or train, but it often skipped over by travelers.
If you visit, you'll be able to see the World Cup Stadium, affectionately called Big Bird, that hosted the quarter finals of the 2002 FIFA World Cup. If you're not a soccer fan, head instead to the historic 18th century Hwaseong Fortress, where you can tour the architecture and even try your hand at archery on the premises.
9. Chuncheon [SEE MAP]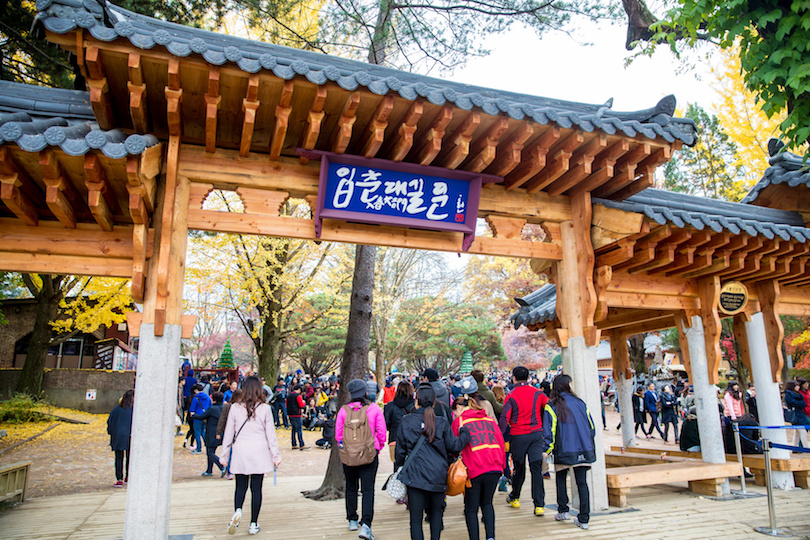 Surrounded by scenic lakes and towering mountains in Chuncheon, the capital city of Gangwon Province. Chuncheon is the location of a popular Korean soap opera called Winter Sonata, and a lot of visitors in the city come to see some of the most common filming locations.
Other travelers come for the food, because Chuncheon is known as a foodie's paradise. After touring major attractions like the Soyang Dam, Statue Park or Cheongpyeong-sa Temple, head to Dakgalbi Street. This street features the dish dakgalbi, a grilled chicken meal with spicy vegetables and rice. Dozens of restaurants on the street offer the same iconic dish, each offering slight variations on the recipe.
8. Busan [SEE MAP]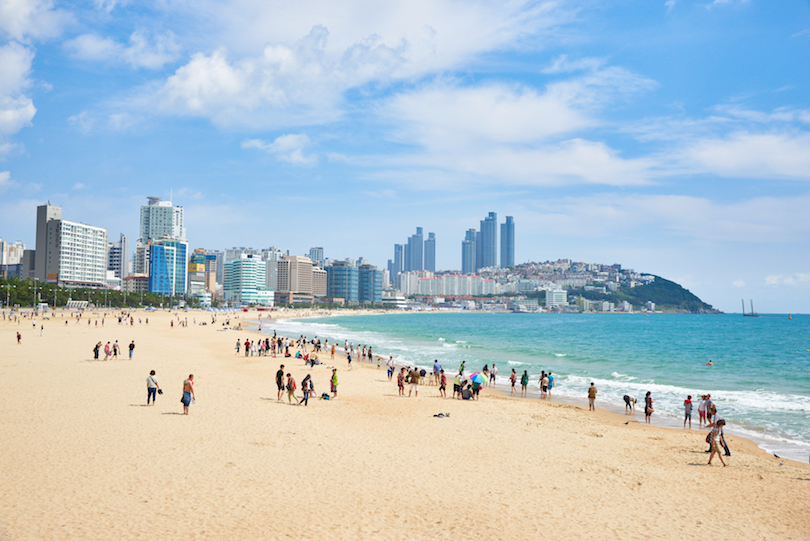 © Thejipen / Dreamstime
The second largest city in the entire country is Busan. It's also a major port, and it is known for boasting beautiful beaches as well as hot springs and opportunities for outdoor recreation. Busan's Gamcheon Cultural Village, known as the Santorini of Korea, is a stunningly colorful hillside community overlooking the water.
While in Busan, you'll also have the chance to visit several temples, the most popular of which is Beomeosa Temple. While the city boasts all the shopping and museums you might expect from an urban area of its size, some of the most popular attractions include Haeundae Beach, Taejongdae Park and the beautiful Nakdong River Estuary Migratory Bird Sanctuary.
7. Jeonju [SEE MAP]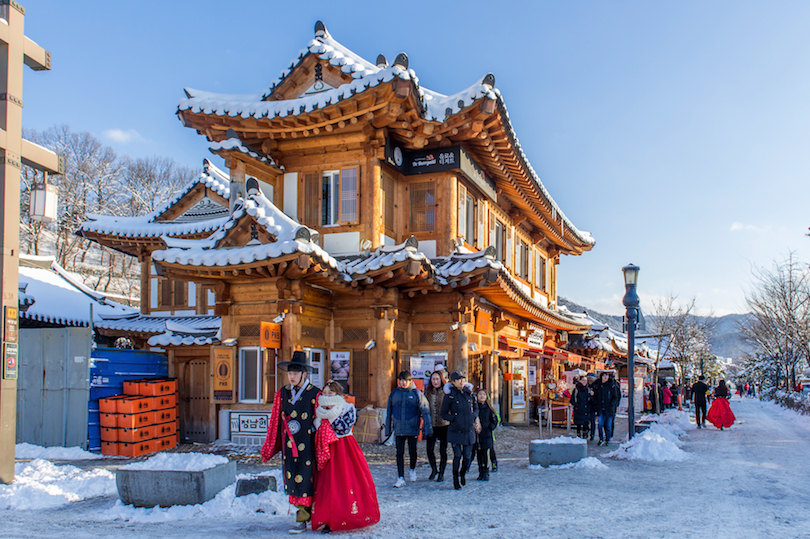 © Prakobkit / Dreamstime
At the peak of the Joseon Dynasty, Jeonju was its spiritual capital. Today, Jeonju is filled with temples and museums and is one of the best places to visit in South Korea. If you want to embrace the local culture and get to know its history, make your way to the Jeonju Hanok Village.
There, you can see traditional homes from the early 20th century, make the traditional Hanji paper or sip the locally made soju. Another popular attraction in the city is the impressive Jeonju National Museum, home to a staggering collection of artifacts. While in Jeonju, try the famed Korean dish Bibimbap, which originally comes from this region.
6. Seoraksan National Park [SEE MAP]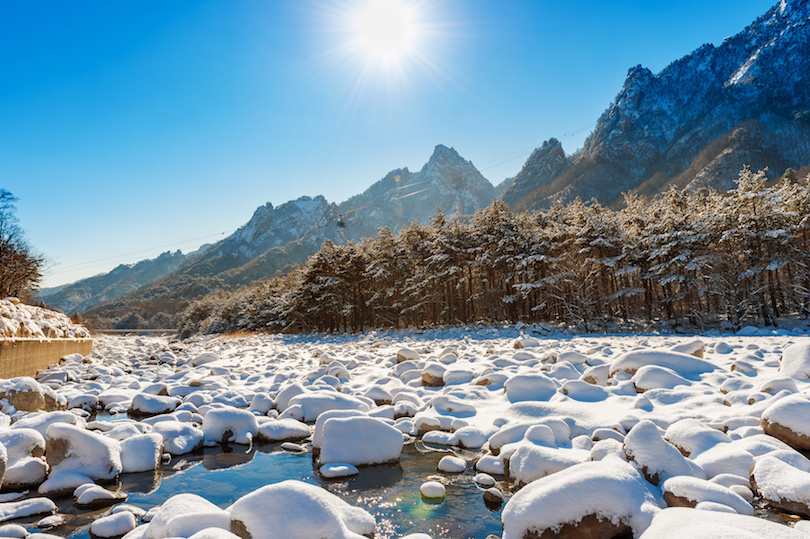 If you want to go hiking, see the best known mountain range in South Korea or just get some epic photos, then make sure you visit the Seoraksan National Park. Within the park you'll find pine forests, jagged and rocky mountain peaks, crystal clear streams and stunning lakes.
Seoraksan National Park is also home to over 2,000 animal species. Start your visit at the National Park Visitor Centre, where you can pick up free maps in English and Korean. Then, enjoy the miles and miles of signposted hiking trails that crisscross the entire park.
5. Andong [SEE MAP]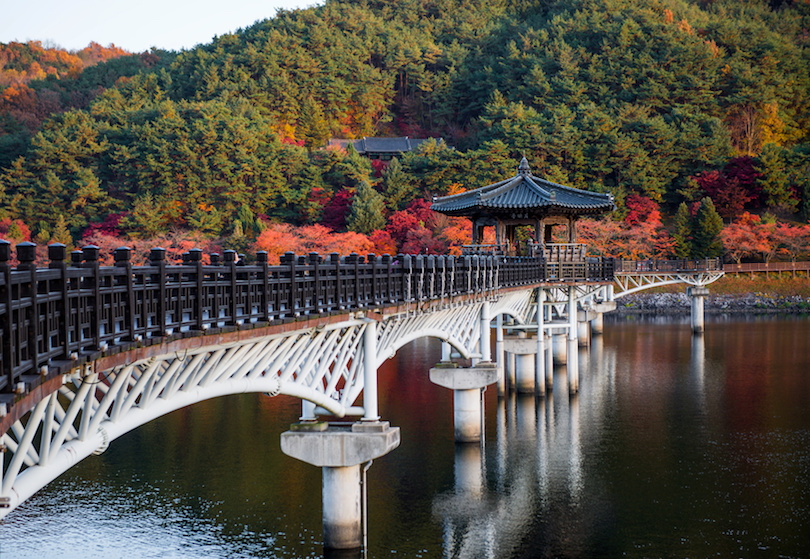 At more than 2,000 years, Andong is sometimes referred to as the Capital City of Korean Spiritual Culture. Perhaps the main attraction in the city is the Andong Hahoe Folk Village, where local cultural heritage has been preserved and is shared with visitors.
However, it is foodies that will most enjoy a visit to Andong. The city boasts all kinds of local specialties, starting with a famed chicken and noodle dish called jjimdak. Andong is also home to a special type of alcohol called soju, so have a sip before you depart the city.
4. Jeju Island [SEE MAP]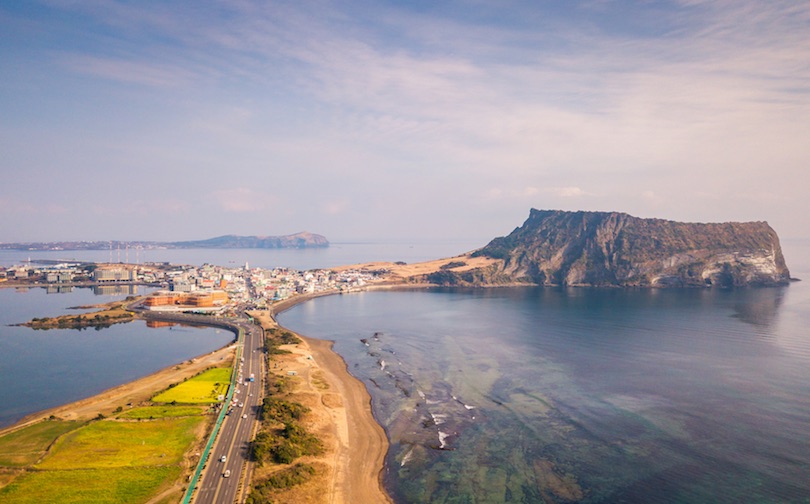 Off the southern coast of South Korea is Jeju Island, the country's only Special Autonomous Province. Nicknamed Island of the Gods, Jeju is a subtropical destination known as one of the top honeymoon and vacation spots in South Korea. In addition to beautiful beaches, lava tubes and lush green scenery, Jeju boasts a long list of tourist attractions and amusement parks.
You can get to know the local culture at the Seongeup Folklore Village, or you could visit Glass Castle, a theme park that revolves around glass sculptures. Perhaps the oddest and most controversial attraction in Jeju is Loveland, a theme park featuring romantic and adults-only attractions.
3. DMZ [SEE MAP]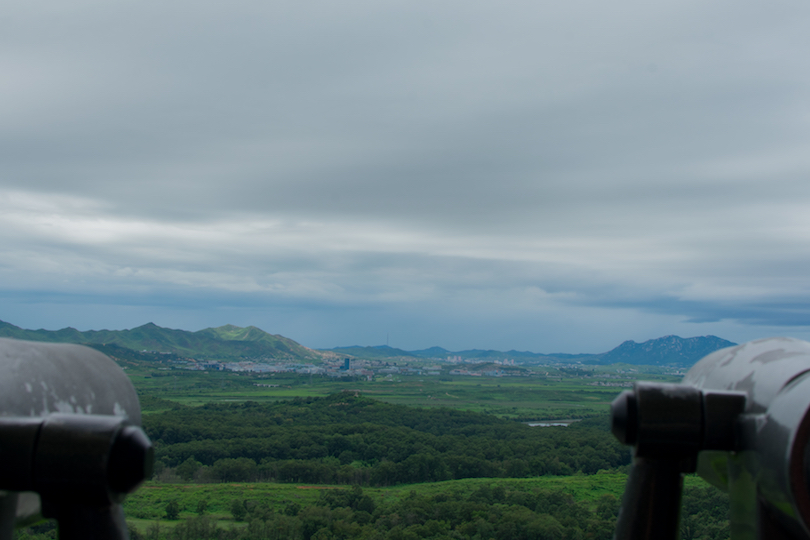 © Jamiedumayne / Dreamstime
The DMZ, or demilitarized zone, is the boundary area between North and South Korea. It is considered a cease-fire zone. While travelers can visit the DMZ, not all areas of the zone are safe. Only a small portion of the DMZ, known as the JSA or Joint Security Area, is open to the public.
In the JSA, you can physically stand in North Korea, although you will be within a building that also houses South Korean soldiers. You can also visit a North Korean gift shop that sells stamps, wine and currency from North Korea. Be aware that the only way to visit the DMZ is on an authorized and guided tour.
2. Gyeongju [SEE MAP]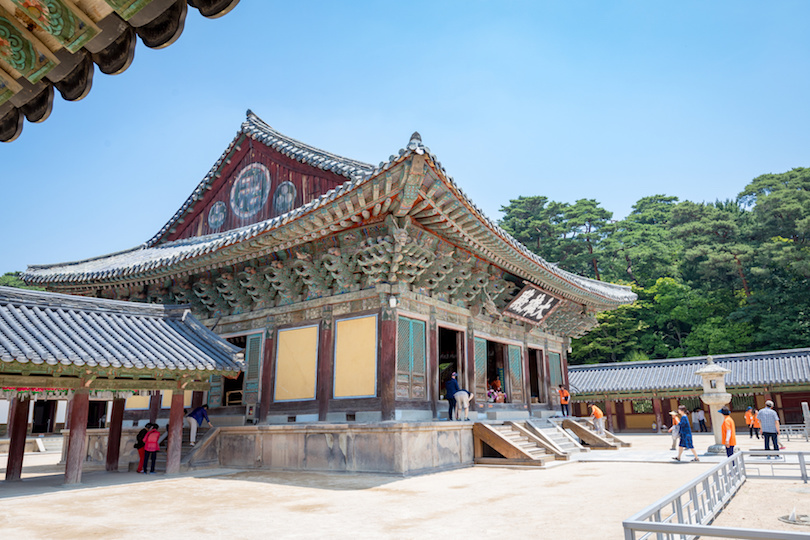 Gyeongju is the ancient capital of what was once the Silla Kingdom. This makes the city more than 2,000 years old. Gyeongju is an incredible destination that boasts a number of temples and cultural festivals. Start your trip at the Bulguksa Temple, a true masterpiece of Buddhist religion and art that dates back to the 8th century. Then, hike up from the temple to the Seokguram Grotto for even more Buddhist culture and artifacts.
Don't miss the Covered Market, a collection of vendors selling everything from Silla souvenirs to freshly made Korean delicacies.
1. Seoul [SEE MAP]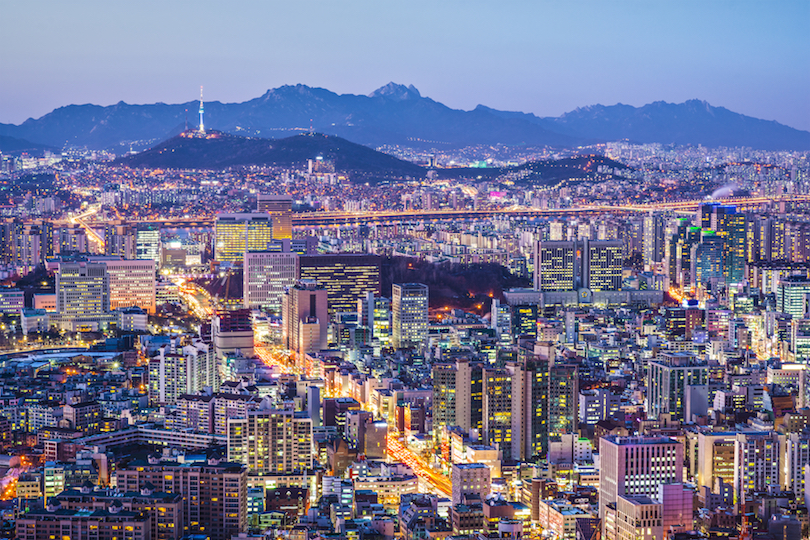 © Sean Pavone / Dreamstime
Seoul is by far the largest city in South Korea and a major destination in East Asia. If you're spending any time in the country, there's a good chance you'll be visiting Seoul at some point. There is no end to the attractions in the city, but many visitors start with some of the many palaces located in Seoul.
Top picks include the incredible Gyeongbok-gung and the 15th century Changdeok-gung. You'll also find ancient temples and shrines, beautiful public parks, cutting-edge design, shopping malls and some of the best cuisine in all of Asia.
Map of South Korea
© OpenStreetMap © MapTiler © Touropia
15 Best Cities to Visit in South Korea
In less than fifty years, South Korea went from being one of the world's poorest countries to one of its richest. Its thriving cities highlight this change as ancient palaces, and traditional temples lie next to gleaming shopping malls and futuristic buildings.
Despite bordering two larger, more powerful nations for much of its history (Japan and China), the country has managed to preserve its unique culture; many of its museums showcase South Korea's fascinating history, art, and local traditions.
A beautiful country to visit, many of South Korea's cities are located amongst scenic mountains or next to idyllic islands and beautiful beaches. Hiking and immersing yourself in nature is almost a national pastime such is its popularity. Now known just as much for its delicious food and K-pop as for its impressive historical sights, South Korea and its fun and friendly cities are sure to delight with all they have to offer.
Map of cities in South Korea
© OpenStreetMap © MapTiler © Touropia
15. Andong [SEE MAP]
© Thejipen / Dreamstime
A very welcoming and friendly place, Andong is renowned for its delicious cuisine, so foodies will rejoice at all the local delicacies on offer.
Founded over 2000 years ago, Andong boasts many historical and cultural attractions and often markets itself as a spiritual center due to its many temples and local religious sites.
One of the most interesting places to visit is the Andong Hahoe Folk Village, where you can learn all about the local traditions, culture, and history.
14. Tongyeong [SEE MAP]
© Sanga Park / Dreamstime
Surrounded by sea on three sides, Tongyeong is located right on the southern tip of a peninsula. Most visitors to the city use it as a gateway from which to explore any of the 151 nearby islands.
A sleepy, laidback place, Tongyeong's harbor is beautiful to behold. Walking along the harbor front or eating a delicious seafood dinner while watching the sunset is a unique experience.
Although there is not much going on in town, the city more than makes up for it with the wealth of beautiful islands nearby. Nature lovers will revel in visiting the spectacular Hallyeohaesang National Park.
13. Daejeon [SEE MAP]
© T. Prakobkit / Dreamstime
Having expanded rapidly over the last few decades, Daejeon is now one of the largest cities in South Korea and is a significant science and research center, thanks in part to the large Expo Park complex.
While not particularly pretty to behold due to its urban sprawl, the city is, however, home to lots of interesting museums, with the National Science Museum's fantastic exhibits making it one of the best on offer.
No visit to Daejeon is complete without a stop at the Yuseong Hot Springs; bathing in the thermal waters is the perfect way to end a day after taking in the city's sights.
12. Suwon [SEE MAP]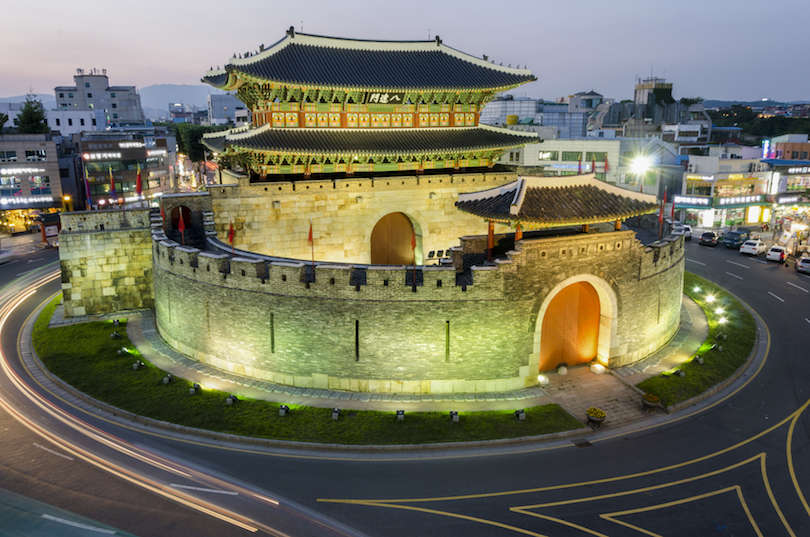 © Cj Nattanai / Dreamstime
Due to its proximity to Seoul, Suwon is a fantastic day trip option from the capital, although it often gets overlooked by travelers.
Now a major center for industry, the city is home to Samsung Electronics. Its busy streets are packed with bars, restaurants, and shops, while Ingyedong is the place to head if you're after some fun nightlife.
The main reason that people visit Suwon is for the stunning 18th-century fortress of Hwaseong that lies at the heart of the city; its twisting walls and looming towers are lovely to explore.
11. Yeosu [SEE MAP]
© Advenshotlife / Dreamstime
Lying on a peninsula of the same name in the south of the country, Yeosu is one of the most beautiful port cities in South Korea and an increasingly popular beachside resort.
Lined by mountains, Yeosu is surrounded by islands and cliffs that look spectacular. One of the best views is from Hyangiram Hermitage – a beautiful cliffside hermitage.
While Yeosu is not big on sights, its lively waterfront is home to lots of brilliant seafood restaurants. Just relaxing on the beach and taking in the view is what most people want from a visit to the city.
10. Geoje [SEE MAP]
© Keith Homan / Dreamstime
More of an island than a city, Geoje has nicknamed itself the 'Blue City.' It is surrounded by sparkling clear waters, a gorgeous rocky coastline, and lots of beautiful beaches.
While its scenic charm is what most people come for, Geoje has lots of interesting tourist sites to offer, such as a stunning 15th-century castle and a POW Camp, which used to host North Korean prisoners.
Although the city has more than enough restaurants and bars to keep you occupied, the spectacular scenery is what really steals the show. A boat trip to the breathtaking islands of Haegeumgang and Odeo is a must.
9. Daegu [SEE MAP]
Home to a sizeable student population, Daegu has a youthful feel to it and is surprisingly friendly and welcoming, considering that it is the fourth largest city in the country.
Wandering around its lively downtown is a pleasant way to spend an afternoon. Its fantastic art museums lie side-by-side with beautiful old churches and temples, while its food and nightlife scenes are thriving.
Many people use Daegu as a gateway to the region, and the nearby Palgong Mountain is well worth a visit. It is home to loads of scenic trails as well as numerous temples and Gatbawi – a magnificent stone statue of Buddha.
8. Gyeongju [SEE MAP]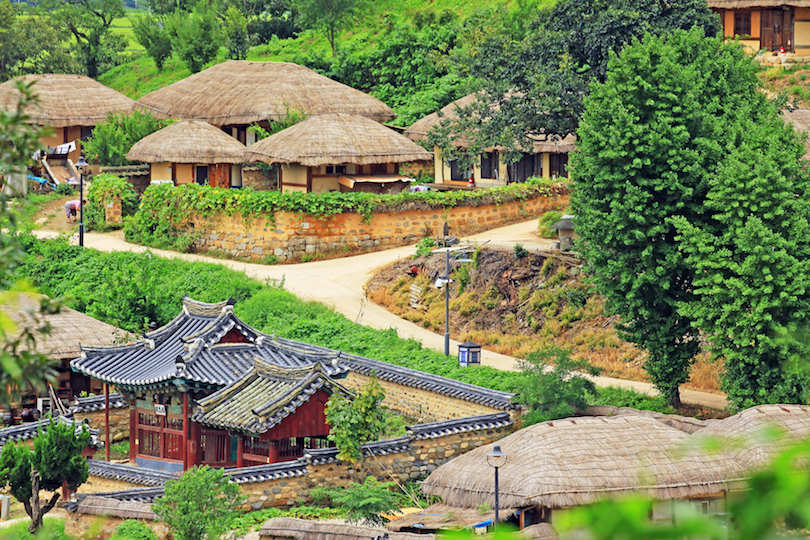 © Ongchangwei / Dreamstime
Boasting more than 2000 years of history, Gyeongju is fittingly known as 'the museum without walls' thanks to its endless array of tombs, temples and archaeological sites. Many of them date back to when the city was capital of the Silla Kingdom.
A captivating place to explore, the center of town is full of old tombs, beautiful pagodas, and traditional houses. The Gyeongju National Museum houses a wonderful collection of local artifacts.
Two must-see sights are the stunning Bulguksa Temple, dating back to the eighth century, and the nearby Seokguram Grotto – both of which delightfully show off some rich Buddhist art and highlight how the religion impacted the area.
7. Jeonju [SEE MAP]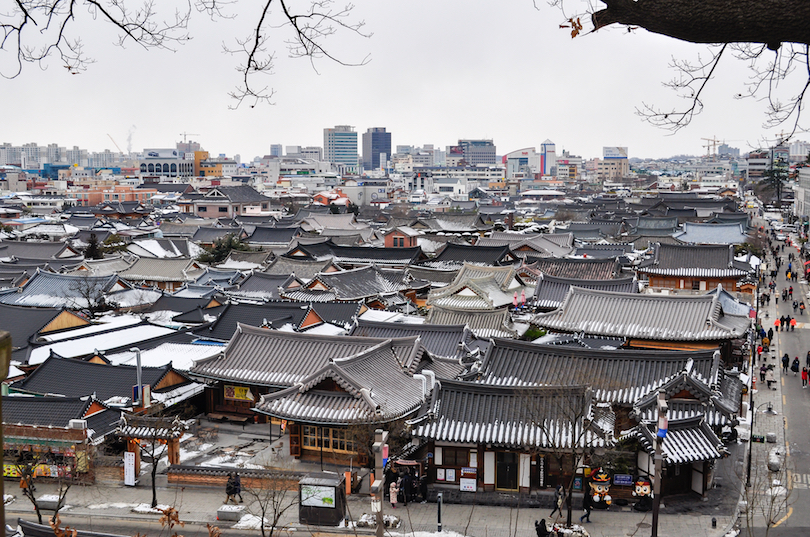 © Jae Young Ju / Dreamstime
Once the spiritual capital of the country, Jeonju is full of historical sites and cultural landmarks. It is also home to one of the nation's most popular tourist attractions in the shape of Hanok Village, which showcases traditional houses, local cultural practices, and artisanal products from around the region.
With lots of beautiful temples to marvel at, Jeonju is fascinating to walk around; its winding alleys are home to atmospheric cafes and restaurants, and no visit to Jeonju is complete without trying bibimbap – a local delicacy.
Before leaving, make sure to visit the excellent Jeonju National Museum, which protects, preserves and promotes the rich local history and culture.
6. Incheon [SEE MAP]
The third largest city in the country, Incheon lies just under 40 kilometers from Seoul. It was at the huge port here that American soldiers landed in 1950 during the Korean War to recapture South Korea's capital.
An important city to the nation in both historical and economic terms, Incheon is expanding rapidly and has loads for visitors to see and do. Its bustling Chinatown and maze of shops, restaurants, and bars in Bupyeong are just two of the highlights.
With the oldest temple in the country – Jeondeungsa – for you to enjoy, alongside lots of lovely old architecture and some delightful waterfront promenades, Incheon is a great option if you're looking for a comfortable and accessible day trip from Seoul.
5. Gangneung [SEE MAP]
© Advenshotlife / Dreamstime
Lying on the East coast, Gangneung is the perfect place to head if you're looking to step off the beaten path and get to know one of the country's lesser-known cities.
Separated from the rest of South Korea by the Taebaek mountain range bordering it, Gangneung has its own distinctive culture and feel about it, as is evidenced by the delicious local cuisine and cultural events – such as the fascinating Danoje folk festival.
With centuries-old temples for you to visit, alongside the impressive Ojukheon Museum – home to shrines, traditional buildings and memorabilia from famous Koreans – Gangneung also has some lovely nature on offer; one of the nation's most popular beaches can be found at Gyeongpo.
4. Jeju City [SEE MAP]
© Thejipen / Dreamstime
The largest city on the island of the same name, Jeju's warm, welcoming climate makes it a popular tourist destination. Many people head here during the summer to enjoy the fancy hotels, teeming casinos, and trendy bars.
Although most of the main attractions are found out of town, Jeju City is a pleasant place to visit, with lots of fantastic restaurants, upmarket boutiques and accommodation options on offer.
Many people use it as a base from which to explore the rest of the island. A visit to the nearby Jeju Loveland – an adults-only theme park – will certainly highlight why the island is a popular honeymoon destination.
3. Seogwipo [SEE MAP]
© Svetlana Kozlova / Dreamstime
Located on Jeju Island, Seogwipo is surrounded by some beautiful scenery, including a spectacular rocky coastline, plunging waterfalls, and beautiful beaches.
Consequently, most visitors to the city come primarily for its natural sights; it also boasts the best scuba-diving in the whole country. With lots of great paths and trails snaking their way to the waterfalls and along the coastline, it is also a popular hiking destination.
While the city itself doesn't have that much going for it, the lovely scenery more than makes up for it. If you are at a loose end, the fun water park and immersive submarine tours are well worth checking out when in town.
2. Busan [SEE MAP]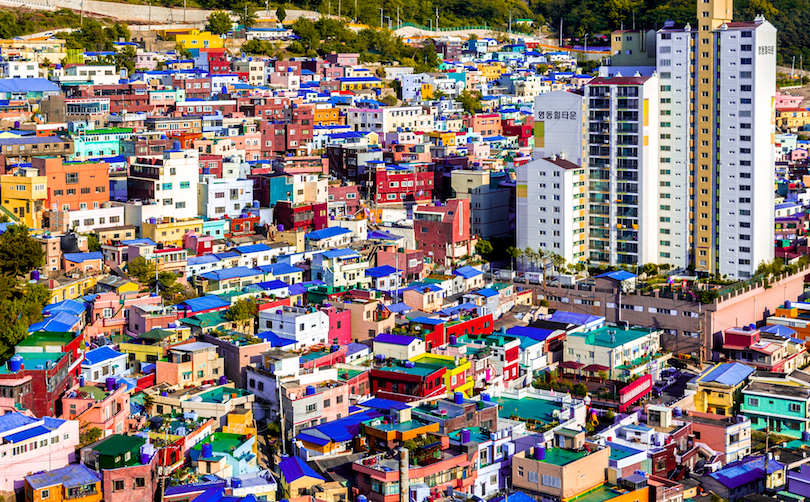 © Gigiek / Dreamstime
The second largest city in South Korea, Busan is home to a bustling port and is a popular tourist destination, thanks to its beautiful scenery made up of forest-coated mountains and gorgeous beaches.
With many different sides to it, Busan is home to both a gritty industrial area and the hillside Gamcheon Cultural Village, full of brightly-colored houses offering delightful views over the city.
While most people come for its beaches, Busan has many interesting historical sites scattered around town: there's the popular Beomeosa Temple with its numerous hot springs, fantastic seafood restaurants, and wealth of outdoor activities.
1. Seoul [SEE MAP]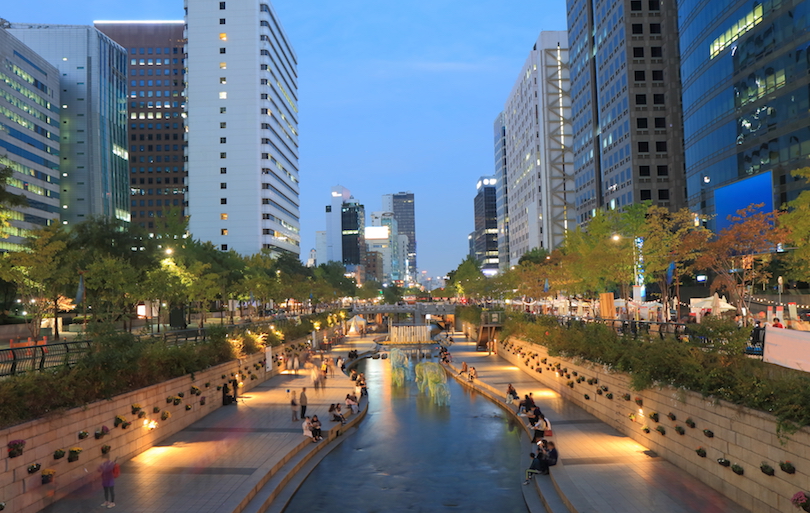 © Tktktk / Dreamstime
A sprawling metropolis that encompasses over 25 million people, South Korea's capital has everything imaginable on offer. It is an enthralling place to explore, with centuries-old palaces and temples rubbing shoulders with gleaming shopping malls and bustling night markets.
With something for everyone to enjoy, you can be marveling at the intricate architecture of the 15th century Chandeok-gung palace one minute, be hiking in the nearby mountains and numerous parks the next, before later visiting one of the city's fabulous museums.
Renowned for its excellent cuisine, Seoul has loads of great restaurants and street stalls dotted around. The city is continually pushing the boundaries of what is possible – whether that is in fashion and design or architecture and technology.
Source https://www.wapititravel.com/blog/en/beautiful-places-in-south-korea/
Source https://www.touropia.com/best-places-to-visit-in-south-korea/
Source https://www.touropia.com/best-cities-to-visit-in-south-korea/