How to Hike Pulpit Rock, Norway
A Hiking Guide to Preikestolen (Pulpit Rock, Norway)
6 Minute Read
In this travel guide I'm going to tell you how to hike Preikestolen – also known also as the Pulpit Rock, Norway. This is an incredibly popular hike in the Westfjords of, you guessed it, Norway.
The rock is characterised by an enormous granite slab 604 metres high. There is a sheer drop down the rock to the waters of Lysefjorden below.
Due to the spectacular views across the fjord and of the surrounding mountainous landscape, Pulpit Rock is undeniably one of Europe's natural wonders.
Hikers, walkers – and even base jumpers – flock from all over the world to climb to the top of this soaring monolith.
This Pulpit rock, Norway guide will include:
This page contains affiliate links. This means I make a commission if you buy a product I have recommended (at no extra cost to you). All recommendations I give are genuine and my own. Thanks for the support!
See also:
10 Hiking Safety Tips
10 Beginner's Hiking Tips
1. What is Pulpit Rock, Norway?
The rock is thought to have formed at least 10,000 years ago during an ice age. Glacial action carved out the fjord leaving this slab untouched at the top.
The rock was originally called Hyvlatonnå – which in Norwegian is the name for the tooth of a woodworker's plane tool. The name was then officially changed to Preikestolen which translates to Pulpit Rock in English.
The smooth slab on top of Pulpit Rock, Norway is 25 x 25 metres. What is so shocking is how sharp and steep the drop is off the side. The edge is so angular that it's easily possible to sit on the corner of the rock with you feet swinging in the air below you.
At its base is the 26-mile-long Lysefjorden – meaning light fjord in English. The fjord is connecting to the sea and is filled with salt water. Despite being enormous and looking like an ocean, it is surrounded by giant granite mountains on all sides creating an out-of-this-world landscape.
The only way to reach Pulpit Rock, Norway is by hiking to the top. There's no car park, elevator, cafe, or souvenir shop up there. Just step after step to the summit!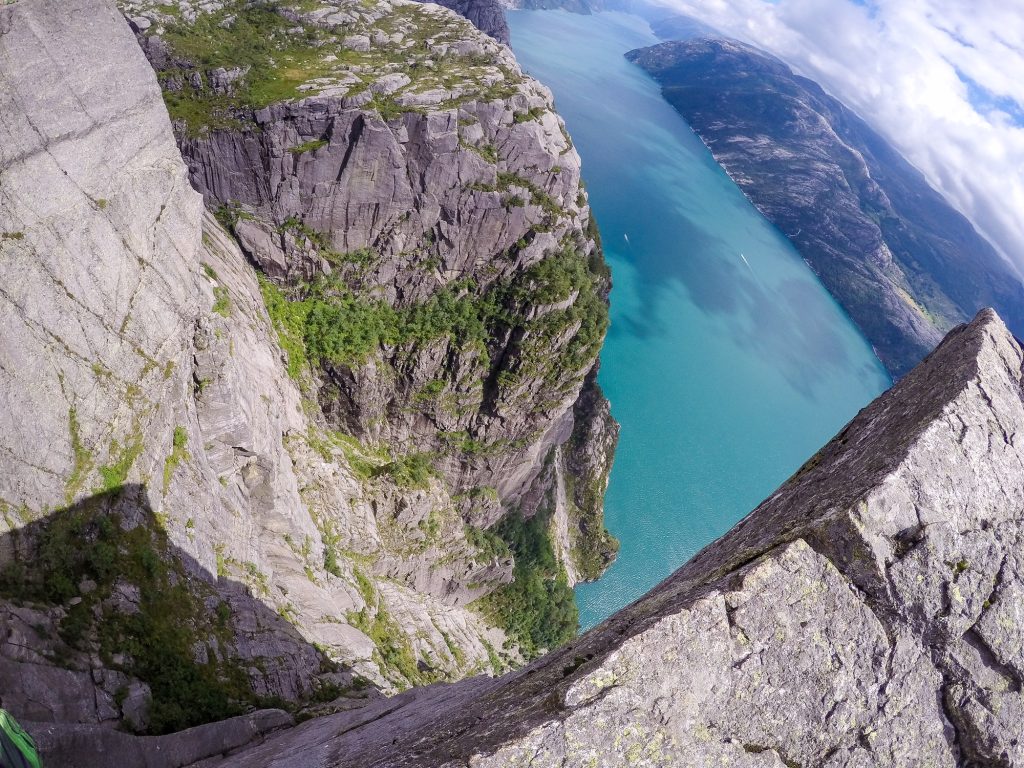 Looking down the sheer face of Pulpit Rock to the fjord below.
2. Where Does Pulpit Rock, Norway Start and Finish?
The trail is an out and back route. The path begins at the Preikestolen Fjellstue parking lot. There are places for cars to park, a coach drop-off point, and a couple of mountain lodges with cafes. There is also a souvenir shop and an adventure activity company doing tours up to the rock.
This cluster of buildings is situated next to Revsvatnet, a beautiful glacial lake, well worth walking to if you have the time.
The end of the first leg is of course Pulpit Rock, Norway. However, when I visited, I didn't stop my hike there. I climbed up to Neverdalsfjell (709 metres). This is the summit that sits above Preikestolen.
I highly recommend adding this extra hike in because it's much quieter up top. Few people make this extra step despite it being well worth the effort. There are excellent views onto Preikestolen as well as the Lysefjorden below. Also on the far side of the mountain, there are fantastic views over the fjords and across to Stavanger.
After visiting the rock, you hike back down the way you came finishing the trail at the Preikestolen Fjellstue.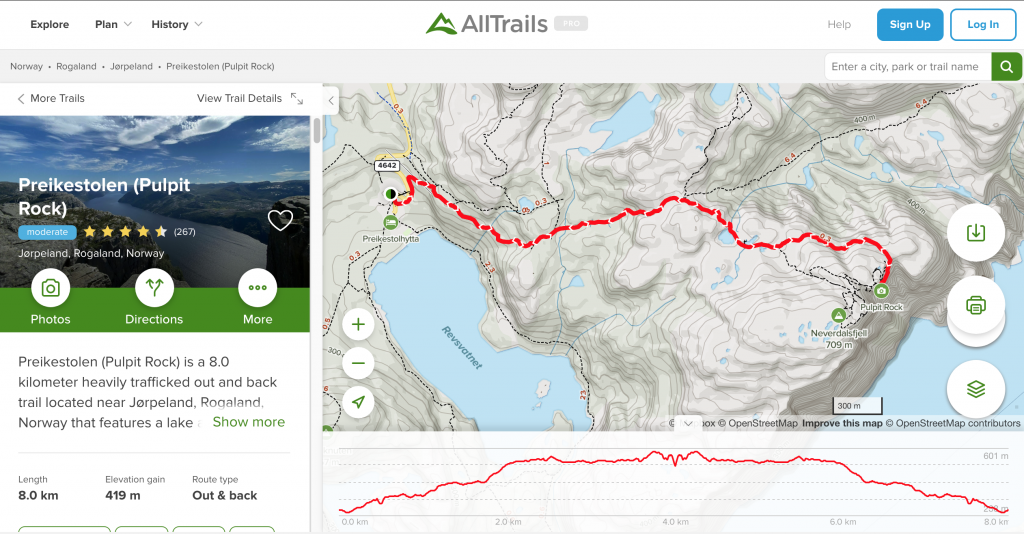 The route map on the AllTrails app. The path is well labelled on the ground and it's easy to find your way around.
3. How Long Does it Take to Hike Pulpit Rock, Norway?
Most people hike this route in a day. They start from the carpark early in the morning and climb the 4km to Preikestolen before stopping for lunch and admiring the views. In the afternoon they hike back down to the Preikestolen Fjellstue.
The elevation gain is tough but by no means unmanageable at 400 metres. The trail should take no longer than 4 hours for a round trip.
There's a lot of flexibility with what time you wish to visit. The rock becomes extremely busy in the summer – particularly in the afternoon. Tour busses from Stavanger all arrive towards mid-morning meaning flocks of people generally arrive around lunchtime.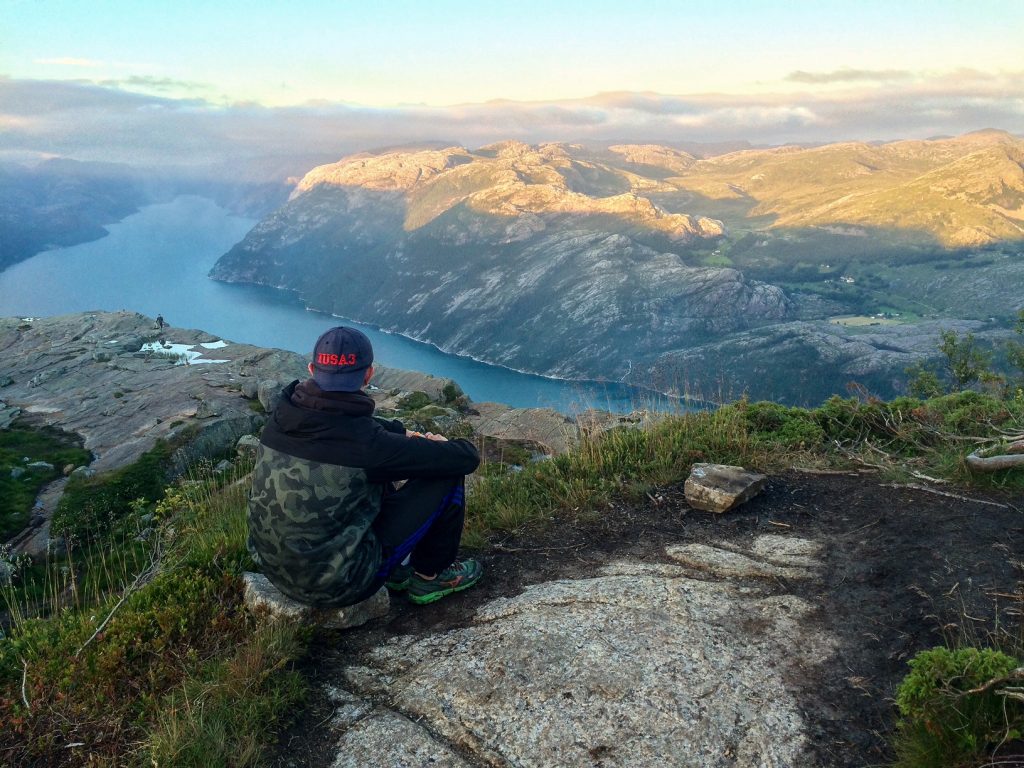 The sun setting over the Lysefjorden and Preikestolen.
Lots of people choose to stay at one of the mountain lodges so they are free from travel restraints and can climb the Pulpit Rock, Norway hike early in the morning for sunrise when it's quiet.
On my hike I decided to wild camp on the mountain beside Preikestolen. This was the best choice I could have made. In Norway there is a freedom to roam act which allows wild camping in nature spots all throughout the country.
I made the best use of this which allowed me to watch the sunset over Preikestolen. By the evening all the crowds had disappeared and the only people about were other campers dotted amongst the sheer cliffs, watching the colours change in the fjord below.
A truly magical experience and one I highly recommend doing!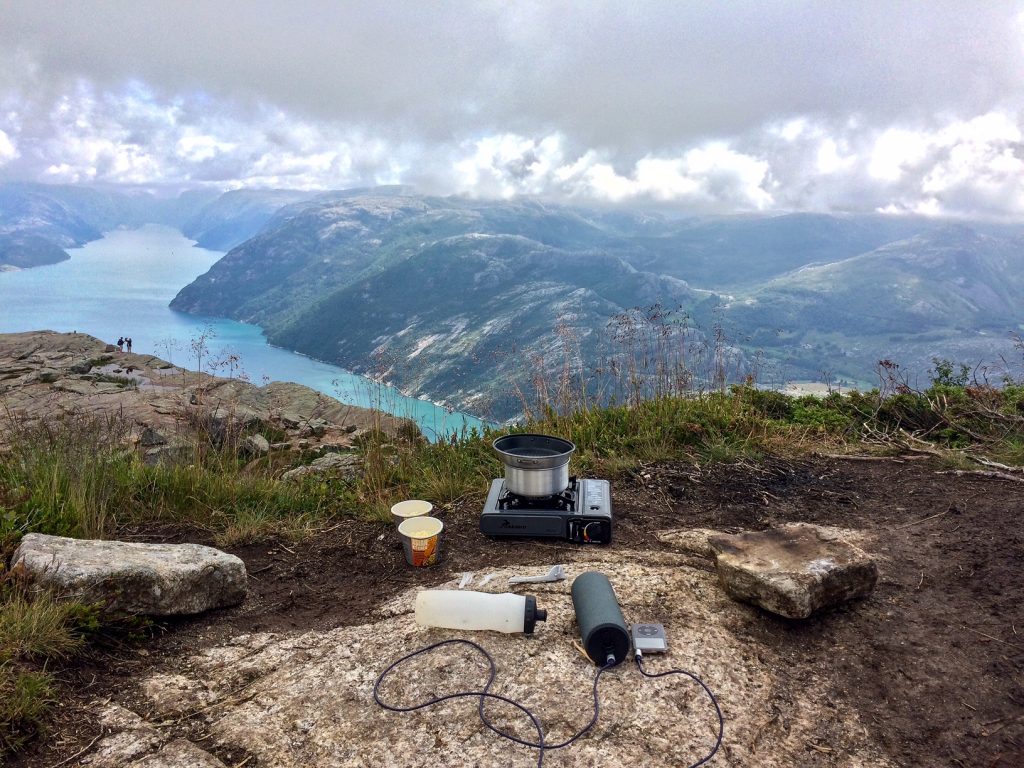 Making breakfast the morning after wild camping above Pulpit Rock.
4. What is There to See on Pulpit Rock, Norway?
After leaving the Preikestolen Fjellstue, the path follows a boardwalk through marshes before winding its way up steep granite steps into the mountains above.
Each time you turn around to look behind you, the view changes and reveals more of the incredible landscape. There are a few viewing platforms along the trail as well as a swimming lake called Tjødnane.
At last, the trail reaches the top of the ridge where you will be greeted by a sudden gust of wind. Opening out before you is the vast Lysefjorden. An astonishing view.
For the last stretch, the trail traces alongside the precipitous cliff leading up to the jutting slab of granite that is Pulpit Rock, Norway.
The majority of grand features in this landscape were formed by glacial action. Keep an eye out for glacial features such as erratics (lumps of rock deposited by glaciers), striations (scratches and gouges in the rock from the moving glacier), hanging valleys (waterfalls), u-shaped valleys, and glacial lakes.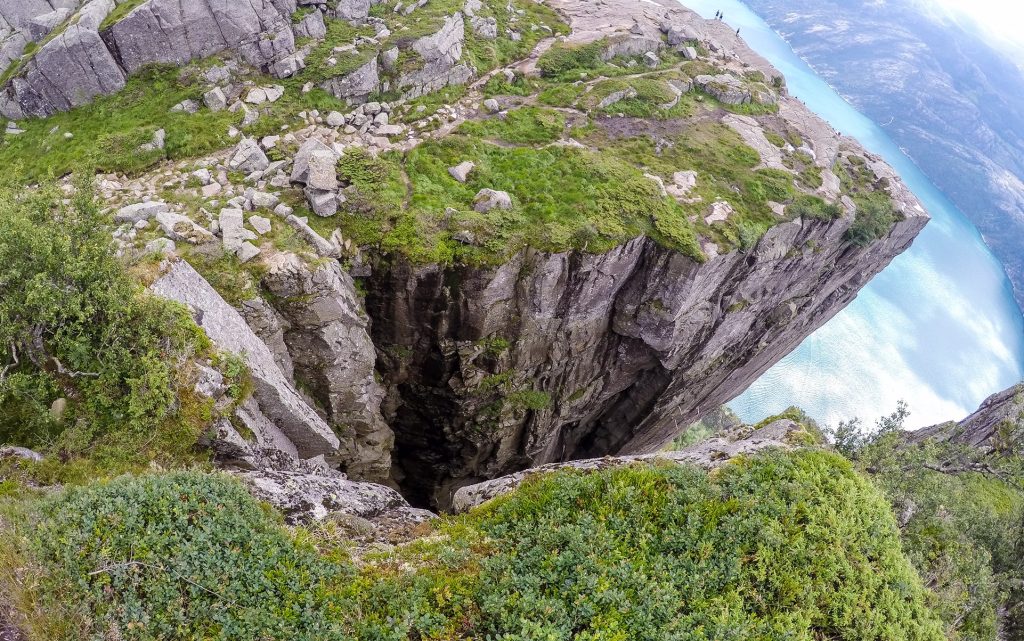 View of the back of Pulpit Rock from the Neverdalsfjell summit.
5. How to Get to Pulpit Rock, Norway?
Preikestolen isn't the easiest place to reach and Norway is not a cheap country to travel around. You want to plan your route in advance to ensure you reach the rock without too much hassle or money spent!
The Westfjords are a complex maze of mountains, fishing villages, enormous fjords, and inlets of the North Sea. The Norwegians have built a systems of roads, bridges, and ferry terminals to navigate this area and free up some accessibility.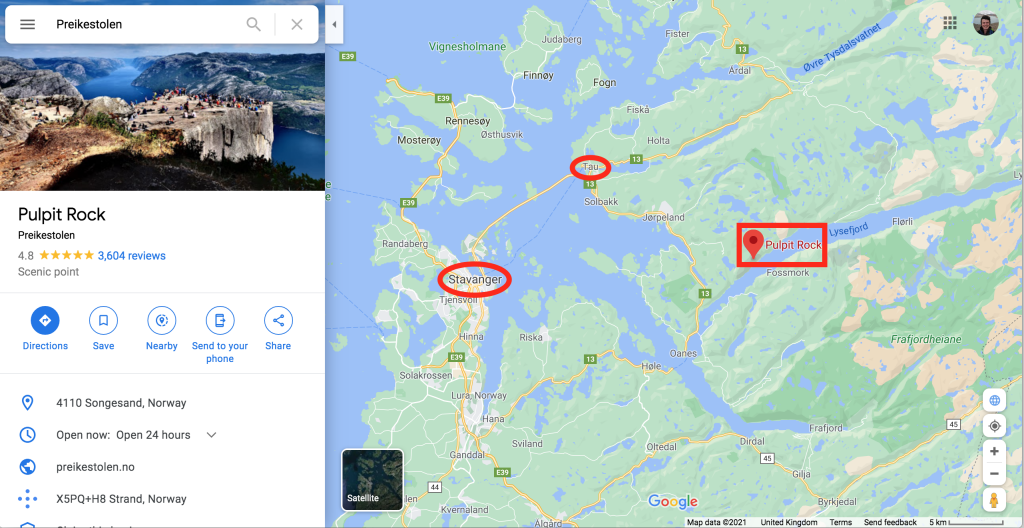 The route between Stavanger and Tau leading up to Pulpit Rock is a complicated one with a lot of water and mountains in the way!
You can either fly to Oslo or Bergen. Both have international airports, and both are cities well worth visiting in their own my right. My itinerary involved taking the train to Oslo (I was interrailing around Europe at the time), then taking the train over to Bergen – on one of the most beautiful train journeys in the world – before taking a bus south to Stavanger.
Stavanger is the closest big settlement to Pulpit Rock, Norway. Stavanger has an airport but it only offers domestic flights. It would be a shame to fly from one of the other Norwegian cities as the overland transport is so exciting. See Skyscanner for flight options.
Once in Stavanger you can take a line 100 bus to Jørpeland before catching a taxi to the Pulpit Rock visitor's centre. During the peak summer months there is a direct bus from Stavanger to Pulpit Rock. Alternatively, you can take a ferry from Stavanger to Tau as a foot passenger, and then catch a bus from there, followed by another taxi. For bus options see the NOR-WAY Bussekspress website.
As you can probably tell by now, this is a complex journey. Particularly due to a new bridge being built and a variation in options between the seasons. By far the easiest thing to do is hire a car. This gives you freedom to explore the country without having to rely on the inconvenient and expensive public transport!
In my case, I took the ferry from Stavanger to Tau, then wild camped along the coastline to wait for the bus the following morning. The next day I ended up hitchhiking with some Norwegian hikers who kindly took me all the way to the Pulpit Rock car park!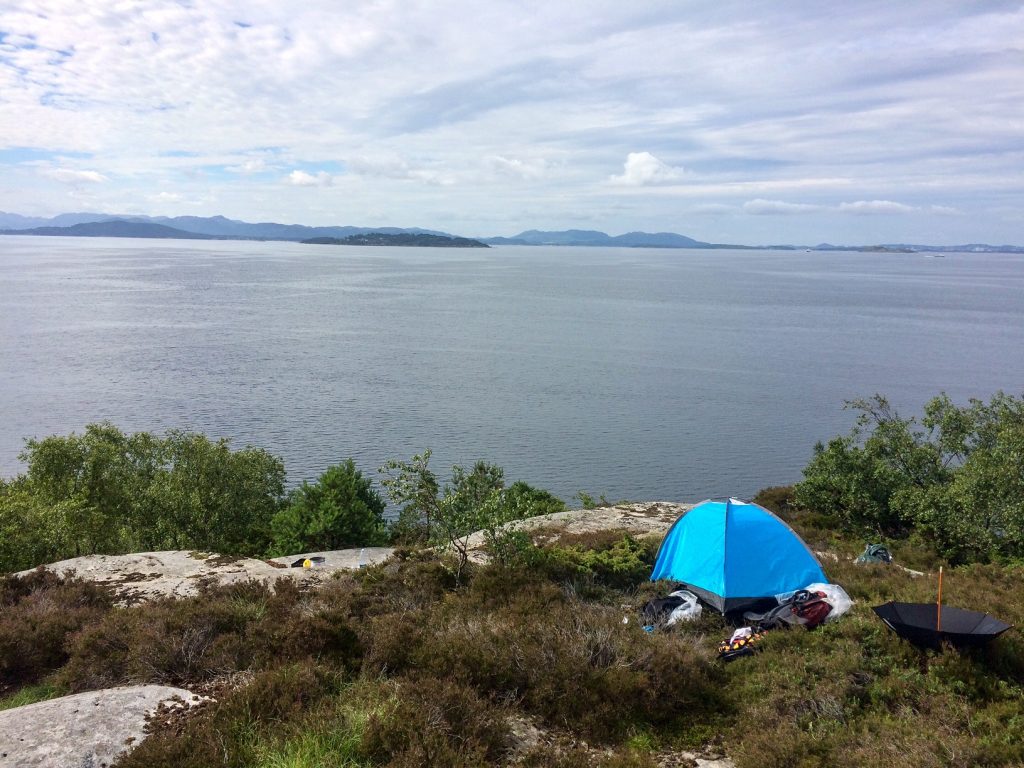 A night camping near the Tau ferry was plagued with rainfall but great views the following morning!
6. What to Pack?
This hike isn't particularly long and arduous so you don't need to bring the kitchen sink. But it's important to pack some essential items in a backpack anyway. If possible, wear layers of clothing that are light and breathable.
Bring a zip-up fleece and a waterproof jacket in case it rains. Carry a sun hat and wear sunglasses in the summer as it's exposed on the mountains.
See also:
Multi-Day Hike Kit List
Day Hiking Gear Essentials
Make sure you bring enough water for the hike, 1.5 – 2 litres per person, and snacks for the journey. Pick up some nuts, trail mix, or Norwegian hiking chocolate called Kvikk Lunsj before you set off.
Don't wear clunky hiking boots as you won't need them. The trail is all along hard stone tracks and wooden paths. Try lightweight trail running shoes or trainers to stop your feet from getting blisters instead!
If you're camping overnight, bring plenty of water as it's not easy to fill up once on Pulpit Rock. If you have a water filter, you can refill from mountain streams. Carry a warm hat and gloves as it does get cold up there. Also ensure you have a good sleeping mat as the surface is all cold granite rock!
Before You Go
Thanks for reading my travel guide on Pulpit Rock, Norway. If travel guides like this interest you, head over to my blog page to find out more!
If you're new to Walk Wild, check out the About Me page to learn who I am and what made me want to be a travel writer.
Please comment below, let me know what you think and if there's anything else you want information on!
Follow me on Twitter, Instagram, and YouTube to see out more.
Ultimate Guide To The Pulpit [Preikestolen] Rock Hike In 2022
Thinking of hiking the amazing Pulpit rock in Norway? Look no further, I tell you all you need to know about the Pulpit Rock hike in beautiful Norway.
The Pulpit Rock hike is one of the most famous hikes in all of Norway and it's awesome! In Norwegian it's known as the Preikestolen hike as it's the Preikestolen mountain, but for the purpose of this blog post I will be referring to it as the "pulpit rock" hike. So if you're looking for all you need to know about hiking Pulpit rock, then look no further.
When is the best time to do the Pulpit Rock Hike?
Okay, let me start by saying that the most popular time to do the Pulpit rock hike is during the summer season, so June, July and August. The problem with this is that it gets SUPER busy. The guys at the office told us that they can get up to 5,000 people a day, so it can almost turn into a "conga line" hike.
And, when you get to that iconic viewpoint, with that iconic picture, you're going to be waiting ages for the chance for a photo….
Brad and I did the hike in November, and we were lucky that there was no snow. If you can visit in November and there is no snow, then it's a great time to do the hike, because it's pretty empty.
We went as soon as daylight opened, and we only came across a few people and basically had the picture spot to ourselves.
But if you visit in September/October, you might still have nice weather and less people if you start early.
Remember that when hiking in November, you need to go early as there is less daylight.
Can I hike Pulpit rock in the winter?
Judging by the hike we did, I would not suggest you visit in the winter months. It could be super dangerous.
The hike itself is fairly straightforward, but with the path layered in ice and snow, it will be unsafe. Even if you have grips on your shoes (which you can rent out), I still don't recommend a winter hike, unless you're experienced.
How long does it take to hike Pulpit rock?
The Pulpit rock hike should take you around 4-5 hours. Brad and I did it in 3 and a half, but bare in mind, we had no crowds on the path to slow us down and we didn't have to wait for a picture…
The hike itself is 7km, so I guess how quickly you do it will depend on your pace too. We seen a few people run it too.
How difficult is the Pulpit Rock hike?
It's a moderate hike. I currently don't have a great fitness level and I found it to be great. There are a couple of incline bits, but generally it's a steady rise and if you take your time and have a few rests, you should be absolutely fine.
Locals do this walk with their dogs and children, take your time and it will be a nice hike!
The main difficulty comes in the form of what you're walking on. Lots of rock, and therefore you need to be careful with your footing so you don't fall. This is particularly true when you're coming back down. Take it from someone who is super clumsy, watch your step!
Put it this way, thousands of people wouldn't be doing the hike every day in the summer months, and it wouldn't be a popular tourist spot if it wasn't a relatively "easy" hike…
Take from that what you will!
Do you need special equipment to hike Pulpit Rock?
No, but you do need a decent pair of shoes! I recommend at least a cheap pair of hiking boots, or in good weather a decent quality pair of trainers will do the job. Don't walk it in flip flops, you'll probably break something.
If you don't have proper shoes, or you would like walking poles and other equipment, you can actually rent it all from the Pulpit Rock hiking centre for a decent price. They're open all year round too which is great and you can grab a drink or some snacks for your hike if you wish.
Just remember this is Norway, and super expensive 😛
How much is the Pulpit Rock Hike?
Well it's technically free thanks to the right to roam laws in Norway, but to park in the establishment, they charge you 250 nok, which is about 25 euro.
This is a pretty hefty fee, but I guess it goes towards maintenance of the trail, the restaurant and toilets etc.
You pay via card on exit.
Is there somewhere to sleep near Pulpit Rock?
If you wish to sleep close to the Pulpit rock hike starting point before you set off you can do at the Preikestolen Mountain Lodge or if you've got a campervan/caravan like Brad and I did, then you can stay at one of the campsites nearby, or stay at the town of Jørpeland and camp by the Marina (which is cheaper and actually pretty beautiful!).
They actually run a bus to and from Pulpit Rock if you wish to park and ride from there.
For help renting a vehicle, check out our guide on the best motorhome rentals in Norway.
How to get to Pulpit Rock?
So a lot of people go to Pulpit rock from Stravanger as it's a day trip, but Brad and I were visiting as part of our awesome 3 months Scandinavia road trip with Tinggly, so we drove there.
It's quite a nice drive with lots of beautiful scenery, so if you do have the chance to rent a car, then I do recommend it.
If you're wondering how to get to Pulpit Rock from Stravanger, then I suggest you either rent a car, or use a guide if you can't drive.
Do I need a guide for Pulpit rock?
I don't think you do, but some people who have never hiked before, may feel more comfortable with a guide. If you're afraid of heights, you may feel more at ease with a guide too.
Be aware that the hike has no barriers, and once you get to the top, there is nothing blocking you from the edge, so BE CAREFUL.
It can get super windy and you don't want to fall off the edge.
If you do want a guide, then my research for a guide for Pulpit Rock, lead me to these options….
Tips for taking pictures at Pulpit Rock
If you're looking for that iconic picture, then there is one spot to get it. As you walk towards the point for the ledge, you'll see the view point for that iconic picture, it's another little small ledge. Someone needs to stand there, whilst you walk over to the main ledge.
I've seen people sit on the edge of the ledge, but I think it's unsafe. In my picture it looks like I'm a lot closer than I am, and the wind was actually blowing me back. So please just be responsible when taking your picture here.
You cannot use a drone, and when the wind is high, you wouldn't want to fly it anyway. But you don't need a drone in this case to catch awesome pictures!
A wide angle lens is really good for this type of shot and that's what I used to get my shots. It's shot in raw too to give me the best platform for edits afterwards.
If you want to get a picture from "above" the rock, then you'll need to climb up further, there is a marked trail and it will only take a few minutes to get there.
Other tips for the Pulpit Rock Hike
Pack yourself some lunch. I suggest you stop for some lunch on your way back down.
Pack fluids. Remember there is nowhere to purchase food or drink once you start. Fellow type 1 diabetics, make sure you have enough sugar on you for hypos.
Start your hike as soon as the sun rises
Don't continue with your hike if you've left it too late, start the next day. Hiking back down in the dark on the terrain you will experience is not a sensible choice, especially if you are inexperienced.
Try to avoid visiting during peak season, you'll enjoy the experience much more.
There are waterfalls and other viewpoints you can visit on the hike, remember these will add on time.
Don't opt for the "mountain route" back down. we did and it's just awkward, difficult and not really enjoyable haha
I've heard the Pulpit rock sunrise hike is very beautiful, but remember it needs to be clear weather.
The elevation gain is 350 meters which is 1150 ft.
My experience of the Pulpit Rock Hike
So we started the hike early and probably the most difficult part was getting to the start. It gets steep very quick to start, but don't panic, once you get over that hurdle, the incline is much more subtle!
I really enjoyed the hike and there are some beautiful viewpoints along the way. But the views at the "top" are breathtaking. You need to visit on a clear day, or you'll not get the amazing views of the fjord.
I am so glad I did this hike, and whilst there are good and bad points to platforms like Instagram, this is one of the good, because I found this place on Instagram, saved the picture and visited because of that!
And I can vouch it's even more beautiful in person as it is in the picture.
So there you have it, my guide to the Pulpit Rock Hike. I remember researching this hike before we went and almost being put off, so I'm here to tell you, this is a doable hike for all, if you just prepare yourself and take your time.
So whether you take a guide, or do it DIY, you'll have an awesome time. If you've got any more tips for hiking Pulpit rock (preikestolen hike), then drop a comment below.
Disclaimer: Fully research your destination prior to travel, or any products prior to purchase. We can accept no responsibility for anything you experience as a result of the information found on this website. Some posts may contain affiliate links, which means we receive a small commission for some purchases, at no additional expense to you. Read more here.
As the type 1 diabetic half of Dream Big, Travel Far, I'm passionate about encouraging fellow type 1's to travel the world and not let their diabetes hold them back. I'm proud to now be a full-time digital nomad. Meaning I live my life working and travelling all over the world and am here to help you achieve your dreams as well in any way I can.
Hiking to Pulpit Rock
Pulpit Rock, or Preikestolen to use its official name, is one of Norway's best-known natural attractions.
Pic: Mabel Lee
Even if you don't know the name, you may recognise the rock, as it's been photographed countless times, with people perched near the edge proudly raising their arms at having reached the plateau.
You may also recall Tom Cruise climbing the cliff face in the final fight scene of Mission Impossible: Fallout. But you don't have to be a Hollywood star to visit!
Where is Pulpit Rock?
Located in western Norway in the county of Rogaland, Pulpit Rock rises 604m above sea level, its iconic flat outcrop towering over the fjord and interlocking valleys below.
It's open for hikers from May to October each year. And in 2018, Pulpit Rock drew close to 300,000 visitors. Make no mistake – this is a seriously popular attraction!
Trekking up to the top demands a reasonable level of fitness. It's a moderate trek with breathtaking views, and it's a great introduction to hiking in Norway.
The trek begins easily enough, and the route is marked. It takes about four hours to do the whole trek to the top, including the return leg.
The route to Pulpit Rock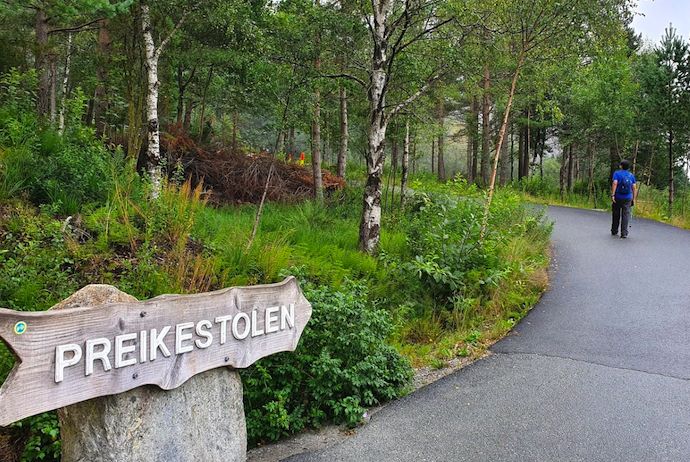 Pic: Mabel Lee
To reach the summit, you'll hike upwards for about two hours, along largely rocky terrain. The most challenging part of the climb lies between the 1.5km to 2km mark, as you ascend a series of steep rock steps.
Other than that, the rocky route undulates relatively gently upwards for most of the 3.8km-long trail, with the landscapes changing as you make you way up to the summit.
The route starts Preikestolen Mountain Lodge's car park. Expect zen-like forests in the early part – you'll know you're around halfway up when you see shallow ponds with ducks paddling in them.
As you near the top, you'll reach granite cliffs that overlook passing cruise ships in the fjord below.
Climbing Pulpit Rock: what you need to know
Although this is a 'touristy' hike, it's important to come prepared. The weather can change quickly during your climb, from clear sunny skies to rain and fog, and when that happens, the rocks get slippery.
This means wearing proper footwear designed for hiking, having warm clothing handy and using hiking sticks if possible.
Pic: Mabel Lee
Exercising caution and common sense is important too – and yes, this applies to your victory pose as well! Some 74 rescue operations were carried out in the first half of 2019 alone, 25% more than the total number in 2018!
Pulpit Rock is a tourist favourite, especially during the June to August peak, so things can get very busy. Narrow parts of the route can get clogged with hikers as a result, but practise the spirit of giving way and you'll be fine.
Civic courtesy applies at the summit as well – everyone wants a shot of themselves near the edge, and a queue will form organically. Be nice and don't jump the queue!
Getting to Pulpit Rock
The city of Stavanger in western Norway is the easiest and most usual starting point for hikers to Pulpit Rock, with the walk itself beginning at the car park of the Preikestolen Mountain Lodge, where you can also spend the night.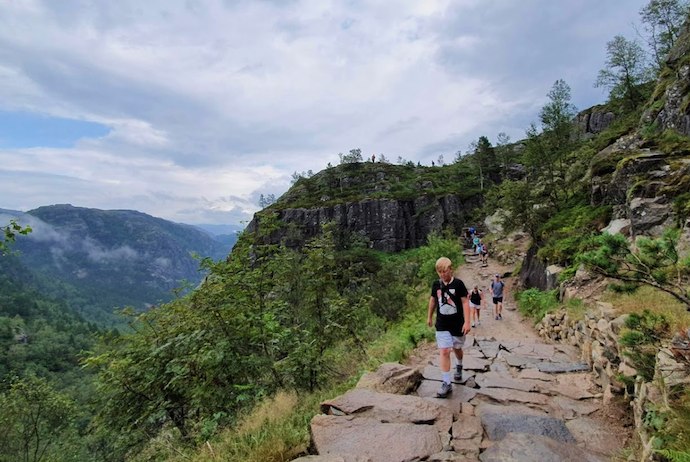 Pic: Mabel Lee
By ferry and bus
To get to the start of the hike, take the public Norled ferry from Fiskepiren in Stavanger to Tau, and from there, catch the bus up to Preikestolen Mountain Lodge. The entire journey takes about an hour one-way.
One-way ferry and bus tickets cost 62 NOK and 135 NOK respectively. Ferries depart every 40 minutes, and bus schedules are timed to meet the ferry arrivals.
By cruise boat
For a more scenic route, book a spot on a Preikestolen cruise and hike with Rodne Fjord Cruise. Instead of heading north on the public ferry to Tau, this trip departs from Strandkaien ferry terminal in Stavanger and heads eastwards.
The cruise takes you through the scenic Lysefjord, meandering up close to Vagabond's Cave, named after a group of vagabonds who hid from police for months in a cave surrounded by dramatic cliffs.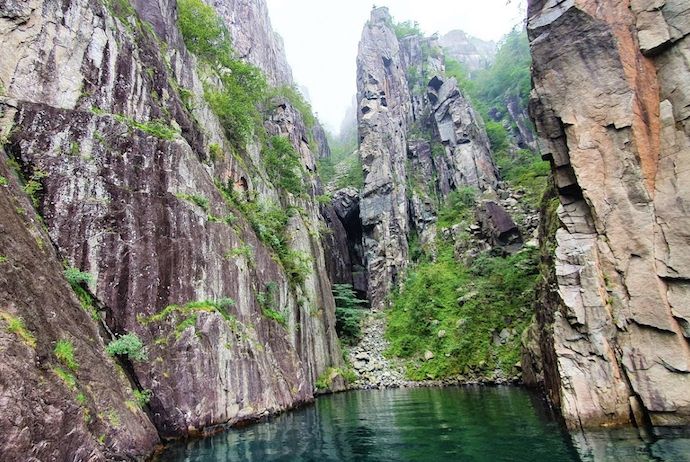 Pic: Mabel Lee
The boat also stops beneath Pulpit Rock, so you can look up and see the craggy plateau majestically hanging overhead before you climb it.
If you're still keen on the climb after seeing that view, get off the boat at Forsand, where a bus will take you to the start of the hike, then pick you up from the drop-off point for your return journey back via Tau on the public ferry.
The tour departs once a day at 10am, and takes about 8 hours for the entire trip, including the hike. Adult tickets cost around 470 NOK each. The price of the return ferry trip from Tau (around 62 NOK) is extra, and can be purchased onboard.
Alternatively, you can book this super-simple cruise and hike, with a professional guide accompanying you on the trek and all transport, including pick-up and drop-off at your hotel in Stavanger.
On a guided tour
There are a range of other guided tours available to make hiking the rock easier. One of the best, if you want to avoid the crowds en route, is the Sunrise Hike.
Pic: Mabel Lee
Okay, it's an early start – 5am pick-up! – but your reward will be watching the sun rise at the summit and the sense of satisfaction as you arrive back down in time for breakfast just as the crowds are setting off up the path.
What to do near Pulpit Rock
Unless you're driving past and staying near the start of the trail, chance are you'll be setting off from Stavanger, Norway's fourth most populous city.
Stavanger is a great place to base yourself for a few days, with plenty to see and do, including one of Norway's oldest and best-preserved medieval cathedrals.
Gamle Stavanger, or Old Stavangar, is also worth exploring with its cobblestone paths, 18 th -century wooden cottages, galleries and handicraft shops.
And the city also boasts some interesting and quirky museums, such as the Norwegian Canning Museum, the open-air Museum of Archaeology, with Viking Age artefacts and an Iron Age Farm, and the Nordic Petroleum Museum.
Eating and drinking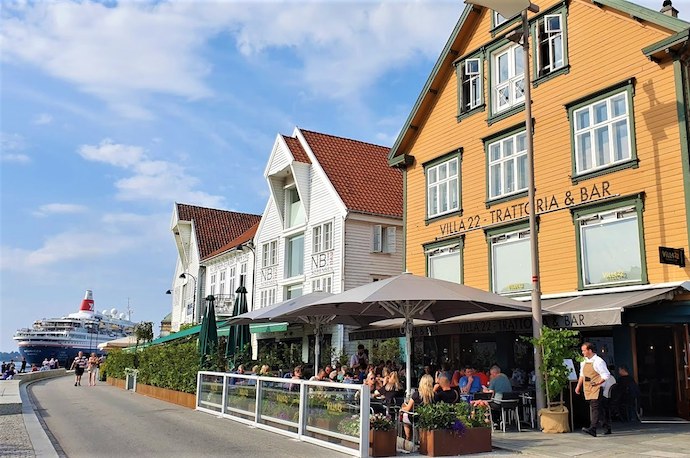 Mabel Lee
Fisketorget is the place to head for fresh seafood (reservations recommended, especially in summer), while the Cardinal pub is a Stavanger institution. Listed in the New York Times' '52 places to go in 2019′, it has 600 beers (on tap and bottle) to choose from.
Alternatively, Villa22 Trattoria & Bar is a crowd-pleasing favourite located on the harbour, serving traditional Italian dishes and coffee alongside a wide selection of cocktails.
Source https://mattwalkwild.com/how-to-hike-pulpit-rock-norway/
Source https://www.dreambigtravelfarblog.com/blog/pulpit-rock-hike
Source https://www.routesnorth.com/norway/things-to-do-in-norway/hiking-to-pulpit-rock/