Ticket Machu Picchu
Machupicchu Terra information and tourist assistance
Entrance tickets to Machu Picchu book now!
What are the new regulations in Machu Picchu?
What are the new regulations in Machu Picchu?
Share on Facebook
Share on Twitter
Share on Google+
Share by email
These are the rules that govern visits to Machu Picchu. Know that the regulations of Machu Picchu had changes regarding the schedule since 2022. These modifications were made thinking about the conservation of the Wonder of the World.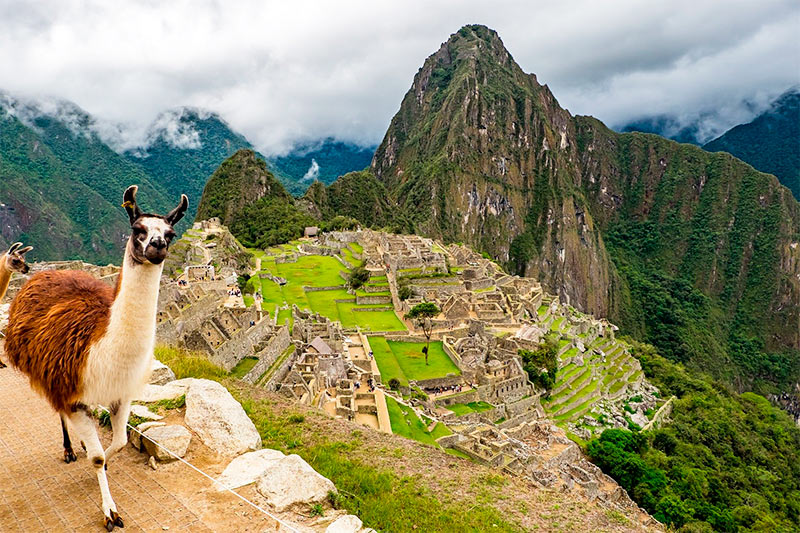 Take into account the new rules of visits to Machu Picchu and enjoy the wonder
Basic rules of entry to Machu Picchu
Regarding the entrance, you will only be able to enter Machu Picchu by presenting your ticket together with your passport or the identity document with which you made your reservation.
Tickets are purchased online or at authorized offices in Cusco. Tickets are not sold at the entrance gate of Machu Picchu.
What are the available spaces and entry hours?
Every year the number of total visitors to Machu Picchu is reorganized. The objective is to protect and preserve the Inca city for the future.
Currently the total capacity of Machu Picchu has been reduced to 3,500 tourists per day maximum.
This number of visitors is divided into four entrance tickets, each one with their respective entrance times:
The Ticket Machu Picchu Only allows entry to the Inca city of Machu Picchu at 9 different times:

1er. Schedule: entrada a partir de las 6 a.m.
2do. Schedule: entrada a partir de las 7 a.m.
3er. Schedule: entrada a partir de las 8 a.m.
4to. Schedule: entrada a partir de las 9 a.m.
5to. Schedule: entrada a partir de las 10 a.m.
6to. Schedule: entrada a partir de las 11 a.m.
7mo: Schedule: entrada a partir de las 12 p.m.
8vo. Schedule: entrada a partir de la 1 p.m.
9no. Schedule: entrada a partir de las 2 p.m.

Group 1: entrance to Machu Picchu from 6 am / A Waynapicchu, from 7 am to 8 am
Group 2: entrance to Machu Picchu from 7 am / A Waynapicchu from 8 am to 9 am
Group 3: entrance to Machu Picchu from 8 am / A Waynapicchu from 9 am to 10 am
Group 4: entrance to Machu Picchu from 9 pm / A Waynapicchu from 10 am to 11 pm

Group 1: entrance to Machu Picchu from 6 am / To the Mountain, from 7 am to 8 am
Group 2: entrance to Machu Picchu from 7 am / To the Mountain, from 8 am to 9 am

1st. Schedule: entrance to Machupicchu from 6 am / To Huchuy Picchu, from 7 am to 8 am
2nd. Schedule: entrance to Machupicchu from 7 am / To Huchuy Picchu, from 8 am to 9 am
3rd. Schedule: entrance to Machupicchu from 8 am / To Huchuy Picchu, from 9 am to 10 am
4th. Schedule: entrance to Machupicchu from 9 am / To Huchuy Picchu, from 10 am to 11 am
5th. Schedule: entrance to Machupicchu from 10 am / To Huchuy Picchu, from 11 am to 12 pm
6th. Schedule: entrance to Machupicchu from 11 am / To Huchuy Picchu, from 12 pm to 1 pm
7th: Schedule: entrance to Machupicchu from 12 pm / To Huchuy Picchu, from 1 pm to 2 pm
8th. Schedule: entrance to Machupicchu from 1 pm / To Huchuy Picchu, from 2 pm to 3 pm

1st. Schedule: entrance to Machupicchu from 6 am / To Inca Bridge, from 7 am to 8 am
2nd. Schedule: entrance to Machupicchu from 7 am / To Inca Bridge, from 8 am to 9 am
3rd. Schedule: entrance to Machupicchu from 8 am / To Inca Bridge, from 9 am to 10 am
4th. Schedule: entrance to Machupicchu from 9 am / To Inca Bridge, from 10 am to 11 am
5th. Schedule: entrance to Machupicchu from 10 am / To Inca Bridge, from 11 am to 12 pm
6th. Schedule: entrance to Machupicchu from 11 am / To Inca Bridge, from 12 pm to 1 pm
7th: Schedule: entrance to Machupicchu from 12 pm / To Inca Bridge, from 1 pm to 2 pm
8th. Schedule: entrance to Machupicchu from 1 pm / To Inca Bridge, from 2 pm to 3 pm

Prohibited objects within the Inca city

If you want to enter Machu Picchu without problems, we recommend not taking any of the following objects:

Tripods, supports or extensions for cameras or cell phones. It is not allowed to enter with 'selfie stick'.
Backpacks, bags or bags that exceed 5 kilos in weight.
Food or luggage.
Illegal substances (drugs or under the influence).
Alcoholic beverages (or under its influence).
Sprays or paints.
Musical instruments, megaphones or speakers.
Heels with hard sole shoes.
Baby carriages (it is preferable to carry a baby carrier).
Sharp objects and / or weapons of any kind
Banners, posters and / or posters.
Clothing intended for advertising purposes.
Canes with a metal tip (older adults can carry a cane with a rubber tip).

Prohibited behaviors in Machu Picchu

Generate tumult, jump or cause disorder in the access and / or any point of the Inca city.
Climbing or leaning on walls and / or structures.
Do any type of activity that distorts the sacred character of Machu Picchu.
Doing obscene acts that are not appropriate in a public place and that violate morality and good customs such as undressing, dressing up, lying down or running.
Smoking or 'vaping' an electronic cigarette.
Make overflights in the airspace of the place with paragliders, drones or any type of smaller craft.

Other prohibitions within Machu Picchu

It is forbidden to go off the established circuits or routes.
Feed domestic or wild animals in the Inca city.
Take illegal routes or any that avoid the established entrance and control of Machu Picchu.
Make loud or annoying noises: clap, shout, whistle, sing.
Make any type of fire or throw waste of any kind.
Enhance filming or photographs for advertising purposes or in high-risk places.

Remember that ignoring any of the rules will cause them to be removed from the Inca city of Machu Picchu with no refund or claim option.

Rules in Huayna Picchu

Huayna Picchu is the mountain located north of the Inca city. The entrance is with the entrance Machu Picchu + Huayna Picchu. The rules and prohibitions are as follows:

The tourist must register their entry and exit at the control point.
In case the tourist wishes to visit Temple of the Luna de Huayna Picchu, you must take a detour from the top of the mountain. This route is closed until further notice.
The average time of ascent and descent to the Waynapicchu mountain is 3 hours. If you also visit the Great Cavern or the Temple of the Moon, it takes 4 hours.
Entry is allowed only to people over 12 years old.
The visitor cannot carry a backpack that exceeds 40 × 35 × 20 centimeters.
The tourist should not go off the marked paths.
In Huayna Picchu the same prohibitions apply as in Machu Picchu.

Rules in the Machu Picchu mountain

Machu Picchu mountain is the summit where the Inca city was built. The entrance is with the ticket Machu Picchu + Mountain. These are the rules that the tourist must follow:

The average time of ascent and descent to Machu Picchu mountain is 4 hours.
The tourist must register upon entry and exit at the control point.
Entry is allowed to people of all ages.
The visitor must not go off the beaten track.
Parents are responsible for the care of children.
The same prohibitions apply in the mountains as in Machu Picchu.

Rules in the Huchuy Picchu mountain

Huchuy Picchu Mountain is the new hiking route in Machu Picchu. It is next to Huayna Picchu. The walk there only takes about 1 hour. The entrance is with the ticket Machu Picchu + Huchuy Picchu. These are the rules that the tourist must follow:

The average time of ascent and descent to Machu Picchu mountain is 2 hours.
The tourist must register upon entry and exit at the control point.
Entry is allowed to people of all ages.
The tourist should not go off the beaten track.
Parents are responsible for the care of children.
The same prohibitions apply in the mountains as in Machu Picchu.

Rules in the Inca Bridge of Machu Picchu

The Inca Bridge was one of the limits of Machu Picchu. It is made from the trunk of a tree so it could be removed in case of invasions. The walk there only takes about 20 minutes. The entrance is with the ticket Machu Picchu + Inca Bridge. These are the rules that tourists must follow:

The average travel time over the Inca Bridge is approximately 1 hour.
The visitor has to register their entry and exit at the control point.
The entrance to the Inca Bridge is allowed to people of all ages.
The visitor must be concentrated on the paths. You can not go out of the allowed paths.
It is not possible to cross the Inca Bridge.
In the Inca Bridge the same prohibitions apply as in Machu Picchu.

Rules on entry with an official tour guide

The official tour guides in Machu Picchu do not they only make the visit pleasant and educational. They are also in charge of advising the visitor on the care they should take to preserve the Wonder of the World. These are the rules that regulate your service:

The tour of the Inca Citadel of Machu Picchu with an official tour guide is mandatory (although in practice this is not the case).
The official tour guide will have to accompany the tourists during the tour from the beginning to the end with any of the circuits, fulfilling a minimum visit time of 2 hours and 30 minutes.
Groups must be made up of a maximum number of 10 people, all accompanied by an official tour guide.
Tourists who entered the Inca citadel accompanied by a guide and who re-enter the Inca site the next shift or the next day, may do so without the tour guide. They only have to show the previous ticket and indicate the name of the guide who accompanied them.
For people who make the tour of the mountains: Huayna Picchu, Machu Picchu mountain or Huchuy Picchu mountain, the guide service is not mandatory.

What penalties are there for not complying with the rules in Machu Picchu?

Failure to comply with the prohibitions in Machu Picchu will determine the expulsion of the visitor, without the right to refund the amount of the entrance ticket. Considering the seriousness of the infraction, the authorities will initiate the corresponding legal actions.
On some occasions, the authorities may restrict the visitor's entry for life. Attacking the integrity of other people, of the Wonder of the World are cases that are punished in an exemplary manner. Another case is an attempt against morals and good customs in the Inca city.
Inside Machu Picchu there are high definition cameras and security guards. If necessary, they can intervene tourists who do not comply with the regulations of the place.

4 cases of breach of rules in the Inca site

In April 2016, Australian tourist Anthony George Katsaros was expelled from the Inca city for photographing himself naked at Puerta del Sol (Intipunku). The authorities indicated that the visitor will never be able to enter the Wonder of the World again.
In October 2016, 15 South American tourists were expelled from the Inca site and made available to the authorities after entering illegally.
In February 2018, two Argentine tourists were expelled from Machu Picchu after having entered clandestinely and staying overnight in the compound. They were immediately expelled and placed at the disposal of the Peruvian police.
In March 2018, three European tourists (a German, a Swiss and a Dutchman) were expelled from Machu Picchu for being photographed showing their butts. They were expelled from the Inca site.

Frequently asked questions about the rules in Machu Picchu

Drones are prohibited inside Machu Picchu. However, you can use it in the city of Cusco, in the town of Aguas Calientes and in the Sacred Valley of the Incas.

Pets are prohibited in the Inca city. There are hotels that take care of them in Cusco or Aguas Calientes.

Baby carriages interrupt free movement in the Inca city, which is why they are prohibited.

Selfie sticks are not allowed. These can cause inconvenience to other tourists who pass through Machu Picchu.

The regulations indicate that the tour in the company of a guide is mandatory in the Wonder of the World. However, in practice this is not the case. Visitors can do the tour without the company of a guide. At the entrance door there are guides offering their services.

It is not necessary to do the tour accompanied by a guide. If you already did it at a previous time or day, you only have to show the previous ticket and indicate the name of the guide with whom you did the previous tour. So you no longer have to hire another tour guide.

Yes, it is possible to leave and re-enter the Inca city. However, this is allowed only with the ticket 'Machupicchu with Mountain'. At the entrance door there are restrooms available and a cafeteria.

At the entrance gate to the Inca city there is a place where tourists can leave their things. In case you are not allowed to enter Machu Picchu with some prohibited objects, visitors can leave their things there.

Tripods are not allowed in Machu Picchu. This is because they interrupt free movement and can damage the floor of the Inca site.

You cannot bring large amounts of food to Machu Picchu. Snacks are allowed as long as the wrappers are not thrown away. Plastic water bottles are not allowed because they harm the environment. Canteens with water are allowed.

Smoking is not allowed in Machu Picchu. A cigarette or electronic cigar can damage the ecosystem of the Inca city.

Entrance with a guide is not mandatory in Huayna Picchu. If the visitor wishes, he can be accompanied by one. However, the tour of the Inca city is necessarily with a guide.

By Ticket Machu Picchu – Last updated, September 21, 2022

Machu Picchu new regulations for 2019

Located 7000 feet above sea level in the Andes Mountains, the Machu Picchu is the world's most iconic archeological sites and the symbol of the Inca Empire built in 1450AD.

Machu Picchu Archeological Site

After been discovered in 1911 by Hiram Bingham, the Machu Picchu was classified as a UNESCO site Heritage and was considered as one of the 7 New Wanders of the World.

Since 1980 the number of tourists and travellers visiting the site have risen by 700%, with a peak at 610,000 people between January and July of 2018, which represents 3% more than the number of visitors of 2016 !

Because of the huge numbers of people at the citadel at once, the sustainability of the site has been threatened, to the point where the government is looking to set new regulations for the visitors.

The goal is to protect the Inca Site by modifying visitation practices.

The new regulation starting in 2018

The new regulations are not set in stone but tourists who visit the archeological site will be expected to follow them in order to enter.

2. All visitors must be accompanied by a certified guide with no more than 16 people per group for one guide. – However if you are returning in the afternoon or the next day you don't need a guide, just show them the ticket from the first guided visit.

3. Visitors can no longer stay in the citadel from sunrise to sunset, they must either choose between the two or get a combo ticket. So either between 6 am to noon or between noon and 5.30pm. If visitors want to stay for both they need to purchase a combo ticket at $70 each

4. The guides must follow one of 3 circuits. The 1st is longer and harder physically but makes you see and experience a wider variety of panoramas and parts of the citadel. The 3rd is easier but offers less panoramic views.

5. Travellers that got a Machu Picchu / Huayna Picchu Mountain combo ticket have to complete their hike within 4 hours or less

The restrictions

Here is the list of things you are no longer allowed to bring in the citadel

No umbrellas in order to mitigate the damage
No food or drinks except water
No baby strolls
No poles or walking sticks – unless the visitor has special needs
No bags lager than 15 x 13 x 8 inches and that exceeds 5kg
No shoes with heels or spiky soles
No drones
No tripods – unless you have a permit
No sprays or paints
No banners or posters
No clothing for advertising purposes
No musical instruments or speakers
No illegal substances
No alcoholic drinks

Suggestions for future visits

In order to help mitigate the damages to the Machu Picchu and help maintain this amazing archeological site here are some of my suggestions of things you can do for your trip.

Choose to come during the low wet season especially if you are not planning to do trekking. The low season is in October and April. The best periods to go during the low season is either between March and April, or between October and November because they have the lower number of tourists and the better weather of the low season.

Stay in Aguas Calientes overnight before going to the Machu Picchu. Aguas Calientes is the little town at the foot of Machu Picchu. Staying there overnight will allow you to make the ascent earlier and make you avoid the tourist busses that usually come around 8 and 9 a.m.

Try to visit the Machu Picchu during the quieter times. The most quiet times to visit the Machu Picchu before being surrounded by people is either very early between 6 am and 8 am or near the closing time around 5pm.

Alternatives to Machu Picchu

There are other alternatives to the Machu Picchu if you still want to visit archeological sites in Peru. Head up north of Peru to the Chachapoyas region.

There is the Kuelap Archeological Site located in the north of Chachapoyas, north of Peru.

Or there is the Warriors of the Cloud Site built in the 6th Century which is bigger and located higher than the Machu Picchu. Read more about it here !

Warriors of the Clouds

For more information about the regulations, check out the official ticketing website here

The New Machu Picchu Regulations You Need To Know

T he state-owned Historic Sanctuary of Machu Picchu is an incredibly popular tourist destination, and all those crowds could have a major impact on the historic site if not regulated properly. To lessen the cultural and ecological impacts of tourism on the UNESCO World Heritage site, and decongest the crowds, Peru's government is implementing significant changes to the visitation practices that travelers to the magnificent 15th-century Inca complex should be aware of before planning their trek.

Changes starting in 2019

New Machu Picchu entrance times

As of January 1, 2019, entrance to Machu Picchu will rely on a schedule comprised of three shifts:

First shift: 6:00 AM to 9:00 AM
Second shift: 9:00 AM to 12:00 PM
Third shift: 12:00 PM to 3:00 PM

Note that visitors can only enter at the top of the hour (6:00 AM, 7:00 AM, 8:00 AM, etc.) and that they are allotted a maximum of four hours from the time they enter. If you bought a 6:00 AM ticket and show up at 8:00 AM, you won't be allowed in. Closing time remains the same as before, i.e. 5:30 PM.

Only 2,500 people are permitted through general entrance daily. 500 additional people are permitted through the Inca Trail permit.

Since July 1, 2017, visitors need to be accompanied by a certified guide (leading no more than 16 participants) to gain entrance to Machu Picchu. Although this rule was not always enforced in the past, it will be imposed and monitored in 2019.

Hike changes

Starting in 2019, visitors will need to choose between hiking Huayna Picchu or Machu Picchu Mountain. If you want to hike both, you will need to do so on different days and purchase a second ticket.

There will be no change to the number of people permitted entrance to Huayna Picchu at 400 people per day, with 200 in the 7:00 AM group and 200 in the 10:00 AM group. However, the number of people permitted entrance to Machu Picchu Mountain has been reduced from 800 per day to 400 starting on January 1, 2019. There will be 200 permitted in the 7:00 AM group and 200 permitted in the 9:00 AM group.

An official tour guide is required to enter the Huayna Picchu and Machu Picchu hikes.

New waste restrictions

Starting in 2019, packaged lunches will not be permitted inside the Machu Picchu grounds. Small snacks are still allowed inside, however. Additionally, non-reusable water bottles will no longer be permitted inside either. Make sure that any water container that you want to bring with you to Machu Picchu or one of the other hikes is a reusable container.

Source https://www.ticketmachupicchu.com/new-regulations-machu-picchu/

Source https://luttitravels.com/2019/01/14/machu-picchu-new-regulations-for-2019/

Source https://matadornetwork.com/read/new-machu-picchu-regulations-need-know/