The Ultimate Backpacking Packing List: Everything You Need To Travel – 2022
Figuring out what to bring backpacking can be quite a challenge! You have one small bag and so much stuff you could bring. How do you decide exactly what are the backpacking essentials, and what to leave behind? This all makes a huge difference!
One of the most common questions we get from folks about to hit the road is – what gear should I take backpacking? What are the essential items I need? Well, read on. We will show you exactly what to pack while backpacking by giving you my top-secret lightweight backpacking checklist.
This is the definitive backpacking checklist. We've put together this epic guide filled the backpacking essentials – just the things you do need, and some bold claims about the things you don't need to take backpacking.
Here you will find a complete backpacking packing list of everything you will need for a trip abroad so you can purchase your gear before you set off adventuring around the world.
Backpacking Checklist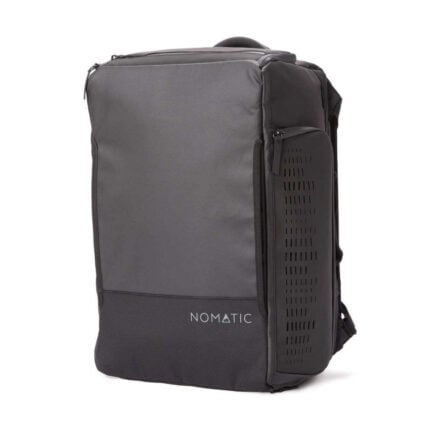 Nomatic Travel Bag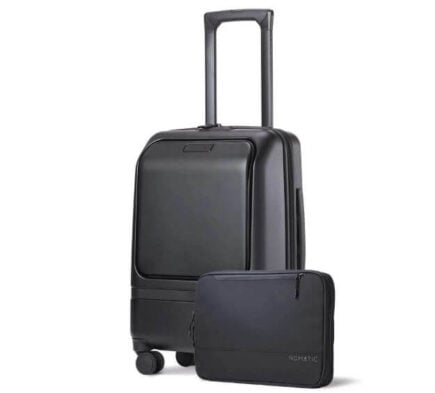 Nomatic Navigator Carry On
GoPro Hero 9
Arcteryx Beta

Insurance From World Nomads
Our Top Tips and Packing Hacks…
Before we get into the details of this, let us start by sharing our absolute tip-top tip for travel packing – pack light.
Whether you are camping or hiking, travelling to Europe or Asia as a baller or on a budget, it doesn't matter what sort of backpacking trip you're planning. You need to travel as light as possible. This is why we'll only be talking about the backpacking necessities.
Note that This is a purposely lightweight backpacking checklist to help you achieve this.
This list will show you exactly what to pack (and what to leave at home!)
Photo: Samantha Shea
This is the most important backpacking packing tip I can give you. Travel light! And here are some of the reasons why packing light is so damn important;
By travelling lighter you are saving yourself the strain and the stress of a weighted pack. Heavy bags suck, and more shit = more weight.
Travelling lighter will enable you to have spare space, meaning you can fit more stuff in your bag if need be. See a nice souvenir for mum? Want to pick up some camping gear? If you pack light, you'll have the space to add more gear to your pack…
You might be thinking, 'But there are over 100 items recommended on your backpacking essentials checklist! I'll need 4 backpacks to fit them all!'
This is true! We make a ton of recommendations in this guide, and it would be silly to try and bring all of them along with you on your backpacking trip.
We've done our best to break this backpacking checklist down into several sections so you can pick what to take backpacking based on the kind of trip you're doing. Not everyone is going to need a sleeping bag and hiking boots, some will reserve more room for specialist camera gear and extra batteries. Others will rightly prioritise room for emergency toilet paper!
One thing that everyone should prioritize though is respecting mother nature and not leaving anything behind. The less you pack, the less you can leave behind. Packing eco-friendly products is an extra bonus of course
So keep this in mind as you peruse this list – only pack the gear that best fits your travel style and itinerary. Doing so will turn this epic checklist into your perfectly tailored minimalist backpacking list.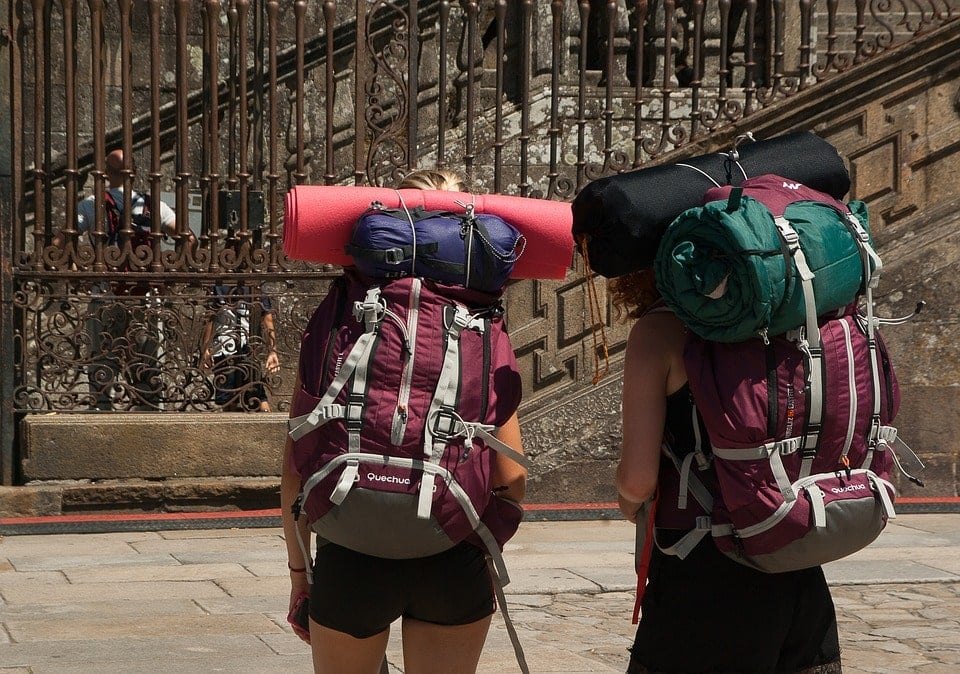 This backpacking gear list will equip you with everything you need
Choosing What To Pack
Another great tip is to always pack appropriately for your destination and for the kind of trip you intend to have. For example, keep a firm eye on climate – if you are backpacking Europe in July then you won't need too much in the way of warm clothes (except a jacket for the UK!). Likewise, if you're just going to be hitting the beach or exploring cities then hiking shoes are probably not all that essential! And if you aren't a Digital Nomad or aspiring entrepreneur, then you can probably take that laptop off your backpacking list.
By keeping note of the travel style and itinerary of your backpacking trip, you'll be able to quickly and easily identify which gear on this backpacking checklist is right for you to bring along on your travels…
Looking to find your tribe?
Networking or Digital Nomad-ing – all possible at Tribal!
Introducing the best Coworking Hostel in the World – Tribal Bali!
A unique coworking and co-living hostel for those that want to travel the world while working from their laptops. Make use of the massive open-air coworking spaces and sip on delicious coffee. If you need a quick screen break, just take a refreshing dip in the infinity pool or grab a drink at the bar.
Need more work inspiration? Staying at a digital nomad-friendly hostel is a really smart way to get more done whilst still enjoying the social life of travelling… Mingle, share ideas, brainstorm, make connections and find your tribe at Tribal Bali!
What to Bring Backpacking – 10 Essential Backpacking Items
Out of all the things you could bring on your backpacking adventure, these are my 10 highest recommendations. This is the backpacking gear that we have been using for over a decade as we travel around the world. There's a lot of gear out there that you don't need but in my opinion, every traveller should have these ten backpacking essentials on their checklist…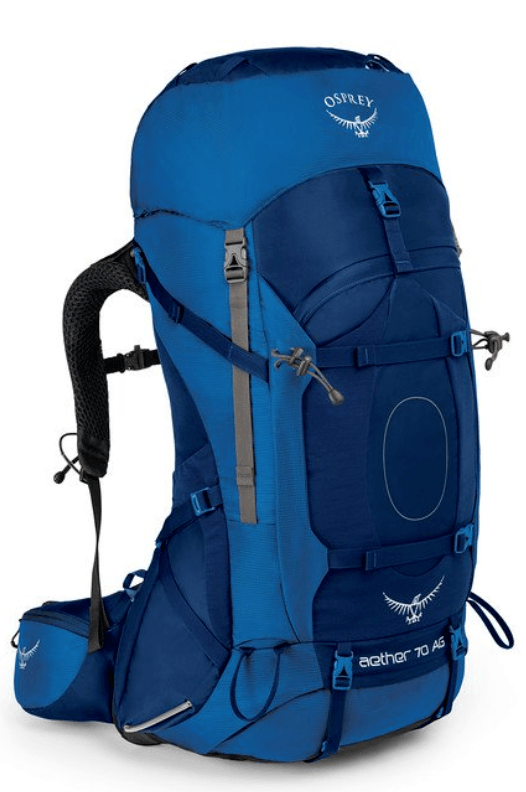 #1 Travel Backpack! (Like the Osprey Aether 70 Litre)
The most important item on this backpacking gear list is a good backpacking backpack! After all, you can't be a backpacker without a backpack and picking the right backpack is key!
I myself am a big fan of Osprey packs They are really bloody comfortable, well designed, ergonomic, hard wearing and they come with a lifetime warranty. Backpacks come in all kind of shapes and sizes but we suggest picking a backpack in the forty- to the sixty-litre (40l – 60l) range.
Lots of us here at TBB use the Osprey Aether backpack (read the full review here) but there are lots of great options out there.
Picking the right travel backpack is very important; you are, after all, going to be pretty much living out of your pack. You can't compile the ultimate backpacking gear list without the right backpack! Remember to throw in some good packing cubes too so you can keep everything organised!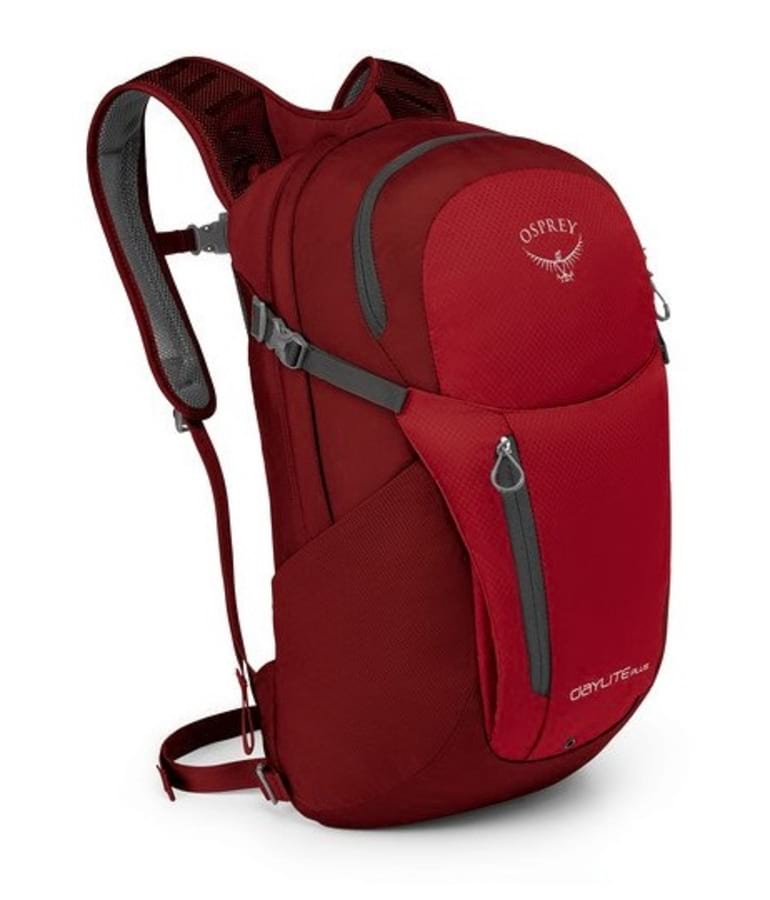 #2 Daypack – (Like the Osprey Exos)
Most of us here at TBB travel with a big backpack which we use for keeping most of our stuff and traveling and then a smaller pack which we use for day trips and stuff.
We recommend looking at the the Osprey Daylite; it's super comfy and of great quality. It's versatile as hell so can be used for beach days, going shopping, day hikes, overnight camping trips or simply for carrying your backpack to the coffee shop.
Want a few more options? Have a look at our guide to the best travel backpacks to see which suits you best.
If you don't like the look of the Exos then go and check out our detailed post on how to choose the best daypack for travel.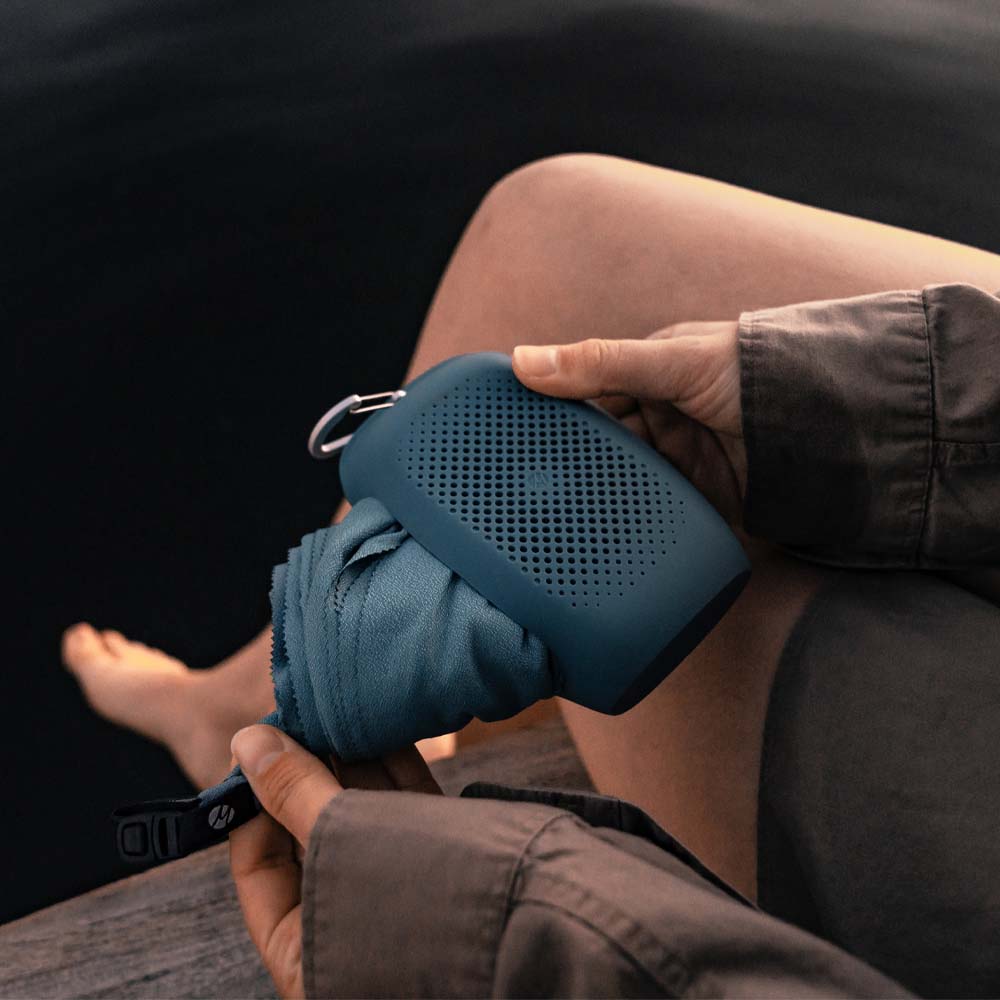 #3 A Proper Travel Towel (Gotta stay dry!)
Towels are essential backpacking gear as a lot of hostels don't provide them or if they do, they may not really be all that clean. However don't bring a 'normal' towel on your backpacking journeys, they are big and take up loads of room in your pack and they take ages to dry.
Travel pros like use micro-fibre dry towels series that roll up into tiny, space saving proportions AND they dry unbelievably quick. Granted, they are not quite as comforting as a cotton towel but its a trade of that travellers need to make. A good micro-fibre travel towers is essential travel gear on any ultimate backpacking gear list.
The Matador micro-fibre towel range are made by travellers for travellers. They are super light, and most importantly dry very quickly and are perfect for all types of backpacking trips.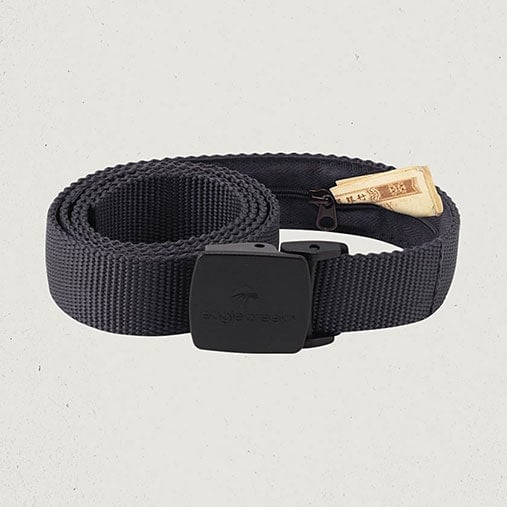 #4 Travel Security Belt (hide your cash!)
I take travel security very seriously, so I never travel without this incredible product.
To keep your money hidden on the road, I strongly recommend picking up one of these beauties – it has a hidden inner pocket in which you can hide up to twenty notes or some marijuana…
I never travel without a security belt and it's helped me keep my money hidden and on my body whilst travelling through more dodgy countries but it's useful for all types of backpacking trips. Travelling with a money belt is a small investment that helps keep your money safe.
#5 Combination Padlock (For your backpack and hostel lockers!)
Travel Padlocks are very important for a few reasons.
First, you can lock your bag up when you need to. Connect the lock between the two zippers and BOOM! Your bag is safe from any intruders. This will help keep you at ease when you have to be apart from your bag.
Padlocks are also VERY handy when staying in hostels. Most hostels provide some sort of lockers, but not all of them provide locks for those lockers (or even worse – they charge for them!). However, I don't always trust hostel padlocks for security reasons and of course, little padlock keys are all too easy to lose.
Always pack a few good quality, combination padlocks. They slot easily into the little pockets and compartments of your backpack and are so very useful. Just remember to remember the combination…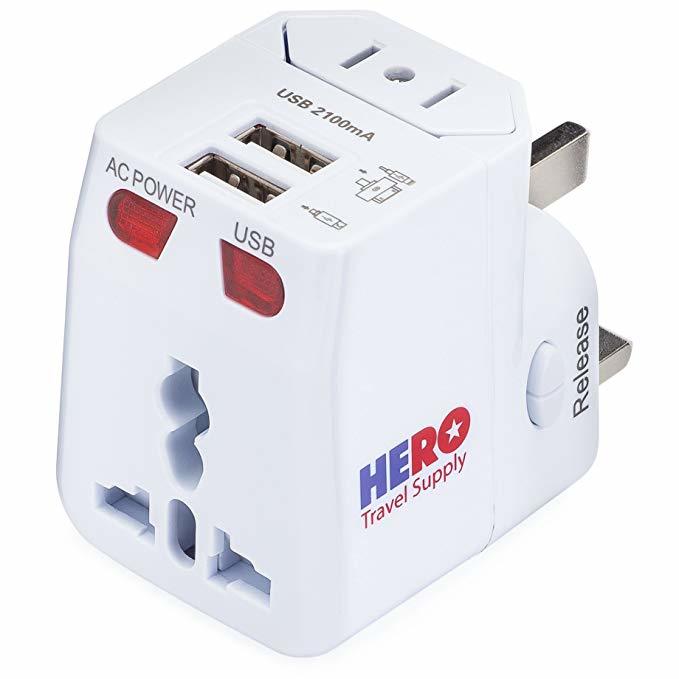 #6 World Travel Adapter (a MUST have)
Travellers all hope for the same thing, that one day the world will unite, and all decide upon a universal size for power adapters…
Well until that happens, you're going to need a travel adapter and they're useful for all types of backpacking trips.
There are currently 15 different types of power adapter sizes in use around the world! The best way to ensure your beloved electronics get charged regardless of the country you are in is by using a universal adapter.
It's worth splashing out a bit here and getting one that can charge a laptop and two USB devices at once.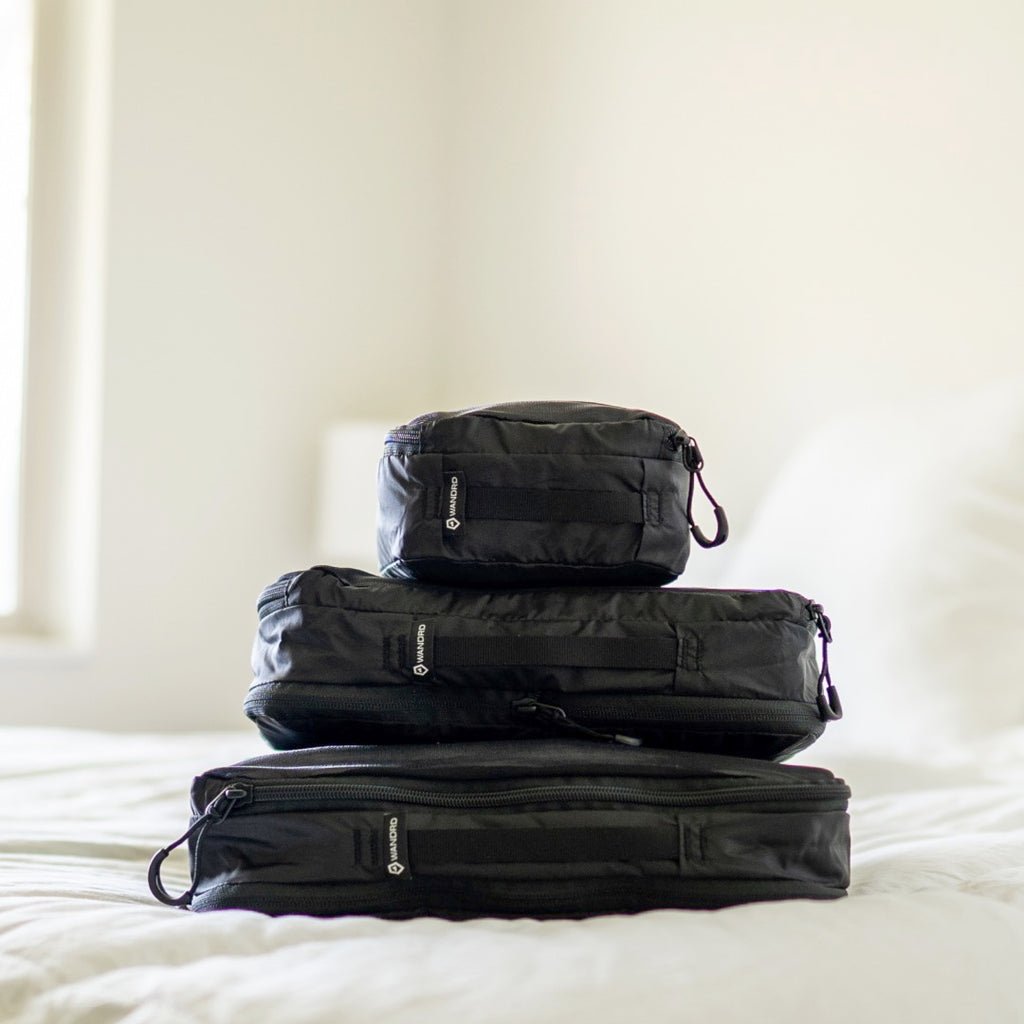 Wandrd Packing Cubes
#7 Wandrd Packing Cubes
In case you have never used them, packing cubes are little compression cubes that allow you to neatly pack clothes in in order to help facilitate better packing. They allow you to pack more stuff, and to keep it all better organised.
For the longest time, I thought that packing cubes were a superfluous indulgence, but boy was I wrong. Now I never travel without a few.
These ones from WANDRD are great quality and excellent value for money.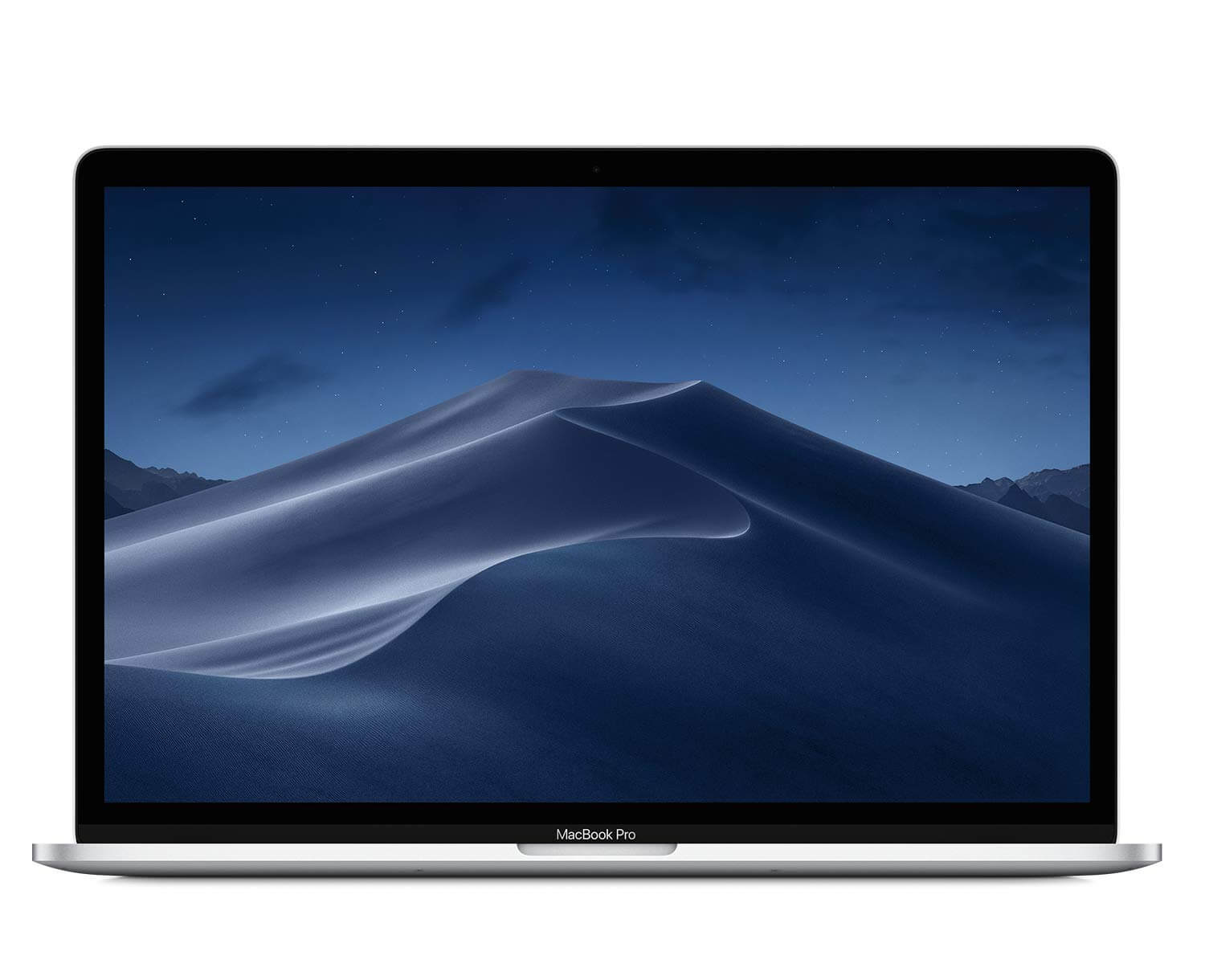 #8 A travel-friendly laptop!
We only really recommend bringing a laptop traveling for a few reasons. 1) You make money or need to work online, or 2) you really really love your laptop. Otherwise, backpacking is a great opportunity to unplug and get offline for a while.
For the Digital Nomads and laptop enthusiasts out there, you'll want a high-quality piece of technology – and we've got just the thing for you.
One of the best investments we ever made was our MacBook Pros. It's got a great UI, it's very durable, and it helped us take The Broke Backpacker to the next level.
If you looking to start a blog, or make money online, it's our highest recommendation. Check out this post for a full breakdown of travel-friendly laptops.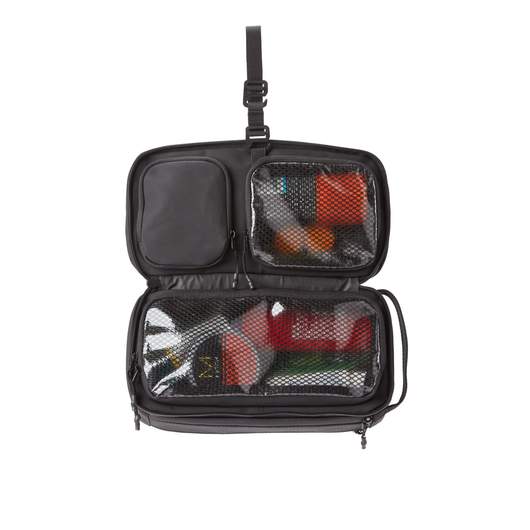 #9 Nomatic Toiletry Bag (Convenience in ways you never thought possible)
Hygiene, haircare and skin care all need to be maintained during a backpacking trip and so you will need to bring along some toiletries.
The best way to do this is to invest a dedicated toiletry bag.
This one by Nomatic is possibly the best toiletry bag on the market. It is made from water resistant, wipe cleanable material that guarantees longevity and it offers excellent organisational capabilities. It is also comes with a hang-up-hook so you can hang it over the shower head or your hostel bed.
We like to say that we've never really feel like I've moved into a place until we hang up our toiletry bags. Backpacking travel toiletry bags rock!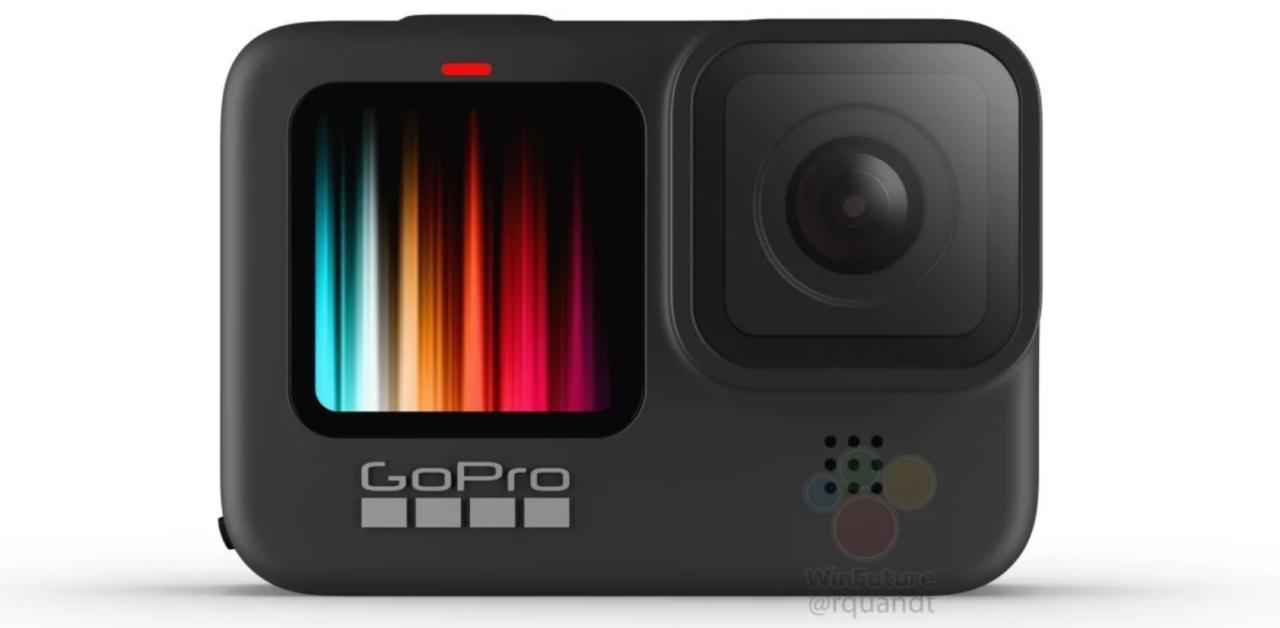 #10 GoPro Hero9 Black
Every traveller needs a camera, right?
The performance of action cameras has increased significantly, whilst the overall price has come down – making them more affordable. GoPro is the leading action cam brand for a reason: the image quality and stabilization technology of their cameras are unmatched. What's great is that you get a decent piece of camera gear in such a small package.
Of course, not everybody needs a camera as many of us are quite content to use our smart phones. Still, investing in one of these means you can take some awesome videos and capture those special treasured travel memories.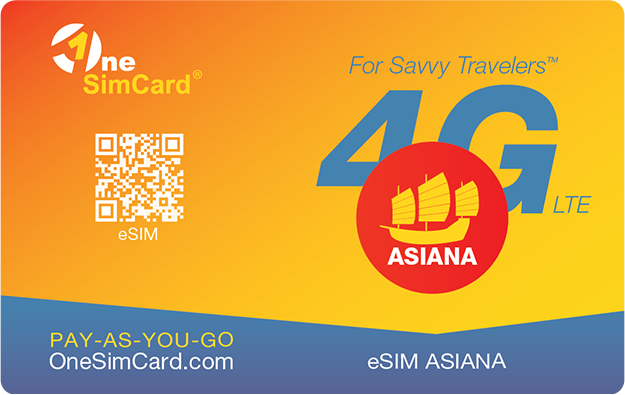 #11 – eSim by Onesim
The good news about Planet Earth is that there is excellent 4g and 5g Internet coverage, taxi apps and food delivery apps in pretty much all cities and towns (but it does get patchy once you venture out into the wilds and wilderness). The bad news is that your native SIM card will probably not work once your leave your native country and so you will not be able to access any of this online goodness until you rectify that particular situation.
You can waste time hanging around phone shops queuing to get a plastic sim or you can is,ply install a eSim onto your phone before you leave home. You just access the OneSim site, choose the package for whatever country you wish to visit, download it and off you go – you are online the moment you land at the airport.
eSims are easier to set up and better than the environment than plastic sims. The downside is that not all phones are eSim ready.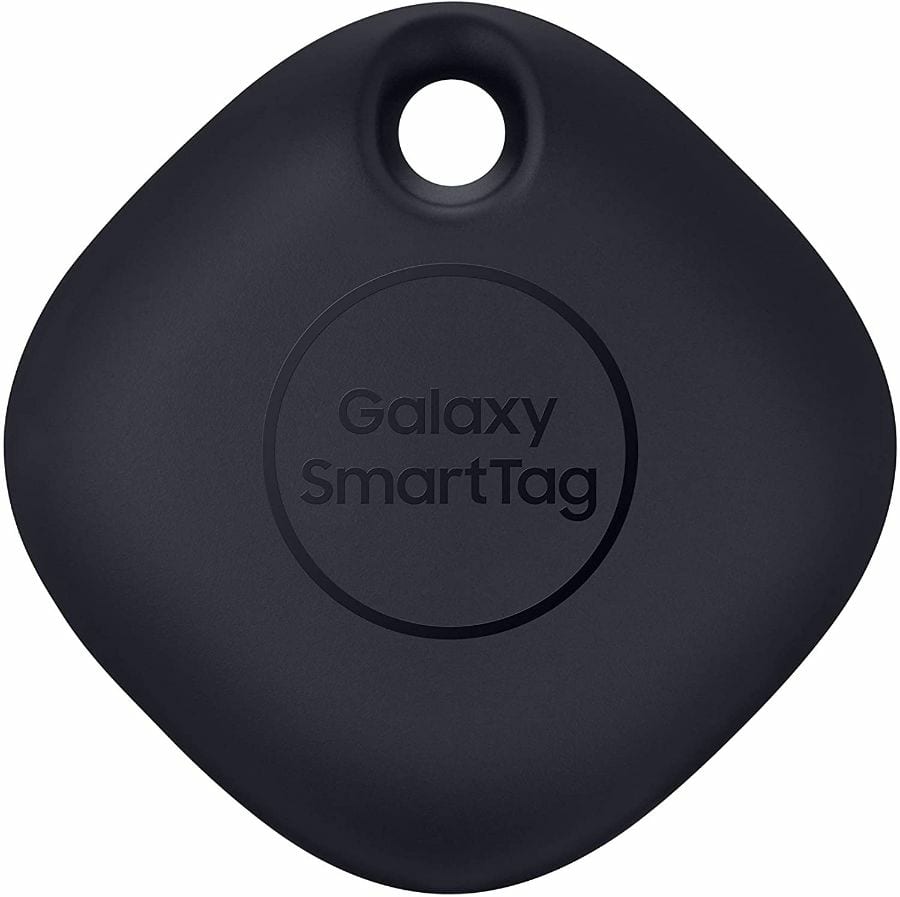 #12 – GPS Luggage Tracker
You may know this, but right now airlines are losing record amounts of bags and suitcases some of which are never to be seen again. To help to find your bag in the event it does go missing, just pop a GPS luggage tracker inside it and you will be able to identify exactly where on earth it is.
A good, reliable GPS luggage tracker has emerged as an essential piece of travel packing.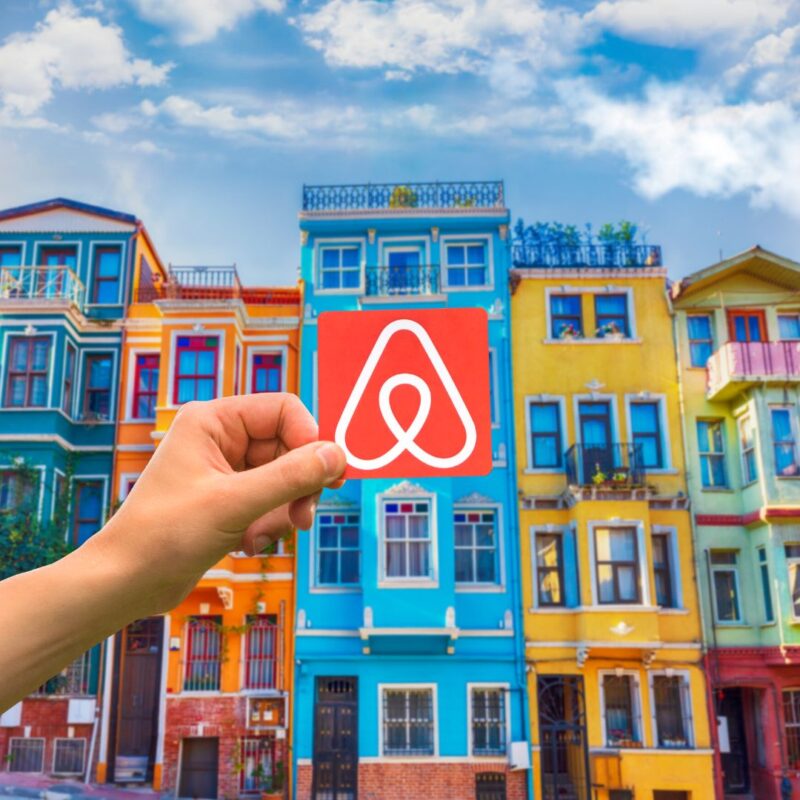 Why stay in a naff hotel when you can stay in a cosy, stylish local house instead? And for half the money too!
Stay somewhere EPIC and save your hard-earned dollars — from houses to barns to castles and caves, there is an Airbnb for every occasion!
Best Backpacking Clothes Checklist
Whilst we were all born naked, and have some of our best times naked, clothes are nevertheless a part and parcel of life pretty much anywhere on earth. Whilst dressing for day to day life at home is presumably second nature to you by now, dressing for travel can be a bit more complicated.
As such picking the right clothes when backpacking is super important. Here are a few tips to get you all started…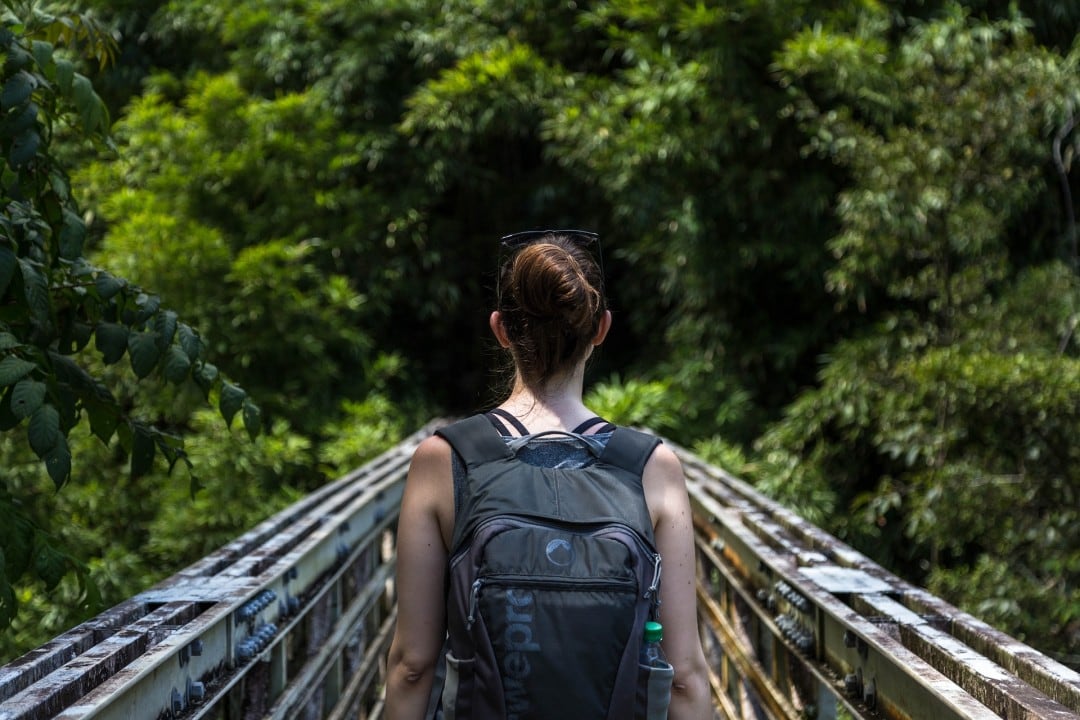 Wondering what to bring backpacking? These are our top clothes recommendations
Pack light clothes – Hot or cold weather, pack clothes that fold up small and don't weigh too much – avoid denim jeans and pack hiking pants instead! Even if you are heading to freezing weather, it's better to bring clothes that you can layer up with rather than bringing a big heavy jacket. Cotton is light and breathes. Splurge on the more sweat-resistant stuff if you can and always pack some rain gear!
Dress dark – Unleash your inner goth and dress dark! Darker clothes hide annoying stains and can be worn for longer. This is extra important because you can expect your backpacking clothes to be on a quicker rotation than your normal wardrobe.
Bring fewer clothes – Clothes can be found for pretty cheap in most parts of the world, so rather than overpack, bring slightly less than what you need and pick up anything else you might need on the road. This is especially true for places like India and Thailand where you can find amazing, local made clothes for amazing prices.
These are my top recommendations for the best clothes to wear while travelling/backpacking. This travel packing list will see you through heaps of different scenarios.
Underwear (x5): It can be surprisingly hard to find underwear that fits in Asia… Pack enough before you go backpacking!
Thin hiking trousers (x1): Craghoppers for both men and women make the best stuff and their NosiLife range is impregnated with mosquito repellent. I've been wearing Craghoppers hiking pants for years and swear by them – it's tough, light, good value and keeps mosquitoes at bay.
Long-sleeved mosquito repellent shirt: A long sleeve sun shirt is a backpacking necessity when travelling to certain areas, mosquito repellent shirts are a lifesaver when trekking or hanging out in tropical climates.

Travel clothes are a great investment
T-shirts / Tank tops (x4): Easy to find on the road, don't stress too much about these.
Base Layer (x1): Crucial for keeping warm, I swear by my Helley Hansen. Many can also double as a long sleeve sun shirt.
Lightweight technical fleece: Essential when you're on buses or trains that have the AC turned to 'freezing'.
Evening wear (x1) While not quite backpacking necessities, it's nice to have for a night on the town! Again, I tend to stick to Craghoppers; they have some smart shirts which are also tough and practical.

You'll need some long-sleeve clothes if you are heading to cooler/colder areas
Sunhat (x1): If you're heading to the scorched plains of Backpackistan, you need to keep your head covered. My Barmah bush-hat has accompanied me on many adventures.
Buff (x1): One of my favourite travel accessories on this backpacking checklist, I wear one on my wrist at all times; it's great for keeping the sun off or covering your mouth and nose to keep dust out. I also use it as an eye mask on long haul transport and in dorm rooms.
Bandanas are cheap and versatile – some of my favourite budget backpacking gear
Indestructible sunglasses: I have probably destroyed over one hundred pairs of sunglasses… For a backpacking adventure, it's worth investing in a decent pair of sunnies and I recommend Abaco; these are specifically built for travellers and are pretty much impossible to break.
Warm Gear: If you're heading into the mountains this is the most important section of the backpacking gear list. Do yourself a favour and pick up a pair of water-resistant gloves, a hat with ear-flaps, a down jacket, good quality rain gear and some lightweight hiking shoes.
I've been using my RAB Neutrino for years and it was a great investment. I never travel without my RAB, I know that if I have to sleep rough I can survive a night as long as I have my trusty down jacket. It weighs just 650grams, folds down super small and will keep you very warm indeed.
Cold weather = you need good gear including warm gloves and a hat!
Trekking trainers: Don't go travelling around the world without decent shoes! I personally swear by North Face Hedgehogs and have been wearing them for nearly a decade. They are a good lighter option to hiking boots.
Technical sandals: If you're going to be spending a lot of time trekking in the jungle, hanging out on the beach or sailing then it's worth bringing a pair of good quality technical sandals; Teva make the best hiking sandals in my opinion. Alternatively, you could pick up some lightweight hiking shoes.
Flip Flops: Not all backpacking clothes has to be techy. You can make yourself comfy by packing a pair of these along.
If you want the best backpacking gear, take EXTRA CARE with your footwear!
Backpacking Necessities – Technology Checklist
Camera: If you want to take a camera and you're new to photography I suggest getting something by Lumix, they offer great bang for your buck and is ideal for taking quality travel photos. Check out this incredibly detailed post for a breakdown of the best travel cameras, or best travel tripods if you're really interested in travel photography.
You won't need a camera, but if you take photography seriously then go with one of these recommendations
Laptop: Since I make a living online, I travel with some top-notch tech. Buying a MacBook Pro was the single best investment I ever made. Check out this incredibly detailed post for a breakdown of the best travel laptops for digital nomads and backpackers.

Are any Digital Nomads out there?
USB flash drive: Endlessly helpful.
USB card reader: Essential if you're into your photography.
World Travel Adapter: This could easily top the list of backpacking essentials. It's worth splashing out a bit here and getting one that can charge a laptop and two USB devices at once.
A travel adapter is a must
Smartphone: If you have a good smartphone, you might not need a camera – it totally depends on how much you care about your photos.
Portable battery: Extremely useful for keeping your phone and camera charged whilst adventuring. I travel with two as I'm often trekking and away from power.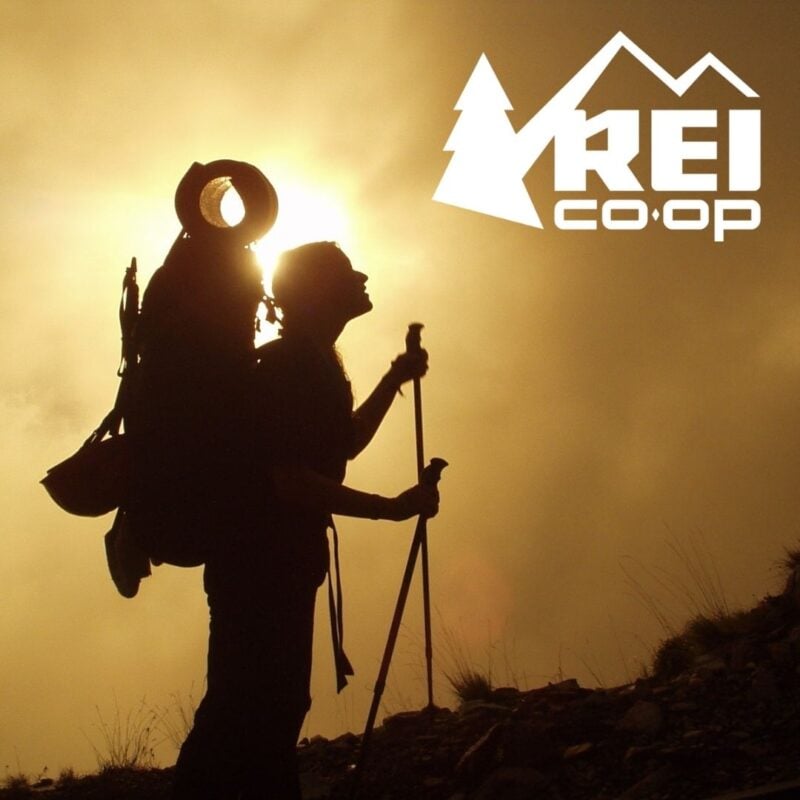 REI is one of America's biggest and most-loved outdoor gear retailers.
Now, for just $30, get a lifetime membership that entitles you to 10% OFF on most items, access to their trade-in scheme and discount rentals .
Backpacking Packing List – Adventure Checklist
If you're a keen hiker or adventurer, you know that you'll need to carry more gear… It's great to pack light but if you're spending a lot of time camping out or hiking through the mountains, it's important to be prepared. This camping gear checklist has got you covered on everything you'll need for your epic hikes and camping delights.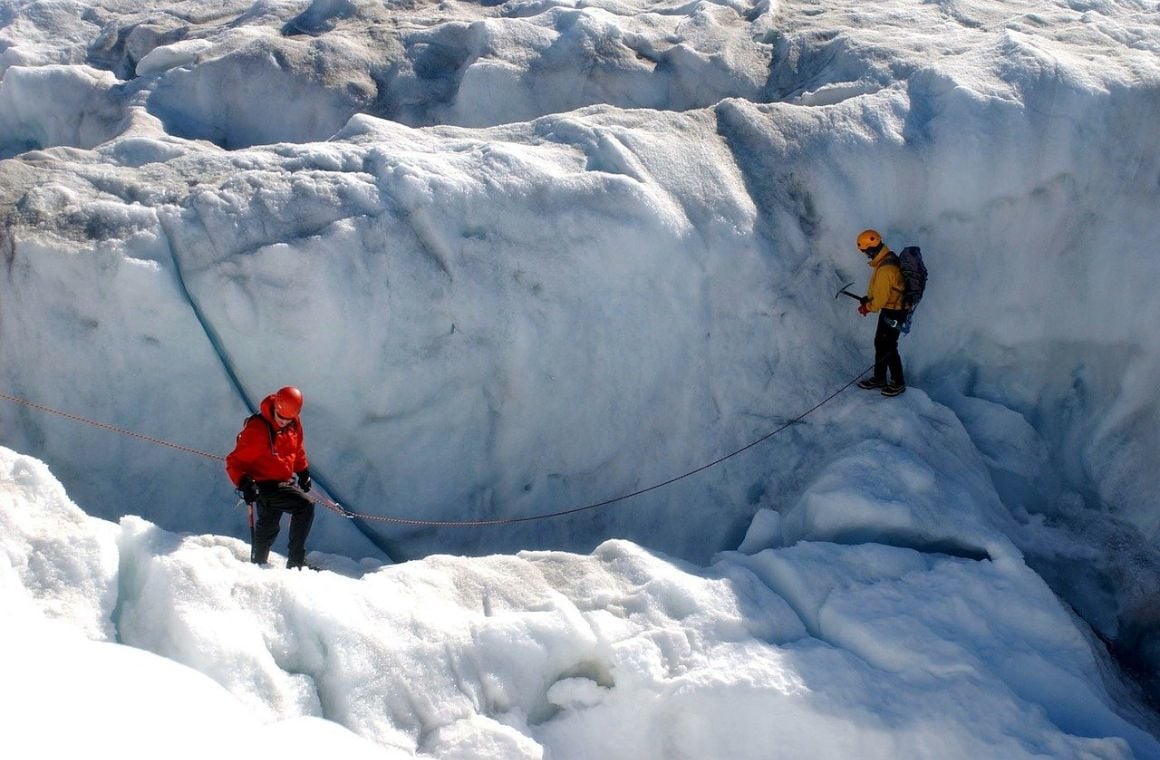 Head-torch: One of the most useful items on this backpacking checklist! Head-torches are useful for caving, hiking and bathroom trips when the power's gone out. Check out my post on the best headlamps for travel.
Pocket Blanket: Lightweight, waterproof, super compact pocket blanket is a great addition to your backpacking checklist. Doubling up as an emergency poncho, a picnic blanket is worth its weight in gold when chilling, or camping, on the beach. This is a great item to have, even for someone looking for a minimalist backpacking list and if you want to roll around with your significant other, a picnic blanket is well worth packing.
Camping Hammock: Lighter and more portable than a tent. Plus, chicks dig hammocks… I always travel with a parachute hammock. Not an absolutely essential item, but one of my favourite items on this backpacking packing list.
Mosquito Net: Put a box-shaped net on your backpacking list if you're headed to the Tropics.
Cable ties: Always worth packing a couple, especially if you're off on a motorbiking adventure.
Carabiners: I always pack a couple of these. Simply clip them to your pack and use them when you need to attach stuff to the outside of your pack, fix things, hang up mosquito nets…
Sleeping bag liner: Useful when the sheets are not so clean or you want to sleep under a blanket but it's damn hot. Check out all our favourite sleeping bag liners. If you're serious about camping you might also want to look at some lightweight sleeping pads too.
Small sewing kit: Fix your own shit, you'll save some money.
Backpacking Supply List – Hiking Gear Checklist
You may not need a lot of the gear below, but if you're planning an epic expedition and will be away from civilization a lot it does make sense to invest in some of this must-have hiking gear. Some of us at TBB always travel with a tent as it has saved a ton of money on accommodation over the years. This is our hiking/camping gear checklist…
Multi-tool: We've been using our ultra-lightweight Leatherman Skeletool for years, it's the perfect companion for any backpacking adventure. Check out our guide to the best multitools here for some more options.
Portable Stove: If you are hiking/camping, then this obviously needs to be on your backpacking equipment list. I have a pocket rocket which serves me well – check out my post on the top backpacking stoves to find out if you really need a stove for your travels.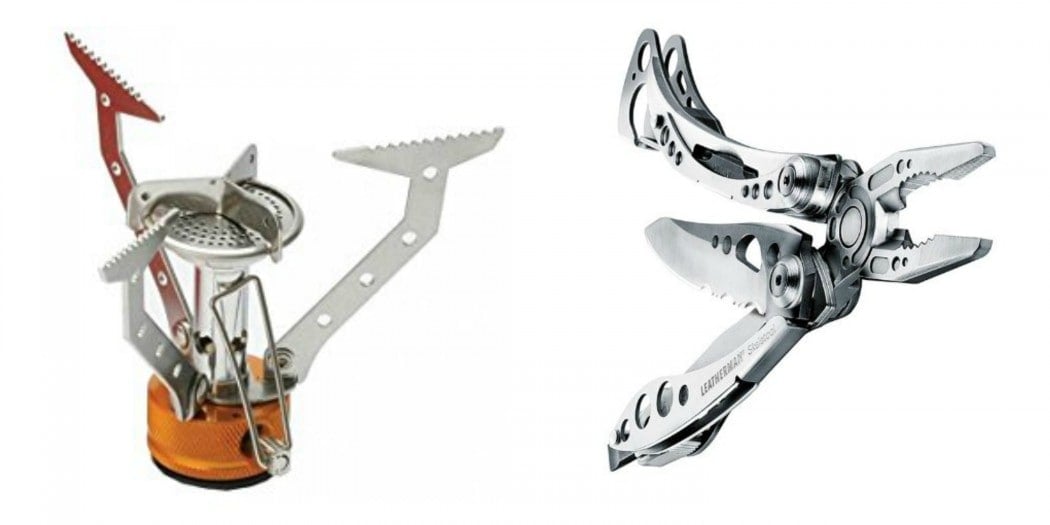 Everything on my hiking equipment list looks like a futuristic weapon
Tent: If you're camping, you'll need a tent… Check out my detailed post on the best tents to take backpacking.
Hammock: Even if you're not sleeping on the beach, a camping hammock always comes in handy when backpacking and most hammocks take up next to no room in your pack. Check out my article on the best camping hammocks for travelling!
Sleeping pad and sleeping bag: Klymit makes the best value sleeping pads. Check out my post on the best sleeping pads to take backpacking. If you are hiking and camping a lot, this is obviously a must when it comes to your backpacking equipment list – without a sleeping pad, you will get seriously cold.

Some crucial hiking/camping gear
Water bottle: Every backpacker should hit the road with a water bottle – it'll save you money and help reduce your plastic footprint on our amazing planet.
Grayl Geopress: The best option for purifying water.
Water purification tabs: A much cheaper option for purifying water.
Take your water safety seriously!
Backpacking Packing List – Toiletries Packing List
In our wash bags, my backpacking essentials are…
This travel toiletries list has all the essentials. Ladies – pack more as you may need.
Backpacking Packing List – Medical checklist
It's always worth packing a small first-aid kit. On our travels, we've been hospitalized multiple times between us, been in a couple of motorbike accidents and had more hangovers than you can count. Our first aid kits saved my ass on more than one occasion…
I recommend picking up a pre-assembled first-aid kit and then pimping it out with all of the below.
Personal medicines such as inhalers
Paracetamol, ibuprofen, and aspirin
Disinfectant spray
Disinfectant wipes
Mosquito repellent(at least 40% DEET)
Antihistamines
Bandages and gauze
Plasters in various sizes
Steri-strips
Throat lozenges
Condoms
Ciprofloxacin (the best thing to take for traveller's diarrhoea. Prescription only in the UK so please take medical advice before taking)
Malaria pills if applicable
Backpacking Packing List – Documents checklist
It helps to be organized before you hit the road; we travel with all of the below in a plastic wallet, it may sound nerdy but when you're at a politically charged border crossing you will get across a lot faster if you are organized.
Flight, train, and bus tickets
Travel Security Belt: The best way to keep your money hidden.
Address of your first hostel (even if it's fake).
Valid Passport
A laminated copy of your passport
Debit Cards x 2
Credit Card
Dollars or Euros
Some, one-dollar bills for tips
Driver's license
Student ID
half a dozen passport photos for visas on arrival (you normally need two per visa).
Insurance information, home contact details, and health information as part of a laminated card.
Backpacking Essentials – Travel Insurance!
Do you need Travel Insurance for your trip? Even if you're only going for a few days, that's more than enough time to get smote by wrathful angels. Have fun, but take it from us, overseas medical care and cancelled flights can be seriously expensive – insurance can, therefore, be a life-saver.
Travel mishaps can and do happen and it is well worth thinking about insurance before you leave home.
We use World Nomads which specialises in covering digital nomads and backpackers. Why not get a quote from them yourself?
Do be sure to read the terms and conditions to make sure that the policy covers your needs.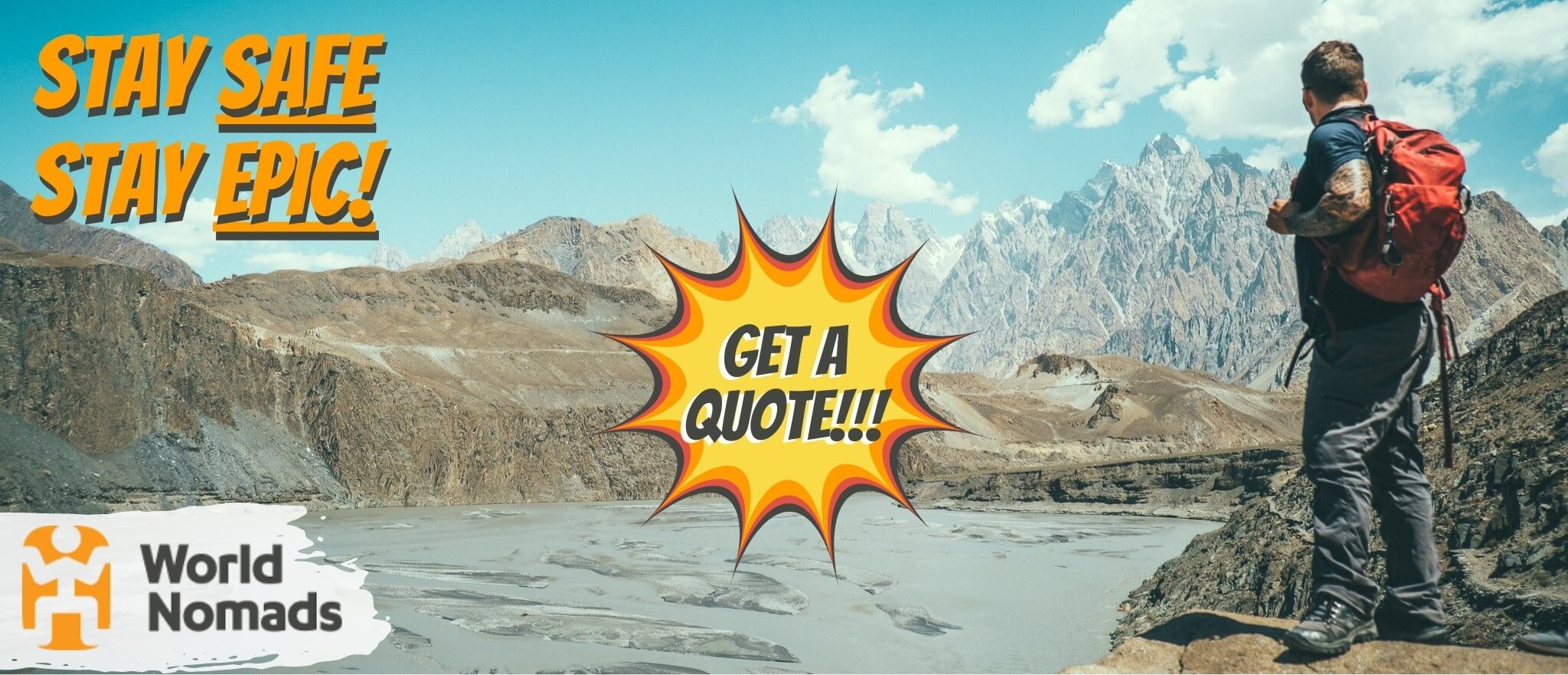 It's good to get lost sometimes, but it's also good not to get too lost. There are people that want you home in one piece.
There's one travel insurance provider The Broke Backpacker trusts for all his wildest shenanigans… World Nomads!
Click the button below to get a quote on your insurance or read our in-depth review of World Nomads' coverage. And then… let the shenanigans begin.
FAQ about the Best Backpacking Packing List
Still, have some questions? No problem! We've listed and answered the most commonly asked questions below. Here's what people usually want to know:
What are the essential items for backpackers?
Every backpacker needs a good backpack! After that pick up a good water bottle, some hiking boots and a compass.
What to pack for 3 months of backpacking?
Make sure you have a good travel backpack. Then bring a rain jacket, good shoes, 10 sets of underwear, and always remember a headtorch!
How much weight should you carry in a backpack?
Don't pack more weight than you can carry and don't put too much pressure on your backpack. As a general rule, don't try to carry more than 20% of your own body weight.
What size backpack do I need for 3 months?
It depends on your travel style and what activities you hage planed. However typically we would suggest you bring a size between 50-65L.
Final Thoughts on Our Definitive Backpacking Checklist
We've been around the world a handful of times. My backpacking list comes with ten years of travel blood, sweat, and tears so have a proper read over this backpacking checklist and heed my advice, pack light but be sure to pack the things you need for your own travel style…
With the help of these packing lists, you'll be able to figure out exactly what to pack for your trip so you can gallivant around the world knowing you've got everything you need for your adventure…
For more travel gear inspiration, check out my buddy Gianni's ultralight packing list and for the ladies, this excellent travel packing list for women by Two Scots Abroad.
My friend Gemma has put together this detailed post on how to choose high-quality hiking pants for men.
Bye for now, but not forever!
If you want MORE top-tier Broke Backpacker content like this, then sign up for our weekly newsletter below to get the latest and greatest!
And for transparency's sake, please know that some of the links in our content are affiliate links. That means that if you book your accommodation, buy your gear, or sort your insurance through our link, we earn a small commission (at no extra cost to you). That said, we only link to the gear we trust and never recommend services we don't believe are up to scratch. Again, thank you!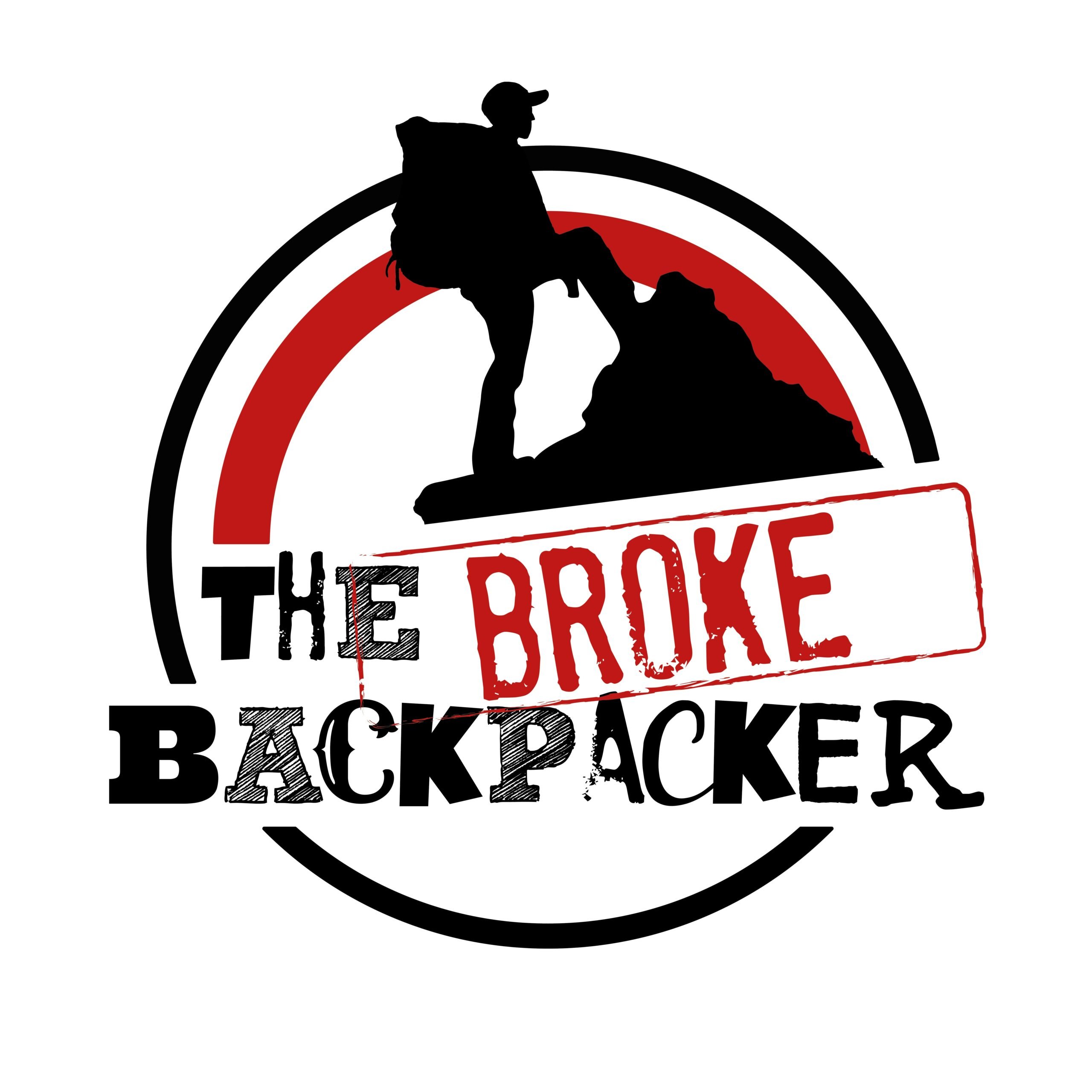 Broke Backpacker
The Broke Backpacker team are a fun-loving bunch of adventure addicts, rising entrepreneurs and digital nomads. Always on the move, this eclectic troop of wanderers are here to guide you on your quest to explore this magical world cheaper, longer and more sustainably than ever before!
75 Backpacking Essentials You NEED (+ Ultimate Backpacking Checklist PDF)
So what exactly should you consider backpacking essentials? After spending years backpacking around the world, and spending countless days outside we break down the top backpacking essentials you should consider buying for your next trip.
Figuring out what to pack for a backpacking trip can be daunting. There are so many things to consider including location, time of year, and duration of the trip. You definitely don't want to forget any backpacking essentials so put together this epic backpacking checklist for you.
Don't worry we are answering your ultimate question of what backpacking gear should I take backpacking, with exactly what we use on our day-to-day adventures. Alight, let's get started with this backpacking packing list.
Backpacking Checklist: The Essentials
Hiking Backpack with Raincover
A hiking backpack is the most important thing you need on your backpacking checklist. A proper hiking backpack supports the weight of your load and should hold everything you need for a trip in the great outdoors. A good hiking backpack should be comfortable, have a nice design and proper material, and be the correct volume and weight for your trip. We break down all the best hiking backpacks here.
Gregory makes our new favorite hiking backpack. The Gregory Baltoro Gregory backpack is a workhorse designed to be used and abused. The Baltoro/Deva is designed to carry a heavy load without breaking your back on the trail. It has a superior suspension system with plush padding and great organization. If you'll be on extended thru-hike trips and don't mind sacrificing a pound or two, this is your ideal hiking backpack.
Daypack
If you're not going on an overnight backpacking adventure a daypack should be more than enough to hold your belongings. My daypack usually consists of a shell jacket, down jacket, hiking poles, bear spray, snacks, water, gloves, chapstick, a buff, first aid kit, navigation, and an emergency blanket.
I love Camelbak daypacks. They are sturdy and fit well on my back with a proper suspension system. This is the Women's Sequoia 22. The pack has a stretch overflow pocket, trekking pole attachments. and air support back panel, dual-wing belt, and is built for smaller torsos (I am short.) Their packs are lightweight and sit on the back so well. Cameron has the Fourteener, which is equally amazing. This is one of those 10 essentials for hiking you need.
MSR Hubba Hubba Tent
You'll need a tent if you're camping in the backcountry. Since you're backpacking you will need something ultralight. Our go-to is our MSR Hubba Hubba 2 backpacking person ten.
The Hubba Hubba is a top seller for MSR. It's ultralight and has a super-fast setup system. This tent is waterproof and ultra-durable for any mountain adventure. It's a great size for two people and there is even extra space to move around.
NeoAir Uber Lite
You'll want a sleeping pad under you while you sleep. Not only is it more comfortable, but it provides insolation that you'll need to stay warm. The ground gets very cold in the wilderness, even if it's summer. Without a sleeping pad under you, your body will take in all that cold.
We travel with the new NeoAir Uber Lite. It's good for backpacking since it only weighs 8oz and you can blow it up in under two minutes.
Compressible Pillow
A pillow is a backpacking essential for a good night's sleep in the mountains. Therm-A-Rest makes durable pillows from upcycled foam. These pillows are soft and expand large enough for a comfortable rest.
Vesper Therm-A-Rest Down Quilt
Don't go into the backcountry without a sleeping bag. Even in the summer, it gets cold at night and you'll need a proper sleeping bag to provide you with the warmth you need. We personally have the new Vesper 20F/-6C Quilt. This is an awesome comfortable sleeping bag featuring 900-fill Nikwax Hydrophobic Down. It's ultra-light and good for overnight backpacking trips.
Water Bladder
While I like having a water bottle on my hikes I like having a water bladder even more. A bladder keeps me drinking regularly since I never have to stop hiking and take out my bottle. It's always readily available when you need it. A bladder is always always always on my hiking gear list.
You should consume at least two liters a water a day while hiking in the mountains, often this means you either carry two bottles of water. The better option for carrying that much water on your treks is to carry a water bladder. A water bladder additionally allows you to carry extra water if needed.
Most hiking backpacks and even daypacks designed for hiking have a sleeve for carrying your extra water.
Water Purifier
It's not always safe to drink water from rivers and streams. We previously used the Lifestraw Go for all those times during our travels when the water is questionable.
However, over time we became annoyed with the water bottle as the filter aged and clogged. Plus the Lifestraw leaks when it is on its side. We now switched to the Grayl Ultralight Purifier. It's a simple design that is effective and does not leak making it a hiking essential.
Most importantly it is a purifier, not a filter. The Grayl water bottle system purifies water vs. filters which removes viruses and virtually removes all threat of waterborne illnesses. The only drawback is it costs double the Lifestraw Go.
Backpacking Essentials: Accessories
PackTowl
A towel should be on everyone's backpacking checklist who plans to spend the night outside. Not only are they good for rinsing off at night, but also for those times you want to take a dip in an alpine lake!
Gaiters
If you're going into the backcountry during the spring or fall you should definitely plan on packing gaiters. Gaiters protect your legs from getting snow in them. There is definitely snow year-round in some parts of the world. Make sure to do your research to determine if they'll be snow where you're at.
We both have gaiters from Outdoor Research and love them. OR makes all sorts of great backpacking gear.
Z-Seat
It's a good idea to bring a small mat to sit on during breaks if you're in the mountains. The stone and ground can often be much colder than the air so it conducts heat and will make you cold.
A pad can serve a lot of purposes to like backrest, pillow, cooking surface, or a place to change your clothes. We bring the Z Seat on many of our backpacking trips and appreciate the comfort when we want to just relax and enjoy the view. They are light though so make sure they don't blow away. It's best to keep them inside your pack, instead of the outside on a windy day.
Headlamp
Any hiker should have a headlamp in their pack. They are helpful if you are hiking before sunrise or after sunset, and for strolling around camp.
Traditional outdoor headlamps have used disposable batteries such as AAs or AAAs. Batteries require a lot of minerals and resources. A great sustainable gift for hikers is a headlamp that is rechargeable via USB, such as the BioLite.
If you combine this with the solar panel above a backpacker could be off the grid for ages without need for extra batteries and everyone likes a lighter pack!
Hiking Poles
If you have plans to take part in a long day or multi-day hikes a pair of hiking poles are a great way to save your knees and prevent injuries. If you're on a full day of hiking in the mountains you'll gain and descend a lot of elevation. So, it's easy for your legs to get tired and a pair of hiking poles will pay off. Although I don't always need hiking poles, they are always in my pack. I almost ALWAYS end up using at least one while I'm descending a mountain.
Black Diamond is a company dedicated to mountain sports and has worked hard to craft wonderful products. I personally use the Black Diamond FLZ Hiking Poles, but there are some other great poles out there produced by companies like REI and MSR. "Z" poles are fantastic as they're lightweight and can be stashed inside a backpack should you not need them.
Hiking Belt
Unless I am hiking in leggings I need a belt to secure my pants. The newest one I just got is a Jelt Belt. Jelt is a women-owned social enterprise that produces belts made from 100% recycled plastic bottles with an innovative patented flat buckle that won't show a bump under tops or tees.
Both Cameron and I have a few of these bad boys and they are SO much better than regularly clunky belts.
Hiking Gloves
I have a pair of Outdoor Research gloves in my hiking pack at all times. They are great for when you are scrambling and I always end up using them at some point on my hike or any backpacking trip. I never want to come back with bloody hands and they protect against that.
Baseball Cap
I always have a baseball cap in my bag in case the sun gets too intense. I've been out too many times without one and my forehead gets too toasty for my liking – even with sunscreen. A baseball cap protects against that and I highly recommend having one in your bag. This should be on any backpacking packing list.
Toboggan
It gets cold at night when backpacking. A warm hat can make or break your comfort. No one likes a cold head and ears so stick one in your backpack just in case. It can also be crucial to saving precious body heat if you find yourself in cold
Smith Lowdown 2.0
Make sure to protect your eyes from the sun since you'll likely spend a lot of time hiking in the sun at elevation. There are a lot of options for sunglasses and everyone should own at least a pair. It's best to make sure they do have UV protection for the health of your eyes. Sunglasses are particularly important if you plan to visit any glaciers or high alpine passes as sun reflection from the snow is damaging to your eyes.
We made our first investment in quality polarized sunglasses with a pair of SMITH Optics Lowdown 2. Truthfully, not everyone needs to invest $150 in a pair of sunglasses; however, we love ours and will never buy cheap ones again. Polarized glasses are great at enhancing vision in bright environments and removing glare from windshields and the water.
Buff Headware
I bring a Buff on every trip in case my ears get cold or I want to have one to cover my face, which happens more often than you may think. We have a collection of buff headbands and bring them everywhere. They're great for a multitude of reasons such as sun/wind protection, a scarf, headband, or an ear warmer.
We always have one in our suitcase or hiking backpack no matter the destination and consider it one top travel and hiking accessories. I imagine most people have one or two of these by now, but if you don't it's time to invest in at least one good one.
Inflatable Solar Lantern
Packable lanterns are great to have at night inside your tent. They pack up light and are a great addition to any backpacking checklist. The ones that are solar powered are ideal.
What to Keep in a Hiking Backpack: 25 Essential Pieces of Gear
Gaby works professionally in the outdoors as a guide, instructor, and educator. She enjoys helping others gain the knowledge and experience they need to get out and adventure in the mountains.
Let's face it: Hiking and backpacking are gear-intensive pursuits. So, it's understandable if you're not sure what to keep in a hiking backpack during your outdoor adventures.
Thankfully, we're here to help.
In this article, we'll walk you through the 25 most important pieces of gear to take with you on a day hike or backpacking trip so you can always be prepared. Plus, we'll even offer up some top tips for choosing the right gear for your hiking trip as well as some suggestions for making the packing process as simple as can be.
Let's get started!
Top Tips For Choosing The Right Gear For Any Adventure
With so many different pieces of hiking gear to choose from, picking the right equipment to take hiking isn't as easy as it might seem. In this section, we'll offer some brief tips to help you decide what gear is right for you:
How To Choose The Best Hiking Boots
In reality, you're not going to get far on your next outdoor adventure without a quality pair of hiking boots on your feet. As you search for your next hiking footwear, consider the following:
Shoe Type. Your first order of business when shopping for hiking footwear is narrowing down what type of shoe you'd like. Whether it's a lightweight pair of trail runners or burly leather boots, shoe type is a key concern while shopping around.
Fit. An ill-fitting pair of boots is no fun on the trail, so be sure to consider your personal comfort at all times when buying hiking shoes. If your shoes don't feel right when you try them on, they won't feel any better after a long day of hiking.
Durability. Hiking shoes that fall apart after a single trip are best avoided. So, opt for shoes that are made from durable leather or rugged nylon panels.
Oh, and once you have your new pair of boots, don't forget to take the time to break in your hiking boots before you take to the trail.
How To Choose The Right Backpack For Hiking
A backpack is one of the most important pieces of gear that you'll bring into the mountains. Here are some key things to keep in mind as you shop:
Fit. A backpack that doesn't fit properly or that feels uncomfortable isn't going to do you any good as you hike. So, always prioritize fit above all else when shopping for a hiking backpack.
Capacity. Your next major concern with any pack is its carrying capacity. For a day trip, you can usually opt for a pack with a 15 to 45L capacity. Backpacking trips can require anywhere from 60 to 105L, depending on the length of the trip.
Features. Additional features, like hydration packs, pockets, and straps can enhance your hiking experience on the trail, so keep an eye out for them while doing your research.
Layering For Hiking & Backpacking: What You Need To Know
If you want to stay warm, dry, and comfortable outside, you'll need to master the art of the clothing layering system. With this system, you'll wear and pack the following on every hike:
Base Layers. Also called long underwear, your base layers are designed to wick moisture as you hike.
Mid Layers. Crafted with insulation in mind, mid layers are puffy jackets and fleece sweaters that keep you warm in the cold.
Outer Layers. Your final layer of protection from the elements, your outer layer is usually a waterproof and windproof rain jacket to keep you dry in foul conditions.
For a more detailed understanding of how this layering system works, check out our ultimate guide to layering in the great outdoors.
25 Must-Have Pieces Of Gear To Keep In A Hiking Backpack
If you're heading outside, it's imperative that you have the right gear to keep you safe, warm, and happy, regardless of conditions on the trail. While there are dozens of pieces of gear that should be on any camping checklist, here are 25 must-have items for day hikes and backpacking trips, alike!
The 10 Essentials Of Hiking
Regardless of if you're heading outside for a short jaunt in the woods or an extended expedition in the mountains, there are some pieces of gear you should never leave home without. Here are the 10 hiking essentials that you should take on every trip.
1. First Aid Kit
Although you hope to never have to use it, a first aid kit is a must-have whenever you head into the great outdoors. Even a short day hike can be quite a distance away from the nearest hospital, so having the gear you need to deal with a medical emergency is essential.
A small, lightweight kit, like the Adventure Medical Kits .7, is a solid choice for most day hikes and short backpacking trips.
However, keep in mind that a medical kit is only helpful if you know what to do with it. So, we highly recommend taking a wilderness first aid course if you plan to spend lots of time outside.
2. Navigation Tools
Navigating in the great outdoors can be tricky, even for the most skilled of adventurers. Even if you suspect that you'll be on a very easy-to-follow trail, it's always best to pack navigation tools for your journey to help you find your way.
At a minimum, all hikers should come prepared with a paper map and a compass, as well as the skills to use them efficiently. Other key navigation tools to pack include a hiking GPS, like the Garmin eTrex 30x, or a set of maps downloaded onto your phone for offline use.
Always remember, though, that technology can fail in the outdoors, so having paper maps and a compass is critical.
3. Fire Starting Supplies
Staying warm during an emergency is no easy feat, so having a way to start a fire while you're outside is a must. Sure, you could make a bow drill and start a fire the "old fashioned" way, but this technique is harder than you might think and it takes years of practice to perfect.
Therefore, packing fire starting supplies, such as a windproof lighter, a set of waterproof matches, and a fire-starting tool is important. Since these items are pretty darn lightweight and portable, it's a good idea to pack a few different ways to start a fire, just in case.
4. Hydration
Staying hydrated is of the utmost importance for our health, especially if you're sweating a lot while hiking. Drinking enough water while outside, however, isn't as easy as when you're at home because there's no clean running water available to the turn of a tap.
That being said, it's not possible to carry all the water you need if you're heading out for more than a day of adventure. So, in addition to having a few water bottles or a hydration pack, you'll also want to have some tools for purifying your own water while outside.
Depending on your personal preferences, you can opt for any one of a number of different water treatment systems, such as water filter pumps, chemical treatments, UV lights, and nifty little tools like the Lifestraw Go Water Bottle.
5. Food & Nutrition
Hiking burns a whole lot of energy, so you'll need to fuel your body if you want to enjoy yourself on the trail.
Fueling your body properly while hiking requires coming prepared with plenty of snacks for your day of adventure. While the types of snacks that you bring will depend on your dietary preferences, it's best to opt for easy-to-eat no cooking food, like trail mix, hiking bars, sandwiches, and the like.
Alternatively, if you're going backpacking, it's usually easiest to create a full meal plan for your trip so you don't accidentally under- or overestimate the amount of food you need during your expedition.
6. Repair Kit & Tools
Even if you tread lightly on the trail, at some point, your gear will break or malfunction. Therefore, having some multi-purpose tools and supplies on hand to repair broken gear is a must.
Every hiker should pack a small repair kit, with a lightweight multi-tool, a knife, paracord, duct tape, and other similar items, like Gear Aid Tenacious Tape for fabric repairs.
If you're backpacking, we'd also recommend bringing additional backpacking-specific repair items. Good things to bring include a stove repair kit (see if your stove manufacturer sells a specific model), as well as splints for broken tent poles.
7. Spare Clothing
Even if you're planning a summertime day hike on a day with beautiful, bluebird weather, you never know when the conditions might change. As a result, you'll always want to pack plenty of spare clothing to keep you warm and dry.
In particular, you should plan to have at least one or two more layers of warm clothing (e.g., a puffy jacket or a fleece) than you think you'll need to stay cozy on the trail. Additionally, don't forget to pack a rain jacket and a pair of rain pants to help you stay dry in foul conditions.
8. Sun Protection
Perhaps the most frequently overlooked of the 10 hiking essentials, sun protection is a must, even if the weather isn't forecasted to be particularly sunny.
Well, the harmful effects of the sun on our skin are well-known, as excessive sun exposure can increase your risk for cancer and other conditions later in life. Plus, if you plan on spending lots of time in high-elevation or snowy environments, your risk of sunburn and other sun-related issues increases drastically.
To combat these harmful effects of the sun, always pack ample sun protection while hiking. This can be as simple as a tube of sunscreen, though other items, like a wide-brimmed hat, sunglasses, sun gloves, and even a sun shirt can all make a difference.
9. Illumination
Getting benighted on the trail is something that happens to all of us at some point during our hiking careers. Even if you've planned on completing just a short day hike, emergencies and other situations can easily derail your adventure, keeping you out in the mountains until well past sundown.
Therefore, all hikers should come prepared with a reliable headlamp and spare batteries, even for a day trip. If you're going to be out camping for more than a couple of nights, we recommend bringing a few sets of spare batteries, just in case.
10. Shelter
Short day trips can quickly turn into an overnight epic with things don't quite go according to plan. While we hope this never happens to you, having an emergency shelter with you at all times can make it easier to survive an unexpected night outside relatively unscathed.
If you're backpacking, your tent, hammock, or tarp counts as your shelter. So, there's no reason to pack another emergency shelter unless you think you might do short day hikes from a remote basecamp during your trip.
For day hikers, however, bringing an emergency blanket or bivy, like the ultralight and highly packable S.O.L. Emergency Bivy is a great idea.
15 Must-Haves For All Hiking Adventures
In addition to the 10 hiking essentials, there are a whole host of other items that any adventurer should bring when heading outside to make your experience more comfortable and enjoyable. So, here are 15 excellent pieces of gear to pack on your next hiking trip:
1. Bug Head Net
Fact: Bugs are annoying.
Whether they're biting flies, mosquitos, or swarms of midges, keeping insects away from your face can be a pain in buggy locales. Although you certainly can use insect repellent as another layer of defense, a bug head net is usually your best bet for weight savings on longer hiking trips.
In fact, since they're compact, lightweight, and fairly inexpensive, a bug head net should be a part of any camping checklist, just in case you find yourself in a mosquito-infested location on your travels.
2. Emergency Communication Device
Another addition to the list of items that you hope to never have to use but you certainly want to have during a serious situation, anyone heading outside should have an emergency communication device on hand at all times.
Although cell phone service is usually quite unreliable in the mountains, bringing a fully charged phone is a great move on any hiking trip, just in case. Furthermore, if you're heading out on a longer expedition, non-cell phone communication devices, like Personal Locator Beacons (PLBs) or a Garmin InReach is a wise choice.
Or, when all else fails, going old school and packing a classic signaling mirror is a great decision on any hiking adventure.
3. Bear Canister or Bear Hang Kit
If you're planning on backpacking in any recreation area with a known bear population, local regulations will almost certainly require that you come prepared with a bear-proof way to store your food. Depending on your local land manager's regulations, you may need to bring a bear canister or a bear hang kit on your travels.
For bear canisters, you'll want to check in about the specifics of what canister models are acceptable in your local forest or park. The Backpacker's Cache Bear Canister is a popular choice, but be sure to check regulations to ensure it's allowed in your hiking area.
If you're allowed to use the bear hang method to store your food, however, you'll want to come prepared with a dry bag for your food, 100ft (30m) or more of durable 7mm rope, and a tiny 0.5L stuff sack to get the job done properly.
For more information on different outdoor bear-proof food storage options, check out this video from REI:
4. Toilet Paper & Trowel
At some point during your hike, you'll likely need to answer nature's call. Since there (usually) are no flushing toilets in the wilderness, it's important that you have the supplies you need to use the loo with minimal hassle and while following Leave No Trace guidelines for human waste disposal.
For the most part, hikers are normally expected to bury their solid human waste in a hole that's at least 6" (15cm) deep, known as a "cat hole." Doing so helps the waste decompose and prevents it from contaminating nearby water sources.
Digging a cat hole, however, usually requires something to dig with, so don't forget to pack a small trowel on all day hikes and backpacking trips, just in case. Additionally, if you'd rather use toilet paper instead of natural wiping materials, bring a small roll on your adventures.
5. Hand Sanitizer & Soap
Spending time outside doesn't mean you have to skimp on your personal hygiene. Whenever you hike or backpack, you should come prepared with a small bottle of hand sanitizer and a small container of soap to help you stay fresh and clean on the go.
If possible, opt for biodegradable soap, like Dr. Bronner's to help lessen your impact on the environment.
6. Trekking Poles
Okay, while trekking poles don't technically go inside your hiking backpack, they do make adventuring much more enjoyable in rough terrain, so they're worth adding to your gear list. So why use trekking poles?
Even if you've never used trekking poles before, most hikers find that they help quite a bit with balance and stability on the trail. Plus, many folks find that using trekking poles lessens the stress on your knees, hips, and ankles as you hike downhill. What's not to love?
7. Portable Battery Pack
Although many of us head into the backcountry to unplug from technology, we generally bring small devices, like headlamps, phones, GPS units, and emergency communication tools on our hikes.
Therefore, it's important that you have a spare portable battery pack, like the iWalk Portable Powerbank, in your pack at all times, just in case you need to quickly charge your devices.
8. Pack Cover or Pack Liner
On a particularly rainy day or a snowy winter camping trip the naturally water-resistant fabric on your hiking backpack might not be enough to keep your gear dry in the mountains. For a more reliable waterproofing solution, we'd highly recommend using a backpack rain cover or pack liner while hiking.
Backpack rain covers are designed to fit over the front of your backpack to shield it from moisture and foul weather. You can normally buy a pack cover from your pack's manufacturer to ensure that it fits properly.
Meanwhile, pack liners, like the Osprey Ultralight Pack Liner are sort of like giant dry sacks for the inside of your backpack. They keep your gear dry on the inside and are more reliable in very windy and stormy conditions.
9. Electrolytes
If you find that you spend a lot of time hiking in hot and humid locales, you probably notice that you get quite sweaty on the trail. In these conditions, frequently replenishing your electrolytes is essential if you want to protect yourself from dehydration.
For day hikes and backpacking trips, alike, portable electrolyte tablets, like those from Nuun are a simple solution for all your on-the-go hydration needs.
10. Bandana or Buff
Bandanas and buffs are among the most versatile pieces of gear you can bring into the mountains.
Whether you're partial to buffs or bandanas, both offer plenty of great benefits on the trail, especially when it comes to protecting you from the sun. Plus, they're super lightweight and they're highly portable, so there's no reason not to have one in your pack.
11. Gaiters
No one likes getting rocks, twigs, dirt, snow and other debris in their hiking shoes while outside, so a quality pair of gaiters is critical for ensuring a seamless hiking experience.
Since there are dozens of different gaiters on the market, it's important that you find a set that's best suited for your needs. For example, folks who wear low-top trail runners while hiking might find that ankle-height gaiters are more than sufficient. Alternatively, for hiking in deep snow, consider knee-height gaiters, like the Outdoor Research Crocodile.
12. Camera
Hiking gives you a chance to see and experience some of the world's most beautiful landscapes first hand. Even if you don't imagine yourself as the next Ansel Adams, having a small camera on hand can help you capture the experience without draining your phone's battery.
Or, if you're not interested in photos, consider packing a sketchbook or some portable watercolors, instead for a relaxing activity while in camp.
13. Bear Spray
If you're hiking in bear country, it's important that you come prepared with important safety gear, like bear spray to help you stay safe in the mountains.
A bear spray canister, like one from Counter Assault, which comes with a convenient holster, is a must for travels in known bear terrain. However, be sure that you always keep your bear spray accessible as you hike so you have it on hand in the event of an emergency.
14. Binoculars
Whether you're a bird lover or simply keen to check out the trail ahead, a pair of compact binoculars can truly enhance your hiking experience.
Of course, binoculars can get quite heavy, so it's best to look for a pocket-sized pair unless you're a particularly enthusiastic ornithologist. Oh, and if you're interested in learning more about the local wildlife, consider packing along a pocket guidebook with identification information for species in your area.
15. Quick Dry Towel
Last but not least, a quick dry towel, like the PackTowl Personal, is a great option for drying off after a rainy day or after a brief swim in an alpine lake.
Since traditional cotton towels are bulky and slow to dry, a lightweight microfiber model is a sure bet for any outdoor escapade.
The Ultimate Hiking Packing List: A Cheat Sheet
We want you to have the easiest possible time packing for your adventures. So, here's a printable checklist with all 25 must-have items to keep in your backpack for you to use as you pack for your next hiking trip!
How To Pack For A Day Hike?
Packing for a day hike starts with knowing what you actually need and what's just nice to have. Since no one wants to carry more weight in their pack than is absolutely necessary, we recommend the following:
Never Skimp On The Essentials. The 10 essentials of hiking are called essentials for a reason. As such, you should aim to take them on every hiking trip, no matter how short it may be.
Prioritize Your Other Gear. After you pack all the essentials, it's time to start thinking about what else you might bring. If space in your pack is limited, make a list of all the potential items you might pack in order of most to least important. Then, cut items from your list as packing constraints dictate.
Revise Your Packing List Frequently. Although there are some pieces of gear that you shouldn't leave at home, even if they don't get used often (e.g., emergency communications devices and first aid kits), we all fall victim to packing more than we actually need in the mountains. So, after each hiking trip, take the time to review all of your gear and consider leaving any items that you didn't use at home on your next adventure.
Tips For Packing Gear And Packing Efficiently: The ABCs of Packing
As we've mentioned, hiking trips require a whole lot of gear. With limited space in your pack, it's imperative that you pack efficiently. So, as you pack, follow these ABCs of packing principles to get the job done properly:
Accessibility. Gear that you'll definitely need during your hiking day, like your map, compass, snacks, and rain jacket should be at the top of your pack in an accessible spot.
Balance. Strive to pack your gear so that it's equally balanced on both sides and that the heaviest items are at the bottom. Otherwise, you might find that one side of your body gets more of a workout than the other.
Compression. If you have a lot of gear to fit in a small pack, you'll need to compress everything down as much as possible. Stuff gear into every nook and cranny of your pack to use all the available space.
Dry. No one wants wet gear while hiking. So, use dry backs, a pack liner, or a pack cover to keep your gear dry on a rainy day in the mountains.
Can You Use A Regular Backpack For Hiking?
You certainly can use a regular backpack for hiking, though it's not ideal. In particular, regular backpacks (like the ones you might use for school or walking around town) aren't designed for carrying heavy loads.
So, while they'll get the job done, regular backpacks are not as comfortable for outdoor adventure as a dedicated hiking backpack because they don't have padded hip belts and shoulder straps, nor other useful features.
What Should You Not Take On A Hike?
Although it's impossible to list everything, a few of the most important things that you shouldn't take on a hike include cotton clothing, really heavy objects, and valuables, such as jewelry and non-waterproof electronics.
Why's that, you might ask? Well, cotton clothing is a no-go for hiking because it offers no insulating value when wet. Meanwhile, heavy objects will just hold you back as you hike and valuables are likely to get lost or damaged, so they're best left behind.
How Much Water Should You Bring On A Hike?
On average, you should bring about 4L of water per person per day on a long day hike, though you may need more if you're in a very hot environment. However, you don't necessarily need to carry all of this water during your trip.
Instead, if you know that there will be water sources located along your hike, you can start your trip with just 2 to 3 liters of water. Then, you can use a filter or another water treatment system to purify water while you're on the trail.
Source https://www.thebrokebackpacker.com/backpacking-packing-list/
Source https://theworldpursuit.com/backpacking-essentials-checklist/
Source https://outforia.com/what-to-keep-in-a-hiking-backpack/