The Best GPS for Hiking (Alternative Devices)
Is there really a best GPS for hiking? I've been using handheld GPS units for many years now and would argue that it's nigh on impossible to choose one device that can be classed as the best. In fact, we should think of a GPS purely as a backup device. With that though in mind I'm going to look at some of the GPS options I've used on my travels.
My Choices of Hiking GPS
Microsoft Band 2 (with app) – now discontinued by Microsoft, but available to buy at Amazon, eBay, etc.
etrex 10 – simple and never failed
InReach – awesome, but a little pricey
Take a look around the web and you'll find countless articles asking about the best GPS for hiking, or hill walking, or some of their physical activity. As some of you know I'm not a massive fan of having GPS purely for the sake of having GPS. I talk about the reasons why in my hillwalking essentials guide. Rather than regurgitate my thoughts you can read that post. For the sake of brevity, I firmly believe GPS should be a backup for outdoor activities. Nothing beats the ability to be able to understand and use a map and compass.
Here's example of what happens when the GPS fails. Last year I was on a big run, about 18 miles, over and around Wendover Hill. As I went through one of the hamlets on the hillside, I was stopped by a couple of hill walkers. One of stopped me and asked if I could pinpoint his location on the map was holding as his GPS batteries with flat and he was lost. Here ends this lesson.
Having a handheld GPS device as a backup is a great idea. The key is to ensure that the battery is always fully charged. Even on major expedition – and access to only solar charging equipment – this is pretty easy. Most GPS devices are still powered by disposable batteries which are available pretty much everywhere, even in those tiny little village shops in the middle of nowhere.
I don't want to attempt to give you a low down on all possible GPS options out as there are simply too many options, most of which are identical in functionality. Today I'm going to try something a little different. A quick search on the internet will show you huge number of review posts detailing the specifics of a manufacturer's GPS model. Rather than do that I'd like to show you my best GPS for hiking options without going too deep into the various models and specification.
Portable satnav devices, handheld GPS as it's more commonly known, have been with us for many years. I remember years ago, back when I was serving in the army – the first GPS units were huge and heavy. Lugging one of those around what's no fun partly because the Defence Evaluation and Research agency insisted on taking lightweight devices and encasing them in several kilos of metal. Apparently, the idea was to ruggedise them! I'm not convinced.
3 Best Satnav/ GPS units I've Used for Hiking
Garmin etrex 10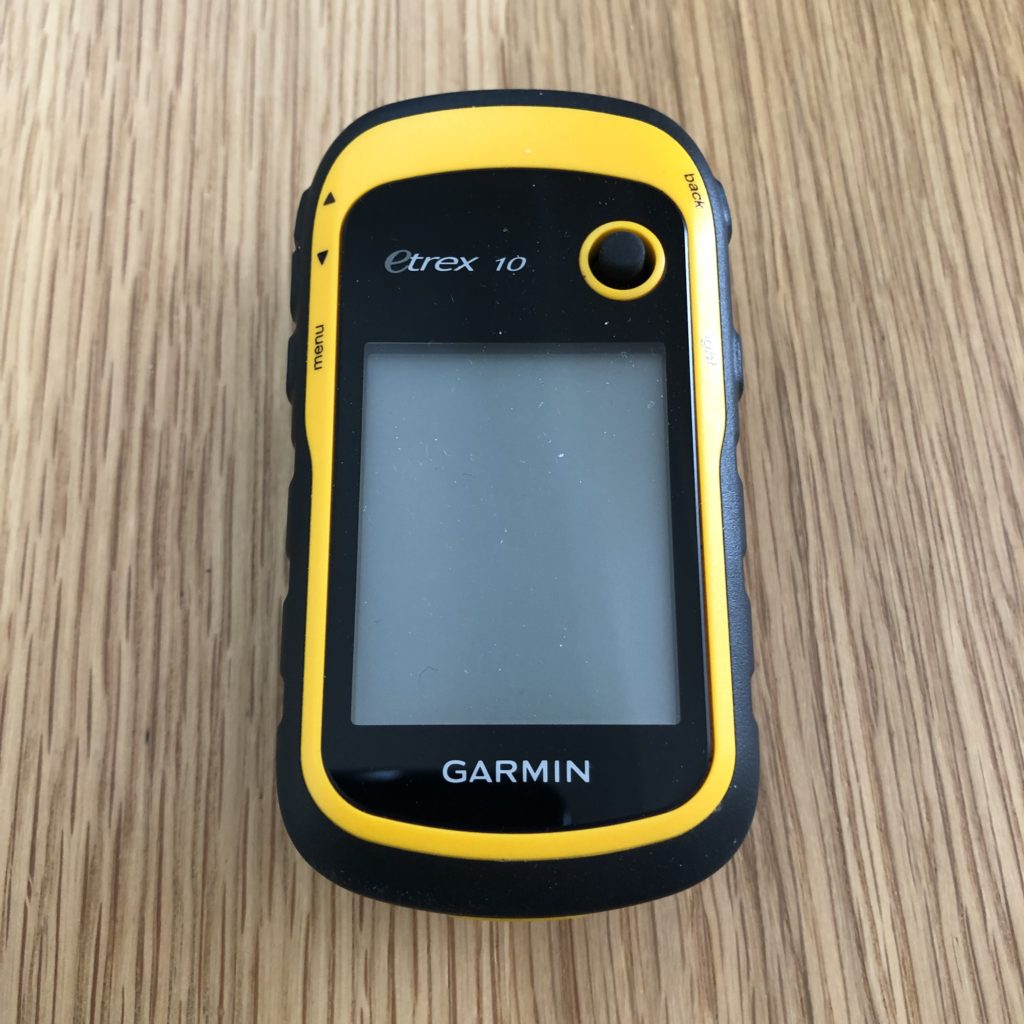 Garmin etrex 10 handheld GPS, my preferred backup navigation device.
As far as I'm concerned accuracy and simplicity are the most important aspects of a GPS. The ability to navigate is at the heart of every expedition. We really don't need a device that shows you every possible trail or track on your route. Route selection should be done by the hiker, not buy the device. And routes should be chosen via a map study.
What Makes the etrex My Favourite?
it's highly accurate
it's simple to use
it's incredibly lightweight
Open etrex 10 GPS Quick Review
The etrex 10 was released in 2011. The first unit was built with technology that gave users the ability to pinpoint their location don't about 10 metres. In recent years the internals of the device had been upgraded and now allow navigation down to 1 metre.
Display on the etrex 10 is simple, a monochrome LCD screen. Some basic information, such as spot heights, is available to navigators. What I really like about this device is that it removes all distracting information. This fact alone is a great way to emphasise map reading skills should be valued more than your ability to use a GPS.
Using the etrex 10 is incredibly easy. Waypoints can be added manually, which is tedious. The GPS comes with a data cable that allows you to connect to laptop and upload GPX files. GPX files or XML documents holding waypoint information. Many hiking and Hill walking routes around the UK comma and the world, have been mapped and turned into GPX files. A good source routes you can download can be found app xx.
The etrex 10 GPS Physical Characteristics.
Weighing in at 140g, it's incredibly light! The etrex 10 has a massive battery life of 25 hours and is powered by 2 AA batteries. You can also use rechargeable batteries in the GPS. The GPS unit connects to both the American and Russian satellite systems which means you can find your location faster and more accurately.
Acquisition time – the time it takes for your GPS to lock onto orbiting satellites – is around 3 to 5 seconds. The etrex 10 does a pretty good job of retaining previously used satellites in memory. That said, and from personal experience, I would always give the device about minute to acquire satellite lock.
Like I said, etrex 10 is a very basic device and that's one of the most attractive points about it. The low-resolution monochrome screen reduces a drain on battery power and is easy to read. The device doesn't accept SD cards and it doesn't have a touch screen.
The device can store up to 50 routes and 1000 waypoints. This can be downloaded when you return home. You need to connect your etrex 10 to a laptop via the USB cable in order to back up the data.
I've used this GPS device for a number of years now. In fact, I bought my current device second hand 4 years ago and it's still going strong. Since 2015 I've used it in places such as North Pole, Greenland, Norway and many jaunts around the UK.
Garmin InReach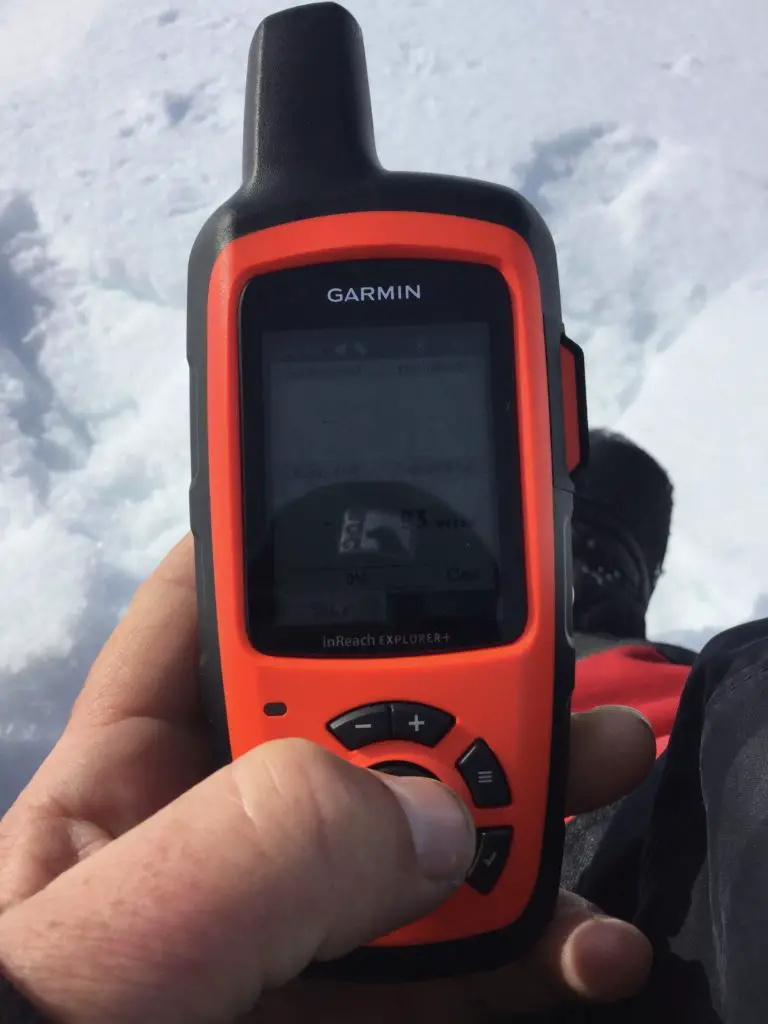 Garmin InReach Explorer+ use the Iridium satellite network for SMS texts and social media posts.
The Garmin InReach is major step up from the basic handheld GPS device. As well as standard waypoints I'm reporting functions the InReach has limited satellite communication capabilities. Unlike a standard GPS which simply track your position on the planet the InReach has the ability to send text and social media messages. With this functionality comes an obvious subscription charge.
all in one messaging and GPS functionality
it's incredibly rugged
it had built in SOS functionality.
Garmin InReach Quick Review
Originally named Delorme, a mapping company with over 40 years' experience, the InReach brand was bought out by Garmin in 2015. The display on the InReach is a little more complex than that of the etrex 10 due to the many available features. Also, the has a basic display, colour display. In not so concerned about this latter points on the InReach as the battery life is impressive.
Like most other modern navigation devices, the InReach can be connected to a laptop in order to upload and download data files. The InReach will accept the standard .gpx file format.
Unlike the etrex 10 the InReach can be connected to a smartphone via an app. Once connected you can plot out route waypoints on your smartphone. In addition, you can also send texts and social media messages via your phone and over the Iridium satellite network. This is a real saving grace as trying to use the InReach's joystick to type out your messages is incredibly tedious.
The InReach comes in 2 models: The Explorer+ and the SE+. The explorer plus gives you the option of downloading full colour topographical maps. This can be useful if the GPS functionality fails as you can use the maps to track your roots via landmarks and reference points.
There are a number of subscription options for the Iridium network and those are shown below.
Unlike the etrex 10, the InReach has a rechargeable internal battery.
Garmin InReach Physical Characteristics
Garmin InReach weighs about 7.5 ounces, or 212 grams. It's a little larger than the etrex – the dimensions are 6.5 inches by 2.7 inches by 1.5 inches.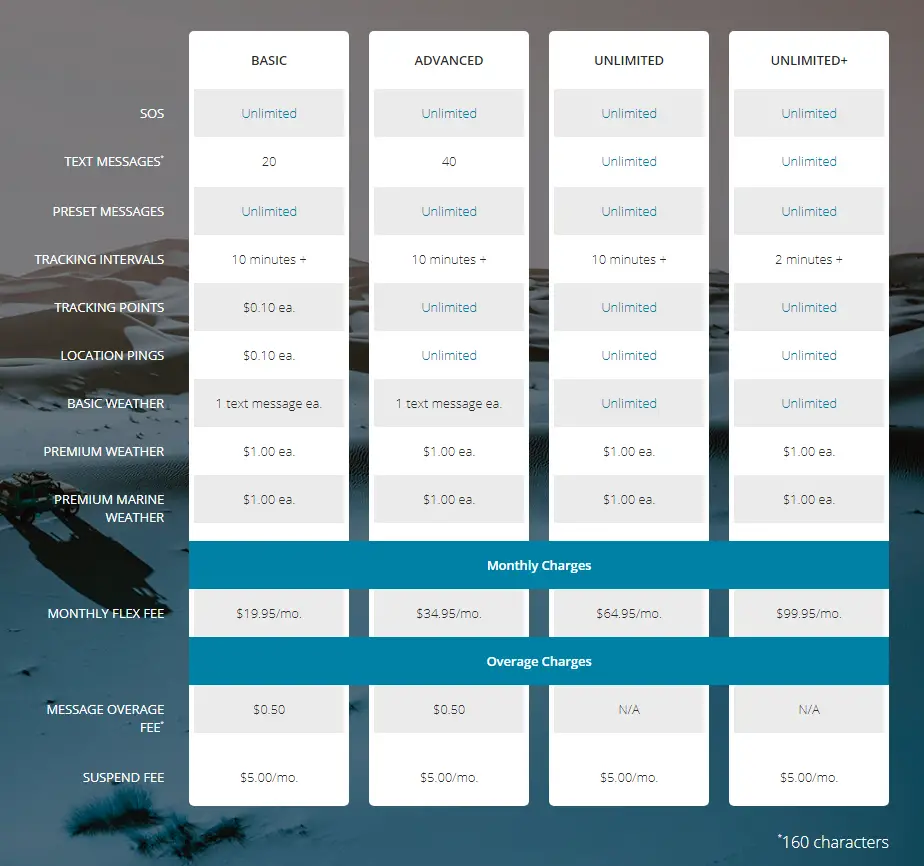 The battery life on the InReach is a massive 100 hours, and that's when you have the tracking interval set every 10 minutes. From personal Experience I know that the device will charge from a solar panel – full charge take several hours. If you're going to be using the InReach on a regular basis I recommend rigging your solar panels to charge up your power supply units while you're on the move. Gramin InReach pricing plans
The 2-way messaging feature on the InReach is one thing I really like. The ability to be able to send SMS format messages to friends and family is a great way of keeping in touch and letting people know yourself safe. See image above for subscription plan prices.
The display size on the device is 1.4 by one 1.9 inches. this is a huge step up from the dome devices which were considerably smaller and difficult to read.
The InReach has a maximum 200 waypoint limit per route.
The InReach can be connected to a laptop via a data cable to upload and download routes. In addition, Garmin have created an app that lets you control the InReach from your smartphone. You can also load this app onto devices such as an iPod touch or an iPad.
Smartwatches as GPS Devices for Hiking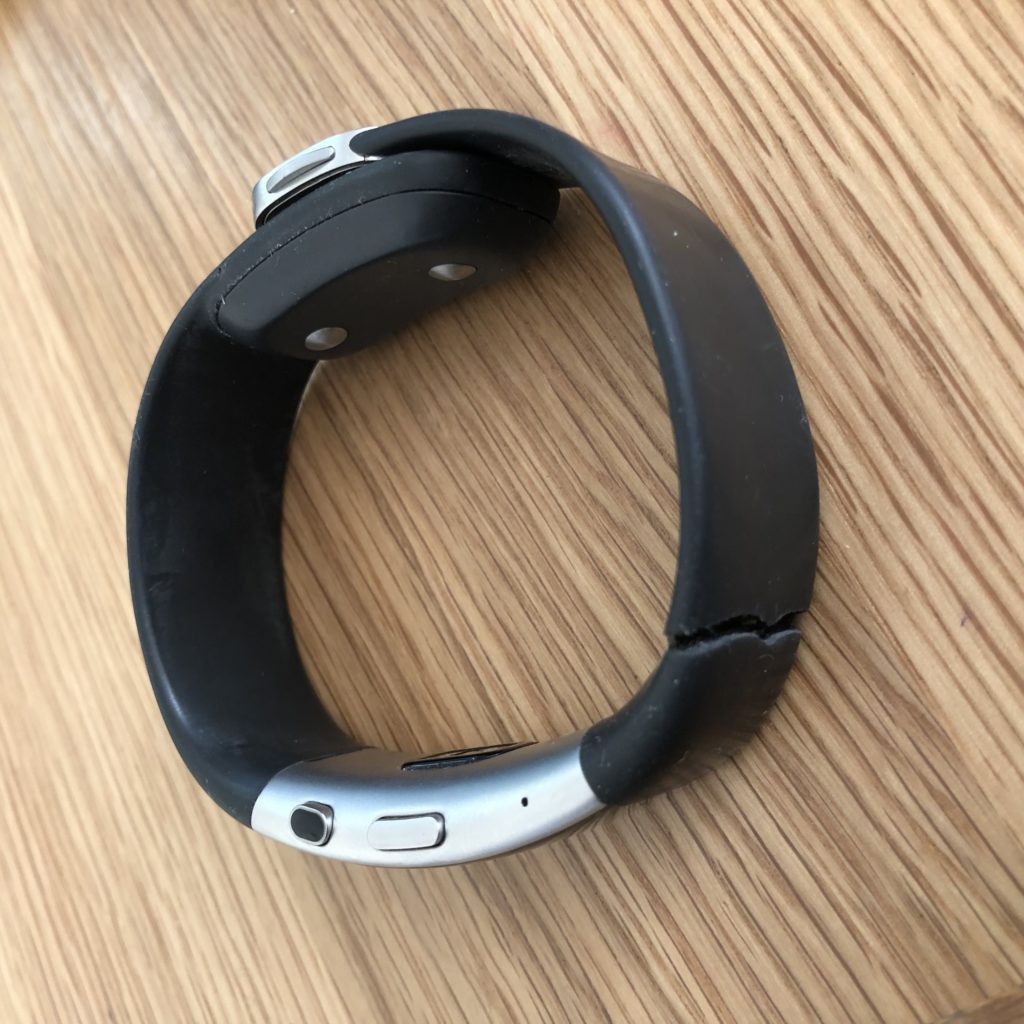 I know the use of smart watches GPS devices a slightly contentious issue for some people. But when it comes to simplicity and portability, I find that nothing can beat a smart watch. In 2016 I took the Microsoft Band 2 to the North Pole and it performed way beyond my expectations. Sadly, my band 2 broke some time ago. Microsoft has discontinued devices I'm getting hold of a new one is hard. I loved my Microsoft Band 2 sports watch, but sadly the strap broke.
More recently – and only due to my Band 2 breaking – I've moved over to a Garmin Vivosmart HR+. As devices go it's not true GPS as it needs to be coupled with an app in order to be able to track your location. That's not a major issue for me as every journey I go on I take a smartphone with me.
Why I Liked Using The Microsoft Band 2 as a GPS
Incredibly lightweight -you'll never even know you're wearing it until you need to use it
Fairly long battery life – Band 2 worked for two days before requiring a charge
Charging time is incredibly quick, even when using solar devices
Microsoft Band 2 Quick Review
Unlike the InReach, the Band 2 passively tracks your routes as it's always on. As an added bonus for anyone who takes his fitness seriously the device will measure your heart rate constantly.
The Microsoft Band 2 connected to your smartphone via the MS Health app (like the Band 2 watch, the app is now discontinued). The app was available for iPhone, Android and Windows devices. On a positive note, numerous other apps work with the Band and Band 2 – Strava being one of the better options.
When I went to the North Pole, I worked with Microsoft to develop bespoke application which tracked various health points as I skied. Some of the technology was later integrated into there are other health-related software created by Microsoft.
If you intend to use this more as a sports device, you can set personalised goals as well as downloading preconfigured training plans.
The display is incredibly simple and shows only key information. To view GPS tracking features, you will have to use a smartphone or similar device with an app installed.
Routes can be added, but only via an app. I never used this feature as my Band 2 for GPS tracking only.
Microsoft Band 2 Physical Characteristics
The Band 2 is incredibly light – a mere 60g, which makes it the lightest of all the GPS devices I've spoken about today. There are smaller devices out there, but I have a real love of the Band 2's design.
Screen size is 12.8mm x 32mm (320 x 128 pixels) which may seem small for anyone used to using a regular GPS. But we are using the watch for GPS tracking only.
For me, the styling of the watch was important. I had used the Band 1 and, in all honesty, it was uncomfortable to wear. The version 2 was a stellar leap in comfort and functionality. It's a real shame Microsoft didn't continue building more of these watches.
Is There Really A Best GPS for Hiking?
No. If you search the web for the best GPS for hiking, you're will end up going down a maze of rabbit holes. Pretty much every portable GPS device can be used by hikers. Our preferences are a different matter and a full colour GPS with mapping downloads might be one person's choice, but not someone else's.
The 7 Best GPS For Hiking & Backpacking [2021 Reviews]
Find the right handheld GPS for you, we break down the year's top GPS' for hiking and backpacking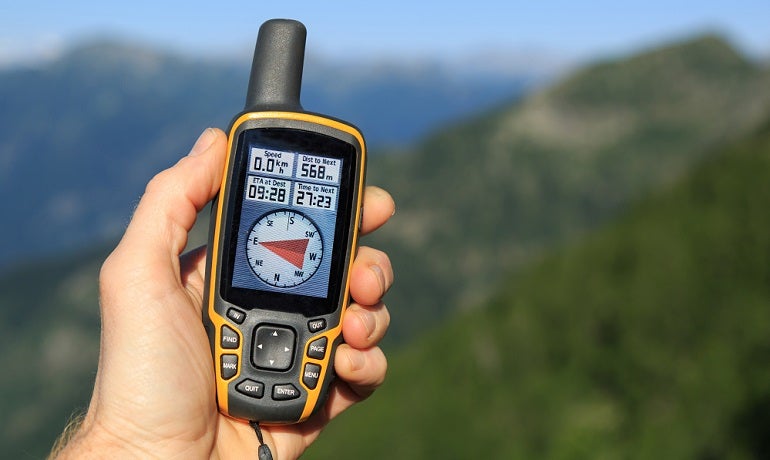 Our Editors independently research, test, and rate what we feel are the best products. We use affiliate links and may receive a small commission on purchases.
Many hikers refuse to enter the wilderness without a hiking GPS. Some hikers use GPS units as supplements to map and compass.
I bought my first GPS when Geocaching was a brand-new hobby. If you're not familiar, Geocaching is a "sport" where participants hide and seek "treasure" stashes around the world using GPS.
The best handheld hiking GPS units have come a long way since then and become much more affordable. While it's still quite popular, Geocaching is another way to use a handheld GPS.
Others use GPS units exclusively for navigation off trail or following a pre-charted route with great accuracy. Whatever your needs, a GPS is an indispensable modern piece of navigation equipment for the hiker.
Best Hiking GPS
For more of my hiking & backpacking recommendations, have a look through these popular Outside Pursuits guide links: Hiking Compasses, GPS Hiking Watches, Hiking Backpacks.
Quick Answer: The 7 Best Handheld GPS For Hiking
Let's take a look at the top-rated handheld GPS, then we'll talk about how to choose the best one for you in our guide. Here is a feature overview for my top 3 overall picks.
Handheld GPS Reviews
#1 Garmin Montana 680t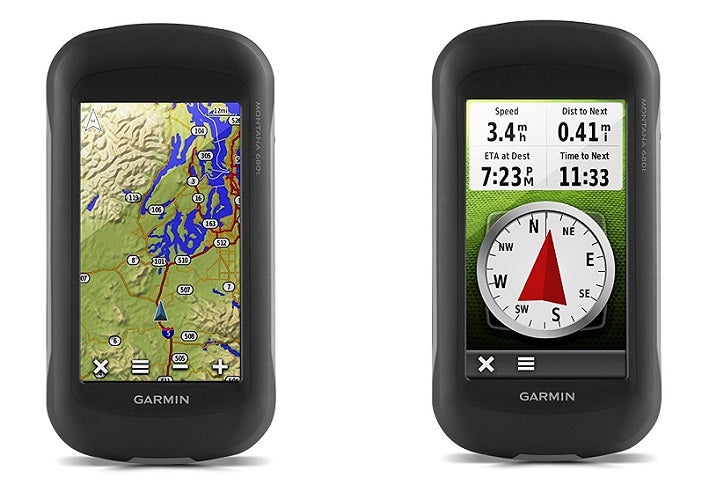 Features: Glonass and WAAS enabled
Preloaded Geocaches: 250,000 preloaded worldwide geocaches
Camera: 8 MP
Connectivity: Garmin Connect
Topographic Maps : 100K U.S. maps
Garmin has been making the Montana series GPS units for years. In fact, my first backpacking GPS was a Garmin brand.
Now there's more features than ever packed into ever more affordable packages. 3-axis compass will allow you to maintain an accurate bearing whether moving, standing still, or holding the GPS unit at an angle.
It's hard to recognize just how convenient this feature is until you try using a GPS without it.
Garmin has loaded the 680t with high definition topographic maps so you won't have to worry about aftermarket maps unless you're looking to travel outside the US or seeking some maps with very unique perspectives.
Video: Overview of the Garmin Montana.
It even comes with over 250K preloaded geocaches, though you'll want to update their information before heading out on the hunt – in case your local geocache is no longer available (they change often).
I think one of the coolest features is the onboard camera. While a dedicated camera certainly would take better quality photos, such as a DSLR, it's not always easy or convenient to carry a camera while hiking.
Having a camera on the Montana 680t means you can take a quick geo-tagged photo or some scenery and wildlife pics on the fly. I think this is the best geocaching GPS. Similar in functionality but cheaper is the Garmin Oregon.
#2 Garmin GPSMAP 64st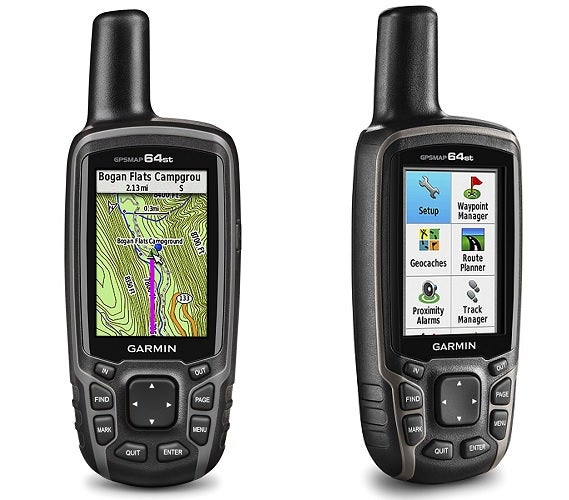 Features: GLONASS enabled
Preloaded Geocaches: 250,000 preloaded worldwide geocaches
Camera: None
Connectivity: Bluetooth, ANT+
Topographic Maps : 100K U.S. maps
Possibly the most well-loved GPS unit in use among the hiking community, Garmin has been making the GPSMAP 64st handheld unit for longer than I can remember.
This low-resolution screen, button interfaced GPS unit (GLONASS satellite capability) is waterproof, accurate, durable, and reliable. There are few better qualities in a hiking GPS than those!
Choose from several different models with preloaded maps in either the US or Canada, there is also a MicroSD card slot to add as many maps as you want.
While the 2.6" 160×240 pixel display won't win awards for clarity or contrast, it's extremely battery efficient.
They've even kept the GPSMAP upgraded and it now features the industry standard 3-axis compass and wireless Bluetooth and ANT connectivity.
Honestly, this would probably be my go-to choice for reliability, efficiency, and effectiveness.
While it's not as fancy as the high resolution, touch screen displays of some of the more expensive models, you'll be hard pressed to find a user with something negative to say.
In my opinion this is the best handheld GPS for hiking with a lithium-ion battery for awesome battery life to boot!.
#3 Garmin Foretrex 401 Waterproof Hiking GPS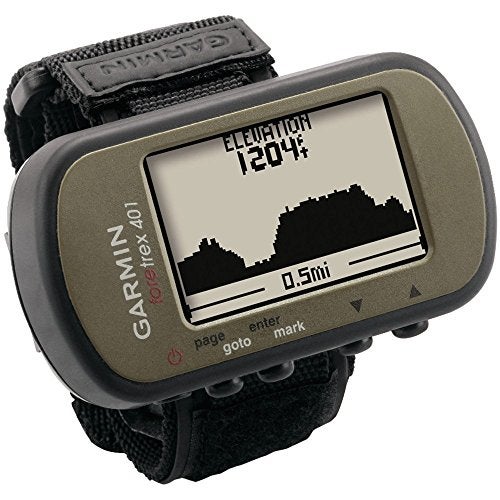 Features: Wrist strap
Preloaded Geocaches: None
Camera: None
Connectivity: Garmin Connect, USB, WiFi
Topographic Maps : None
With a slight departure from the mapping GPS units we've been looking at, this GPS is simple, sleek, and efficient.
It operates on a conservative two AAA batteries which promise long battery life due to the black and white screen and simple operation.
Instead of the map features available on the other units we've reviewed, this unit operates on a simple waypoint and tracking navigation system.
The GPS will passively track your route as you walk and you can activate the "TracBack" feature to retrace your steps. This is a great emergency or backup feature for those navigating difficult areas.
Create a waypoint, track, or destination before leaving home and upload the information to your GPS to use its simple functionality to track your route as you navigate.
Having the option to wear it on your wrist for convenience, makes the Garmin Foretrex 401 the best backpacking GPS.
This is a great, simple, lightweight supplement for map and compass navigation for the confident backcountry traveler looking for a safety net. It never hurts to have a backup plan.
#4 Garmin eTrex 30x Review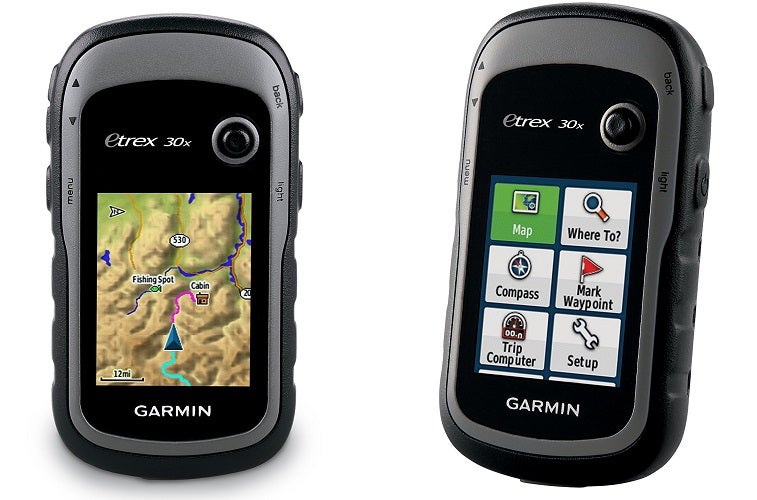 Features: WAAS-enabled
Preloaded Geocaches: Supports geocaching GPX files
Camera: None
Connectivity: WiFi
Topographic Maps : 24K U.S. maps
This upgraded version of a classic GPS receiver has stood the test of time. Garmin's original eTrex has been around in black and white display format for decades. Now you can find the same reliable, waterproof GPS unit in several different models.
This 30x model eTrex features a 2.2" color display which is small, accurate, and efficient. It's a great balance between visibility and good battery life.
Preloaded base maps aren't great so you'll definitely want to take advantage of that nice display screen and get yourself some aftermarket maps to beef up your unit.
Video: Overview of the Garmin eTrex.
Topo 24K maps are a great high definition topographic map choice for most hiking users. This is a great way to take advantage of the high resolution, small screen.
With features we have come to expect from modern handheld GPS units, the eTrex30 is wirelessly compatible with other devices to share waypoints, tracks, or routes as well as geocache information.
That means you can share geocache locations on the fly with other participants in the field. Know where something is? Share it with others!
This is probably the best handheld GPS for the money. If you are looking to save a few dollars the Garmin eTrex 10 is similar in functionality.
#5 Garmin InReach Explorer+ Satellite Communicator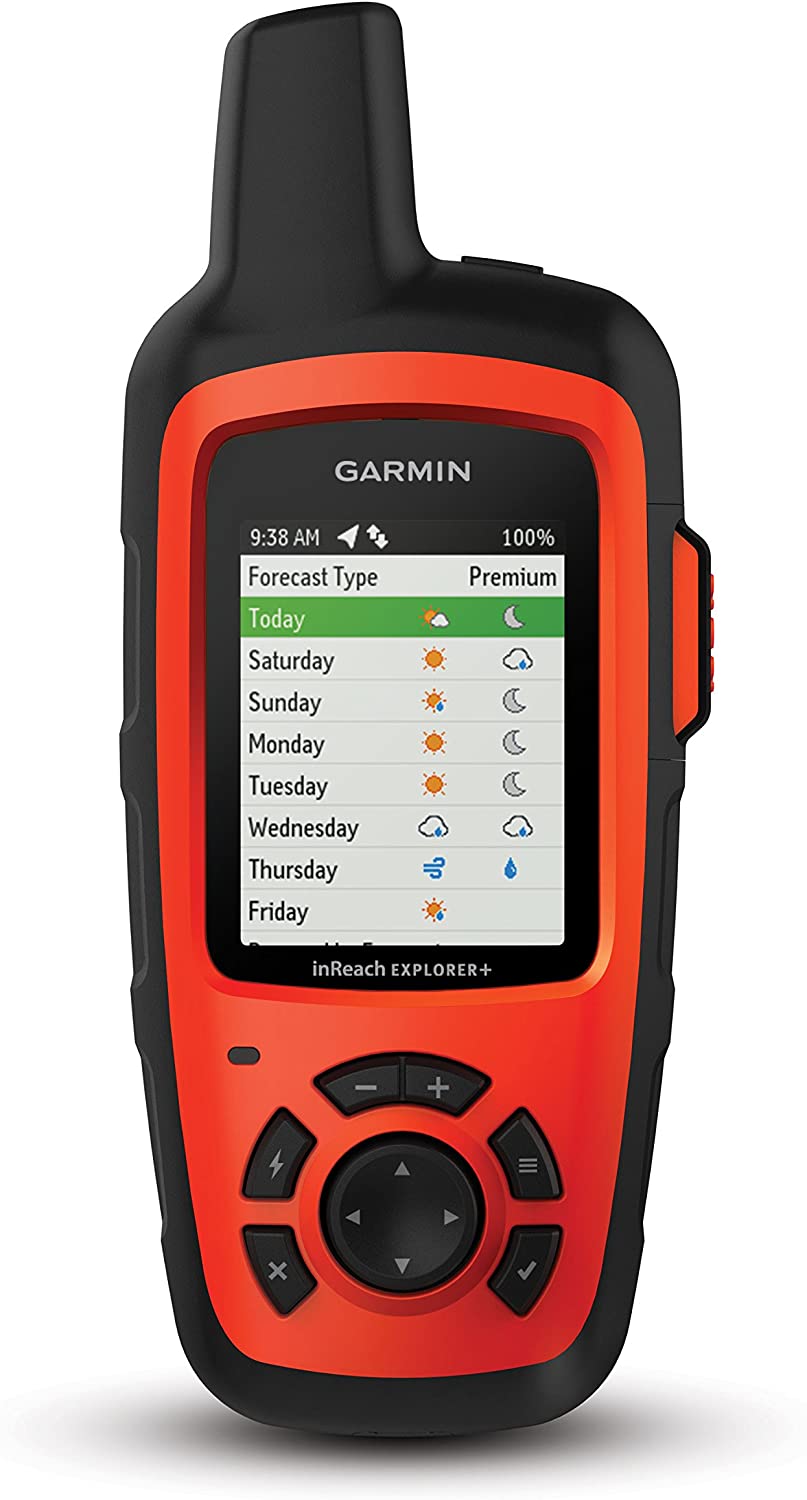 Features: 2-Way messaging
Preloaded Geocaches: None
Camera: None
Connectivity: Bluetooth, WiFi
Topographic Maps : 24K U.S. maps
I wanted to give an option for GPS navigation units other than Garmin but it turns out Garmin bought Delorme for the messaging technology.
While GPS devices connect to satellites to send and receive location based data, there's usually no way to use that connection to communicate with the world.
Luckily, with the SPOT satellite device paired to the InReach Explorer+, you can now send and receive messages and location information.
This is an awesome solution for those looking to carry the best GPS for hiking for accurate off trail navigation or map and compass backup.
It has all the features you would expect like a digital compass, GPS navigation with the ability to drop waypoints and downloadable maps.
What makes the InReach Explorer+ different is you can program in text messages to send to specific phones such as your parents, spouse, or emergency team.
There's even an SOS and emergency signal broadcast option so you can use it like a personal locator beacon.
Fully waterproof and equipped with access to the highest aerial satellite imagery, if you would like the ability to send messages from anywhere, the InReach Explorer+ is your best bet!
#6. Magellan eXplorist 110 North America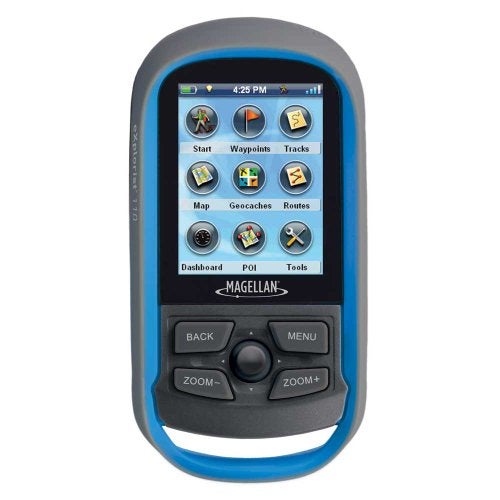 Features: Vibrant 2.2″ screen
Preloaded Geocaches: Yes
Camera: None
Connectivity: USB
Topographic Maps : Preloaded World Edition Map
The Magellan eXplorist 110 stands out from the crowd because of its vibrant 2.2″ color transflective screen designed to provide clear topographical images even in direct sunlight. The rich graphics and simple main menu add to the experience.
Keen hikers will be happy with this GPS unit's durable casing which is rated as waterproof and dustproof to IPX-7 rating. The sensitive SiRFstarIII GPS allows accuracy within 5 meters to ensure you'll never get lost in the great outdoors.
The pre-loaded World Edition Map features the complete road network of Western Europe and North America as well as major roads throughout the rest of the globe. Because it is designed for hikers, it also shows lakes, rivers, and natural parks.
You won't need to worry that you'll run out of power on longer hiking adventures since 2 AA batteries provide 18 hours of use. An automatic power-saving mode turns off everything except GPS tracking, and the other features are woken with a click.
If you love geocaching, you'll appreciate the ability to download and view over 20 characteristics of each cache. There are 500 megabytes of memory to record geocaches, waypoints, and tracks.
When hiking, you can record your route and keep a digital diary of your adventure. As you progress, you can access useful statistics, such as your average speed, distance walked, and elevation gain.
This portable GPS unit can be connected to your laptop via the USB port. This enables you to view your route and records on the computer screen.
The Magellan eXplorist 110 is not the most advanced hiking GPS unit covered in this review, but its robust design and waterproofing combined with its larger than average screen makes it a good choice for avid hikers.
#7. Garmin GPSMAP 66s Hiking GPS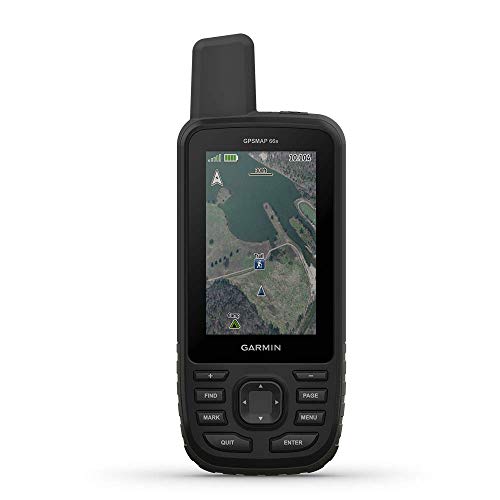 Features: BirdsEye Satellite Imagery subscription
Preloaded Geocaches: Yes
Camera: None
Connectivity: High-speed USB, ANT+, Bluetooth LE, Wi-Fi
Topographic Maps : Preloaded TOPO U.S. and Canada maps
The Garmin GPSMAP 66s is a worthy product to be included in this review. This high-specification Garmin handheld GPS unit features an impressive 3″ display that is perfect for enjoying the BirdsEye Satellite Imagery subscription.
Large buttons ensure this GPS unit is easy to use even when the temperatures are low and your fingers are numb. Rated to IPX-7, you won't need to worry about water and dust damaging this rugged unit when you're hiking through the wilderness.
Using a NiMH rechargeable battery pack or 2 AA batteries, you can enjoy 16 hours of continuous use on your outdoor adventures. And when it gets dark, the powerful LED screen doubles as a flashlight.
The Multiple Global Navigation Satellite Systems (GNSS) enable you to navigate across challenging environments. This GPS unit also features a barometric altimeter and three-axis compass.
Hikers will appreciate the expanded wireless connectivity that supports Active Weather. That means that even in remote locations, you can benefit from the latest weather forecasts. The same connectivity makes geocaching more fun with live updates when you're on the go.
The Garmin GPSMAP 66s is a great choice for hikers who want to understand the world around them. While standing atop a mountain and admiring the view, you can access the satellite imagery and see everything from multiple perspectives.
Hiking GPS Comparison Table
Hiking GPS
Screen
GPS & GLONASS
WAAS Enabled
Camera
Satellite Messaging
Rating
Garmin Montana 680t
4″
Yes
Yes
Yes
No
3.9 / 5.0
Garmin GPSMAP 64st
2.6″
Yes
No
Yes
No
3.9 / 5.0
Garmin Foretrex 401
1.7″
No
Yes
No
No
4.5 / 5.0
Garmin eTrex 30x
2.2"
Yes
Yes
No
No
3.9 / 5.0
Garmin InReach Explorer+
2.3"
No
No
No
Yes
4.0 / 5.0
Garmin InReach Explorer+
1.8"
No
No
No
Yes
4.0 / 5.0
Magellan eXplorist 110
2.2″
No
No
No
No
4.0 / 5.0
Garmin GPSMAP 66s
3″
Yes
No
No
No
4.4 / 5.0
How to Choose the Best Hiking GPS – Buyers Guide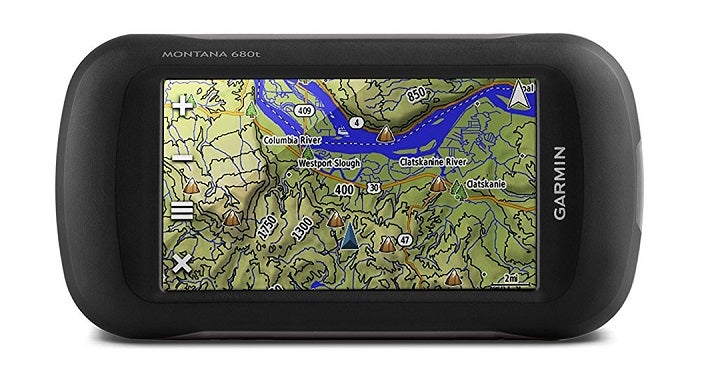 If you're new to the world of navigating in the backcountry, there can be many considerations which may not at first be obvious. I'm going to help you choose the best hiking GPS for your needs by walking with you through several key decision points.
Battery Use
Handheld GPS units all use some kind of lithium-ion batteries. Most hiking GPS devices use replaceable batteries, unlike car GPS units which use sealed, rechargeable batteries.
Why? Because in the field you won't have a good way to recharge a GPS unit, so hiking GPS units use simple AA batteries for the most part.
Consider using rechargeable AA batteries when using your GPS on shorter trips or around the local park. This will save you money on batteries and you can simply use disposable batteries on longer backpacking trips where recharging isn't an option. We'll talk more about this a little later.
Pro Tip: Keep your GPS warm when the temperatures drop. Cold batteries will die much faster than warm batteries. In fact you can go through an entire set of batteries in just hours when temperatures plunge below zero.
Look for an inside pocket on your jacket to keep the GPS in. That way it's accessible but still warm enough to keep the batteries chugging along.
Screen Size and Type
Today you'll have to choose from two main types of GPS:
Touch screen GPS units usually have larger screens, as there's no need to make room for physical buttons on the unit. However, touch screens can be more difficult to use in rain, cold weather, or when wearing gloves.
If you are looking for a wearable, a GPS watch is a good option. Don't expect the batteries to last very long though. They're rechargeable only and you won't get much battery life out of them compared to handhelds.
Larger screens are nice for viewing but come with two main drawbacks:
They consume batteries faster
The overall unit will be larger and heavier than smaller screen units
Most GPS units come with a pretty simple and, frankly, poor quality "base map". Fortunately, more and more manufacturers are including high quality topographic maps as standard fare on their hiking GPS units.
Remember that there's a big difference between topographic (hiking) maps versus street maps and marine maps. You'll find handheld GPSes with each of these types of maps installed so make sure it's the kind you're really looking for.
Be sure that the unit you're considering buying has high quality topo maps installed for hiking, otherwise make sure to calculate the cost and hassle of buying third-party maps and installing them yourself.
Electronic Compass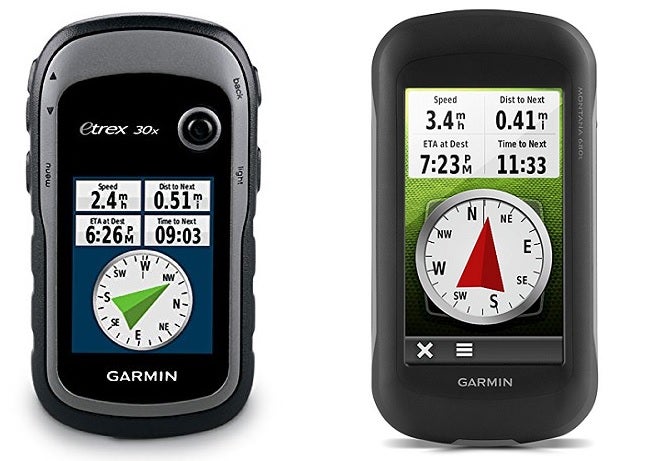 GPS units use equations to calculate where you are, where you're going, and how fast. If you're standing still, however, the unit has no way of knowing how it's oriented to the world around you.
Units lacking a standalone electronic compass are incapable of generating a heading or bearing when standing still for this reason.
Especially for accurate navigation, orienteering, geocaching or just finding your way back to basecamp you'll want to make sure your GPS receiver has an onboard electronic compass which allows the unit to calculate and display a bearing while standing still.
Having a 3-axis compass is a must-have feature as it allows you to hold the GPS in any orientation while still getting an accurate bearing.
You'll have to hold the GPS perfectly flat like a piece of paper to get a 2-axis compass to work properly, and trust me it's annoying.
Wireless Capability
Many newer GPS devices feature Wi-Fi connection or wireless device-to-device communication. That means if your friend has a compatible device, you can quickly and easily transfer routes, waypoints, and POI's wirelessly.
If you're often traveling with a partner it might be worth considering a wireless capable GPS unit.
Many are wireless in another way as well. Bluetooth is a popular method of data transfer and some even have Wi-Fi. These are important because otherwise you have to plug the GPS unit in with a USB cord to upload or download anything (which is a pain).
If you don't want to plug your GPS into your computer every time you want to do anything then make sure to invest in a GPS with Bluetooth or Wi-Fi.
Radio Capability
Some GPS units now feature the capability to act as two-way radios or short distance phones. With a compatible device, you can use a set of GPS units to establish two-way communications which is critical in situations such as search and rescue or emergency services.
You may even find that your device comes standard with the ability to access NOAA weather radio broadcasts.
GLONASS vs GPS
Turns out there are tons of satellites spinning around Earth helping us do stuff all the time. If you're American you first got access to GPS which is the United States version of navigation satellites. If you're Russian you would've gotten access to GLONASS satellites which is the (surprise) Russian navigation satellite system.
Today, because everyone has been playing nice, most GPS units rely on both GPS and GLONASS connections to navigate. The politics of it is well beyond me and some day, if things turn for the worse, maybe we'll lose access to GLONASS or they'll lose access to GPS use.
Who knows what might happen then.
What it really boils down to is two-fold:
The most accurate navigation units use both GPS and GLONASS satellites
Most GPS units today use both GPS and GLONASS satellites
FAQs About Handheld GPS Units
Q: What is a mapping GPS?
A: Don't all GPSes use maps? So they're all mapping GPSes, right?
Nope. Back in the day all GPS units just had blank screens. There were waypoints that you could navigate to but in between everything was just blank. No way to tell if there was a mountain, river, or anything else in the way of you and your destination.
So, eventually, handheld units got more powerful and more detailed. Colored screens, LCD screens, and other inventions took over and paved the way for a mapping GPS.
Mapping GPSes have the ability to overlay maps behind your objectives, paths, and waypoints. You can get traffic maps, aerial maps, topographic maps and more!
Q: Do I have to pay for maps?
A: Negative. Okay, well maybe…
Used to be that you had to pay crazy fees to buy maps for your GPS unit. Then, every year, a newer map came out that you had to pay for (again). It was a pain in the wallet.
Now you can often buy handheld units with preloaded maps. These are often indicated with a T in the name like Garmin Oregon 450T for instance. This indicates that the GPS comes preloaded with topographic maps.
Technically, the maps are free because they're preloaded. However, the GPS unit usually costs more than an identical one without preloaded maps so… are they really free?
Of course, you can still pay for more maps. Maps of different areas, countries, or details. You may also have to pay to use software that lets you create routes for uploading on to the GPS. Free software does exist, but the most powerful stuff is always pay to use.
Q: Should I use rechargeable batteries?
A: I would never recommend an internal rechargeable battery for hiking GPSes. Rechargeable batteries that you can swap out, however, are a great idea!
Let me clarify that when you're hiking or backpacking you can't usually recharge an internal battery. Of course, you could bring a big ol' battery pack but they're clunky and less efficient than just swapping out AA batteries.
So, to save the environment and your pocketbook you can use rechargeable AA batteries. Take however many of them you need for the duration of your trip and recharge them when you get home.
Why not use a battery pack to recharge internal batteries? Because the charging process can take a long time and you need to be able to swap batteries and just get going again.
Q: Is a touch screen better than button operated GPSes?
A: Eh… depends on your preferences I think.
One big different between touch screen and button operated GPSes is the battery consumption. Generally touch screen GPSes tend to have bigger, brighter, and more power hungry screens. This is great for detailed mapping but it does eat up batteries faster.
If you don't need insane detail or the ability to edit maps in the field, consider a button operated GPS. They're often just as powerful but they feel a little more archaic. There's nothing wrong with them, though, and the extra battery life may be more of a help than more detailed screens.
One thing to think about is use during cold or nasty weather. Touch screens can be hard to use when they're wet, and they can be literally painful to use if you have to take your gloves off in cold weather. Button operated GPSes are often usable even with gloves on.
Overall the difference is negligible but the longer battery life and cheaper price tag on the "simpler" button operated GPSes might actually be a good thing for many hikers.
Q: What is the best GPS for Geocaching?
A: I will admit it, I bought my first GPS specifically for Geocaching. Today, however, I can just use my phone. It's easier and more accurate! Plus, I have it on me all the time so I can go when I feel like it.
For serious dedicated Geocachers a phone GPS unit still makes the most sense:
They're just as accurate as most handheld units
They're in your pocket all the time
Geocaching apps make it easier than a handheld GPS
You can double check with web searches
No need to upload or download GPS coordinates to a seperate device
I would encourage any Geocacher to simply use a decent smartphone for these reasons. Today a handheld GPS for geocaching just doesn't make sense anymore.
Q: Do I need a GPS for hiking?
A: You don't need a GPS for hiking, it really depends on where you will be hiking and your confidence level for navigating. If you are hiking where the trails are well marked and you are good with a compass you could get by without one. For most of us, it's well worth the investment to get a GPS so we can be assured we don't get lost.
Conclusion
There are so many options on the market today that it can be a challenge to identify your needs in a GPS and find one which meets your standards.
Many GPS receivers offer too much power or more features than most people need. Be careful about upgrading to the most expensive unit without considering why.
Some of the smaller units offer higher reliability, equal accuracy, and many of the same robust features as top-end units at a lower price. You'll also benefit from reduced battery consumption by using a GPS that has just the features you need and not a bunch of extra fancy gadgets.
For the casual weekend hiker, the Garmin eTrex or GPSMAP units are reliable and powerful enough to get any job done without gobbling up batteries.
If you're a world class navigator looking for only the best off-trail navigation and cutting edge features, something like the Garmin Montana 680t will be your trusted companion.
It's easy to get trapped in the hype of buying new gadgets. However, with careful consideration you'll be able to choose the best handheld hiking GPS companion for all of your adventures. Remember for the ultimate in portability is a GPS watch.
Decide which features really matter to you and you'll be happy with any choice on our list of hiking GPS units.
How We Researched
To come up with the top hiking GPS we researched a variety of sources for reviews such as REI, Bass Pro Shops, Cabelas and Backcountry along with our own personal experience.
We also consulted online magazines for product research and reviews to get as much unbiased information as we could. To help weed out fake reviews we used Fakespot.com to make sure we only looked at genuine reviews.
With so much quality gear available, we had to narrow it down based on what we felt were the best options for the price. The author, Casey Fiedler has been leading backpacking trips for over a decade in his native state of Michigan.
To help narrow down the selection he used his personal experience along with recommendations from fellow guides and outfitters.
After extensive research, we came up with our list to help you choose the right one for you.
Hiking Lady
Hiking Lady is an online publication for women who love the outdoors, and choose to explore it by hiking, backpacking, and camping.
GPS Units
Do you have a GPS, or Global Positioning System, that you use for outdoor activities? Outdoor GPS units are extremely useful devices for hikers, backpackers, geocachers, and outdoor adventurers. You may have a GPS for your car, but anyone who is an avid outdoors person should consider getting one for their outdoor adventures.
Outdoor GPS Units – What they Can Do For You:
GPS units are devices that can help find your location, plot a route, track your route, and provide statistics on direction and distance traveled. There are now hundreds of GPS' on the market, many with very useful features like altimeters, and many fun features like cameras and MP3 players.
Hiking Lady's Favorite Outdoor GPS Units:
| | |
| --- | --- |
| | Garmin GPS 60CSx: The Garmin GPS 60CSx is a good, all around GPS for hikers and geocachers. It has a very large display for its size, and it waterproof and easy to read. Is has more functionality than a very basic GPS device, but isn't it nice to have an alarm clock and sunrise and sunset information? This one has 28 hours of battery life, which is great for those of us who like to go on multi-day outdoor adventures. |
| | |
| --- | --- |
| | Garmin eTrex: This is a good unit for beginners, who want to get the most functionality for the price. This is a great device for basic navigation. Unlike the fully loaded GPS', this one has a black and white display, but that makes it very easy to read outdoors. Plus it has a 17 hour battery life! |
Learn more about GPS Units and Geocaching
Want to learn more about Geocaching? Read more about the exciting and fun sport of Geocaching: Outdoor Navigation with GPS.
Are you looking for a GPS unit that will be used primarily for Geocaching? I've compiled my list of recommendations on the Best GPS for Geocaching here.
Remember, an outdoor GPS unit is only as good as the user, so be sure to get a device that is appropriate for you, practice using it before you hit the trail, and remember that nothing can replace a good old map and compass.
Source https://treksumo.com/best-gps-for-hiking/
Source https://www.outsidepursuits.com/best-handheld-hiking-gps-unit/
Source https://hikinglady.com/the-gear/gps-units/