Oboz Sawtooth X Low Review: New and improved?
My Oboz Sawtooth X Low review evaluates the 10th ("X") anniversary release of Oboz's best-selling hiking shoe. I'm no stranger to Oboz or to the Sawtooth. I've personally owned all three versions of the Sawtooth and used to sell tons of them as a Backcountry Gearhead and the footwear guy at Appalachian Outdoors. So I was stoked to pick up the new Sawtooth X and test it out on some of Pennsylvania's signature hiking trails, including the Standing Stone Trail, Mid-State Trail, and Allegheny Front Trail.
The Sawtooth X is new, but is it improved? My Oboz Sawtooth X Low review has the scoop: What's new? How does the new Sawtooth X compare to the old Sawtooth II? How does it rank among hiking shoes as far as support, weight, fit, comfort, weather resistance, traction, and overall value? Here's my take as an outdoor industry professional—and why I think the Sawtooth is still one of the best hiking shoes for men and women.
Oboz Sawtooth X Low
Based in Montana, Oboz makes several solid hiking boots and hiking shoes. (For more on that, check out my Oboz brand review.) However, the low-cut Sawtooth hiking shoe has been the brand's best seller for both men and women, edging the mid-cut Sawtooth and mid-cut Bridger hiking boots. In summer 2022, Oboz released the new Sawtooth X Low:
Men's Sawtooth X Low Bdry (new for 2022)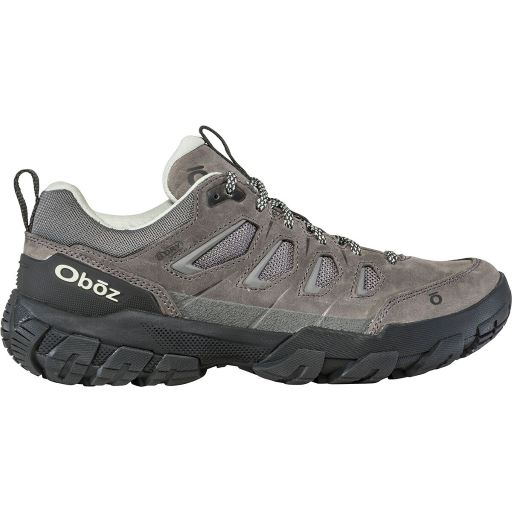 New Women's Sawtooth X Low BDry
For ten years, Sawtooths have stood out as supportive, comfortable, and durable hiking shoes at a moderate price (for hiking footwear). That means the Sawtooth didn't need an over-haul as much as a re-fresh for the changing market.
What's new? Oboz Sawtooth X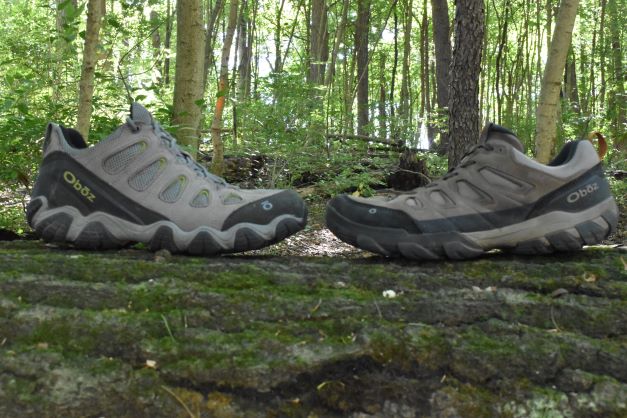 Old Sawtooth II (left) vs New Sawtooth X (right)
So, what's new with the Sawtooth X? The changes are mostly aesthetic — with a few tweaks in fit and performance:
For the most part, these changes are pretty minor—which makes sense. Shoe companies knows that a small segment of hikers will completely lose their shit whenever their favorite shoe changes. Having worked in outdoor retail, I know that many hikers take any (real or imagined) changes personally— as an attack on them as much as their favorite shoe.
Personally, I prefer the old look, but the Sawtooth X is clearly still a Sawtooth. It may not be as tall or as muscular as its predecessors, but the Sawtooth X remains a supportive, comfortable, and durable hiking shoe—an Oboz.
The Sawtooth also remains a good value. The waterproof ("BDry") version retails for $150 and the non-waterproof version sells for $125. That's at or below the average price for quality hiking shoes in today's market:
Men's options: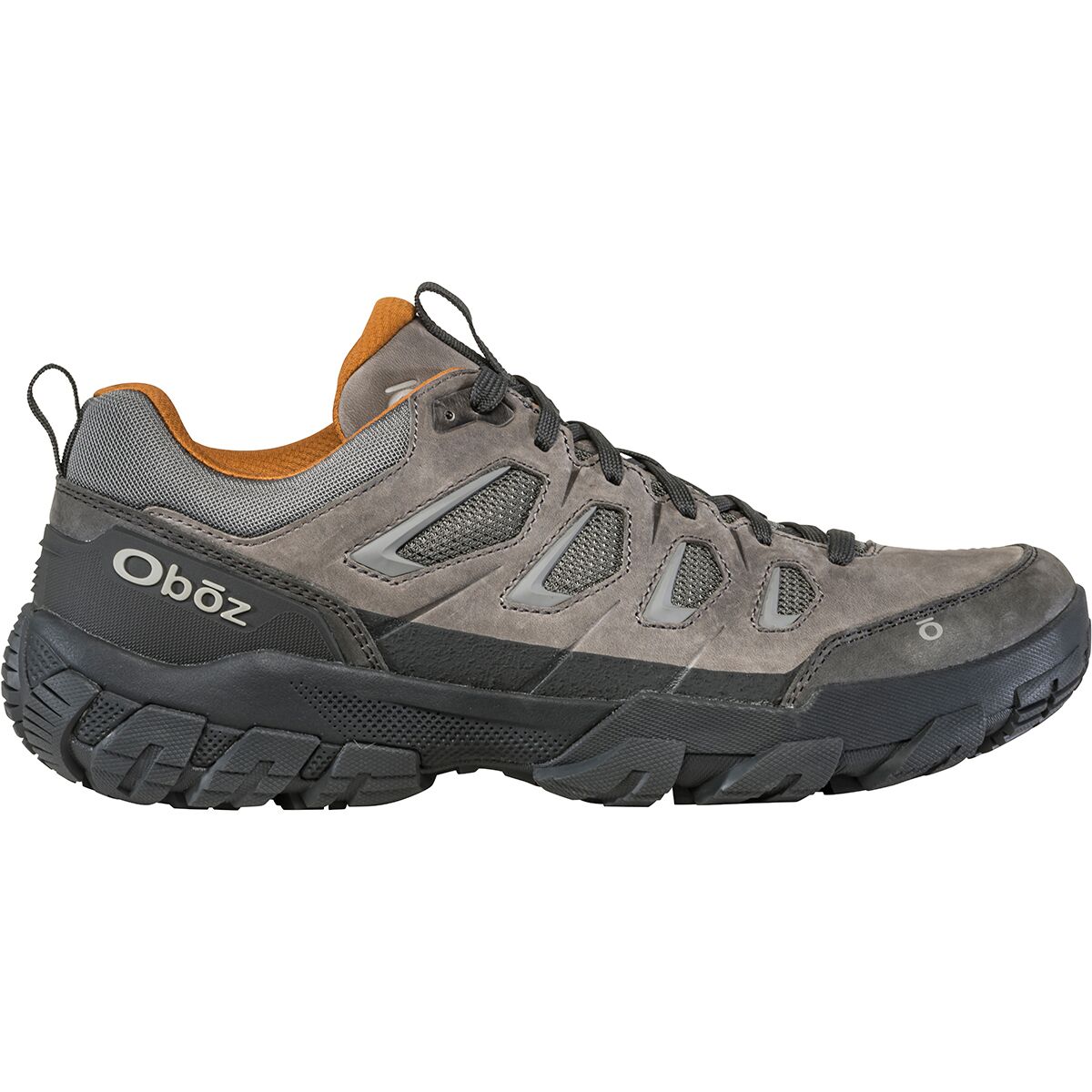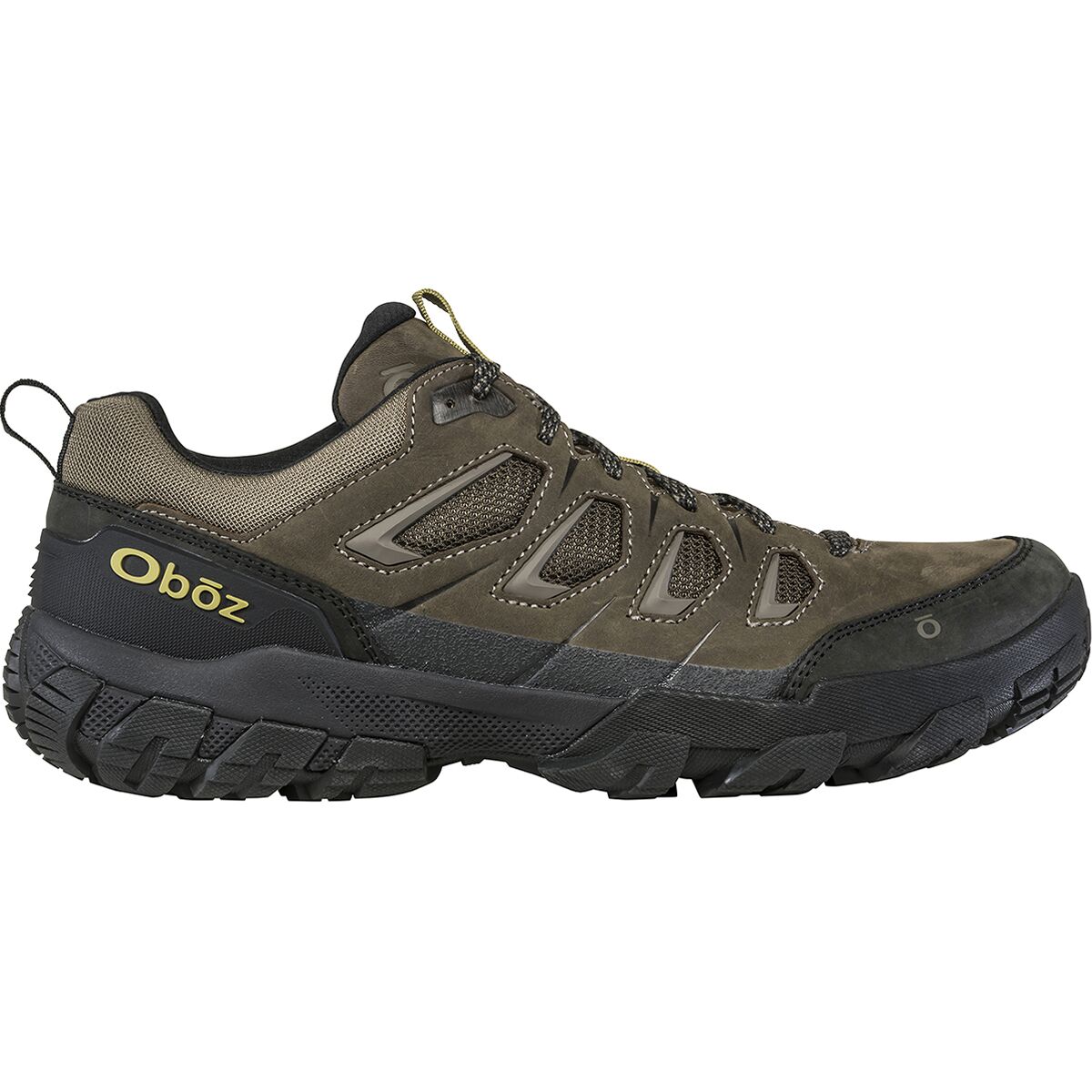 Women's options: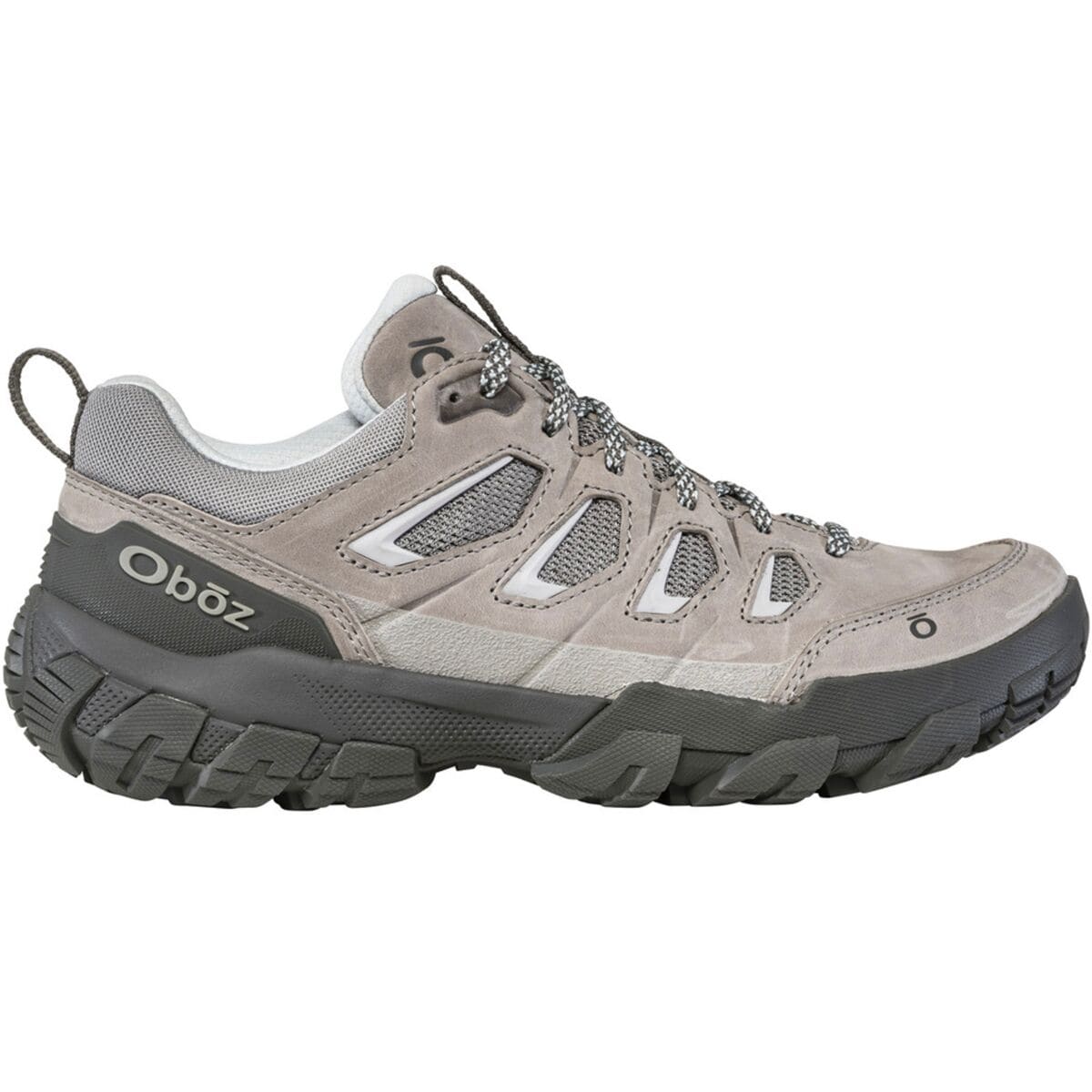 Oboz Sawtooth X Low Review
Over the past two months, I've hiked regularly in the Oboz Sawtooth X Low BDry to evaluate its support, weight, fit, comfort, traction, waterproofing, durability, and overall value. (Disclosure: Oboz provided me with a pair to review on their website. However, this is an independent review that was not sponsored or influenced by Oboz. Hiking Feet does not publish sponsored content or promise positive reviews in exchange for demo merchandise.) My test hikes included a variety of trails to evaluate how the X performs on different terrain. This included several of Pennsylvania's signature hiking trails, including sections of the Standing Stone Trail, Mid-State Trail, and Allegheny Front Trail.
Here is my review of the Oboz Sawtooth X Low Waterproof hiking shoe: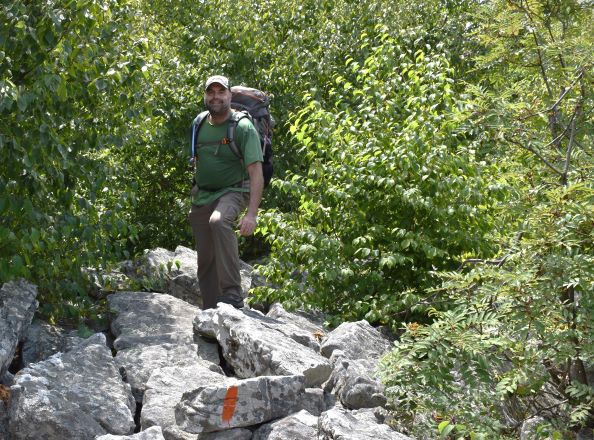 Hiking the Mid-State Trail in the Oboz Sawtooth X Low BDry
SAWTOOTH X: SUPPORT
ABOVE AVERAGE
The Sawtooth X provides above average support for a hiking shoe. My (flat) feet and (crooked) ankles have felt supported in the X, even in the ankle-breaking rock gardens of Pennsylvania (aka "Rocksylvania"). Moderately stiff through the midsole with an easy flex at my foot's natural flex point, the Sawtooth X Low has good foot support and torsional rigidity — resistance to side-to-side twisting — which may prevent twisted ankles on uneven terrain. The soft leather uppers also offer foot protection from sharp rocks and vegetation.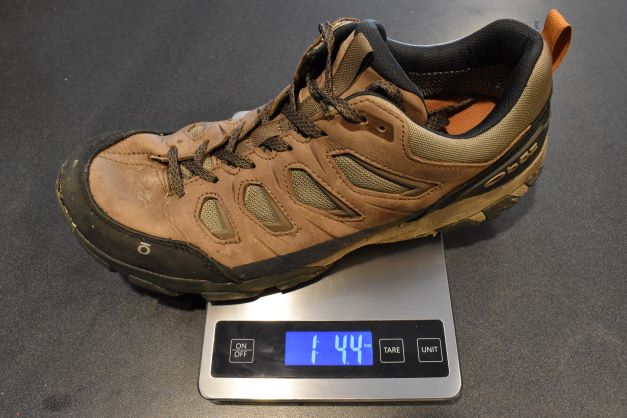 SAWTOOTH X: WEIGHT
HEAVIER THAN AVERAGE
The trade off for that support is weight. The Sawtooth X weighs a few ounces more than the average hiking shoe. My pair (Men's 12 Wide) weighs 2.5 pounds — as much as some mid-cut hiking boots. Given the trend towards lightweight footwear in the outdoor industry, it's surprising that the new Sawtooth X is not lighter. If you value support and comfort over weight savings, that's not a big deal. (It's a myth that weight on your feet is five times worse than weight on your back. Empirical evidence suggests that the average hiker doesn't hike fast enough or far enough for weight on the feet to make a significant difference.) However, the Sawtooth is not a smart choice for fast-and-light hikers who prefer a lightweight hiking shoe over a more supportive one.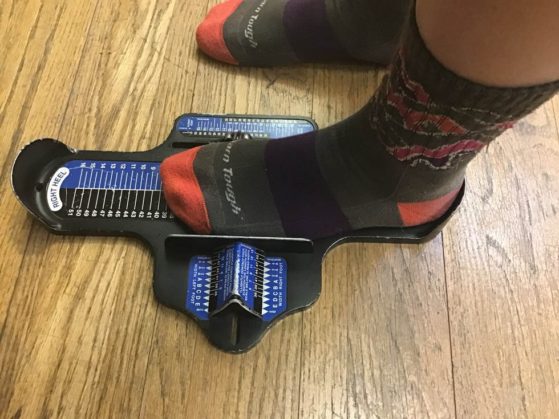 SAWTOOTH X: FIT
STANDARD TO WIDE FIT
The Oboz Sawtooth X low should feel true to size for most hikers. Like other Oboz, it fits snug in the heel (to lock your feet into place) with a standard fit in the forefoot. They usually fit hikers with standard or slightly narrow feet. However, it's also available in wide. New for 2022, Oboz's wides are now a true wide (EE on Brannock device)—wider than their old wide last. In my experience, most hikers find a decent fit in either the standard or wide size.
The Sawtooth X has a slightly different fit than the Sawtooth II. My size 12 wide in the Sawtooth X is measurably wider and longer than my size 12 wide in the Sawtooth II. At the same time, there's less volume. The X hits the ankle lower (a better fit for my foot and ankle structure), and it's shallower in the toe box (which may be an issue if you have chunky, high volume feet).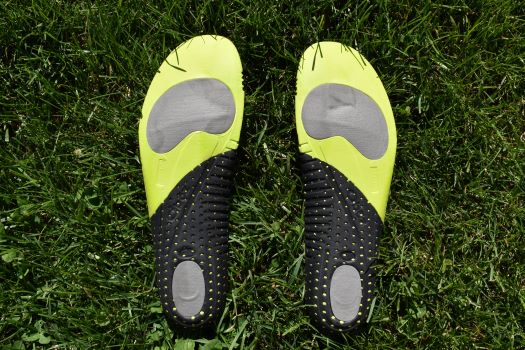 SAWTOOTH X: COMFORT
WELL CUSHIONED
When I used to manage footwear at a hiking and backpacking shop, I often told customers that Oboz has the most comfortable footbeds in the industry. Oboz's main calling card is their expensive O-Fit insoles. Most brands use crappy foam inserts that don't do anything for your feet — not Oboz. Those O-Fit insoles (which sell for $35) cup your feet and support the heel and midsoles (almost like an orthotic). They also sit on soft EVA foam and sturdy outsoles for plenty of cushioning and foot support.
All of that is still true for the next Sawtooth X Low. It's got soft and supportive soles that act like shocks and struts for your hiking feet. The soft leather uppers and new laces wrap around the feet for comfort. If anything, the X might be slightly more comfortable than the older Sawtooths —which I recommended to people who work on the feet for their all-day comfort.
Comfort has a lot to do with fit and personal preference. However, there's a great chance you'll find these shoes comfortable if they fit you.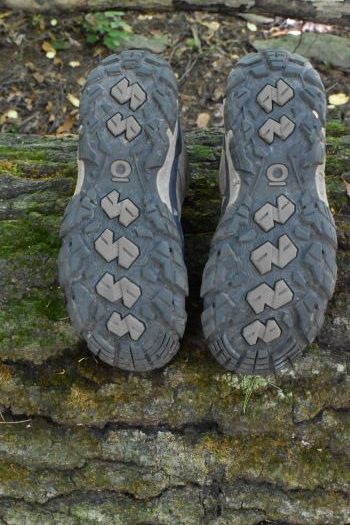 SAWTOOTH X: TRACTION
MODERATE
The Sawtooth X has moderate traction that should be good on most surfaces. Its moderately deep lugs have some purchase in mud, scree, and loose gravel while the wider lugs offer decent grip on solid rock.
The Sawtooth X has good grip for moderate trails and can handle harder terrain, too. Its new outsole does not feature as deep of a heel brake or as aggressive of a lug pattern as the Oboz Bridger, which is better on steep descents on soft and lost surfaces (where most falls occur). However, this is versatile tread that's performed pretty well for me on a range of trails.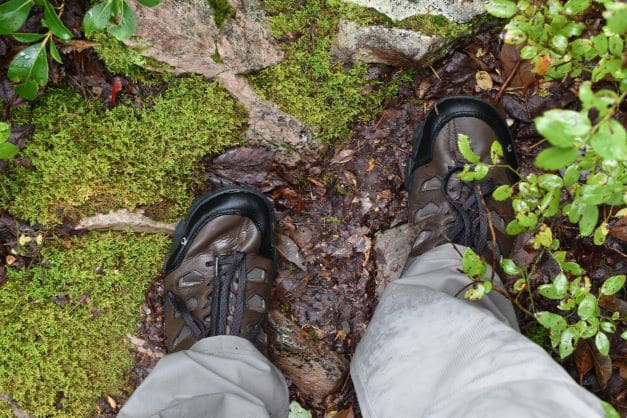 SAWTOOTH X: WATERPROOFING
AVERAGE
My new pair of the Oboz Sawtooth X Lows have been fine so far in light to moderate moisture. The combination of leather uppers plus Oboz's proprietary waterproof membrane should equal dry feet in light to moderate rainfall and snow. For the best results, you should keep your Oboz clean and re-apply DWR as needed with a product such as Nikwax's Nubuck and Suede Proof: here's how.
In my experience, Oboz's proprietary BDry membrane is good (not great)— better than many brands but not quite as waterproof or as breathable as GORE-TEX. Keep in mind, too, that the waterproof membrane does not extend up the entire shoe. Hiking shoes only give you 2-3 inches of water protection—maybe enough clearance for mowed grass and shallow puddles, but not much else.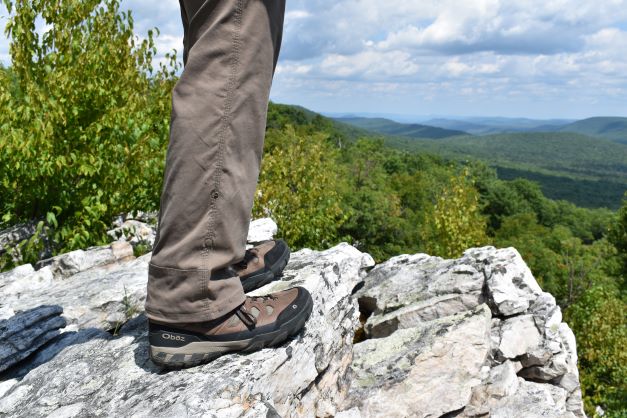 DURABILITY
PROBABLY ABOVE AVERAGE
I'm only two months into my Oboz Sawtooth X Low review, so it's too early for me to judge the shoe's durability. Over the years, however, my Oboz hiking boots and hiking shoes have lasted longer than other brands. That includes older versions of the Sawtooth.
My guess is that the Sawtooth X will also be a durable hiking shoe (which is one of the benefits of that extra weight). My only concern is that the new foam midsoles are now exposed on the sides of the shoe. My pair has already shown some wear there, thanks to rocks scraping up against the sides of the shoes on gnarly trails, such as the Standing Stone and Mid-State trails. I'll update this review with comments on wear and durability as my miles add up in the Sawtooth X Low.
Oboz Sawtooth X Low: Overall Review
Overall, the Oboz Sawtooth X Low has fared well in this review:
Conclusion:
The conclusion of this Oboz Sawtooth X Low review is that the new Sawtooth is a solid hiking shoe—like the older Sawtooths. It may be a strong choice for hikers who prefer supportive, comfortable, and durable hiking shoes. It's not a great choice for the fast-and-light crowd since the low-cut Sawtooth X weighs as much as some mid-cut hiking shoes. Overall, it's an above average hiking shoe that's priced at or below the average price for quality hiking shoes. There's a lot to like here . . . if the Oboz Sawtooth X Low fits your feet and matches where you hike and how you hike.
Do you think the Sawtooth X might fit your feet, your budget, and your hikes? If so, please consider purchasing them through the affiliate links below. Hiking Feet may receive a small commission from Backcountry at no cost to you. These commissions fund this site (and compensate me for the hundreds of unpaid hours I spent creating free content to help you buy the right hiking boots or shoes). If you're not feeling the Sawtooth, feel free to browse my recommendations for the best hiking shoes for men and women.
Here are quick shortcuts to check size availability and color options for the new Oboz Sawtooth X Lows:
Why Oboz Took a Big Risk in Updating Its Beloved Sawtooth Hiking Boot
Making changes to a popular shoe comes with a lot of pressure. But Oboz believes the next boot bearing the Sawtooth name will please both longtime fans of the franchise and attract a fresh wave of outdoor explorers.
The Sawtooth hiking boot franchise was introduced 10 years ago, and in the years since, the brand has only made minor changes to the line. A decade later, Oboz has come up with its latest update: the Sawtooth X.
But longtime fans shouldn't expect radical changes to the beloved hiker.
"Going into the Sawtooth X, we knew that there were more things we wanted to keep than things we wanted to change," explained Brian Krezel, design director at Oboz. "It wasn't a revolution. It was basically, 'Let's evolve this product to a slightly more modern aesthetic and solve a few of the issues that we think we can make better.'"
Related
Alicia Silverstone Goes Back to Basics in Leggings and Sporty Sneakers for a Hike With Her Dog
These Are the Outdoor Brands That Will Win in 2022 — and How Retailers Will Tackle Inflation and Supply Chain Challenges
The 7 Best Nike Hiking Shoes to Help You Conquer Tough Terrain
He continued, "By modernizing aesthetic trends, we can appeal to different and newer consumers and still give the same performance without alienating the [original] Sawtooth base."
Since delivering the original Sawtooth, the lone new shoe was the Sawtooth 2, which arrived in spring '19. The differences between the original and the second boot were iterative and mostly aesthetic.
For the Sawtooth X, Oboz once again focused on aesthetics and created a slightly more modern look. However, this time around, Oboz opted to make further refinements, tweaks the brand is calling "evolutionary steps in performance."
Krezel said he and his team updated design lines and some of the constructions for consumers who might want something a faster and a bit more modern. What remains consistent is the out-of-the-box comfort, as well as performance and durability.
"When you're obsessed with trying to understand how things could be better, how you can improve, at some point there's enough to act upon," added Dara McDevitt, product line manager at Oboz. "We were like, 'We noticed this, we're hearing this from a rep or retailer, consumers are letting us know where these micro improvements can be made.' When the bucket is big enough, then it's a great time to implement those changes. It was the right time for us to take that information and act."
The result is the Sawtooth X lineup, which will arrive in spring '22. Oboz will deliver the boots — which are the most tested in Oboz history — in both low and mid heights, and there will be non-waterproof options as well as waterproof BDry iterations. Retail pricing will range from $125 to $165.
The looks are loaded with tech built for the trail. For instance, they come equipped with True Tread outsoles that feature multidirectional lugs and added teeth for improved acceleration and deceleration, increased lug spacing to shed mud and additional siping for wet surface traction.
Oboz also built the boots with Act+ midsoles, a proprietary rubberized EVA compound made to adapt to all terrains. The proprietary material is dual density and lightweight, and was added to offer high-level energy efficiency and a softer heel strike landing zone. And for durability, the brand opted to add Cordura fabrics to the uppers.
For the waterproof iterations, Oboz turned to its proprietary BDry tech, designed to let sweat escape and keep moisture out.
Beyond tech, tweaks made to improve the experience including making the toe box slightly wider and shaving the area over the toes, which was done to make the boots fit like a glove. Also, the brand utilized a new breathable mesh that has tighter weave and added injected polyurethane pieces in the windows on the upper to provide lateral stability. And from a sustainable standpoint, Oboz added recycled content in both the laces and the webbing.
Oboz Sawtooth Low Hiking Shoe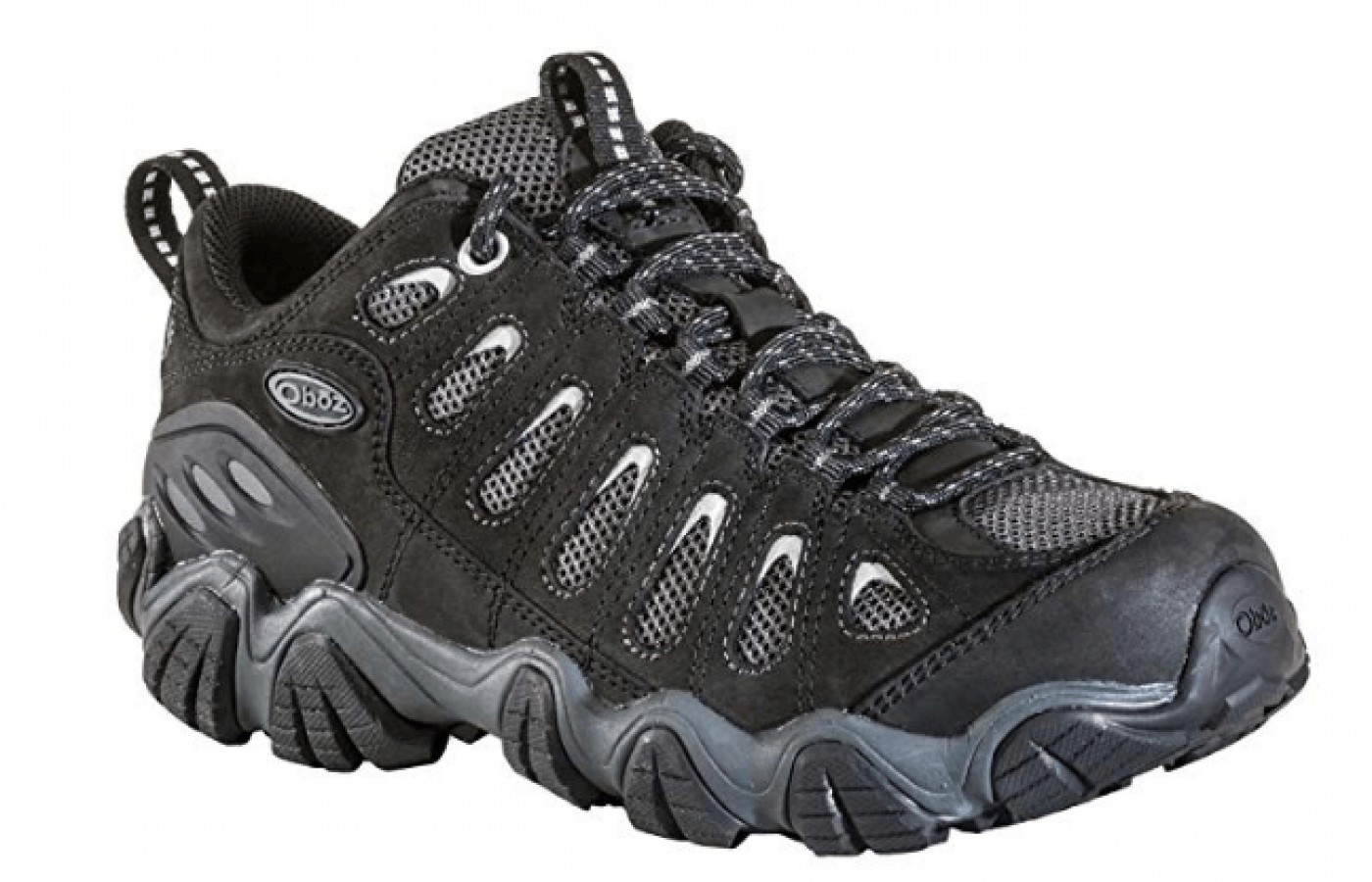 Are you looking for a beautiful low hiking or backpacking shoe that has outstanding traction for outdoor surfaces? Look no further because the Oboz Sawtooth Low Hiking Shoe for men has it all. It features a design that is trail-ready, tough, and agile.
This is an active boot-style piece of footwear. It allows ankle freedom that high-ankle shoes cannot give but with the protection and flexibility of a low-ankle model. It has an O FIT insole and an EVA high-density sculpted arch for excellent foot positioning and support.
The upper and lining of nylon mesh and leather are breathable and moisture-wicking to keep the foot comfortable from body heat and sweat. Removable insoles and a well-padded heel and tongue add to the comfort of the Oboz Sawtooth.
There are excellent traction and lugs on the bottom and side of the outsoles that are quite apparent even in the online photos. This sticky and durable rubber on the outsoles is fantastic for both dry and wet outdoor environment surfaces. The majority of buyers are very pleased with the Oboz Sawtooth model.
If you are in search of low hiking breathable shoe and want to learn more, make sure you read our in-depth review on Oboz Sawtooth Hiking Shoe.
Upper top layer is comfortable and moisture wicking
Heel and tongue are well-padded for comfort
Insoles can be removed
Offered in a black or brown version
Sizes are true according to customers
Active boot-style that is trail-ready, tough, and agile
Ankle height with a lace-up closure
Lining and upper is made of nylon mesh and leather
Best used for hiking and backpacking
Heels can wear down quickly within months on concrete and pavement
Does not have the best texture for smooth surfaces
Could be more ventilated says a few buyers
Key Features
-The insole is O FIT for a natural position
-EVA high-density sculpted arch
-A roomy toe box that is not too large
-Excellent traction and lugs on bottom and sides
-Shank improves surefootedness and decreases rock bruising
-Good solid toe protector of rubber
-Upper is a breathable, moisture-wicking mesh material
-Sticky and durable rubber on the outsoles
-Two loop grips on the tongue and the heel
Durability
Several people that have had the Sawtooth Low Hiking Shoe model awhile still enjoy the incredible support that they like from the shoe. It has a design that is trail-ready, tough, and agile to be long-lasting and durable for years to come. The rubber on the soles will not peel even after years of use, and the seams will hold well unlike most other types of hiking shoes that you may be used to wearing.
This information is what the manufacturer boasts about the Sawtooth, but many customers are experiencing something entirely different when it comes to durability. It is also the reason for the 3.9 rating online that this product has. Buyers say that the heels can wear down quickly within months when worn regularly on concrete or pavement.
The sole is usually the first thing to wear through with regular and continued use after years of wear. If you use it outdoors in wooded or grassy areas, the shoe sole will not wear out as quickly.
Ground Feel
The insole of the Sawtooth from Oboz is O FIT, which creates a natural position for the foot. You get superior support with the EVA high-density sculpted arch and the deep cup heel of EVA and high-density for the best support and stability. It provides rebound and absorption with the EVA pods of the insole.
The insole has EVA of medium density on the other parts of the insole for terrific underfoot support. Insoles can be removed, and the heel and tongue are well-padded for comfort. The top layer is comfortable and moisture wicking, and there is a roomy toe box that is not too large but quite comfortable.
Midsole
The lightweight and firm midsole of this low hiking shoe permits an outsole that is streamlined. Even though it has a narrower outsole, there are plenty of sizes accommodated with this model. It also delivers protection and excellent torsional stability.
The midsole is Bfit Deluxe and has a nylon shank that gives additional support from the forefront to the heel. You get balanced cushioning that is supportive from the EVA dual-density midsole.
The motive for the creation of this hiking product was to engineer a shoe that is perfect for the rough terrain you find in any natural outdoor environment, as it will grip to any surfaces you will encounter in the wild.
Outsole
The Oboz Sawtooth shoe for men has a Shank Outsole of nylon that is EVA and dual density. There are excellent traction and lugs on the bottom and side of the outsoles. It uniquely has a map of the Sun Valley Sawtooth Mountain Range of Idaho molded on the bottom.
This excellent model offers plenty of traction for any surface area but can be a problem on wet smooth surfaces according to customers. Since it is designed for use in the outdoors in rugged environments, this shoe does not have a traction texture for not slipping on smooth surfaces.
If you plan on using it indoors on cement or concrete, then be wary of the outsole texture. Some people find this footwear to be so comfortable when they purchase it for outdoor use that they eventually wear it to work, home, or for around town too. That is when the issue of the traction comes into play.
Style
Offered in a black or brown version to match most hiking and backpacking clothing, the Oboz Sawtooth model is made of synthetic material and leather. It is an active boot-style shoe of ankle height with a lace-up closure. Sizes are accurate according to customers who were delighted that they received an excellent fit for their regular shoe size.
Since the toe box is larger than most other hiking shoes and there are wide sizes offered, sizing is not a problem of this product. The current satisfaction rating is mostly because of the traction, or lack of traction, that this footwear has on smooth or wet surfaces. It is not versatile in that respect, which disappointed buyers.
If the shoe is regularly used on concrete or pavement, then the rubber sole wears down quickly. The comfort is outstanding, as some prefer this model over other mid-high boots for hiking.
Support
As one user noticed, the support for the foot is wrapped around the heel for added stability. The nylon shanks improve the user's surefootedness on different terrains and decrease rock bruising of the foot. There is even a good solid toe protector of rubber to guard the toes against stubbing on rocks, branches, and debris encountered.
The outsole is supportive, flexible, and versatile with its thru-hiker classic Oboz build. It has been described as being soft and flexible, but not to the point that you will feel items such as rocks underfoot.
We noticed many comments of the terrific support and comfort of this product online even from buyers that have issues with the soles. It is certainly built for giving the user the best comfort with the arch, heel, and insole stability that is needed for long periods of standing and walking.
Upper
The upper of this incredible model is a breathable mesh material that releases body heat and sweat with its properties of moisture-wicking. Moisture is taken away from your skin and released to the surfaces on the exterior to evaporate. The foot stays dry with this technology of moisture release.
The lining and the upper are constructed of a ventilated mesh material and Nubuck leather. It is not waterproof, but it is water-resistant. If you are caught in a rain shower, then your feet should remain dry inside.
However, walking through streams or puddles will most likely not be the best practice. It is hard for manufacturers to make footwear that is both well ventilated and waterproof because these are opposite ends of the spectrum for foot comfort. Even with the excellent ventilation of the mesh material that this shoe has, a few buyers did comment that it could be more aerated than it is.
The Oboz Sawtooth for men was designed to be a hiking shoe that can conquer any outdoor rugged terrain. It is also a great backpacking or camping piece of footwear that has fabulous traction in the wild. Other sports and activities such as fishing and hunting are also perfect for this product.
Many buyers use this shoe for office work and warehouse work because of the superior support for standing all day long. Some find it very versatile for uses at work, home, and even walking the dog where they live. The manufacturer claims that it has a sticky and durable rubber on the outsoles with aggressive lugs that is fantastic for both dry and wet surfaces.
On the other hand, customers say that wet hard surfaces can be a problem for the type of traction this shoe has since it does not grip well on smooth surfaces. If you purchase it for hiking or backpacking and can incorporate it into your daily life, then that is all the better!
Version
When compared to the several similar shoe models the company makes, at first glance, they all look alike. There are about six models of low hiking footwear that can be hard to choose from when selecting a pair. Hopefully, we can summarize their features for you and show you how this Sawtooth version is different than the rest.
They all have the O FIT insole, and all but the Bridger Low Waterproof model has an upper of synthetic and leather. All of them are ideal for backpacking and hiking, and the only two shoes that are not waterproof is this one and the Traverse Low.
The Sawtooth outsole is on this version, the Firebrand II Low Waterproof, and the Sawtooth Low Waterproof. The other models have an outsole of Granite Peak instead of the Sawtooth outsole. Full sizes are offered for this model, the Firebrand II Low Waterproof, and the Tamarack Low Waterproof. So, on the plus side, the Sawtooth has the Sawtooth outsole and a more extensive selection of sizes, but on the downside, it is not one of the waterproof models that are offered.
Ease of Use
A couple of implemented aspects of this footwear make it easy for buyers to use. There are two loop grips to aid with putting the shoe on and taking it off on the tongue and the heel back. These will assist with proper placement of the shoe on foot so that you can take full advantage of its comfort level.
It uses strong loops for the laces instead of eyelets for added durability and longevity of both the laces and the holding placement on the shoe. One terrific quality that several customers noticed when they put their shoe on for the first time was that this model is ready to wear comfortably when received but will loosen somewhat after wearing awhile.
Not all shoes are so comfortable immediately when you receive them, as they must be worked in with use. This is not a problem with the Oboz Sawtooth for men.
Bottom Line
The Oboz Sawtooth footwear model for men has a few issues that customers have encountered, which warrant the decent but not excellent satisfaction rating it currently has. The reasons for this poor rating are mostly related to the rubber outsoles. Since this model was created for the outdoor environment, it is not ideal for concrete or pavement.
Since some buyers have used it exclusively for their jobs or around the city, it has come to light that the soles wear down quickly on such surfaces. On smooth or wet surfaces, the traction is not the best either. Being that the Oboz Sawtooth is a hiking shoe, the traction is engineered for the common surface types that one would come across in the wild, which does not include pavement or concrete.
Adapting the footwear to something other than it was initially designed is not a good reason to fault the shoe. It works perfectly for where it is supposed to be used. For comfort and support, the Oboz Sawtooth is a viable option.
Source https://hikingfeet.com/oboz-sawtooth-x-low-review/
Source https://footwearnews.com/2021/business/athletic-outdoor/oboz-sawtooth-x-hiking-boot-release-info-1203170519/#!
Source https://gearweare.net/review/oboz-sawtooth/